Disclaimer: The information provided in our articles is for educational purposes only and should not be considered a substitute for professional veterinary advice. It is essential to consult with a veterinarian before starting any CBD products for your dog's health and well-being.
All dog owners are determined to give their furry friends a healthy and happy life. So when something causes their dog distress or pain, many pet parents immediately look into the benefits of CBD oil for dogs.
CBD oil for dogs might be relatively new, but scientific research has already yielded such promising results that thousands of pet owners are clamoring for CBD oils to give pups a better quality of life. But with so many CBD oils, how do you know which are the best?
Best Overall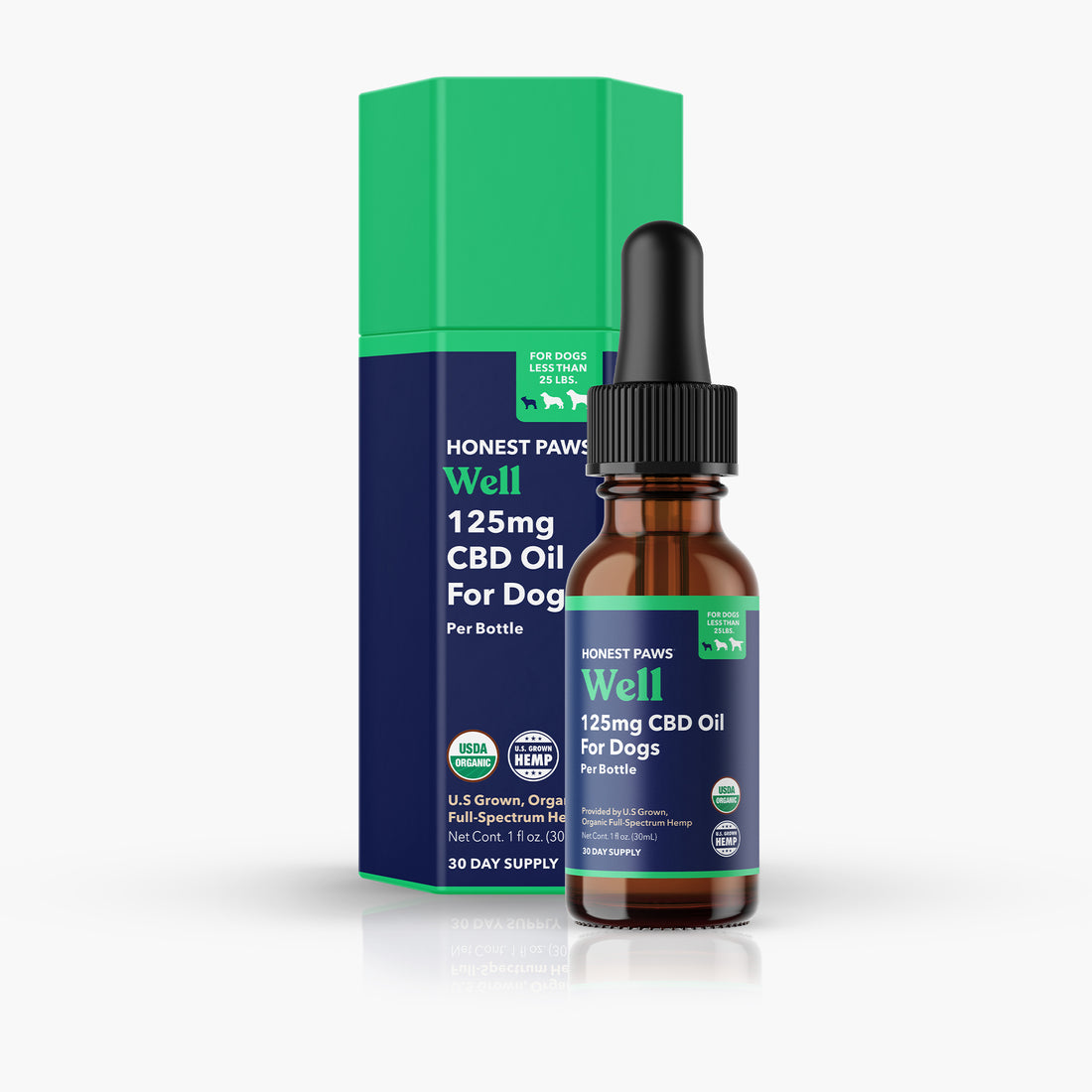 Honest Paws Well Oil
ACTIVE INGREDIENT: CBD from Organic Full-Spectrum Hemp Oil 4.2mg

NET CONTENT: 30 ML
Best Quality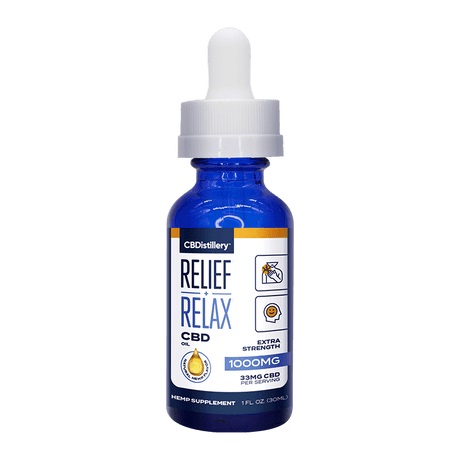 Full-Spectrum CBD Oil Tincture – CBDistillery
ACTIVE INGREDIENT: Fractionated Coconut Oil (MCT) and Full Spectrum CBD Hemp Extract

NET CONTENT: 30 ML
Best Tasting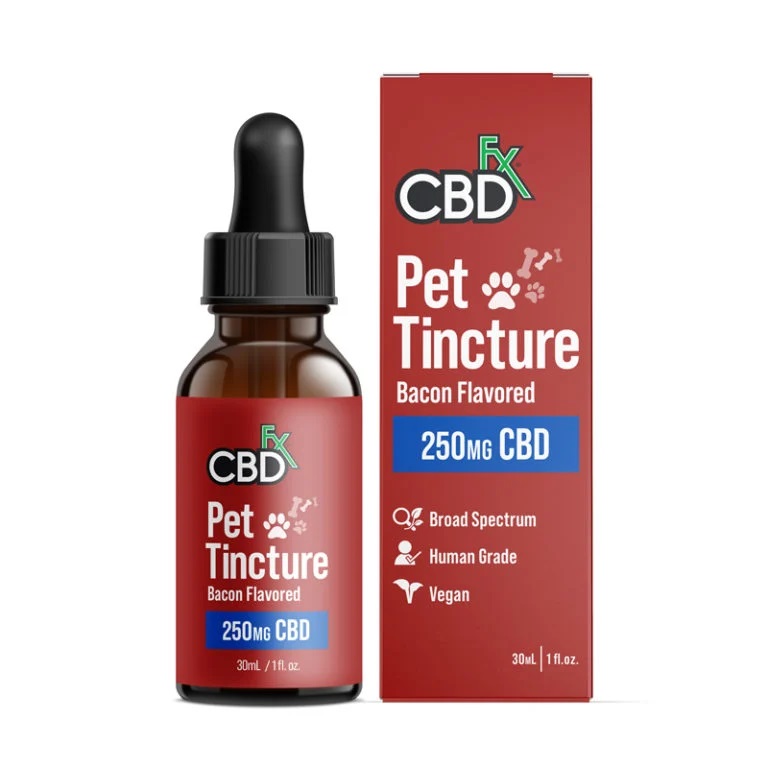 CBD Oil for Dogs – CBDfx
ACTIVE INGREDIENT: CBD-rich hemp oil, MCT oil, Natural bacon flavor

NET CONTENT: 30 ML
Best Formula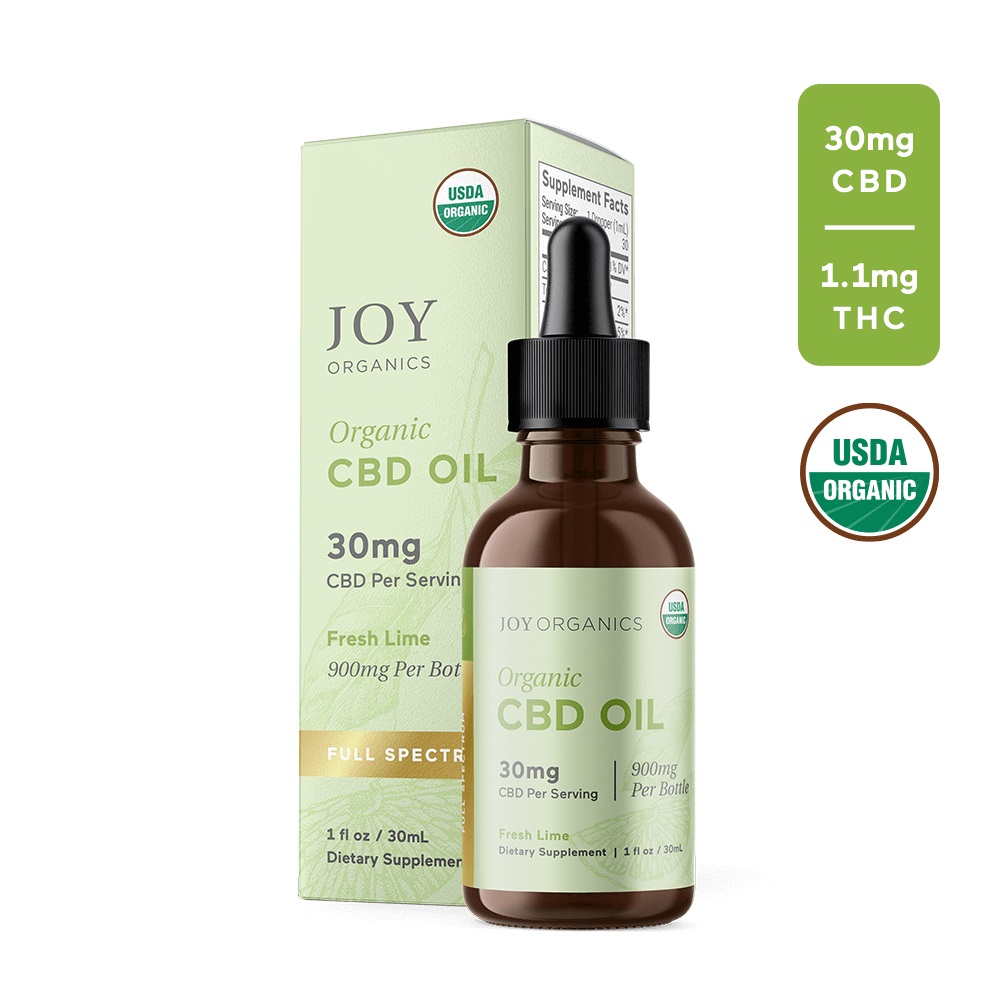 Full-Spectrum Tincture – Joy Organics
ACTIVE INGREDIENT: Organic MCT Oil, Organic Phytocannabinoid-Rich Hemp Extract, Organic Key Lime Oil, Organic Stevia

NET CONTENT: 30 ML
Best Value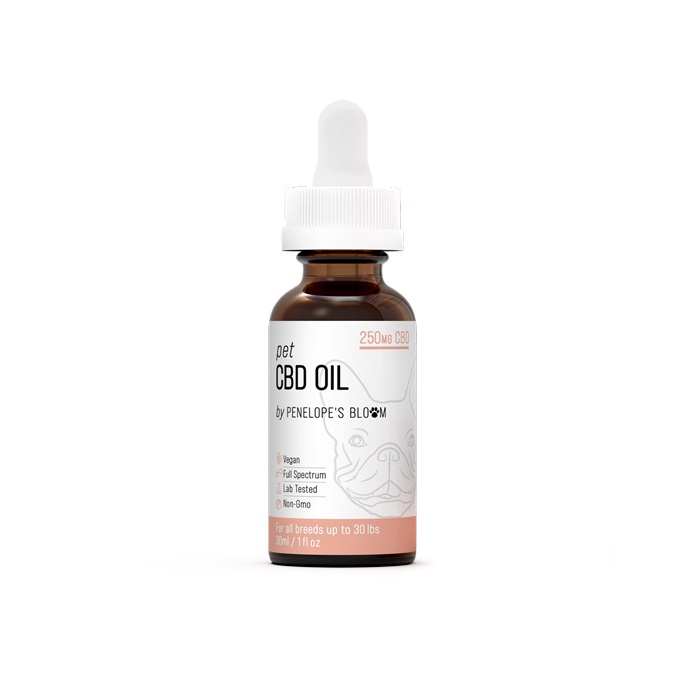 CBD Oil for Dogs – Penelope's Bloom
ACTIVE INGREDIENT: Chamomile Oil – MCT Oil – Full Spectrum Organic Hemp Oil

NET CONTENT: 30 ML
Best Established Brand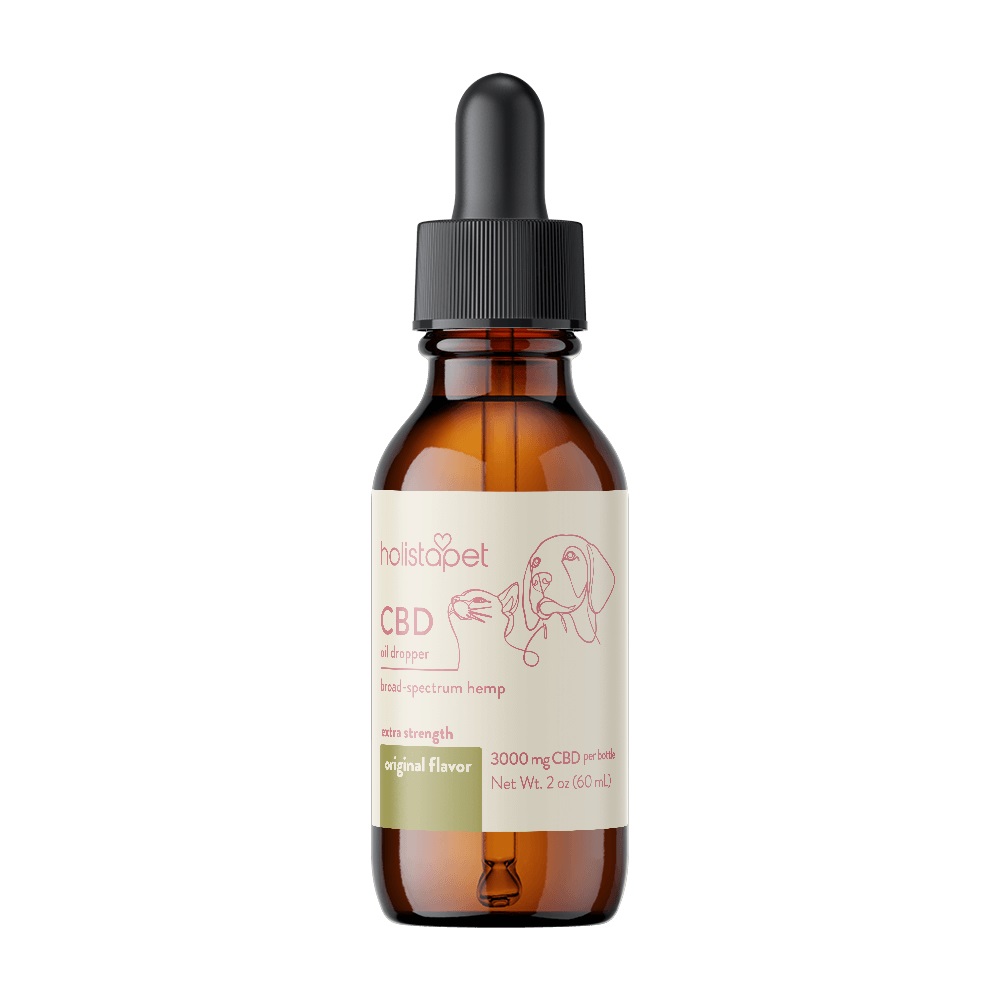 CBD Oil for Dogs – HolistaPet
ACTIVE INGREDIENT: BROAD SPECTRUM HEMP 300 MG
NET CONTENT: 15 ML
Best Flavors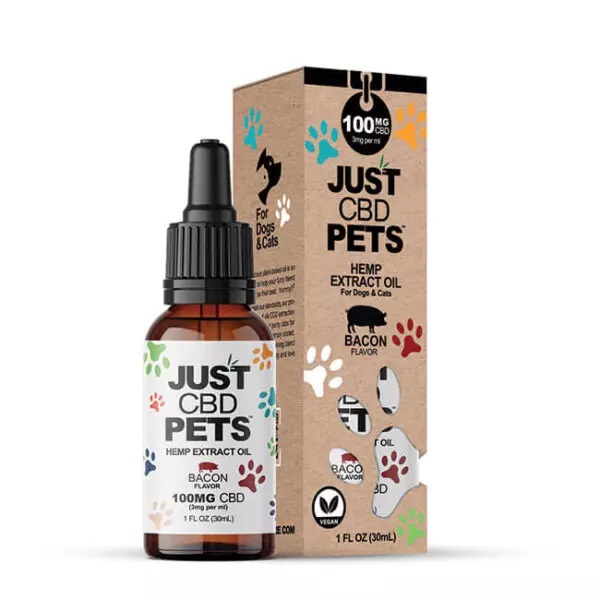 JustCBD for Dogs
ACTIVE INGREDIENT: Medium Chain Triglyceride Oil, Industrial Hemp-Derived Cannabidiol (CBD)
NET CONTENT: 30 ML
Best CBD Oil for Dogs
Cannabidiol can be delivered in several formats, often as CBD oil tinctures or CBD dog treats. Since CBD oil tinctures are often the simplest, there's plenty to choose from. Here are some of the best CBD oils we recommend.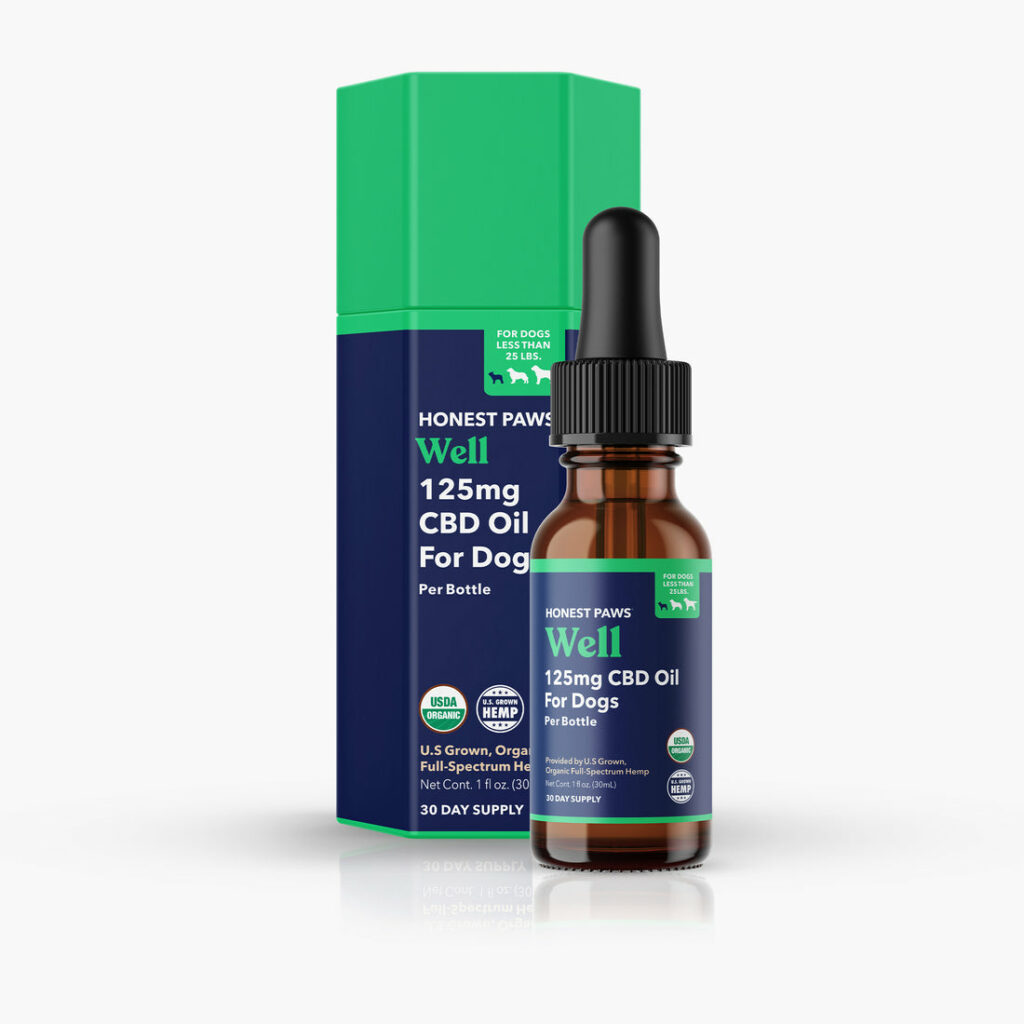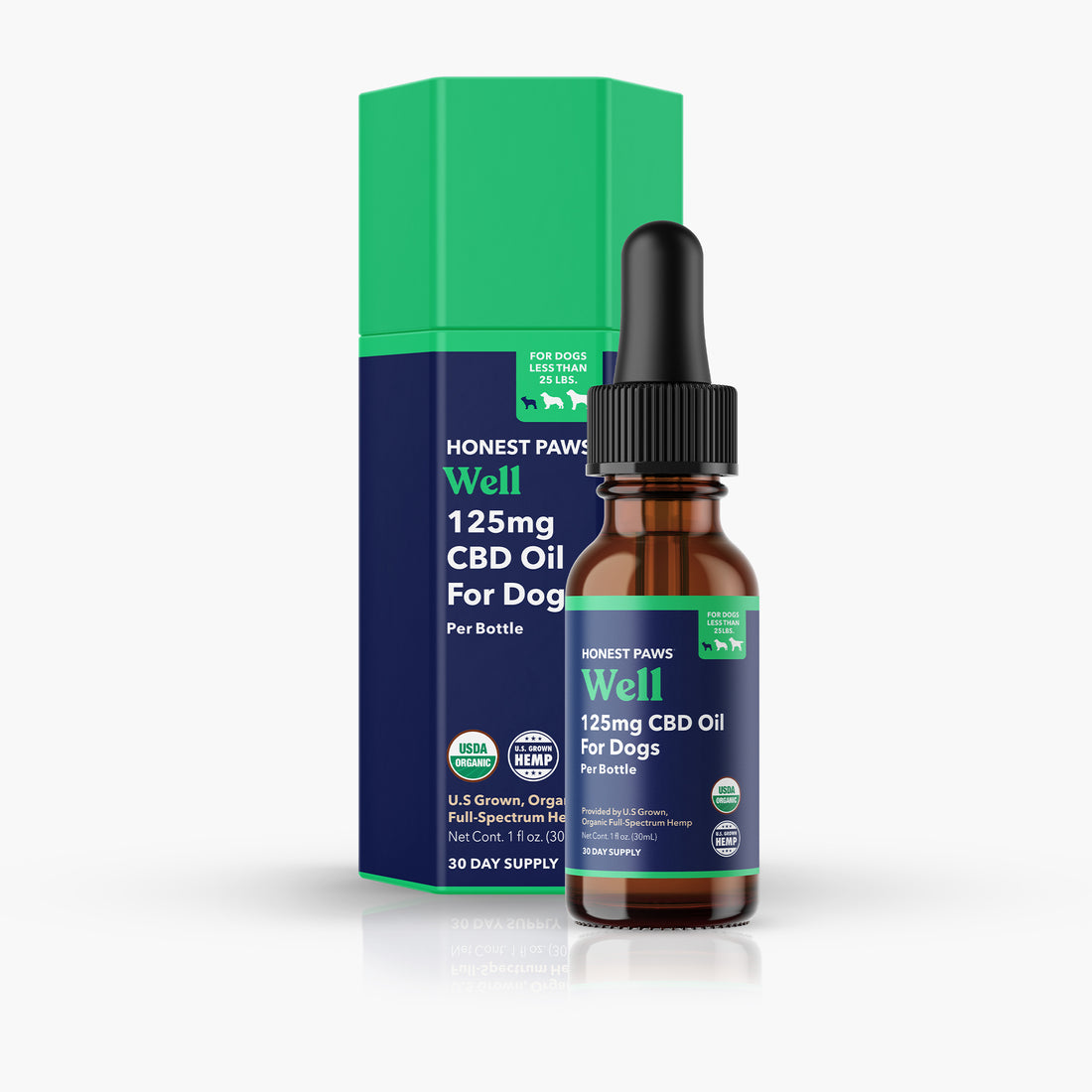 About Honest Paws
When Baby Rose was prescribed a lifetime of unpleasant medication, her owner turned to CBD oils. To her delight, Baby Rose's condition disappeared, and so she started Honest Paws to share the wonders of CBD with the world. They have since become a well-known brand producing pet CBD oils for many problems.
Special Features
What makes Honest Paws CBD oil unique is its three different CBD oils: Mobility, Well, and Calm. Our general recommendation is Honest Paws Well oil, as this formula helps cognitive and immune support, provides seasonal allergy relief, and reduces inflammation. However, Mobility and Calm can help dogs with arthritis and separation anxiety respectively, making it a brilliantly versatile option.
This full-spectrum CBD oil is third-party tested and uses cannabidiol extracted from USA-grown hemp seed oil. It comes in a range of concentrations for various sizes and breeds, from 125mg to 1,000mg, making it easy to find one to suit your dog.
Pros
Three different formulas
Full-spectrum CBD oil
Great reputation and reviews
Four concentrations
Cons
No flavor
Low traces of THC
What We Like
We like how Honest Paws CBD oil has a formula to suit any dog with whatever problem they might have. No matter whether they're small or large, anxious or in pain from arthritis, there is bound to be a formula and concentration to fix their problems. Its CBD balm is made with shea butter, organic coconut oil, beeswax, and hemp extract.
What Customers Like
There are over a thousand customer reviews for this tincture, with some pet owners claiming Honest Paws is the best CBD oil for dogs. They've noticed dogs itch and lick their paws less, stay calmer, and cope better when ill.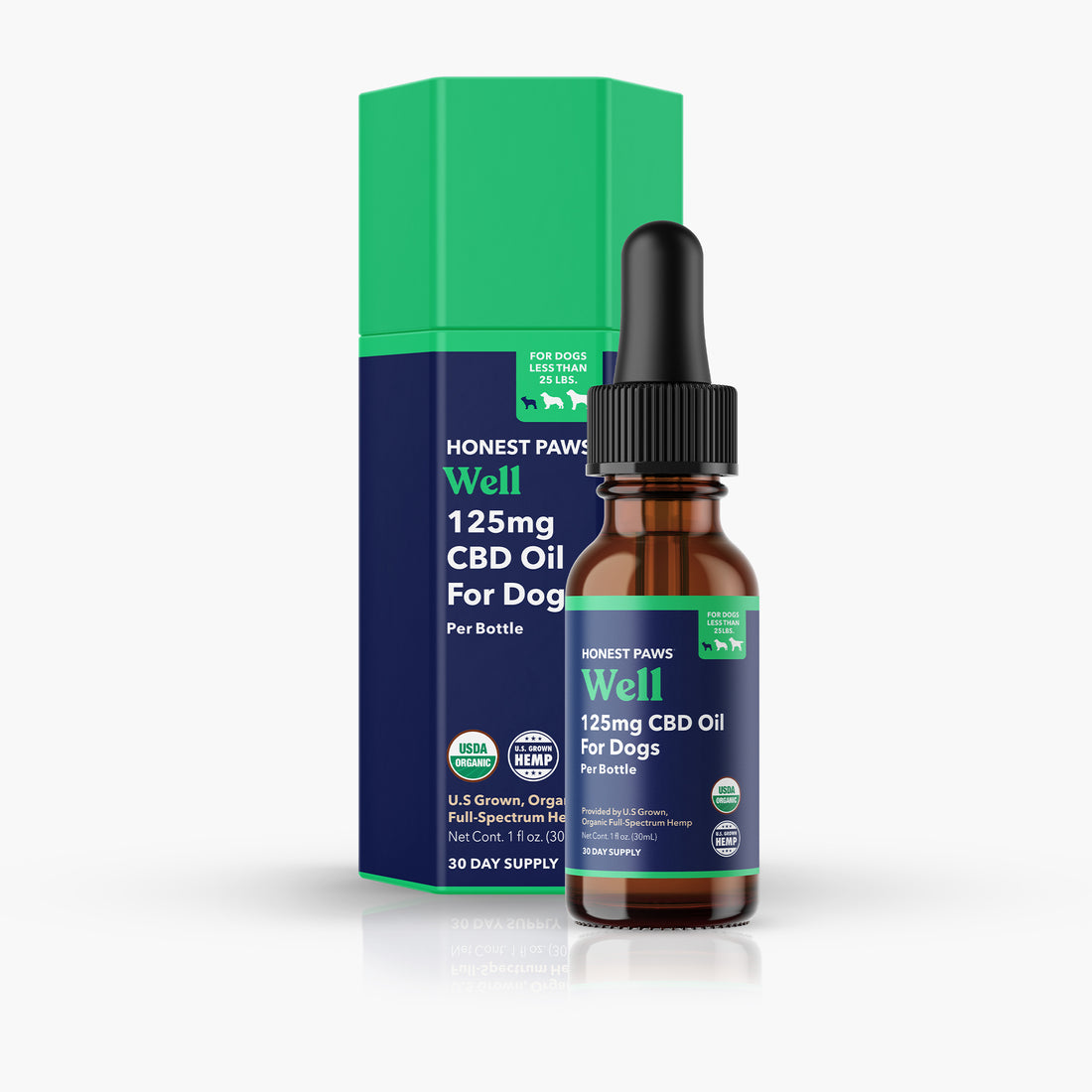 Honest Paws Well Oil
The price of "Honest Paws Well Oil" varies, so check the latest price at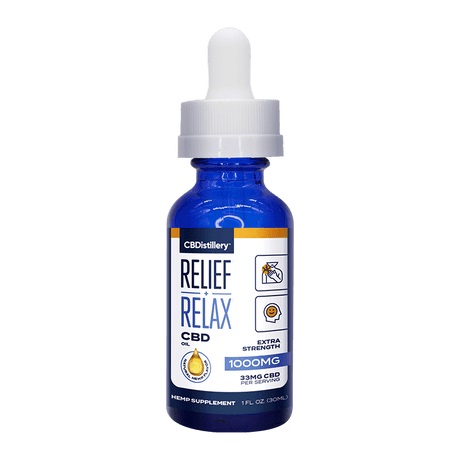 About CBDistillery
CBDistillery is committed to guiding you on an alternate path to health – and they're more than happy for your dog to tag along too! CBDistillery has a strong reputation in the CBD industry, offering premium CBD oils at an affordable price.
Special Features
CBDistillery uses CO2 to extract a full-spectrum CBD oil from USA-grown hemp before their expert botanist blends it with cold-pressed hemp seed oil for easy digestion. No unnecessary ingredients are added, and all of their CBD oil tinctures go through a rigorous testing process to assess potency and safety.
Two concentrations are available (150mg and 600mg), suiting most dog breeds. However, CBDistillery's CBD oil for dogs is unflavored, so you might need to mix it in with dog food if your dog's a fussy eater.
Pros
High-quality full-spectrum CBD oils
Formula crafted by expert botanist
Treats various problems
Two concentrations
Cons
Lacks additional flavoring
Low traces of THC
What We Like
We particularly like the care and effort that has gone into producing this product. Although CBDistillery began by making pure CBD oil for humans, they've brought the same meticulous attention to detail in their CBD oil for dogs by using an expert botanist to ensure easy digestion and excellent results.
What Customers Like
There are hundreds of reviews for this oil, and each one is delighted with its effect on their dogs. It's been shown to be effective in relieving pain in older dogs and calming down hyperactive ones, proving it to be a versatile CBD dog oil that's reliable for many issues.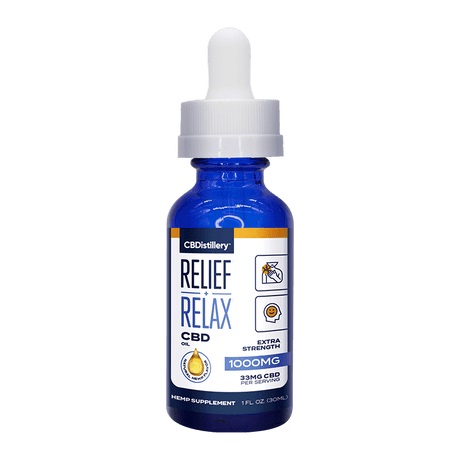 Full-Spectrum CBD Oil Tincture – CBDistillery
The price of "Full-Spectrum CBD Oil Tincture" varies, so check the latest price at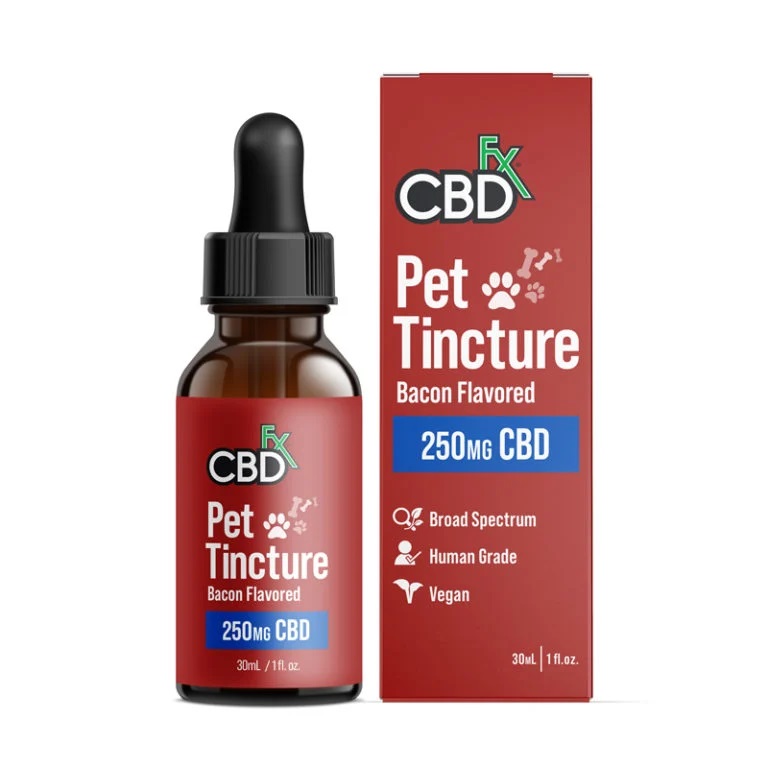 About CBDfx
CBDfx is soaring in popularity, appearing in magazines like Forbes and Rolling Stone. While they mainly produce human CBD oil, if you have a little dig around their website, you'll also discover that they have an impressive line of the best dog CBD oil for your furry friend.
Special Features
CBDfx's pet CBD oil is made from hemp grown in Kentucky, which is extracted with CO2 and blended with organic MCT oil for easy digestion and quick absorption. The final result is a potent broad-spectrum hemp-extract CBD oil that calms even hyperactive dogs in under 90 minutes.
As a broad-spectrum CBD oil, you can be confident that it's free of THC, a psychoactive compound that's toxic for dogs. However, the downside is that your dog won't benefit from the full range of cannabinoids in hemp plants.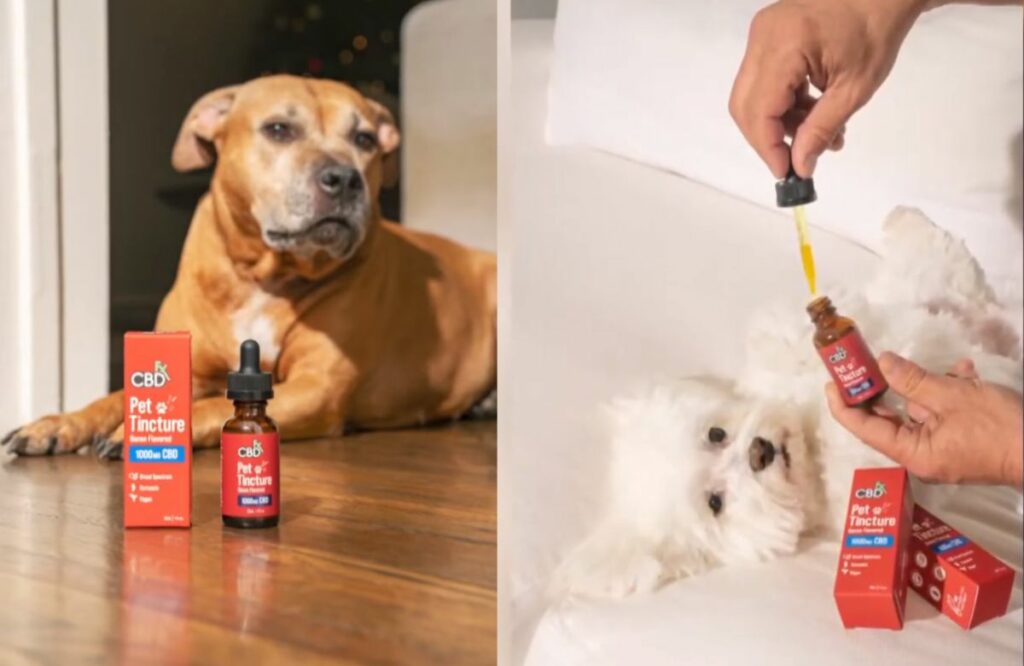 All breeds and sizes are catered for thanks to four available concentrations, ranging from 250mg to 2,000mg. But the best part is its natural bacon flavor. Even picky dogs who turn up their noses at CBD oil mixed in with food won't say no to this! They'll be too busy gobbling it down to even notice it's vegan!
Pros
Four concentrations for all sizes
Medically reviewed by a vet
THC-free
60-day guarantee
Cons
Not a full range of cannabinoids
What We Like
Although CBDfx CBD oil might seem expensive at first glance, we like how it's actually really good value for money, considering its efficacy. The formula has been medically reviewed by a vet and comes with a verified potency, ensuring it's not only safe for dog consumption but effective too.
What Customers Like
Hundreds of customers are happy to back up CBDfx's grand claims, delighted with calm, happy dogs who love taking daily doses of tasty CBD. They've found that this is a particularly effective CBD oil for dogs with anxiety and hyperactivity, and love how much they seem to enjoy the flavor.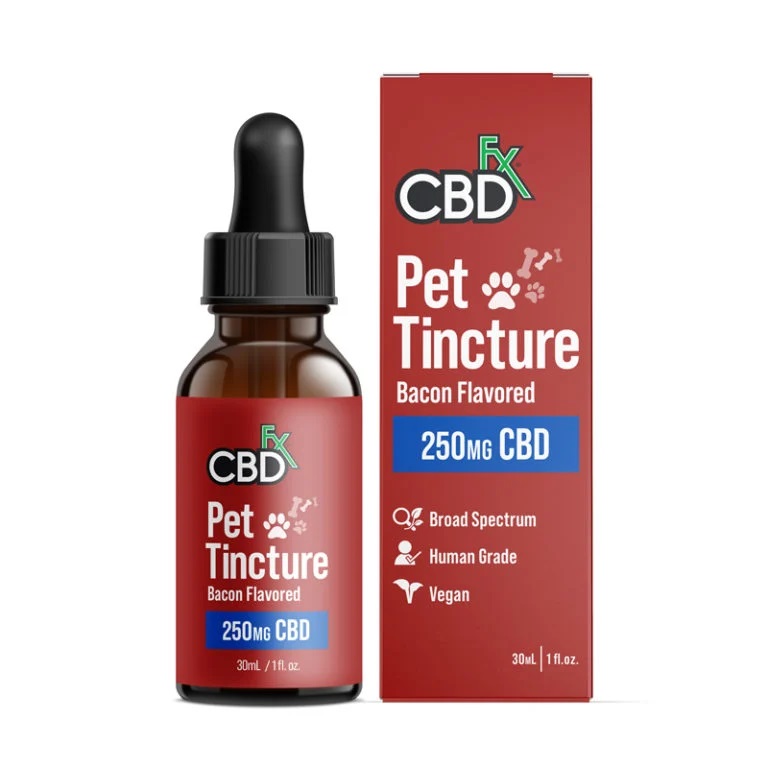 CBD Oil for Dogs – CBDfx
The price of "CBD Oil for Dogs" varies, so check the latest price at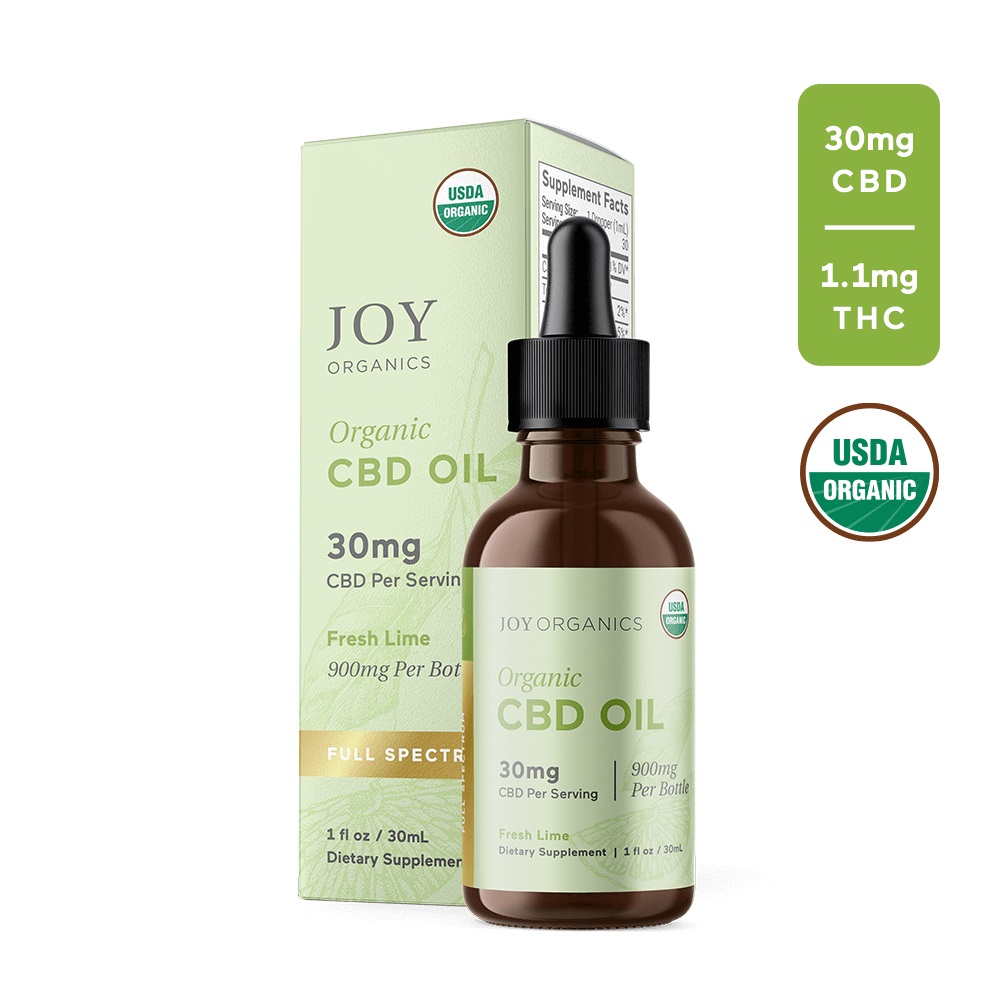 About Joy Organics
Joy Organics is a family-owned business that understands that dogs are family members who deserve the best. That's why they've extended their line of CBD oils for pups as well. No matter the size of the dog or the problem they're experiencing, Joy Organics is bound to have a solution.
Special Features
Although not pet CBD specialists, Joy Organics has released a USDA-certified CBD oil that's medically reviewed by a vet and third-party tested. This broad-spectrum CBD is blended with organic olive oil to bypass any digestive issues and allow easy absorption.
As with all broad-spectrum CBD oils, this tincture is guaranteed to have no traces of THC, minimizing any risk of toxicity and meaning you can relax. With concentrations of 450mg and 900mg, it's perfect for most dog sizes.
Pros
Family-owned business
USDA-certified and medically reviewed by a vet
THC-free
Fast-acting formula
Cons
Not pet CBD specialists
Fewer reviews than other CBD oils
What We Like
Although there's not a full spectrum of cannabinoids, we really like how it's still rich with phytocannabinoids to benefit your dog. On top of that, it's a fast-acting dog CBD oil too – ideal for dogs who only need occasional dosages when necessary.
What Customers Like
While there may not be an abundance of reviews for Joy Organics' CBD oil, the ones they do have are overwhelmingly positive, with customers happy that this formula can finally let their dogs relax for pain-free sleep.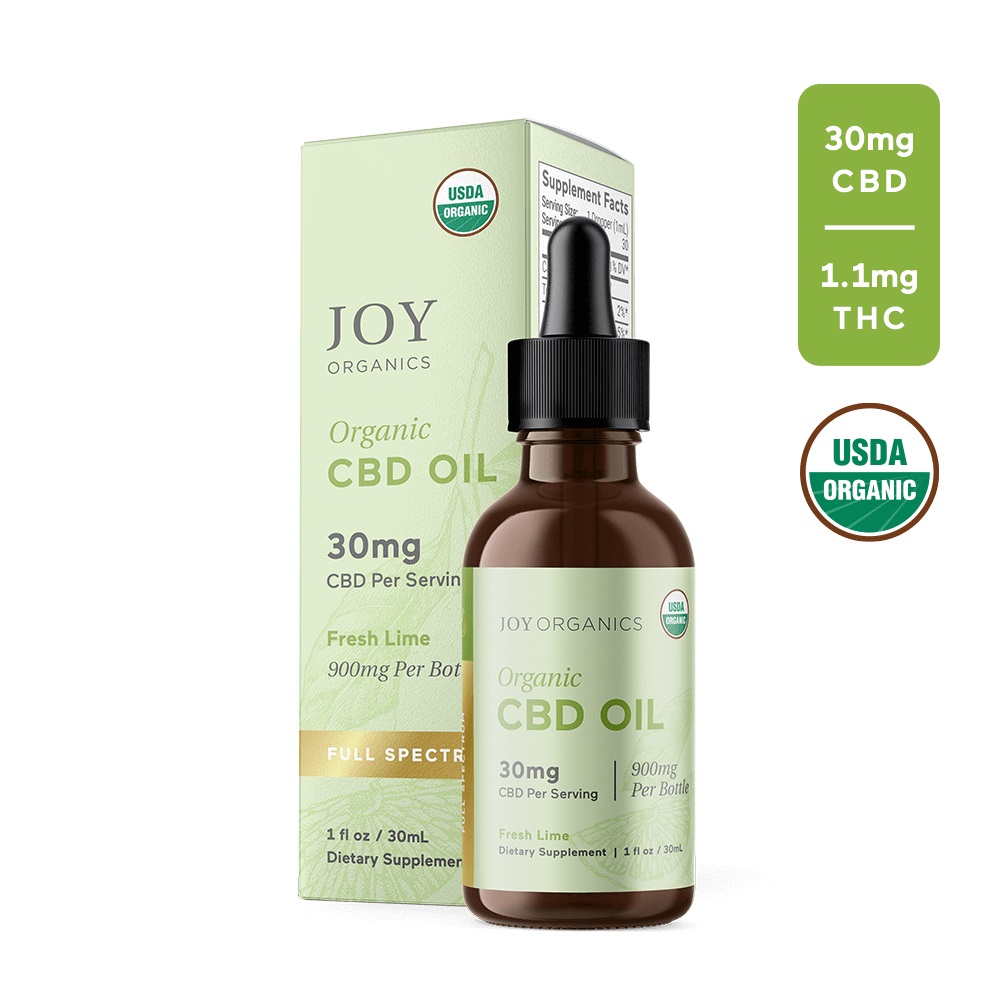 Full-Spectrum Tincture – Joy Organics
The price of "Full-Spectrum Tincture " varies, so check the latest price at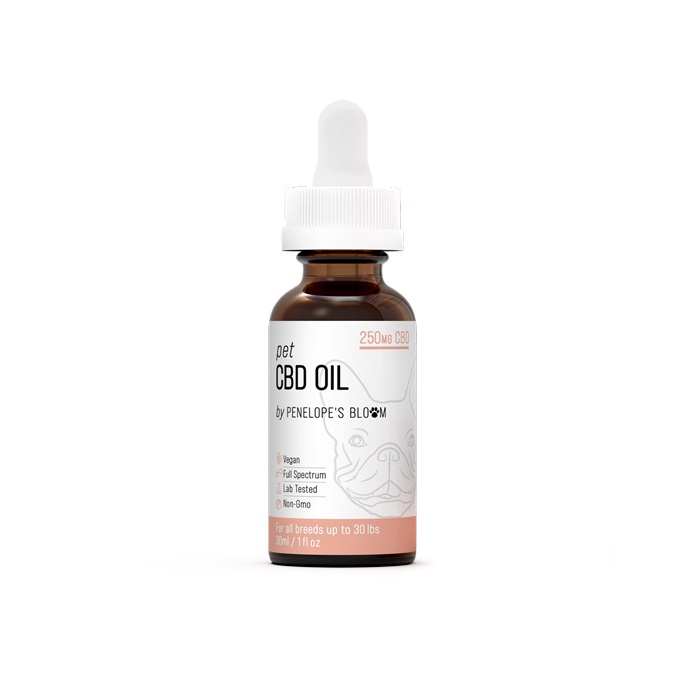 About Penelope's Bloom
Penelope's Bloom is named after the French Bulldog who needed a natural remedy to alleviate pain after spinal surgery. Fortunately, CBD oil worked wonders and sparked the start of Penelope's Bloom, pet CBD specialists who offer high-quality CBD oil at affordable prices.
Special Features
This full-spectrum CBD oil blends organic MCT oil with cannabinoids extracted from US-grown organic hemp, resulting in a tincture rich in cannabinoids to help various ailments. It's even been third-party tested to ensure its safety and effectiveness.
With four concentrations between 250mg and 1,000mg, this is a great option for any size dog. The CBD hemp oil formula is bolstered by chamomile's calming properties, although it doesn't affect the taste, so might need to be mixed in with your dog's food.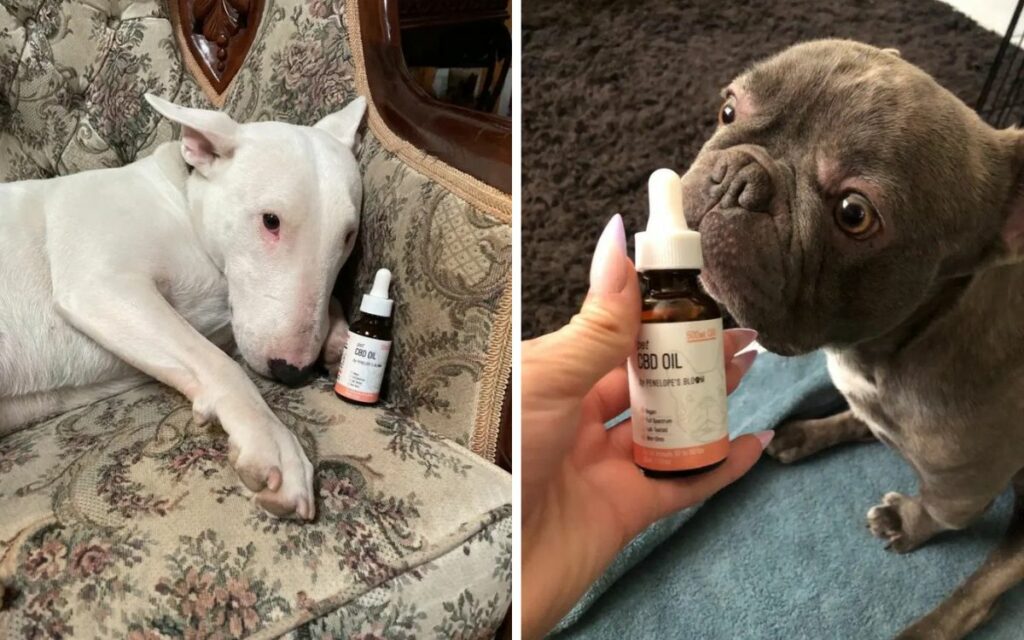 Pros
Full-spectrum oil
Infused with chamomile oil for additional benefits
Fast-acting formula
Four concentrations
Cons
What We Like
We really like the addition of chamomile oil to further help dogs with anxiety relax, but what we like most about Penelope's Bloom CBD oil for dogs is how it works as a fast-acting CBD oil. This means you can quickly help dogs with pain or anxiety as of when they need a dose.
What Customers Like
Hundreds of customers are delighted with Penelope's Bloom CBD oil for dogs. Not only does this dog CBD oil come at great value for money, but its effects are terrific. Pet parents are particularly pleased to see their once anxious dogs remain calmer than ever – even when faced with stressors that usually trigger them!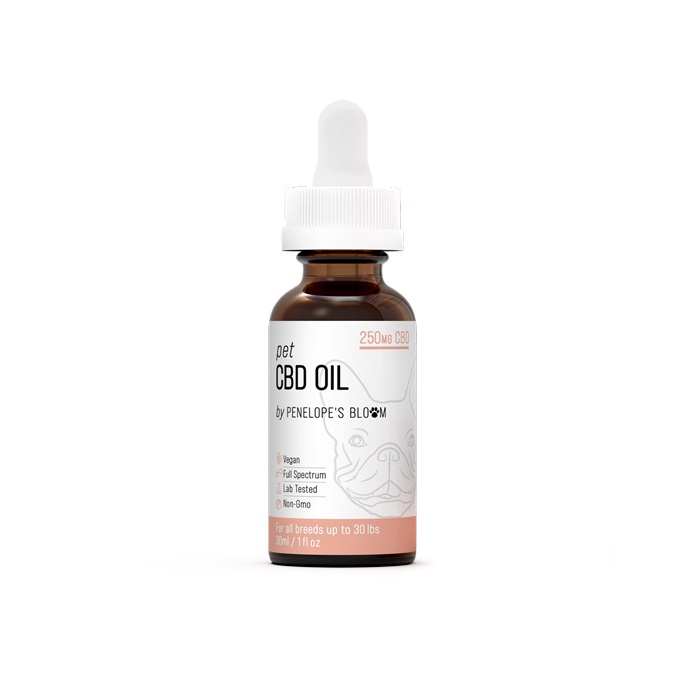 CBD Oil for Dogs – Penelope's Bloom
The price of "CBD Oil for Dogs" varies, so check the latest price at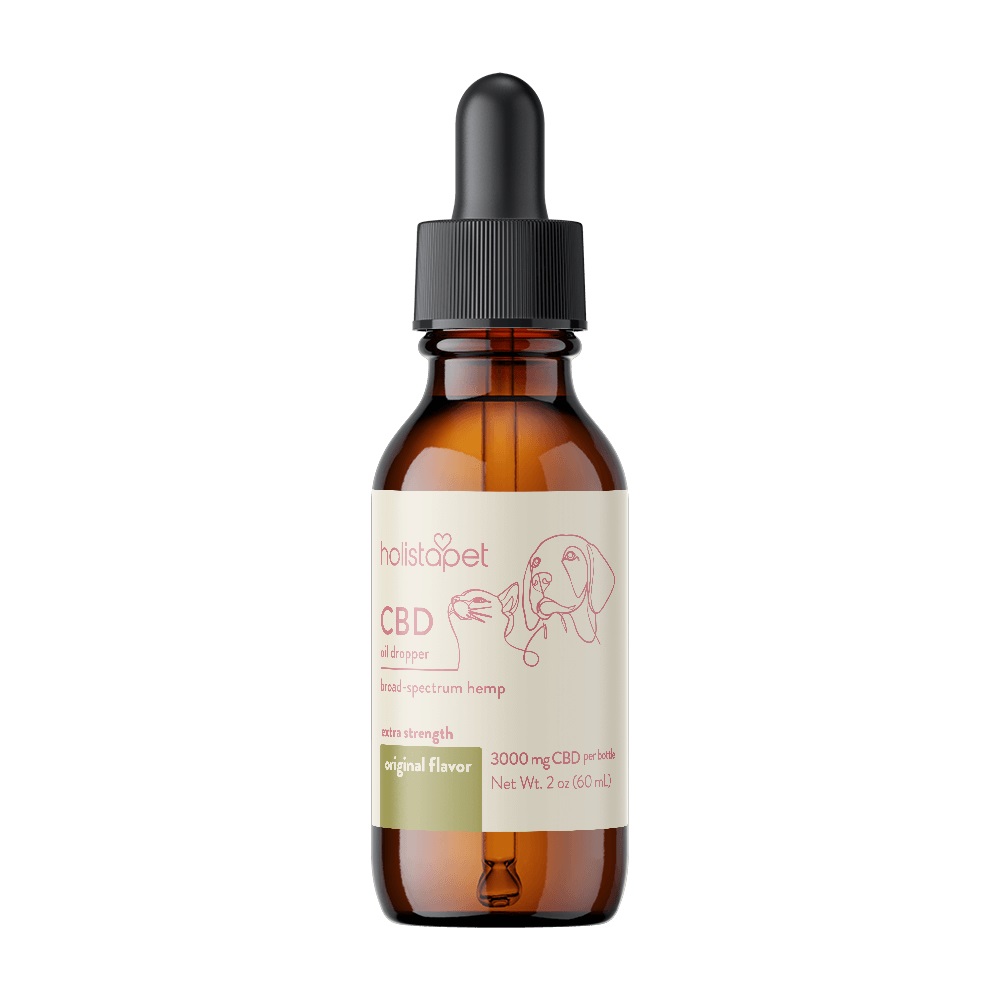 About HolistaPet
HolistaPet does pretty much what you would expect from their name. They are leaders in all-natural holistic wellness products for pets. They know pet owners want to give their pets long and happy lives, and so they've given us the tools we need to achieve that. In fact, HolistaPet is a leader in this, helping over half a million dogs across the US in just five years.
Special Features
As a pet specialist, HolistaPet has the safety of your pet at the forefront of their mind. All CBD products are extracted with CO2 and blended with non-GMO hemp seed oil. Afterward, all CBD oils are sent for third-party lab testing to ensure the broad-spectrum oil has plenty of cannabinoids and 0% THC.
HolistaPet is ideal for all dog sizes, particularly small and large dogs, thanks to five concentrations between 150mg and 3,000mg. Although it's not expensive, we would recommend becoming a HolistaPal+ member to make it even more affordable.
Pros
CBD industry leaders
Affordable
0% THC
Five concentrations
Cons
Not a full spectrum of cannabinoids
What We Like
We love how HolistaPet's best CBD oil is versatile and holistic, addressing numerous problems all at once: it calms dogs prone to stress or anxiety, supports joint health, reduces pain, and even benefits their skin for less itching.
What Customers Like
As an established brand with a strong reputation, customers love knowing they can always rely on this brand for whatever ails their dog. And the reviews certainly show this; countless customers are delighted to see this CBD oil result in calmer, happier dogs. You can't go wrong with HolistaPet!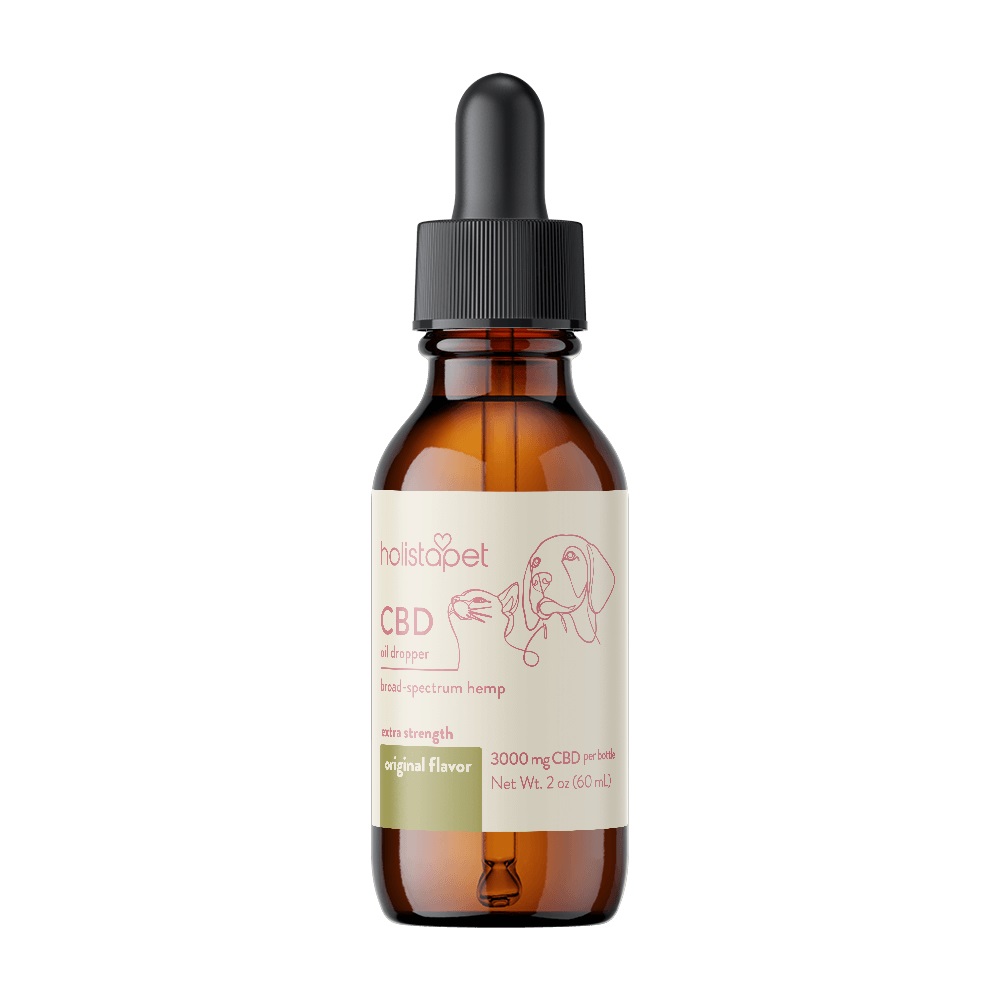 CBD Oil for Dogs – HolistaPet
The price of "CBD Oil for Dogs" varies, so check the latest price at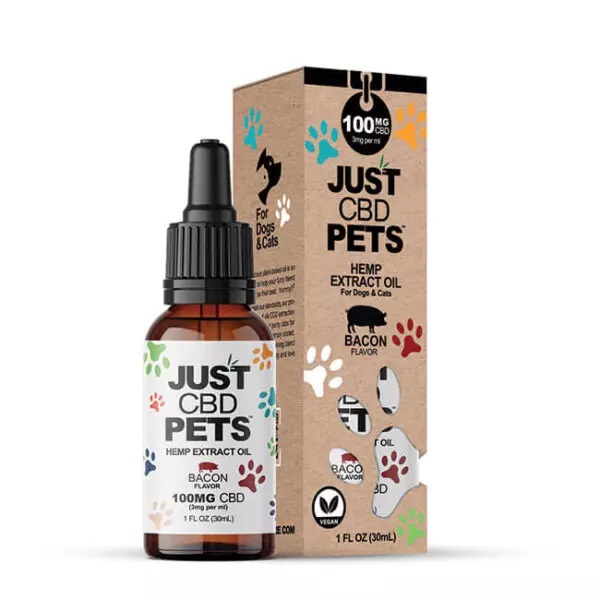 About JustCBD
JustCBD focuses on precisely what you'd imagine – CBD products! Determined to share the wonders that this all-natural treatment can achieve, JustCBD's mission is to stand out from the crowd with industry-leading quality products.
While their main customers aren't pets, they still offer CBD products for cats and dogs and include a range of flavors to appeal to them in particular.
Special Features
JustCBD knows that not all dogs are alike. That's why they've given you the chance to cater your CBD product to suit your pup's size and preferences.
Although there are three concentrations available, from 100mg to 500mg, these are more designed for small to medium dogs. Very large dogs might find they get through a bottle fairly quickly!
However, their flavors are what really stand them apart. Available in bacon, beef, and chicken, there's bound to be a flavor your pup will love!
Pros
Three concentrations available
Three flavors dogs love
Comes with a certificate of analysis
Cons
Company is not a specialist in pet CBD oil
No concentrations for large dogs
What We Like
We really admire the care that JustCBD put into their products. They realize that getting a dog to take their treatment can be a challenge for some dog owners, so they don't take any shortcuts when it comes to flavor. Dogs eagerly await their next dose, keen to gobble down the oil like it's a delicious treat.
Even better, JustCBD has full transparency with its customers. Its cannabidiol comes from the same American-grown hemp they use for human CBD oils and comes with a certificate of analysis.
What Customers Like
Although taste is one of the best parts of this CBD oil, that's not the only thing it's got going for it. It has still proven itself to be tremendously effective for hundreds of dogs.
JustCBD's oil has relaxed anxious pups, with many eagerly awaiting their next tasty dose, and has helped countless arthritic dogs. For example, one 12-year-old shorkie with a bad case of arthritis never felt the relief they needed from medication, but after two weeks with JustCBD's oil, he's much more comfortable and even excitedly barks at his owner for his next dose.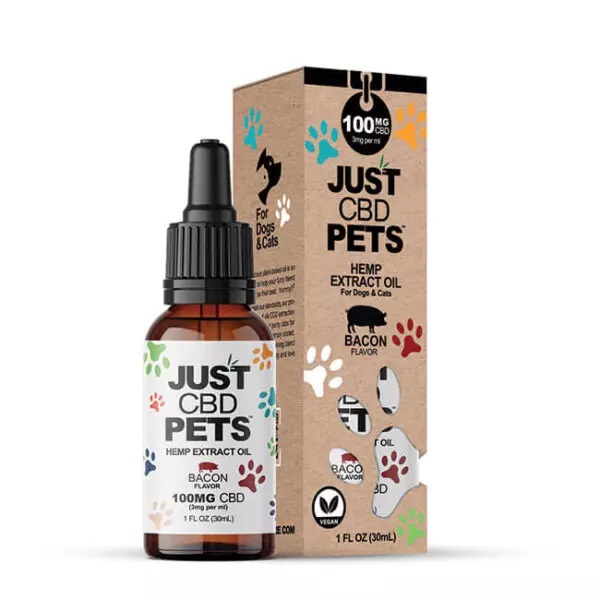 JustCBD for Dogs
The price of " JustCBD for Dogs" varies, so check the latest price at
Criteria for Selecting These CBD Oils
There's not a wealth of scientific evidence for pet CBD oil yet, but many dog owners are convinced by its effectiveness and have been delighted by the results. So, it's no surprise there are so many CBD products out there. With so many on the market, we narrowed down our top choices by following this criteria.
Quality
The quality of cannabidiol is key. While it can be extracted via olive oil, dry ice, and even solvents like alcohol, this can affect the final product and remove cannabinoids. Instead, we prefer CBD extracted via CO2 since it's the cleanest method possible.
Ingredients
Cannabidiol is the main element of CBD oil, so not much else is needed. Some might add organic ingredients with additional health benefits to boost the noticeable effects of CBD, such as chamomile, L-Theanine, or turmeric, and some might add flavorings like peanut butter or blueberry. However, if there's a long list of ingredients, it's best avoided.
Price
When it comes to price, you want to make sure you're not paying too high or too low. Too cheap a price can indicate a lower-quality product that will either be ineffective or dangerous for your dog. On the other hand, a CBD oil that's far more expensive than most other brands could indicate a company that is looking to exploit caring pet parents who want the best for their dogs. As a rule, select a CBD oil for dogs that falls in the average range between $30 to $70.
Lab Testing
Brands can make whatever claims they want, but it doesn't mean they're true. That's why you should prioritize your pet's health and only buy from trusted brands whose products are tested in a third-party lab. Make sure brands are transparent about their high-quality ingredients, extraction methods, and how they test CBD products.
Certifications
Transparency and honesty are vital characteristics in a company when it comes to your dog's health. If their products have been third-party lab tested, they should be able to supply a certificate of analysis to you in order to prove both their efficacy and safety.
Hemp Source and Potency
Cannabidiol for pets should only be extracted from hemp plant grown in the USA due to the various regulations that ensure it's safe to ingest. The potency of CBD depends on the size of your dog; the smaller the dog, the lower the concentration needed. We include high-quality CBD oils with a range of potencies to suit all dog breeds and sizes.
Reviews
No dogs are the same, and they all experience CBD differently. It's impossible to predict precisely how they will react, but you can get a good idea based on others' experiences. The best CBD oils receive overwhelmingly positive reviews from customers who have noticed stark improvements.
CBD Oil Buying Guide Based on User's Perspective
Buying CBD oil can seem like a daunting process. Fortunately, if you're considering CBD oil for your dog, you can't go wrong with the recommendations in our guide. However, responsible pet parents have a duty of care, so we would strongly encourage you to do your own research to get the best CBD oil for your dog. Here are the top things you should look out for to buy the best CBD oil:
Type of CBD Oil
Pet CBD oils come in two formats: full-spectrum CBD oils and broad-spectrum CBD oils. Full-spectrum is more effective since it contains all the cannabinoids available. However, broad-spectrum CBD is guaranteed to be THC-free. Since THC is toxic for dogs, a broad-spectrum CBD oil might be better if your dog is at all sensitive to medication.
CBD isolate is a pure form of cannabidiol, offering a THC-free option to provide potential benefits for dogs' well-being.
Check for Potency
Dogs react differently to CBD than other species, so it's important to get the best CBD oil for dogs with the right potency. Potency varies between breeds of dog as well;if you have a tiny dog like a chihuahua, you need a small concentration, but if you have larger dogs like a Great Dane, you need a stronger one.
Each product has detailed dosing instructions, so check the bottle beforehand to ensure you know how much CBD oil to give to your pup.
Look for Organic Hemp
Don't settle for any old hemp. Cannabidiol for dogs must be extracted from hemp that has been free from pesticides and allergens. It should also be USA-grown hemp since the national regulations ensure it's safe for consumption.
Texture
While texture usually applies to CBD dog treats, it can sometimes be relevant with CBD oil for dogs. If you plan on hiding pet CBD oil in their regular food, ensure that it comes as a non-viscous liquid that's easy to disguise.
Strength
Besides potency, it's worth having a glance at the certified organic ingredients in the formula to see how much is actually CBD oil. Dogs sometimes prefer a pet CBD oil with a little less cannabidiol and more organic MCT oil or chamomile for its digestive qualities or flavor.
If your dog isn't a fan of just pet CBD oil, perhaps it's worth finding a product with other ingredients to dilute the strength to suit their palate.
Consider Flavor
The worst thing about giving my dog medicine is that she's a picky eater and refuses to touch it unless it's hidden inside a ball of cheese. If your dog is fussy too, it might be worth selecting CBD oils with a tasty flavor they would enjoy. Most dogs are huge fans of flavored CBD oil!
Brand's Reputation and Customer Reviews
Dog owners love gossiping, so brands quickly get a reputation if they sell good products. Start your search by looking at well-known brands you trust to ensure you don't waste your money or risk your dog's health. It's also worth looking at customer reviews to make sure the pet CBD oil you're interested in has a formula that's effective in treating the problem your dog suffers from.
Types of CBD Products for Dogs
While we're primarily focusing on CBD oil for dogs in this article, this isn't the only option available to you. If you don't like the idea of administering CBD in the form of oil or would prefer to know all your options beforehand, here are the types of CBD products you can find to treat your dog.
CBD Oil Tincture
Pet CBD oil tincture is the most usual way to administer CBD to dogs and is the easiest type to find. Cannabidiol is extracted from the hemp plant and combined with a carrier oil for easier digestion and absorption – no other ingredients are necessary. However, some include further ingredients for additional health benefits or better taste, such as chamomile.
CBD Dog Treats
CBD dog treats are perfect for fussy eaters who don't like the taste of CBD pet oil and can always tell when you hide it in their food. These tasty alternatives are often easier to give but require you to keep a note of how many you've given them so you don't dish out too many at once.
Although they have more ingredients than CBD oils, they're still healthy and do the trick to help your dog with various issues.
CBD Balms
Not all dogs need a full dose of CBD – some just need a bit of pain relief in one area of their body to help with joint problems. If your dog has arthritis in a specific area and doesn't mind you touching it, you can use CBD balm. Simply apply a little to whichever area is sore and gently rub it in. Before long, it will absorb directly into the bloodstream and relieve the pain in that area.
CBD-Infused Peanut Butter
What if your dog hates the taste of CBD oils, avoids CBD treats, and refuses to let you touch their sore area? Fortunately, you can always turn to CBD-infused peanut butter. Few dogs will turn their nose up to the delightful taste of peanut butter, and it's easy to smear on a licking mat or combine in their food for a simple way of administering daily CBD.
How Can CBD Oil Contribute to the Well-Being of Dogs?
Cannabidiol contains active chemical compounds that interact with endocannabinoid receptors to improve health and well-being. But what specific issues can CBD pet oil for dogs help with?
Alleviates Pain
If your dog is in pain, many veterinarians will recommend medication like NSAIDs and opioids. However, pain relief is one of the most-studied benefits of CBD oil for dogs. In fact, a 2018 study found that CBD oil for dogs resulted in significant improvements in pain and quality of life for more than 80% of dogs with osteoarthritis.
CBDfx's tincture is the best CBD oil for this, having given a better quality of life to a sixteen-year-old Labrador and helped a bully with a knee injury more than NSAIDs did.
Stress Reliever
It doesn't take much to stress dogs out. But fortunately, CBD oils for dogs have an anxiolytic effect that alleviates anxiety. Studies have shown that CBD helps dogs with fireworks and other stressors by calming their mind and body. While we don't know precisely how, we believe it interacts with serotonin receptors in the brain for therapeutic benefits that reduce stress and its accompanying behaviors.
The best CBD for dogs to help your anxious pet is from Joy Organics. It's worked wonders in calming stressed dogs, in particular, a rescue dog who was easily agitated by other dogs and barked excessively. After a dose of the best CBD oil from Joy Organics, they have calmed down and settled into their new home.
Control Seizures and Epilepsy
One study found CBD oil for dogs to be effective in decreasing the frequency of seizures in 89% of dogs. However, it's difficult to recommend CBD oil for dog seizures since another study drew no specific conclusions. Still, considering it's still early days, there is promising research to suggest that CBD oil helps in treating seizures when combined with traditional medication.
One of the best CBD oils for dogs, from Penelope's Bloom, has been particularly helpful in helping one dog owner control her pup's seizures. It's worked well for her so far, allowing her to reduce the amount of phenobarbital she had to administer.
Treats Arthritis and Inflammation
CBD interacts with endocannabinoid receptors in the brain, helping to control inflammation and reduce swelling and joint pain caused by arthritis. But what makes it even better is that it works well alongside other treatments, like glucosamine and NSAIDs.
There's plenty of research to back this up: one study found that four weeks of daily CBD oil for dogs led to a significant gradual improvement in canine arthritis symptoms, while another study in 2020 concluded that CBD oil for dogs boosted the effectiveness of anti-inflammatory drugs.
Penelope's Bloom CBD oil has helped 12-year-old Daryl's joint pain. His pet parent was reluctant to give him any medication due to the risk of liver damage, but Penelope's Bloom has reduced the pain to the point where he's much calmer and happier.
Treats Cancer
Although there are links between CBD oil for dogs and reduced tumor progression, even the best CBD oil can't cure cancer. However, it can treat various symptoms to improve their quality of life with cancer, such as reducing inflammation, reviving appetite, and relieving pain, anxiety, and nausea. However, it should be used to support dogs and not replace prescribed treatments.
Honest Paws CBD oil is one of the best CBD oils for dogs with cancer. It has helped an 11-year-old Great Pyrenees named Scout, allowing her to rest more peacefully and seem brighter than usual.
Improves Heart Health
Although this isn't the main reason to administer CBD oil for dogs, cannabidiol can still benefit blood vessels and enhance cardiac function. This ends up lowering blood pressure and helping any dogs who might suffer from arrhythmia achieve a more regular heartbeat.
What Is the Recommended CBD Dose?
How much CBD oil you administer depends mostly on the dog's breed and size. Although there's no official recommendation, a general rule of thumb is to administer between 1mg to 5mg per 10 lbs. Start with a lower CBD oil dosage and gradually increase it until you find the sweet spot.
Don't worry about giving too high a dose. Although giving too much can result in unpleasant side effects, recovery occurs within 24 hours. However, make sure not to give marijuana to dogs; instead, ensure you give them perfect CBD oil formulated for pets since this occurs with little to no THC, a psychoactive compound that's toxic for dogs.
Onset Time for Dog CBD Oil to Show Effect
How long it takes for CBD oil for dogs to take effect depends on the ingredients and concentration. However, you can usually expect to see benefits start taking effect within an hour.
Don't give up if you don't spot any benefits immediately. You might need to continue a daily regimen for a few days to start seeing it take effect.
Potential Side Effects of CBD
Most potential side effects of CBD oil for dogs aren't too dangerous. Your pup might seem sleepier than usual and might develop a dry mouth due to reduced saliva production. Be wary of your dog having a dry mouth for too long though, since this allows bacteria to thrive in their mouth and leads to dental decay.
More serious side effects include lowered blood pressure and gastric issues like vomiting or diarrhea. There may also be the risk of exacerbating tremors if they already have any. These side effects are less common, but consult a veterinarian if you have any concerns.
FAQs
Dog CBD oil is an exciting treatment, but it's still relatively new, meaning hundreds of pet parents have a lot of questions before committing to the benefits of high-quality CBD oil.
Do Vets Recommend CBD Oil?
Since dog CBD oil is not yet FDA-approved, vets can't recommend it. However, there is still plenty of scientific research to prove its benefits, so they can still offer you advice if it's an avenue of treatment you want to pursue.
What Is the Difference Between Broad-Spectrum and Full-Spectrum Hemp Extract CBD Oil?
When extracted from hemp, cannabidiol contains over a hundred active chemicals called cannabinoids. Full-spectrum hemp oil includes all cannabinoids for full effect, whereas broad-spectrum CBD oil has less cannabinoids but is THC-free.
How Does a Dog Feel After Taking CBD?
Dogs usually feel fine after taking organic CBD oil. If they don't have enough, they won't feel any change. But as you increase their dosage, they'll feel much calmer and experience less pain.
If you accidentally give them too much CBD oil, they might feel a little unwell, but this isn't usually serious and passes within 24 hours.
Does CBD Treat Allergies?
According to a 2022 study, organic CBD oil can decrease itching in dogs with dermatitis. This is because CBD acts as an anti-inflammatory and eases any itchy skin rashes. Although not marketed as a treatment for skin and coat irritation, it can still be effective.
Final Thoughts
There's nothing worse than watching helplessly as your dog suffers from chronic pain or anxiety. However, before jumping straight to medication and its various side effects, it might be worth considering CBD pet oil.
No matter what your dog might be suffering from, CBD has a range of benefits that can benefit them. With the right dog CBD oil, you can give your pup the best quality of life to keep them happy and healthy.