Disclaimer: The information provided in our articles is for educational purposes only and should not be considered a substitute for professional veterinary advice. It is essential to consult with a veterinarian before starting any CBD products for your dog's health and well-being.
Every dog owner knows there's nothing crazier than hyperactive dogs. I remember when mine was just a puppy – it wasn't long before she sent the whole family crazy! Hyperactivity isn't just a burst of energy or a case of the "zoomies." It's your dog constantly running around, causing mischief, barking, and destroying your lovely home.
Sometimes pups grow out of this behavior, but others stay hyper for years, even after reaching maturity. And when you're faced with a fully-grown dog who just won't sit still, you need a solution fast.
Fortunately, CBD oil can relax your dog and calm them down, giving you a chance to manage their hyperactivity.
Top Pick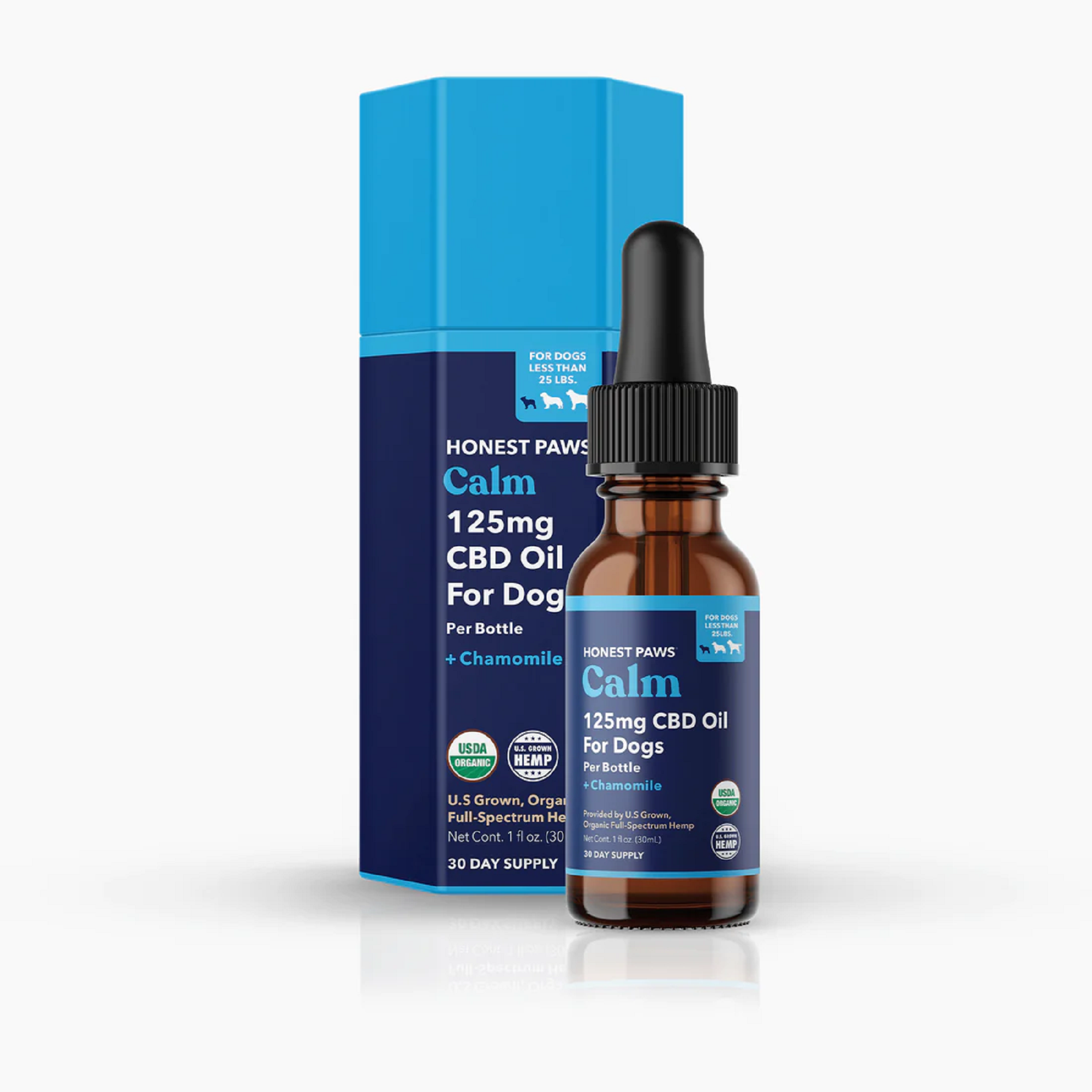 CBD Oil Drops for Dogs: Honest Paws
ACTIVE INGREDIENT: CBD FROM ORGANIC FULL-SPECTRUM HEMP OIL 125MG

NET CONTENT: 30 ML
Extra Strength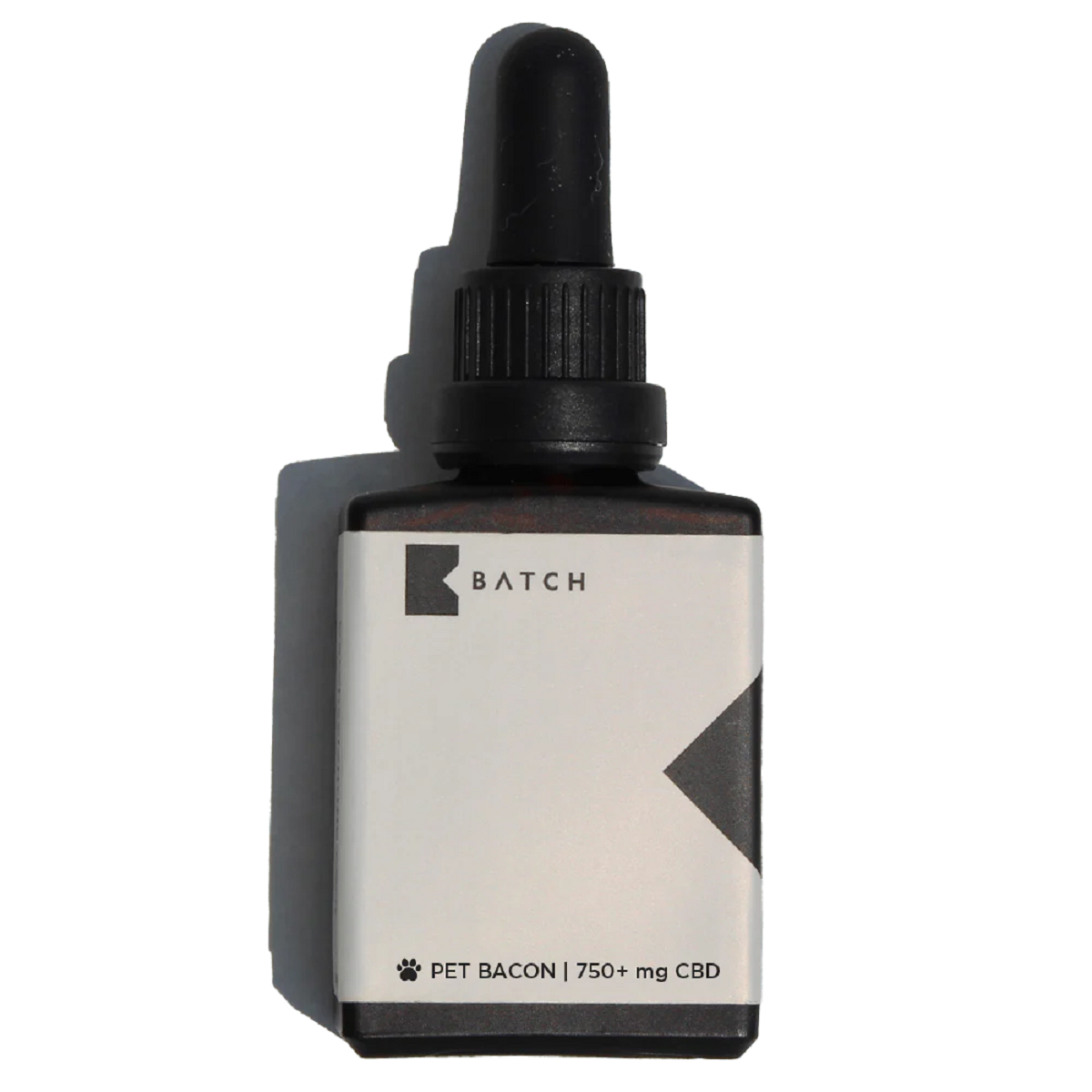 Pet CBD Oil Tincture: Batch CBD
ACTIVE INGREDIENT: RAW HEMP EXTRACT 750 MG CBD
NET CONTENT: 30 ML
Best Flavor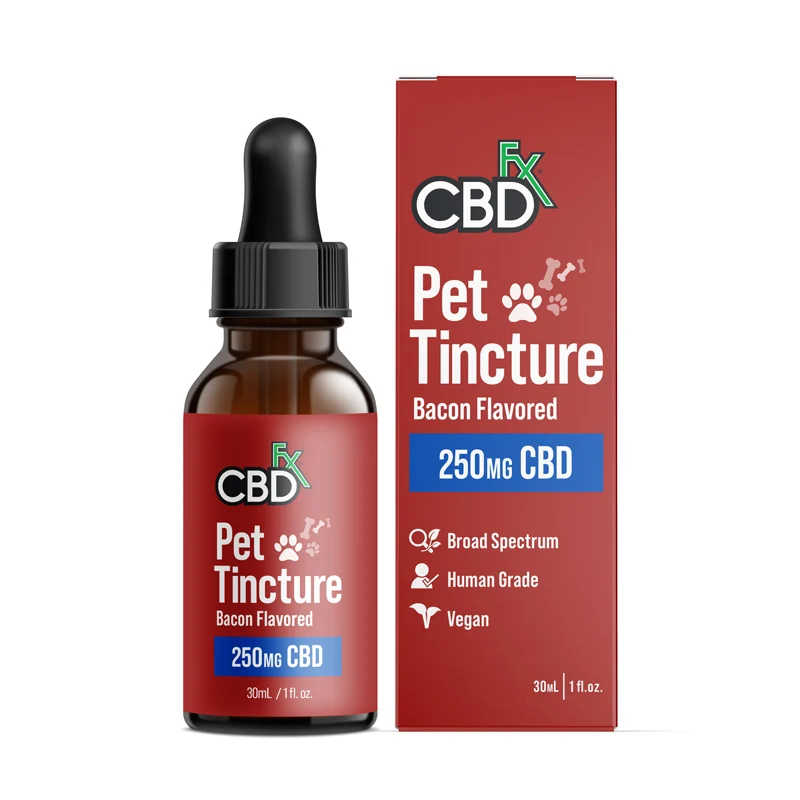 CBD Oil for Dogs: CBDfx
ACTIVE INGREDIENT: CBD-RICH HEMP OIL 250MG
NET CONTENT: 30 ML
Best Versatility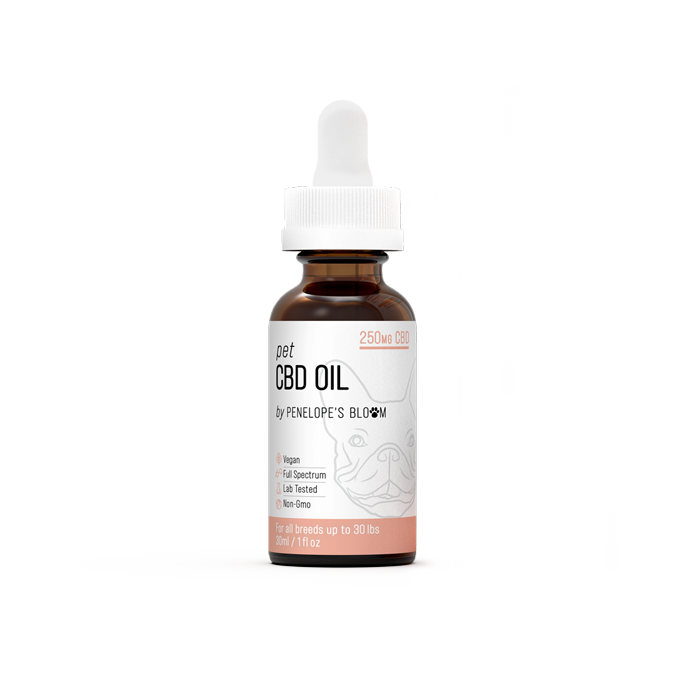 CBD Oil for Dogs: Penelope's Bloom
ACTIVE INGREDIENT: FULL SPECTRUM ORGANIC HEMP OIL 250 MG
NET CONTENT: 30 ML
Premium Ingredient Bites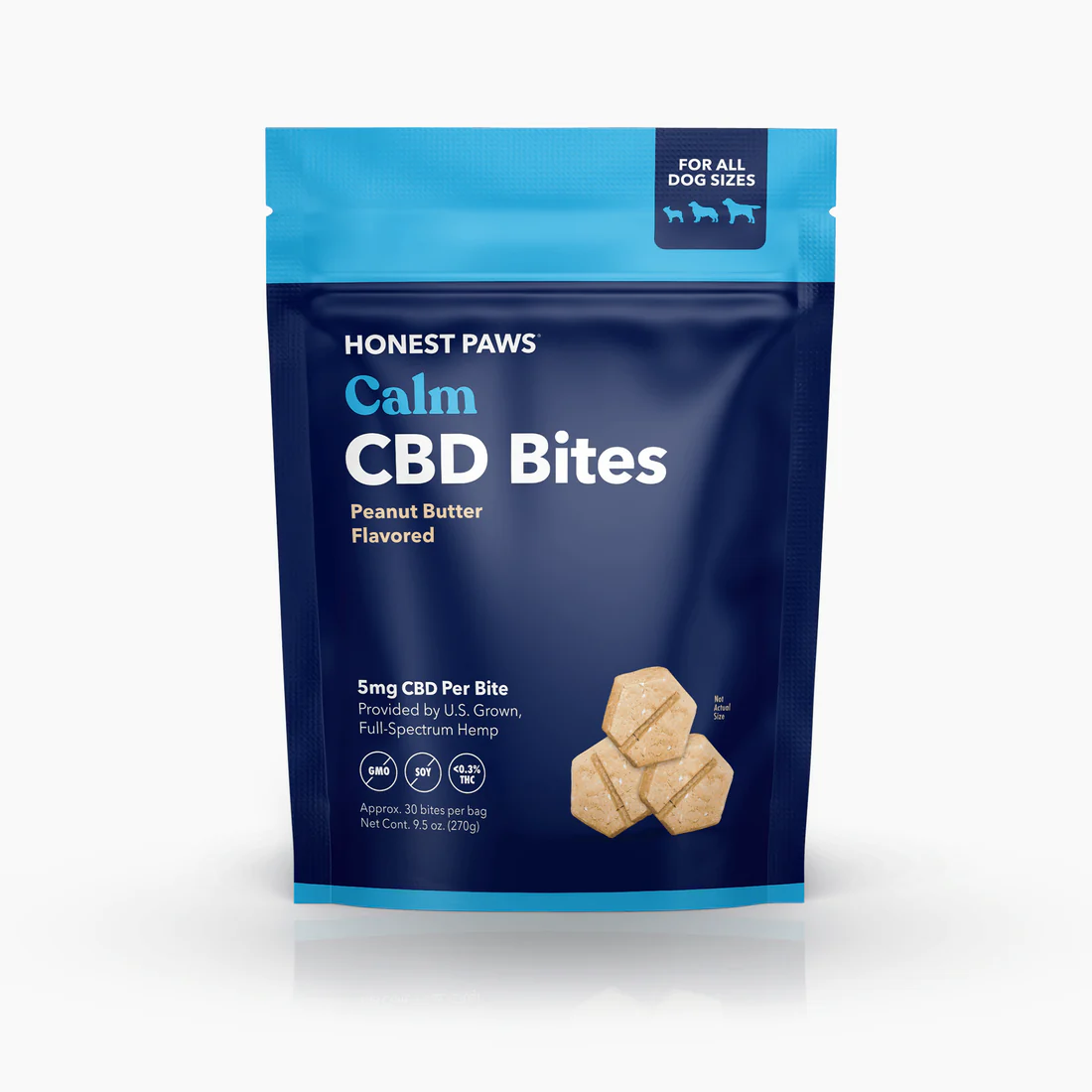 CBD Calm Bites: Honest Paws
ACTIVE INGREDIENT: Organic Full-Spectrum Hemp Oil 40mg
NET CONTENT: 30 Bites
Best Value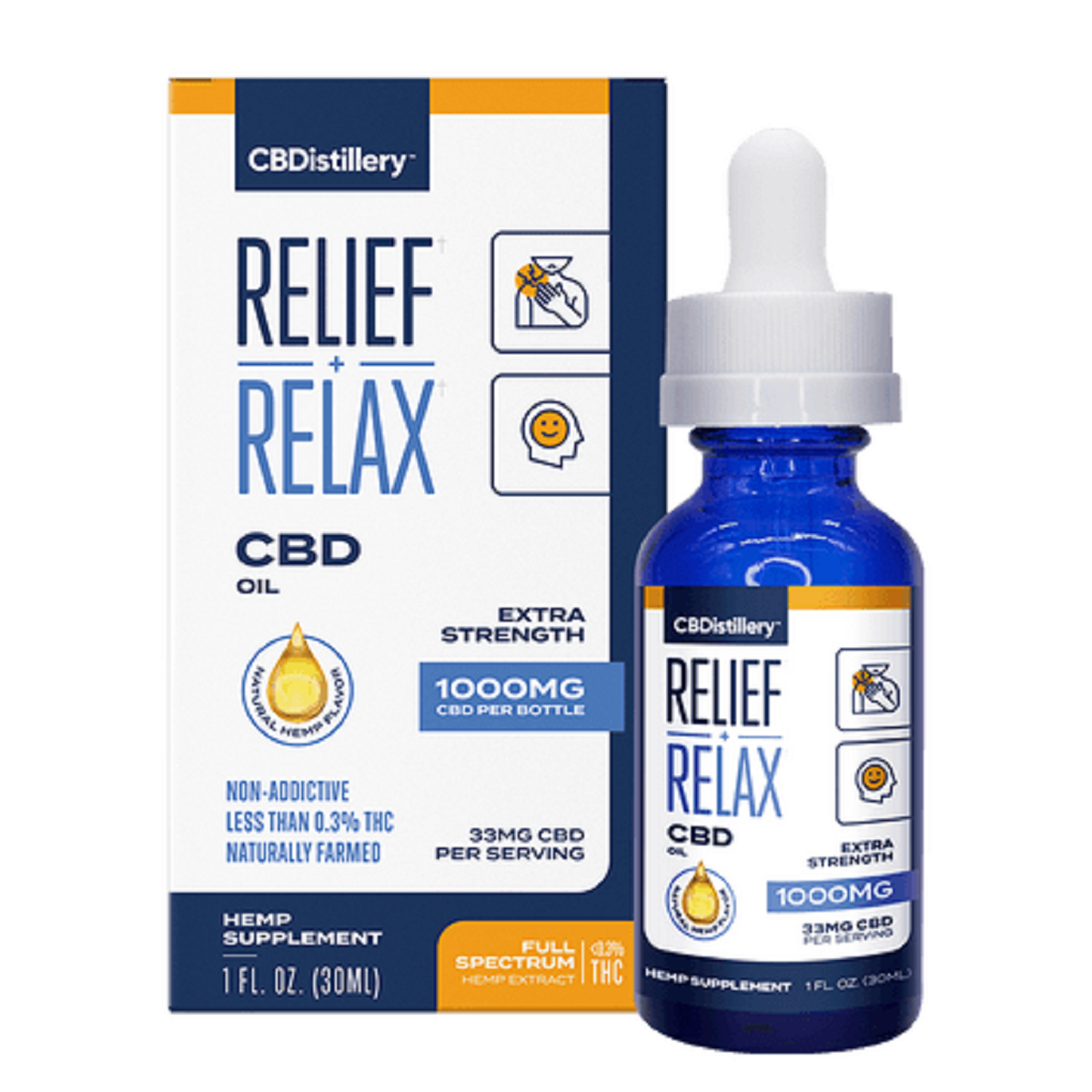 Full-Spectrum CBD Oil Tincture: CBDistillery
ACTIVE INGREDIENT: Full Spectrum CBD Oil Tincture  1000mg
NET CONTENT: 30ml
Best Potency Range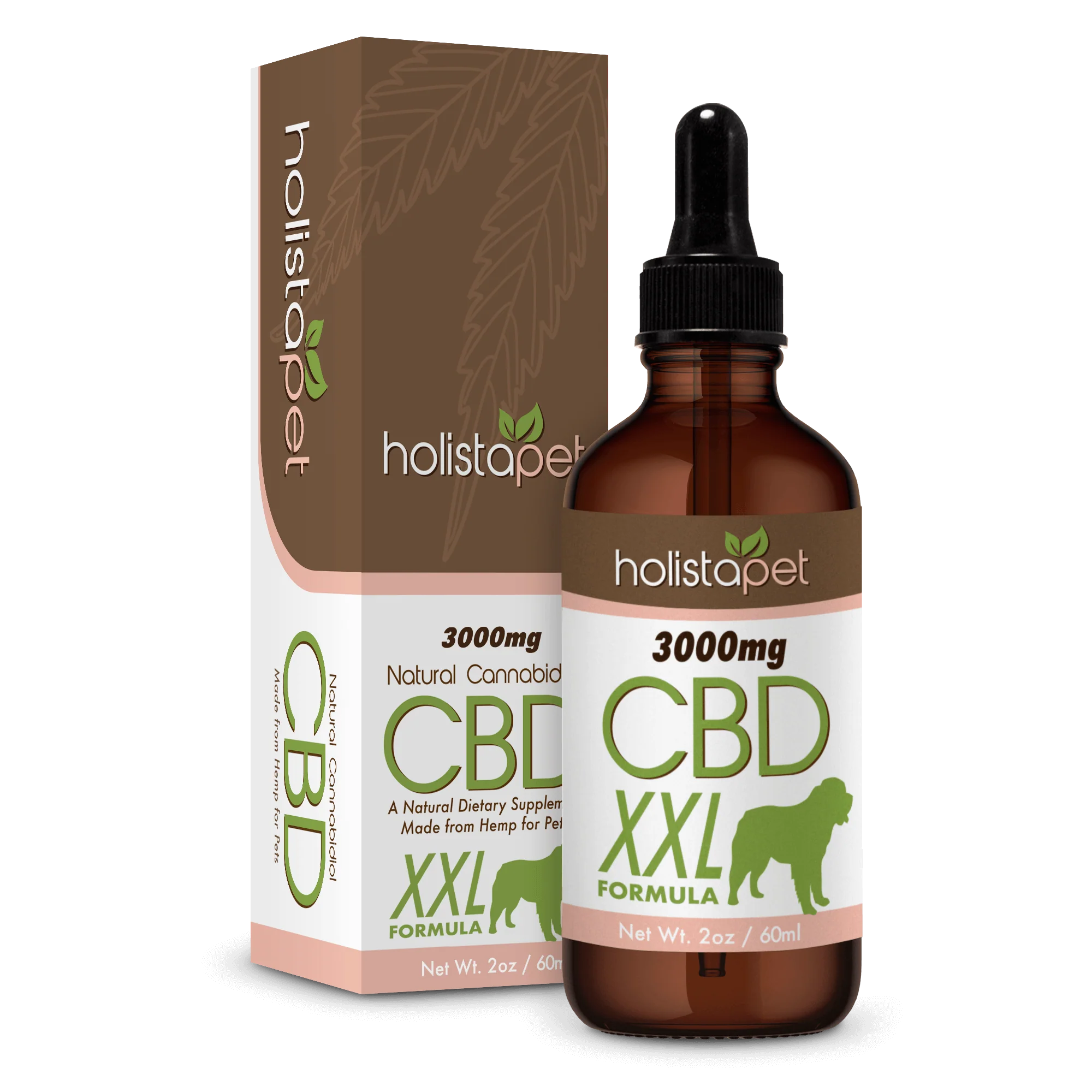 CBD Oil for Dogs: HolistaPet
ACTIVE INGREDIENT: BROAD SPECTRUM HEMP 300 MG
NET CONTENT: 15 ML
Best CBD for Hyper Dogs
It's not easy to decide on a dog CBD oil when there are so many brands vying for your attention. So, here are some of the best CBD products to consider when starting your search.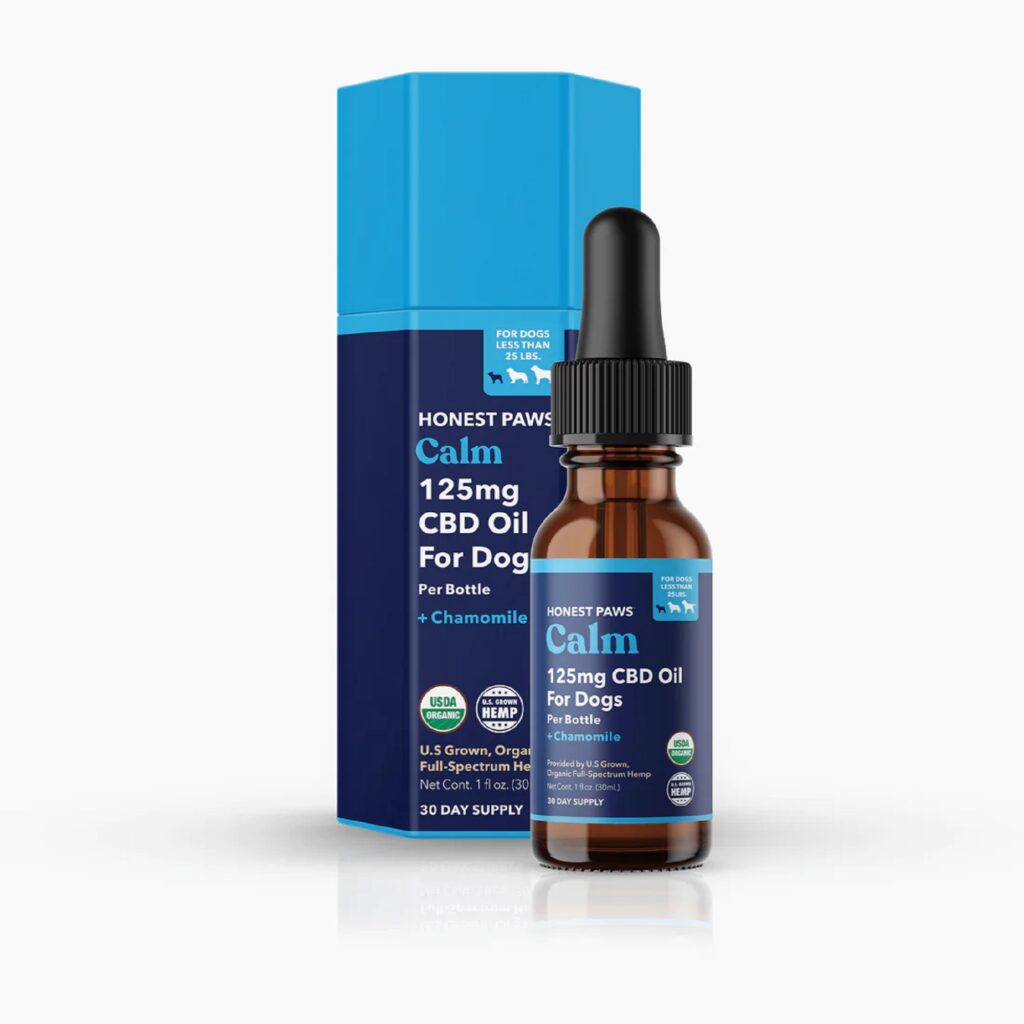 There's a reason why this formula is named 'Calm.' This oil is formulated specifically to ease anxiety and calm your dog of any stress or hyperactivity. It even benefits their cognitive health, allowing pet parents to better manage their behavior.
Honest Paws began when their founder's dog was prescribed medication that would bring a lifetime of side effects. But when CBD oil treated the condition without side effects, Honest Paws started sharing the wonders of CBD oil with the world.
Today, Honest Paws is a well-known brand supplying CBD products to pets. All CBD oils come from organic USA-grown hemp and are third-party tested for safety.
There are three different CBD oils from Honest Paws: Mobility, Well, and Calm. Well is the best CBD oil for cancer, helping dogs with immune support, while Mobility is the best CBD for arthritis, supporting dogs' joints. But Calm provides all the cannabinoids your dog needs to combat anxiety, stress, or boredom within an hour.
Calm is a full-spectrum oil that makes use of chamomile's calming and relaxing properties for added effect. There are four strengths on offer (from 125mg to 1000mg), with hundreds of positive customer reviews claiming it worked better than they expected.
With this oil, hyperactive dogs stay calm even with thunderstorms booming outside, while dogs who never sit still can finally focus long enough to improve their training.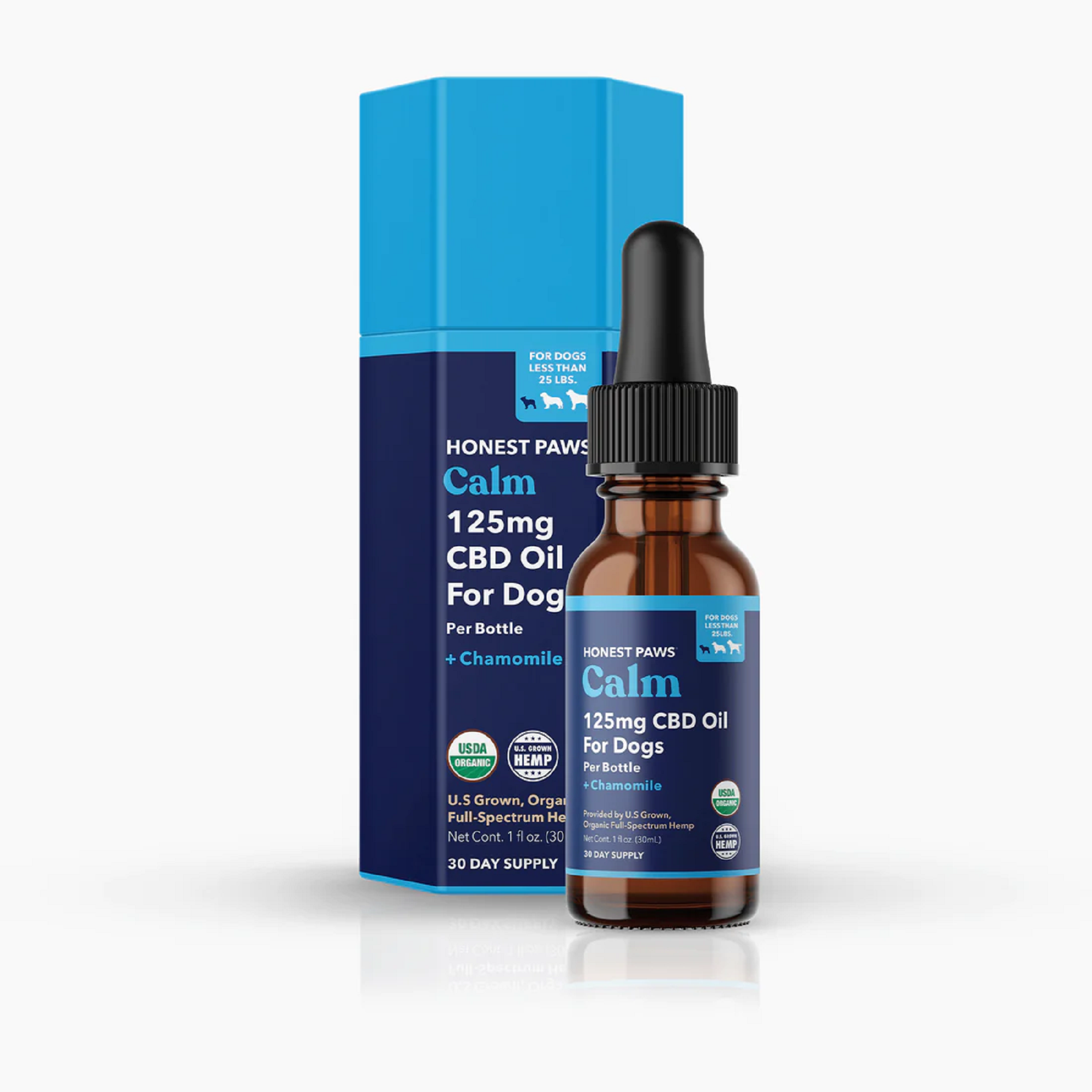 CBD Oil Drops for Dogs: Honest Paws
The price of "CBD Oil Drops for Dogs: Honest Paws " varies, so check the latest price at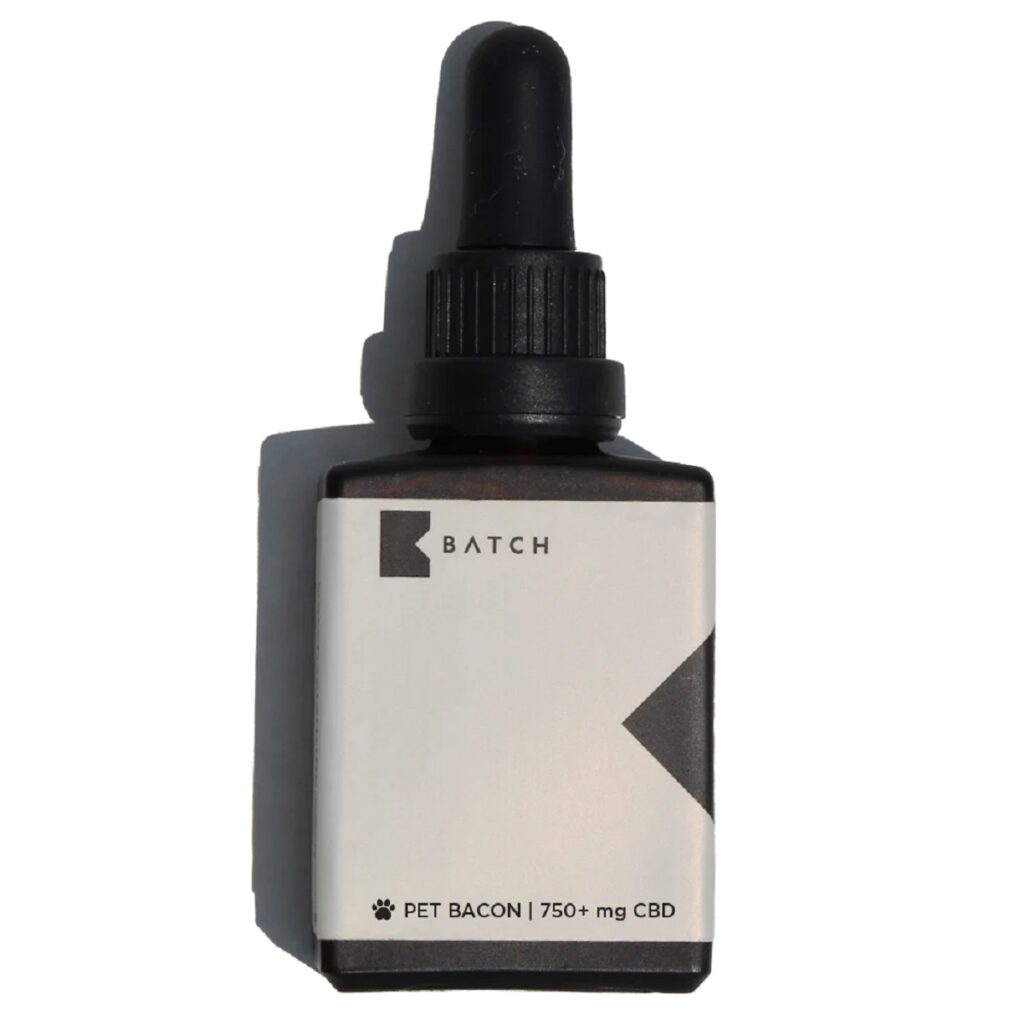 Batch has only been producing CBD for a few years, but they have fast become a reliable option for dog owners. That's because they produce a full-spectrum oil your dog just can't say no to! With either salmon or bacon flavors to choose from, dogs love the taste of Batch CBD oil, making it super easy to administer.
All their oils are extracted from non-GMO hemp grown in Wisconsin before in-house specialists blend it with MCT for easy digestion and send them off for third-party testing. Although the final result is a full-spectrum hemp extract oil, you can guarantee that there's no more than 0.3% THC, meaning there's no risk of a psychoactive high.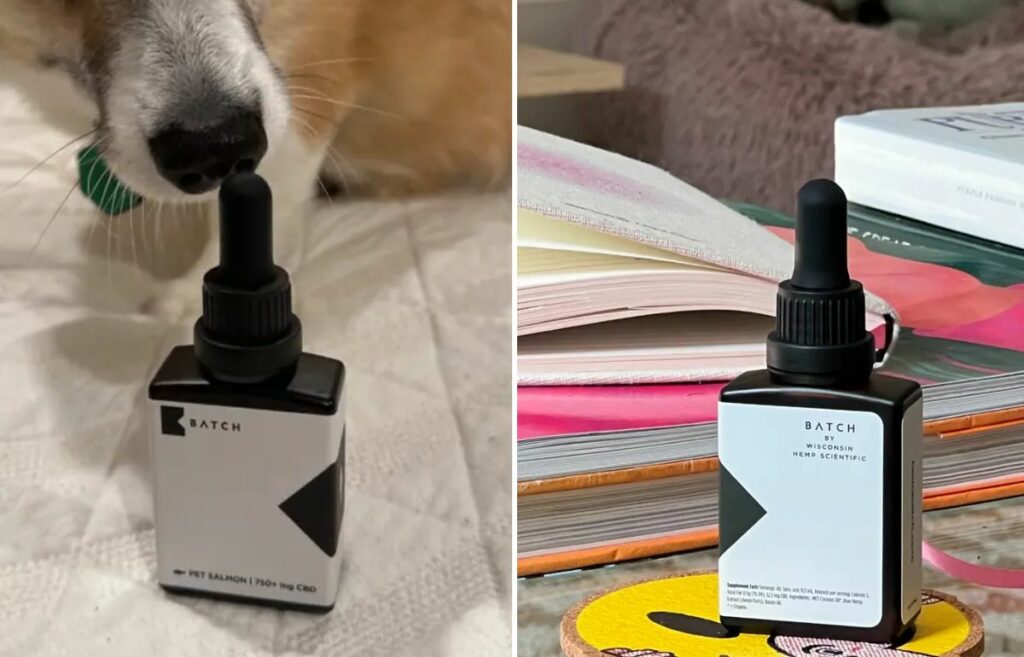 Although this premium CBD oil carries a high price, Batch offers a 30-day guarantee to ensure you and your pup love it. However, since it only comes in 750mg, it might be too strong for small dogs. Nevertheless, it's potent enough to be hugely effective in relaxing hyperactive dogs.
Numerous customers have left glowing reviews as they report the improvement in their dog's behavior. With Batch's CBD oil, dogs are barking less, and calmer during car rides, and even anxious dogs find it easier to bond with their new families.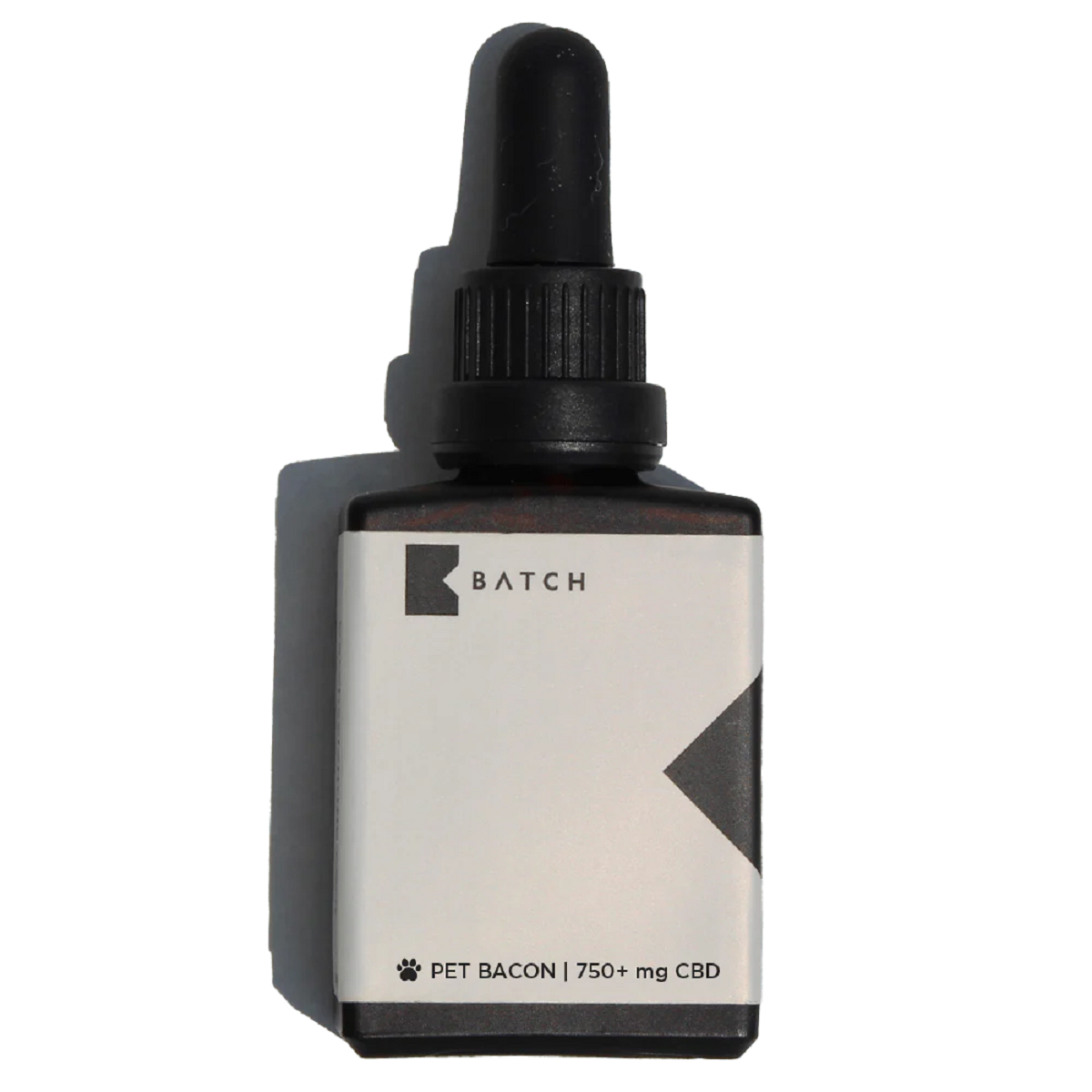 Pet CBD Oil Tincture: Batch CBD
The price of "Pet CBD Oil Tincture: Batch CBD " varies, so check the latest price at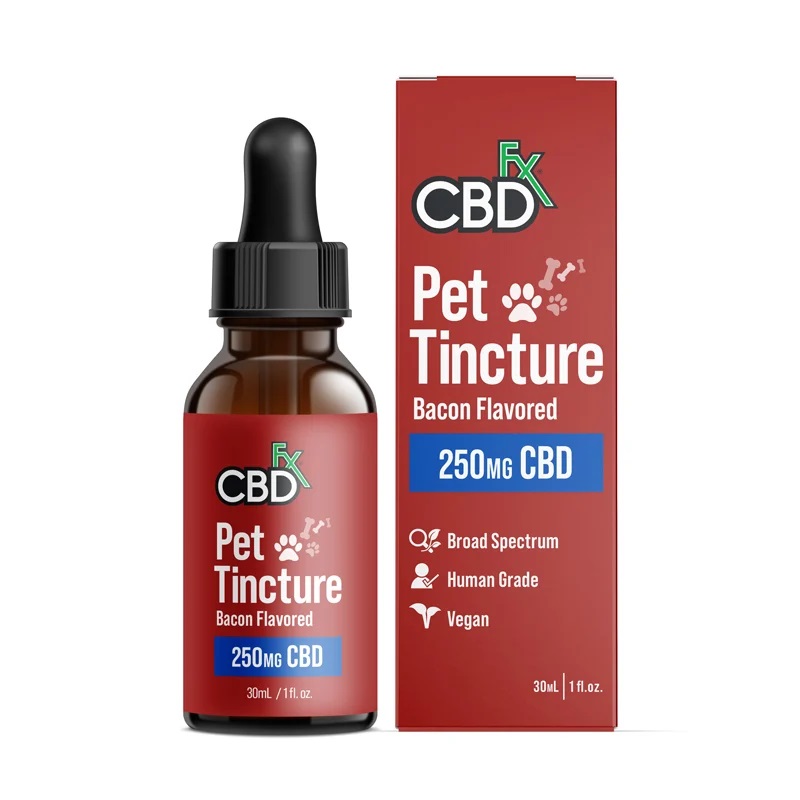 Looking for a brand that's been soaring in popularity lately? Then look no further than CBDfx. They've been featured in several magazines recently because of their excellent CBD products for both humans and dogs.
CBDfx uses CO2 to extract CBD from Kentucky-grown hemp, which is then made into a broad-spectrum oil and blended with MCT oil for additional benefits. Although it doesn't have the same range of cannabinoids as a full-spectrum oil, it's still capable of calming your dog and alleviating anxiety in under 90 minutes.
It might seem expensive, but it's worth the premium price thanks to its strength, versatility, and taste. It's available in four concentrations (250mg to 2000mg) and can be used to treat a range of issues, including pain and inflammation in older dogs.
But its natural bacon flavor is what stands out from the crowd. Even if your pup's a picky eater, they'll be more than happy to lick up this tasty oil!
With a 60-day guarantee and medically reviewed by a vet, this CBD oil has hundreds of delighted customers relieved to have dogs finally willing to sleep and stay calm. And even better, their pups love the taste!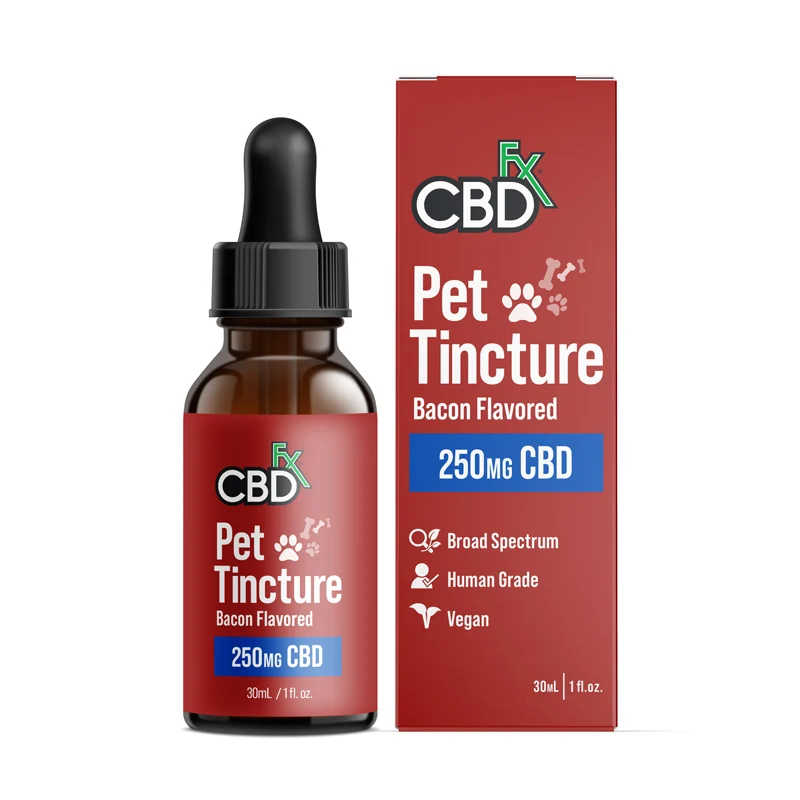 CBD Oil for Dogs: CBDfx
The price of "CBD Oil for Dogs: CBDfx " varies, so check the latest price at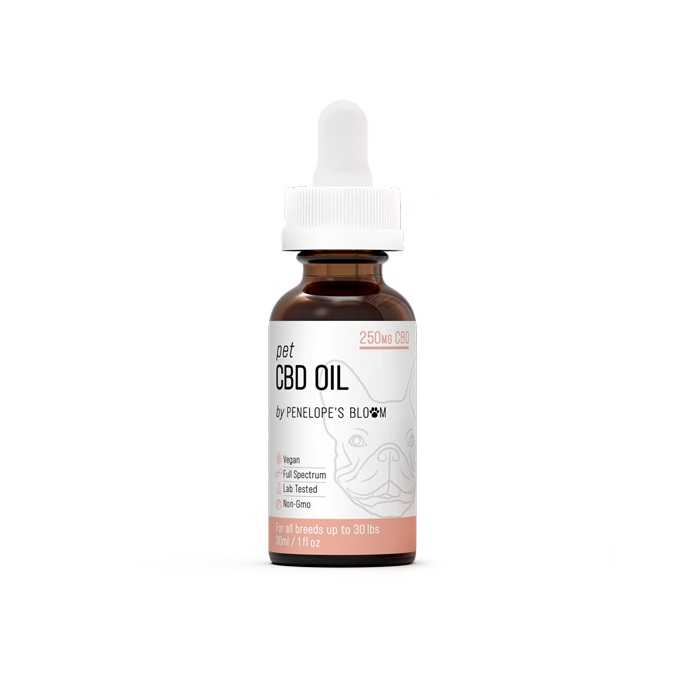 Penelope's Bloom was named after the founder's French Bulldog, who required natural alternatives to alleviate pain after spinal surgery. Today, they specialize in pet CBD oil, providing pet owners with high-quality oils at a decent price.
Their CBD oil is extracted from US-grown hemp and infused with MCT for a full-spectrum oil with all the cannabinoids your dog needs to relax. Crucially, it includes chamomile; although it doesn't have a huge impact on taste, it has well-known calming properties to settle your dog more effectively.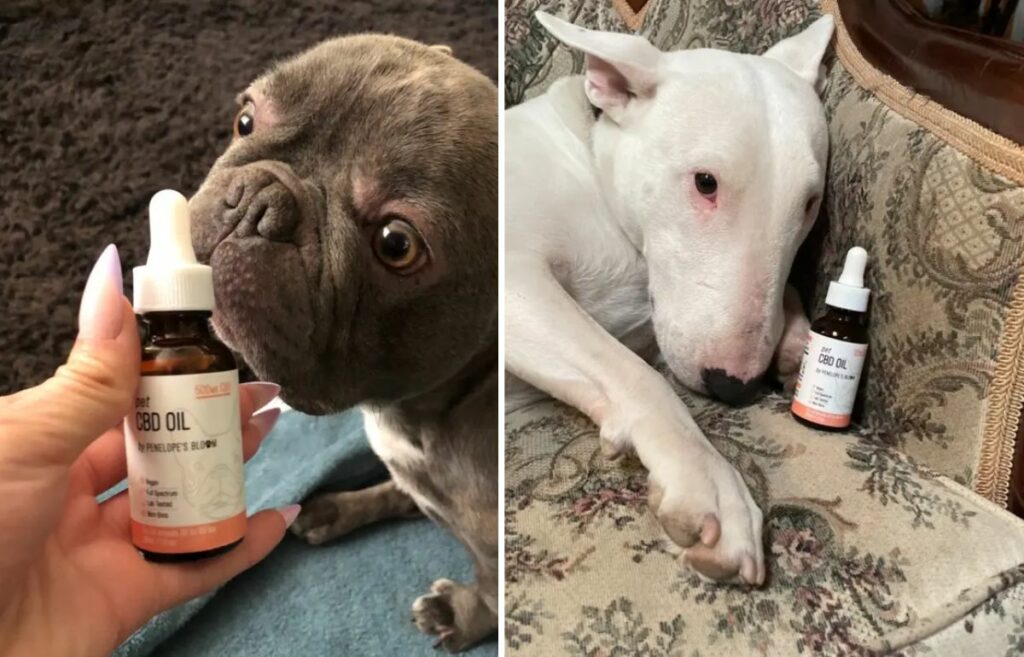 The fast-acting formula is brilliant at helping anxious or stressed dogs relax but is so versatile it can help with mobility issues and pain too.
Penelope's Bloom CBD oil has been third-party tested to ensure safety, potency, and effectiveness and comes in a range of concentrations (from 250mg to 1000mg) for various dog sizes. There are plenty of glowing reviews, particularly raving about how it's helped dogs overcome anxiety and reduce levels of chronic hyperactivity.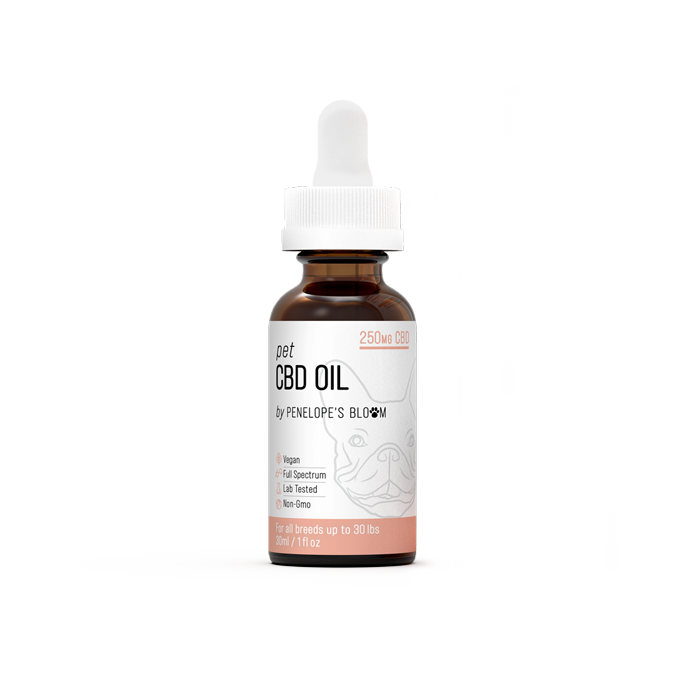 CBD Oil for Dogs: Penelope's Bloom
The price of "CBD Oil for Dogs: Penelope's Bloom" varies, so check the latest price at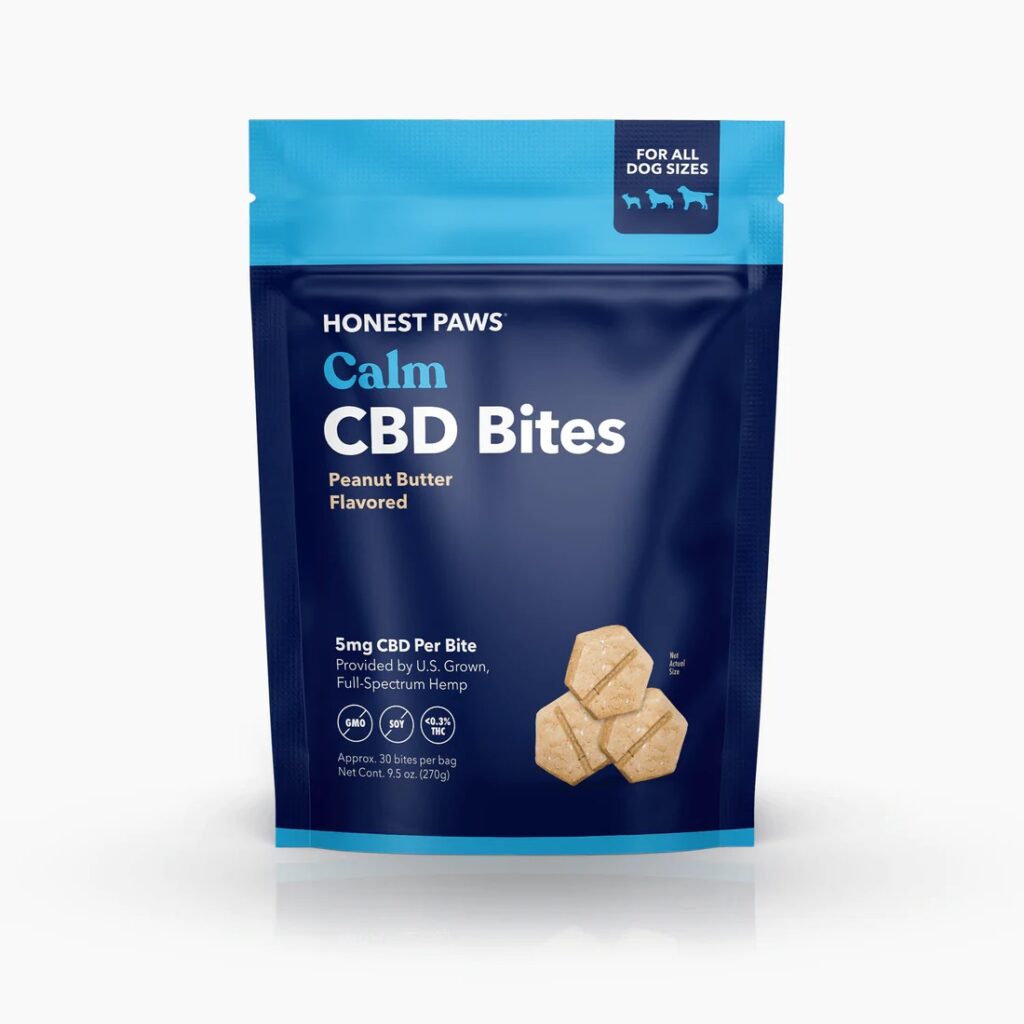 These are CBD dog treats from Honest Paws, the same team of animal lovers who created Well CBD oil. Although treats usually excite dogs, these ones lead to a period of calmness in just thirty minutes.
Once they're calm, it will give you a chance for behavioral management. They even improve your pup's cognitive function and mental clarity to make them more receptive to training – especially when these tasty peanut butter-flavored treats are used as a reward!
Full-spectrum oil is baked into the thirty CBD Calm treats in the bag. Each treat contains 5mg of CBD, making it simple to give your pup a reliable dosage. But even better, they're as healthy as they are tasty! Each treat is packed with premium ingredients, like full-spectrum hemp oil, peanut butter, eggs, flour, and coconut oil, helping your dog's digestive well-being as well as canine hyperactivity.
Rest assured, there's nothing artificial in the CBD dog treats, and even come third-party tested to show their efficacy. Hundreds of delighted customers have left positive reviews, noting their dogs remain calm and relaxed even with fireworks booming in the background.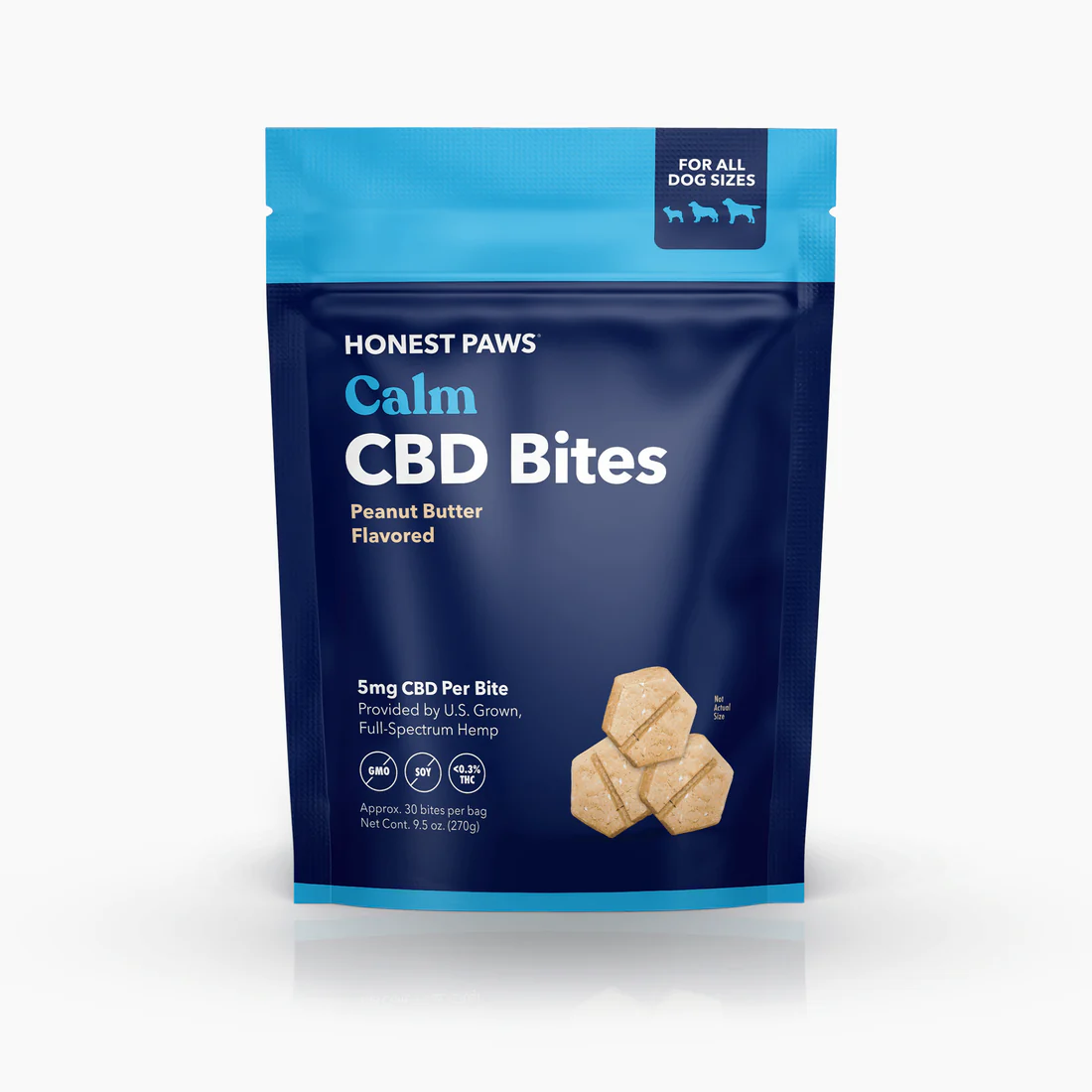 CBD Calm Bites: Honest Paws
The price of "CBD Calm Bites: Honest Paws " varies, so check the latest price at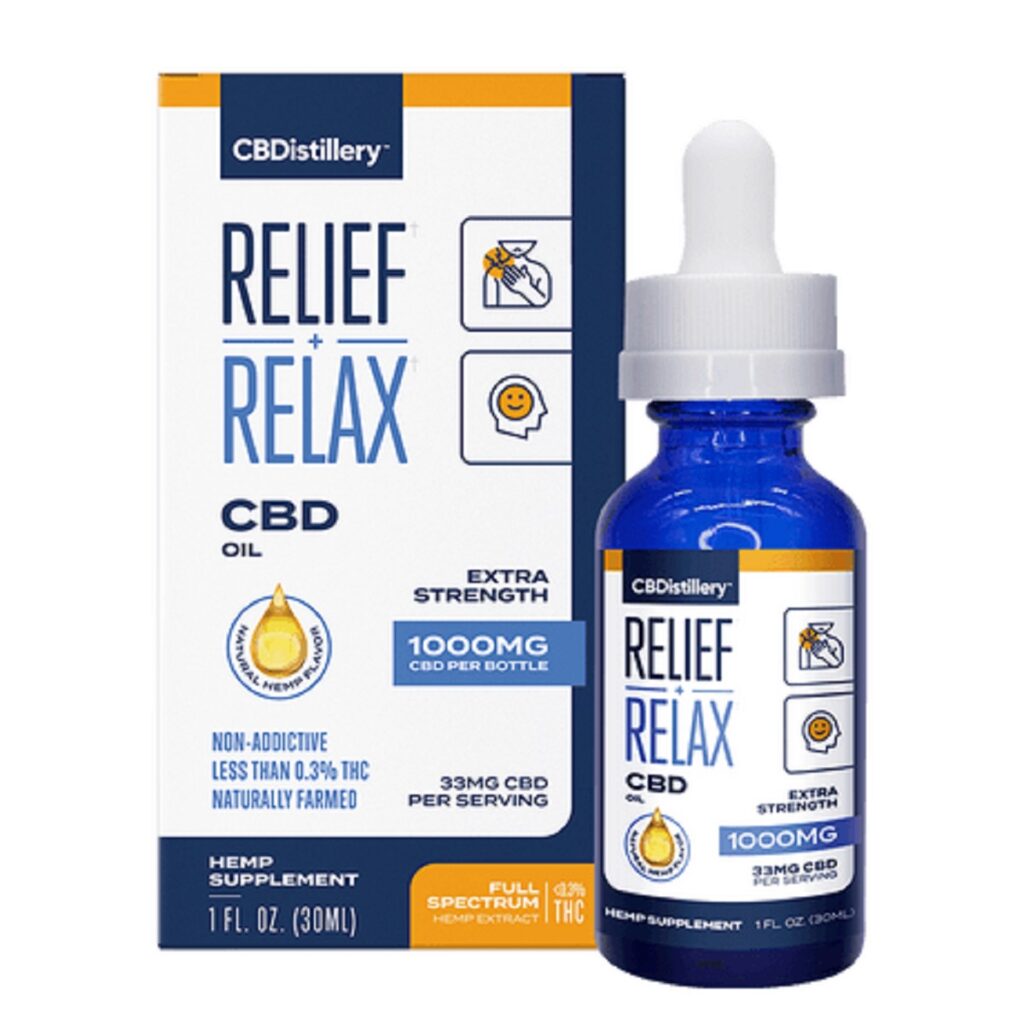 CBDistillery wants to promote a healthy and balanced life for everyone, including your dog! Since CBD products are usually pricier, CBDistillery saw an opportunity to produce high-quality, premium oils at a more affordable price.
The CBD is extracted with CO2 and blended with MCT oil by an expert botanist to make an easy-to-digest full-spectrum CBD oil. However, the oil is unflavored, so it's best to hide it in your dog's food. This tincture has a concentration of 1000mg in the 30ml bottle, so is more suitable for larger dogs or ones with extreme hyperactivity.
CBDistillery has a reputation for its rigorous testing process and transparency, so you can trust the effectiveness of their oils. After all, thousands of happy customers can't be wrong! With CBDistillery's oils, hyperactive dogs are finally able to calm down and get to sleep without issue.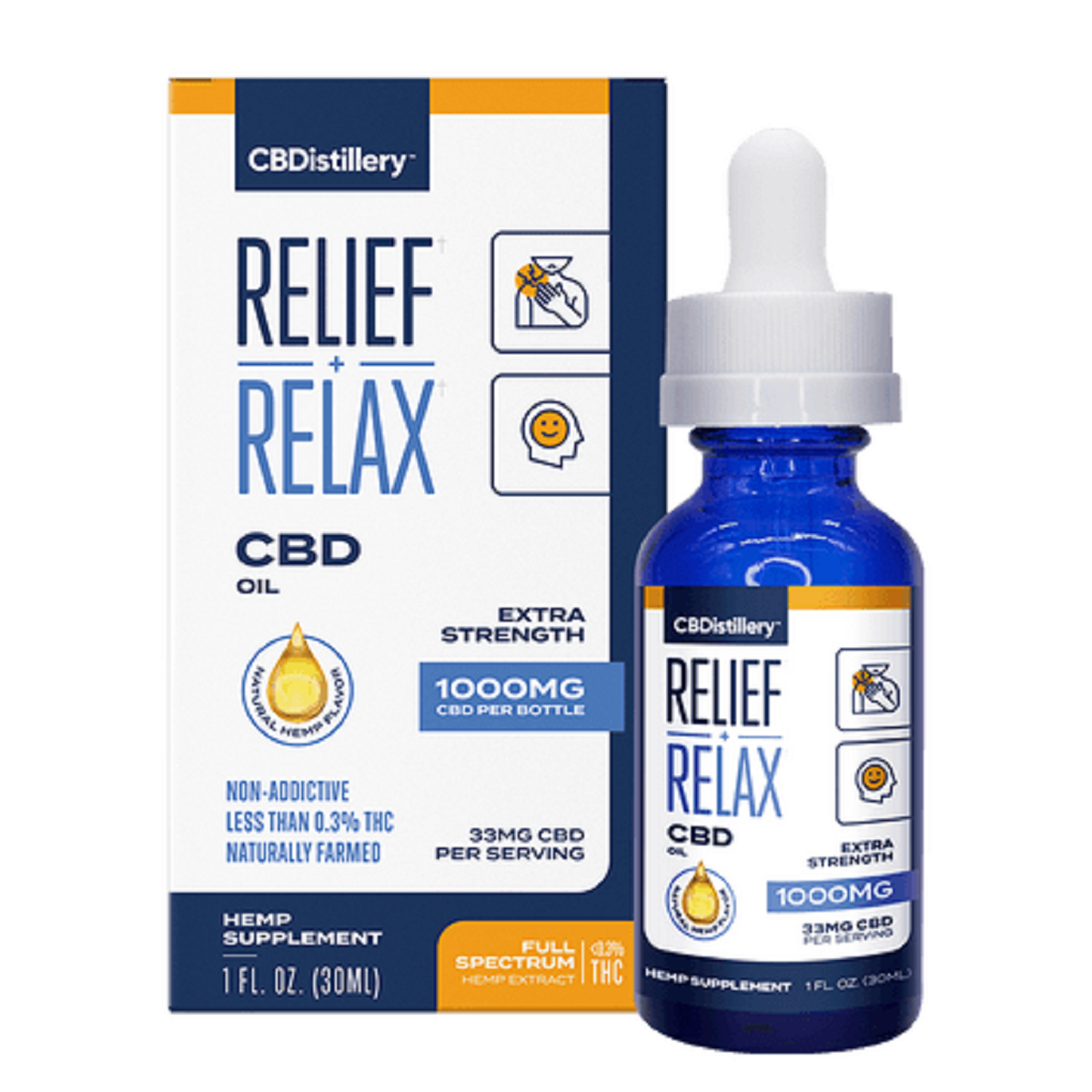 Full-Spectrum CBD Oil Tincture: CBDistillery
The price of "Full-Spectrum CBD Oil Tincture: CBDistillery " varies, so check the latest price at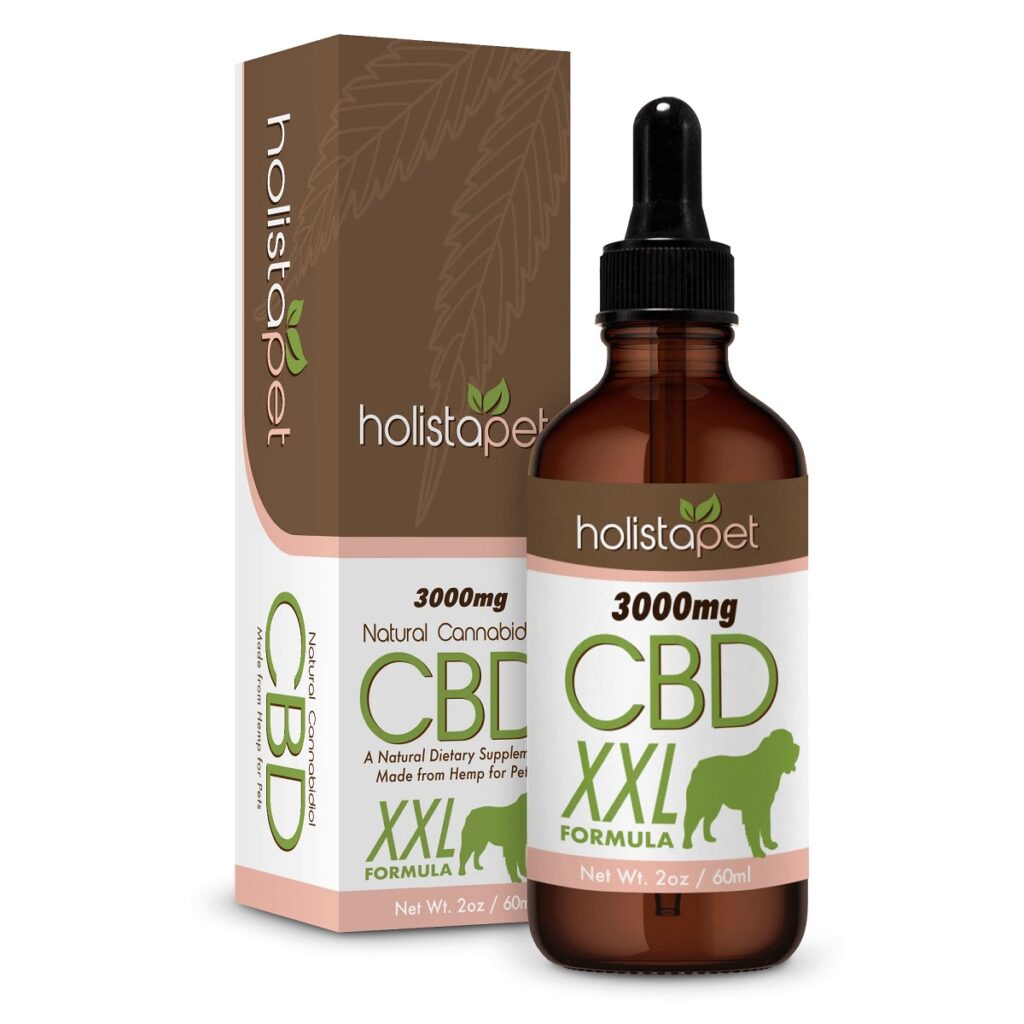 HolistaPet knows that dog owners want nothing more than to give their pets long and happy lives – but that's difficult when they're so hyper and don't stop moving! That's where HolistaPet's CBD oil comes in. They've been an industry leader in CBD for the past five years, helping over half a million dogs in the US.
HolistaPet's CBD oil for dogs is a versatile tincture that calms your hyper-dog when they're overreacting to stressors, but it can also support joints, reduce pain, and improve skin and fur health.
Their CBD is extracted via CO2 and blended with hemp seed oil for an all-natural broad-spectrum CBD oil full of cannabinoids. Since it's broad-spectrum, it's guaranteed to be THC-free with no chance of a psychoactive high, but you won't benefit from the full range of cannabinoids.
With five concentration options available (150mg to 3000mg), there's always a CBD dosage strong enough to help your dog, no matter its size. It's also a particularly affordable option, especially if you decide to become a HolistaPal+ member. And it's worth considering joining up since customers are delighted at how effective this CBD oil is in calming hyper dogs.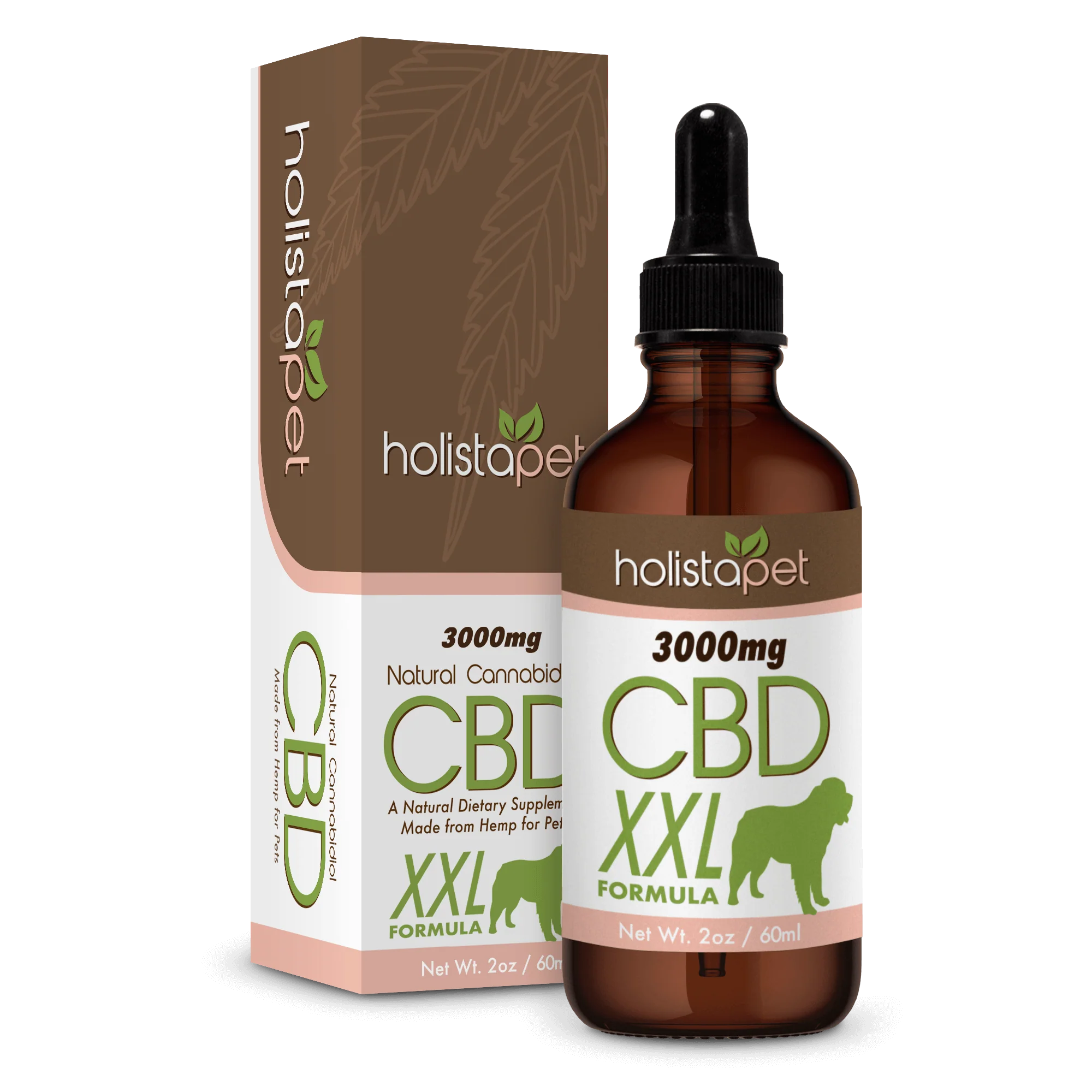 CBD Oil for Dogs: HolistaPet
The price of "CBD Oil for Dogs: HolistaPet" varies, so check the latest price at
Symptoms of Hyper Dogs
Hyperactivity is more than just excitement. Excitement is a response to a specific trigger and is usually short-lived. For example, their owner comes home, they see their favorite treat or toy, or their best friend comes around to play with them. On the other hand, hyperactivity is frequent, long-lived, and sometimes constant over-excitement.
It's important to know when it becomes an issue, and luckily, it's easy to spot. Hyperactive dogs are destructive and restless, bark excessively, and are full of excess energy even when indoors, constantly running around and chasing their tail. They can't focus on anything for long, have a fast pulse and breath rate, and might even go to the bathroom inside.
These symptoms are more common in puppies, but if they emerge in adult dogs, it's worth swinging by a vet to make sure there's nothing more serious that needs treating. Fortunately, hyperactivity isn't the end of the world and can be managed with CBD oil.
Does CBD Oil Help with Hyper Dogs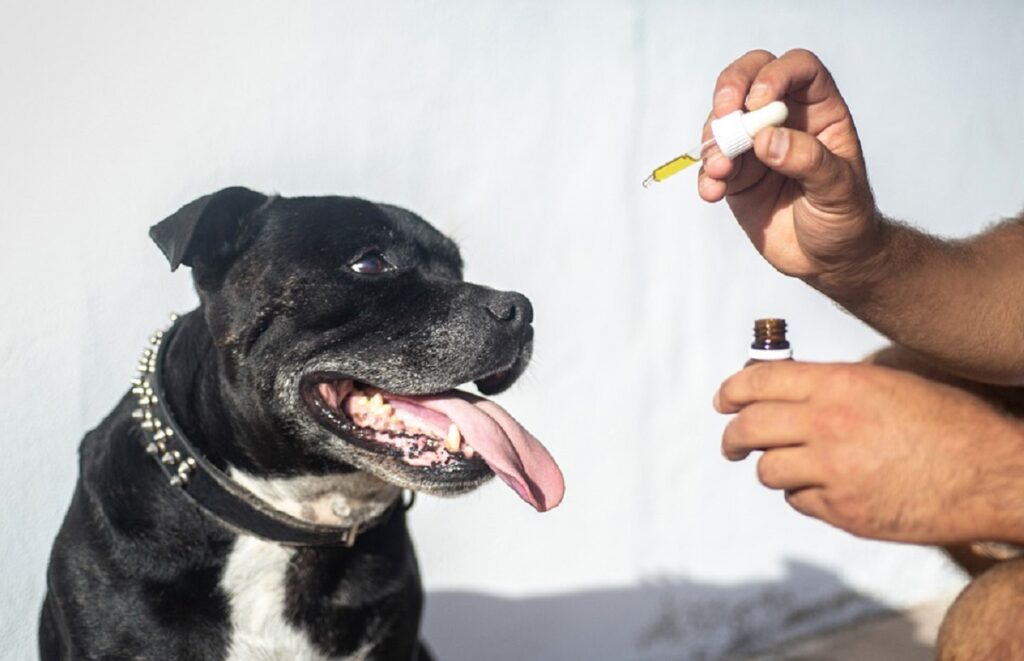 In short, yes – CBD oil does help hyper dogs.
Just picture it: you're trying to work, watch TV, look after the kids, or entertain dinner guests… and your dog is going crazy, running around the living room, tearing up the carpet, clawing at the couch, and barking at everyone.
But CBD can calm them down. Perhaps you give them a few CBD treats or tempt them with food you've mixed with CBD oil. Within thirty minutes, they'll begin to relax, and you'll have a more docile, friendly, and calm dog.
How Does CBD Help Hyperactive Dogs?
Cannabidiol is extracted from hemp and contains over a hundred active chemical compounds called cannabinoids. These are mixed with carrier oils to help your dog's body absorb them effectively.
Cannabinoids interact with your dog's endocannabinoid system, the part of their body responsible for a range of physical and cognitive functions, such as sleep, mood, appetite, inflammation, and emotions. CBD oil encourages homeostasis within the endocannabinoid system, improving your dog's physical and mental well-being, calming them, and reducing any pain.
Since CBD oil boosts levels of anandamide, an endorphin-like chemical that creates the feeling of pleasure and reward in the brain, your dog's mood will improve, making them more receptive to commands and training.
Using CBD for Hyper Dogs: A Guide
There are lots of ways to give CBD to your dog, so just do whatever works best.
Cannabidiol usually comes in the form of treats or oils. Oils can be trickier with hyper dogs since they don't sit still long enough for you to drop them directly into their mouth. But mixing it with their food solves this issue and also means they're less likely to be repelled by the taste.
When it comes to hyper dogs, CBD treats are often easier. Since they're so tasty, dogs tend to be more receptive to them and more likely to listen to you. However, CBD treats are often more expensive than oils. And while oils take thirty minutes for effects to kick in, treats usually take longer. Still, once the effects begin, they usually last for anywhere between four to eight hours.
If you're feeling creative or cost is an issue, you could always use CBD oil to bake your own CBD treats!
Recommended Dose of CBD for Hyper Dogs
Even if your hyper dog drives you crazy, remember that moderation is key, and you shouldn't go overboard when giving CBD.
How much CBD oil you give your dog depends on their breed, size, and how hyper they are. As a rule of thumb, you could start with 1 to 2mg of CBD for every 10 lbs of body weight. But if they're really hyper and that's not enough, feel free to go up to 5mg for every 10 lbs.
Start with lower dosages and gradually increase until you find the sweet spot. Don't worry too much though, because they can't overdose on CBD. If you give them too much, they'll likely just be extra sleepy for longer.
Benefits of Using CBD for Hyper Dogs
The best thing about using CBD for hyper dogs is that it calms their nerves and manages anxiety, promoting relaxation and helping them cope with a range of external stressors.
Calms Nerves: Hyperactivity is often caused because your dog is anxious about something, either because they're always nervous or are triggered by something specific. Fortunately, CBD affects their nervous system and helps them balance their emotional responses to calm their nerves and reduce hyperactivity.
Promotes Relaxation: According to a 2019 study, CBD helps your dog relax, relieving them of any anxiety and helping them nod off to sleep. CBD oil regulates chemicals in your dog's brain and increases serotonin levels to reduce hyperactivity and promote relaxation.
Helps to Cope with External Stressors: Dogs might be resilient, but lots of things can trigger panicked, hyper responses: moving house, going to the vet, or a mailman walking up the road. By promoting relaxation and calming nerves to combat anxiety, CBD makes these stressors fade away into the background, becoming less triggering and stopping hyperactivity.
Manages Anxiety: If you're hoping CBD helps dogs with fireworks, then you're in luck. CBD oil has an anxiolytic effect, meaning it eases the behavioral symptoms of anxiety in dogs by relaxing them. Various studies confirm how CBD interacts with the endocannabinoid system to promote homeostasis by calming the body and mind to dial down anxiety.
Treatment Options for Hyperactive Dogs
CBD is just one of several options to consider when treating a hyperactive dog. Since it's a complicated issue, don't be discouraged if CBD isn't an immediate fix, and remember there are other treatments available.
CBD
CBD is by no means a cure for hyper dogs, but it can stop hyperactivity triggered by anxiety and promote relaxation. Since CBD is 100% natural, there are fewer side effects than medications, but is more effective than herbal remedies and can be used alongside other treatments.
Calming Medications
If you chat with your vet, they might recommend a few medications for hyper dogs, likely Gabapentin or Trazodone, to reduce anxiety. These are effective but can be costly and come with uside effects; for example, Gabapentin has numerous adverse effects, while Trazodone can result in lethargy in half of dogs.
Natural Supplements
You don't always need to dose your dog with drugs when natural supplements are an option. Although they don't sound like much, they can have potent effects that work alongside CBD for a stronger result. For example, chamomile, L-theanine, and valerian can reduce anxiety and calm anxious pets.
Higher Physical and Mental Stimulation
Some dogs are particularly hyper because they're just bored. Try just taking them out for a walk to exercise their mind and body; play with them and let them run about and have a sniff.
If you're stuck at home, occupy their body and mind with games and puzzles. For example, try hiding treats around your house and let them work out how to find them.
Choosing the Best CBD Oil for Hyper Dogs: Buying Guide
There are several CBD products out there that are sure to do the job. But there are a few things to keep in mind when buying CBD for your dog.
Ensure they're pet products: There may be CBD oil for dogs, but there's plenty of CBD oil for humans too. However, these contain THC, a psychoactive compound that's toxic to dogs. Pet CBD products come from the hemp plant, meaning they're either low in THC or THC-free. We don't recommend marijuana for dogs because of the high THC levels.
Choose full-spectrum CBD: Broad-spectrum oil is effective but doesn't have a full range of cannabinoids. If your dog is particularly hyper, you need all the cannabinoids you can get, so should opt for a full-spectrum oil instead.
Keep it natural: CBD products don't need any additives or anything unnatural, so those sorts of ingredients would be a red flag. However, it's fine for oils to have other natural ingredients with additional health benefits, like terpenes.
Do your research: Read through the reviews and check it's been third-party lab tested with a Certificate of Analysis (COA) to ensure it's safe and effective.
FAQs
Although cannabidiol is growing in popularity, CBD oil for hyper dogs is still a relatively new treatment. So, here are some questions most dog owners have.
What Are the Causes of Hyperactivity in Dogs?
Dog's hyperactivity has a range of causes. If your dog is still a young puppy, it should calm down between the ages of 6 to 9 months. But if they're an adult, perhaps a lack of physical exercise or mental workout is what's making them bored.
Alternatively, hyperactivity could be caused by separation anxiety, a lack of routine or training, or a sugar-heavy dog's diet. There are even some dog breeds more predisposed to hyperactivity!
How Long Does CBD Take to Calm a Hyper Dog?
Good news – it doesn't take long for CBD to kick in! It can be as quick as thirty minutes and sometimes take up to an hour for your dog to calm down. But after that, it will last anywhere between four to eight hours, depending on the size of the dog and dosage.
Should I Visit a Vet to Calm Down My Hyper Dog?
Hyperactivity can hamper the joy of owning a dog, but it isn't usually a biological issue your vet can help with. Typically, it's a behavioral problem you can address with training and routine, using high-quality CBD to calm them down to achieve this.
If they're still hyper though, there could be an underlying issue like hyperkinesis. This simply means your dog is very sensitive and would benefit from your vet's suggestions on how best to manage this.
Final Thoughts
Hyper dogs aren't a new problem, so you're not alone. But if your furry friend is barking and jumping all over you while you're reading this, then you'll be pleased to know that CBD oil can sort this out. Even if hyper dogs don't bother you, pet owners still have a duty to help their dog's mental health if it's triggered by anxiety.
Love, patience, and behavior training can all help a hyperactive dog, but the best CBD oil is the magic ingredient that reduces anxiety and calms them down so they can focus on improving. With training and the right CBD product, it won't be long until your hyper pup turns into a calm and happy one.