Disclaimer: The information provided in our articles is for educational purposes only and should not be considered a substitute for professional veterinary advice. It is essential to consult with a veterinarian before starting any CBD products for your dog's health and well-being.
There's nothing more playful than an excitable dog. They can't get enough of running after balls, fetching sticks, and chasing squirrels. But when arthritis rears its ugly head, these small joys soon become too painful, and your pup loses their favorite hobbies. I still remember the heartbreak of my childhood dog grunting with pain as he tried and failed to jump in the car with us.
Sadly, canine arthritis is very common. But although you may feel powerless to help them at first, dog CBD oil can relieve your dog of joint pain and inflammation.
CBD for dogs isn't the same as marijuana for dogs – we're not suggesting you turn your dog into Snoop Dogg! It includes next to no THC, the psychoactive compound that's toxic for dogs, meaning CBD is safe to use for dogs with arthritis, even for a prolonged period of time.
CBD oils can be a crucial part of your dog's arthritis treatment. But with so many CBD oils available, which is the best CBD oil?
Best CBD Oils for Dogs Suffering from Arthritis
It's not difficult to find dog CBD oil, but it can be a challenge to decide which is the best CBD oil. Here are eight of the best CBD oils to consider, each one commended for its potency, organic ingredients, customer reviews, and price.
Best Overall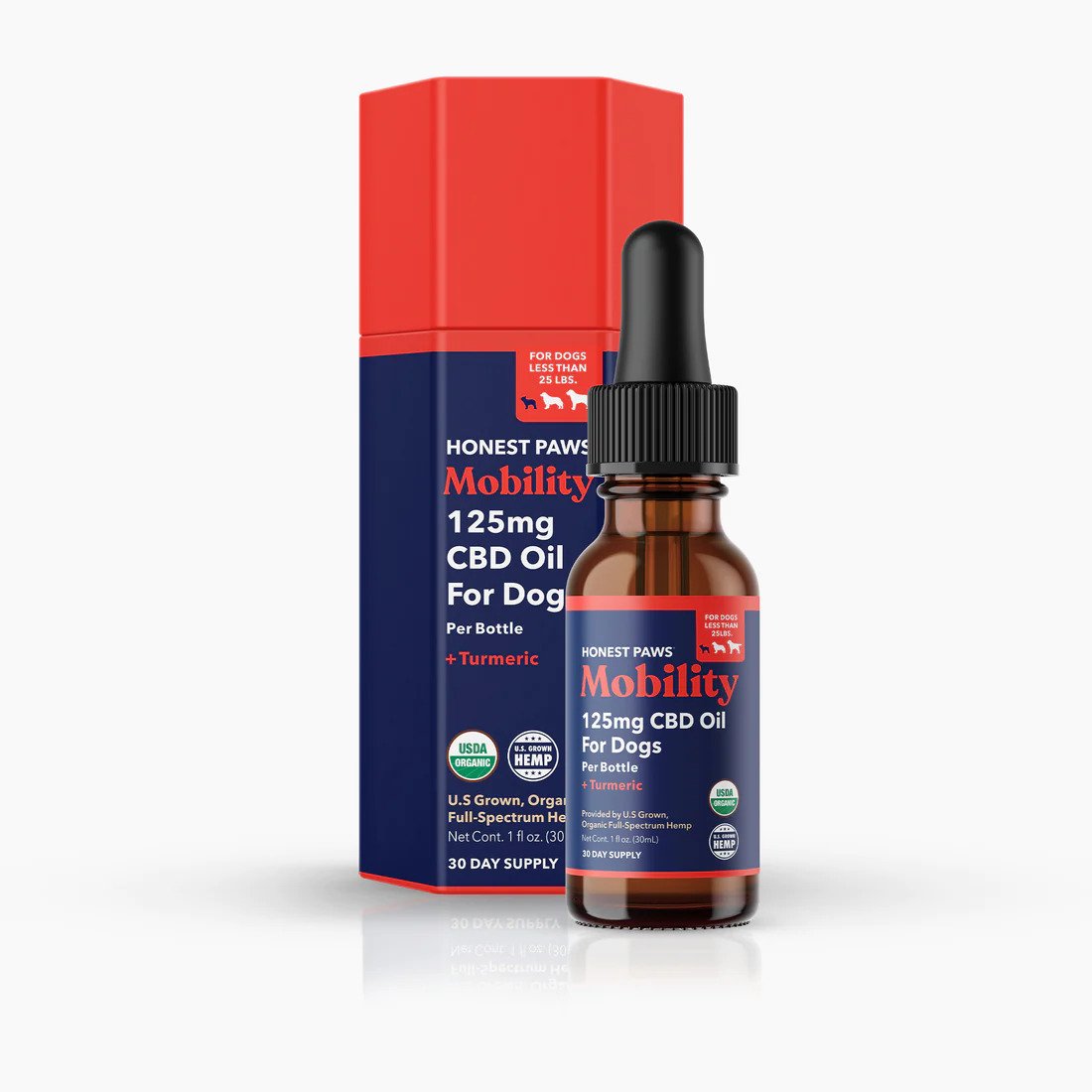 CBD Oil for Dog's Mobility – Honest Paws Mobility
Active Ingredient: Full-Spectrum Hemp Oil
Net Content: 30 ml
Premium Choice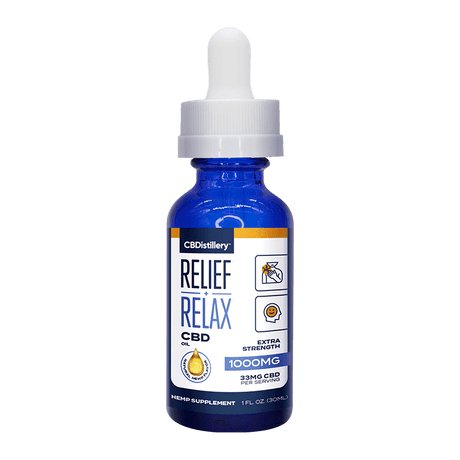 Full-Spectrum CBD Oil Tincture – CBDistillery
Active Ingredient: Full Spectrum CBD Hemp Extract
Net Content: 30 ml
Great Value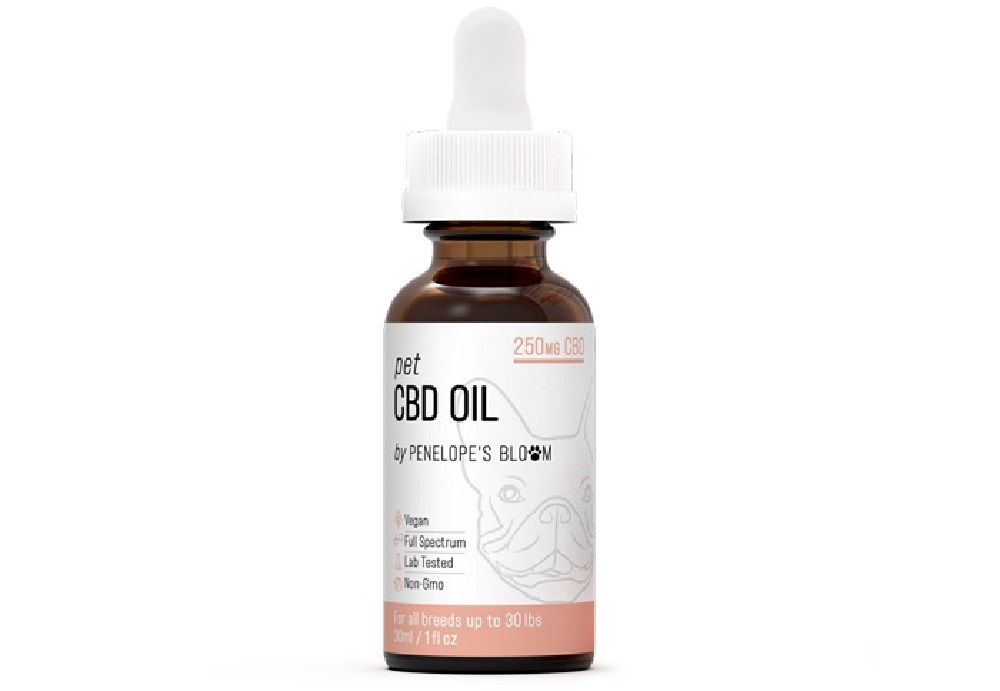 CBD Oil for Dogs – Penelope's Bloom
Active Ingredient: Full Spectrum Organic Hemp Oil
Net Content: 30 ml
Best for Reducing Stiffness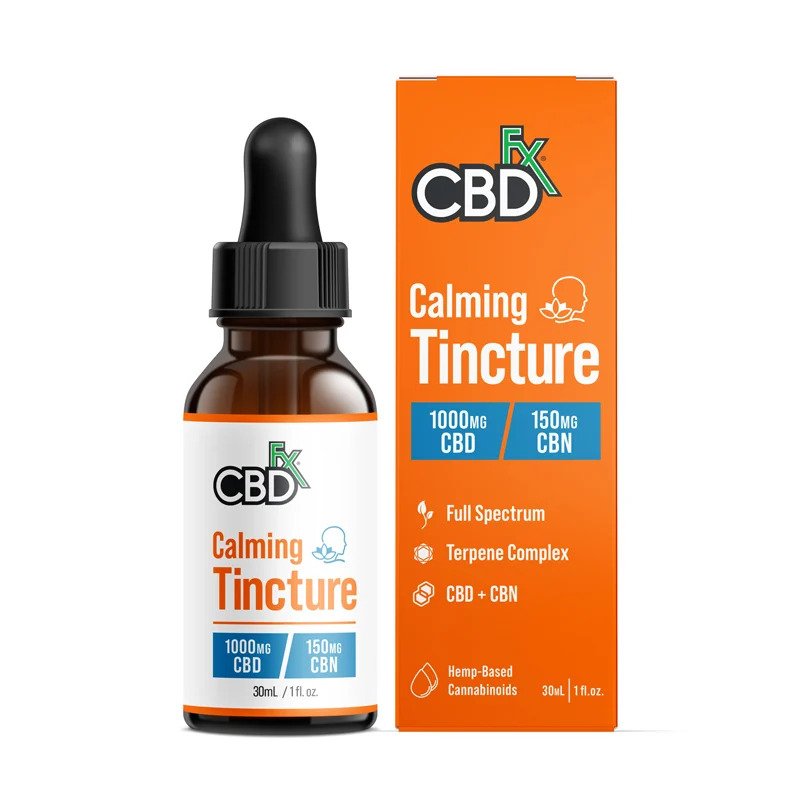 Calming Tincture – CBDfx
Active Ingredient: Hemp oil
Net Content: 30 ml
Ideal for Mental Health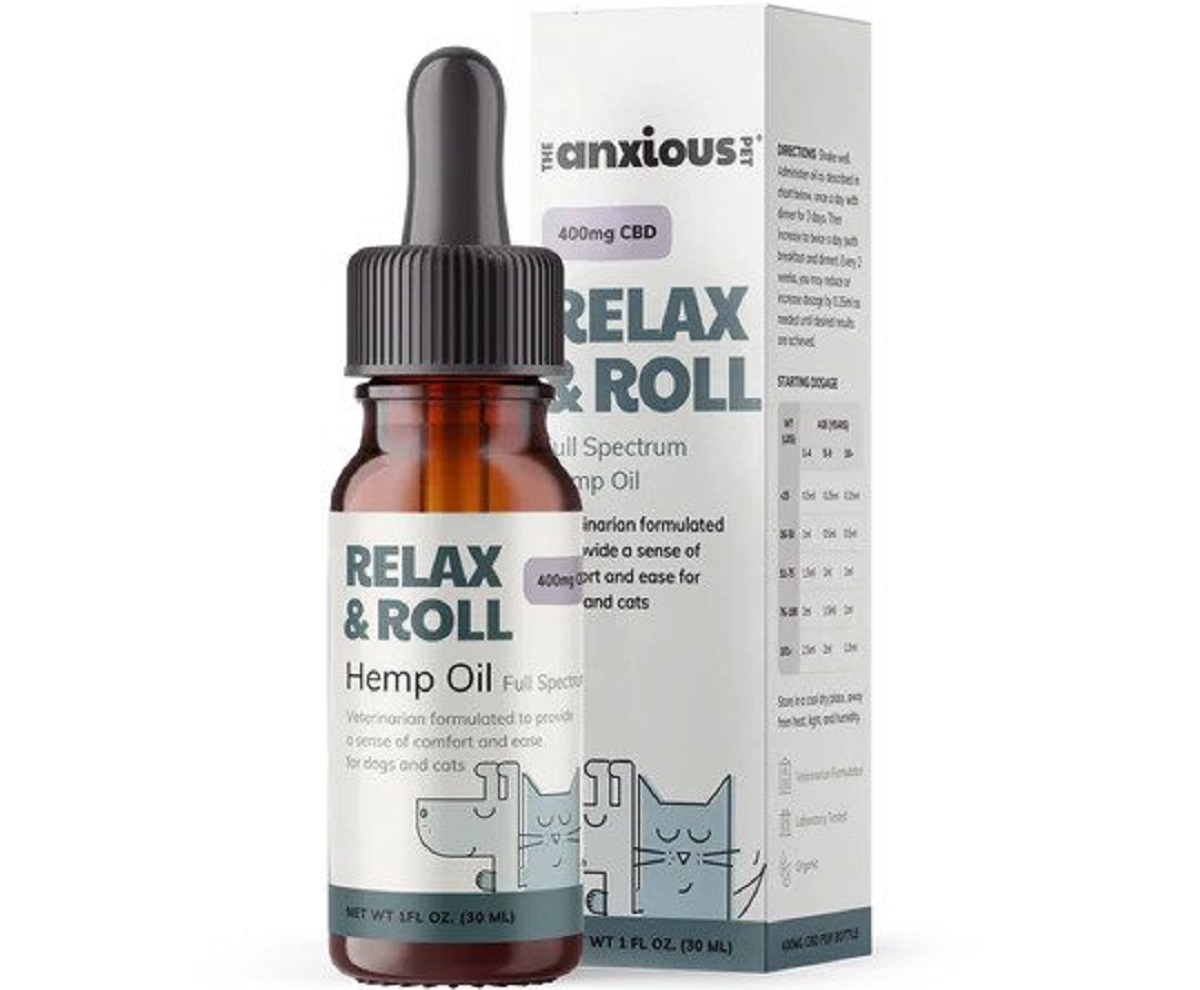 Organic Hemp Oil – The Anxious Pet
Active Ingredient: Full-spectrum cannabinoid oil
Net Content: 30 ml
Versatile Option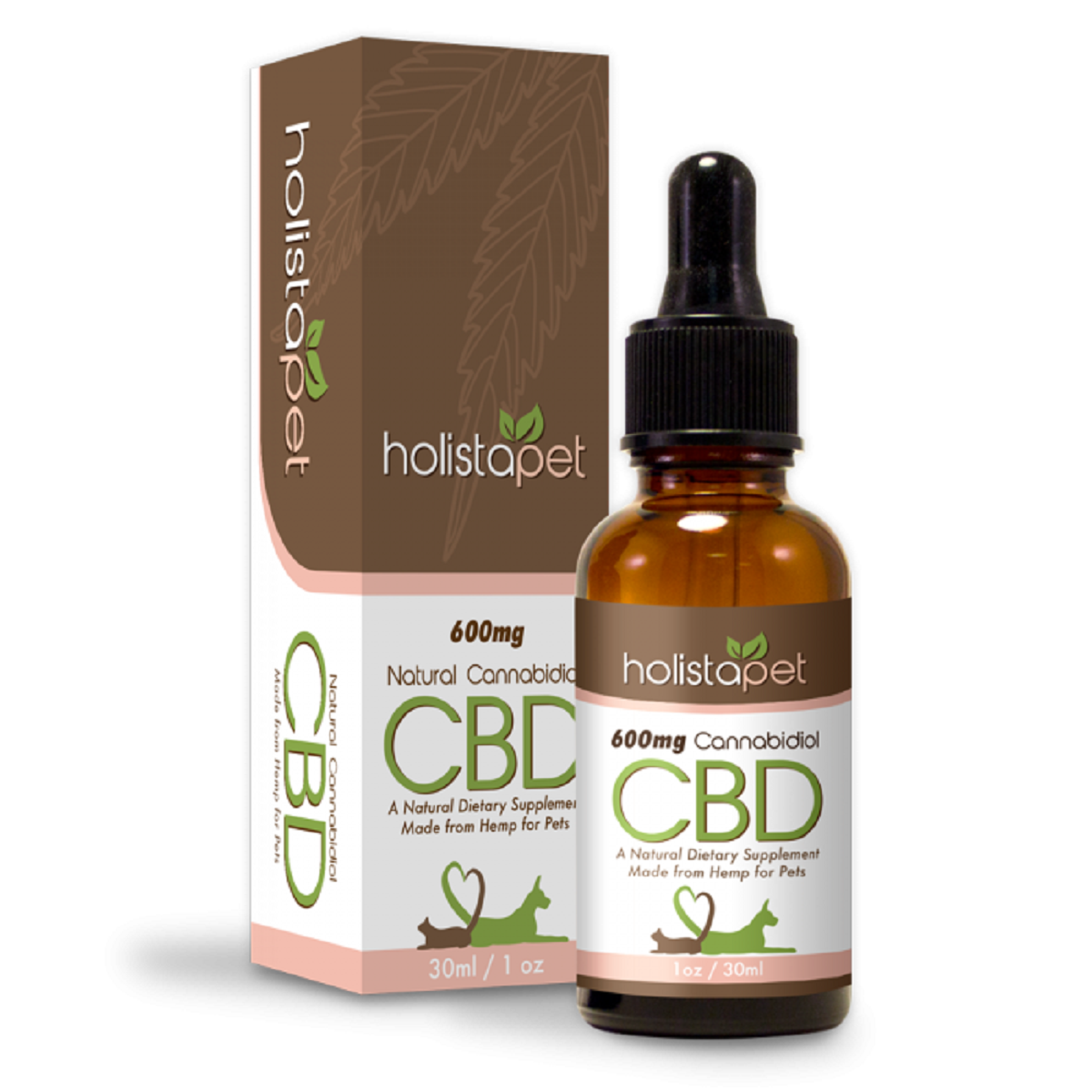 CBD Oil for Dogs – Holistapet
Active Ingredient:  Broad Spectrum CBD
Net Content: 15 ml
Great Brand Recognition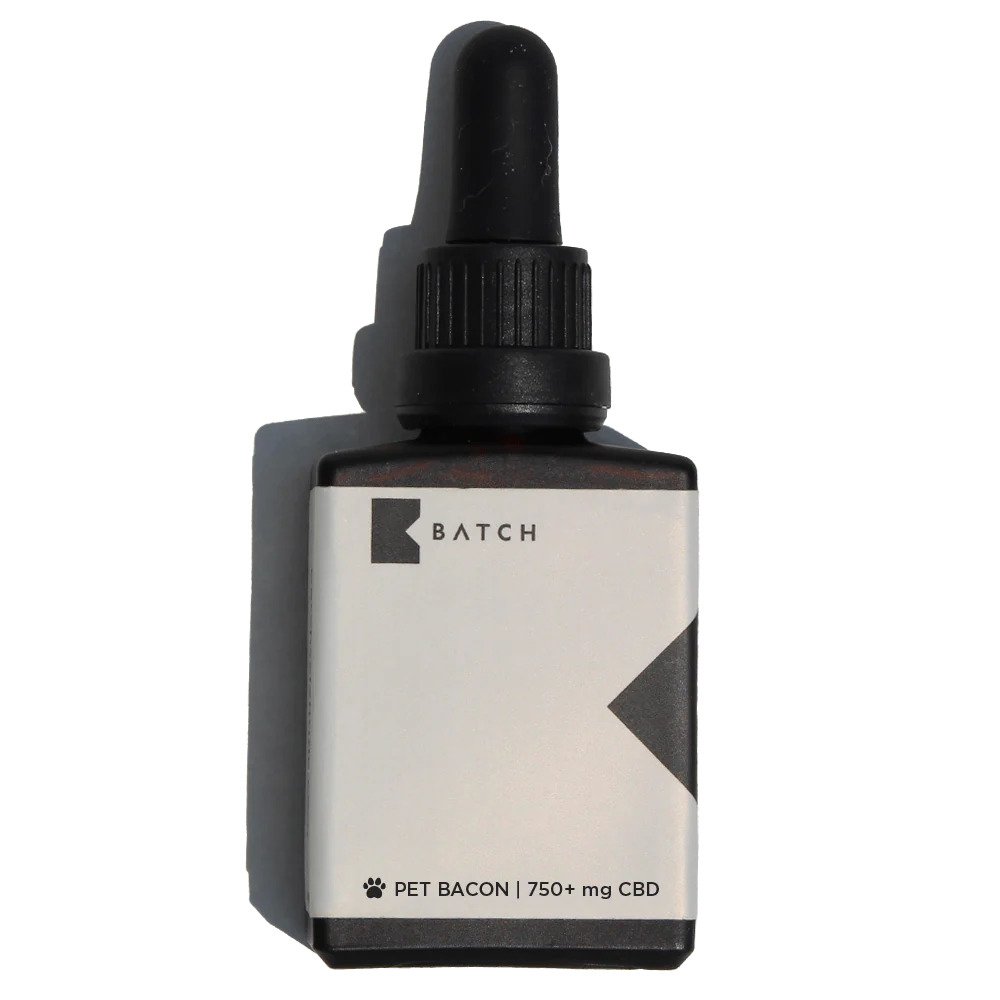 Organic Hemp CBD Oil Tincture – Batch
Active Ingredient: Hemp Extract
Net Content: 30 ml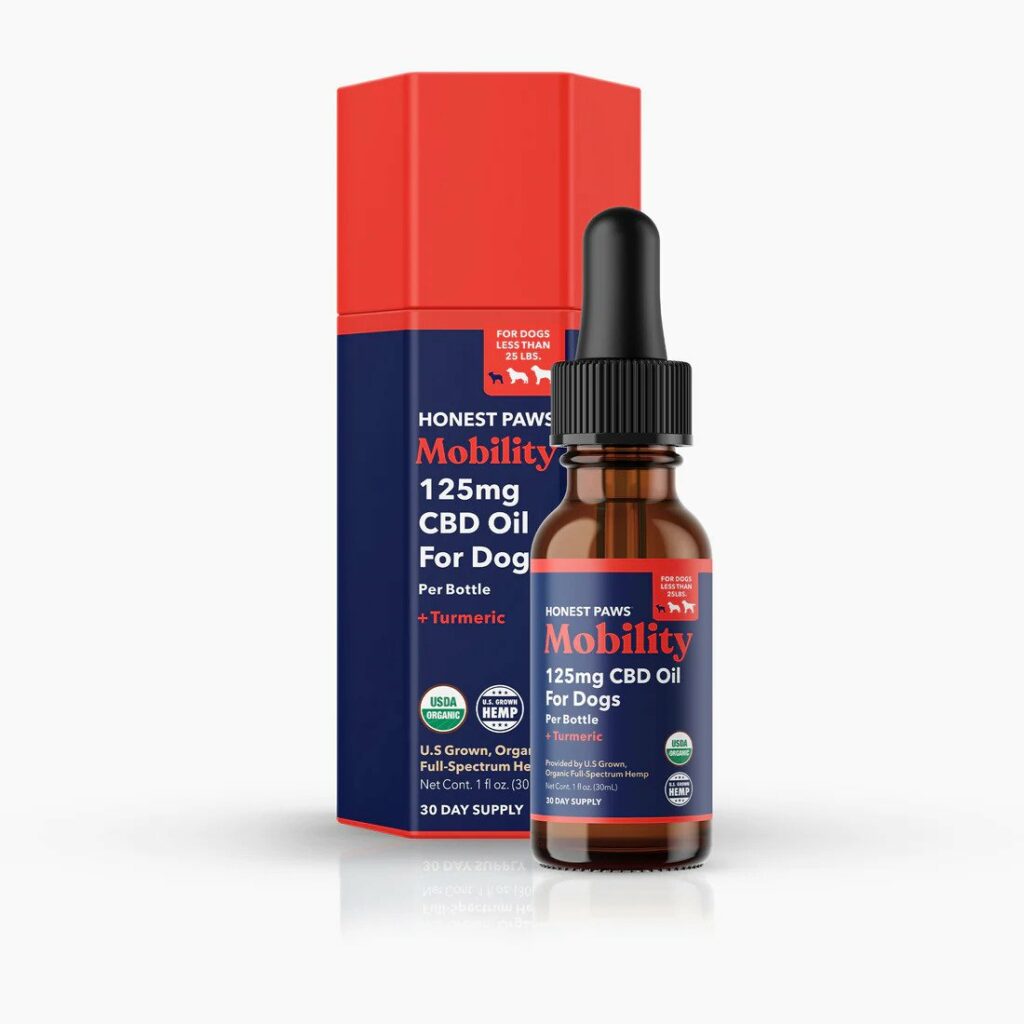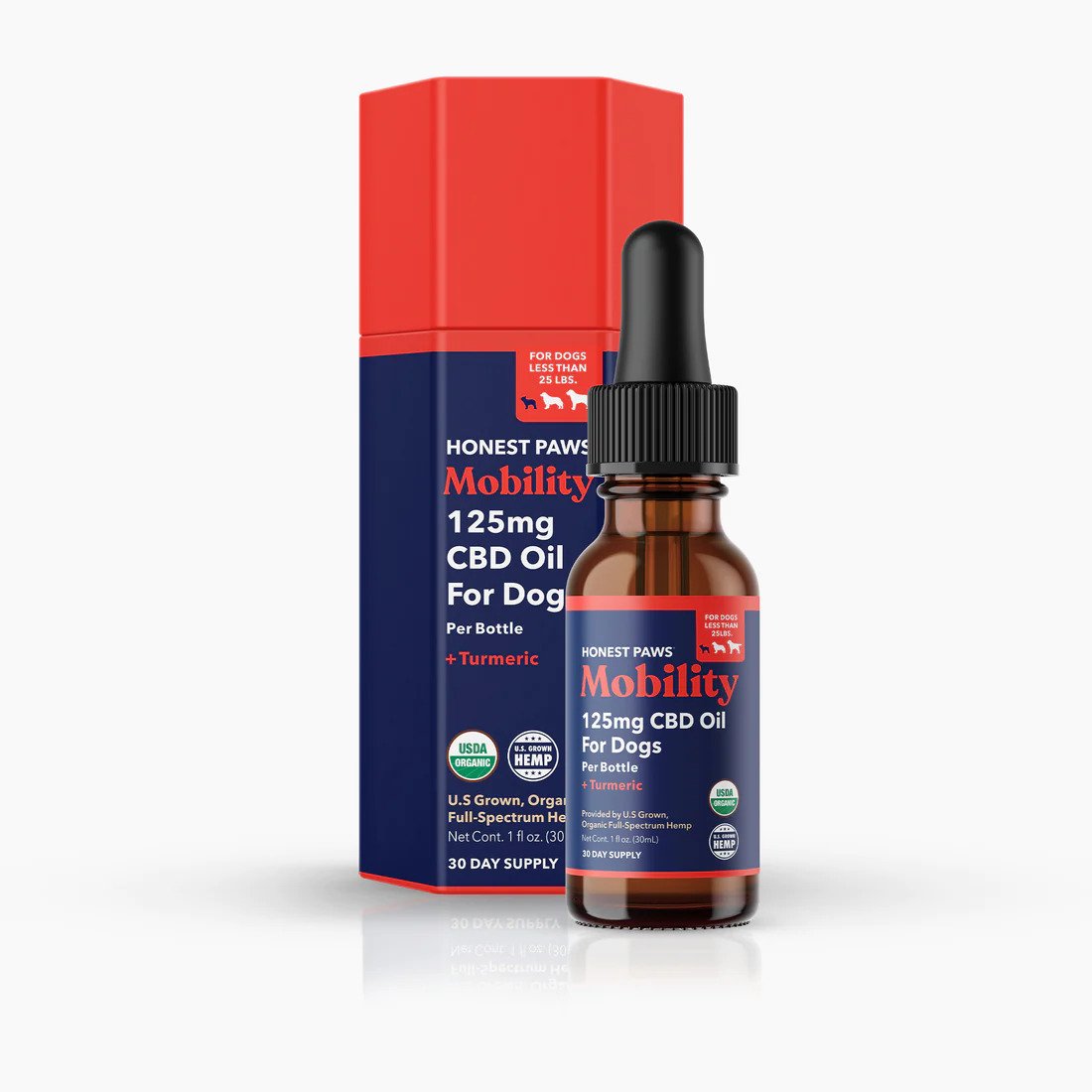 Honest Paws Mobility is guaranteed to help your arthritic puppy – honestly! It's specially formulated to enhance connective tissue and joint health to reduce inflammation and pain.
The team behind Honest Paws are all animal lovers committed to finding natural solutions to help pets. After the founder's dog Baby Rose faced a life of medication and side effects, she tried CBD oil for dogs and was shocked to see the condition disappear. Unsurprisingly, Honest Paws are now dedicated to sharing the wonders of organic CBD oil with the world.
They offer three different CBD oils: Mobility, Well, and Calm. Calm is for hyper dogs with difficult behaviors, while Well helps dogs with cognitive and immune support. In fact, Well might be the best CBD oil for dogs with cancer, but Mobility is the one that's ideal for supporting dogs with arthritis.
Whether your dog has arthritis, hip dysplasia, or anything else age-related, Mobility helps them become active once more. The full-spectrum CBD oil includes a dash of turmeric, working together with CBD to alleviate pain and ease joint stiffness.
Honest Paws' CBD oil for dogs is made in the USA from organic hemp plant and third-party tested for safety. They use natural ingredients, offer four concentrations, and boast thousands of reviews. Customers have been delighted: 15-year-old cockapoos act like puppies again, while 12-year-old Labradors are able to race upstairs and leap onto the bed once more.
Pros
Three different oils available for different problems
Full-spectrum
Includes turmeric
Cons
Turmeric leaves stains if you drop the oil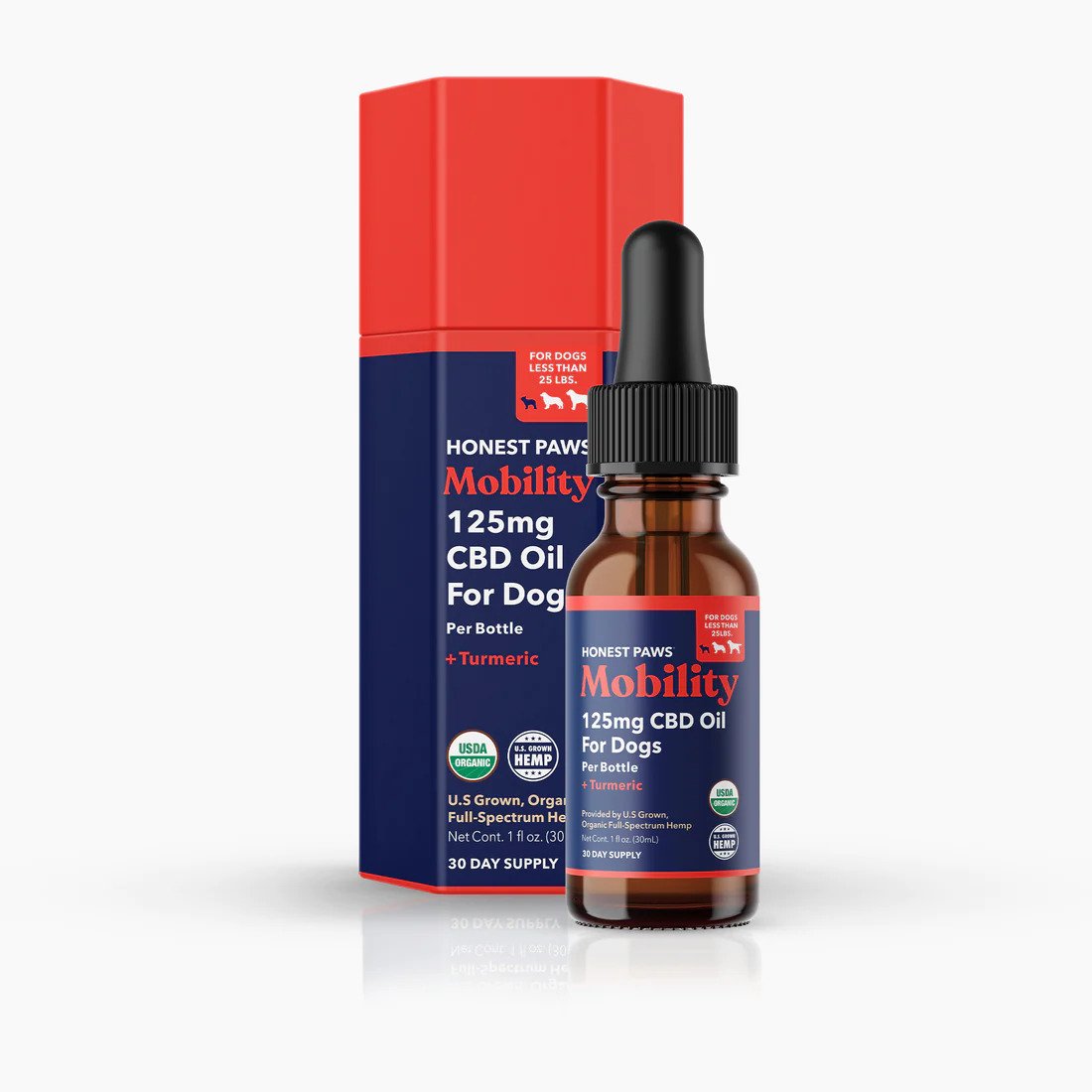 CBD Oil for Dog's Mobility – Honest Paws Mobility
The price of "CBD Oil for Dog's Mobility – Honest Paws Mobility " varies, so check the latest price at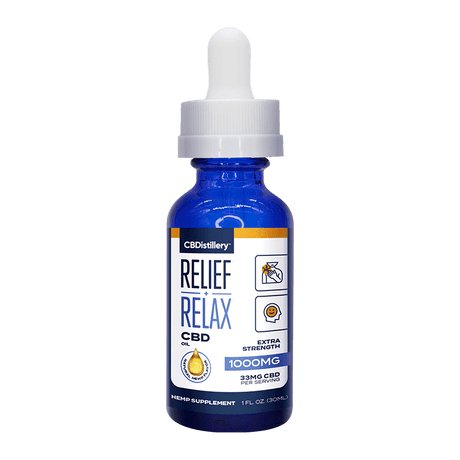 We always want the best for our pups – but sometimes the best doesn't fit into our budget! Founded in 2016, CBDistillery saw a gap in the market for high-quality CBD oil at a more affordable price.
CBDistillery is dedicated to offering pet parents an alternate path to a healthy and balanced life for us and our dogs. Although these premium CBD oils still carry a costly price tag, they are more affordable with a subscription.
CBDistillery extracts its best CBD oil for dogs by using CO2, the purest and safest method. Their expert botanist then blends it with hemp seed oil to make it easier for your pup to digest before putting it through a rigorous testing process.
This results in a simple but effective formulation of hemp extract and full-spectrum CBD extract for effective pain relief. However, it's worth noting that since it's unflavored, this full-spectrum CBD oil might not be for you if your dog is a fussy eater.
This CBD oil for dogs helps with digestion and relaxation, as well as easing up the pain by supporting hips and joints. CBDistillery offers a 30ml bottle with a concentration of 1000mg, with 33mg of CBD per serving. Customers are particularly pleased with how it helps relax dogs with arthritis, giving them a peaceful and pain-free sleep.
Pros
High-quality oil
Extracted with CO2
Formulated by an expert botanist
Full-spectrum
Cons
More expensive
Might have low traces of THC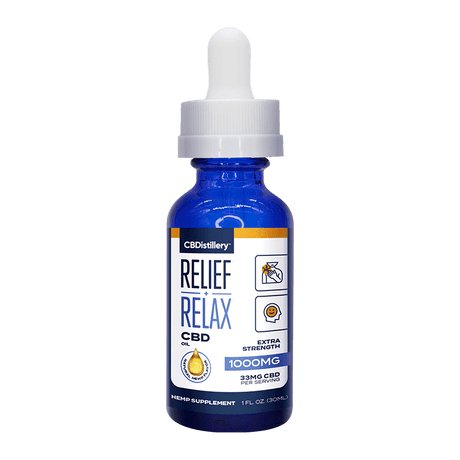 Full-Spectrum CBD Oil Tincture – CBDistillery
The price of "Full-Spectrum CBD Oil Tincture – CBDistillery" varies, so check the latest price at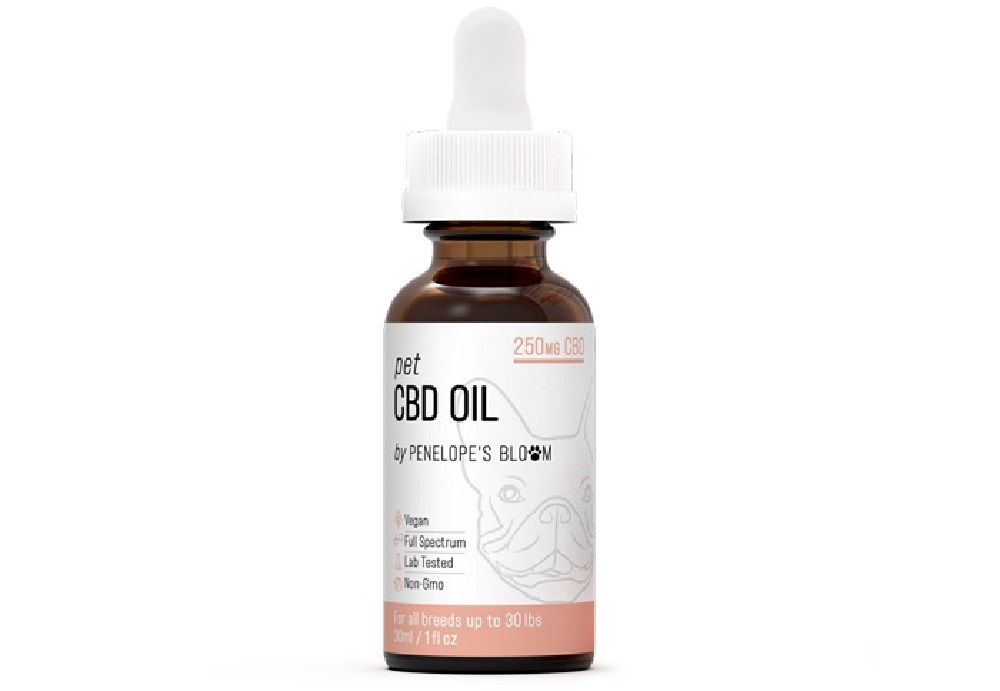 Penelope's Bloom specializes in pet CBD oil, offering high-quality CBD products at a good price. The founder stumbled onto the wonders of CBD when looking for a natural alternative to medication after her French Bulldog Penelope had spinal surgery.
This tincture is a full-spectrum oil that's designed to be absorbed rapidly for fast and effective pain relief. It's extracted from organic US hemp plants and infused with MCT oil for its anti-bacterial and anti-inflammatory properties. With a variety of cannabinoids, from CBD to CBG, it relieves your dog of any arthritis pain or anxiety.
Penelope's Bloom CBD oil is also formulated with chamomile to further improve your dog's well-being and pain management. Chamomile doesn't have a huge impact on flavor, but the oil still has a pleasant enough taste for your dog.
Penelope's Bloom pet CBD oil has been third-party tested to highlight its ability to lubricate joints and improve mobility.
It comes in a range of concentrations from 250 to 1000mg with plenty of positive reviews. Some customers claim their dogs with arthritis have returned to their normal happy selves, experiencing less pain in as little as three weeks.
Pros
Full-spectrum
Infused with coconut oil and chamomile for additional benefits
Four concentrations
Cons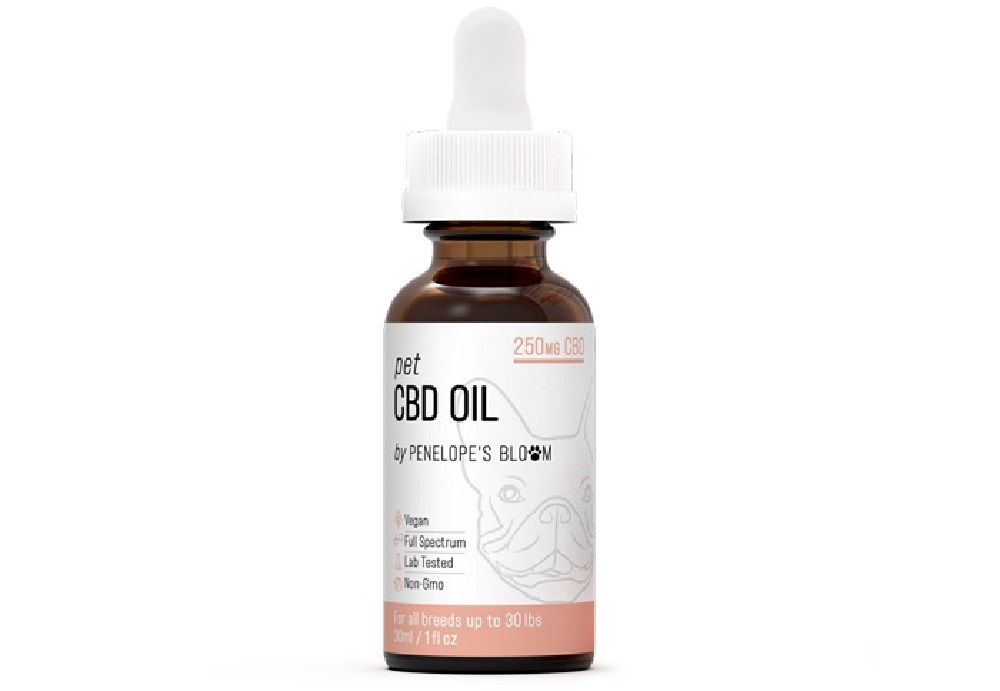 CBD Oil for Dogs – Penelope's Bloom
The price of "CBD Oil for Dogs – Penelope's Bloom " varies, so check the latest price at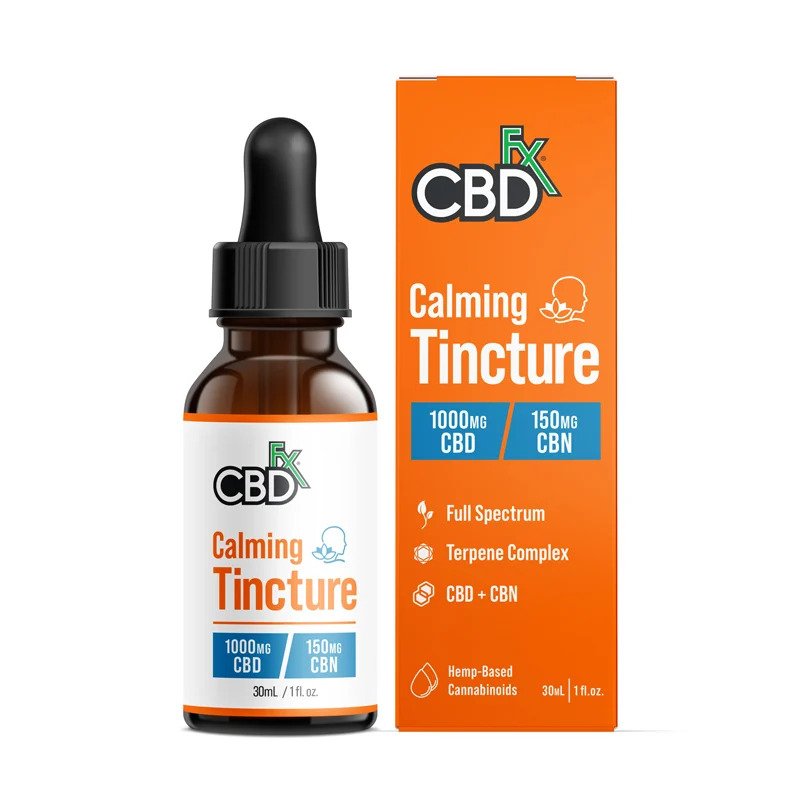 If you ever flick through magazines like Forbes or Rolling Stone, you might have seen CBDfx before. They've been making quite a splash recently as they produce excellent CBD products for humans as well as CBD pet products for dogs.
CBDfx's tincture is a full-spectrum oil made from pesticide-free hemp extract grown in Kentucky, with CBD extracted using CO2. Its hemp oil is curated with up to 300mg of CBN and a blend of terpenes to further help calm your dog and improve stiffness. CBDfx even blends their CBD products with coconut oil for its additional health benefits, as well as stevia for enhanced taste.
Just keep in mind that with four concentrations ranging from 1000 to 6000mg, this is an extra-strength CBD product that should be used primarily for big dogs with arthritis. Although its price might seem expensive at first, it's good value for money, considering its strength and the number of cannabinoids in each bottle.
CBDfx has hundreds of happy customers, most of them particularly impressed with how it leads to a peaceful and restful sleep, resulting in improved well-being and less pain in the morning.
You can also read our full review of CBDfx to get to know about different products.
Pros
Full-spectrum
Extracted using CO2
Includes terpenes for extra effect
Stevia enhances taste
Cons
More costly
Only for larger dogs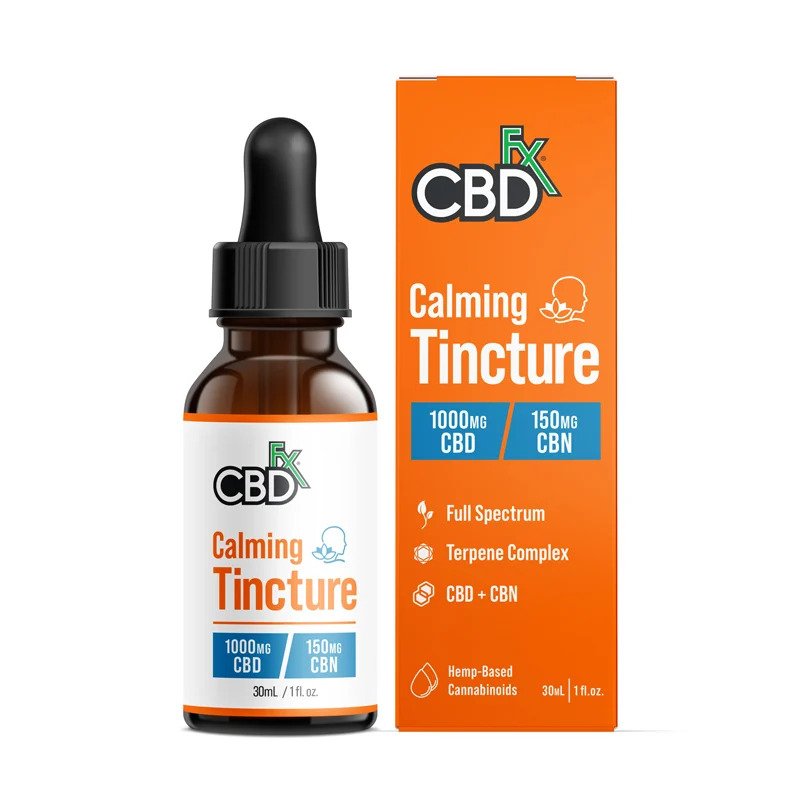 Calming Tincture – CBDfx
The price of "Calming Tincture – CBDfx" varies, so check the latest price at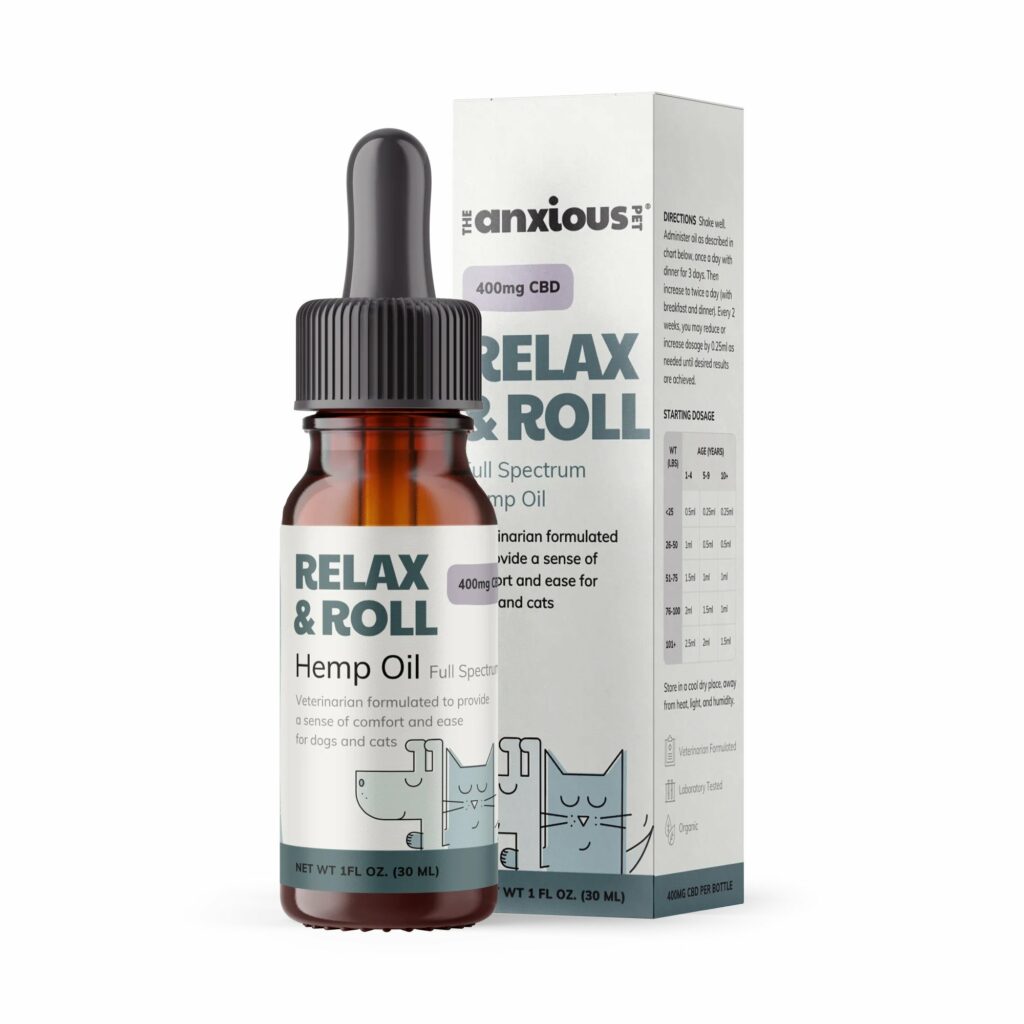 It's crazy how anxious we pet parents get – but we can't help it! Whenever our fur baby is anxious, we start getting jittery too.
That's why the geniuses behind The Anxious Pet set out to create calming solutions that help pets' anxiety and alleviate our concerns at the same time. Although they're just a small company, The Anxious Pet is dedicated to helping owners reduce pet anxiety and improve their general health.
All their CBD oils are formulated by veterinarians, lab-tested for potency and safety, and come with a 60-day guarantee. This full-spectrum CBD oil for dogs is blended with coconut oil and comes in two concentrations: 400 and 800mg.
Although primarily intended to reduce anxiety and nervous behaviors in dogs, it's also effective in supporting immune health and brain function. But crucially for us, it does a good job of reducing inflammation and pain from a dog's arthritis.
It's not difficult to find rave reviews for their CBD products. Customers are delighted as they see an almost immediate difference in dogs with arthritis, with many now relaxed, happier, and more comfortable than ever.
Pros
Full-spectrum
Boosts brain function and immune system
Improves mood and mental health
Cons
Traces of THC
Only two concentrations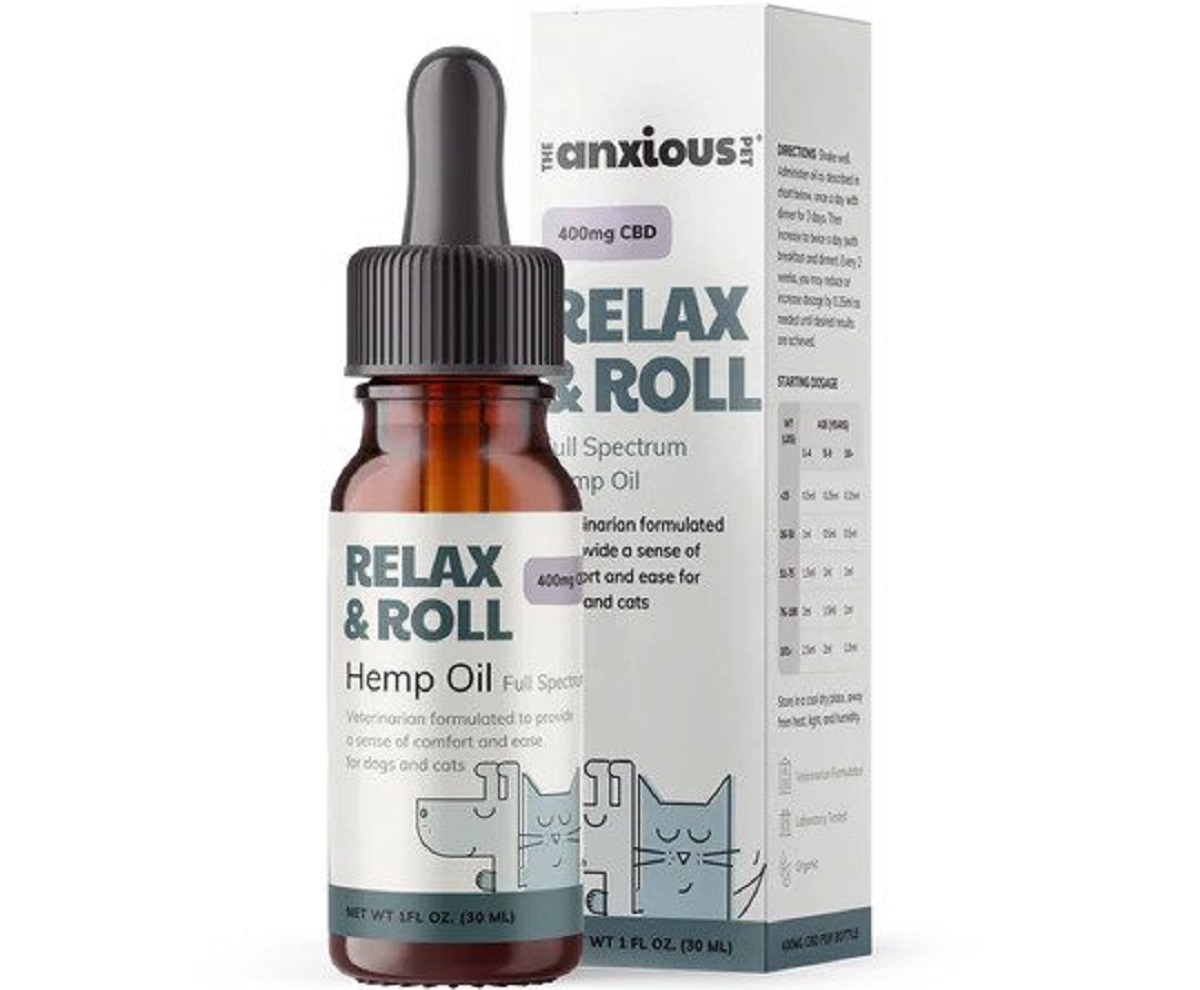 Organic Hemp Oil – The Anxious Pet
The price of "Organic Hemp Oil – The Anxious Pet " varies, so check the latest price at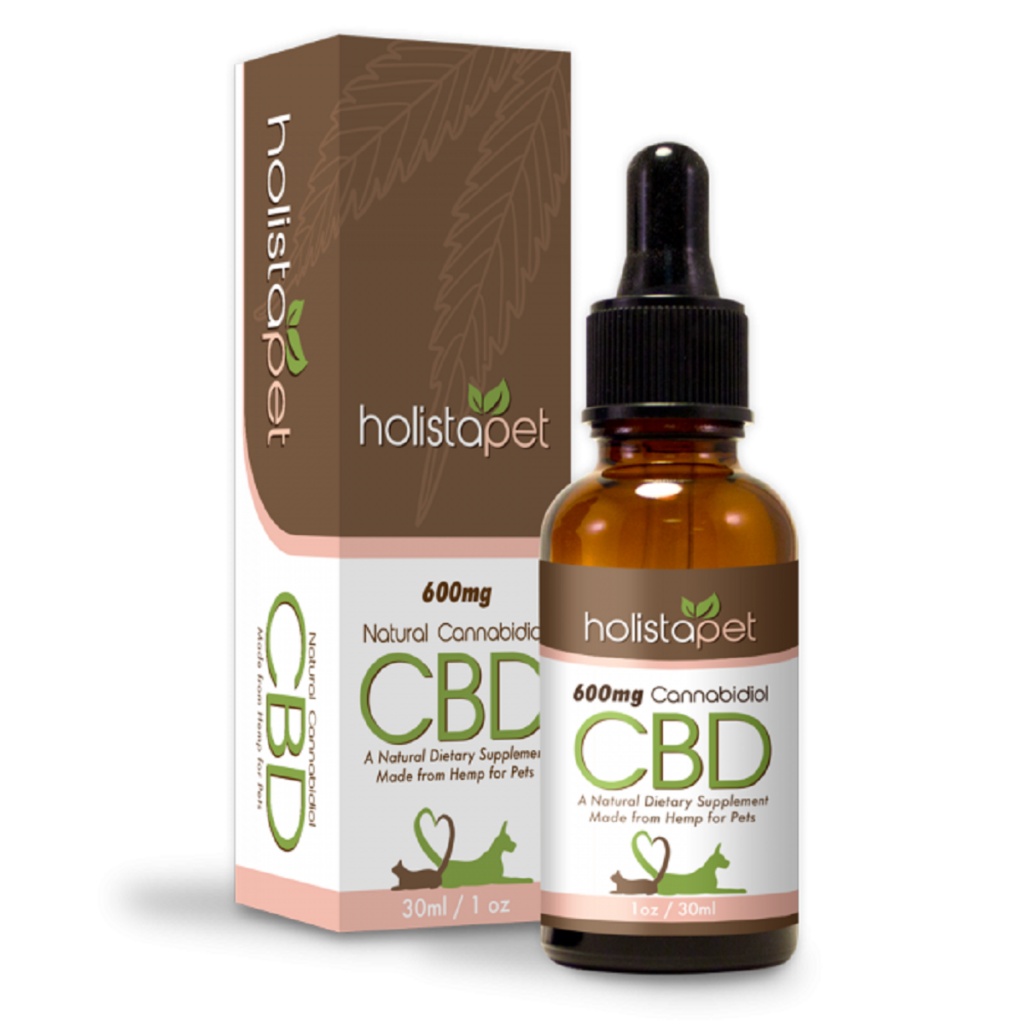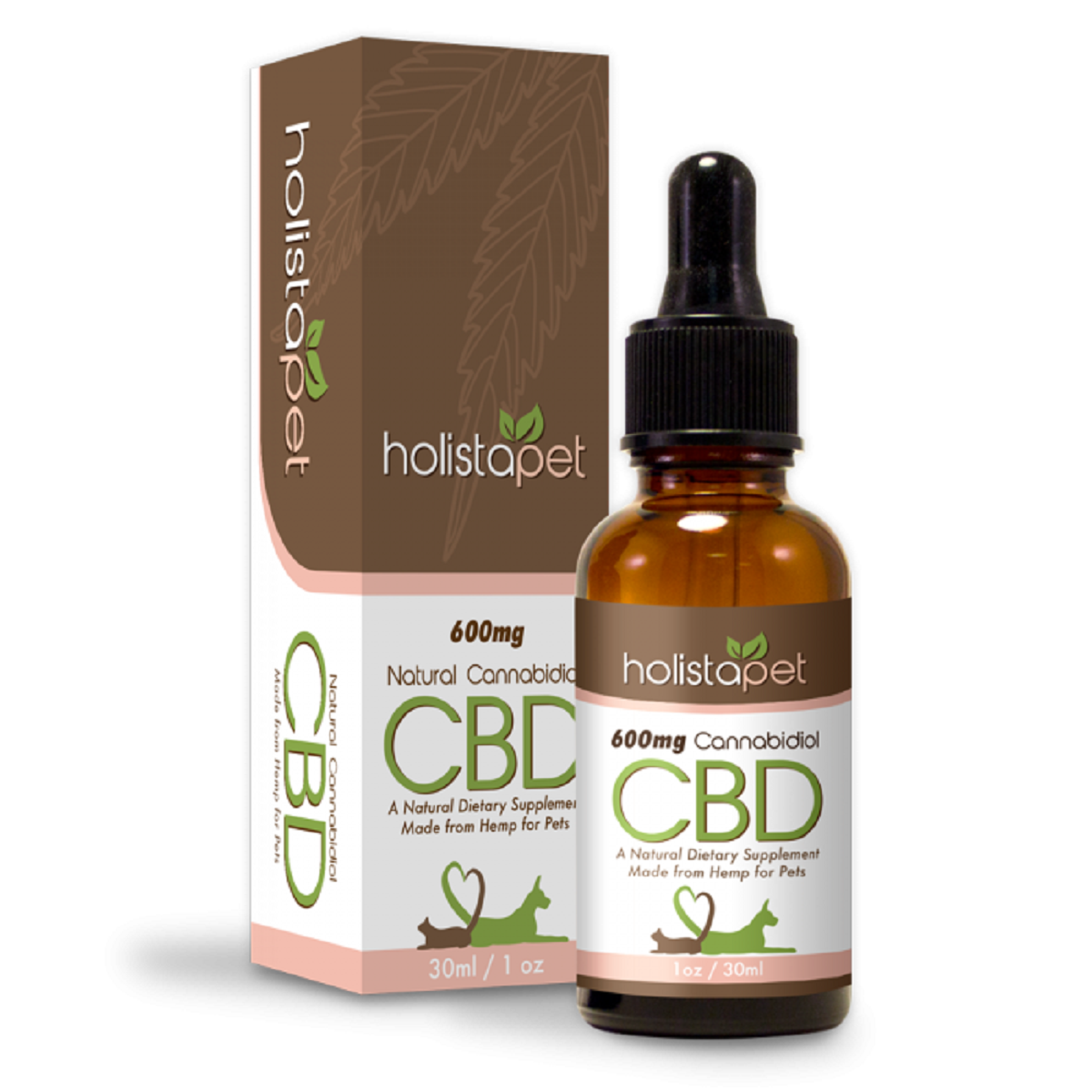 Pet owners around the world are all dedicated to giving their pets long, healthy lives – and we'll do nearly anything to achieve it! HolistaPet understands this and has worked on becoming a leader in the CBD industry, helping over half a million dogs in the US in just five years.
As the name implies, HolitsaPet's CBD oil for dogs has a holistic approach that addresses many doggy issues. It brings down inflammation and supports the joints while also calming them down and keeping their skin and coat in good condition.
All CBD pet products from HolistaPet extract CBD via CO2 before blending it with hemp oil and putting it through rigorous lab testing. The final result is an all-natural broad-spectrum CBD oil that's guaranteed to be THC-free.
HolistaPet's broad-spectrum CBD oil suits dogs of all sizes and offers five concentrations ranging from 150mg to 3000mg. Each concentration has glowing reviews, with customers noticing old dogs with arthritis now able to accompany them on long walks once more.
Pros
CBD extracted with CO2
No THC
Five concentrations available
Cons
Doesn't contain all cannabinoids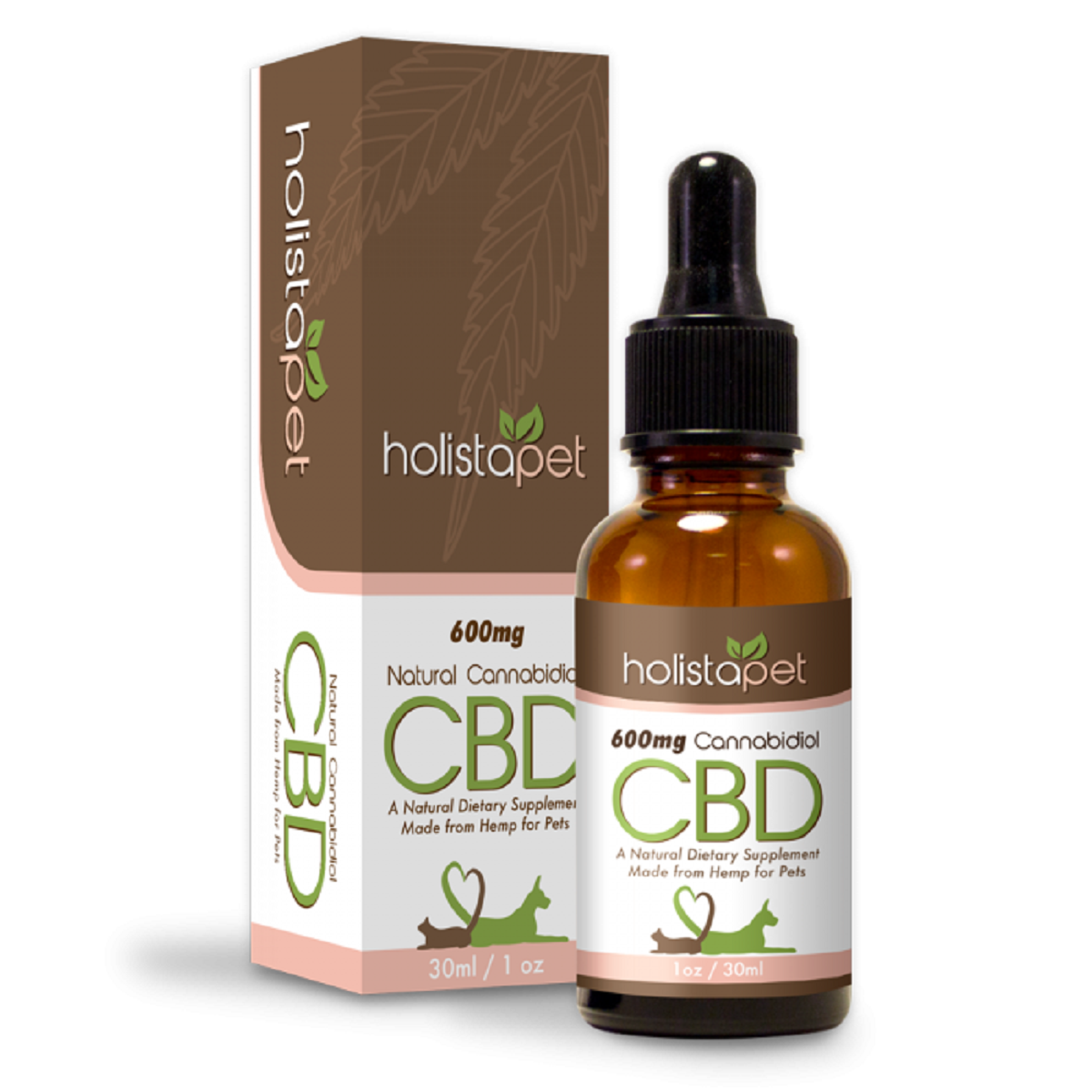 CBD Oil for Dogs – Holistapet
The price of "CBD Oil for Dogs – Holistapet" varies, so check the latest price at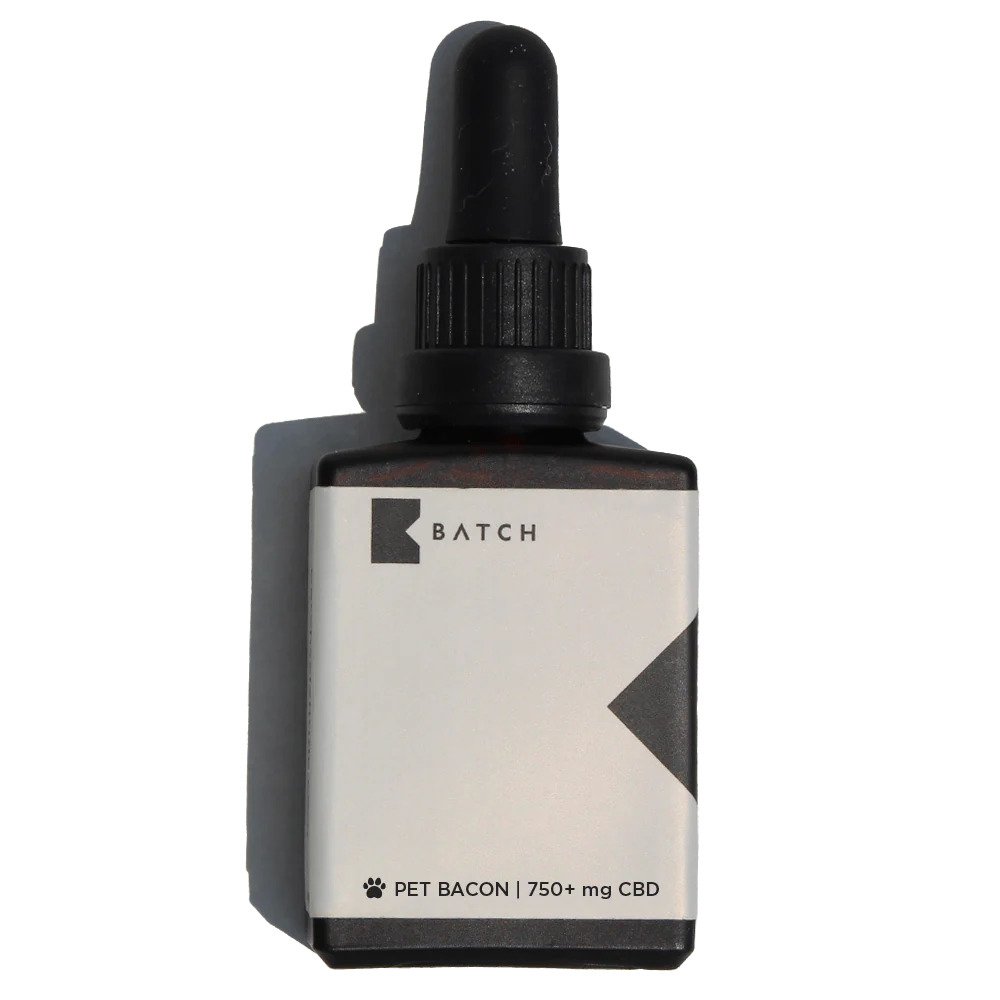 In 2018 Batch became one of the first companies accepted onto the Wisconsin Hemp Pilot Program. Since then, they have grown to become an established and leading manufacturer of CBD oil products.
Their CBD is extracted exclusively from Wisconsin-grown hemp and formulated into an effective full-spectrum CBD formulation by in-house specialists. They even mix it up with coconut oil for easier digestion.
This arthritis CBD oil for dogs might be a pricier option thanks to its brand, but it's worth the price for such a premium product. In fact, Batch is so confident your pup will love it that they offer a 30-day guarantee.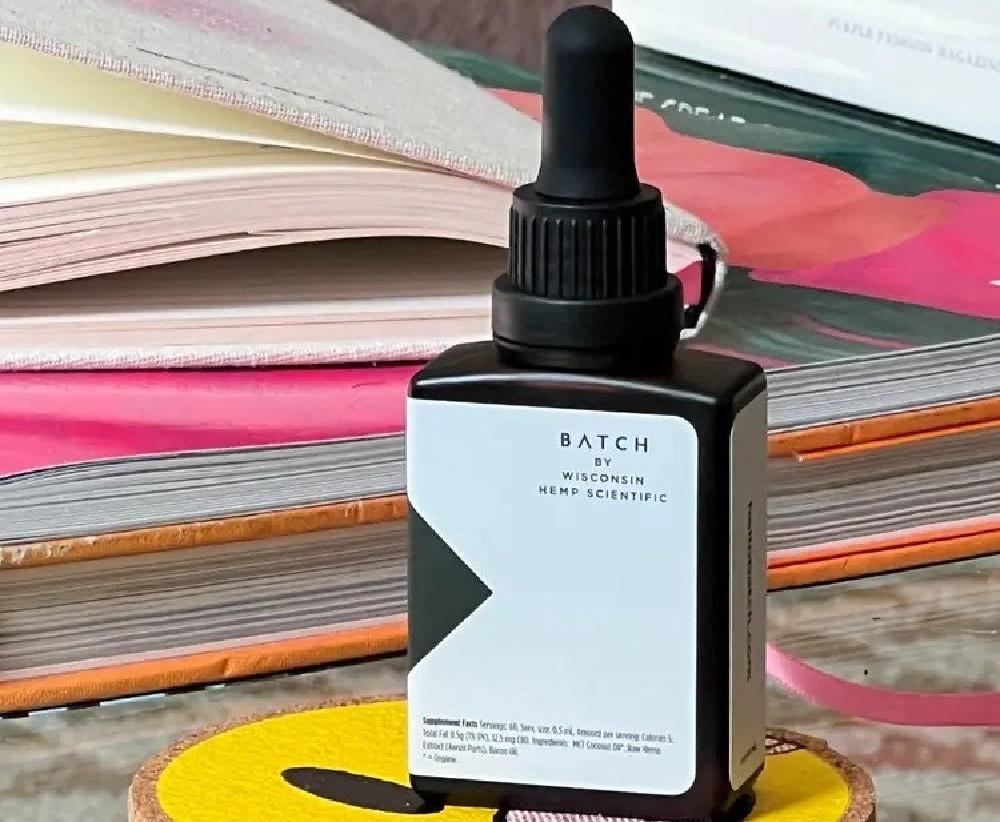 It's worth mentioning that Batch's tincture only comes with a concentration of 750mg. This means pet owners with larger dogs might get through it faster, and those with smaller dogs have to be more careful with dosages. However, you can be sure that your pup will look forward to their daily dose thanks to the tasty added flavors: salmon and bacon.
Batch's CBD oil products have got plenty of rave reviews from customers relieved that they finally found something to help their dog's arthritis and are able to go on enjoyable walks with them again.
Pros
Formulated by in-house specialists
Blended with MCT oil
Comes in salmon and bacon flavors
Cons
More costly
Just one concentration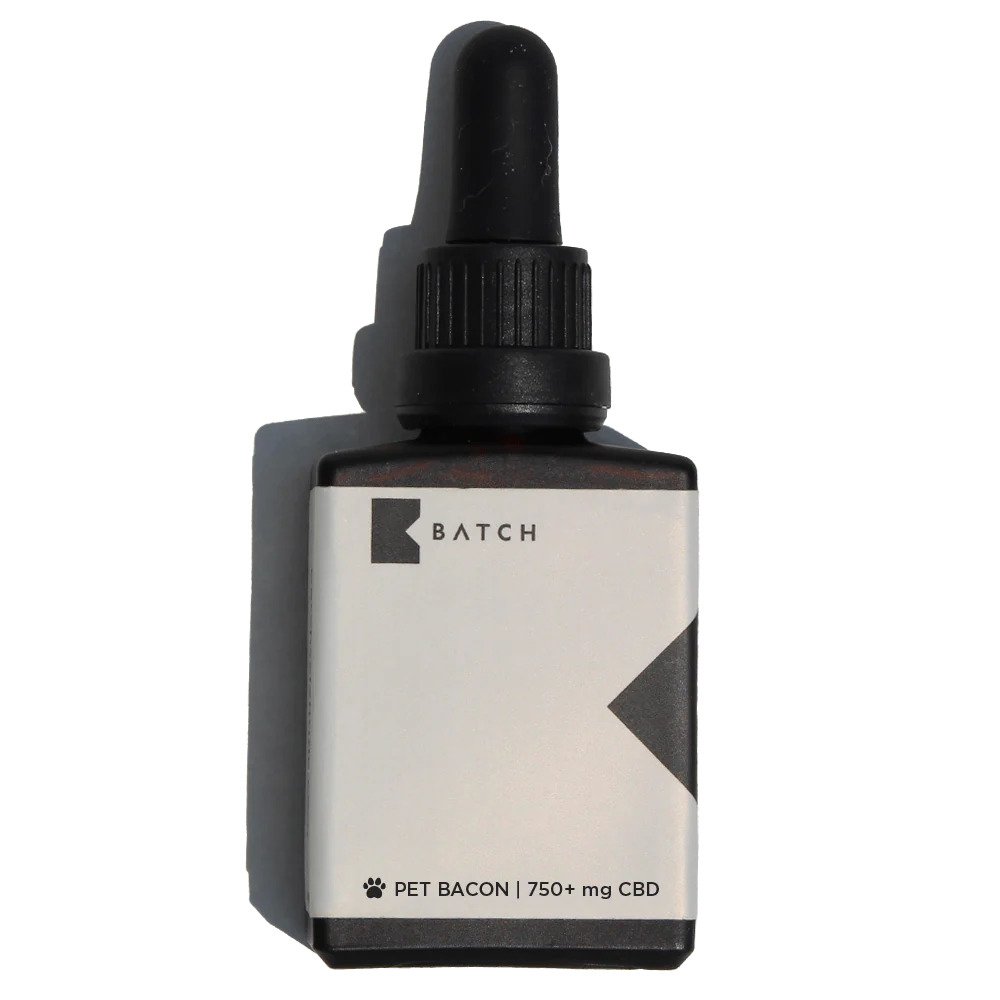 Organic Hemp CBD Oil Tincture – Batch
The price of "Organic Hemp CBD Oil Tincture – Batch " varies, so check the latest price at
8. Pet CBD Oil Tincture for Dogs – CBDMD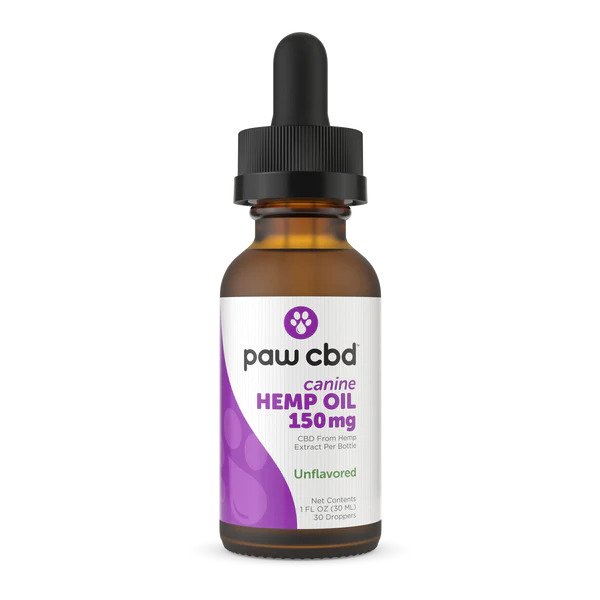 cbdMD's mission is to change how we think about health and create a community determined to feel good in life – including our dogs!
Just because it's affordable, Paw CBD oil for dogs is still packed full of high-quality cannabinoids; it has the lot – cannabidiol, cannabigerol, and cannabinol. Its formula even includes MCT oil to help their skin and fur look shiny and healthy, as well as terpenes to give your dog's immune system an additional boost.
The result is a carefully crafted, THC-free broad-spectrum CBD formula made from quality USA hemp. Depending on whether or not your dog is a picky eater, you can select either an unflavored or peanut butter-flavored oil. The peanut butter option makes it even easier to hide in a peanut butter snack, but it's so tasty by itself your pup will be excited every time they get their daily dose!
There are five different concentrations available, ranging from 150mg to 3000mg. And in case you need different concentrations for various dogs in your house, each concentration has a different colored sticker on the label, so there's no risk of getting them mixed up!
cbdMD has served many satisfied customers, happy to see the CBD oil calm their anxious dogs. But most notably, this oil has helped elderly dogs with arthritis move more comfortably, with dogs between the ages of twelve and sixteen feeling energetic and able to go on walks.
Pros
Uses coconut oil and terpenes for added effect
Free of THC
Peanut butter-flavored CBD oil
Five concentrations
Cons
Not all cannabinoids included
What Is Canine Arthritis?
Arthritis is a condition that impacts the joints and makes movement challenging and painful. Although humans get arthritis too, it's much worse for dogs; as we get older, we prefer lounging around on a couch and watching TV – but dogs want to carry on running outside and having adventures!
Joint Pain
The cartilage between joints acts like a cushion, protecting the bones from each other. Over time, this cartilage wears away and causes the friction between bones to increase. This inflames the joints and leads to a lot of pain, making it harder for your dog to walk and reducing their mobility and activity levels.
Causes of Canine Arthritis
It's not unusual for pups to develop arthritis, so don't beat yourself up about it! It's actually the most common source of chronic pain in dogs, with 20% of dogs diagnosed with osteoarthritis in their lifetime.
Large and overweight dogs have a higher risk of arthritis, but the most common cause is age.
But be aware that younger dogs can also get by arthritis too! This happens after an injury, like ligament damage or broken bones, or if they have any development problems, such as hip dysplasia or too much exercise as a puppy.
Symptoms of Dog Arthritis
Dogs don't just wake up one morning with arthritis. It's a progressive disease that gets worse as time goes on. But it's always best to spot the signs early on to give your dog help as soon as possible.
Your dog will begin moving slower than usual and will be less likely to play. Eventually, they might start limping, groaning as they stand up, licking or chewing their sore joints, and being more tired and irritable.
How Dog CBD Oil Alleviates the Symptoms of Arthritis
Of course, you should always follow the vet's advice. But while they recommend common arthritis treatments like glucosamine, NSAIDs, and physical therapy, it's always helpful to give them CBD alongside these treatments to help even more.
Although CBD oil is best known for calming dogs with anxiety, it's just as effective at alleviating the symptoms of arthritis by reducing inflammation and controlling the pain. In fact, using CBD oil for pain relief is one of its most studied benefits. A 2018 study found that CBD significantly reduced pain levels and improved quality of life in more than 80% of dogs with osteoarthritis.
CBD works in dogs with arthritis the same way it works in humans. It interacts with your pup's endocannabinoid system, responsible for maintaining the body's homeostasis. CBD targets these endocannabinoid receptors in the brain to reduce inflammation, ease pain, and help them relax, resulting in less pain, more mobility, and a happier pup.
The National Cancer Institute also found that CBD oil can give your pup more energy by improving their appetite. A dash of CBD oil not only relieves them of pain but gets them to eat more, helping them gain the energy they need to go out on a walk.
There are plenty of beneficial compounds in CBD oil, but CBD-A is one of the most effective at reducing inflammation, working in a similar way to NSAIDs. Lots of pet owners swear by it, but it's more than just anecdotal – there's even scientific evidence to back it up too.
One study by Baylor College of Medicine showed that taking CBD oil daily for four weeks results in significant improvement of canine arthritis symptoms, while another from Cornell in 2018 found that CBD supplementation increased comfort and activity in dogs with osteoarthritis.
Later on, another study in 2020 showed that CBD helped boost the effectiveness of anti-inflammatory drugs.
FAQs
Dogs are our fur babies, and the thought of giving them drugs is always a bit scary. So here are some of the most common questions people have about giving CBD oil to their arthritic dogs.
How Does CBD Oil Work Against Canine Arthritis?
CBD targets receptors in your dog's endocannabinoid system, helping its body to maintain homeostasis to reduce inflammation and joint pain. If there is a specific joint or area that causes your dog pain, you can even apply a topical CBD balm directly to the area. This provides more immediate relief since it doesn't have to go through the digestive system first.
Can CBD Cure Arthritis in Dogs?
CBD oil is not a cure for arthritis, but it can work alongside other medications to relieve your dog's pain and help them manage the condition. Instead of a cure, it's more of a long-term solution for pain management.
How To Administer CBD to Dogs With Arthritis?
You administer CBD oil to dogs with arthritis the same way you give CBD oil to any dog. Although there are various ways to do this, it's best to know how to give CBD oil to dogs and how much CBD they need.
One option is to forgo oil and instead buy a topical balm to rub in directly where their arthritis causes pain. This penetrates the skin precisely where the pain is and doesn't have to go through the digestive system, making this a more immediate pain relief. However, these balms aren't as concentrated as CBD oil and so are not as effective for those with more severe pain.
If your dog is a picky eater and dislikes the taste, you can always mix it in with their food or a snack like peanut butter. Alternatively, if your dog really loves treats, you can use CBD treats instead of your dog's food.
But if your dog is gentle and okay with you handling their mouth, you can simply use the built-in dropper to squirt oil into their mouth, ideally beneath their tongue, for more rapid and effective absorption.
What Should Be the Recommended CBD Dose To Treat Dog Arthritis?
It's important to know how much CBD oil to give your dog: too much and they'll be sluggish and lethargic; too little and they won't feel the effects they need.
How much they need depends on their size and breed, as well as lifestyle and activity level. That's why it's best to consult with your veterinarian to get a more accurate recommendation. However, a study found that you can still approximate a dosage by administering 2mg for every 2.2 lbs of body weight to relieve the chronic pain from arthritis.
Final Thoughts
Most dogs are playful animals who love chasing each other, running after a ball, or exploring – but all those joys are made much harder with arthritis. Fortunately, CBD can be a great way to alleviate joint pain and keep them active for a better quality of life.
Although there are lots of CBD oils out there that have similar effects, some CBD pet products target specific issues: one might help with cancer, another for arthritis, and another might be the best CBD oil for dog seizures. Start your search for the best CBD oils by considering some of our top suggestions here. Always make sure to go with trusted CBD brands that offer high-quality CBD oil that's third-party lab tested.
Once you start administering CBD oil to your dog regularly, you'll be able to sit back and watch as their pain starts to ebb away, and they can start becoming their old self again.