All dog owners know pups have real issues with boundaries. Whether it's following you to the bathroom or getting over-excited and running off… Don't you wish your dog would just stay where it should?
Pet safety is the number 1 priority for every dog owner, and that's precisely where dog fences come in handy. They keep your dog secure while also giving them the freedom to play off-leash. Say goodbye to nightmares of your furry friend running into busy roads or getting lost!
Though they sound simple, there's not just one type of fence system to choose from. The most obvious type is a literal physical one. But the other type is invisible dog fences; electric ones that use radio signals, GPS, or underground wires.
These fences warn your dog if they stray too close to the boundary by sounding a tone on the collar or giving them a mild static shock.
Best GPS Collar Overall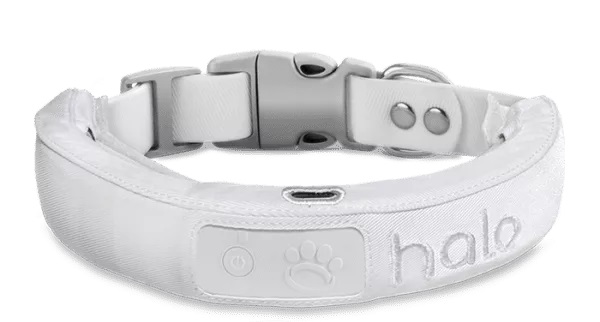 Halo 2 Collar Virtual Fence
Size: 11″ Collar
Style: Wireless Containment System
Premium Choice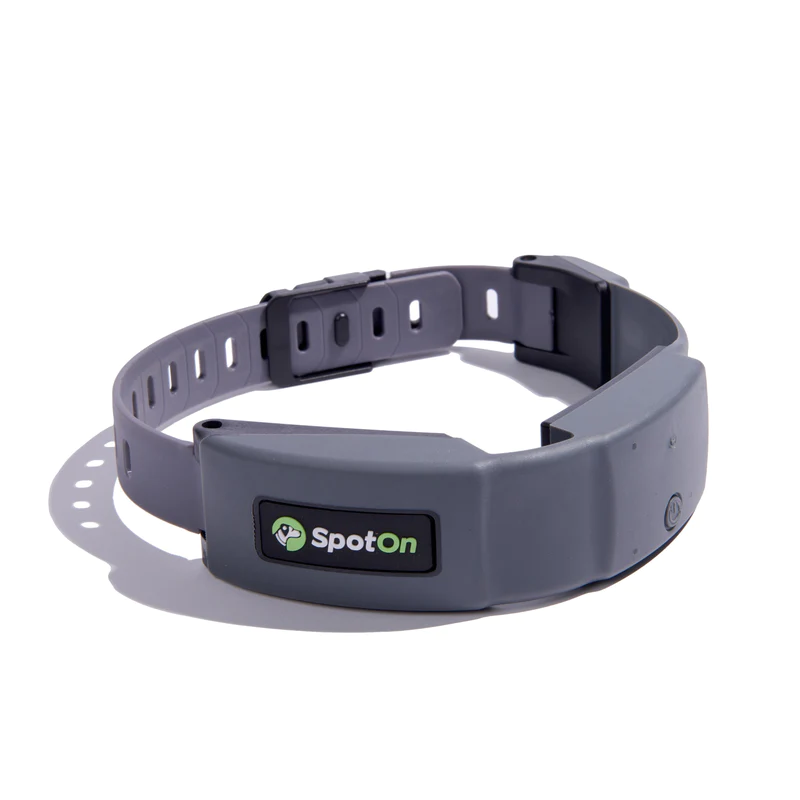 SpotOn Virtual Smart Fence
Size: 10″ Collar
Style: GPS Dog Fence
Reliant & Spacious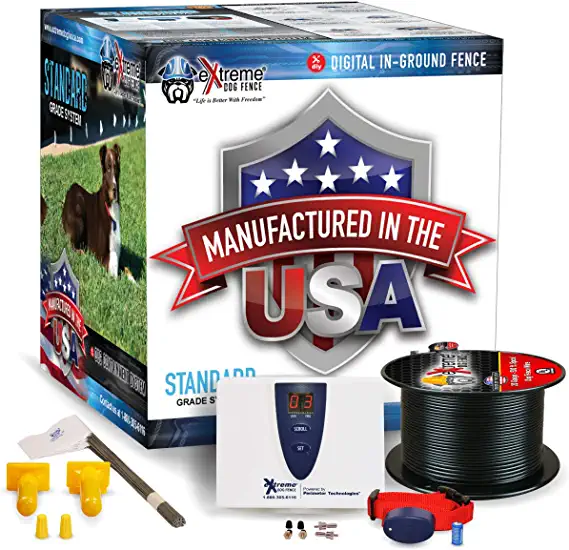 Extreme Dog Fence Standard Active Electric Fence Kit
Size: 1Dog System
Style: Underground Electric Dog Fence
Best Basic Metal fence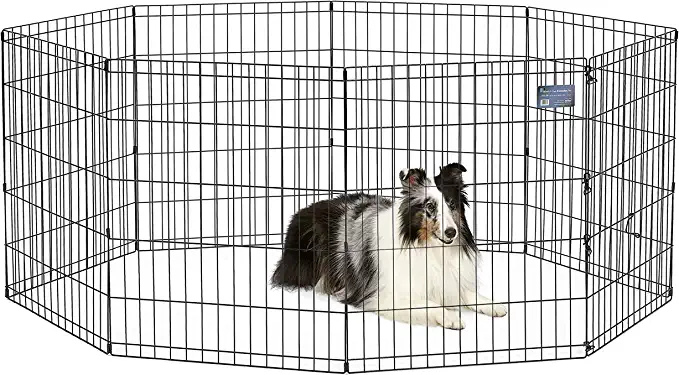 MidWest Exercise Pen
Size: 30″ H
Style: Playpen folds
Aesthetically Pleasing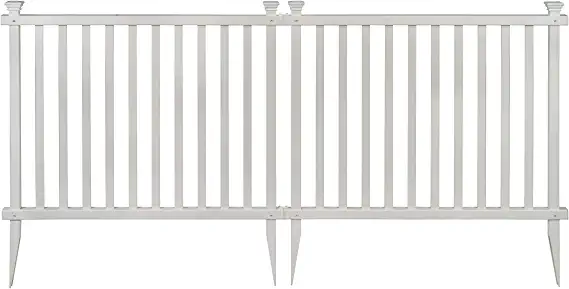 Zippity Outdoor Baskenridge Semi-Permanent Vinyl Fence
Size: 36″ H
Style: Garden
Added Security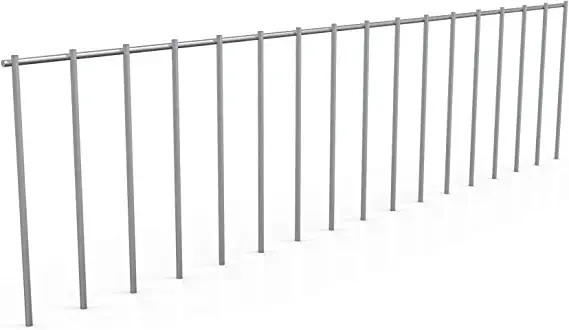 Dig Defence 10-Pack Small/ Medium Animal Barrier
Size: 8″ L
Style: Solid
Best Affordable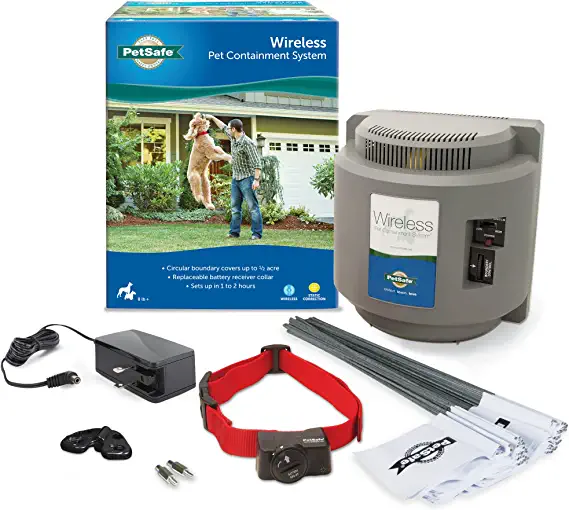 PetSafe Wireless Pet Fence
Range/Size: 1/2 acres
Style: Wireless Fence Kit

Best Portable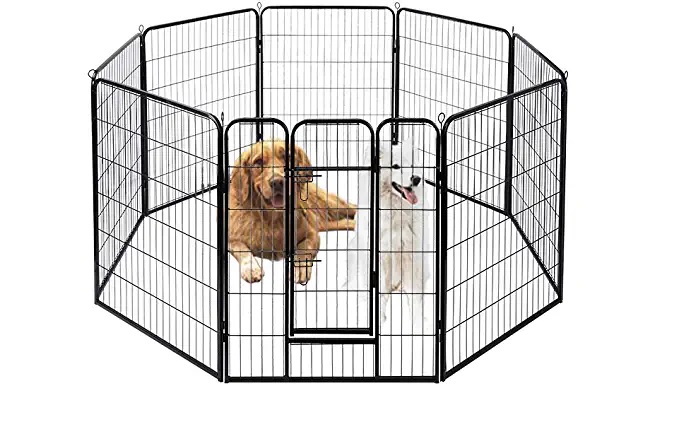 VIVOHOME 40" 8 Panel Heavy Duty Metal Pet Fence
Size: 39.5″ H
Style: Modern


Best For Small Dogs

Yaheetech Heavy Duty Pet Playpen
Size: 24″ H
Style: Compact



Best Dog Fences – Top 9 Picks
If you've ever wanted your dog to have a safe space to play where they can't get into any trouble, then look no further…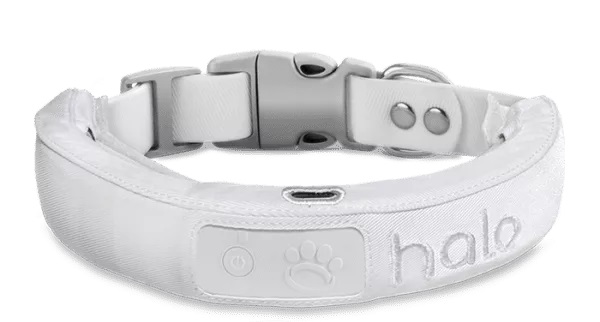 The Halo Collar Virtual Fence is an all-in-one, next-generation, and high-tech solution to making sure your dog is safe; it's a dog fence, a GPS collar, a training collar, and an activity tracker all in one!
It doesn't use wires but instead uses GPS and GNSS technology, making the installation super simple – especially when you can create precise boundaries using the app on your phone!
And you don't have to settle with just one invisible fence since you can have up to 20 fences in different locations.
The only problem with the GPS is you need a cellular data plan. This adds an extra cost, but there's a range of options for different budgets.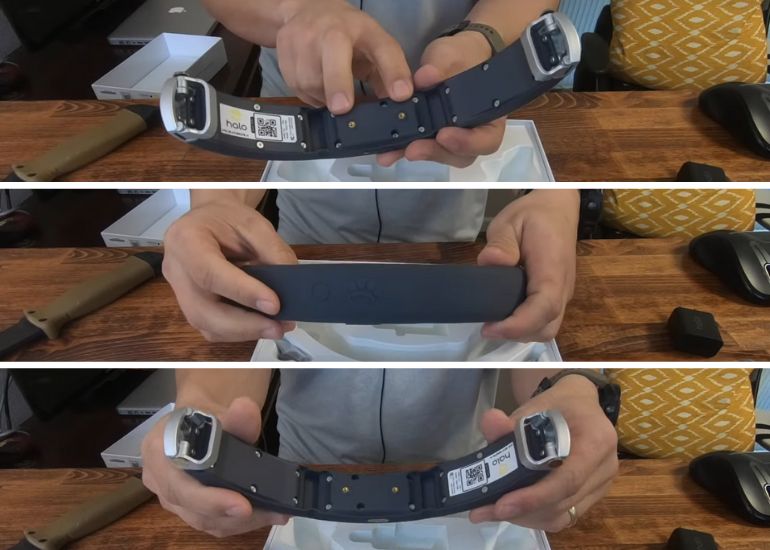 Since it's wireless, you'll need to train your dog on how it works. But you're not alone – Halo 2 includes a training manual from renowned trainer Cesar Millan to help you train your pup.
Don't worry if the idea of a static shock worries you. There are three tiers of prevention if your dog gets close to a boundary; sounds, vibrations, and static, all of which you can customize or disable if you wish.
Features
The waterproof collar comes in small, medium, and large sizes.
Training manual from dog trainer Cesar Millan
Built-in GPS and GNSS technology to track your dog
Customizable prevention, including sounds, vibration and static shocks
Pros
Wireless and easy to set up
Accurate and precise boundaries
Creates large areas for your dog to play in
A waterproof collar with a long-lasting battery makes it durable
Cons
A more expensive option
You need monthly billing because of the GPS features
The small-sized collar might still be too large for very small dogs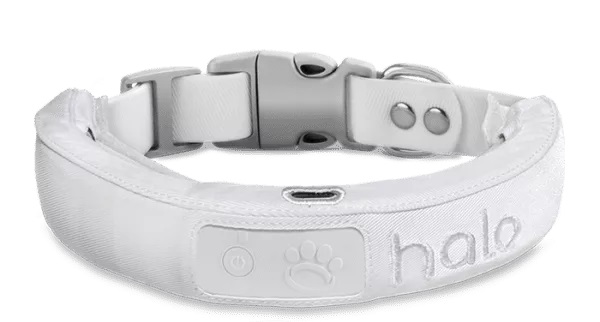 Halo 2 Collar Virtual Fence
Use Code: ENDOFSUMMER to get $350 off on Your New Halo Collar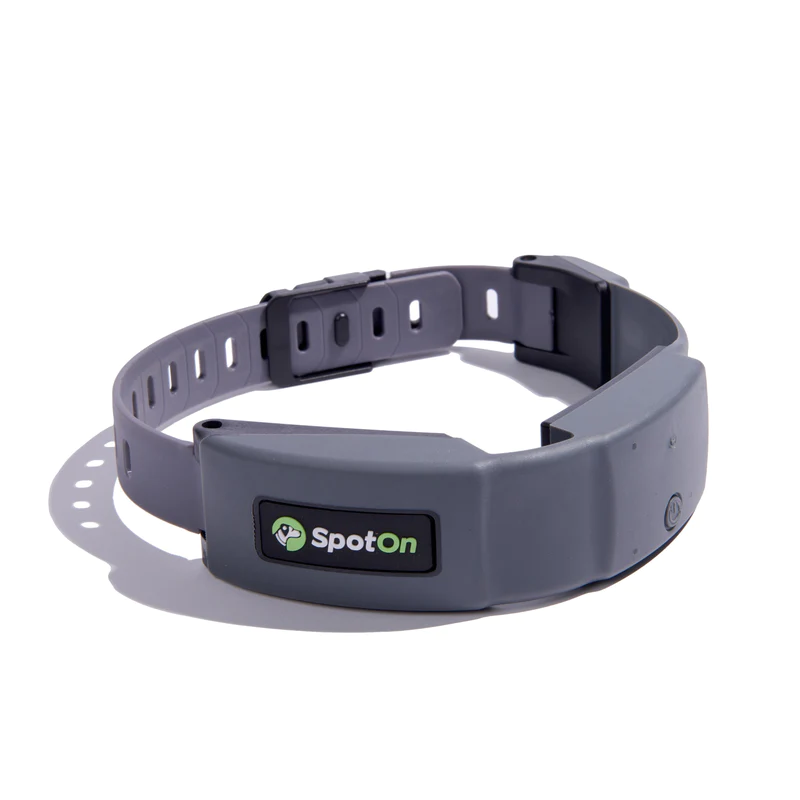 The SpotOn Virtual Smart Fence allows you to create a huge virtual fence with GPS technology by just walking along the fence boundary. From the phone app, you can adjust the shape of the boundary and track your dog with great accuracy.
Your dog will love the opportunity to run free, especially in an area bigger than the entire yard! The SpotOn Virtual Smart Fence can have boundaries that cover thousands of acres with up to 1,500 GPS fence posts.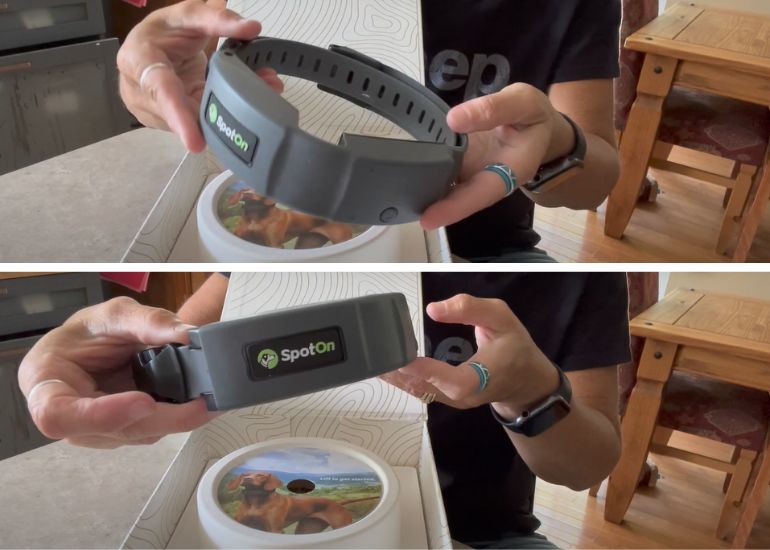 You're not confined to just one area either; you can create virtual fences with this portable dog fence wherever you want, even on the go.
Of course, this comes with its own problems too, since you need to have at least a ½ acre available for your pup to run about. However, if you have more than one dog, they can share the same boundaries; you just need to purchase a collar for each pup.
But you won't have to fiddle about with changing collars since the battery lasts for up to 14-22 hours and is fully waterproof! Each collar can be modified for the individual dog, with up to 30 different correction levels.
Features
Covered by GPS, GLONASS, Galelio, Beidou
Choice of carriers: AT&T or Verizon
Long-lasting rechargeable battery
Water-resistant collar in a range of sizes
App to manage boundaries after installation
Pros
Creates huge boundaries for your dog to play in
Accurate GPS tracking
Manage boundaries via the app
Up to 1,500 fence posts
Create multiple fences
The collar is water-resistant with a long-lasting battery
Same boundaries can be shared by several dogs
Cons
Steepingly high price tag
Requires a large area, at least a half-acre
Dogs can share boundaries, but each one needs its own collar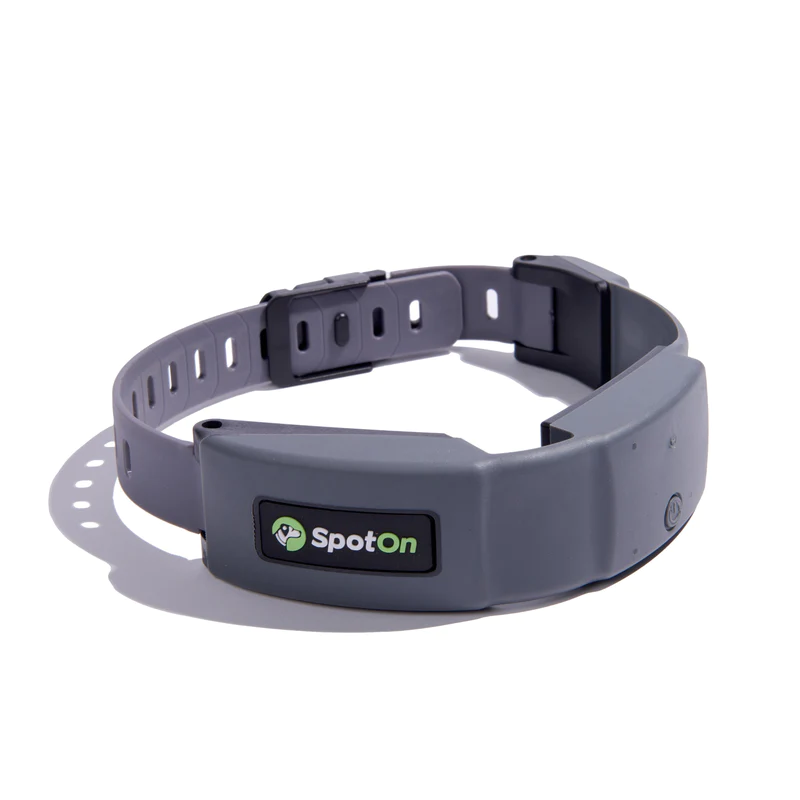 SpotOn Virtual Smart Fence
The price of "SpotOn Virtual Smart Fence" varies, so check the latest price at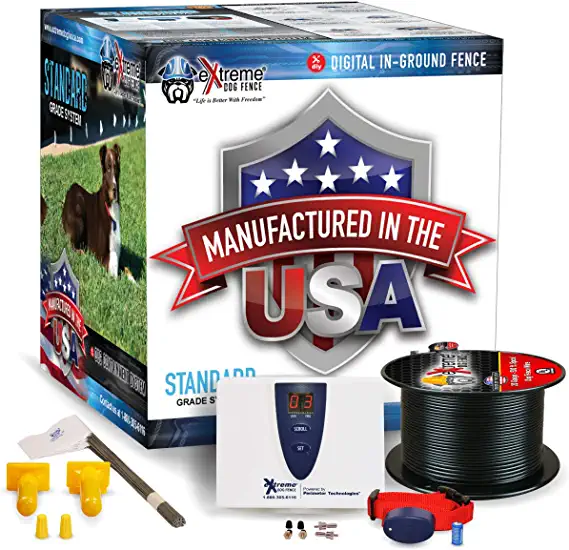 Dog fences aren't cheap. They can be a real drain on your wallet – especially wireless ones requiring a cellular plan. But wired fences like extreme dog fence offer a cheaper solution.
It comes with no fee for the installation or long-term maintenance because you do it all yourself. Of course, this takes more effort than a wireless dog fence and is more time-consuming, especially since the wire needs to circle the boundary and be buried up to three inches underground.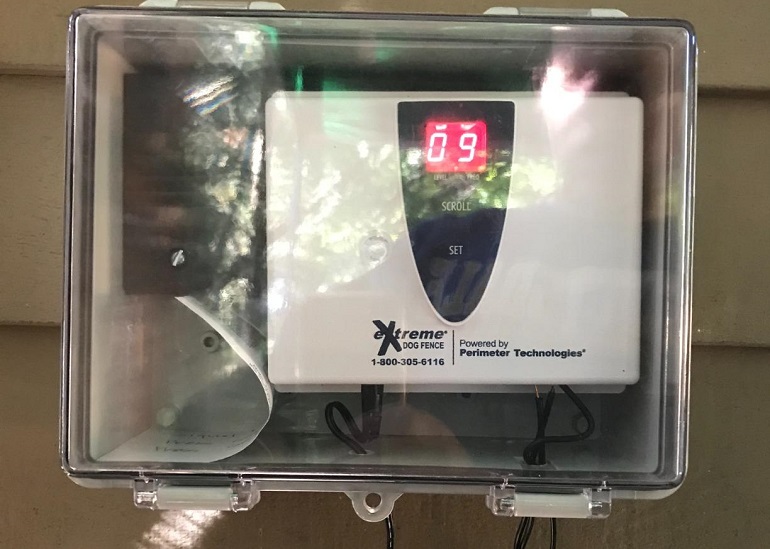 But they do offer a live chat to help with the installation, as well as a detailed guide and even a training manual written by experts to help your dog get used to it, along with training flags.
The collar also makes training easy with different modes to suit your pup. You can choose from 7 different static correction levels or a beep-only option.
It's not just the cheaper price tag that makes this option appealing. Wired fences are often more reliable than wireless ones since you're not at the mercy of GPS.
But it's still versatile and adaptable since the digital transmitter lets you adjust how close you want your dog to be to the wire before they receive a warning.
Features
The collar remains waterproof up to 10 feet of water
500 feet of 20-gauge boundary wire
Additional 20-gauge fence wire gives a maximum of six acres
Pros
Cheaper and more reliable than wireless fences
Gives your dog a huge area to play
There's a live chat and manual to help you with installation
Training flags and a guide are included to help train your dog
Adjustable correction levels on the collar
The collar is waterproof and fully submergible up to 10 feet
Cons
You have to install it yourself – this can be tricky and time-consuming
Cheaper than a wireless option, but still costly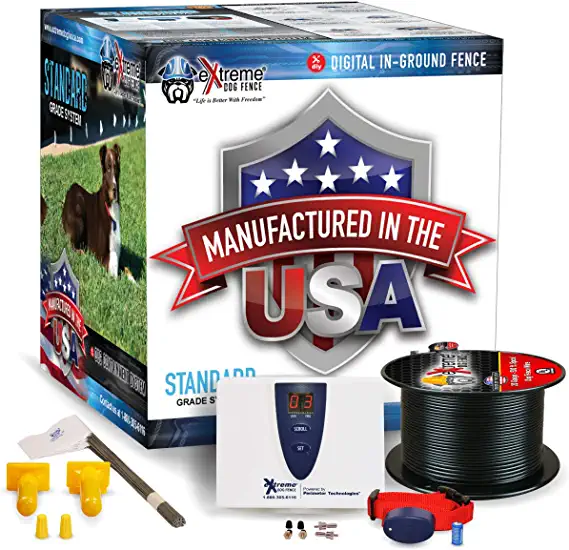 EXtreme Dog Fence Standard Active Electric Fence Kit
The price of "EXtreme Dog Fence Standard Active Electric Fence Kit" varies, so check the latest price at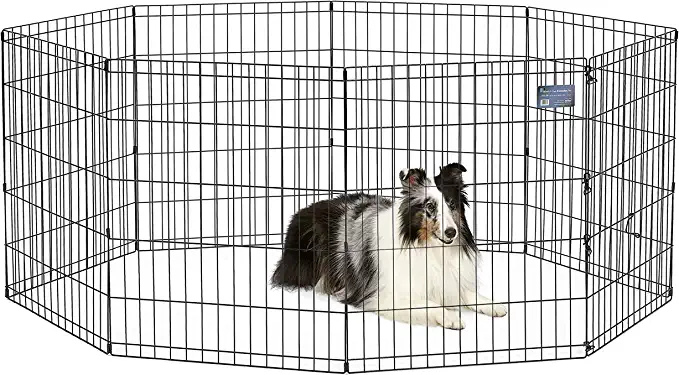 While it might seem the best option to install an electric dog fence, this isn't for everyone. Not only are they costly, but you might not have room for it. Instead, you could opt for a physical fence.
At 42 inches high, the MidWest Exercise Pen is tall enough to keep small dogs in and light enough to move easily. Putting it away isn't a hassle either since you can put it up and take it down in seconds, as well as fold it flat for portability or simple storage.
Though the bars aren't particularly thick, the fence is still durable. You don't need to worry about your pup knocking it down, thanks to the eight ground anchors. The Pen will also last you a long time thanks to its finishing coat protecting it from rust.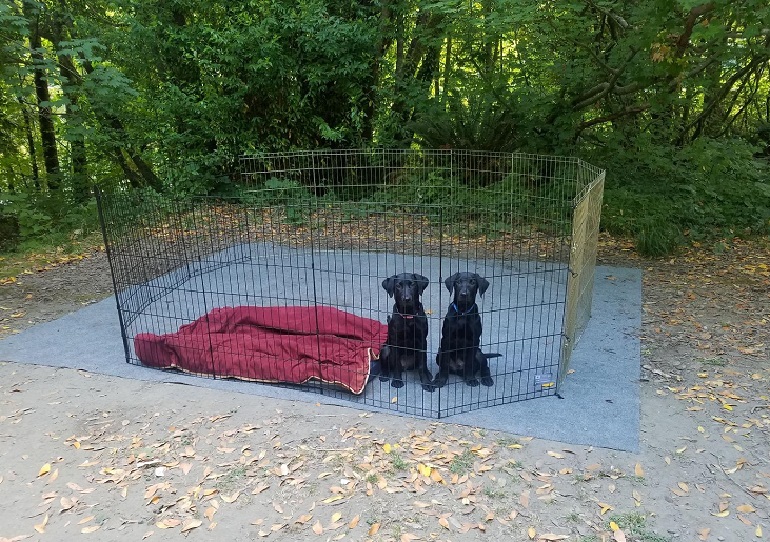 While electric fences give your pooch more room to play, the MidWest Exercise Pen offers a 16-square-foot enclosed area. This is fine for some dogs but might be too confined for energetic ones.
Still, it's a reliable option for dogs that need their own space, particularly since it can attach to a crate for extra privacy.
Features
Eight panels measuring 24 inches by 42 inches
Easily foldable for storage
8 ground anchors for use outdoors
4 thumb snaps for simple set-ups
Durable material
Pros
Much cheaper than electric fences
Easy to put up and take down
Portable fence and easy to store
Rust-resistant
Offers a safe, enclosed area indoors or outdoors
Optional tops available
Cons
A small, confined area – may be too small for some dogs
Big jumpers might be able to leap over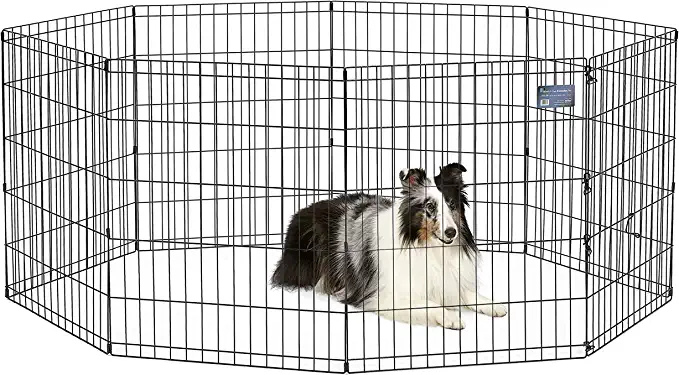 MidWest Exercise Pen
The price of "MidWest Exercise Pen" varies, so check the latest price at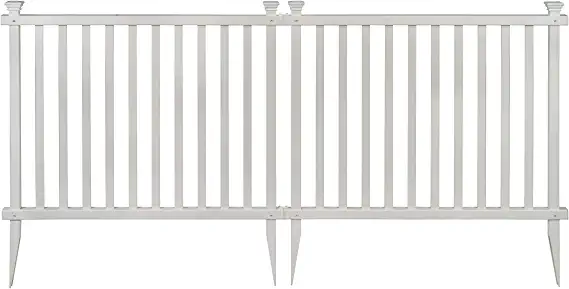 Put the word "dog" in front of something and it usually ends up being more expensive. But when you're just looking for a fence, why not just use a normal fence?
If you're one of those people who put a lot of effort into their gardens, you don't want an ugly dog fence cramping your style – you want wooden fences (like a trendy picket fence)!
Instead, the Zippity Outdoor Baskenridge Semi-Permanent Vinyl Fences offer the best fencing in terms of looks! In fact, Zippity even offers a gate to add on to really make the fence blend in.
If you're pausing because you don't know if you want permanent fencing in your garden, just know that it's not permanent – it can be removed whenever you want! And it's as simple to assemble as it is to put away. In fact, Zippity's specialty is its no-dig easy installation.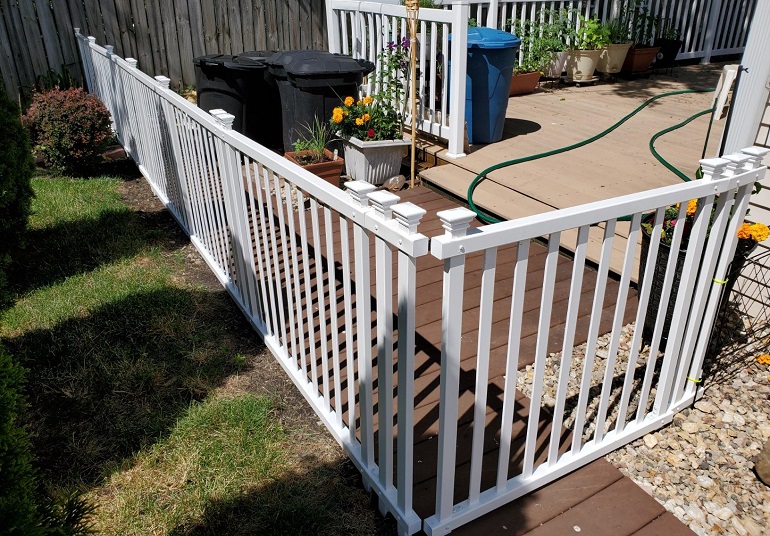 You don't need to worry that it's not specifically made for dogs either. At 36 inches high, it should be high enough to deter small dogs from jumping over, and its durable recycled PVC material is tough and sturdy to endure most dogs' teeth.
Just bear in mind that each unit comes with two panels totally 84 inches in length, meaning you might need to purchase a few.
Features
Two panels measuring 36 inches by 42 inches
Semi-permanent so easily removed
Made from recyclable but durable material
Pros
Aesthetically pleasing and fits in with most gardens
Semi-permanent so can be removed easily
No-dig easy installation
Durable and environmentally friendly material
Cons
Not made specifically for dogs, so not designed to withstand dog-related wear and tear
Not particularly high and poses a risk for some dogs jumping over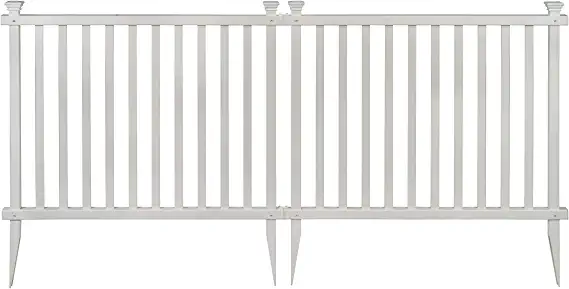 Zippity Outdoor Baskenridge Semi-Permanent Vinyl Fence
The price of "Zippity Outdoor Baskenridge Semi-Permanent Vinyl Fence" varies, so check the latest price at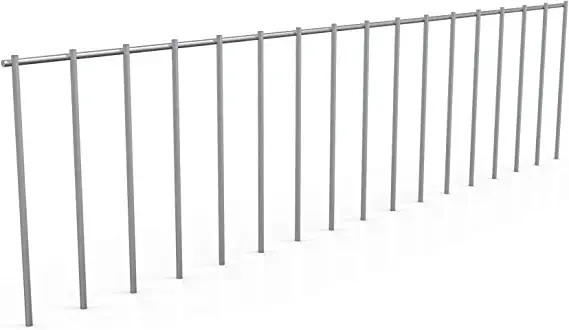 It's amazing (but annoying) how dogs can squirm their way through some tiny holes. If you have a small gap beneath your existing fence that your dog keeps trying to escape from, this is the perfect solution.
This Dig Defence Barrier has actually been recommended by home improvement TV host Bob Vila – and it's easy to see why. It's an elegant solution to an annoying problem. Super easy to install; all you have to do is push it into the ground, and voila!
With a depth of 8 to 10 inches, depending on the size of the dog, this is a ground fence panel that extends the protection of your fence, making sure they can't dig their way to freedom.
If the dog knows about this secret escape route and you're worried they might be a bit rough, rest assured that the fence has strong 4-gauge steel rods with a galvanized material. It doesn't require any maintenance and will stay strong and durable enough to keep your dog in.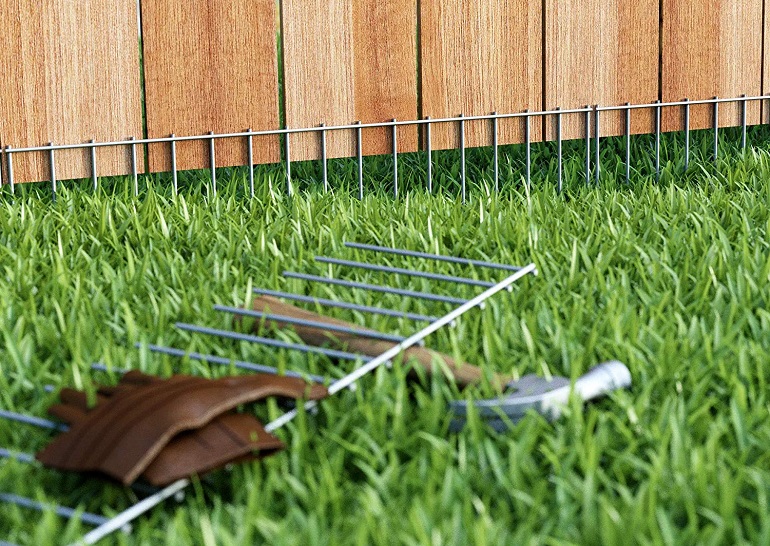 If you need a little more to be convinced, just know that airports, zoos, and even military facilities use the exact same product to keep wildlife out too!
Features
Barriers are 8 to 10 inches long and 32 inches wide with spikes 2 inches apart
Length ranges from 12 to 75 feet
Made from high-quality galvanized steel
Pros
Can cover a length of 12 to 75 feet
Strong and durable material
No maintenance required
So reliable it's used by zoos, airports, and military facilities
Cons
Requires a bigger main fence to stop dogs from jumping over
Can be expensive if you need to cover more than 12 feet in length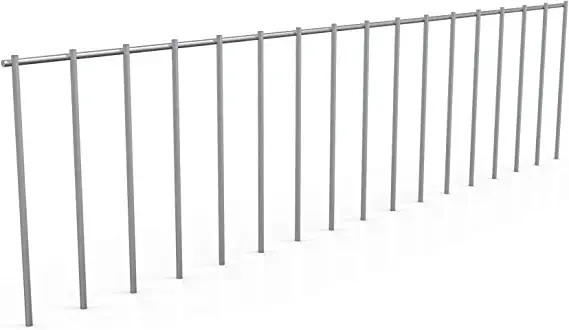 Dig Defence 10-Pack Small/ Medium Animal Barrier
The price of "Dig Defence 10-Pack Small/ Medium Animal Barrier" varies, so check the latest price at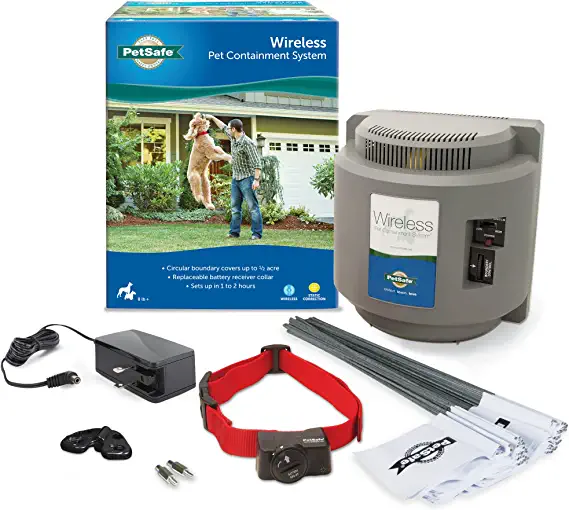 As tempting as it is to have up-to-date technology, we don't always have the budget for it. So, do you really need a customizable shape? If not, a more simplified wireless fence is a perfect solution.
With PetSafe Wireless Pet Fence, you can still keep your dog happy with a circular boundary of up to ½ an acre to run about in. And you can go even bigger if you get an extra transmitter!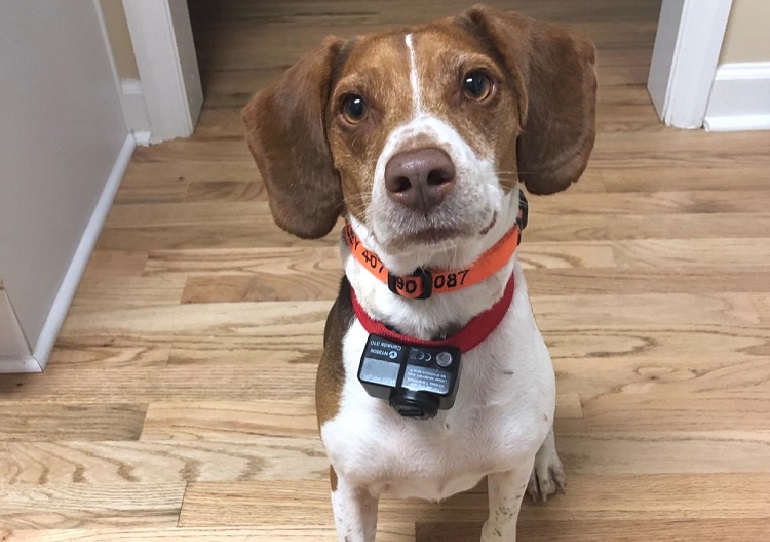 You don't have to commit to just one location either. One advantage of a wireless fence is that it's fully portable. Taking your dog on vacation or going camping? Feel free to bring the wireless fence with you so they can have freedom wherever they go!
Although it doesn't require any digging to install, it can still take about 1 to 2 hours to set up, so do keep that in mind. But with the training manual, it should only take your dog a couple of weeks to pick up on how it works, making the training simple.
As with the other collars, PetSafe's collar is waterproof and has both a tone alert if the dog strays too close to the boundary, as well as several correction levels. This collar's battery lasts an impressive two months but needs replacing since it's not just a rechargeable one.
Features
The circular range covers up to a ½ acre from the transmitter's position
Static-free re-entry so no correction when the dog comes back
The collar is waterproof with a long-lasting battery
Five adjustable correction levels and a tone-only mode for training
Pros
More affordable than GPS fences
Allows a boundary of up to a ½ acre which increases with an added transmitter
Portable fence to use while camping or on holiday
Easy to set up
The collar is waterproof with a long-lasting battery
Cons
Takes 1-2 hours to be set up
The battery is not rechargeable and needs to be replaced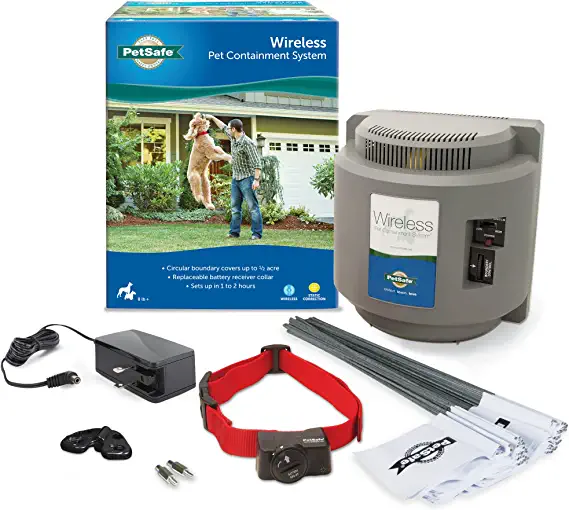 PetSafe Wireless Pet Fence
The price of "PetSafe Wireless Pet Fence" varies, so check the latest price at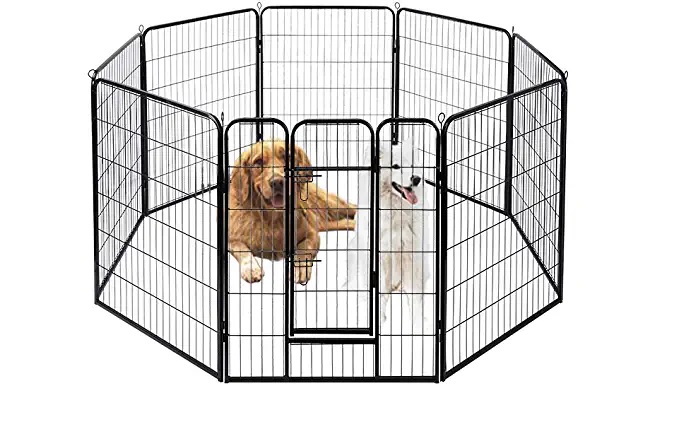 At first glance, this pet fence is similar to the MidWest Exercise Pen. However, with a total of eight panels, this fence offers a 28-square-foot enclosure for your pets to play in. Much more space if your pooch is a bit more energetic!
Thanks to its durable material, the metal bars are resistant to rust, weather, and even chewing! But despite being made of metal, it's very light, meaning you can move it as much as you like or even feel free to store it away since it's easily collapsible.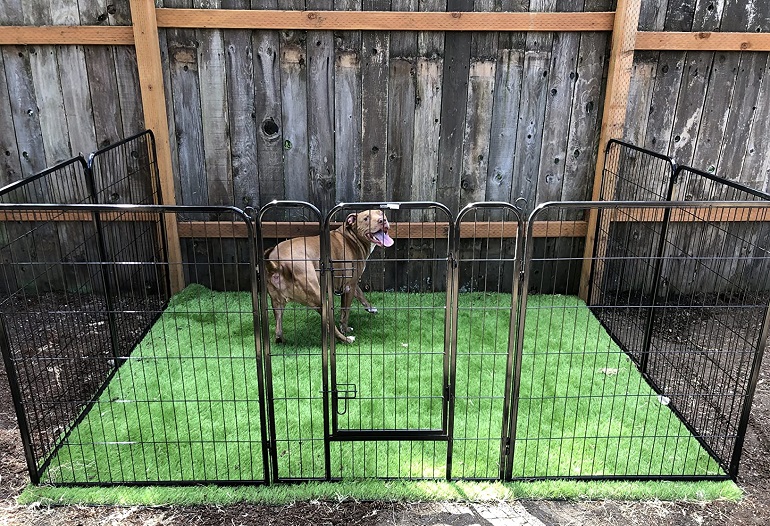 With eight panels, you can even change its shape easily, making it a square, rectangle, or octagon in seconds.
It does have anchor stakes that will keep it firmly fixed to the ground outside, but since it's only 40 inches high, it might not be suitable for all dogs. Small dogs and puppies will be happy doing zoomies in there, but large dogs might just hop out.
Features
Made from rust-resistant and weather-proof metal tubes
Lightweight and collapsible for easy storage
Able to change shape
Includes a gate
Anchor stakes to secure it to the ground
Pros
A bigger area than some other pet pens
Lightweight and easy to move into various shapes
Fully collapsible and easy to store
Durable material suitable for indoors and outdoors
Cons
Less study indoors when not using anchor stakes
Large dogs could jump out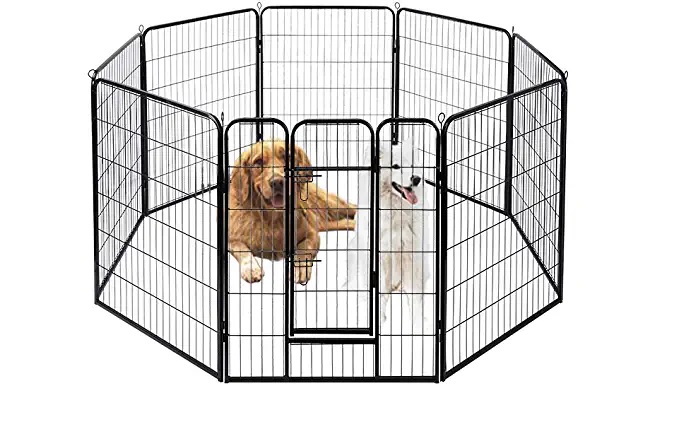 VIVOHOME 40" 8 Panel Heavy Duty Metal Pet Fence
The price of "VIVOHOME 40" 8 Panel Heavy Duty Metal Pet Fence" varies, so check the latest price at

Some dogs seem to have unending sources of energy… That's where the Yaheetech comes in handy. With 32 panels, it can offer an enclosure of over 450 square feet for them to run around in. In fact, it's so big that it can accommodate multiple dogs in there or join them in there yourself.
Despite its large size, you don't have to use all panels provided. Instead, you can use fewer for a smaller, more manageable size to fit in both large or small yards.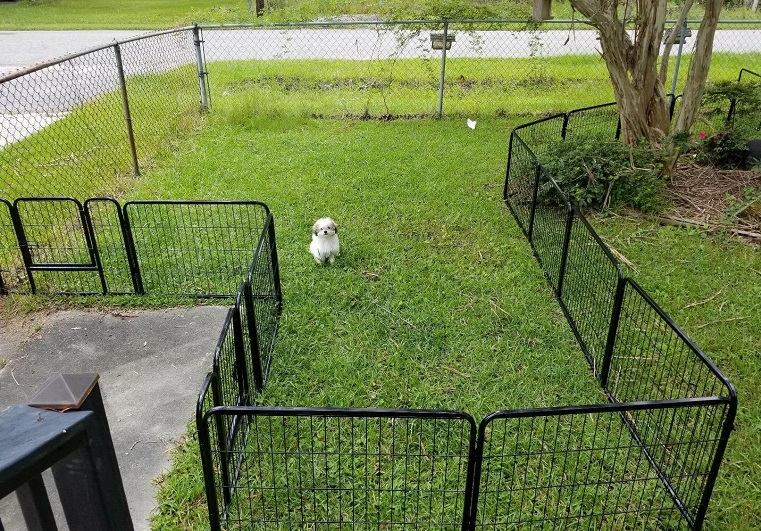 Like other pens, it's foldable and lightweight, so you can move it around if you wish. But since its durable material is rust-proof and waterproof, there's no need to take it down if you just want to leave it outdoors.
Bear in mind that like other fences it has a height of 40 inches. This height might be fine for an old dog, a puppy, or a small dog, but medium to large dogs might be able to jump over it. It's also not the cheapest option; due to the large size it offers, this is the more expensive option for physical fences.
Features
Made from non-toxic, anti-rust, and weather-proof electrophoresis metal panels
Can adjust the shape of the pen
Foldable, lightweight and easy to transport
Gate panel included
Pros
A huge area for dogs to play in
Rust-proof, waterproof, and non-toxic material
Sturdy and durable
Lightweight and portable fence
Adjustable size for up to 450 square feet or less
Cons
A more expensive option for physical fences
Presents a risk of medium-sized or big dogs jumping over

Yaheetech Heavy Duty Pet Playpen
The price of " Yaheetech Heavy Duty Pet Playpen" varies, so check the latest price at
Buying Guide: What to Look for in Fences for Dogs
Whether you choose a physical or invisible fence, there are still things to keep in mind to ensure you choose the best fence to keep your dog safe and secure when not on a leash.
Height
Carefully consider the age and size of your dog. This is a key factor in deciding on the right fence. If your dog is old, a puppy or a small dog, then you can pick any fence since it's unlikely that they'll be able to jump over and make a break for it.
However, if you have a medium-sized or larger dog, then it's possible they'll be able to leap over many of the physical barriers like picket or chain link fences. If this is the case, it may be worth opting for an invisible electric fence since there's no danger of them jumping out.
Pro Tip:
Make It Tall! Have you ever seen a dog take on an obstacle course? They can jump seriously high! If your fence isn't tall enough, they'll find a way to leap over – especially if they spot a squirrel they want to chase!
Material
There's no point in spending a lot of money on a fence made of iron if it gets rusty after just a short time. Since dog fences will usually be used outside, it's important that the fence you choose is water and rust-proof.
Try to make sure that physical dog fences are non-toxic. Nearly all of them should be, but since we know how much our fur babies like to chew, it's worth double checking just to make sure no harm can come to them.
Durability
Dog fences aren't cheap, and you're probably not willing to shell out a lot of cash every few months for a new one. So, it's worth making sure that the dog fence you choose is durable.
Check the material it's made from and how sturdy it is, ensuring your dog won't chew it to bits or knock it down.
FAQs
How High a Dog Fence Do I Need?
This really depends completely on the age, agility, and size of your dog. If they're old, just a puppy, not particularly mobile, or a small dog, then a standard 40-inch height will be more than sufficient.
If your dog is young and bouncy (like many are), you might want to opt for something taller or different. For medium-sized or larger dogs, a fence really needs to be between five to six feet in height to stop dogs from jumping the fence. Alternatively, you could choose invisible fences.
What Is the Most Durable Fence for Dogs?
All physical fences featured in this article are made from sturdy and durable materials that will survive even a determined dog trying to bite through it. It's recommended that your dog fence be made from metal, rather than wood or plastic to ensure it doesn't become too damaged.
What's the Best Kind of Fence for Dogs that Like to Dig?
If digging is an issue with your dog and you want to stop your dog from digging under the fence, you've got two choices: one is to use an invisible fence line where digging won't help them escape at all; the other is to use the Dig Defense barrier.
With its spokes buried deep into the ground, most dogs will be unable to dig far enough to crawl underneath.
Conclusion
We love our little furry friends, and they deserve the best chance to run around and play. No matter their age or size, if you want a safe space for them to roam free, there's a dog fence suitable for everyone.
Let's all pledge to keep our furry friends safe!