Since getting our first dog, we've lived in six different apartments and houses. With each move, a big concern is whether or not there is a fenced-in yard or access to an area where we can keep the dogs safe and allow them to sit outside without being on a leash.
This concern also pops up when we visit my sister-in-law's house. She doesn't have a traditional fence around her yard. So it's stressful and a bit exhausting to try to constantly keep an eye on our dogs while we're there.
These are just a few common pet owner scenarios where a wireless fence could be an amazing option! Depending on the wireless fence system, you will be able to create a safe space for your pup anywhere you bring them and easily locate them if they go missing.
We're talking about some serious peace of mind here, right?
Diving into the world of wireless fences can feel quite overwhelming. There are minimum and maximum sizes, a huge variety of feedback settings, potential cellular plans, and much more to ponder.
No worries, though. I'll break down some of the best wireless fence options available and let you know the pros and cons of each so that you can make the right decision for your needs.
All In One Solution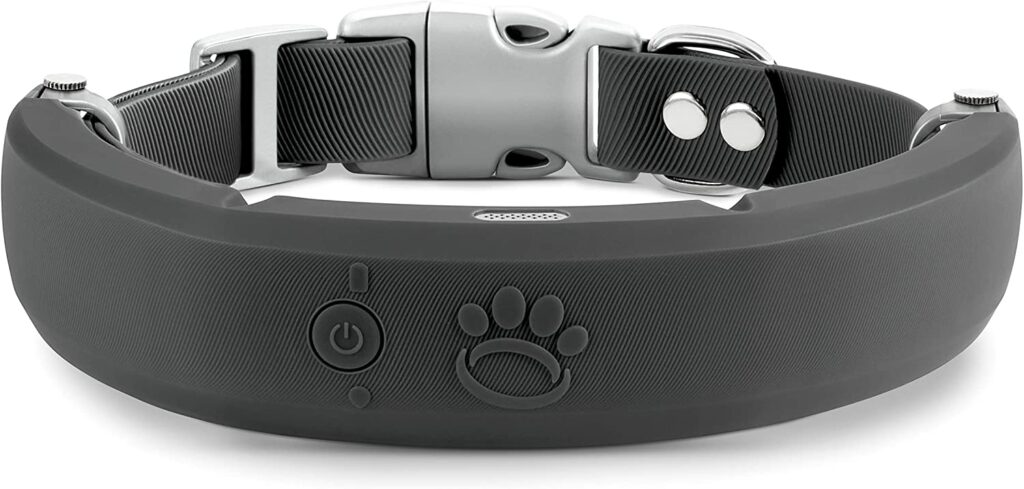 Halo 2 Collar Virtual Fence
BRAND: HALO
STYLE:  WIRELESS FENCES
Best For Large Spaces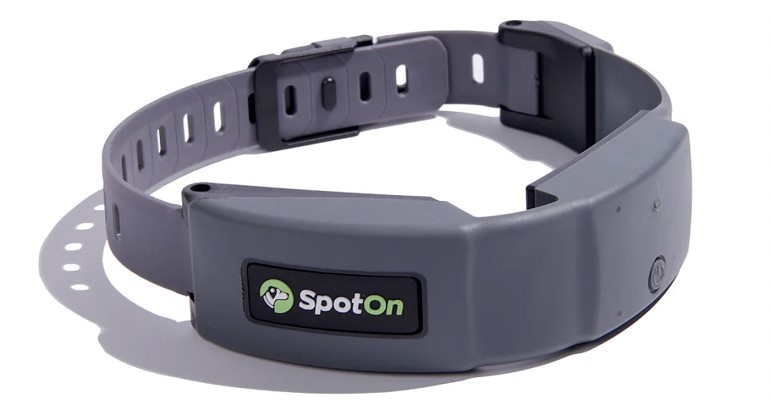 SpotOn Virtual Smart Fence
BRAND: SPOTON
STYLE: GPS TRACKER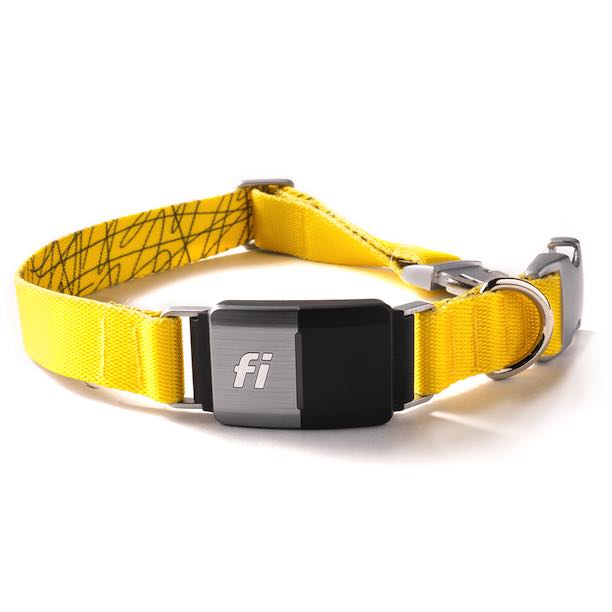 Fi Series 2 Smart Dog Collar
BRAND: Fi
STYLE: GPS TRACKER
Improved Features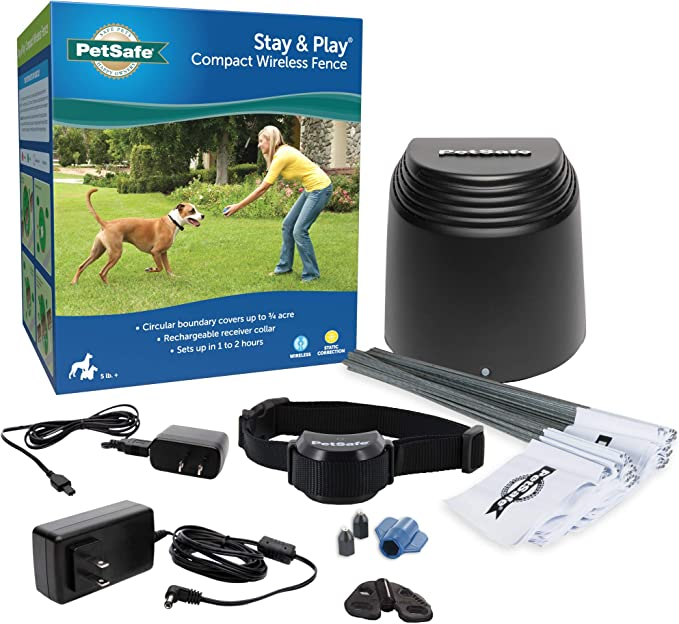 PetSafe Stay+Play Fence
Brand: PETSAFE
Style: WIRELESS FENCE KIT
Good For Small Dogs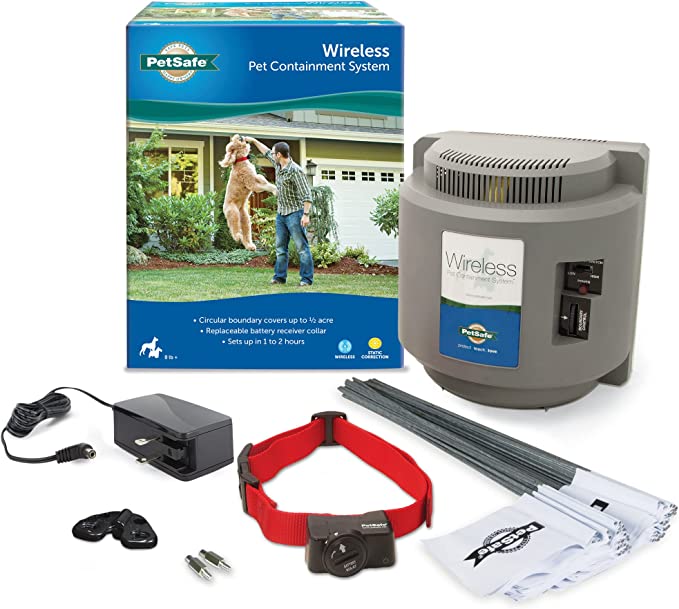 PetSafe Wireless System
BRAND: PETSAFE
STYLE: WIRELESS FENCE KIT
Value for Money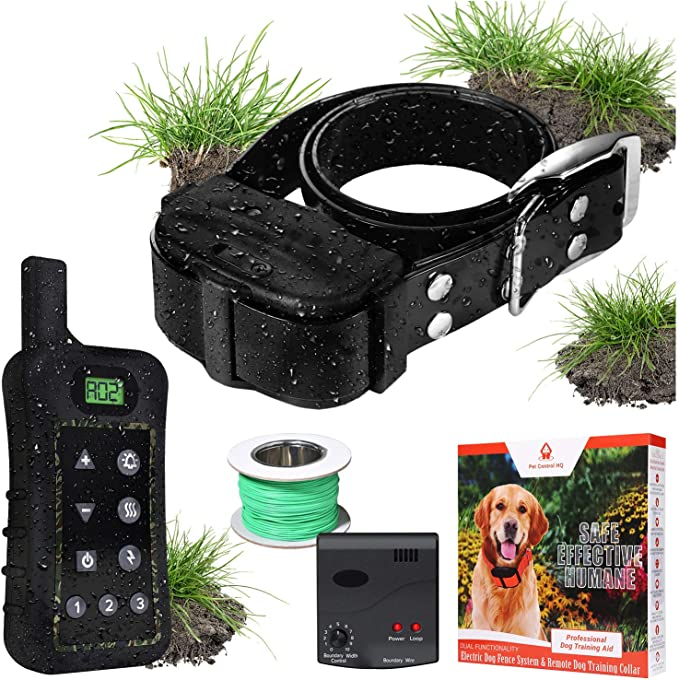 Pet Control HQ Wireless
BRAND: PET CONTROL
STYLE: WIRELESS FENCE KIT
In-Ground Fence Option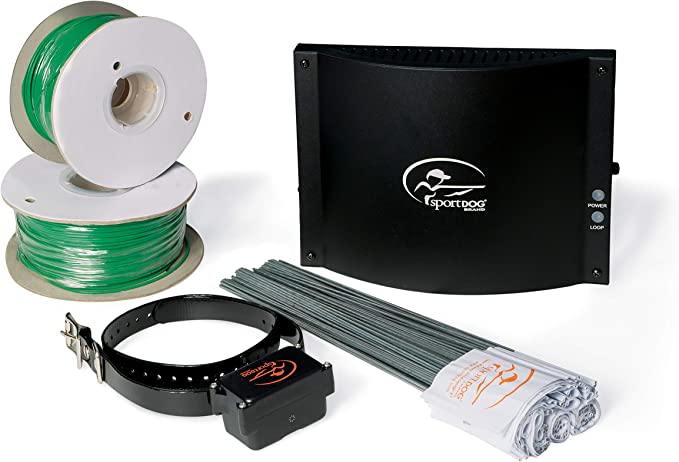 SportDOG In-Ground Fence
BRAND: SPORTDOG
STYLE: WIRELESS ELECTRIC FENCE
Our Top 7 Picks for the Best Wireless Dog Fences
Let's dig into our top picks for the best wireless dog fences: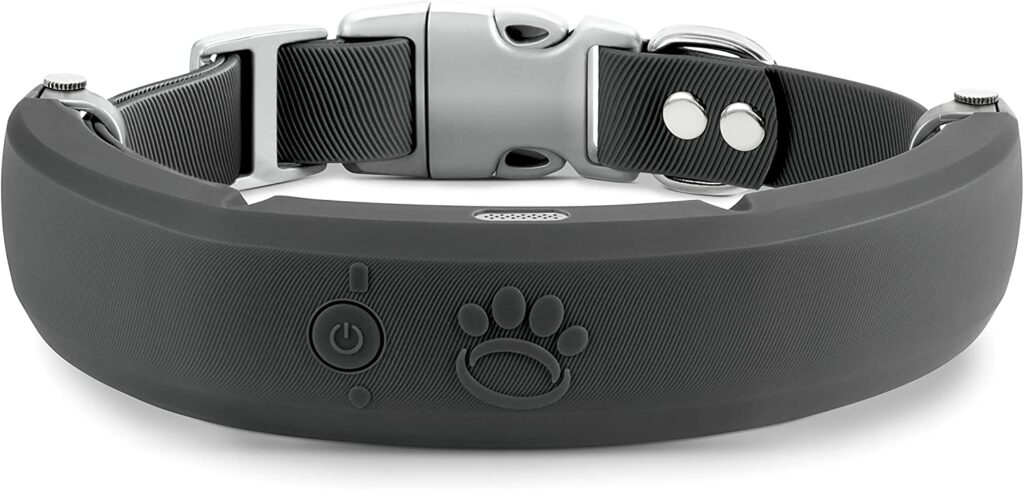 The reason why I've included the Halo collar is that it's much more than just a wireless dog fence. It is also a GPS tracker collar, dog activity tracker, and training collar. With it, you can create up to 20 wireless fences. This means that you can create "safe zones" for your dog wherever you go.
This collar has been created in association with expert dog trainer Cesar Millan. As part of the app included with the system, Cesar will help you do dog training to learn how the boundaries work.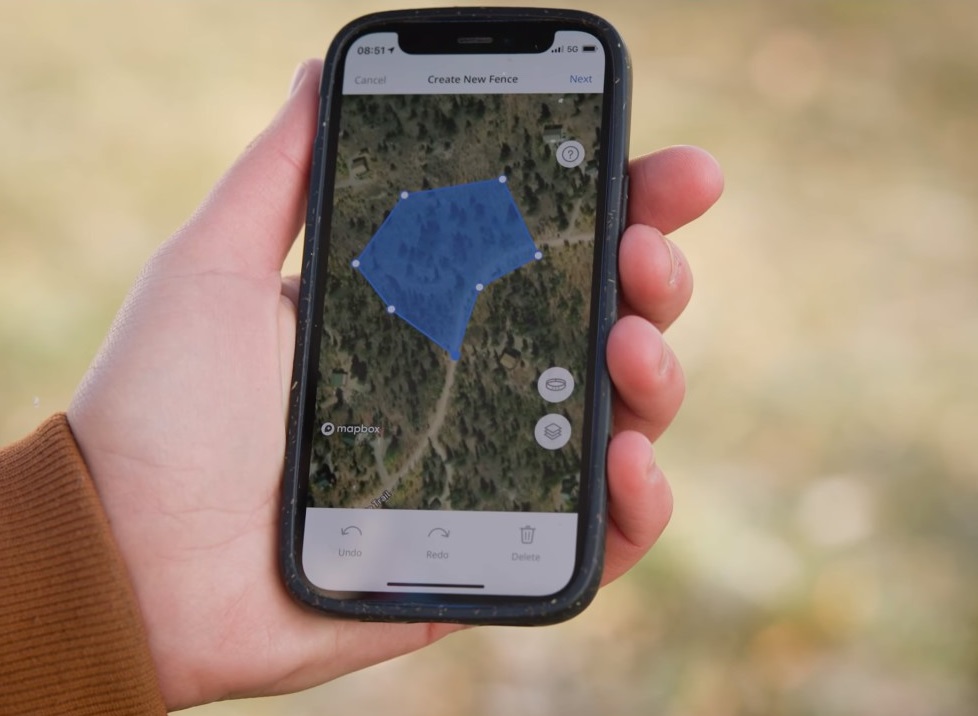 Since your dog can't see or be physically stopped by an invisible dog fence, they need to learn what each kind of collar feedback means so that they will stay inside of their boundaries.
There are 3 tiers of prevention: one when your dog approaches a boundary, another when they are at the boundaries, and another if they leave their safe zone (each customizable).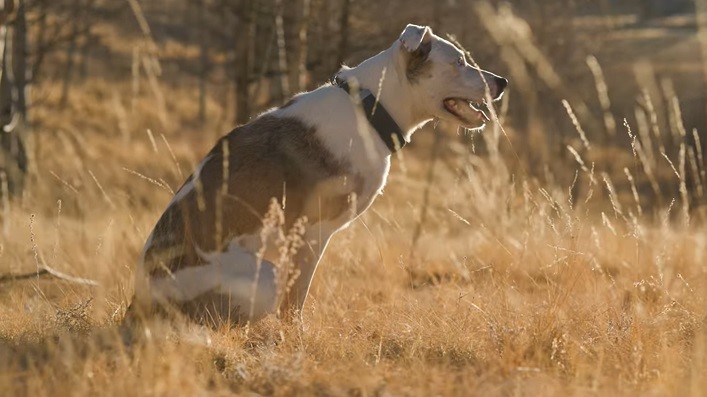 Features
Fully waterproof and weatherproof.
The Halo collar comes in small, medium, and large sizes with black and white color options.
Positive association training is included to help you teach your dog their boundaries.
Completely customizable feedback options using sound, vibration, and static.
Built-in activity tracker.
Pros
Has a small minimum size of 250 square feet, which is nice if you have a smaller space that you need to keep your dog in.
Three different cellular plan options so that you can choose one that suits your needs and budget.
The Halo collar looks very stylish.
Extremely customizable feedback setting, which is important for sensitive dogs.
Cons
The Halo collar requires nightly charging.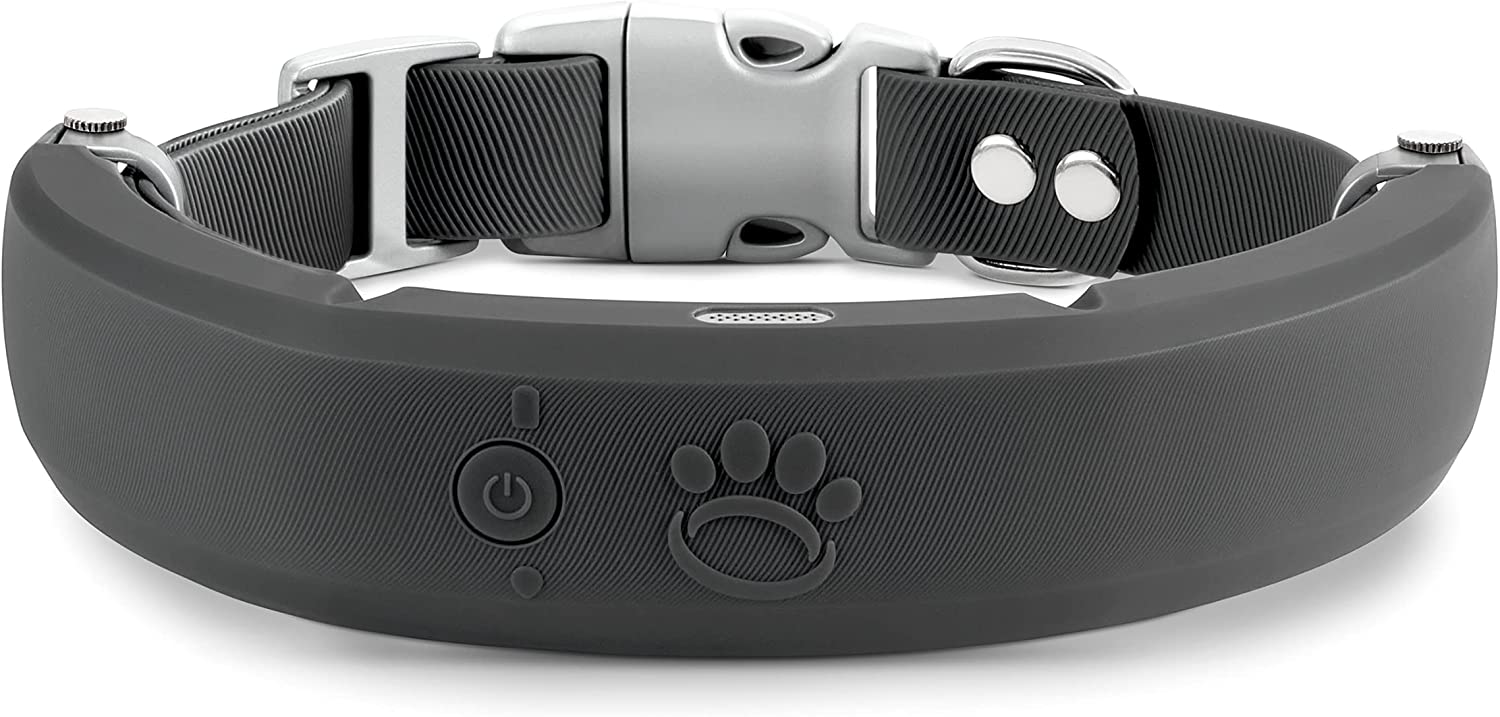 Halo 2+ with Cesar Millan
Use Code: CELEBRATE to get $375 off your new Halo Collar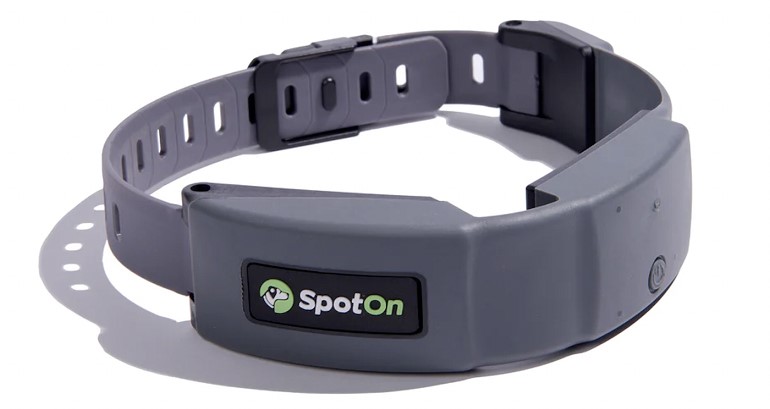 It can be financially and logistically impossible to fence in a large yard to contain your dog. In this case, or if you travel to areas where you want to let your dog have a lot of freedom, the SpotOn virtual fence system is great. You can set a wireless dog fence boundary of up to 1000 acres!
This SpotOn GPS fence uses some of the newest GPS technology to allow you to set super precise boundaries as well as give you a more exact location for your dog.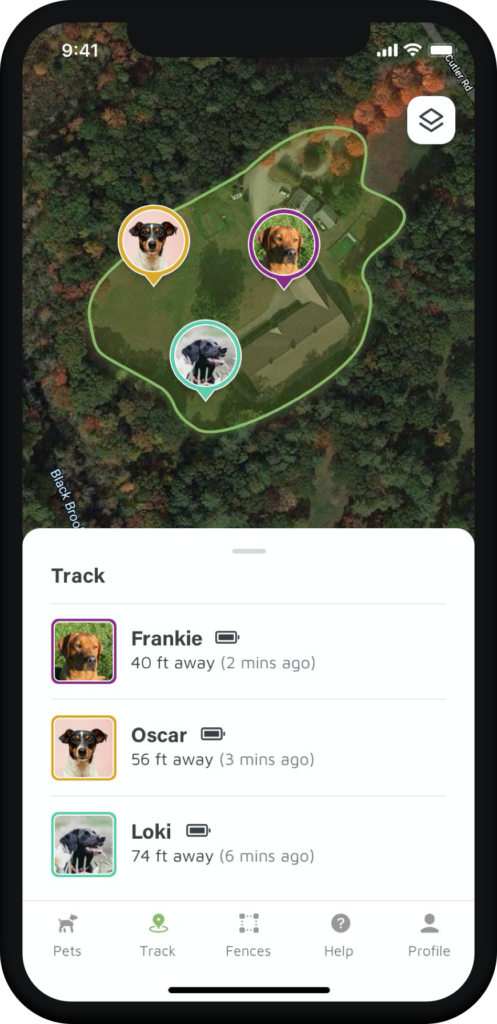 You can set multiple different safe zones and turn them on and off with your phone. This means that you could create a larger area for your dog to roam during the day and then keep them closer to home at night.
SpotOn is confident in the effectiveness of their product and is now offering an extended 90-day return period for customers to try it out.
Features
Dog collars come in small, medium, and large sizes.
Waterproof collar.
Training videos are included to help you teach your dog how to stay inside the wireless fence.
Adjustable vibration and static correction levels so that you can customize them to your dog's needs.
Pros
It only takes 1 hour to fully charge (giving you 22 hours of containment time).
If your dog leaves their boundary, SpotOn will automatically start tracking and updating its exact location every six seconds.
The GPS is accurate to three feet under the open sky and ten feet near buildings or in dense forests.
Cons
The minimum boundary size is 1/2 an acre. If you have a smaller property, this wireless pet fence might not work for you.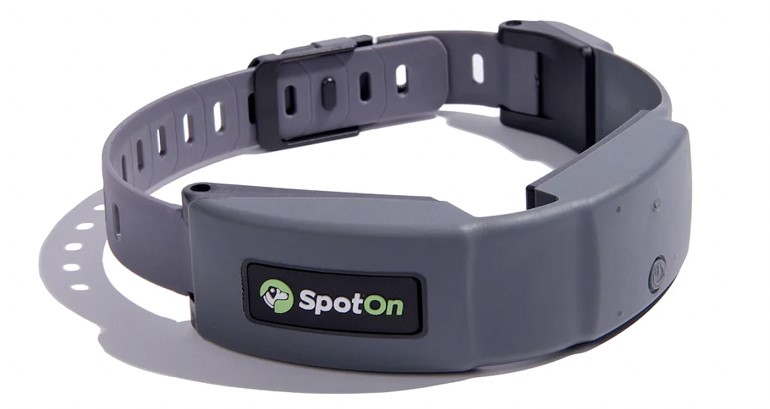 SpotOn Virtual Smart Fence
The price of "SpotOn Virtual Smart Fence" varies, so check the latest price at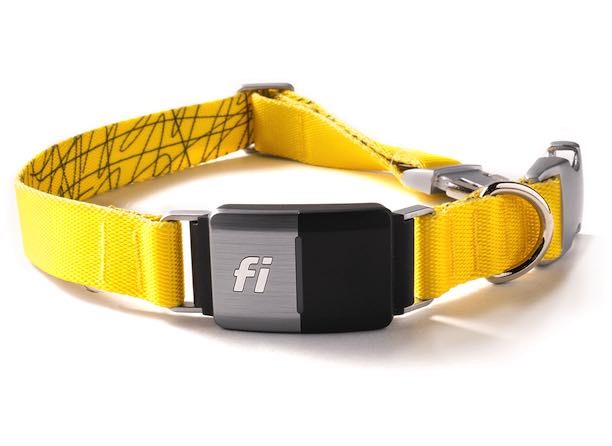 Fi competes with its challenging competitors by providing a more affordable selling price point. Offering almost the same features, the accurate location updates and faster escape detection could be a lifesaver for your pup.
You can create customized multiple dog geofences in any location you like, using the Fi App. It ensures peace of mind as dog parents are able to set different places as safe zones that they may frequently visit with their dogs.
In addition to monitoring your dog's daily activity, Fi collar tracks their sleep too, which can potentially help you identify any health issues.
Fi smart collar comes in 1" wide band in a variety of 4 colors with sizes ranging from 11.5" to 34.5". So it's also an ideal option for fashion-conscious pet owners.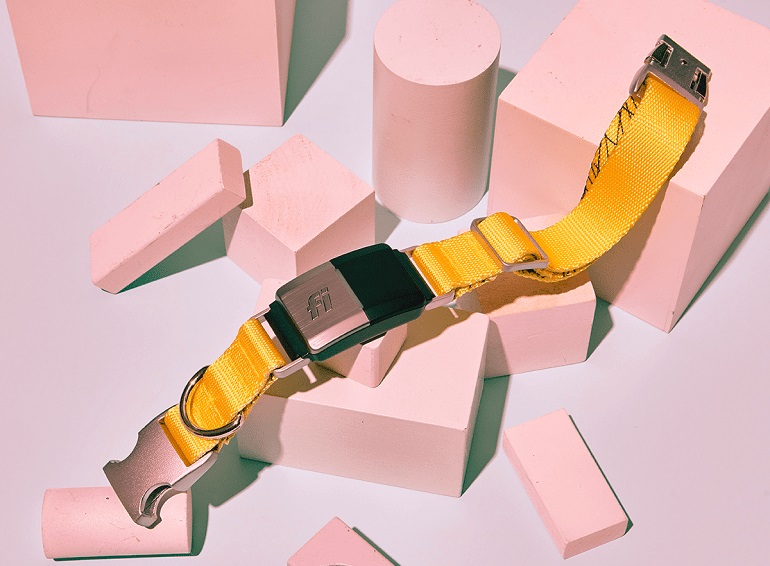 Features
Bluetooth and WiFi connectivity options
Combines GPS tracking and LTE-M networks for location updates
Four sizes ranging from small to extra large dogs
Offers 30 days free trial of subscription plan
Works all over the US
pros
It has a colorful and waterproof design for an active lifestyle.
It offers ultra long battery life up to 3 months with at home Wi-Fi monitoring.
It also provides a lot of additional dog health data for your vet.
You can set daily exercise goals streamlined for your dog's requirement.
cons
It requires an annual subscription plan for GPS system.
It may not be recommended for small dogs weighing less than 10 lbs.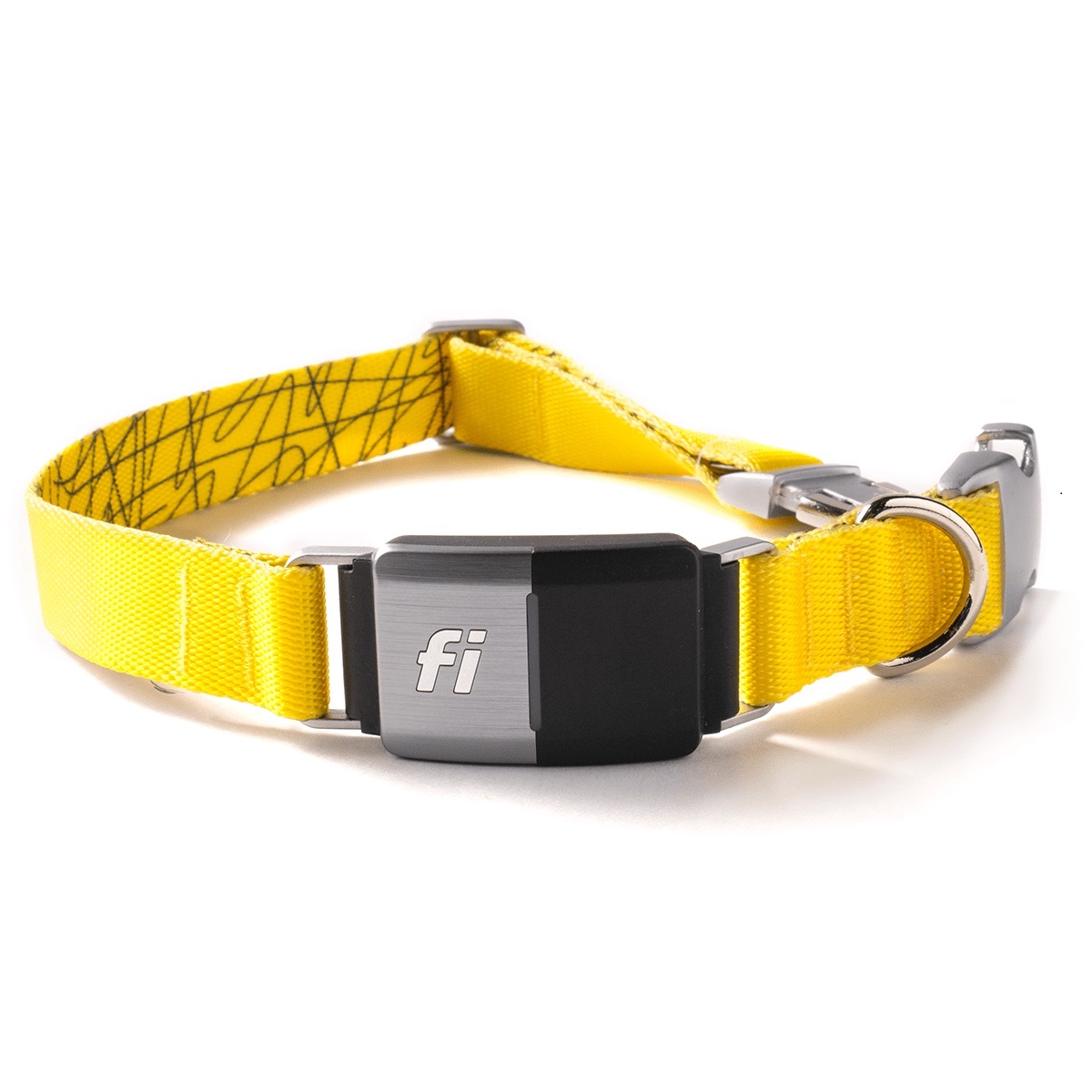 Fi Collar Series 2
The price of "Fi Smart Dog Collar" varies, so check the latest price at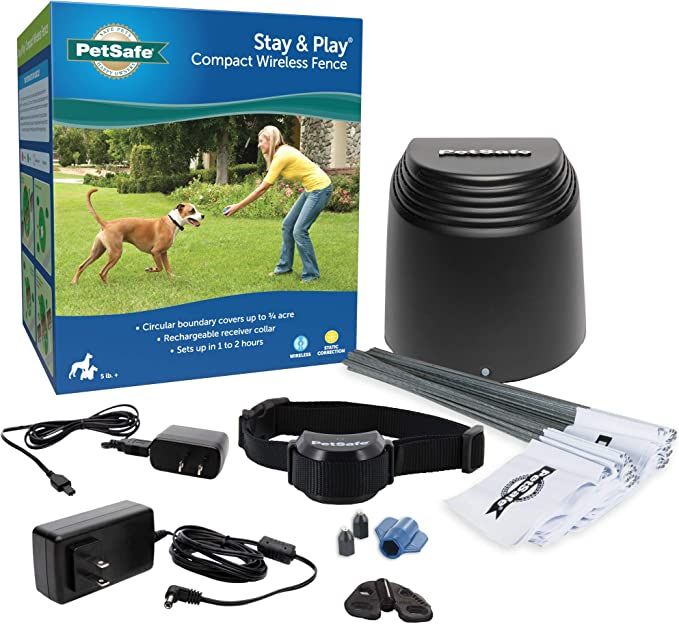 This PetSafe Stay and Play wireless fence is our top pick for your mastermind escape artist! The transmitter has an LCD screen that shows you the exact size of your fence boundary.
It takes minimal time to set up this virtual fence. Besides being easy to set up it's also convenient to use.
The screen will also let you know if there is an error with the system. You can press the + and – buttons to adjust the size anytime. Your play area can extend up to 3/4 of an acre.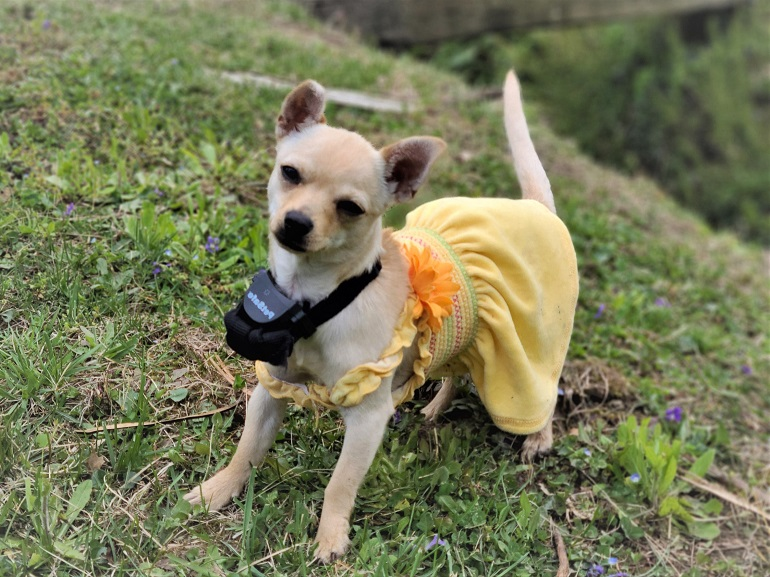 Features
The waterproof collar can work for dogs 5 pounds and up.
The dog collars are customizable with 5 correction levels as well as a tone-only mode.
Rechargeable lithium-ion battery.
Comes with 50 flags to help with the training process.
Pros
You can purchase additional collars that will all work on the same wireless fence system.
Instead of needing to purchase special replacement batteries, this model uses rechargeable battery in the collar.
Fully charges in less than three hours for up to three weeks of use.
Cons
The Stay and Play dog fence technology only allows you to create a circular-shaped boundary. Depending on your property, this might not be ideal.
You can travel with this system, but you will always need to have the transmitter plugged in in the center of your pet's safe zone.
This kind of wireless option is not recommended if you will be using it on a steeply sloped lot.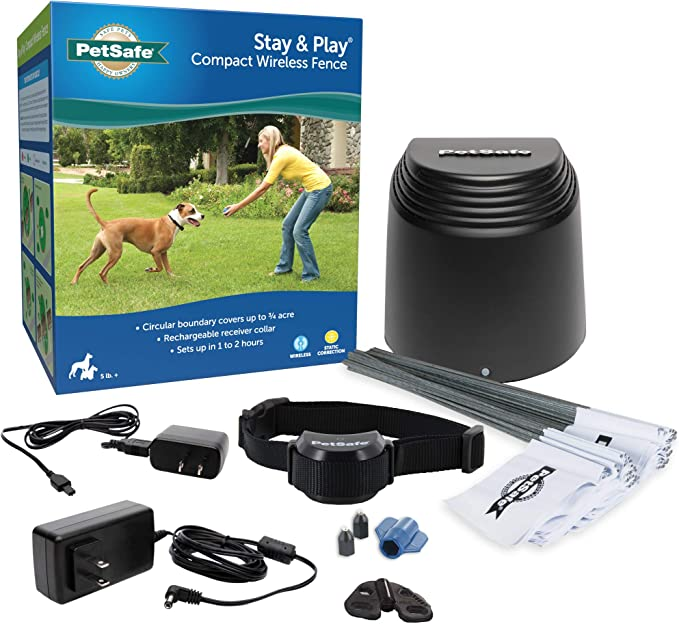 PetSafe Stay and Play Wireless Pet Fence
The price of "PetSafe Stay and Play Wireless Pet Fence" varies, so check the latest price at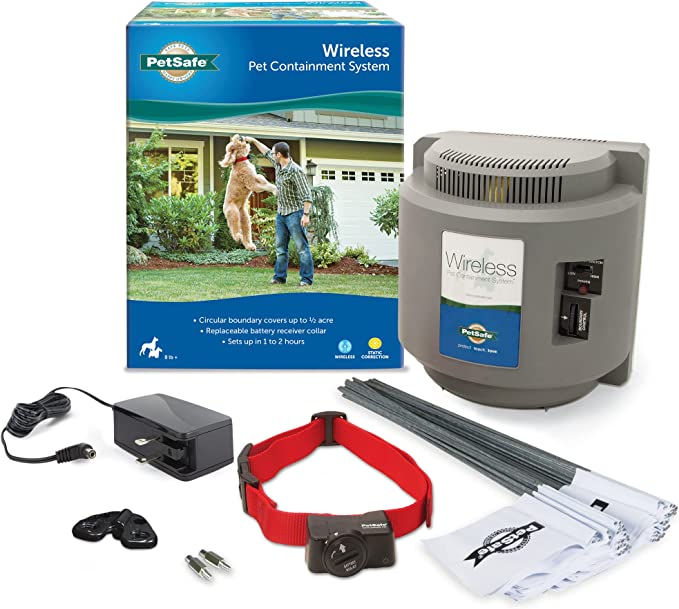 Let's talk about another product of wireless dog fence from PetSafe now. Instead of using GPS, this PetSafe wireless dog fence uses a transmitter that creates an adjustable circular boundary around it.
So basically, you plug in the transmitter and adjust the dial to increase or decrease the circle size of your pet's play zone.
This containment setup has a maximum size of a 1/2 acre. It comes with a waterproof wireless dog collar that uses 5 different levels of correction (or sound-only mode) to keep your dog within the boundary.
While creators of wireless dog fences seem to avoid the term, this is definitely a shock collar. Some pet owners dislike this kind of correction.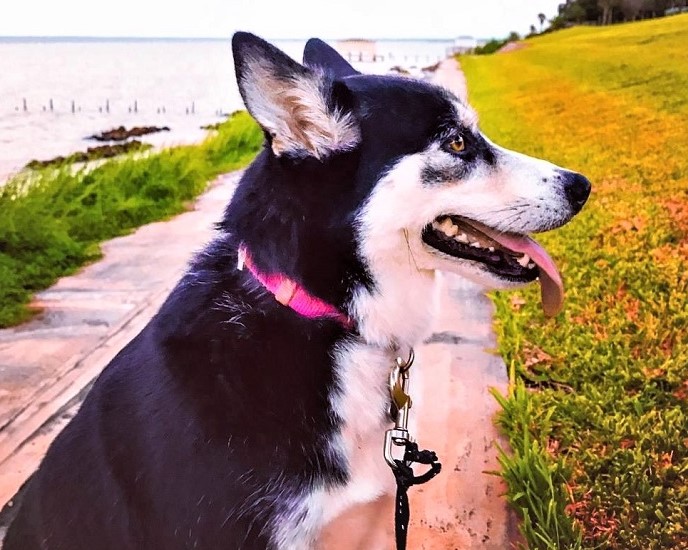 Features
The waterproof collar is adjustable for neck sizes from 6-28 inches.
Comes with 50 training flags to help your dog see where the virtual fence is during training.
Customizable with 5 correction levels as well as a tone-only mode.
Pros
You can add multiple dogs to the system, each set with its own feedback levels.
The adjustable collar can fit very small dogs.
Long battery life; up to two months before you need to replace the battery.
No cellular service subscription is required (though if your dog leaves the boundary you've set up, you have no way to track its whereabouts).
Cons
The boundary can only be circular, and the transmitter must be plugged in in the center of your boundary, so there are no shape options for this wireless dog fence.
While you could take this with you when you travel, the transmitter is large and must be plugged in.
Requires the purchase of special batteries to be replaced every two-ish months.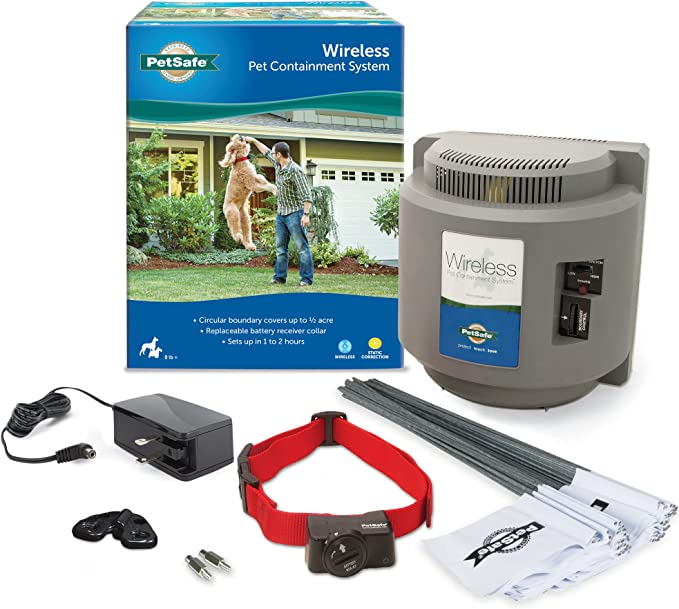 PetSafe Wireless Containment System
The price of "PetSafe Wireless Containment System" varies, so check the latest price at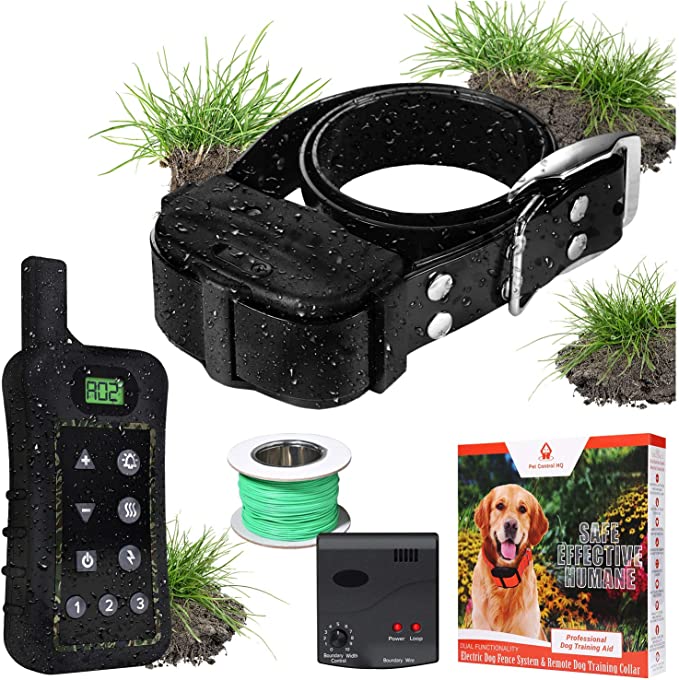 This is one of the best invisible dog fences, as it's a dog training collar plus an in-ground fence for your furry friends! What's unique about this fence is that you can install the wire above or under the ground which gives you leverage to customize your invisible fence boundary.
Although it's a shock collar, the intensity is very mild and would not harm your stubborn dog while correcting its behavior. The handheld remote is quite sturdy and has a simple and straightforward design.
My best friend, a parent of a Lab/Pitt mix, is a long-time fan of this system and keeps gushing about their great customer service too!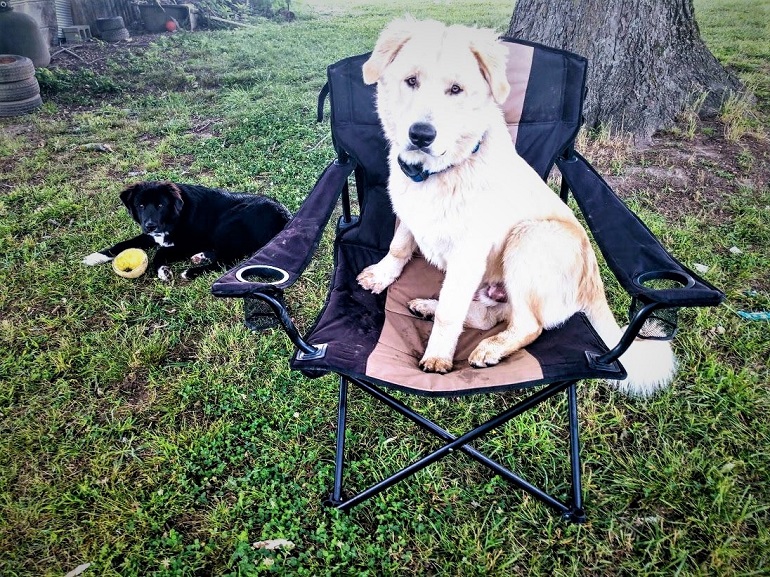 Features
The 492 ft wire covers complicated landscapes like swimming pools and other small bodies of water.
1-10 correction levels of shock or vibrations with a waterproof collar for 8-27 inches neck size.
The rapid charge battery lasts for a minimum of 3 days.
Pros
Easy on the pocket.
The designated area can be extended up to 10 acres by purchasing additional wire.
This wireless fencing option can support 3 dogs at a time. You need to buy additional collars for that.
This fencing system can be used on small dog breeds too.
Cons
The warning beep is way too quiet and harder to perceive.
The static shock might not be strong enough for very stubborn dogs.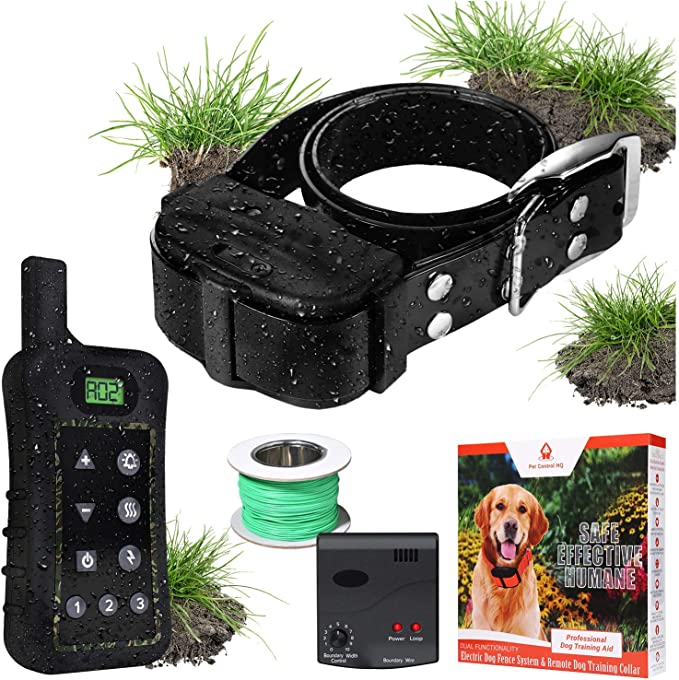 Pet Control HQ Wireless Pet
The price of "Pet Control HQ Wireless Pet" varies, so check the latest price at
Next, let's consider a dog fence with buried wires. This is the older version of the electric dog fence system. You manually need to bury the underground fence wires throughout your entire yard to begin using the system.
This kind of containment system is not at all portable.
Given the amount of wireless pet fence options available right now (in a wide range of prices), it's honestly kind of hard to see why a dog owner would choose a wired fence over wireless dog fences.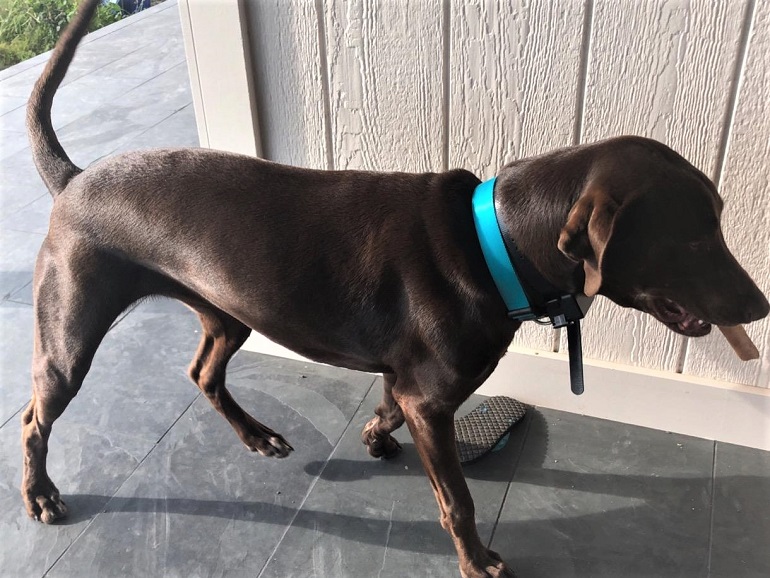 Features
Comes with 1000" of wire, enough to contain a bit over 1 acre. With the purchase of more wire, you can expand to cover 100 acres.
Collar fits dogs 10 pounds and up.
The waterproof collar uses a 9-volt battery.
Feedback options include tone, vibration, and 4 intensities of static/electric shock.
Pros
You can add on an unlimited number of additional collars.
If you have ponds or areas on your property that you want to be off-limits for your dog, you can rule wire around them to restrict access.
Each 9-volt battery in the collar can last up to a year.
Cons
Manual labor is required to set this up.
If your dog leaves the boundary, there is no GPS tracking to let you know where they have gone.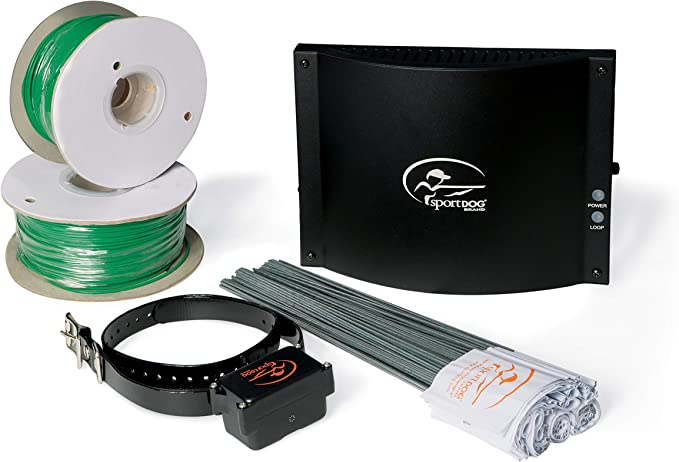 SportDOG Brand In-Ground Fence Systems
The price of "SportDOG Brand In-Ground Fence Systems" varies, so check the latest price at
Things To Consider Before Buying Wireless Dog Fence
When choosing the best wireless pet fence, there are a number of factors you need to look up to in order to get your perfect match.
Following are a few features that can affect your choice while buying your dog invisible fence.
Range
Each electric dog fence work for a different-sized space. The product details should tell you both the minimum and maximum containment sizes. As you shop, you'll want to have an idea of the size of space you want your dog to be in so that you can make the best choice.
If you have a small yard in the city and the smallest your electric fence can do is 1/2 an acre, you might have an unhappy neighbor because your dog is able to be in their yard. Likewise, if you have a large property and your dog can only access a portion of it, that could be frustrating as well.
Battery
There are different batteries used in each wireless pet containment system. Some collars use specialized collar batteries that need to be replaced. Others have a rechargeable lithium-ion battery. Product details will tell you what kind of battery is used in the collar as well as the expected battery life.
Another thing to consider when it comes to the battery is if the collar tells you when the battery is running low. I certainly would want to know ahead of time so that I could replace it instead of risking the battery dying while my pup is outside.
Flexibility
There are three levels of flexibility when it comes to a wireless pet containment system:
GPS System With Full Flexibility
The best wireless dog fences allow you to set multiple uniquely shaped safe zones with your phone. This means that you can use your dog's collar at home, camping, at your mom's house… practically anywhere. These systems also give you the ability to track your dog via GPS if they leave the boundary. Ultimate peace of mind!
Wireless Dog Fence With a Transmitter for Medium Flexibility
These wireless dog fences create a circular safe zone based on where the transmitter is plugged in. While you can travel with this (many dog owners who travel in RVs use them), it does need to be plugged in in the center of your boundary area. It also does not tell your dog's location if they break out.
In-Ground Fence for Low Flexibility
These are old-school electric dog fences. You have to bury the wire before you can start using it. This is not portable in any way and does not tell you where your dog is if they happen to break through the boundary line of your invisible fences.
FAQs
How Does a Wireless Dog Fence Work?
A wireless dog fence with a transmitter plugged in and turned on works by sending out a signal that your dog's collar receiver can sense. The wireless collar is always searching for the signal from the transmitter, which it can always find as long as your dog stays inside the set boundary.
Once the collar cannot find the transmitter's signal (aka, your dog has left the boundary), the collar issues the set kind of feedback.
Newer-style GPS collars rely on cellular and satellite signals to sense where your dog is in relation to the boundaries set (kind of like how your phone knows where you are all the time).
Are Wireless Dog Fences Effective?
The effectiveness of wireless or invisible dog fences often comes down to how much effort you put into training your dog with them. You can't just put on the collar and expect your dog to understand where the wireless fences' boundary lines are and what's the meaning of different kinds of collar feedback.
Without training, your dog will likely be afraid and confused.
I greatly appreciate that the Halo collars and SpotOn collars from this post come with training materials to make sure the wireless pet fence is a positive experience. Once trained, most dogs can effectively use wireless dog fences.
Are Wireless Dog Fences Safe?
In general, wireless fences will not harm your dog. It is vital that you train your dog to understand its boundaries and have the collar's feedback levels adjusted correctly. Without these two things, shock collars or any kind of collar feedback can cause fear or even aggression in a dog.
According to veterinarian and dog trainer Dr. Jen, it's also important to realize that while dog fences will keep your dog in, they will not keep any people or animals out as a wooden or metal fence will.
Dog owners should consider the potential wild animals, loose dogs, and unscrupulous people in their area to assess how to best keep their dogs safe.
Why Do I Need a Cellular Plan for Some Wireless Dog Fences?
A wireless system that uses GPS technology (like the Halo collar) will require some kind of cellular plan. If you think about it, the collar is doing a lot of things that your cell phone does when you're using Google maps.
It uses cellular service and satellites to know your dog's location in comparison with the "GPS dog fence" that you have set up.
Yes, this means that there is some sort of regular fee, but on the plus side, you will always know where your darling dog is, even if they leave the boundary that you have set.
Final Words
Electric dog fence technology has improved a lot! In writing this article, I discovered some features that I didn't even know existed.
In this fast-paced world, the traditional dog fence might not be a feasible idea to keep one's dog safe! The aforementioned list of the best wireless dog fence is a great way to upgrade your dog containment system.
If you often travel, like to go camping or hunting with your pup, or live somewhere that does not allow traditional fencing, you will be able to find a dog fence system that will allow you to care for your dog's safety and give them a lot of freedom.