Sometimes, our responsibilities keep us away from our beloved pets. That's where pet sitters come in! If you need a human companion for your best friend while away, you can easily calculate the total pet-sitting cost with our pet-sitter rates calculator!
Pet Sitter Rates Calculator
Pet sitter rate/hour: $0.00
Pet Sitter Rates
When you're away, hiring a professional pet sitter can conveniently give your pet a happier experience with in-home pet sitting. Your precious friend can feel less lonely and more content compared to staying in kennels.
You can also consider options like an overnight stay or multiple-day stay at the pet sitter's home, which can be more affordable and enjoyable for your pet. Use our pet-sitting rate calculator to find out an estimated amount for the total pet-sitting service.
On average, professional pet sitters charge $25 for a 30-minute visit, which includes a potty break, feeding, and freshwater, or $20 to $30 per day, based on location, number of pets, stay length, and additional services. House sitters may charge around $12 per hour when owners are away.
Price list for pet sitting
Pet sitters charge approximately $20 per day, while the average overnight pet-sitting rates are much higher. Additional pet-sitting services like pet transportation services can influence the price. The base rate applies to one pet, with each extra pet incurring an additional $10 fee.
According to Home Guide, these are the average pet-sitting rates: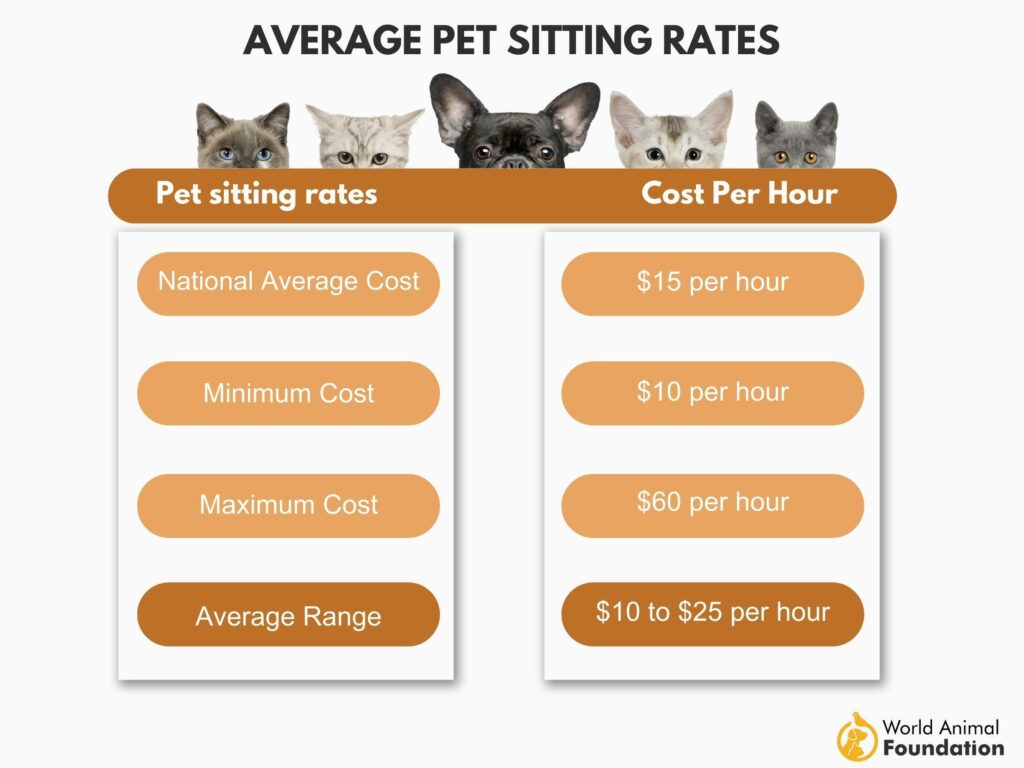 Here is a breakdown of pet-sitting rate options based on different time durations: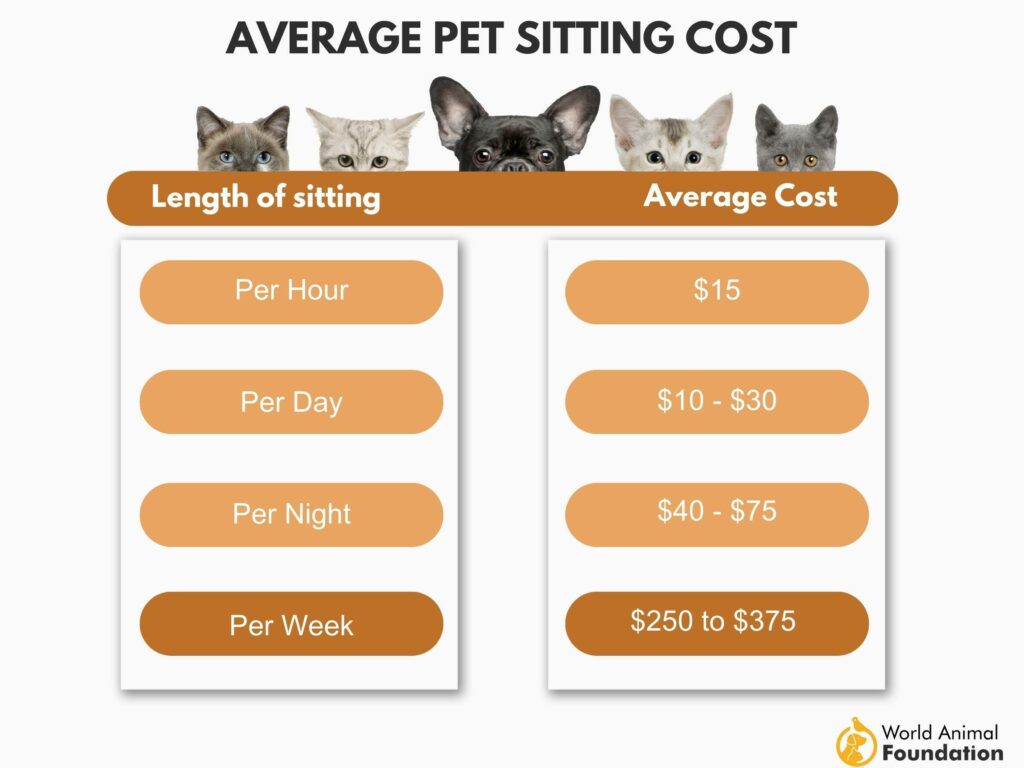 General Insight to Pet Sitter Rates Calculator
The Pet Sitter Rates Calculator is a valuable tool that helps pet owners estimate the cost of professional pet-sitting services based on their specific needs. By entering relevant details such as the duration of care, the number of days required for pet sitting, and the cost of pet sitter, users can calculate pet sitting rate for their services.
This pet sitter rate calculator ensures transparency and helps pet owners plan their pet care budget effectively. Whether it's a weekend getaway or an extended vacation, the Pet Sitter Rates Calculator provides peace of mind by giving pet owners an idea of what to expect in terms of cost, ensuring a stress-free and enjoyable time away from home.
Pet Sitting Rate Per Hour Using the Pet Sitter's Cost
The pet sitter cost can vary widely based on several factors such as location, type of pet, how many pets need to be taken care of, the services provided, and the sitter's level of experience.
In general, pet sitters might charge anywhere from $10 to $35 per hour, or they might charge a daily or overnight rate. The cost is often higher in urban cities or in states with a higher cost of living than in rural areas.
For example, a pet sitter in a city like San Francisco, California, might charge significantly higher rates than a pet sitter in a rural area of a state like Nebraska due to differences in the cost of living.
Some pet sitters might also charge additional fees for services like walking the pet, administering medication, or caring for a pet with special needs.
States with their average rate for pet sitters:
California – $20 per hour
New York – $18 per hour
Texas – $15 per hour
Florida – $17 per hour
Illinois – $16 per hour
Pennsylvania – $14 per hour
Ohio – $15 per hour
Georgia – $16 per hour
Michigan – $15 per hour
North Carolina – $16 per hour
Please note that these rates are approximate and may vary based on the specific pet sitter and additional services provided. Always inquire with local pet sitters to get the most accurate rates for your area.
Important Qualities to Consider While Choosing a Pet Sitter
Remember, not all pet sitters are equal; choose wisely to ensure your beloved animal receives the best care possible. Following are some important factors you need to consider while looking at pet sitters profile:
Look for a pet sitter with a proven track record and positive reviews.
Choose someone reliable and trustworthy.
Ensure the pet sitter has experience and knowledge about handling different types of pets and their specific needs.
Look for a professional pet sitter who genuinely enjoys being around animals and can create a bond with your pet.
Select pet sitters who can accommodate your schedule and provide care when needed.
Ensure the pet sitter is capable of handling emergencies and has a plan in place in case of any unexpected situations.
Choose professional pet sitters who conduct themselves professionally and take their job seriously.
Verify if the pet sitter is insured and bonded to protect your pet and your property.
Importance of Pet Sitting
The importance of pet sitting cannot be understated. Benefits to pet parents include:
1. Knowing your pet is in caring, loving hands.
2. Confidence in the pet sitter's ability to handle other pet-related tasks like grooming and vet visits.
3. Eliminating the stress of transporting and leaving your pet elsewhere.
4. Avoid burdening family, friends, or neighbors with pet care.
5. Feeling your home is more secure with someone regularly checking in.
FAQs
How to calculate the pet sitting rate?
To calculate the pet sitter rate per hour, use this simple formula:
Rate = Total Cost ÷ (Time Spent × Days)
To find the cost of a pet sitter based on the hourly rate, use the following:
Cost = Rate × Time Spent × Days
Remember to plug in the right values for rate, time, and days to get the accurate cost of your pet-sitting services. Alternatively, use our pet sitting rate calculator to get accurate values.
What is the daily rate for a dog sitter charging $15 per hour?
To find the daily rate for a dog sitter charging $15 per hour, you need to know the number of hours they work per day. Let's assume the dog sitter works for 8 hours per day:
Daily Rate = Hourly Rate × Hours Per Day
Daily Rate = $15 × 8 = $120
So, the daily rate for a dog sitter charging $15 per hour and working 8 hours per day is $120.
What are the tasks covered by a pet sitter?
A pet sitter's tasks typically include:
1. Feeding and providing fresh water to the pet.
2. Administering medication if required.
3. Taking the pet for walks or exercise.
4. Cleaning and maintaining litter boxes or cages.
5. Providing companionship and playtime.
6. Grooming and brushing the pet.
7. Monitoring the pet's health and behavior.
8. Taking the pet to vet appointments if needed.
Conclusion
In conclusion, our pet sitting rate calculator takes the guesswork out of determining how much you'll need to budget for professional pet care. With just a few simple inputs, you can discover the estimated cost of hiring a pet sitter customized to your specific needs.
Now, you can make informed decisions about pet-sitting services, giving you peace of mind and allowing your furry friends to enjoy the care and attention they deserve while you're away. Experience worry-free travel and create happier moments for both you and your beloved pets with the help of our pet sitting rate calculator.