Halo collar reviews are a dime a dozen, but there aren't many focused on the Halo 3. Halo has come a long way since their debut smart collar, with a ton of improved features and a few all-new ones.
I got my hands on the Halo Collar 3 at the start of September, and I'm still excited about it.
Editor's note: Our reviewers have conducted hands-on testing of both the latest Halo 3 Collar and its biggest competitor SpotOn collar, two of the big names in the game! We've put them through rigorous tests and even compared them with their previous models, so you can trust us to give you the real scoop on how the Halo 3 performs!
While we have traditional metal fencing around our yard, we have two Dobermans, Ares and Athena, both of which are easily capable of leaping the fence and getting loose. Now, neither is an aggressive dog unless it comes to self-defense, but they can certainly get lost or get up to no good!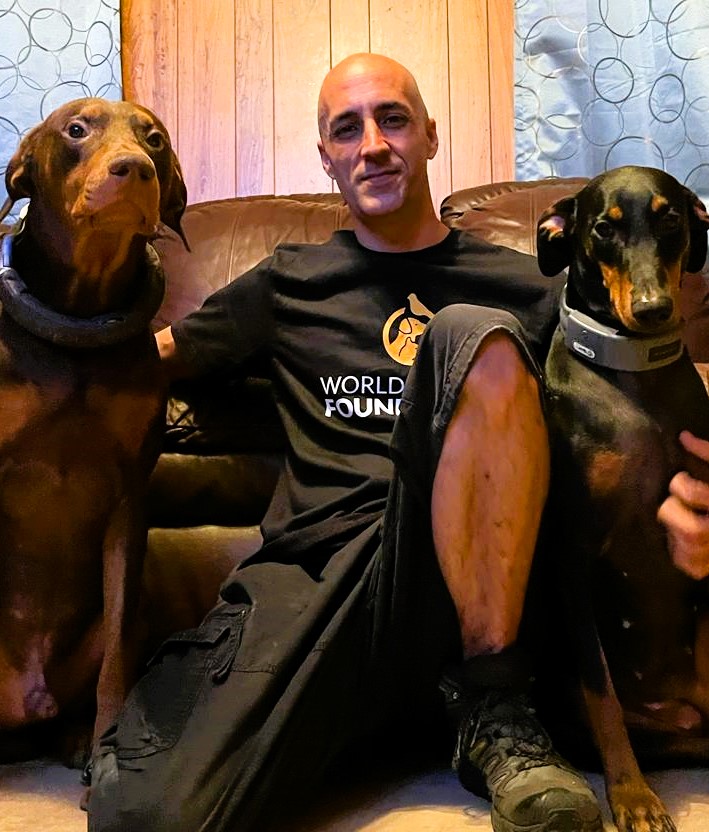 While I have previously researched and written several Halo collar reviews, this was my first opportunity to jump on a Halo dog collar 3 review.
I've spent almost a month with it now, pouring over the companion app, the training videos, and the different aspects of the Halo collar. I'm ready to report the results and help you decide if you're ready for the upgrade.
Halo 3 Collar: What's New
Before you dive into the specifics, take a look at our detailed comparison chart below, showcasing the differences between the Halo 2+ vs. Halo 3 dog collars.
Halo Collar 3 vs Hallo Collar 2+
| Features | Halo 2+ | Halo 3 |
| --- | --- | --- |
| Release date | In 2022 | September 1st, 2023 |
| Tracking | Enhance GPS satellite tracking | Precision GPS utilizing AI |
| Charging | USB Port | Magnetic Adapter |
| Custom Fit | Small, Medium or Large (adjustable) | Small, Medium/Large (customizable fit strap) |
| Contact Tips | 2.5mm | 3.5mm |
| Battery Life | 20 hours | 24 hours |
| Colors | Black, and White | Black, White, Pink, and Yellow |
| Virtual fence | ✔ | ✔ |
| Trainer | ✔ | ✔ |
| Activity trainer | ✔ | ✔ |
Halo is the quintessential smart-collar brand. While it wasn't the first smart collar, it's now the name most associated with them. It takes reliability, longevity, and good customer service to dominate the industry in that way. The Halo Collar 3 is no exception.
While the Halo 2 and Halo 2 + leaned heavily on improving the innovative nature of the original Halo collar, the Halo 3 takes things to the next level.
Let's discuss one of the major differences while discussing Halo 2 vs Halo 3 collar that I noticed the moment I opened the box.
Tracking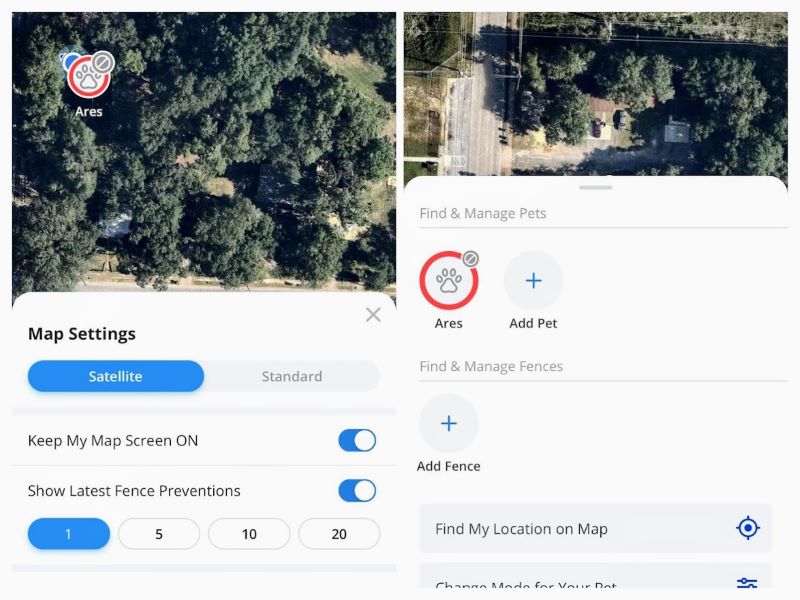 Both the Halo 3 and Halo 2+ use GPS tracking that updates consistently. However, the Halo 3 opens the door to PrecisionGPS, which is Halo's utilization of Artificial Intelligence.
It works to eliminate reflected signaling and faulty signals, only accepting direct signals from over 80 satellites. The Halo collar GPS system also updates location once per second, which is the fastest of the bunch.
Charging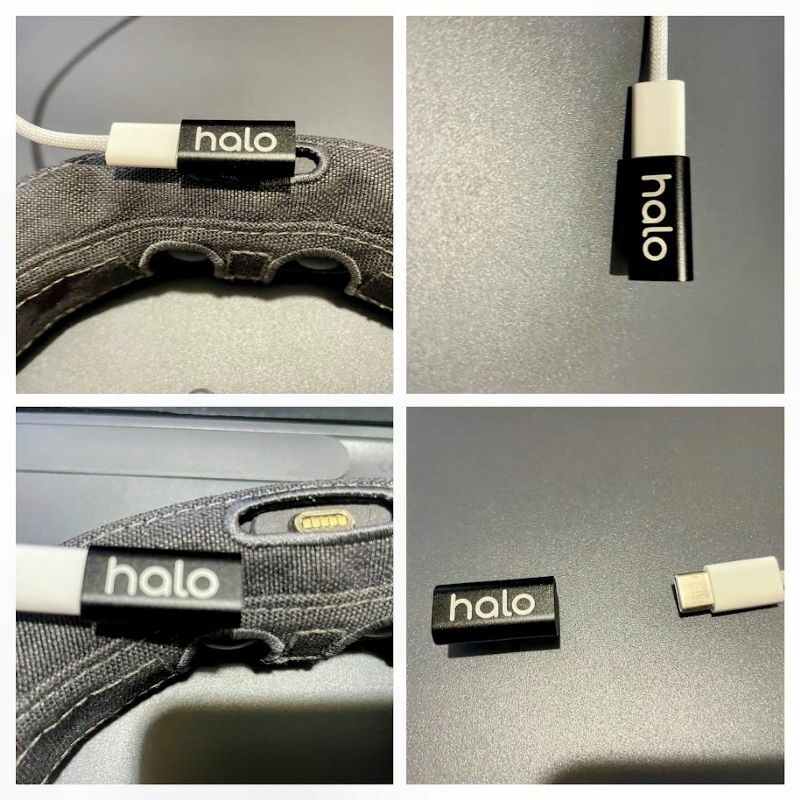 This is the part I noticed when I opened the box. First, there's the traditional charger cable that comes with every new Halo collar. However, I also noticed a tiny, L-shaped component that I didn't recognize at first. As it turns out, it's a magnetic adapter.
The newest Halo collar doesn't charge via a traditional port. The USB-C cable plugs into the magnetic adapter, which snaps into place on a magnetic port on the collar.
I've used it several times now, and I have to admit, it's a quick and easy way to charge the collar. Unfortunately, I also think it's one of the first of a small number of flaws, and I will cover that later in this Halo collar review.
Custom Fit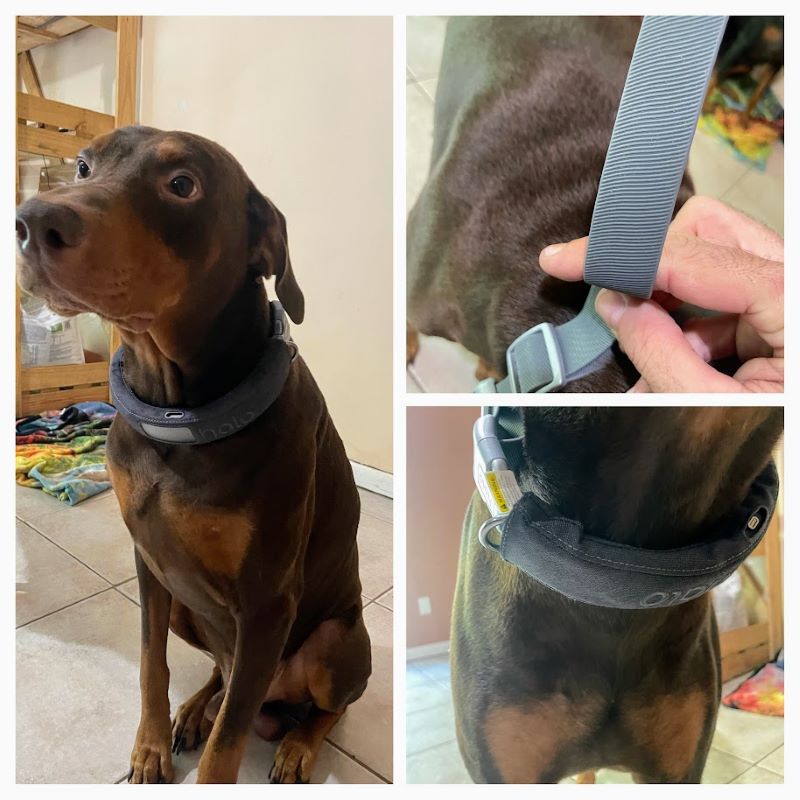 When I first opened the box, I noticed a lot of components in small Ziploc bags. These bags included two end caps and a clamp. With these, you can size your collar around the dog's neck, remove the collar, cut off any excess, and install a new end cap where you cut the collar.
Plus, Halo made it easier to simply choose a collar size from the beginning.
Instead of worrying over whether you ordered the right size from an extensive menu of sizes, there are now only two to decide from: medium/large and small. Since it's now a simple thing to cut off the excess and install a new clamp, it's more difficult to choose the wrong Halo collar size.
Contact Tips
One of the things that launched Halo into the premium category of popular dog collar manufacturers (at least in my opinion) is their exceptional customer service and how well they consider customer feedback. That feedback resulted in larger contact tip sizes with the Halo dog collar 3, an increase from 2.5 mm to 3.5 mm.
Battery Life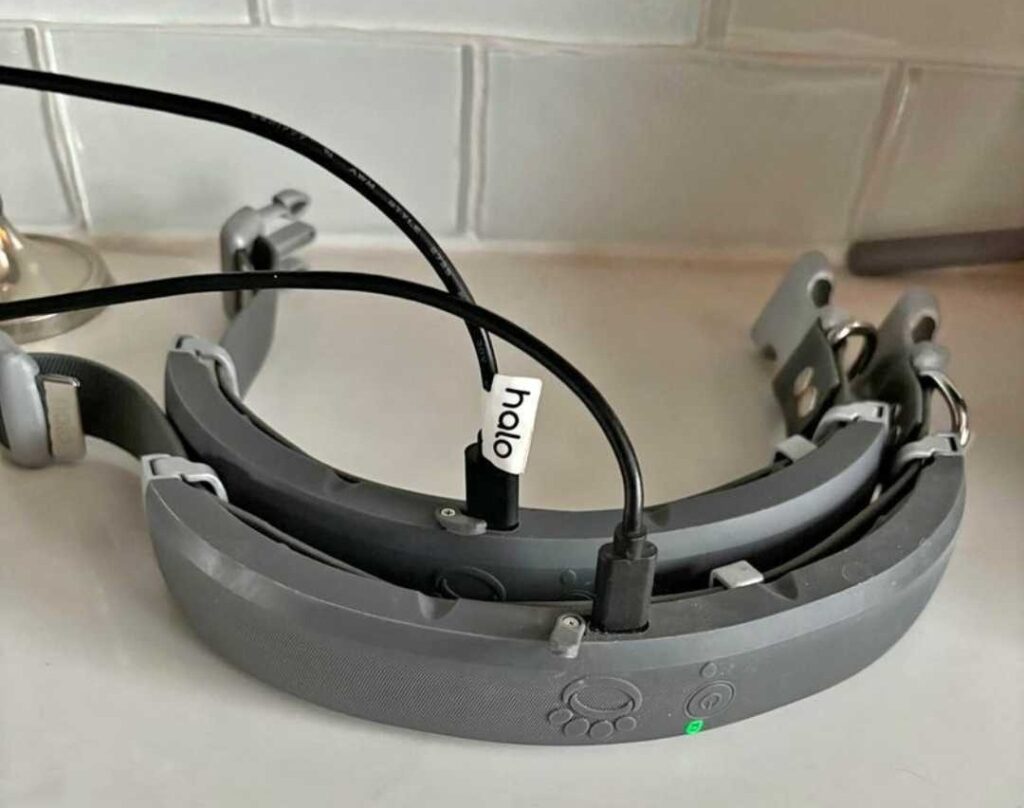 One complaint about Halo collars for dogs is their short lifespan. While the Halo Collar 3 doesn't reinvent the battery life struggle that Halo has worked to improve, it does extend battery life to roughly 24 hours. When I first put it on my Doberman, it was 5 p.m. I didn't remove it until 4:48 p.m. the next day when it died.
I kept a close eye on it and, at most, I might be off by about ten minutes. While Halo dog collars are short-lived between charges (the Halo 2 + improved battery life to 20 hours), I'll take any improvement where I can get it. Dog owners will appreciate the fact that it lasts 24 hours, especially if you're not too keen on leaving the collar on overnight.
My two dogs love to play fight, so I take it off in the evenings before I go to bed.
Halo Collar 3 Changes
All in all, the jump to machine learning, artificial intelligence, larger contact tips, a new sizing system, and a new charging method are major improvements over the previous model. Improvements with each new Halo collar are one thing, but innovative new features separate the Halo 3 from the pack.
When I opened the Halo dog collar and saw all the different items encapsulated in plastic, I thought it meant there would be some assembly involved. As it turns out, everything in the box works together to size the collar correctly and keep it charged.
Halo Dog Collar Review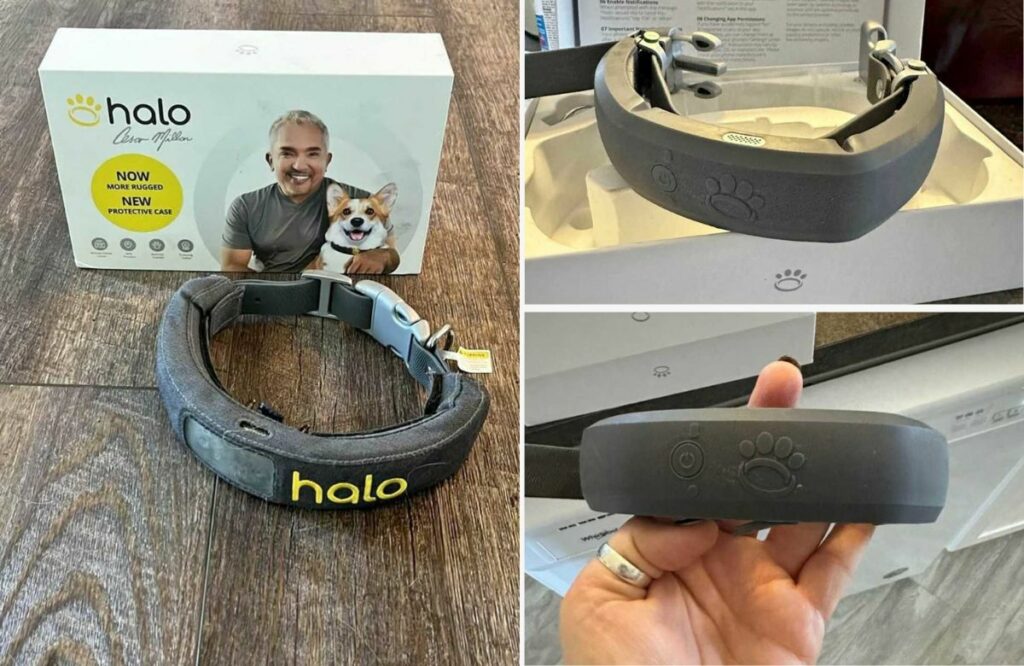 First and foremost, the Halo collar is not a shock collar. It uses positive reinforcement methods, such as beeps and vibrations, to warn your dog away from restricted areas once you've laid out your virtual fence. The Halo, Halo 2 collar, and 2+ all included the same deterrent.
Key Features
Custom-fit and sizing guide
Limitless locations
Safe boundaries
Virtual fence
Natural guidance
AI functioning collar
Works on a variety of terrains
Includes activity tracking
Operates with an emphasis on safety and security
Includes Halo training programs
Includes prevention tracking
Includes one-on-one customer feedback and service
Custom Size and Fitting
I hate cutting collars. They inevitably fray at the end or simply don't hold up in the long run. Fortunately, Halo did away with the worry over this and included all the components necessary to cut your dog's collar down and cap it.
Halo company kept it simple, which I really appreciate. Once I had my collar on Ares, all I had to do was pull the excess strap until the Halo collar fit his neck properly. Then, I held the spot I wanted to cut while using my other hand to unlatch it. The collar material is thick, but scissors will still do the trick.
Next, I took the black plastic clamp and inserted an end cap. All I had to do from there was insert the cut strap into the clamp and end cap and press the clamp down hard on the collar. Presto. A job well done and simple to boot.
The Halo 2 dog collar includes three sizes, and I'm happy to see Halo 3 drop down to just two. It keeps things simple; the setup they send you simplifies the fitting process, and I'm perfectly fine with that. Just be sure that you can slide two fingers in between your dog's neck and the Halo collar.
The small collar adjusts to between minimum neck size of 11″ and 15″, so if your dog is just a shade too big for that, order the Medium/Large 15″ to 30.5" version. With the Perfect Fit Kit, you'll be able to adjust to the exact size of your pup's neck and cut off the excess collar. Very small dogs are unfortunately unable to wear the Halo collar.
Using Halo Collar GPS System: Tracking and Virtual Fences
While previous iterations of the Halo collar utilize wireless technology to keep track of your dog, wherever it wanders off to. The Halo 3 steps up the ante with the addition of machine learning. Combining Wi-Fi, cellular service, and enhanced GPS tracking, the Halo 3 is always on alert. It literally pinpoints your pup's location once per second.
If Ares walks out of the Wi-Fi range at my house, he's covered by cellular service. If we ever happen to end up in the boonies somewhere, boondocking in our RV, satellite coverage stays right there with him. It's nearly foolproof. Your dog would have to stumble into a cave to escape the location, and even then, you would have the last known coordinates within a foot or two.
In the backyard, I can look at the Halo app and see the location accuracy narrowing down to within inches of Ares as he roots around and plays with our chickens and Indian runner ducks. The map view in the Halo collar app is simple and intuitive, including a paw symbol in the color of your choice against a traditional satellite view backdrop.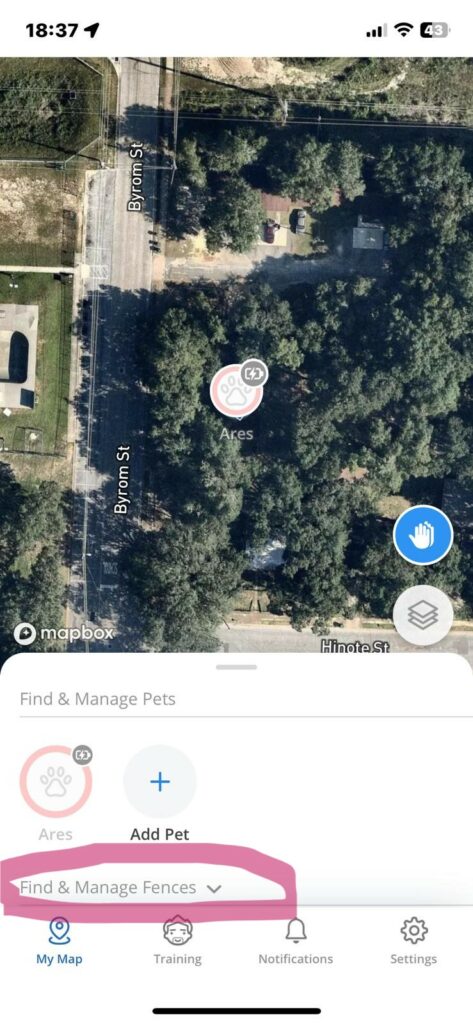 From here, it's a simple matter to create your virtual fences. Unfortunately, much of my yard is covered in Live Oak trees. Yes, I know they're alive, but that's just what they're called down here.
I couldn't exactly chop them down for the writing of this review. The good news is the GPS fence works right through them, and since I know the location of my fencing through the trees, I was still able to draw it out.
With the Halo collar and Halo app in hand, you can create up to 20 virtual fences for a single collar. If you have a second Halo collar, it won't share the same Halo fences, so you'll need to redraw them.
I ran into a few issues here, but it could just be my app. I had to select the "Find and Manage Fences" multiple times with no response. Everything else within the app worked fine.
After exiting out and reopening the app, I was able to start making my invisible fence with no further issues. This leads to another sore spot with Halo. Customer service is fantastic, but accessing their site and dog training videos, regardless of the platform, is mind-numbingly slow.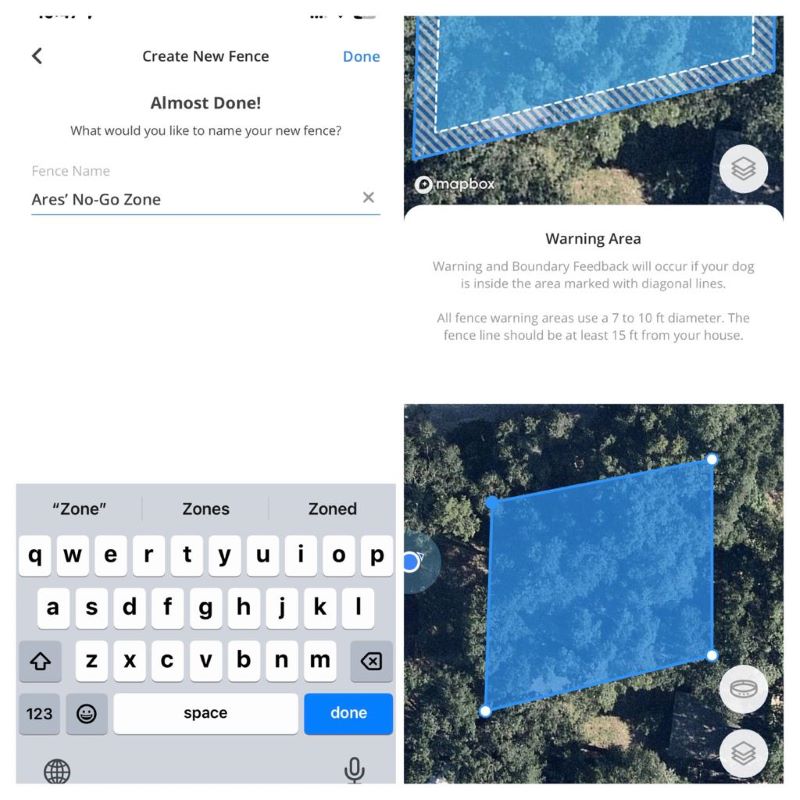 Select the training video and prepare to set your phone down for a good 25 to 35 seconds. Same with the PC, and I'm rocking a fiber internet connection with 4.7 Gbps down, 4.8 Gbps up, and 14 ms ping.
However, given time, I had the Halo wireless fence up and running. I only needed the one, both to keep my dogs from jumping the fence and for keeping them out of the chicken coop. They interact fine with the chickens and ducks, but I don't want them messing with their sleeping and laying quarters.
Halo Collar Training Tool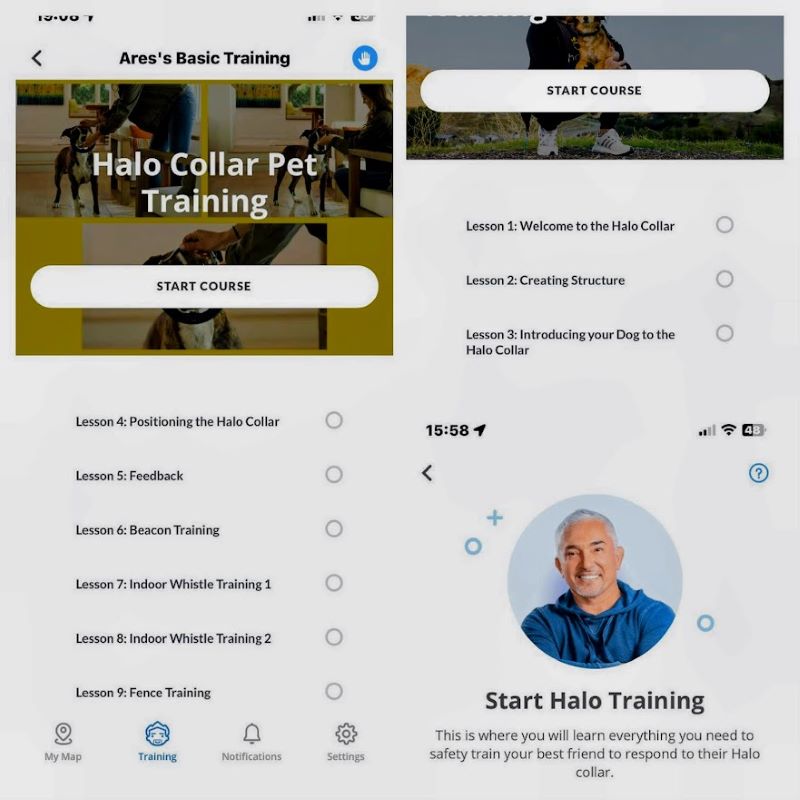 It's less a tool and more a horde of various videos. I personally prefer the videos. It's much easier to see things in action and replicate them in real life than it is to try making the Halo collar work properly based on a bunch of dense paragraph instructions.
Each training category is loaded with individual training videos. Simply select one, and it plays out for you with specific step-by-step instructions and, occasionally, some additional tips. All of this is embedded within the same app you use for setting up your Halo fence.
The Halo collar for dogs is far more than just a GPS-tracking Halo invisible fence. It also includes a customizable feedback feature for training your dog. For example, if your dog approaches the invisible fence, the Halo collar will emit a beep, a pre-recorded whistle, or Cesar Millan voice to warn your pup away. It also has a call-back feature that tells your dog to go home.
Pros and Cons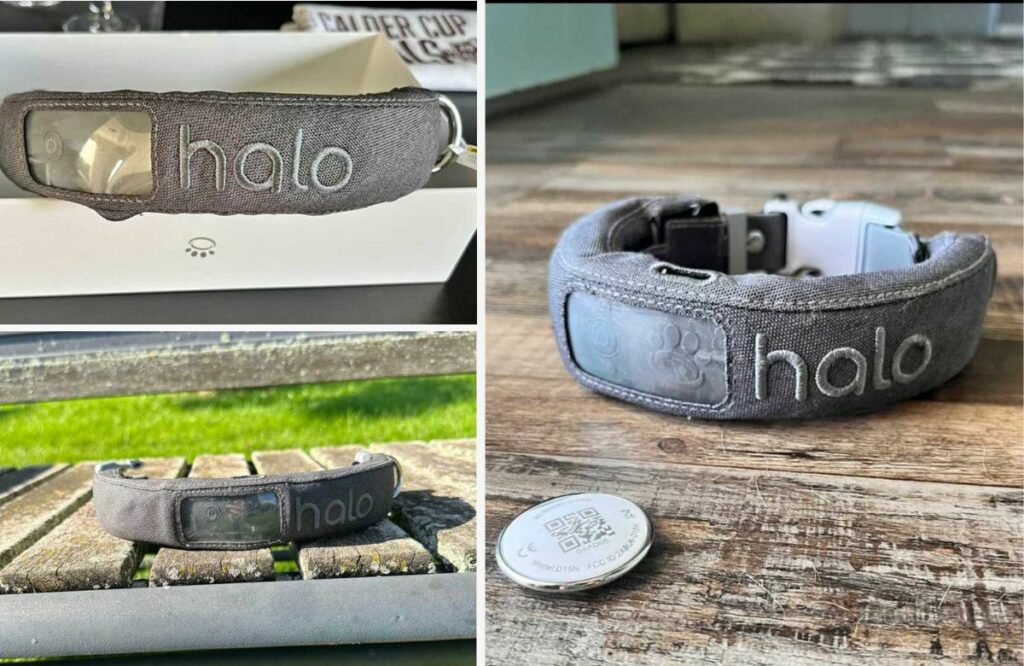 While this is one of the most intuitive and accurate smart dog collars I've ever owned, I won't say the Halo collar is without its flaws. The most glaring one, and the one that drives most people to read these Halo dog collar reviews, is the price.
The cost of a Halo 3 collar is extensive, so you want to know that it provides everything it offers on the market.
Pros
Halo collar app is intuitive and simple to use
Allows for up to 20 fences
The Halo training program is vast and highly informative
Includes a feedback interface that's highly customizable
It is an incredibly accurate smart dog collar
Includes indoor Halo beacons
Updates dog's location once per second
Halo for dogs operates on cellular connection, Bluetooth, GPS, and Wi-Fi
Cons
App is sometimes slow to respond
The Halo 3 is $699
Even the expanded charging still requires nearly daily charges
Requires an additional Halo subscription plan on top of the price tag
Our Review of the Halo 3 Dog Collar
Halo 3 Dog Collar Reviews from Owners
It might be a little pricier than the low-tech products available out there, but when it comes to my dog's safety, security and peace of mind Halo 3 delivers is worth every single penny. Thanks to Halo 3, we have complete peace of mind during camping, knowing our little guy is safe while doing what dogs do best….exploring. – Martin Boyd
The Halo Collar is amazing! It is so easy to use the App to set things up. My dog, Ranger, and I are going through the Halo training process now. He is a Husky so I was afraid that it would not fit, but I was able to customize it to fit him perfectly. – Jen S.
How Does a Halo Collar Function?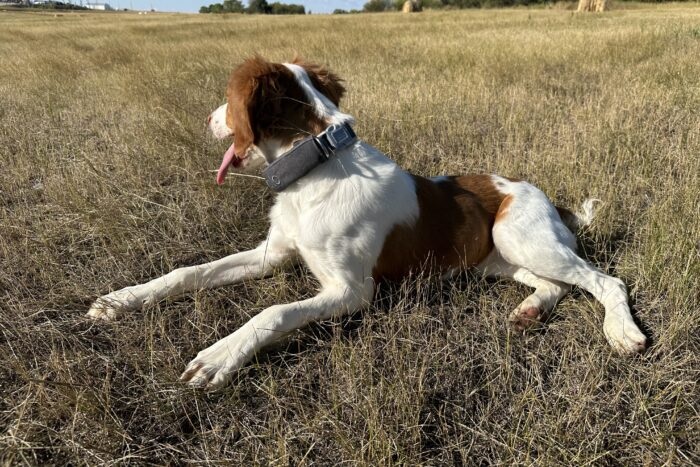 Now, let's move to how does Halo collar work. The Halo wireless dog fence functions by connecting to four wireless services—Bluetooth, GPS, Wi-Fi, and Cellular. I didn't have to do anything on the Cellular and GPS end, other than sign up for the basic plan.
With that taken care of, I downloaded the app and turned on the Halo collar by firmly pressing the power button and releasing it.
The app walks you through the setup process, connecting the Halo collar to your phone's Bluetooth and your Wi-Fi. Once the connection was made, I put together the USB-C and magnetic charger component and charged the Halo collar all night.
While there's probably enough battery to completely set it up, it's better to just charge it and start from scratch with a fresh battery.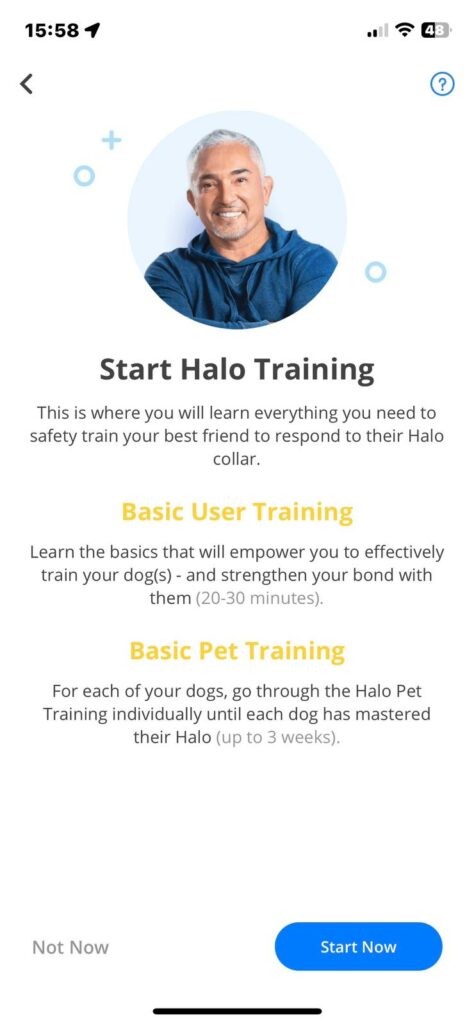 After that, I ran into my first frustration. The Halo app nearly forces you to watch each and every video guide to start out, and it took a while just to start playing. You can skip them, but the app is often slow, and then you have to go through a warning statement and wait even longer.
Ultimately, I reached my destination, but it takes some time for sure. You won't be able to use any features beyond this point without a subscription.
Once you're a paying member, you can take advantage of all the premium features this GPS collar has to offer, including the creation of set boundaries and customizing your collar and app.
So, it's a bit of a struggle to set everything up, and you literally have to bite your tongue forking over more money for the monthly subscription plan to enable data storage for fences.
Basic Subscription $5.99/mo
Real-time tracking and alerts
Activity reports recorded daily
Continuous GPS and Cell service
Up to 20 virtual fences
Monthly Halo collar updates (automatic)
Standard Subscription $9.99/mo
1-on-1 Setup session with a live representative
Discounted replacement collar
Professional tips
Weekly dog's activity tracker reports
25% off Halo collar accessories
Everything included in the Basic plan
Premium Subscription $29.99/mo
Halo live access
Includes the Gold Video Library
Increased discount on replacement collars
50% off of Halo accessories
Halo partner discounts
Everything included in the Standard plan
Once the fence is up, you have what is defined as a protection zone and a warning zone. Once the dog moves into the warning zone, the collar goes to work, warning your pup in whatever manner you choose. You can even get on the app and communicate with your dog directly through the collar.
I never experienced a single hiccup with the collar itself, only the brief problems I mentioned with the app above. Outside of that, my experience with the Halo collar has been exceptional. The warnings are effective, especially since my dogs were already trained to listen to commands.
Alternative to the Halo Collar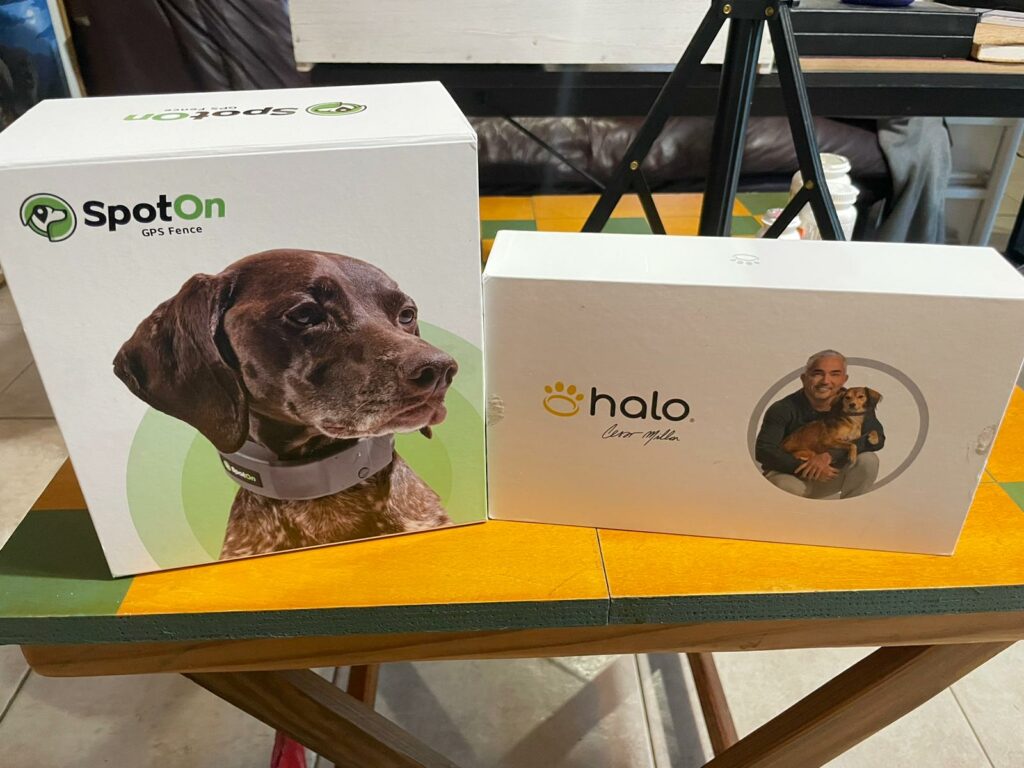 There aren't a ton of Halo collar alternatives out there, but there are a good handful. SpotOn is probably one of the most competitive of the bunch. As a matter of fact, I also have a SpotOn GPS Fence and will be reviewing it in the near future.
The Tractive GPS Tracker, the Fi Smart Collar, and the Whistle Switch Smart Collar are three more prominent alternatives. If you're a new or veteran dog owner, you definitely have some options to look at.
In general, the Halo collar lets you do more; however, some of the other smart collars allow you to track different things, such as health monitoring as you would get from a smartwatch.
Is Halo Collar Worth Buying?
The answer to that is entirely subjective. One of the biggest advantages of the Halo 3 collar, along with earlier iterations, is the sheer volume of training information and interactivity that comes with it. Everything from how to keep your dog safe to individual training and trick exercises are available, especially if you have access to Gold member videos.
It's an expensive piece of hardware, without a doubt. The starting price for the Halo 3, without any additional bells and whistles, is $699, which includes everything I pulled out of the box on this list. However, the SpotOn collar takes this to a new level, with a price tag of $1,299, well north of Halo's offering.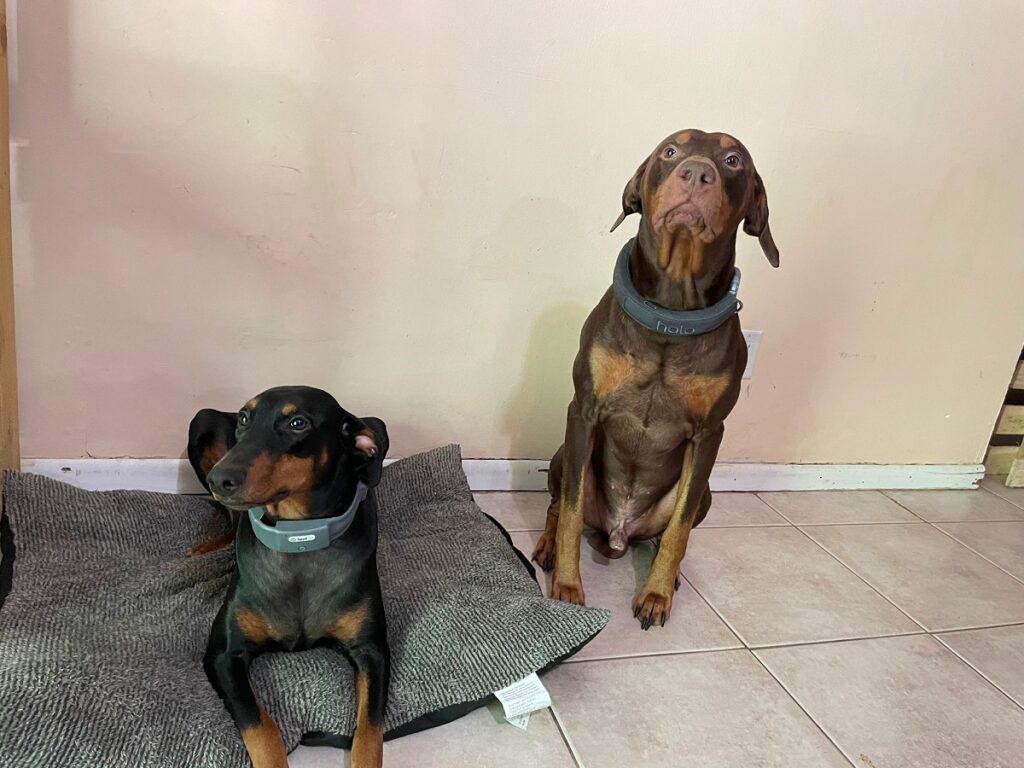 Real-time location, multiple virtual fences, and AI are the driving forces behind the Halo dog collar price, as well as a bit of brand recognition. The Halo system will probably work best for those who live on properties outside of densely packed neighborhoods, though some of the latter can probably make it work as well.
Either way, it's a solid collar so far and works well with my Dobermans. If you can justify the expense, it's entirely up to you.
FAQs
Does Halo Collar Shock?
Many pet owners wonder, Is Halo collar a shock collar? The Halo 3 can cause a shock if you set it to static shock correction. However, as I mentioned in Halo dog fence reviews, I don't even use the leads on mine. The training program, along with commands, whistles, and vibrations, should be more than enough to teach and deter your dog.
How to Switch off the Halo Collar?
To switch off the Halo collar, press and hold the power button on the front of the collar until the battery indicator blinks red.
Who is the Halo 2+ collar for?
The Halo 2+ collar is for dog owners who want a virtual fenced yard and an additional training and deterrent tool for their dogs.
What are the Battery timings of a Halo Collar?
The battery timing of the Halo Collar 3 is approximately 24 hours. It drops down to 20 hours for the Halo collar 2+.
Does a Halo Collar operate without the internet?
Yes, the Halo collar will continue to operate without the internet, relying on GPS location services to maintain location until you reach an area where you can connect to the internet with your phone.
What is a Halo Beacon?
The Halo Beacon is an indoor device designed for boundary training, deterring dogs from entering into specific areas of the house.
Final Thoughts
I hope the Halo Collar 3 reviews have provided clarity and assisted you in making a well-informed decision.
One week in, and I'm still enjoying the Halo 3 collar, especially the beacon, which I've successfully used to keep my dogs out of the kitchen. It's a little difficult to set up, with a very resistant, long-button press, but it works wonders, keeping Athena away from the garbage can.
I'm enjoying the use I'm getting out of it, more and more every day. If you're looking for a collar that checks every box and keeps your dog safe and on your radar, regardless of the circumstance, it's hard to beat the Halo 3.