I remember the first time I let my little adopted chihuahua mix named Rudy off-leash at the park. I was 99% sure that he would stay close to me. He's a major mama's boy and had never shown any signs of being an escape artist.
But it still felt a little risky. What if he tried to leave the park? What if I couldn't find him?
Luckily, I was right. Rudy ran around and came right back to me.
If you have a dog that is less likely to stay close or who is an escape artist, a GPS dog fence collar can be an amazing dog accessory.
Most Stylish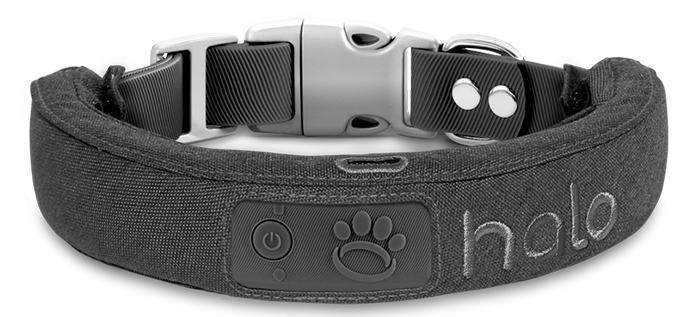 Halo Collar 2+
Brand: Halo
Special Feature: Best GPS performance
Best for Big Spaces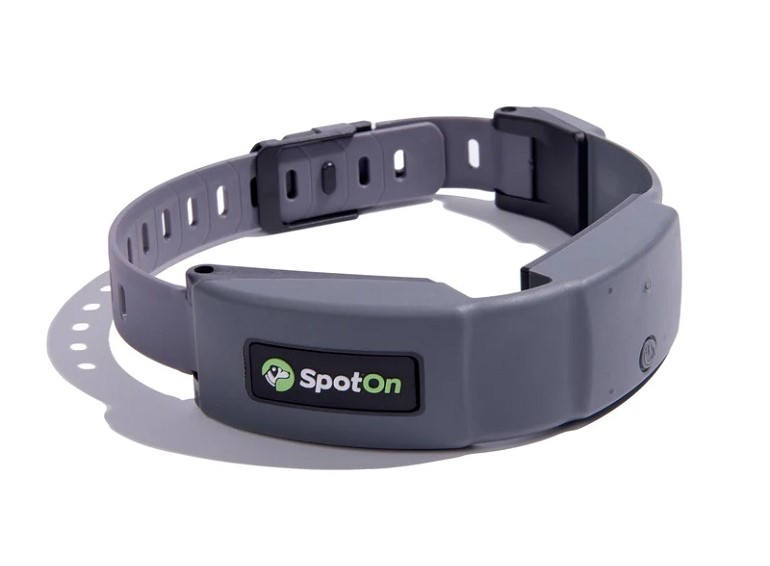 SpotOn Collar
Brand: SpotOn
Special Features: EASY & HASSLE-FREE
Super Budget-Friendly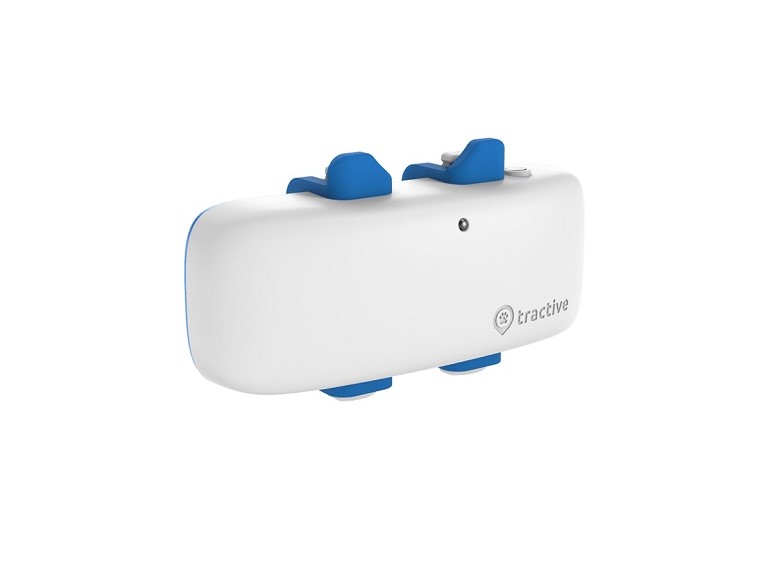 Tractive Collar
Brand: Tractive
Special Features: Long-lasting battery
No Monthly Payment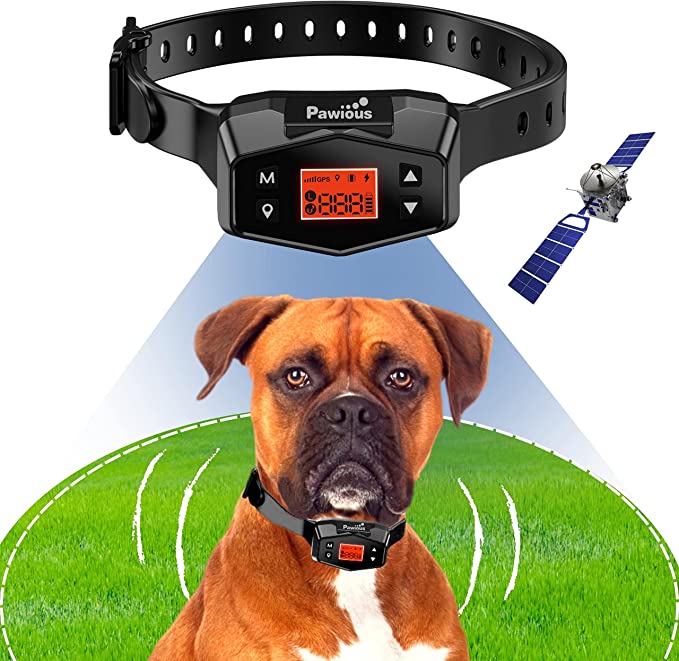 Pawious Dog GPS Fence Collar
Brand: Pawious
Special Features: Automatic Memory
Shock-Free Containment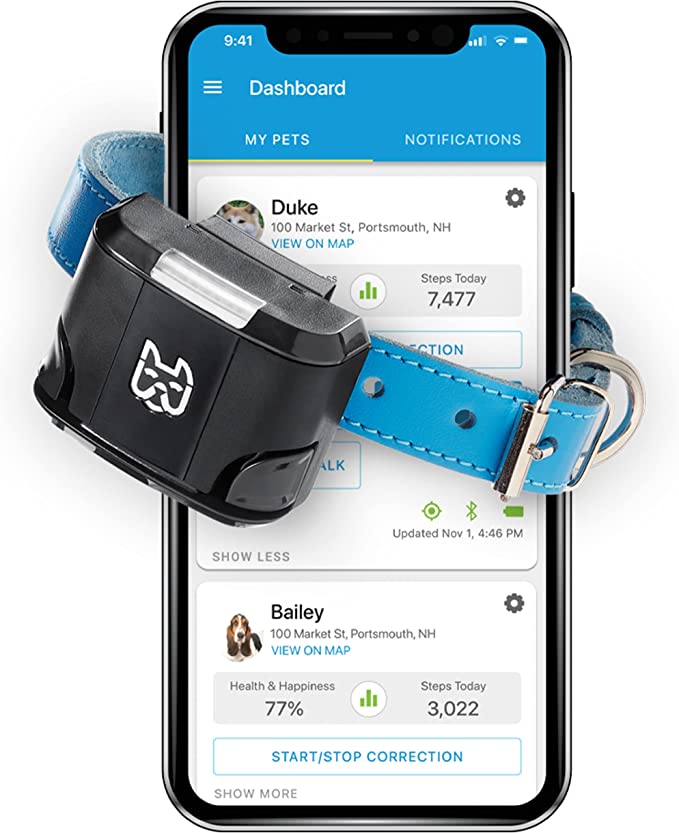 Wagz Freedom Dog GPS Fence
Brand: Wagz
Special Features: ACTIVITY & HEALTH TRACKING
The 5 Best GPS Dog Fences in 2023
A GPS dog fence can allow your dog to have more freedom while keeping them within a safe zone that you have set up. It can also allow you quickly find your pup if they happen to leave their safe zone.
If you don't have a fenced-in yard a GPS dog fence collar can also be an inexpensive way for you to keep your pet close to home.
So let's dive into some of the best GPS dog fences out there. You might be surprised by some of the features they have and they come in a wide variety of prices too!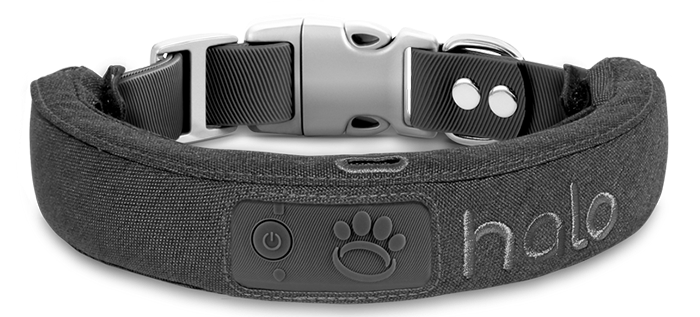 Have you heard of Cesar Milan, the expert dog trainer? Well, he is one of the founding partners that created the Halo collar.
Cesar Milan provides the training for this invisible fence system inside of the Halo app so that your dog learns how to understand the boundary you set up.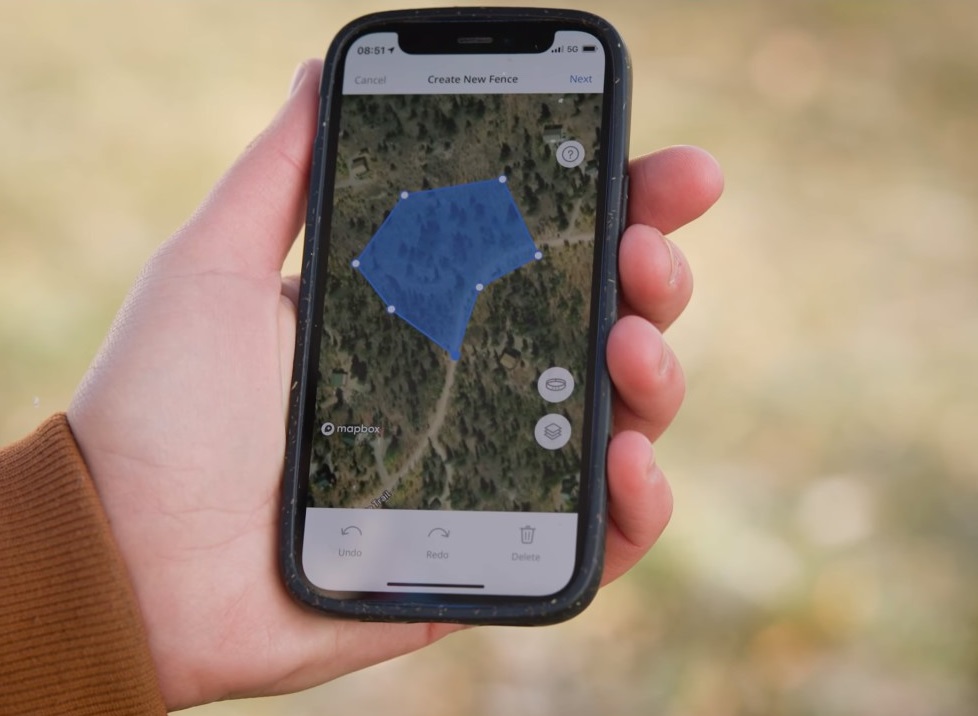 The Halo dog collar itself is an all-in-one product. It is an invisible fence, a GPS tracker, and a fitness tracker.
You can make up to 20 invisible fences that are stored right in the collar. You could create an invisible fence boundary for your local park, your backyard, your mom's house, and your campsite.
When your dog gets close to the boundary line, the Halo collar will give them feedback. When they stop or turn around, the feedback stops.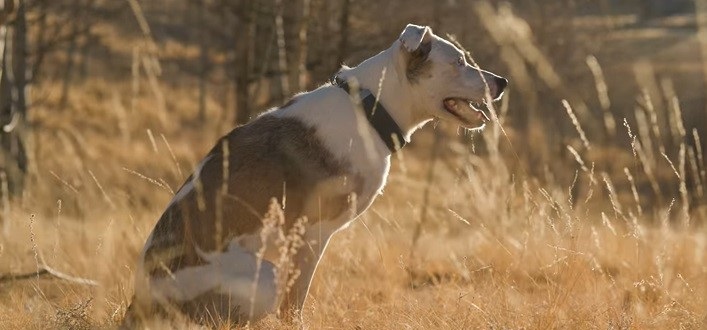 If your dog leaves their safe zone, you will get an immediate notification on your phone, and you can pinpoint your dog's location to get them back ASAP.
Pros
You can quickly set up new fences with the tap of a finger on your phone. I love how portable it is.
You can choose from sound, vibration, and static feedback to customize what your dog will respond to.
This waterproof collar tracks how much time your pet spends being active and resting so that you can help keep them healthy.
The Halo collar has a battery life of up to 20 hours. So you just need to remember to take it off your pet each night to charge its rechargeable battery.
Cons
The smallest size is meant for dogs that weigh 20 pounds or more. If you have a little pup, this isn't the best option for you.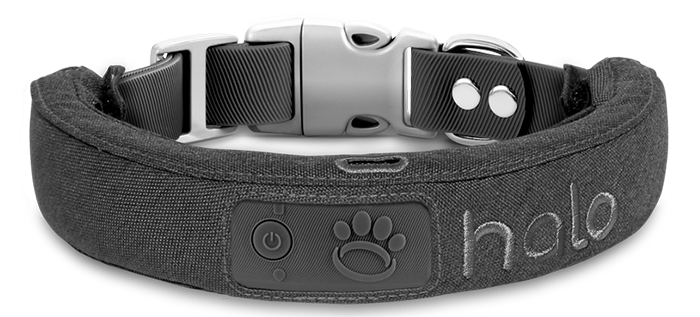 Halo Collar 2+
The price of "Halo Collar 2+ " varies, so check the latest price at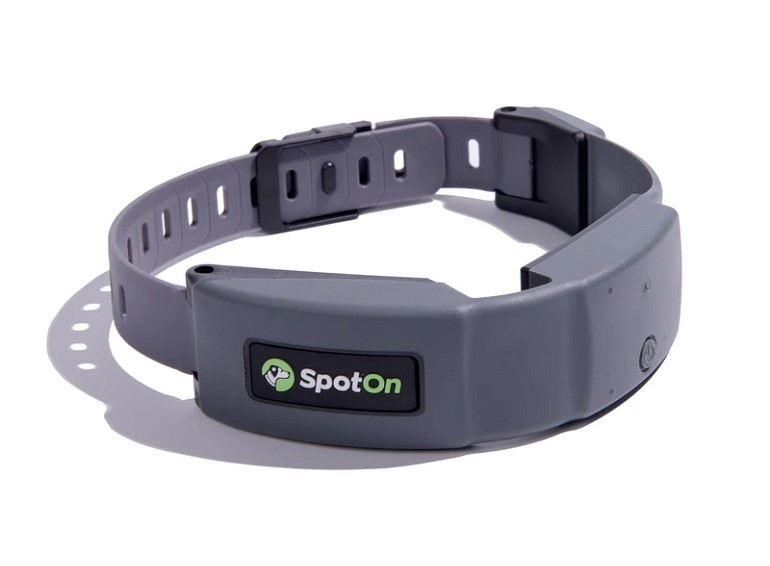 If you have a large yard, want to take your dog hunting, or just want to give them the maximum amount of freedom, the SpotOn virtual fence is a great choice.
The SpotOn collar, with its patented true location technology, uses four GPS systems all at the same time to provide more accurate boundary lines and doggy locations.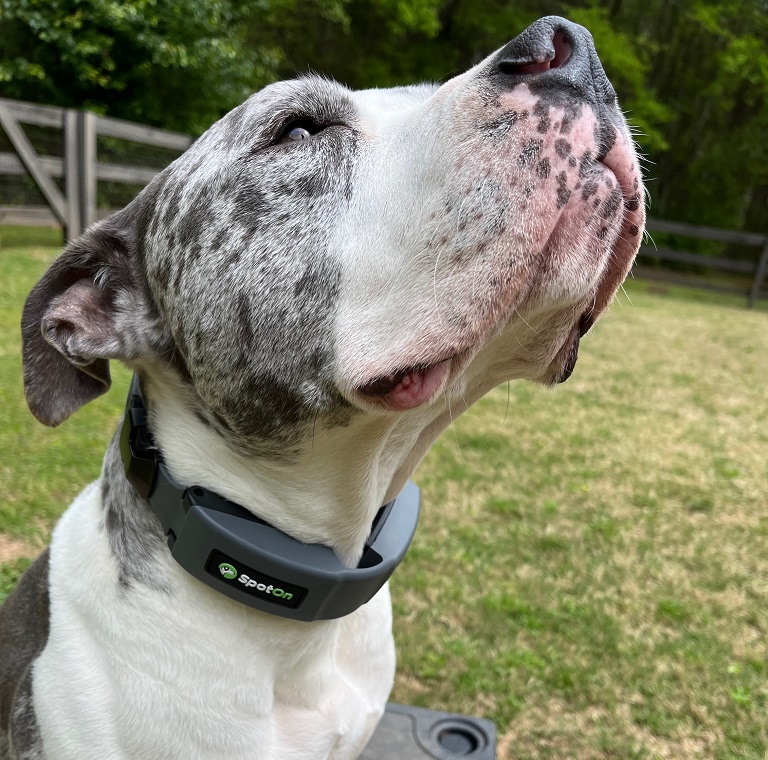 The SpotOn collar app provides a professionally-developed training program so that you can teach your dog how to stay inside the boundary that you set up.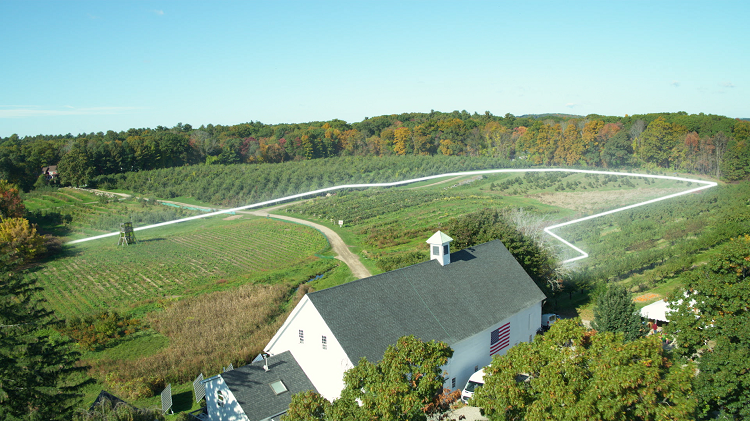 I really like that you can turn different wireless GPS fences on and off with your phone. A great use of this would be to give your dog a large area to roam during the day and then switch them over to a smaller yard size at night so that they stay closer to home.
If your pet leaves their boundary, you'll get an instant notification on your phone, and where your dog is will be updated every six seconds until you get them back.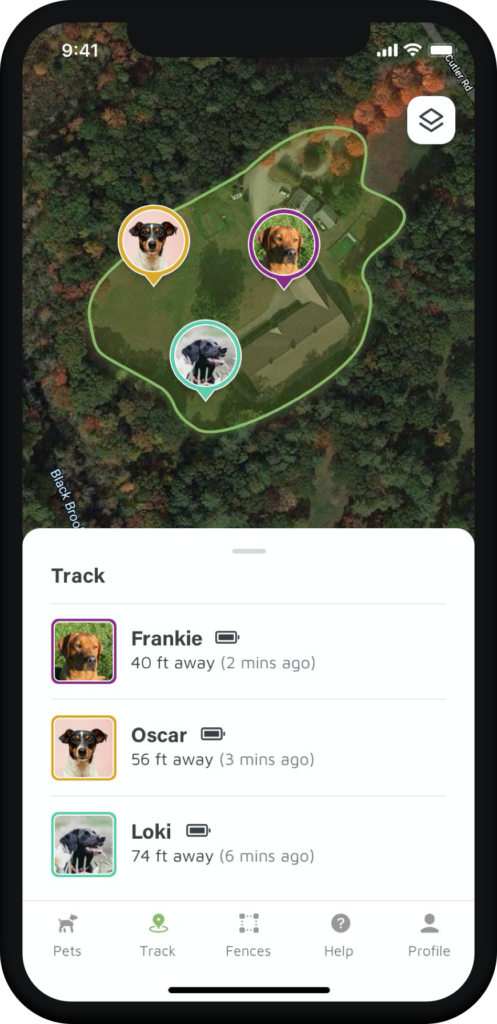 Pros
The SpotOn collar is more reliable than other options when you're near a forest or buildings, which can interfere with the signal.
You can use this system with multiple dogs. Each dog will need their own receiver collar, but you can share fences between collars and manage them all with the app.
The battery life is about 14-22 hours, and it only takes an hour to fully charge again.
If your dog leaves and then comes back, they will not be shocked. Many invisible dog fences that you bury will do this, which does not encourage your pet to return home.
Cons
The smallest size invisible fence you can make is 1/2 acre. This might still be too big for smaller properties.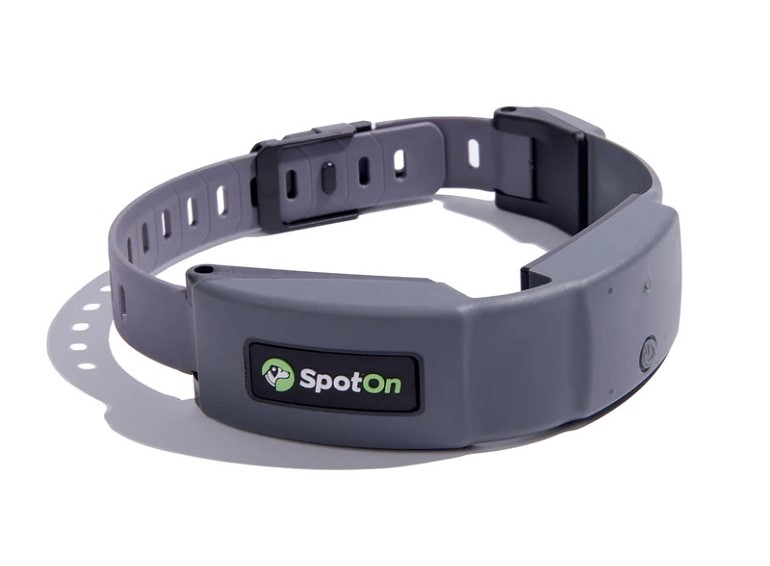 SpotOn Collar
The price of "SpotOn Collar" varies, so check the latest price at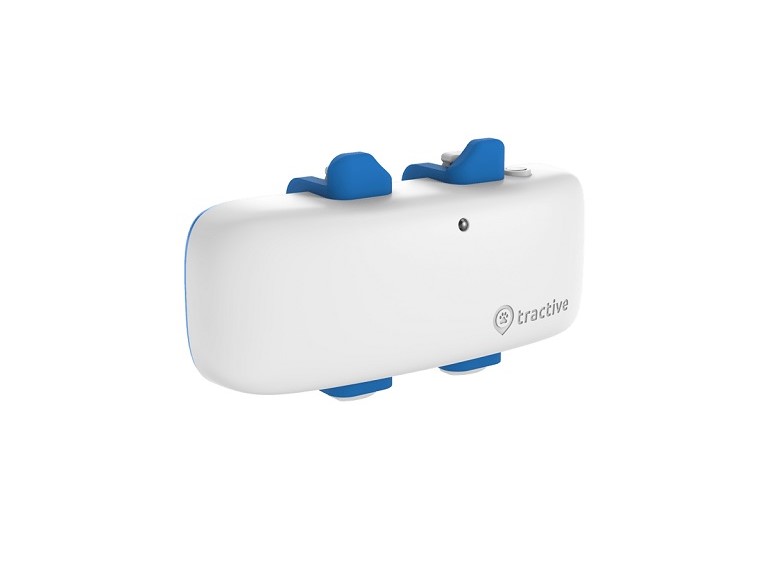 GPS dog fences can be pricey, but they don't have to be. If you don't have a lot to spend or just want to try one out to see if you like it, you can't get more affordable than the Tractive GPS dog fence.
This GPS dog collar is a bit different because it doesn't give your dog any feedback. That means that it's not a pet containment system.
If your dog leaves the virtual fence that you created, you will receive a notification, but your dog won't get any kind of shock or vibration.
If you are more concerned about knowing where your dog is and tracking their health than about keeping them contained, this is for you.
I like that this is just a small device that you can clip onto your dog's existing collar. This way you don't have to change your dog in and out of different collars or transfer their ID tags.
It has a long battery life of up to seven days and it can recharge in under two hours. You can set up power-saving zones (like in your house) to make the battery last longer.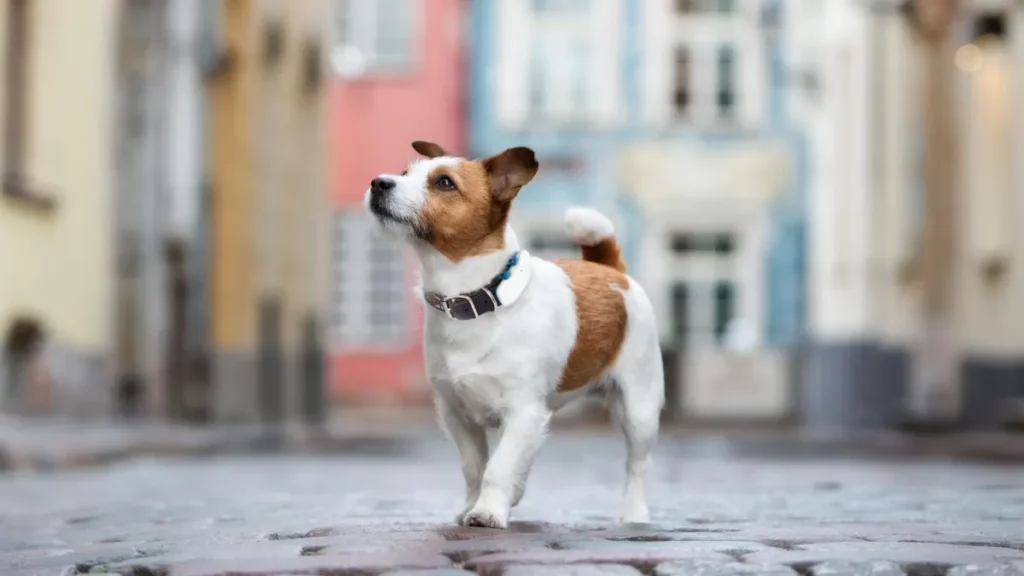 Pros
Locations updates happen every 2-3 seconds.
The device is small and lightweight, so it'll work for a puppy or small dog.
It will monitor your dog's sleep and activity levels. You can set goals and make sure your dog is staying healthy.
If you're in an area with low GPS signals, you can use the Find Mode to get closer to your dog.
Cons
This will not warn your dog to turn around by delivering a shock or vibration if they leave their virtual fence boundary. If you're looking for more of a GPS electric dog fence, this is not the one for you.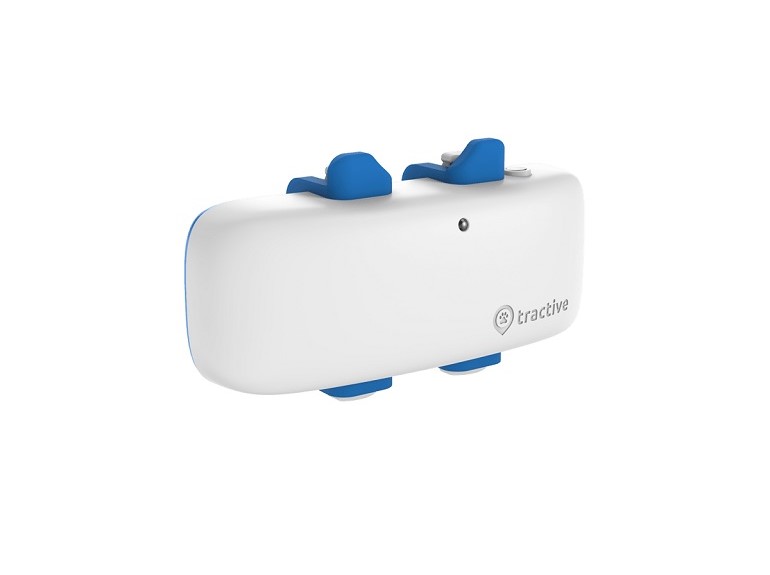 Tractive Collar
The price of "Tractive Collar " varies, so check the latest price at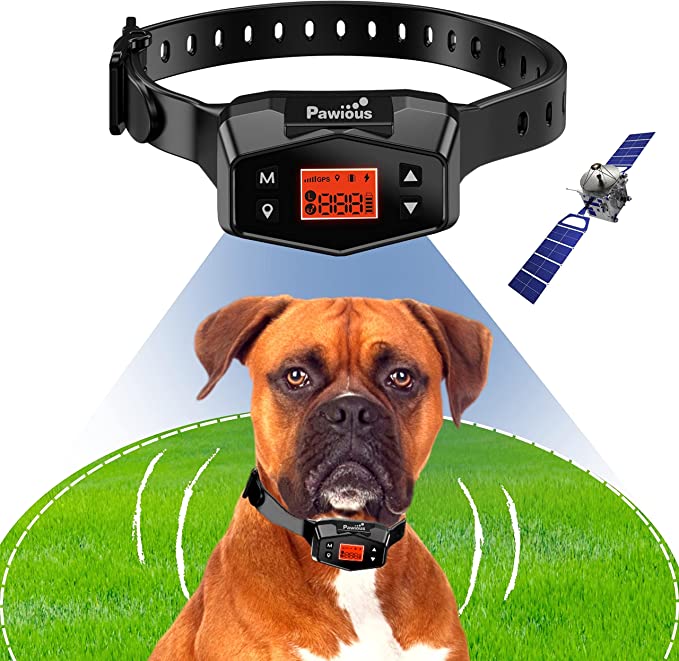 The Pawious GPS fence does not require a monthly subscription or phone app. It works like most wireless dog fences but uses GPS technology instead of a transmitter.
Basically, you turn on the collar in the center of the boundary zone and set the size of the zone. There is a minimum radius of 33 yards, and it can go up to 1000 yards.
You can also customize the feedback. There are beep, vibration, and shock options.
Then you put the collar on your dog. When they get close to the boundary line, they will get a warning through the receiver collar. There is another round of feedback if they still don't turn around.
If your dog leaves their set zone, there is no GPS tracking mode. The GPS technology is only used to sense the boundary. Once they leave, it cannot track your dog.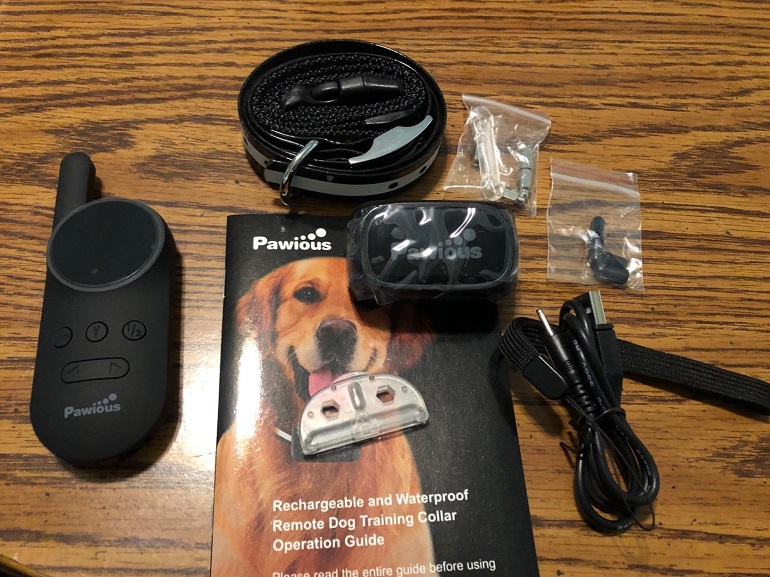 Pros
Since there is no tracking, there is no need for a monthly subscription fee, and the collar is quite affordable.
If you move to a new location, you can set up the collar again and have a new virtual fence.
Cons
This GPS fence is meant to be used on medium to large dogs, in large outdoor spaces. Small yards, small dogs, or indoor usage will not work with this system.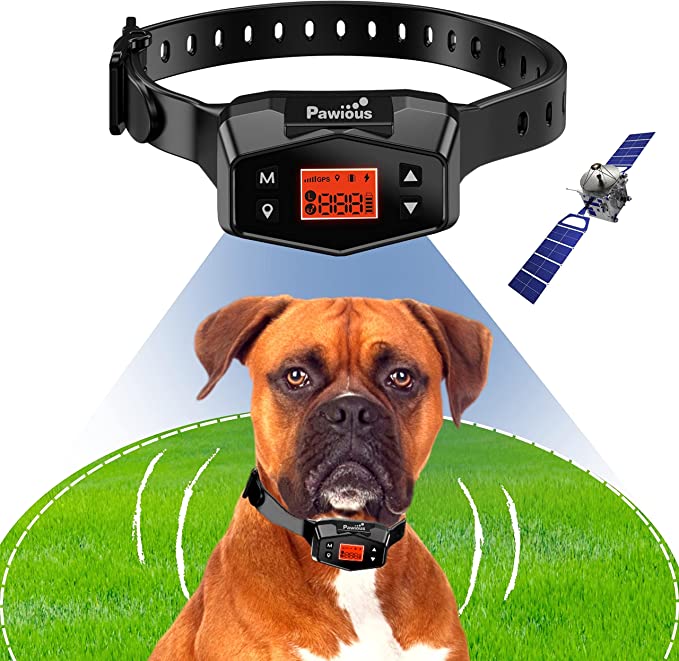 Pawious Dog GPS Fence Collar
The price of "Pawious Dog GPS Fence Collar" varies, so check the latest price at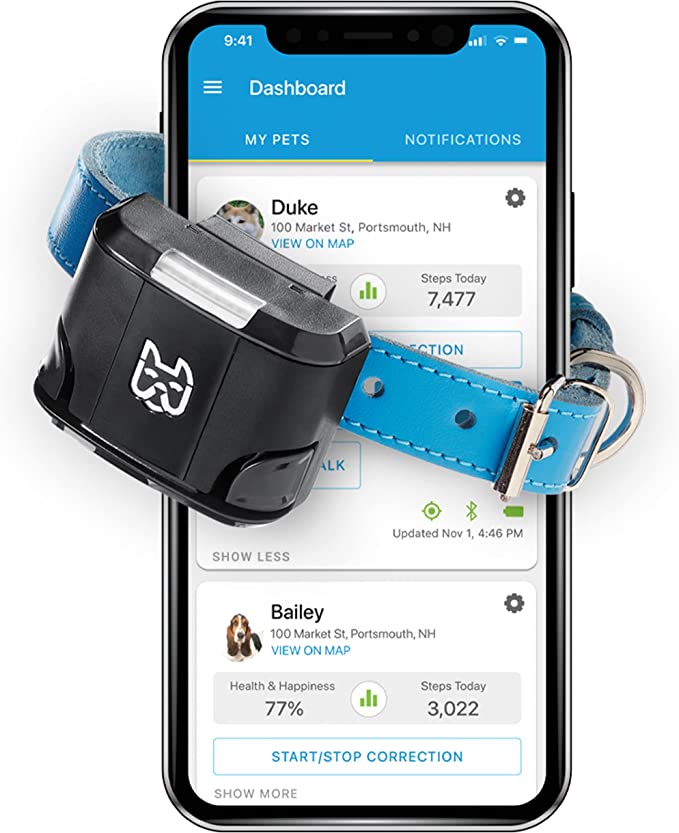 Alright, if you want to track your dog's whereabouts, know how much sleep and exercise they're getting, and keep them contained in a wireless dog fence without shocking them, the Wagz Freedom pet fence is what you've been looking for.
Many pet parents are completely against ever shocking their dog. This GPS dog collar receiver uses beeps, vibrations, and ultrasonic sounds instead.
It works best in areas that have good cellular coverage. Plus, it's ideal if you have a property that is at least half an acre or larger.
You can make custom-shaped dog fences within the app and set "keep out zones".
Since Wagz Freedom Dog GPS fence collar can locate your pet within 10 feet, you'll have a lot of peace of mind.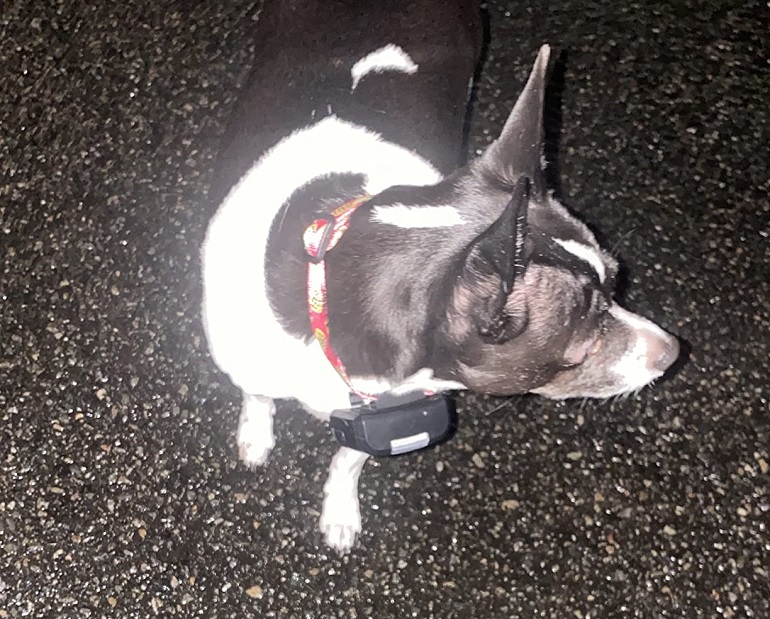 Pros
It is recommended for use with dogs that are 15 pounds or larger. That's not great for tiny dogs, but it's a pretty good size range.
The collar is water resistant.
The device is super lightweight, just 50 grams (1.7 oz).
Cons
The company doesn't give an estimate on battery life. They just say that it depends on the level of activity and network connection. It uses two rechargeable lithium, ion batteries.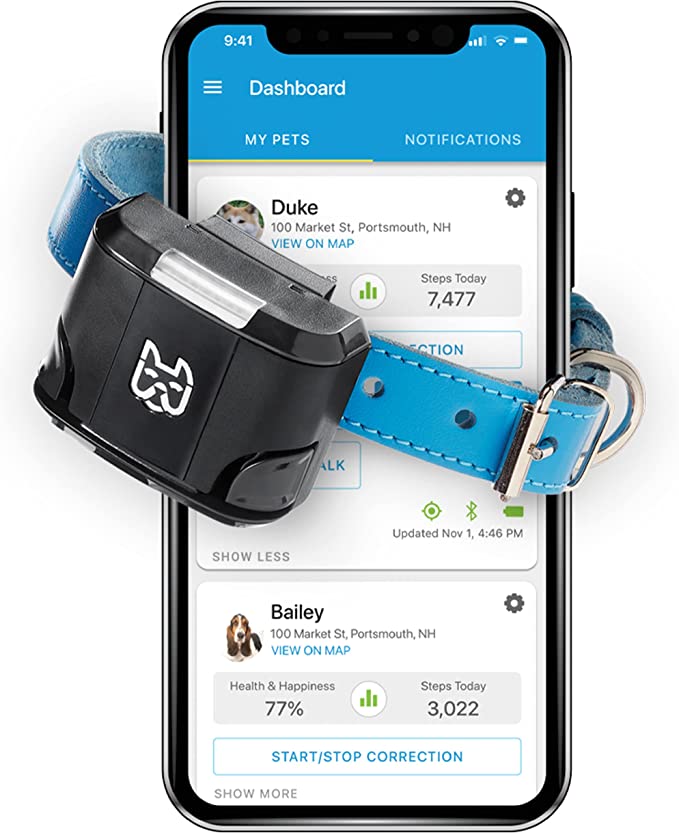 Wagz Freedom Dog GPS Fence
The price of "Wagz Freedom Dog GPS Fence" varies, so check the latest price at
FAQs
How Does a Gps Dog Fence Work?
GPS dog fences work by finding the location of the collar via GPS signals from satellites.
It's very similar to using satellite maps on your phone or the technology being developed for autonomous cars.
With these wireless dog fences, you create a fence, and then the GPS technology compares your dog's location to the fence. If your dog nears that virtual fence line, they will receive feedback, or you will get notified on your phone.
A huge benefit is that with most GPS dog fences, your dog's location can be tracked anywhere. So if your little escape artist leaves their wireless dog fence, you can still see exactly where they are at and go get them.
This is an amazing pet safety feature!
Can a Dog Run Through a Gps Fence?
Yes.
This is why training your dog well is so important. If you don't train your dog to understand their boundary line and what the feedback means, they can become very frustrated, fearful, or confused.
Most GPS dog fences come with training information to help you train your dog so that they don't run through the wireless fences.
The training program for the Halo collar was developed by dog-training expert Cesar Milan.
Is a Gps Dog Fence a Shock Collar?
Not always.
Some GPS dog fences, like the Tractive collar on this list, are just made for tracking. You can create virtual fences and you will be notified if your dog leaves this perimeter, but the dog does not receive any feedback.
The Wagz Freedom collar on this list has shock-free feedback options. It can vibrate, beep, or give off an ultrasonic sound that only your dog can hear. This sound doesn't hurt them at all, but it does get their attention if they get near the boundaries.
In Conclusion
If you can't install a dog fence, if you travel often with your pet, if you want the ultimate peace of mind… Consider a GPS dog fence.
The GPS systems available right now are really impressive. There is something to suit any budget. The choices in features will fit any pet parent.
I hope this list has helped you choose the best option that will keep your pet safe and healthy.