After installing a traditional fence at two of the homes we've owned, I can tell you two things for sure: It's expensive and a lot of work!
At every place we've lived with our pups (at least six!), my biggest concern has always been if there was a fenced-in yard. My dogs like to roam free, explore, and sit outside, enjoying the fresh air.
Giving them the freedom to do that is important to me!
Now that I understand all of the options when it comes to invisible fences, looking for homes with fully fenced-in yards doesn't seem like as big of a deal. Even as a dog mama to multiple small dogs, there are some great invisible fence options!
A lot of pet parents may opt for some kind of invisible dog fence instead of a physical fence. Depending on the kind of fence system, it could cost less, require less work, and even be portable.
All-in-One Solution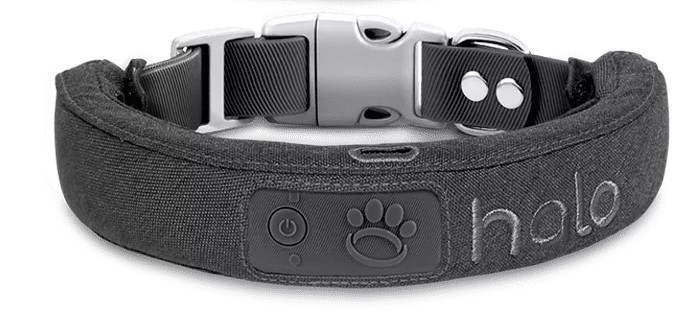 Halo Collar
Style: WIRELESS FENCE
Special Feature: ALL IN ONE SAFETY SOLUTION
For Large Spaces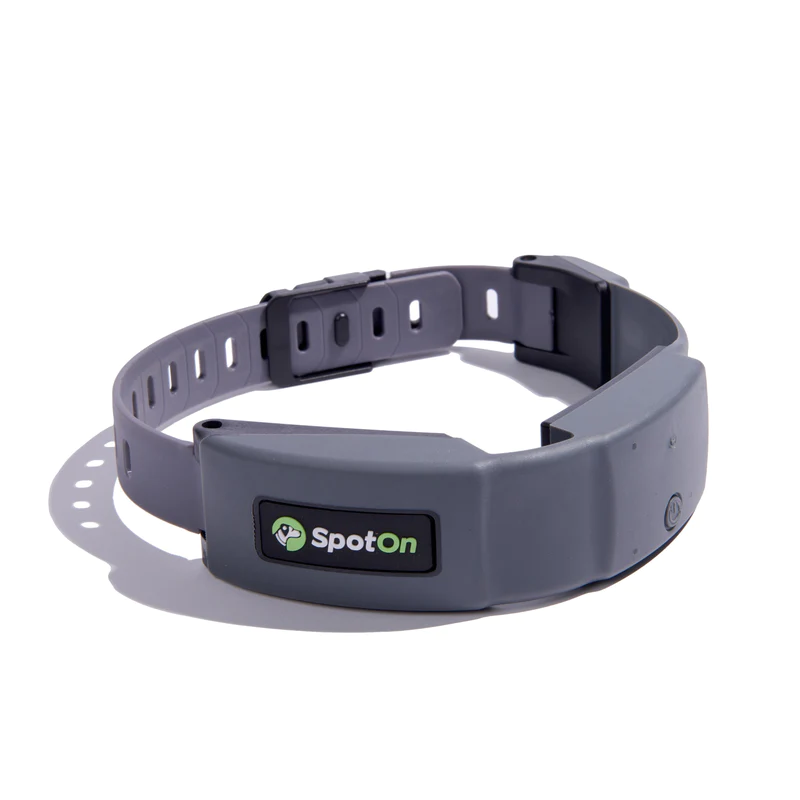 SpotOn Virtual Smart Fence
Style: GPS TRACKER
Special Feature: RELIABLE GPS FENCES
Compact Option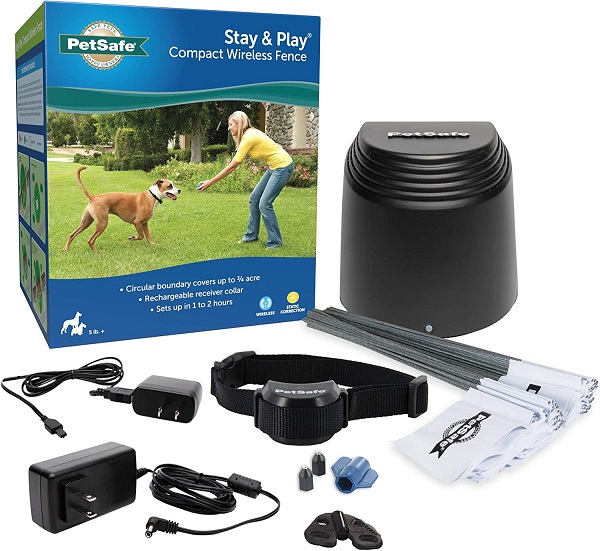 PetSafe Stay + Play Wireless Fence
Style: Wireless Fence Kit
Special Feature: WATERPROOF
Budget-Friendly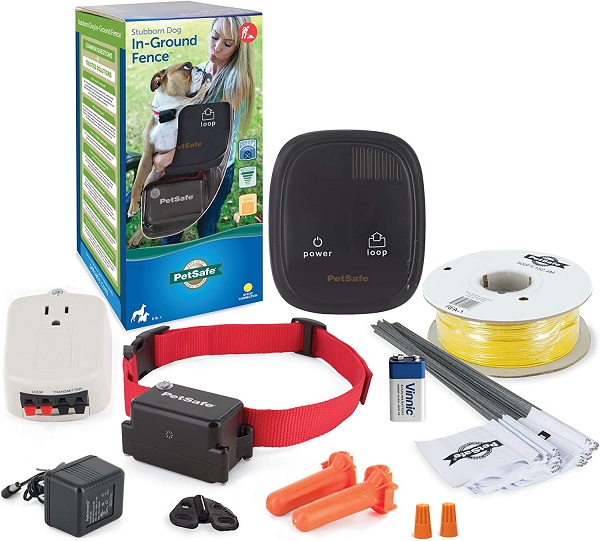 PetSafe Stubborn Dog In-Ground Pet Fence
Style:20 Gauge Wire Kit
Special Feature: DIY INSTALLATION
More Play Space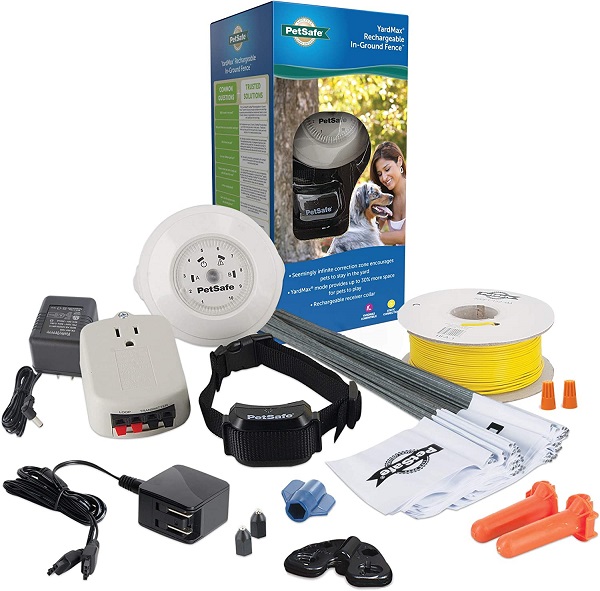 Petsafe YardMax Invisible Dog Fence
Style:20 Gauge Wire Kit
Special Feature: 1/3 ACRE COVERAGE
Best Reviewed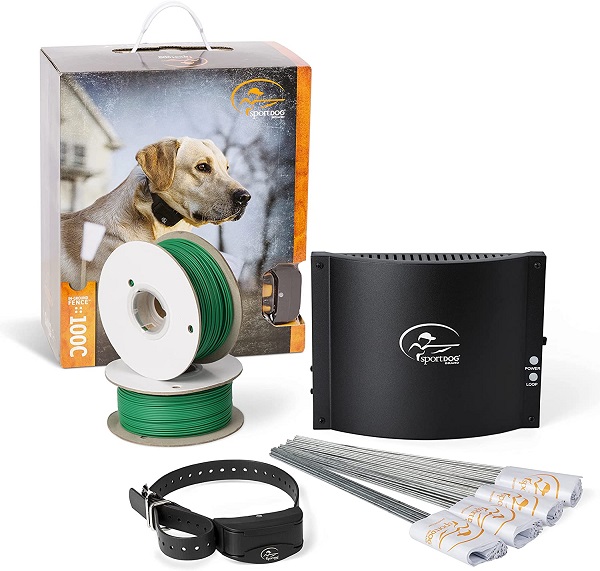 SportDOG In-Ground Invisible Fence System
Style: In-Ground system
Special Feature: For UNLIMITED DOGS
Best Kit Option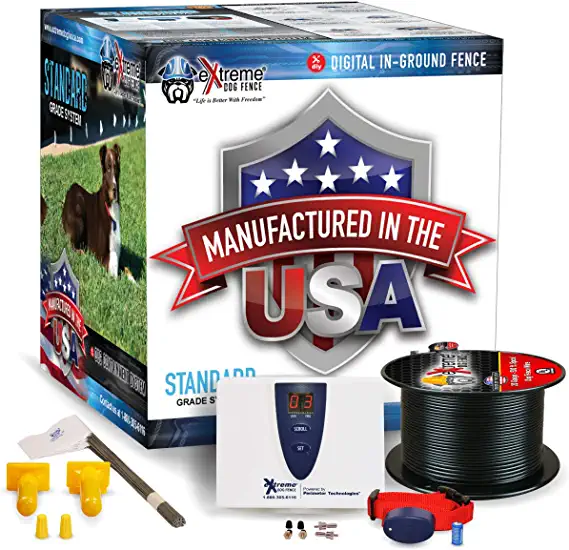 Extreme Dog Fence
Style: 1 Dog System
Special Feature: Updated Electronics
In-Ground Fence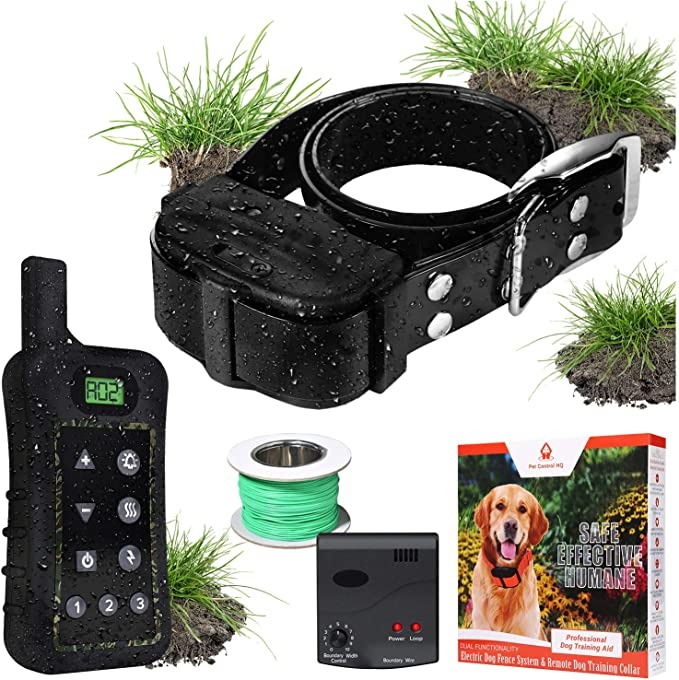 Pet Control Invisible Dog Fence
Style: 1 Dog With Remote
Special Feature: Waterproof
Our Top Picks of the Best Invisible Dog Fences
Below are details about a variety of the invisible dog fences available today.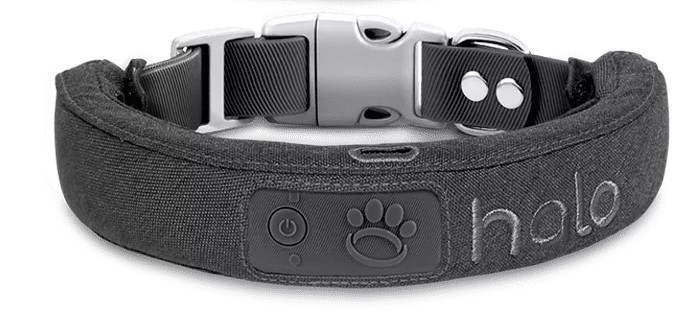 As a dog owner, I recently purchased the Halo 2+ Collar, and I have to say that I'm impressed with all the features this collar offers. It is a wireless dog fence, GPS tracking collar, activity tracker, and training collar, all at the same time.
What I particularly like about this collar is that it doesn't look like a traditional shock collar. The design is sleek and streamlined, and the receiver looks more comfortable than any other collar receiver I've seen. Plus, it's worth the price for everything that it offers.
In my personal experience, the GPS tracking feature is a game-changer. I can always keep tabs on my dog's location, and if he ever does break out of the invisible fence, I receive immediate notifications on my phone – something in-ground and wireless fences can't do.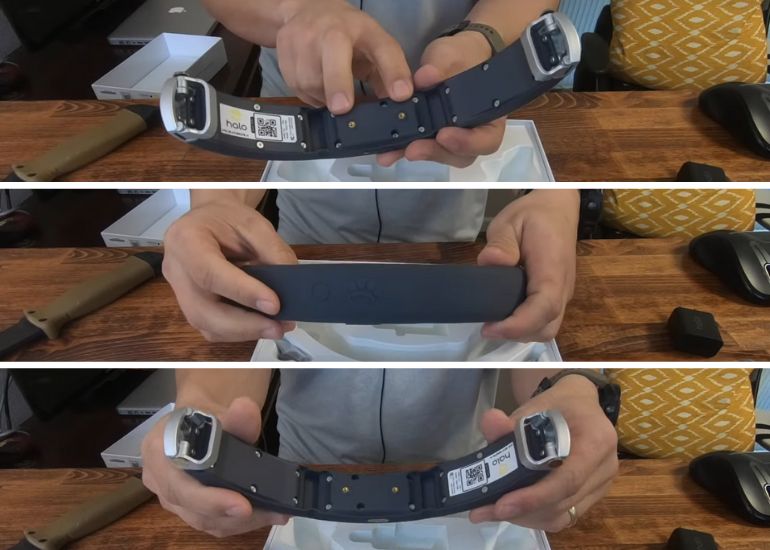 With GPS tracking, you can go directly to where your dog is. That is some serious peace of mind for dog owners like me!
Features
You can instantly create up to 20 GPS fences using the app.
Collar sizes come in small, medium, and large (ranging from 11″ to 30.5″).
Also works as an activity tracker and GPS tracker.
The waterproof collar can be worn in any weather as well as swimming.
Rechargeable battery with 20+ hour battery life.
Pros
There are three prevention levels: one if your dogs get close to their boundary, another if they are at their boundary, and a third if they leave their boundary (all customizable).
Includes training from famous dog trainer Cesar Milan; it sure is a nice touch and helped me understand how to properly use the collar.
You can create extra wireless boundaries for all of the places you go: one for your home, another for the park, another for your sister's house… you get the idea. It's a portable system!
100% Satisfaction guarantee. If you are not satisfied, you can get a refund.
Cons
This wireless pet containment system costs more than underground fences (however, it serves more functions and certainly costs less than a physical fence, so it just depends on your needs). As someone who needs a GPS tracker for my dog, this product was a great investment.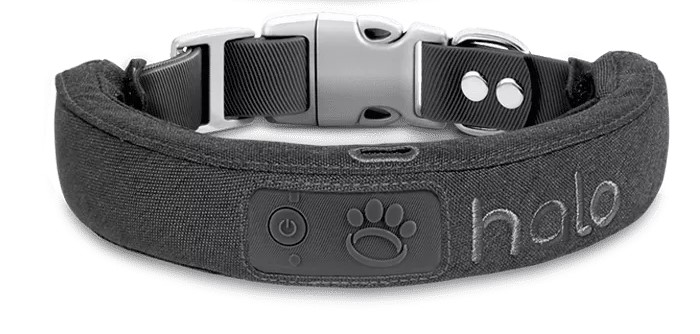 Halo Collar
The price of "Halo Collar" varies, so check the latest price at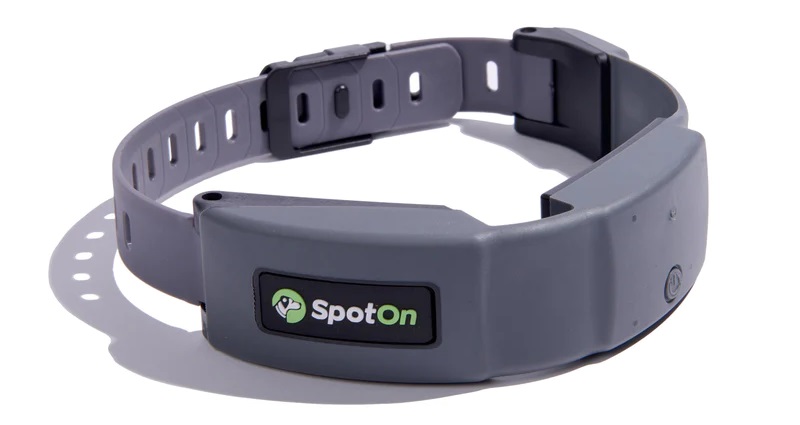 The SpotOn GPS fence system is amazing for pet owners with lots of land who want their pups to be able to run free. You can fence in up to 1,000 acres!
You can also add multiple dog collars to the app so that your pups are all on the same system.
The app includes professionally-developed step-by-step training guides.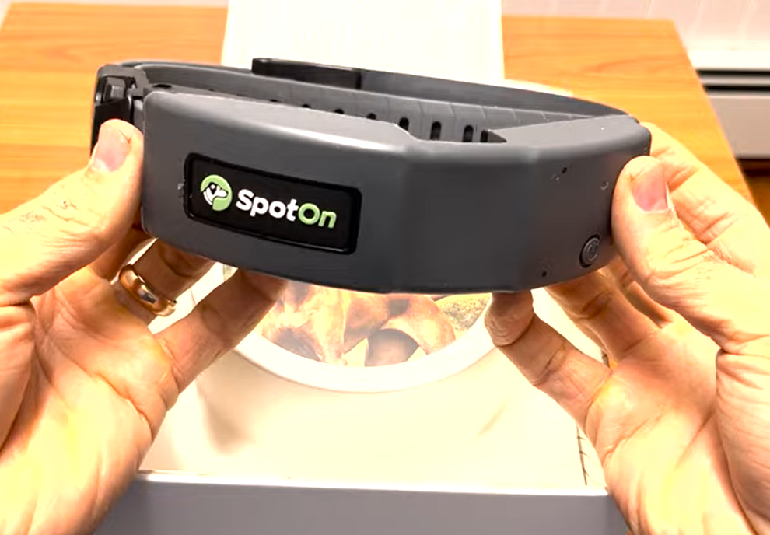 The SpotOn virtual smart fence system allows you to have multiple fences configured on your phone that you can toggle on and off.
If you want your pup to have more room to run during the day and then keep them closer to home at night, you would just have two separate fences that you turn on and off.
Features
Battery life lasts up to 18 hours on one charge (rechargeable battery).
You can choose from 30 levels of static correction/feedback.
Create invisible dog fences from 1/2 acre up to 1,000 acres.
Pros
These wireless dog fences use some of the most advanced GPS technology. It can accurately locate your dog within about 16 feet.
You will get an automatic breach alert on your phone and real-time tracking if your dog leaves the fence.
This invisible dog fence option includes training videos so that you can teach your dog how to understand the collar feedback.
Includes a 1-year warranty and 45-day money-back guarantee.
Cons
This wireless fence system requires a minimum of 1/2 an acre, so if you have a smaller yard, this one is not for you.
The SpotOn system is the priciest one on this list.
To create a new fence line on the app, you have to walk the boundary while carrying your phone. Depending on the size, location, and weather, this may be quite tricky.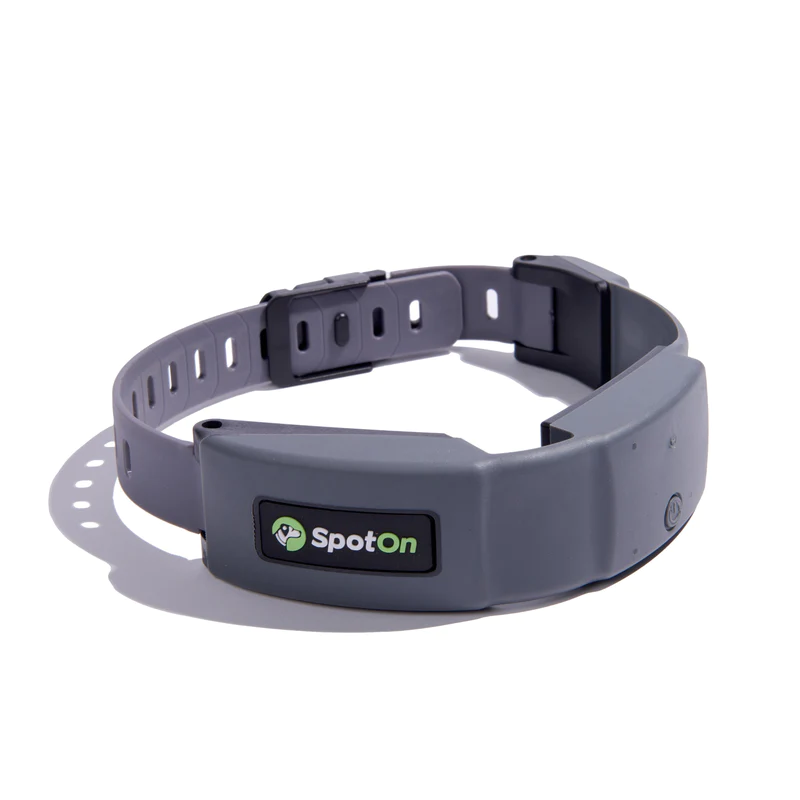 SpotOn Virtual Smart Fence
The price of "SpotOn Virtual Smart Fence" varies, so check the latest price at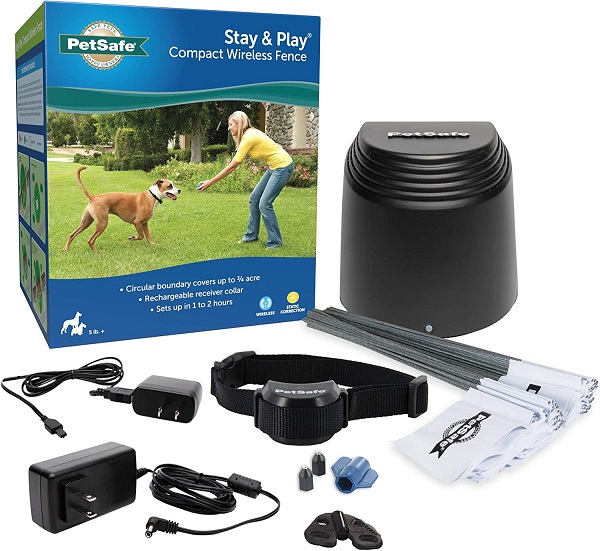 The receiver on each dog collar for these invisible electric fences might be fine for most dogs, but if you have a really little dog, it can be far too heavy.
This PetSafe Stay & Play wireless fence system works for dogs as small as 5 pounds!
The special dog collar for this system also has a battery status indicator so that you can be sure to put in a fresh battery before the current one dies — definitely important so that you can keep your dog safe.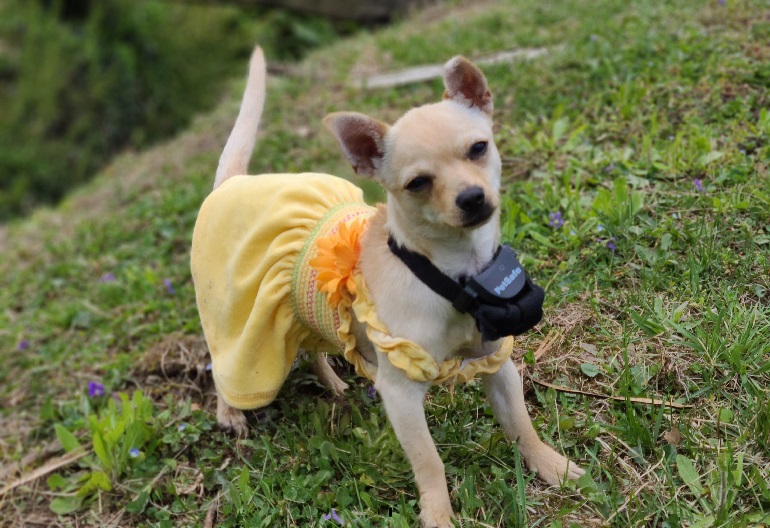 The other nice thing about this Stay & Play fence kit is that you can adjust the size radius of your dog's play area with the click of a button on the transmitter. Easy-peasy!
Features
Creates a wireless circular boundary of up to 3/4 acre.
The LCD display on the transmitter shows the exact size of your pet's play area. It also has a warning indicator to let you know if the wireless fence system isn't working.
Collars are waterproof, use rechargeable li-ion batteries, and can fit dogs as small as 5 pounds.
There are 5 static correction levels as well as a tone-only mode.
Pros
No digging or buried wire is required!
Static-free reentry. If your dog leaves the boundary, it will not be punished for returning home.
Portable. You can bring these dog containment systems camping or on vacation. As long as you have access to an indoor plug for the transmitter, you can use it.
Cons
The transmitter must be plugged into the center of your dog's invisible fence zone. Depending on the size and shape of your yard, this may be impossible.
The invisible electric fence can only be circle shaped. If you have a long, skinny yard, your dog will either be able to wander into the neighbor's yard or won't have access to a chunk of your property.
May not work if you have a steeply-sloped lot.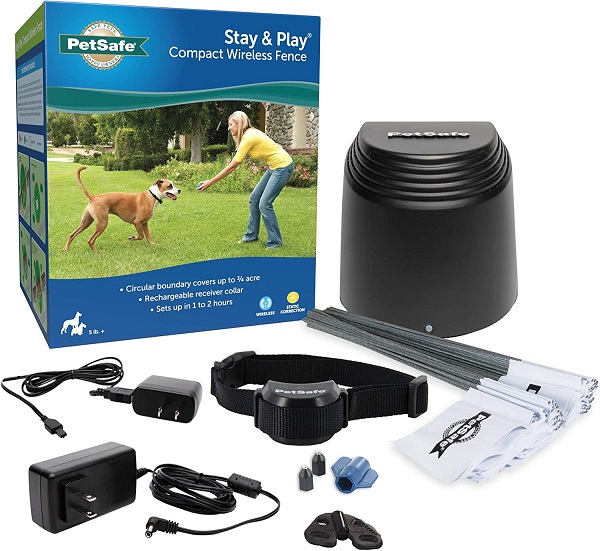 PetSafe Stay + Play Wireless Fence
The price of "PetSafe Stay + Play Wireless Fence" varies, so check the latest price at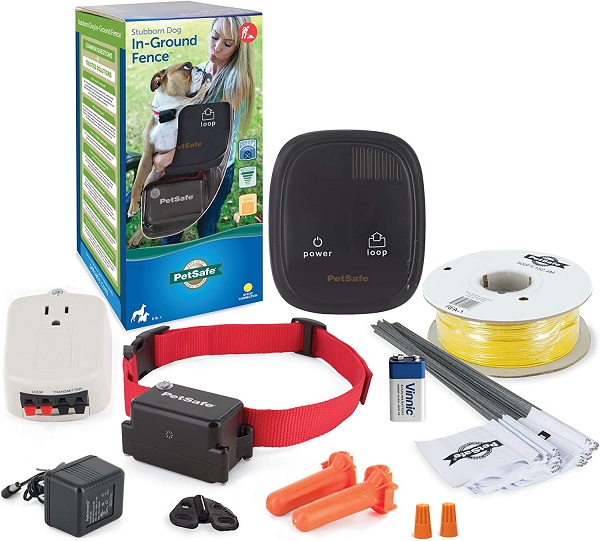 I like that this PetSafe wireless dog fence has a nice variety of feedback options for the dog collar, including vibration.
One of my dogs is very sensitive, and even a light shock is too much. It would cause fear and anxiety. If you have a sensitive dog like mine, a beep and/or vibration may be plenty to keep them inside the fence.
This in-ground dog fence system has thousands of great reviews for its budget price. If you're new to the world of invisible dog fences and don't want to invest too much, such an affordable unit could be a great way to give it a try.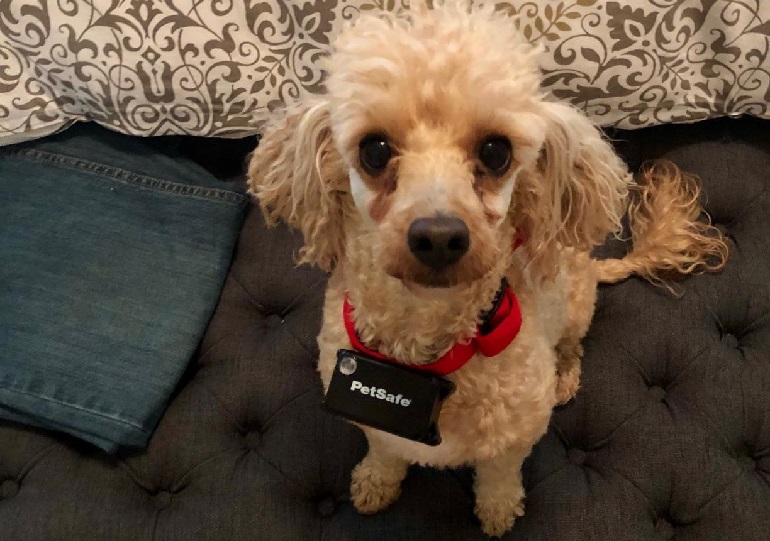 All PetSafe in-ground fence collars will work with this system, so if you already have a collar from a previous system, no need to let it go to waste.
Features
Comes with enough wire to enclose a 1/3 acre yard. With the purchase of additional wire, you can increase this up to 25 acres.
Feedback options include tone, vibration, and 4 levels of static.
The collar fits dogs 8 pounds and up, with neck sizes of 6″ to 28″.
Collar receiver uses a 9-volt battery that lasts 1-3 months.
Pros
Wire only needs to be buried 1-3 inches deep.
You can purchase additional collars to use with this system if you have multiple pups.
PetSafe provides an online fence planner tool to help simplify the planning and installation process.
Cons
This electric fence system does not use a rechargeable battery, so you will have to regularly purchase new 9-volt batteries.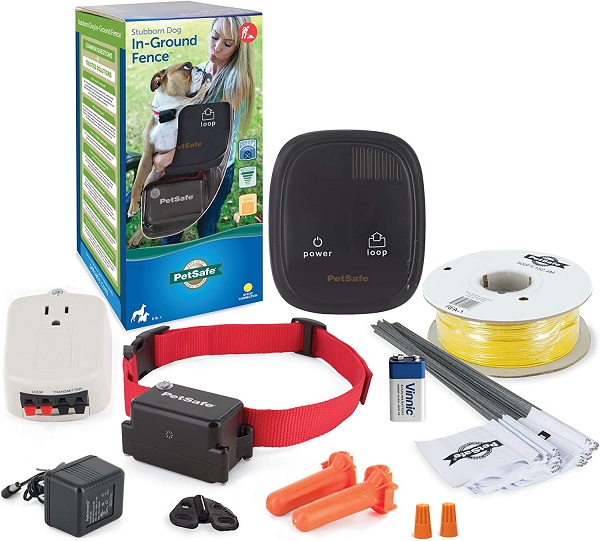 PetSafe Stubborn Dog In-Ground Pet Fence
The price of " PetSafe Stubborn Dog In-Ground Pet Fence " varies, so check the latest price at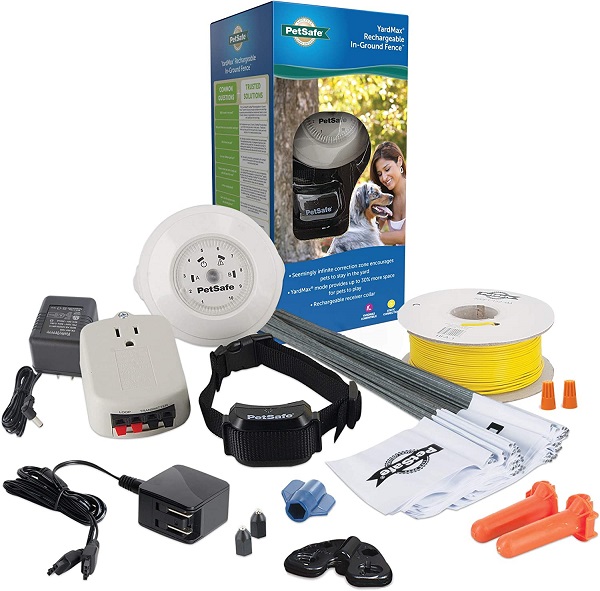 This dog fence is unique in how it gives feedback at the boundary line. Most electric dog fences give feedback when your dog approaches the line and then another kind of feedback when they are at the line. This essentially shrinks the size of your dog's play area.
The PetSafe dog fences don't give feedback until the actual boundary line. Then it gives continuous feedback until your dog is back inside the play area.
This means that your dog isn't punished for returning home, making it less likely that your dog will cross the buried wire and keep running.
If you have a yard larger than the basic kit, you can upgrade to a kit that comes with everything you need for one acre. This dog electric fence is quite affordable and well-reviewed.
Features
This invisible fence system includes enough wire to fence in 1/3 acre with the option of expanding up to 10 acres with the purchase of additional wire.
Dog's collar feedback options include tone only and 5 levels of static correction.
It uses a rechargeable battery and is a waterproof collar.
Pros
The YardMax collar receiver will work with any Pawz Away pet barrier, so you can use it with an indoor kit as well to keep dogs off the furniture or out of certain areas.
If you have a smaller yard, this fence option is nice because your dog doesn't receive any correction until they are right at the boundary line, making the most of your space.
A professional training guide is included to help you train your dog within 2 weeks.
Cons
The collar does not have a vibration mode for correction.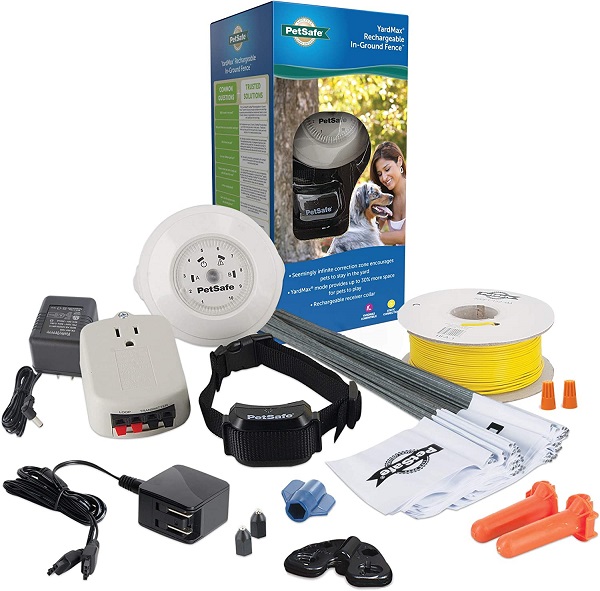 Petsafe YardMax Invisible Dog Fence
The price of "Petsafe YardMax Invisible Dog Fence" varies, so check the latest price at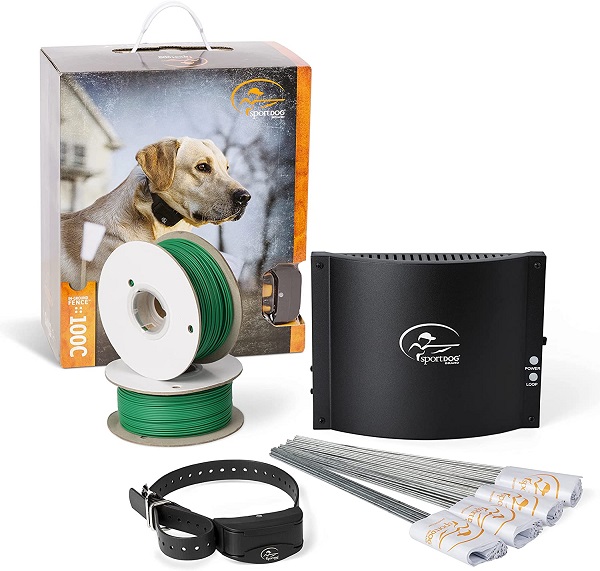 If you're looking for an in-ground fence to keep your dog secure and contained, this one has an amazing amount of good reviews.
Since there are multiple elements that all need to work together (the collar, transmitter, and underground wiring), I worry about malfunctions. So seeing lots of good reviews puts my mind at ease!
It is extremely versatile in how large of a space you can fence in as well as being able to use the system for multiple dogs.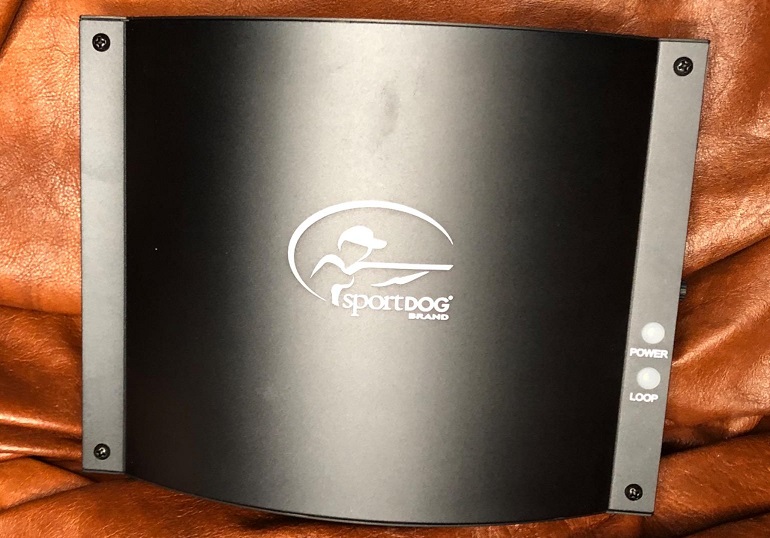 One fabulous feature of this fence is that you can keep your dog out of any ponds, pools, gardens, or other no-go zones that you may have on your property by burying the wire around those that are inside your dog's boundary area.
However, if you do have a body of water that you want your pup to have access to, the collar on this system is completely waterproof — submersible up to 25 feet!
Features
The kit comes with everything you need to contain 1 and 1/3 acres. With the purchase of additional wire, you can contain up to 100 acres.
Rechargeable Li-ion battery charges in 2 hours with 1-2 month long battery life.
You can add an unlimited number of collars to this system.
Waterproof collar fits dogs 8 pounds and larger.
Pros
Collar feedback modes include tone, vibration, and 7 levels of static correction, so you can customize this to your dog's sensitivity.
If you have parts of your yard, like a garden, that you don't want your dog to have access to, you can create a perimeter around those inside of the full yard boundary.
Includes a 2-year manufacturer's warranty.
Cons
Manual labor. Even in a small yard, burying all of that wire is a lot of work.
Since you have to bury the wire, if part of your land is swampy or includes dense vegetation, you may struggle to create the loop that you need.
The wired underground dog fence won't work if you live in a rental and cannot make changes to the property.
There is no ability to travel with these invisible fences.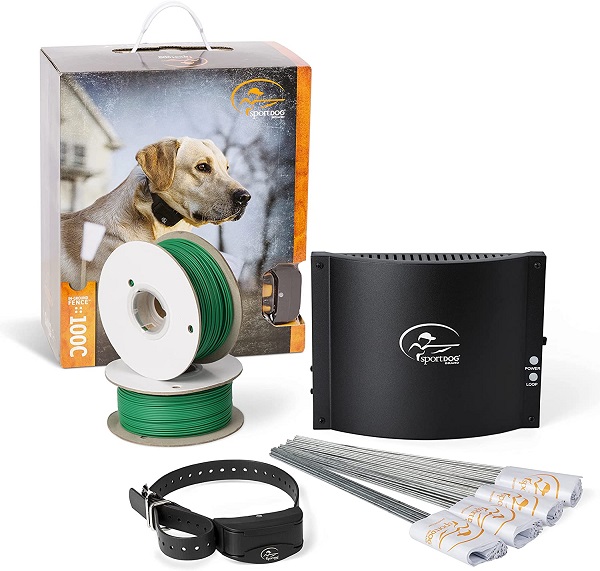 SportDOG In-Ground Invisible Fence System
The price of " SportDOG In-Ground Invisible Fence System For Dogs" varies, so check the latest price at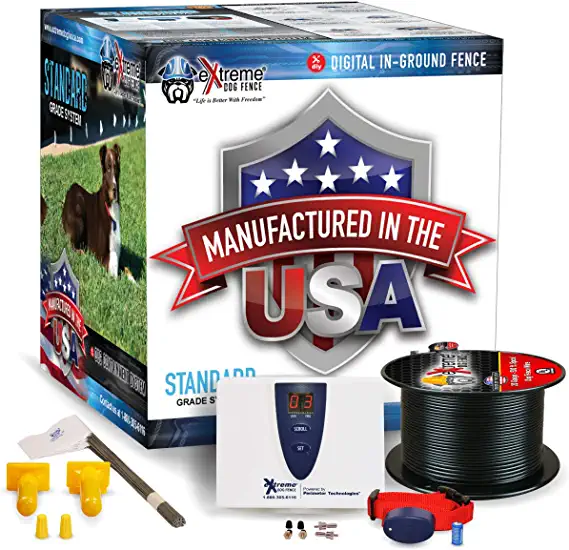 This invisible in-ground Extreme dog fence has some nice options that allow you to purchase exactly what you need. You can choose from how many feet of wire you need, as well as get collars for up to five dogs with your kit.
With many similar fences, you need to buy these add-on items separately, so it's nice that with Extreme Dog Fence, you can get it all in one kit.
One reviewer described their experience with Extreme dog fence company's customer service and said that it was top-notch.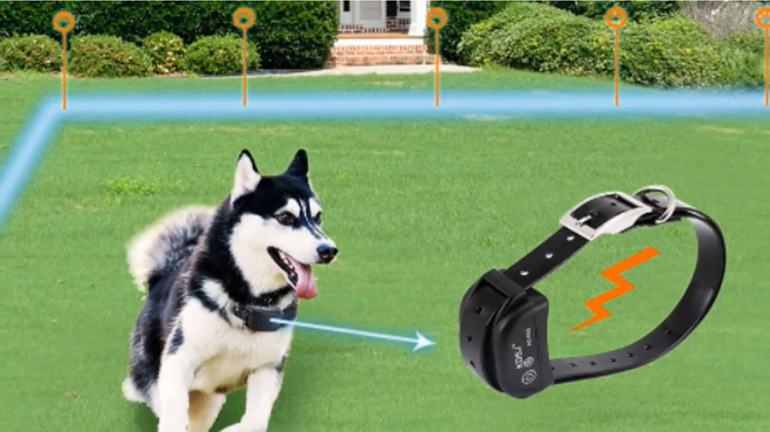 I honestly don't expect much in the way of customer service for a lot of the products I buy online, so this is exciting to hear!
Features
Completely waterproof collar – submersible up to 10 feet.
Collar has 7 static correction levels plus a beep-only setting.
Uses a 6-volt battery in the collar.
Each collar fits dog necks from 10″ to 30″.
Pros
The Extreme Dog Fence System will tell you when the collar battery level gets low so that you know when to replace it.
Includes a 5-year warranty if you register your fence with the company.
You can choose a "Pro Grade" fence kit from Extreme dog fence if you want strong gauge wiring for more durability.
Cons
The collar battery is not rechargeable, so you will need to purchase replacements.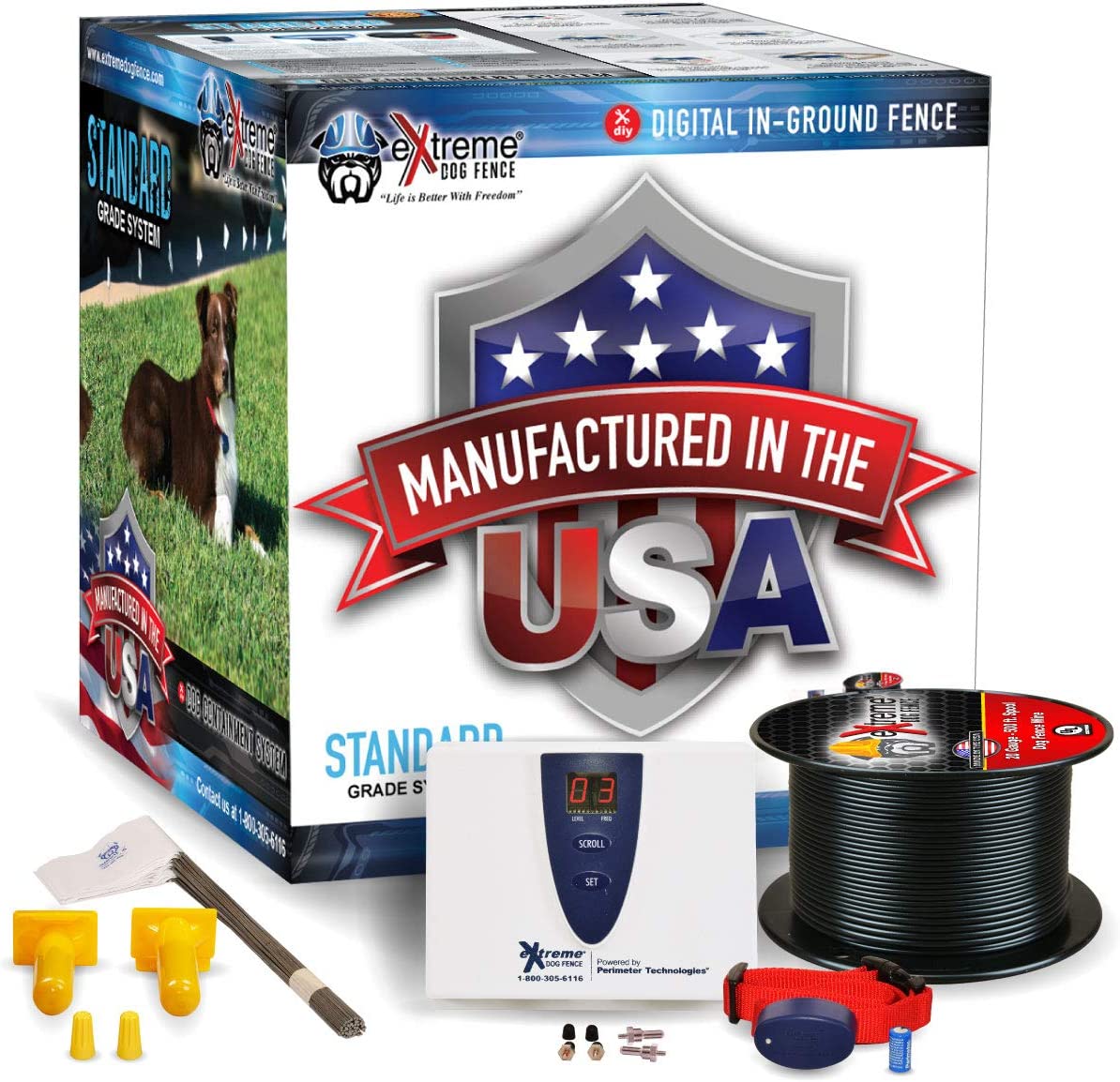 Extreme Dog Fence
The price of "Extreme Dog Fence" varies, so check the latest price at
8. Pet Control Invisible Dog Fence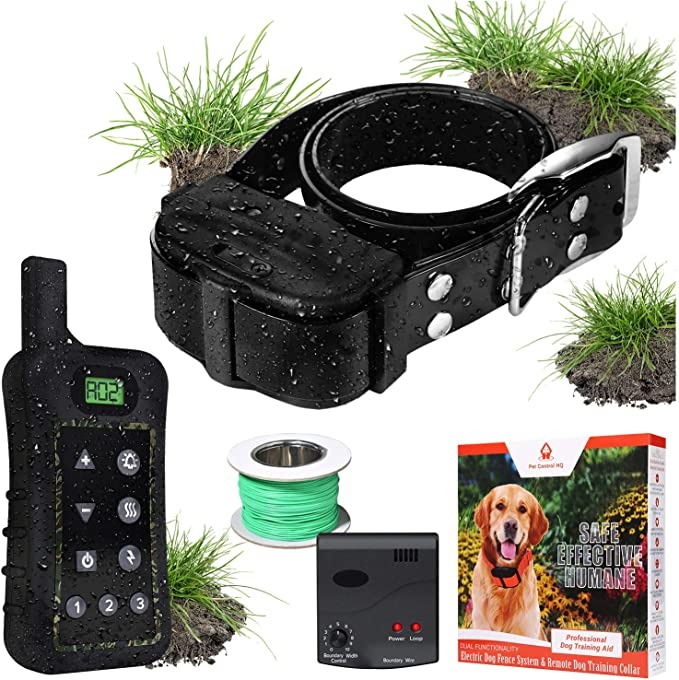 Dog parents who want some sort of training remote might like this dog fence. Along with the in-ground fence, you get a wireless remote that will allow you to send feedback to your dog's collar if they are misbehaving.
The remote will work independently from the fence, so you can bring it on walks with your pups.
I have a friend who has a training remote for her dog, and she uses it to walk her dog off-leash and let him roam free at the park. If he strays too far from her or gets overexcited and tries to jump on someone, she can call him back with the remote.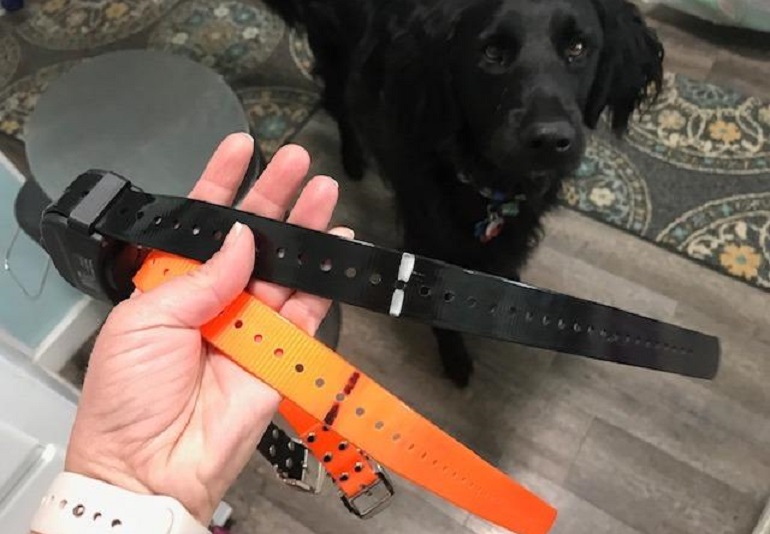 The remote that comes with this system is waterproof and uses a rechargeable battery which is nice. The fewer batteries I have to buy, the better!
Features
Includes 492ft of electric dog fence wire, with the option of purchasing more to fence up to 10 acres.
Feedback options include beep, vibration, and shock.
The waterproof collar uses rechargeable batteries for 3-7 days of battery life. Batteries can recharge in 2-3 hours.
The collars will fit dogs from 11-154 pounds, with neck sizes 8″ to 27″.
Pros
You can train multiple pets (up to 3) with the same remote. There is a button that correlates to each dog's collar, so if one dog is misbehaving, you don't have to shock them all.
The combination of in-ground fence and remote is really nice. You can use it for both containment and training.
Fencing wires can be secured above ground.
Cons
Some reviewers reported that parts of the system broke or didn't work consistently, causing frustration.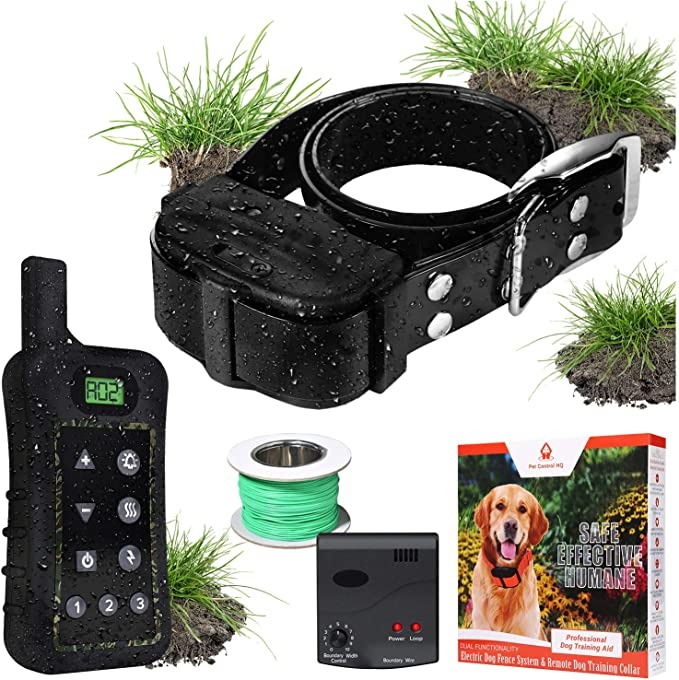 Pet Control Invisible Dog Fence
The price of "Pet Control Invisible Dog Fence" varies, so check the latest price at
Types of Invisible Dog Fences
The best Invisible dog fences have come a long way over the years! There are three basic types that are on this list: wired dog fences, wireless fences, and advanced containment collars (using GPS).
Every system has some kind of option for using it with multiple dogs, so that's not a huge consideration. You just have to purchase more collars from the manufacturer.
If you can swing the cost, I think that the advanced containment collars (like the Halo or SpotOn systems) are absolutely amazing. However, you need to choose the best option for your situation, so I'll explain more about each type.
Wired/Underground Dog Fences
First up, let's talk about a more tradition-styled in-ground dog fence option. This is a wired fence system where you have to bury the wires around your property.
As you compare this kind of pet containment system to wireless or GPS systems, there are a few advantages.
One: the price. These are some of the least expensive ways to keep your dog contained.
Two: the flags. Wired electric fence kits come with flags that you put in the ground after burying the wires. This can be super helpful in the training process for your dog because they have a visual marker for where the boundary line is.
Three: the shape. You have a lot of control over the shape of your invisible fence. (This is also true of advanced containment collars, though those generally cost much more.) These dog fence systems create a circular-shaped boundary radiating out from wherever the transmitter is plugged in.
There are also a few major downsides with these electric dog fences.
This is by far the most labor-intensive system to install. It honestly might even be more work than building physical fencing. Since you have to bury wires, this might not be an option if you are renting your home or moving often.
Another major downside is that with in-ground electric dog fences, your dog is shocked anytime they cross the wires. This means that they will likely be shocked upon returning home if they do leave their fenced-in area. Obviously, this could keep your dog from wanting to return home.
Wireless Dog Fences
This dog fence works by sending out a signal from the transmitter to your dog's collar. As long as your dog stays inside of the invisible fencing, nothing happens.
If your dog goes near the wireless fence boundary and is about to leave the signal area, it will get some kind of feedback through the receiver collar.
The fabulous thing about these invisible fence systems is that the setup basically just requires that you plug in the transmitter. You can set the size of your dog's play area and then get to work training them.
A lot of dog parents use a wireless dog fence system while at various campgrounds since there are no physical fences in place.
On the downside, these wireless dog fences do have their limitations.
The transmitters have a fairly small circular range, so if you have over 3/4 of an acre, you might have a hard time finding wireless dog fences with enough range. They also don't work well with sloped yards because the signal gets cut off from its source.
Also, these fences can only have a round perimeter area, and the transmitter must be plugged in indoors in the center of your circle. These limitations make this invisible dog system a bit less flexible.
Advanced Containment Collars
The newest technology in the best invisible dog fences is advanced containment collars.
Unlike regular dog collars, these modern devices work through GPS technology, like how your cell phone knows your exact locations and can give you directions.
Each advanced containment collar system has its own app where you can digitally create invisible fences. Since the GPS system knows where the boundaries are as well as where your dog is, the collar will give them feedback when they leave their designated zone.
One of the awesome features of these invisible dog fences is that you can create multiple fences within the app for all of the places you take your dog.
If you go camping, you can set a new boundary for your campsite, allowing your pup to explore freely without following their nose too far into trouble.
These invisible fences can also give major peace of mind because if your dog leaves their invisible fence, you can still track them and find them right away. With all of the other kinds of electric dog fences, once your dog has left the dog fence, you have no way of knowing where they are at.
If you have a super stubborn dog that likes to test their boundaries, being able to track them at all times is amazing!
The Halo collar also has dog activity tracking features, so it does a lot more than just create an electric dog fence. If you're worried about your dog getting enough exercise to stay healthy, this is a plus.
The downside of this kind of electric dog fence really comes down to cost. They are more expensive than the other types of fences, and to get all of the features, you do need to pay for a cellular plan through the collar company (they're quite affordable, but still an extra expense).
Factors To Consider While Buying Invisible Dog Fences
As you shop for the best invisible dog fence for your unique situation, you'll want to consider the following:
The size of your dog. Some invisible fence systems use collars that are too big or heavy for smaller dogs.
The size of your yard. Each invisible fence system has a different coverage range. If you're looking to fence in a very small or a very large space, you'll definitely want to pay attention to the product details.
The potential work required to install an electric dog fence. Each invisible fence has a different amount of setup required. The most labor-intensive is definitely any kind of in-ground dog fence where you have to bury wires. If you choose to hire someone to do this for you, it'll add to the overall cost.
If you want the electric dog fence, you can purchase it to serve other purposes. Wireless dog fences are potentially portable for travel or camping with your pup. The Halo collar includes a dog activity tracker for monitoring your fur baby's health.
Note: With every kind of invisible fence, you need to be ready to spend time training your dog. As your dog approaches the fence boundary, the collar will give them some kind of feedback.
Without training, your dog will not understand what this means and could become frustrated or scared.
FAQs
What Is an Invisible Dog Fence and How Does It Work?
An invisible dog fence, sometimes also known as an electronic dog fence, is a wired boundary fence that is buried underground. The invisible fences create an electrically charged boundary that aims to contain dogs inside the safe zone.
The invisible fencing usually comes with a wall-mounted transmitter that communicates with your pet through a special collar and warns with sound-only correction if the dog gets near the boundary wire. The pet parents can customize the warning tone with many static correction levels.
The underground invisible fence system is a better alternative to traditional fencing that can connect multiple yards with additional wire. The underground wire installation may take up extra effort and time but provides you with peace of mind.
When Is an Invisible Dog Fence the Right Choice for You?
An invisible dog fence is not the best choice for everyone. Given that invisible fences don't do anything to keep neighborhood dogs, wild animals, or suspicious people out, I generally prefer a physical fence for the safety of our pups.
However, if you are unable to afford physical fences, invisible fences are a great option. Invisible fencing can also be the right choice if you have a large amount of land and want your doggo to be able to run free.
If you rent your home and are unable to install a permanent fence, this could be another reason why an invisible fence is the right choice for you (as long as it's not an in-ground fence).
Lastly, a portable dog fence option (like the wireless fence system or advanced containment collars) is amazing if you are traveling with your dog.
We take our dogs to visit my sister-in-law, and she does not have a fenced-in yard. I love the idea of being able to program a boundary for my pups so that I don't have to watch them constantly while we are there visiting. It's stressful to keep my eye on my dogs, and I don't get to enjoy the visit quite as much.
How to Train Your Dog With An Invisible Dog Fence?
No invisible fence system will be successful without proper training for your pooch. Read that again because it's super important!
It can take about 2 weeks of short (10-15 minute) regular training sessions for your dog to be ready to enjoy their yard unsupervised.
Never, ever turn on your invisible fencing and let your dog run out into the yard without training. If they are shocked without understanding why this can lead to anxiety and make training them properly in the future more difficult.
Step 1
Set your pup's collar to tone-only. Put your dog on their leash and walk with them around the interior of the new invisible fence boundary.
Each time they go near the fence and hear the tone, gently bring them back inside the containment zone and give them lots of praise. Keep things happy and positive. Bring out some toys or treats and make it fun.
Stay on step 1 for a few days.
Step 2
Now, set the collar to the lowest level of static correction. Again, walk with your dog on a leash around the inside of the electric fence. The goal is that if they receive static correction, they will turn back toward you. Give them lots of praise when this happens.
If they show no signs of noticing the static correction, check that the collar is fitting correctly. You may need to increase the level of static correction if they do not respond to it at all.
Stay on step 2 for a few days.
Step 3
It's time to introduce distractions. Keep your dog on a leash with its collar set to static correction.
Don't actually call for your dog to leave the containment zone. You can throw a ball over the line or have another family member walk over the line.
If your dog does not go towards the distraction, give them lots of praise. If they move towards the distraction, allow them to feel the correction and then bring them back inside the boundary.
You can gradually increase to more tempting distractions, like having a neighbor walk their dog past or going out in the yard when the mail truck drives past.
If your pup seems scared or stressed, go back to steps 1 or 2 and keep working at it.
If you need to increase the intensity of the static, only do this one level at a time.
Step 4
Once your dog is excelling at step 3, you can supervise them in the yard without a leash. Play with them and allow them to explore.
If they go near the boundary or receive feedback from the collar, call them back from the line and play with them inside the area.
Step 5
Success! Once you feel confident that your dog will stay inside the yard even if there is a tempting distraction, you can leave them unsupervised.
Can Dogs Jump Over Invisible Fence?
Unless an invisible fence malfunctions, there is no way for your dog to leave a fence boundary without receiving feedback on their collar (aka tone, vibration, shock — whatever you have it set to).
So no, dogs can't jump over invisible fences without feeling some kind of correction.
But yes, a dog can leave an electric fence boundary.
The effectiveness of an electric fence system comes down to boundary training and dog personality. Some dogs care a whole lot more about chasing down a distraction than they do about momentary pain from the collar.
If you have extremely stubborn dogs, your best solutions are likely going to be either a physical dog fence or a GPS collar so that you can track your dog down if they do leave the boundary you've set.
Can Dog Use an Invisible Fence?
Can you use an invisible fence with a husky? What about a pit bull or a Great Pyrenees? Can you train a Goldendoodle to use an invisible fence? You get the idea. No matter what dog breed you're talking about, the answer is… probably.
There are invisible fence success stories among every single dog breed. The breed is not the important part. It's more about each individual dog's temperament as well as how much effort goes into training them.
Stubborn dogs may be harder to train. While a traditional fence is a more surefire solution, it's not impossible to train your pooch to stay within the boundaries of an electric fence.
Be sure to read through and follow any training materials that come with the fence that you choose. If, after following the instructions, you're still struggling, contact a local dog trainer to come out and assess the situation. They'll be able to give you pointers and help you work with your dog.
How Do You Install an Invisible Dog Fence?
As detailed tips and tricks are available online on how to install an electric dog fence, dog owners prefer to do DIY and save money.
Depending on your yard's shape and size, an invisible dog fence system may hardly take a day to install. Just follow the steps given below to install the underground wire to cordon off the no-go zones:
Determine how much area you need to cover before beginning the process.
Using graph paper, draw your yard and designate the area you want to cover.
Try to round off the corners as right angles tend to confuse the transmitter.
Wires forming the fence boundary must make a continuous loop connect back to the transmitter.
Check the wire above ground before installing them.
Don't forget to wear safety glasses and a mask before the digging process.
Now start burying the wire 1 to 3 inches underground along your previously planned boundary.
Ensure your dog has enough room to play and roam around.
Install the transmitter in a dry protected area like your garage. We recommend grabbing a surge protector to safeguard from lightning.
Don't run the wires across power lines. In case of confusion, check with your local utility authorities.
If you need to cross concrete surfaces, it's recommended to seek professional help to handle the intricacies.
Test the receiver collar to ensure it makes audible alerts near the boundary.
Conclusion
As dog owners, we care for our dogs like any other member of the family. We want them to be safe and also to have an enjoyable amount of freedom and fresh air.
The best wireless dog fence can be a great solution if you travel with your dog or are unable to use a physical fence because of the size of your yard or because you rent. They're also a cost-effective solution compared to a chain link fence or a wooden fence.
I hope this extensive review of the best invisible dog fence available right now will help you make the right decision for your pup!
When you're ready to purchase a new invisible dog system, be sure to schedule in time to train your pup to ensure that it's a positive experience and a success.