Find the perfect harness size for your furry companion with our Dog Harness Size Calculator. Measure your dog accurately to ensure a comfortable and secure fit. Get started now for an enjoyable walking experience!
Dog Harness Size Calculator
General Insight to Dog Harness: What You Need to Know
Dog harnesses are essential accessories designed to provide a safe and comfortable way to walk and control your canine companion. Unlike traditional collars, harnesses distribute pressure evenly across your dog's body, reducing strain on their neck and throat.
With various styles and sizes available, harnesses offer a customizable fit for dogs of all breeds and sizes, ensuring an enjoyable and secure walking experience for both dog owners and their furry friends.
Advantages of using a Harness
Dog harnesses offer several advantages compared to traditional collars, making them a popular choice among dog owners:
They provide better control over your dog's movements, especially for strong pullers or excitable dogs.
They distribute pressure evenly across your dog's chest and shoulders, reducing strain on the dog's neck and throat. This is particularly beneficial for small breeds, dogs with respiratory issues, or those prone to neck injuries.
Some dogs, like a toy poodle, can slip out of collars, but a well-fitted harness minimizes the risk of escape.
It can be used as a training tool to discourage pulling and jumping behaviors.
Breeds with flat faces, like Bulldog and Pug, often have breathing difficulties, and harnesses alleviate pressure on their airways, making walks more comfortable.
Overall, choosing the right harness for your dog enhances their safety, comfort, and walking experience, promoting a positive and enjoyable bond between you and your furry companion.
Disadvantages of Harness
While dog harness offers numerous advantages, there are some potential disadvantages to consider:
Ill-fitting or poorly designed harnesses may cause chafing or rubbing against your dog's skin, leading to discomfort or skin irritation.
Finding the right size and fit can be challenging, especially for dogs with unique body shapes or breeds that have deep chests or narrow shoulders.
In warm weather, certain harness designs can contribute to overheating, as they cover a larger surface area and may restrict airflow.
Harnesses can accumulate dirt, mud, or debris during outdoor activities, necessitating regular cleaning.
Despite these disadvantages, selecting a properly fitted and comfortable harness can mitigate many of these issues.
Expected Outcomes by Using Our Calculator
Our dog harness size calculator will provide you with the following expected outcomes:
Dog category
The dog category refers to the different groups or sizes of dogs that the harness size calculator caters to. It helps categorize dogs based on their weight and girth to ensure the right harness size recommendation from XX-Small to X-Large.
Recommended harness size
This indicates the ideal size harness suggested by the calculator for your dog based on their measurements. The recommended harness size ensures a comfortable and secure fit for your furry companion during walks or outdoor activities.
Measurements
You'll get the measurements that refer to the estimated data you need to determine the correct harness sizes for your dog. These measurements can help you find the perfect size harness for your pup.
A General Breed-based Chart for Dog Harness Size
A general breed-based chart for dog harness size provides recommended harness sizes based on average measurements for specific dog breeds. It can be helpful as a starting point when you're unsure about your dog's size.
By referencing the chart, you can get an idea of which size might be suitable for your dog's breed and then fine-tune the fit by measuring your dog's actual girth.
While it's not a one-size-fits-all solution, it can save time and provide a good initial estimate to narrow down the options when selecting a harness for your canine companion.
Size Chart for Dog Harness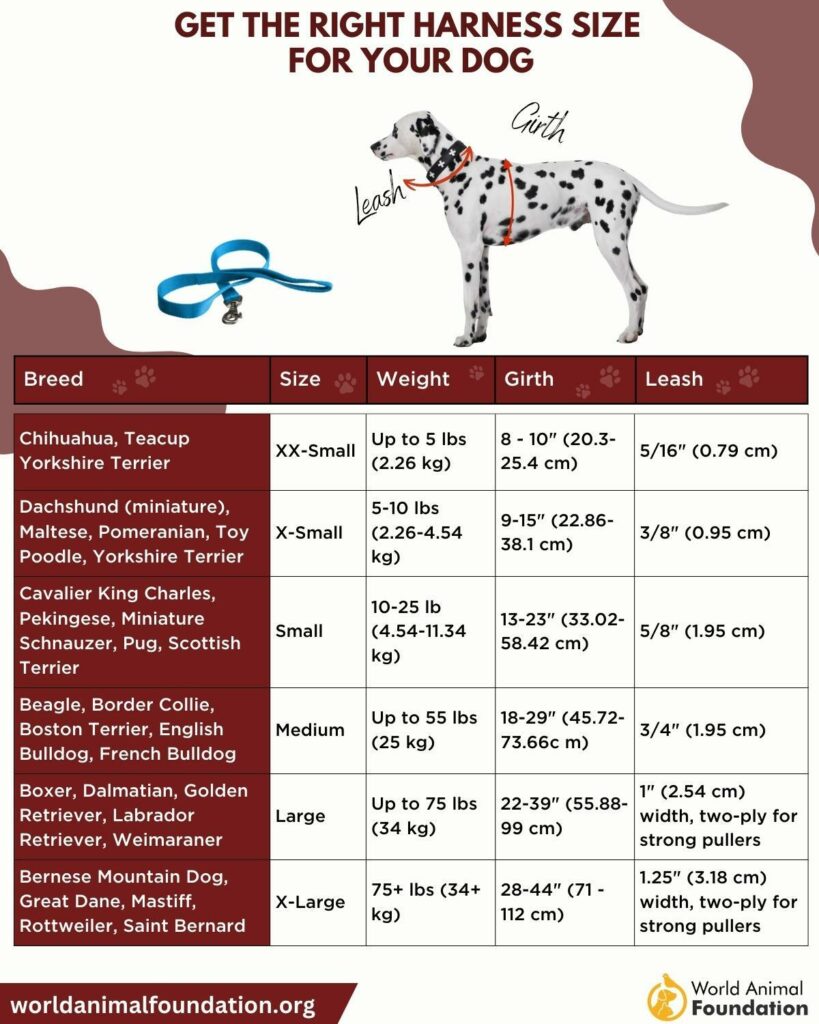 Your dog's harness size is determined by the dog's girth and weight. Refer to the dog harness size chart by breed below for accurate sizing:
Harness sizes can vary between different manufacturers, so it's essential to check specific sizing charts for each brand. However, here are the general harness size recommendations based on the average weight and girth measurements for each breed:
Golden Retriever: Large
Yorkshire Terrier: X-Small or Small
Scottish Terrier: Small or Medium
Bernese Mountain Dog: Large or X-Large
French Bulldog: Small or Medium
Great Dane: X-Large or XXL
Teacup Yorkshire Terrier: XX-Small or X-Small
Labrador Retriever: Large
Cavalier King Charles: Small or Medium
Boston Terrier: Small or Medium
Miniature Schnauzer: Small or Medium
Border Collie: Medium or Large
English Bulldog: Large or X-Large
Dachshund Miniature: X-Small or Small
Rottweiler: Large or X-Large
Beagle: Small or Medium
Chihuahua: XX-Small or X-Small
Mastiff: X-Large or XX-Large
Maltese: X-Small or Small
Dalmatian: Large or X-Large
Boxer: Medium or Large
Always measure your dog's girth and refer to the specific harness manufacturer's size chart to ensure the best fit for your furry friend.
Steps to Measure a Dog for Harness
Measuring your dog for a harness may seem straightforward, but it requires careful consideration. To find the right size dog harness, it's crucial to know both your dog's weight and girth measurements.
Harnesses involve measuring your dog's girth across the chest for an accurate and comfortable fit. Here's how to do that:
Gather a measuring tape or a long string.
To measure your dog's girth, start from the area around their shoulders and wrap the measuring tape or string around the widest part of their chest, typically just behind their front legs. This will give you an accurate measurement of your dog's girth.
If using a string, mark the length that encircles your dog's girth, then use any measuring tool, like a ruler, to find out the length.
Now you need to weigh your dog. Weighing your dog can be done using various methods depending on your dog's size and behavior:
For a small dog or a calm and cooperative larger dog, a pet scale is the most accurate and straightforward method. Place your dog gently on the scale, ensuring all four paws are on the platform, and record the weight.
For medium-sized dogs, weigh yourself first, then pick up your dog and step on the scale together. Subtract your weight from the combined weight to get your dog's weight.
Your veterinarian's office is equipped with professional scales, making it an excellent option if you're unsure about your dog's weight or if your dog is anxious around scales.
FAQs
Is a harness safer than a collar?
Yes, when it comes to collar vs. harness, a harness is generally considered safer than a collar for most dogs. It provides better control, reduces strain on the neck, and minimizes the risk of choking or injury during walks.
What should be the harness size for a medium dog?
The harness sizes for a medium dog can vary depending on the specific measurements of the dog's girth and weight. Generally, medium-sized dogs may require harness sizes ranging from Small to Medium, but it's essential to measure your dog's girth accurately and refer to the specific manufacturer's size chart to determine the best fit for your medium-sized canine.
How to calculate the harness size for my dog?
To calculate your dog's harness sizes, measure their girth or chest circumference using a measuring tape or string, then refer to the manufacturer's size chart for the best fit.
Conclusion
Measuring correctly for a dog harness is important to ensure a comfortable and secure fit, preventing any discomfort or potential injuries during walks or outdoor activities.
Use our dog harness size calculator to get you started on your journey to finding the best fit for your dogs and puppies, whether you own a miniature, collie, or French bulldog!