We all want the best for our fur babies, be it food, toys, or equipment. But with so many premium dog products available, sometimes it's difficult to know what to go for.
There's no question that a smart collar has a terrific impact on your dog's health and well-being. It's the next-generation collar that gives them more freedom to run about safely while you enjoy peace of mind knowing that you can track them whenever you want – no matter where they are or what they're doing.
Besides location tracking, these collars also include activity-tracking features to make sure your dog gets enough exercise and stays healthy.
Now, if you've spent any time online looking up the best wireless dog fences, you'll likely have come across two names more than any other: Halo and SpotOn.
Halo and SpotOn collars are some of the best dog collars available. While they both have excellent features with similar wireless fence systems, they do have some key differences.
So if you're wondering whether the Halo and SpotOn dog collars are worth the price and how they compare, here are all the details you need to decide on the best dog collar for your pup.
Features Comparison: Halo Collar vs. SpotOn Collar
What the Halo and SpotOn dog collars have in common is that they're both more than just an invisible dog fence. They're also activity and GPS trackers that ensure your dog never gets lost or behind in exercise.
All it takes is a glance at a Halo collar review or a SpotOn collar review to see that these collars are loved by hundreds of dog owners. But as similar as they are, one is much more technologically advanced with better features.
Halo Collar Features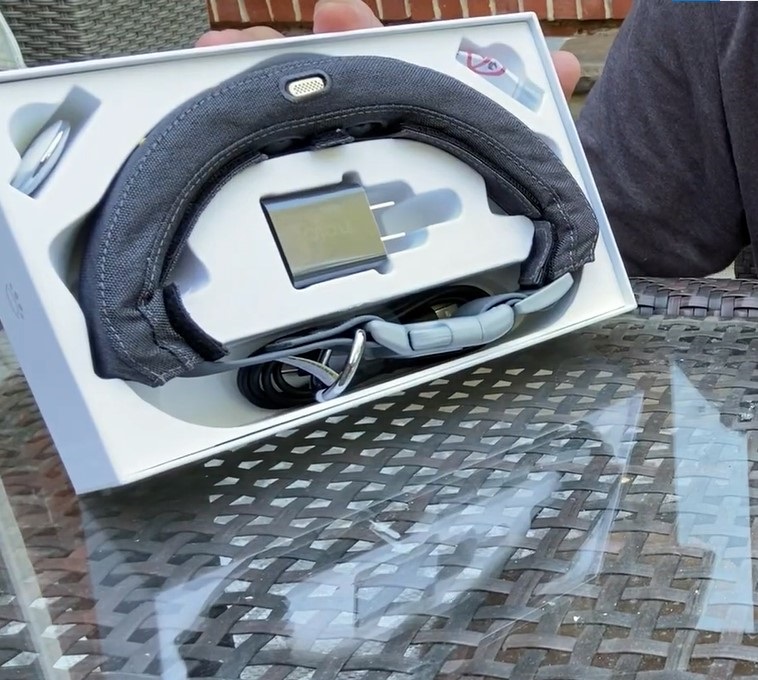 The Halo 2+ has an impressive range of sizes, fitting dogs with neck sizes between 11" all the way up to 30". The collar itself is also waterproof and has a battery that lasts up to 20 hours or more.
Like the SpotOn fence, the Halo dog collar is a wireless electric fence, meaning you don't need to dig up your backyard to manually install it.
Instead, you train your dog to respond to the corrections they experience when they get too close to the virtual fence boundaries.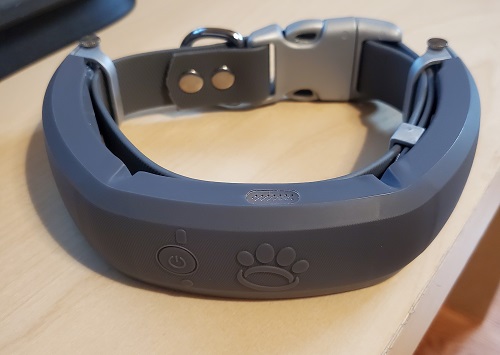 The Halo collar includes customizable corrections. It offers you the choice between audible, vibration, and static corrections with 15 different levels of strength. We recommend starting with a lower one to make sure it's not too strong for your pup.
Halo is very portable too, allowing you to set up 20 virtual fences wherever you like: home, the beach, the park, or a friend's house – there's lots of flexibility! Just keep in mind that you can't overlap any of these fences, which does restrict it slightly.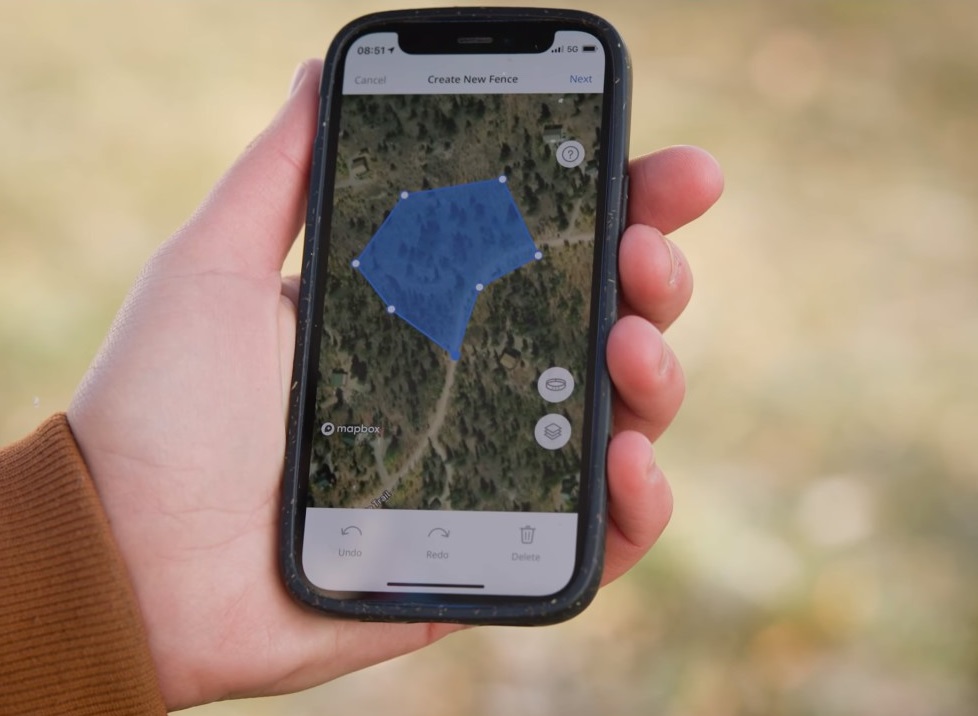 Like many smart dog collars, Halo tracks your dog's activity and shows you stats in the app. This allows you to make sure your dog is getting enough exercise and is healthy.
But the main highlight of Halo is its location-tracking feature. Halo uses GPS/GNSS to connect to multiple satellites for reliable accuracy.
In case your pup does manage to run off, the satellites beam the dog's location straight to the app every 15 seconds so you can track them down.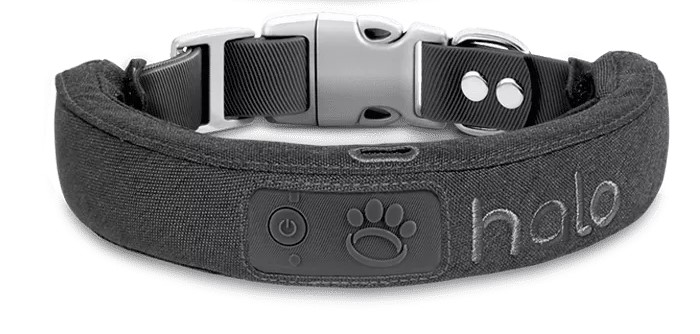 Halo Collar
The Price of "Halo Collar" varies, so check the latest price at
SpotOn Collar Features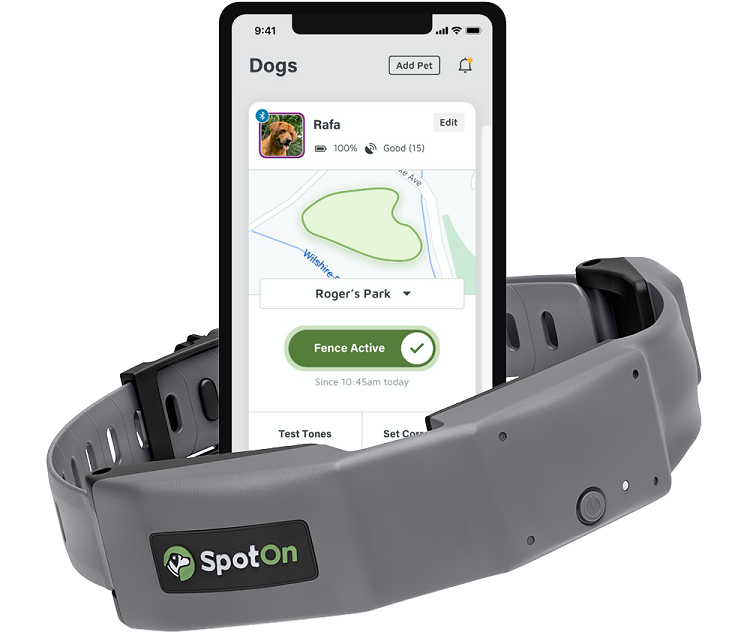 With the recent addition of a small collar, the SpotOn virtual fence now has sizes to fit dogs with neck sizes between 10" and 26", making it more suitable for smaller dogs.
Like Halo, the SpotOn fence is also waterproof and has a rechargeable battery. However, SpotOn's battery life is up to 22 hours in containment mode and 14 hours with tracking.
But the weaker battery is understandable when you take into consideration the advanced technology the collar's packing.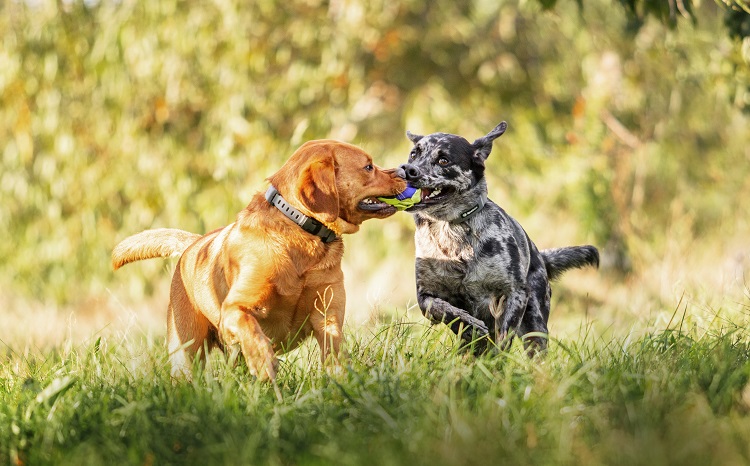 The SpotOn can create up to 20 unique fence boundaries, with 1,500 fence markers, that can all overlap each other. Simply walk the boundary lines, and the app does it all for you.
This can encompass an enormous area and allows for great flexibility when it comes to setting up boundaries.
Just be aware that it does require a minimum space of half an acre. So if your backyard is on the small side, it might not work for you.
When it comes to encouraging your pup to stay within the boundaries, the SpotOn virtual fence offers you a huge range of customization with 30 levels of audible, vibration, and static corrections.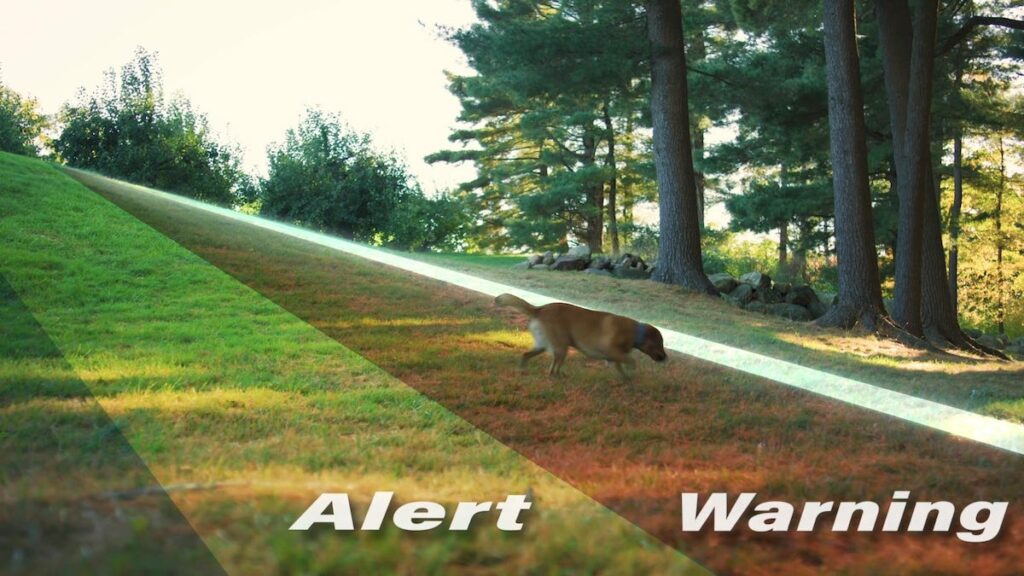 If your dog does escape, SpotOn's patented True Location™ technology kicks in. Connecting to GPS, Galileo, GLONASS, and Beidou navigation systems, it's constantly connected to up to 30 satellites.
The dedicated GPS antenna makes the location accurate within 10 feet. And with location updates every 6 seconds, it should be fast and easy to reunite with your pup.
On the off chance you live in a wooded area, you don't need to worry about inconsistent network coverage. SpotOn system boasts a 'forest mode' for effective tracking no matter the terrain.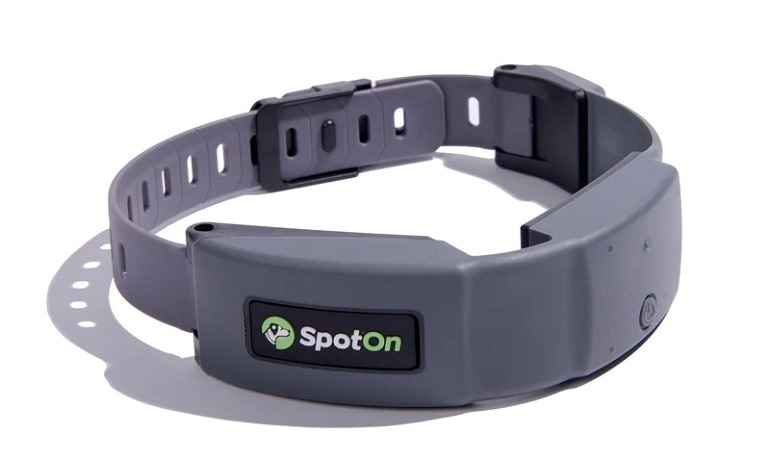 SpotOn Collar
The Price"SpotOn Collar" varies so check the latest price at
Features Comparison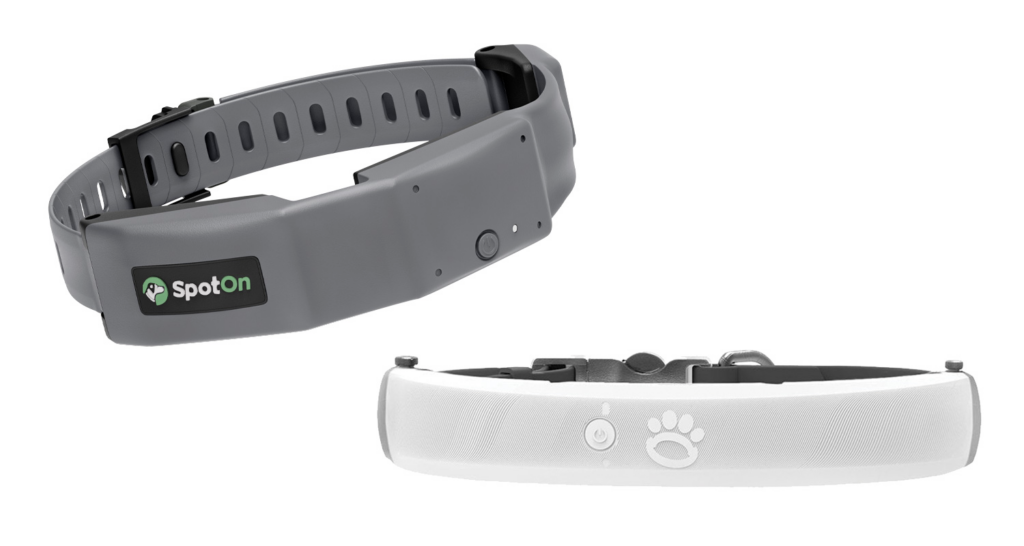 If you focus on features alone, the SpotOn virtual fence is the standout winner against the Halo.
On the one hand, Halo is better when it comes to size and battery. Halo has a superior range of sizes, fitting necks up to 30", making it particularly suitable for large dogs.
Additionally, its impressive battery can be expected to last up to 20 hours. In comparison, the SpotOn virtual fence only fits neck sizes up to 26" and has a battery life of up to 14-22 hours.
SpotOn collar's short recharge time makes it an ideal solution for adventure lovers and travelers, giving it an edge over Halo's long battery life.
Moreover, the SpotOn GPS fence is superior when it comes to correction and GPS location services. Whereas Halo offers 15 levels of audible, vibration, and static corrections, the SpotOn collar offers 30 levels, allowing you to find the sweet spot your dog responds to.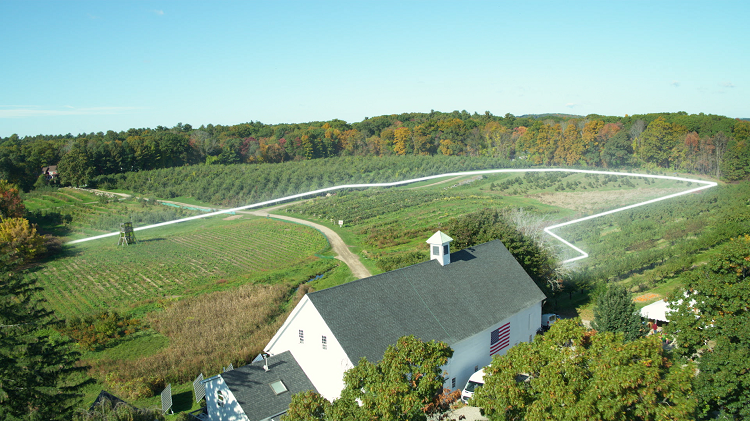 In terms of GPS signal capability, both collars cover an extremely wide area. However, the SpotOn fence is more impressive in offering a staggering 1,500 virtual fence posts, even allowing them to overlap.
SpotOn's tracking is more advanced than Halo's too, with strategically placed GPS antenna using four satellite networks as opposed to two for more GPS accuracy and sending location updates every six seconds instead of fifteen.
If your dog can be a mischievous escape artist, the SpotOn GPS fence is by far a more reliable option if you're at all worried about losing them.
Performance Comparison
When it comes to technology and performance, nothing's perfect, and it's the same with the Halo and SpotOn collars. Both collars have faced complaints concerning the GPS satellite fencing technology, citing inaccurate boundaries and lost GPS signals.
But each collar seems to face its own specific problems too. Some found SpotOn's system difficult to activate, and its app crashed frequently. While SpotOn's previous generation app may have had some negative reviews, the new app has been receiving great feedback, with a current rating of 4.8 on the iOS app store.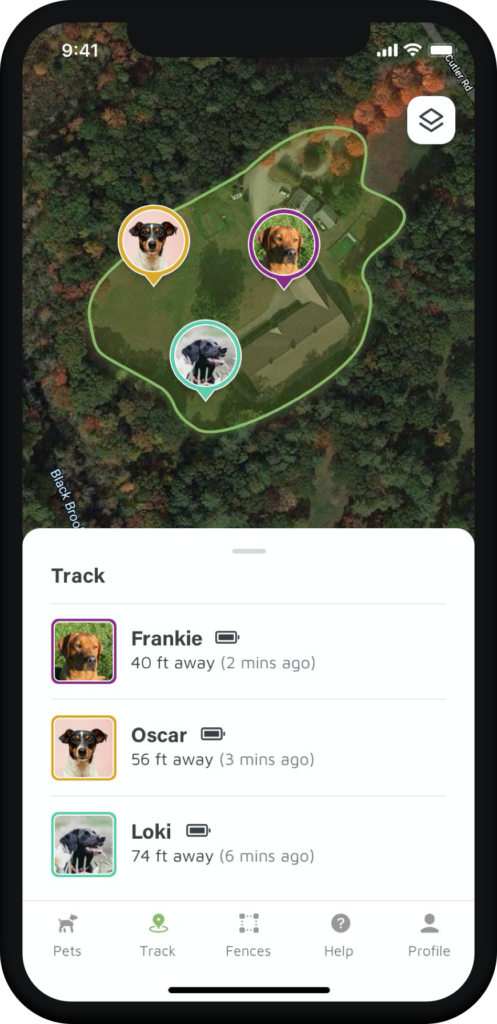 On the other hand, Halo's app has plenty of excellent reviews as well, but Halo can struggle with a lag in alerts and even false-positive alerts.
However, Halo has a proven track record of listening to its customer feedback. Paying attention to complaints, they launched the improved Halo 2 in late 2021, followed by the Halo 2+ in 2022, featuring even more upgrades, including enhanced GPS and location accuracy with better cellular, WiFi, and Bluetooth connections.
Since they listen to customers and make suggested improvements for them, Halo collars have the edge when it comes to performance.
Price Comparison
Smart dog collars aren't cheap, but when it comes to SpotOn and Halo, there is a clear winner with regard to price.
While the SpotOn GPS fence does offer more features compared to Halo, it comes at a higher price point, which may not be suitable for everyone, especially when taking into account the additional cost of monthly subscription plans.
The Halo 2+ collar costs $699, coming with a 60-day satisfaction guarantee and a one-year warranty. However, you can often find discounts on their website – sometimes down to $649! They also include 30 days of their gold subscription plan for free, after which you need to pick a package to continue.
The basic subscription costs $4.49 per month, the silver $9.99, and the gold $29.99. Although the basic plan gives you everything you need, including unlimited cellular data, Halo's silver monthly plan gives you advanced tracking, and gold gives you a premium training program.
The SpotOn collar costs an eye-watering $1,295, coming with an extended 90-day money-back guarantee and a one-year warranty. You can also get an additional discount of $100 when you use the code WAF at checkout.

While it offers a 90-day free trial of its subscription plan, this is only available if you opt for a one-year plan (costing $7.95 per month) or the two-year SpotOn's cheapest plan option (costing $5.95 per month). Alternatively, there is a monthly plan, costing $9.95 per month.
When it comes to price, Halo wins over the SpotOn collar every time, thanks to its more affordable technology and Halo subscription plan prices.
Pros and Cons
While both the SpotOn and Halo collars are excellent pieces of equipment, they each come with their own fair share of positives and negatives. Before committing to one or the other, it's important to know where they excel and where they fall short.
Halo Dog Collar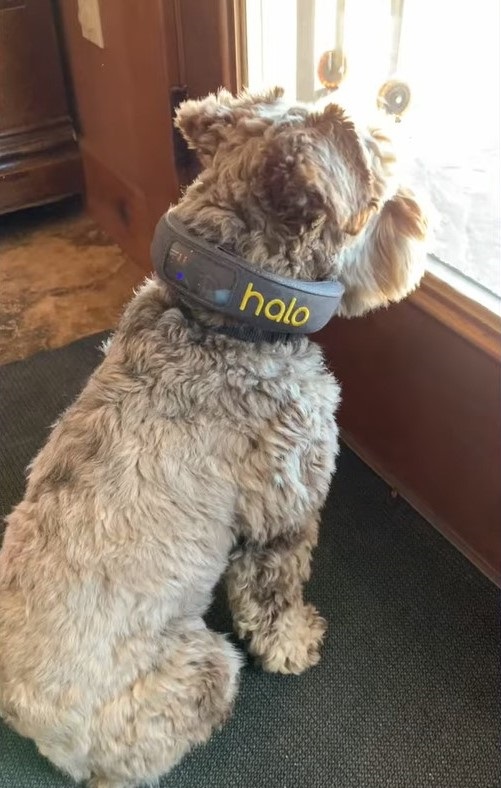 Pros
More affordable than the SpotOn fence
Easy to set up
Great for tracking dog's activity
Excellent GPS tracking
Halo tech support video chat sessions available via Zoom
Occasionally available at a discounted price
Comes with training sessions by expert Cesar Millan
Waterproof
Better size ranges
Up to 20 hours of battery life
15 levels of correction
Cons
Only 20 virtual fences
Cannot create overlapping fences
Premium training content is costly and only available with the gold plan
Needs frequent recharging
SpotOn Collar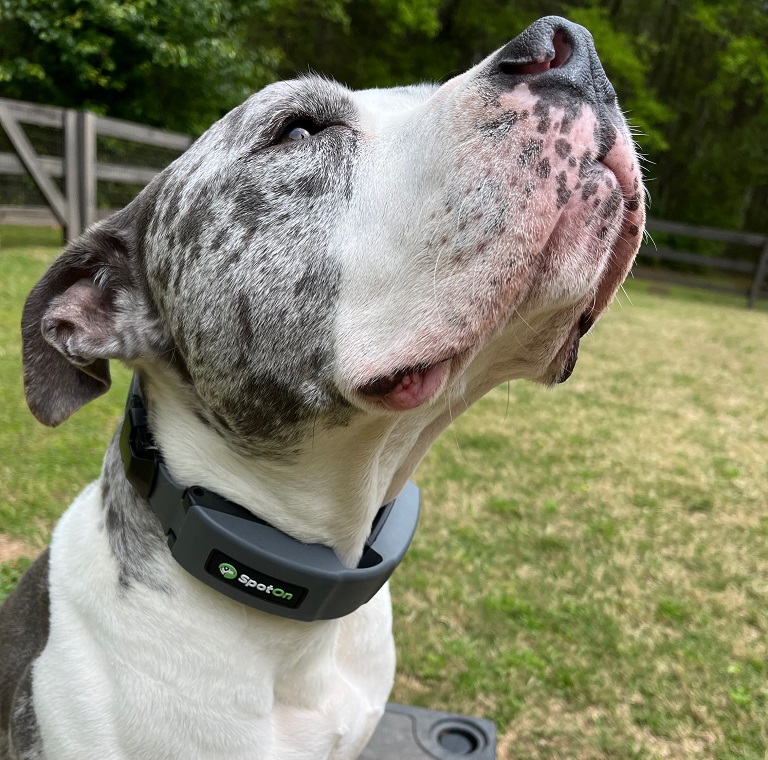 Pros
Easy to use
Dog-friendly design
Advanced technology
Incredibly accurate GPS tracking
Waterproof
Up to 1,500 fence posts
Free training program included
30 levels of correction
Cons
More expensive than Halo
Subscription packages are less flexible.
Needs frequent recharging
Each area needs at least ½ acre of space, requiring a large property
Overall Winner
When deciding the winner between these two GPS-enabled systems, Spot On vs. Halo dog fence, it largely depends on what you're after.
In terms of technology and features, the SpotOn dog collar is clearly the best GPS tracker. The sheer number of fence posts available and the incredible patented tracking technology put it head and shoulders above Halo.
However, if you don't have the money to spare for a SpotOn collar, the Halo 2+ is still an excellent choice. It does the same job as the SpotOn well enough but is considerably more affordable.
Putting together features, performance, and price, we'd say the overall winner is the Halo 2+ collar. But if you want to splash out the cash for a premium dog collar and have a big enough property, the SpotOn collar is still an excellent choice your dog will love.