The demand for wireless dog fencing is increasing day by day, and so is the number of relevant options in the market. Every manufacturer is trying to outperform others by making their products more advanced, unique, and yet affordable.
However, despite having such hard-to-beat competitors, SpotOn doesn't seem to compromise on the price point and offers its GPS fences at a high cost. Not to mention, some other alternatives, like Fi smart collar and Halo collar, are available at much lesser rates.
So the question arises here, why is this SpotOn dog collar so expensive?
No doubt, the SpotOn collar offers plenty of exciting features like multiple fence setups and GPS tracking to track your dog, but the conundrum still exists; is it really worth it?
To get a satisfying answer, I went through numerous SpotOn virtual fence reviews and decided to give this collar a shot. Today, I'm going to pen down my experience with this super famous GPS collar fence.
Keep reading the article to know whether it's worth investing in or just another overrated gimmick!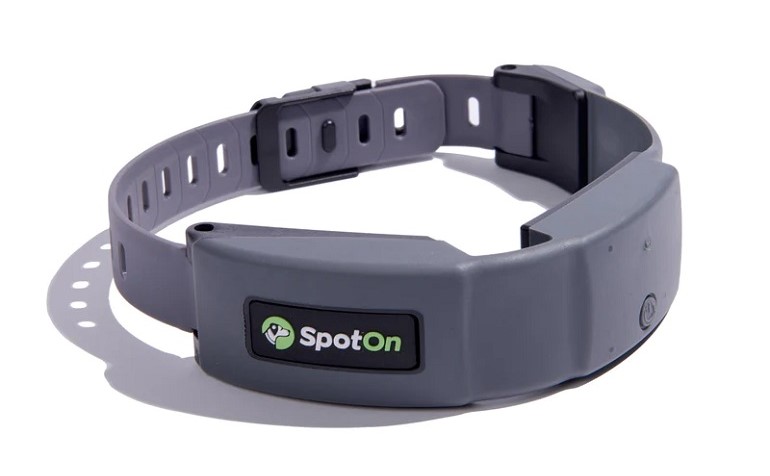 SpotOn Dog Collar
The price of "Spot on Dog Collar" varies, so check the latest price at
About the Brand
Do you know that it was actually the SpotOn brand that manufactured the very first GPS dog fence in the world? Yeah, it's true! The company owns the title of the world's very first wireless fence manufacturer.
The company was created by a group of highly experienced professionals who spent most of their lives making high-quality pet products for military dogs.
Considering the sensitivity of their job, they were bound to develop products that were not only advanced and innovative but also discarded the odds of collar failure or need for high upkeep and professional installation process.
Given these credentials, there's no doubt how creative and innovative SpotOn collar manufacturers are.
With its impressive product lineup, the company has changed the lives of so many dog lovers by eliminating the hassle of buying, installing, and replacing extra wires, to ensure the containment and safety of their super-active dogs.
What Is Spoton Virtual Fence and How Does It Work?
So by now, you've read about the remarkable reputation of the company in the market!
Now, it's time to dive a bit deeper and review its most popular product; SpotOn virtual fence. What it is, how does it work, its associated pros and cons, and how is it better than the rest? So, shall we begin?
SpotOn GPS Fence collar
Virtual Smart Fence
This virtual fence system consists of two components; your smartphone and a SpotOn GPS collar – No need to dig any wire underground! The accessories that are provided in the box are:
Adjustable SpotOn GPS collar
4 contact points
A USB cable
A charging base
Wall charger
Contact point tester
To activate these virtual dog fences, all you have to do is turn on the SpotOn collar and the corresponding application on your mobile phone.
After this, carry both the mobile and collar in your hands and start walking; around your front or back yard, swimming pool, or any other place where you want to either contain your pet or want them off limits.
Once you're done making a round around your perimeter, the designated area will be automatically saved and programmed in the app. After pressing the activate button, the marked perimeter will start acting as an invisible fence boundary around your property.
Now, make your dog wear the SpotOn collar. Whenever your dog comes near the premises, they'll be corrected first by a beep, then with a louder beep, and lastly, with a painless static correction shock.
So that's how a SpotOn fence works to keep your pup safe. To enhance the quality of the overall user experience, this virtual fence is supported by numerous exciting features discussed below.
Area Covered
The best part of this fence system is that it doesn't have any maximum limit. However, for the best results and to let your dog wander freely, make sure you build a fence in a minimum area of about 1/2 acre.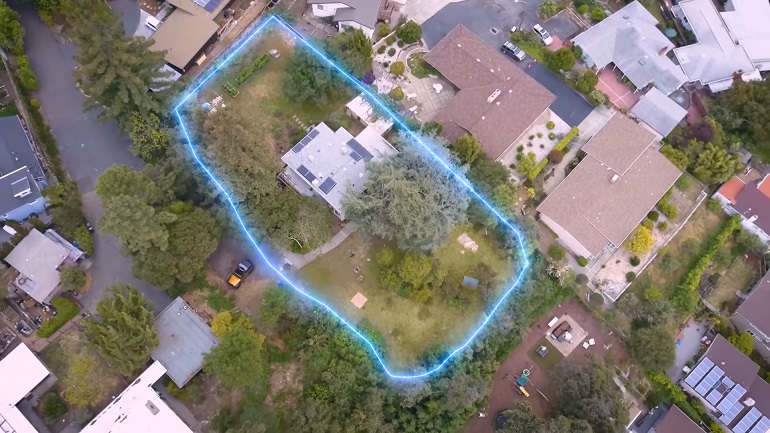 Likewise, the minimum width of a fence should be 80 feet. If you are building a fence around your house, keep a distance of about 15 feet between the fence borderline and the road.
Portability
Since the designated perimeter is not bounded by any underground wire system and depends solely on a smartphone app and collar, you can mark several fences, in different areas (around your entire property, just the front or just the back side, beach, camping site, your friend's yard, or any place where you bring your dog frequently).
According to the manufacturer, you can create multiple fences (around 1000 fences), in different configurations and sizes, in different locations.
Most importantly, you don't have to pay even a single extra penny to activate these multiple setups.
Training
To deal with naughty fur balls and suppress their escape habits, this collar comes with three different training modes; Beep, vibration, and static correction. Not only this, but each mode of this SpotOn GPS fence system comes with 30 different intensity levels.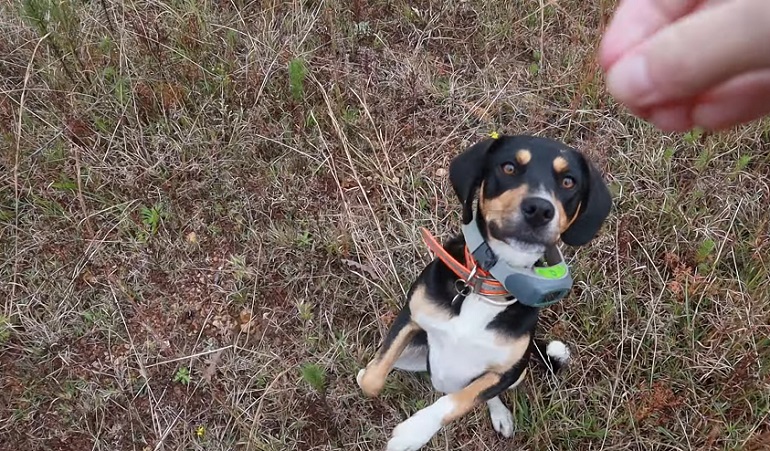 Using the setup feature, you can decide which mode, at which intensity, should be implemented for your dog's training. And since the SpotOn dog collar and fencing system is engineered superbly, it ensures less collar failure and zero accidental corrections.
The most interesting part here is that the entire virtual fence system is developed not only to punish your pup for violating the boundaries but also to encourage his good-boy attitude. How? Let us explain!
If your canine is too rebellious to take corrections seriously and crosses the boundary line anyway, the dog fence will let him return within the perimeter without generating any buzz.
Due to this, your dog will get the impression that he's always welcome back into the boundary, but his escape artist personality needs to change.
Cool Collar
Besides the advanced tracking system and easy installation, the SpotOn fence itself comes with so many cool features and everything a dog owner needs to keep his pet safe.
For example, the SpotOn collar digital display shows your pooch's name and his owner's address or phone number.
So, if, somehow, your dog gets lost while playing in a park or woods and someone finds it, he could contact you.
Don't worry about the collar's durability and reliability since its manufacturer is the same person who developed the night vision goggles for the military.
An LED status indicator is also there, beside the power button. It shows the charging and working status of the collar.
Plus, the GPS collar is waterproof (IP67 waterproof rating), which makes it keep functioning in all weather conditions. A noise-free antenna is also there, at the back side of this collar which catches the GPS signals more efficiently, during rough conditions.
GPS Tracking
The most highlighted feature of the SpotOn dog fence is its tracking ability. For this, the company extracts data from four satellite navigation systems, including GLONASS, GPS, and Galileo.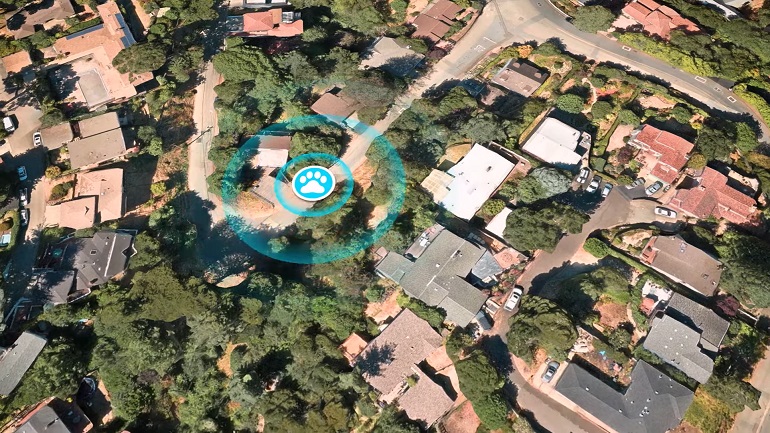 In this way, the location details and your dog's location shown on your tracking app display are extremely accurate.
Another thing to mention here is that these satellite systems are used by the US military, which ensures error-free real-time tracking.
Not only this, but recently, the company has launched the forest mode, which helps the collar to catch the stronger GPS signal even through dense clouds, trees, thick bushes, and brushes!
Tracking Your Dog's Movements
To ensure utmost accuracy and reduce the GPS drift, each collar comes with internal sensors, These sensors track the movements, speed, and acceleration of your dog along with his location.
With this information, you can get to know what your dog is doing, whether he is moving, playing, barking, or sleeping.
In this way, you'll have better control over your pooch, even when you are not around to supervise his movements.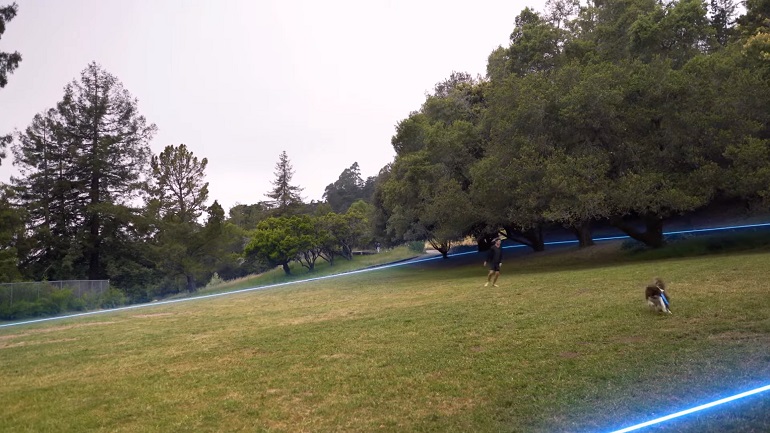 Besides, this true location technology enables you to track whether your dog has reached the commanded destination or not.
Cellular Service
Although the users are allowed to make at least 1000 different perimeters, in different locations, with one set of SpotOn GPS collar, the company also offers a cellular plan.
When subscribed to this cellular service, you'll get a notification about your dog's exact location and movement after every few minutes. Since this service relies on a cellular connection, the notifications could be delayed due to poor cell coverage.
However, besides this feature, all the other functions are free and allowed to use, without receiving a cellular signal in your smartphone – even establishing the perimeter.
Battery Life
SpotOn system can work for 18 hours to keep your dog inside the virtual fence. This longer battery life means you can allow your high-spirited furry friend to enjoy the camping adventure fully, without any safety risks.
Besides providing 18 hours of error-free containment, the collar enables you to track your dog for 12 hours with a cellular plan. Right after buying the collar, let the battery charge for 24 hours. However, after this, only one hour will be sufficient to recharge the battery to 100%.
Although the Halo collar offers long battery life, the recharge time of the SpotOn collar is shorter, making it a perfect go-to solution for adventure lovers and travelers.
Hassle-free Installation
Unlike the more traditional invisible fence, installing SpotOn wireless dog fence is super easy. Just carry the phone and collar, mark the boundary, and press the activate button – no need to call for help, and no need for costly maintenance.
Another plus point is that the corresponding mobile application is compatible with both Android and iOS and tracks your dog until your phone is connected to WiFi or GPS – see, no additional hidden expenses for tools or labor!
One-year Warranty
The warranty provided by the manufacturers depicts their confidence in this product. And that's the very reason why the manufacturer has provided a one-year money-back warranty if anything unexpected happens to the device's functioning and performance.
Not only this but you are also offered to decide, within the first forty-five days, whether you want to permanently opt for this virtual fencing option or not.
In case you don't find the product satisfying, you can return it and get your complete refund.
Spoton Gps Fence Is Suitable for What Kind of Dogs?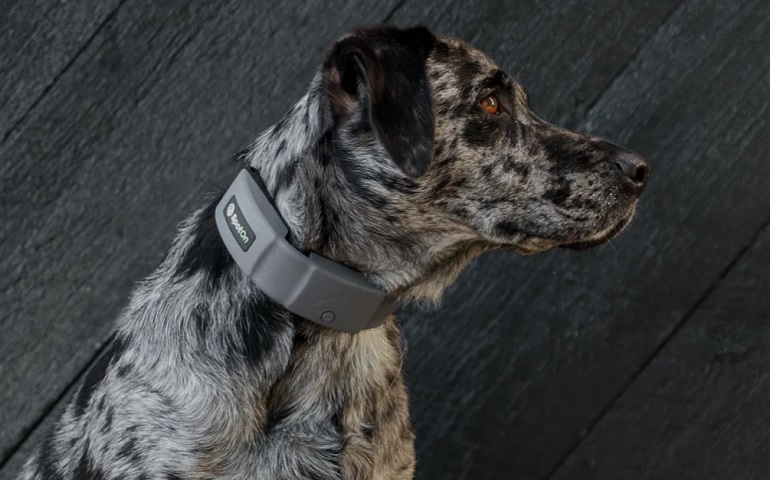 SpotOn collar is available in three different sizes (S, M, and L), and all of these collars come with wide room for customization and size adjustment. Generally, this unchewable collar will fit perfectly a dog's neck size of around 10-26 inches.
However, this collar feels quite heavy (due to being loaded with technology), so make sure your canine must weigh 15 to 100 pounds. Even if you'd get the smallest size, it will be too big for toy breeds or small dogs.
Pros and Cons of Spoton Virtual Fence
Considering all the major features of this SpotOn dog fence, here are the distinct pros and cons we've figured out!
pros
You can be extremely creative and design your own fences just as you want, in whatever shape and size you like.
The collar not only allows to make fences in different locations but also at the same location. Using this feature, you can mark your fence only at different points of your home. The overlapping fences won't affect the overall performance.
For utmost accuracy, the four major satellite constellations are connected to 30 other satellites.
Both the collar and the corresponding app are so well developed that it comes with almost negligible chances of system failure or inaccuracy.
Unlike underground fences, there's no need to stress over breaks in virtual fences, nor do you need to dig your whole yard out to install the system.
cons
The biggest downside of this smart dog collar is its sky-rocket price which proves a deal breaker to many dog owners.
You can't enjoy the feature of automated notification without having stable cellular coverage.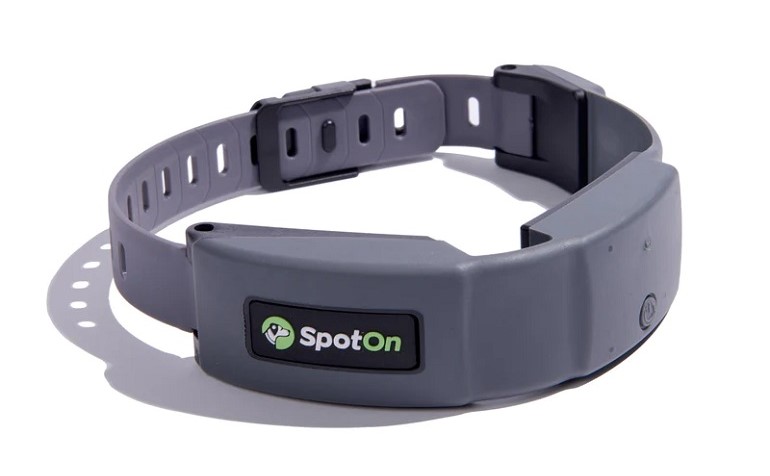 SpotOn Dog Collar
The price of "Spot on Dog Collar" varies, so check the latest price at
Is It Worth Buying Spoton Collar?
Considering all the bright and dull aspects of this SpotOn virtual fence and going through the fence review, we can now say that it's absolutely worth buying it.
With its error-proof training system, multiple setups of invisible fences, and super accurate tracking feature, it makes a worthwhile investment to keep your dogs safe. The high cost might indeed sound exorbitant to some dog parents out there but remember that fencing a huge property with physical boundaries costs more than this.
However, if you have different dogs to train and contain in the same location, we'd recommend going with the physical fences. Otherwise, purchasing multiple SpotOn collars for your multiple pets will cost you quite an arm and a leg.