The Wagz Freedom smart collar is a revolutionary product for dog owners. We, pet parents, know the problems and stress that excited puppies can cause.
We love our fluffy friends and want them to have the freedom to explore the outside world, but – the most important thing is keeping your dog safe.
GPS tracking collars like the Wagz Freedom collar, the Halo 2, and the SpotOn let us track our pets and make sure they don't go anywhere we don't want them to.
In this article, I review the Wagz Freedom smart dog collar. Overall I think it's a great product, but you should also check out Halo 2, which works slightly better, in my opinion.
Read the rest of this Wagz collar review for the full details!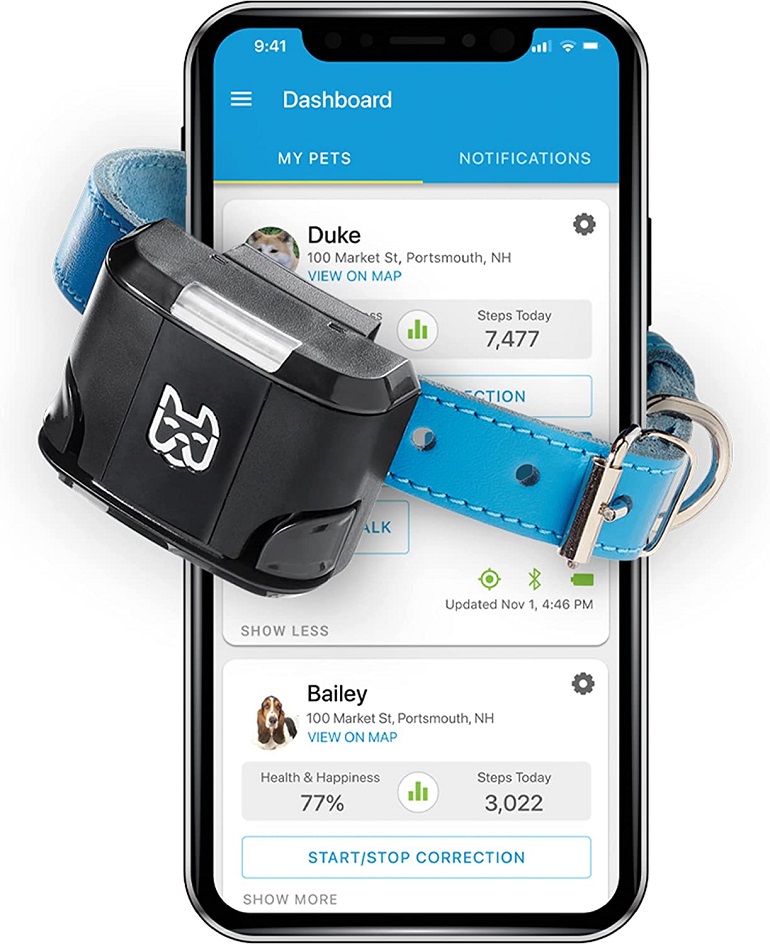 The Wagz Freedom smart dog collar is a futuristic and powerful device for dog owners. Anybody who cared for a puppy knows how joyful it can be to let them explore the outside world – whether that's your backyard or beyond.
At the same time, you'll also know how frustrating and stressful it can be. You want to let your pup have freedom, but also (obviously) you want to keep them as safe as possible. The last thing you want is for your dog to run into the road and get hurt.
That's why GPS tracking collars like the Wagz Freedom smart collar can be such a helpful and powerful tool.
In essence, this type of smart collar technology lets you keep an eye on your dog's location at any time – and you can also create virtual fences that limit where your dog can go.
Smart collars can make the life of a dog owner much easier and give you peace of mind that your dog is safe at all times.
I found the Wagz freedom collar to be a pretty decent product, although some of the limitations made me prefer the Halo 2 – but I'll go through the details in the rest of this review.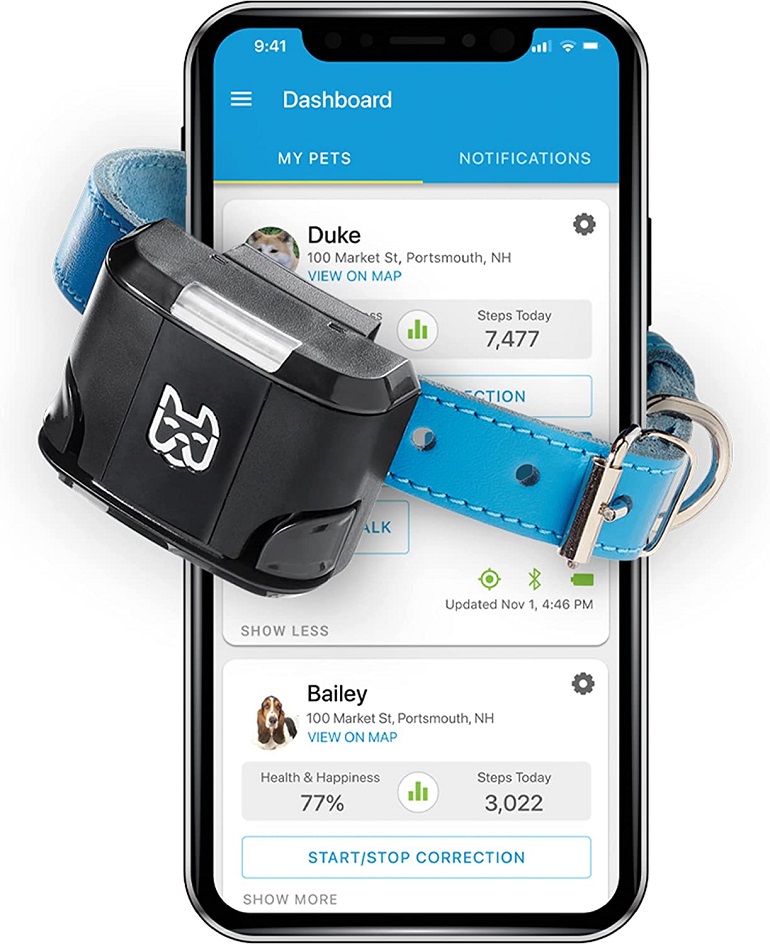 Wagz Freedom Smart Dog Collar
The price of "Wagz Freedom Smart Dog Collar" varies, so check the latest price at
How does Wagz Smart Dog Collar Work?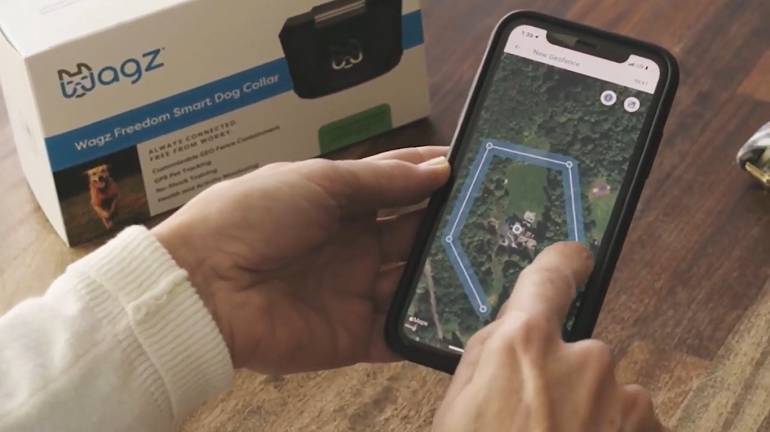 The Wagz smart collar has a bunch of useful features that will change the lives of dog lovers.
Simply put the collar around your dog's neck, and connect it to the smartphone app. Now you can access all the powerful tools this smart collar offers. The collar connects to a cellular network, so you have eyes in the sky at all times!
The Wagz Freedom smart dog collar is all controlled through the Wagz app – which I found really easy to use and very user-friendly. Even if you aren't a very techy person, you'll have no problem using the app.
The mobile phone app lets you control all the important features and settings and doesn't take long to set up over wi-fi. Although you will need to pay for a subscription.
This isn't technically a collar; rather, it's a box that you can connect to any collar. This makes it versatile enough to use with either large or small dogs rather than being limited by the stock collar size.
The device is super light, weighing around 50 grams, so it won't weigh down their neck.
Key Features of Wagz Freedom Smart Dog Collar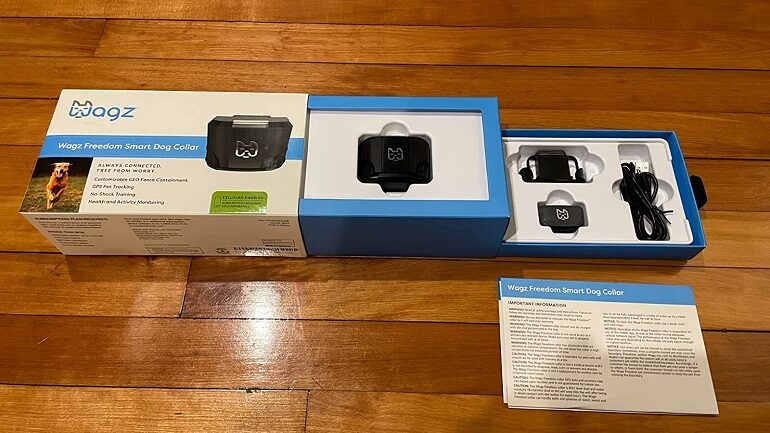 The Wagz smart dog collar has a bunch of cool and helpful features. After using a collar like this, you won't want to go back. You've been living in the stone age!
Real-time Tracking
The first Wagz smart collar feature is real-time GPS tracking – this lets you see your dog's location on a map at any time. You can see where your dog is with relatively high accuracy (although I did find Halo 2 to be more accurate).
This means you no longer have to search for your dog in your yard; you can instantly find out where he's hiding.
Real-time GPS tracking has a margin of error of around 10-15ft. This is fairly accurate, but it does mean that these smart collars work better on larger properties and areas. If you only have a small property, then it won't be as useful.
This feature also keeps a log of your dog's movements and activity levels. So you can view the history of where your dog has been on any day they wore the collar. This is a fun feature if you have active dogs, as you can look at all the fun they were having outside!
Virtual Fences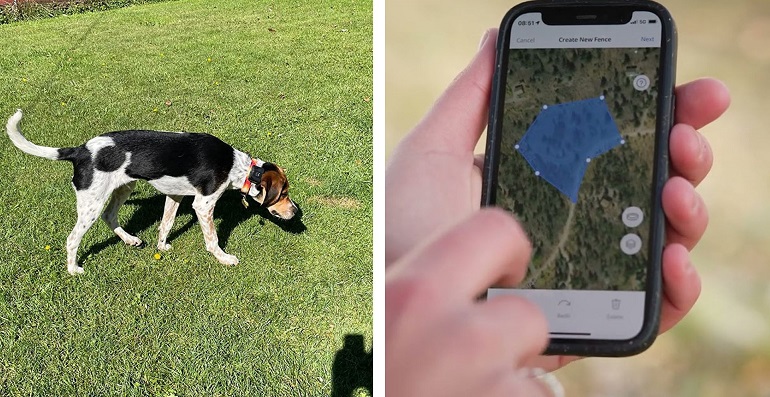 A further function is an ability to create an invisible fence. The process is easy – simply drop pins on a map to create areas where you want to restrict your dog's movement. Any time your dog crosses the boundaries you set, corrections occur automatically to keep your dog in the zone.
You can even create multiple geofences to make sure your dog stays exactly where you need them.
If you have multiple dogs, you can connect all the Wagz collars to the same app account and use the same fences for two dogs or more without needing to redraw them every time.
Pain-free Corrections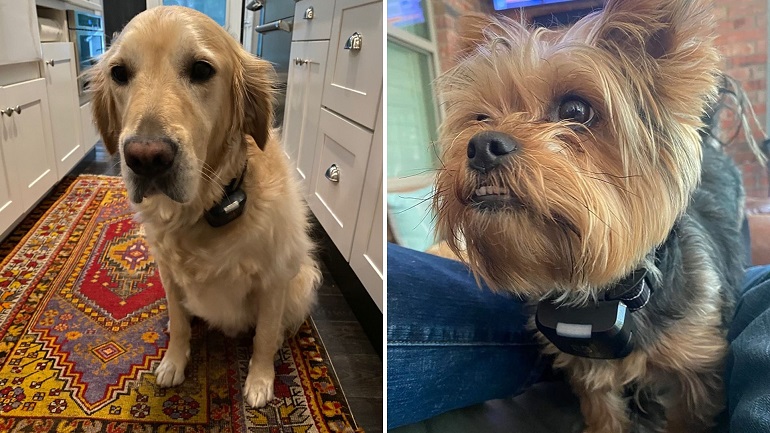 Unlike other dog collars, the Wagz Freedom smart dog collar doesn't use an electric shock to discipline your pet. Instead, it uses ultrasonic sounds and vibrations to make sure your dog stays where you want it to. Although, this does take a bit more training to get your dog to understand.
There are three different correct types available through the collar – vibration, ultrasonic, and audible cues.
This fencing feature can give dog owners some important peace of mind. You can rest assured that your pup won't run into a road or leave your property. Even if they do, you can quickly locate them on the map and bring them home.
Monitor Your Dog's Behavior with the App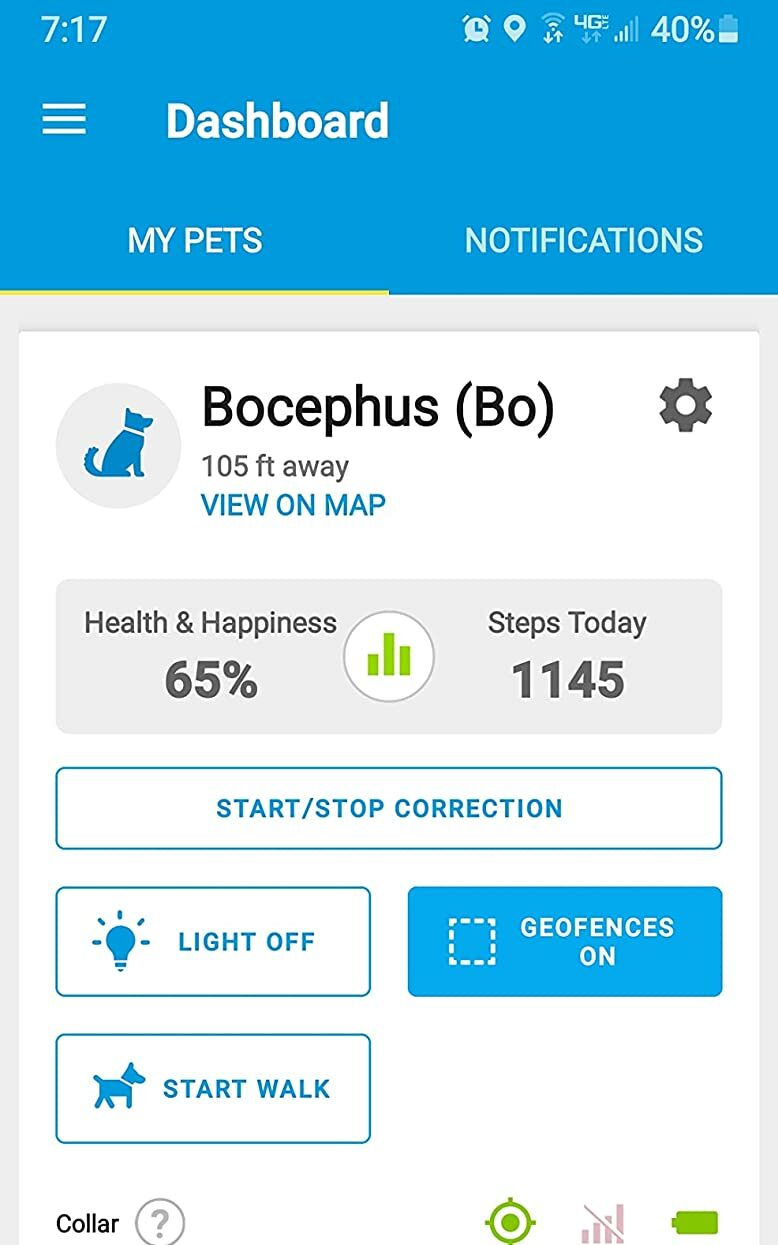 The Wagz app also tracks your dog's behavior and health. You can monitor their activity levels and sleep time, and as the app learns your dog's normal behavior, it can alert you of any concerning irregularities.
This can be really useful if anything starts to go wrong with your dog. The wellness system can literally save your dog's life by spotting issues before you do.
Training
You will need to train your dog to get the most out of the collar. Unlike shock collars, it doesn't hurt your pet, so you need to train them to recognize the vibration and audible tone. This will take a bit of effort on the owner's behalf, but it's got to be done to maximize the effectiveness of the collar.
You can find full instructions on how to train your dog on the website. In short, it's all about using communication to get your dog to respond to the device.
Some people may find this training requirement disappointing – but if you don't want to use an electric shock collar instead, then it is necessary, as vibration won't hurt your dog.
Battery Life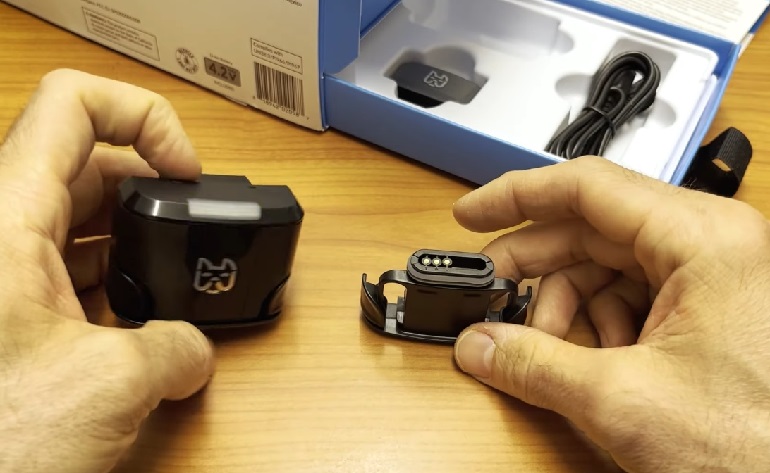 The Wagz smart collar has a long battery life and uses rechargeable batteries that are easily recharged with a cable. They are removable too, which makes charging quick and easy.
The app lets you change the power consumption to increase battery life by restricting key features and performance of the Wagz collar. In low-power mode, it has a max battery life of around 24 hours – which is more than enough.
You can change how often the tracking feature sends out a track request – this means the battery will last longer by not being in constant use.
It also comes with two battery packs which you can charge individually. This is great because it means you don't have to worry about the battery dying and having to leave your dog un-collared while it charges. Have one charging while one is in use, and swap them over when necessary.
You can also buy an extra "boost battery," which has a longer battery life, lasting for up to 66 hours in low-power mode.
Water-resistant and Dustproof
Dog owners know just how much dogs love to play in water and mud – a lot… That's why the Wagz collar has been made to be fully waterproof, mudproof, and dustproof.
You don't need to worry about your playful pup breaking the collar when it swims in a lake or rolls around in a muddy puddle. This device can be fully submerged for up to 30 minutes at a time.
Safety Light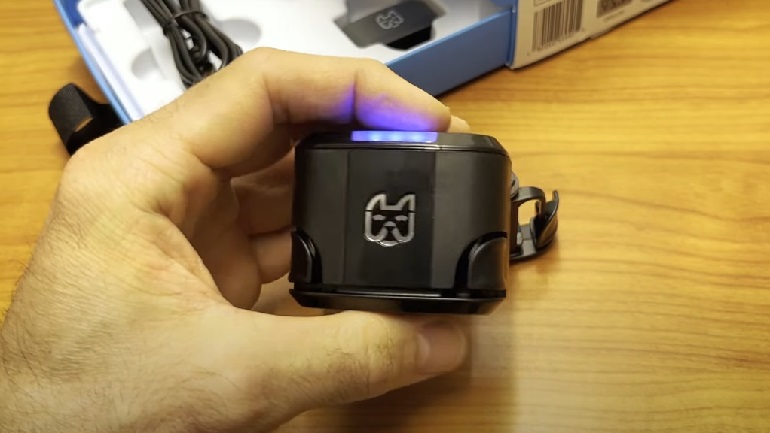 A final feature worth noting is the LED safety light. This can be activated manually from the app. This makes it easy to see your dog in the dark, which can be really helpful if you are out at night.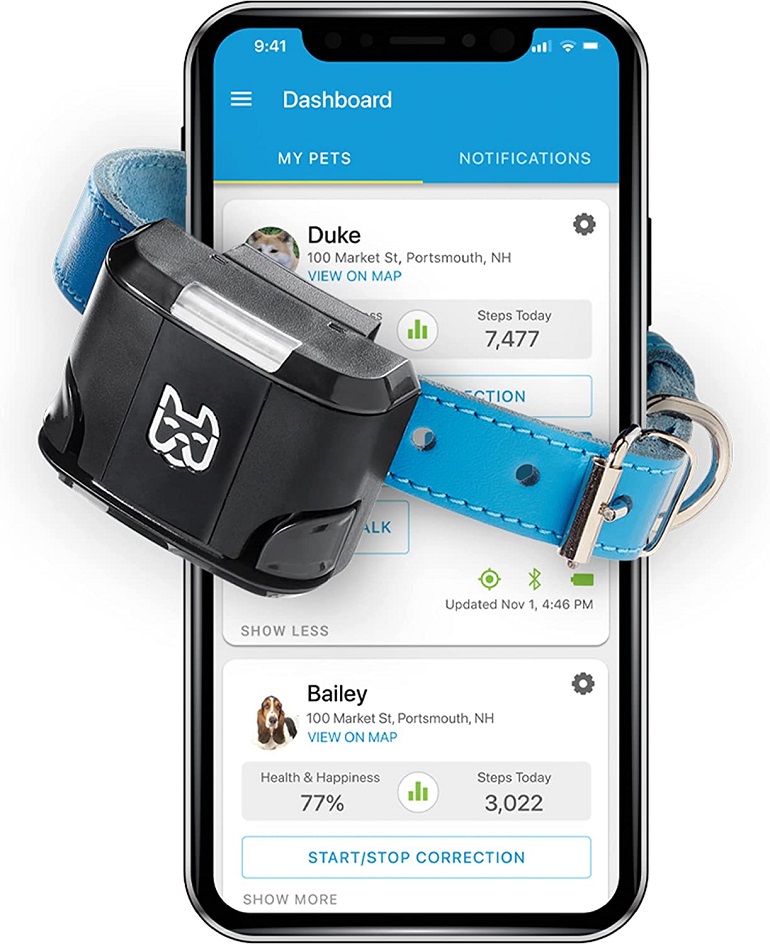 Wagz Freedom Smart Dog Collar
The price of "Wagz Freedom Smart Dog Collar" varies, so check the latest price at
Pros and Cons of Wagz Freedom Smart Dog Collar
Now let's look at all the benefits and downsides of owning the Wagz collar.
Pros
Easy to set up and use
Powerful Wagz app (iOs and Android supported)
Drag your dog's location in real-time
Create as many fences as you need
Uses pain-free corrections, so your dog doesn't get stressed or hurt
Light-weight and comfortable for your dog's neck
Comes with two long-lasting batteries
Monitor your dog's health and happiness
Easy to attach to any collar
Waterproof and dustproof
Cons
You will need to spend time training your dog
Some dogs won't respond to the gentler corrections offered
Has around 15ft margin of error and location inaccuracy
Works better with larger areas of land rather than smaller locations or a small yard
Customers will need to pay for a subscription ($10 per month or $100 for a yearly plan)
Is Wagz Freedom Smart Dog Collar Worth Buying?
Overall, I think the Wagz Freedom smart dog collar is a pretty good product. It's relatively affordable compared to other collars on the market, although it does have some limitations.
If you only want a basic, low-cost collar, then I would say the Wagz Freedom smart dog collar is a good choice, although you can definitely find better collars out there.
I personally think the Halo 2 smart collar is a lot better. It's more accurate and flexible, the app gives you more settings and controls, the battery lasts longer, and the overall design is superior.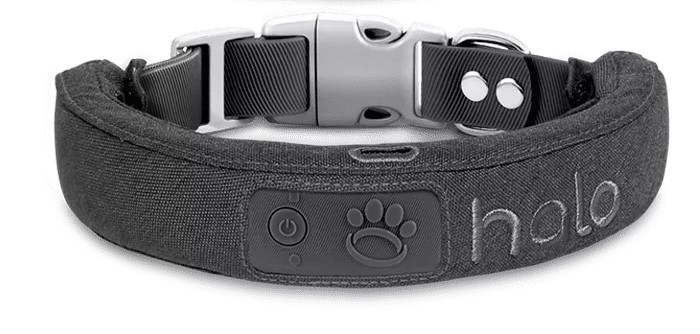 The SpotOn GPS collar is also pretty good, so check that out too – although I still think the Halo 2 is better. It would be better to learn the various features of Halo vs. Spot On collars and then decide which one is more suitable for you and your dogs!
The Halo 2 connects to over 50 dedicated satellites, which creates a much higher level of precision when it comes to location tracking.
While Halo 2 is a fair bit more costly than the Wagz, I think it offers much better value for money. When it comes to my dog's safety, I don't really mind investing more money to get a safer and more powerful product – so I would recommend the Halo 2 if you can afford it.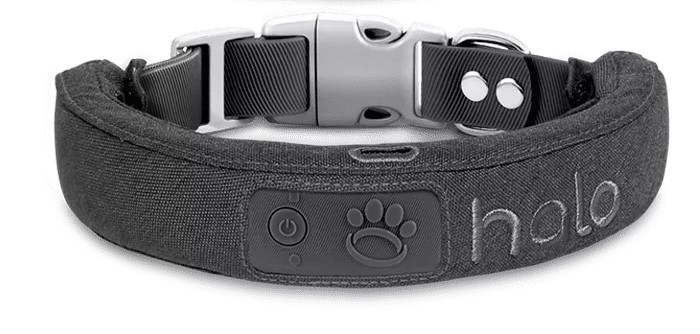 Halo 2 Collar
The price of "Halo 2 Collar" varies, so check the latest price at
Final Thoughts
Smart collars are a fantastic tool for keeping your dog safe. I think these are essential devices for any dog owner – they are great when you're at home or when you take your dog walking.
Not only can they track where your dog is, but they are also designed to monitor your dog's health by tracking their activity level, exercise time, and sleep time.