Dogs bring us more love than we can ever explain, and we wouldn't give them up for the world… but they also spark a lot of anxiety in pet parents.
If they show signs of being unwell, are off their food, or swallow something strange, we're phoning the vet at the drop of a hat.
But that's not our biggest fear…
We've all seen those posters lining the street. Heartbreaking images of adorable pups with the dreaded word 'LOST' stamped on the top…
It might seem crazy, but 10 million pets go missing in the US alone – and 1 in 3 pets will get lost at least once in their lifetime! Now, the good news is that up to 97% of these animals do find themselves home eventually… but there's still that 3%.
If your worst nightmare is losing your beloved pooch (and let's face it, who doesn't have this nightmare?!), then you might want to think about getting a GPS collar for them. And the Fi GPS Dog Collar is one of the best ones out there.
Overview of Fi Dog Collar
Fi is working on revolutionizing the relationship between humans and their most loyal companions!
The fact that dogs can't tell you when something is wrong is the hardest part of owning these adorable companions. Fi is working on changing this by using technology to enhance the dog community and improve the lives of the 100 million dogs in the United States.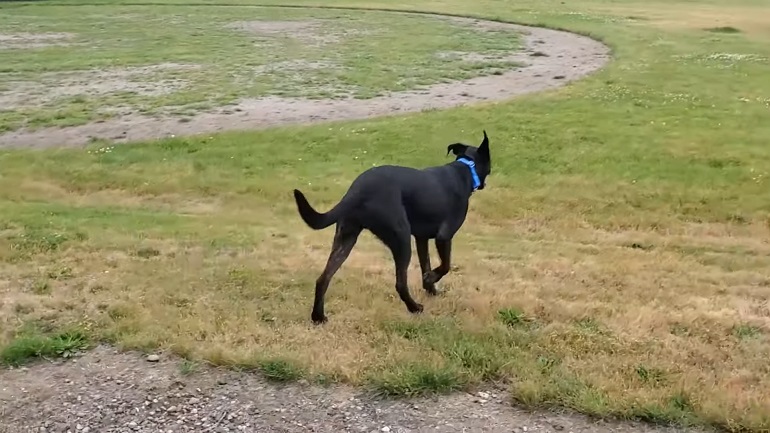 One in three dogs become lost during their lifetime, but you can now throw all your worries away. Fi smart dog collar makes it possible to remotely track your dog around the clock using the GPS and LTE-M cellular networks.
Also, you can keep a check on your dog when you're away. You can ensure they remain safe and active whether in boarding or with family. If with the dog walker, Fi will notify you when your dog is picked up and returned.
Fi uses its own algorithms to achieve an incredible battery life, so just put this Fi dog collar on your dog and forget about the battery running out for weeks. These smart collars also allow you to monitor your dog's activity along with its location.
For fashion-enthusiastic dog owners, the company collaborates with proprietors of independent businesses to sell collars with distinctive and fun designs that are compatible with Fi. The Fi GPS dog collar also comes in four different sizes, so it's crucial you choose the right size for your dog.
The market has seen three series of these smart collars to date, with the Fi series 3 collar being the most recent upgraded model.
Read this Fi collar review to learn everything about the Fi series 2 smart collar and its latest version to help you make the right choice.
Overview of Fi Series 2 Collar
Despite your best efforts, there's still a good chance your dog might go missing one day. But with the wonders of modern technology, this doesn't have to be your worst fear anymore. Instead, with the availability of the best dog fence and innovative smart dog collars, it's just an inconvenience.
One of the best dog collars out there is the Fi Dog Collar Series 2. Made by Fi, this collar is more than just an invisible dog fence – it uses Wi-Fi and GPS to keep track of your dog's location at all times. It even tracks your dog's activity, whether they're awake or asleep!
This means you can keep tabs on your active dog remotely from anywhere at any time to give you the ultimate peace of mind.
And you don't even need to worry about them jumping in a pond and breaking it – it's fully waterproof too!
Now, if you ever considered trying out Fi's first model a few years ago but were put off by the price, you're in luck. The Fi smart dog collar Series 2 is actually cheaper than the original Fi smart dog collar.
The new Fi GPS collar comes in four colors (gray, yellow, blue, and pink), as well as four sizes. The tracker itself isn't too big – only about the size of a matchbox with metal clips for added security.
But if you're worried about the Fi dog collar's aesthetic being ruined by the tracker, Fi even sells accessory bands separately.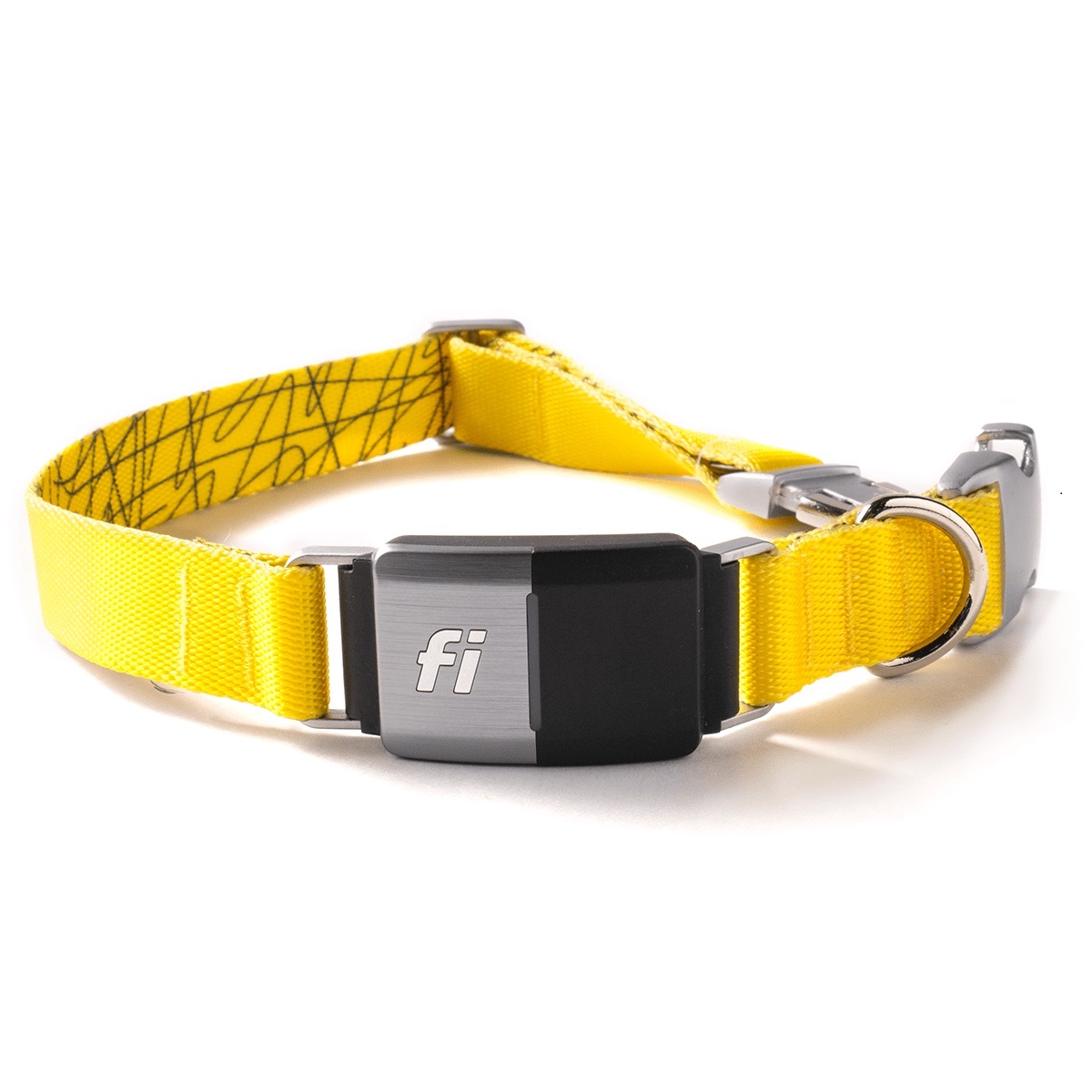 Fi Collar Series 2
The price of "Fi Smart Dog Collar" varies, so check the latest price at
Three-way Working
The Fi dog collar is far more than just a regular dog collar. There are three sides to this piece of tech: the activity tracker, the sleep tracker, and the dog's location tracker.
Activity Tracker
The activity tracker works exactly how you would imagine. The little box nestled on your pooch's collar records every step they take. You can peek at their stats, and daily step counts in the Fi collar app to make sure they're active enough.
The Fi collar Series 2 actually takes it up a notch by including a new sleep-tracking feature too. So now you can even track their sleep habits. If your pooch suddenly starts waking up in the middle of the night for some reason, it might be worth investigating.
Location Tracker
But the real reason dog owners and dog walkers are so interested in the Fi smart dog collar is the dog's location tracking feature.
Most of the time, the Fi collar will function more like an invisible dog fence. There's a virtual perimeter extending from either the base station at home or your phone if you're out and about. If your dog ever leaves this perimeter, you'll get a notification from the Fi collar app telling you your dog escaped.
This isn't the same as a standard invisible dog fence or shock collar though. There's no stimulus telling your dog that they're near the boundary, and there's no static or vibrational correction if they leave.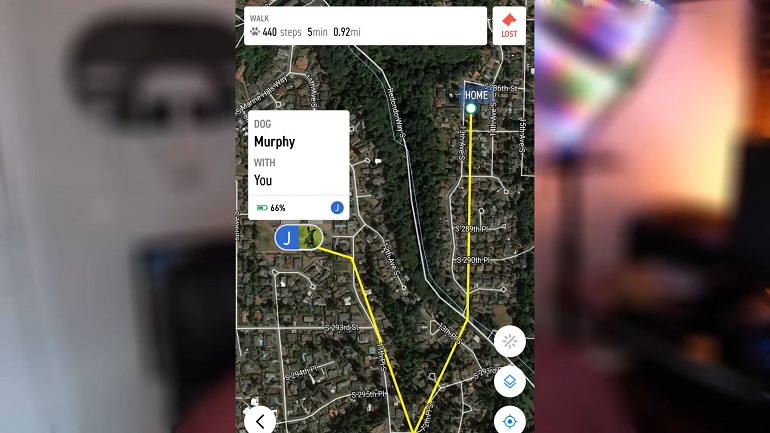 Instead, the Fi dog collar kicks into 'lost dog mode,' where it uses three constellations of satellites to get a precise location of your dog. With the Fi dog collar around your pup's neck, the location tracking means they won't be lost for long.
Sleep Tracker
Sleep tracking is the newest feature that Fi came out with for their Series 2 collar – and it's one feature that gives them the edge over similar dog tracking collars.
Believe it or not, your dog's sleep is a good indicator of its health, a bit like humans. So, it's important to be aware of how they're sleeping each night – hard to do when we're trying to get some shut-eye as well.
The Fi smart collar tracks the dog constantly, whether they're sleeping, just napping, or fully awake. Amazingly, the technology can even differentiate between a dog sleeping and napping with surprising accuracy.
The app shows your pup's sleep stats by hour, day, week, and even month. Keep an eye out for any unusual sleeping patterns, like having to wake up for water regularly. You never know, it might mean the trip to a vet.
Design
The Fi dog tracker will appeal to you if you consider a dog collar a fashion accessory for dogs. The basic model is available in four colors—gray, blue, yellow, and bright pink—each with a distinctive line pattern.
You can select from additional designs produced by different businesses if those designs do not suit your preferences.
It comes with an aluminum sliding release buckle that is incredibly durable and a sturdy, soft one-inch-wide woven polyester strap that keeps your dog comfortable. It also has a handy loop for attaching your dog's tags.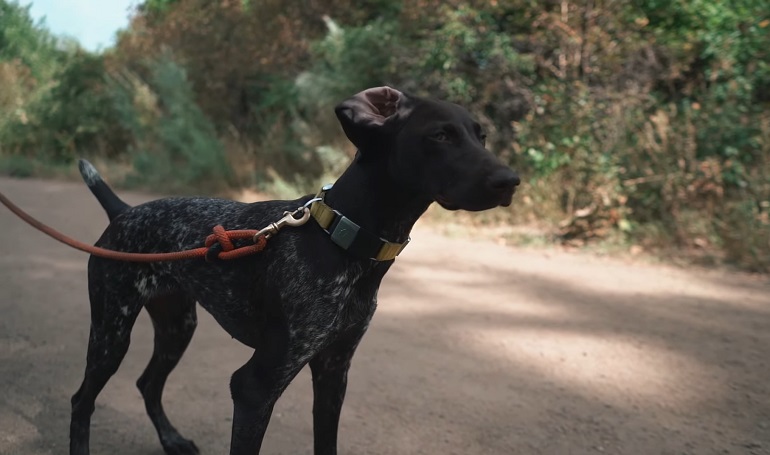 The main controls of the Fi smart dog collar are housed in a small box no larger than the buckle, made of both plastic and aluminum, and water-resistant with an IP86 rating. The Fi collar has a small LED light that comes in seven colors.
The connection points for charging the collar are located on the back; however, they are recessed to prevent any discomfort for your dog.
Price
The Fi Series 2 Collar is priced at about $149. It includes a Fi dog collar, a small matchbox-sized GPS, and a base station that you plug in at home to charge your collar.
With series 2, you have a choice to select a monthly subscription plan or go without one. Of course, it's better that you get a subscription because you need it to access all of the GPS-specific features that the Fi collar uses, like the important "lost dog" mode.
The subscription adds your dog's collar as a device to the LTE-M low-power cellular service network and costs around $99 per year or $8.25 per month.
Subscription Needed
Just keep in mind that without a subscription, you won't be able to use the 'lost dog mode.' Also, if your pup strays too far away from the base station or your phone, it won't be connected to Wi-Fi or Bluetooth.
When they're too far away, the GPS/ LTE technology kicks in to track them down – and that's what requires a subscription, just like having a plan for your cell phone service.
The good news is that Fi dog collar offers a 30-day free trial on their AT&T network. But after that, you have to select a subscription package. Fortunately, there are three prices on offer for different budgets:
The 1-year package costs $99, coming to $1.89 per week.
The 2-year package saves 5% and costs $186, coming to $1.79 per week.
Finally, the 3-year package saves 16% and costs $248, coming to $1.59 per week.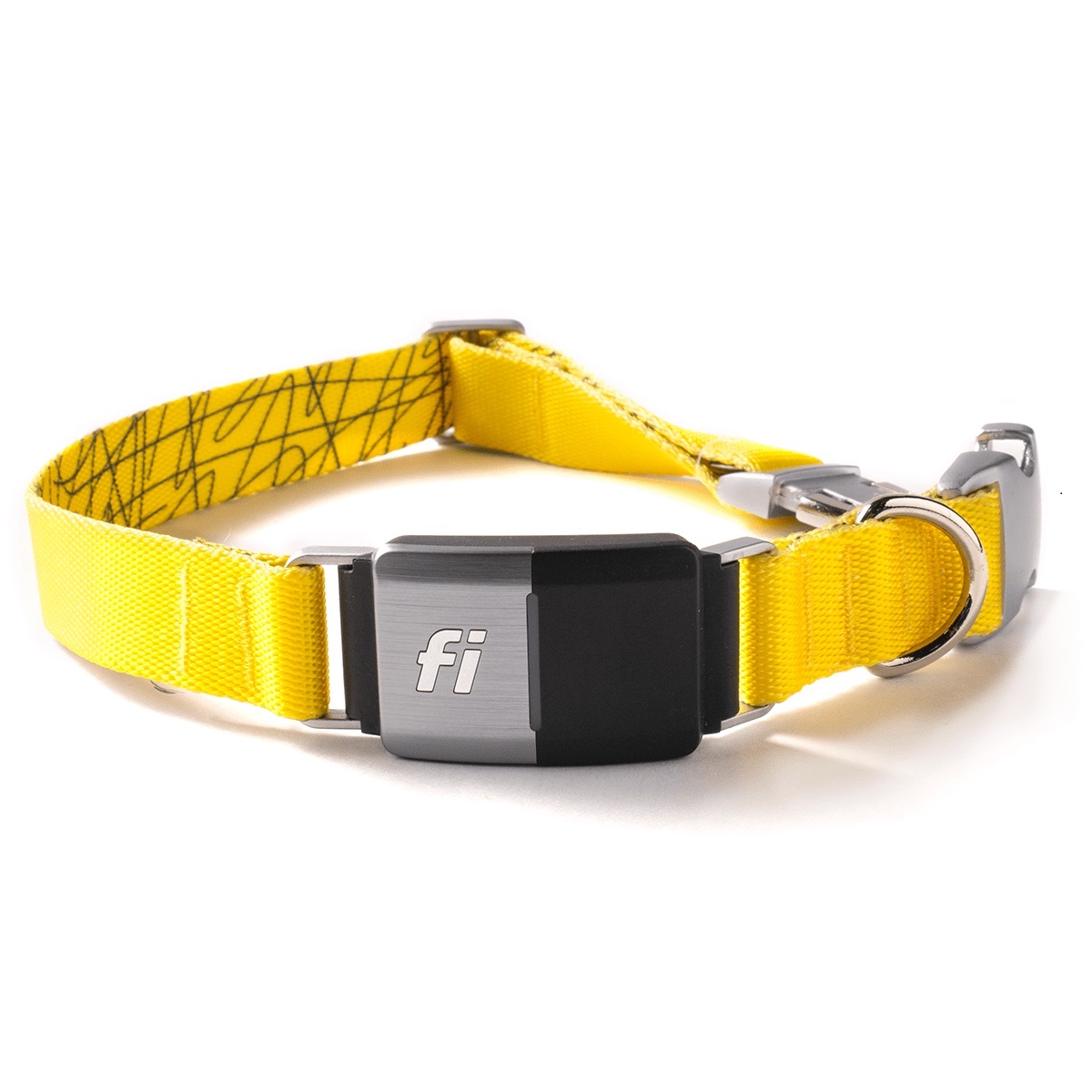 Fi Collar Series 2
The price of "Fi Smart Dog Collar" varies, so check the latest price at
Fi Dog Collar Review: General & Technical Features
The thing about smart dog collars is that you have to take two sides of the collar into consideration: the technical side and the more general bits you usually think about when buying a collar.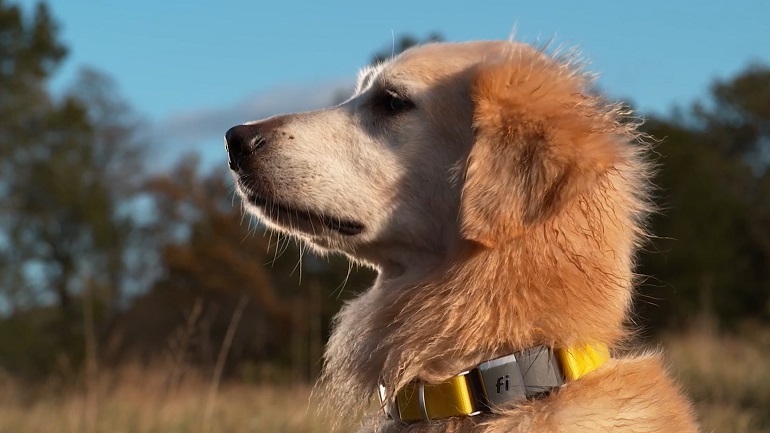 General Features
Smart dog collars are all about the electronic, technical features – they're what make them so special. But a flimsy collar that gets destroyed doesn't fit, or breaks easily are no good to anyone.
So, here are some of the general features to be aware of when looking into the Fi smart dog collar.
Size
Since the tracker on the Fi dog collar is a little bulky, your dog needs to be big enough to carry it around. Therefore, Fi recommends your dog be no smaller than 10 pounds. It's also important to get the right size. The Fi dog collar comes in four sizes, from small to extra-large.
Small: Fits dogs with a neck circumference of 11.5" to 13.5". Perfect for Boston terriers, Frenchies, and pugs.
Medium: Fits dogs with a neck circumference of 13" to 16.5". Perfect for bulldogs, corgis, and beagles.
Large: Fits dogs with a neck circumference of 16" to 22.5". Perfect for poodles, Siberian huskies, and golden retrievers.
Extra-large: Fits dogs with a neck circumference of 22" to 34.5". Perfect for bloodhounds, great Danes, and mastiffs.
Design and Color
The Fi dog collar comes in four colors to choose from: gray, yellow, blue, or pink. But there's also the Fi Maker program which lets you choose different designs and materials. These custom-made designs can let you have your dog's Fi collar made of leather or even beads!
Material
Somehow, active dogs manage to get their teeth into anything if they're determined enough. That's why the Fi collar is resistant to chewing.
It has a rock-solid armored aluminum faceplate as well as internal metal armor. This ought to stop stronger dogs ripping through it – and it can withstand up to 300 pounds of pull force, too (if you can hold on that long!).
Still, even if your dog does manage to wreck it, the Fi smart dog collar comes with a 1-year warranty, and you can buy a replacement webbing design.
The durability even extends to the Fi device attached to the collar with metal clips – considerably more secure than similar collars that use Velcro.
Technical Features
As durable and colorful as the Fi smart dog collar is, the smart technology is what makes it stand out from other collars. It connects to the internet to make your dog's life a little safer, smarter, and healthier.
Battery life
One of the Fi collar's best technical features is its battery life. While it does depend on the activity of your dog, the Fi collar's battery life can last up to three months and is fully rechargeable.
Of course, if you have to put your dog into 'lost dog mode', it can only be expected to last up to two days. This is due to how frequently the collar communicates with satellites for a precise location. Still, if your pooch does run off, the battery lasts long enough for you to find them again.
The battery uses smart power management, making sure to automatically connect to Wi-Fi access points and Bluetooth whenever possible. This makes sure the battery lasts as long as it can. When the battery life reaches 20%, though, you'll be notified via the Fi app.
Waterproof
If you want your dog to be let off the leash, you can't expect them not to dive into a body of water. After all, dogs love finding any excuse to get wet!
But don't worry about strapping an expensive piece of kit to their neck. The Fi collar is completely waterproof with a rating of IP68. This means it can be submerged up to a depth of 1.5 meters for 30 minutes – that makes it perfect for wet adventures!
LED Light
There's nothing like a nighttime walk with your pooch – but letting them off the leash is a scary thought if you can't see them. That's why the Fi GPS dog collar has included an LED light on the dog's collar.
It can light up in seven different colors and can be activated easily through the Fi app.
Lost Dog Mode
But what about if your dog steps out of the safe zone? If this happens, you'll get a notification on your phone, and the collar switches to its GPS and LTE-M network. Remember: this isn't a shock collar, so there won't be any shock or vibration to tell your dog they're leaving the safe zone.
When your dog escapes, you can activate the 'lost dog mode' on the Fi mobile app, which turns on live location tracking – this is where the subscription for the cellular network plan is needed. The collar also fires up a red blinking light to make it easier to spot your furry friend in dimly lit areas.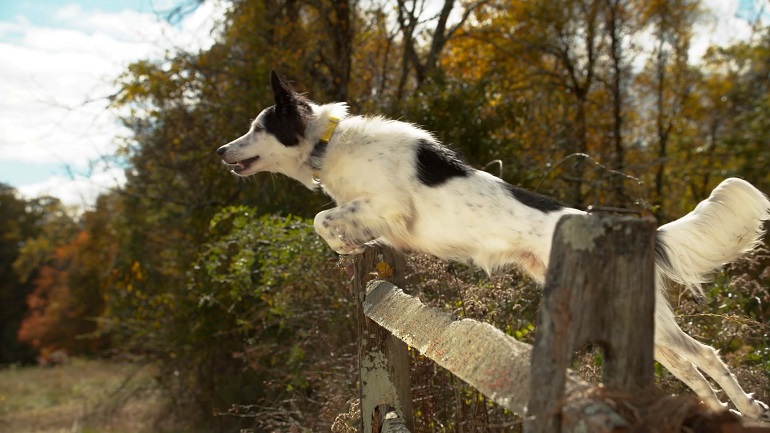 Using its three constellations of satellites, the collar sends a notification to you every minute to help track them down, and their location is accurate up to 10 to 15 meters – close enough to find them. Even if it's night, the collar has a red, pulsing light so you can spot them in the dark.
Step Count
Just like a human fitness tracker, the Fi app displays the number of steps taken by your dog while on a walk. This feature could be helpful for a senior dog or a breed that needs a lot of exercises.
The Fi dog tracker app gives you a predetermined daily goal for how many steps your dog should take, but you can change this. You can also compare your dog's progress to other dogs by sharing the step count with other Fi users if you choose to do so.
It measures the dog's steps with the use of sensors. While walking, the app counts a step whenever one of the dog's forelegs touches the ground. But when running, a step is counted when both forelegs touch the ground after being in the air.
Strain Score
The step goal can also be used as a target to stay within the limit, which is vital, so your dog doesn't get too much exercise or get hurt due to over-exertion.
Fi presented the Strain Score in June 2022 to help you know if your pup was getting sufficient rest, not being too occupied, or working out over the top.
The Strain Score is a measurement of activity in comparison to sleep and rest. You can also get additional information by comparing your dog's activity to the average standards or the activity of Fi dogs shared by other Fi users.
Sleep Tracker
Your dog's rest is as critical as it is for you. Fi series 2 now allows you to keep a check on your dog's sleep and naps – and help you detect any unusual sleep patterns.
The Fi app shows your dog's sleep, when and for how long it slumbered, and when its sleep was interrupted for over three minutes.
It also tracks naps, but that could also include any time your dog is awake but lying perfectly still, so that might not be entirely accurate.
Safe Zone/ GPS Dog Fence
The Fi Base that comes with the dog collar helps you create a GPS dog fence for your canine.
A safe zone is a perimeter range around the Fi Base or within Bluetooth range of a designated owner or dog walker if the collar is away from home. On a Google Map, it shows as a circle with a radius of approximately 60 feet.
Your essential safe zone will be your home and yard. But with Bluetooth on phones, safe zones can also be set for your dog's park or daycare.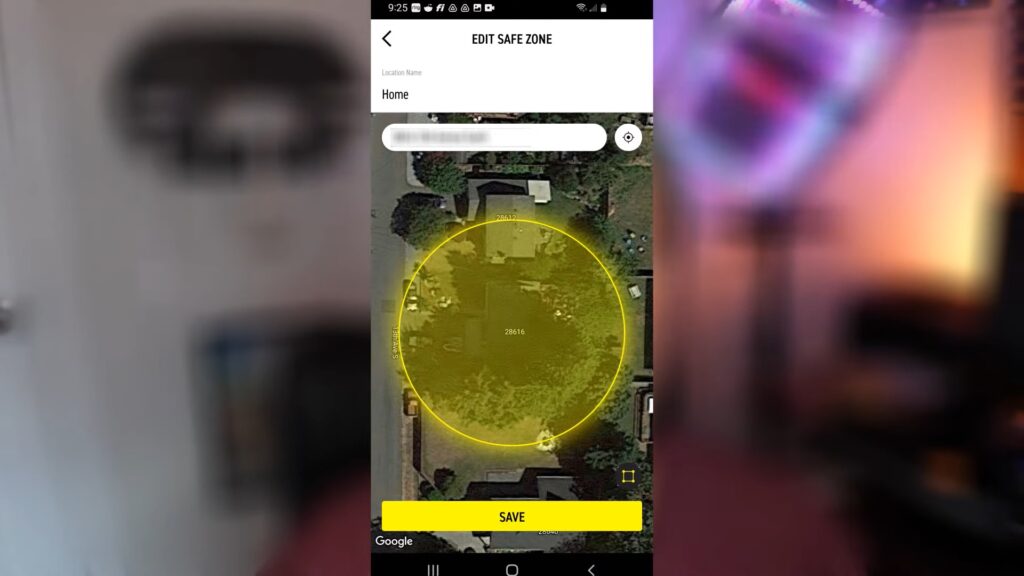 Having the home safe zone helps in saving battery duration as the Fi doesn't use a GPS tracker when it realizes it's close enough to the base station.
Your dog's current location is displayed at the top of the lead screen. It will let you know when your dog is at home or on a walk and will display the approximate address. It will concentrate on a nearby landmark if it cannot pinpoint an address.
You can then access a Google Map to see the exact location of your dog by clicking on the location. It gave a precise pinpoint when I had good LTE cellular network coverage. However, in case of poor reception, it wasn't as reliable.
Setting Up the Fi Collar
If you want, you can start setting up the collar before you even get it. By using the Fi Maker program, you can customize the collar and can have your own personalized design.
Once you have your collar, you only need to pop it around your pup's neck and set it up on the app, which is available on both Android and iOS. After you register for an account, you create a profile for your dog, including their name, gender, breed, birthday, weight, and photo.
It's a very user-friendly app, but it's worth spending some time familiarizing yourself with the five tabs at the bottom.
The first tab is called 'Live'. This shows your dog's current location along with the collar's battery level and a timeline of their activity. It shows their last walk's duration, distance, and step count.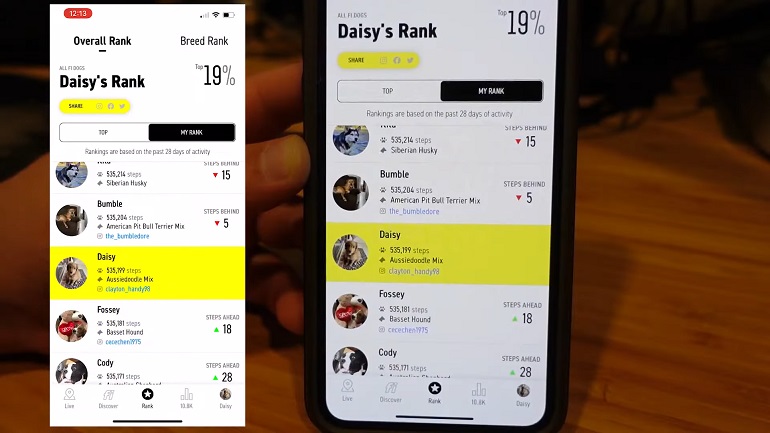 The second tab is called 'Discover' and it is essentially Instagram for dogs. You can see photos of other Fi dogs uploaded by nearby Fi users that you can like and comment on, as well as add your own.
The third tab is 'Rank' and shows how your dog's step count stacks up compared to other Fi dogs nearby, with specific leaderboards for breed and state.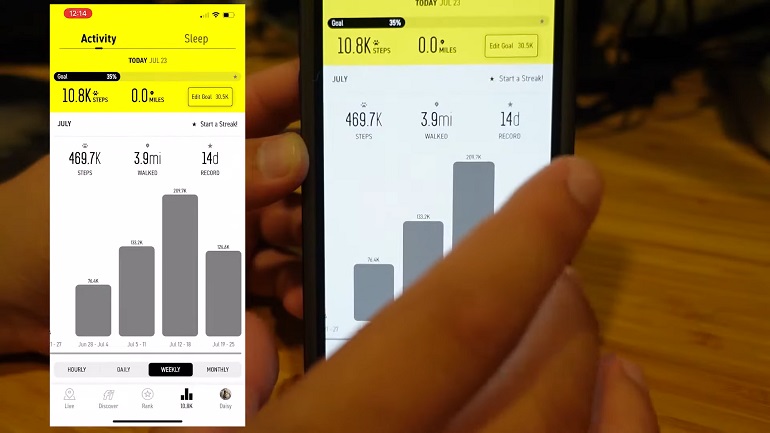 The fourth tab is 'Activity' and shows your dog's daily activity as a graph you can view by the hour, day, week, or month. It also includes a graph of your dog's sleep activity, showing your pup's total time asleep and the number of interruptions.
The fifth tab is called 'Profile', where you can view and edit your public profile. Here, you can also access your settings to add and edit safe zones.
Using the Fi app
Fi app lets you in on all your dog's activities, location, and sleep habits. Once you get the hang of it, using this app is pretty simple.
Firstly you will need to install the Fi app on your mobile and sign in after it is downloaded.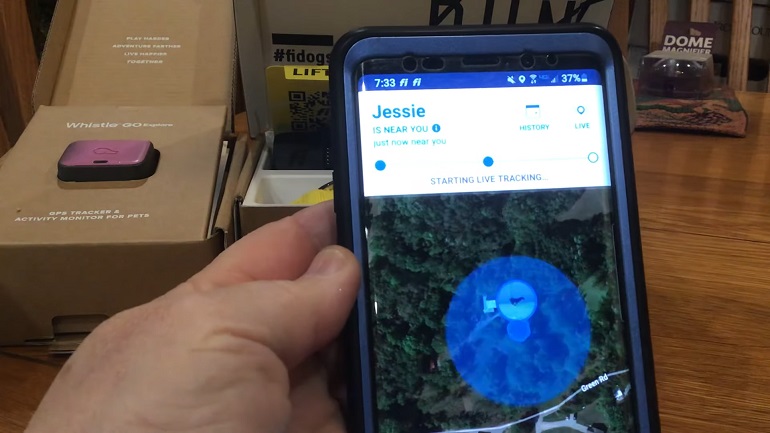 An account is already set up for you when you purchase the Fi collar. You can use the same email address you used while buying your collar to receive your Fi receipt. You also set a password during checkout, but in case you forgot, you can tap "I forgot my password," and a link will be sent to you.
If you received the Fi collar as a gift or wish to use another email address, you can simply tap "get started" and enter the email and password of your choice.
Once signed in, the app will give you stepwise directions to set up your Fi Collar.
You may add your phone number or skip it if you so wish. Then you need to click on "Create Dog Profile" and add the specifics of your dog (like its name, gender, breed, weight, birthday, or adoption date).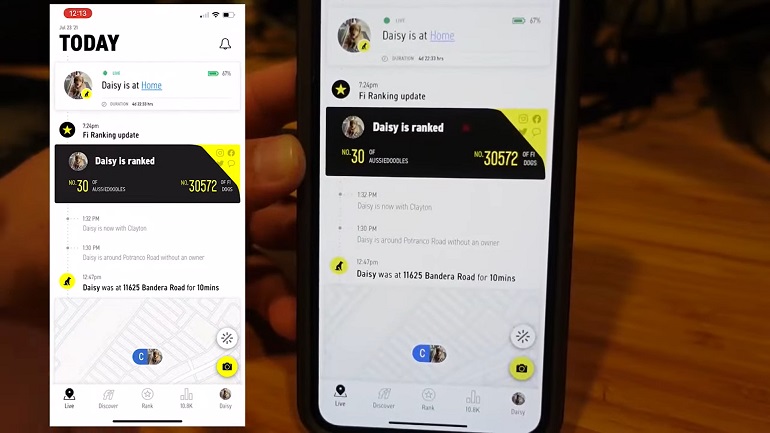 You can also choose your dog's picture from Instagram, your phone's gallery, or your camera, but this is optional. However, selecting Instagram will link your account to your FI profile and allow other users to see your handle.
The next step is to connect your Fi Base (the location where your dog spends most of his time and is within the Wi-Fi range). The app will search for your base and inform you once the base is activated.
You need to connect your base to your home network. Tap "connect to Wi-Fi," and the app will search for nearby networks. Select your network from the list and join by typing in your Wi-Fi password. You will see "Connected to Wi-Fi" once you are connected. The app only supports 2.4 GH Wi-Fi networks.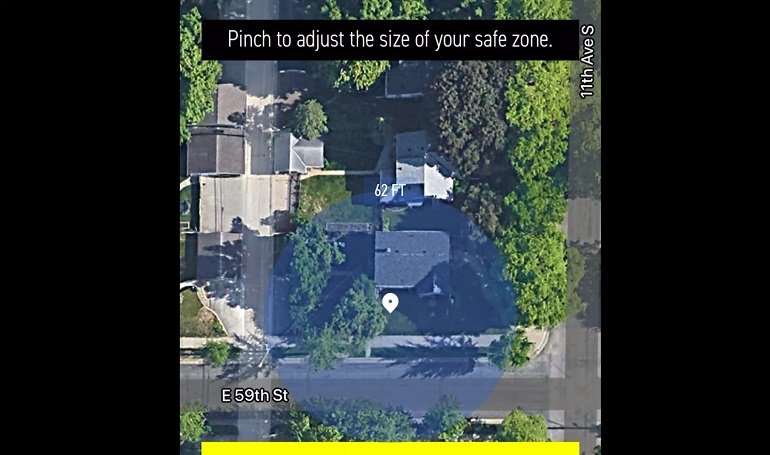 Then comes the step of setting your safe zone. You can accomplish this by entering the base's address, pinching and pulling the blue circle to cover the area where your pet can freely roam without being alerted, and tapping 'Save' to save your base location. Again, keep in mind that 60 feet is the minimum range.
It also lets you customize your alert preferences, whether you want to receive SMS, push notifications, or both. However, for SMS notifications, you will be required to enter your mobile number, if you did not do in the first step.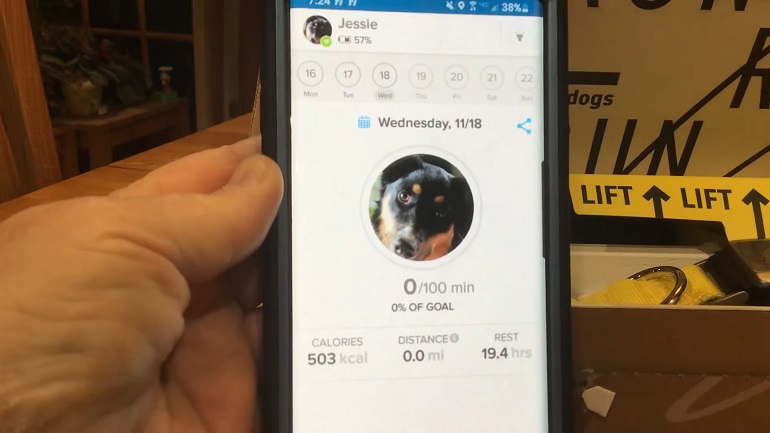 Now place your Fi collar on the base, which will activate the collar, and you should be able to see the Fi Collar light turn on. Your Fi app will search for your collar and notify you that the collar has been activated.
Tap Continue, and you're all set!
Fi Best Suited for…
According to this Fi dog collar review, the Fi collar is an ideal option for escape-prone pups who are always on the run whenever they get a chance!
All dogs need a regular collar but getting a Fi collar guarantees peace of mind for dog parents, so why wouldn't it rank at the top of your priority list?
Owners of a dog with weight issues would also appreciate this activity tracker for recommending daily step goals that they need to meet in order to keep their pet healthy.
It's a perfect choice for busy pet owners with young kids and an energetic dog who needs training. It makes your life so much easier and stress-free!
Pros and Cons of Fi Series 2 Collar
According to Fi dog collar reviews, the following are a number of pros and cons for the Fi series 2 smart dog collars.
Pros
Long battery life
Waterproof
Option to add multiple users to the app
Set desired geo-boundaries
User-friendly app
Social, fun aspect of the app
Accurate GPS tracking
LED light for visual tracking at night
Quick escape alerts
Ability to track sleep and activity
Cons
More expensive than regular collars (but more affordable than some other smart collars)
Requires a subscription for full GPS functionality
Not suitable for smaller dogs under 10lbs
Might not function properly in remote areas with no cellular network
Fi Series 3 Collar
Fi has now introduced a better, more durable version of the Fi collar to ensure more safety for all your pups!
The new Fi series 3 collar offers a broader range of sizes, including extra small and extra large, allowing more dogs to join the Fi community.
It provides 100 % signal sensitivity to track your dog even in the remotest of areas. Series 3 also uses 40 % more GPS satellites to locate your dog within a 6 ft radius.
It is much more lightweight since it is twice as smaller as the Fi series 2 collar. In addition, it comes with an entirely stainless steel body offering more pull force and the ability to sustain 400 lbs of static force compared to 300 lbs of series 2.
The series 3 takes the waterproof game to a whole other level with an IP66K in addition to an IP68 rating, allowing your dog to jump freely in those puddles as much as they like.
Good news for all the fashionistas, you now have the option to choose from 8 different collar designs and more options with Fi makers.
However, the Fi series 3 doesn't provide the option for no subscription like series 2. A minimum 6-month subscription plan is required for this latest version. It also offers 1 and 2-year subscription plans.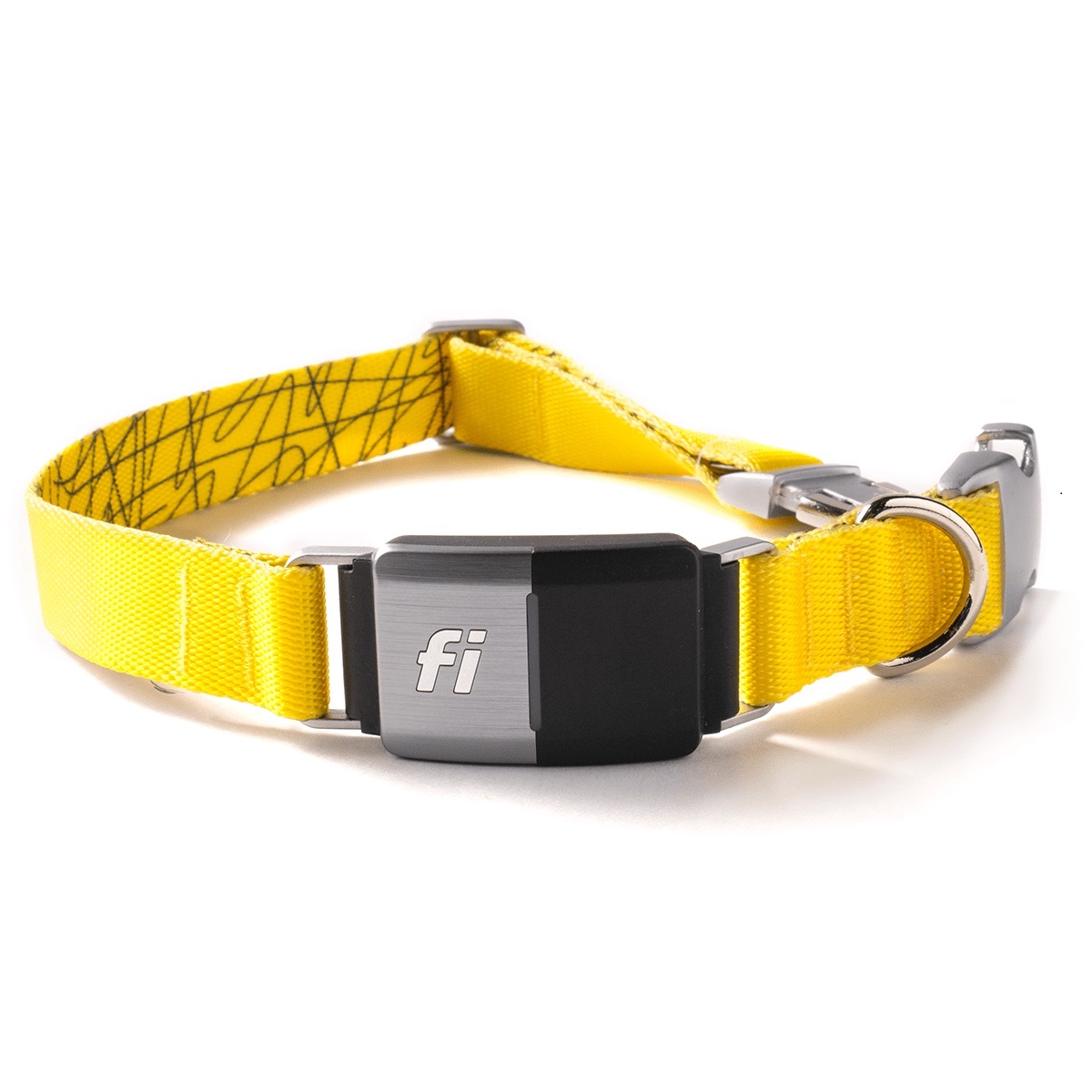 Fi Collar Series 2
The price of "Fi Smart Dog Collar" varies, so check the latest price at
Fi Collar Alternatives
With lots of GPS dog collars out there, you'll find plenty to choose from. However, the Fi collar has the edge over several others.
One advantage is the Fi company itself, which always pays attention to customer feedback. For example, they made sure the upgraded Series 2 version had better Wi-Fi integration and better accuracy.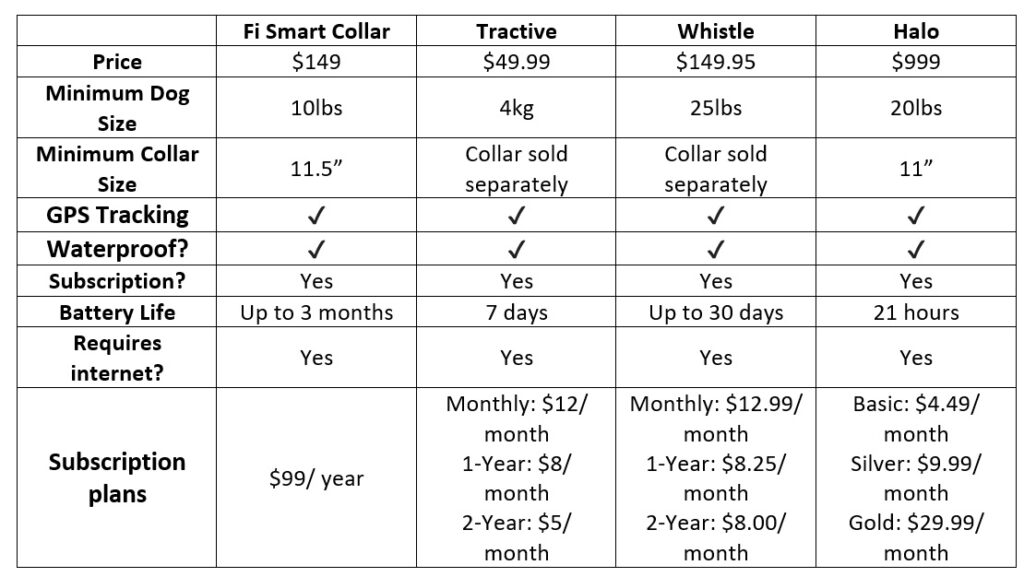 Another pro of Fi collar is how it uses the LTE-M network. This is much more effective and wide-reaching than using just LTE, 3G, 4G, or 5G networks.
However, there are still other similar dog collars that are worth comparing.
Fi Comparison with Other Smart Collars
The Tractive and Whistle Go Explore collars are similar to the Fi in many ways. They allow you to set up and customize safe zones and virtual fences, show your dog's location history, and use satellite signals to track your pup's location.
However, it is worth noting that the Tractive dog collar has an edge over the Whistle dog collar as it records the altitude and speed of the collar for better accuracy. The Tractive also gives live location updates every two to three seconds, whereas the Whistle collar updates the location every 60 seconds.
Compared to the Whistle and Tractive collars, the Fi collar has similar features but still comes up on top with its unique sleep-tracking feature and superior location-tracking technology.
Let's learn about the similarities and differences between the Fi series and other popular smart collars on the market.
Fi vs Halo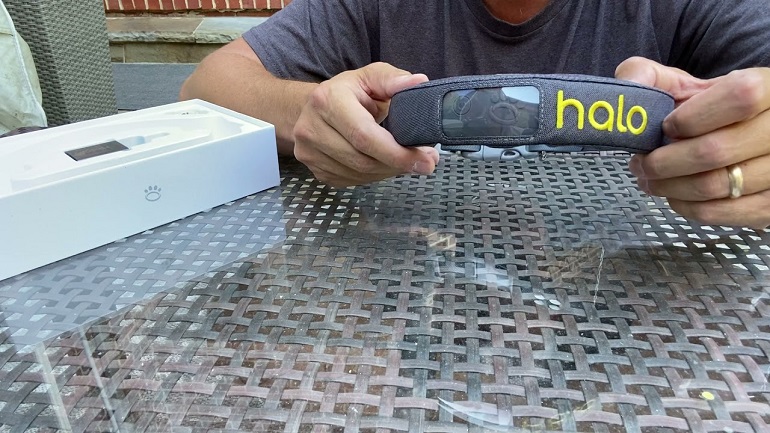 On the other hand, the Halo 2+ collar is the next-generation, state-of-the-art smart dog collar. With similar features to the Fi collar, the Halo 2+ also includes location history, and location data updates, and requires cellular coverage.
However, while analyzing Fi vs Halo, it is noteworthy that the Halo dog collar goes one step further by including stimulus corrections to stop your pup from escaping the invisible fence.
The Halo collar is very good at activity tracking and includes an in-built camera that takes pictures and records videos of your pup's surroundings.
Being a shock collar, the Halo dog collar can help with training your canine for manners and obedience, which is not something that Fi has yet accomplished. Halo provides three modes of training.
The stimulation mode uses mild electrical stimulation to get your dog's attention, the tone mode uses a high-pitched sound, and the vibration mode makes use of a gentle vibration to help your dog focus.
The Halo collar comes in only one size compared with the different sizes available with the Fi collar. It is made of quality materials suitable for even the most energetic dogs. But it's worth noting the Halo collar comes at a much higher price tag.
Though the Halo dog collar may be more high-tech, the Fi collar's price is much more reasonable.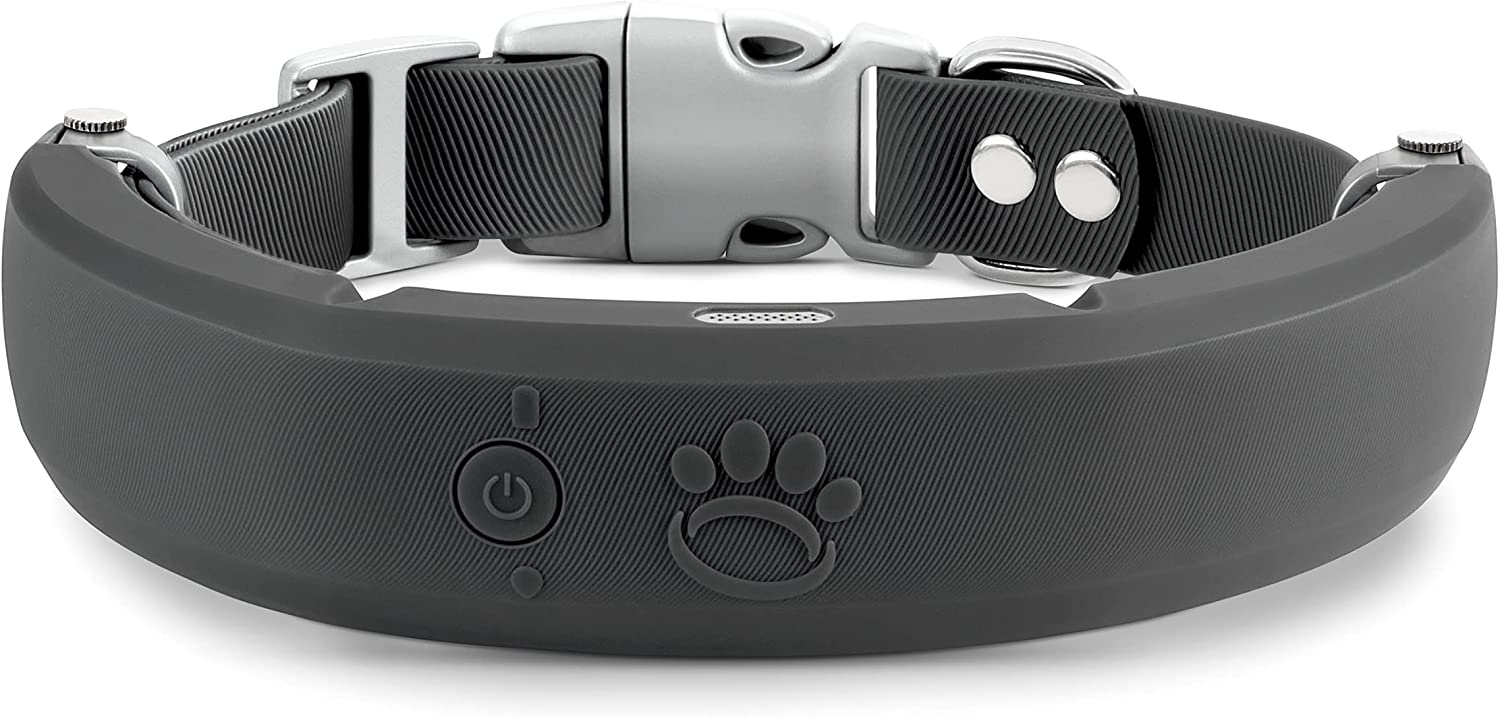 Halo Collar
The price of "Halo Collar" varies, so check the latest price at
Fi vs. Tractive Dog GPS Tracker
Unlike the Fi collar, which only works in US states, the Tractive Dog GPS Tracker is available for 150+ countries and works over a 164 ft radius within cellular coverage.
It has some similarities with the Fi collar, like defining safe zones, receiving alerts about your dog's location, and being waterproof.
The Tractive GPS is smaller in size and works with any collar, while the Fi activity tracker only works with Fi collars. The Tractive GPS tracking collar also has some fun designs, like Hunter's edition having a black olive camouflage pattern or the pink one with a white logo and Swarovski crystals giving your pup diva feels.
Talking about battery life, the Fi collar has an excellent long battery life which may last up to three months, while the Tractive GPS tracker's battery life is 2-5 days. However, it shows battery status so you can recharge your battery on time or hurry when tracking your pet.
The Tractive GPS does not track a dog's activity like Fi. But it comes with a remotely activated built-in speaker that can be helpful while training your dog.
The Fi comes at a price of $149, excluding the subscription charges, while the cost of Tractive ranges from $79.99 – $105 with a subscription.
But the numerous features like lost dog mode, GPS tracking, a better app, and great accuracy of your dog's location, Fi tracker make it worth the price.
Fi vs. Whistle Go Explore Dog GPS Tracker
Fi and Whistle Go Explore are both leading brands when it comes to tracking your dog.
Both these trackers use LTE-M network cell coverage, with Fi offering better precision than Whistle. They both also come with geo-fencing allowing you to select safe zones.
Fi and Whistle are both water-proof, shock-proof, and chew-proof. Although bigger looking, Whistle is lightweight and available in only one size, which can be used with any smart dog collar wider than an inch.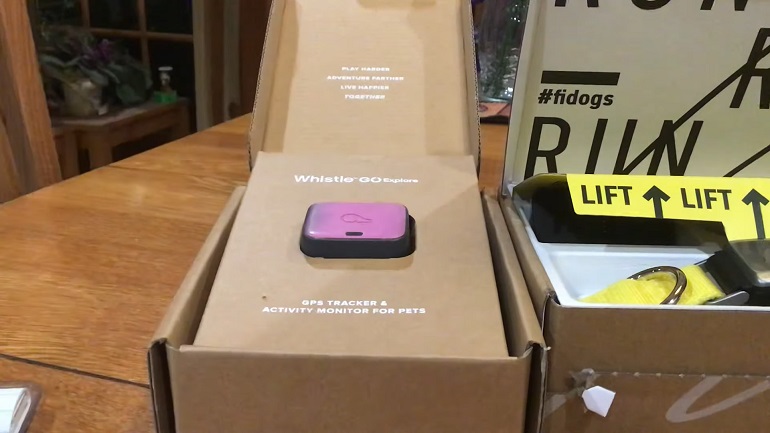 The main difference lies in fitness and activity tracking, with Whistle being more versatile. It provides a lot of data on your dog's health, like sleep, diet, burnt calories, and much more. The Whistle app also allows you to talk to vets in case you need urgent medical advice.
Fi offers better battery life as compared to 3 weeks with Whistle. The Fi app is also much more user-friendly, while the Whistle app can be a little confusing for some users.
Is It Really Worth It?
According to this Fi dog collar review, with the huge range of features on offer, the Fi collar is absolutely worth the price – especially since it's cheaper than Fi Series 1 when it was first released.
The Fi Series 2 improves on all the things its predecessor did so well, but with even better location tracking, a longer-lasting battery life, faster escape alerts, and even a sleep-monitoring feature.
Conclusion
Despite all the high-tech features packed in Fi series 2, it is a great option as a regular collar that ticks all the right boxes. It is sturdy, well-constructed, waterproof, and dust-proof. In addition, it comes in a variety of colors and a loop for attaching tags and a leash.
If you want to give your pup freedom and let them off the leash as much as possible, the Fi smart collar is all you need for peace of mind. Say goodbye to nightmares of losing your dog, and hello to extra freedom!