When I visit my sister-in-law, I always volunteer to walk her Goldendoodle named Dexter. I have two little dogs, and I like hanging out with Dexter to get the big-dog experience.
Since Dexter is extra-protective of his family around other dogs, I like to keep him close when I see another dog around.
Dexter wears a tactical collar that has a handle built right into it, and it is so handy! As soon as I see another dog walking toward us, I grab onto Dexter's handle, and we keep walking (he's super tall, so I don't even have to bend over).
Having the right kind of collar for your pup can make spending time together more enjoyable. Being able to keep Dexter under control on our walks because of his collar helps me be more confident and allows him to get out and about more. It's a win-win for everyone!
Best for Everyday Wear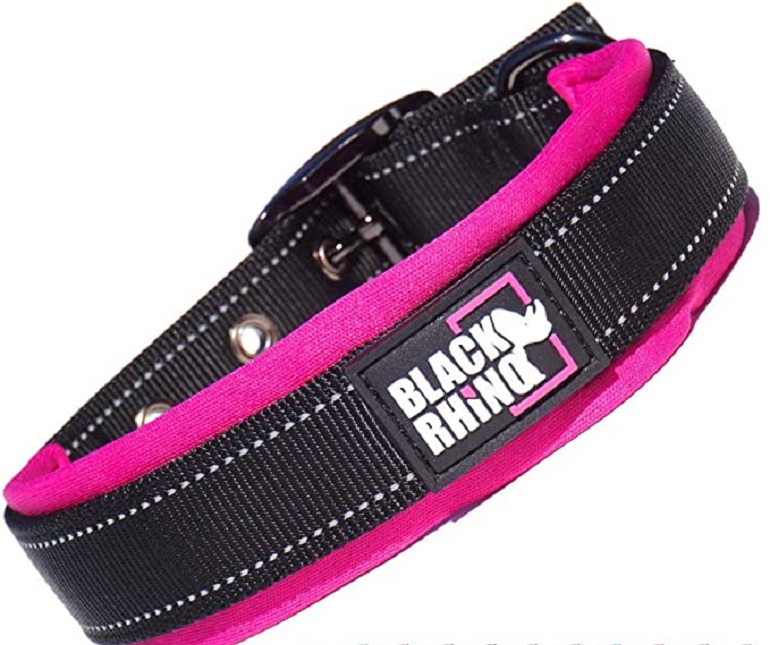 Black Rhino Collar
Material: Neoprene
Closure Type: Buckle
Best for Little Dogs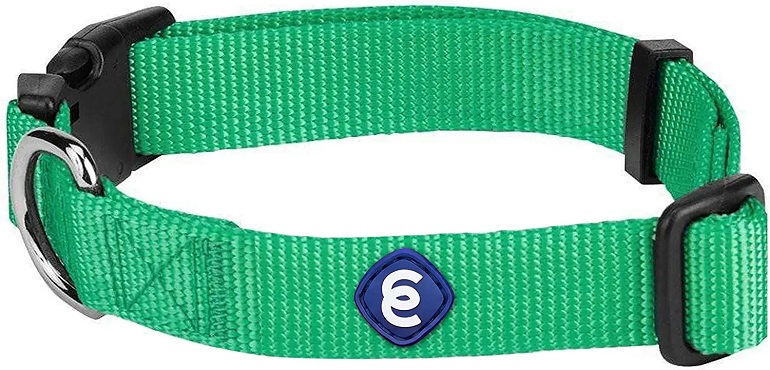 Blueberry Pet Classic
Material: Nylon
Closure Type: Buckle
Best Leather Collar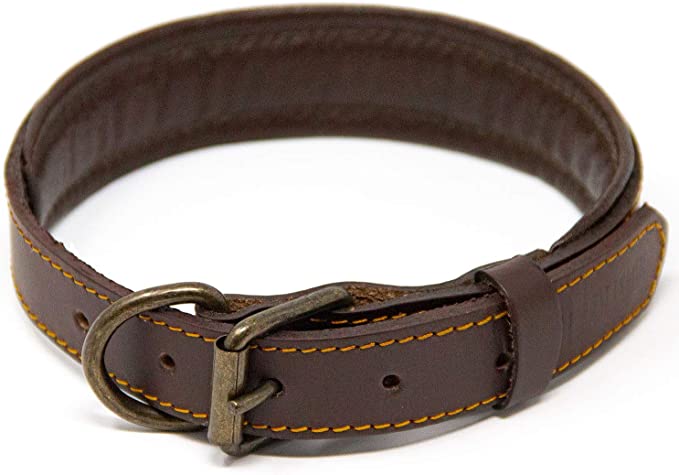 Logical Leather Collar
Material: Leather
Closure Type: Buckle
Personalized Collars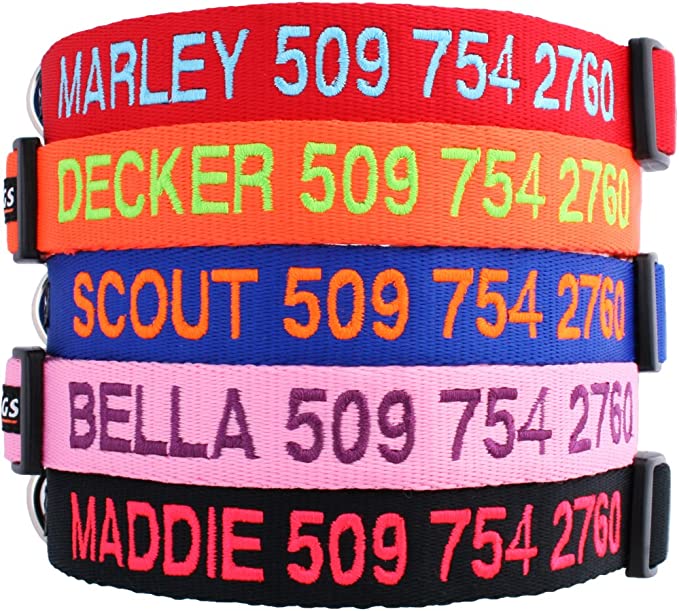 GoTags Personalized Collar
Material: Nylon
Closure Type: Snap
Martingale Collar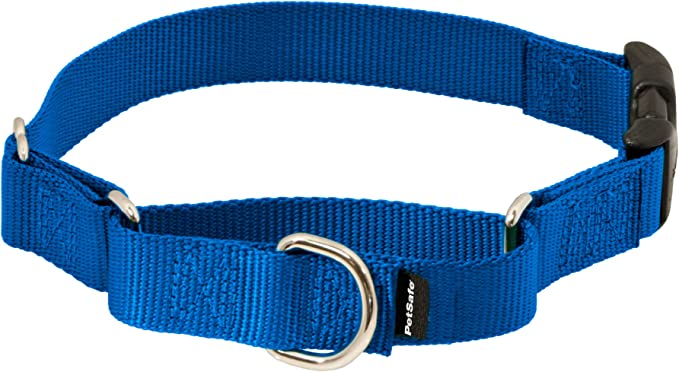 PetSafe Martingale Collar
Material: Nylon
Closure Type: Snap
Best GPS Tracker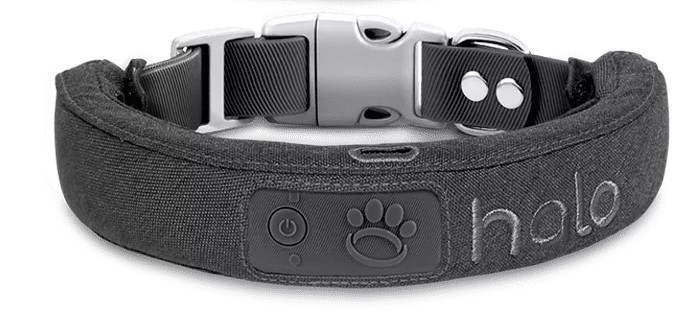 Halo 2 Collar
Material: thermoplastic elastomer
Closure Type: Button, Buckle
Light-Up Collar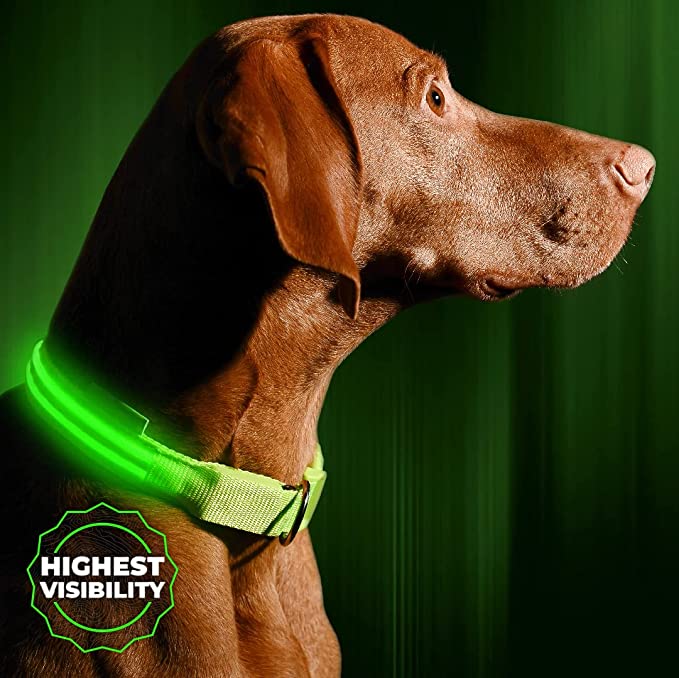 Illumiseen LED Collar
Material: Nylon
Closure Type: Buckle
Best Tactical Collars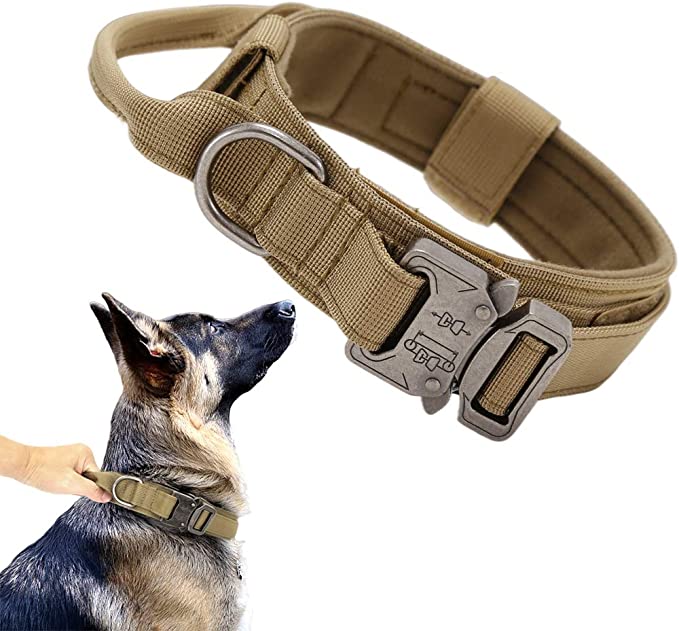 Tactical Dog Collar
Material: Nylon, Metal
Closure Type: Button, Buckle
Best Prong Collar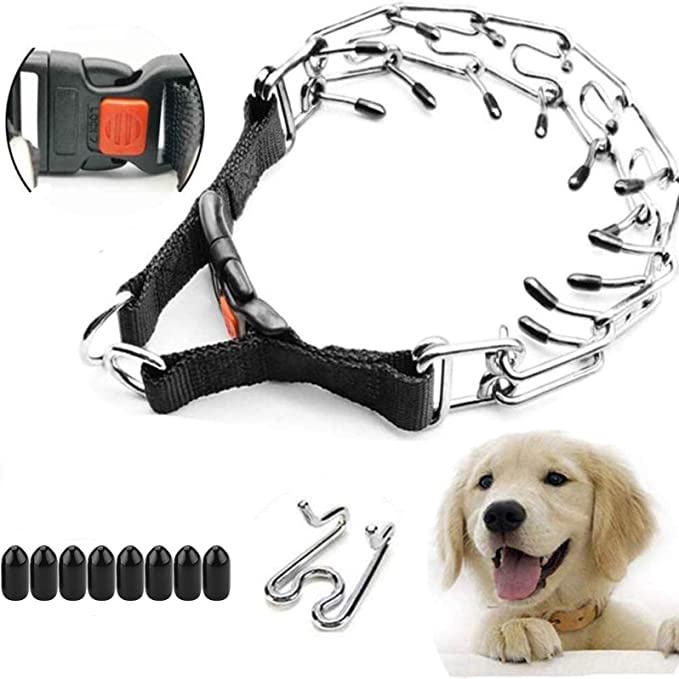 Supet Dog Prong Collar
Material: Stainless Steel
Closure Type: Buckle
Reflective Collar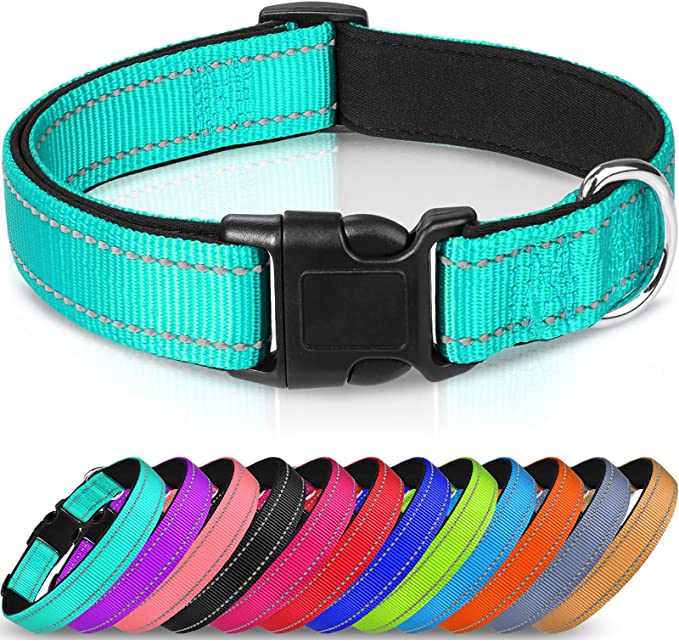 Joytale Reflective Collar
Material: Nylon, Neoprene
Closure Type: Buckle
10 Best Dog Collars in Each Category
There are many different types of collars and choosing the best dog collar for your pet can feel a little overwhelming.
Below you'll find an amazing option for each type of dog collar: martingale collar, leather, prong, GPS, and more. This should help give you all of the information you need to choose what's best for you and simplify your shopping experience.
1. Best Collar for Everyday Wear: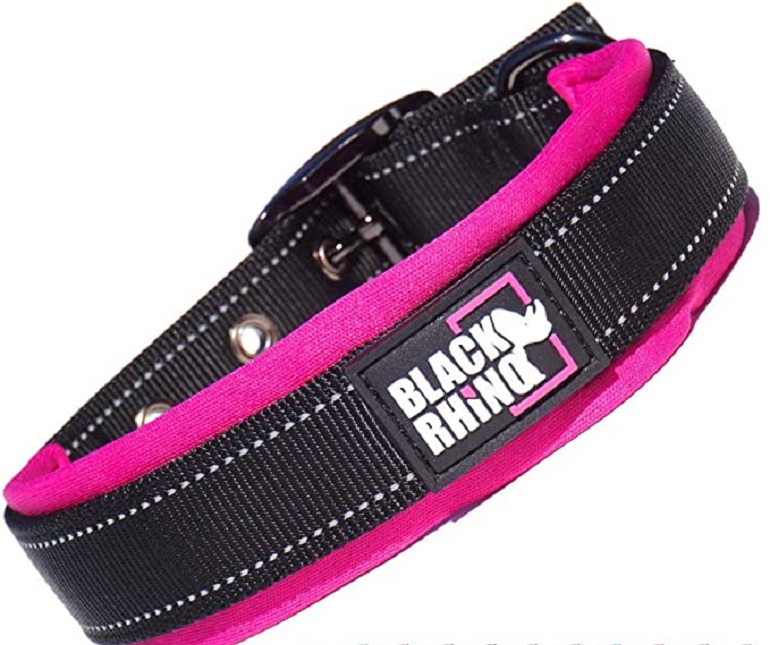 Most dogs wear a dog collar 24/7 for their whole lives, so I really think that comfort should be a top priority in choosing a collar. The neoprene padding on this one from Black Rhino makes it look like the perfect everyday comfort collar. It will protect your dog's neck from irritation.
The neoprene padding not only dries easily if your pup takes a swim, but it is also odor resistant. You don't need any extra smells on top of that wet dog smell.
This Black Rhino dog collar comes in a lot of different color combinations and I love them all!
The rest of the Black Rhino collar is made with high-quality materials and design. It has all metal hardware, making it very durable. There is a leash attachment ring as well as a separate ring for dog tags.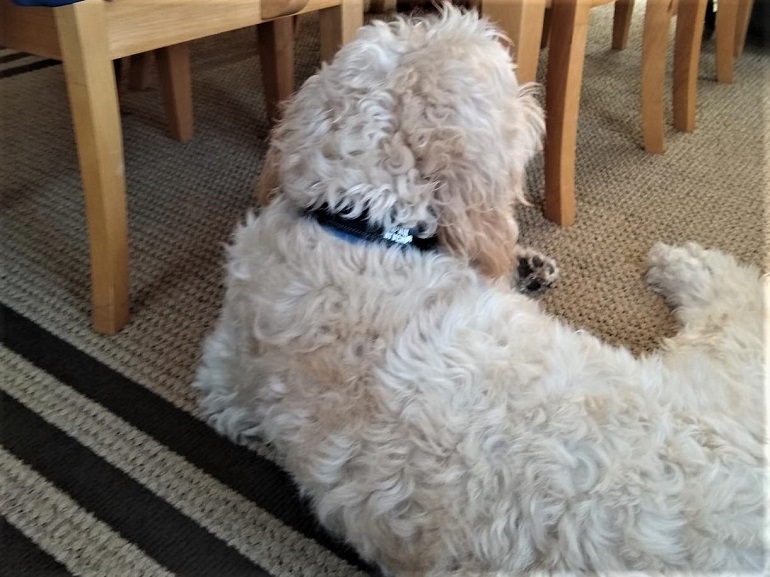 Pros
Comfort and durability! If you need a high-quality dog collar for your rough and tumble pup but still want her to be comfy, this is overall a great choice.
Black Rhino sells matching leashes that have padded handles so that you can have a snazzy matching set for walking your dog.
Reflective stitching is sewn into the collars for added nighttime visibility.
Cons
The metal hardware, while super durable, might be too heavy for little dogs. It's great for large dogs.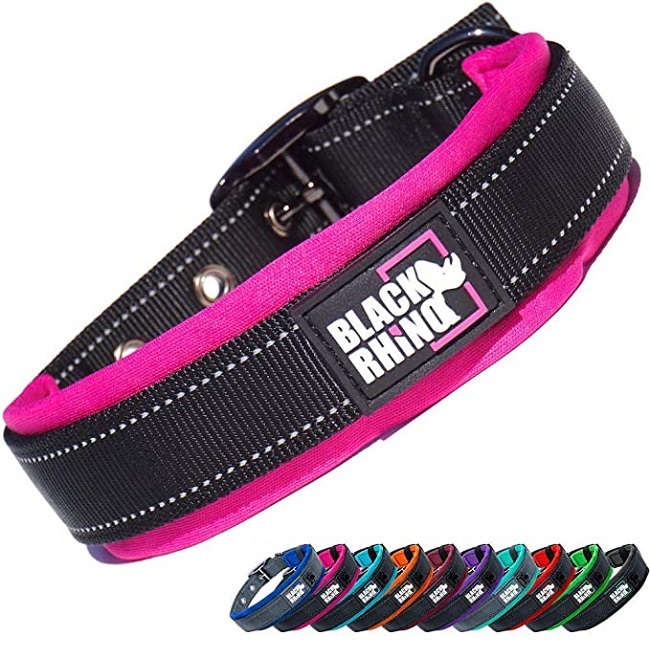 Black Rhino The Comfort Collar
The price of "Black Rhino The Comfort Collar" varies, so check the latest price at
2. Best Collar for Little Dogs: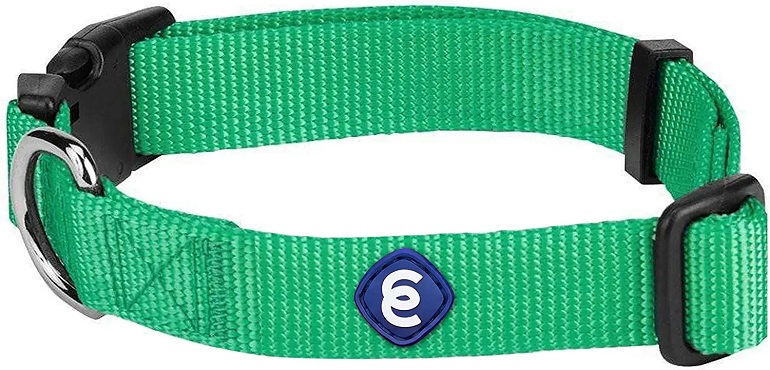 Blueberry Pet is a well-known brand for dog collars and leashes. They are unique because they sell collars that can fit extremely tiny dogs.
This Blueberry Pet collar is what I consider to be a classic, everyday-wear kind of collar. It can fit dogs with as small as an 8-inch neck circumference.
It is made out of nylon webbing that comes in multiple color options. Nylon is both durable and inexpensive, which is why it is a commonly used material for dog collars. If it gets dirty, you can throw it in the washing machine to get it clean.
The buckle is made from heavy-duty, eco-friendly plastic (made from recycled plastic bottles). The D-ring is chrome-coated to make it more durable.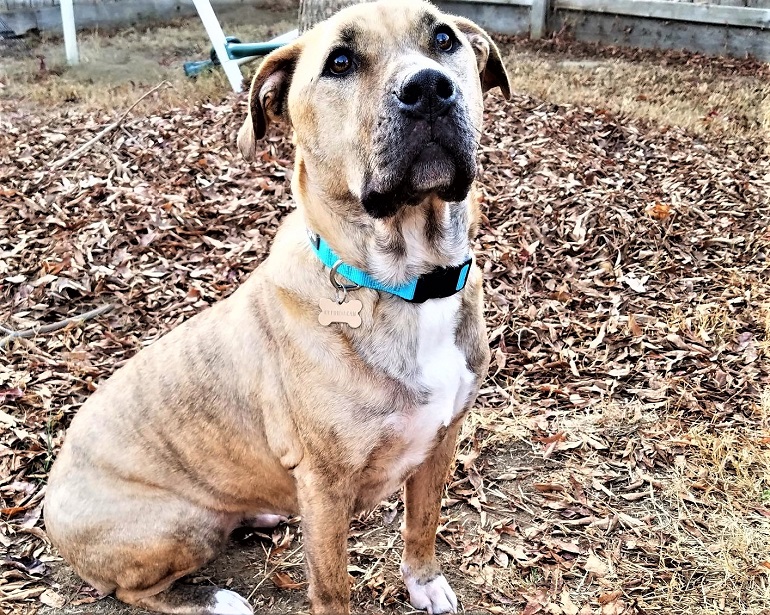 Pros
This nylon collar is super budget-friendly.
Blueberry Pet sells matching leashes so that you can walk your dog with a matching set. (My dogs each have a matching collar and leash sets, so this is a solid selling point for me!)
Cons
It is not reflective, so you may not want your dog to have this on in low lighting.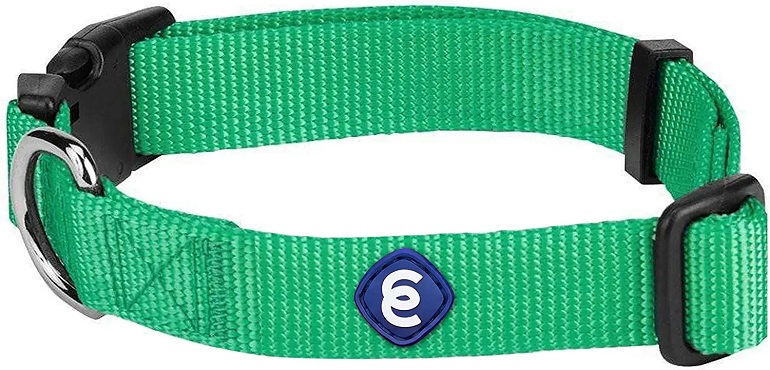 Blueberry Pet Classic
The price of "Blueberry Pet Classic" varies, so check the latest price at
3. Best Leather Collar: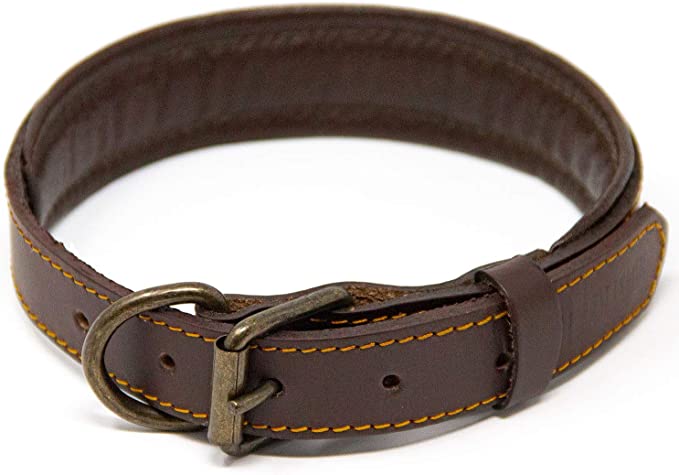 If you want your dog to have a collar made out of natural materials that will last their whole life, a leather dog collar is what you want.
This one from Logical Leather has a super nice added feature: extra padding. The collar has a padded sheepskin interior for more comfort on your dog's neck.
In terms of durability, it has law enforcement grade construction, using all metal hardware and riveted strap ends. It is made of 100% genuine leather that even comes in multiple color options. I've honestly never seen that available in other leather collars.
To clean it, you can wipe it with a clean, damp cloth. And you will want to occasionally use leather cleaner and conditioner on it to keep it flexible and durable.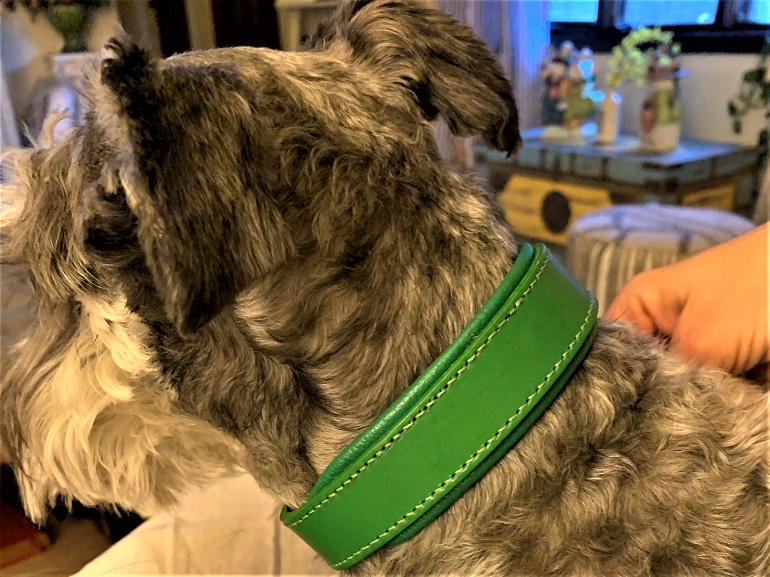 Pros
This company offers a lifetime guarantee on their best leather dog collar. If you don't love it or have any issues with it, they will replace it or refund your purchase.
A wide range of sizes are offered, from extra small all the way up to extra large.
Cons
Leather collars are not waterproof, but you can wipe them with a waterproofing cream to help them stand up to the elements.
If you live in a dry climate, the leather will be more prone to drying and cracking. You can counteract this with regular use of leather conditioner, but it does mean remembering to do this bit of maintenance.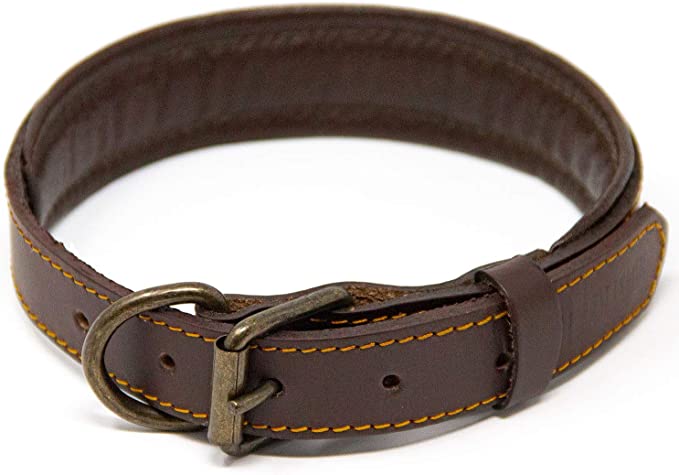 Logical Leather Collar
The price of "Logical Leather Collar" varies, so check the latest price at
4. Best Personalized Dog Collars: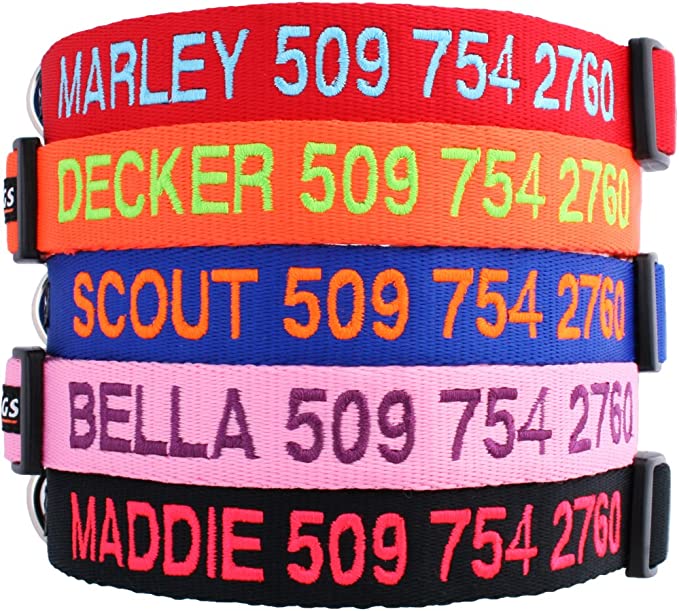 My mom used to have a dog that had a hard time settling down. He was always wandering around the house, and the constant jingling of his ID tags drove me crazy after a while!
This personalized collar has your dog's name and phone number embroidered right into it so that you never have to worry about your dog's ID tag falling off or becoming hard to read because of scratches (that happened to my dog Mozzie's first ID tags). Plus, no more jingling!
These collars can fit dogs anywhere from 8 inches to 26 inches in neck circumference. There are 5 collar colors as well as 15 thread colors to choose from. It is made of durable nylon and can be thrown in the washing machine if your pooch gets it dirty.
It has a plastic quick-release buckle and a stainless steel D-ring.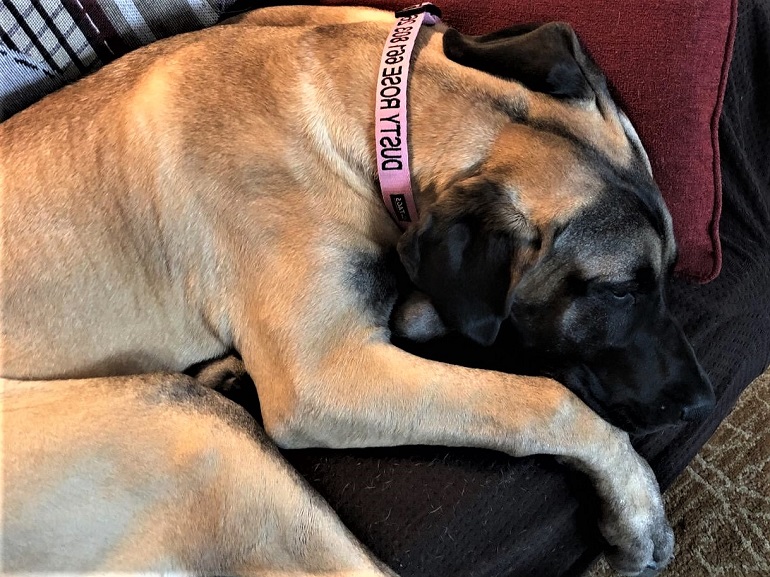 Pros
It is quite budget-friendly for a fully customized item.
It is made in the USA.
Cons
Depending on how you need to adjust the collar for the best fit, some of the hardware could end up obscuring the name and phone number. This is one of the most common complaints in the reviews.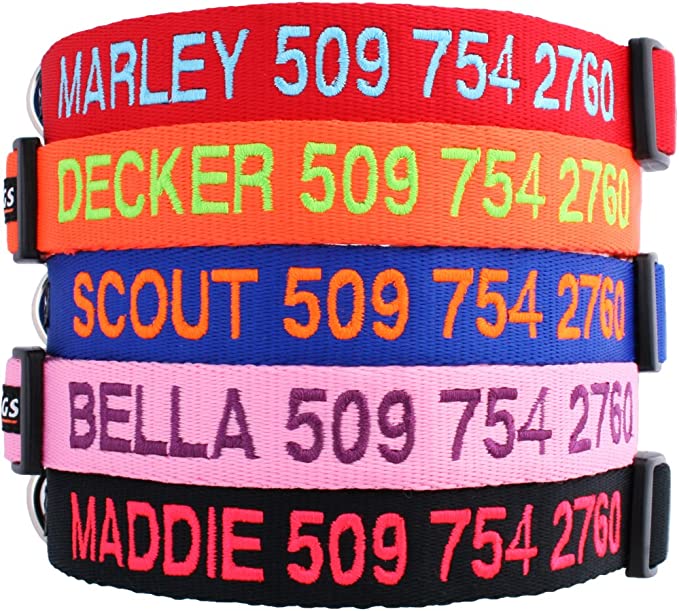 GoTags Personalized Collar
The price of "GoTags Personalized Collar" varies, so check the latest price at
5. Best Martingale Dog Collar: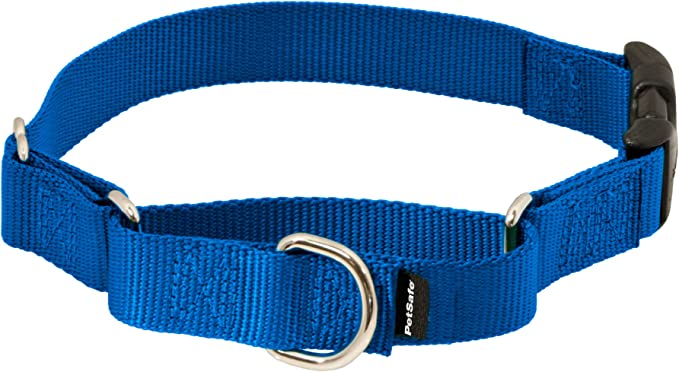 If you have a pet that tends to pull on walks or a breed with a small head (like a Greyhound or Doberman), the Petsafe Martingale Collar is a great option.
When you first put it on your dog, the collar will be loose. If your dog starts to pull or tries to back out the dog collar, it will tighten and then immediately loosen when your dog stops. Many dog owners find this to be a safer alternative to a prong collar.
This martingale dog collar has a quick-release buckle (not a common feature in this type of collar) to make it easier to get on and off of your dog. It is made of durable nylon with a metal D-ring.
It's important to be aware that many professional dog trainers do not recommend that you have your dog keep a martingale collar on unsupervised. Because of the looser fit, there is a higher chance that the collar or dog tags could get caught on something.
You'll want a collar for everyday use as well as a martingale collar for walks or training.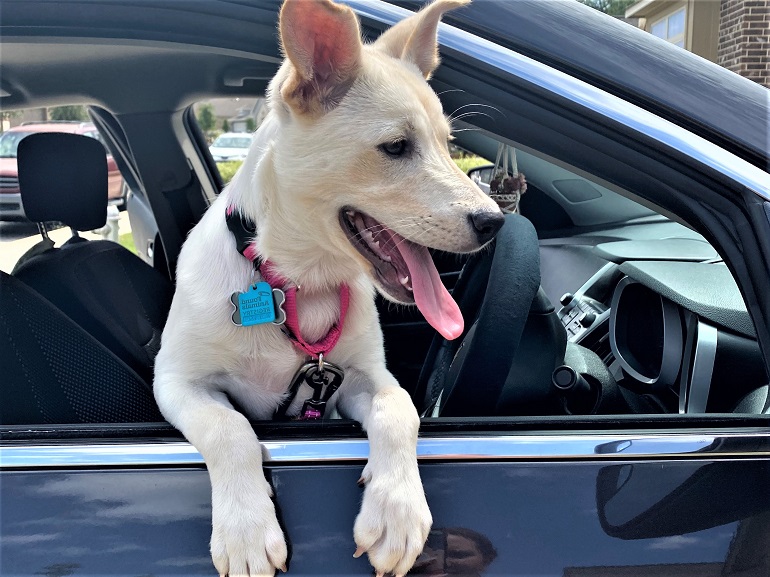 Pros
The smooth tightening and loosening action of this dog collar makes sure that it is never too tight on your pet's neck.
The soft nylon material is more comfortable than a prong or choke collar.
Cons
Some reviewers thought that the neck sizes chart provided by the company was off, so you might want to size down or be prepared to exchange dog collars to get the right size.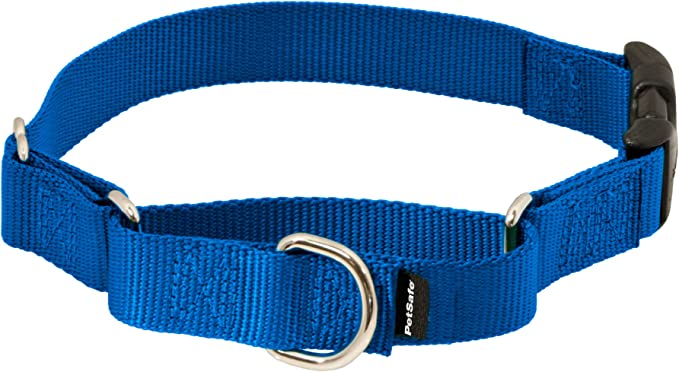 PetSafe Martingale Collar
The price of "PetSafe Martingale Collar" varies, so check the latest price at
6. Best GPS Tracker Collar: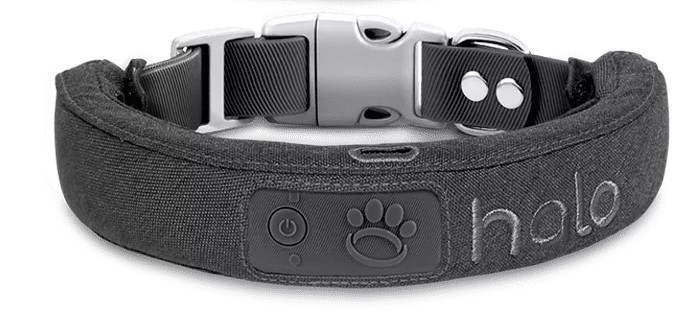 Let's go high-tech for a minute because you may not be aware of this amazing option (I wasn't until recently, and now I'm obsessed). The Halo 2 Collar is not just a collar. It is an invisible fence system, GPS locator, and dog activity monitor as well.
With this system, you can instantly create up to 20 GPS wireless fences so that you can keep your dog safely contained basically anywhere in the world. If your dog manages to leave their safe zone, you can track them on your phone. It's basically 100% peace of mind for pet parents.
Plus, if your pet is a bit chunky and needs to get more physical activity, you can monitor that as well. With the app, you'll be able to see daily activity charts of how much time your dog has spent on walks and their active vs. resting time.
If you bring your dog with you camping or to visit friends and family, this collar is basically a dream come true. It allows you to keep track of your furry friend while giving them the freedom to explore.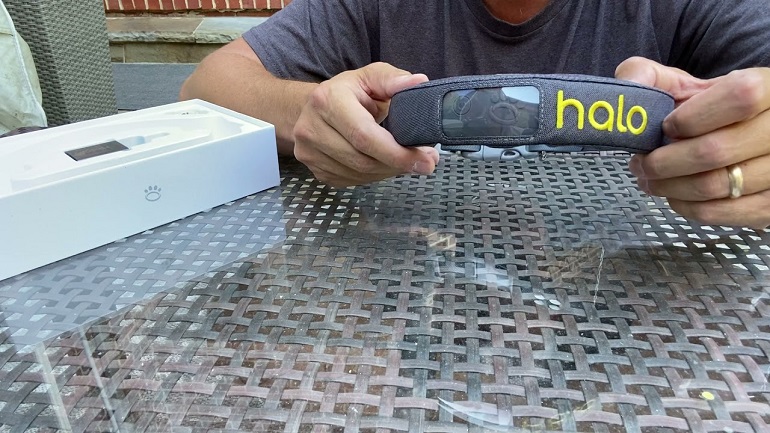 Pros
A training program by expert dog trainer Cesar Milan is included to help you and your dog make boundary training a positive experience.
It is quite durable and can be worn in any weather or even if your pup goes swimming.
This system has hundreds of amazing reviews! It is the best GPS dog collar/wireless dog fence out there.
Cons
The Halo might be a bit bulky or heavy on small pups. The smallest neck size that it can fit is 11 inches.
A small monthly membership plan is required to activate it and utilize all of the functions. This can be as low as $4.49 per month.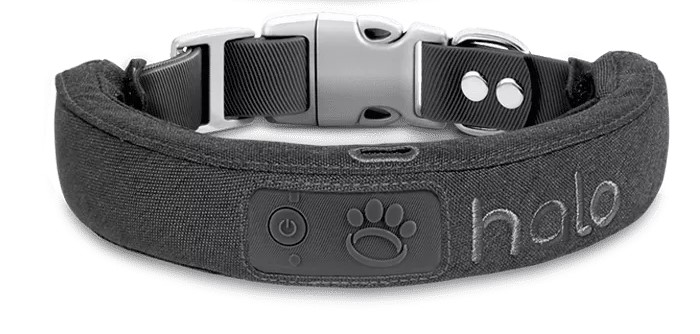 Halo 2+ Dog Collar
In a hurry? Use Code: HALOFREEDOM to get $350 off on Your New Halo Collar
7. Best Light-Up Dog Collar: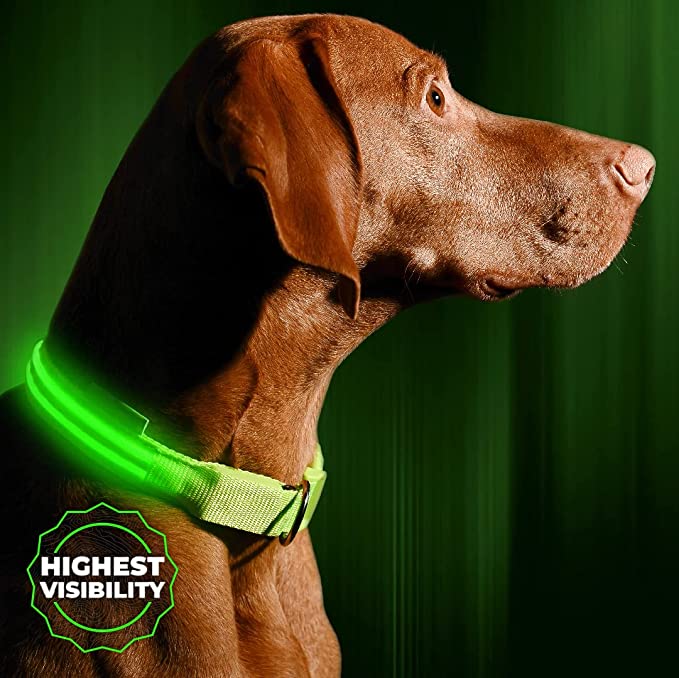 It's starting to get dark out earlier and earlier, which means that you may be taking your dogs for a walk at dusk or in the dark. If you're worried about visibility for yourself and your dog, that's smart!
The Illumiseen LED dog collar will help your dog be seen in the dark and could even save them from getting hit by a car (every dog owner's worst nightmare, right?).
It has a rechargeable battery that can give five hours of illumination. The lights can be seen from up to 350 yards away, and you can set the lights to either slow flash, rapid flash, or steady on.
If you have multiple dogs, you can get them each a different color so that you can tell them apart in the dark. There are six color options that come in six sizes — perfect for small dogs and large dogs.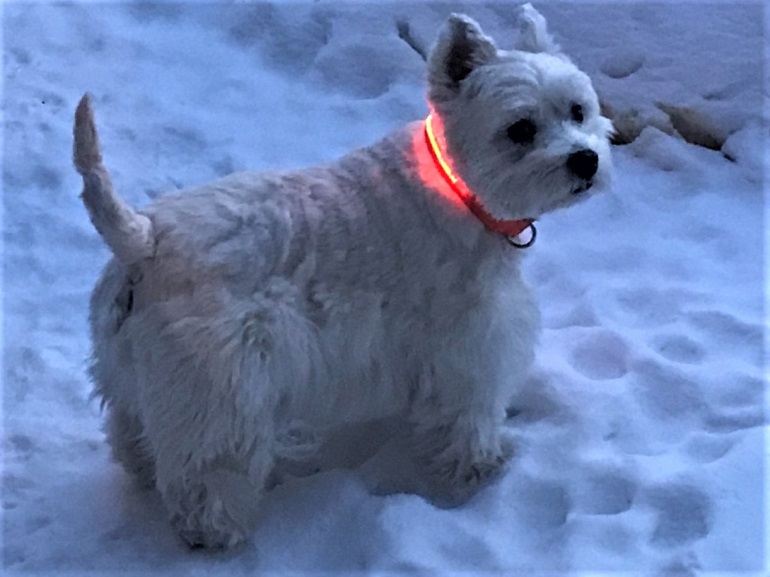 Pros
The LED dog collar lights up all the way around, so your pet will be seen from pretty much any angle.
It's bright! One reviewer stated that she should easily spot her dog anywhere on their 4-acre property.
It is weatherproof and comes with a 100% lifetime guarantee.
Cons
Some reviewers had problems with the battery not lasting as long as stated.
It is not super adjustable, so you'll need to make sure to measure your pup to order the proper size.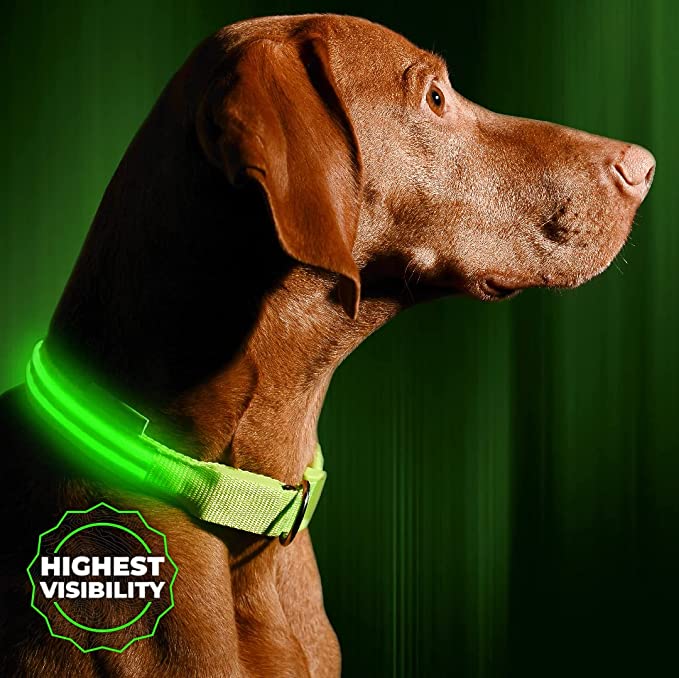 Illumiseen LED Collar
The price of "Illumiseen LED Collar" varies, so check the latest price at
8. Best Tactical Dog Collars: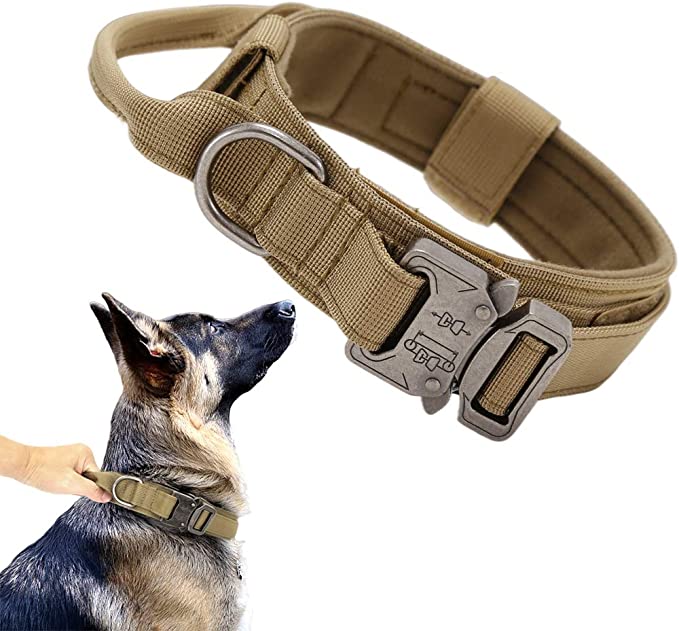 This tactical collar has a lot of great features for dog owners and pups. It is made of reinforced nylon and has heavy-duty hardware, including a quick-release buckle. The collar has a handle that you can grab to gain control of your pet, which is nice for training, hunting, or patrolling.
It has extra padding on the inside to make it more soft and comfortable.
With how it is designed, the buckle never touches your dog's fur. This is a really nice feature that ensures that your dog's fur won't get caught in the buckle and that there won't be any rubbing irritation.
You can purchase just the collar or a matching collar and tactical leash combo. I really like the vast array of vibrant colors that this collar comes in — not just basic black and army green.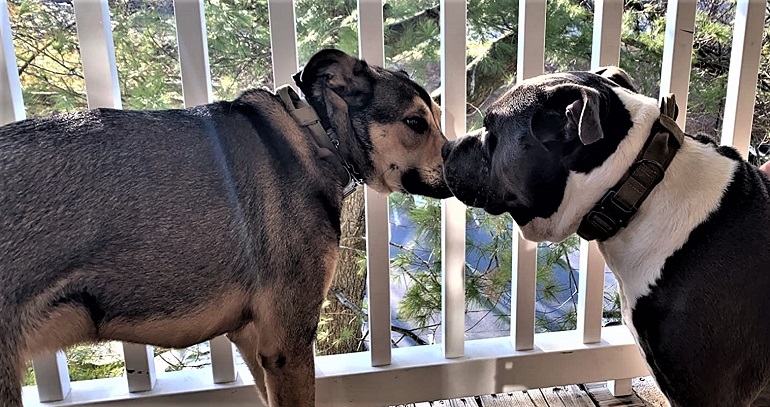 Pros
Every bit of this product seems to be made with heavy-duty materials to make it durable for the long haul.
There are multiple points where it is adjustable so that you can get a perfect fit for your pet.
Cons
While this collar does come in small sizes, it may be too thick or heavy for small dogs.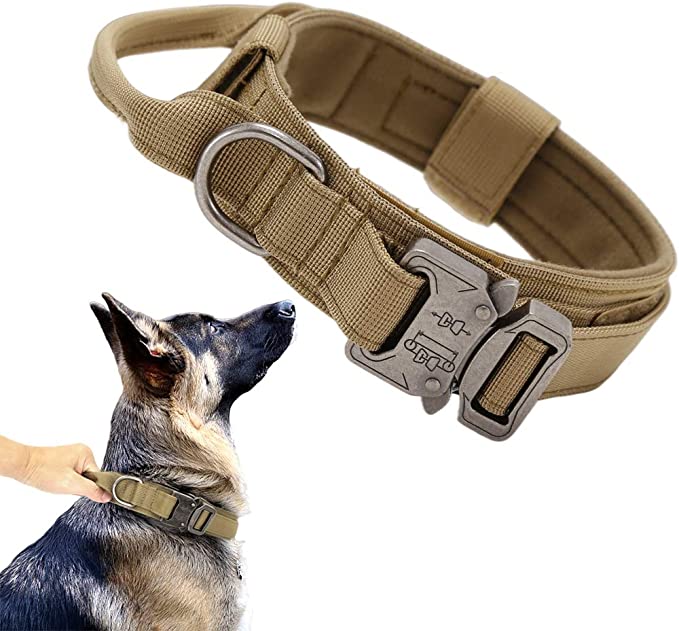 Tactical Dog Collar
The price of "Tactical Dog Collar" varies, so check the latest price at
9. Best Prong Collar: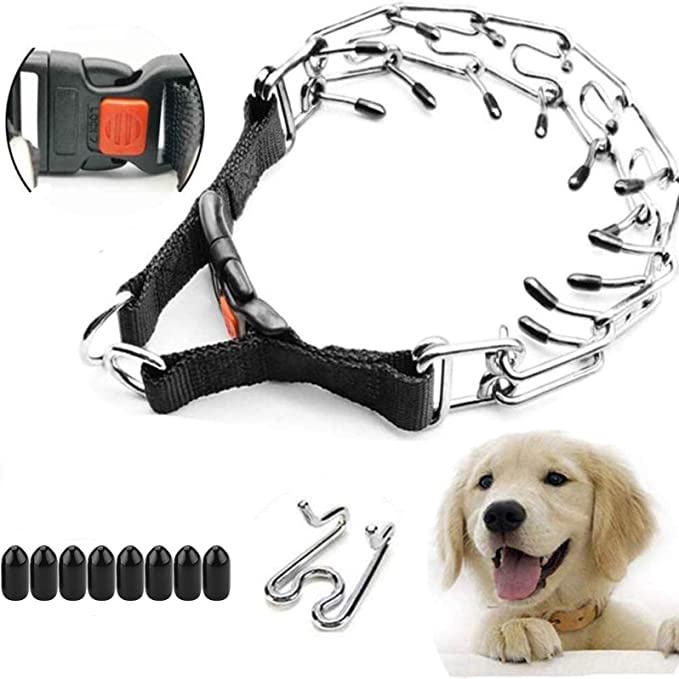 A prong collar can be helpful for training as well as with dogs who won't stop pulling on a leash. While it looks a little scary, when used correctly, these collars are safe.
Most prong collars are complicated to put on and take off of your dog (you can't slip it on over their head), but this one from Supet has a quick-release buckle. You can learn more about how to place a prong collar on your dog in our blog.
If your pet pulls while on a leash, it will tighten, and the prongs will distribute pressure evenly around the neck. This is different from a normal flat collar, where all of the pressure is on your dog's throat.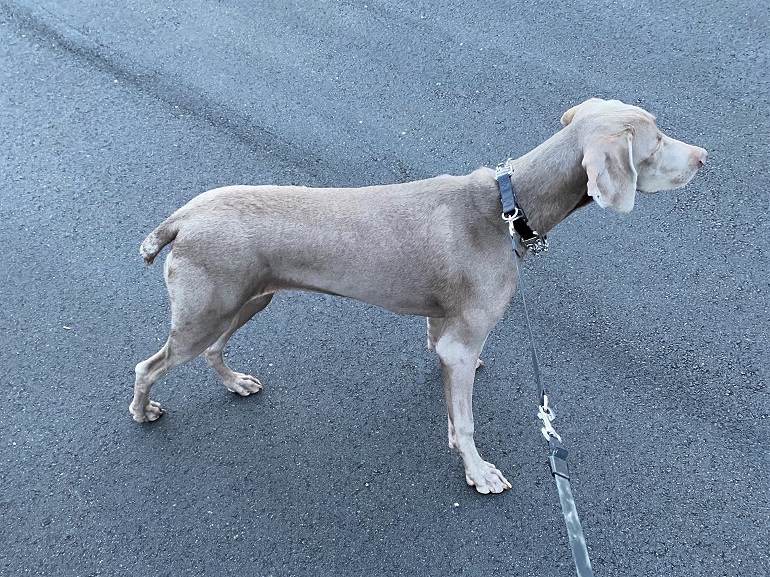 Pros
It is completely adjustable a perfect fit. You simply add or remove links.
Cons
This prong collar comes with rubber caps which I would recommend that you take off before use (easy to do!). They may seem more comfortable for your dog, but they can actually catch in your dog's fur and break open their skin. The smooth metal is better.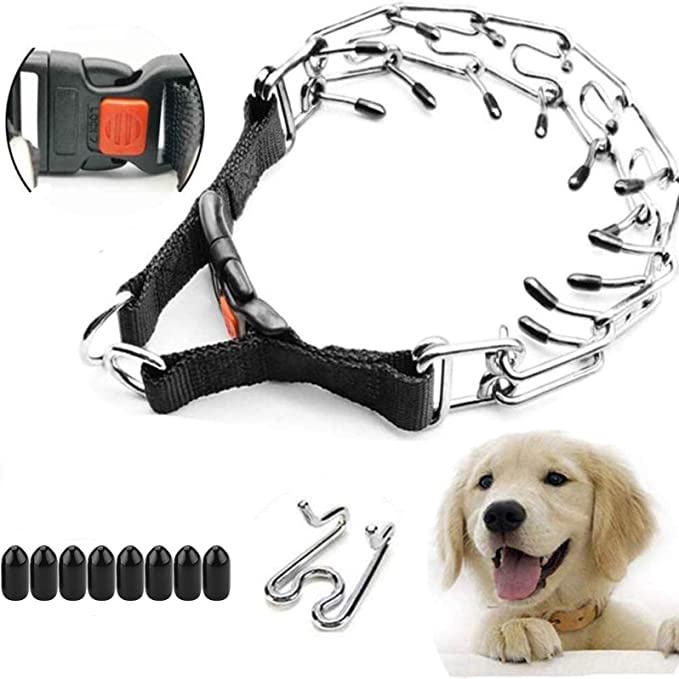 Supet Dog Prong Collar
The price of "Supet Dog Prong" varies, so check the latest price at
10. Best Reflective Collar: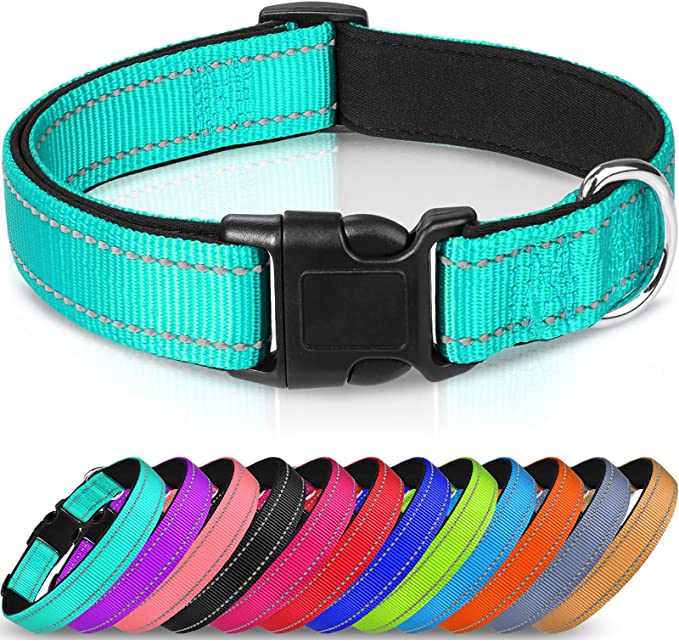 If you've ever had a hard time spotting your dog out in the backyard at night, a reflective dog collar is the solution. The Joytale Reflective Dog Collar is a great daily collar with the added benefit of being highly reflective at night.
It is made of nylon material and has neoprene padding to make it more soft. Another comfort feature that I find impressive is that the buckle is curved to mimic the shape of your dog's neck. Now that's attention to detail.
The Joytale reflective dog collar has a high-quality chrome D-ring. It comes in 12 colors with 5 different size options.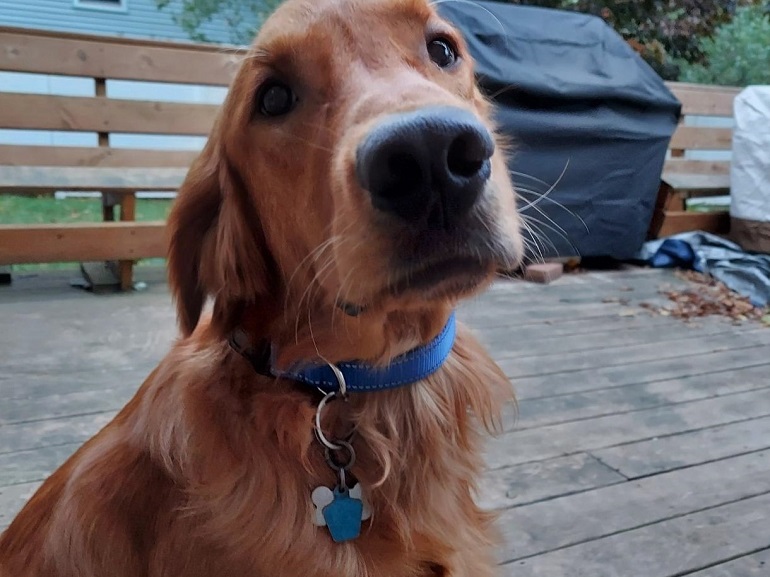 Pros
Joytale sells not only a matching leash but matching harnesses as well.
It has close to 35,000 reviews on Amazon with a 4.7-star rating. That's really about as good as it gets!
Cons
Some of the hardware is made out of plastic which is less durable, though I didn't find any reports of this being a problem.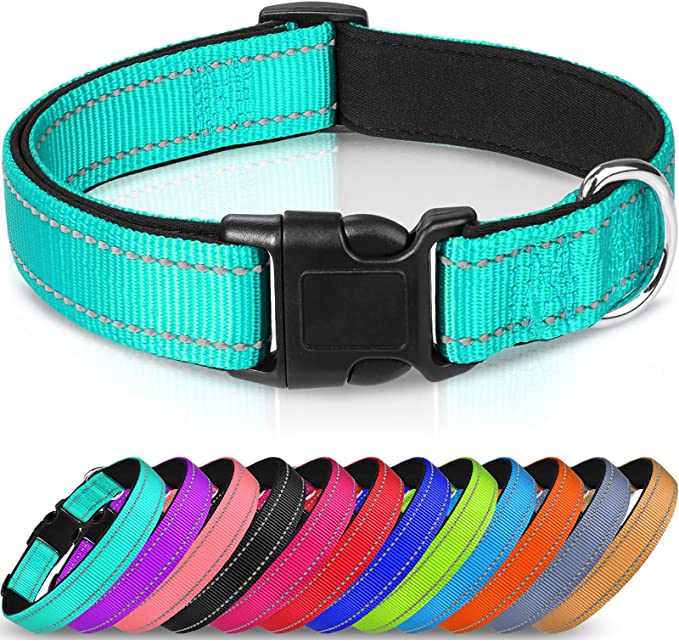 Joytale Reflective Collar
The price of "Joytale Reflective Collar" varies, so check the latest price at
Buyer's Guide: What to Look for in a Dog Collar
As you shop for dog collars, you'll want to pay the closest attention to the following factors:
Material
Nylon collars are generally inexpensive, durable, and easy to clean. Occasionally, dogs are allergic to nylon material though. If your dog have sensitive skin, you may want to look for a natural material instead.
If you're looking at leather dog collars, be sure to look for the product description to say 100% genuine leather. If it doesn't say that, you might be purchasing a faux leather dog collar which won't hold up as well.
The hardware on collars is made of either plastic or metal. While metal is more durable, it is heavier, which can be too much for a little dog's neck to handle.
Type
We've covered multiple types of collars in this article, including tactical, martingale, prong, and GPS collars (like the Halo collar or Fi collar).
The best dog collars are always the ones that are comfortable for your dog and meet your unique needs. Think through what you need most from your dog's collar to choose the best type.
Design
This is the fun part! Dog collars can come in a huge variety of color combinations and patterns. What color does your dog look best in? What feels right for their personality?
My white cockapoo looks amazing in his green collar and my chihuahua mix has a peacock-patterned collar.
Don't forget to check for matching leashes to complete the look.
Fit
It is important for your dog's safety that you get the proper fit. You'll want to measure their neck circumference at the spot where their collar will rest.
Keep in mind that a prong collar should be worn right behind your dog's ears instead of lower down, so that it is where you should measure.
Durability
If your dog plays rough, durability is important. Pay attention to the product descriptions for each collar and look for ones with a metal D ring, that are waterproof, and/or that have a lifetime guarantee.
FAQs
Should Dogs Wear Collars Every Day?
Dogs should wear a basic collar with ID tags attached daily so that they can be identified if they go missing. Whether you want to remove this at night is up to you.
It is not recommended that your dog keep their collar on if they are in a crate as it could get caught in the bars of the crate and cause a strangulation risk.
Prong-style collars should never be worn unsupervised.
Are Collars Uncomfortable for Dogs?
A well-fitting collar should not be uncomfortable for your dog. Always be sure that you can fit two fingers in between your dog's neck and collar. This is how to know that it is not too tight.
Most dogs get used to wearing a collar fairly quickly. When I first put a collar on Mozzie when he was a puppy, he tried to bite at it and got confused by the jingling noise. Within a few days, he stopped noticing it and has worn it every day since.
If your dog seems uncomfortable, check that it is not too tight. Then you may want to try some different types or materials.
How Do I Know What Size Collar My Dog Needs?
To get the right size for your dog, you'll want to measure around their neck and then consult the sizing chart for the collar that you want to buy. Each manufacturer has different sizing so your dog might be a size medium in one collar but a size large in another.
Final Words
Dog collars come in a massive variety of types, styles, and materials. By thinking about your needs and your dog's comfort, you can choose the best dog collar for your pet.
A dog that wears a collar is more likely to come back home in the event they escape, or get lost. Therefore, a dog should always wear a collar with proper ID tags when out in public and even when in your own backyard.
Collars are great for leash training too. They can help to give you better control and require less physical strength from you as you walk your dog.
If you're looking for a perfect fit, head over to our website to get more details!