When you first got your delightful dog, did you actually realize how challenging training was going to be? Lots of people just assume it comes naturally – or at least, they hope it does. But it takes work – a lot of work – especially when your dog can be a bit stubborn!
If training your dog to walk calmly beside you just seems impossible right now, prong dog collars are a type of tactical collar that could come in handy as a training tool. Like a no pull or a pinch collar, this is an essential collar if you have a large dog that sends you flying whenever they pull!
A prong collar is made of linked metal rings that each have a prong. When you pull the collar, the prongs pinch your dog's neck gently to tell them to stop.
These collars might look scary, but really they just pinch the dog's neck, mimicking how a mother dog would bite her pup's neck to tell them to stop misbehaving. They don't do anything a mother wouldn't do to her own pup!
There are lots of misconceptions about prong collars and pinch collars, though, largely because of people who misuse them or don't measure their dog's neck correctly. Remember, this is not a choke collar and was actually invented by a vet looking for a humane alternative to choke collars.
Best Overall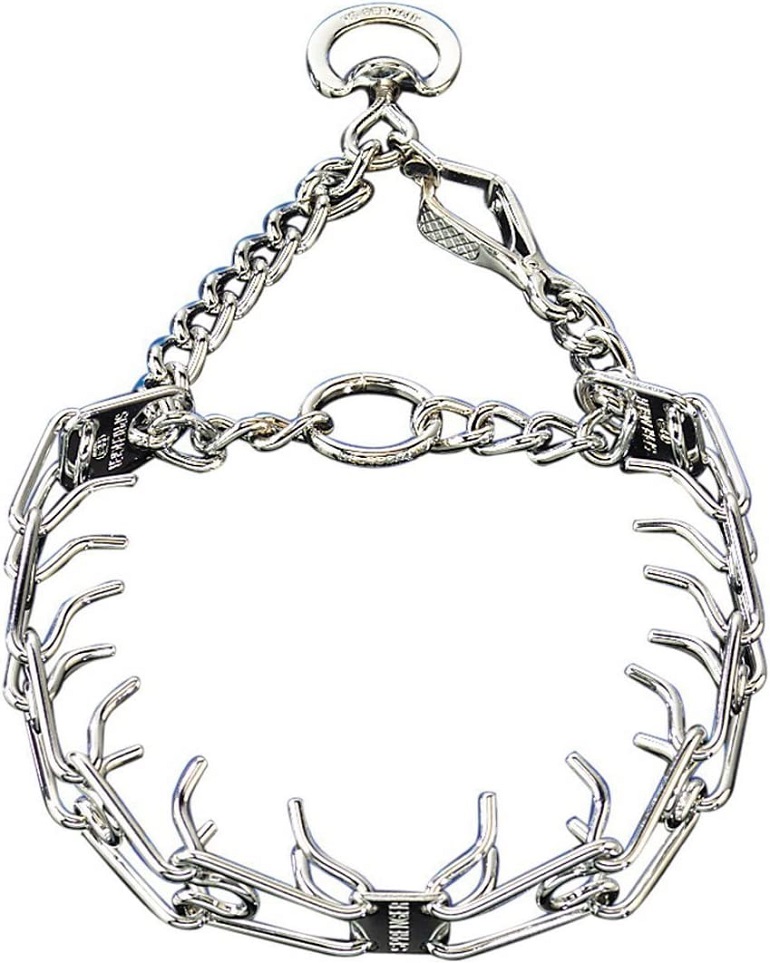 Herm Sprenger
Closure Type:Pull On
Material:Metal
Best Premium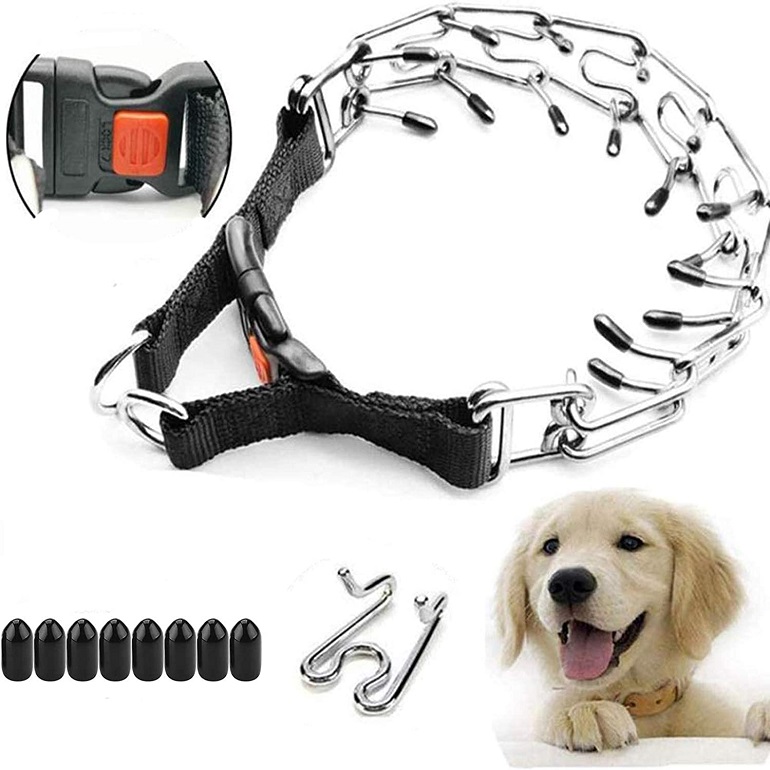 Supet Dog Prong Collar
Closure Type:Buckle
Material:Stainless Steel
Best for Style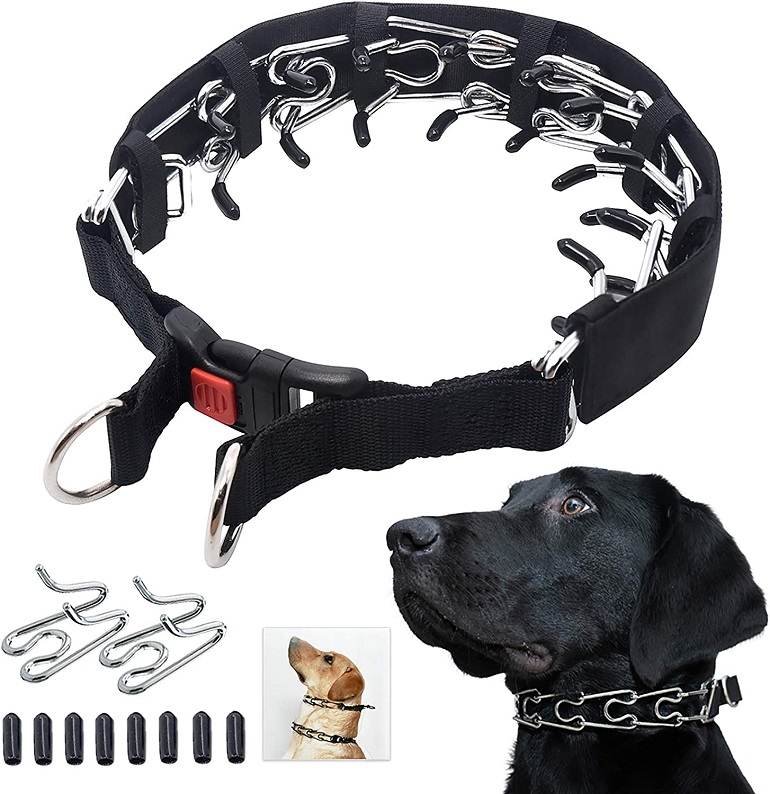 Mayerzon Prong Dog Collar
Closure Type:Buckle, Snap
Material:Stainless Steel
(Best for Range of Sizes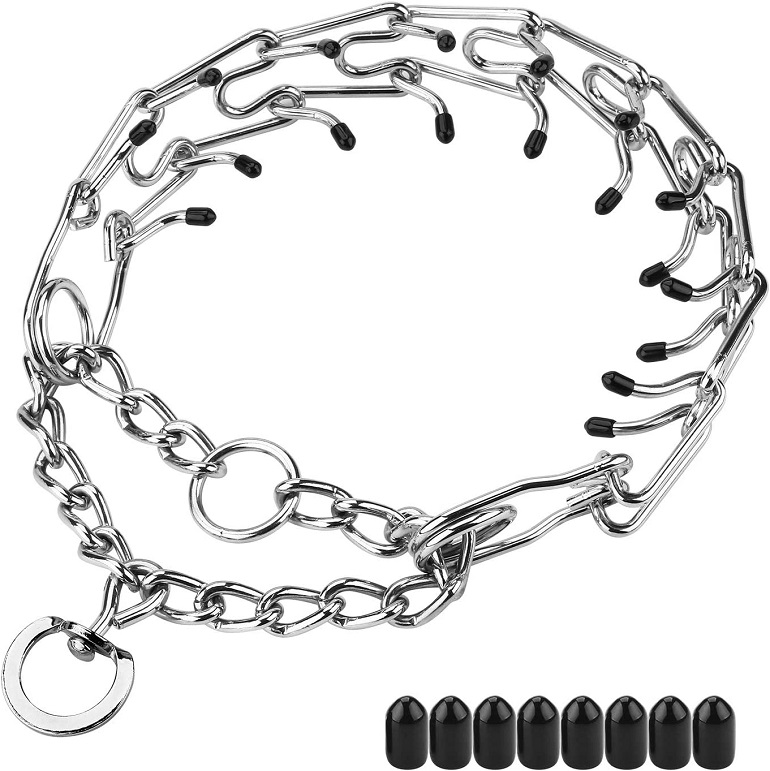 Aheasoun Prong Collar
Closure Type:Buckle
Material:Stainless Steel, Metal, Rubber
Best for Training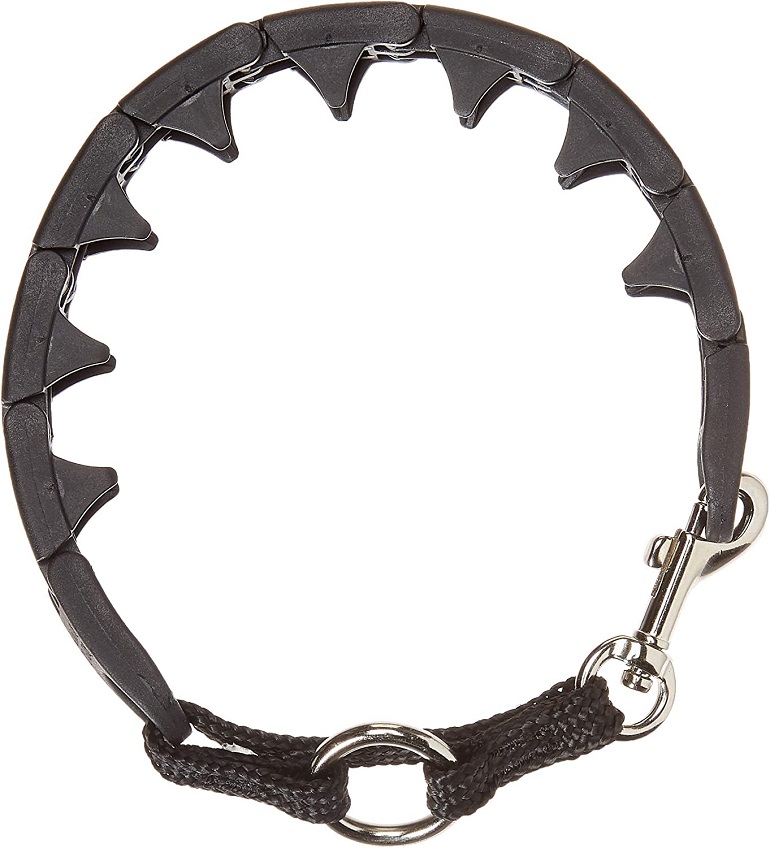 Starmark Pro-Training Dog Collar
Closure Type:Pull On
Material:Polymer
Best for Size Adjustments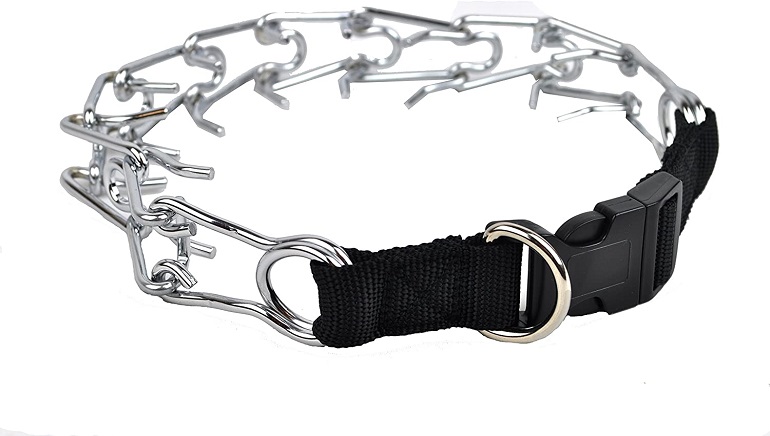 Downtown Deluxe Adjustable Prong Training Collar
Closure Type:Buckle
Material:Nylon
Best Value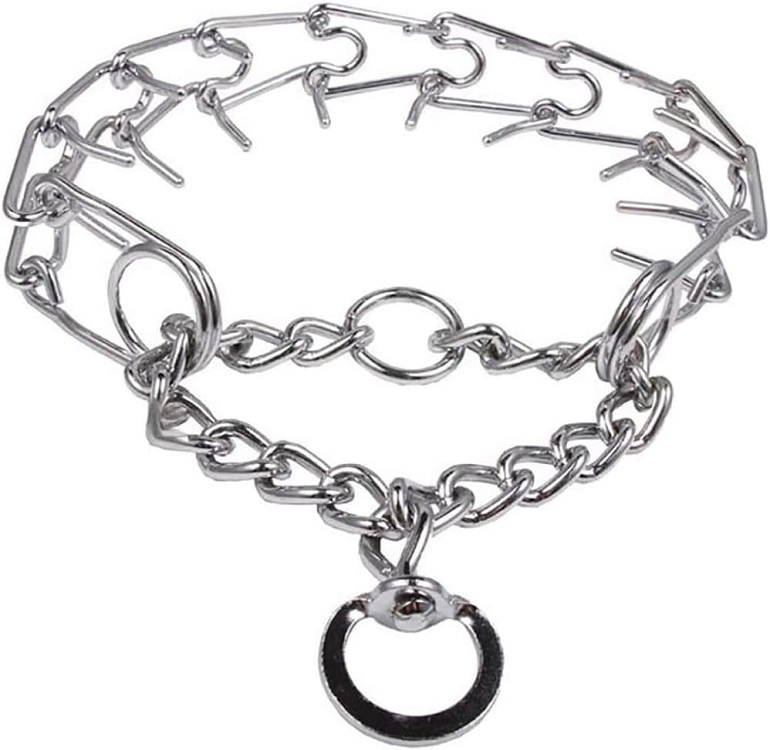 Darkyazi Durable Pinch Collar
Closure Type:Buckle
Material:Stainless Steel
Best for Large Dogs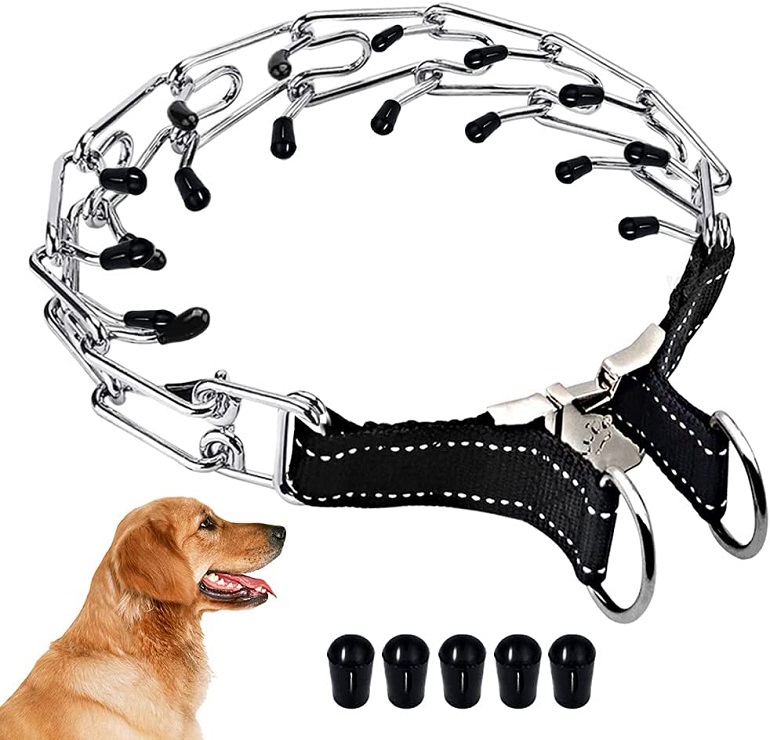 Wellbro Prong Collar
Closure Type:Pull On
Material:Nylon
8 Best Prong Dog Collars for 2022-23
Now you might be wondering – These sound great, but where can I get one? And how do I know if it's right for my pet?
Well, to make things easy for you, we've narrowed it down to the 8 best prong collar options, so you don't need to spend hours trawling through websites looking for the perfect one – we have it right here!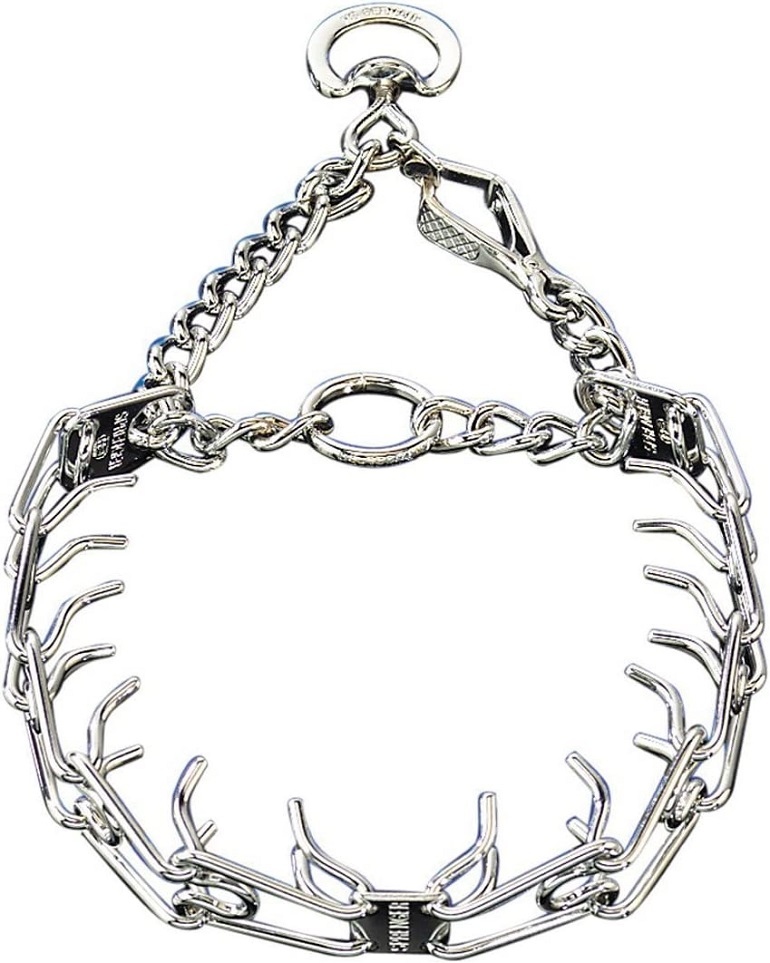 Herm Sprenger is a German-based company that takes great pride in making high-quality products for humane dog training.
This 3.2mm chrome-plated steel prong collar is made of heavy-duty metal, making it a perfect solution for aggressive dogs that get out of control. It's even been designed to withstand all weather conditions, so it can be used for a long time.
With a 23" circumference, this is a better option for large breeds. You can go even bigger if you want by purchasing extra links separately or removing some to get the perfect fit.
Don't worry about the prongs hurting them when they pull – they're designed for the pressure to be spread evenly around your dog's neck. However, the metallic finish might rub against your dog and cause irritation if it's too tight.
They're unlikely to wiggle their way out of the training collar – but be aware that the quick-release clasp can be difficult for some people to open.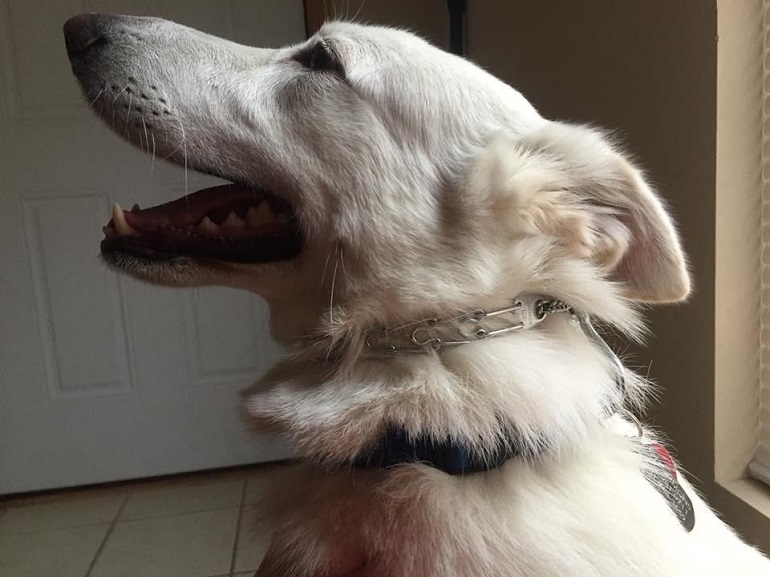 Features
Steel chrome plated
Quick-release snap
Blunt and rounded prongs
D-ring for leash attachment
Four sizes (small to X-large)
Pros
High-quality and weather-resistant material
Good for large dogs
Able to customize and adjust the size
Cons
Expensive
Difficult to work the quick release
Metallic finish might irritate your dog's skin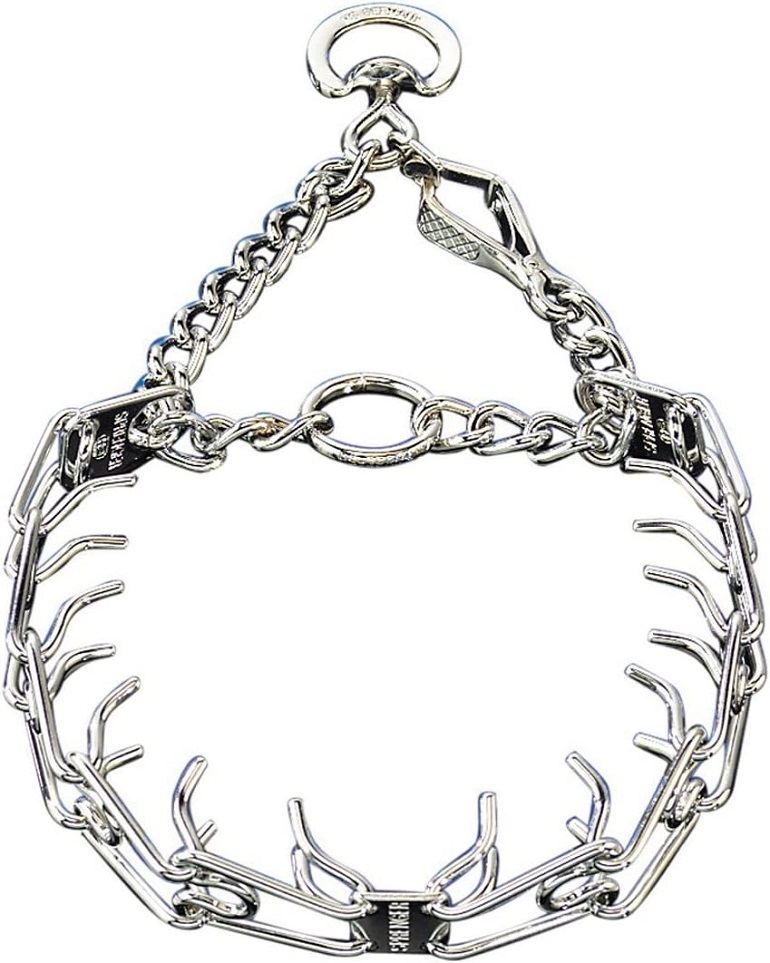 Herm Sprenger
The price of "Herm Sprenger" varies, so check the latest price at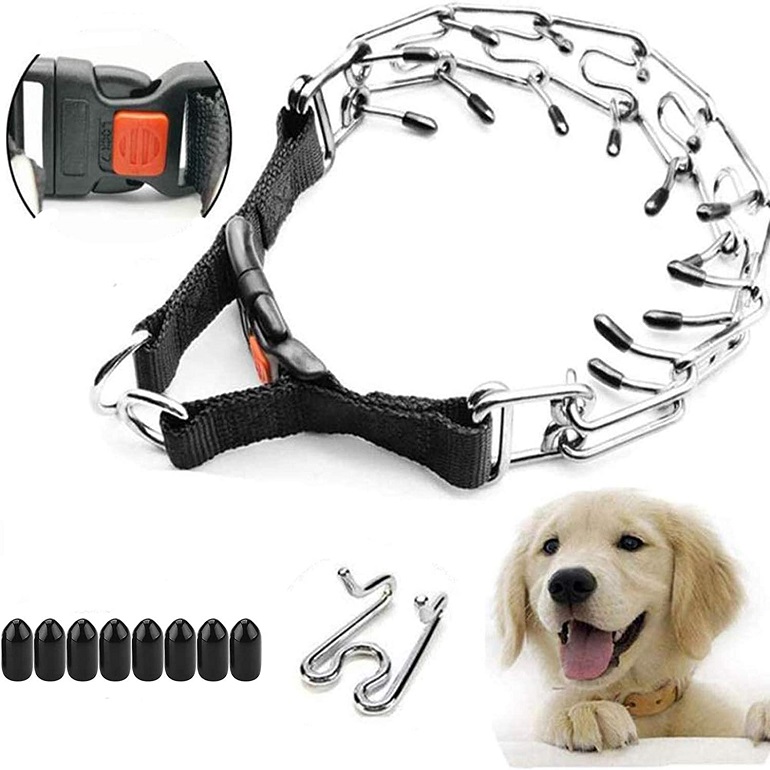 The Supet dog prong collar is an excellent choice if you have a dog who might be a little more sensitive about what they have around its neck. The pressure from the prongs protects their airway and neck with little risk of injury.
The prongs are smooth with rounded tips, but there are rubber caps included for added protection – however, there's a risk that these might fall off occasionally. These are perfect for curly-haired dogs because they're less likely to get tangled in the prongs.
The Supet dog prong collar itself is 3.5mm chrome-plated and argon-welded for strength and durability, with a nylon strap that houses the quick-release snap that can be stiff for some. It also includes a sliding lock for added security.
There are four sizes available, but you can add or remove links to adjust the size. The only problem is you require pliers to squeeze them off, which can be challenging.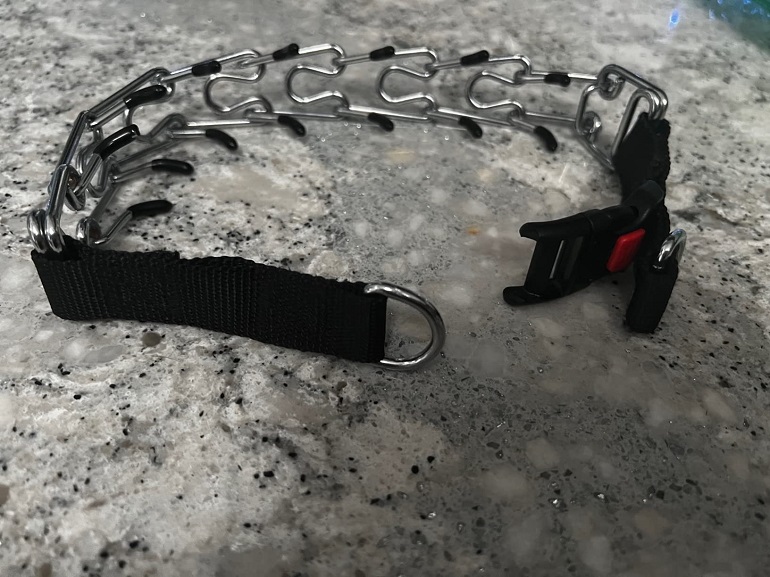 Features
Argon welded and chrome plated with nylon strap
Smooth prongs
Rubber caps
Quick-release snap
Four sizes (small to X-large)
Pros
Rounded prongs and rubber caps are best for sensitive dogs
Strong and durable material
Adjustable by adding or removing links
Different sizes
Cons
Some customers report rubber caps falling off
Clasp can be difficult to undo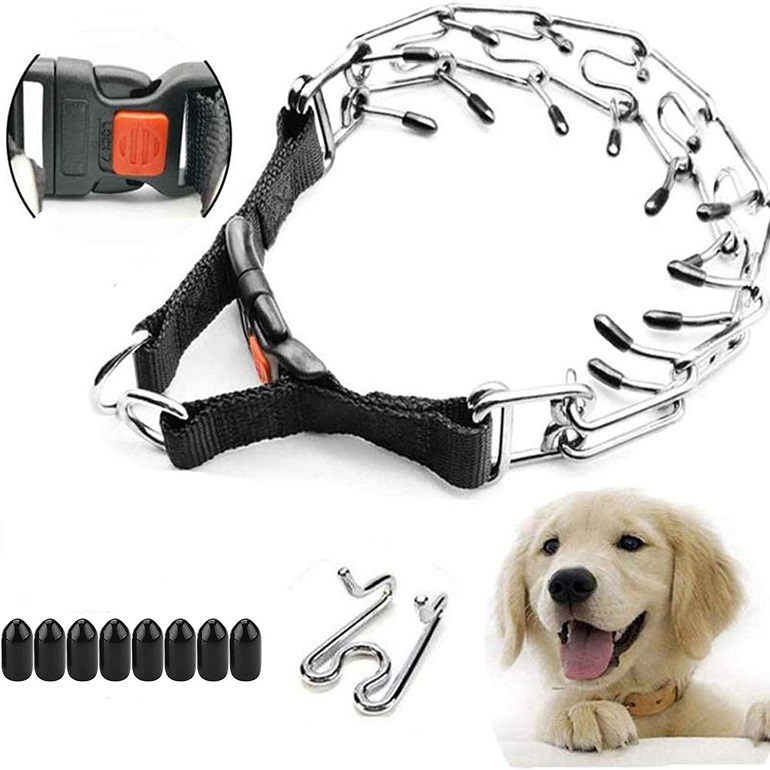 Supet Dog Prong Collar
The price of "Supet Dog Prong Collar" varies, so check the latest price at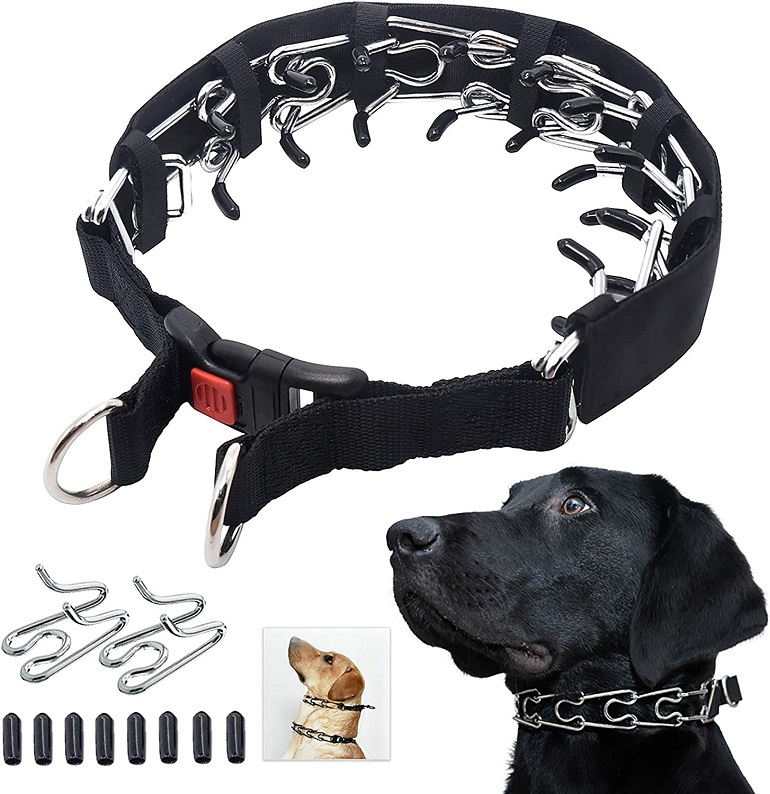 People who want to try a prong collar are sometimes put off by the look of them or the judgment they might get from others. That's where the Mayerzon prong dog collar excels.
The prongs in this dog collar are hidden behind a removable nylon protector. It looks smart, makes less noise, and isn't obviously a prong collar. Don't want the nylon cover? You can remove it! You can choose different style designs for the nylon protector and even different colors for the metal prongs.
The prongs themselves are chrome-plated stainless steel, making them weather-resistant with no chance of rust. They also have round edges and rubber tips to maximize comfort for your dog.
At 23.62", this is a fairly big training collar and is best for large dogs. But if you need to change the size to make it smaller, you can remove links by hand. Just be aware that it can be difficult by hand and might require the use of tools.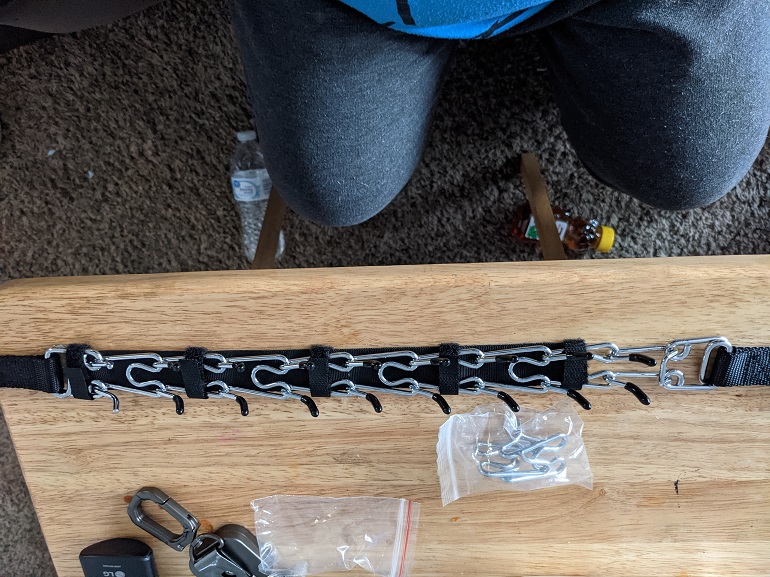 Features
Made from stainless steel and chrome-plated
Removable nylon protector
Quick-release snap buckle
Rounded edges and rubber tips
Four sizes (small to X-large)
Two spare links for adjustment
Pros
Lightweight
Weather-resistant
Nylon protector makes it more discreet
Rubber tips are more comfortable for your dog
Links can be removed for customization
Can choose fun designs and colors
Cons
Difficult to remove links by hand
Best for larger dogs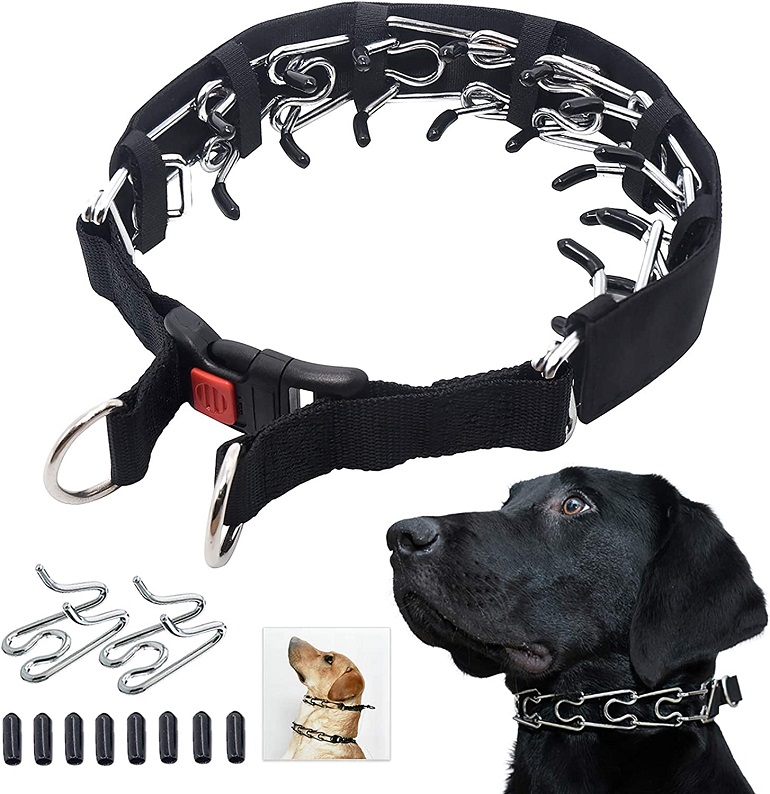 Mayerzon Prong Dog Collar
The price of "Mayerzon Prong Dog Collar" varies, so check the latest price at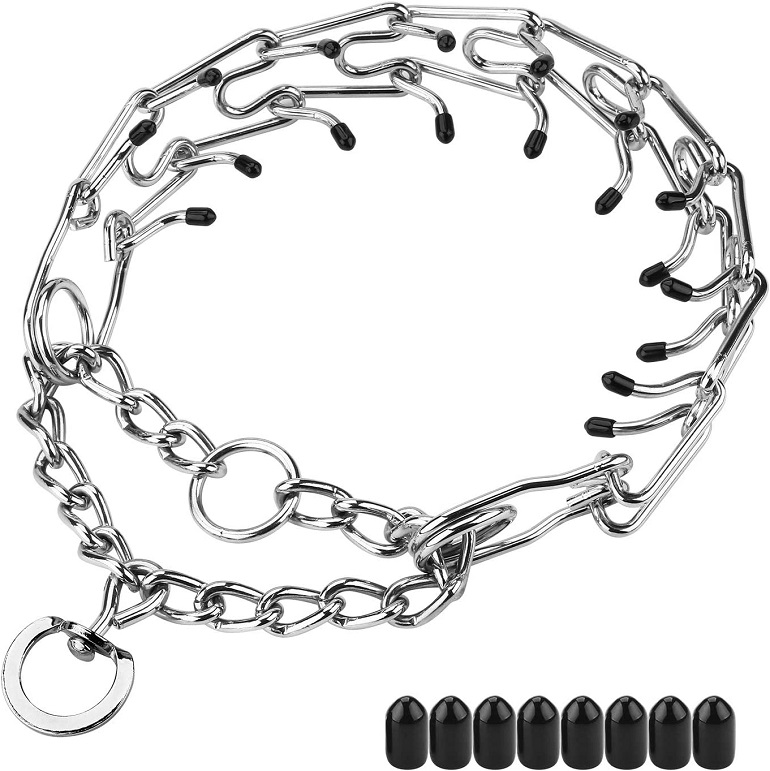 Since prong collars are particularly useful to stop large dogs from pulling on a leash, many are designed specifically for larger breeds – but what if you want one for a smaller dog?
Aheasoun prong collars have a good range of sizes, with their collars being adjustable and able to fit necks as small as 15" – much more suitable for smaller dogs. However, although it's adjustable, some customers report finding it difficult to remove or attach the metal links.
Made of stainless steel, each prong has a rubber end to protect it from damaging your dog's neck. The material is weather-resistant, meaning it's sure to last you a long time until your dog is fully trained.
Its D-ring for the leash attachment is also made of sturdy stainless steel for maximum safety and security. However, the prong collar doesn't have a quick-release clasp, meaning it has to be loose enough to slip on and off your dog's neck.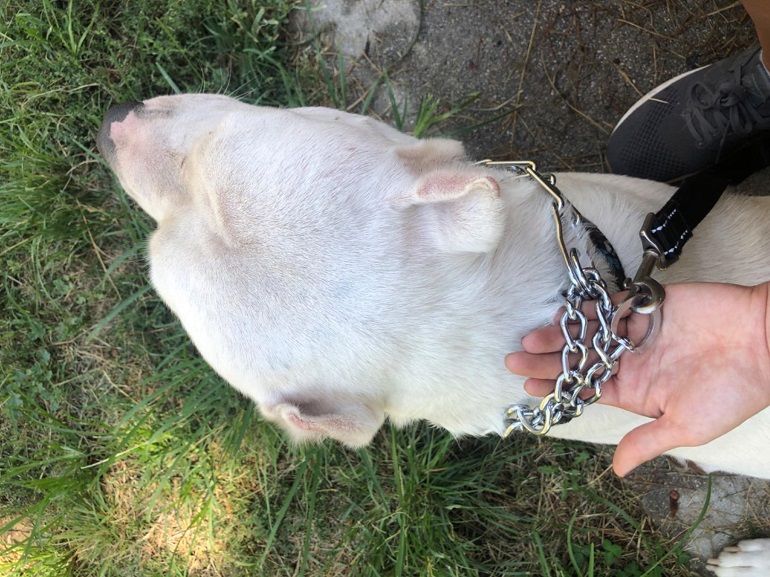 Features
Rubber tips on the prongs
Adjustable dog training collar
Chrome-plated stainless steel
D-ring for leash attachment
Pros
Perfect for a range of dog sizes
Rubber tips to protect dog's neck
Weather-resistant
Strong and durable material
Cons
No quick-release clasp
Customers report difficulty removing and attaching links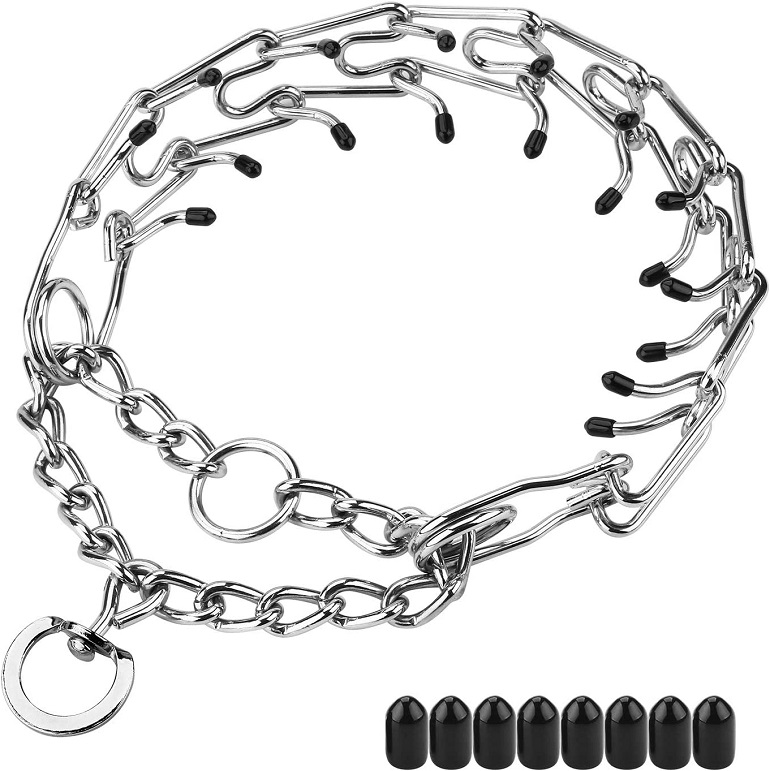 Aheasoun Prong Collar
The price of "Aheasoun Prong Collar" varies, so check the latest price at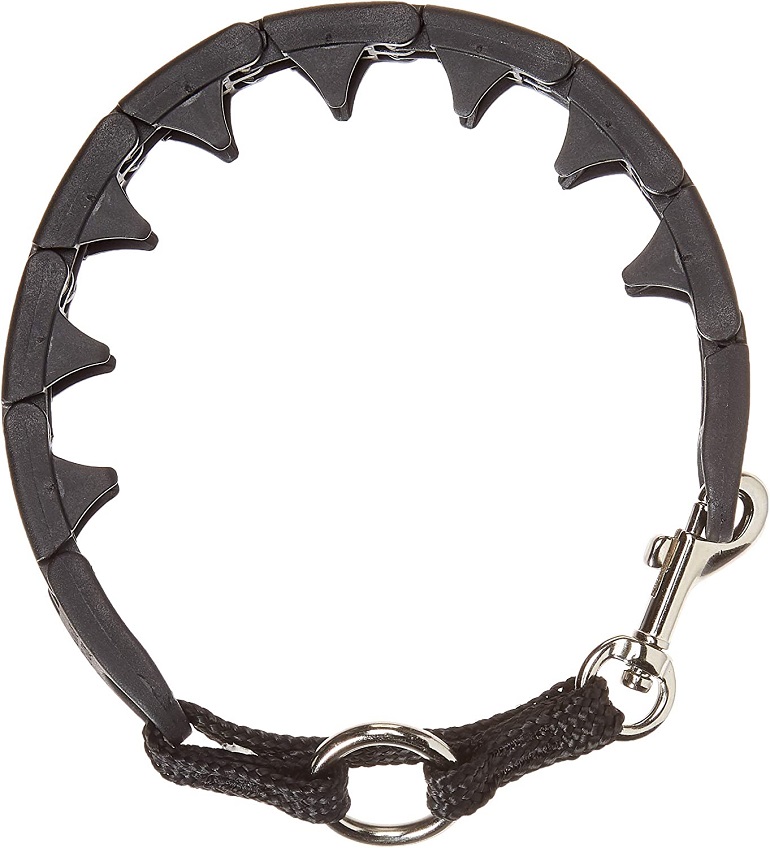 Starmark Academy is a 365-acre ranch outside Austin, Texas. It's a state-of-the-art facility with a swimming pool, adventure trail, and dog park – heaven for pups to run around! But they're also specialists in training and know what they're talking about.
That's why their dog training collar is ideal. Made specifically to reduce aggressive behavior, this prong collar's design has been inspired by certified dog training and behavior specialists. In fact, this collar comes with online training tools and instructional step-by-step videos to get the most out of your prong collar.
Instead of metal like most prong collars, the Starmark is made of plastic polymer. Though the prongs are still rigid, it allows the training collar to remain flexible like a watch strap. In fact, some dogs prefer this style to metal prongs as it's gentler, but still effective in preventing pulling on the leash.
Though there is a range of sizes from extra small to large, you don't need to worry since you can still purchase extra links to fit a bigger dog. This is particularly useful if you want to continue using the prong collar as your dog gets older. Just be aware that some find it difficult to assemble and take the links apart.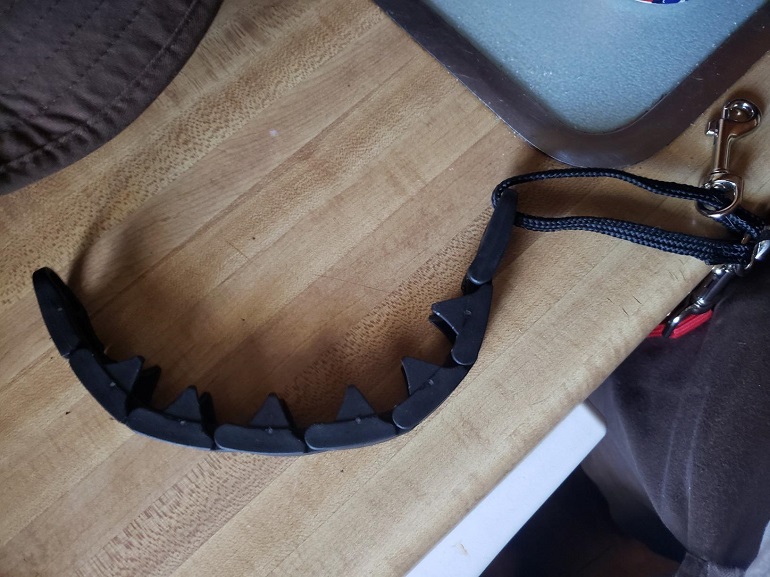 Features
Flexible link design
Online training tools and videos
Extra links available
Weather-resistant
Pros
Customizable
Affordable
Designed by dog behavior experts
Adjustable, thanks to the 'watch band' design
Suitable for dogs of various ages and sizes
Cons
Links are fiddly and not easy to change
Plastic polymer not as durable as metal
Sometimes difficult to assemble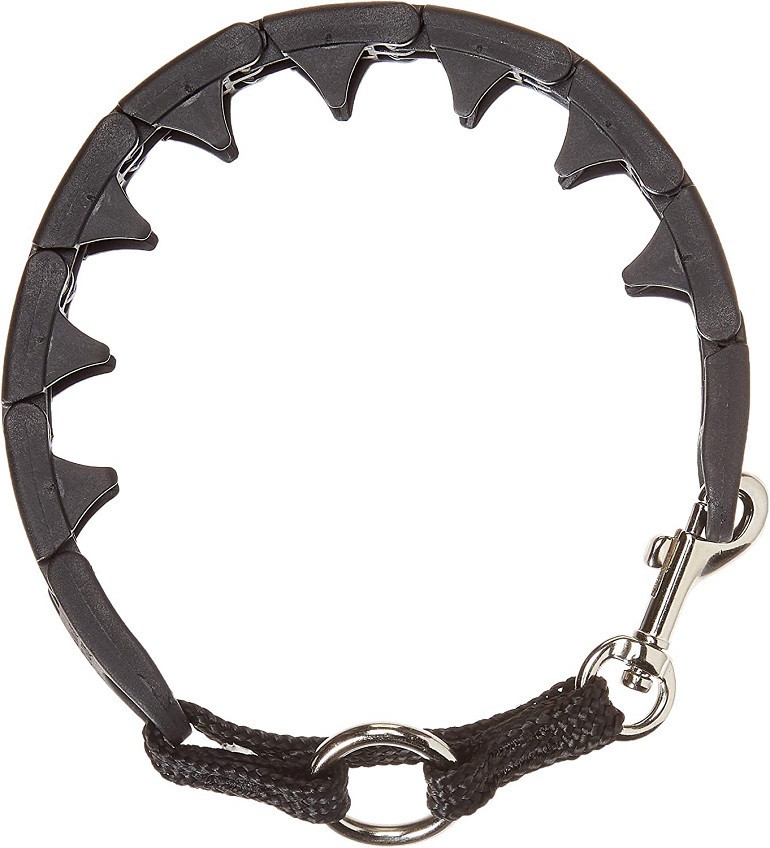 Starmark Pro-Training Dog Collar
The price of "Starmark Pro-Training Dog Collar" varies, so check the latest price at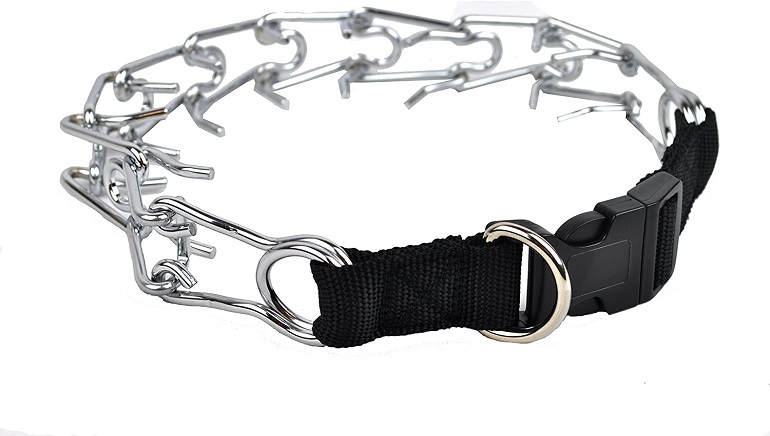 Like many other prong collars, the Downtown Deluxe is chrome-plated to ensure it won't rust and to maximize its strength and durability to withstand large dogs.
The prongs themselves are flat-tipped, smooth, and rounded to prevent injury. However, bear in mind that, unlike some other dog training collars, these prongs don't come with rubber caps.
As the prong collar is, it can fit dogs between 20 and 40lbs with necks up to 20". The links are easy to add and remove making this a simple dog training collar to adjust, especially with the nylon strap that houses the quick-release clip.
Downtown Pet Supply proudly state that they are pet owners first and business owners second. And the fact that they use their own products is a good sign.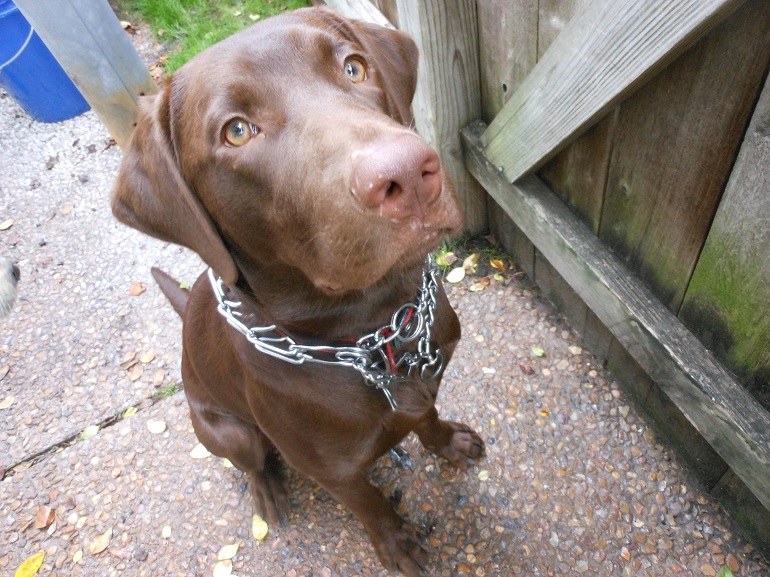 Features
3.0 mm chrome-plated prongs
Weather and rust-resistant
Nylon quick-release clip
Three sizes (small to large)
Pros
Durable and strong material
Flat-tipped prongs avoid injury to dog
Adjustable
Cons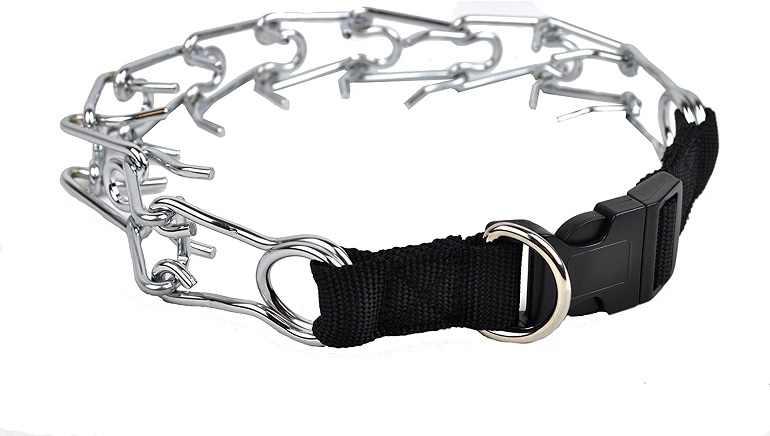 Downtown Deluxe Adjustable Prong Training Collar
The price of "Downtown Deluxe Adjustable Prong Training Collar" varies, so check the latest price at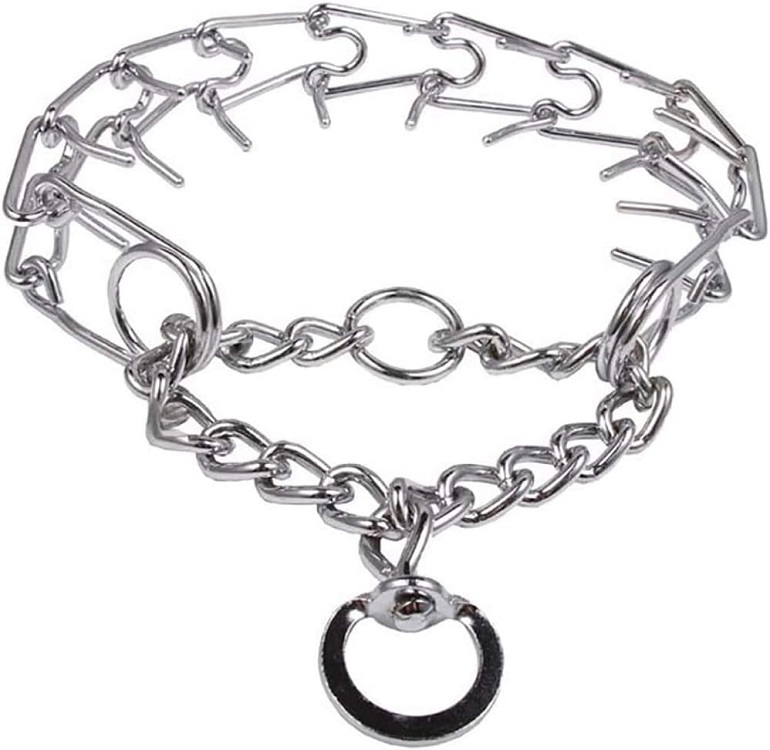 Prong collars don't usually break the bank, but if keeping to a budget is a priority, then the Darkyazi training collar is a very affordable option that is still of high quality.
Made from stainless steel with chrome coating to make it sturdy and durable, the prongs are smooth and rounded for your dog's safety. However, they don't come with any rubber caps for added comfort.
This prong dog collar is also an excellent choice for larger dogs with up to a 23" neck. However, there's no release clip, so you'll need to ensure the training collar is loose enough to come on and off.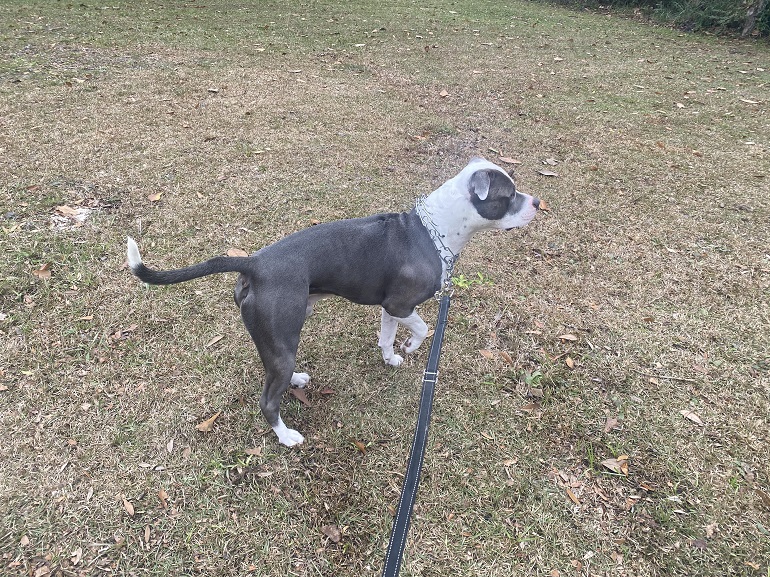 Features
Made of stainless steel with chrome coating
Smooth prongs for dog safety
Three sizes (medium to X-large)
Pros
Affordable
Easy to slip on and off, if it's loose enough
Cons
No rubber caps
No release clip means less security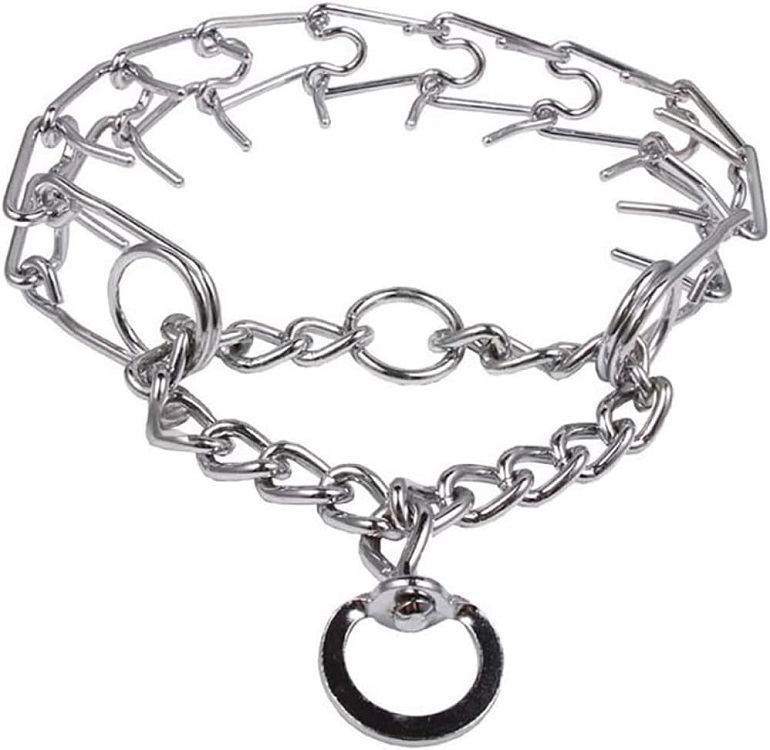 Darkyazi Durable Pinch Collar
The price of "Darkyazi Durable Pinch Collar" varies, so check the latest price at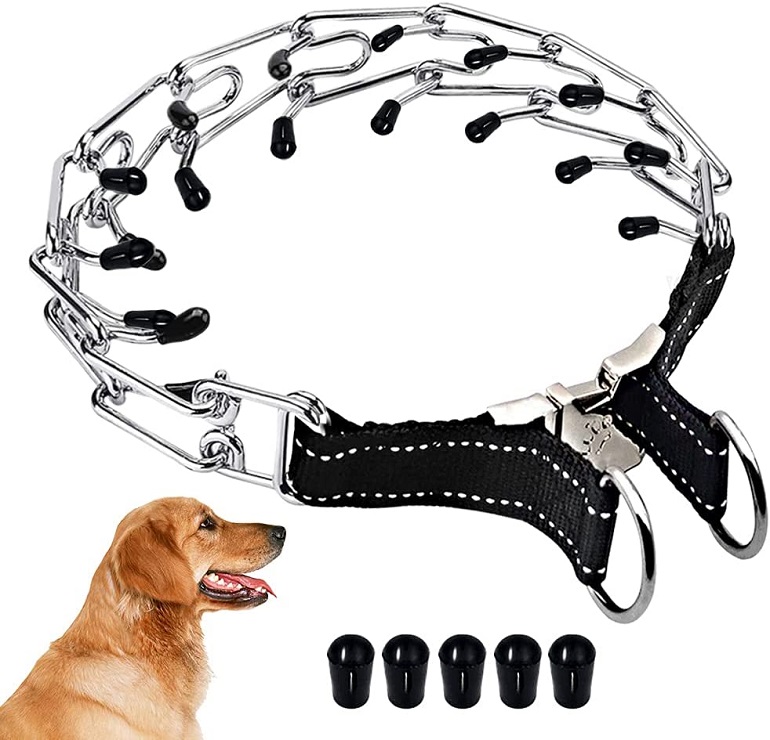 Are you looking for a collar for a German shepherd? Maybe a collar for a Pitbull or a collar for a golden retriever? Due to their size and strength, it can be trickier to find them the perfect dog collar. The Wellbro prong collar works well for larger breeds, but it's not suitable for puppies or small dogs since it'll just slip over their heads.
Made from durable stainless steel, this prong dog collar has nine prongs that can be removed to adjust for size. It even comes with rubber tips and includes five extras in case any fall off and get lost while out on a walk.
It does have a smart-looking nylon strap that houses the quick-release metal buckle. However, the buckle can be hard to fasten, and the nylon isn't as durable as the metal and wears away over time.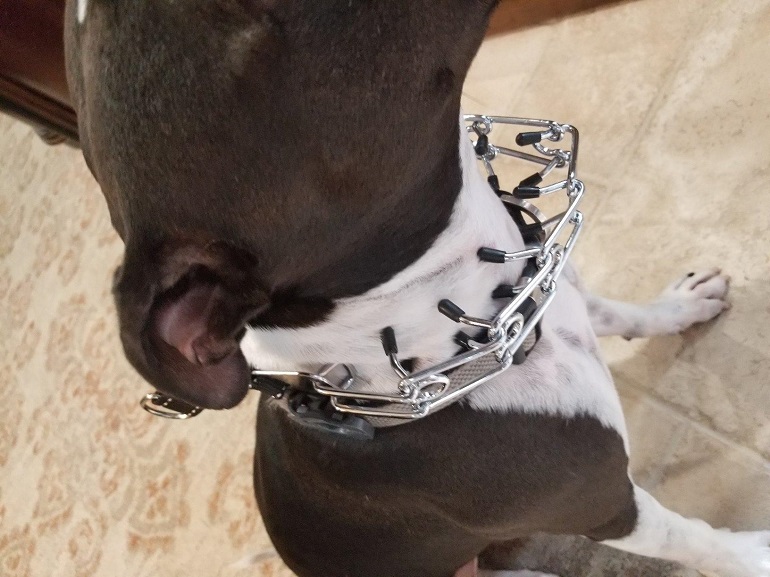 Features
Made from stainless steel
24" length
D-ring for dog's leash attachment
Quick-release metal buckle
Pros
Rubber tips for your dog's comfort
5 extra rubber tips in case you lose any
Adjustable
Waterproof
Cons
Prongs are stiff and difficult to remove
Weaker nylon than other prong dog collars
Buckle is rigid and hard to remove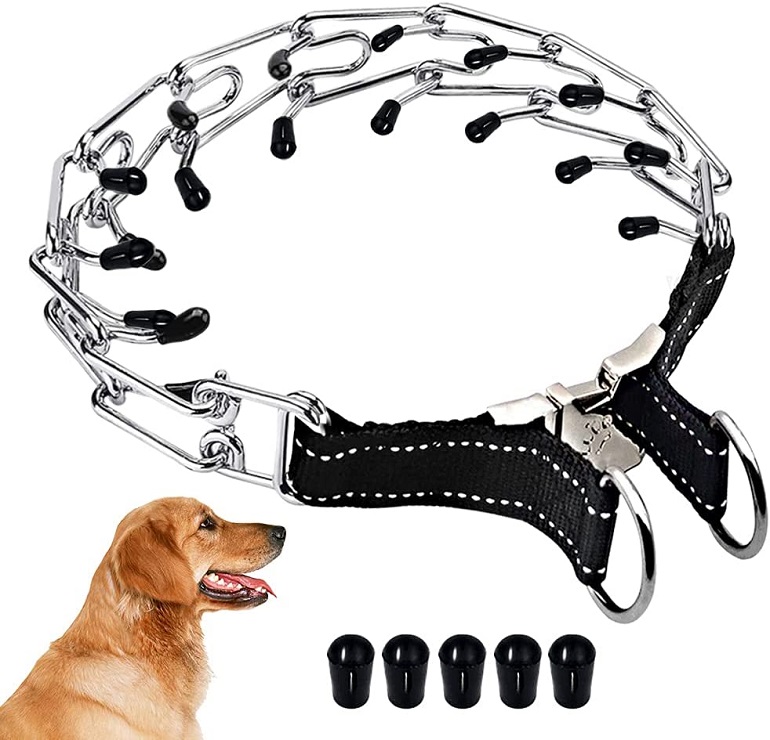 Wellbro Prong Collar
The price of "Wellbro Prong Collar" varies, so check the latest price at
Buyer's Guide: What to Look for Before Purchasing a Prong Collar
Purchasing a prong dog collar or even a pinch collar isn't quite as simple as buying any other regular collar. It's important to get the right size and right type for your pet to make them comfortable, avoid injuries and make training fun and effective.
Size
Size is one of the most important decisions when it comes to a prong collar because they're not elastic or flexible like regular ones. You need to accurately measure for a dog collar – especially since it's harder to adjust these dog collars. It needs to fit snugly around their neck, but still leave room for you to fit two fingers beneath.
Weight
The size of your dog can also determine the weight of the prong dog collar and the material and finished used. For example, alloy steel is lighter than stainless steel, so better for small dogs. But it won't necessarily be strong enough to withstand the strength of larger dogs.
Prongs
Consider the type of prongs you get too – think about the thickness and length you need. If you have a sensitive dog, maybe you might want rounded ends or rubber caps to avoid any potential injuries to their skin or fur.
Buckle
Think about whether or not you want a buckle also. Many prong collars nowadays tend to include quick-release buckles which are more convenient. The alternative is having to remove the training collar over the head without removing the links, which can be tricky if it's a snug fit.
A quick-release cap can be timesaving and simple but needs to be well-made and durable to withstand the pressure from a strong dog pulling.
FAQs
There's a reason why people dedicate their professional lives to dog training and build a career out of it. It's far from easy and requires a lot of knowledge and experience.
But if you're determined to venture into the world of dog training for your own pup, then a prong collar is an excellent start to get them walking on the leash properly. So, here are a couple of the top answers you should know before you get started.
What Is the Right Time to Use a Prong Collar?
Many people ask if you can walk a dog with a prong collar. And the simple answer is yes – after all, one of the reasons they were designed is to help your dog walk better while on a leash.
However, there are a few limitations when it comes to the right time to use a prong collar: don't use it when you need to tie your dog up; don't use it when you're not training; and don't leave it on when your dog is alone.
When unsupervised or not in training, your dog is at risk of being injured by wearing the prong collar. It should be taken off when you're done with prong collar training – this makes it even easier because then your pup associates the collar with training time.
It's also worth mentioning that a prong collar is not a suitable puppy collar – or indeed suitable for small dogs. That's because they have such thin skin that even smooth and rounded prongs could jab your dog's skin and cause pain or bleeding.
Before putting a prong collar and training a puppy, you should wait until they're at least 4 months old or ideally wait longer until they're 6 months or older.
How to Put a Prong Collar on a Dog's Neck?
A popular question people have is how you should place a prong collar on a dog. It can be a delicate process to begin with, but with practice and patience, it soon becomes simple.
At first, you should introduce your pup to the prong dog collar slowly – after all, you don't want to frighten them or cause any stress. When you start, practice taking it on and off to let your dog get used to how it feels. Remember, the prong dog collar will feel different to others.
If there's a simple buckle, feel free to use that. But if not, pinch two prong links apart and place it on your dog's neck. Then ensure it fits snugly, but still loose enough to fit two fingers beneath.
One of the biggest mistakes you could make is making it so tight it causes pain or injury. When it's on, check that the dog prong collar sits just under your dog's jawline and beneath its ears.
Once they become more familiar with the training collar, you can start giving soft, gentle tugs to teach them that the corrections happen when they misbehave. Ensure that you don't use these corrections as punishments though – it's just to communicate. Make this clear to your pup by using positive reinforcement too.
Conclusion
While a prong collar might not look as styling as a leather dog collar, it can be a hugely effective training tool for dog owners. If your dog misbehaves while they're out and about or pulls on the leash, this could be the best dog collar to train them to stop.
Like a reflective dog collar or a LED dog collar, prong dog collars serve a purpose and are valuable tools for training.
It's just important that you research how best to use them to train and that you ensure they fit properly, keeping in mind size, weight, type of prong, and buckle.
It may seem a costly option when it's possible for dog owners to train their pup without coughing up cash for a prong collar. But if you do, it's far easier, it's cheaper than a professional dog trainer, and the bond you can develop through obedience training will earn you a friend for life.