Despite their stocky size and large build, Pitbulls make great house dogs. They are actually quite popular for their playful nature, tenderness, loyalty, and affection.
It's true that sometimes, it gets challenging to control this powerhouse of energy and excitement but never let this stop you from praising your pooch's unending loyalty and silly personality.
Pitbulls have short coats and don't shed much. They're also prone to skin issues, so getting a wide, durable, and high-quality dog collar is recommended for their safety and comfort.
If you are concerned about controlling your Pitbull, all you need is to get the best dog collar especially made for large dog breeds. Today, I'm going to discuss some of the best collars for Pitbulls which never fail to amaze pet parents like me.
Best For Everyday Use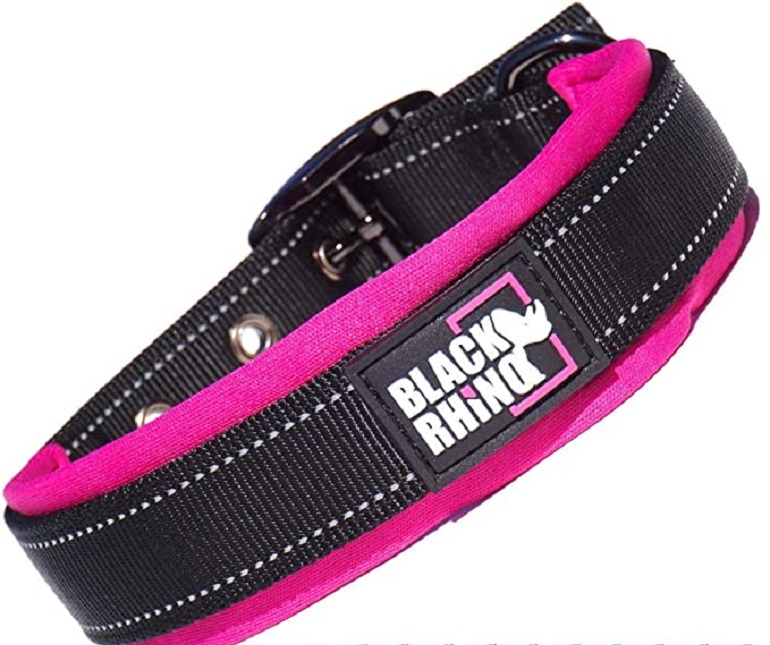 Black Rhino The Comfort Collar
Special Feature: Weatherproof Collar
Material: Neoprene

Best Tactical Collar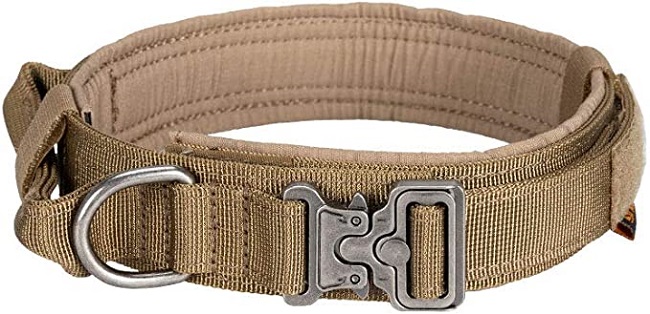 EXCELLENT ELITE SPANKER Tactical Dog Collar
Special Feature:
Military Dog Collar
Material: Nylon
Best Heavy Duty Collar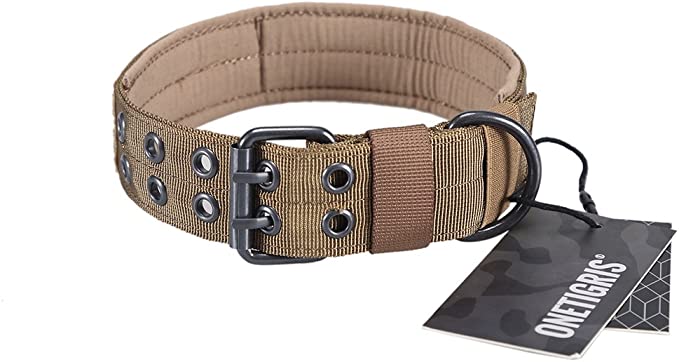 OneTigris Military Adjustable Dog Collar
Special Feature: Solid Quality
Material: Metal
Best Spiked Collar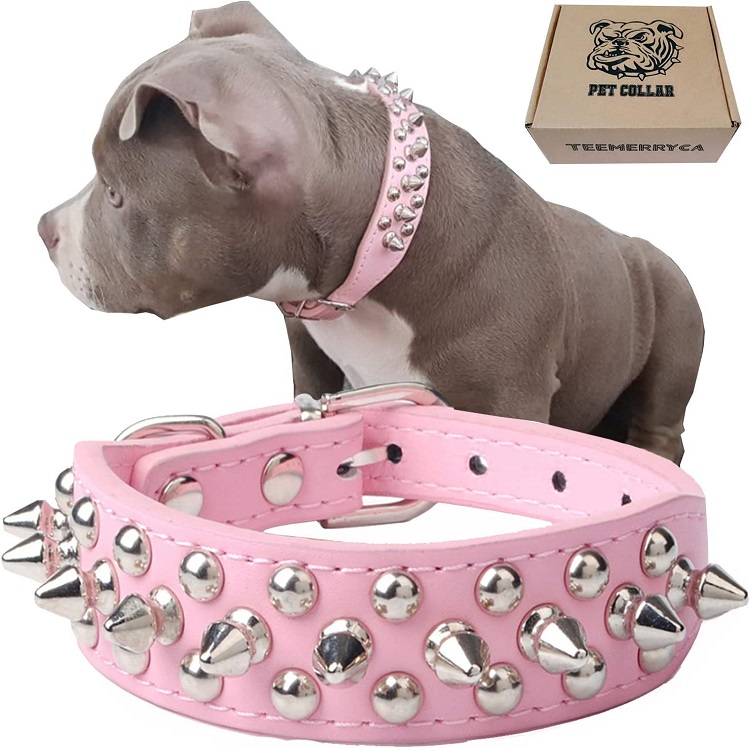 TEEMERRYCA Leather Spiked Studded Dog Collars
Special Feature: Especially for Bulldog
Material: Faux Leather
Worth For Every Buck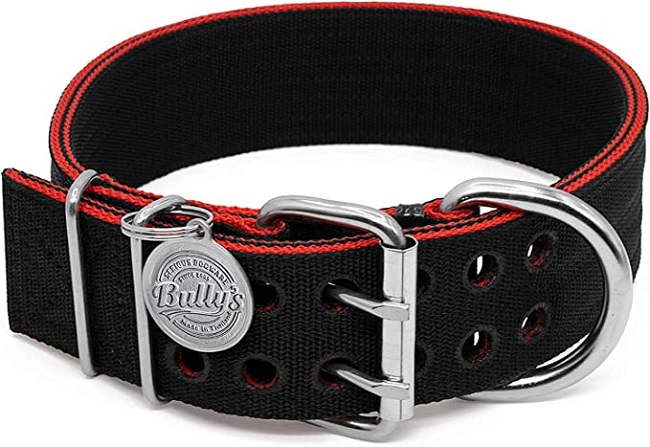 Bully's Pit Bull Collar
Special Feature: Made with Tactical Grade
Material: Nylon, Stainless Steel

Best Leather Collar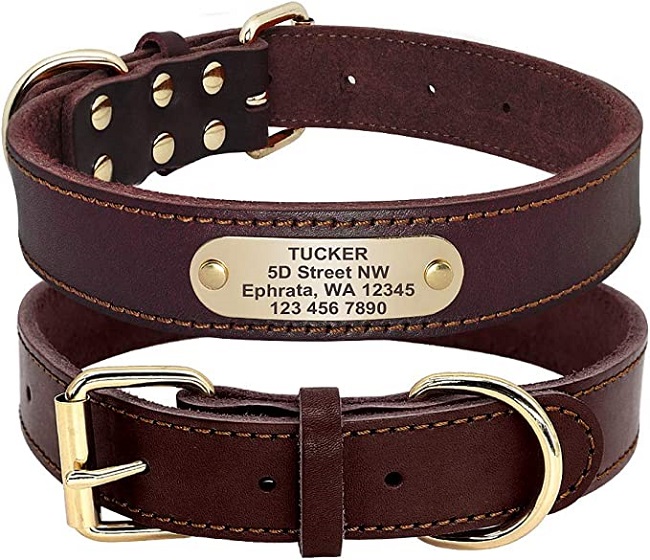 BeirutGenuine Leather Personalized Dog Collars
Special Feature: With Genuine Leather
Material: Leather, Plastic

Most Comfortable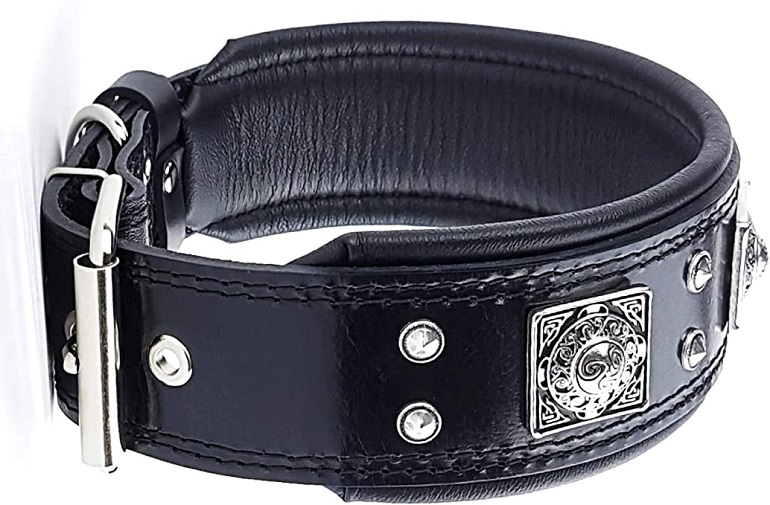 Bestia The Black Eros Collar
Special Feature: Handmade Quality
Material: Leather
Most Stylish Vibes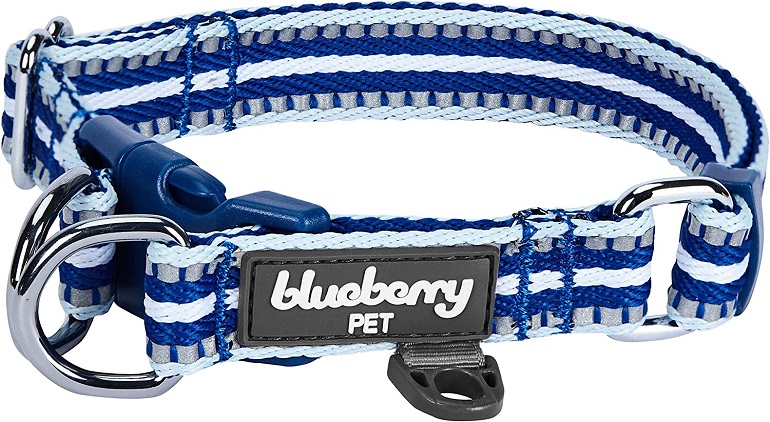 Blueberry Dog Collar
Special Feature: With Striped
Material: Polyester

Best Dog Collar for Pitbull
Do you know that a Pitbull can pull a weight of around 6000 lbs? Yeah, it's a record figure which confirms how powerful these muscular dogs could be.
And considering their strengths, controlling them is not possible without a good quality dog collar and leash.
However, when you go out in the market to find such a heavy-duty dog collar, you realize that choosing one option out of a hundred is as challenging as training Pitbulls.
Pitbulls have wide necks – sometimes as wide as their heads. In this case, if you go with an ordinary collar, it won't be enough to hold your dog inside.
Besides, other factors also matter a lot, like comfort, durability, ease of taking on and off, and most importantly, the budget. Thus considering all these factors, we have made a list of the best dog collars for Pitbulls, after reviewing dozens of collars.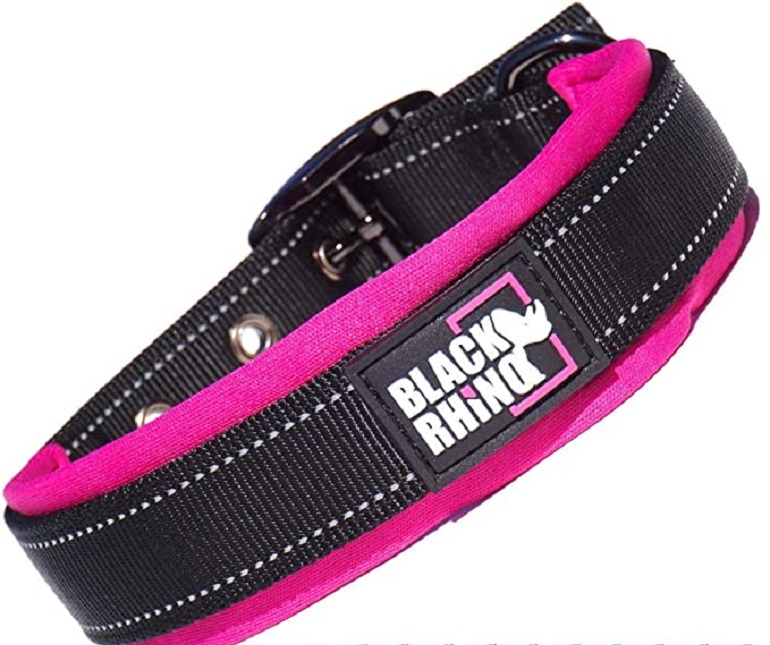 Finding the right collar for Pitbull and other similar dog breeds is seriously a hassle since their bodies contain very thin fur coats on them.
If you pick any collar with insufficient padding, it will rub severely against your Pitbull's neck, leading to friction burns.
And that's the first and foremost reason why this reflective dog collar is topping our list. The inner side of the Black Rhino collar is adequately padded with neoprene.
Wondering why neoprene? Well, because it's resistant to absorbing odor, dries quickly, and feels buttery around your dog's neck.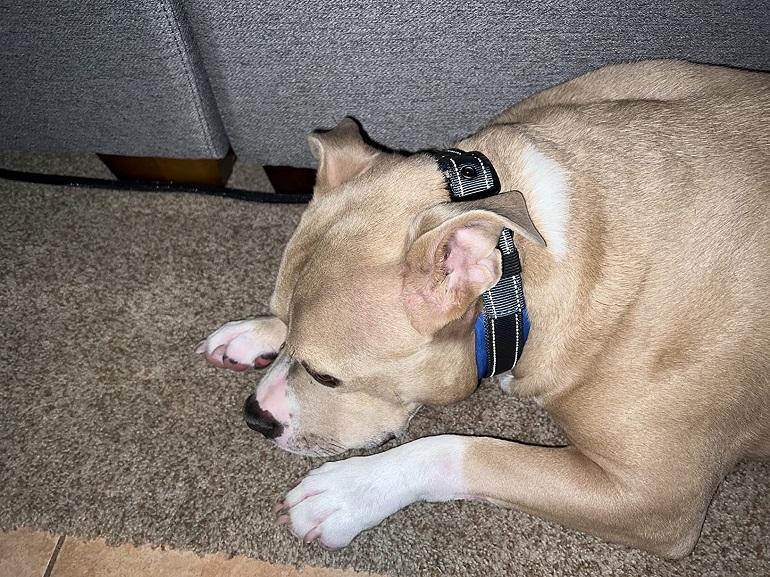 We are also a huge fan of this collar's reflective stitching, which keeps your pet safe during the night. And since it features a metal buckle, it prevents your dog from breaking out of the collar.
The cherry on top is the waterproof coating on the hardware, which extends the service life even further.
This thick dog collar fits all large breeds and keeps them in utmost comfort. The only problem is that the padding can get quite warm to wear during summer, so go with this collar only if you don't live in an extremely hot climate.
Specifications
Size: Four sizes available (S, M, L, XL)
Material: Neoprene
Type: Regular collar
Color: Multiple options
Closure type: Metallic belt Buckle
Loops: Leash ring and ID tags
Pros
The leash ring is stitched inside the collar rather than glued onto it.
Considering the strength and quality offered, it's priced quite reasonably.
Cons
There's no belt retainer to tuck in the extra part.
The buckle might feel a tad bit bulky on small dogs.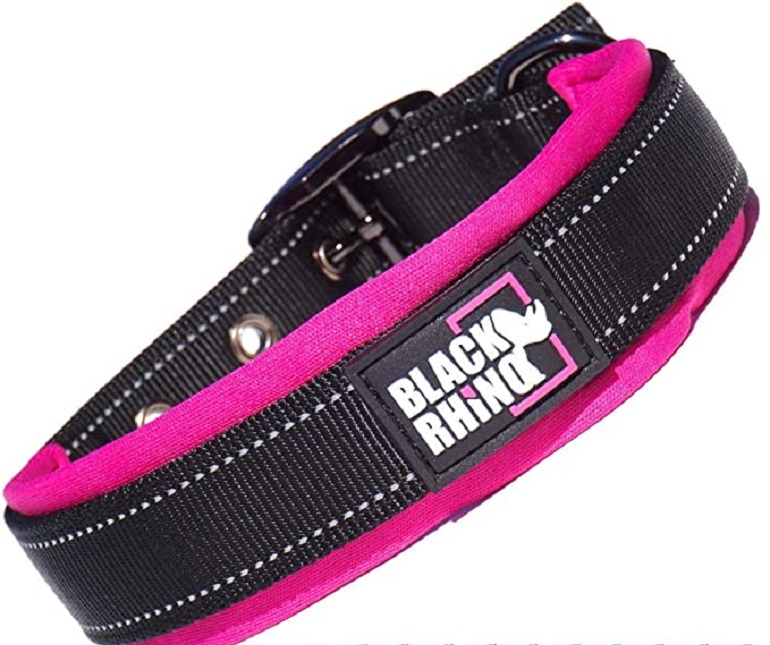 Black Rhino The Comfort Collar
The price of "Black Rhino The Comfort Collar" varies, so check the latest price at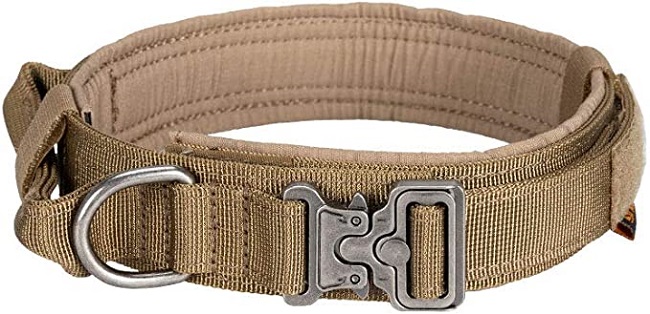 Afraid of being too harsh on your dog during the early leash training days? If so, then you should give this Excellent Elite tactical dog collar a try.
The manufacturer has designed this strong collar while keeping the comfort factor in mind. For this, they have added smooth yet not-so-thick, soft padded lining so your dog can carry it around their neck even during hot days.
With its featherlight build, one may assume it is insufficiently strong for active dogs like Pitbull, but that's not the case. It comprises 100D nylon, which can not only sustain hard wearing but is also abrasion resistant.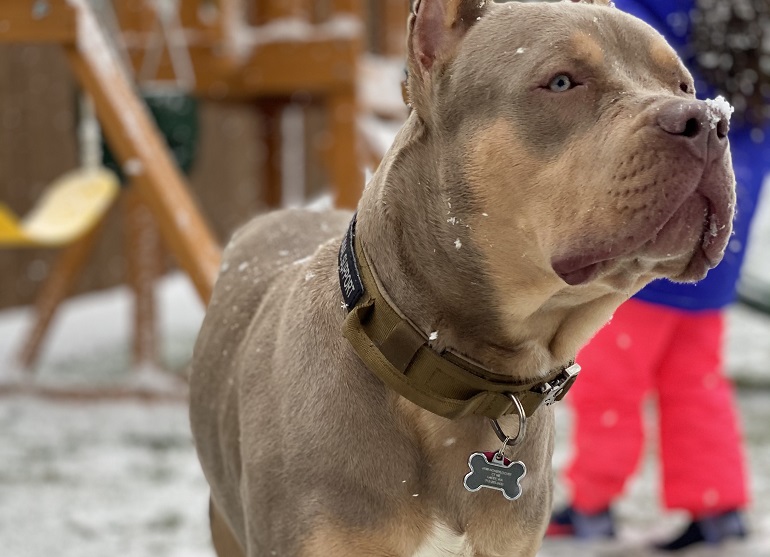 To gain more control over your strong dog in the dog park, a handle is added to the dog's collar so you can carry your pooch out of unwanted situations.
Both the buckles and leash rings are of military-grade metal and don't show any sign of water damage even after years of use. It can be conveniently machine washed in a mesh laundry bag on a gentle cycle.
Specifications
Size: Three sizes available (M, L, XL)
Material: Nylon
Type: Tactical collar
Color: Four color options
Closure type: Quick Release Metal Buckle
Loops: Leash ring & handle
Pros
Magic stickers are there to tuck in dogs' ID tags.
With the quick-release buckle closure, putting the collar on and off can't be easier.
Cons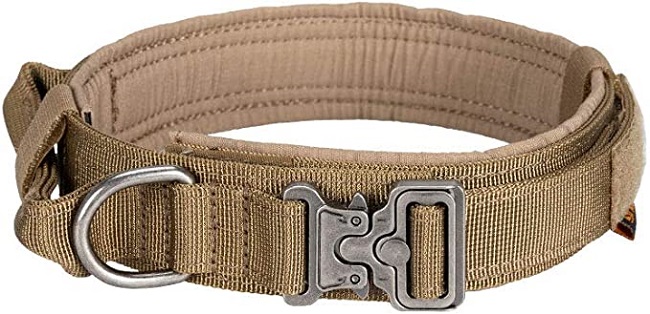 EXCELLENT ELITE SPANKER Tactical Dog Collar
The price of "EXCELLENT ELITE SPANKER Tactical Dog Collar" varies, so check the latest price at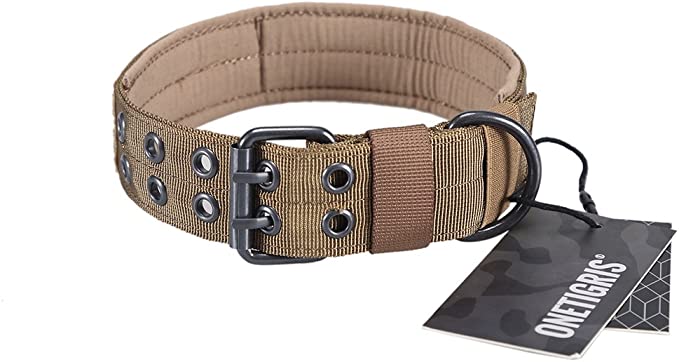 This tactical dog collar is aimed at all the large dogs out there who hate wearing a heavy collar around their necks.
The Military dog collar is made up of heavy-duty nylon webbing, enclosing neoprene padding so the collar won't end up chaffing your dogs' thick necks.
Don't worry if your dog is a great chewer because he could never chew this collar, regardless of how much he tries.
Since military-grade stitching is employed to manufacture this Pitbull's collar, you won't see any frayed edges or stray strands hanging out – sharp and clean!
Unlike other collars, this one has a belt buckle with two metal tongues which in turn adds more to the security.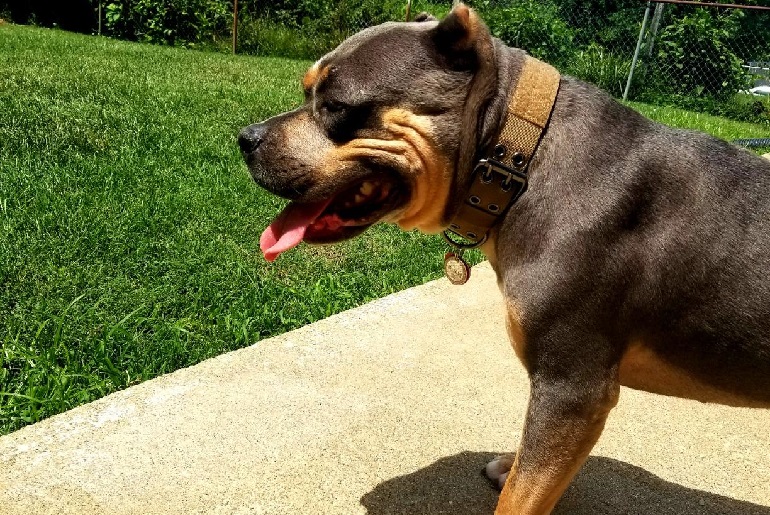 Not only this, but all the hardware is powder coated to resist tarnish and corrosion. Two elastic loops are also there to tuck in the extra belt so it won't irritate your dog during his adventures.
Besides having a longer, adjustable band, it's also quite a wide collar which is a huge plus point for sure. This durable dog collar can be used for both regular use and leash training since it's strong enough to embrace everything.
Specifications
Size: Medium & Large
Material: Nylon and metal
Type: Tactical collar
Color: Five natural colors
Closure type: Belt buckle
Loops: Metal D ring
Pros
Five adjustment points ensure that the collar fits perfectly to Pitbulls of all neck sizes.
Some many customers said that they've been using this collar for more than four years. which means it's very sturdy and durable.
Cons
It doesn't feature a control handle.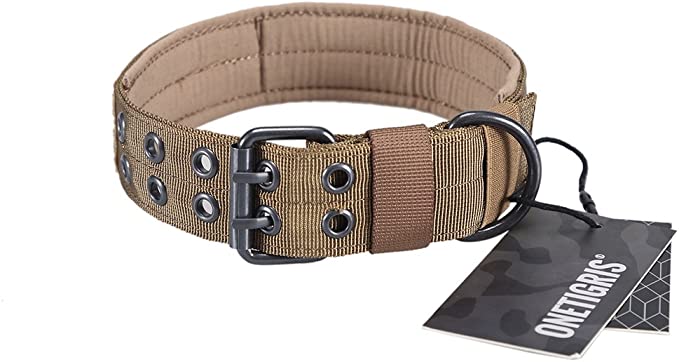 OneTigris Military Adjustable Dog Collar
The price of " OneTigris Military Adjustable Dog Collar" varies, so check the latest price at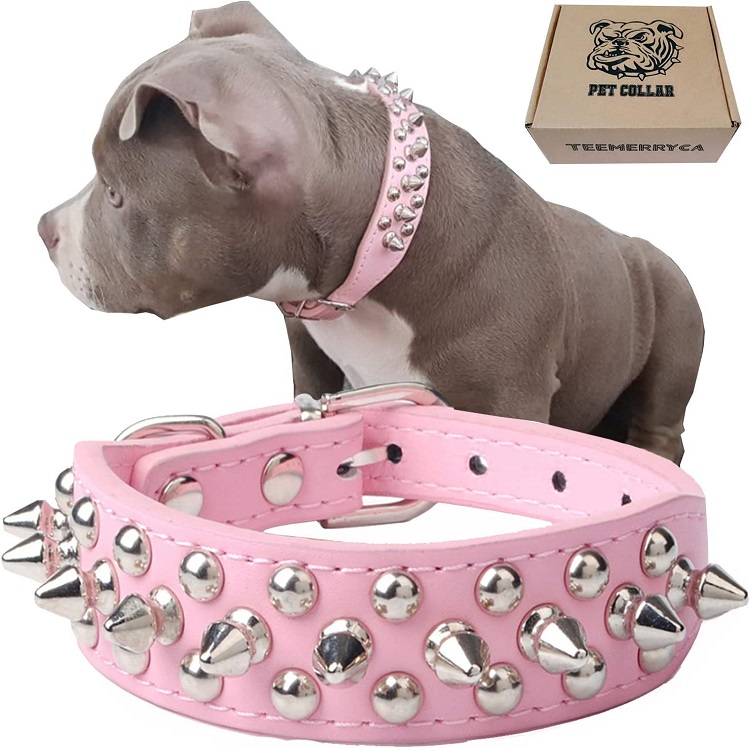 Prong or spiked collars look quite inhumane, and many dog owners are against using them, but even dog experts say that using such collars becomes inevitable sometimes.
Given this fact, manufacturers are trying their best to make these collars a bit presentable. And considering the TEEMERRYCA collar, it seems like they are succeeding!
This spiked collar is made up of the softest PU leather we've ever touched with the blunt spikes.
In addition to spikes, beautiful studs are also glued to this sturdy collar to decorate it. You might think I'm bragging, but believe me, when taking out your dog with this collar on, it feels like you are the main character from a Disney movie.
Besides making the collar look breathtakingly beautiful, these blunt spikes and studs keep other fidos away from your dog's neck. And since the spikes are not that sharp, they don't itch or bite on your Pitbull's skin.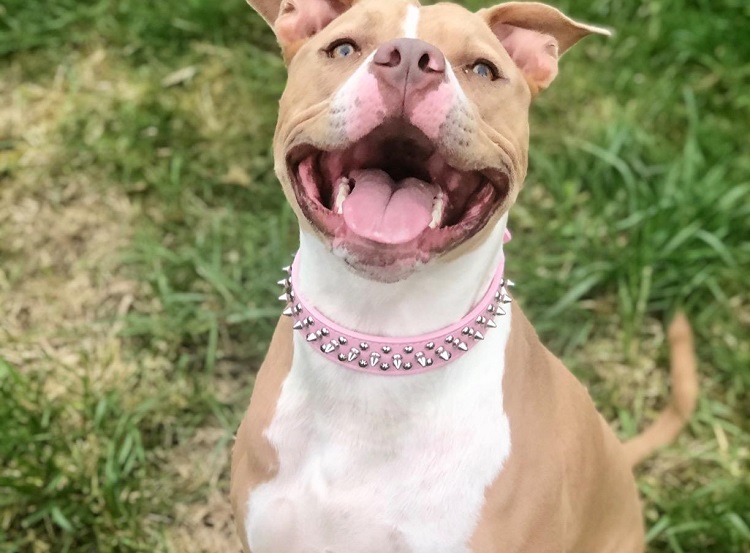 Even though the collar is available in six different sizes, each size can be adjusted further to meet your dog's needs perfectly.
And we don't want to give a spoiler, but the collar comes with a surprise gift – mostly a squeaky ball, so you can make your pooch feel extra special, without paying extra!
Specifications
Size: Six different sizes
Material: Faux Leather
Type: Spiked collar
Color: Red, Pink, Black
Closure type: Metal buckles
Loops: One metal D ring
Pros
It's one of those few Pitbull collars that feature an electroplated bronze buckle.
Despite comprising a PU leather collar, it doesn't feel stiff.
Cons
Choosing the right size could be a bit intimidating.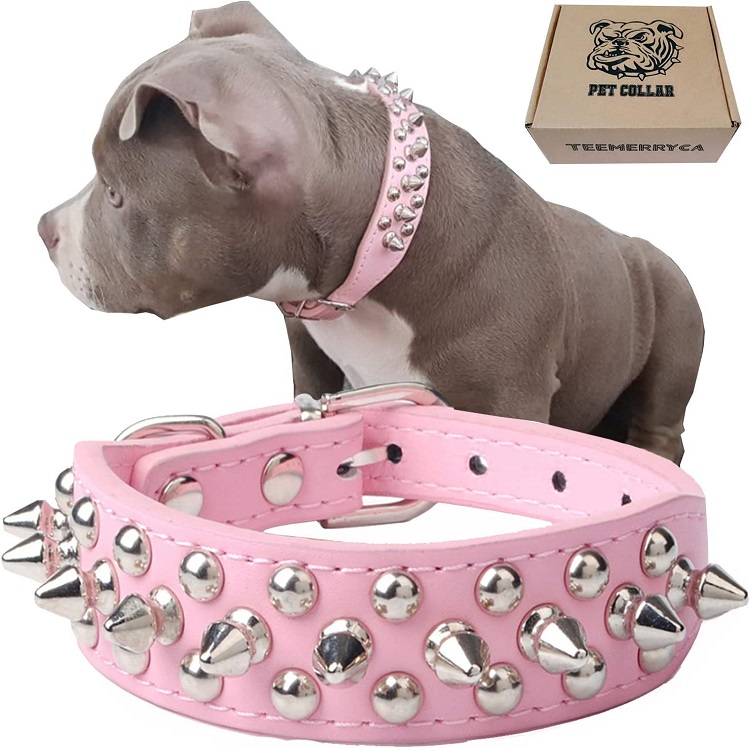 TEEMERRYCA Leather Spiked Studded Dog Collars
The price of "TEEMERRYCA Leather Spiked Studded Dog Collars" varies, so check the latest price at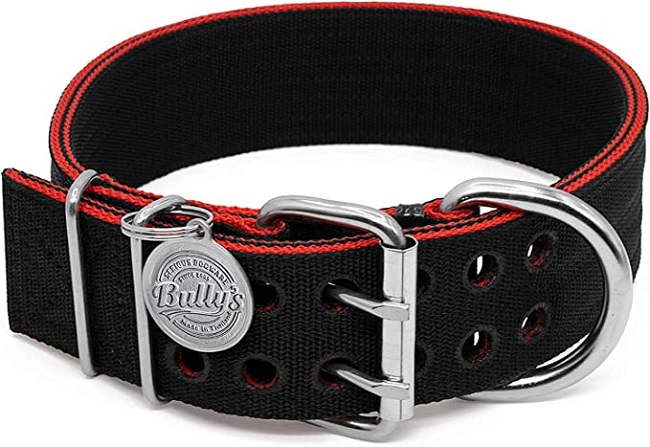 Here we have the collar from the brand that is dedicated solely to Pitbulls, so there's no doubt that this Bully's Pitbull collar will do excellent in all respects. However, we still tested the collar, and here's what our experts found!
The first and foremost thing that grabs one's attention about this collar is its extra wide dimension. It ensures that the pull force distributes evenly across your dog's neck, without chafing or discomfort.
The manufacturer has used high-quality materials to make the collar, and it's obvious by its chunkier look.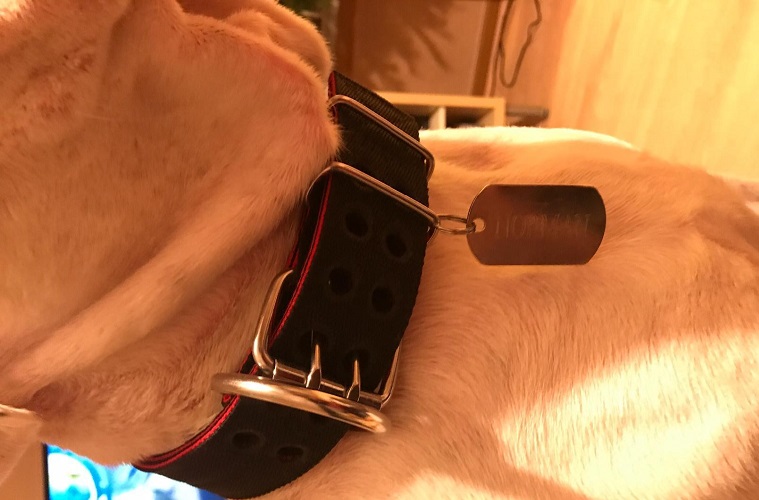 However, the more noticeable thing here is that despite having such a tactical-grade build, the collar is ultra-lightweight. The stainless steel hardware is the main feature that keeps the overall weight very low.
Whether you want comfortable yet sturdy dog wear for your giant bully or need ultra-durable collars for training purposes, this Bully's collar got you covered. It's washable and offers maximum size and width options which makes it a hot shot to shoot!
All in all, it is very tough, long-lasting, and multi-purpose collar, offering you the best value for your money!
Specifications
Size: Nine different sizes
Material: Nylon
Type: Regular/tactical collar
Color: Multiple colors
Closure type: Buckle
Loops: Leash and ID tags
Pros
It's designed to last a lifetime, long enough to give room for adjusting in case your dog grows over time.
This very strong collar is no less than an armor shield since it can sustain serious biting and scratching.
Cons
This collar is not waterproof.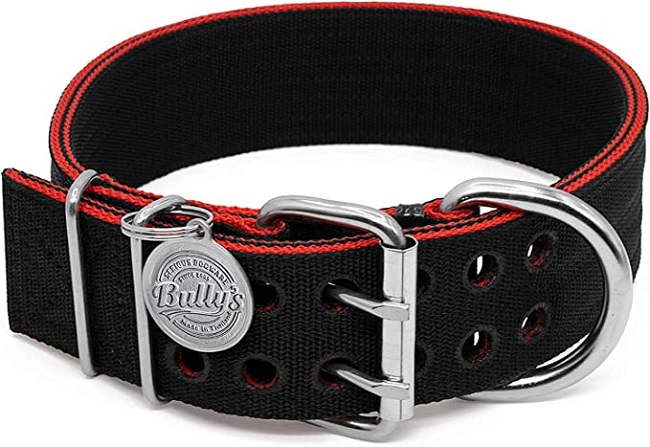 Bully's Pit Bull Collar
The price of "Bully's Pit Bull Collar" varies, so check the latest price at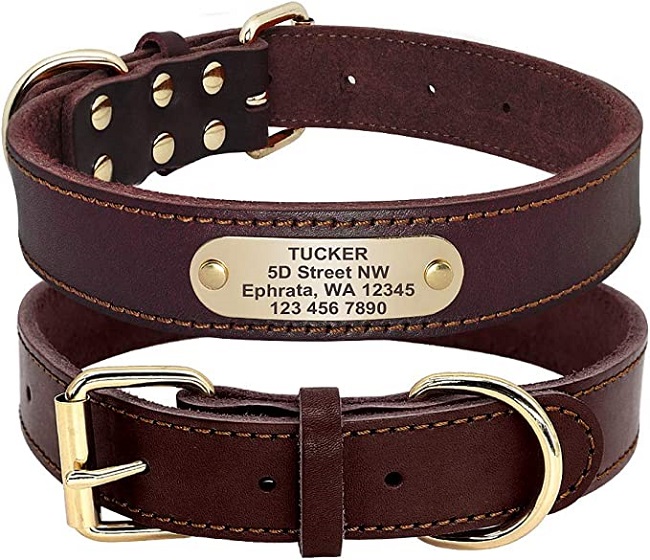 Not every one of us wants a fancy collar for our dogs but still want something that looks classy yet not too blingy. If that's what your collar requirements sound like, you might find this Beirut Genuine leather collar interesting.
As the name implies, this collar is made up of 100% genuine cowhide leather, and due to this very reason, this collar looks ethereally beautiful, radiating natural warmth, and uneven color tone from one end to the other.
To make the deal more appealing, a golden name plate is mounted onto the front side, on which you can engrave whatever you want – name, phone number, address, etc.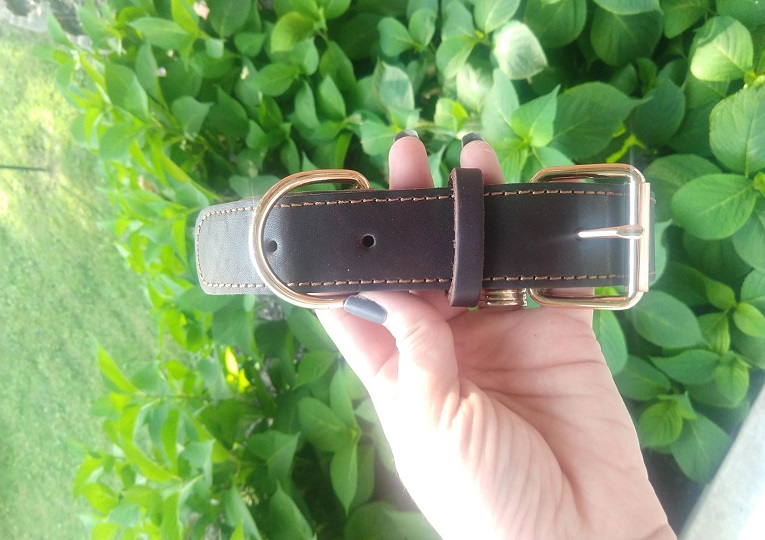 Another interesting thing about this leather Pitbull collar is its dual closure system; belt buckle, and snap.
However, since the snap buckle is made up of alloy, you won't have to see problems like buckle freezing. Unlike other leather collars, the material doesn't get stiff over time instead, the longer it's used, the softer it becomes.
Upkeeping this Pitbull collar is super easy since all you need to do is wipe the dirty surface with the damp rag – no washing, no drying! Remember Toby from Sherlock Holmes? Well, this Pitbull collar is going to give your dog the same look!
Specifications
Size: Four different sizes
Material: Plastic & Leather
Type: Regular/tactical collar
Color: Multiple colors
Closure type: Buckle, Snap
Loops: D-ring
Pros
The name tag is fitted securely and jingle-free.
It's the best Pitbull collar for dogs with sensitive skin as it is made of hypoallergic material to minimize skin irritation.
Cons
Sometimes, the nameplate gets faded over time.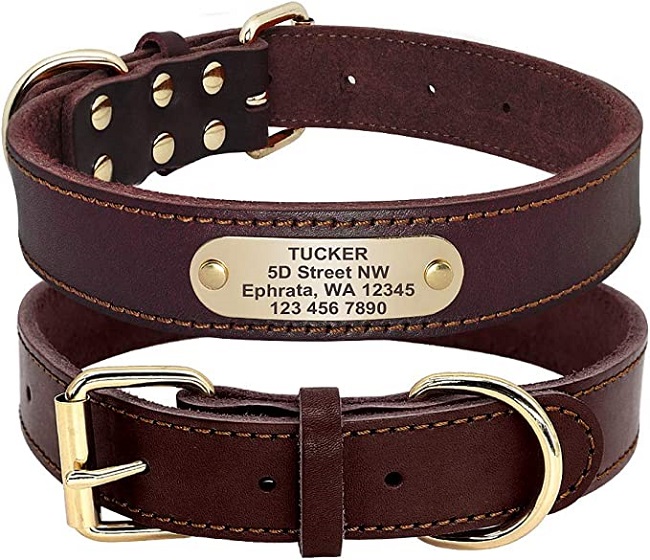 BeirutGenuine Leather Personalized Dog Collars
The price of "BeirutGenuine Leather Personalized Dog Collars" varies, so check the latest price at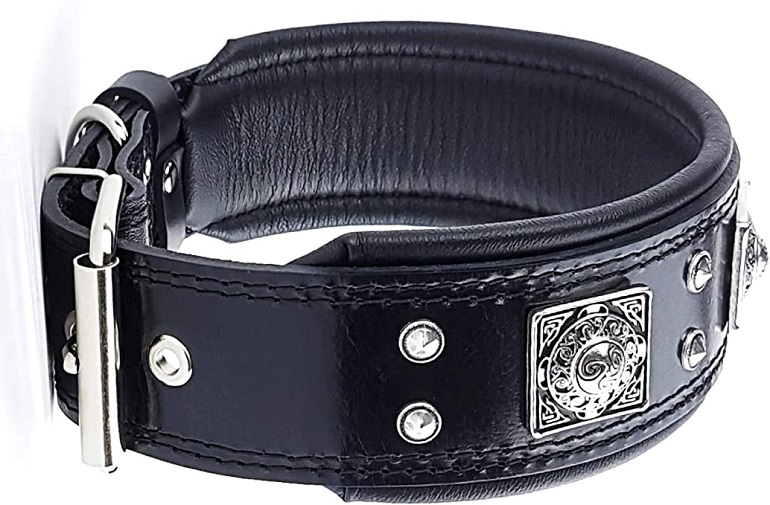 The next collar on our list of best Pitbull collars is from the exclusive collection of Bestia. The brand is known for manufacturing the most luxurious dog wear and the Eros collar is one of their masterpieces.
It also comprises 100% original buffalo leather as the base layer, whereas the inner side consists of 100% genuine Nappa leather.
The reason why two different types of leather are used to make this collar is that buffalo leather is good at tolerating wear and tear, whereas Nappa leather is known for its smoothness.
Thus, by blending in both the best leather materials, the manufacturer has tried to make the most perfect collar for all seriously powerful dogs.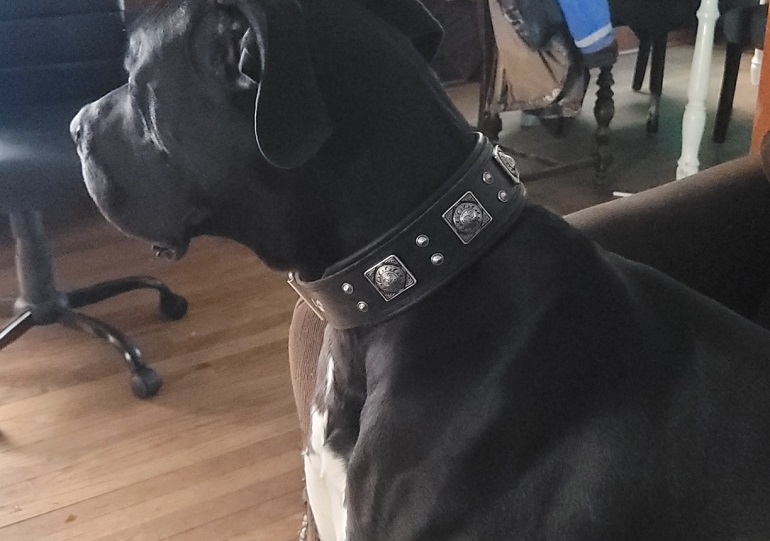 Besides, orthopedic foam is embedded between the inner and outer layers for cushioning. All the hardware is made of steel which is further nickel plated to prevent environmental damage.
Plush cushioning not only absorbs shocks by pulling or biting but also prevents fur loss and excessive rubbing around your dog's skin. Both the craftsmanship and quality are incomparable. The only downside is its price tag!
Specifications
Size: Four different sizes
Material: Leather
Type: Tactical/shock collars
Color: Black
Closure type: Buckle
Pros
Metal shields on the collar make it look more classy.
With 2.5 inches in thickness, it is the thickest dog collar on our list.
Cons
It's a little heavy on the wallet, but its high quality and impeccable craftsmanship are totally worth it!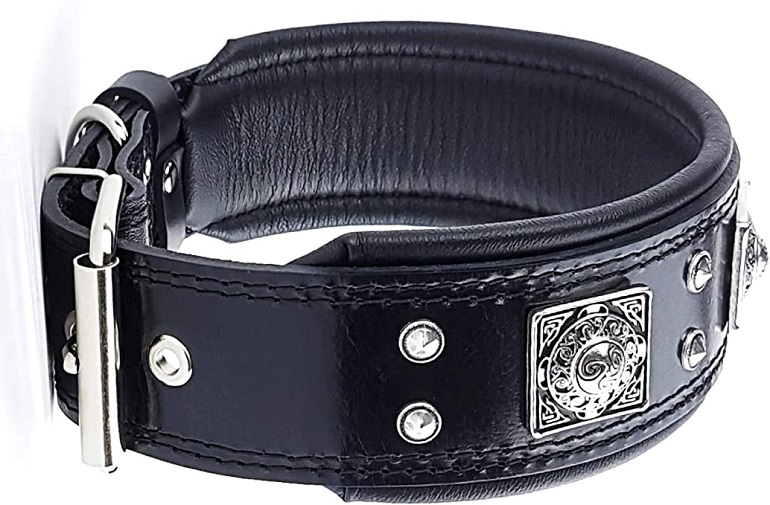 Bestia The Black Eros Collar
The price of "Bestia The Black Eros Collar" varies, so check the latest price at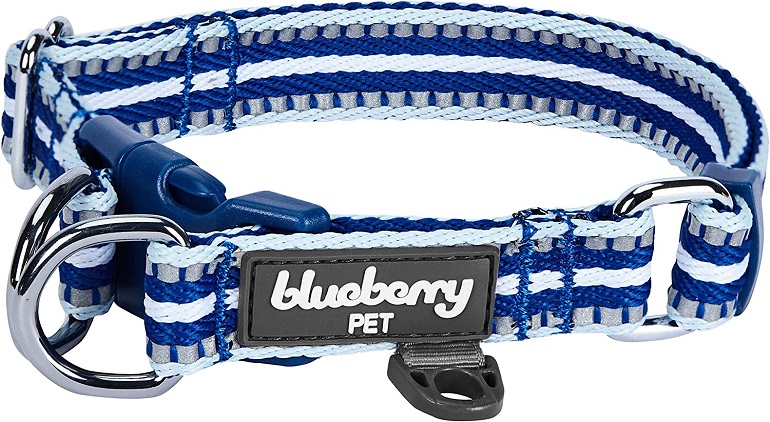 Blueberry, more like Burberry for pets, offers the trendiest striped color options in Pitbull collars with matching leashes and harnesses for fashion-conscious Pitbull owners.
It contains a heavy-duty plastic clip to put on and take off the collar. However, the 2 D rings for the dog leash, the buckle for adjusting the collar, and the connecting piece holding the two pieces of the collar together are made of durable solid metal.
The double D rings provide extra safety and ensure uniform pressure around the collar in case your dog pulls, making them more responsive to your tug corrections.
These heavy-duty dog collars also come with reflective stitching woven into the collar which is suitable for dark-haired doggos for visibility at night.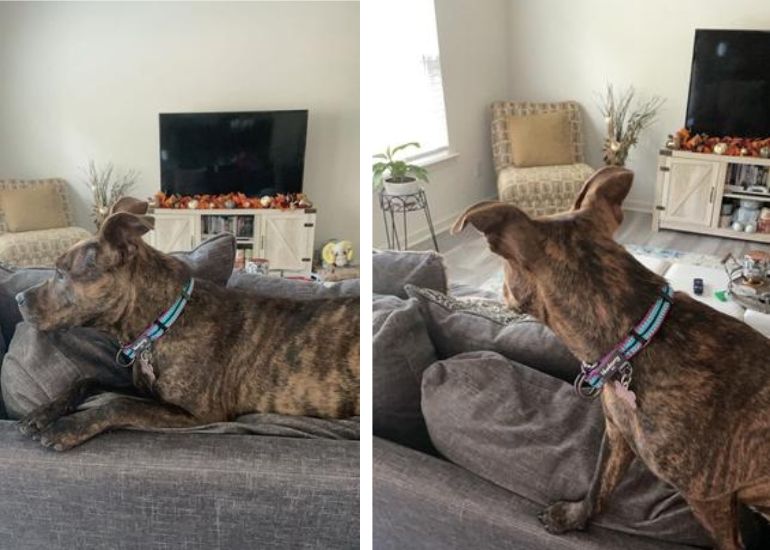 Blueberry dog collar doesn't feature added padding, however,, it is soft and comfortable even in big sizes. It's observed that the sizing is slightly on the bigger side.
It is always recommended to measure your pooch's neck and keep two fingers gap to ensure your dog feels most comfortable. Refer to the size chart before placing your order to minimize the probability of receiving an incorrect size.
Specifications
Size: Four different sizes
Material: Polyester
Type:
Color: 13 options
Closure: Buckle
Pros
A separate small ring is included to hold the dog tags.
The leash clips hold the collar together and provide plan B if the plastic buckle opens up or breaks (which is very unlikely).
The adjustment options don't leave out any frayed edges like other buckle collars.
Cons
Blueberry collar is quite thick and not waterproof, so might take longer to dry. However, the color does not bleed when wet.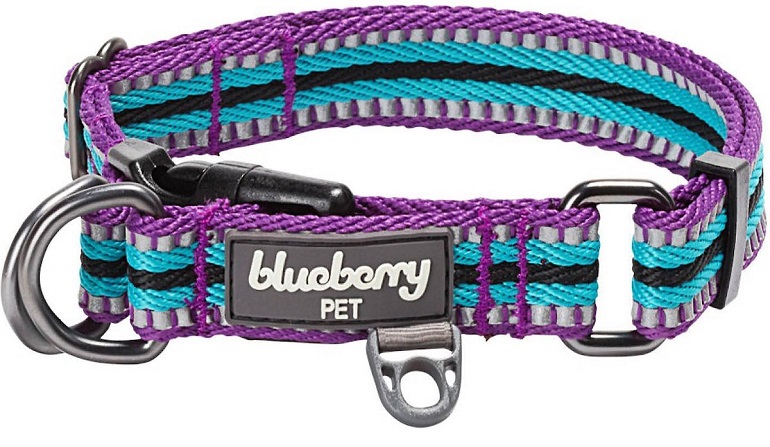 Blueberry Dog Collar
The price of "Blueberry Dog Collar " varies, so check the latest price at
Buyer's Guide: Things to Look for in a Collar for a Pitbull
By now, you must have understood that you don't need to buy just a collar for Pitbull to control them. Instead, you need something that can sustain such massive pulling weight stress without snapping or stretching out.
At the same time, the collar should feel comfortable around your dog neck so it won't end up with nasty friction burns.
To make sure you are investing in the right Pitbull collar, here are the things you need to consider while shopping around:
Material
Heavy built dogs, like Pit bulls, Dobermans, Labradors, Boxers, and American Bullies, are known for their notorious pulling and scratching, so a factor that makes or breaks the deal here is the material. Pitbull collars are offered in all sorts of materials, from leather to nylon to polyester to neoprene.
If your dog is a great chewer and you need a heavy-duty secure collar, then you should go with top-grade nylon collars. However, nylon collars might cause allergies due to their constituting synthetic material.
So if your dog has sensitive skin or if you have a pit bull puppy, you better chooseleather collars. Not only is genuine leather hypoallergenic, but it also looks lavish, matching perfectly with the rough and tough personality of your Pitbull.
On the other hand, neoprene and polyester are also good martial for pit bulls who love outdoor activities since these popular dog collars are easy to clean & dry and don't stretch out easily.
Type
While shopping for Pitbull collars, you'd find endless types to choose from, like prong collars, martingale collars, no-slip collars, no pull collars, no bark collars, chain collars, and many others.
What type of Pitbull collar you should choose depends upon what's your objective behind getting one. For leash training and more controls, a martingale collar or prong collars are considered suitable.
However, if you want to stay gentle on your Pitbull pup, no pull collars and tactical collars are safer alternatives.
Size
To get the perfect fit, you need to pay special attention to the size factor. The collar for Pitbulls should neither be too loose nor too tight. Since the Pitbull's neck changes its size and width throughout its life, it's better to get a collar with an adjustable band.
However, if you know how to measure for a dog collar, opting for a specific size will be more fruitful for training purposes. Besides length, you should also make sure the collar is wide enough to prevent discomfort or abrasion.
Generally, Pitbull collars with 1.5 to 2 inches in width are considered safe and comfortable for Pitbulls and other similar breeds.
Style
Style doesn't matter much if your sole purpose in buying a collar is to train your Pitbull. However, if you are searching for an everyday collar, it should be eye-pleasing and complement your dog's personality.
The most stylish collar in this regard is the studded ones – those which give off badass vibes. Besides looking immensely attractive, such collars also serve in terms of safety. How?
Well, Pitbulls jump into fights more often than other dogs, and since all predatory animals tend to attack necks, such Pitbull collars keep their sharp teeth off your dog's fragile neck.
Durability
Speaking of durability then it depends upon so many things, including the quality of material, D-rings, buckles, eyelets, bands, and of course the stitch. Keep in mind that double stitching is always considered more durable than single stitching. Likewise, belt buckles are more reliable and durable than quick-release buckles.
Remember, metal buckles and rings always fall superior to plastic. Besides, the collar construction and material, leash strength also plays a huge role in the overall outcome – especially when you are getting a Pitbull collar solely as a training collar.
FAQs
Why Should Pitbulls Wear Collars?
All Pitbull owners must be aware of their dog's strength and aggression. In a fight, aggressive dogs can rip apart anything in a breath – even a human. That's why it's essential to put a collar on your Pitbull to prevent dangerous incidents.
Is a Collar or a Harness Better for Your Pitbull?
Both the collars and harnesses work well on Pitbulls, but a dog harness is considered safer and more reliable. Why? Because it can distribute the pressure evenly all across your dog's body, eliminating the risk of choking and neck injuries.
However, for everyday or home use, flat Pitbull collars are better as they don't leave chafes or sores around your pet's torso.
What Width of Collar Is Best for a Pitbull?
As mentioned before, any Pitbull dog collar that is 1.5-2 inches wide is safe for your fully grown-up canine companion. The general rule of thumb here is that the wider the dog neck, the wider the collar should be.
Conclusion
The whole guide was my viewpoint on the best heavy duty collar for extremely strong dogs. I listed what I found truly handy and helpful to these serious dogs, and that's what I have been doing around here.
I told you about the best dog collars for Pitbulls, but before wrapping the article, let's have a look at some important tips that you may need to keep in mind while putting collars on your darling companions.
First of all, any dog training collar that is left on the dog without supervision is dangerous. Remember that Pitbulls are quite short-tempered, so if something is irritating them, they do everything to get rid of it – even if it involves harming themselves.
To be more specific, then you should never put the prong or choke collars on your dog unsupervised. Besides, martingale collars are also not suitable for Pitbulls since these are developed for dogs with small heads and long slender necks.
I sincerely hope you have found this article helpful in choosing the best collar for your Pitbull. If you have any questions about sizing, training, or choosing a collar for your dog, drop them in the comment section.
And hopefully, we'd be seeing each other in the next guide that's going to be on something else in huge market demand.