Getting a collar for your dog is inevitable nowadays for a multitude of reasons. If your furry friend is your expedition buddy, other than attaching a leash and ID, You can also add a GPS device to your dog's collar as a safety measure, or you can opt for the latest GPS dog collar, such as Halo or Spoton. Read our Halo collar reviews or Spoton fence reviews for more information.
Getting the right collar size for your dog can be a challenging task. These pooches tend to grow in days so getting a proper fit collar for them requires accurate measurement of your dog's neck. Buying the perfect size collar is essential for your dog's health, safety, and comfortable movement.
If the dog collar is bigger than the neck, the collar may get stuck in the jawline above your dog's neck, causing your dog to choke or suffer other issues. If the collar is too small, it will be hazardous for your dog's neck and cause breathing issues to the innocent pup.
Determining your Dog's Neck Size: Step by Step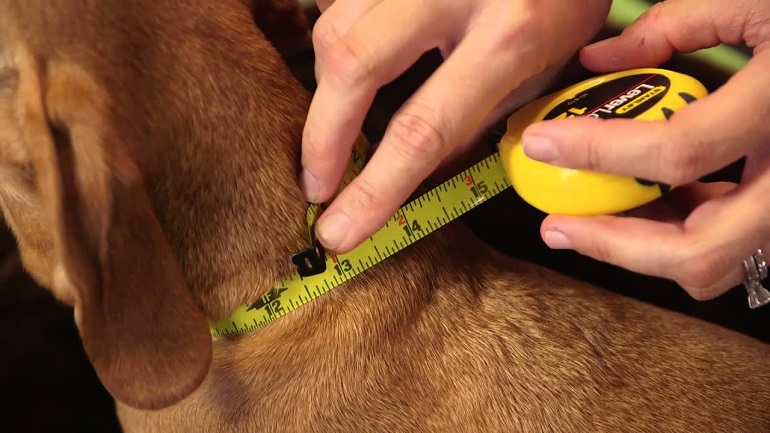 To get an accurately sized dog's collar, you'll need to get measurements of their neck for easy movement of your dog. The collar sizes vary with the age and breed of your dog. So careful measurement of the dogs neck is the most tricky part!
The steps mentioned below will guide you to take the proper measurement of your dog's neck and make the purchase accordingly.
Keep the Age and Breed of Your Dog in Mind
To acquire the best possible collar for your dog, you must keep your dog's age in mind. It is best to get a large collar if you have a little puppy.
It is recommended to opt for a puppy collar with a maximum adjustable size range as a puppy grows quickly, and its neck will keep changing until it is a full-grown dog. For instance, if the neck size is 8 inches, get a collar ranging from 9-15 inches.
Contrarily, if your dog is fully grown and their measurement is between the sizes available, pick the smaller of the two sizes.
For instance, if your dog's neck measures 22 inches, get a collar that ranges from 18-24 inches. That way, your dog can move comfortably without any irritating extra material hanging off the end of the collar.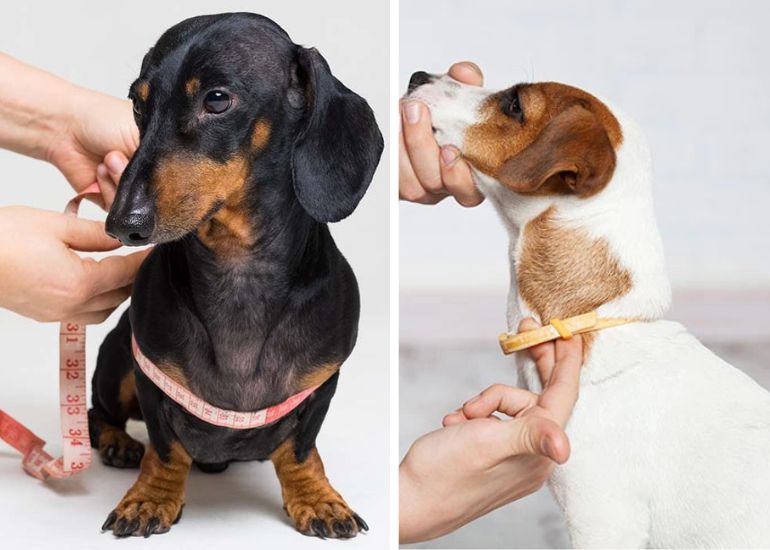 Measure Dog's Current Collar
The most convenient way to measure your dog's neck is to measure their current collar. You can do it if you're sure that the old collar is in a perfect size and, due to any reason, you just need to replace it with a new collar.
First, remove your dog's existing collar, and then lay the collar on a flat surface. Don't measure end to end. Notice the current sizing hole that the dog collar utilizes to wear. Now measure from the middle of the buckle to the old hole you have been using.
This is by far the easiest starting point, but if your dog has outgrown their existing collar, then you might need to pick a slightly bigger size. Either way, you need to measure the old collar to get a tentative number.
In case, you don't have an old collar, then read on! We'll give you more options on how to measure for a dog collar.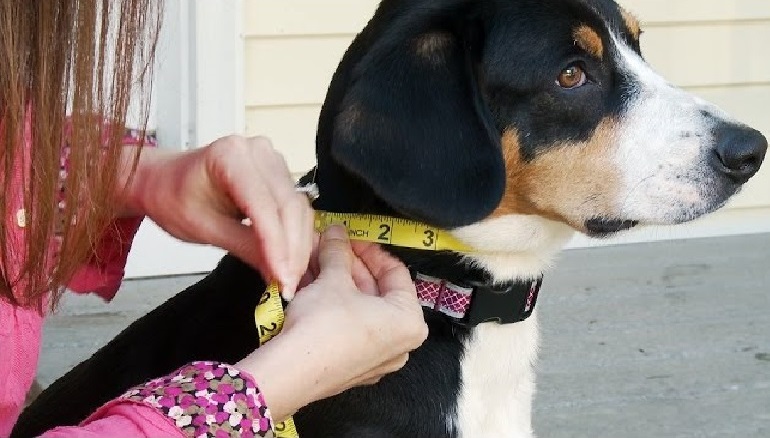 Measure Dog's Collar Size by Measuring Tape
To get the correct collar size, it is recommended to use a soft measure tape, lying around in your home, to obtain flawless results. Get the tape and place it around your dog's neck a little below the head. Loosen the tape a bit using two fingers rule (that I'll explain in a bit), to allow for easy and free movement of your dog.
Measure your dog's neck, in inches, by overlapping the measuring tape below the jawline of your dog so that you can get a more accurate result. Ensure that the snug loop is not too tight, as your goal is to find an easy and breathable collar for your dog to ensure your pup's health.
After finding the measurement, note the number you get and buy the collar with the stated value within its size range. For instance, if your dog's neck size is 18 inches, get a collar with a size range of 16-20 inches. It would be best to buy the dog collar, whose range is highest to account for your dog's growth.
Measure Pet's Neck Size by a String or a Cloth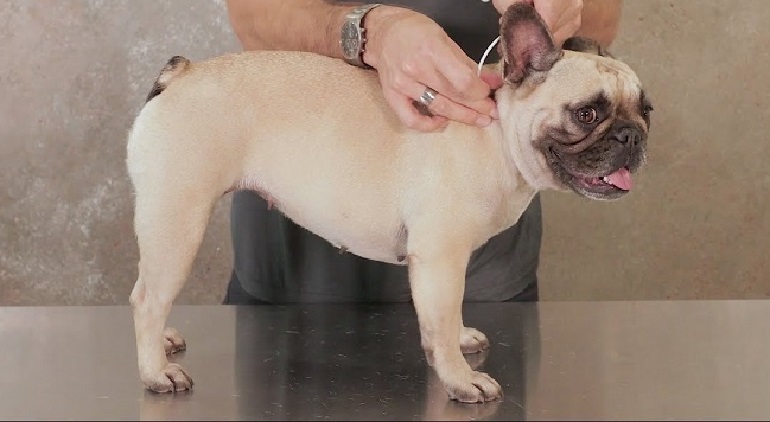 If, somehow, the measuring tape is unavailable, worry not, as we'll provide another way to get an accurate measurement. You can use a string, ribbon, or cloth strip (or even your mobile charger wire) to get the size of your pup's neck.
Gently wrap the cloth or string around your canine's neck, as discussed before, a little below its chin. Mark the endpoint after adding 2-3 inches and carefully measure the string size with a rigid metal ruler to eliminate any possible error. The size through this measurement method can be made accurate if you are focused and careful.
The Two-finger Rule
While struggling to attain the correct size collar, consider using the two-finger rule for determining the best-sized collar.
Once you wrap a soft tape measure around your dog's neck, slip two fingers in the loop to allow for enough breathing space for your dog's movement.
This will allow your dog to move comfortably and leave enough wiggle room for ease. You need to be clear about how tight a dog collar should be in order to ensure maximum comfort for your pup.
Types of Dog Collars Available on the Market
The market is filled with different collars, and getting the right one depends on you and your pet. The following are a few available types of dog collars residing on the market: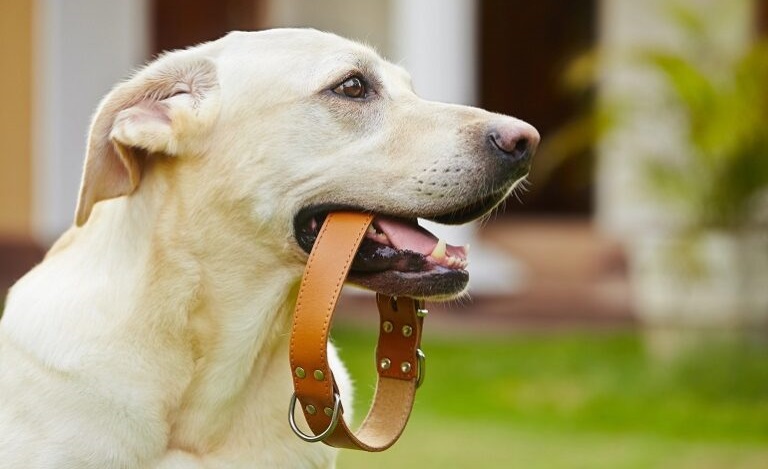 1. Martingale Collars
These are also called non-slip collars. Upon strong pull of your dog on the leash, it will retain its shape without choking your dog.
2. Rope Collars
This stylish option has immense durability and comfort, eliminating any undesirable discomfort that dogs might feel in other stern collars.
3. Smart Collars and Tracking Devices
Collars with exclusive features of GPS devices. These are perfect for dogs who are escape artists.
4. Flat Dog Collars
These are the most common kind of dog collars. These collars adjust to your dog's neck size for a comfortable fit.
Dog's Collar Measurement Done – What's next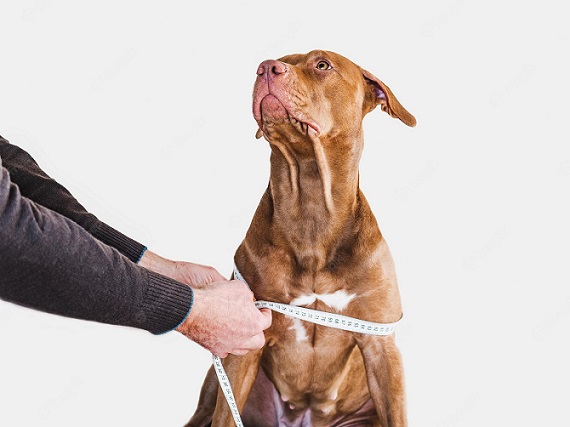 Once the right measurement of your pup's neck has been figured out, visit the market to get a new collar for your canine. Using a measuring tape, measure the available dog's collar size so that the finalized value falls at the middle hole of the collar for a good fit.
As stated earlier, if your dog's neck is 18″, the best choice would be the collar offering a size ranging from 16-22 inches.
Compare Your Measurements to a Retail Guide When Purchasing a New Collar
Industry standards on the market are set according to age, weight, height, and type of dogs. The approved sizes for different dogs are well defined and can be found in retail guides. Please refer to the sizing chart below for reference: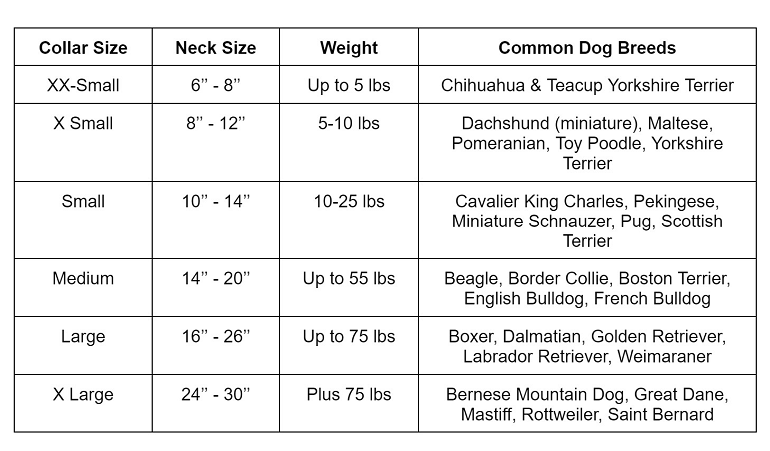 Once you have the exact measurement of the thickest area of your dog's neck, find a retail store to compare your measurements with the standard measures before purchasing a new collar to minimize any chances of errors.
The standard retail guide claims the following size ranges for the different sized pets, but you should always compare with the manufacturer's given chart to ensure a perfect fit!
Small dogs: 10 "-15"
Medium dogs: 14″-19"
Large dogs: 18″-24″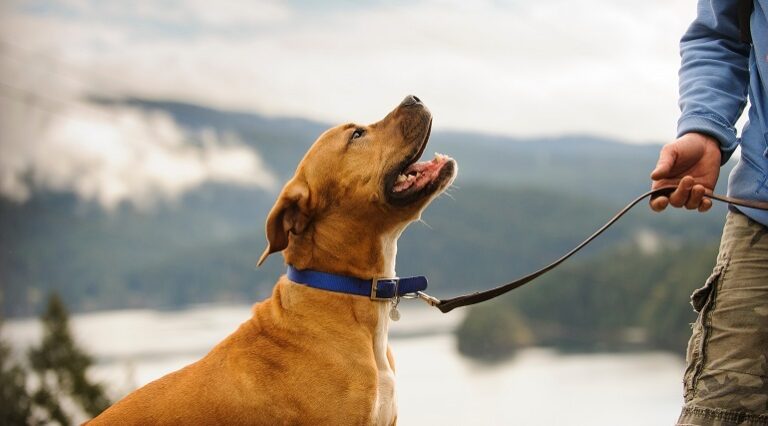 Conclusion
A dog collar comes in handy for multiple reasons and has become an important accessory for every dog. Among the many advantages of using a collar, the most significant one is to keep a leash attached to your dog and attach additional accessories for your dog's safety.
The accessories like a dog's name tag and GPS dog tracker can seamlessly be attached with a right-sized collar.
To ensure the safety of a pet, carefully buy the dog collar that best serves to keep the nature and size of your pet in mind. The first step is to measure your dog's neck and then find the available collar size that best adjusts your pup's neck using the two-finger rule.
Similarly, if your pet is an aggressive type, then get the no-pull collar strong enough to withstand the strong pulling of your pet.
Keeping a pet can sometimes be challenging, but the same can be relaxing with all the essential accessories. To avoid any unwanted hassles, a dog collar can be a great helper in raising a pet.