Getting a new puppy is exciting… but it comes with anxieties. You want everything to be ready for them; dog bed, toys, food – and your dog's collar.
It is recommended to introduce a collar to your pup as early as few weeks old, just make sure the dog collar is the right fit for their quickly growing bodies.
The everyday collar should be comfortable enough for your canine companion to wear all day either during walks , playing and or just while resting.
With so many types of collars for puppies, it's not easy to choose. Smart collar, martingale collar, no pull dog collar, reflective dog collar – what's the perfect collar?
We can't help with choosing patterns or colors, but we can help you narrow down the best dog collars for puppies.
Our Top Picks For Best Puppy Collars
Best Smart Collar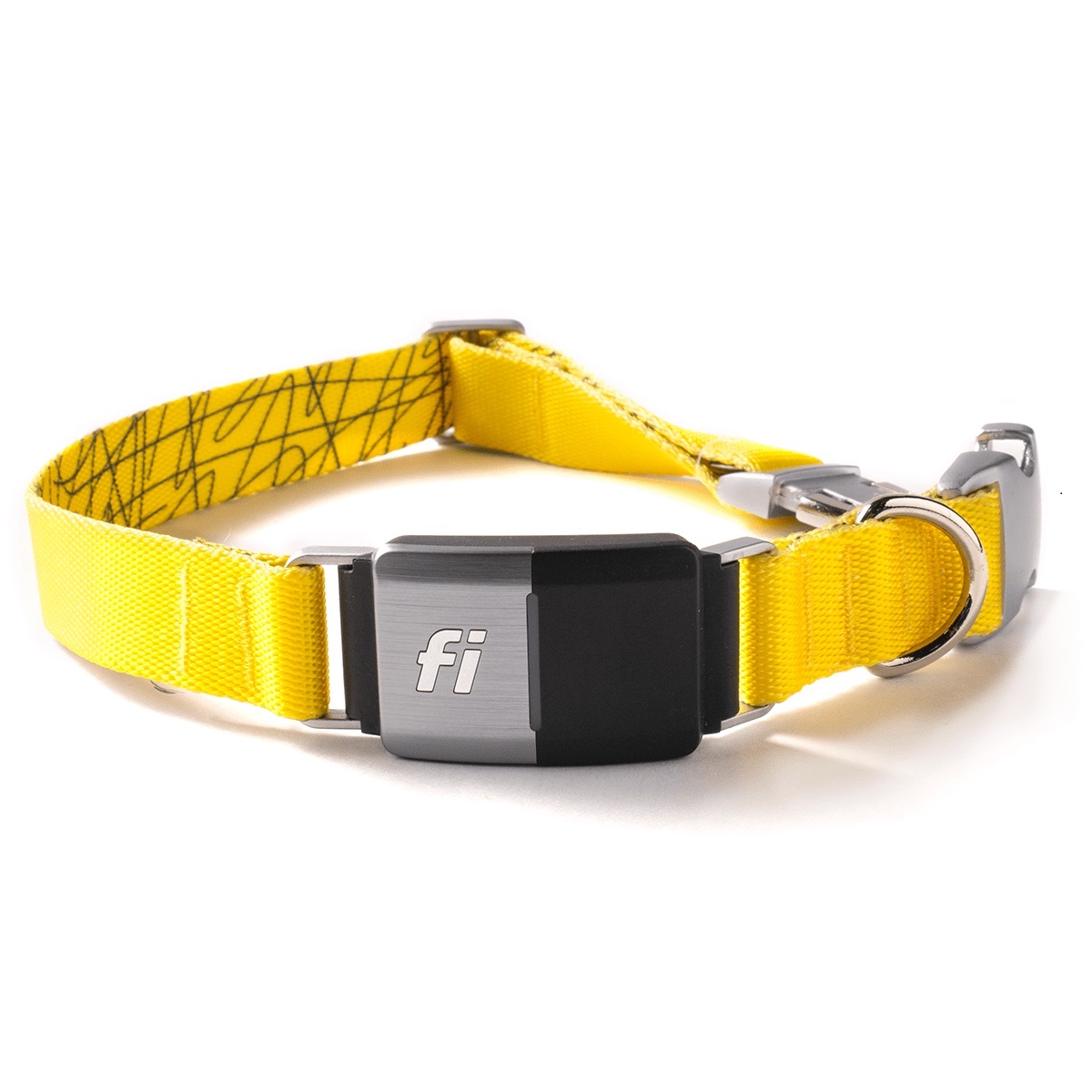 Fi Series 2 Collar
Pattern: Solid
Material: Nylon, Aluminum Faceplate
Best Overall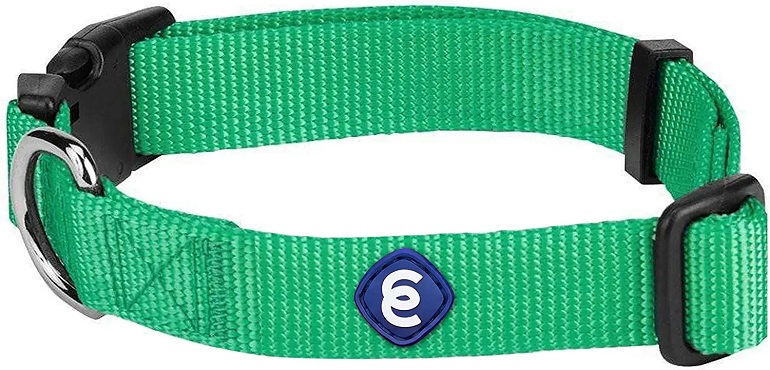 Blueberry Pet Classic Dog Collars
Pattern: Solid
Material: Nylon
Most Fashionable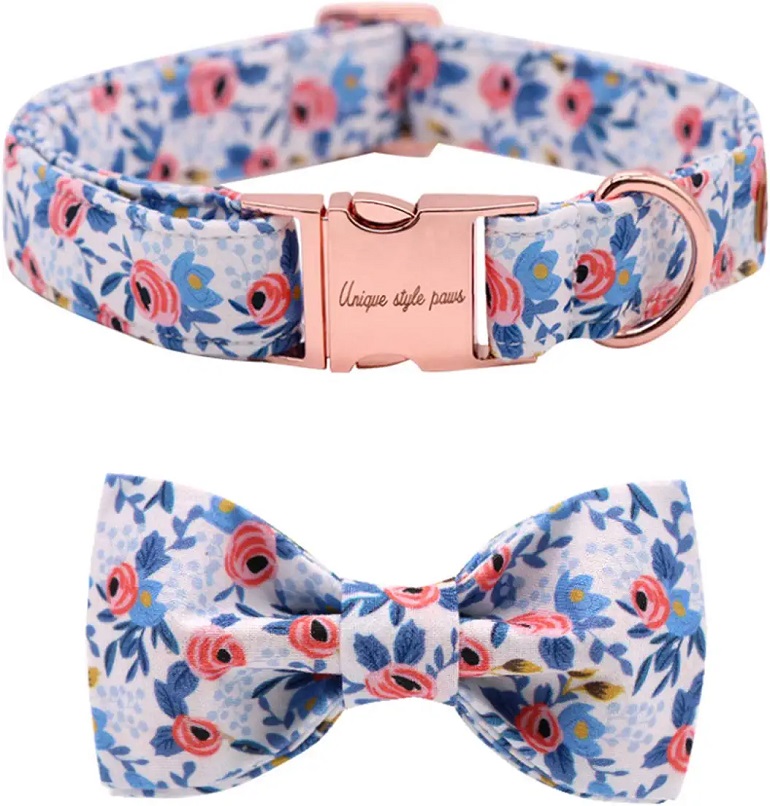 Unique Style Paws
Pattern: Floral
Material: Cotton
Best Customizable Collar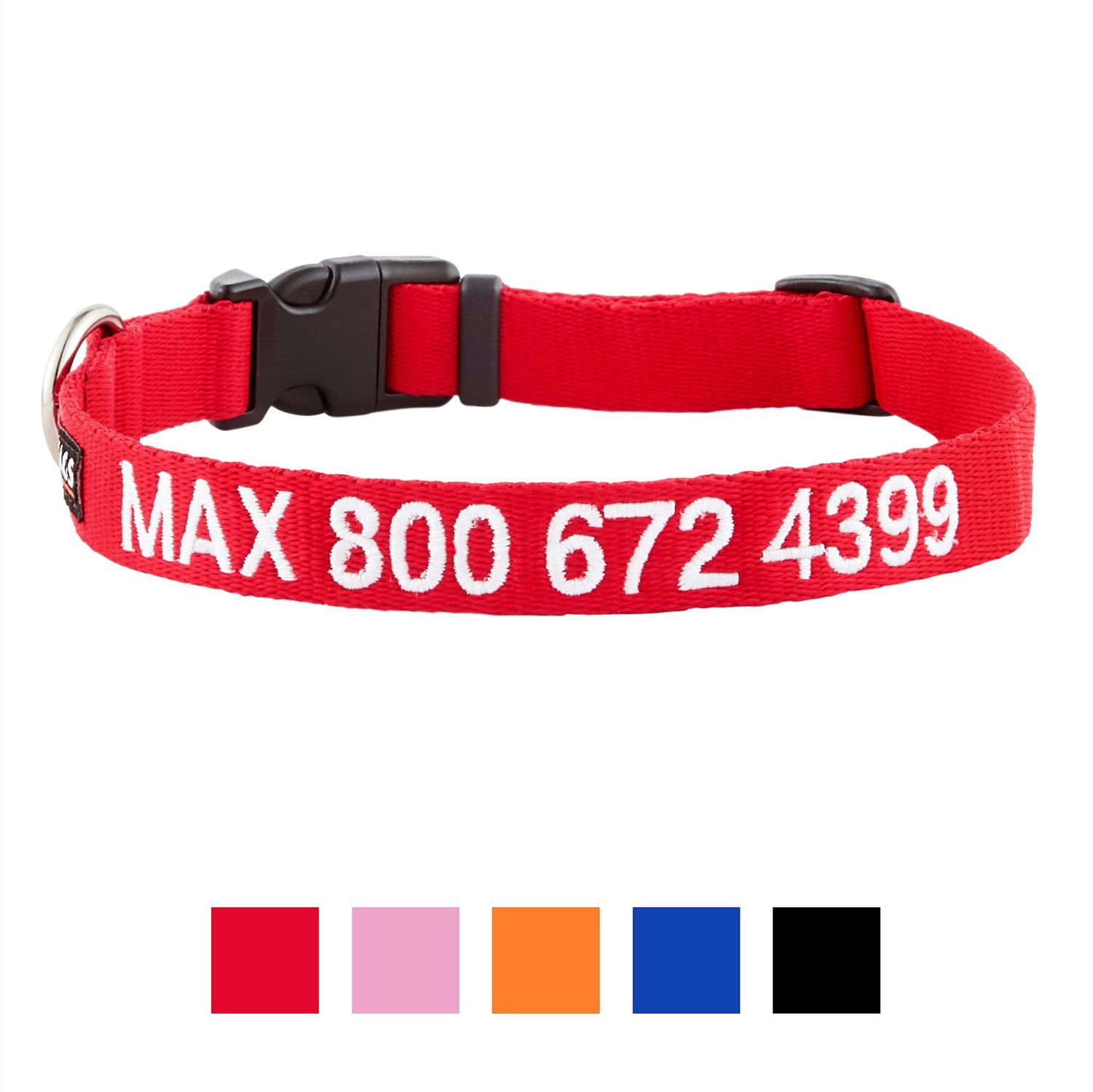 GoTags Nylon Personalized
Pattern: Solid
Material: Nylon
Best Budget Collar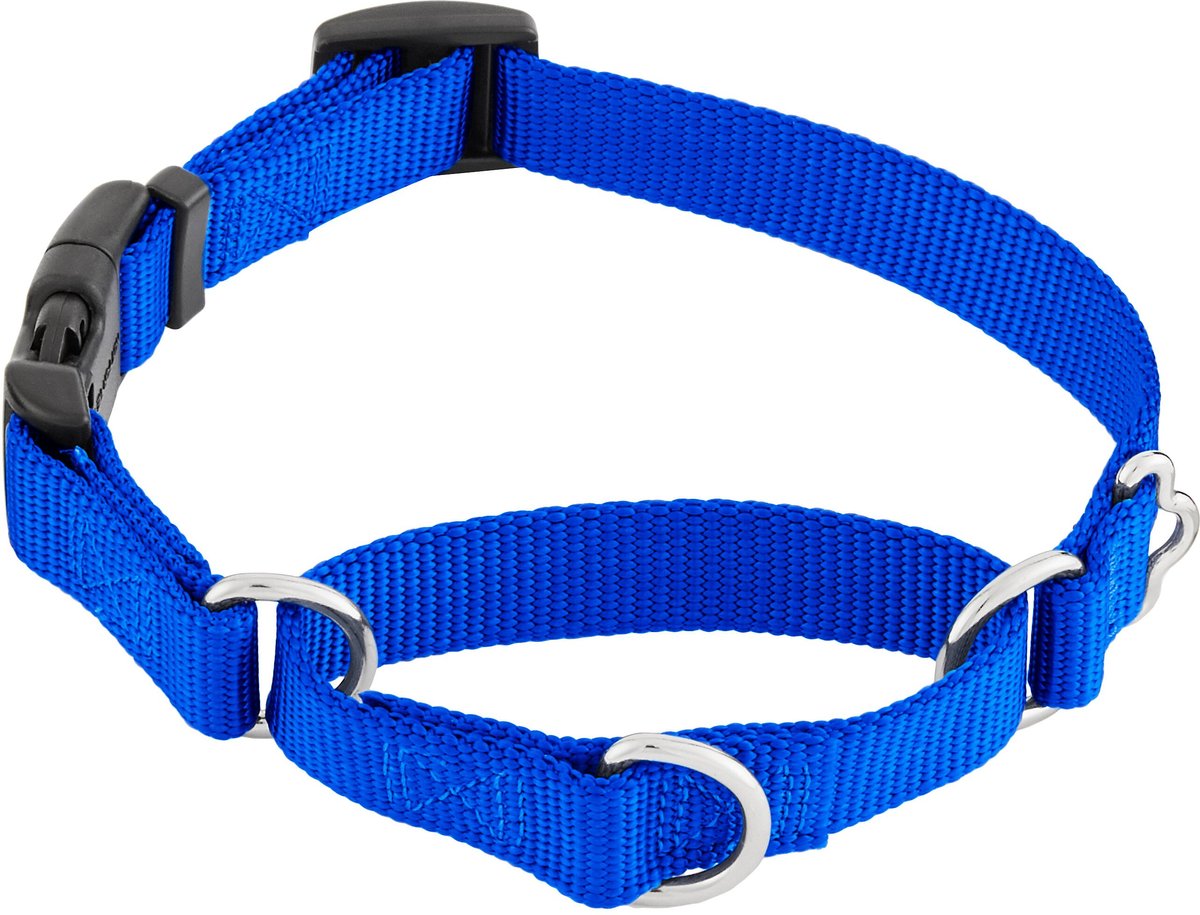 Frisco Martingale
Pattern: Solid
Material: Nylon
Best for Just-Born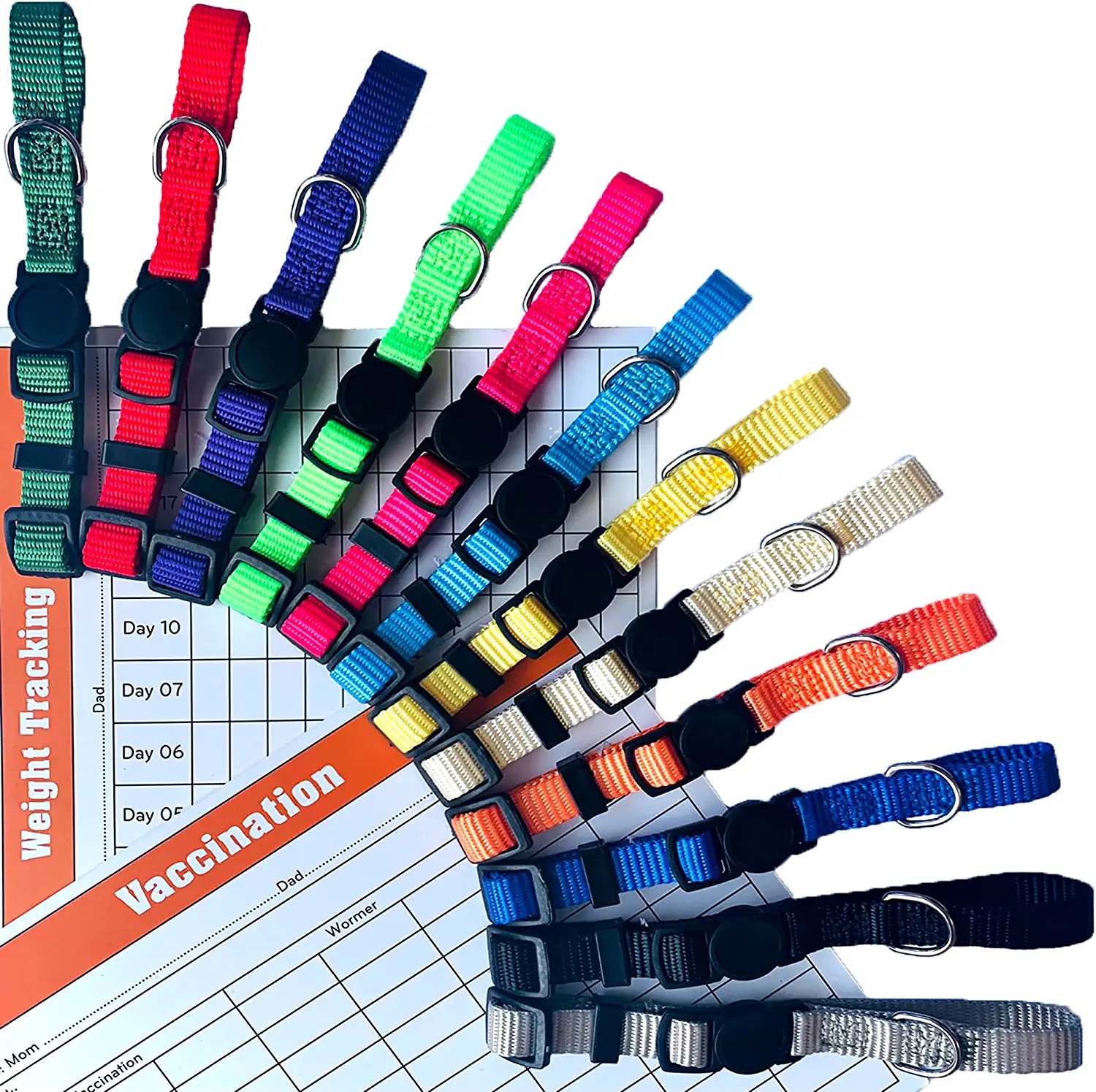 GAMUDA Puppy Collars
Pattern: Solid
Material: Nylon
Best Dog Collars for Puppies
Here is our list of top picks for the best puppy collar.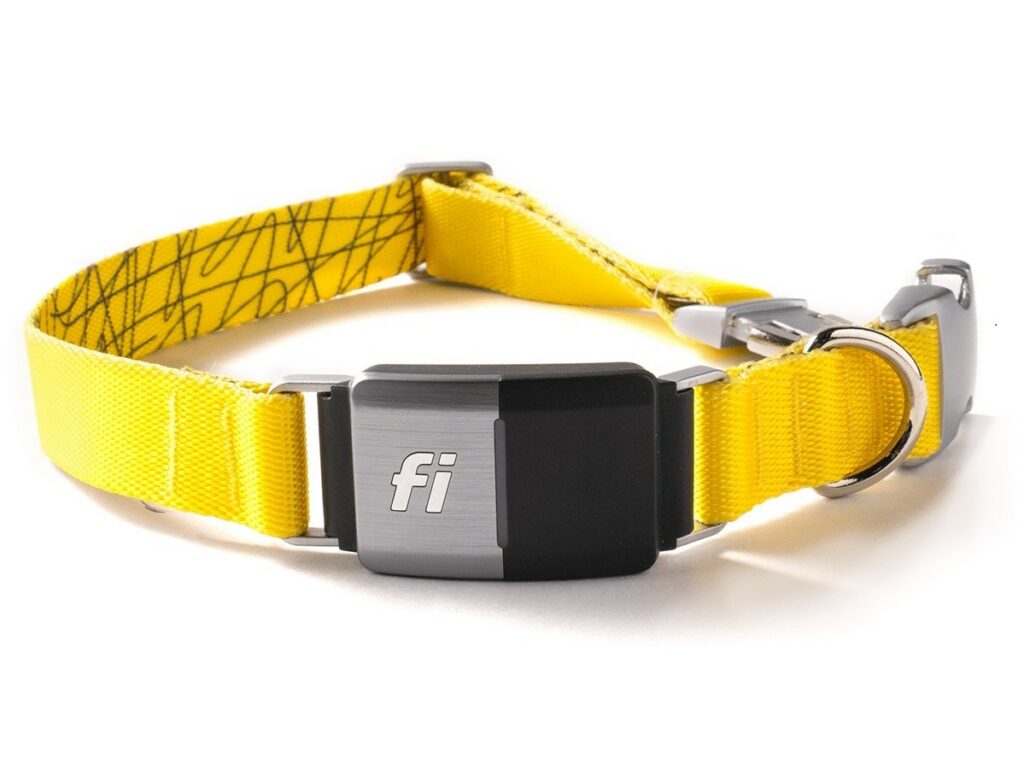 It might be pricey, but unlike a regular collar, the Fi collar is a GPS-enabled smart collar to keep tabs on your dog's location – and it's one of the best collars you can get.
Dogs get lost easily, but they're even more likely to run off when they're excitable puppies.
The Fi collar creates a circular perimeter that alerts you when the dog escapes. It then uses its LTE service to connect to a smartphone app, so you can track them down easily. And with a battery lasting 3 months, you don't need to worry about it running out of charge.
The Fi collars also tracks your dog's activity to ensure they're getting enough exercise during the day and enough sleep at night. The only problem is these technical features require a bulky box attached to the pet's collar, something that might not be comfortable for smaller puppies.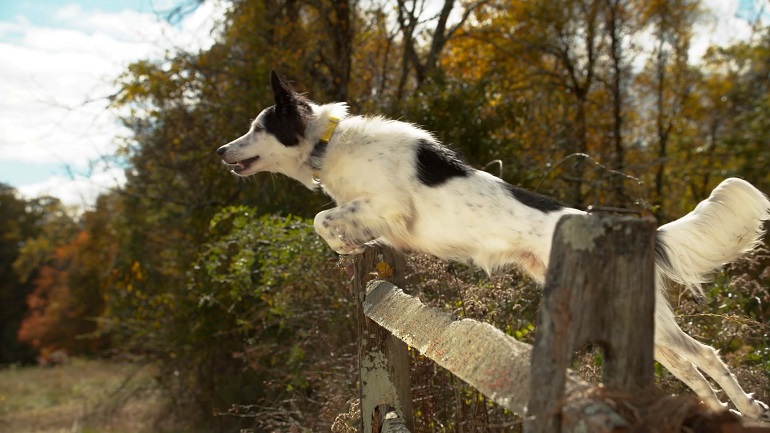 The collar itself is resistant to chewing, waterproof, and comes in four colors (pink, blue, yellow, and gray) and 4 sizes:
Small: 11.5"-13.5"
Medium 13"-16.5"
Large 16"-22.5"
X Large 22"-34.5"
Note: Read our full Fi collar review to get detailed information.
Features
GPS/LTE-enabled location tracker
Activity and sleep tracker
Lost dog mode
3-month battery life
Waterproof
Aluminum faceplate
LED light
Pros
Long battery
Set geo-boundaries
User-friendly app
Accurate GPS tracking
Escape alerts
Tracks sleep and daily activity
One of the best collars for safety
1-year warranty
Cons
Bulky box attached
Expensive
Dogs must be over 10lbs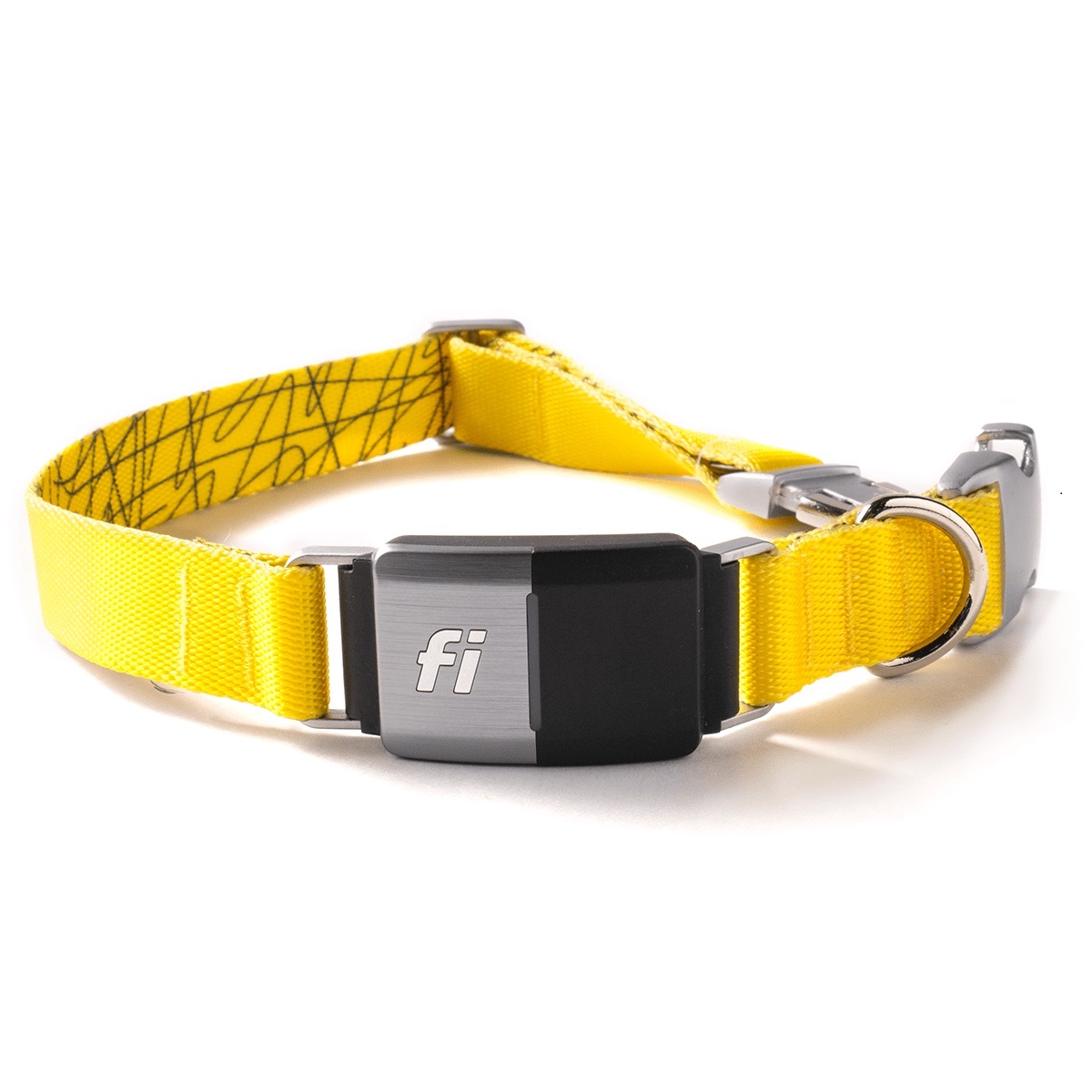 Fi Smart Collar Series 2
The price of "Fi Series 2 Collar" varies, so check the latest price at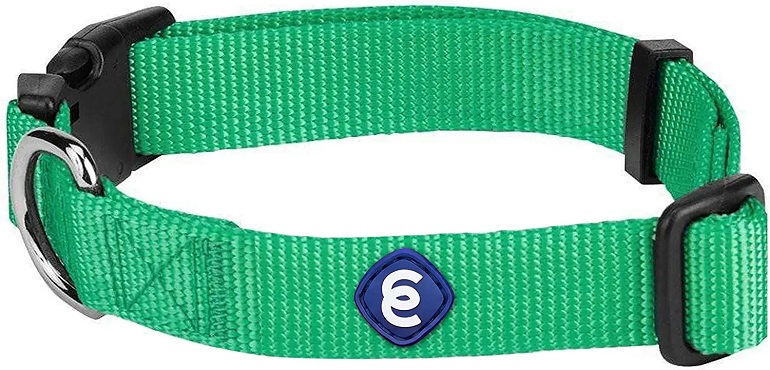 With five-star reviews all over the internet, this is a great basic puppy collar; affordable, simple, and elegant – precisely what you'd expect from a well-recognized and trusted brand like Blueberry Pet.
Offering 26 vibrant colors, this puppy collar is great for making your pup stand out, whether they're wearing Florence orange, royal blue, or dark orchid. And with matching leashes available, you can be just as fashionable as your pup.
If your puppy's security is an issue, this dog collar has a heavy-duty snap buckle to keep them safe. And in case your puppy has a knack for slipping out of its collar, the Blueberry pet collar comes in regular and martingale styles.
Made from durable, high-density nylon fabric, the collar is conveniently machine washable, so you'll only need one – although you might want to pick a few more color combinations!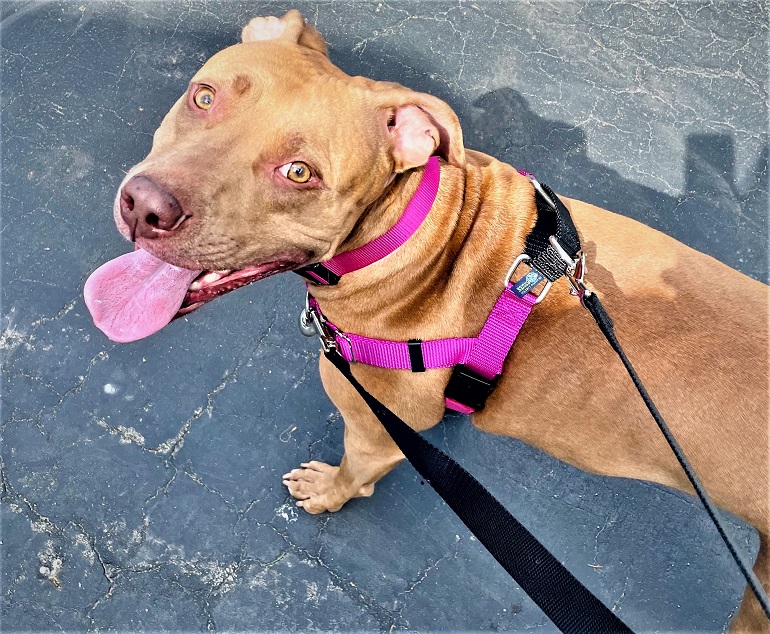 Although it has 26 color options, there are only 4 sizes avaialble:
X-Small: 8"-11"
Small: 12"-16"
Medium: 14.5" 20"
Large: 18"-26"
Features
Durable D-ring leash attachment
Machine washable
Eco-friendly, heavy-duty buckle closure
Pros
Popular and trusted brand
Customizing options available for an extra fee
Lots of color choices
Matching lead, harness, and seatbelt available
Martingale version also available
Easy to wash
Cons
No reflective stitching on strip
Collar can loosen over time and needs re-tightening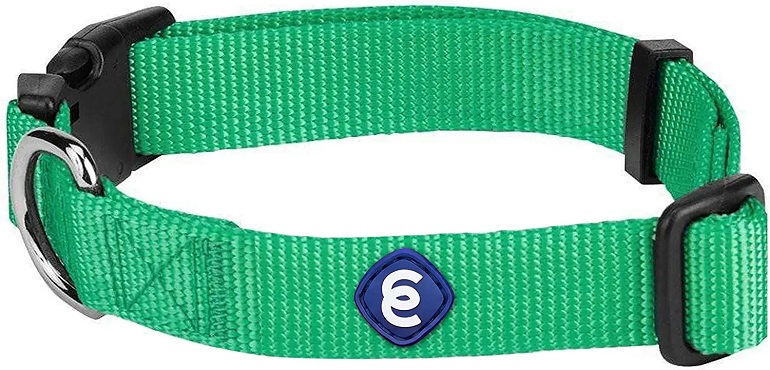 Blueberry Pet Classic Dog Collars
The price of "Blueberry Pet Classic" varies, so check the latest price at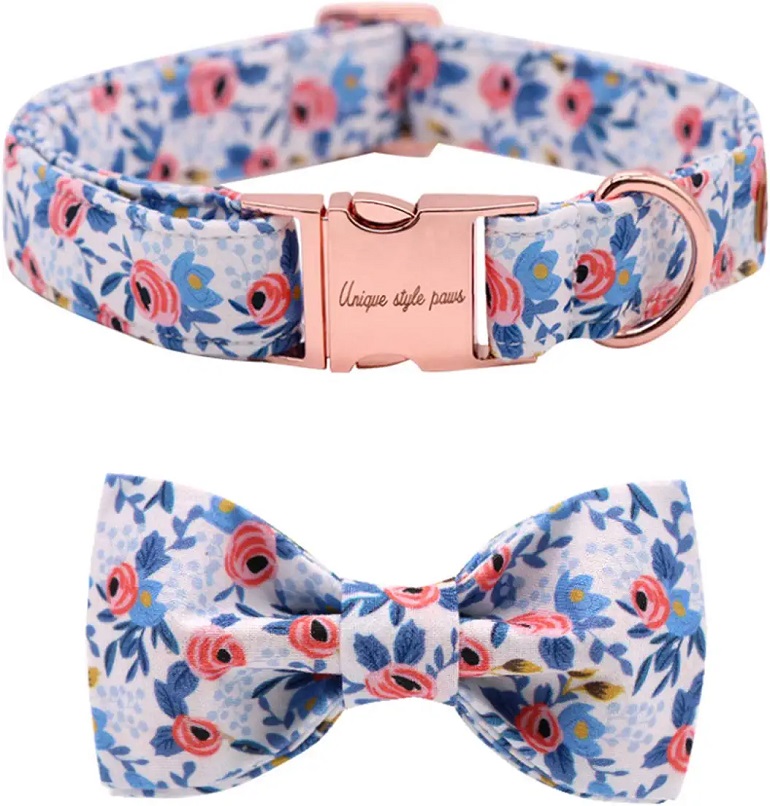 If you want your dog's collar to look stylish, you can't go wrong with the Unique Style Paws dog collar that comes with its own adorable bowtie – perfect for Instagram photoshoots! And you can even join in with a matching lead. Since it's not a permanent fixation, you can put it on or take it off easily using the elastic strap.
A warning though: don't leave the bowtie on when they're unsupervised. You don't want your pup to chew it off and choke!
If you don't like the bowtie, this fashionable dog collar still comes in six stylish patterns and colors. Whether you go with floral, stripes, or even tartan, your puppy won't fail to capture hearts.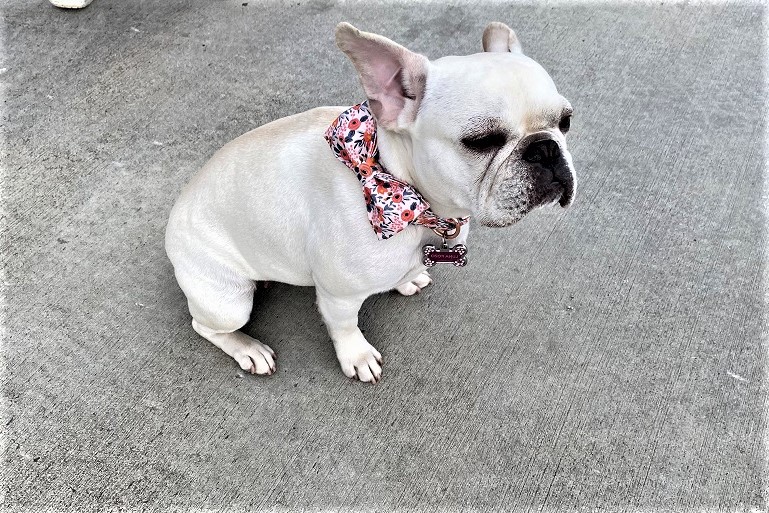 This collar also stands out thanks to its multiple sizes. Not only is it lightweight and perfect for small dogs (even the plastic buckle is thin!), but this dog collar also comes in six sizes:
XX-Small: 7"-11"
X-Small: 8"-12"
Small: 10"-16"
Medium: 12"-22"
Large: 16"-24"
X-Large: 16"-26"
Despite being lightweight, the dog collar isn't flimsy. Made with high-quality pure cotton fabric, it's soft, flexible, and durable. However, it also means that you must wash it on a gentle cycle with only mild detergent, before hanging it up to dry.
Features
Optional bowtie attachment
Matching leash
Six color/ pattern options
Made from high-quality pure cotton fabric
Plastic buckle
Pros
Cute and perfect for photos
Colors and patterns are particularly vibrant
Huge choice of sizes
Lightweight but durable
Cotton fabric is soft and won't harm pet's skin
Cons
Bowtie can be a choking hazard
Must be washed on gentle cycle with mild detergent and hung up to dry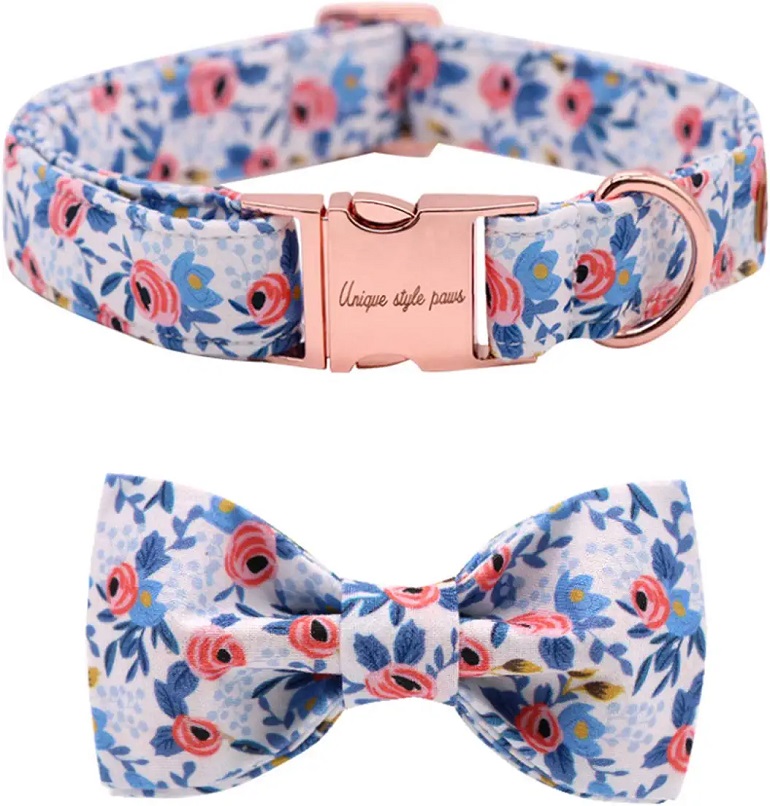 Unique Style Paws Dog Collar
The price of "Unique Style Paws" varies, so check the latest price at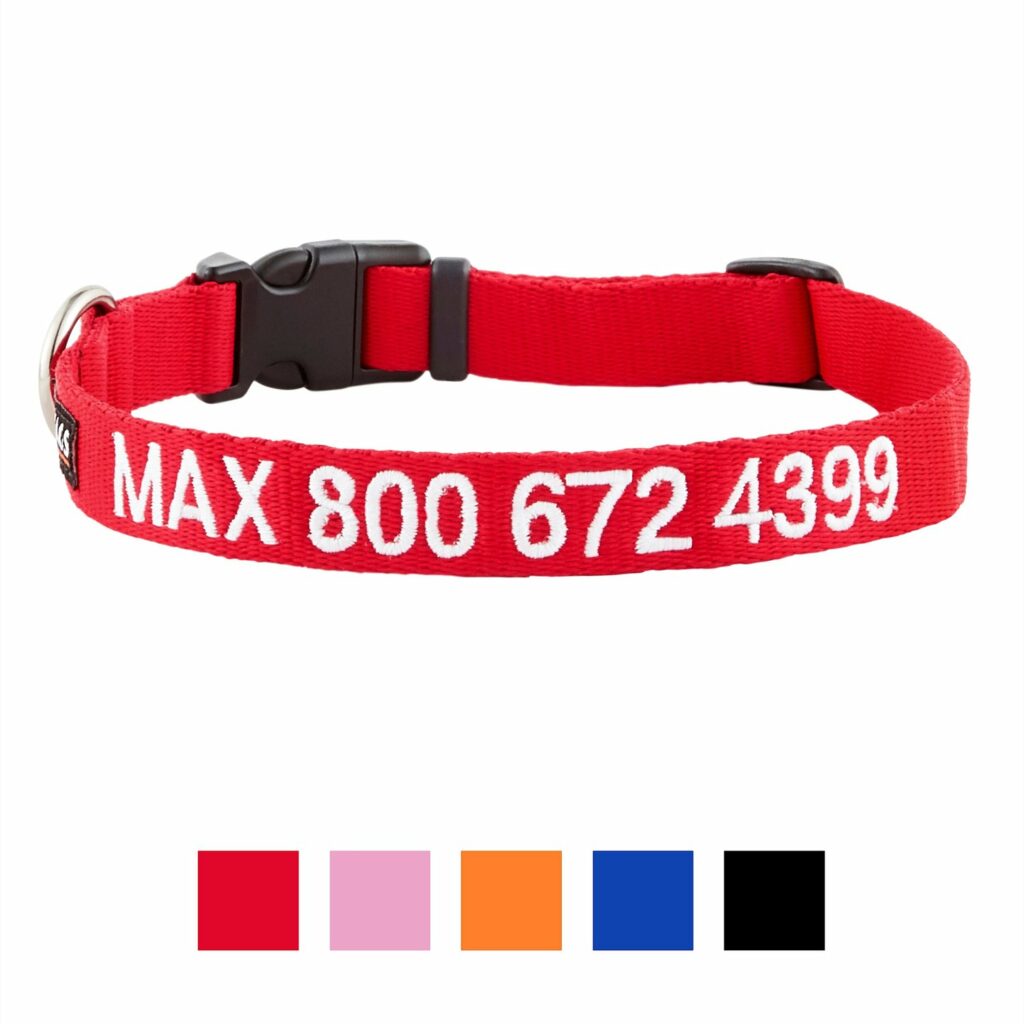 When it's safe, there's nothing better than letting them off the leash and playing with other excitable puppies… But what if you can't spot yours from the crowd?
While that's unlikely, there are still times when it's useful to spot your dog quickly. That's where the GoTags Personalized dog collar comes in handy. With a variety of bright and bold colors, this collar helps your dog stand out.
The main draw of this dog collar is customization. With a choice of five thread colors (black, blue, orange, pink, or red), you can select up to 25 characters to embroider into the collar. The best choice is to choose your dog's name and phone number to make their ID easy to see.
Don't need to worry about the threading coming out. The dog collars are made of nylon – durable, comfortable, and machine washable.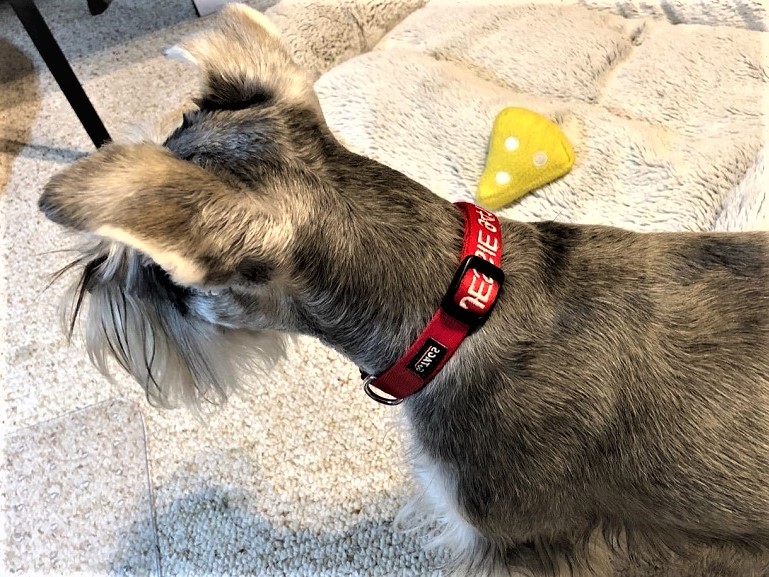 There's sure to be one to fit your puppy since it comes in a range of adjustable sizes:
X-Small: 8"-12"
Small: 11"-16"
Medium: 14"-20"
Large: 18"-26"
Features
Custom embroidered up to 25 characters
14 thread colors
5 color options
Side-release buckle
Non-corrosive D-ring
Durable, soft nylon material
Pros
Personal
Easy to identify
Machine washable
Cons
No pattern options
ID only visible during the day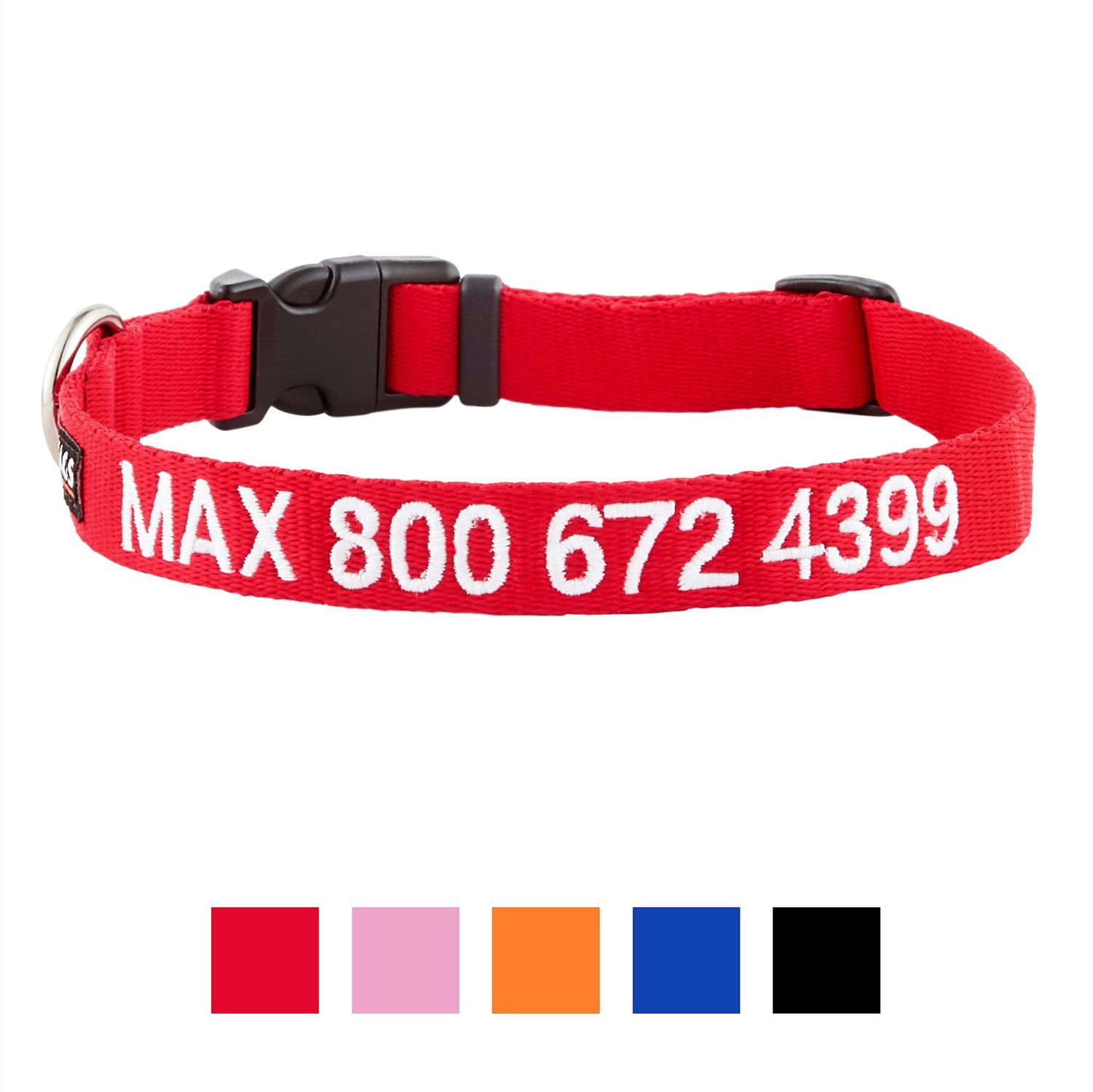 GoTags Nylon Personalized Dog Collar
The price of "GoTags Nylon Personalized" varies, so check the latest price at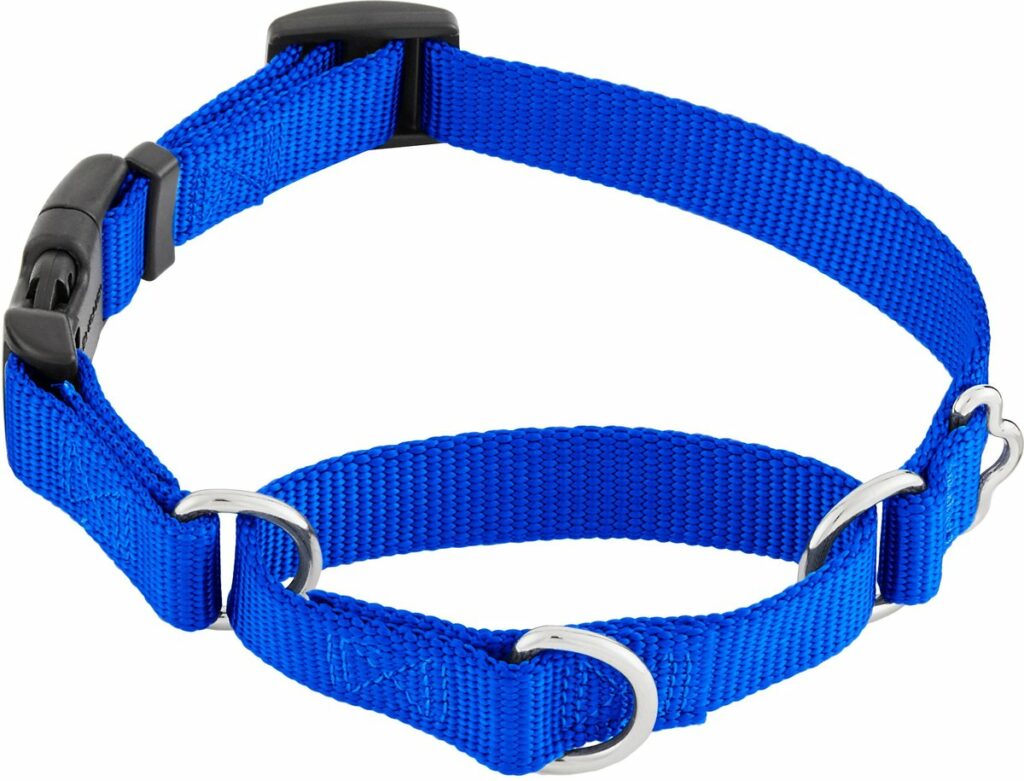 Your puppy grows up fast. So, if you're on a budget, you don't want to keep buying expensive dog collars in bigger sizes. That's where the Frisco martingale collar might be a good option.
Although this is the "budget-friendly option", it comes in 4 colors (pink, red, blue, and black), has a matching leash, and is made from high-quality woven nylon. In fact, the material is so sturdy that it's been lab-tested to withstand up to seven times the maximum weight – your pup won't rip out of this!
Security is one of the main advantages of this collar, despite being the most affordable. That's because it's a martingale collar.
Martingale collars include a double-loop design, giving you more control and stopping your pup from escaping. The first loop is a normal collar, but the second tightens if your dog tries to worm its way out.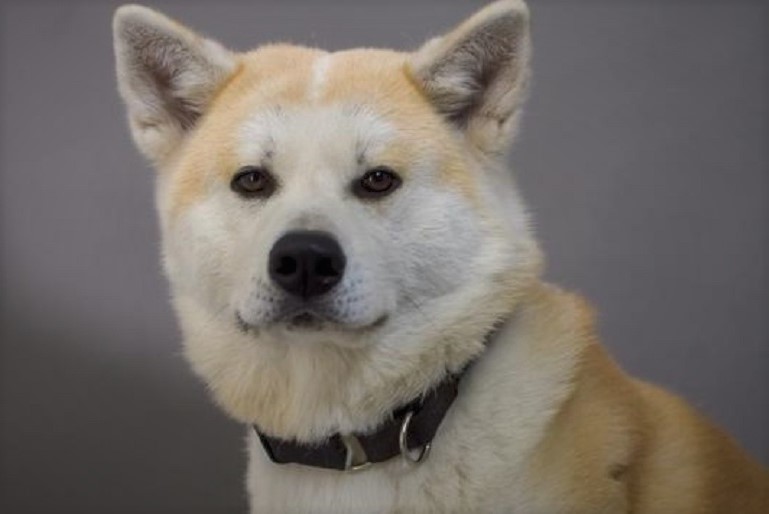 Bear in mind that this dog collar isn't machine washable – you must wash it by hand. And it's not suitable for very small puppies since they only have three sizes:
Small: 14"-17"
Medium: 17"-20"
Large: 20"-25"
Features
Side-release buckle
High-quality woven nylon
Martingale dog collar
Pros
Affordable
Matching lead available
Can withstand up to seven times maximum weight
Martingale style adds extra security
Cons
Not suitable for smaller puppies
Not machine washable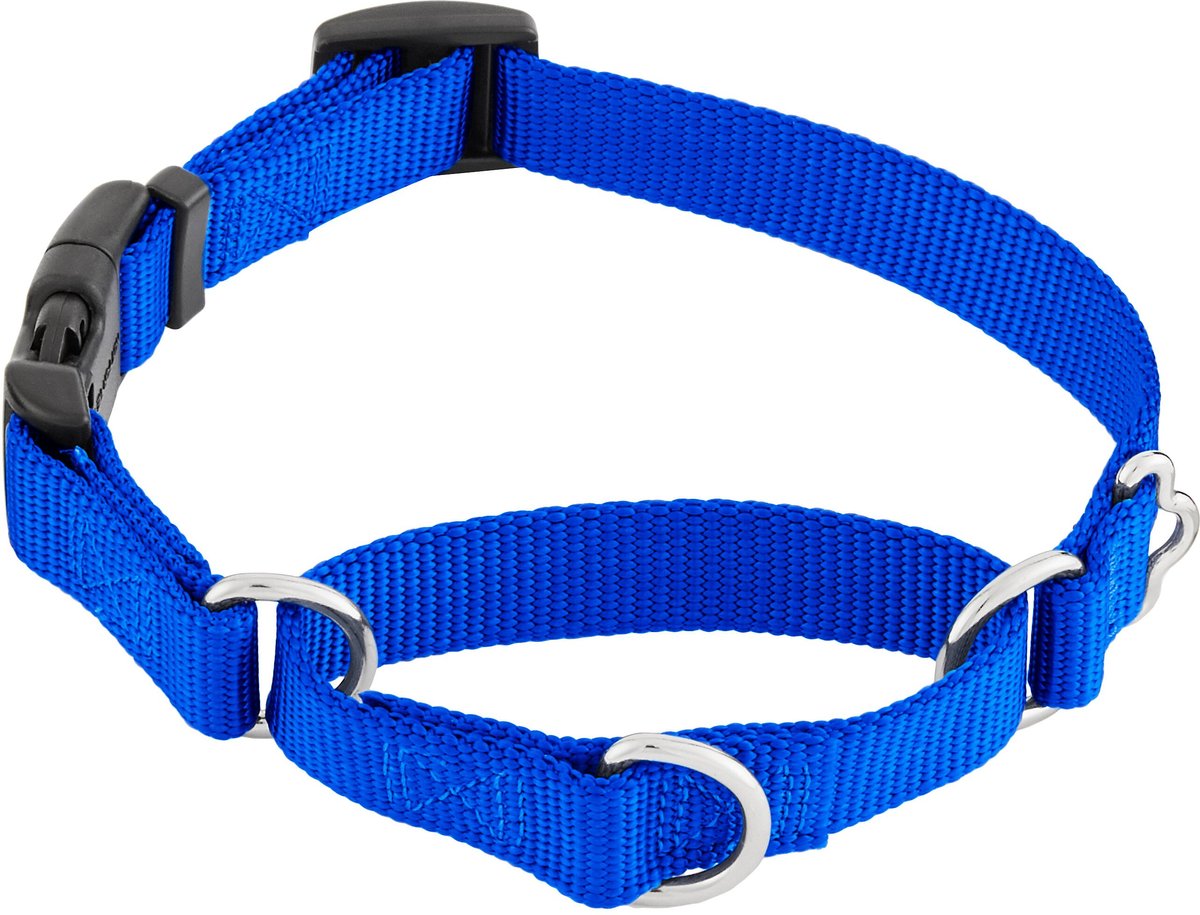 Frisco Martingale Dog Collar
The price of "Frisco Martingale" varies, so check the latest price at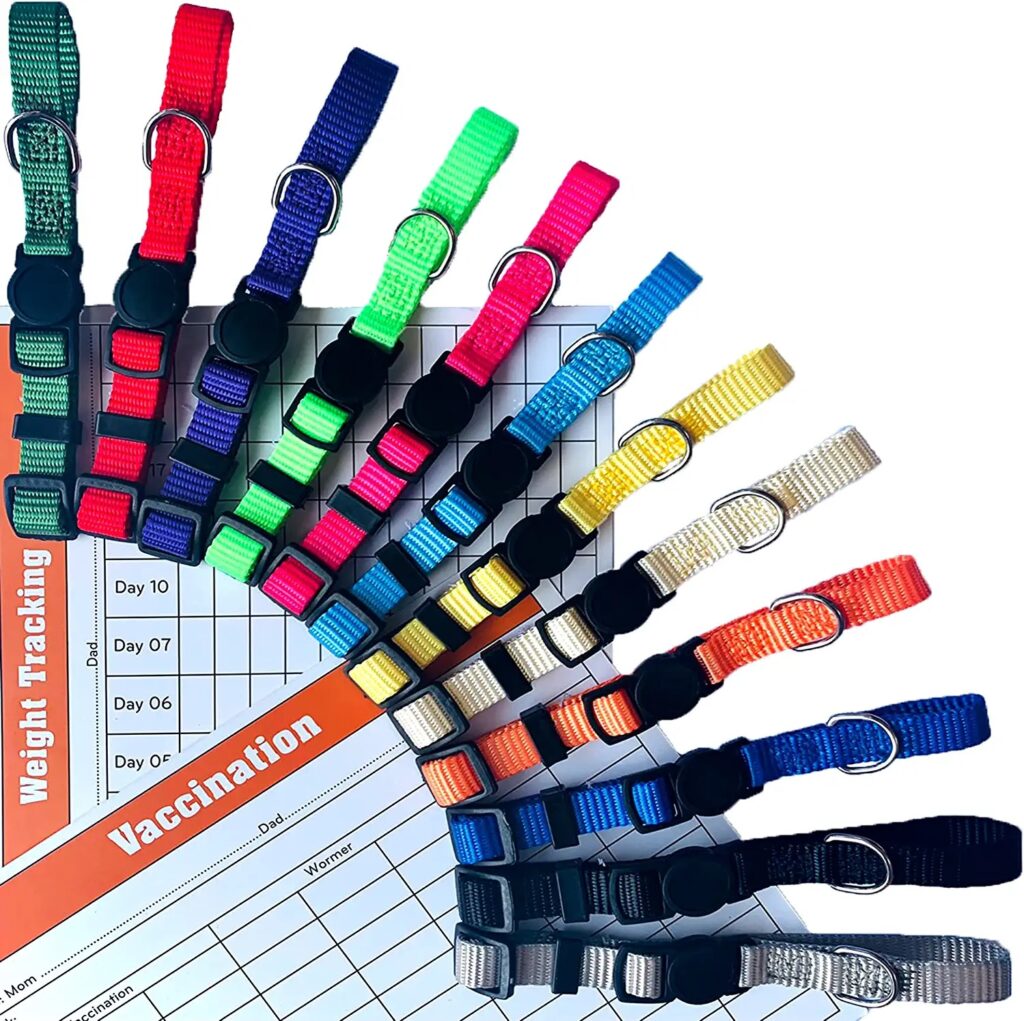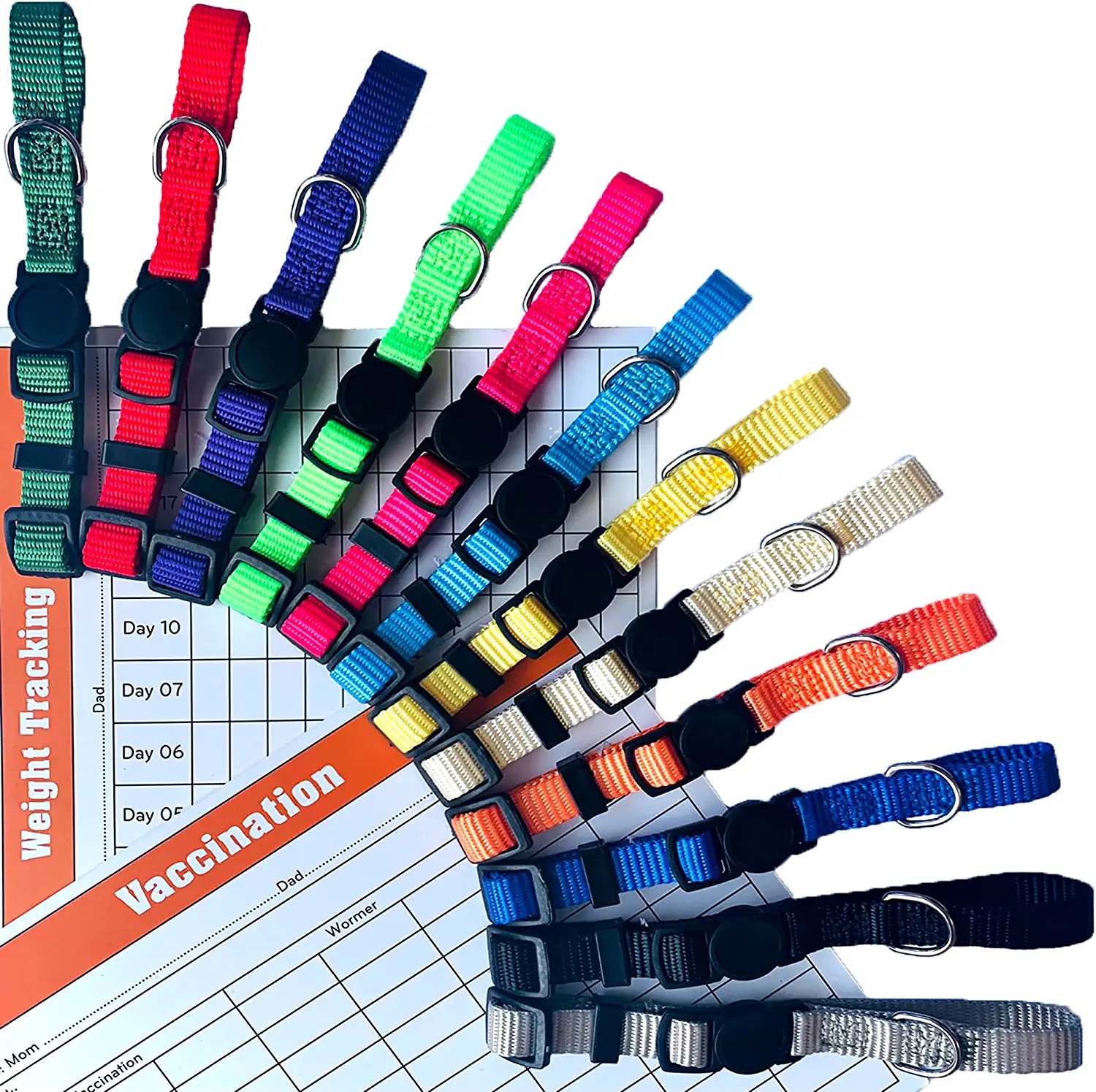 What if you're a breeder about to come face-to-face with a whole litter of puppies? Then the GAMUDA puppy collars are perfect.
Like most collars for puppies, these are made from high-quality nylon, making them durable but lightweight. However, these ones are a step ahead by selecting the softest and lightest nylon on the market.
These dog collars come in a pack of 12, each with a different color. It's super-easy to wash them; you don't have to wash them individually by hand – you can just throw them in the washing machine, and voila!
Each set comes with two record-keeping charts – ideal for breeders to keep detailed records on weight progress, vaccination dates, and their new owner's information.
Just bear in mind that the puppy collars can sometimes slide off smaller pups quite easily, so you might need to wait until they're a little older. They only come in two sizes:
Small: 7.5"-10.2"
Medium: 9"-12"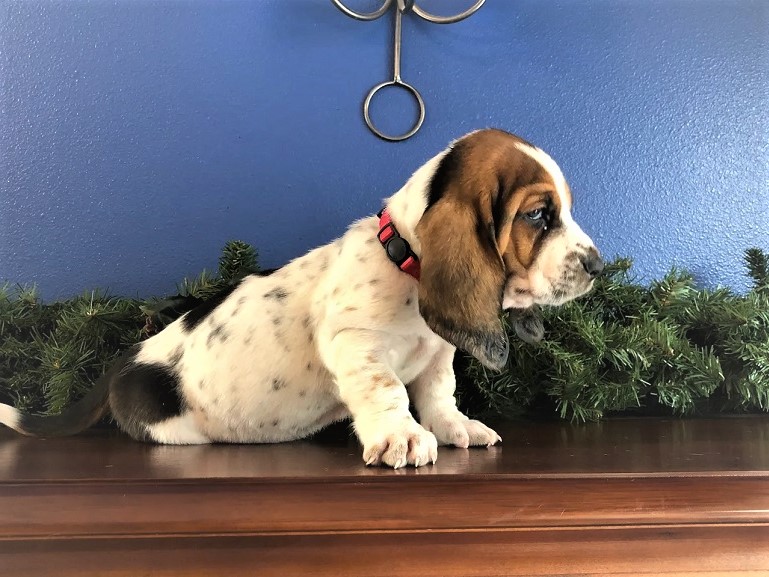 Features
High-quality nylon
2 styles available
Set of 12
Machine washable
Pros
Perfect for breeders
Softest and lightest nylon
Record-keeping charts to store information
Cons
Slips off smaller puppies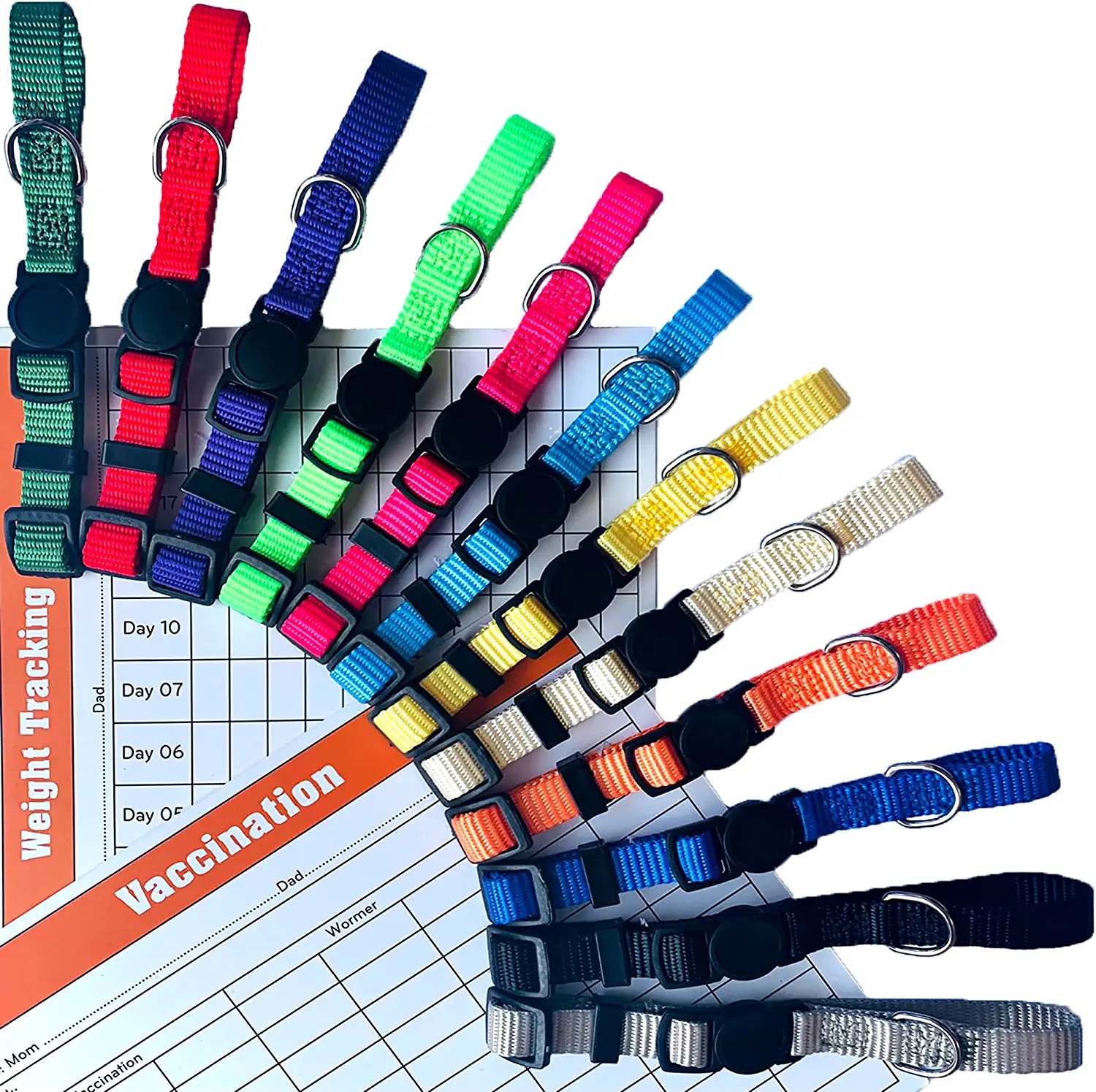 GAMUDA Puppy Collars
The price of "GAMUDA Puppy Collars" varies, so check the latest price at
What to Look for in a Puppy Collar
Here is a list of factors to consider while buying puppy collars.
Material
Make sure the dog collar is light since a dog's neck needs as much freedom as possible while they grow and develop. Aim for a nylon dog collar – these are easier to wash and make very durable collars.
Avoid leather collars or ones with metal buckles for everyday wear. They might look good, but they're much heavier than a nylon dog collar. And always avoid picking a prong dog collar. Prong collars are never suitable for puppies.
Size
Not every dog collar fits all dogs. It comes down to your puppy's neck size, so it's important to measure for a dog collar using a measuring tape. But remember, your puppy is still growing, so make sure that the dog collar can adjust as they get bigger.
Be careful how you strap the collar around their neck – you don't want it to be too loose or too tight. It needs to be tight enough that they can't slip out of it, but loose enough that you can slip two fingers underneath.
Comfort
Comfort is everything. Don't go for training collars or shock collars for puppies – focus on basic training sessions first.
If your puppy is large enough, they might be able to take on a GPS dog collar, but maybe wait until they're older before you try a wireless dog fence.
Even if your new dog is particularly small, avoid getting a cat collar – they usually have a quick-release clasp that comes undone easily when they pull on the leash.
FAQs
Whether it's your first or not, here are some of the top questions dog owners have.
What Age Should You Put a Collar on a Puppy?
It's best to introduce a collar to your puppy sooner rather than later. Most experts agree from 8-weeks-old is best to start with a collar since they're more likely to resist it later.
Should a Puppy Sleep with a Collar On?
While your puppy can sleep with their collar on, it's better not to if they sleep in a crate – you don't want the collar or tag getting stuck in the bars! So it's probably best to take its collar off when they sleep.
Is It Better to Use a Collar or Harness on a Puppy?
Depending on the breed, you might want to forget puppy collars and choose a harness, especially when walking with your pup. Brachycephalic breeds (like pugs, bulldogs, and very small dogs) benefit from harnesses because it avoids any damage to their trachea.
Conclusion
With all the choices available, it's difficult to know which are the best dog collars. So, pick whichever one feels like the best collar for you – so long as it's the right size, comfortable, and made from sturdy but light material. And if you want added security, look for a martingale dog collar!
Just remember: your puppy won't care and won't be jealous of pups with other flat collars. They'll be too focused on you!