As the days get shorter, there's a higher chance that you will be outdoors with your dog at dusk or in the dark. Taking my doggos out at night has always made me a bit nervous.
I want to make sure I know exactly where they are at all times, and I want to be sure that they are visible to passing cars.
If you ever take your dog out at night, you may want to consider an LED dog collar. These are perfect for early morning runs, camping, after-dark walkies, or letting your dog out into your large yard at night.
LED dog collars come with various options, like battery type (rechargeable or not), battery life, LED light colors, brightness, weatherproofing, flashing lights modes, and more.
Let's dive into some of the best options out there so that you can make the right choice for your pup.
Top Pick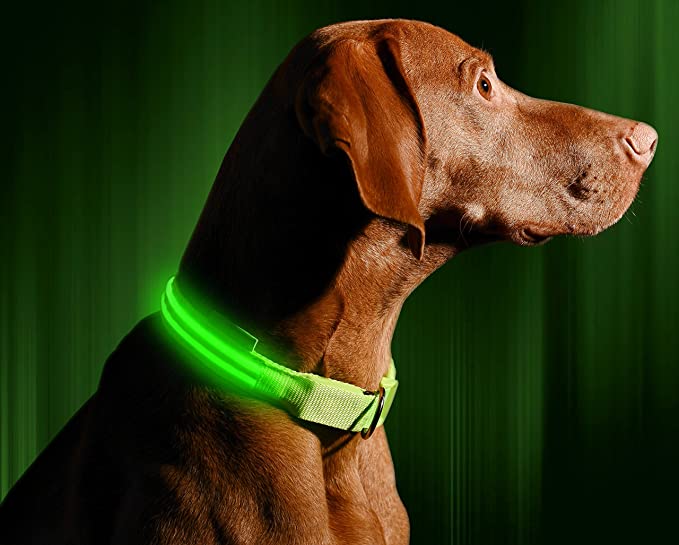 Illumiseen LED Dog Collar
Brand: Illumiseen
Closure Type: Buckle
Ultra-Bright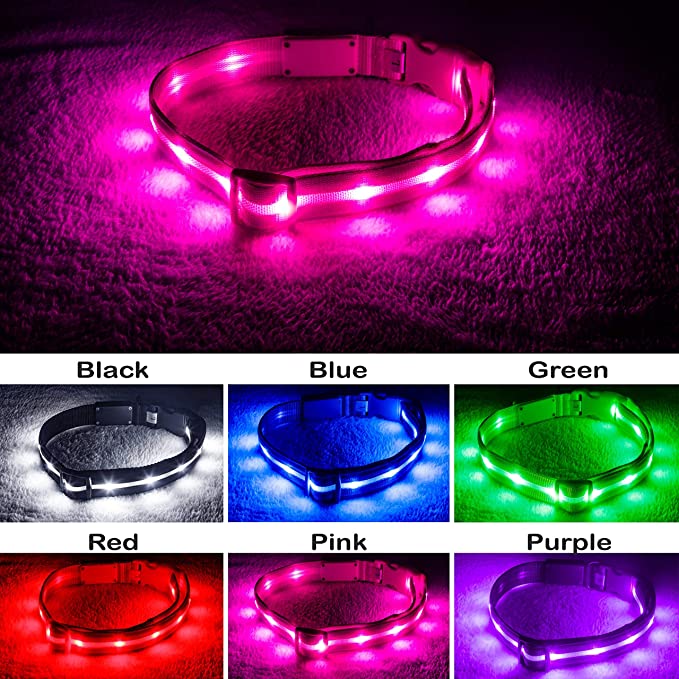 Blazin' Safety LED Collar
Material: Nylon
Closure Type: Snap
Waterproof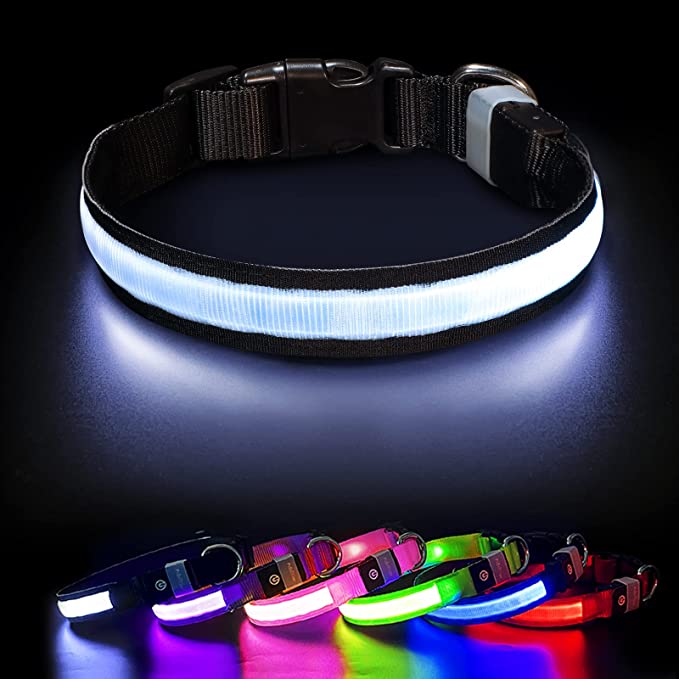 PcEoTllar LED Dog Collar
Material: Polyester
Closure Type: Buckle
For a Perfect Fit
BSEEN LED Dog Collar
Material: Plastic
Closure Type: Button
Best Clip On Light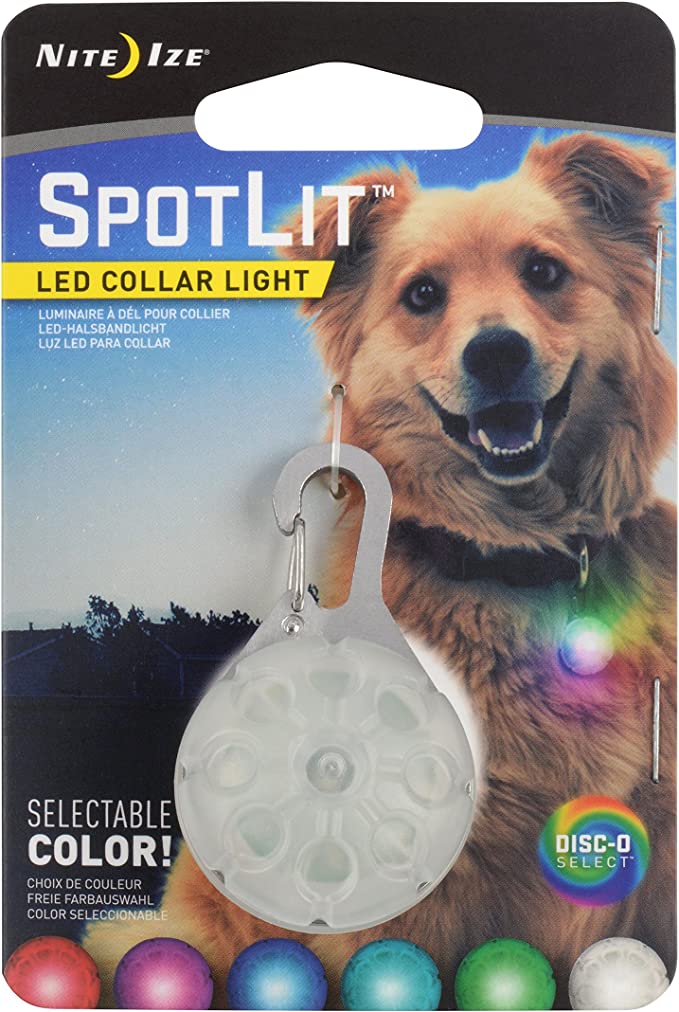 Nite IZE LED Collar
Material: Stainless Steel
Closure Type: Button
Pick for Tiny Dogs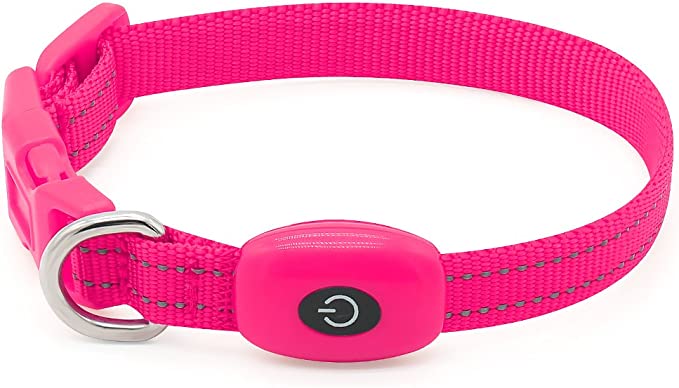 Domi Led Dog Collar
Material: Nylon, Plastic
Closure Type: Button, Buckle
6 Best LED Dog Collar Options
Below are some of the best-LED dog collars available right now.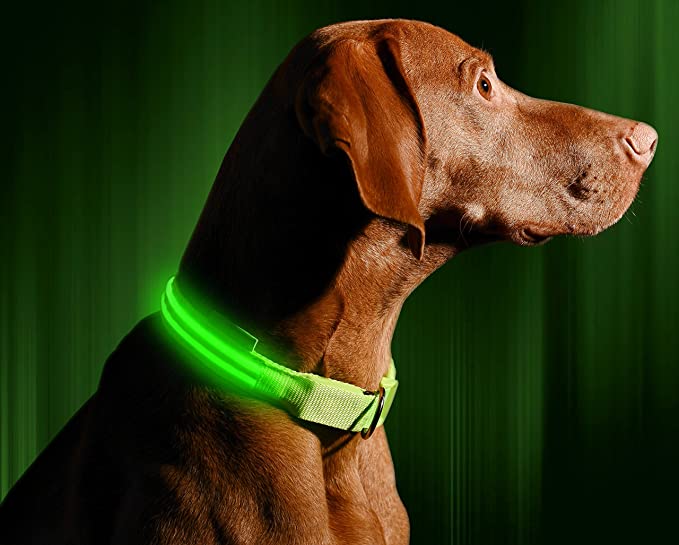 The Illumiseen LED dog collar has thousands of 5-star reviews. It has all of the basic features dog owners might want.
It is rechargeable with a USB cable, is weather-resistant (though not fully waterproof), and is bright without being blinding.
I like that the LED lights form a solid band around the whole collar so that you can see your pup from almost any angle. If you use a light that clips onto their collar, you won't be able to see your dog if they are running away from you.
Because of the LED light running throughout the entire collar, it is not as adjustable as an everyday flat nylon collar. It's important to measure a dog's neck accurately so that you can get a perfect fit.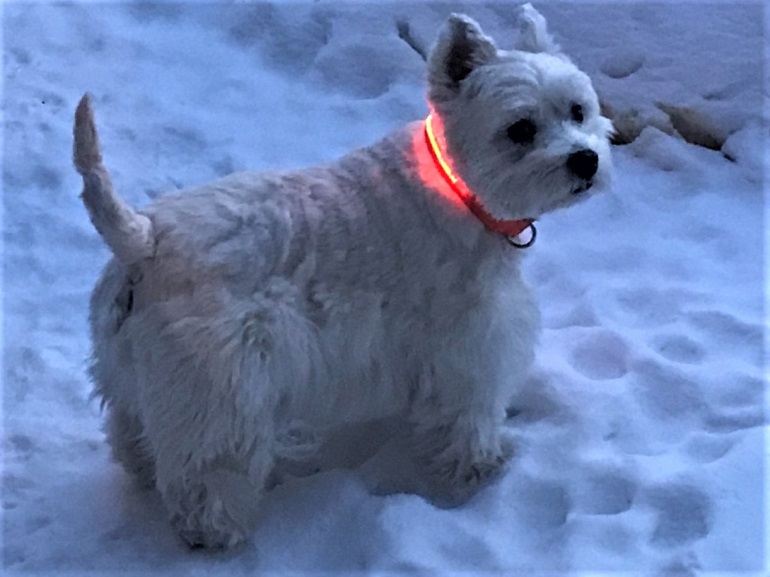 Features
Comes in six size options, xx-small through x-large, for all neck sizes.
USB rechargeable battery.
Visible up to 350 yards.
Weatherproof.
Three lighting modes: steady glow, rapid flashing, and slow flash.
Pros
The Illumiseen LED dog collar comes with a lifetime guarantee against factory defects.
Illimiseen also makes matching LED leashes so that you can have a high visibility set.
This collar has a metal D-ring for attaching ID tags and a leash.
Cons
At 5 hours of illumination per one-hour charge, this collar has a lower battery life than some other options. For nighttime walks, it would be plenty, but maybe not for camping or longer activities.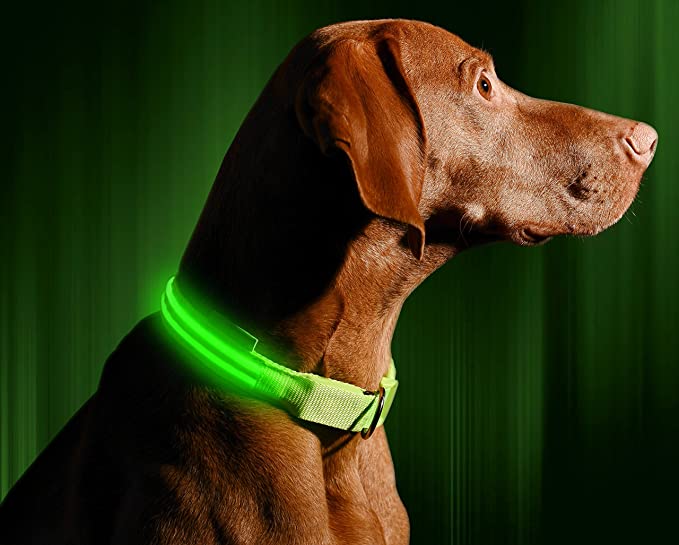 Illumiseen LED Dog Collar
The price of "Illumiseen LED Dog Collar" varies, so check the latest price at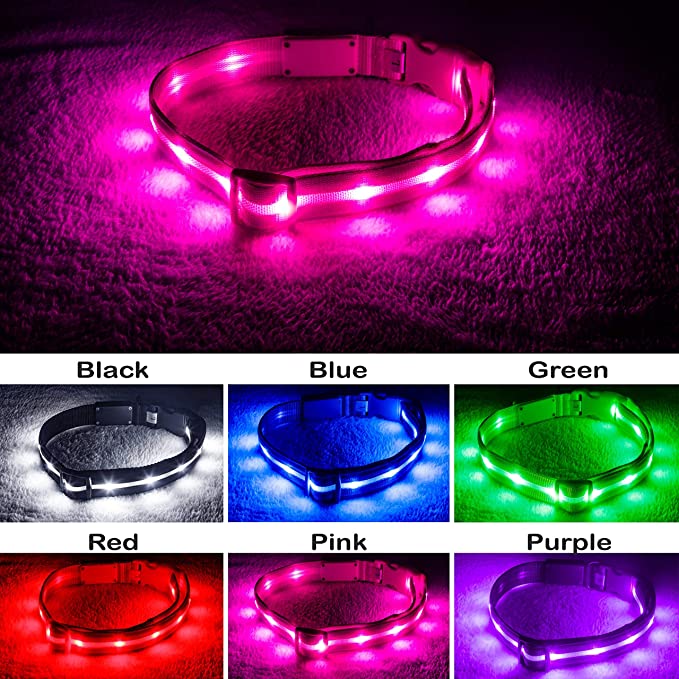 Reviews on this Blazin Safety collar attest to the product description claim that it is extremely bright – can be seen from up to 1,000 feet!
It has individually illuminated LED lights surrounding the entire collar instead of a "LED-light tube" so that you get 360-degree visibility.
This high-quality collar is made of nylon, and it looks super cool even when not lit up! So this is our choice for all fashion-conscious pet parents.
Since this collar comes in multiple colors, you could get a different colored collar for each of your pups. This way, you'll know who is who, even in the dark.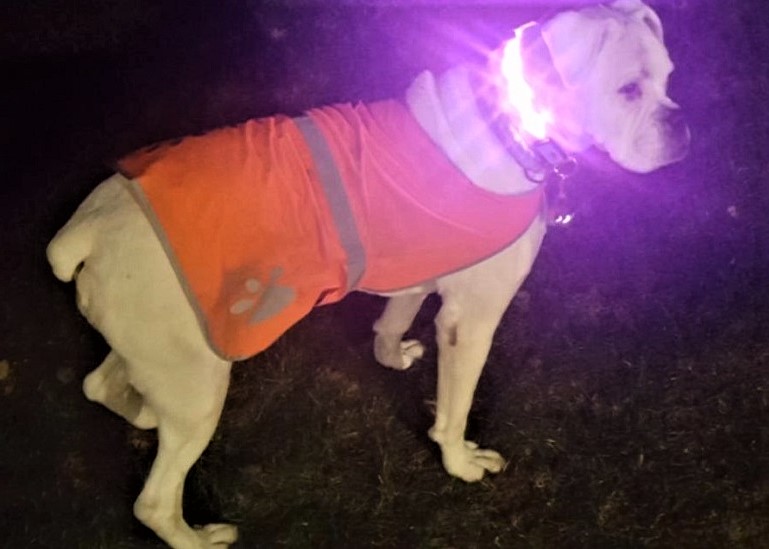 Features
Water-resistant and weatherproof.
Six color options come in five sizes.
Three lighting modes.
Rechargeable with a USB cable.
Runs for eight hours on a single charge.
Pros
The Blazin' Safety LED collar uses a rechargeable battery and can last eight hours on a charge.
It's hard to find a fully waterproof LED dog collar (most of them say not to let your dog swim in it), but this one is at least water resistant and weatherproof.
Cons
Depending on your needs, this collar could be a little too bright. One reviewer said that it was practically blinding.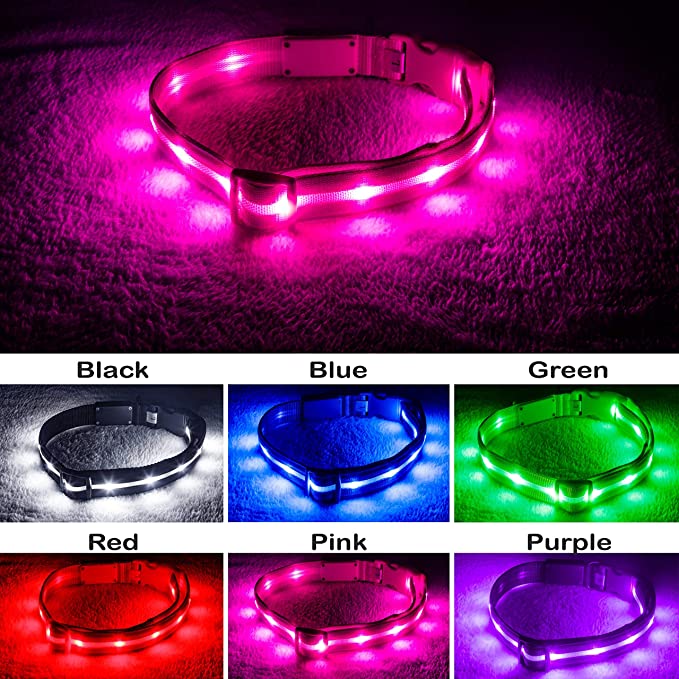 Blazin' Safety LED Collar
The price of "Blazin' Safety LED Collar" varies, so check the latest price at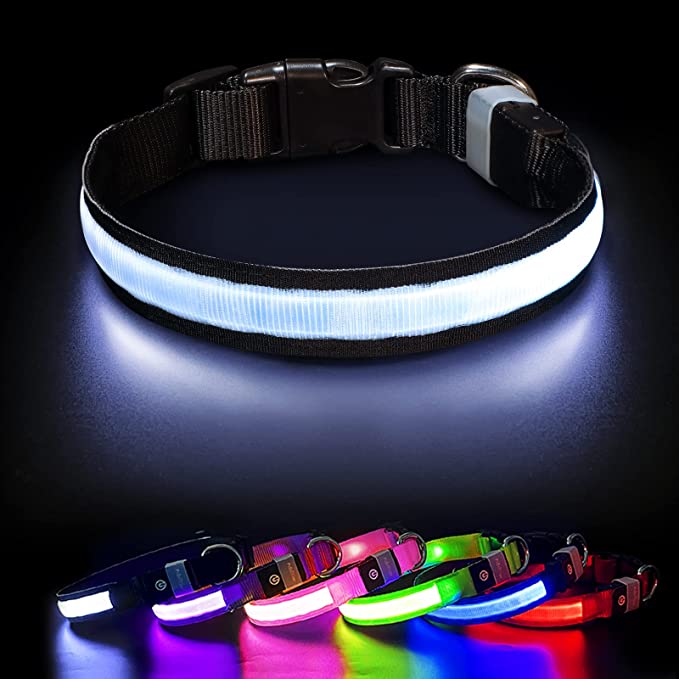 If your dog likes to swim in freshwater, this may be the perfect collar for them as it is waterproof (though not recommended for use in seawater).
Many dogs just can't resist the urge to splash around in a creek along their walk or love chasing tennis balls thrown out into a lake.
We lived on a lake for one summer, and I loved watching the black lab that lived across the lake from us jump into the water to swim after his ball.
If your dog is a water lover, you don't want to have to worry about their LED dog collar breaking if they start splashing around unexpectedly.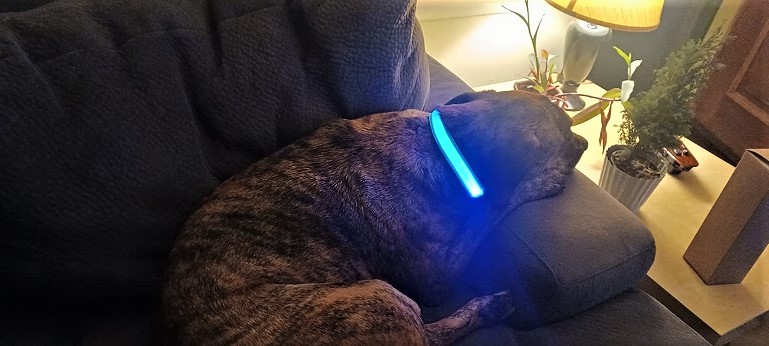 Features
Nylon webbing material.
Rechargeable with USB cable. Fully charged in two hours and can last up to ten hours.
You can choose from seven vibrant colors of lights.
Pros
Waterproof collar.
Solid lighting all around the color with color-changing lights.
Cons
This collar doesn't have any flashing light modes.
Limited sizing options. If you have a very small dog or a very large dog, you might not be able to find a size that works.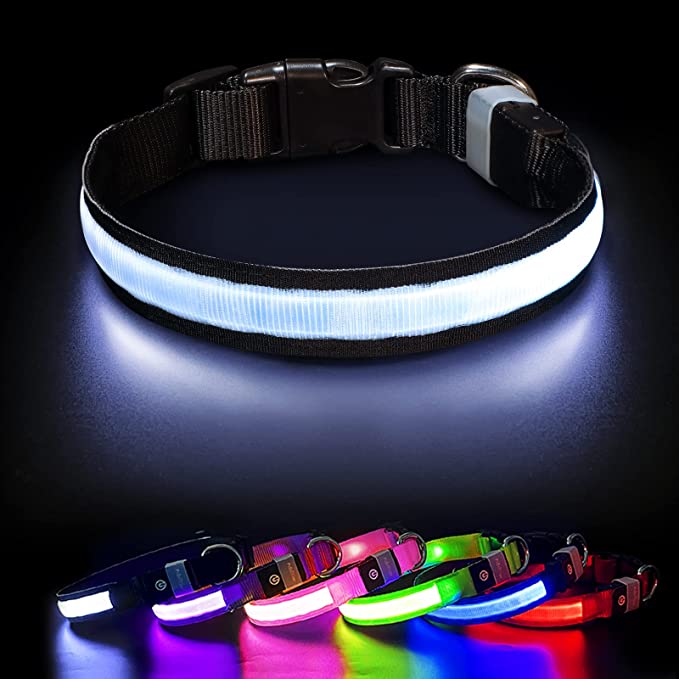 PcEoTllar LED Dog Collar
The price of "PcEoTllar LED Dog Collar" varies, so check the latest price at
The BSEEN LED dog collar is more of a necklace. It is made out of a flexible tube that you cut or double wrap to the perfect size for your dog. It reminds me of a glowstick necklace, but it is rechargeable.
I like this option because I would not have my dogs wear an LED collar all day, every day. It's a bit fussy if you need to transfer their ID tags every time you want to change what collar they are wearing. With this necklace-style LED dog collar, you can slip it on in addition to your dog's everyday collar.
It is fully charged in just a few hours and can last up to 10 hours, depending on which of the three lighting modes you use.
It is made of stretchy plastic, rounded like a tube, so it doesn't hurt the wearer. Plus, it is the best budget LED dog collar on our list!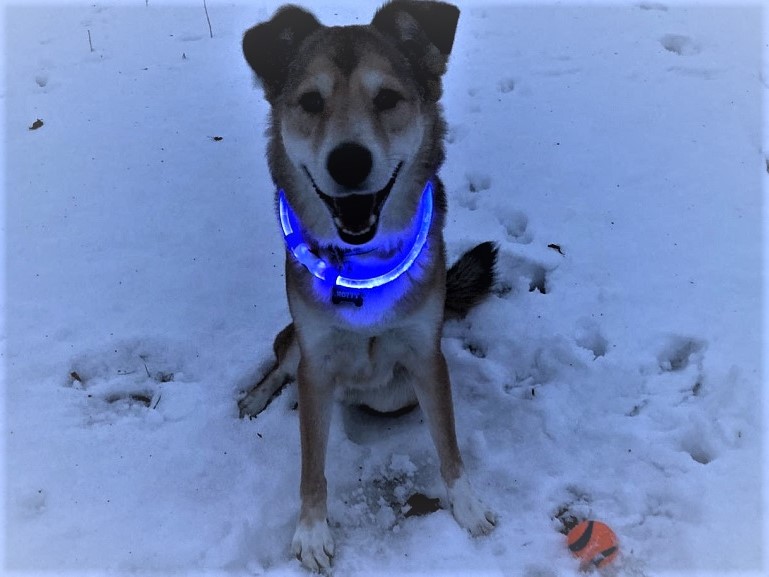 Features
Rechargeable with a mini USB cable.
Full length of 27.5 inches, meaning it can fit extra large dogs.
Three lighting modes: quick flash, slow flashing, and steady on.
Can be seen from up to 1640 feet.
Water-resistant.
Pros
Comes with a 100% guarantee.
Since you cut this to the right size, you can get the perfect fit.
Cons
There is no D ring to attach tags or a leash (it is more of a glowing necklace), so you'll need to use this in addition to your dog's daily collar.
BSEEN LED Dog Collar
The price of "BSEEN LED Dog Collar" varies, so check the latest price at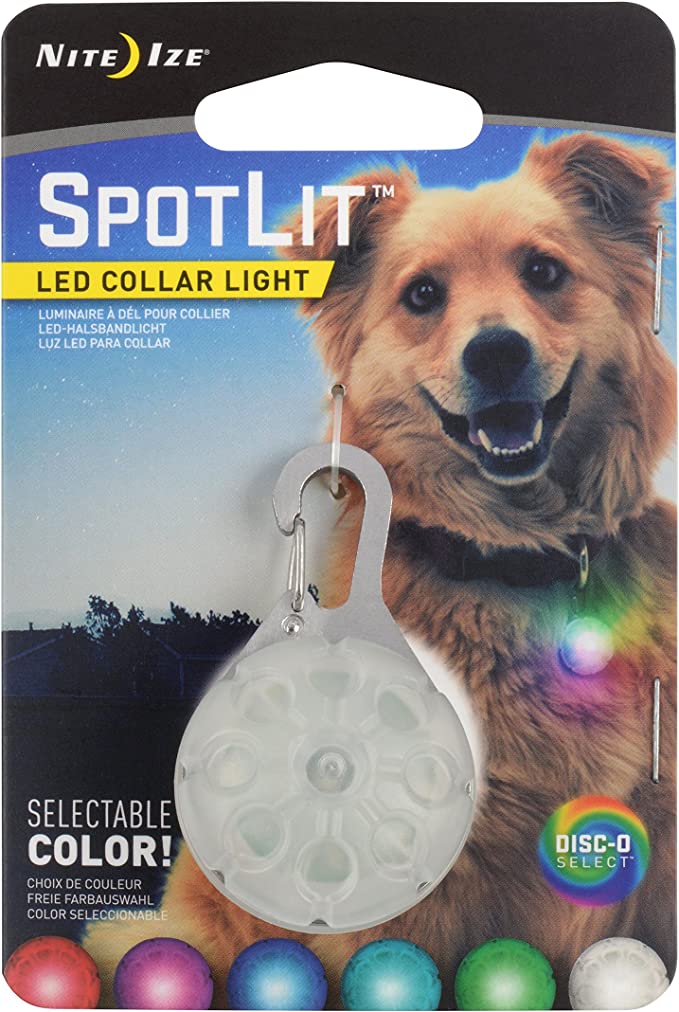 If you want to have a light that you can clip onto your dog's regular collar when needed, a clip-on light is a nice option. This one has a small carabiner clip that you can attach to the D ring of your dog's collar.
I like that with this clip-on, you don't need to change your dog out of their daily collar and transfer their tags every time you want to have nighttime visibility.
It's a great accessory to keep your dog safe. And you don't have to worry about buying the right size.
There is also the added bonus that you could clip this onto your purse or keys if you're out at night without your dog.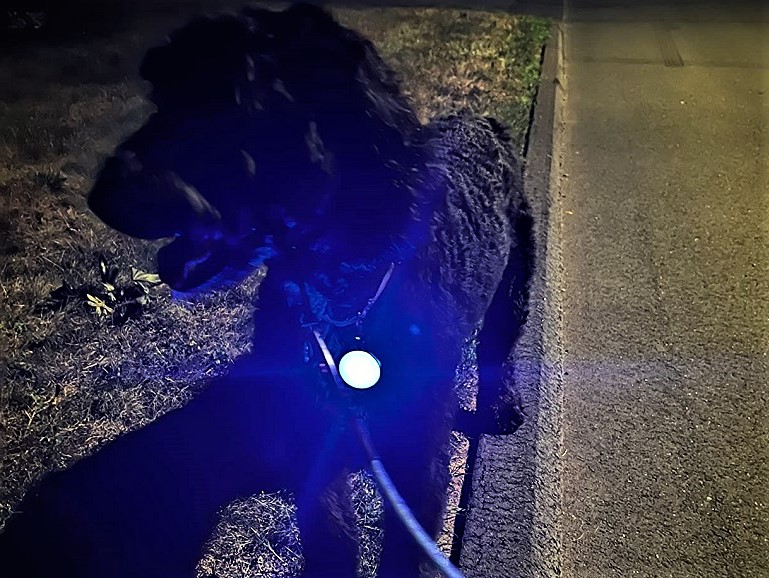 Features
You can choose from six different colors or keep the colors cycling with Disc-O mode.
Uses replaceable lithium batteries that last up to 20 hours each.
Weather resistant with stainless steel carabiner.
Pros
The first batteries are included so that you can start using the clip-on right away.
Long battery life works great for camping or longer adventures.
You don't need to have multiple different collars. This is just an "accessory" that you add to your dog's regular collar when needed.
Cons
This is likely too large and heavy to be used on a small dog's neck.
Since it is a single light worn as a tag, you may not be able to see your dog from all angles like you can with a collar.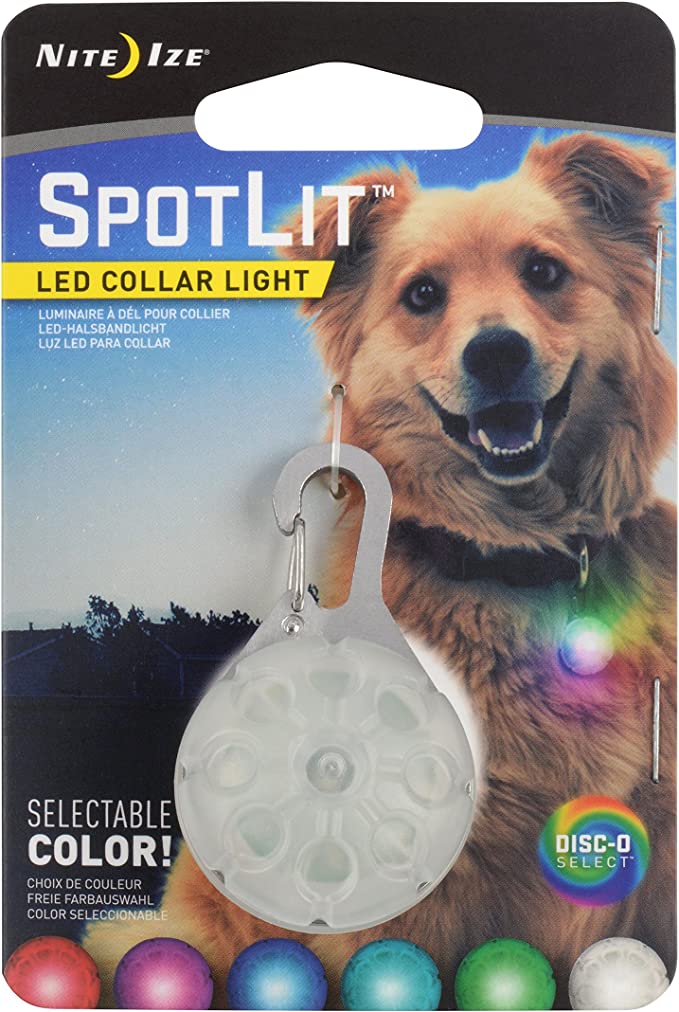 Nite IZE SpotLit LED Collar
The price of "Nite IZE SpotLit LED Collar" varies, so check the latest price at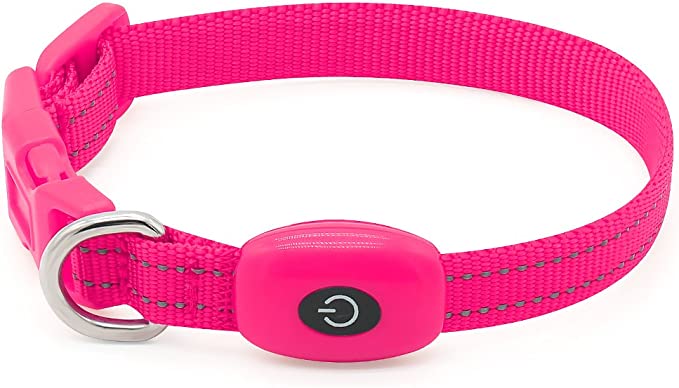 Little dogs are easy to lose track of in the dark, which is scary for pet owners and dangerous for the pup.
Many LED collars don't come in sizes small enough for the littlest of dogs. This collar is made specifically for tiny dogs (or cats) for high visibility in the evening or at night.
If you want to be able to see where your chihuahua, miniature poodle, or another breed of small dog is in low lighting, this collar is sized just for them.
As a small dog owner, I worry about putting any extra strain or weight on my dogs' necks. I am impressed by how small and lightweight this light-up dog collar is!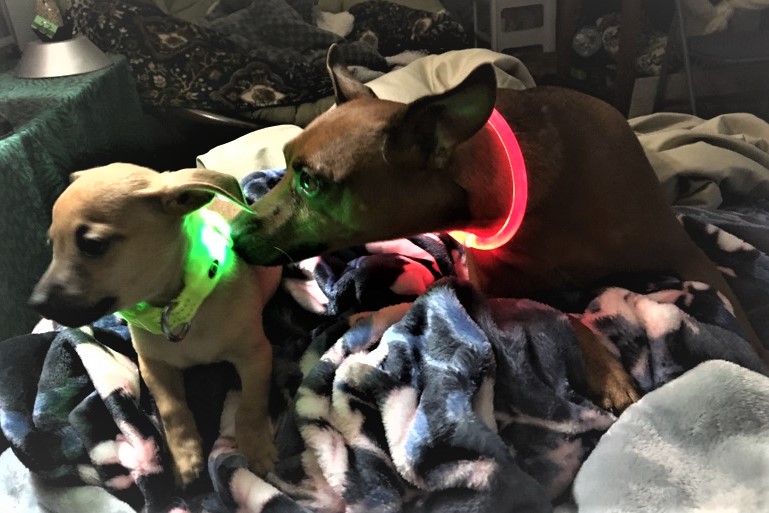 Features
Three color choices: green, pink, and blue.
12 inches when fully extended.
Recharges with a mini USB cable.
Two lighting modes: rapid flashing or steady glow.
The collar lights up all the way around and has reflective stitching for added safety.
Pros
This collar was made specifically for small pets. The battery pack is small and not bulky.
100% satisfaction and quality guarantee.
Cons
The battery life is pretty short: 3-5 hours for quick flash mode and 1-2 hours for steady on mode. This is likely because the battery pack has to be quite small for little pups, so it's a bit of a tradeoff.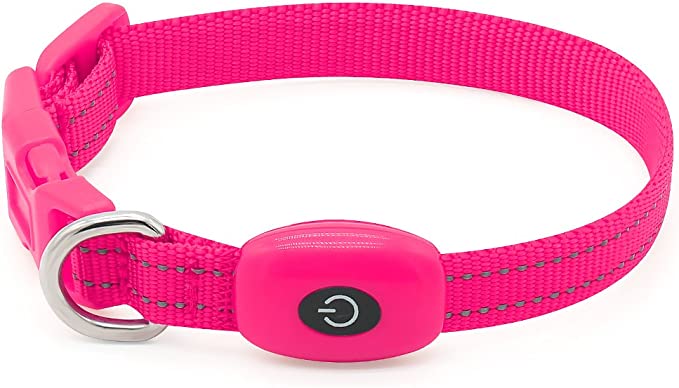 Domi Led Dog Collar
The price of "Jones Stratos " varies, so check the latest price at
Things to Consider Before Buying the Led Dog Collars
Material
Most LED dog collars are made of nylon, which is lightweight, durable, and can get wet.
Depending on how tough your dog likes to play, you will want to also pay attention to the hardware materials used. Metal is much more durable than plastic, though it is also heavier.
Battery Life
You'll want to think about when your pup will wear an LED dog collar and for how long.
If you're going camping and want to be able to see them all through the evening, longer battery life will be important. Some LED dog collars can last up to eight hours.
If you just need it to last long enough for taking your dog running with you, battery life won't be as important of a factor.
If you decide that you don't want to deal with recharging batteries, you can also look into reflective dog collars. They don't light up but will keep your dog visible when a light shines on them.
Style
Some light-up dog collars use LED strips that run through the collar. Others use individual LED lights. They can come in a variety of bright colors and have varying light modes.
For ultimate visibility, you will want to look for dog collars that have lights running all the way around them so that you can see your pup's collar from any angle.
Size
Since each dog LED dog collar has lights inside of it, it can be less adjustable than a flat collar.
Be sure to measure your pup's neck and compare to the sizing chart from the manufacturer before you order, as there may be less room for error than with a normal collar.
Once you receive it, be sure that the collar is not too tight. You should be able to put two fingers in between the collar and your dog's neck.
If you don't want to worry about sizing, you can also get a clip-on collar light instead.
Waterproof
If you want your dog's collar to have an LED light and be waterproof, be sure to search for that specifically. Most LED collars are weatherproof, but very few are completely waterproof (meaning your dog can swim in it).
FAQs
How Long Will an Led Dog Collar Stay Lit on a Single Charge?
Battery life is something that you will want to look for in the product details of each LED dog collar before you purchase it because it is unique to each collar.
The USB rechargeable battery LED dog collars reviewed in this article have battery lives ranging from 5 to 10 hours.
The Nite IZE SpotLit LED Collar from this article has the longest battery life of all, lasting 20 hours. However, this is not a rechargeable collar, and you would be replacing batteries every so often.
How Long Does It Take to Recharge an Led Dog Collar?
Most rechargeable collars take 1-2 hours to recharge, though some can take longer.
Final Thoughts
An LED collar is an amazing accessory to have for your dog. Anytime you are out in low light (like early morning or dusk), or in the dark, it is important for your dog's safety that they are visible. You want to be able to see them yourself and be assured that other people, especially drivers, can see them too.
As you shop, you'll want to think through which features are the most important to you. Things like having a rechargeable battery, the collar being waterproof, or the kinds of flashing lighting modes and colors are the most common options to look at.
If your dog is extra small or extra large, this will also be an important consideration to make sure the light up collar fits well.
I hope this has helped you choose the best-LED collar to keep your pup safe on their many adventures!