Are you a cat person or a dog person? The eternal dilemma I struggle to answer… but one pro cats always have over dogs is that you don't need to scoop up their poop all the time! And we've got a special tool to ensure their poop stays tucked out of sight.
We all know cats are adorable. When the little furballs are curled up in their lap, you can't imagine them being anything other than cute… But everyone needs to go to the bathroom.
While plenty of cats use their cat flap or ask to go outside to do their business, not all go outside. Whether it's a health thing, they'll be left alone for a while, or you're just worried about letting them out near a busy road, a self-cleaning litter box can be a useful and hygienic tool.
But cleaning out cat poop from a dirty cat litter box isn't the sexiest thing to do. Honestly, it can kind of take the fun out of owning a cat – a bit like having to pick up after dogs. But here's what you can't do with a dog: what if you could get a litter box where you don't have to pick out their poop?
No, it's not magic or the stuff of sci-fi movies – it's reality, and you could be just a few small steps away from reducing the amount of cat poop in your life. Who could say no to that?
Our Top Pick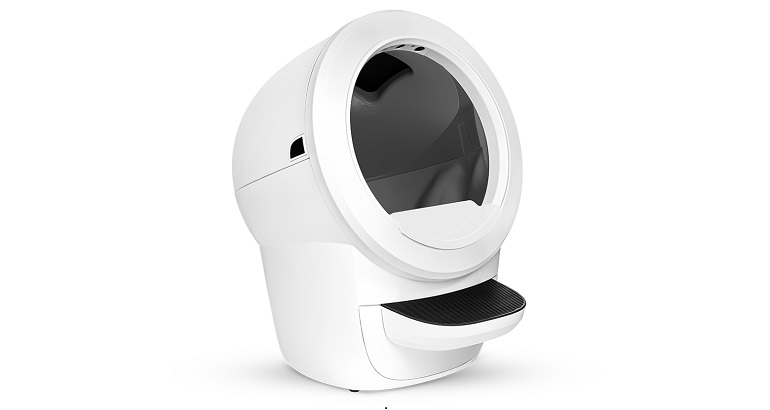 Litter-Robot 4
Size: LARGE
Special Feature: Wifi enabled
Best Self Cleaning Litter Box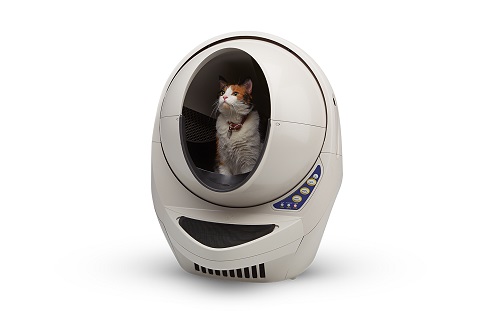 Litter-Robot 3
Size: MEDIUM
Special Feature: Larger globe
Box With Enormous Features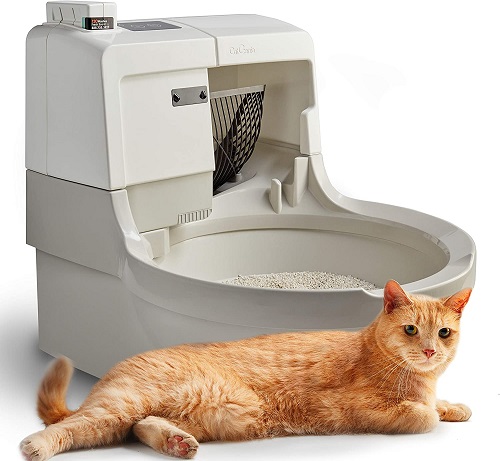 CatGenie A.I. Automatic Cat Box
Size: ONE SIZE FITS ALL
Special Feature: Easy DIY Installation
Expensive Litter Box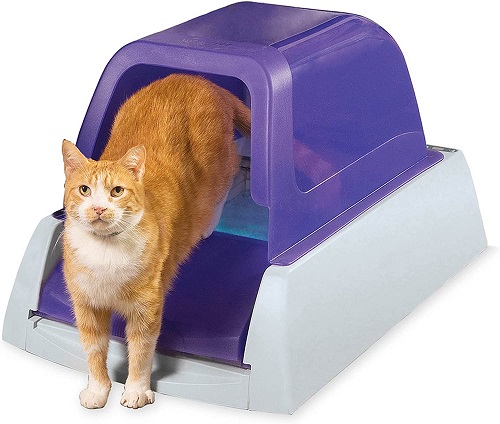 PetSafe ScoopFree Ultra Automatic Litter Box
Size: Ultra

Special Feature: Litter Tray with Lid


Most User- Friendly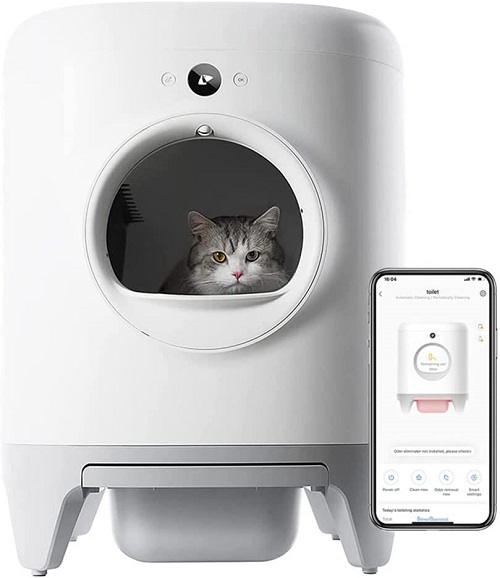 Petkit Pura X Automatic Litter Box
Size: ONE SIZE FITS ALL
Special Feature: remote alerts
Most Affordable Litter Box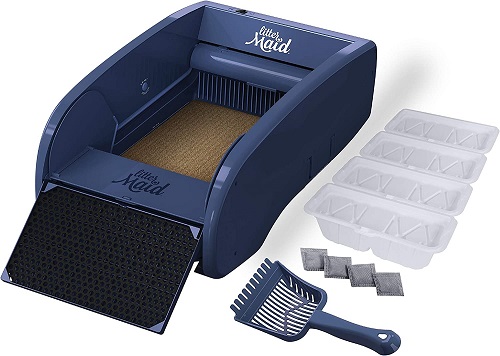 LitterMaid Multi-Cat Self-Cleaning Litter Box
Size: 10 Piece Set

Special Feature: Automatic Scooping

Large Capacity Automatic Box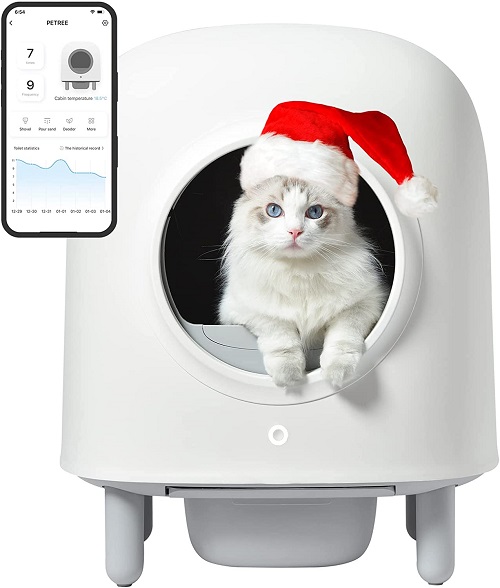 Petree Automatic Self-Cleaning Litter Box
Size: SAMLL

Special Feature: sensor system 

Best Noise- Reduction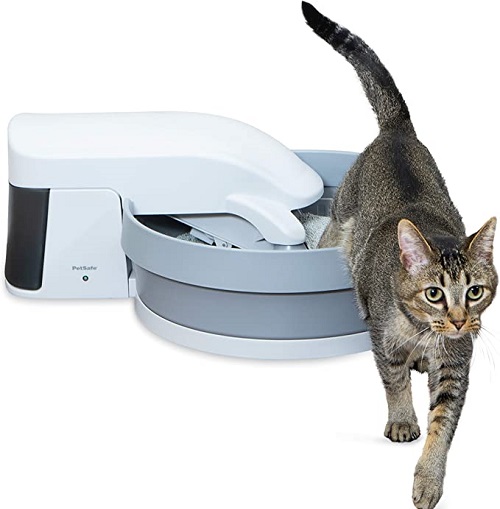 PetSafe Simply Clean Cat Litter Box
Size: Medium

Special Feature: LED light box

Best Odor Control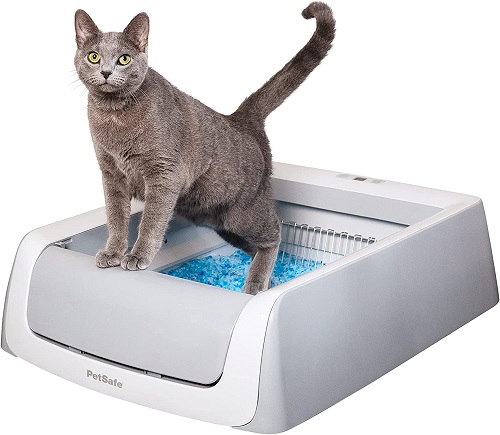 ScoopFree Original Automatic Self-Cleaning Cat Litter Box
Size: One Size Fits All

Special Feature: MONITOR CAT'S HEALTH

Traditional Design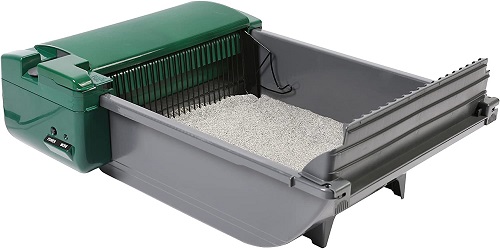 Pet Zone Smart Scoop Automatic Litter Box
Size: Large
Special Feature: ODOR CONTROL 

10 Best Self- Cleaning Litter Boxes
It's not a simple task getting a self-cleaning litter box – after all, there are so many different types! Some litter boxes rotate or rake the litter, and some flush cat waste away like a regular toilet.
And more than that, there are boxes that suit a range of budgets, various sizes, and several features to choose from that make your life easier and improve your cat's well-being.
So, which one should you get? We've got the lowdown on ten of the best automatic litter boxes to start off your search.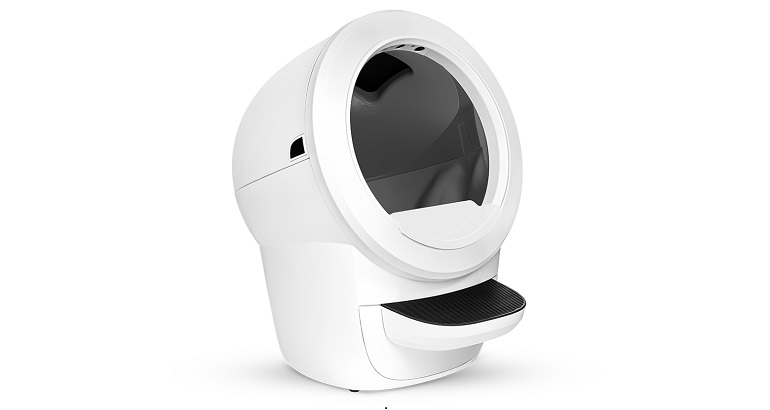 Litter-Robot has had 20 years of experience and customer feedback, allowing them the chance to come up with innovative designs that have revolutionized the lives of over 750,000 pet owners.
And with a one-year warranty and an option for a three-year warranty for $100, it's definitely worth looking into.
The Litter-Robot 4 is always going to come top of the list in any list about self-cleaning litter boxes. There's no doubt that this model is leading the way in automatic self-cleaning litter boxes – and it just got better thanks to its upgraded, the latest in next-generation litter trays.
Compared to the previous model, this advanced version contains many of the same core features but with the latest technology that makes it safer for your cat, easier to maintain, and better at controlling odors, with a larger waste drawer and opening.
Even the design is a more elegant one, coming in two colors (black or white) to fit your room's style and aesthetic. However, it is a large kitty litter machine though, meaning it can be hard to fit in the room if you don't have much space. Still, it means there's plenty of room for your cat.
It's perfectly safe for your cat to use. Its SafeCat™ system detects cats over 3lbs thanks to the four safety detection sensors installed, ensuring your cat's safety since it won't start the cleaning process while they're there.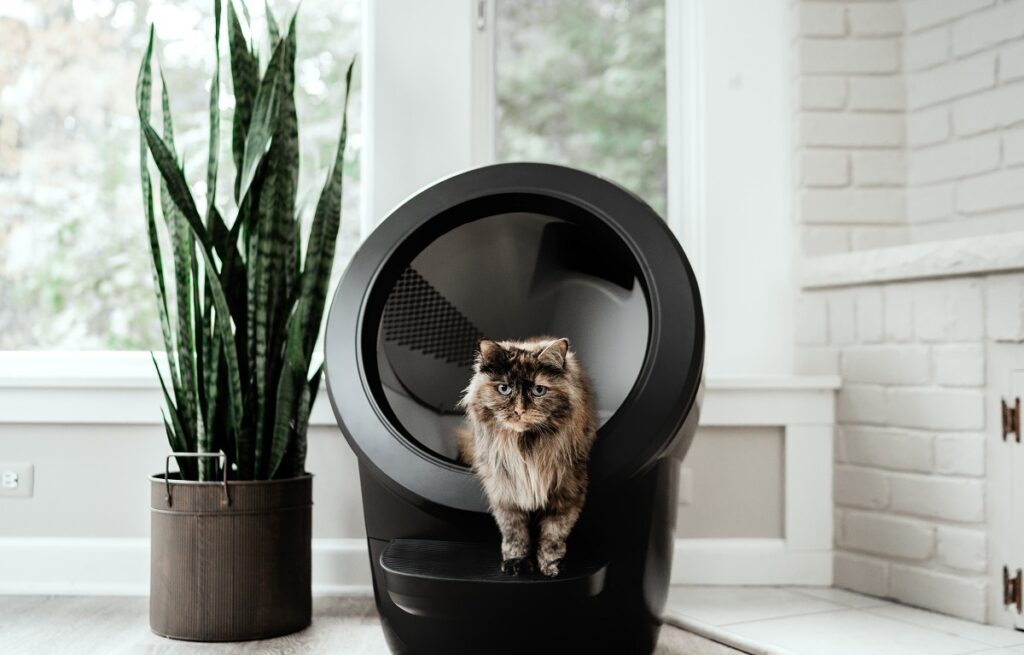 The Litter-Robot 4 has some of the best litter-sifting technology available, effectively scooping up your cat's litter. When your cat's done, the globe rotates, separating clean waste from the dirty clumped waste and ensuring the tray is always clean.
It even has a ledge to wipe your cat's paws to reduce any litter tracking and a QuietSift™ deep cleaning cycle to ensure minimal disturbance for you. As waste is sifted away and disposed of, the integrated OdorTrap™ system reduces unpleasant odors, ensuring no nasty smells are left lingering.
By connecting it to the Whisker app, you can monitor the waste and litter levels and receive notifications telling you when to refill with litter or empty the waste bags drawer.
It's easy to empty the waste drawer, too – just lift the bag out and replace it. The app will even give you health insights too, allowing you to monitor your cat's litter box usage and weight.
Although the Litter-Robot 4 boasts a great deal of tech, it's still easy to clean. Because it's just made up of individual components, it's simple to take it apart to clean it and then put it all back together again.
Its patented design means it's possible to customize it with accessories, too, such as stairs for when your cat gets too old to jump up.
Pros
Easy to clean
Large opening for cat's comfort
QuietSift™ cleaning cycle available
Waste drawer controls litter box odor well
Doesn't require frequent emptying
Remote monitoring via phone for multiple cats
Ledge catches loose litter
Great customer service
Cons
Fairly large
Some issues with the software
The litter bed might be too small for bigger cats
Expensive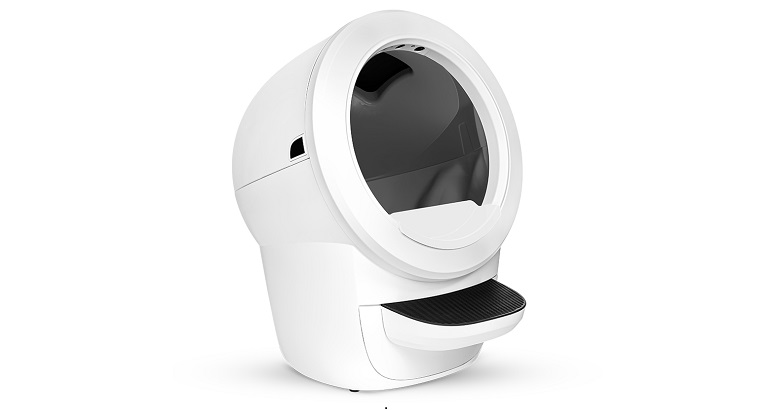 Litter-Robot 4
The Price of "Litter-Robot 4" varies, so check the latest price at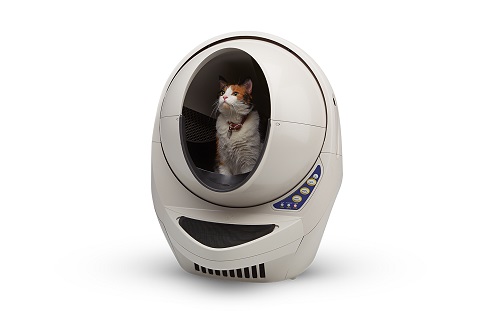 Like its upgraded sibling, the Litter-Robot 3 is also one of the top-rated self-cleaning litter boxes available on the market.
Like its newer model, it automatically uses sensors to separate clean and dirty litter, disposing of the clumping cat litter in its waste drawer with carbon filters. When the indicator lights up to say the drawer's full, just pick up the bag and replace it.
The best thing about Litter-Robots is that with scoopfree ultra self-cleaning, it always leaves you with a clean bed of litter. This helps reduce any lingering odors since the waste doesn't hang around for long. And to make things even easier for you, you can use any brand of clumping litter you like.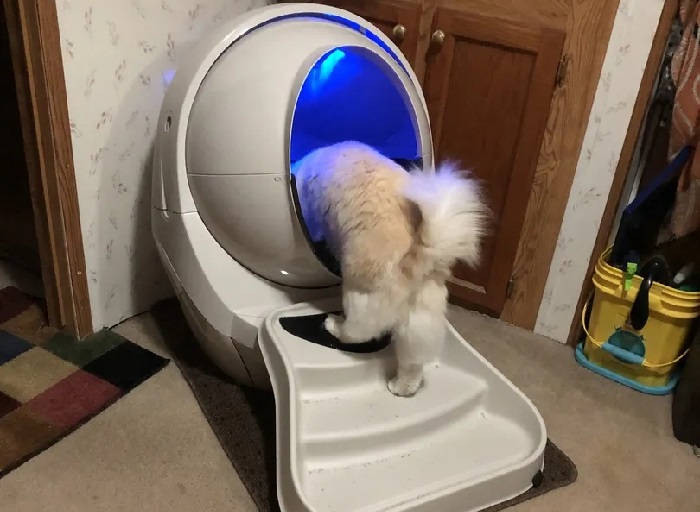 It's worth keeping in mind that the standard model doesn't connect to the app like the Litter-Robot 4. Instead, if you want this feature, you have to ensure you purchase the Litter-Robot 3 Connect since this one is Wi-Fi-enabled, allowing you to connect to the app and monitor its levels.
In case you're not sure about getting a Litter-Robot for your cat, there's a 90-day in-home trial for you to give it a go. There's also a one-year warranty included, with an option for a three-year warranty for an extra $100.
Pros
Easy to clean
Only needs emptying once every few weeks
Quiet operation
Ledge catches any smaller clumps litter that falls out
Carbon-filter waste drawer controls odors
Great customer service
Cons
Very big
The litter bed is too small for big cats
Expensive models
Need a specific Wi-Fi-enabled model to use the app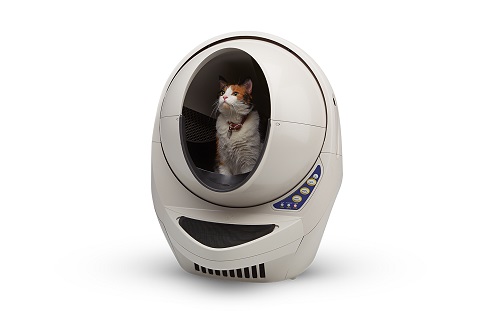 Litter-Robot 3
The Price of "Litter-Robot 3" varies, so check the latest price at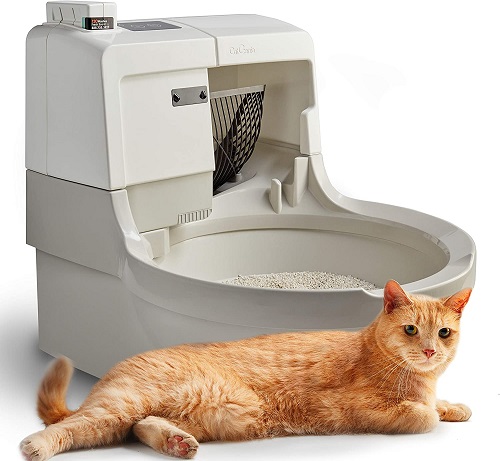 This might just be the self-cleaning litter box for any film buffs out there. If you've always admired Mr. Jinx, the cat from the 'Meet the Parents' film, you might have wished your cat could use the toilet just like him. Thanks to the CatGenie, this is the closest you'll get… unless you actually train your cat to use your own bathroom!
Unlike all the other automatic litter boxes on this list, the CatGenie prides itself in being the world's only self-flushing and self-washing cat box on the market.
Each time your cat uses it, its waste is scooped before the box is washed, and hot-air dries the automatic cat box. It's such an impressive bit of tech; it's caught the attention of magazines like Bustle, Cosmopolitan, and Good Housekeeping.
While other tested automatic litter boxes use the litter, this one doesn't. Instead, it uses washable plastic litter granules. Liquids drain through the non-absorbing washable granules, while solid waste is scooped and liquified all inside the odor-trapping Hopper before being safely disposed of down the laundry drain or toilet.
This means there are no bags you need to take out and empty, causing less smell since it's flushed away immediately.
After this, the self-cleaning litter box uses water and the cat-safe SaniSolution to wash and sanitize the litter area and washable granules. After this, it blows hot air to dry the granules, readying the automatic litter box for the cat's subsequent use.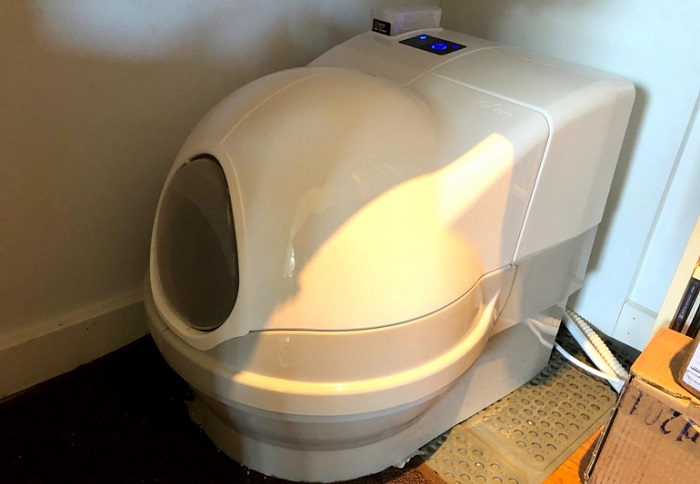 While the washable granules work well, you need to be aware that they slowly get washed away; however, they're biodegradable, so there's no risk of them clogging your drains. Still, you will have to continue buying more washable granules as they get used up, the recurring expenses make it quite costly to upkeep.
As ingenious as the design is, since it's just like a toilet, it also means this self-cleaning litter box is more complex to set up than other models.
You have to use the included T-adapter to connect the box to either the cold water supply that drains into your toilet or a washer's cold water supply that drains into the laundry waste pipe. While this might sound complicated to some, it's still relatively straightforward but might be a bit fiddly.
To make matters simple, you can manage everything via the app. With this, you can adjust any settings you want and check supply levels to see what's running out – all just from a glance at your phone!
The app can even estimate when you'll need more SaniSolution cartridges, making it easy to re-order so you don't run out. It also analyzes your cat's behavior to see if they're using the bathroom too often.
Pros
Flushes waste away
Automatic cleaning
Cleaner than litter
Reduced risk of odor
Doesn't require emptying
Monitor settings and activity via the app
Cons
Overpriced
More detailed installation
Requires plumbing
Costly upkeep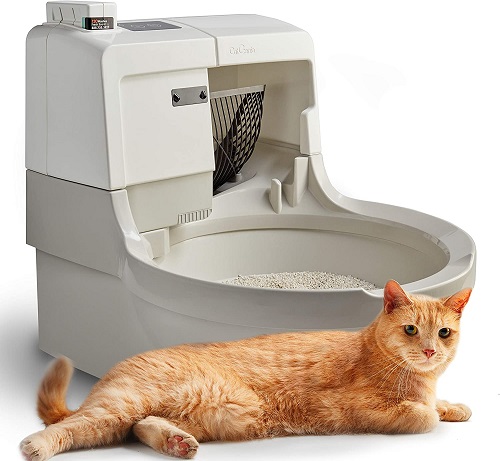 CatGenie A.I. Automatic Cat Box
The Price of "CatGenie A.I. Automatic Cat Box" varies, so check the latest price at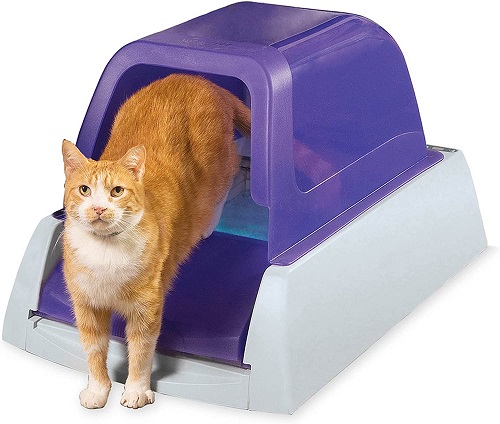 The clue's really in the name with this one – with ScoopFree, you won't need to worry about scooping anymore. You also won't need to clean or refill the automatic litter box for weeks at a time. And that's handy because it can be expensive to replace the disposable litter tray this self-cleaning litter box relies on.
Although stocking up on disposable trays can be expensive, they work very well. PetSafe ScoopFree specialized litter boxes have a plastic lining and lid to stop any potential leaking or spilling when you take them out to dispose of them.
They also use crystal cat litter which absorbs liquids, dehydrates solid waste, and is five times better at controlling odor than your usual run-of-the-mill clumping litter. And as a bonus, there's no dust with this litter, so your kitty won't be tracking litter mess all over the house.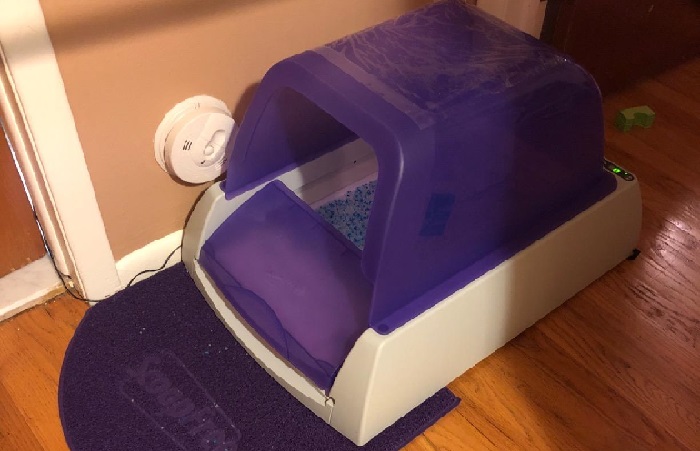 Thanks to its safety sensors, the scooping cycle only runs when it's sure your cat isn't there. It also includes a health counter which monitors how frequently your cat uses it. This can be an invaluable indicator of cat's health status, helping to nip problems in the bud whenever cat's bathroom habits change.
This self-cleaning litter box also stands out thanks to its privacy cover. It's a nice touch for an automatic cat litter box; cats can seem a bit haughty and uptight at the best of times, so they certainly need a privacy cover. And with two color options, you can ensure you like the style it comes in.
Pros
Operates quietly
Waste drawer retains odors
More effective in controlling odors
Monitors how often the cat uses it
Privacy covered compartment gives cat modesty
Some cats might prefer crystal litter
Cons
Disposable litter trays aren't cost-effective
Not ideal for cats who don't like crystal litter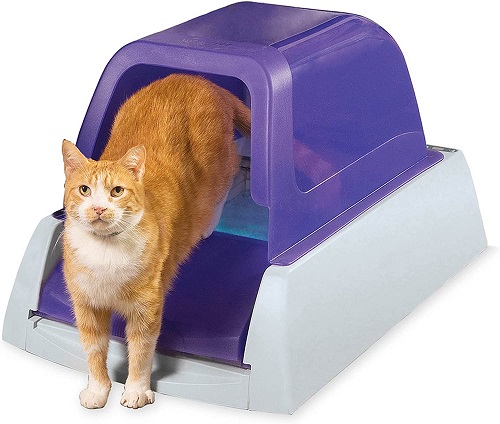 PetSafe ScoopFree Ultra Automatic Litter Box
The Price of "PetSafe ScoopFree Ultra Automatic Litter Box" varies, so check the latest price at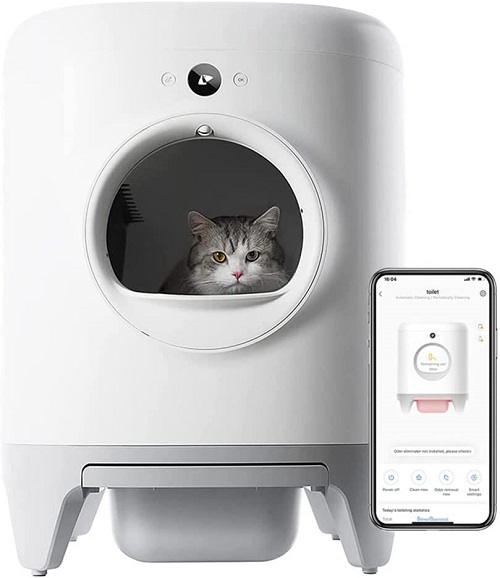 Petkit's Pura X automatic litter box works with a whole load of litter types: plant litters, mixed litters, bentonite clay litters – the choice is up to you!
It's easy to change the litter, too; you just need to press a button for it to dump everything straight into the waste drawer that's quick and easy to detach, making cleaning a simple process.
If you're at all worried about the smell your cat makes when they go to the bathroom, this automatic litter box includes a deodorizer that neutralizes odors, making it a leader in getting rid of any unpleasant smells that might linger around, keeping the room fresh at all times.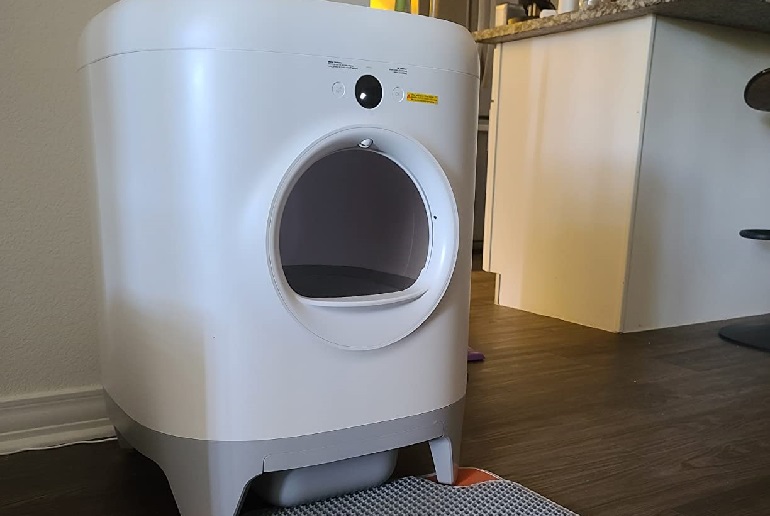 Petkit uses its xSecure system, including 12 high-precision sensors, including thermal, infrared, and weight sensors. These are built-in and detect whenever your cat enters and uses the self-cleaning litter box. With these sensors, you can rest assured that it won't run a cycle while your cat is using it.
One of Pura X's strengths is how it connects to an app that gives you health insights, allowing you to track your cat's weight, how often they use it, and how long they use it for. This gives you a bigger picture of their health and litter box habits.
You can also access settings via the app, allowing you to choose between scheduled cleaning mode or automatic ones which work as soon as your cat leaves.
Pros
Works with a range of cat litter types
Better odor control
Collects plenty of data on your cat
Sleek and simple design
Customizable cleaning cycles
The app monitors the cat's weight
Cons
The small opening is hard for old cats to enter
Expensive
User reports of weight sensor difficulties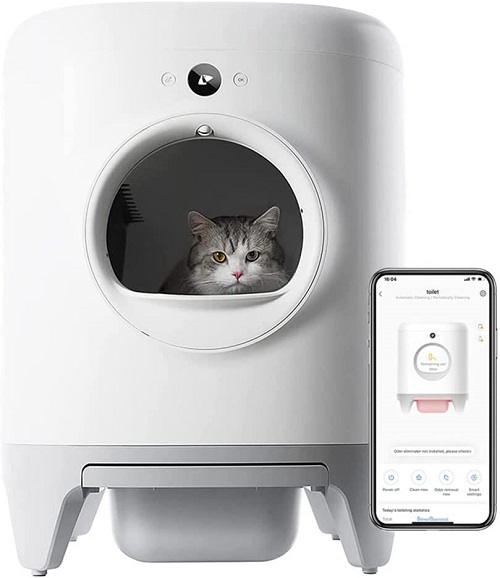 Petkit Pura X Automatic Litter Box
The Price of "Petkit Pura X Automatic Litter Box" varies, so check the latest price at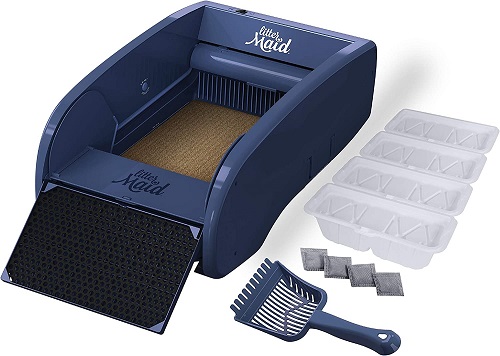 If you've been looking at self-cleaning litter boxes for a while now, you might have heard of LitterMaid. They're an old hand at self-cleaning litter boxes and certainly know what they're doing.
Now onto their third version; this model boasts an improved clean cycle with a lower-reaching scoop to remove even more clumped urine and hard clumps with less noise.
By scooping after every use, you can guarantee your cat has a clean litter box all the time. This makes it a very low-maintenance automatic litter box with a sensor that detects whenever your cat walks away and starts cleaning automatically after ten minutes – just long enough to ensure that cat's no longer there.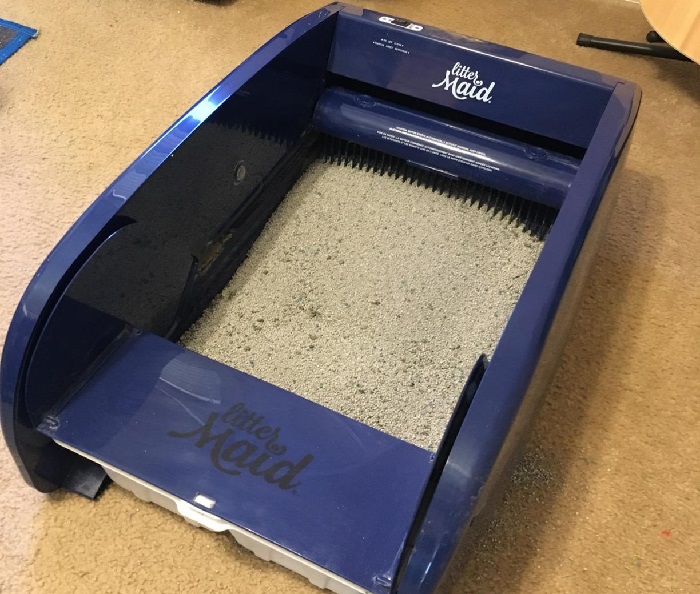 When the cleaning starts, the automatic rake system moves forward and backward to remove any waste. With the newer model, each scoop is lower-reaching to remove more clumps into the carbon-filtered waste drawer that keeps any odors tightly sealed.
This self-cleaning box includes high walls surrounding the box to stop any litter from scattering across the floor and a cleaning ramp for your cat to climb down, keeping its paws clean and stopping it from trailing dust throughout the house.
Pros
Compatible with all types of cat litter
Suitable for large cats
Affordable
A reliable rake scoops up all waste
Carbon-filtered waste drawer traps odors
High walls and cleaning ramp reduces mess
Cons
Users report instances of jamming
Clumps sometimes get stuck to rake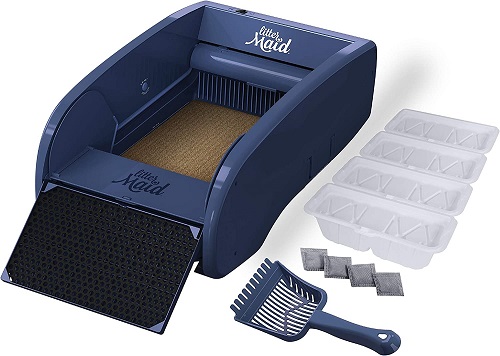 LitterMaid Multi-Cat Self-Cleaning Litter Box
The Price of "LitterMaid Multi-Cat Self-Cleaning Litter Box" varies, so check the latest price at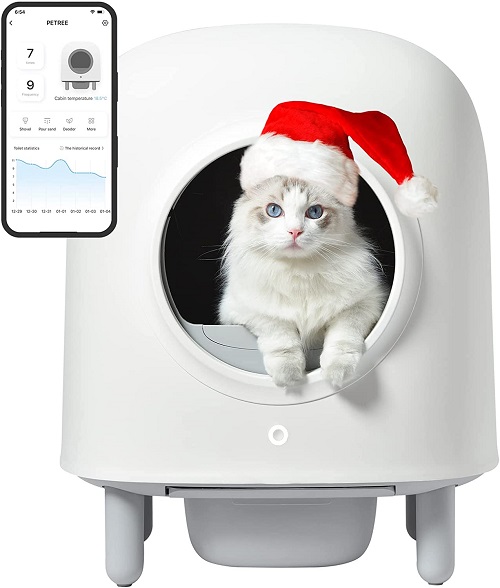 Though a simple automatic litter box, Petree's does precisely what you'd hope it does: scoop waste quietly and safely while reducing any nasty odors from lingering around.
If you have an older cat with mobility issues, this is a particularly easy one for them to use. There's a pedal low down, just 17cm above the ground, making it simple to get in and out. It even doubles up as a way to wipe your cat's paws down as they leave, stopping them from tracking litter dust all over the house.
With the litter box's automatic waste, Petree takes care of the scooping for you when your cat moves, getting it done quietly so you don't get disturbed.
The sifting system separates clumped litter and solid waste from the clean litter, sending the waste into the drawer underneath. The large drawer has a four-liter capacity, so you won't have to empty it frequently.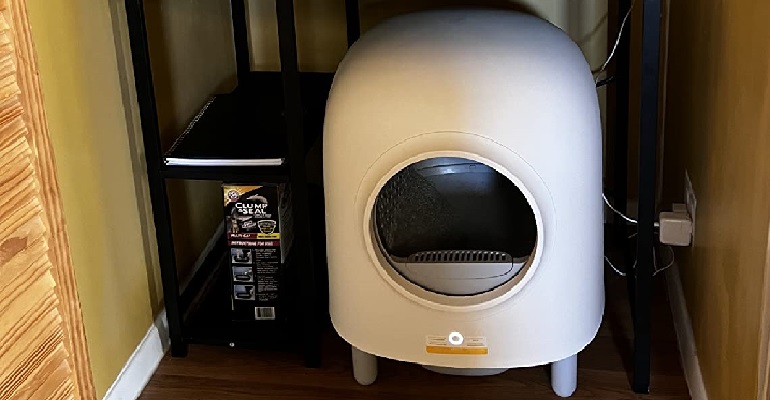 This ensures that waste is disposed of as quickly as possible, reducing the chance of any odors spreading around the house. This is even more effective with Petree's Smell Remover Freshener, which uses essential oils, like cedar and sage, to remove any nasty smells. And it's worth using this, too, since Petree's waste drawer doesn't trap smells quite as well as some other self-cleaning litter boxes.
If you're tempted by Petree's automatic litter box, it's worth spending a bit more cash to get the Wi-Fi version. This offers you full control via the app, allowing you to choose between automatic and sleep modes; you can delay the shoveling time or press a button to have it cleaned whenever you want.
This litter box also gives you a reminder to empty the waste drawer or refill with litter, as well as track your cat's toilet visits to get a broad picture of their health.
Pros
Simple, sleek design
Works quietly
The screen shows the cat's weight to track health
Works with all types of cat litter
Only need to empty the waste drawer once every few weeks
Cons
Costly
Lacks a range of features
Poor customer service
Doesn't control odors as effectively as others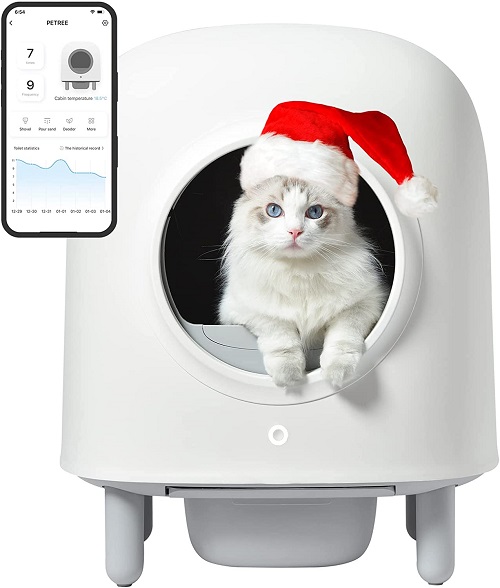 Petree Automatic Self-Cleaning Litter Box
The Price of "Petree Automatic Self-Cleaning Litter Box" varies, so check the latest price at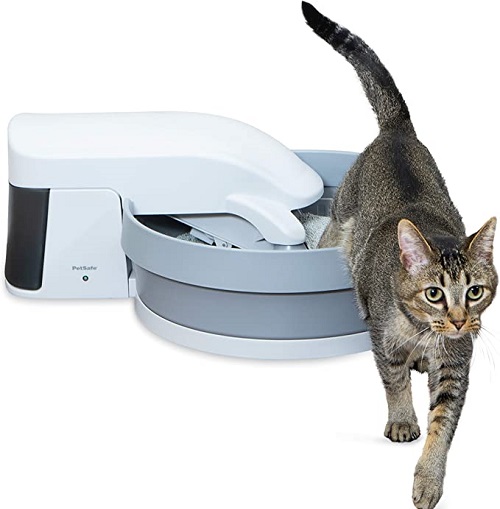 Now's the time to look at PetSafe's Simply Clean® automatic litter box since they've updated their model with a bigger litter box to give your cat 20% more space, a more durable motor, and higher sides to reduce litter mess on the floor.
Simply Clean has a unique way of scooping litter. While others might employ a globe or rake design, this one has a circular conveyer that rotates slowly to sift through litter and move waste up the conveyer belt into the covered bin.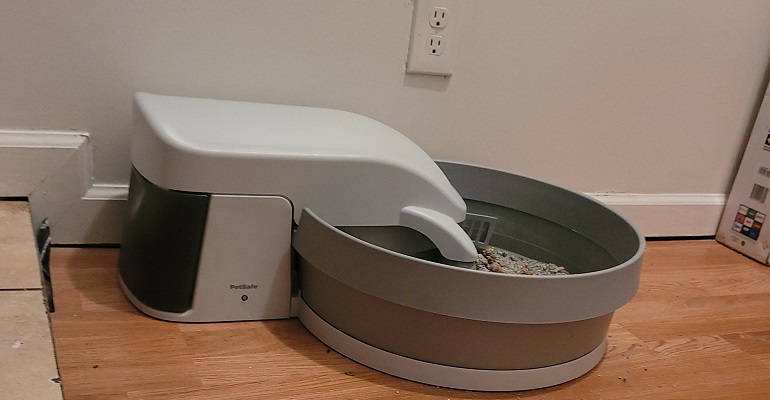 To tackle odors more effectively, this cat's litter box also includes a replaceable carbon filter to provide good odor control.
It regularly works, removing waste every 30 minutes and taking an hour and a half for a full rotation. Even better, when it works, the motor is quiet with minimal noise level.
Pros
Great noise-reduction
Requires less litter than traditional litter boxes
More affordable than others
Compatible with all clumping litter
Easy to use at any time
Cons
Multiple reports from users of clogging
Doesn't always scoop up every bit of waste
PetSafe Simply Clean Cat Litter Box
The Price of "PetSafe Simply Clean Cat Litter Box" varies, so check the latest price at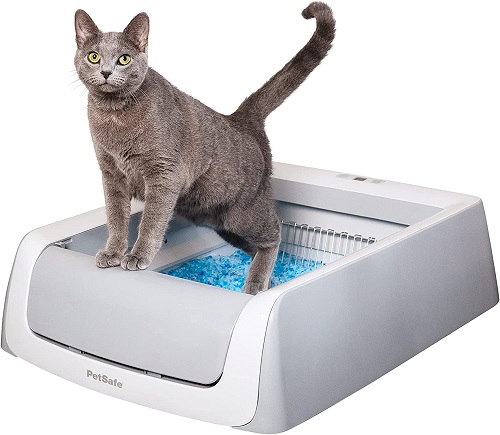 ScoopFree by name, scoop-free by nature – this self-cleaning litter box takes care of everything for you. It may be the older version of ScoopFree's Ultra litter box (as mentioned earlier), but it's still an excellent option to consider.
Like the Ultra, ScoopFree's original self-cleaning litter box works with disposable litter trays. Simply load in a disposable crystal litter tray, and that's it!
Any waste from your cat is dried and absorbed by the crystal litter, then automatically raked away and deposited into the waste compartment trap. It'll take a few weeks until the tray gets full, at which point you just throw it away and load in a new one. Simple!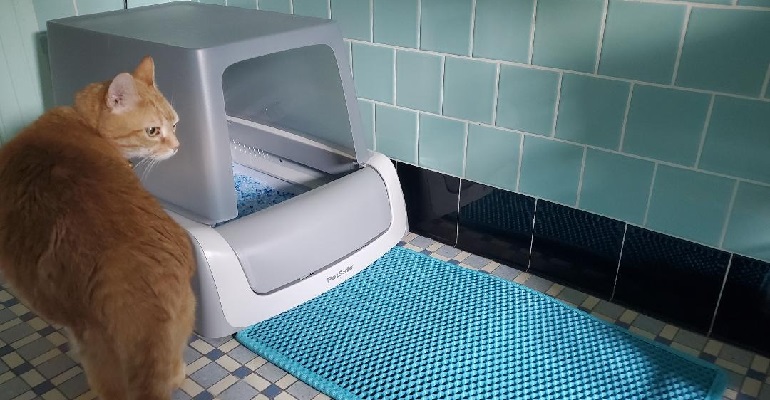 Using crystal litter has its advantages: it's five times better at odor control than ordinary, standard clumping litter, and it's dust-free, meaning less mess around the house. However, disposable trays are more costly, meaning that this automatic litter box comes with a slightly more expensive upkeep cost.
Pros
Easy to reload the new tray
Excellent odor control
Affordable
Only needs refilling once every few weeks
Cons
Requires frequent tray replacements
Disposable trays can be expensive
ScoopFree Original Automatic Self-Cleaning
The Price of "ScoopFree Original Automatic Self-Cleaning" varies, so check the latest price at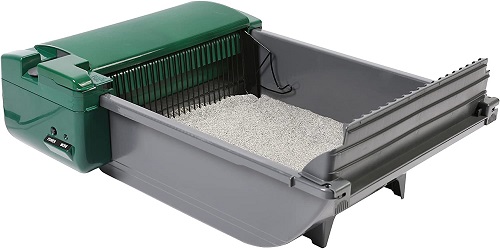 At first glance, Pet Zone's self-cleaning litter box is similar in appearance to any normal litter box – but its self-cleaning mechanism makes it much better. Incorporating a traditional litter box design means it has high walls that ensure the litter stays inside the box and is unlikely to get kicked out.
The self-cleaning litter box uses smart sensors to determine when your cat is gone and triggers the cleaning cycle that starts fifteen minutes afterward.
The motor works quietly, meaning less disturbance for you and your cat, so you can relax while the box rakes the waste away. When the bin is full, it's easy just to remove the tray, throw away the trash bags, and then replace it.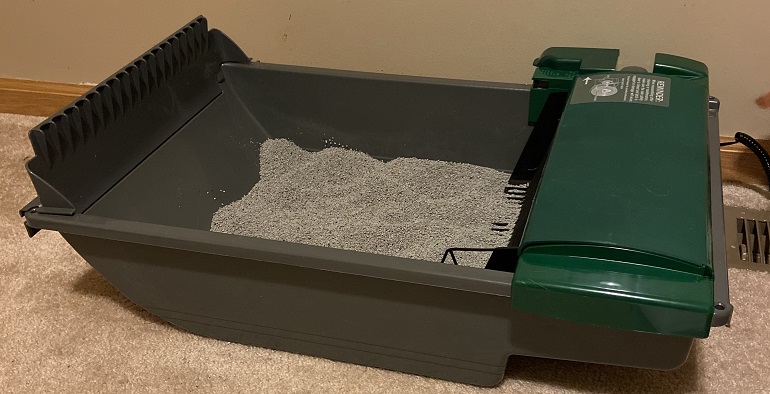 It comes included with a carbon zeolite filter to absorb any odors and help eliminate any unpleasant smells your cat might leave behind.
And there's no need to get any specific cat litter either – you can choose any type you want, keeping your wallet happy. Just pour litter in up to the fill line, and that's it.
There's no problem in cleaning the automatic litter box either. Since it's made of modular components, it's simple to dismantle, wipe down, and put back together again, ready for your cat to carry on using it whenever needed.
Pros
Operates quietly
Able to use any clumping litter
Very affordable compared to others
Filter absorbs smells
High walls keep litter inside
The sensor ensures cat safety during scooping
Cons
The rake doesn't catch small clumps of waste
Less attractive design than others
Heavy box makes it difficult to clean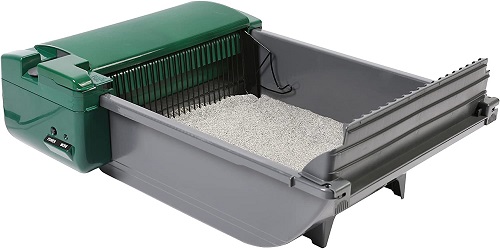 Pet Zone Smart Scoop Automatic Litter Box
The Price of "Pet Zone Smart Scoop Automatic Litter Box" varies, so check the latest price at
What to Consider When Buying a Self-Cleaning Litter Box
Not all automatic, self-cleaning litter boxes are created equal. They're all surprisingly different and come with a range of features. Some automatic ones scoop waste into a drawer, whereas some others are more complicated, cleaning away the waste more thoroughly with more advanced technology.
Good automatic boxes with more features often mean they come with a higher price tag, but depending on what you actually need can help determine which features you need. After all, there's no point in spending money on features you'll never use!
So, what do you need to consider when picking the best automatic litter box for your kitty?
Type of Litter Used
Where possible, it's best to get the same litter your cat is used to – it ought to make the transition a lot easier. With this in mind, we'd recommend getting an automatic litter box that accepts a variety of regular litter types if you can, although there are some that require specific litter types.
Clay litter is the most common and easiest for raking since the litter gets hard when wet, making it easier to separate from clean litter. Just be aware that many litter trays struggle with wood-based pellets and other litter that gets soft.
Alternatively, some litter trays require specific litter, such as washable granules. The disadvantage is that these can be harder to source and more expensive. However, the advantage is they are often much more effective – after all, you get what you pay for!
Size
It would be convenient if these automatic litter boxes were nice and small… but most of the good ones are quite big. That's why you need to assess your available space and what would fit in the room.
To help you decide, there are often two different types of cat litters you can find: cylinder-shaped automatic litter boxes that are taller and thinner or electric rake automatic litter boxes that are shorter and wider.
Installation
Depending on whether you're handy or not when it comes to electronics, you might want to consider one that's easier to set up.
Most are simple – you just plug them into the wall, and they're all done. CatGenie, on the other hand, is a bit more of a challenge to set up, needing you to connect it to a cold water line and plumbing system, much like a regular toilet, and limiting where you can put it.
Reliability
Presumably, you don't like cleaning up cat poop – that's the whole point of investing in an automatic litter box in the first place! So, you should make sure that whichever standard litter box model you get isn't going to clog up or get jammed.
Annoyingly, you'll find that many automatic boxes notoriously get jammed quite easily, often because clumped-up litter gets caught up in the inner workings. But that's not necessarily the case with all types; some designs are more likely to get jammed than others, such as litter trays with a raking mechanism.
It's difficult to know precisely which ones are likely to get jammed though, so it's worth having a glance through customer reviews to get a good idea before committing to one.
Odor Control
Since CatGenie is connected to the water supply and flushes away the cat's waste quickly, there's no risk of the smell lingering. But for other automatic litter boxes, there's more of a risk that the cat's waste will leave an odor.
That's why a waste bin is important – a good one should trap the odor as effectively as possible. And bigger is certainly better when it comes to waste drawers; ideally, you should only have to empty it once every few weeks.
Health Monitoring
Toilet habits tend to indicate health statuses for all animals- humans included – and cats are no different. So, make the most of automatic litter boxes by considering one that can give you an insight into your kitty's health and well-being.
Some automatic litter boxes monitor the basics, such as how frequently your cat goes to the bathroom, whereas others measure their weight to make sure they're not getting too obese or underweight.
FAQ's
Since there's such a range of different types of automatic cat litter boxes available, people often tend to have a few questions to ask before starting their search.
From getting a cat to use their new automatic litter box to understanding how they work, here are just a few of the most asked questions you might be wondering.
How Do You Get Cats to Use an Automatic Litter Box?
While it would make it much easier for cat owners, you can't expect your cat just to hop in and be used to their new self-cleaning litter box immediately.
Instead, they need time to get accustomed to it before they start using it regularly. After all, they're usually big and imposing machines with loud moving parts that can scare your cat and stop it from wanting to use the self-cleaning litter box at all – and that would be a huge waste of money!
First, put their new cat litter box in the same room as their old one, but leave it unplugged so it won't move or make any loud noise during the adjustment period.
Fill it with litter and leave your cat to investigate it to realize there's nothing to worry about. If you can, consider putting some of their usual litter in to make it more familiar and less intimidating.
Don't get rid of their old litter box straight away since this might stress them out. Instead, give them time to transition until they're used to it. If you don't, it might result in a few accidents which you have to clean up!
To encourage the transition, consider not cleaning the old one straight away. Cats are pretty haughty and demand cleanliness; given the option, they'll pick the cleaner cat litter box and will soon get used to it.
You could even leave a bit of their old waste in the new tray to get the message across if they're still not getting it.
When they start to get used to it, you can run a cleaning cycle a few times a day to let them get accustomed to it working the way it should. Remember to keep praising your cat with treats or playing with them whenever they use it.
If your cat's being really stubborn or just doesn't get the hint, you could always hide a bit of catnip in there. Or consider going back to training litter since that's made specifically to encourage cats to go to the bathroom there.
Do Automatic Litter Boxes Smell?
They might act all high and mighty, but cat poop sure does smell bad! And that's where automatic litter boxes really excel – they can help neutralize odors and reduce the stink that lingers around the house.
Simple, everyday cat litter boxes can't do much about the smell, but automatic ones can. Even just scooping up the waste quickly means that it doesn't give it enough time to really stink up the room.
Still, this doesn't mean that it's 100% perfect – especially if your cat has a bit of a funny tummy. But automatic litter boxes do reduce the potency of the scent and how much nags in the air by scooping it into a waste drawer that traps the odor and leaves your house smelling fresh.
Where Does the Waste Go in a Self-Cleaning Litter Box?
Where the waste ends up when it's cleaned depends entirely on the type of litter box you get. Either it ends up in a waste drawer that you'll need to empty once every few weeks, or it flushes away straight into the sewage system.
Most self-cleaning litter boxes have waste drawers underneath with a bag that you simply take out and replace when needed. Others, like the CatGenie, are connected directly to the plumbing like a toilet, meaning you can flush their waste away without emptying anything.
Is It Worth It to Get an Automatic Litter Box?
Whether it's worth it to get an automatic litter box is entirely up to you. If you can't stand cleaning poop (and let's face it, who does?), then it's certainly worth it. And if money isn't an issue, then it's definitely worth it, too – after all, it makes owning a cat much easier.
A good automatic litter box costs more than the regular one, and can be a bit of a pain to install. But if cleaning a litter box ruins your day and you have the budget to afford one, an automatic self-cleaning cat litter box is 100% worth it.
Conclusion
While life-changing might be a bit of an exaggeration, a self-cleaning automatic cat litter box can at least revolutionize your experience of owning a cat.
No one enjoys cleaning out a litter tray, so removing this unpleasant chore makes owning a cat so much more enjoyable.
Instead of having to worry about cleaning up their mess, you can focus on feeding them, playing with them, and cuddling your little fuzzball, enjoying the non-stop purrs.
So get your new litter box now!