Here's a question I get asked a lot! Why choose a harness over a collar?
While a collar seems like the easiest option, it is not always safe. A harness provides more control over the dog's body and distributes the pressure evenly. Moreover, if you have an older dog or a dog that pulls on the leash, a harness becomes a necessity.
But… before you buy a dog harness, it is important to measure your dog for a harness correctly. If a harness does not fit well, it can cause problems. Skin irritation can occur if it is too tight, and you will have poor control when it is too loose.
Dogs come in all shapes and sizes and so do harnesses. A correct measurement of your dog will help you in buying the right style and fit based on your dog's breed.
How to Measure Your Dog For a Harness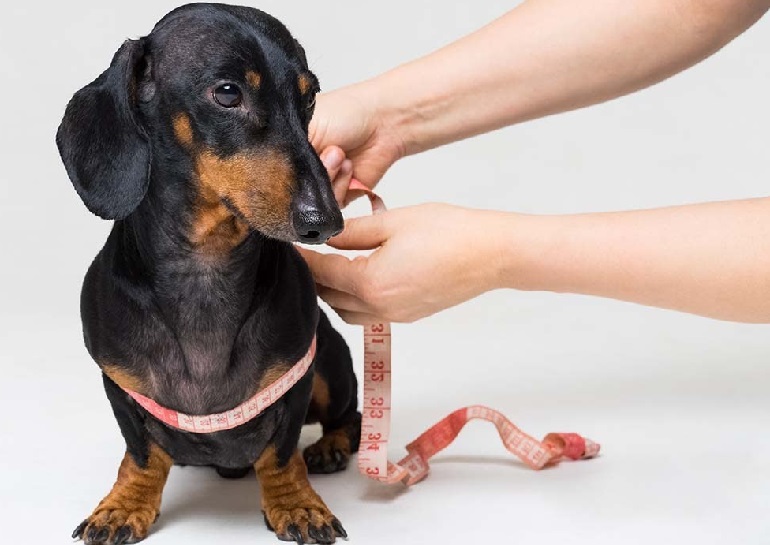 Many dog owners make the mistake of buying a harness based on their dog's weight or age only -and end up with the wrong size. Different dog breeds have different body types, and the variety of dog harnesses is endless.
A harness style suitable for small dogs will not go well with large dog breeds.
You should only buy a harness once you have taken all measurements correctly. If you own multiple dogs of the same breed, you should measure each dog individually.
Measuring your dog for a harness is not as simple as it is measuring for a dog collar. To get a collar, you need neck measurements only. Whereas, for harnesses, you have to measure the dog's girth across multiple points on the body.
Some dog breeds have sensitive tracheas and narrow air passages. A dog collar puts a lot of strain on the neck, which can cause injuries. Other problems include neck rash and chafing. A harness also ensures that the dog does not pull on the dog leash.
To find the best fit, you have to measure your dog's girth around the neck, chest, and body length. After you have your dog's measurements, you have to check the weight range for the final decision.
Steps to Measure Your Dog For a Harness
Measuring your dog for a harness is pretty simple. Here's what you need: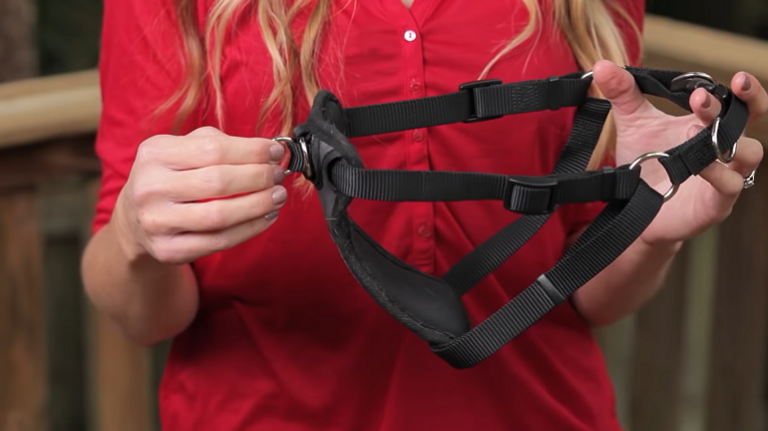 A measuring tape; to measure your dog
A ruler and a strip of cloth; if you do not have a tape measure
A pen and paper; to note down measurements
It is recommended that you use fabric tape measure so that it can easily wrap around your dog's chest. You can take help from a friend if your dog is hyperactive.
Once You Have Your Tools Ready, You Can Follow These Steps to Take Accurate Measurements.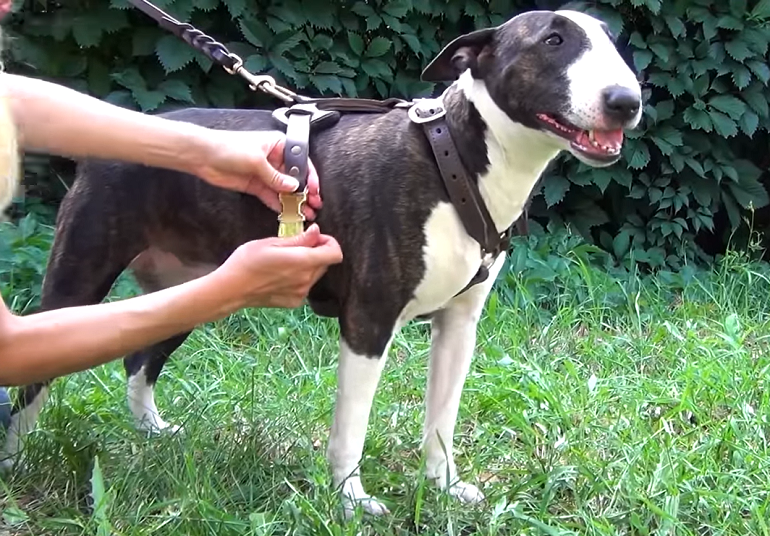 Finding and Measuring the dog's chest girthChest girth is the measurement of the circumference of a dog's chest. It is the widest part of the dog's rib cage.You can identify this point just behind the front legs. For some breeds, the correct spot is a couple of fingers away from the legs. The key is to measure the widest part of your dog's rib cage.Simply wrap the measuring tape around the chest, just behind the front leg. Keep it a little snug but not too tight. Mark the tape and note down the chest measurement.Chest measurements are most important while determining harness size.
Measure the Dog's NeckMeasuring your dog's neck for a harness is just how you measure your dog for a collar.Take a measuring tape and wrap it around the lower neck -the point of the neck that meets the torso.Keep two fingers between the tape and neck to make sure it fits correctly.
Measure your dog's lengthMeasuring the length of your dog is simple. Take a tape measure from the base of the dog's neck towards the base of the tail or hip bone. Not all harnesses require this measurement, but it helps in finding the best harness size.
Measure your dog's headSome harnesses go over the dog's head. If you have a big dog and you might not be sure if the head will go through. Just wrap the tape measure around the head to measure the circumference.
Now that you have your dog's measurements, you can start hunting for the right harness style.
Additional Tips
Here are a few bonus tips to keep in mind while purchasing a harness.
Two Finger Rule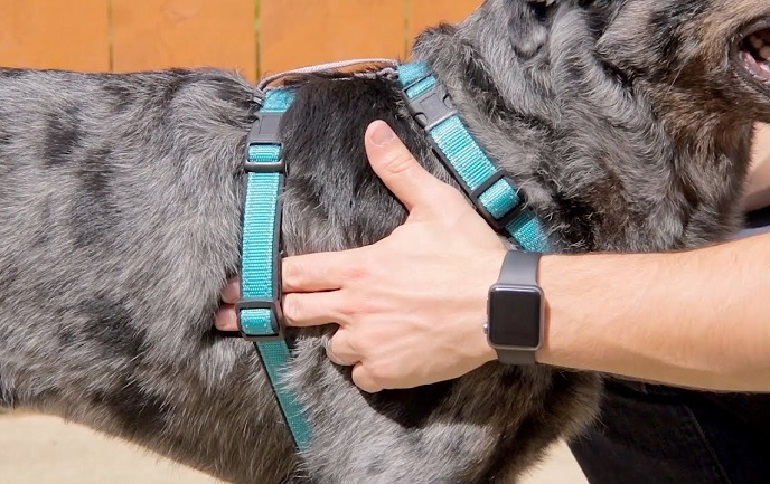 To make sure that the harness straps fit correctly, check each measurement using two fingers. Adjust your fingers horizontally between the tape measure and the dog's skin. The space should feel snug- not too tight or too loose.
Take Each Measurement Thrice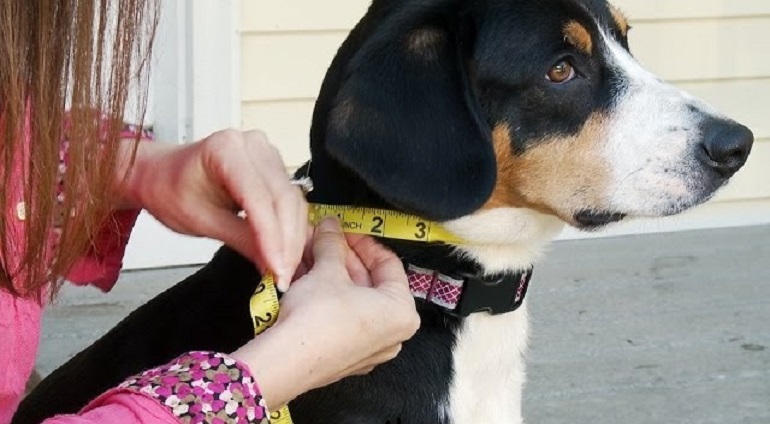 Most dogs move a lot while you measure them. Taking each reading three times removes the chance for error.
Your Dog's Weight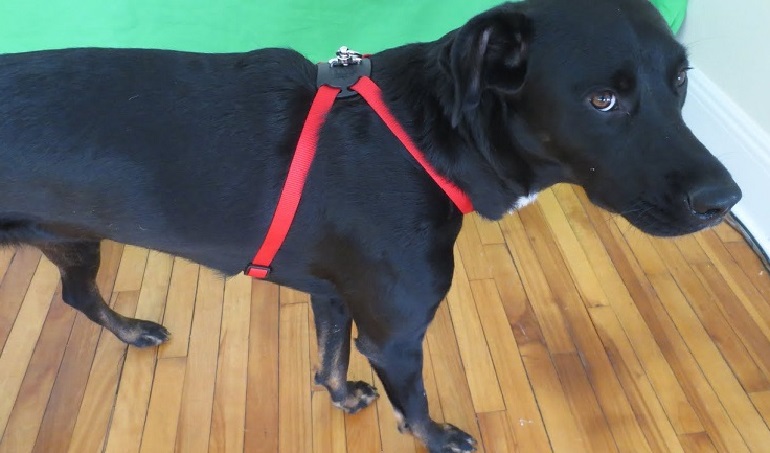 Once you are sure about your dog's measurements, the next step is to take the weight to determine accurate dog harness sizing. Based on the dog's weight, the size may be selected as small, medium, or large.
Sizing Chart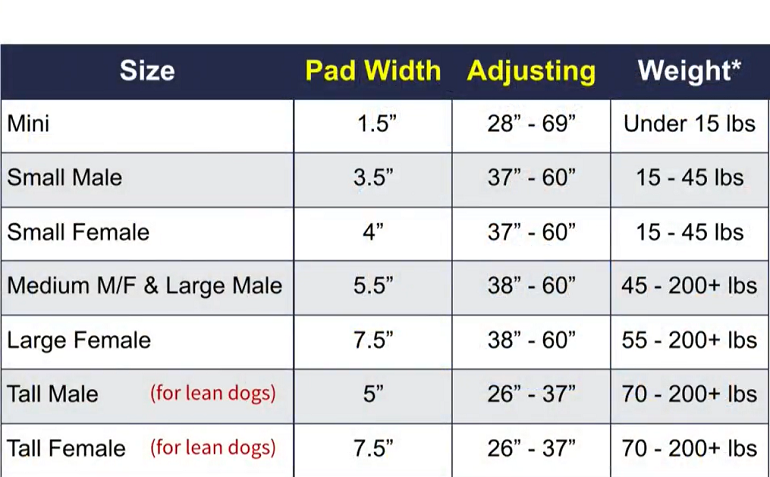 All harnesses have different sizing charts due to different designs and purposes. The sizing chart for one brand may be completely different from the other. Always make sure that you check the chart for your preferred brand, either online or in-store.
If your dog is in between sizes, choose the bigger one. Most harnesses have adjustable straps. You can always tighten a loose harness, but you can not stretch a tight small harness.
Choosing a Harness
It is equally important to find the best harness sizing better suited to your specific dog breed.
Harness For Big Dogs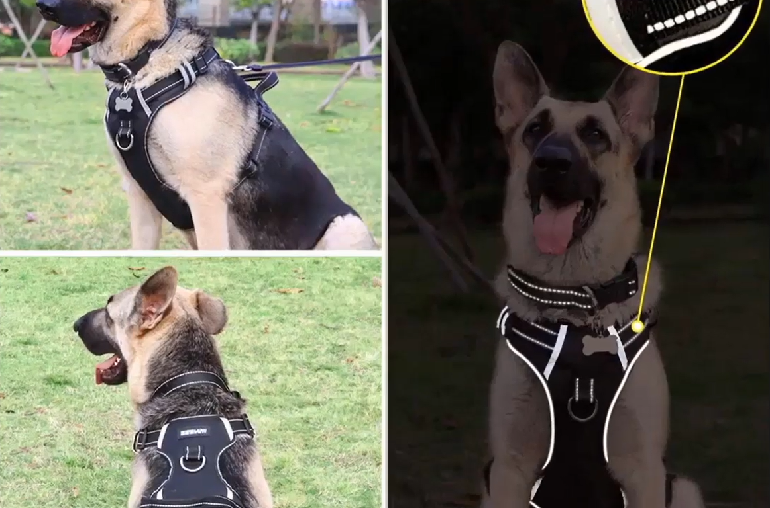 If you have a big buddy, it is more than likely that he would pull on the leash. Pulling on a leash can cause damage to the dog's airways and skin irritation. To tackle this problem, harness for large dogs has chest pads and leash attachment at the front.
This type of harness is called a front clip harness or no-pull harness. Having the leash at the front keeps the dog at its heel. If the dog tries to run ahead, he is quickly turned by the pull on the neck.
Always choose the best no-pull dog harness according to your dog's size and body type. Adjust the chest strap to make sure that the harness fits perfectly.
A tactical harness can give you better control of your dog, keep your pooch safe and prevent them from escaping. They work just like martingale dog collars.
Harness For Small Dogs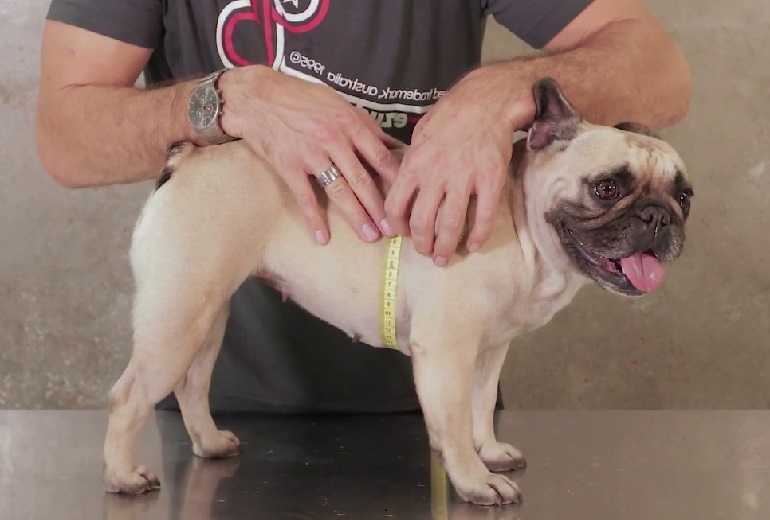 Choosing the right fit for your small pup may be a tricky task. Most harnesses are made for large dogs to improve pulling behavior.
When it comes to small dogs, harnesses are equally important as small pups are eager to run and play. Excess pulling on a collar can easily damage the sensitive neck bones and airways of smaller dogs.
The best harness for small dogs distributes pressure and weight across the body. It should fit snuggly along the chest girth.
Small dogs come in different body types. Some are built heavy and short, like the pugs and bull-dogs, while others are very light in weight like a toy poodle. The back clip harness is most commonly used with leash clips at the back.
You should always adjust the straps so that your pup does not slip out of the harness.
Conclusion
Measuring a dog for the harness is pretty simple but very important. If you skip measurement or buy a harness based on mere estimations of weight and size, you might end up frustrated.
There are many breeds of dogs- all with different body types and dimensions. Buying a harness based on conventional small, medium or large sizes just does not make any sense.
As with dogs, harnesses come in all sorts of styles and adjustments based on your dog's breed and body type. Finding a perfect fit depends on taking the correct measurement of the neck, rib cage, and torso.
After you measure your dog, just as we explained above, you must refer to the harness size chart of your favorite brand and compare the sizes. It is better to have a harness with adjustable straps so that your pup feels snug and safe.
We hope our step-by-step guide helps you in taking perfect measurements of your pooch. If you have any questions, feel free to comment below. We love hearing from our pet parents!