Disclaimer: The information provided in our articles is for educational purposes only and should not be considered a substitute for professional veterinary advice. It is essential to consult with a veterinarian before starting any CBD products for your dog's health and well-being.
CBDfx is relatively new, but then again, most pet CBD products are relatively new. Established in 2014, CBDfx grew to become one of the largest pet CBD producers in the country. Of course, as a pet CBD enthusiast myself, they captured my attention.
I typically provide my dogs (two Dobermans—male and female) with CBD oil from Honest Paws, another major pet CBD vendor in an increasingly saturated market. CBDfx started out making CBD products for people, later opening up an additional revenue stream with CBD oils on their way to becoming one of the standout CBD companies in the US.
One of the things I love about CBDfx is its transparency. You can view the lab reports on every product they manufacture here. All of CBDfx's products are organic, GMO-free, have a Certificate of Analysis, and the company follows CGMP (Current Good Manufacturing Practices). The broad-spectrum oil formulation CBDfx produces contains less than 0.01% THC.
Most Popular CBDfx Products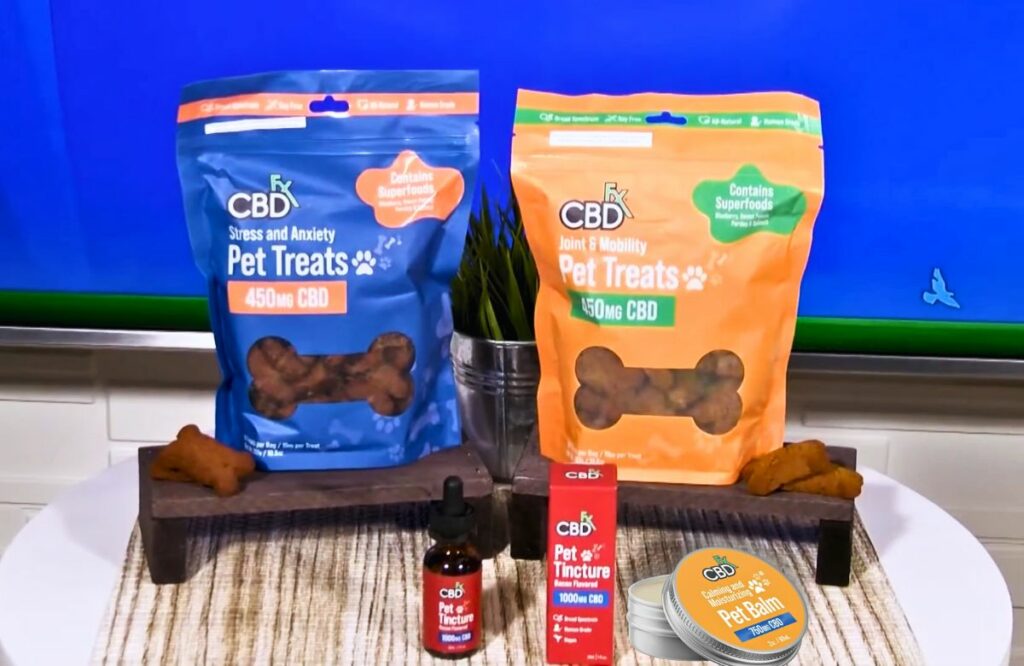 When CBDfx first caught my attention, I assumed the company (located in San Fernando Valley) was relatively new and would probably have a pretty small selection—a selection that might include their variation of CBDfx CBD oil, CBD oils of varying flavors, and maybe some topical products.
I was genuinely surprised at how large their selection really is. As a company that started with a focus on CBD products for people, I understood the sense of having a fully loaded stock for pets as well. It was a simple thing for the company to switch gears from human-grade to pet-grade with an already strong foundation.
CBDfx's products for pets are more extensive than I thought, including CBD dog treats, a CBD oil tincture for dogs and cats, a calming bundle, a pet balm, and a few CBD oil products specifically formulated for cats. The latter is seen far less often than CBD oils and other products for dogs.
Best CBDfx oil/tincture – CBD Oil for Dogs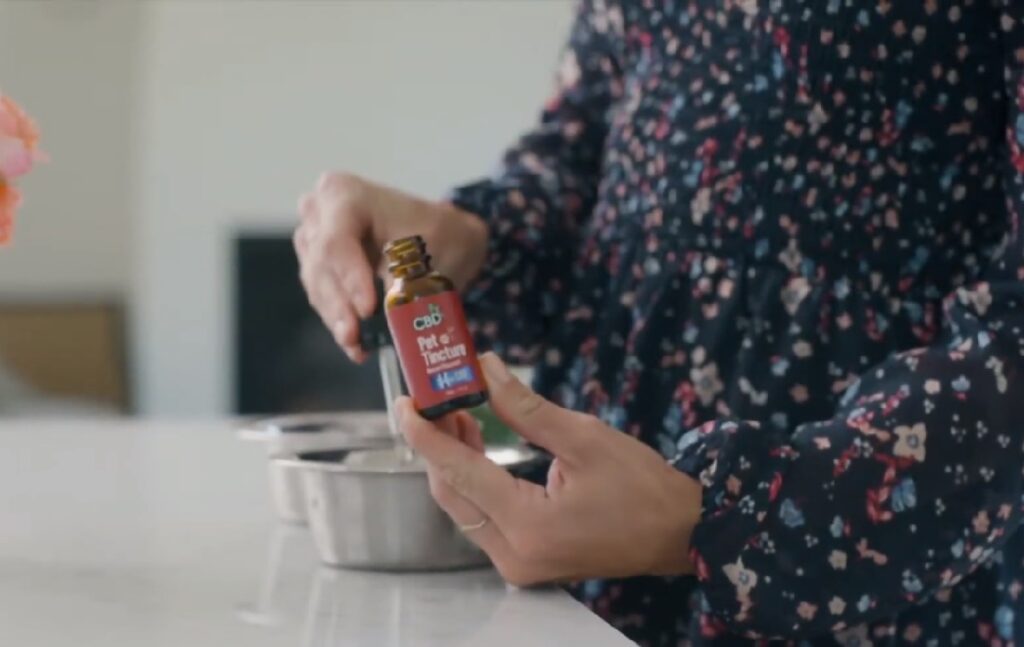 The best CBD oil or tincture that CBDfx has to offer is the CBDfx Oil for Dogs Pet Tincture. It includes broad-spectrum pet CBD oil and is completely organic and non-GMO. It is vegan, includes MCT oil (carrier oil) derived from coconuts, and is available in four strengths, depending on the size of your dog.
What We Liked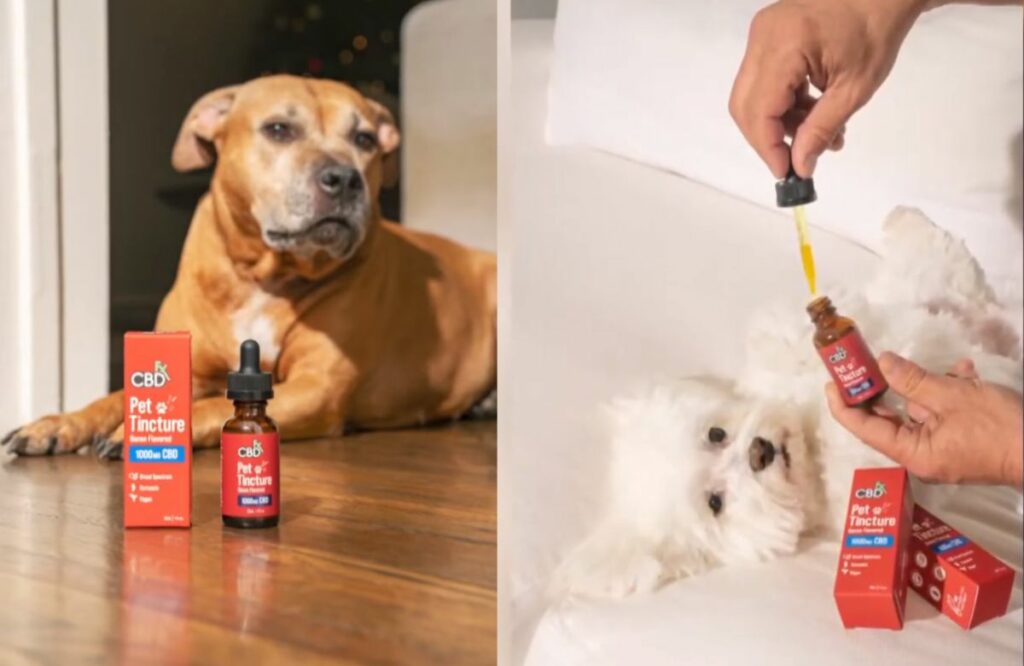 If there's one thing I always look for in a pet tincture of any kind, it's whether or not it's organic and non-GMO. As animals, dogs are not designed to consume all of those preservatives, pesticides, and genetically modified garbage. They need something natural and organic, which CBDfx provides.
It's also medically reviewed by veterinarian Dr. Kevin Raymond, which you can see when you click the link to the product page. I also love the versatility of this product. It's a fantastic calming tincture that improves the overall health and comfort of both of my Dobies. It's also great for older dogs as it provides joint pain relief as well.
Things to Consider
Most CBD oils come as they are; however, CBDfx manufactures this product in four different strengths. That might be something that someone new to purchasing CBD oils for their dogs may not realize. CBDfx offers milligram amounts based on breed size, so pay careful attention to what you're purchasing.
Customer Reviews
Knowing that the organic hemp-derived CBD in CBDfx has been batch-tested by a third party with a certificate of analysis is assuring. Having that ease of mind allows me to suggest CBDfx Pet Tincture to friends and family. –Dr. Kevin Ramond, Veterinarian
Love these 2 products. I believe that they have given my ol' girl a better quality of life in her old age. –Keely R.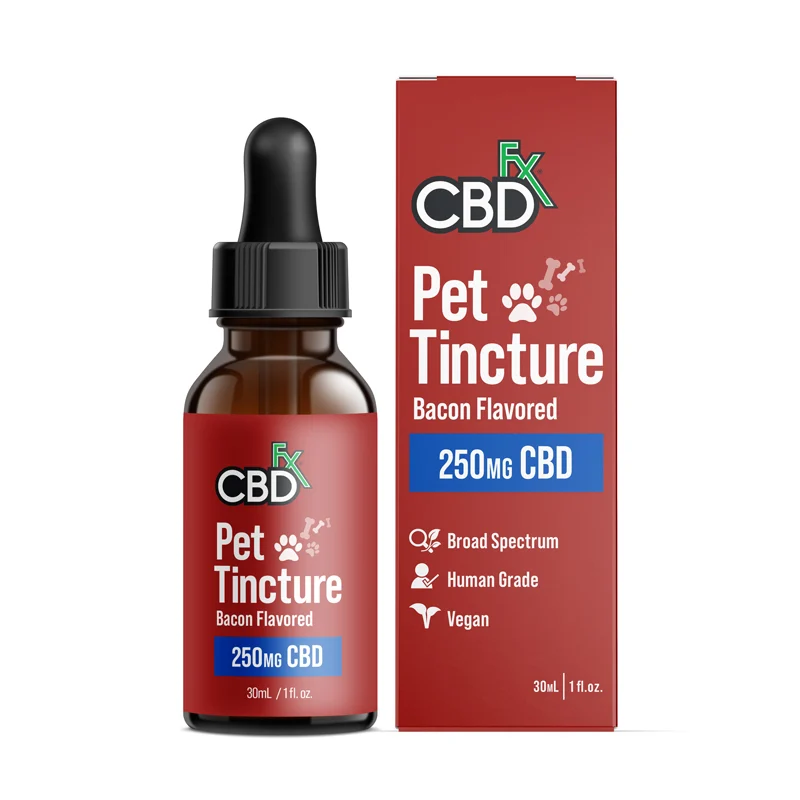 CBDfx Pet Oil
The price of "CBDfx Pet Oil" varies, so check the latest price at
Best CBDfx Dog Treats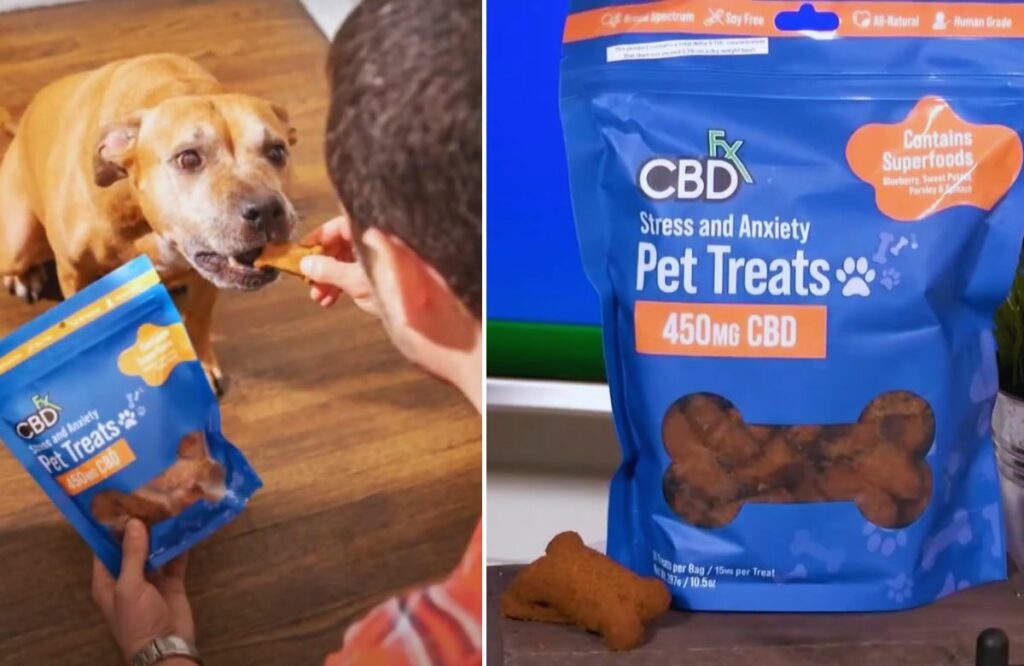 The CBDfx Dog Treats for Calming is one of the best dog treats among CBD pet products on the market today. One of the things that frustrated new pet owners more than anything else is ending up with an anxious dog. These kinds of CBD pet products make it easier to train and calm a dog while naturally relieving it of separation anxiety.
What We Liked
If you've read any of my previous posts, you know I had a lot of trouble dealing with my female Doberman's (Athena) anxiety issues, especially separation anxiety. Since the calming pet tincture comes in the form of CBD dog treats, it's even better. While I'm used to other products for calming her, these CBDfx treats did an excellent job as well, exceeding my expectations.
Things to Consider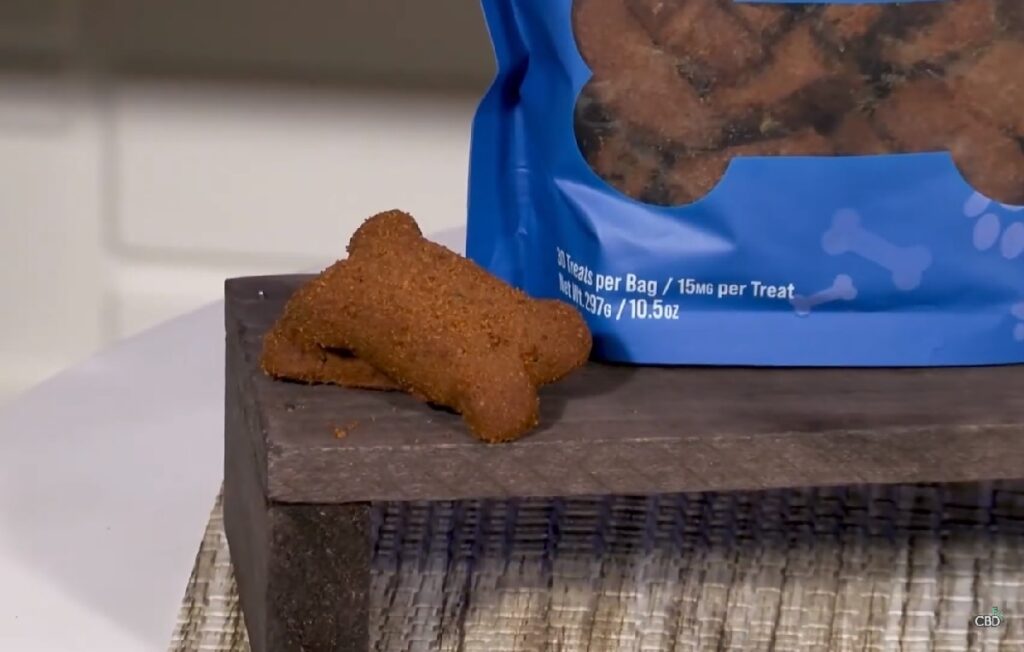 These dog treats also contain L-tryptophan, chamomile, passion flower, and valerian root. While none of these things are inherently harmful to dogs, it is something that you might want to introduce slowly and not in excess. Give your pup (especially small dogs) time to get used to it by breaking them up into smaller bits at first.
Customer Reviews
My dog, Odin, is exceptionally sensitive to, stressed out, and in total panic about loud noises like thunder or fireworks. A neighbor recommended these, and they are fabulous. –Emilia T.
Works great!! I have a smaller dog, so 1 treat a day/splitting in half after meals has improved her mood/energy. Improved her sleeping schedule/stays asleep at bedtime. Overall, amazing product👍🏼 – JP L.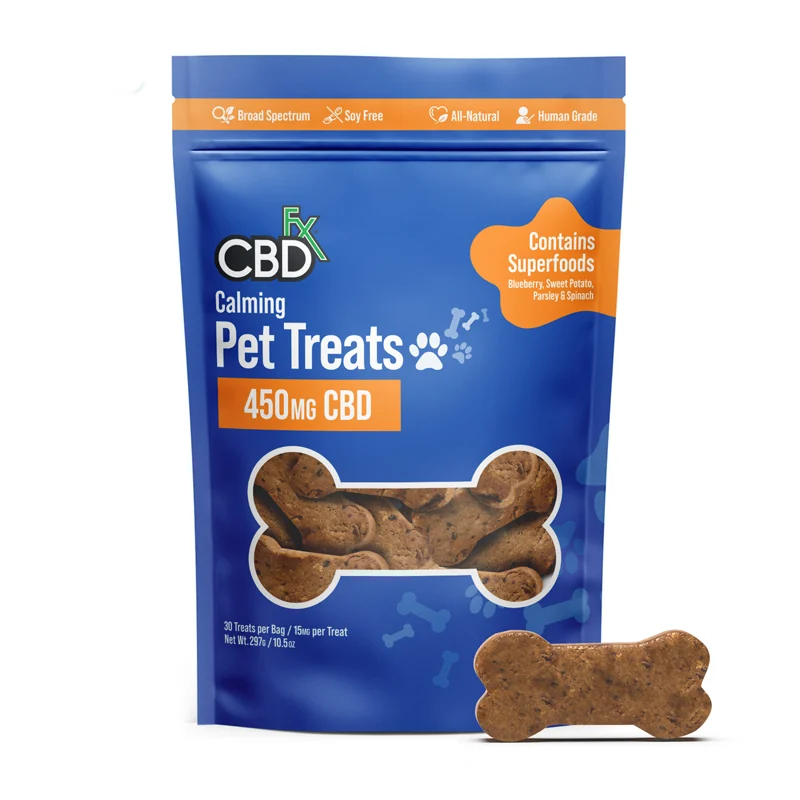 CBDfx Dog Treats for Calming
The price of " CBDfx Dog Treats for Calming" varies, so check the latest price at
Best Topical CBDfx – Calming and Moisturizing CBD Balm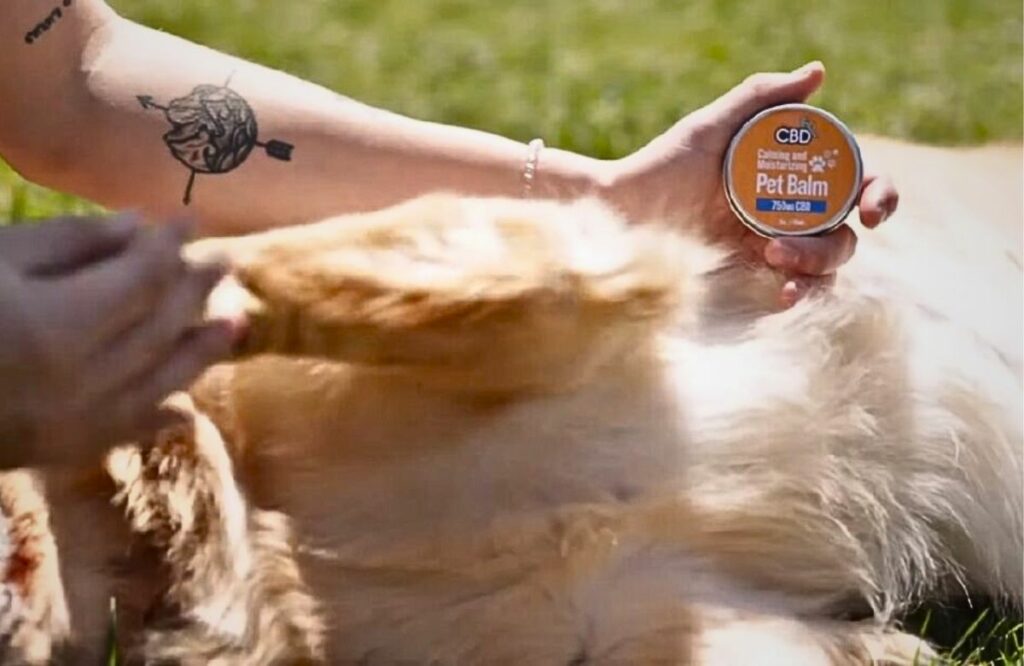 I'm a dog owner who's never been a big fan of topical products. My dogs occasionally get hot spots on them or worry over a spot on their fur. Usually, a bath and some Diatomaceous Earth do the trick. However, after trying the topical CBDfx balm, I think it's probably one of the best pet products on the market.
What We Liked
The inclusion of Alaskan Salmon oil makes this product doubly effective. Salmon oil is excellent for skin hydration, and the inclusion of CBD (which reduces inflammation) serves as a one-two combo of reduced inflammation and moisturization.
Things to Consider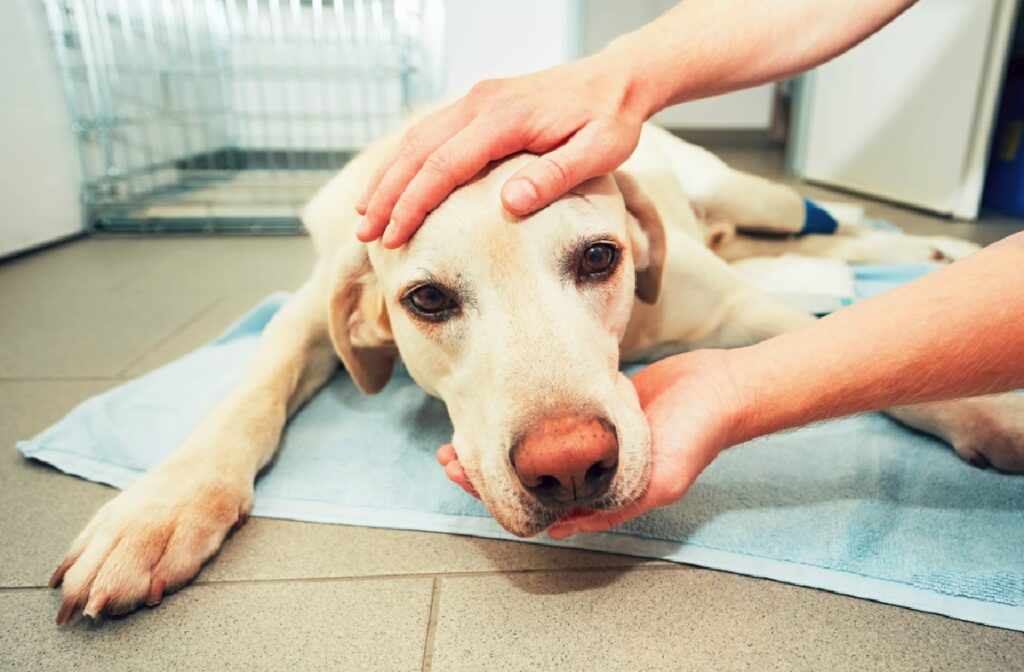 Though the Salmon oil doesn't have a very strong smell, dogs can certainly smell it on dog's paws. There's a good chance that your pup will want to lick it off, so you'll have to control that or use a cone if your pup simply can't help itself.
Customer Reviews
So far so good. Our big boy seems happy and is having an easier time getting up with his elbow healing nicely. –Michele B.
CBDfx Calming and Moisturizing Pet Balm has the added benefits of calming essential oils, like lavender and chamomile, making it a great choice for your dog. –Dr. Kevin Raymond, Veterinarian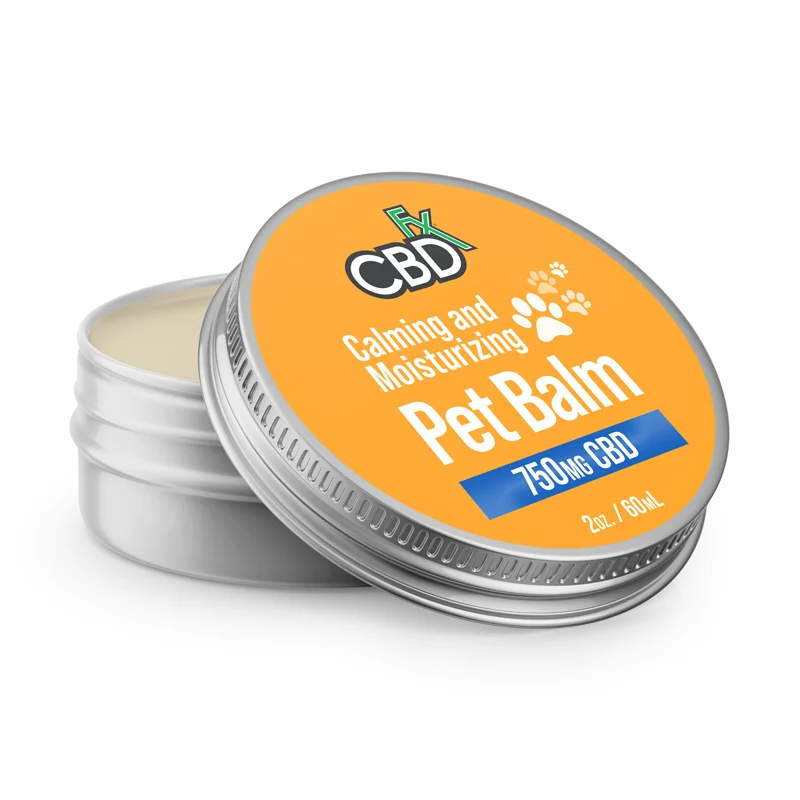 Topical CBDfx Balm
The price of "Topical CBDfx Balm" varies, so check the latest price at
Comparing CBDfx with Other CBD Oils for Dogs
The quickest and easiest comparison I can offer is the Honest Paws line of dog CBD products. I've used Honest Paws extensively for both of my dogs, and you can read our comprehensive Honest Paws Review. As a top CBD product for pets, it's a good comparison, and I think CBDfx does exceedingly well.
I noticed no differences in the degree of efficacy between the two products in terms of calming and joint pain relief for my larger, older male Doberman. Like Honest Paws, CBDfx products are rigorously tested and certified, with lab results transparently posted on their website.
Another competitor to CBDfx products is Penelope's Bloom CBD oil for pets. Like Honest Paws and CBDfx, they offer organic, non-GMO products using only human-grade ingredients. They are also very transparent in both their marketing and the lab report information on all of their products.
However, CBDfx separates itself and stands out among its competitors because of the versatility and range of the products the company offers, whether it is designed to alleviate pain, dry skin, minor anxiety, as a dietary supplement, or as a treatment for long-term stress.
CBDfx's reputation is an excellent one, and they only offer high-quality ingredients without all of the additives you find in a lot of dog foods and dog treats these days.
What is CBDfx
CBDfx is a CBD manufacturing company with a broad line of products for both humans and pets. CBDfx is suited for pets (cats and dogs), and it's perfect for animals that suffer from anxiety, are dealing with cancer, have joint pain, high stress, or need to improve their general health.
While CBDfx doesn't offer a subscription service, you can take advantage of a number of bundles the company offers. These bundles change over time, though the savings are fairly extensive. They offer standard shipping rates for all products; however, you get free shipping for purchases over $75.
Quality and Purity Standards of the Product
This is another area in which CBDfx shines. A lot of companies rely almost entirely on marketing to sell their products without transparency. CBDfx claims that the products they offer are natural, organic, and there is no GMO throughout the crop, harvest, or manufacturing process. Other CBD oils are more restrictive in their information, which is always a bit disconcerting.
As I mentioned above, CBDfx offers Lab information on all of their products. The company's products also include certifications, with a 60-day guarantee, a PETA Cruelty-Free certification, solvent-free, verified potency, and a guarantee that all products are made in the US.
Every CBD product is also medically reviewed by the aforementioned Dr. Kevin Raymond. CBDfx is also a part of the California Hemp Council, the Natural Products Association, the National Hemp Association, the U.S. Hemp Roundtable, and the Hemp Industries Association.
Pricing is fairly standard across the board. For instance, The above-mentioned bacon-flavored tincture runs from $29.99 for 250mg to $99.99 for 2,000mg. You can also take advantage of discounts with the right purchase codes.
Our Experience of Using CBDfx Products for Dogs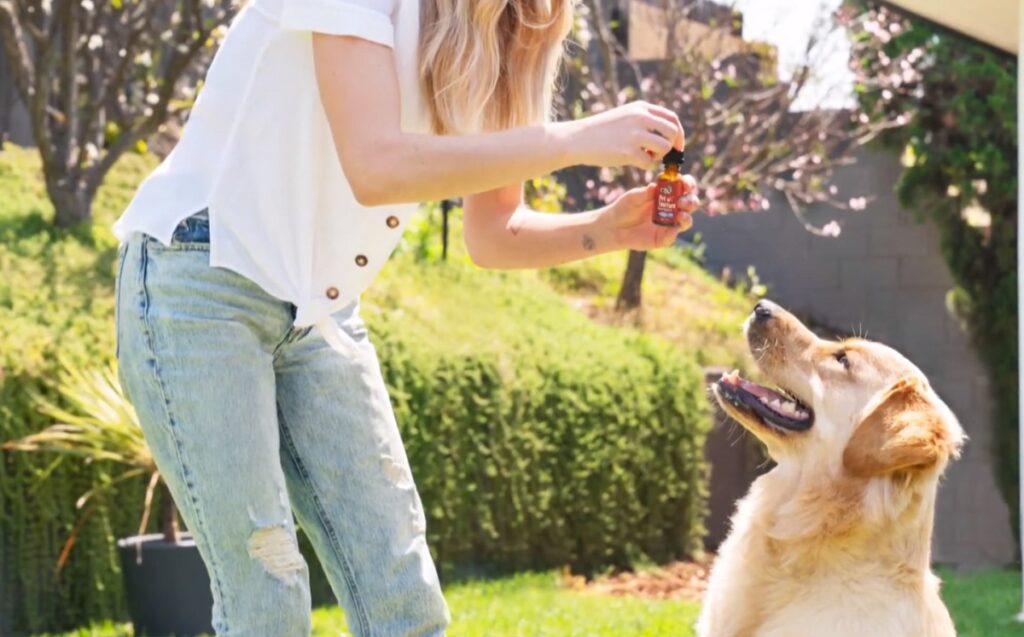 So far, it's been fantastic. I can see the effects of the primary ingredients on my dogs, and I'm extremely picky about what I give them. Their flavored tinctures (especially the bacon flavor) basically turn even the oils and tinctures into treats for the dogs.
This is a product that is of higher quality than what you typically find online or on store shelves. I don't feed my dogs anything that isn't organically grown anyway, so CBDfx is a natural option for me. I've also observed its quality in other pets. We have a ragdoll cat as well as several friends who also use pure CBD supplements for both themselves and their pets.
Hemp extracts will understandably concern those who are not used to using them. However, the CBD in CBDfx treats, oils, and tinctures contains such a tiny amount of THC that it's negligible in even small breeds. Plus, you also get coconut oil, salmon oil, chamomile, L-Tryptophan, and a variety of other supplements to go with the products.
Since CBDfx makes all-natural products, you don't have to worry about the adverse, long and short-term effects of additives, preservatives, and genetically modified food. I love the quality of the CBD, how effective it is, and how long it lasts in my Dobies.
I don't give it to them all the time, and I always use the correct dosage, so I've never personally experienced adverse effects with CBDfx CBD.
FAQs
Who Makes CBDfx Products? Where Are they Produced?
CBDfx makes CBDfx products, and they are based out of San Fernando Valley, California. All CBDfx products are produced in the USA. Founded in 2014, CBDfx has quickly grown into a leading producer of CBD consumables for people and CBD for dogs as well.
Is CBDfx Worth Buying?
CBDfx is definitely worth buying, especially if your dog has some underlying issues. These include stress, separation anxiety, lack of appetite, hyperactivity, or other behavioral problems. However, you should always consult with your veterinarian before you introduce a new product to your pet.
Does CBDfx Really Work?
Based on my own observations, the available lab testing, veterinarian recommendations, and certified buyer reviews, CBDfx really works with pets and for a variety of uses.
Final Verdict
After reading this CBDfx for dogs review, you must've realized that CBDfx is a big player in the pet CBD game now, and they are certainly worth checking out. CBDfx CBD is an organic product, free of GMOs, vegan, and manufactured in the USA. If you're looking for the best CBD for your dog or cat, CBDfx is more than capable of fitting the bill.
As a pet owner myself, I love the product, especially the versatility of its CBD, along with the level of transparency and full lab results posted on their site. If you're in the market for CBD, give CBDfx a try today!