Disclaimer: The information provided in our articles is for educational purposes only and should not be considered a substitute for professional veterinary advice. It is essential to consult with a veterinarian before starting any CBD products for your dog's health and well-being.
CBD oil for dogs is not uncommon nowadays. Cannabidiol is a compound extracted from the hemp plant and used to treat a variety of health problems. Now we know what CBD oil can do for dogs, more and more people are starting to use it, whether it's to help reduce joint pain from arthritis, inflammation from cancer, or anxiety.
But although we know the benefits of CBD oil, many people aren't quite sure how to give CBD oil to dogs. How to administer CBD oil to your dog often depends on your dog and why you're giving them CBD oil. Before you start, it's best to learn the different ways to give your dog CBD so your dog has the best experience possible and can enjoy its benefits.
Best Ways to Administer CBD Oil to Your Dog
There's not just one way to give your dog CBD. Instead, there are several possible methods, and these are five of the most effective and simple ways to administer the oil to your furry friend.
1. Use Dropper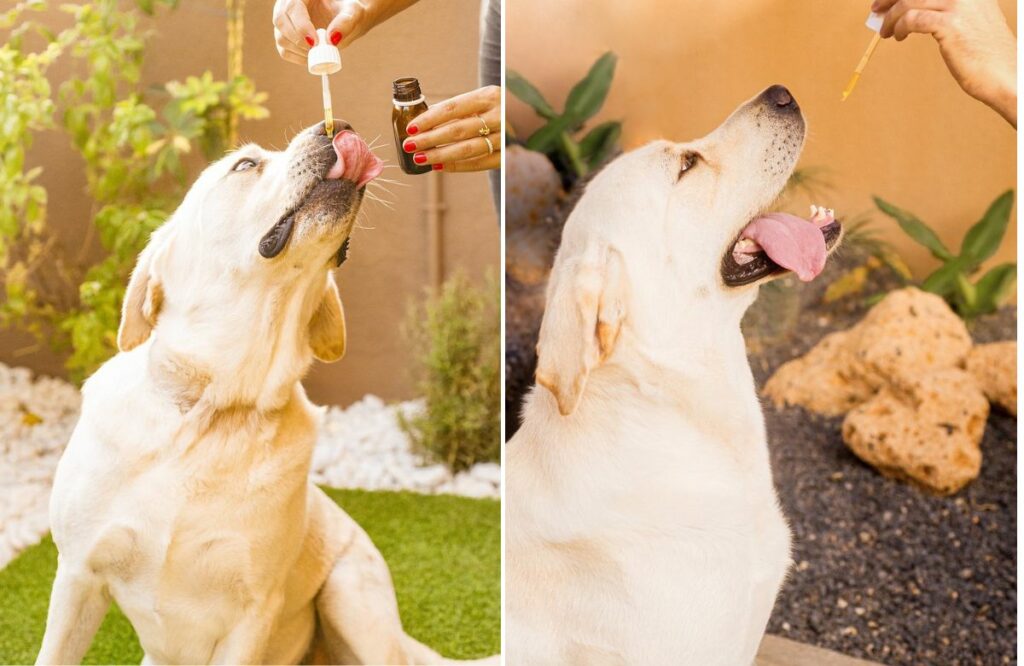 Giving your dog CBD oil straight from the dropper is probably the most obvious method. This way gives you plenty of control over how much to give your dog. Luckily, most CBD tincture bottles come with a dropper built into the lid, making it easy to give the correct dose of CBD to your dog.
Tread cautiously, though – not all dogs like you fiddling with their mouth. For example, mine hates it when I try to brush her teeth. However, if your pup is okay with you handling their mouth, this is the simplest option.
Once you've worked out how much CBD to give, measure it into the dropper. Then gently pry open their jaws and drop the dog CBD oil straight from the dropper into your dog's mouth. Remember to make sure they swallow everything and give them a treat afterward to ensure they stay happy for you to administer it this way.
If it's possible, try to use the sublingual method when dropping it in your pet's mouth. "Sublingual" is just a fancy way of saying to deliver the drops under the tongue. This way, the oil is absorbed into the bloodstream directly, meaning the oil is more effective, and results appear faster.
If your pup's a picky eater, though, they might not like the taste of the oil. If that's the case, don't force it using this method. It might be wiser to move away from a full-spectrum CBD oil and select a more flavorless oil like broad-spectrum CBD oil or one with a specific flavoring.
2. Mix CBD Oil in your Dog's Food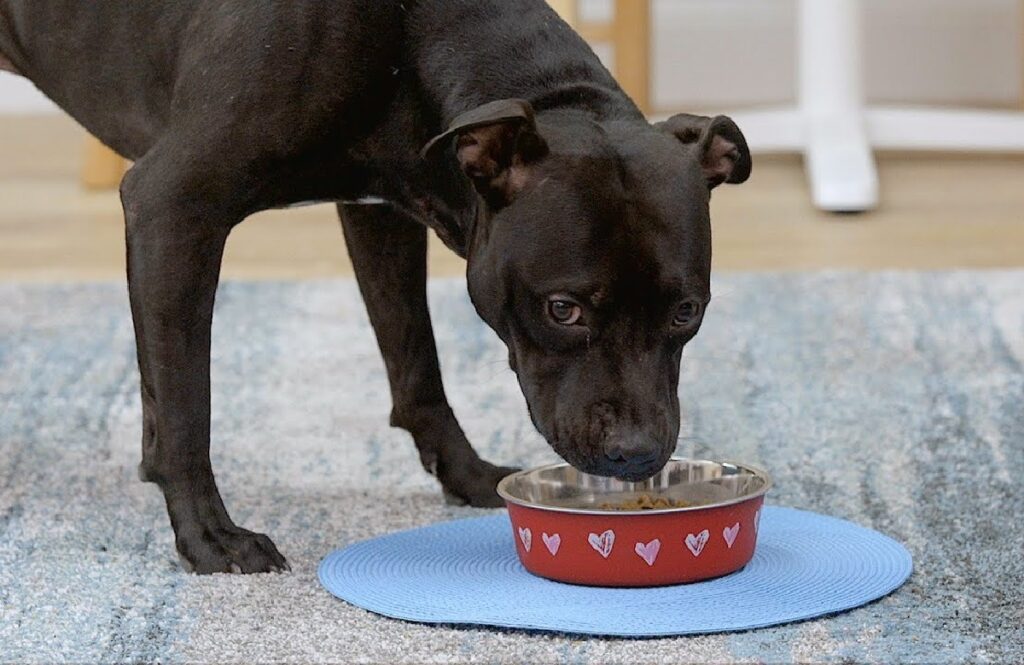 Dogs can be really fussy sometimes. Yours might not like you putting things in their mouth, or they might not like the taste of CBD oil for dogs – even the tasty flavored oils. If that's the case, you could always try adding CBD oil product to your dog's food.
Most dogs have a healthy appetite, so mixing the oil with their wet food is another easy way of giving them CBD oil without them even noticing. It's best to add CBD oil steadily at first instead of putting it in all at once – otherwise, your pup might notice the change in taste and refuse to eat it.
As simple as this can be, it's not always straightforward. To ensure they get the right dose, you have to ensure they eat the whole thing. So if your dog is off their food at the moment, this might not be the right method for them.
If you have multiple pets, you should try to keep a watchful eye on them to make sure the right dog eats all their food to avoid the risk of the wrong dog getting CBD oil.
3. Incorporate CBD in your Dog's Treats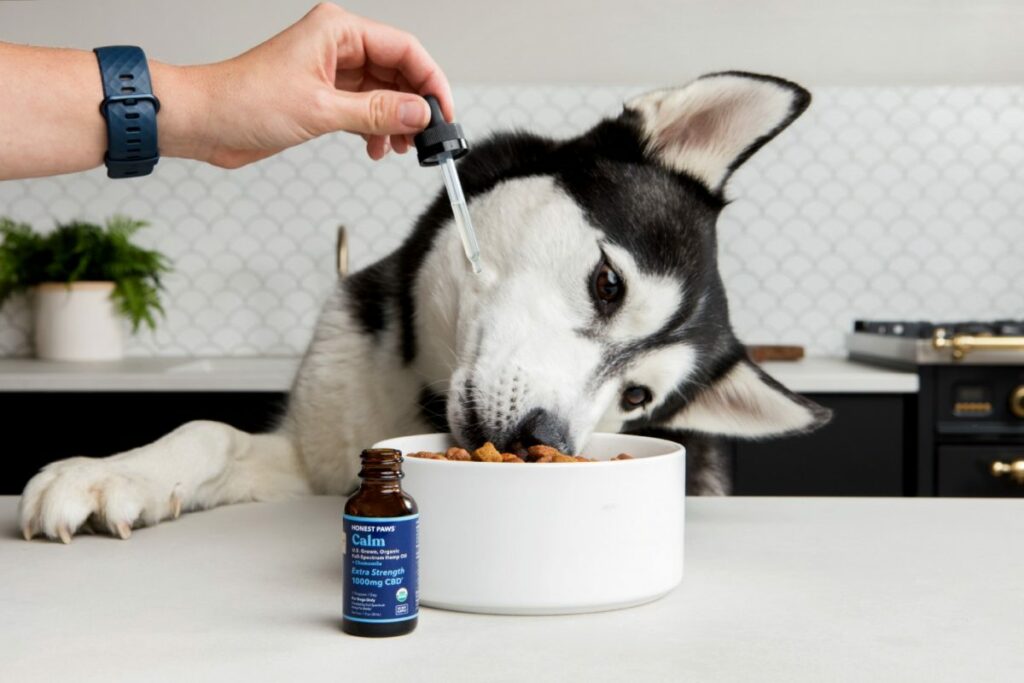 You would be hard-pressed to find a dog who would turn down a treat. So, if your pup is refusing CBD oil, why not give your dog CBD dog treats?
Dog CBD treats are tasty snacks that are made from natural, healthy ingredients. They come with pre-measured doses of CBD baked into each one, so it's easy to measure them out and give your pup the correct dose. You don't need to fiddle about with a dropped and can even break them into smaller pieces if needed.
However, dog CBD treats can be expensive, so if you're on a budget, you might not want to rely on them entirely. CBD dog treat makes a good alternative that you can occasionally use to tempt your dog and keep them interested.
Alternatively, if you don't want to invest in dog CBD treats, you could tempt your dog to take CBD oil by interspersing it with regular dog treats. Play a game with them where you have an opportunity to reward them lots and use CBD oil occasionally as a reward. This positive association might help make your dog become more receptive to CBD oil from a dropper.
4. Add CBD Oil to your Dog's Favorite Snack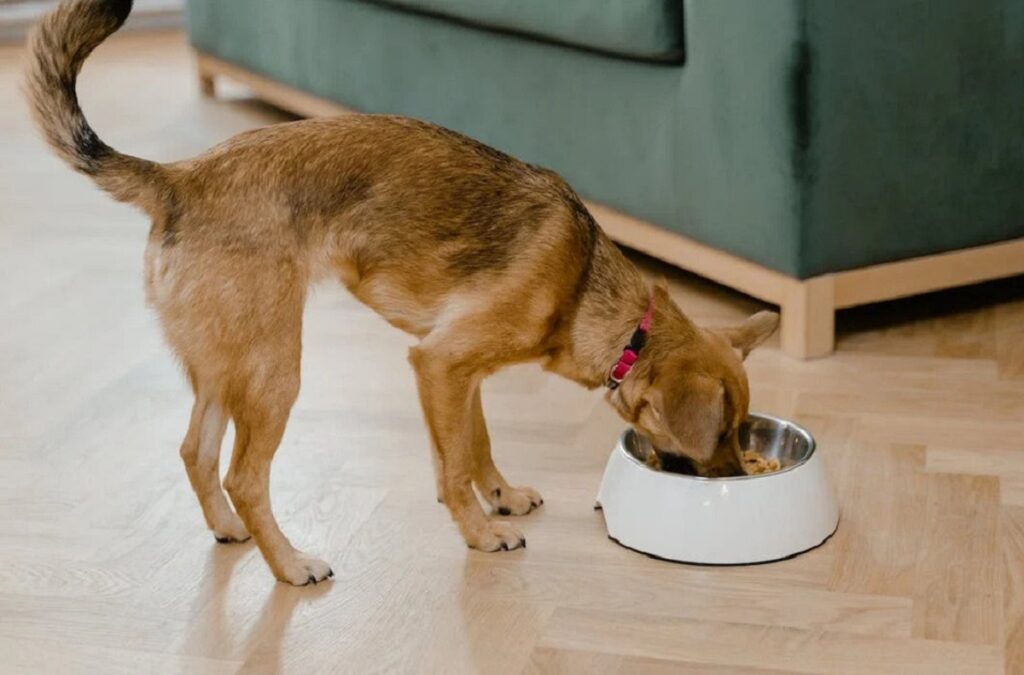 Aside from their regular soft food and treats, all dogs enjoy settling down with a snack now and then, like peanut butter in a Kong toy. These snacks are often more flavorful than their normal meals and are even easier to hide CBD oil for dogs in.
If your dog avoids CBD oil tinctures and isn't so keen on dog CBD treats, mixing it in with a flavorful snack might be an easier option. Often, the taste is so strong and delicious that they don't even notice the taste of CBD oil.
Try using freeze-dried chicken breast since it soaks up CBD tinctures easily and is particularly tasty for many dogs. Peanut butter works very well too, since it contains a lot of oil and so can easily mix with CBD oil.
Alternatively, you can get creative in the kitchen and cook them up a gourmet snack by combining CBD for dogs with natural ingredients, such as sweet potato, pumpkin, blueberry, peanut butter, or coconut. There are plenty of recipes online for yummy homemade treats and snacks that hide the taste of CBD oil.
Just remember that if you're making a lot of snacks in one batch, you do the right math to ensure you have the correct dose of CBD. For example, if you're making a batch of ten snacks, you'll need ten times the dose for just one snack.
Once you mix CBD oil with a snack like peanut butter, smear it onto a licking mat or push it into a fillable chew toy like a Kong to keep your dog relaxed, happy, and entertained.
5. Apply It as a Topical Ointment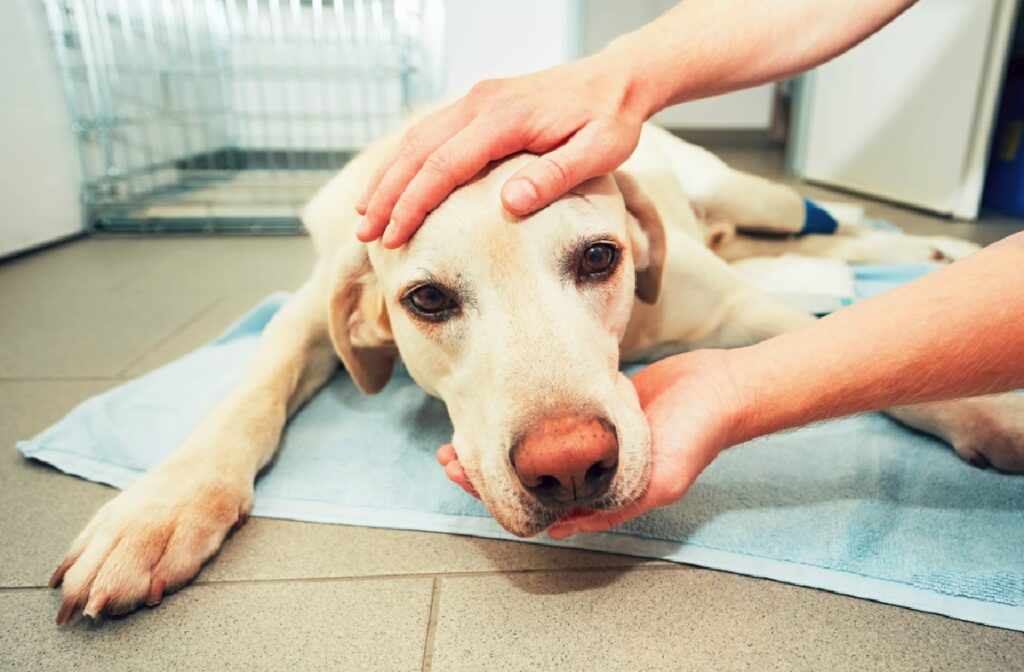 You're not restricted to just putting CBD oil in their mouth. You can also get CBD oil in topical applications like balms to help reduce irritated skin. Although it still has CBD, it's different from a CBD product that dogs ingest, like CBD treats and oils.
When you rub a CBD balm onto your dog's skin, it enters its bloodstream through the skin. However, these high-quality CBD products are less concentrated than treats and oil, meaning that you can use this as well as high-quality CBD oil and treats without worrying about your dog experiencing symptoms of overdosing.
Important Measures to Take Before Giving CBD to Your Dog
We're not recommending you give marijuana to dogs; CBD oil from hemp is much safer and not usually dangerous. However, there are still a few things you should keep in mind and a couple of measures to take before administering CBD oil to your dogs.
Carefully choose the timing when administering CBD to your dog. If you're doing it for a specific situation they find stressful, such as a visit to the vet or groomer, then you should administer CBD oil an hour or two in advance.
However, if they're taking CBD for a chronic condition like arthritis or cancer, give it to them every eight to twelve hours, ideally when they have meals in the morning and evening.
If you don't have a particular routine with your dog, you could consider CBD dog treats to make it easier to administer small doses of CBD throughout the day whenever you have a moment. Just bear in mind that this means you will need to keep track of how many you give them.
Consider the flavor too. If your dog is a fussy eater, they might do everything they can to avoid CBD oil. Fortunately, there are some oils that are flavored and tasty. In fact, many of these flavors come from added ingredients that are included for more than just taste. For example, chamomile gives the oil a more pleasant taste but also has a calming effect to further help your pup.
Always Give the Recommended CBD Dose to Your Dog
It doesn't matter which CBD oil you get; you still need to adhere to the right measurements for your dog to get the full benefits from CBD. If they have too little, they won't feel the effects; if you use too much, they won't be themselves and will seem tired and lethargic.
CBD oils come in various strengths, so you have to be careful to give the right CBD dosage to your dog. Regardless of the method, how much CBD you administer depends primarily on your dog's weight, although breed and lifestyle also play a role, as do their personality and activity level.
Ideally, you should consult a veterinarian where possible, but since CBD is fairly safe, it's still possible for you to work out an approximate dose yourself. If you do, always read the label first since it gives recommendations based on your dog's weight.
The general rule of thumb is to administer between 1 to 5 mg of CBD for every 10 pounds of body weight. However, the below table gives you an approximate dosage to aim for.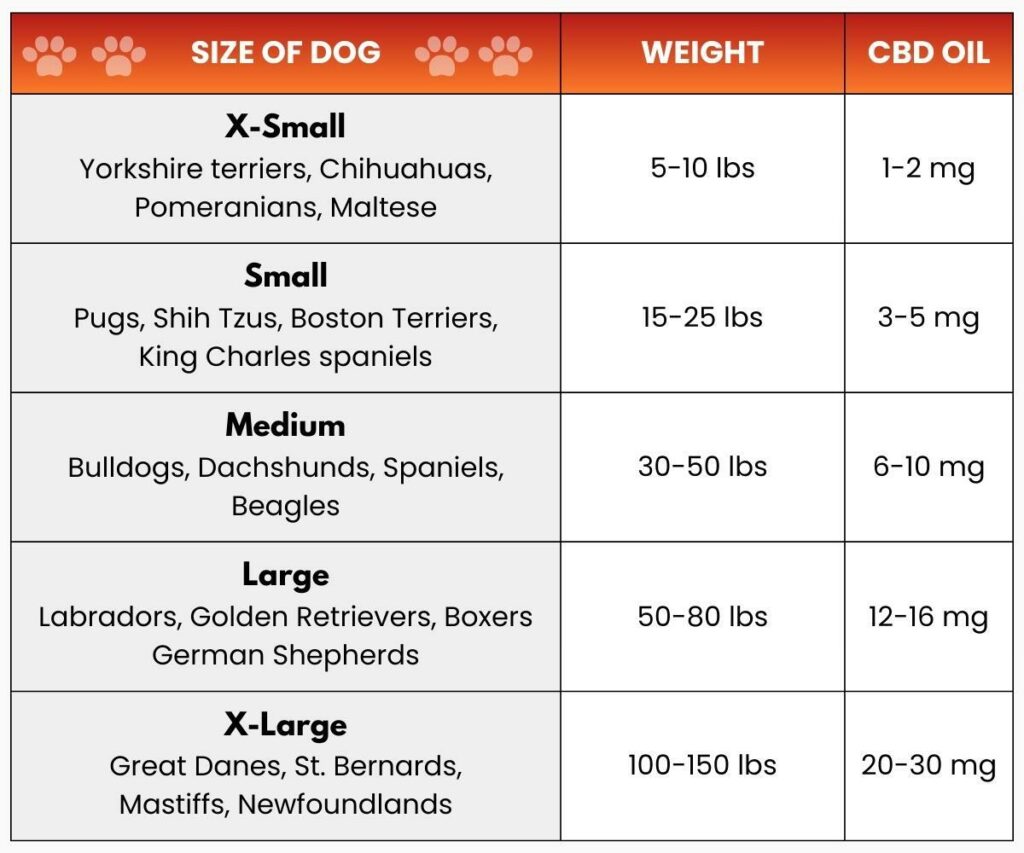 Since CBD builds up in your dog's system over time, you should try to keep their dosage consistent for about a month or so. Don't be surprised if your pup doesn't show the benefits of CBD immediately since it can take a while for results to take effect.
Just be patient and monitor them carefully before you gradually increase their recommended dose slightly for another 30 days until you find the best dosage.
How to Look for the Best Dog CBD Oil?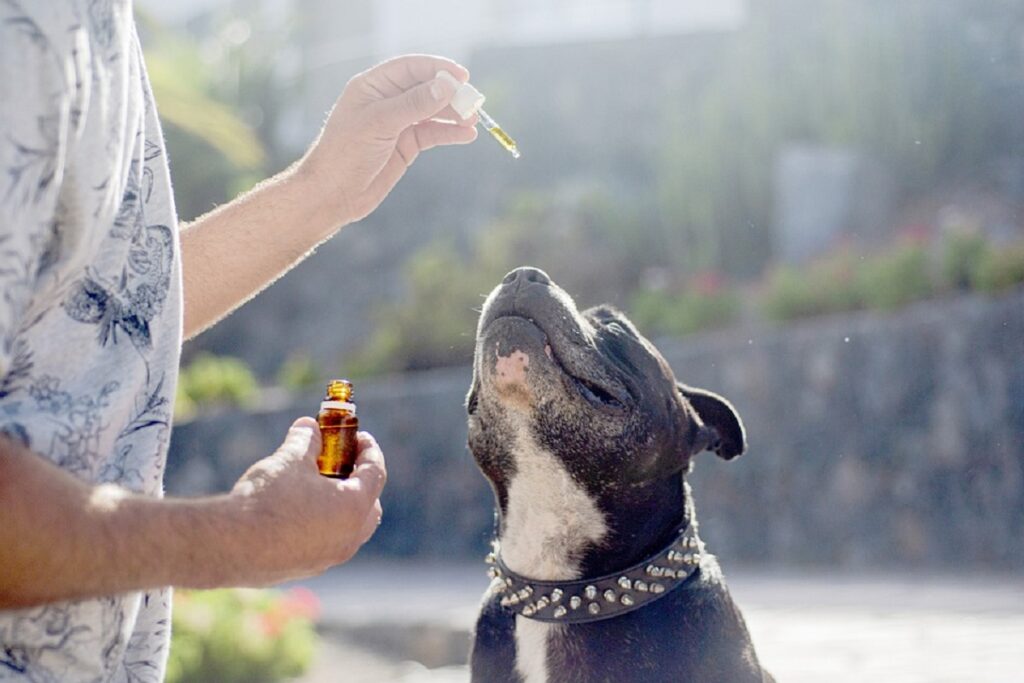 Your dog is your best friend – so they deserve the best! Don't rush into getting a CBD oil; instead, take it slow and do your research to find an oil that's natural, high-quality, third-party lab tested, and works well for your pup.
There is a range of oils with different ingredients to consider too. For example, some are infused with MCT oil for dogs, helping to keep their skin and coat healthy.
One option you should consider is Honest Paws Well oil. It's a full-spectrum oil that's effective for a range of issues. It gives your pooch immune and cognitive support, making it ideal for ill or old dogs to keep their immune system healthy. It's the best CBD oil for dogs with cancer and dog seizures.
Made from a well-known and trusted brand, it even has another two versions of CBD oil, each specializing in either mobility or anxiety. All oils are made in the USA from organic hemp and are third-party lab tested for safety and quality. Although there are many CBD oils to choose from, this is certainly a good one to start your search.
FAQ's
As safe and effective as CBD oil is, many pet owners are still cautious about using it for the first time. Whether you're wondering when to give your dog CBD or if there are any risks, these are a couple of the most asked questions.
When Should I Give CBD to My Dog?
When using CBD oil for chronic conditions, it's best to give your dog CBD regularly and routinely. Many dog owners have found success administering CBD oil once in the morning and again later in the evening. Ideally, this should be just before they eat since taking CBD oil on an empty stomach helps the effects appear sooner for more immediate relief.
If you're using CBD oil to calm your dog's anxiety or when your dog become hyper, the timing is a little different. Since it takes time for CBD oil to enter your pup's system, you should aim to give it to them at least an hour before a stressful situation that triggers them.
Is There Any Risk of Using CBD Oil?
There's usually more than just CBD in CBD oil; in fact, that's just one of over eighty different cannabinoids, chemical compounds found in hemp. Most of these are safe and work similarly to NSAIDs, like ibuprofen.
However, you should avoid high levels of THC. This is the psychoactive compound that makes you high and can be toxic to dogs. Fortunately, any THC levels in full-spectrum oils from hemp are negligible and still safe.
On the whole, cannabinoids come with more benefits than harm, although few extensive studies have been done to show the long-term effects. There are always some risks though, and you should keep an eye out for any potential serious side effects.
Some pet parents report their dogs becoming sleepy and sluggish after receiving large doses of CBD, although this has no lasting damage. Some others have experienced dry mouth, increased thirst, and lowered blood pressure.
Although some have shown signs of vomiting, this is a more unusual side effect. One study showed an increased liver value of alkaline phosphatase, although we don't know if this causes any long-term damage to the liver.
On the whole, when dogs suffer from anxiety or pain from arthritis or cancer, then the benefits from CBD product far outweighs any of the potential side effects and risks.
Final Thoughts
CBD oil is a safe and effective treatment for your dog. Many dog owners have started using it, but you need to know how to give CBD oil to dogs for them to experience its full benefits.
Some may just use a topical balm, but for higher doses, there are numerous options. It's simplest to use a dropper, but you can instead mix it in with dog food, be it dog's hard kibble meals, a CBD treat, or specially prepared snacks. By administering CBD oil to your dog correctly, your pup will hopefully soon be back to its old self – happier, healthier, and more active.