Disclaimer: The information provided in our articles is for educational purposes only and should not be considered a substitute for professional veterinary advice. It is essential to consult with a veterinarian before starting any CBD products for your dog's health and well-being.
Marijuana has long been used by humans as herbal medicine and for recreational purposes and has even shown the potential to be a valuable therapeutic drug.
But what works for humans does not necessarily hold true for our dogs. In the US, for example, many states have legalized medical and recreational marijuana.
As a consequence, with increased legal access to marijuana for people and cannabis use, veterinarians are seeing an unfortunate spike in the number of cases of accidental ingestion or accidental exposure to marijuana in dogs
A fact backed up by the Pet Poison Helpline, which reported that in the past several years, they had experienced a staggering 448% increase in marijuana ingestion cases in dogs. Simply put, any part of the cannabis plant or even inhaling small amounts of secondhand smoke can affect dogs.
As responsible pet owners, the onus falls on educating ourselves on the matter and making informed health choices for our pets.
Cannabis vs Marijuana vs CBD
The terminology surrounding marijuana, cannabis, and CBD can be confusing at the best of times.
And even though all the products are derived from the same source, the plant species Cannabis Sativa. It's the 480 unique compounds in the plant called cannabinoids that differentiate them.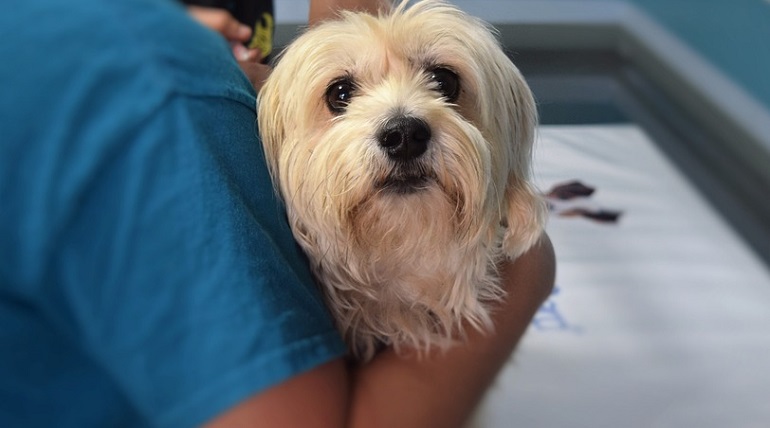 The two most common cannabinoids, which people often refer to, are THC (delta-9-tetrahydrocannabinol), the psychoactive component of the plant which gives you a "high."
The more THC a product has, the greater its effects on your nervous system.
While CBD is the nonpsychoactive component found in products such as CBD oil and hemp. Meaning there is no "high," as the levels of THC in these products are less than 0.3%
The levels of THC found in CBD oil products are less than 0.3%.
So, here's a brief look at each term and what it entails.
Cannabis Plant
End products such as hashish and hashish oil are harvested from the plant, which involves a complex method to extract the THC.
As a result, THC levels in cannabis are much stronger than in marijuana ranging from 20 to 60 percent in strength.
Marijuana
Producing marijuana from the plant involves a less complex process in that the flowering tops are left to dry and then ready for medicinal or recreational use.
The levels of THC found in pot can vary anywhere between 25% to 30%.
CBD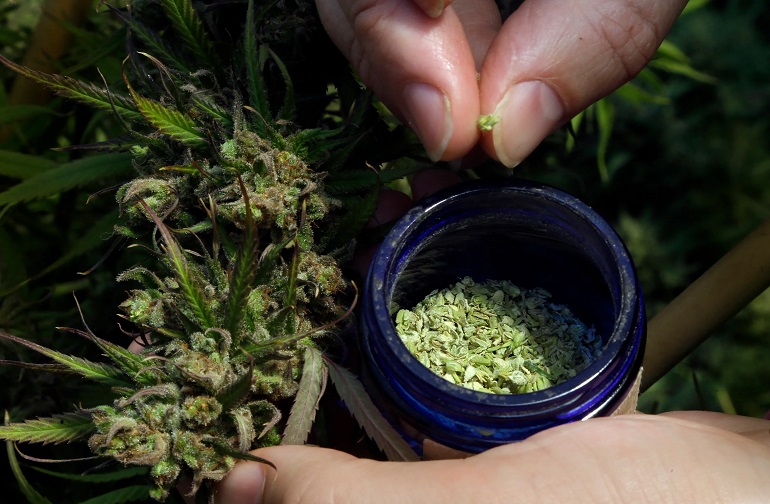 Best known for its use in CBD oil products, CBD is obtained from both hemp and marijuana plants, which are both of the same plant species. In addition, it can also be synthetically manufactured in a laboratory.
How Does Marijuana Affect Dogs?
Dogs are inquisitive creatures, and there are various ways they can be exposed to the psychoactive ingredient in pot. Be it the renowned counter surfers who can get into your eating edibles or baked goods or just by inhaling secondhand smoke.
In fact, dogs even have been known to risk taking a nibble or two of human poop, which can carry traces of pot.
And just like humans, dogs have cannabinoid receptors in their bodies. But they have a higher number of these receptors in the brain compared to us, which means they are more susceptible to the toxic effects of THC when exposed to marijuana.
Although rarely fatal in small doses, a dog's "high" from marijuana is more intense than what humans experience and causes a state of distress for dogs as the psychoactive element of marijuana — is poisonous to them.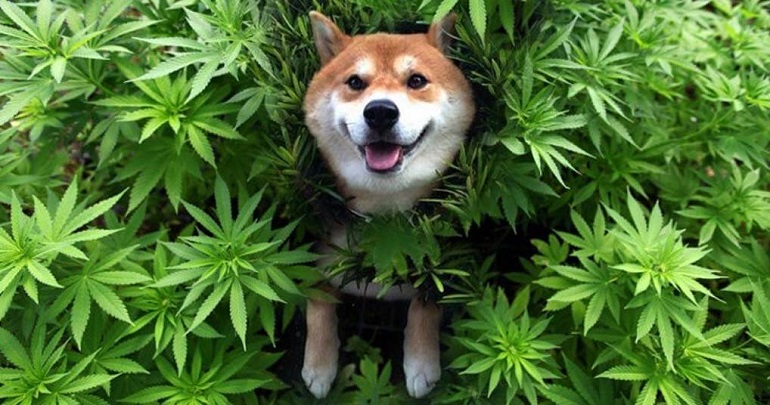 Symptoms of Cannabis Intoxication
Many of the clinical signs are neurological in a dog's body, with the following signs:
Lethargy or sedation
Glassed-over eyes or dilated pupils
Dazed like expression
Difficulty walking, such as stumbling
Nausea and vomiting
Low or high heart rate
Low blood pressure
Vocalization, such as crying or whining
Agitation
Trouble regulating body temperature, causing it to drop or rise
Incontinence or dribbling urine
Seizures and tremors and potentially even coma.
How Toxic Is Marijuana?
Size matters when it comes to toxicity in dogs. For example, a small dog who manages to ingest a lot of weed can experience potential life-threatening symptoms. And the same applies to dogs with underlying health issues where a weed overdose is likely to have more severe consequences.
In fact, a recent study showed that if dogs ingest at least 3g/kg, toxicity can occur. But a lack of standardization and quality control means it's almost impossible to assess how strong or concentrated the weed product was that the dog consumed.
Learn more about can puppies have CBD.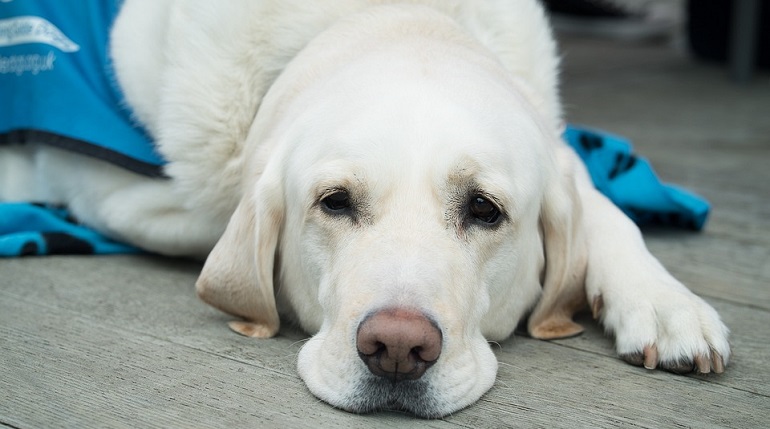 How Do Vets Treat Cannabis Toxicity?
First off, there is no antidote for marijuana intoxication, but your vet will provide supportive care to ensure your dog is comfortable and prevent the situation from escalating into something far more serious.
If your dog ingested marijuana less than 30 minutes before the consultation, activated charcoal will be given. As activated charcoal binds toxins to your dog's GI tract and prevents further absorption into their body.
But suppose absorption has already taken place, and your dog is showing signs of cannabis intoxication. In that case, veterinarian staff will provide supportive care to help your dog through the clinical symptoms, such as sensory stimulation.
Staff will also monitor your dog's heart rate and temperature and, if necessary, give anti-vomiting medication to help limit fluid loss.
Severe cases, however, will require prolonged hospitalization for your dog, and intravenous lipid emulsion (ILE) therapy will be prescribed.
Above all, be upfront and honest with the vet about what type of drug (marijuana, edibles with THC butter, or hashish) your dog has consumed. A veterinarian is more interested in your dog's well-being and health than how they managed to sneak into your secret stash of marijuana.
Current Veterinary Medicine Research into Medical Marijuana for Dogs
Sadly, there are still only very few published studies examining the clinical use of medical marijuana in veterinary science. In fact, most papers that have been published have focused on marijuana poisoning and treatment rather than the therapeutic benefits for dogs.
However, this is in the process of changing as some interesting medical studies are currently underway in the US, which involve the use of cannabinoids for pain treatment, inflammation, oncology, and dermatological conditions in animals.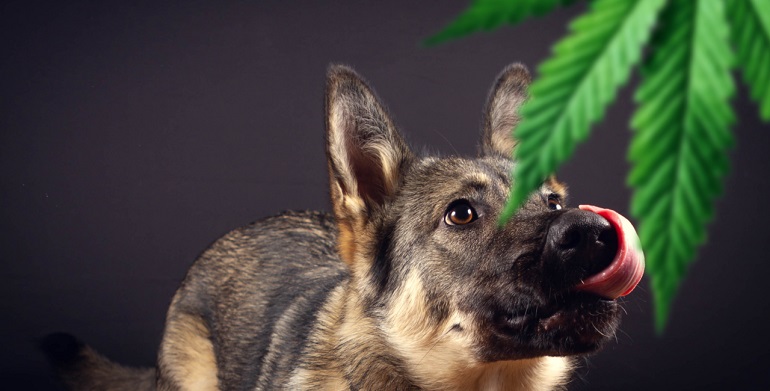 Additionally, Colorado State University's College of Veterinary Medicine and Biomedical Sciences is also undertaking research in this area focusing on medical marijuana use for dog arthritis and epileptic seizures.
And it is this lack of evidence-based research and the conflicting legislation surrounding the use of medical marijuana for dogs that makes it challenging for your veterinarian to provide recommendations in this area.
So, while medical marijuana products may be effective in different quantities for dogs compared to that of human products – veterinary science isn't so sure.
What Does The Law Say About Marijuana For Dogs?
With so many CBD products on the market, it can all become slightly overwhelming as to where the law stands on governing the use of medical marijuana or CBD use as a treatment option for your pet.
As such, the Food and Drug Administration (FDA) does not currently condone the use of medical marijuana in dogs, while the Drug Enforcement Agency (DEA) states that marijuana is a drug with no medical use but a high potential for abuse.
It is for this reason that your vet may not want to speak to you about CBD treatment options for your pet, as there are no state or federal laws that specifically allow for this.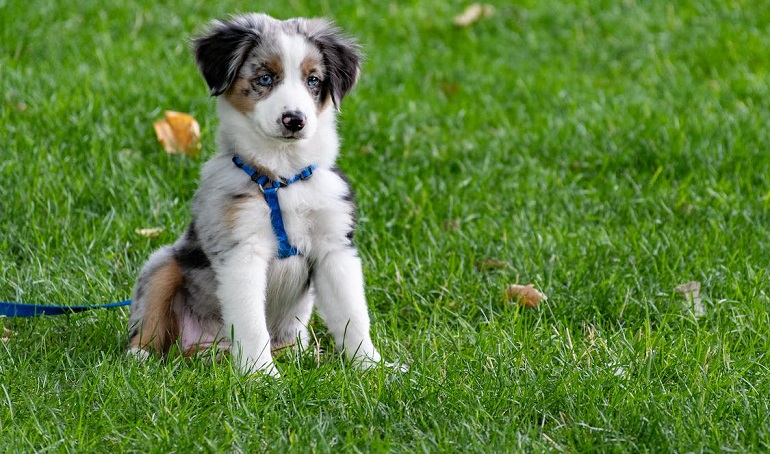 Not all CBD products are created equal.
The onus, unfortunately, falls on you as the consumer to ensure that the product you purchase for your dog carries certification that it is within the recommended THC dosage and is contaminate-free.
Unfortunately, only a handful of studies have been carried out in this area that shows promise for the treatment of pain and arthritis in dogs by using CBD products
Going Forward
The debate over giving your pet CBD is far from over. And while CBD products are showing promising results for pet health problems such as anxiety, pain relief, seizures, and inflammatory problems, the CBD industry still remains largely unregulated.
And until such a time that the safety and efficacy of available products can be confirmed, it is up to us as responsible dog owners to discuss the use of CBD in your pet with your vet before starting treatment.