Disclaimer: The information provided in our articles is for educational purposes only and should not be considered a substitute for professional veterinary advice. It is essential to consult with a veterinarian before starting any CBD products for your dog's health and well-being.
I hate giving my dog medicine – and I'm sure I'm not alone! Firstly, I worry how it might affect her; but since she's a picky eater, the other problem is getting her to eat it in the first place. Even when it's hidden in food, she always finds a way to avoid it or spit it out.
If your dog's a fussy eater like mine and needs CBD, it can be a nightmare to make them take their daily dose without turning their nose up at it. Luckily, CBD dog treats are a great way for picky eaters to manage pain and anxiety.
CBD dog treats are infused with hemp-derived CBD and are just as effective as CBD oil. But what makes them better than CBD oil is that they taste better and are a fun alternative to giving your pup the CBD dose they need for a happier life. But which are the best CBD dog treats?
Best Overall CBD Dog Treats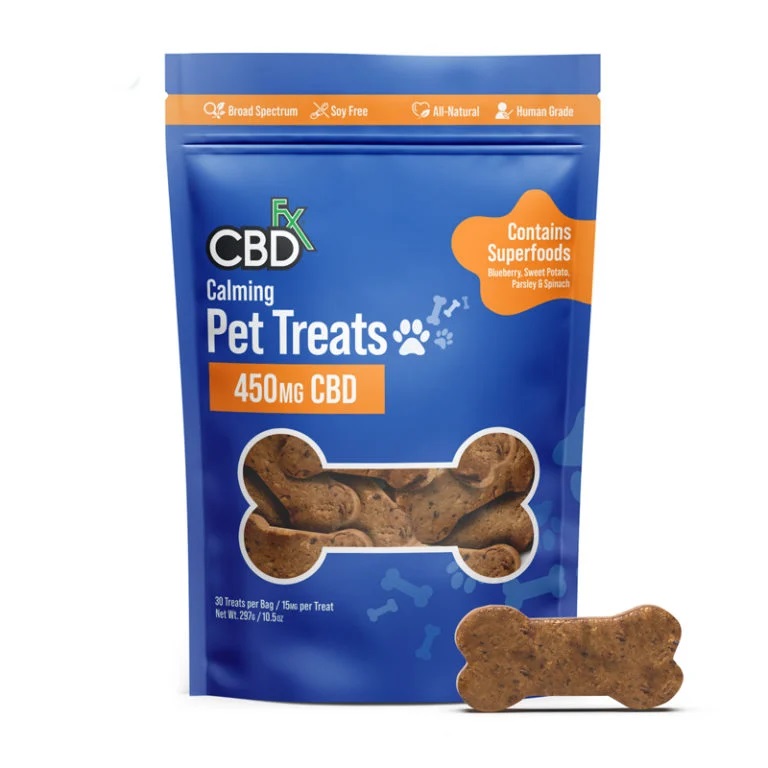 CBDfx CBD Dog Treats
ACTIVE INGREDIENT: CBD, Reishi Mushroom Powder, Shiitake Mushroom Powder, etc.

Flavor: natural sweet-potato
Outstanding Pain & Mobility Support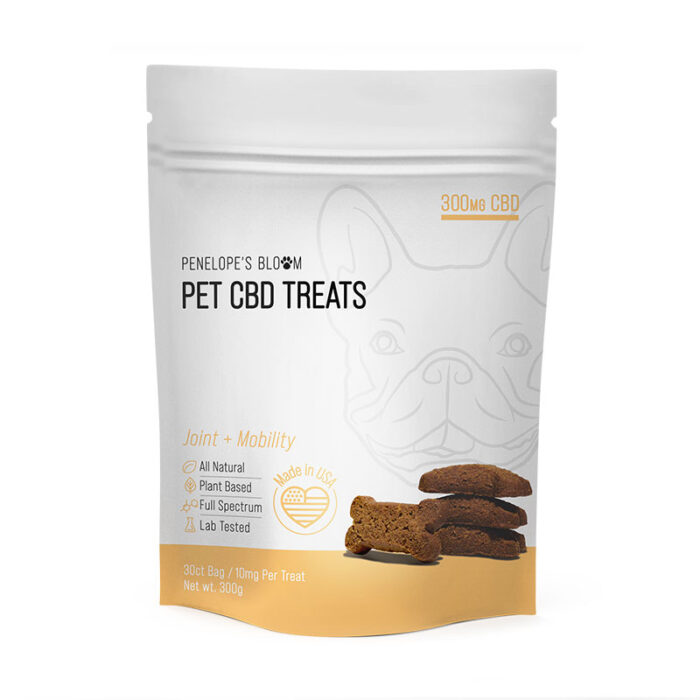 Penelope's Bloom CBD Dog Treats
ACTIVE INGREDIENT: Glucosamine 300mg, Chondroitin Sulfate 100mg, MSM 300MG, Hyaluronic Acid 1mg, etc.

Flavor: Sweet Potato
Top Choice for Soft Chew CBD Treats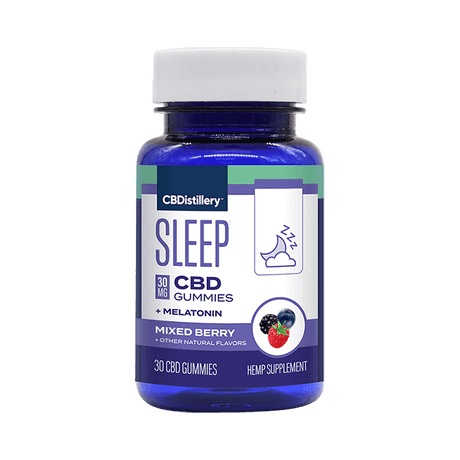 CBDistillery Sleep Gummies
ACTIVE INGREDIENT: Broad Spectrum Hemp Extract (Aerial Parts) 38mg (CBD 30mg), Melatonin 2mg

Flavor: wild berry
Best for Acute Pain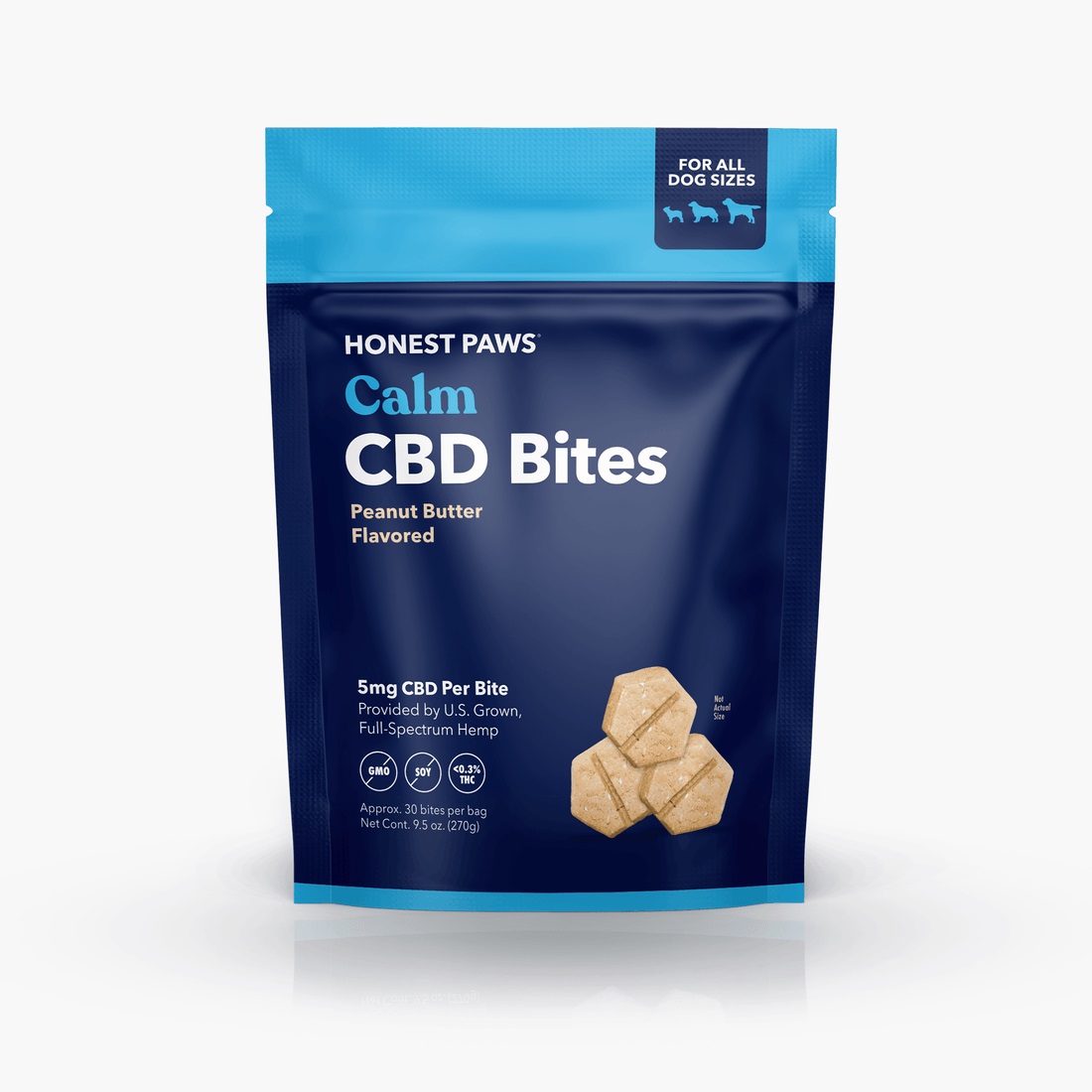 Honest Paws CBD Relief Bites
ACTIVE INGREDIENT: Organic Full-Spectrum Hemp Oil 40m

Flavor: Peanut Butter
CBD Dog Treats for Anxiety with Vegan Options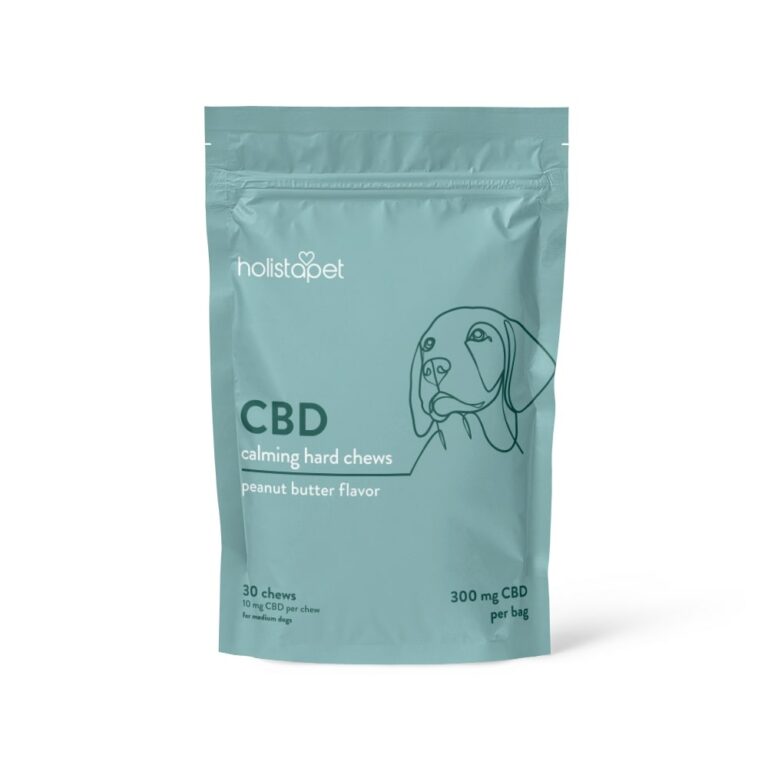 CBD Dog Treats for Anxiety – Holistapet
ACTIVE INGREDIENT: L-Theanine, Chamomile, Hemp Seed Powder, CBD Oil

Flavor: Yummy Green Apple & Peanut Butter
Best CBD Dog Treats
CBD dog treats are a fun way of administering treatment, but with so many to choose from, where do you start? Here are some of the best CBD dog treats out there.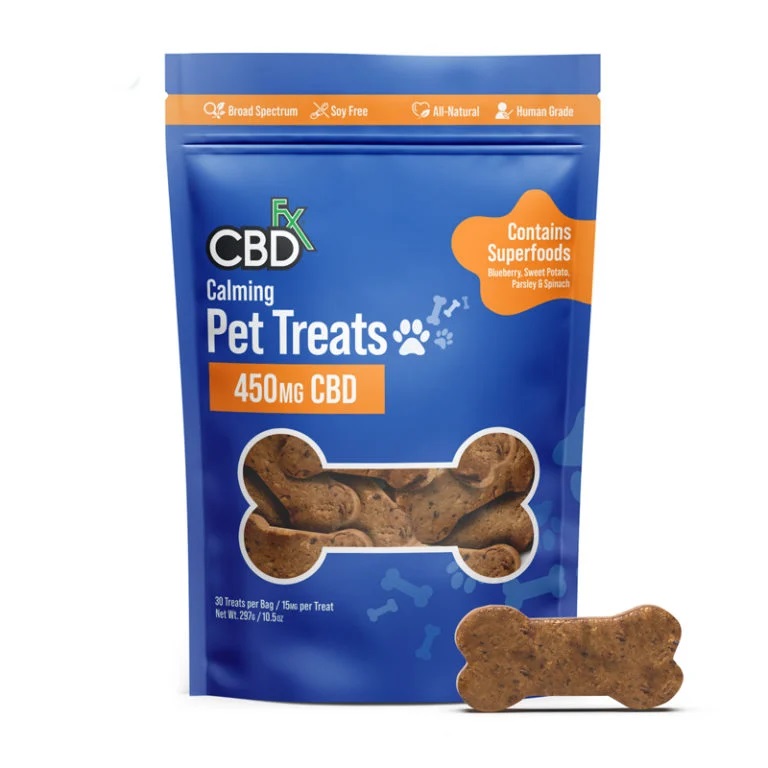 CBDfx has become such a popular CBD brand that they've extended their line to include dogs as well. Each CBD dog treat is specifically formulated to keep dogs calm, making use of more than just CBD.
CBDfx's cannabidiol is extracted with CO2 from organic American-grown hemp and lab tested, making sure it's safe and reliable, as well as soy-free and vegan.
As a broad-spectrum formula, it doesn't have the full range of cannabinoids but is guaranteed to be THC-free. It also includes extracts that boost calming effects, such as chamomile, passion flower, valerian root, and adaptogenic mushrooms. Additionally, L-tryptophan and GABA give a boost to your pup's mood for a more holistic effect.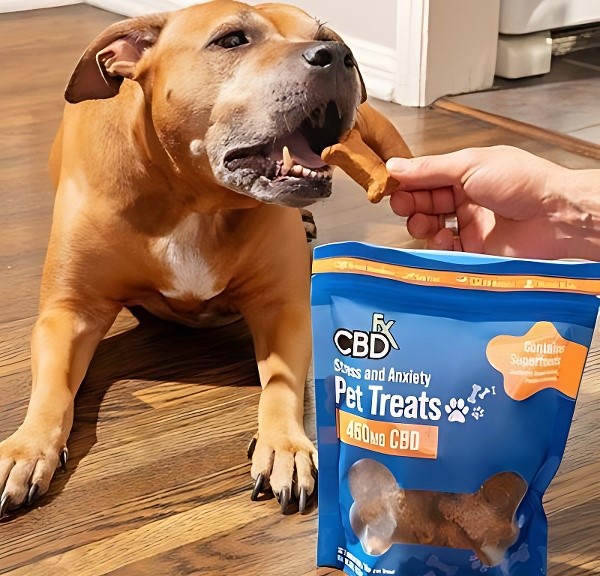 Although there aren't many reviews yet, the ones they do have are overwhelmingly positive from satisfied dog owners. It won't be long until many pet parents tout this as one of the best CBD dog treats out there.
Specs
CBD type: Broad spectrum
Strength: 450 mg
Ingredients: L-Tryptophan, GABA (gamma-aminobutyric acid), reishi, shiitake, maitake, lion's mane mushrooms, chamomile, and passion flower
Size: 30 treats per bag
Flavor: Natural sweet-potato
Pros
THC-free
Variety of ingredients for wide-ranging effect
Lab tested
Cons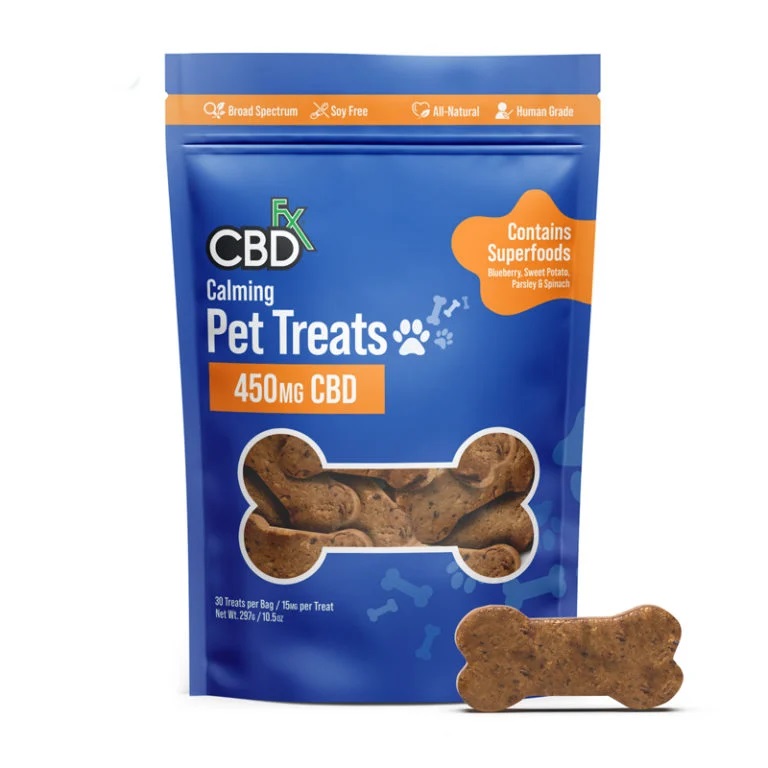 CBDfx CBD Dog Treats
The price of " CBDfx CBD Dog Treats " varies, so check the latest price at
Penelope's Bloom began when Penelope the French Bulldog required alternative medicine to ease her pain after spinal surgery. Since then, they have become specialists in pet CBD products.
Because of their back story, it's no surprise these are some of the best CBD dog treats to help dogs with joint health and mobility issues; by lubricating joints and reducing inflammation to soothe joint pain, these treats are an effective way to help them play again.
Each of these vegan dog treats is mixed with full-spectrum CBD extracted from non-GMO hemp before being oven-baked in small batches to ensure maximum care.
These high-quality CBD dog treats are all-natural, free of artificial preservatives, with only a few added organic ingredients to boost CBD's effects, like turmeric root and chondroitin, as well as antioxidants like blueberries and spinach and sweet potato for a flavor dogs go crazy for.
Penelope's Bloom boasts hundreds of wonderful reviews from pet owners overjoyed to see their dogs' joint pain managed and back to their old playful selves again.
Specs
CBD type: Full spectrum
Strength: 300 mg
Ingredients: Turmeric, glucosamine, chondroitin, blueberries, spinach, hyaluronic acid, and vitamin C
Size: 30 treats per bag
Flavor: Sweet Potato
Pros
Ideal for soothing chronic pain
Includes antioxidants and other ingredients for more effect
Oven-baked in small quantities
Tasty flavor
Cons
Intended for small to medium dogs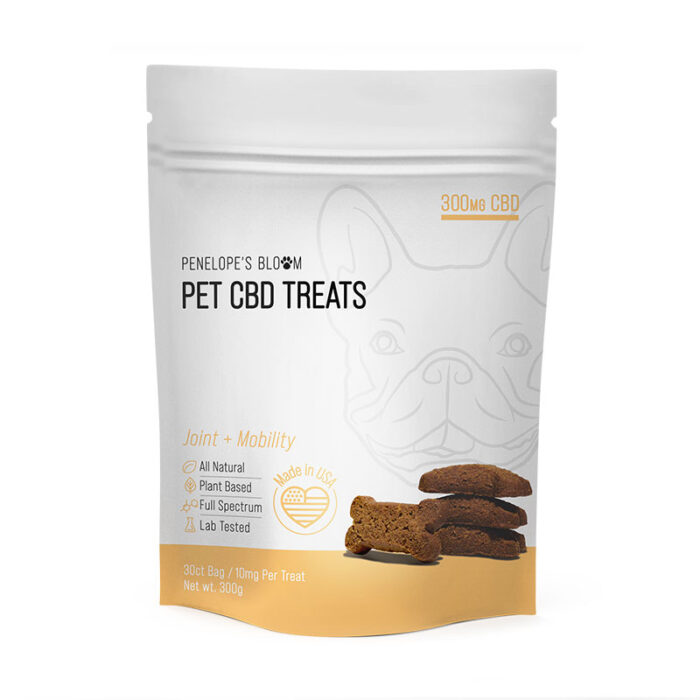 Penelope's Bloom CBD Dog Treats
The price of " Penelope's Bloom CBD Dog Treats" varies, so check the latest price at
Some pups gobble their delicious treats up, while others prefer to take their time. For those dogs who prefer to savor flavors, CBD soft chews might be perfect – and you can't go wrong with gummies from CBDistillery!
CBDistillery is eager to provide alternate pathways to healthy lives for everyone – even your dog! Although they've developed a brilliant reputation for high-quality CBD products at a good price, it's worth getting a subscription to make this option more affordable.
CBDistillery's gummies include a formula specially designed to help dogs who struggle to fall asleep due to pain, discomfort, or anxiety. Expert botanists carefully combine 30mg of broad-spectrum CBD with 5mg of melatonin as well as omega and terpenes to create calming soft chews that help dogs fall asleep naturally and wake up well-rested and full of zest.
This isn't just hearsay; not only have these gummies been third-party lab tested, but CBDistillery did a customer survey in 2019 where they discovered that 89% of customers experienced improved sleep.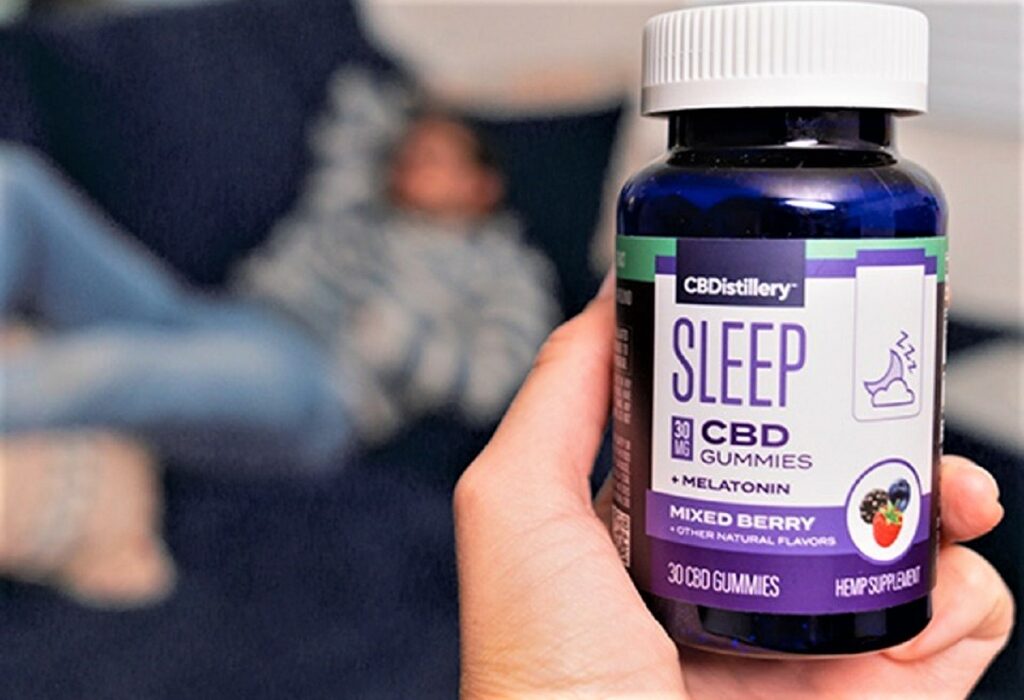 Although broad-spectrum formulas come with fewer cannabinoids, there's no THC, and it's full of flavor, with organic ingredients and a wild berry taste that dogs love. Hundreds of customers have left happy reviews, claiming to have noticed drastically improved sleep.
Specs
CBD type: Broad spectrum
Strength: 30 mg
Ingredients: Omega oils, plant terpenes, and melatonin
Size: 30 gummies per bottle
Flavor: Wildberry
Pros
Can chew for a long time
THC-free
Includes melatonin for improved sleep
Cons
Not a specialist in CBD products for pets
Expensive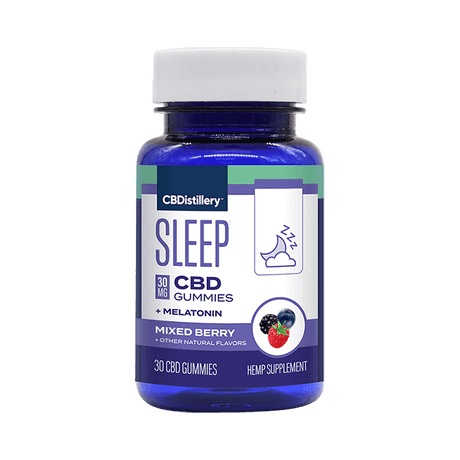 CBDistillery Sleep Gummies
The price of " CBDistillery Sleep Gummies " varies, so check the latest price at
When adorable pooch Baby Rose faced a lifetime of side effects from medication that wasn't even guaranteed to work, her owner turned to CBD. After it miraculously cured Baby Rose, she started Honest Paws and specialized in natural solutions for your dog's health.
Although treats usually excite dogs, Honest Paws' Calm Bites calm your dog down. In about thirty minutes, they'll be much more settled and willing to listen to you, with improved cognitive function and mental clarity, making them more receptive to behavioral training – especially when there are tasty dog treats from Honest Paws to use as a reward!
It's easy to give a reliable dosage since Honest Paws bake each dog treat with 5mg of full-spectrum CBD. Each bite is crammed with a blend of premium natural ingredients to help your dog's digestive system too, including oats, eggs, flour, organic coconut oil, and peanut butter for a flavor your pup won't be able to resist.
There are no additives, artificial flavors, or ingredients to worry about, and it's been third-party tested for efficacy. Hundreds of customers have left reviews, delighted that their furry friends are calmer and less anxious than before.
Specs
CBD type: Full-spectrum hemp
Strength: 5 mg
Ingredients: Barley flour, organic coconut oil, organic oats, organic peanut butter, and whole-dried eggs
Size: 30 bites per bag
Flavor: Peanut butter
Pros
Improves cognitive function
Full-spectrum CBD
Lab tested
Cons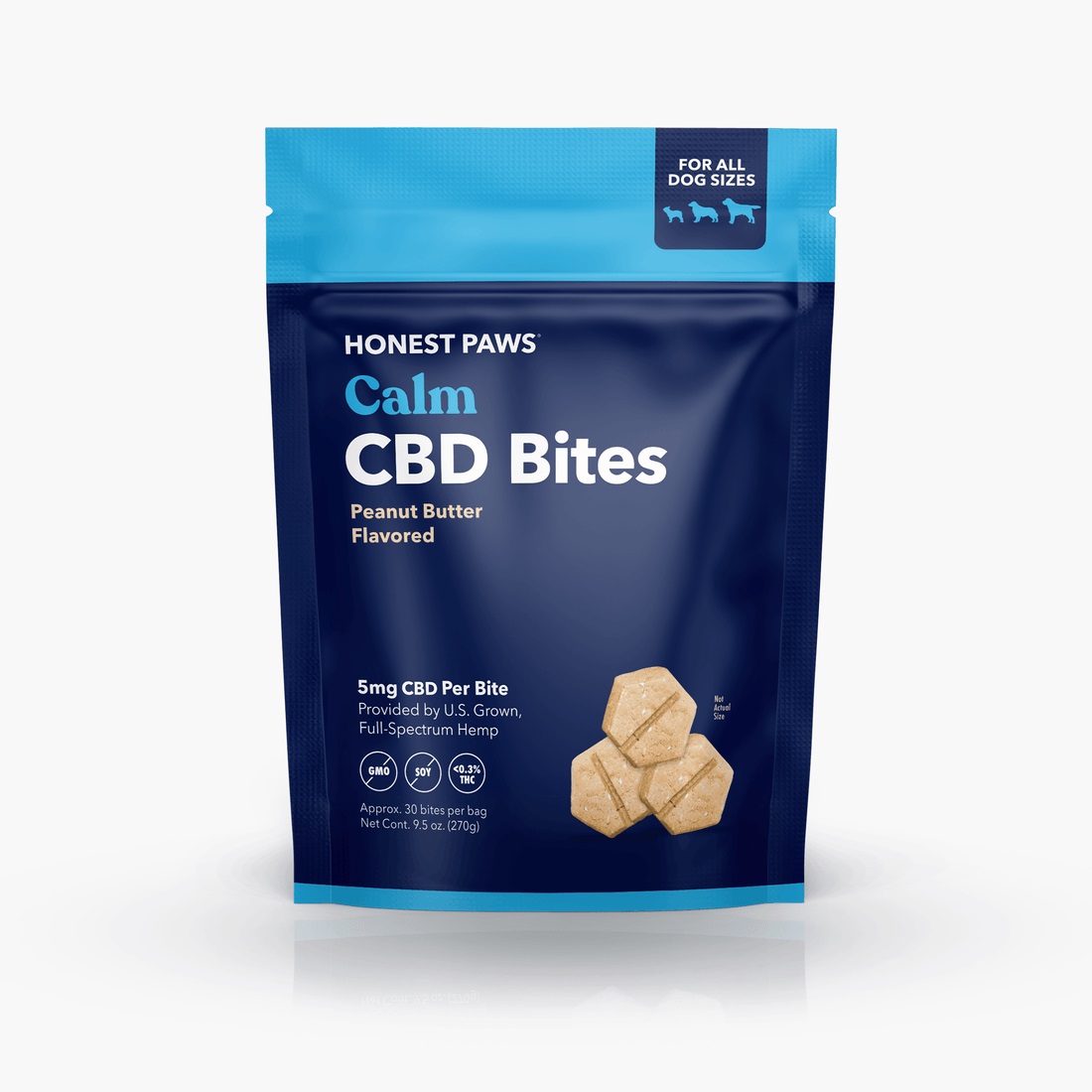 Honest Paws CBD Relief Bites
The price of " Honest Paws CBD Relief Bites" varies, so check the latest price at
HolistaPet knows every dog owner wants nothing more than to give their pets long, healthy lives – and it's much easier with CBD products!
With most CBD dog treats, there's not much in the way of choice when looking for a specific concentration. But HolistaPet offers three concentrations for their CBD pet treats: 150mg, 300mg, or 600mg.
Each CBD treat is infused with a special formula that calms dogs prone to stress and anxiety. They're blended with chamomile and L-theanine to increase alpha wave generation and reduce separation anxiety more effectively, making them perfect if you have an anxious pet.
HolistaPet's CBD treats are made with all-natural ingredients and come with green apple and peanut butter flavor options to excite your pup and make them eager for each dose of CBD. They're a very popular option, but HolistaPet can run out of stock, so grab them while they're available!
Specs
CBD type: Broad spectrum
Strength: 300 mg
Ingredients: L-Theanine, chamomile, and hemp seed powder
Size: 30 treats per bag
Flavor: Green apple & peanut butter
Pros
Specially formulated to lower anxiety
Offers three CBD concentrations
Delicious flavors
Cons
Run out of stock occasionally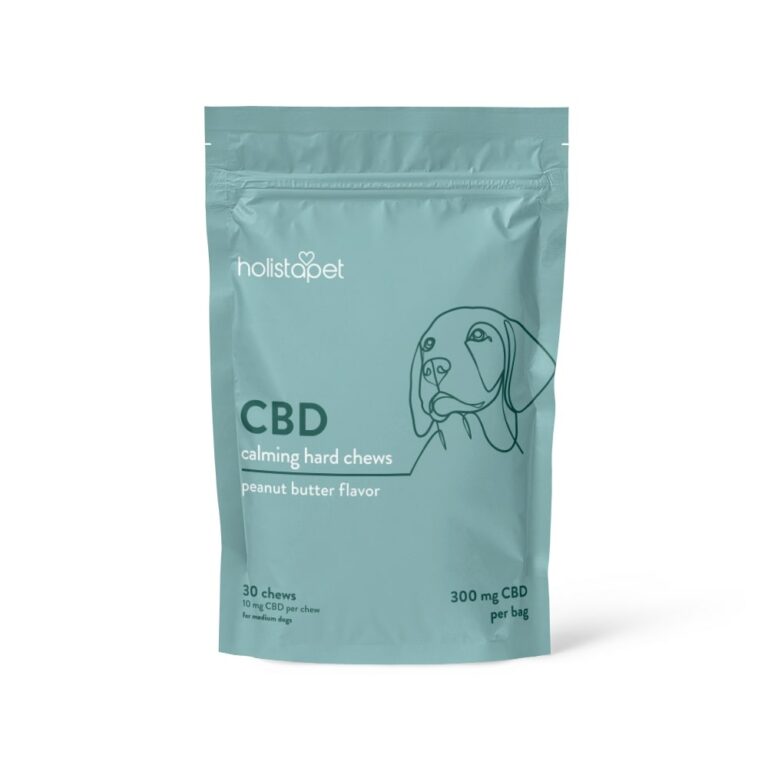 CBD Dog Treats for Anxiety – Holistapet
The price of " CBD Dog Treats for Anxiety " varies, so check the latest price at
Criteria for Selecting Best CBD Dog Treats
There are several things to look out for when picking the best CBD dog treats. It can get complicated if you're not careful, so keep it simple and look out for a few select things.
Find a formula with fewer, high-quality ingredients made by a trusted brand that's transparent about how their hemp is grown, and CBD is extracted. Products should also be lab-tested for safety and potency and have plenty of reviews from happy customers. If your dog's a fussy eater, it might be worth selecting one with a tasty flavor they would enjoy too.
Why We Selected These CBD Treats for Dogs
With so many brands and treats available, it can be difficult to decide on one that's best for your pup. Fortunately, our handy guide and recommendations can help you narrow down your options. Here's what we looked at to ensure are suggestions are the best out there.
Ingredients
The best CBD dog treats should have the best ingredients – and it doesn't always have to be just CBD! Many of the treats we recommend include other natural ingredients like organic chamomile, L-theanine, turmeric, and more to boost CBD benefits. Many even add something like peanut butter or blueberry to improve the flavor.
Like us, you should make sure all ingredients are safe and organic without any artificial flavors. Each ingredient should either benefit your pup's health or improve the flavor.
Content of CBD
CBD is the most important part of these treats, so make sure to pick the formula you prefer. Full-spectrum CBD includes every cannabinoid your dog could benefit from, whereas broad-spectrum has fewer cannabinoids but is completely THC-free. Our recommended CBD dog treats include both full-spectrum and broad-spectrum options.
Onset Time
How long it takes for potential benefits to occur depends on the ingredients, CBD concentration, and how your dog reacts. With treats, it can vary between a few minutes or up to an hour, but we tried to select treats that work as fast as possible.
Don't give up if you don't spot benefits immediately; you might need to continue their CBD regimen for a few days or weeks to start seeing effects.
Dosage of CBD
Select a concentration that's best for the breed and size of your dog, and keep a note of how many treats you give them, making sure to adhere to the recommendations. Our suggested CBD products all make it easy to measure out the right dosage to give your pup.
Each brand will have its own suggestion, but a general rule of thumb is to administer 1mg to 5mg for every 10 lbs of body weight. There are many ways to give the right dose, but it's easy to get it wrong, so make sure you know how to give CBD to dogs.
Reviews
If a brand's CBD dog treats work, there will be hundreds of reviews singing its praises. That's why we picked the treats with lots of five-star reviews. If you see one with very few reviews or even negative reviews, it might be best to be cautious. After all, you don't want to waste your money or risk your dog's health!
Things to Consider Before Buying Dog CBD Treats
Don't jump into buying CBD treats. Since pet CBD is derived from the hemp plant, there's no risk of THC toxicity, but dog owners should still do their research to ensure CBD dog treats are right for their pups.
Dog's Medical Condition
Don't just give CBD to your furry friend for the sake of it; there should always be a reason. Since different formulas help different problems, think about the condition it should treat before deciding which CBD dog treat to get.
For example, if your dog has arthritis, select a formula that specializes in relieving joint pain. But if your dog gets scared of fireworks and the 4th of July is coming up, consider one that alleviates anxiety.
Texture (Hard or Soft Chews)
High-quality CBD oil is the most popular option, but if you go for treats, you've got another choice to make: hard crunchy treats or soft chews.
Dogs enjoy both, but since they're all different, think about which yours would prefer. Crunchy treats are great for quick doses and a convenient way to incorporate into training, whereas soft chews are ideal for older dogs with sensitive gums and teeth.
Portion Size
Since dog CBD treats include hemp-derived CBD, there's no way they'll ingest enough THC to suffer toxicity. Still, you should measure portion sizes carefully to avoid any unnecessary potential side effects from CBD over-dosage.
How much you administer depends on your dog's weight, breed, and size; larger dogs need more CBD, whereas small dogs need less. Check the CBD dosage recommendations on each treat bag and keep a note of how many treats you give your dog each day.
Think about the best CBD concentration too. A weaker one means a dog might need more treats for the right dosage, whereas a stronger concentration means you'll need fewer treats, and the supply will last longer.
Lab Tested
Brands can say whatever they want, but it doesn't necessarily mean it's true. You should only select your dog's treats from trusted and reputable brands that back up their claims with independent third-party lab testing to prove they're safe, reliable, and effective.
Benefits of Giving CBD Dog Treats
When cannabidiol is extracted from the hemp plant, it comes with a range of active chemical compounds called cannabinoids. These cannabinoids interact with receptors in your dog's endocannabinoid system to maintain homeostasis in the body, alleviating stress and even pain in dogs suffering from cancer or canine arthritis.
While there are promising results that indicate how CBD can control seizures and epilepsy, as well as address arrhythmia for a more regular heartbeat, the main benefit of CBD dog treats is to help reduce stress and pain in dogs.
Reduces Stress and Anxiety
Although we don't know precisely how CBD helps relieve stress and anxiety, we believe CBD has an anxiolytic effect in dogs by increasing serotonin in their brain. This has a therapeutic effect and calms their mind and body to help with all types of stress and anxiety, even when alone or fireworks are booming in the background.
So, if you have a particularly anxious pet that doesn't react well to stressors, such as fireworks, thunderstorms, or other pups in the dog park, CBD-infused products can help your anxious pet relax when faced with these stressors. Additionally, if your dog is so attached to you that they have separation anxiety as soon as they lose sight of you, CBD can help relieve some of their panic.
Pain Management with Arthritis and Cancer
CBD's ability to alleviate pain is one of its most-studied benefits. Some claim it to be just as effective as medication like NSAIDs and opioids, only without the side effects. However, it's especially potent when combined with other treatments, such as glucosamine and other supplements prescribed for arthritis.
By interacting with endocannabinoid receptors, CBD reduces inflammation to reduce pain and helps dogs relax. It also aids joint health, reducing swelling and lubricating joints to help pups with canine arthritis or hip dysplasia. A 2018 study found that CBD increased comfort and activity in dogs with arthritis, while another study found that four weeks of daily CBD supplementation resulted in significant improvements in symptoms of canine arthritis.
Although CBD's not a cure for cancer, it can still benefit dogs in this area too, by reducing inflammation, reviving their appetite, and even relieving them of any pain, anxiety, or nausea. There is even a strong link between CBD and reduced tumor progression. While you shouldn't pin all your hopes on CBD to stop cancer, it might slow the tumor while giving your dog a better quality of life throughout their treatment.
Side Effects of CBD
Nothing's perfect, and as promising as CBD is, it has some unpleasant side effects alongside the benefits. Fortunately, however, the side effects aren't too dangerous, are usually temporary, and only really appear when you give your dog too high a dosage.
The most common side effect is for your dog to be sleepy and lethargic. This may be the intended result if your dog is particularly hyperactive, but it will be much more than you imagine. They might even have a dry mouth since CBD reduces salvia production. While this isn't a worry initially, they shouldn't have a dry mouth for too long; otherwise, bacteria will begin to thrive and cause dental decay.
Other symptoms might include lowered blood pressure or gastric issues, such as vomiting and diarrhea. They might end up having an accident and going to the bathroom in the house because their muscles relax so much that they can't hold it in – just make sure not to be mad at them because it's not their fault!
Some of the more serious symptoms might be exacerbated tremors if they already have any, or changes in liver function. If any symptoms worry you or last longer than 24 hours, it's worth consulting with a veterinarian.
How Often CBD Treats Should Be Given to Dogs
Many dog parents give CBD treats every day, while some just have them when they encounter specific stressors, such as fireworks or thunderstorms.
How often you give CBD treats throughout the day depends on your dog's size and the strength of each treat. So long as you don't go over the recommended dose, everything should be fine. If you're at all worried you've given your dog too much CBD, feel free to contact a veterinarian to be on the safe side.
FAQs
It's always worrying to give your dog something new, so here are a few common questions about CBD treats.
Is CBD Safe for Dogs?
Cannabidiol contains cannabinoids that interact with your dog's endocannabinoid system to maintain balance in your dog's body and regulate their nervous and immune systems. As far as we know, CBD is safe for dogs; however, this is still a relatively new treatment, and we can't say for certain if it is safe in the long term.
Nevertheless, if your dog is suffering from anxiety or pain, then the benefits outweigh the potential risks.
Although dog CBD oil is safe, make sure you don't give your dog CBD not formulated for pets. CBD for humans is sometimes extracted from the marijuana plant and contains THC, a psychoactive compound that causes a high and is toxic in dogs. Fortunately, pet CBD oil is extracted from the hemp plant, meaning full-spectrum oils come with only negligible traces of THC.
What Is Broad-Spectrum CBD?
When extracted, cannabidiol contains over a hundred active chemicals called cannabinoids. When formulated into a CBD oil, full-spectrum hemp oil contains all available cannabinoids, as well as very low traces of THC.
For pet owners who would rather be more cautious, broad-spectrum oils might be preferable. While these don't contain all the cannabinoids available, they are guaranteed to be THC-free.
Are There Any Psychoactive Effects Associated with CBD Treats?
No. THC is a naturally occurring compound that causes a high in humans but is toxic for dogs. THC usually comes when extracting CBD from marijuana – that's why pet CBD is derived from hemp, and we advise against giving marijuana to dogs.
Hemp-derived CBD product for pets has almost no THC to worry about. Broad-spectrum CBD has none, while full-spectrum CBD only has negligible amounts and is safe for dogs.
How Long Does the CBD Effect Last in Dogs?
CBD effects usually kick in within the hour and stay in the system and last anywhere between four to twelve hours.
However, it's trickier to predict how long side effects might last since all dogs react differently. Since it can take your pup a while to adjust to the new CBD treatment, don't be shocked to see lethargy and diarrhea for the first week or two. However, no side effects should last longer than a month. If they do, you should check in with a veterinarian.
At What Age Can I Give CBD to My Dog?
Is CBD safe for pups? CBD is usually given to older dogs with physical or mental health problems, but what if you have a young dog or puppy who needs the benefits of CBD?
Although you shouldn't administer CBD to dogs as soon as they're born and still developing, it's safe for puppies from as young as four months old so long as you consult with your veterinarian first. You may also need to break treats into smaller bits for easy administration.
Can I Give Both CBD Oil and CBD Treats to My Dog?
Not only can mixing things up keep things fresh and fun for your dog, but using CBD oil as well ensures your pup doesn't eat too many treats all at once. So long as you do the math and keep track of how much CBD dosage you administer, then it's fine to use a CBD treat alongside CBD oil.
Final Thoughts
CBD for dogs has become hugely popular recently – and for a good reason: it helps canines with various problems live their best lives.
Are CBD dog treats good enough? For some dogs, CBD dog treats work better than CBD oils and are a fun way to administer the treatment. Although there are lots out there, if you follow the suggestions in this guide, you won't have much trouble finding the best CBD dog treats to change your pup's life.