Disclaimer: The information provided in our articles is for educational purposes only and should not be considered a substitute for professional veterinary advice. It is essential to consult with a veterinarian before starting any CBD products for your dog's health and well-being.
When it comes to separation anxiety, I have some experiences and stories to tell. My female Doberman, ironically named Athena, used to have some of the worst separation anxiety I've ever had in a dog. In fact, many of my friends are pet owners, and although some had to deal with anxious dogs, it was nowhere near the same level.
I'm talking shredded toilet paper, the annihilation of furniture, incessant whining, urination, loss of hair, and more. It was bad. Now, I've been a doberman pinscher owner all of my adult life and never experienced such a thing, especially not in dogs that I regularly train, exercise with, and play with. Then I saw a National Library of Medicine Study on the benefit of CBD in highly stressed dogs.
Anxious dogs were not a new concept for me, but I had my hands full with Athena. It took time (a lot of time). I set aside huge chunks of my day to spend with her, especially teaching her new tricks and playtime. All the while, I also used CBD oil for dogs to deal with her incessant levels of separation anxiety and help calm her. I'll be the first to tell you that CBD oil does the trick!
CBD for Dog's Separation Anxiety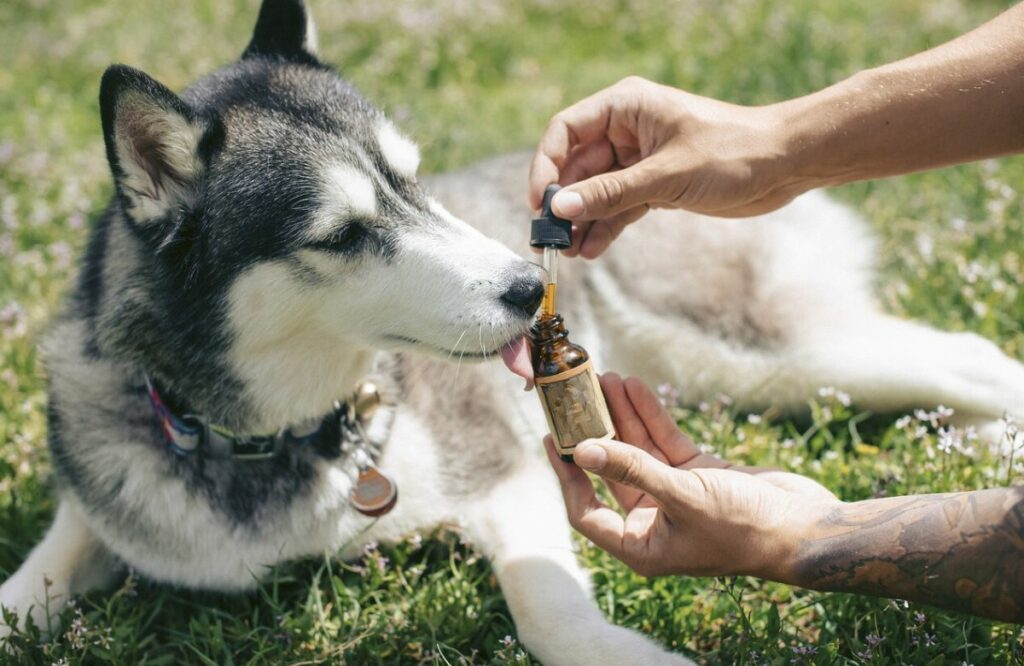 CBD for a dog's separation anxiety has been shown to relieve anxiety symptoms (see the above link), at least to a degree. The thing is, any relief of symptoms is a welcome one. When going through the toughest points of Athena's separation anxiety, it was often exhausting. Fortunately, it's fairly easy for pet owners to spot high levels of dog anxiety and prepare accordingly.
Destructive behaviors such as tail biting and paw licking
Aggression (with or without you present)
Salivating excessively
Extreme shaking and panting
Repetitive circling, walking, standing up
Refusal to eat
Ridiculously excited when you return (even if you've only been gone a few minutes)
Constant barking and even howling
Extreme reactions to loud noises
When it comes to Athena, she was one of those rare, high-stress dogs that had no prior owner, was not a rescue dog, and never experienced any kind of hardship, starvation, or abuse. We tend to think that her separation anxiety came from the fact that we received her too early, almost immediately after she quit weaning.
But she's what I would consider a rare case. Most dogs that suffer from separation anxiety are rescue dogs or dogs adopted from one family to another. Even if a pup comes from kind, calm, and loving pet owners, that separation and experience with a new family may be too much for it to deal with mentally.
Other animals, such as rescue dogs, may have gone through a period of abuse or could have been rescued from the streets where they were starving to death. Dogs with separation anxiety symptoms don't often become that way for no reason whatsoever. It takes time and positive associations to slowly calm them, and even that is not always enough.
Discomfort Due to Isolation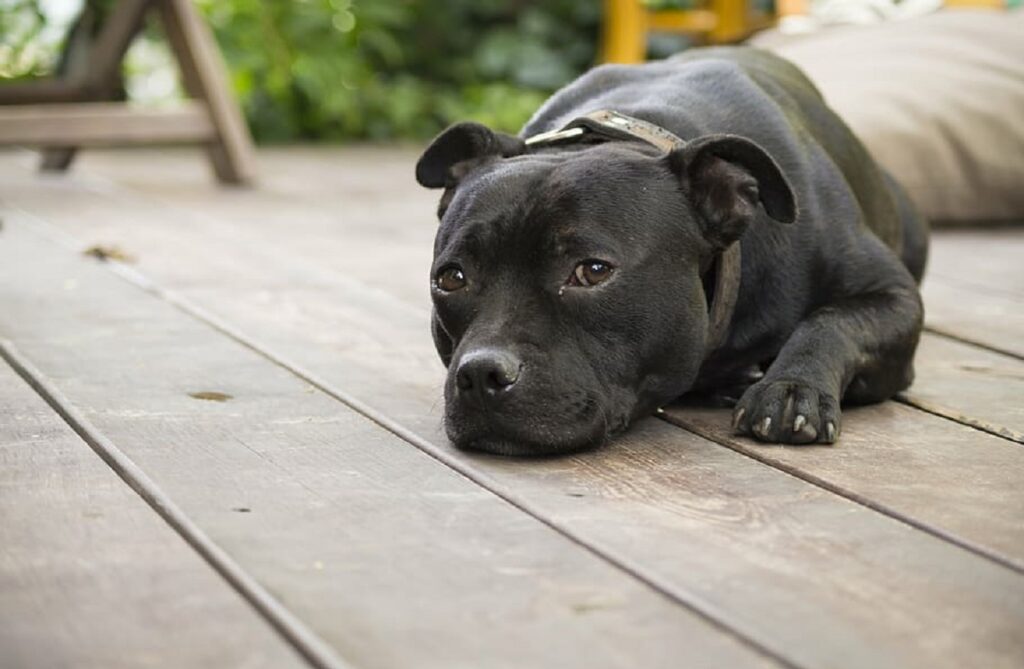 This is another sticking point that I've seen many times. It's something new dog owners often have trouble grappling with. There are many dog breeds out there that have an innate, instinctive need to be around their owners for large parts of the day or night. If you work long hours and spend very little time at home, it's a bad idea to own a dog that has that kind of mentality.
It's asking for a lot of heartache, and there's little doubt your dog will develop a stress response of some kind. Dogs with separation anxiety don't often start out that way. They're almost created. For dogs that are highly dependent on personal associations, that dog's anxiety is a week's worth of loneliness away from becoming a huge problem.
Then again, there are some dogs that don't mind extended periods of isolation. In other words, if you work a lot and spend a lot of time away from home, you need to do the homework necessary to choose a dog that doesn't mind chilling at the house alone throughout the day. Crate training is an idea, but it doesn't solve the immediate problem of isolation in a dog that doesn't like isolation.
Besides, crate training dogs with separation anxiety is only asking for destructive behavior to become internalized. If he or she can't get ahold of a pillow, blanket, or roll of toilet paper, they're likely to turn on themselves. A dog's anxiety is no joke!
Administering CBD to Cater to Separation Anxiety in Dogs
So what is CBD or CBD oil, and how in the world do you administer it to dogs? Well, as it turns out, it's not too hard. Dogs don't have any problems taking most of the CBD products on the market out there. Personally, I always used CBD oil Calm by Honest Paws.
Hemp seed oil products are also good, but CBD oil tends to have a stronger, longer-lasting effect on animals. This is especially true given the study link at the beginning of my article. With that being said, how to give CBD oil to dogs? Lucky for you, we have an article about that (just follow the link), but I'll also give you a brief breakdown on giving your dogs CBD and calming a nervous pup.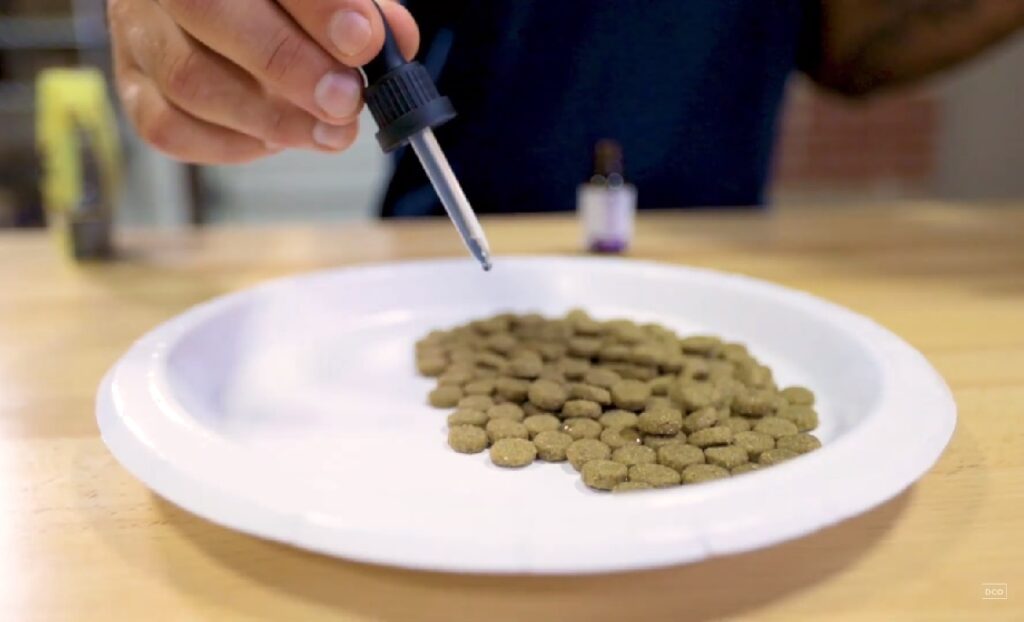 I always use CBD oil which I administer in my dog's food, along with a small amount of coconut oil, eggs, and some raw vegetables. They never miss a beat gobbling it all down. However, that's not the only way to do it.
Use a CBD oil dropper straight into your pup's mouth
Use the same dropper to place the oil on their favorite treats
Add the CBD oil to your dog's favorite snack
Apply CBD as a topical ointment
Apply the recommended dose of CBD only as often as the ingredient label specifies. If your veterinarian prescribes it, abide by his or her recommended amount and frequency. CBD oil administered to dogs dealing with cancer, or something that causes chronic pain, a single dose every 8 to 12 hours is the usual recommendation.
How much CBD your dog can have is simple. A dog's endocannabinoid system is five times more receptive than a human's. What CBD oil does for you will be five times more potent in a dog. CBD is not psychoactive and a dog high isn't likely, but they should never exceed 0.03% THC in a dose. If you have to ask, "How much CBD?" you're running the risk of giving your pup too much.
Currently, the market is saturated with dog CBD products, so it's highly important that you do your homework on CBD products in terms of dosage and where the products come from. Honest Paws manufactures some of the best CBD oil for dogs on the planet, and they're well worth looking into.
Honest Paws also offers Calm CBD Bites, which is a quicker method of administration with a dog treat. Both the treats and the oils feature full-spectrum hemp extract, along with coconut oil, 5mg of CBD, and MCT oil. For dogs with separation anxiety, be sure to grab the Calm variation (Honest Paws offers several types).
Plus, the "when" is just as important as the "how." I learned through experience with Athena to always administer her dose about an hour before anything that might trigger her anxiety. On regular days, it's not really relevant. On days when she has to be left alone, however, I break out the CBD oil for dogs and give her the proper amount about an hour before I walk out the door.
Fortunately, her training has also done wonders. I could probably get away with not giving her any CBD oil when I leave, and she would be just fine. I still do it just to take the edge off, and because the brand I give her is also full of other nutritional supplements (more on that below).
Recommended CBD Dose for Dogs with Separation Anxiety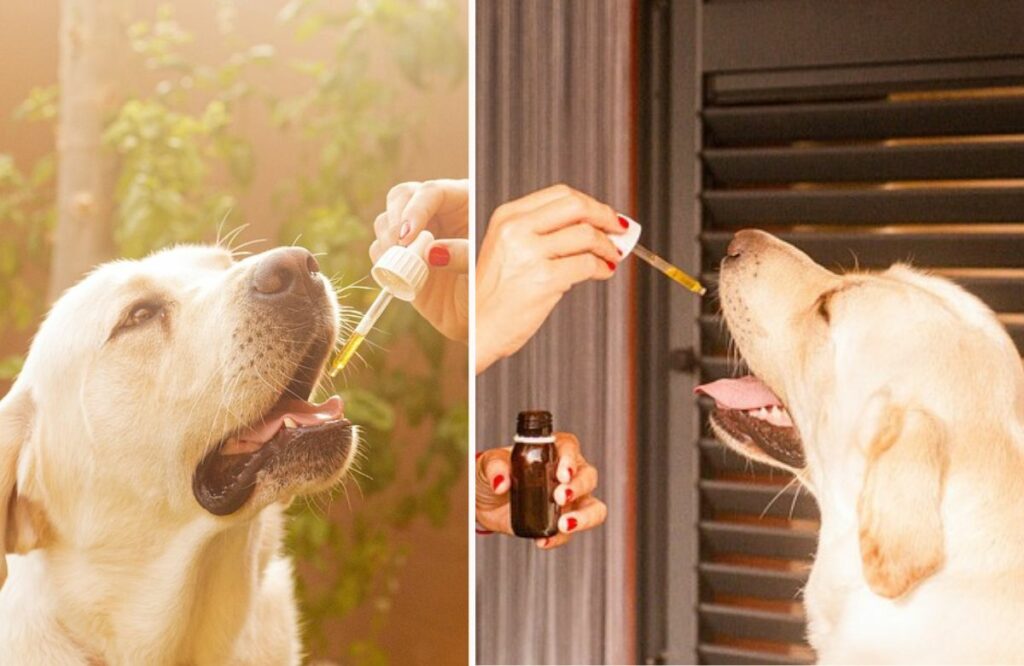 Most products will have their own directions in terms of CBD oil dosage. However, as a general guideline, I suggest getting together with your veterinarian. If that's not possible, always follow the recommended dosage according to the product. In general, terms, start with 1mg of CBD for every 10 pounds of body weight. If your dog handles that just fine, you can use 1 to 2mg per 10 pounds.
Whether it's low-dose hemp seed oil or high doses of regular CBD oil for dogs, it's important to remember that hemp or CBD are not the only active ingredients in these products. There are healthy nutritional supplements in them as well, such as healthy fatty acids. Like any nutritional supplement, your body only needs so much, and the same is true with dogs.
Dog CBD from Honest Paws, regardless of whether it's for separation anxiety or anything else, includes more than just the dog CBD from the cannabis plant. A full spectrum extract from hemp plants often includes even more nutritional value as well.
Organic Barley Flour
Organic coconut oil
MCT oil
Organic peanut butter
Organic oats
Dried egg whites
Full-spectrum CBD oil
5 mg of naturally occurring CBD
In other words, the hemp extract is 40mg and holds 5mg of naturally occurring CBD. Just because you see "Hemp" on the ingredients label doesn't mean there is no CBD oil for dogs in the product. The above ingredients list is just in the Honest Paws Chews; however, other brands will offer other additional ingredients in their "calming" versions as well.
In fact, some come with melatonin, which also has a calming effect on dogs, assisting the CBD oil in relieving separation anxiety. So, it's not just a matter of giving a dog too much CBD. It's also a matter of giving them too much of everything else as well. When treating separation anxiety in dogs, always keep the CBD dog treats and oil well out of their reach.
The following are some of the symptoms many dogs display when they've had way too much dog CBD:
Increased anxiety
Vomiting
Seizures
Lethargy
Diarrhea
Shaking and dizziness
Every CBD product for dogs should come with clear, concise instructions for dosing. Always pay attention to the label and seek advice from your local vet. CBD and hemp are a dime a dozen, and one of the most important parts of determining the dosage comes before you even purchase the product, which leads us to our next bit of advice.
Best CBD Product: What to Look For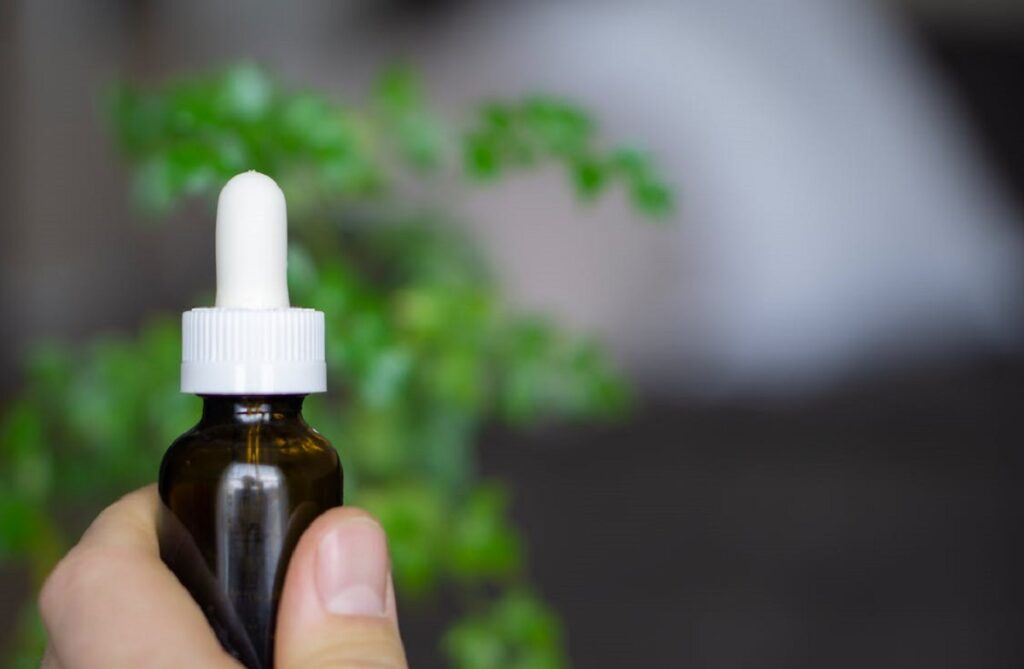 I've already mentioned Honest Paws CBD oil (Calm) and Honest Paws CBD Calm Bites. This isn't a blatant advertisement article for either, merely an example of my personal favorite and the fact that it's enormously popular. It's also because Honest Paws uses all of the exact ingredients and methodologies you need to be on the lookout for.
Organic is the keyword here, and apply it to everything CBD or Hemp products that you purchase now or in the future. Dog CBD products are not immune to the dyes, preservatives, and GMOs that go into human food production. That also means that it will cost you more; however, I promise you it's more than worth the expense.
Always keep your eyes out for third-party lab tested, and USDA-Certified Organic CBD Oil or Hemp Oil.Whether you're shopping for broad-spectrum CBD oil, full-spectrum CBD, hemp oil, or a hemp oil derivative, only buy these products when you know for certain they are organic and certified as such.
Flavors
You have some room to play around with here. CBD oils for separation anxiety generally come in a variety of flavors, including salmon, beef, and chicken. Go with what your dog loves the most, and you'll have no problems getting them to take it.
Strength of the CBD
Even pet CBD products come with different strengths. The only thing you need to be concerned with here is adjusting your dosage according to the strength of the pet CBD. As long as you're giving your pet the right dose, according to the instructions or ingredients label, the strength is irrelevant.
Type of Product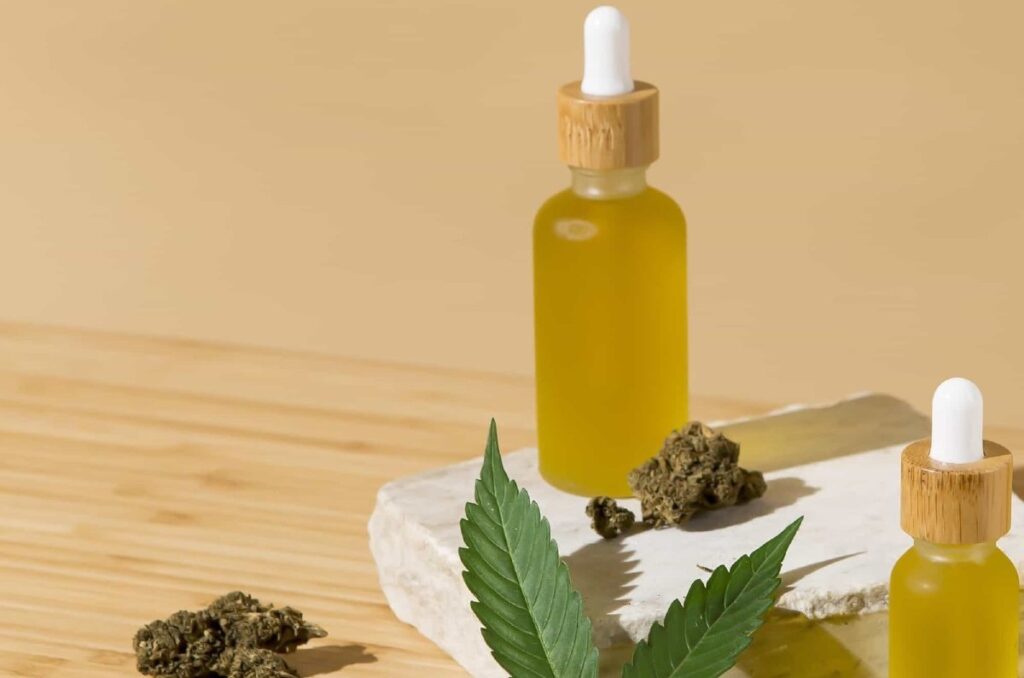 Pet CBD comes in a wide variety of types, including foods and oils of varying flavors. Again, this is just a matter of getting what your dog loves the most because your pup is more likely to take what it loves, making your life a bit easier in the process.
Owner's Reviews on CBD Oils and Products for Dogs
Many owners of dogs and cats have been highly receptive to CBD and hemp for their animals. I haven't left a review, but this article is pretty much my review of CBD as a whole. I don't own any cats, however, but I know that the right CBD, grown organically and non-GMO, is cost-effective and helpful for cats as much as for canines.
This hemp oil calmed my Airdale's anxiety. She was so scared of the fireworks, but as soon as I gave her the hemp oil, she calmed down. She was still alert to her surroundings, but this time just laid down and fell asleep. Very happy with this product. -Lus F. (Honest Paws)
My dog Abby was moaning in the evenings and seemed to be stiff when she would walk. I thought I'd give a CBD chew a try. There was a noticeable difference from the first day: No more groans! Now, she goes to the kitchen, actually looks at the package, and barks when it's time for her chew! -Alyson F. (Honest Paws)
FAQs
How CBD Works Against Separation Anxiety in Dogs?
CBD works against separation anxiety by increasing levels of serotonin production in the brain. Serotonin is a monoamine neurotransmitter that improves a dog's sense of well-being and general feelings of happiness. It also reduces the need for medications.
How To Give CBD to Dogs To Reduce Separation Anxiety Issues?
Family members can give dogs CBD oils, treats, or food so long as it's done strictly by dosage. Never apply more CBD oils than necessary or combine multiple CBD or hemp for treatment. All the benefits and calming properties are lost if you give your pup too much. If you're unsure how to administer CBD for dogs or other pets for anxiety relief, check with your local veterinarian.
How Can I Help My Dog Suffering From Separation Anxiety?
You can help your dog suffering from separation anxiety in a number of ways. Spend more time with your pup, including a daily exercise regimen, and set aside time for play. In combination with CBD, this will help your pup reduce stress, anxiety, and harmful behaviors.
The CBD will also reduce pain, is anti-inflammatory, reduces negative associations, reduces seizures, reduces panting, and reduces hyperactivity.
How Long Does CBD Take To Produce a Calming Effect in Dogs With Separation Anxiety?
CBD for dog anxiety takes half an hour to an hour to produce a calming effect in dogs that have separation anxiety. CBD is relatively fast, but some dogs with anxiety have different metabolisms, which is something you should consider when you give them their daily dose.
CBD won't make anxiety disappear overnight, but it will reduce it relatively quickly. Smaller dogs versus larger dogs make a difference as well.
Final Thoughts on CBD for Dogs Separation Anxiety
CBD is an excellent option for dogs dealing with anxiety, especially separation anxiety. Fortunately, the market is saturated with CBD, hemp, and other holistic, natural relief options for anxiety in dogs. Keep in mind that plenty of hemp plant products also contain CBD, so always pay attention to the labels.
Whether you're training with a crate, dealing with incessant barking, separation anxiety, or just anxiety in general, the right CBD serves as an aid to alleviating it and getting your dog back on track. Just remember, CBD is not the lone answer. You also need to spend time with your dog and help alleviate the source of the anxious behavior.
There's a big difference between using nothing but medications and actively spending time with your pup. You'll notice, as time goes on, that the barking decreases, and your dog's visible anxiety lowers as well. The goal is a happy and well-loved dog, and CBD will help you and your canine get there.