Dog harnesses… Of all the equipment dog owners think of getting, these are often forgotten. People tend to remember dog beds, collars, toys, and treats over harnesses. But a harness is just as important as any of them – perhaps more important!
If your dog has mobility issues, a tendency to pull on the leash, or is easily distracted, there's no debate – they need a harness.
In fact, most experts agree that walking with a harness is far safer than using just a collar and a dog leash. A tactical dog harness gives you better control on walks, puts less pressure on your pup's neck, and has less of a chance of them escaping (much like using a martingale dog collar).
But there are a few things to consider when buying your pup a harness: you need to find the right size and ensure it's safe, durable, affordable, and stylish – because you still want your fur baby to look good, right?
Best For Small Dogs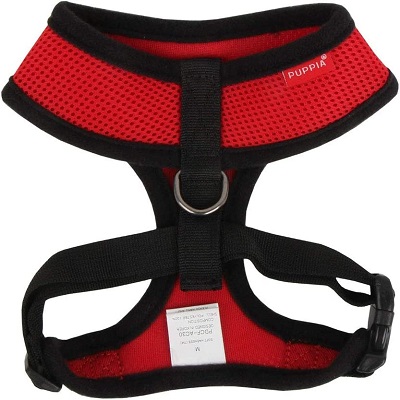 Puppia Soft Dog Harness
Size: Medium
Material: Polyester

Best For Everyday Use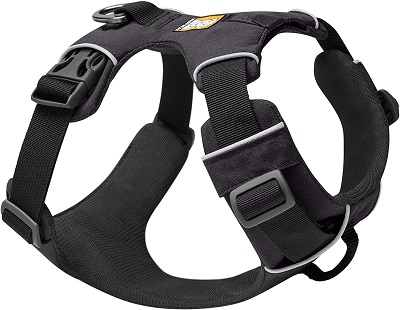 RUFFWEAR. Front Range Dog Harness
Size: Large
Material: Fabric


Best For Nighttime Walks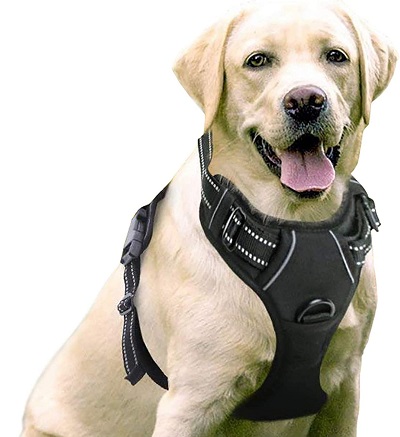 Rabbitgoo Dog Harness
Size: Large
Material: Polyester, Nylon



Best For Bigger Dogs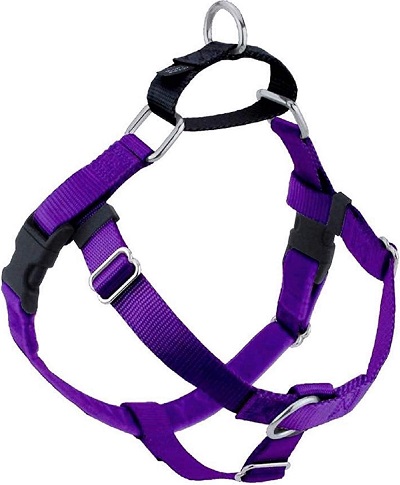 2 Hounds Design Freedom No Pull Dog Harness
Size: Medium
Material: Velvet




All Rounder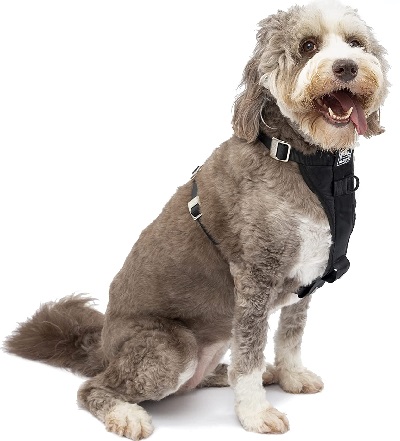 Kurgo Tru-Fit Smart Dog Walking Harness
Size: X- Large
Material: Nylon





Best For Style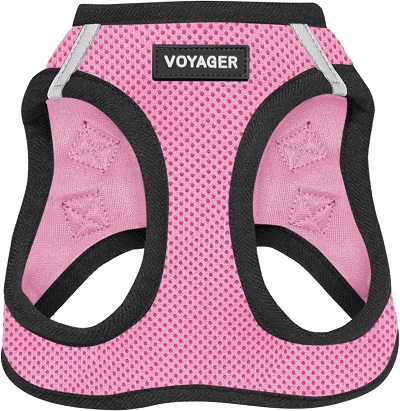 Voyager Step-In Air Dog Harness
Size: Small
Material: Mesh Fabric
Best For Flat-Faced Dogs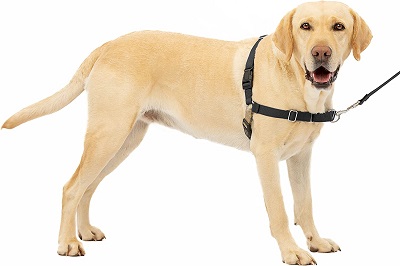 PetSafe Easy Walk Dog Harness
Size: Large
Material: Nylon
Best For Features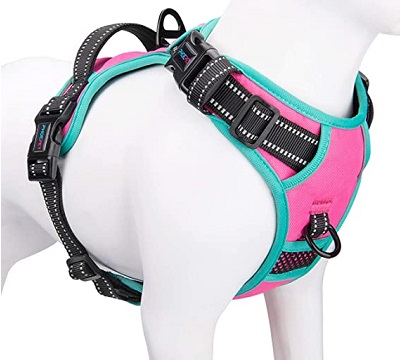 PHOEPET Upgraded No Pull Dog Harness
Size: Large
Material: Nylon
Our Top Picks of the Best Dog Harnesses
We want your dog to be safe, happy, and stylish. That's why we've compiled 8 of our top recommendations for the best dog harness. Whether your pup is big or small, trained or untrained – there's a perfect harness for them here.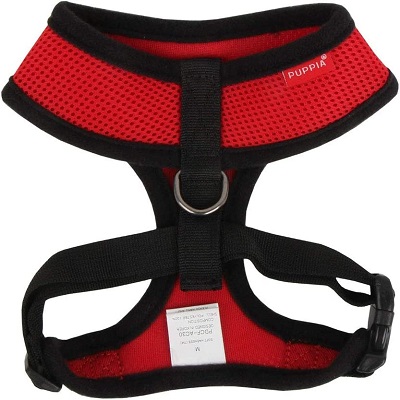 While it's important to get the best puppy collar you can find, it's even more crucial to get a puppy a harness. After all, they tend to pull on the leash every time they go out but never realize the harm they're doing to themselves.
Fitting chest sizes between 9" and 41", the Puppia soft dog harness is the perfect harness for small dogs and puppies.
As a vest-style harness, it doesn't put any pressure on their delicate neck, but this can make sizing difficult. Just like you measure for a dog collar, make sure to measure for a harness carefully too.
Made of a soft, stretchy, and breathable polyester fabric, your pup won't experience the same sort of chafing they might have with nylon.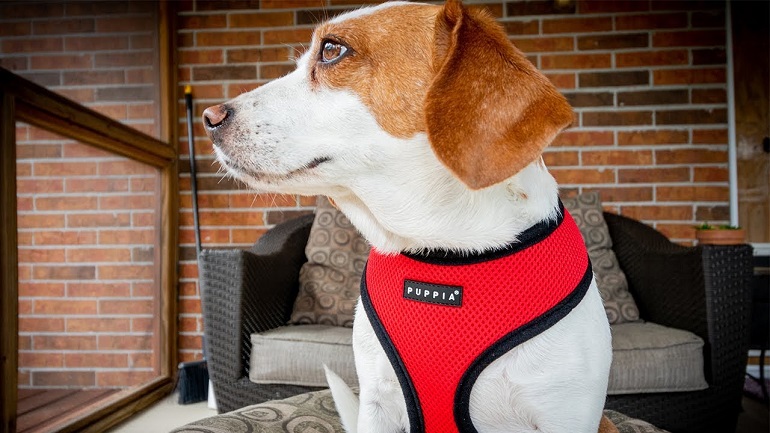 The flexible fabric is ideal for squirmy puppies and gives them room to grow, but rest assured it's still strong enough to handle tugging. Still, the stretchy material is thin and could break if your dog is too strong.
Pros
Perfect for small dogs
Vest-style harness to give room to dog's neck
Stretchy and breathable material
14 colors available
Cons
Material too weak for strong dogs who pull
Not suitable for big dogs
No flexibility in the neck area makes sizing extra important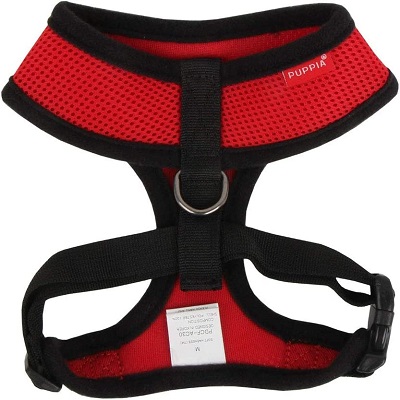 Puppia Soft Dog Harness
The price of "Puppia Soft Dog Harness" varies, so check the latest price at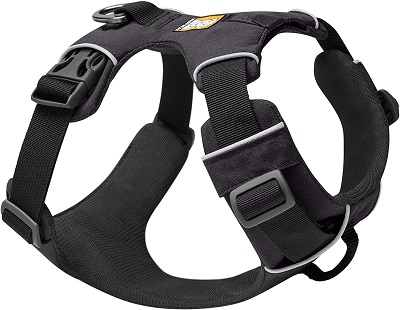 This is the perfect everyday walking harness, especially seeing how easy it is to slip over your dog's neck. In many ways, it's similar to the Kurgo harness; but while it's lightweight and durable, some materials aren't as durable as the Kurgo, such as plastic clips.
At first glance, the chest area can seem a bit thick and bulky. However, that's just because of all the padding on the front and back panels, giving your dog extra comfort and a more snug, secure fit.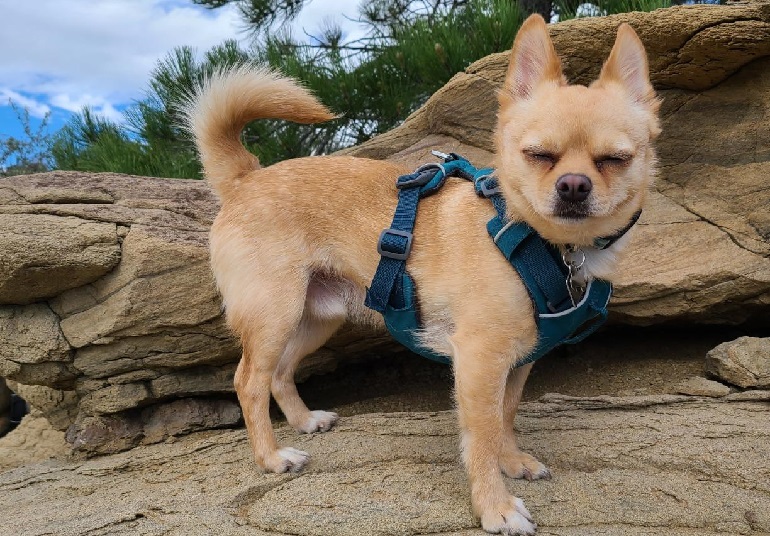 And with four adjustment points, you'll be able to find a perfect fit for your dog.
The buckles can be stiff and hard to use, but security is paramount for this dog harness. That's why there's a front clip for extra control and ID pockets in which you can slip some paper and ID documents.
Pros
Comfortable
Various colors and styles available
ID pockets for added security
Four adjustment points
More control with front-clip lead attachment
Cons
Less durable materials
More bulky than other dog harnesses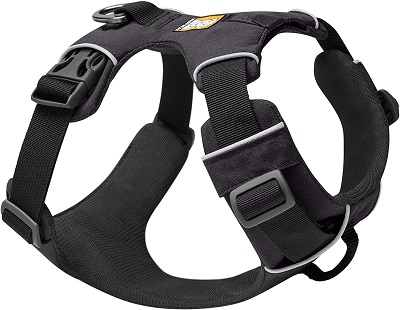 RUFFWEAR. Front Range Dog Harness
The price of "RUFFWEAR. Front Range Dog Harness" varies, so check the latest price at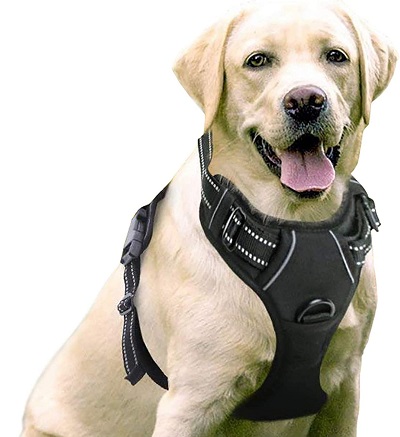 With its huge range of positive reviews and affordable price, this no-pull dog harness provides excellent value. Although the vest isn't as soft as other harnesses with a thin webbing prone to fraying, it's still cushioned for your pet's comfort with a breathable air mesh to keep active dogs cool while they're running around.
While the metal elements make it more durable, it also adds some unnecessary weight, especially if you have a smaller dog. But with its resistant Oxford material, durability and weather-proof are some of the selling points of this harness.
Another key point is its ultra-bright reflective stitching for extra visibility. Don't worry about buying a reflective collar – if you like going on nighttime walks or sunset strolls, this is the perfect dog harness to keep your dog safe and visible.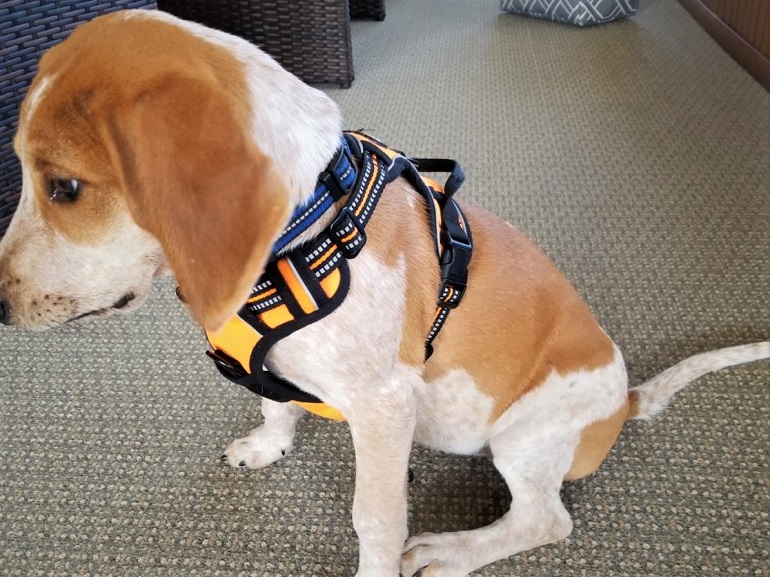 The Rabbitgoo dog harness also comes with clips on the front and back to give you extra control and stop your pup from pulling. It even has a back handle to grab your dog quickly if you need it, making it perfect for training.
Pros
An affordable harness
Durable metal material
Reflective stitching for security in low-light conditions
Dual clips for extra control
Back handle makes it easy to keep hold of dog
Cons
Thin webbing prone to breaking
Not as soft as other options
Large and heavy metal material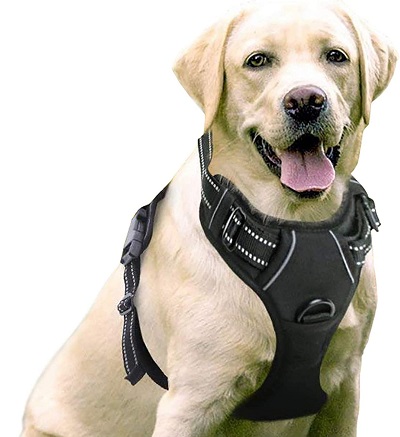 Rabbitgoo Dog Harness
The price of "Rabbitgoo Dog Harness" varies, so check the latest price at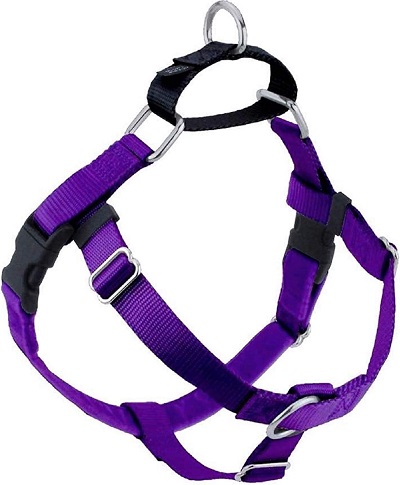 If you go to the gym or do lifts, you might think you're pretty strong… that is until you're up against the insane strength of a big dog, especially if they've just seen a cat or squirrel to chase.
This strap-style dog harness is designed to handle dogs weighing up to 250lbs, making it the perfect harness for large dogs that helps you control strong and energetic dogs.
It's particularly helpful that the lead attachment is on the lower part of the dog's chest and not near the neck – this makes it even more comfortable for your dog with no risk of choking.
Since it's especially important to have as much control as possible when handling large dogs, there's also a back attachment ring for a more traditional walking style. Feel free to use the front clip, back clip, or both at the same time for optimal control.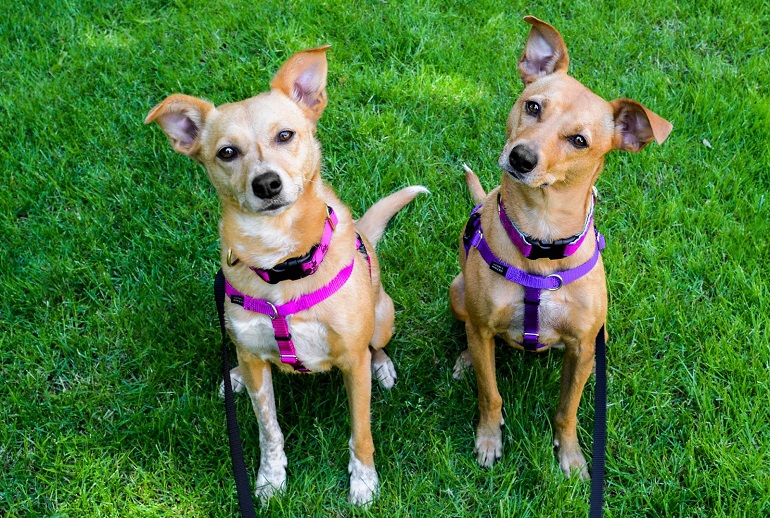 The straps are durable enough to withstand the strong force of large dogs, but also have velvet under each armpit strap. This is excellent to give your pup some extra comfort and to know which strap goes where.
As durable as the dog harness is, it's amazing how dogs find a way to damage what we buy them. But 2 Hounds Design offers lifetime replacements for about a third of the price, making this more affordable in the long term!
Pros
Perfect for larger dogs
Offers greater control over strong dogs
Two attachment point options on chest and back
Durable but comfortable straps
Wide range of sizes and color options
Lifetime replacement offers
Cons
Lifetime replacement offers still require a fee
Not ideal for toy dogs or puppies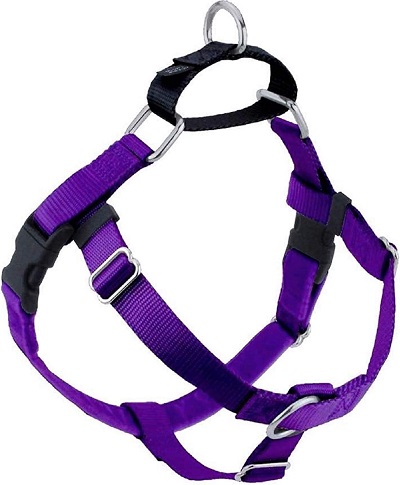 2 Hounds Design Freedom No Pull Dog Harness
The price of "2 Hounds Design Freedom No Pull Dog Harness" varies, so check the latest price at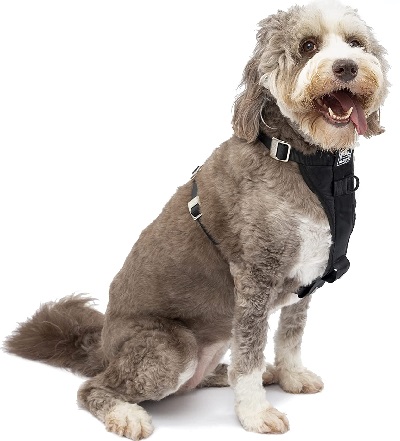 The Kurgo True-Fit is one of the best dog harnesses overall for dogs of all sizes. Its vest shape doesn't constrict the pup's neck like some other harnesses when you tug on the leash.
And it's particularly good for use in the car; it comes with a seatbelt tether included and has been crash-tested for dogs up to 75lbs.
Made of heavy-duty polyester fabric and nylon straps with metal rings and durable plastic buckles, you can rest assured that it will survive attacks from your dog's teeth and claws, as well as all types of weather. There's even a lifetime warranty, although this only covers manufacturing defects.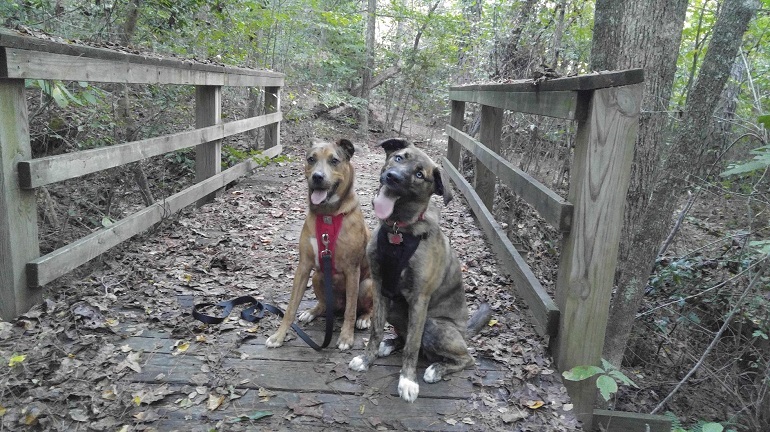 It might seem a little bulky at first, but that's due to the amount of padding. Although this is soft and great for your dog's comfort, it can become a little hot in warm weather and with lots of activity.
Coming in a variety of sizes with dual attachment points and five adjustment points, you can find the perfect fit for excellent control – ideal if your pup still tends to pull on the lead.
But the fit of this no-pull dog harness might not be perfect for particularly large or small dogs; there's a risk it might be a bit bulky or sit too low or high on the body.
Pros
Vest shape to give room to neck
Durable material
Dual attachment points on chest and back
Range of sizes
Lifetime warranty
Cons
Won't fit particularly large or small dogs
Warranty only covers manufacturing defects
Padding covers a lot of dog's body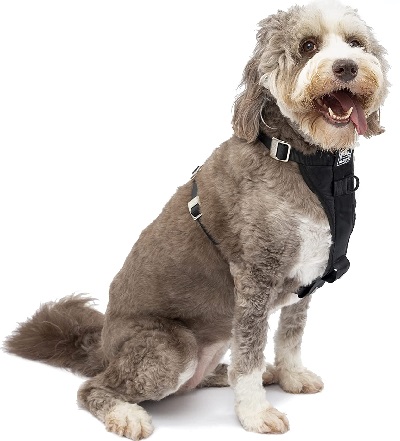 Kurgo Tru-Fit Smart Dog Walking Harness
The price of "Kurgo Tru-Fit Smart Dog Walking Harness" varies, so check the latest price at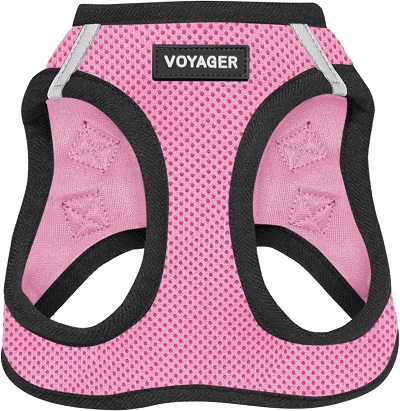 A step-in harness like this one is spot-on for dogs who for whatever reason can't or prefer not to wear a traditional dog harness. This one in particular is simple to put on and off in seconds.
The simplicity of this step-in harness is largely thanks to its ingenious Velcro design. Far from insecure, the Velcro is powerful and supported by a buckle too. Whilst it's easy for some to get a snug fit with the Velcro, be aware that the buckle can sometimes get in the way.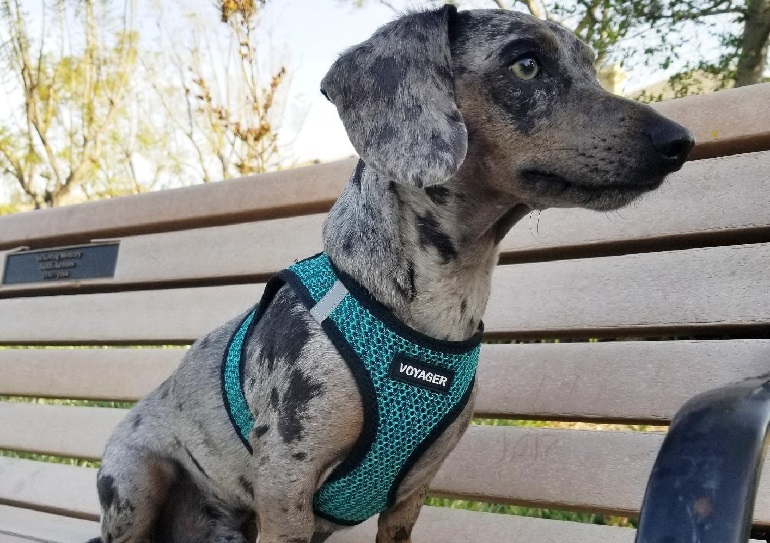 Available in a wide range of sizes, colors, and even styles, this dog harness is made from soft, comfortable material, with reflective stitching for extra visibility and breathable mesh to keep them cool in the summer.
Pros
Strong Velcro for easy but secure attachment
Easy to take on and off
Reflective stitching for security in low visibility
Various colors and sizes available
Cons
Buckle can get in the way of Velcro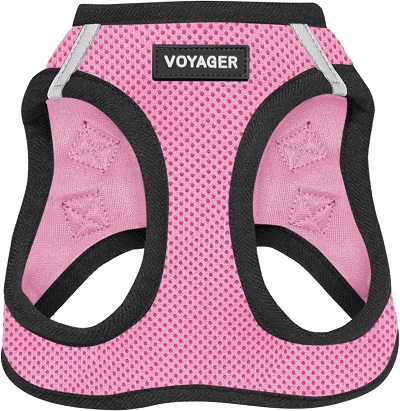 Voyager Step-In Air Dog Harness
The price of " Voyager Step-In Air Dog Harness" varies, so check the latest price at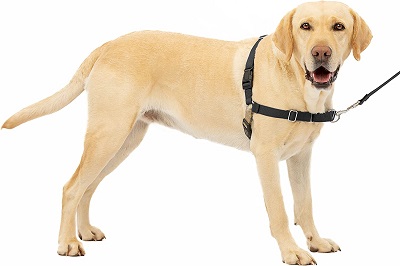 This no-pull dog harness was created 15 years ago by a veterinary behaviorist, and since then, has been a popular one recommended to all kinds of dog owners.
The PetSafe Easy Walk dog harness is a safe and effective way to train your dog to walk without pulling thanks to its patented Martingale loop and front chest leash attachment.
Whenever the dog tugs the lead, they spin around, bringing you face-to-face with them. However, this isn't ideal for inexperienced dog owners and is most effective in the hands of people who know how to use it.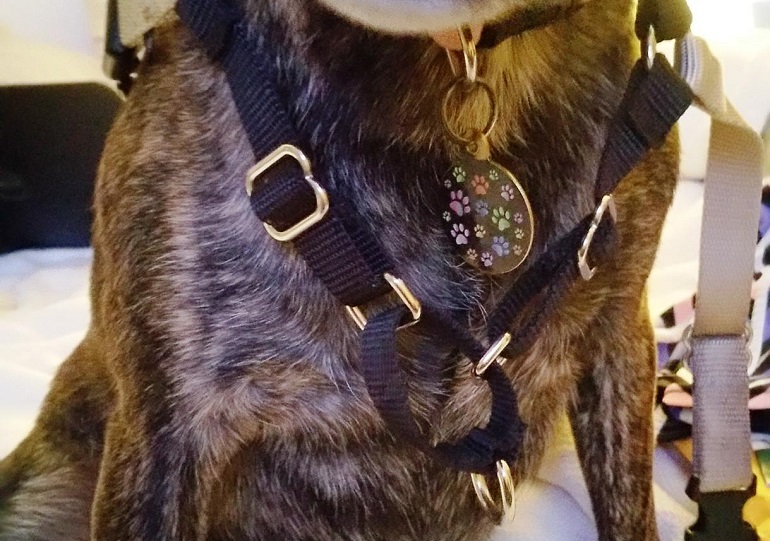 Nevertheless, it's an ideal dog harness for any brachycephalic breeds like pugs or Boston terriers. Since they often have respiratory issues anyway, this dog harness protects their neck from further problems, instead distributing pressure evenly across their face.
The harness is made from strong nylon, making it soft, secure, and easy to clean. But on the off chance your dog manages to sink their teeth into it, PetSafe's customer care is only too happy to help you when it comes to replacements or even resizing if you didn't measure right the first time.
Pros
Perfect for brachycephalic breeds
Distributes pressure around chest to protect neck#
Dual clips for added control
Durable but soft materials
Excellent customer care
Cons
Difficult to use properly
Important to measure carefully as sizing can be problematic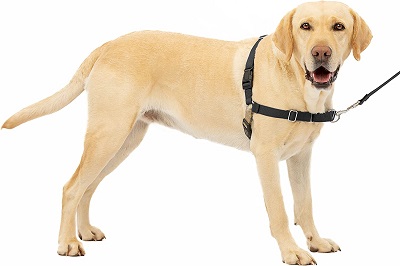 PetSafe Easy Walk Dog Harness
The price of "PetSafe Easy Walk Dog Harness" varies, so check the latest price at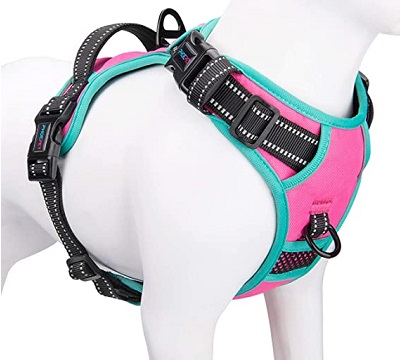 Refusing to offer anything less than perfect, PHOEBET has released its new and improved dog harness. This one has extra security, making use of three snap buckles – one on the neck and two on the chest.
This is perfect for dogs that don't like things going over their heads; instead, you can just snap it around.
As well as three buckles, there are also dual clips for leash attachment points – one on the back and one on the chest. This gives you extra control while you're out on a walk and ought to stop your excitable pup from pulling too much.
There's even a back handle for you to grab onto if you need extra control at a moment's notice.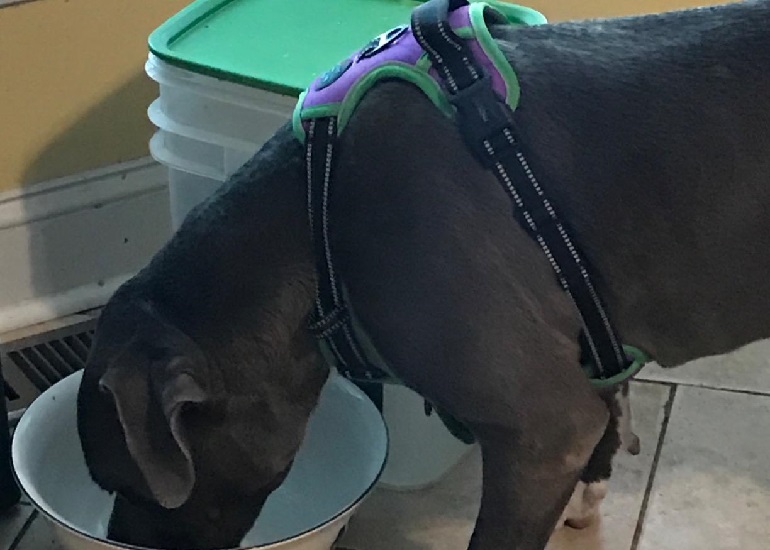 Feel free to sport this harness on nighttime or evening strolls too since it has reflective stitching to give extra visibility in low-light conditions.
With five sizes available and a wide range of unique color combinations available, there's bound to be a style that will suit you and your dog.
Pros
Snug fit for comfort and security
Dual clips and back handle gives added control
Excellent range of color combinations
Reflective trim for low-light conditions
Cons
Edges can become frayed
Leash loops can come out of place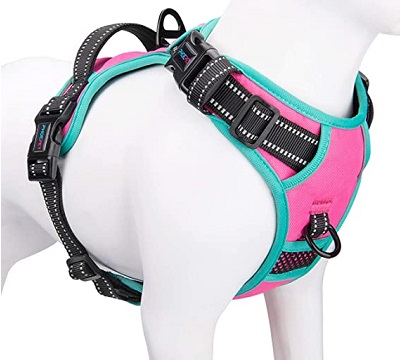 PHOEPET Upgraded No Pull Dog Harness
The price of "PHOEPET Upgraded No Pull Dog Harness" varies, so check the latest price at
Buyer's Guide: How to Choose a Dog Harness
There are eight strong recommendations in this article, but there are hundreds of harnesses out there.
Whether you decide to start your search with any of these suggestions or elsewhere, here are some of the top things you should bear in mind when buying your dog a harness.
Fit
When it comes to fit, it's important to look at how adjustable a harness is; unless a harness is tailor-made to your pup, it's unlikely to be a perfect fit.
Ideally, a harness should fit snugly around your dog – it makes it more comfortable and gives you more control on a walk than a loose one. It also helps stop your dog from trying to worm its way out of it. Just be sure to make sure it's not so snug that it rubs or chafes.
Material
The webbing of a harness is best when it's thicker because it's less likely to fray after long-term use. However, you also want to make sure that it's soft and comfortable against your dog's skin.
Keep in mind the material used for buckles and leash attachments too. They need to be the right size and strength for your breed of dog. If you have a particularly large and strong dog, will a plastic D-ring be durable enough?
Performance
Harnesses are important bits of equipment. When you're out and about with your dog, the last thing you want is for it to go wrong. Who knows what could happen?
Harnesses are vital in keeping your dog safe and under control. So when looking at a harness to buy, ensure that it can stop them from pulling, keep their neck safe, and keep them safe and secure – just in case they try to run off!
Design
Design is more than just the color scheme and patterns on the harness. While style is important, the design is much more than that. A good harness design can give you greater control over your dog; for example, lower lead attachment points can more evenly distribute the force of your pup's movement.
Ideally, a harness includes dual leash attachment rings – one on the back and one on the chest. Back attachments are the most common but can result in dogs pulling like sled dogs. On the other hand, front attachments turn them back towards you, helping them overcome the urge to pull and giving you more control.
Comfort
Have you ever felt a bit guilty about tugging on a lead attached to your dog's collar? It looks uncomfortable. Fortunately, your dog doesn't have to be uncomfortable. With a well-designed and well-made harness, your dog can be as comfortable as it is safe.
Walking with a harness for Dachshunds is already more comfortable than using a collar because it puts less pressure on your dog's throat, especially if they pull or start to chase after a squirrel. In extreme cases, this can lead to tracheal collapse, as well as damaged nerves and blood vessels in the neck.
Of course, this is worse for dogs with short snouts, like pugs, who are known for respiratory issues, as well as puppies with more fragile windpipes.
Fortunately, a harness can avoid all these problems. And with a properly cushioned and padded harness, you can keep their neck safe and help them stay comfortable enough to properly enjoy their walk.
Types of Dog Harnesses
On the surface, it looks like all harnesses are more or less the same. However, dig a little deeper and you'll discover there are five different types of dog harnesses:
Front-clip
Also called a no-pull harness, these have a leash attachment on your dog's chest, discouraging them from pulling by spinning them back towards you when they tug too much. These are ideal for training your dog how to walk on a leash but may result in them getting tangled in the lead.
Back-clip
These harnesses have a lead attachment on the dog's back between the shoulder blades. This is a more typical design for harnesses and removes the risk of your dog's legs being tangled in the leash. However, it doesn't dissuade your dog from pulling and is less suitable for untrained dogs.
Dual-clip
These harnesses are the best of both worlds, featuring both front and back clips. Not only are they more versatile, but can even give you extra control if you attach leashes to both.
Tightening harness
These work similarly to a prong dog collar only puts much less pressure on the neck. Another type of no-pull harness, it tightens around the torso when your dog pulls, making it easier to correct them and train them not to pull.
Step-in:
Whereas most harnesses require you to slip it over the dog's head, with a step-in harness, you simply buckle it onto the dog, wrapping it around its midsection. This is ideal for dogs who don't like things being put over their heads but can be more confusing to put on if you're unused to it.
FAQs
Are Harnesses Better Than Collars?
By all means, you can get the best dog collar for your furry friend, but sometimes it's best to use a harness too. After all, there's a reason most dog experts recommend using a harness for safer walks, as opposed to just a leash on a collar.
Using just a collar can be dangerous due to the pressure it places on the dog's neck and throat. It can lead to increased eye pressure, tracheal collapse, and possibly even whiplash. Instead, a harness puts pressure on the chest instead of the neck, making them much safer.
Do Harnesses Stop Dogs From Pulling?
If your dog ends up taking you on a walk rather than the other way around, you may want to look into picking the best no-pull dog harness you can to discourage pulling habits.
A harness with a back attachment is unlikely to stop your dog from tugging you along; instead, it can make them pull you even more, much like a sled dog.
On the other hand, a front clip harness controls the urge to pull and puts you in control. Whenever they tug, the attachment brings them around to face you, making it easier to regain their attention and correct the behavior.
How Tight Should a Dog Harness Be?
Just like you might have to adjust a dog collar, you'll probably have to adjust the harness too in order to get a perfect fit. Ideally, you want the harness to be snug; this makes it more comfortable for your dog, gives you more control, and stops them from wriggling out and escaping.
However, you should make sure it's not too tight. A general rule of thumb is to check you can fit two fingers underneath the straps. It needs to be loose enough to be comfortable and not chafe, but tight enough to keep you in control and stop them from escaping.
Conclusion
While it might seem a pain to have to put on a harness every time you take your dog out for a walk, it's highly recommended that you do. If you just use a collar too much, you end up posing too much of a risk to your pup's neck – and this is particularly bad for some breeds!
But harnesses don't have to be an inconvenience. Many are simple to put on, look stylish on your dog, are comfortable, and even help with training your dog to walk sensibly while on a leash.
Whether you pick a no-pull harness, a step-in one, or one with dual clips, picking up a harness is the best way to enhance walks with your dogs, ensuring their safe and comfortable while you remain in control.