If you call a hilly or rugged region home, then you know how much of a struggle it is to walk your dog day in and day out. It's usually your workout for the day because you're too tired for other exercise!
In your case, you'd benefit greatly from a tactical dog harness, as this harness makes it easier for your dog to traverse rough terrain. If your four-legged friend is having an easier time, then so are you!
The best tactical dog harnesses should be made of durable material, boast a variety of adjustment features for the perfect fit, and be a good size and weight for your dog's build by their breed.
If you're looking for your first tactical dog harness, this article will help you. I'll review the top tactical dog harnesses and provide a buyer's guide so you can purchase a harness you'll love!
Best Dog Vest for Pulling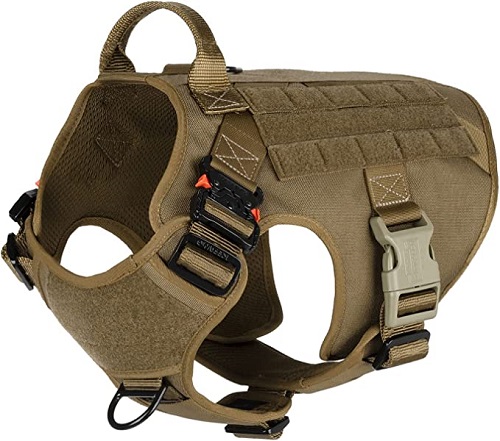 Icefang Tactical Dog Harness
SIZE: LARGE
MATERIAL: MESH
Best Breathable Tactical Dog Vest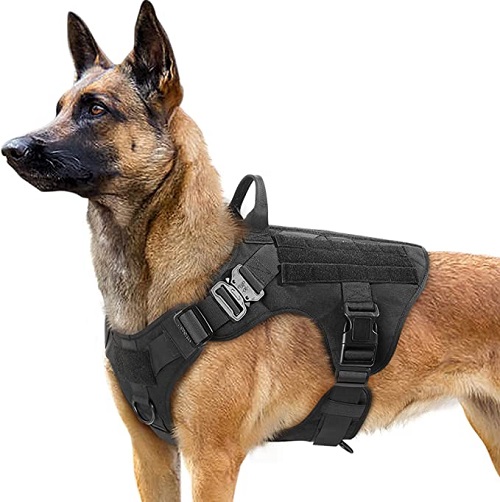 Rabbitgoo Tactical Dog Harness
SIZE: LARGE
MATERIAL: Alloy metal
Best Nylon Tactical Dog Vest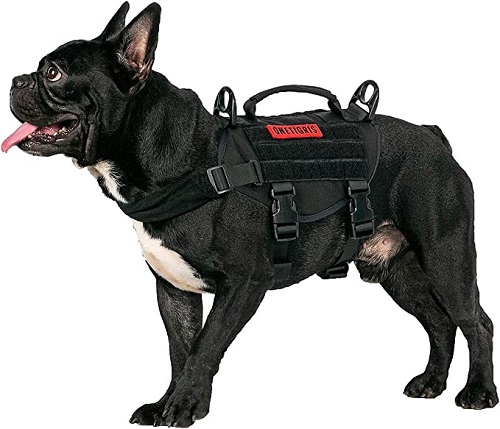 OneTigris Tactical Vest Dog Harness
SIZE: X- SAMLL
MATERIAL:1000D Nylon
Best Heavy-Duty Tactical Dog Vest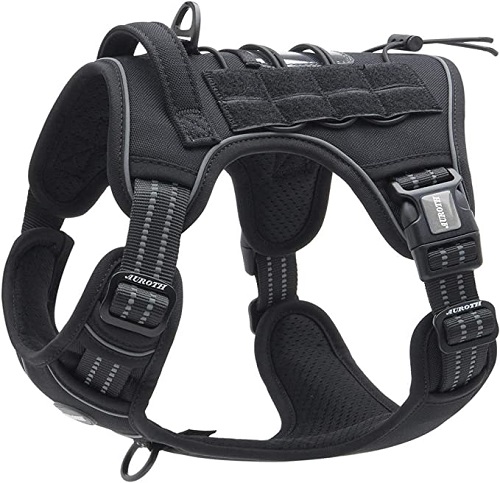 Auroth Tactical Dog Harness
SIZE: LARGE
MATERIAL: NYLON & MESH
Best 360-Degree Tactical Vest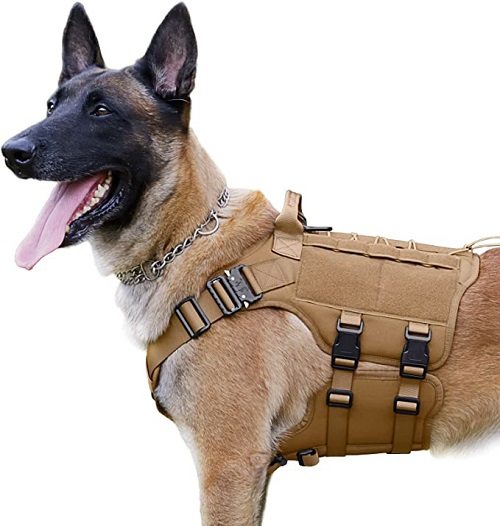 PetNanny Tactical Dog Harness
SIZE: LARGE
MATERIAL:Nylon
Best Tactical Dog Vest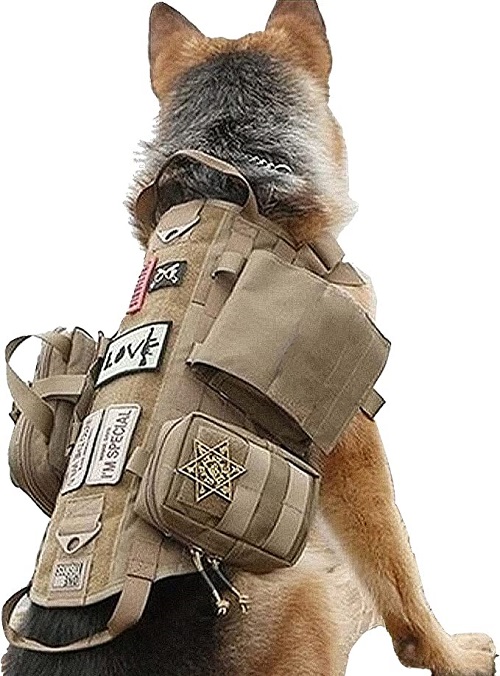 Aiwai Tactical Dog Harness
SIZE: LARGE
MATERIAL: Nylon

Our Top Picks of the Best Tactical Dog Harnesses
There are so many varied options when it comes to tactical dog harnesses. We have strived to take a closer look at the potential prospects that are likely to be helpful for your pups.
We truly hope you'll be able to find your perfect pick based on our detailed reviews given below: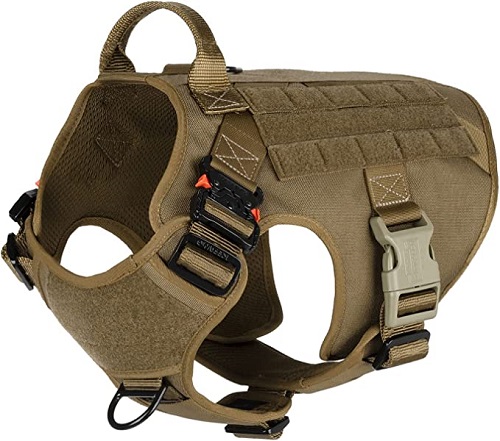 The only thing that makes it more challenging to walk a dog on rugged terrain is when they pull on top of it. You can feel like your dog is totally in control, not you!
The Icefang Tactical Dog Harness will help you control your dog even when they're pulling. How so? The leash goes on the front of the harness so you can dominate your walks once again, not your dog.
If you bring a lot of equipment when walking your dog, be that on long walks or in a military capacity, the Icefang Tactical Dog Harness gives you storage space to carry gear.
The harness includes dual strips of MOLLE fabric, an inch apiece, that comprise the hook and loop system on either side of the harness.
Now you can attach a refillable water bottle or your dog's collapsible bowls rather than carry them in your pocket.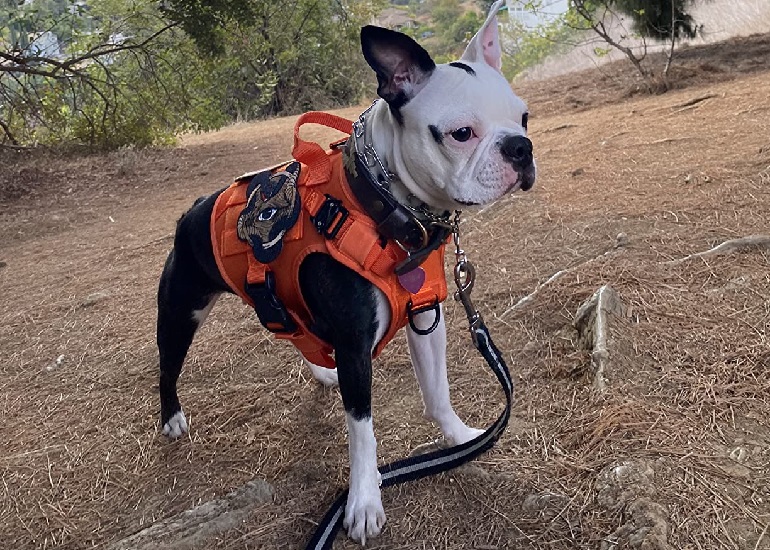 Speaking of carrying your dog, if you ever have to, it's so easy with this harness. An attached carrying handle with durable stitching lets you quickly collect your pup at a moment's notice, such as if wild animal attacks.
But wait, there's more.
I also love the square loop panel on the chest for inserting a dog's nameplate or patch. The nameplate is handy for quick identification if your pup gets away.
Pros
The Icefang tactical dog harness is made incredibly durable with MOLLE patches, D-rings, and aluminum buckles that are proof-tested to handle 1,000 pounds of load.
The harness is fully adjustable up to five ways, and dual D-rings let you hook up your dog's leash at the front or back of the harness.
You have your pick of four sizes (small, medium, large, and XL) and an assortment of military-inspired colors.
Cons
The harness is not escape-proof.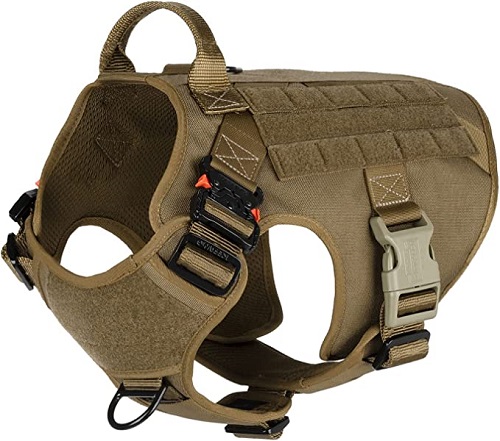 Icefang Tactical Dog Harness
The Price of "Icefang Tactical Dog Harness" varies, so check the latest price at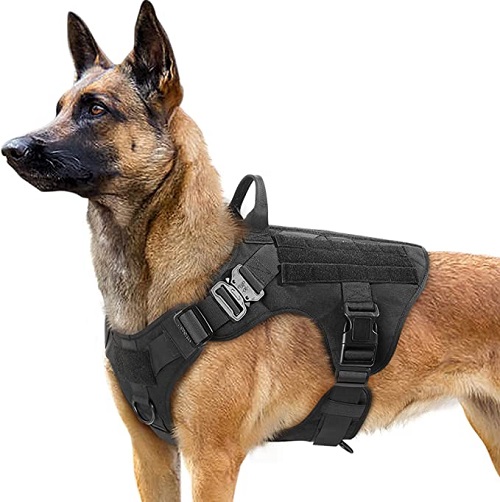 The issue with some tactical harnesses is that the heavy-duty material puts the emphasis on the "heavy" part. Your dog can get weighed down by the materials quick, which leaves them panting and dehydrated.
Not so with the Rabbitgoo Tactical Dog Harness! The breathable mesh throughout is exceptionally soft and padded yet lends itself well to the rest of this harness since it's so sturdy as well.
Outside of those mesh panels, the rest of the harness is made of 1,050-denier military-standard nylon material that Rabbitgoo says is designed for regular walking as well as hunting, working, or training.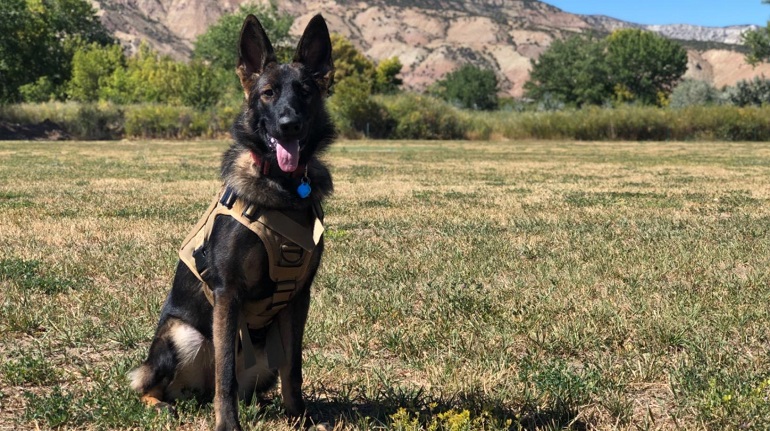 Is yours an impatient pup? I love how the side buckles release quickly, so your canine needn't stay in their harness for even one second longer than necessary.
Rows of MOLLE straps on both sides of the Rabbitgoo harness will put your dog to work as they carry bottles and pouches.
If you're worried about the Rabbitgoo harness fitting your dog, don't fret! This tactical harness has five adjustment straps in all, including one on the abdomen, two across the chest, and two on the shoulders.
Pros
Dual leash rings, both made of hardy metal, are available at the front or the back. The front ring is especially recommended if your pup has a history of pulling.
The leash clips and buckles are made of lightweight yet tough metal alloy.
The color range is quite nice, with hues available such as tan, light blue, red, military green, and black.
Cons
Even with all its adjustments, Rabbitgoo still recommends this tactical dog harness for large dog breeds only, such as the Akita, Golden Retriever, Labrador, or Husky.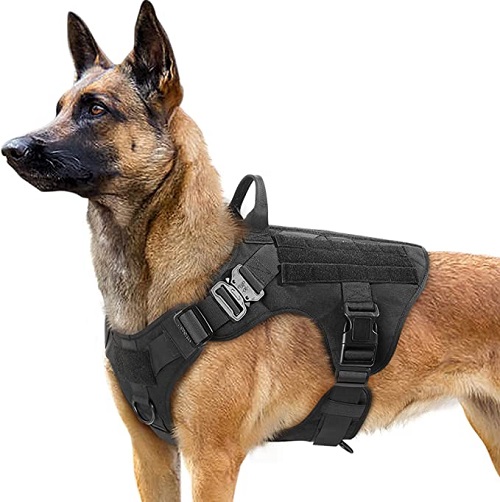 Rabbitgoo Tactical Dog Harness
The Price of "Rabbitgoo Tactical Dog Harness" varies, so check the latest price at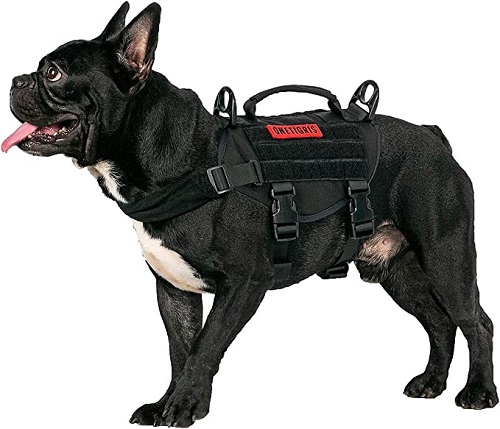 Do you wish tactical harnesses had more personality? Here's the good part: the OneTigris tactical dog harness is customizable!
That's right, you can add badges and morale patches so that whether your dog served in the military or you simply want to add some flavor to their harness, you have those options.
OneTigris tactical vest even starts you out with one of their own patches.
The nylon shell of this perfect harness is constructed for extra durability yet remains light, so your dog can comfortably wear their harness for hours at a time. Further augmenting the dog's comfort is the inclusion of interior padding.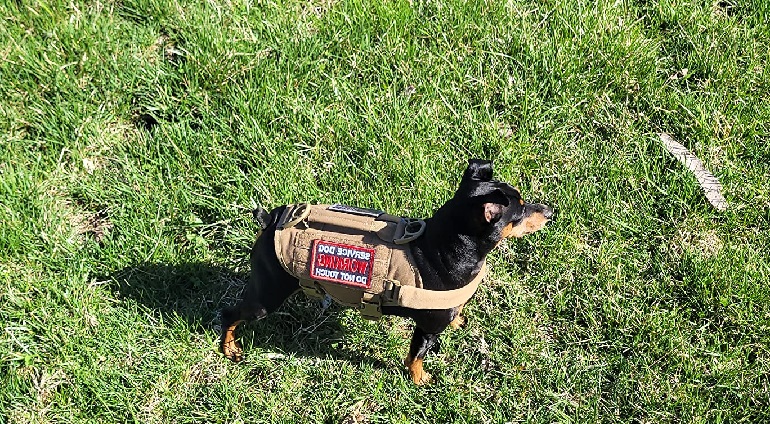 Oh, and did I mention the nylon shell is water-resistant as well?
Side MOLLE pouches for carrying are a nice addition, but what if you find that you're running out of room? The OneTigris harness includes a crisscross bungee strap so your dog can carry even more!
Recommended for dogs up to 50 pounds, you can personalize the fit of this tactical harness by adjusting the chest and neck straps.
Pros
The front control loop and the reinforced V-ring leash attachment points put the maximum control back in your hands when walking your dog.
You can choose from two sizes: medium for dogs with a chest measuring 17 to 39 inches or large for dogs with a chest size of 22 to 42 inches.
The black, tan, or forest green colors should be appropriate for rucking or military use.
Cons
There is only one ring for this lightweight harness, and it's around the back, not the front.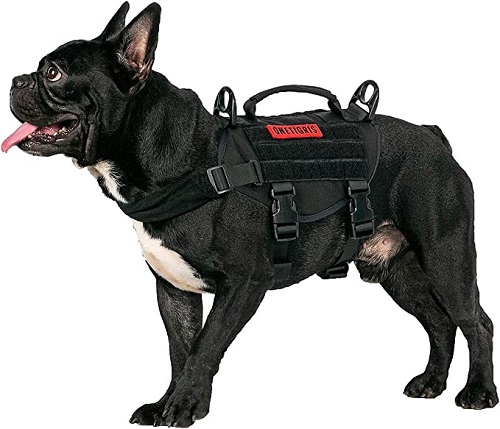 OneTigris Tactical Vest Dog Harness
The Price of "OneTigris Tactical Vest Dog Harness" varies, so check the latest price at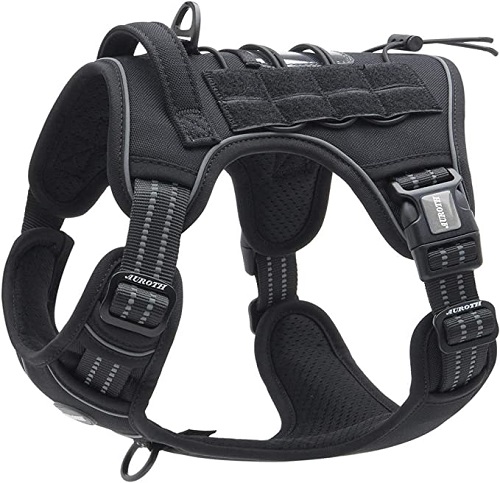 You know your dog, and most materials that other pups couldn't get through pose no problem for your canine companion. If you purchase a tactical harness for them, it needs to be quite heavy-duty, so they can't chew through it.
The Auroth Tactical Dog Harness is quality through and through, featuring durable materials that any dog would have a hard time tearing through.
The harness itself is comprised of military-grade 900-denier Kevlar. If you're not familiar, Kevlar is an incredibly durable, high-strength material.
That's not all. Underneath the Kevlar is padded cotton cushioning and air mesh.
The adjustable rings are made of steel as well. Your pup won't try to munch on those (let's hope).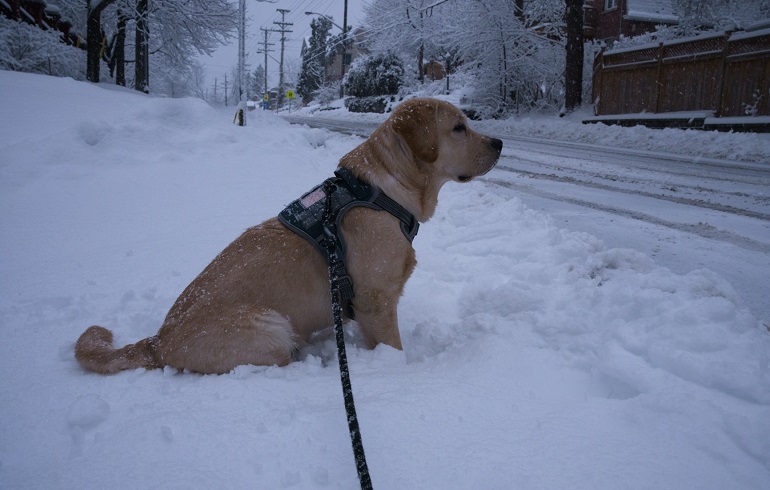 No more pulling either! The front D-ring allows you to connect your dog's leash to the tactical harness for pull-free walks where you stay in better control. There's a second D-ring around back.
The MOLLE straps on either side of this harness are an inch apiece and can be used for displaying a dog's name or for carrying gear and equipment for a tough day of hunting or rucking ahead.
When the time comes to head home for the day, the quick-release buckles will free your dog in an instant.
Pros
One MOLLE badge is included with your purchase, and it reads BEST FRIEND.
The Auroth harness offers four adjustment points in all, with two chest straps and two shoulder straps, giving you the freedom to customize the fit of the harness.
The harness is available in four sizes (small, medium, large, and XL) and in far more hues than merely military colors. Some fun options include Very Peri (periwinkle), Pink Camo, and Denim Blue.
Cons
The few straps the harness has can enable a wily dog to escape if they wanted to.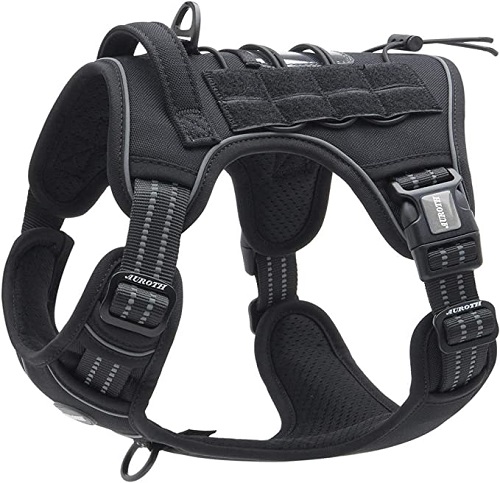 Auroth Tactical Dog Harness
The Price of " Auroth Tactical Dog Harness" varies, so check the latest price at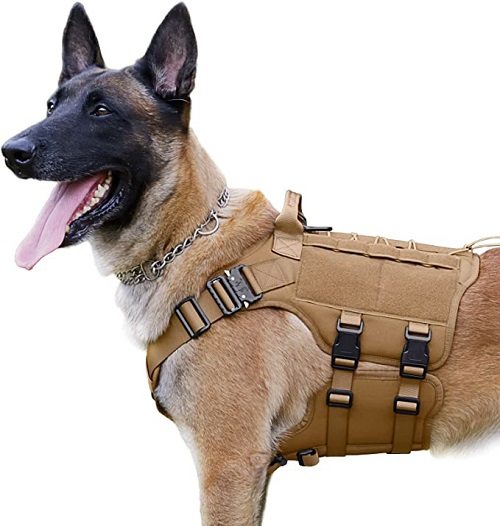 The PetNanny tactical dog harness immediately sets itself apart with 360 degrees of body protection. Your dog will be more covered by their harness than possibly with any other harness you've used before.
Yet don't worry, as PetNanny designed their tactical dog harness to free up the throat and neck so your dog is covered but can still breathe and move.
Breathable mesh throughout the interior of this harness ensures that your pup won't overheat as they climb hills or other difficult terrains.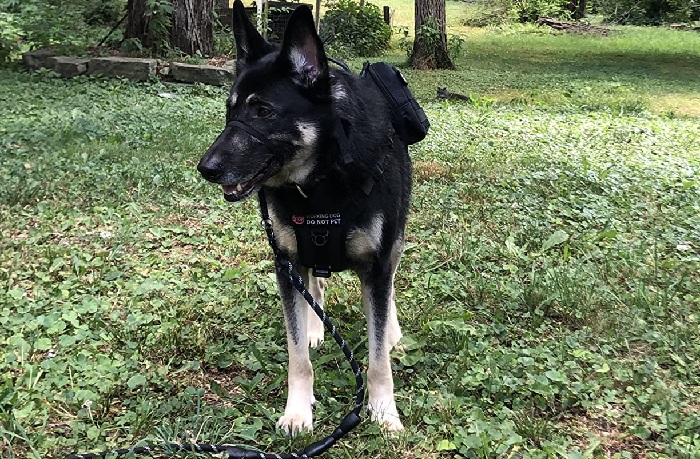 If you've found that the MOLLE openings for carrying gear are just too small with other harnesses, then check out the hook and loop system on the PetNanny harness. They're designed bigger to give you more space for stashing ID badges or transporting equipment.
Here's the best part! The heavy-duty metal buckles across this harness are load-tested for between 700 pounds (for the small and medium sizes) and 1,100 pounds (for the large and extra-large sizes).
The buckles of this nylon harness have a quick-release function as well.
Pros
The areas of high pressure across the harness have even more padding than the rest of the harness to cradle your dog's sensitive areas.
The sturdy 900-denier construction with reinforced sturdy stitching is made to hold up in all sorts of tough outdoor conditions.
The nylon-coated handle is comfortable on your digits, so you can retrieve your pup as needed.
Cons
A heavy, large dog might be able to detach the D-rings from the harness.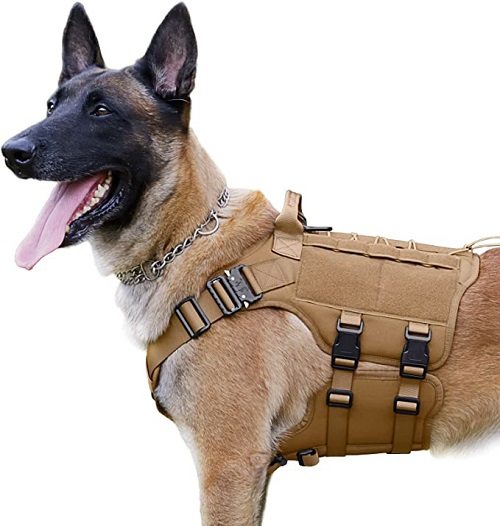 PetNanny Tactical Dog Harness
The Price of " PetNanny Tactical Dog Harness" varies, so check the latest price at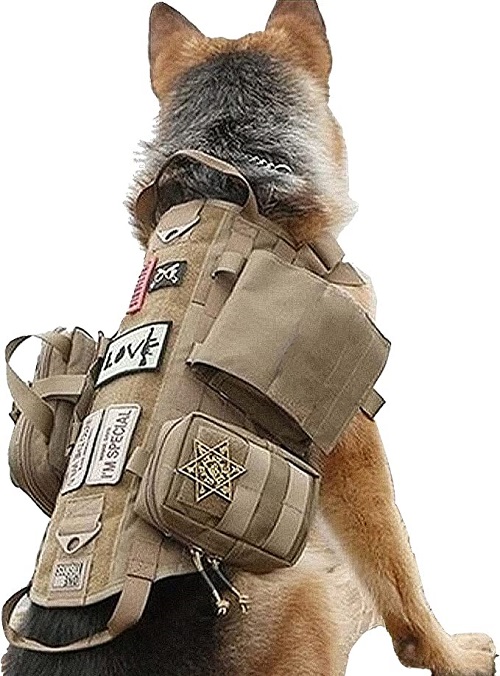 Many tactical harnesses I've looked at already have pouches, but none to the same extent as the Aiwai Tactical Dog Harness!
This harness includes a first-aid bag, waist bag, utility bill, and triple-bag MOLLE system. All are detachable.
You should have no worries about how you'll transport your gear when your dog wears this harness, that's for sure.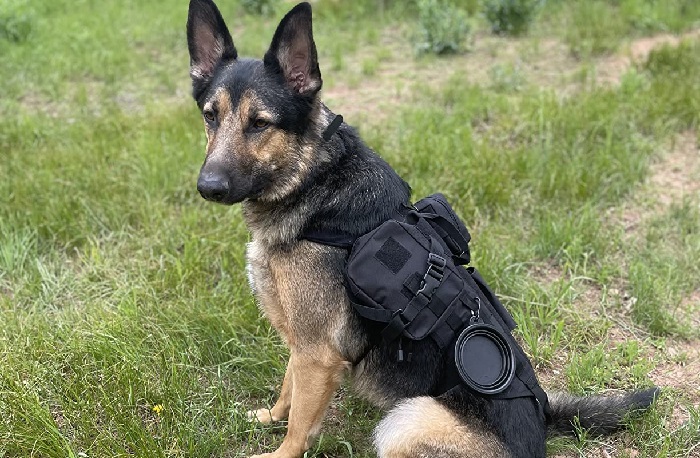 Besides the MOLLE system, you'll also find a hook and loop panel for adding a personalized badge atop the durable harness, so everyone knows who a man's best friend is.
The 1000d nylon construction of this harness is very heavy-duty, as Aiwai even reinforces the stitching to withstand pulling from your companion dogs without it falling apart.
If your dog does pull, then you'll also quite appreciate the neck strap cloth. This no-pull soft solution made of flannel safeguards your canine's neck and throat even if they try to get away from you on their walk.
Pros
The quick-release buckles are attached to an adjustable strap system to fit a variety of dog breeds and sizes.
Dual metal V-rings at the front and back let you walk your dog how you most prefer.
The harness comes in sizes from small to XL and in tactical military colors.
Cons
Even the XL size might be too small for some truly large dog breeds such as the Golden Retriever.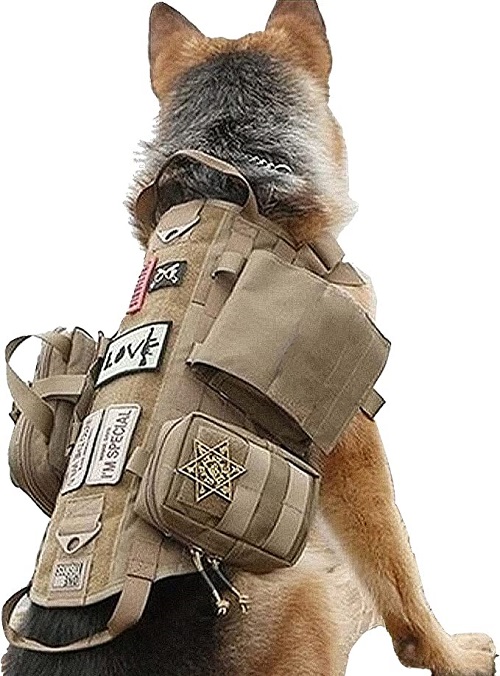 Aiwai Tactical Dog Harness
The Price of "Aiwai Tactical Dog Harness" varies, so check the latest price at
Things to Consider Before Purchasing the Best Tactical Dog Harness
I just presented six excellent picks for the top tactical dog harness, but how do you possibly narrow it down to only one?
Here's a buyer's guide full of helpful information to inspire your next purchasing decision!
Size and Weight
Correct size is one of the biggest considerations when shopping around for a tactical dog harness. I would say it's even more important than the price of the harness.
After all, if the harness doesn't fit, then you're going to waste your money, as the harness is useless for your dog.
Before you select the perfect tactical harness you love and want your dog to wear, make sure you take a few minutes to measure your pup for a harness first.
Then disqualify harnesses that don't fit your dog according to those measurements.
Oh, and I'd be remiss not to discuss the overall weight of the harness. As I talked about in the last section, a heavy-duty harness should not weigh down your dog.
The inclusion of breathable, light materials such as mesh reduces the weight of a harness so your dog is ready for hours of trekking, rucking, or training.
Materials
The tactical dog harnesses I looked at today are made of military-grade materials such as high-denier-count nylon, steel or metal alloy, and heavy-duty stitching.
The higher quality the materials your harness utilizes, the longer it will last.
It will also be that much harder for your dog to chew through the harness, which is something that every rambunctious pup is interested in doing.
Adjustability
Even if you size a tactical harness to your dog's measurements, the harness might not fit perfectly right out of the package.
The best tactical dog harnesses have adjustment features galore so you can pull the dog's chest and shoulders tighter.
A harness needs to fit your canine companion properly or they'll be able to wriggle free at the drop of a hat. Then you'll have to chase them down!
Durability
Tactical harnesses are a step above your average dog harness, so durability is not something you need to concern yourself with, especially if you pick among the harnesses that I reviewed for you today.
FAQs
Are Tactical Harnesses Good for Dogs?
Although you often see service dogs, police dogs and other dogs in military branches use tactical harnesses, these harnesses are recommended for the everyday canine as well.
You'll recall that on uneven and difficult terrain, a tactical harness makes your walks easier for both you and your dog.
Features like front and back D-ring connections will reduce pulling and MOLLE strips and patches give you plenty of options to affix accessories and carry gear to your pup before your walks.
What Dog Harness Does the Military Use?
The military doesn't use only one harness but tactical harnesses produced by brands such as Auroth, Sentinel, and Ray Allen.
Conclusion
Tactical dog harness features the inclusion of MOLLE panels, Kevlar, and other superior construction, exceptional load-bearing capacity, carrying handles, and quick-release buckles.
The best tactical harnesses have these features as well as a variety of sizes for all sorts of dog breeds. The harness should include adjustable straps, quick-release buckles, and military-inspired colors.
You don't have to serve for your dog to be eligible for a tactical harness. If you live in a region where the terrain is tough, then your pup will benefit from one of these harnesses.
If you enjoyed this article, don't miss our other dog harness guides.