As soon as you get your adorable new puppy, the first thing you want to do is take them out for a walk – it's amazing to watch them explore the world for the first time!
But you don't usually stop to think about what kind of lead you might need… And you have to think carefully about what lead is best for your new fur baby.
Picking a dog leash for a puppy can be particularly confusing because there's more to consider, from the weight to its durability – after all, if your puppy has a chance, it's going to chew through the leash as fast as it can.
But it's worth pausing to consider which dog leash you should choose. Believe us, the right lead can make walking and leash training your new pup so much easier.
With the best dog collar and leash, training becomes a simpler, smoother process, and your puppy will become the dog of your dreams in no time.
Best Overall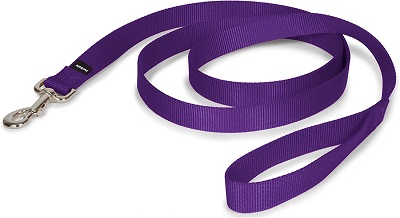 PetSafe Nylon Dog Leas
Size: small
Material: Nylon
Best Range of Colors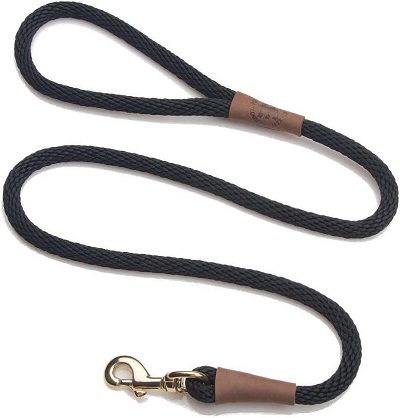 Mendota Pet Snap Leash
Size: SMALL
Material: Polypropylene

Great Durability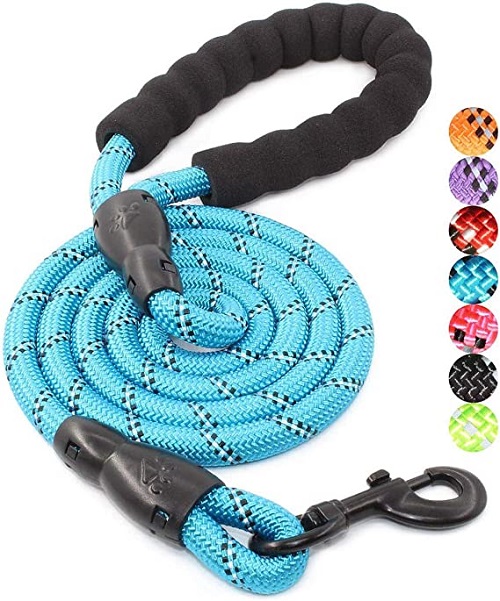 BAAPET Strong Dog Leash
Size: SMALL
Material: Nylon
Super Versatile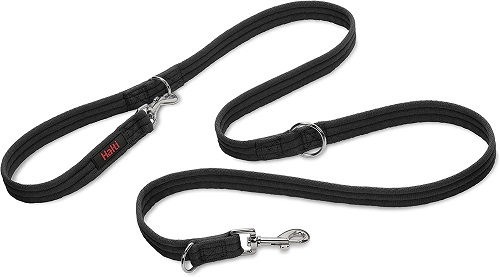 HALTI Training Lead for Dogs
Size: Large
Material: Nylon
Ultimate Control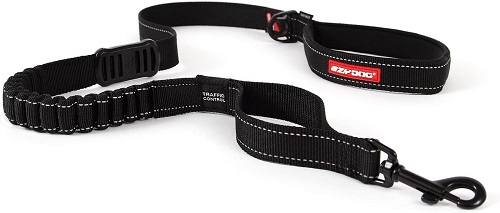 EzyDog ZERO SHOCK Leash
Size: small

Material: Neoprene
Budget Option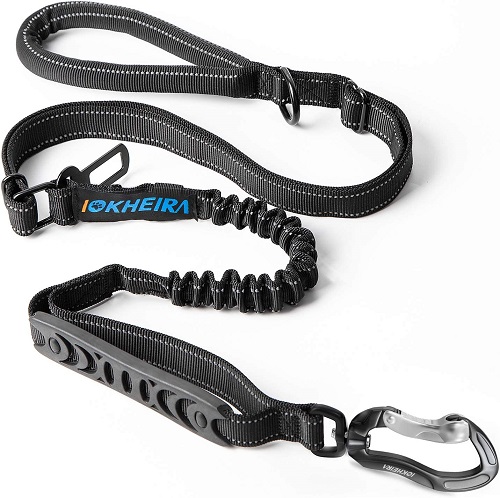 IOKHEIRA Dog Leash
Size: small
Material: Aluminum
For Active Lifestyle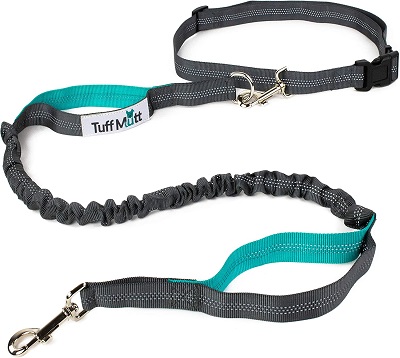 Tuff Mutt Hands Free Dog Leash
Size: small
Material: Nylon
Best for Pullers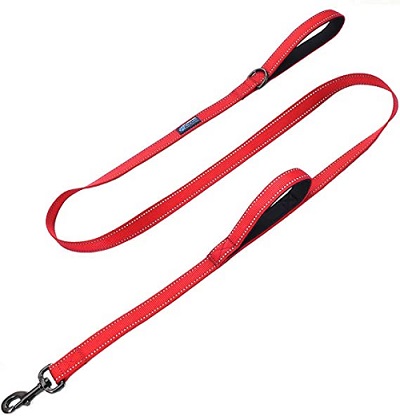 Max and Neo Reflective Dog Leash
Size: small
Material: Neoprene
Best Dog Leashes for Puppies
We know better than anyone that it's not easy to pick the right dog leash for you – after all, there are so many to choose from. So, here are 8 of the best dog leashes for puppies to start your search.
Have a look through so you know what you need to look out for, and we're confident you'll find the best leash for training your pup.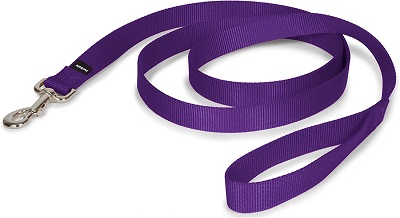 PetSafe is a reliable brand trusted by thousands of pet lovers and dog owners around the world. The PetSafe nylon dog leash is well-made, reliable, and affordable. It may be simple without fancy extras, but has the essentials that you need.
Made from nylon, it's lightweight for your dog and comfortable enough for you to hold. The nylon also makes it an easy dog leash to clean, but it's not so comfortable to hold if your puppy is a strong puller, especially without padding on the handle.
Still, although it's not chew-proof by any means, it's nevertheless a fairly durable dog leash. The nylon leash is weather and water-resistant, while the hardware is made of nickel-plated zinc, like the swivel clip.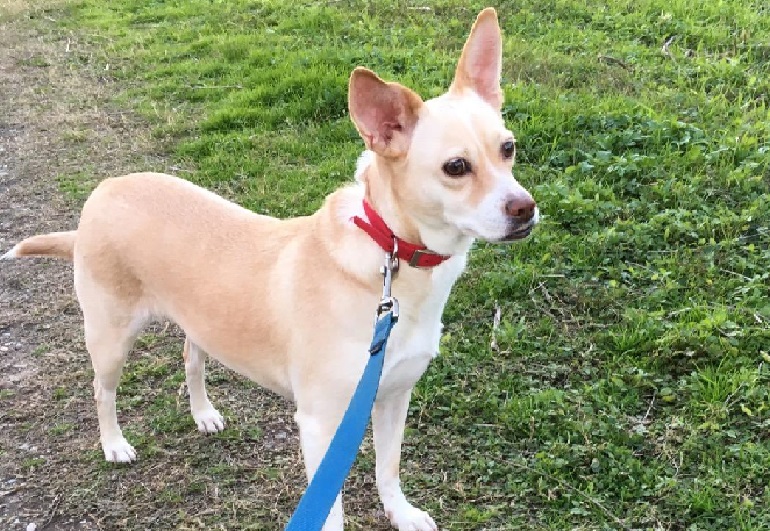 However, while this lightweight clip might reduce tangling by rotating 360 degrees, it's only really durable when it comes to small puppies; it won't necessarily withstand the pulling of strong dogs.
There are up to seven color options for you to choose from, such as black, blue, and pink, as well as various sizes. You can choose between lengths of either 4 feet or 6 feet, and a range of thicknesses, including 3/8 inch, ¾ inch, and 1-inch.
Pros
Lightweight
Webbed nylon material
Suitable length for walking and leash training
Affordable
Various sizes and colors
Cons
Won't survive against strong chewing
No padding on handle
Not recommended for determined pullers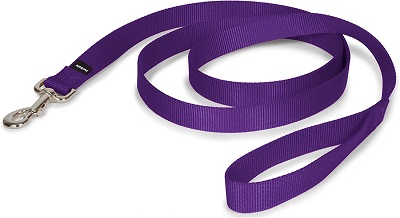 PetSafe Nylon Dog Leas
The Price of "PetSafe Nylon Dog Leas" varies, so check the latest price at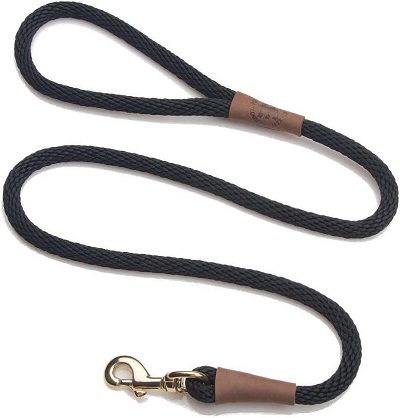 The Mendota leash is the best one to go for if you have your heart set on a rope-style dog leash or want something similar to a leather leash. It's not just a rope though – it includes a handle with an extra-wide loop for easier handling of your dog.
It's a durable dog leash too, thanks to its flexible and braided multi-filament polypropylene rope. Fortunately, it's not too heavy and even boasts a 'broken-in feel,' meaning it's pliable enough for you to bundle up and fit in a pocket.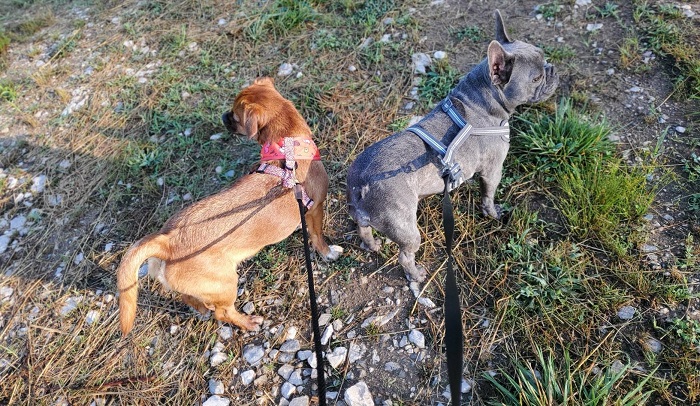 As a long-lasting leash, feel free to let it get wet as it's machine washable, but not invulnerable to your puppy's persistent chewing. Similarly, although it sports metal hardware, the lightweight snap is quite small and not suitable for large dogs who might bolt or pull a lot.
There are a few options in terms of sizing, with these rope leashes coming in two lengths (4 feet and 6 feet) and two thicknesses: ½ inch for dogs under 50lbs and ¾ inch for dogs between 50lbs and 250lbs. But there's a huge selection of colors and patterns, offering you up to 45 to choose from!
Pros
Enormous range of colors
Waterproof
Lightweight snap
Wide loop and comfortable handle
Suitable lengths for training and walking
Cons
Vulnerable to chewing
Clip too heavy for small puppies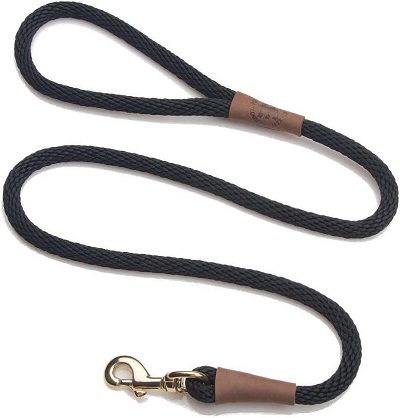 Mendota Pet Snap Leash
The Price of "Mendota Pet Snap Leash" varies, so check the latest price at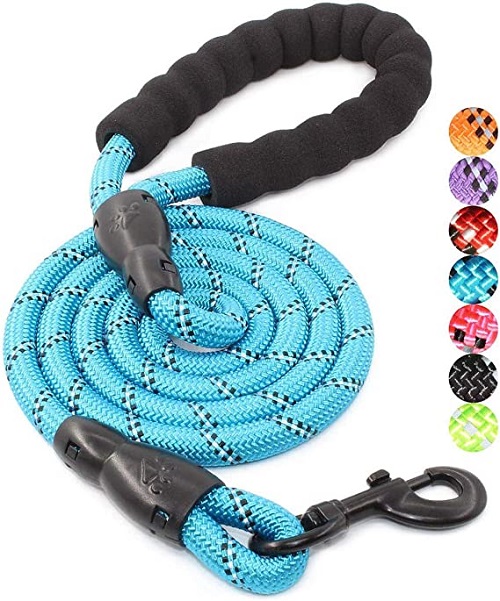 Although it's a newer brand, you can still rely on BAAPET for high-quality pet products at affordable prices. Their dog leash is ½ inch in diameter and made from the same type of rope used in rock climbing, so rest assured it's durable. And with a soft padded handle, it's comfortable for you to hold onto as well.
By using a professional sewing machine, they include double stitching for extra durability, ensuring that even if the rope does break, the seam won't; this is perfect for making sure your dog stays safe even when they pull! It's not completely chew-proof though, so keep it away from your dog's teeth.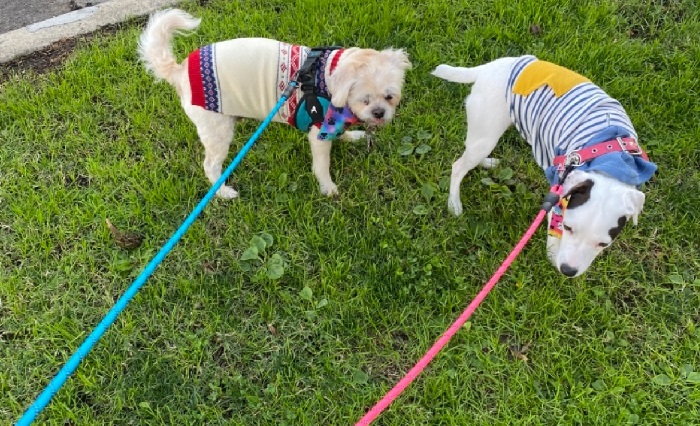 The zinc-alloy clasp has a 360-degree swivel, avoiding any tangles and giving you good control over your dog. And thanks to the leash's reflective material threads, you can walk in low-light conditions safely with extra visibility.
The dog leash comes in two different sizes (2 feet or 6 feet) but offers you a range of 12 colors, including more unusual and fun colors like silver and purple.
Pros
Affordable
Lots of colors to choose from
Durable but comfortable
Range of sizes and thicknesses
Cons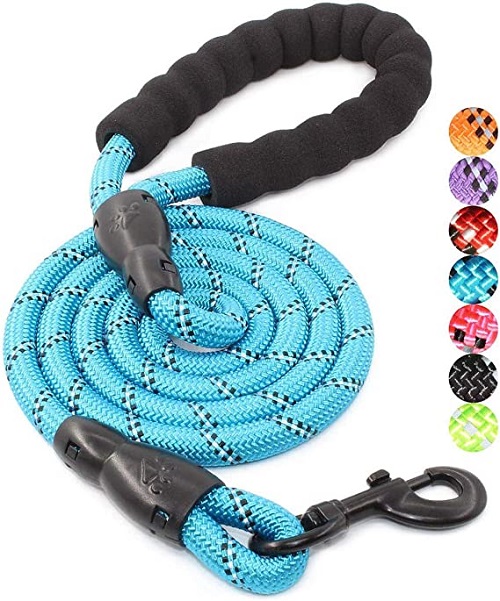 BAAPET Strong Dog Leash
The Price of "BAAPET Strong Dog Leash " varies, so check the latest price at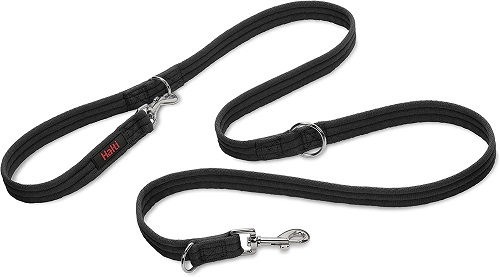 HALTI is a big brand for dog products; with award-winning products under their belt, they have millions of satisfied customers and are a favorite of pet parents and dog trainers.
HALTI even invented the world's first dog headcollar, and you can use this matching leash with their headcollars and dog harness for maximum control if you have a large dog.
With only two choices of red or black, HALTI's leash is made of nylon webbing, meaning it's lightweight, durable, and weatherproof – but it's still not a chew-proof lead! It is comfortable and sports a padded handle though, but the nylon leash can become frayed after extensive use.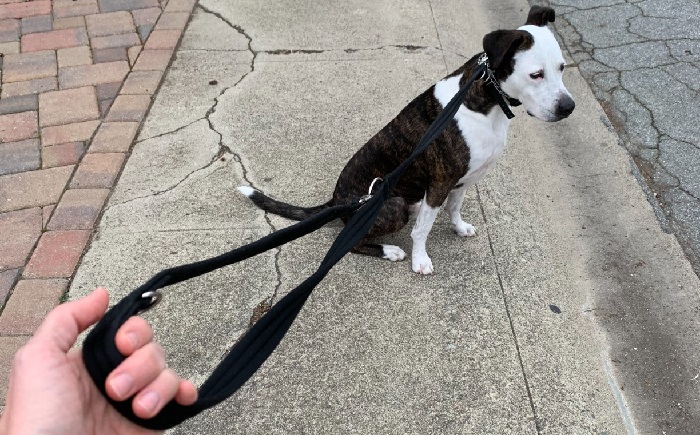 With two trigger clips on either end of the dog leash, this is a great option if versatility is important to you. You can attach both ends to your dog for optimal control if you wish, allowing you to almost "steer" your pup.
It includes two rings which allow you to change the length of the lead too, letting you customize it on the go.
Pros
Popular and reliable brand
Lightweight and comfortable
Versatile with different lengths
Double-ended with two trigger clips
Cons
Not chew-proof
Starts to fray after lots of use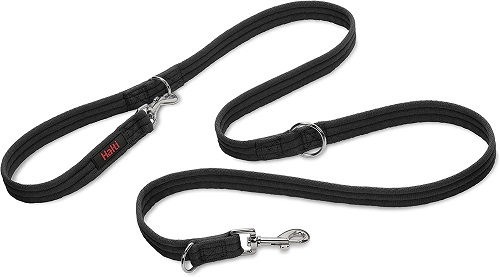 HALTI Training Lead for Dogs
The Price of "HALTI Training Lead for Dogs" varies, so check the latest price at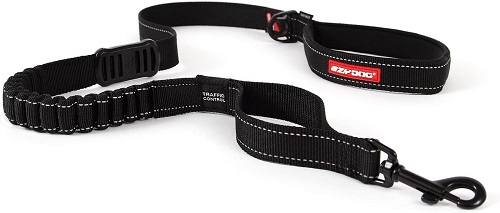 The EzyDog leash comes in sizes of either 25" or 48", but has 12 colors to choose from, all of which have highly reflective stitching woven in, giving you and your pup extra visibility on any nighttime walks.
It's a very durable leash too; however, its patented zero-shock technology is what really sets it apart. Its use of a bungee reduces the strain and pressure from your dog's pulling, making walks much more pleasant and easier to control.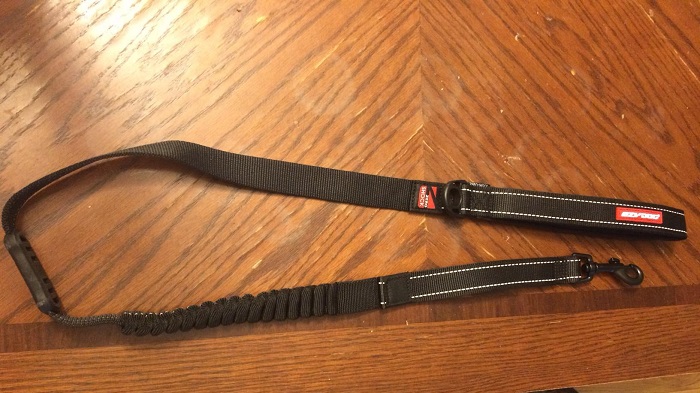 It's even easier to control your dog, thanks to the second rubber grab handle found at the end of the leash near the dog. However, this additional handle is only found on the longer version of the lead. Still, both sizes use soft touch technology, including a padded handle lined with neoprene, making it comfortable to hold.
It includes a D-ring on the leash for any extras you'd like to attach, such as pouches for poo bags or treats. In fact, having quick access to dog treats make this ideal for training!
Pros
Padded handle lined with comfortable neoprene
D-ring to add accessories
Range of colors
Reflective stitching
Bungee with zero-shock technology
Cons
Expensive
Second handle only available on 48" leash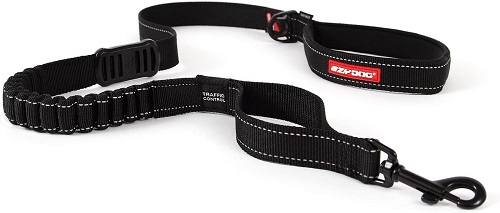 EzyDog ZERO SHOCK Leash
The Price of "EzyDog ZERO SHOCK Leash" varies, so check the latest price at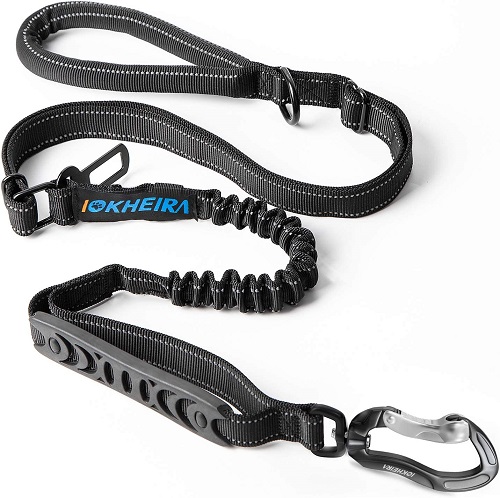 Although the IOKHEIRA dog leash is an affordable option, there's a lot to it – after all, there's a reason it's become an Amazon bestseller! It's a dog leash packed with features, including a D-ring for attaching accessories and a car safety buckle.
Thanks to its aluminum carabiner, it's a durable leash, able to withstand a maximum force tension of up to an impressive . Meanwhile, the leash itself is made of nylon and is able to take up to 200 lbs of pulling power from your dog. While this is admirable, it's still not completely chew-proof so don't leave it alone with your dog.
Interwoven with nylon, you can find reflective threads to add extra visibility for added safety during any nighttime walks. Just be aware that these reflective threads bleed onto the handle. Although the handle is padded for comfort, the reflective threads can make it uncomfortable to hold.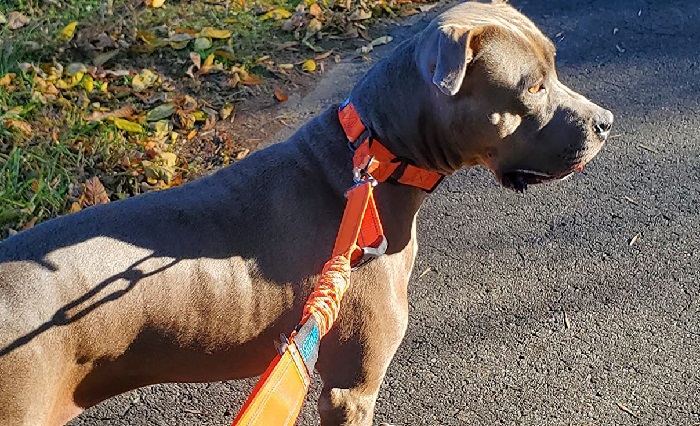 As well as nylon, the leash also includes a lightweight bungee using zero-shock technology to reduce the strain from pulling.
There's an extra non-slip rubber handle lower down the leash too for even more control and to stop any bad behaviors from your dog while they're learning leash manners.
Although there are up to nine colors to pick from, from pink to army green, there's only one size available. However, that doesn't pose much of a problem since it's an adjustable lead, allowing you to switch between 4 feet and 6 feet with relative ease.
Pros
Affordable
Reflective stitching adds visibility
Adjustable length for versatility
D-ring for accessories
Car safety buckle built-in
Lightweight but durable
Second non-slip rubber handle
Cons
Reflective threads can be uncomfortable on handle
Not chew-proof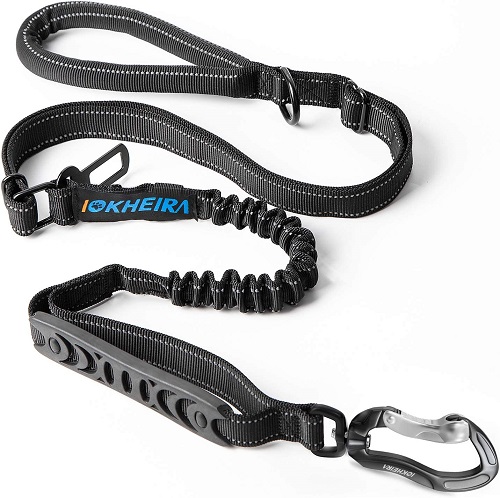 IOKHEIRA Dog Leash
The Price of "IOKHEIRA Dog Leash" varies, so check the latest price at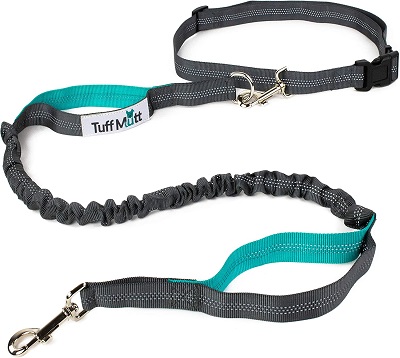 Here's a completely different type of puppy leash for all you active dog owners! A hands-free leash is perfect if you want a leash for running or for going about your active lifestyle.
A hands-free dog leash is a design that includes a belt loop that attaches around your waist, allowing you to run or hike with your dog attached to you. And since young puppies love to exercise, they'd love the chance to run alongside you!
And the Tuff Mutt leash is better than others of this style. While other hands-free leashes stay in one position, this one has a clip that slides smoothly along the belt, allowing your pup to move from side to side; this gives both of you more freedom!
But it still includes two built-in loops to use as handles if you wish to use it as a regular leash too.
By including a bungee cord, shock and strain are absorbed whenever your puppy pulls at the leash.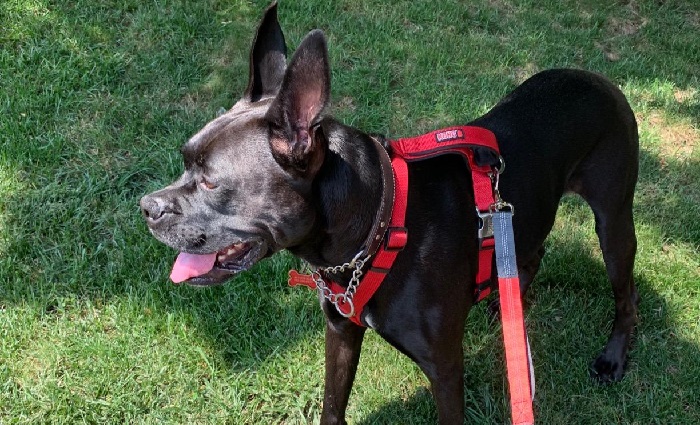 This is particularly important for a hands-free leash; imagine if you're running in one direction and your dog suddenly pulls in another… without the bungee, you'd be pulled off your feet! At regular length, the leash is 4 feet but can be extended up to 5 feet.
The leash is made from nylon of up to 10 colors with reflective thread woven throughout. This means the leash is both safe for nighttime walks and durable for pulling. It's actually a reliable leash for large dogs, meant to withstand pulling from dogs up to 110lbs – but it's not suitable for dogs larger than this.
On the other hand, the metal snap closure might be too heavy for particularly small dogs, meaning it's only really suitable for medium dogs between 30lbs and 110lbs.
Pros
Hands-free design perfect for active lifestyles
Bungee cord absorbs shock from pulling
Two loop handles for extra control
Range of color combinations
Cons
Not durable for particularly strong dogs
Not recommended for puppies under 30lbs
More costly than a standard leash for puppies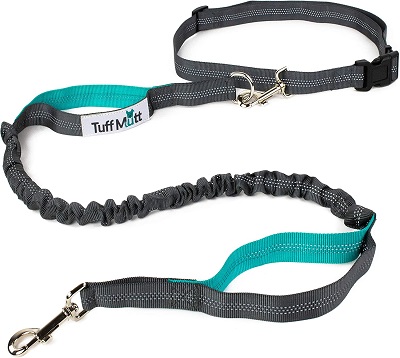 Tuff Mutt Hands Free Dog Leash
The Price of "Tuff Mutt Hands Free Dog Leash" varies, so check the latest price at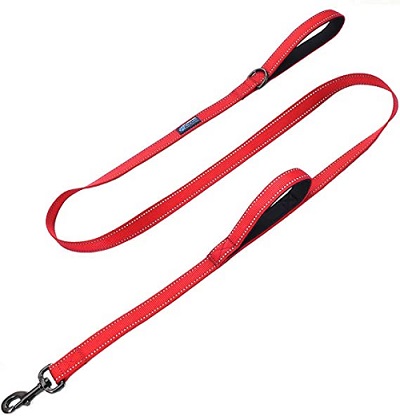 Max and Neo's reflective leash is an incredibly popular one, with almost 100% positive reviews on Amazon, and would make an excellent leash for training your puppy.
One of its big positives is its soft handles, padded with neoprene for more comfort and better handling. As well as one handle at the end for regular walking, there's another one located a few inches from the clasp, allowing for extra control and making obedience training more effective.
However, these handles are a bit on the small side and so aren't ideal for those with large hands.
It's a durable leash too, thanks to its width of 1 inch and is made from 2mm thick heavy-duty nylon webbing. This means it can withstand pulling from particularly large dogs, but teeth can still work through given the chance.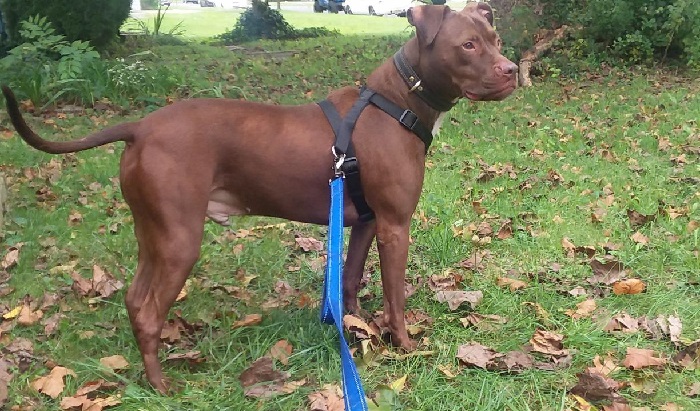 It includes reflective stitching on both sides to ensure extra visibility and safety during nighttime walks, as well as a D-ring to attach extras, such as a pouch for poop bags or a small LED light to boost its visibility.
Both the 4 feet and 6 feet puppy leashes come with a thickness of 1 inch, but there are up to seven bright colors to choose from: black, red, teal, and more.
But the best element of Max and Neo is how the company was created specifically to donate to dog rescue shelters. These shelters are always in need of supplies, so for every Max and Neo leash sold, they donate another one to a dog rescue.
Pros
Each sale donates a leash to dog rescues
Two padded handles for extra control
Durable heavy-duty nylon webbing withstands heavy pulling
D-ring for extra attachments
Range of colors
Cons
Small handles don't fit big hands well
Not a chewproof leash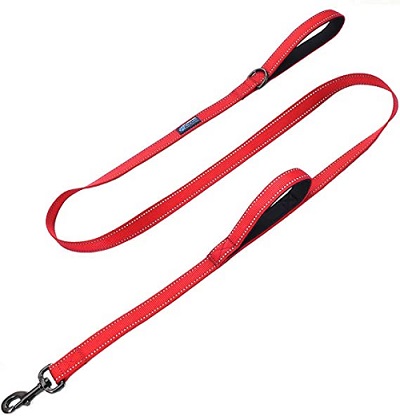 Max and Neo Reflective Dog Leash
The Price of "Max and Neo Reflective Dog Leash" varies, so check the latest price at
Things to Consider Before Purchasing the Best Dog Leash for Puppies
There are several elements to bear in mind when selecting the best dog leash to ensure your puppy is safe and happy while on walks or during training sessions.
You can even get a double dog leash to control two dogs at a time. But it all really comes down to material, length, weight, durability, and comfort when finding the best leashes for puppies.
Material
Material is mainly important for your dog's safety. It needs to be strong enough to withstand your dog's pulling and not tear as soon as your dog starts chewing.
But ideally, it should also include reflective stitching to keep you and your puppy safe when walking outside at night or in low-light conditions.
Length
Don't jump straight to retractable leashes like everyone else has. In the early days, your puppy is still learning how to walk on a leash and is prone to straying over to places they shouldn't – and it's much harder to stop them with retractable leashes.
To avoid any problems, it's safest to keep them on a shorter leash for more control and aim for one between 4 and 6 feet.
Weight
Breeds come in all shapes and sizes, but when your dog is still a puppy, they tend to be quite small. While they're still growing, it's best to avoid any heavy leash that might weigh them down since this can be uncomfortable and hinder their movement. Always choose a lightweight leash.
Durability
Flimsy puppy leashes are an absolute no at the best of times – but it's even more important when it comes to a leash for a puppy. Puppies pull a lot when they're on a leash – and you need to make sure it's not so flimsy that it'll break when a big dog pulls.
Puppies chew a lot too regardless of breed, so make sure the puppy leash is as durable as possible, even if it's not completely chew-proof. Chain leashes are, no doubt, more sturdy but they are not suitable for your new puppy.
Comfort
While the factors are all about your dog, comfort is all about you; you're the one walking your puppy, so you want to be comfortable. A padded handle is preferable and it's best to get a leash that stretches a little since this puts less stress on your arm when your dog inevitably pulls.
FAQs
What Are Puppy Training Leashes?
Training leashes for puppies are designed to give you full control over your puppy. As a little bundle of energy, they should allow you to tame your dog and stop them from getting over-excited.
This is crucial, especially when it comes to making them wait to cross the street, not chase squirrels, and not jump all over other dogs.
What Are the Different Types of Training Leashes?
Not all training leashes are identical and all come with their own mix of various puppy-proof features; some can be short, have double handles, include shock-absorber bungees, and even include materials that resist chewing to an extent.
When Should I Start Leash Training my Puppy?
You should start leash training your puppy as soon as possible after their vaccinations are done. Aim for short walks at first to get them used to it, but always use the puppy leash to keep them under control.
Conclusion
Finding the best leash for your puppy can take a bit of searching around, but when you've got one that does the job, it's definitely worth the effort.
But it takes more than just the right leash to train your dog effectively. You should also aim to find the best dog harness for puppies and the best dog collar to keep them safe and secure.
But with the best leash, you'll be out on adventures with your new best friend in no time.