Heaven, for a dog, is endless cuddles, tons of treats, and hanging its head out the car window. But we may need to rethink that last desire and talk about dog car safety. Don't all of us want our cuddly canines to live as long as they can? With this information, you can be sure you've done everything you can to make that happen.
Gone are the days when all you could do to keep Clifford safe in the car was throw a blanket in the back seat. Technology has come to the rescue to allow you the luxury of making sure your dog is safe and secure while traveling with you.
Did you know dog car seats are crash tested? Did you know there even are dog car seats? Or that riding shotgun is a no-no? We're all about sharing information, so let's get into how you can get the top dog award for dog car safety.
Safest Way to Travel With Dog in Car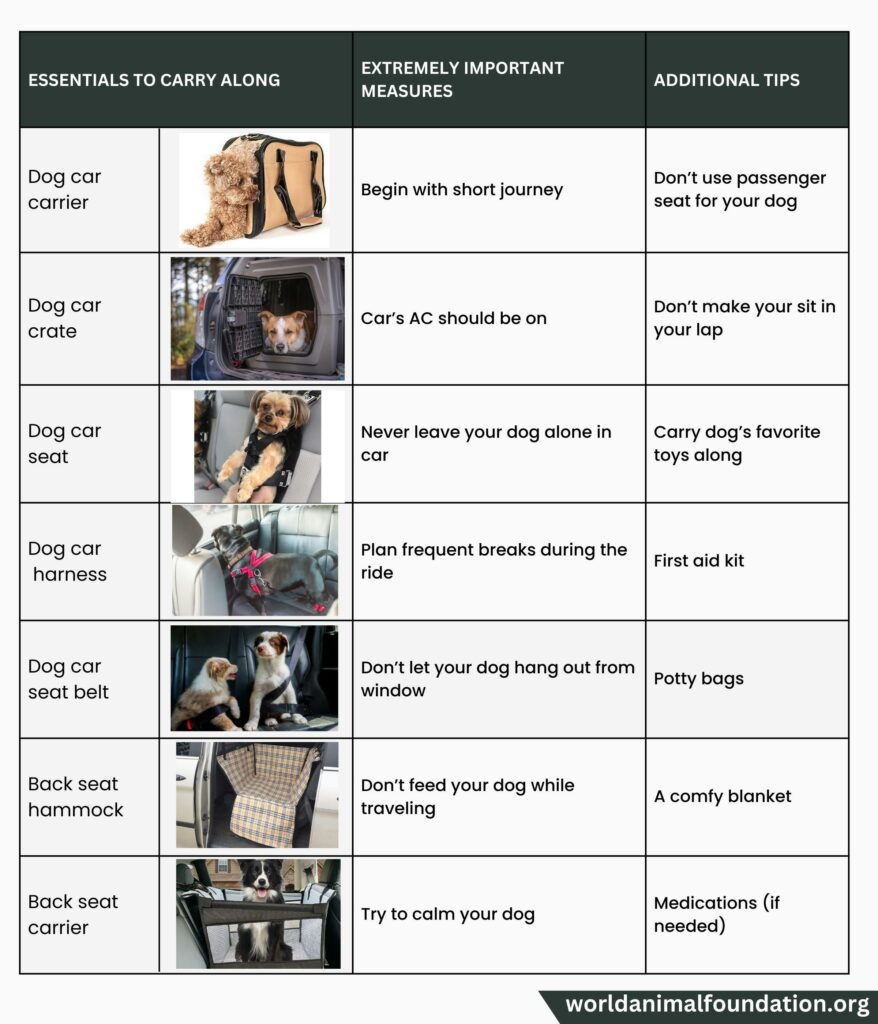 You'd think car safety contraptions for dogs are a fairly new concept when in fact, researchers have been working on pet safety products for decades.
In the 1920s, the Bird Dog's Palace was created, which was a steel crate that locked into the running board of Model Ts, which were often called the 'Tin Lizzie.' Throughout the following decades, more pet safety devices were invented.
In the 80s, a company called "Ace K9" made it much safer for police dogs to be in the cruiser without getting overheated. Companies today are able to build on and revamp those inventions to improve a dog ride.
You might be thinking that crates and seatbelts are the totality of things we can choose from for our furry ones. But there's so much more to think about when making things safer for Archie. Things like first-aid kits (for dogs) and climate-control systems are only a couple more products to consider buying.
So let's jump in the car (seatbelts on) to take a trip to a world where dogs can feel loved, cared for, and safe.
Car Restraint for Dogs
Just as we buckle up for our journeys, our canine companions deserve the same level of protection. Car restraints for dogs, like pet carriers, crash-tested crates, or booster seats, are essential tools designed to keep your pet safe while on the road, ensuring their safety and the safety of everyone in the vehicle.
Car Carrier Dog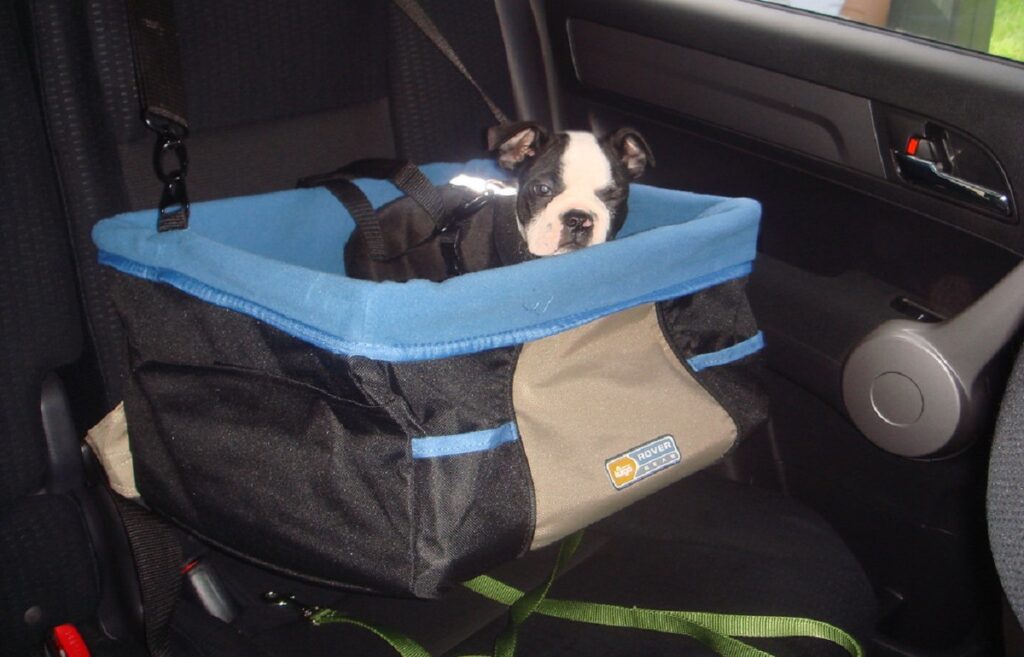 Car carriers for dogs are designed to be securely attached to seat belts. They look similar to baskets but are made with many different designs.
It's easy to think that putting our dog in a crate should seal the deal for dog protection, and it is a great start. But the right dog carrier that secures itself to the vehicle and tethers the dog to the carrier is almost just as safe.
Dog Car Crate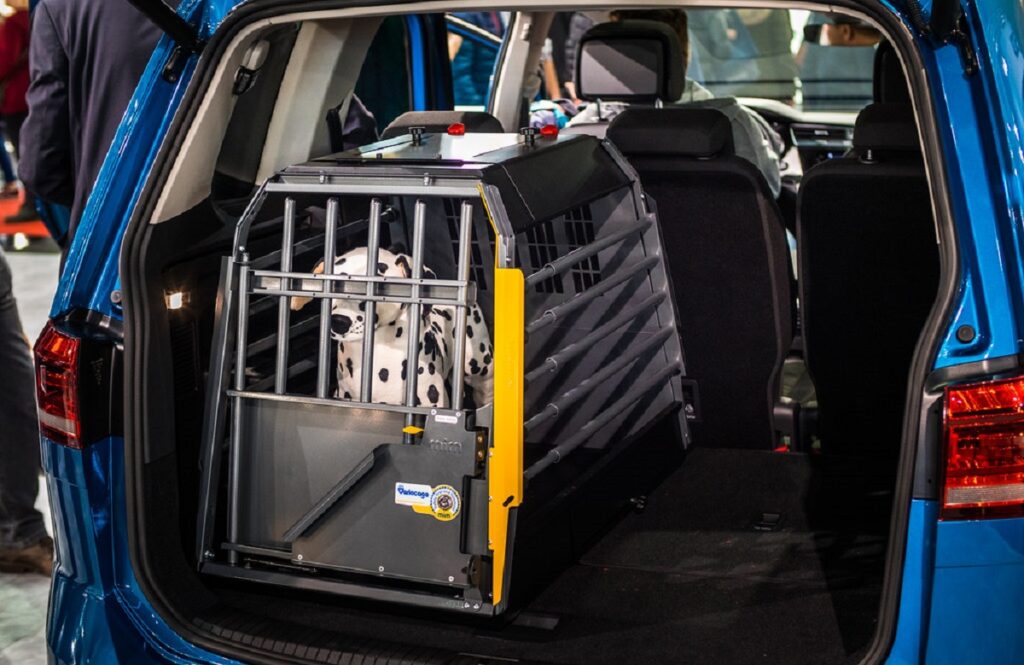 Dog car crates in today's world go far beyond the metal ones that were previously the only choice for pet owners. Getting a crate that is only large enough for your dog to turn around in is vitally important to their safety. They certainly need to be able to move but make it a tighter fit than one you may use outside the vehicle. This will keep your dog safe and protect them completely.
For small dogs — 18″x18″ or 18″x24″ — Under 24 lbs or Under 30 lbs
For medium dogs — 24″x30″ or 24″x36″ — Under 40 lbs
For larger dogs — 30″x30″ or 30″x36″ — 40-50 lbs or 50-60 lbs
Crash Tested Dog Car Seat
The Center for Pet Safety (CPS) is modeled after Consumer Reports, and the Insurance Institute for Highway Safety tests dog car seats in a similar fashion to human car seats. Some products pass, and some fail, so it's important to look for dog car seats that explain it has passed standards and protocols. Some are even made to be rear-facing.
Since an unrestrained, 80-lb. dog can be catapulted out of the car in a 30-mph car crash, their safety is a legitimate concern. Try to stay away from any restraint that doesn't list "crash tested" in the details.
Crash Tested Dog Harness
The dog car harness works by keeping your dog properly restrained during car rides, distributing the force of impact evenly to reduce the risk of injury in case of an accident. They are easier on your pockets. However, they don't provide protection to the entire body.
Also, be aware that getting a dog's harness that goes around the neck can easily be fatal in a crash, so look for ones that tether the body to the seat belt. These products have undergone crash tests at testing facilities in order to help you sleep (and drive) easier.
Crash Tested Dog Seat Belt
Most of us would never think of getting in the car without buckling up. Why shouldn't we be as concerned about our dogs? There are dog seat belt options for all sizes made from quality materials, and don't forget to look for the ones that have been crash tested.
Since 1975, it's estimated that seat belts have saved almost 400,000 lives. Make sure you and your dog are among them.
Back Seat Hammock
Picturing your angel kicked back with their legs crossed and a doggie smoothie? This isn't quite the same. Today's hammocks are much more protective than the old-fashioned ones made of blanket material.
Padding and siding have been incorporated as well. Although not as constrictive as other crash protections, a backseat hammock is excellent for large dogs. They are completely open at the top, so keep that in mind and secure your sweetie into a dog seat belt as well.
Back Seat Barrier
Made to separate the rear and front seats of the car, barriers are an excellent way to stop your dog from propelling. For the safest accident prevention, make sure they stretch from seat to ceiling.
Dogs are often allowed to roam freely in the car and can end up blocking your view or even under the accelerator or brake (gasp!). A backseat barrier can be a lifesaver for both your dog and yourself. Ideally, they can be set up in the cargo area in the back of the car to avoid distracted driving.
What are Unsafe Seats for your Dog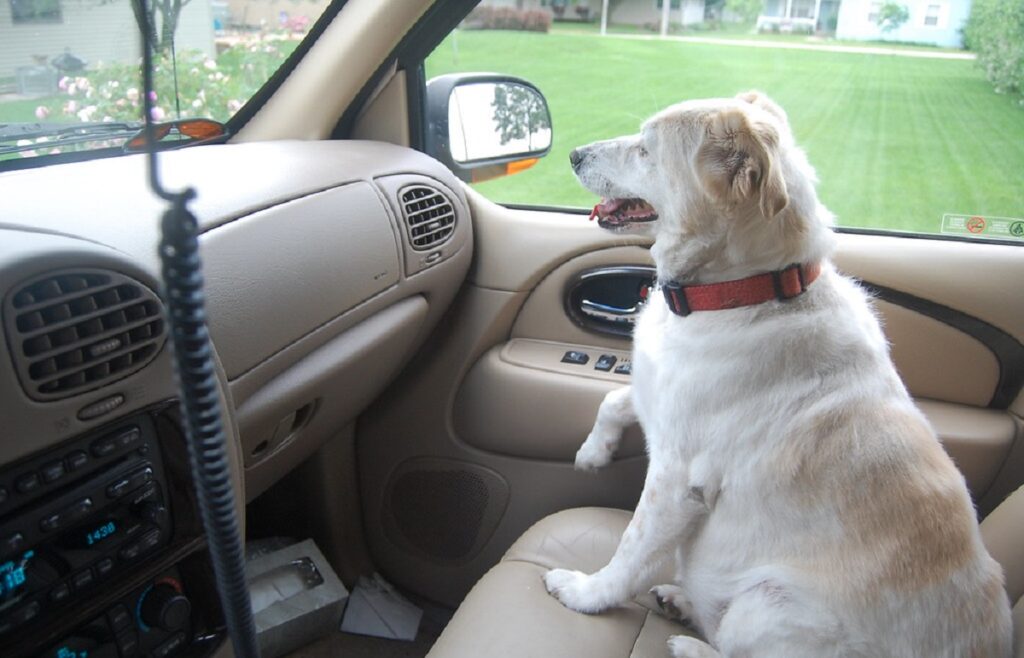 Explore which car seats could pose risks to your furry friend during travels and ensure your pup's safety during a car ride:
Passenger Seat
Just like with small children, letting your dog ride in the passenger seat could be disastrous. Airbags can do serious damage or even cause death to dogs riding in the front seat.
Lap
Never ride with your dog sitting on your lap, no matter how much you or they want to. Car ejection or internal injuries can mean certain death, and it's just not worth it.
Additional Essentials for Traveling with Dogs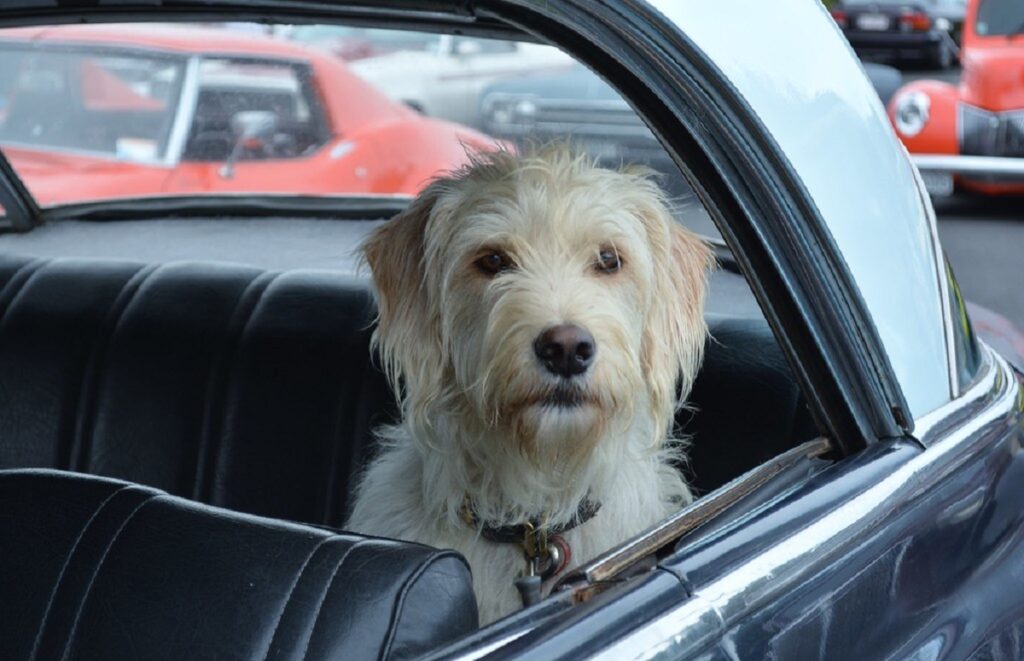 These are the additional must-have essentials that will make traveling with your dog a breeze:
First Aid Kit
Would you be prepared if your dog cut his leg, split his lip, or started vomiting in the car? Most of us wouldn't, but if you have a first aid kit on hand, it can literally be life-saving. Even if you're just taking a stroll in the park, dangers can lurk. Here's what you'll need: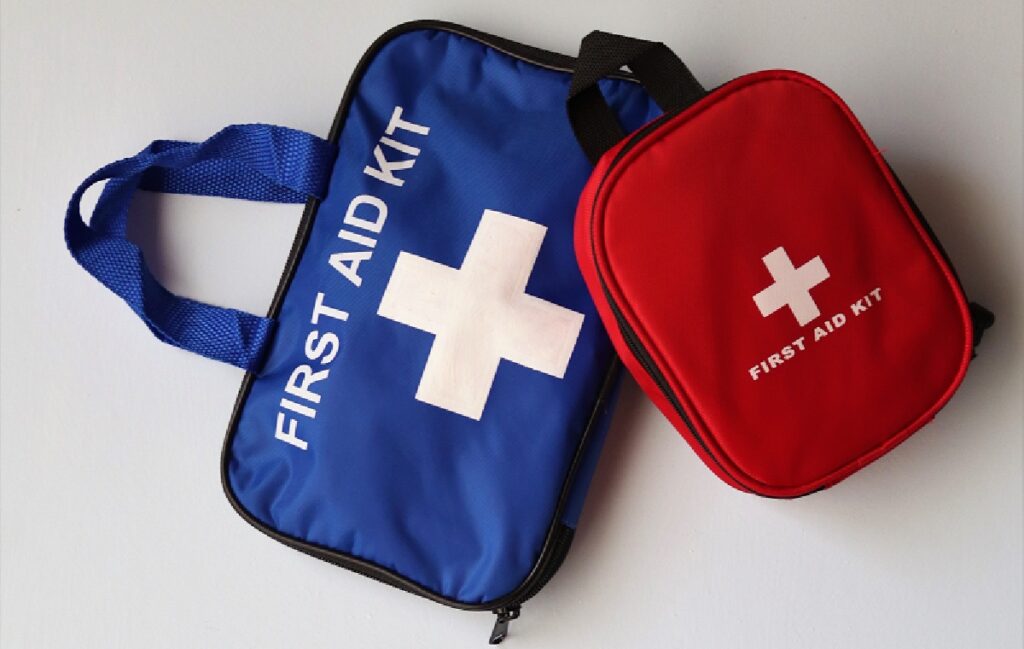 Would you be prepared if your dog cut his leg, split his lip, or started vomiting in the car? Most of us wouldn't, but if you have a first aid kit on hand, it can literally be life-saving. Even if you're just taking a stroll in the park, dangers can lurk. Here's what you'll need:
Collapsible water bowl
Gloves
Bandages
Pillbox
Self-adhesive vet tape
Tweezers
Scissors
Digital thermometer
Tick remover
Microfiber towel
Magnifier
Nail clipper (safety stop guard design)
Nail file
Pet comb
Spray bottle
Flashlight
Pet waste bags
Dog wipes
Q-Tips
Don't forget WATER and give it to your dog about every two hours.
Ask your vet about common and not-so-common (snake bite) injuries and how to treat them before the trip. Take the first aid kit with you so he/she can explain how each item works in specific situations. You'll be glad you did!
Dog Car Safety Tips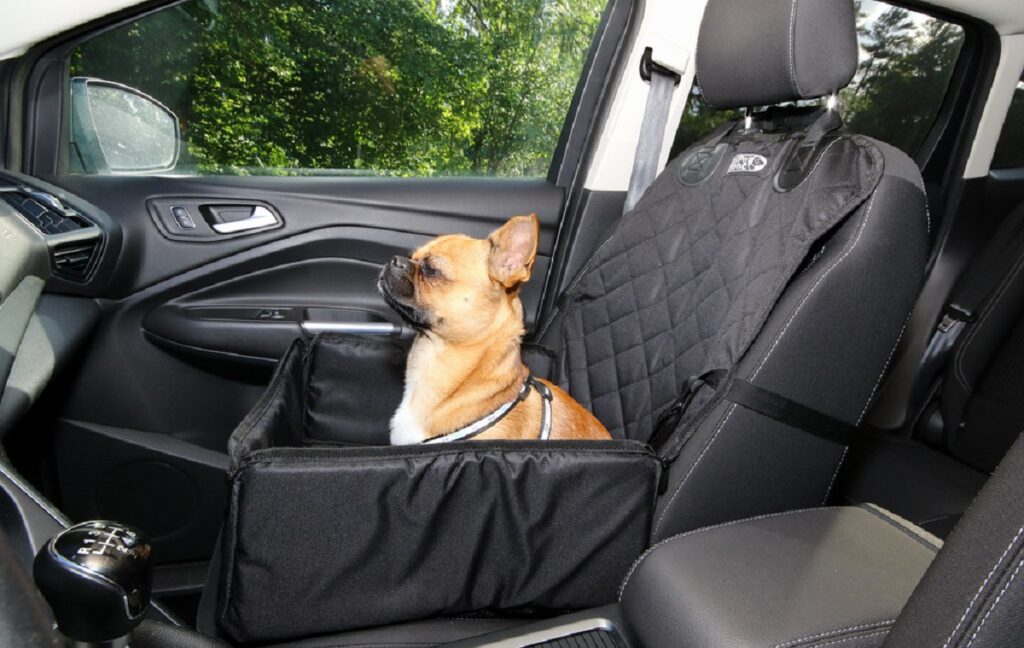 These are some tips that dog owners should know to keep dog safe from serious injury during car travel.
Begin with a Short Journey
Things are always easier when we take them a step at a time, especially with dogs. Need to go see a friend in the next town over? Take Waffles with you. If you haven't trained her as a puppy to travel, a short trip can help an older dog get accustomed to the sounds, smells, and surroundings of traveling.
Plan Frequent Breaks During the Journey
Just like people, dogs need to stretch their legs and go to the bathroom during travel. Since they can't say, 'There's a rest stop with my name on it up ahead!' it's our responsibility to make that happen. Traveling can create stress, and tension can often be alleviated with a short walk.
Don't Feed Your Dog While Traveling
For obvious reasons, save the kibble for when you reach your destination. It can eliminate (pun intended) car/motion sickness or even food getting lodged in his throat due to the car's motion. And this… Don't. Feel. Bad about it! Give him a small treat at a rest stop to keep your guilt in check and your dog happy.
Make Sure Your Car's AC Is Working
This may be the most important part of the article. Never leave your dog alone in the vehicle. No matter what the circumstances. Dogs don't sweat like we do and can die from air temperature inside that even seems safe (70 degrees).
If you need to go to the restroom, stop at a rest area and take them in with you if no one else is in the car. You might get sideways glances but think of the alternative. Bottom line? If your AC is broken, don't take a road trip with your dog until it's fixed.
Prevent Dogs from Hanging Out the Window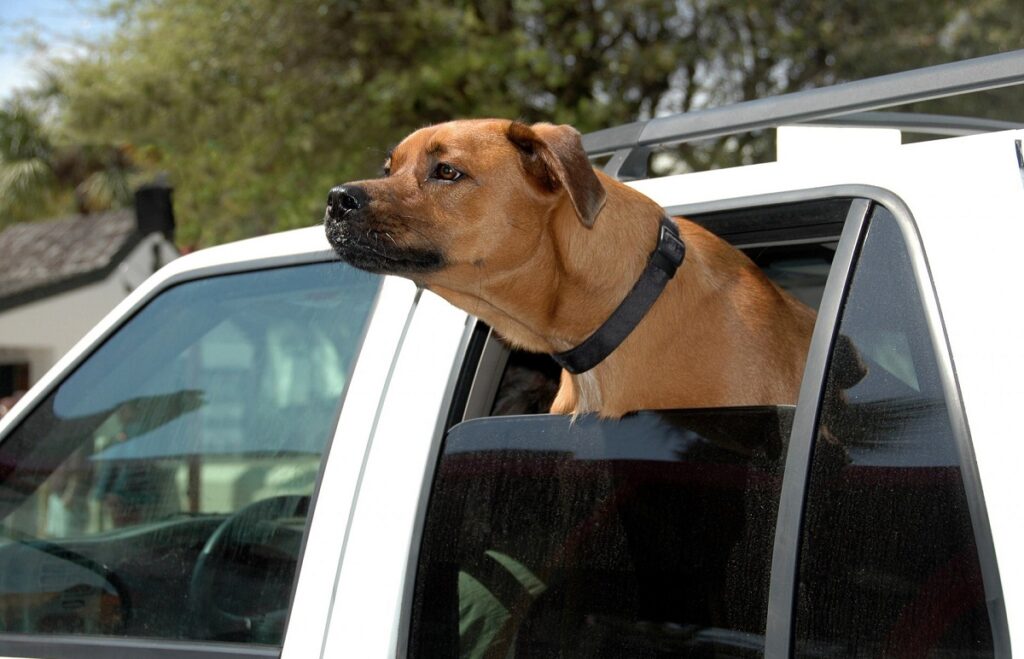 Inadvertently hitting the electric windows while your dog has his head outside could be lethal.
No matter how well trained your dog is, if the window is open far enough something could move, run, or fly by that he simply must chase and out he goes.
It's a horrible example for children who should be buckled in and not able to stick their heads out of the car window.
Debris/Trash could hit and injure your dog.
Additional Tips to Follow When Traveling in Hot Weather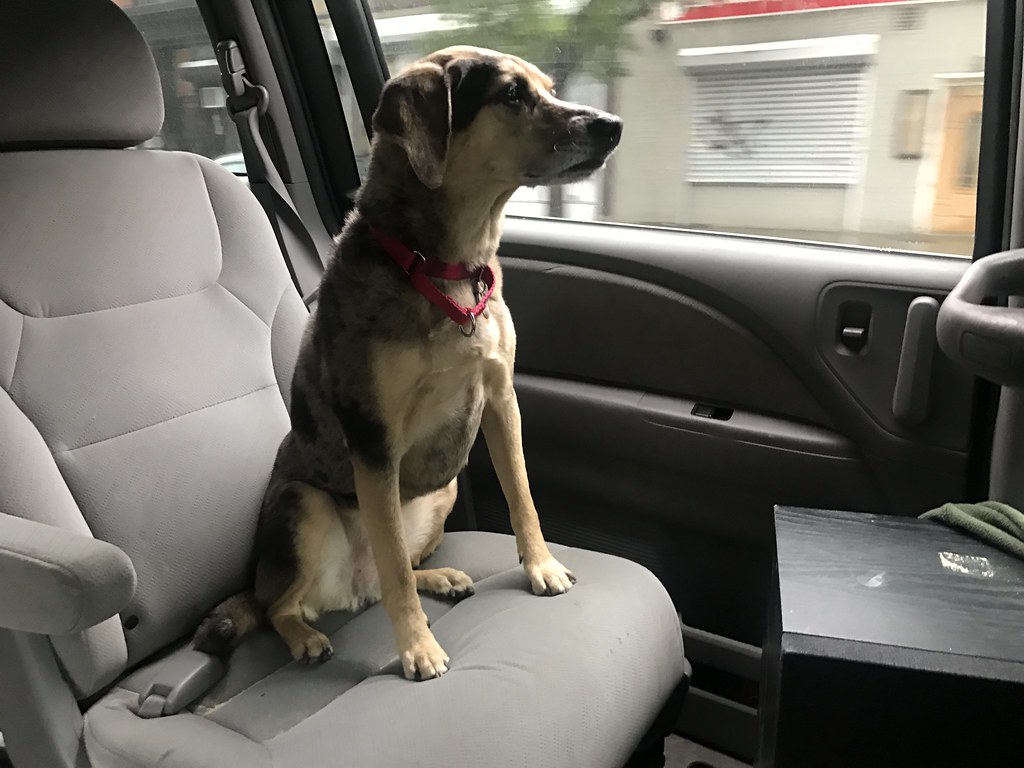 It can never be said enough:
Never leave your dog in the car when you're traveling unless the air temperature is between 50 and 65 degrees. Even at 70 degrees, a car can reach a temp of 89 degrees in ten minutes, up to 99 degrees in 20 minutes, and rises quickly from there. Cracking the windows is not the answer. Your dog could suffer from lethargy, nausea, or even heatstroke from this careless and cruel behavior.
Never ride with your dog in the bed of a pickup truck, traveling or not. The sun's heat makes the metal feel like lava and, at the least, can blister a dog's paw pads.
Either don't travel in extreme temperatures or leave Lucy at home if you do.
Note: It is illegal in 30+ states to leave your dog alone in a closed car, and some US states call it animal abuse (which it is), and it can lead to heavy fines and even jail time.
FAQ's
What Kind of Car Restraint Is Best for Dogs?
Securing them into a crash-tested dog crate that is tethered to the vehicle is the safest way for your dog to travel.
How To Stop Dog From Moving Around in Car?
Restrict their space. If they're in a seat belt, there's no problem but if not, purchase a dog barrier to put in between the front and back of the car. They usually want to be near you, but while you're driving isn't a safe opportunity.
How To Transport a Puppy in a Car Without a Crate?
Even an 8-week-old pup can ride in a car with a special dog harness if you can't find a body restraint that's small enough.
Can Dogs Sit in the Front Seat?
Absolutely not. The ramifications, even if they're buckled in, can be horrifying, including death from air bags.
How to Deal with Dog Anxiety During Traveling?
There are several things you can do to calm your dog before a trip:
Take them for a good run, swim, or a long walk, at least before the trip.
Place their "blankie," a toy, or even an article of your clothing in their crate or near them.
Make sure you feed them 2-4 hours before you leave so they're not hungry.
Give them a treat or two to remind them traveling is a good thing.
How To Clean Dog Hair From a Car Seat?
Ah, the dreaded dog hair in a car. I think I could make another dog from what's in mine. Despite thinking it's a losing battle, there has been progress made for dog hair issues. Here are some ideas:
Take dryer sheets and facial wipes if you'd like to keep upholstery safe from fur.
Do your research to find newer technology with claims that are within reach.
Vacuum first (with a pet vacuum cleaner, ideally), then deep clean.
How to Choose the Accurate Car Harness for Your Dog?
Fortunately, there's competition in the market, so pet products industry is usually generous with giving details about the product, including giving the ideal dog size for the safety harness. Or take your bestie with you to PetSmart to try them on since they can sometimes be tough to measure by sight.
If you're purchasing one online, buy and measure a dog harness to get exact stats. Make sure all the hardware is described as durable and that it has buckles and leash attachments. I've seen some with carabiners that are almost indestructible.
Final Thought
There are a few other essential tips you'll need before you go visit Uncle Abner.
Prepare well ahead of time by calling hotels to find one that's dog-friendly. Many are. Don't forget to make sure your dog has his collar and ID tag on him before traveling, which is critical in case he gets lost. Also, make sure she has a clean bill of health and take vaccination records with you just in case.
While you're at the vet, ask him if he knows of veterinarians or pet emergency hospitals in the area you will be staying in. If he doesn't, he may give you suggestions for how to find a good one. Or you could always use the techie-Bible… Google.
Now that you know everything you could ever want to about dog car safety, it's time to hit the road. And you may want to turn up the radio if your dog is a backseat driver.