Before getting a dog, many assume that walking them is going to be all fun and games; an enjoyable way to bond with your pup!
But if they're not trained, it can be far from enjoyable… After some experience, dog owners quickly realize that walking on a leash is a skill that needs teaching.
But it's not always easy to teach your furry friend how to walk calmly on a leash – especially if you're using retractable leashes! The easiest way is to get a leash for pullers; one that gives you more control over your dog while they're learning the dos and don'ts.
And if you've treated your pup to the best harness and the best dog collar, why not get the best training leash too?
A dog training leash is essential for leash training your dog, but they're not all created equally. You need a leash that's comfortable, sturdy, and of the right length; this length could be short enough to keep your dog close, or extra long to help with recall training.
Best Overall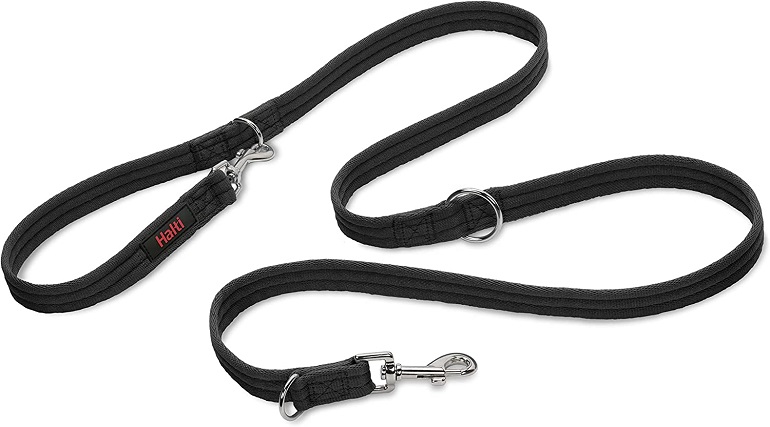 HALTI Training Lead for Dogs
Size: Large
Material: Nylon

Wide Color Range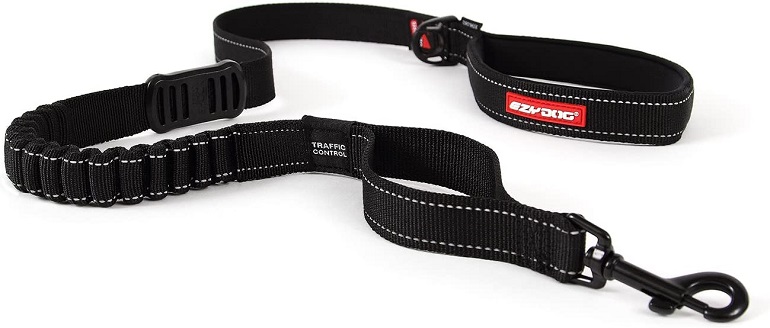 EzyDog ZERO SHOCK Leash
Size: Large
Material: Neoprene

Best Multifunctional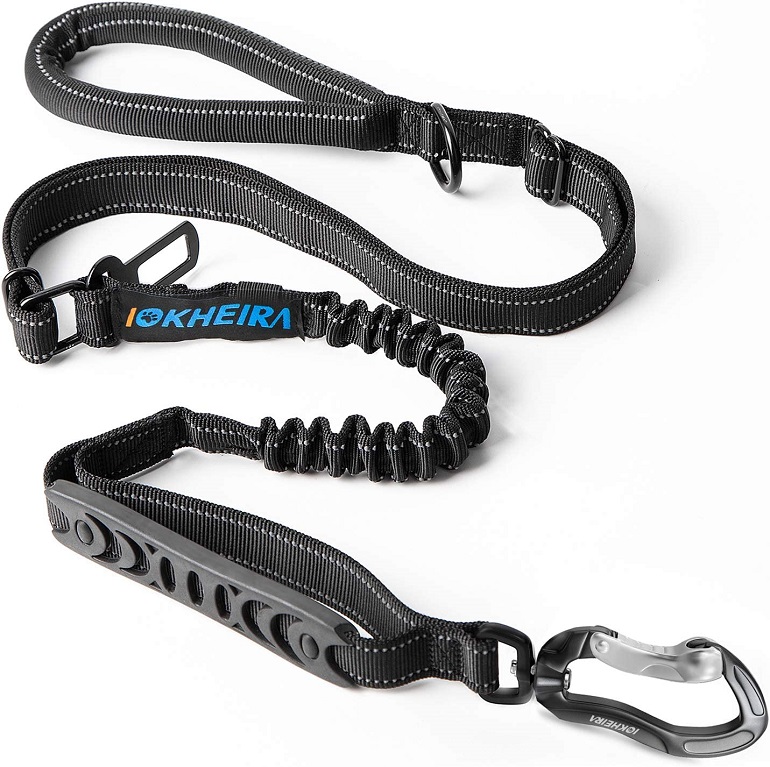 IOKHEIRA Dog Leash
Size: Medium
Material: Aluminum

Best Chew-Resistant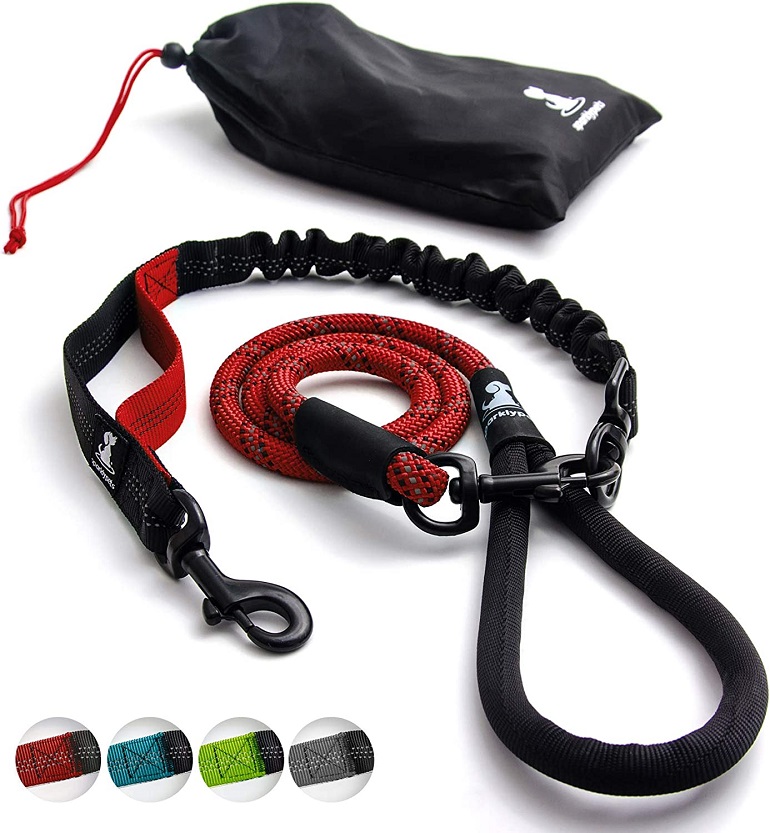 SparklyPets Heavy Duty Rope Bungee Leash
Size: Medium
Material: Nylon, Leather
Durable & Affordable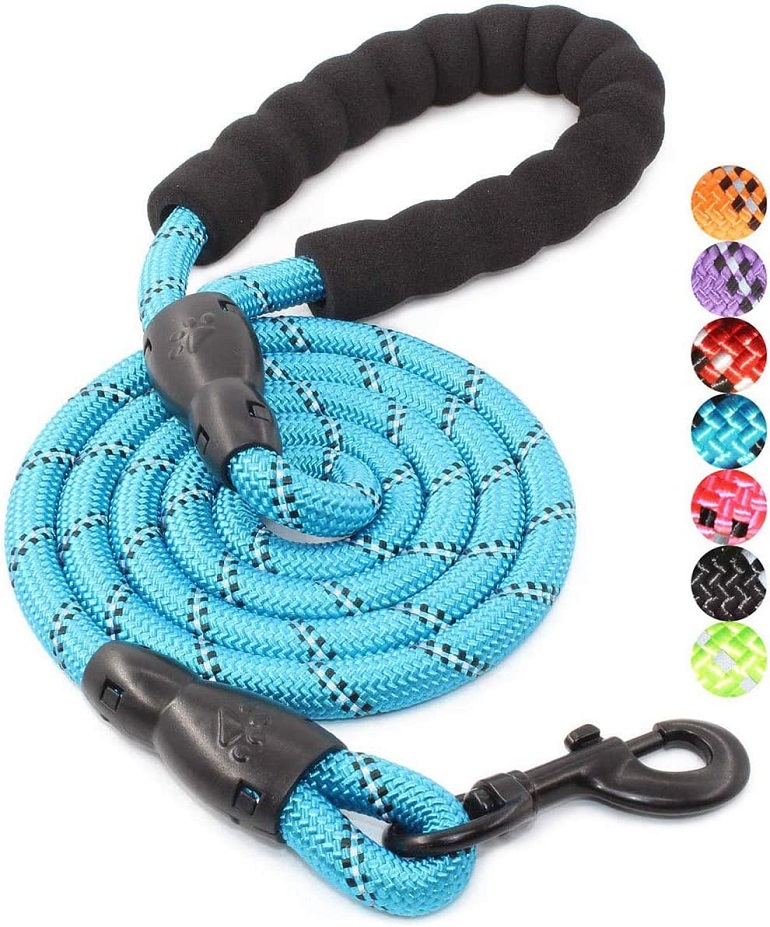 BAAPET Strong Dog Leash
Size: Medium
Material: Nylon
Sleek & Sturdy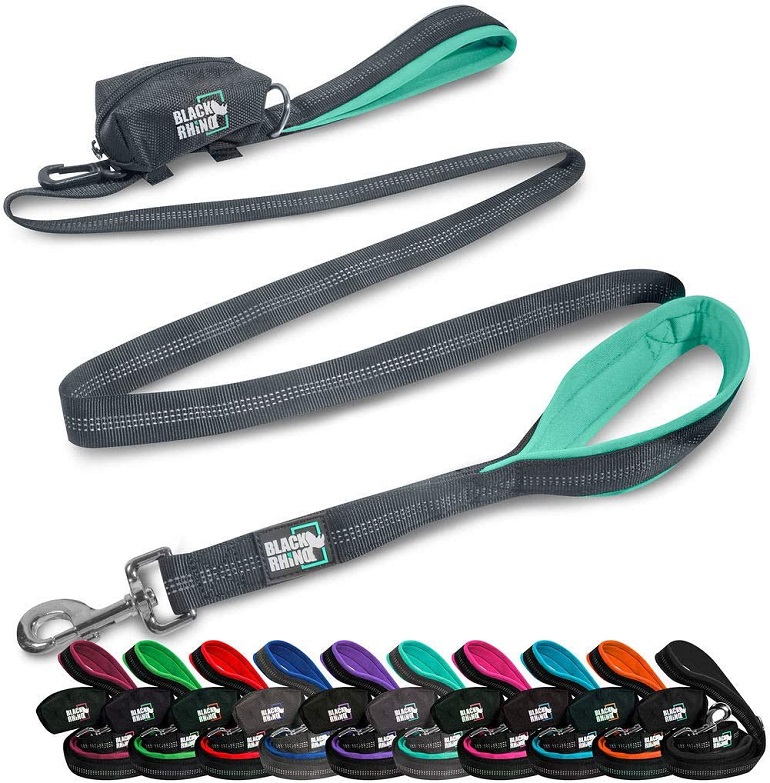 Black Rhino Dog Leash
Size: Large
Material: Neoprene
Lengthy for Recall Training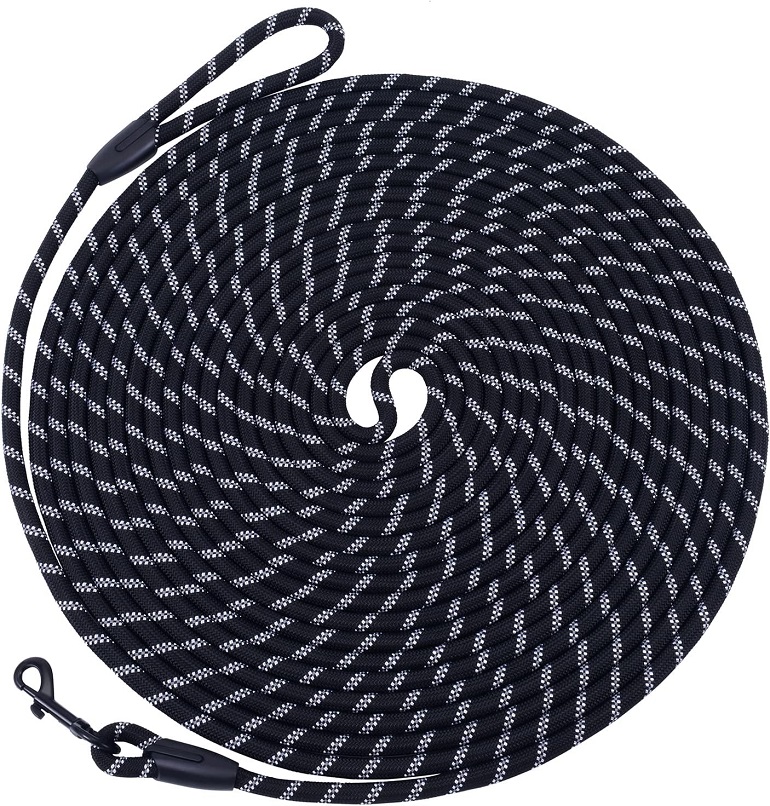 Hi Kiss Long Lead
Size: Medium
Material: Nylon

Great Color & Length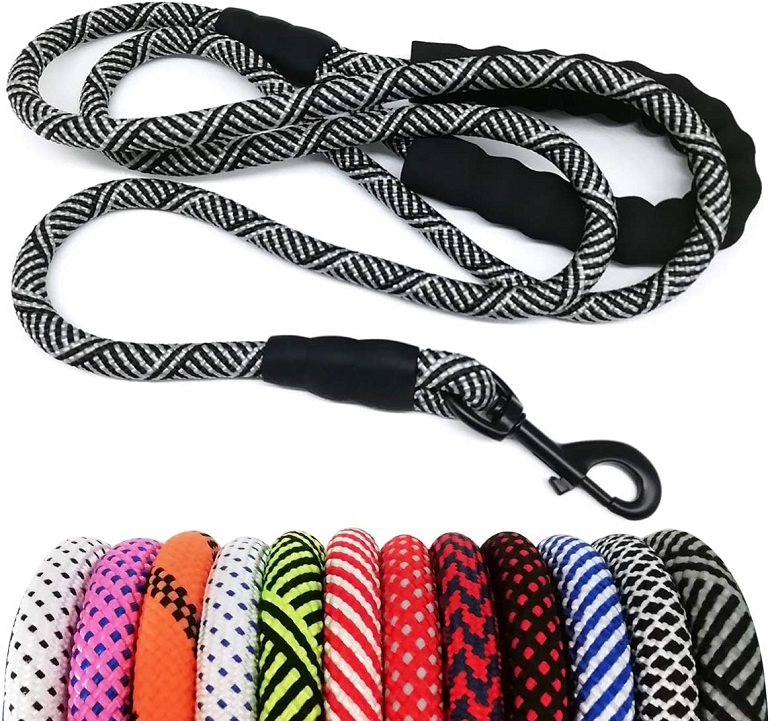 MayPaw Heavy Duty Rope Dog Leash
Size: MEDIUM
Material: Nylon
Best Leather Leash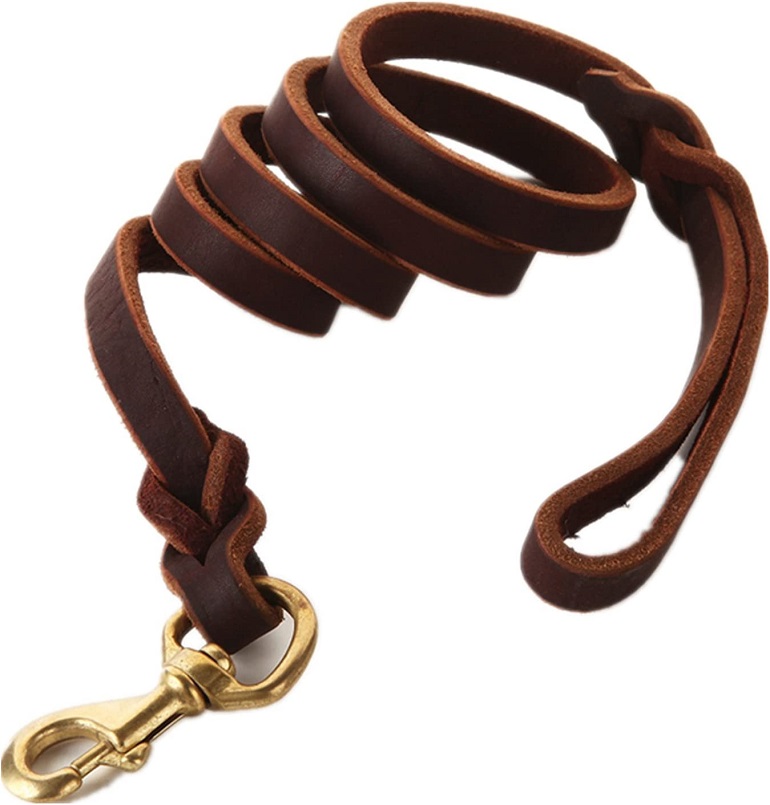 FAIRWIN Leather Dog Leash
Size: SMALL
Material: Leather

Our Top 9 Picks of the Best Dog Training Leash
If your dog pulls on retractable leashes, then you need to switch over to a dog training leash. It's important to select a training leash carefully, taking into consideration both your comfort and your dog's safety.
The leash should attach securely, be thick and durable, and be the right length for the leash training you want to do. Here are some of the best dog training leashes you should start by looking at.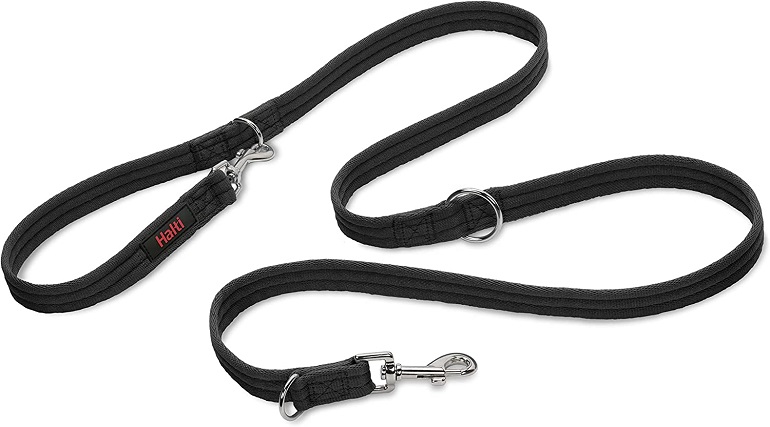 HALTI is a trusted and reliable brand with millions of happy customers around the world. As the inventors of the world's first dog headcollar, they are proud sellers of many award-winning products.
HALTI is a favorite recommended by plenty of pet parents and dog trainers. In fact, you can even use this leash with HALTI headcollars and harnesses for the best control.
Coming in either red or black, this is a lightweight but durable leash made from nylon webbing, suitable for use in all types of weather.
Although strong, it's nevertheless still comfortable and made of padded material. But be careful not to let your pup get their teeth into it because it's not chew-proof.
With two trigger clips on either end of the leash, it's an incredibly versatile leash. The two points of connection mean you can even attach both ends on to your dog to give you maximum control and almost "steer" them. It also includes two rings that you can use to adapt the lead to different lengths.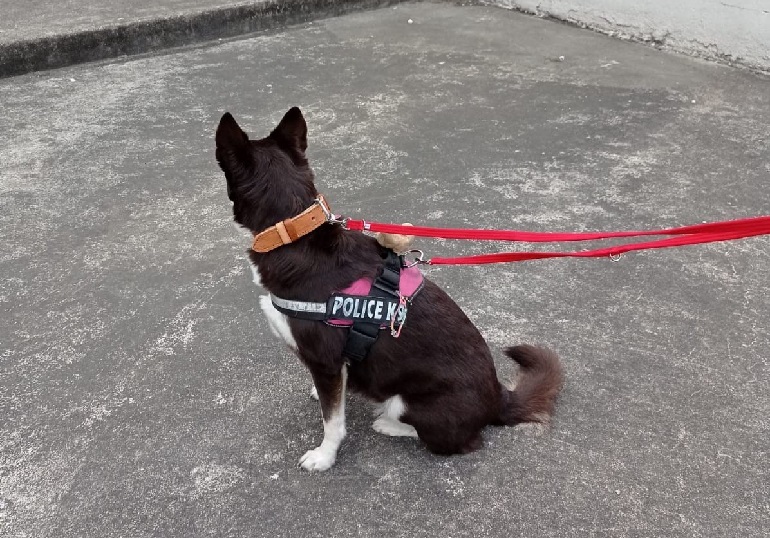 Pros
Trusted brand
Comfortable and lightweight
Double-ended with two trigger clips
Versatile uses
Varied lengths
Cons
Vulnerable to chewing
Prone to fraying after extended use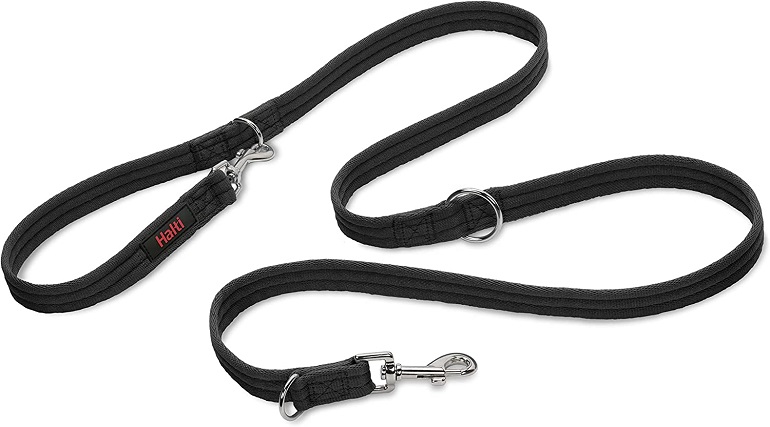 HALTI Training Lead for Dogs
The Price of " HALTI Training Lead for Dogs " varies, so check the latest price at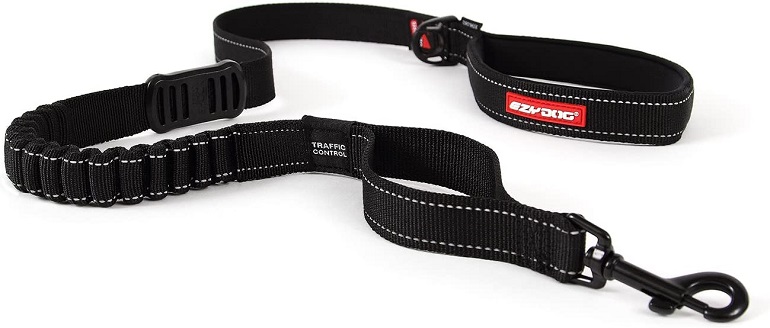 Although there are only two length options (either 25" or 48"), there's a huge range of 12 color options to choose from. As a reflective leash, it has high reflective stitching woven into it to give you and your dog extra visibility for safety at night.
Besides being a durable leash, this EzyDog lead also includes its patented zero-shock technology.
It has a bungee to reduce the strain from pulling and absorb the shock, making walks considerably easier and more comfortable by improving control and easing pressure.
And with a D-ring, you can even attach accessories too, like pouches for poo bags or treats. Not only does this make it even more effective as a dog training leash but makes it much more convenient.
The leash's patented soft touch technology extends to the padded handle, big enough for all hand sizes and lined with neoprene to give you extra comfort.
The second rubber grab handle is found on the other end of the lead to give you extra control, but this is only included on the longer leads.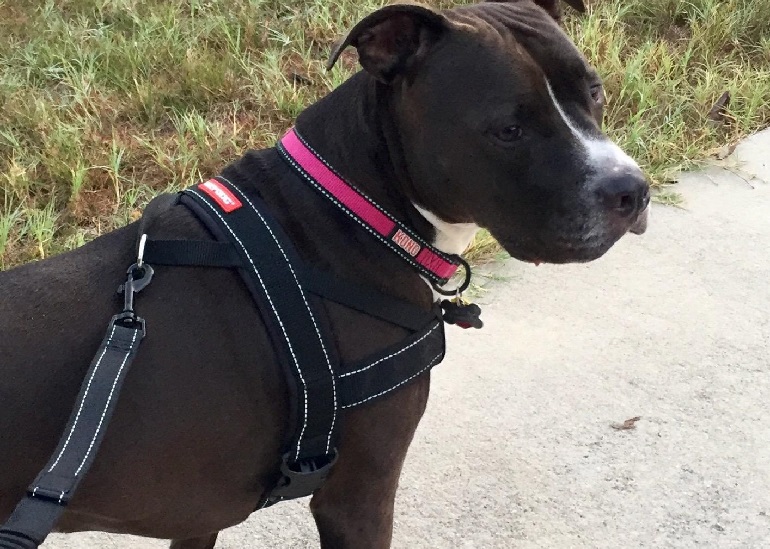 Pros
Wide range of colors
Reflective stitching for visibility
Patented zero shock technology
D-ring for accessories
Padded handle
Cons
Expensive
Second handle only on large leash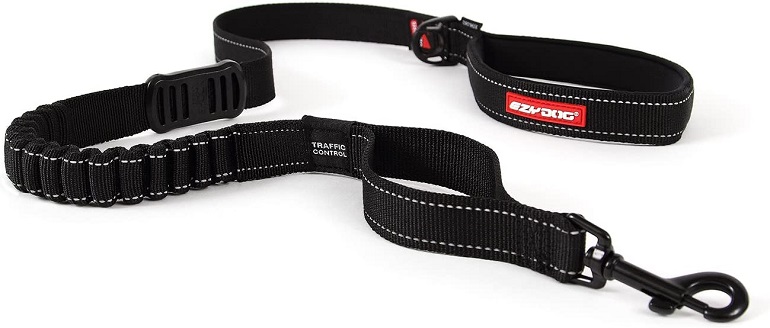 EzyDog ZERO SHOCK Leash
The Price of "EzyDog ZERO SHOCK Leash" varies, so check the latest price at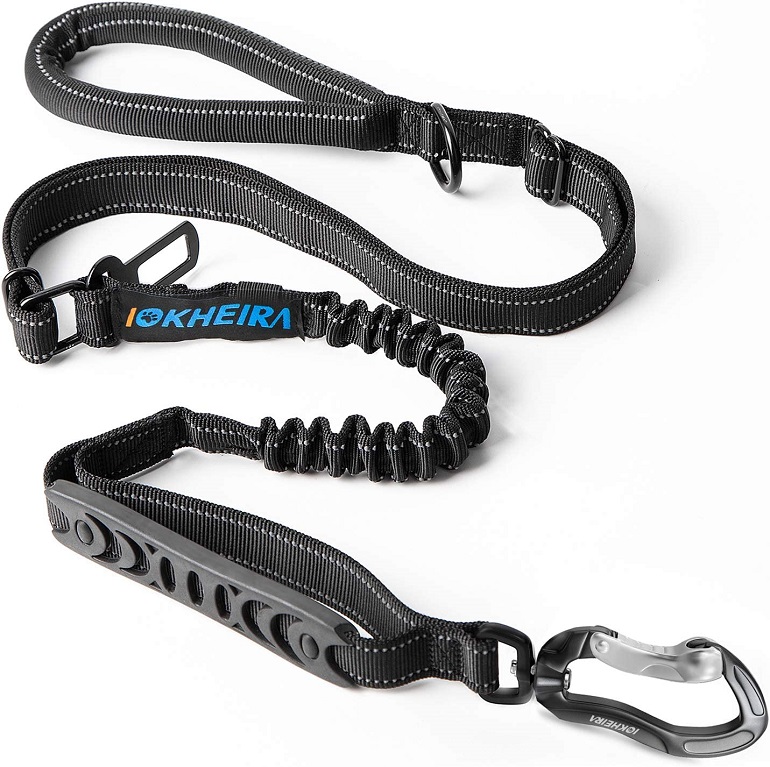 Affordable and crammed with features, it's easy to see how this multifunctional leash is an Amazon bestseller. And with a range of nine colors from pink to army green, there's bound to be a style to suit you and your dog.
While there aren't multiple lengths to choose from, this leash includes a sliding button to adjust the leash from a length of four feet to six feet.
The lead itself is made from nylon, woven with reflective threads that make it both durable and visible. The handle is padded, but the reflective threads bleed onto it, making it uncomfortable for some.
It also includes an additional non-slip rubber handle near the end of the leash to give you extra control. This helps you stop your dog's bad behaviors, such as eating whatever they find on the ground or trying to lunge.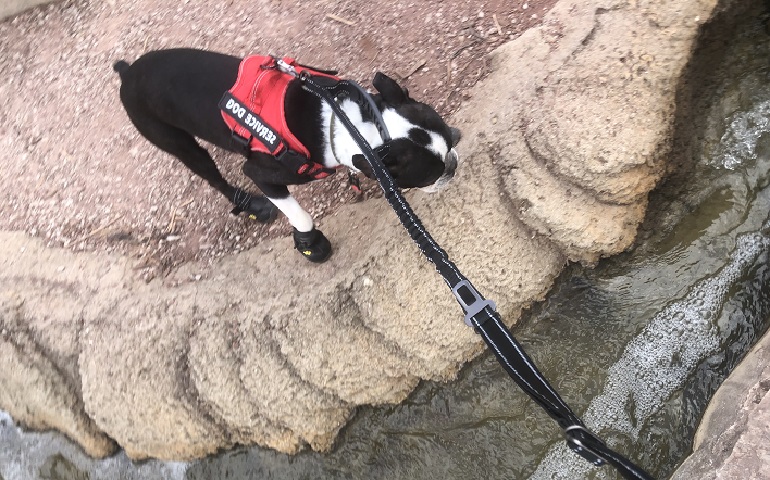 Although lightweight, the leash is nevertheless durable and able to withstand pulling power from a 200lb dog; however, it's vulnerable to chewing so make sure your dog doesn't start gnawing on it.
The aluminum carabiner has a 360-degree rotation and is heavy-duty too, able to take a maximum force tension of 350kg.
To help control your dog and make walks more easygoing and enjoyable, the leash includes a zero-shock absorbing bungee leash in the middle. This absorbs the shock and strain that comes from your dog pulling.
In addition to this, it includes more extras, such as a metal D-ring for attachments and even a car safety buckle.
Pros
Adjustable length
Affordable and lightweight
D-ring for accessories
Reflective stitching for visibility
Built-in car safety buckle
Shock-absorbing technology reduces pressure from pulling
Non-slip rubber makes traffic control handle easier to hold
Heavy-duty aluminum carabiner withstands heavy pulling
Cons
Reflective thread on handle uncomfortable for some
Vulnerable to chewing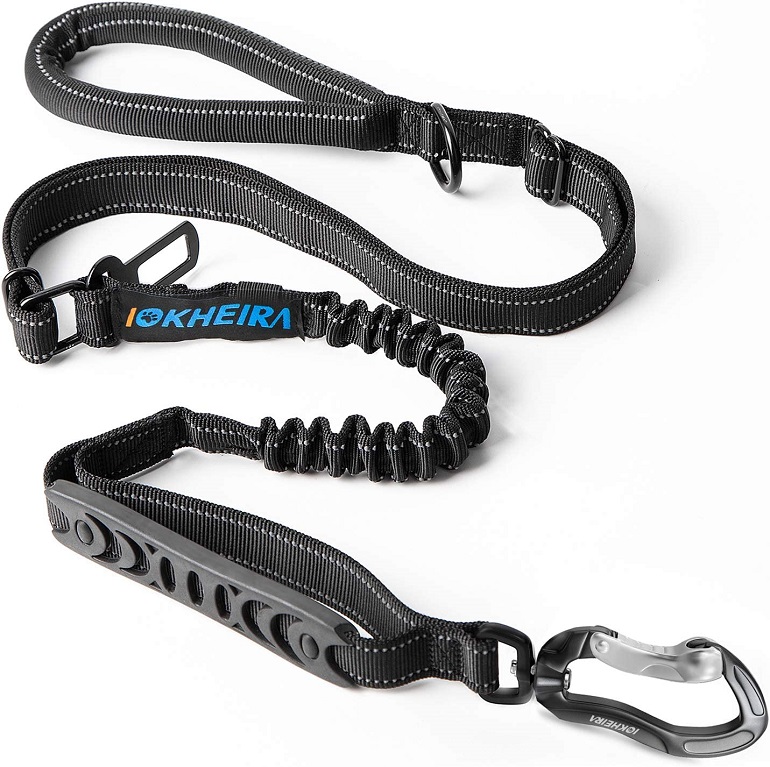 IOKHEIRA Dog Leash
The Price of "IOKHEIRA Dog Leash" varies, so check the latest price at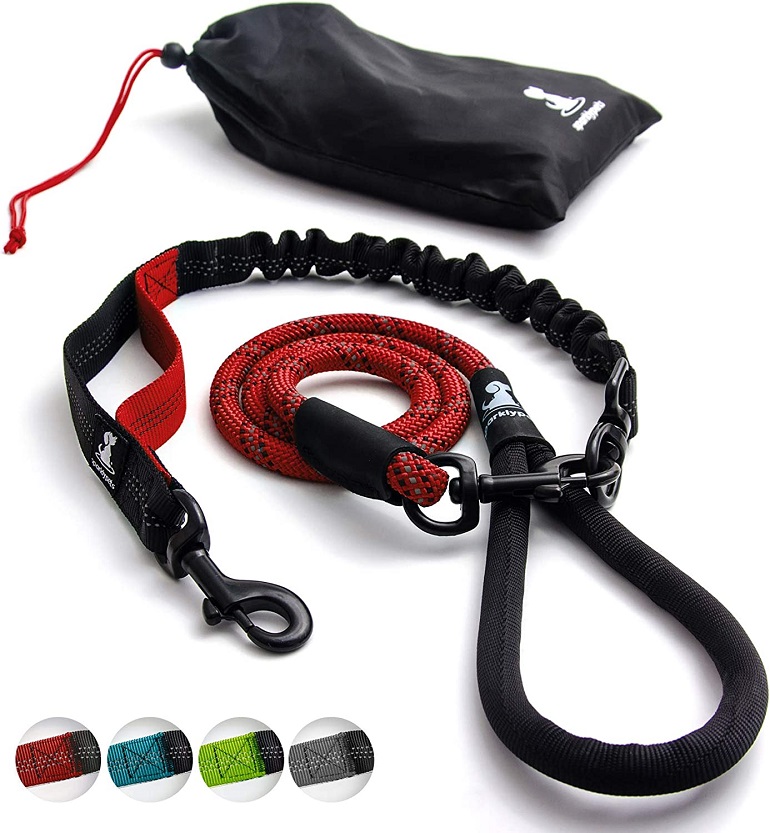 SparklyPets creates high-quality products to change your dog walking experience and give you fun memories with your fur baby. And with a range of six colors and styles to choose from, there may well be one to suit your fashion sense.
Specifically made for dogs who wear through regular dog leashes, this one is made from thick and durable nylon webbing, making it chew-resistant – something that stands this one apart from the crowd.
Its metallic hook and leather joints make it even more durable, but that doesn't mean it's not comfortable.
The padded handle adds a level of comfort; however, it can rub and irritate when it's looped around your wrist. There's an extra handle low down too to give you extra control when needed.
This SparklyPets leash includes a couple of extras too. The shock-absorbing bungee is an optional extra to minimize any risk of injury if your dog pulls by eliminating the stress on your arms and neck.
It extends up to 29.5 inches, however, is hard to pull quickly in emergencies. It also comes with a storage bag to keep it safe and in good condition.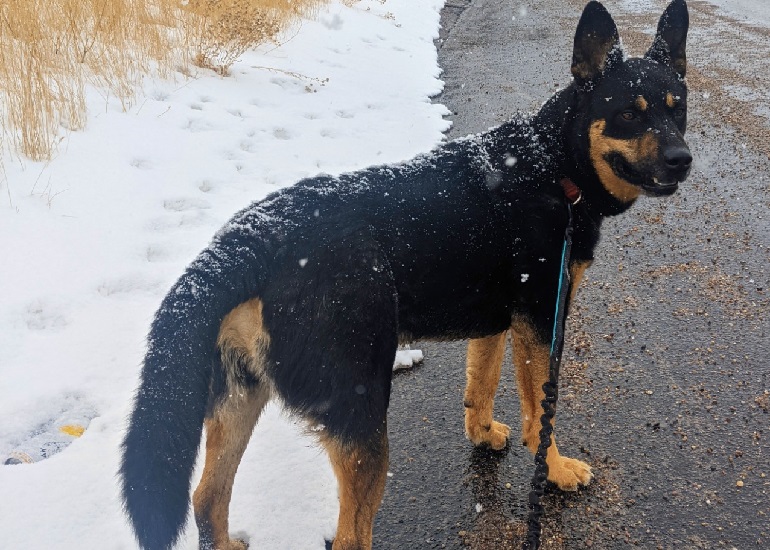 Pros
Thick and durable nylon
Range of colors available
D-ring for attachments
Second handle for extra control
Shock-absorbing bungee and storage bag come as extras
Matching collar available for purchase
Cons
Bungee extension makes quick correcting tugs less effective
Handle can rub and irritate wrist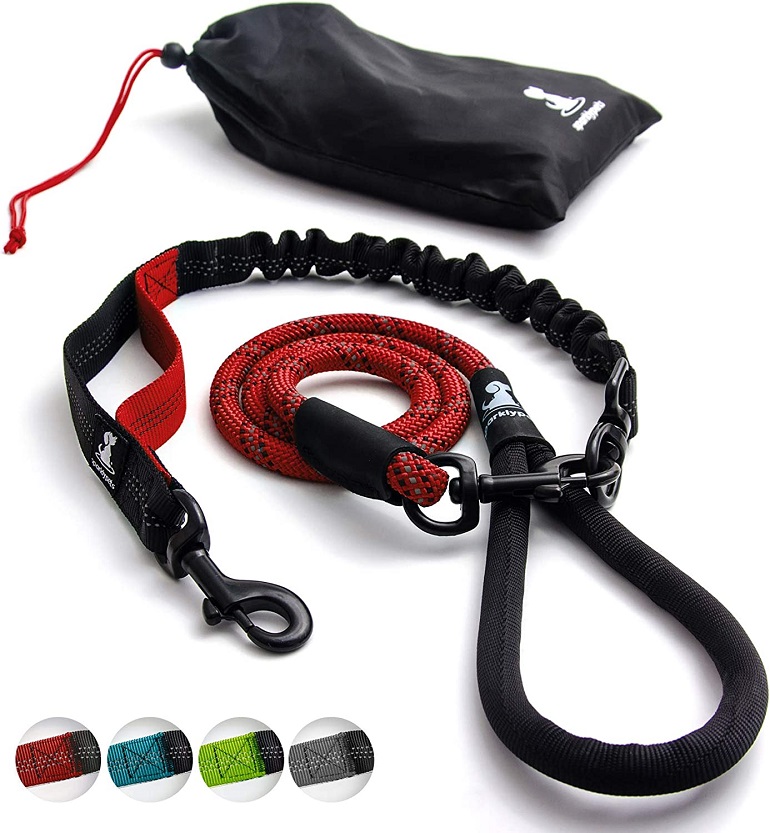 SparklyPets Heavy Duty Rope Bungee Leash
The Price of " SparklyPets Heavy Duty Rope Bungee Leash" varies, so check the latest price at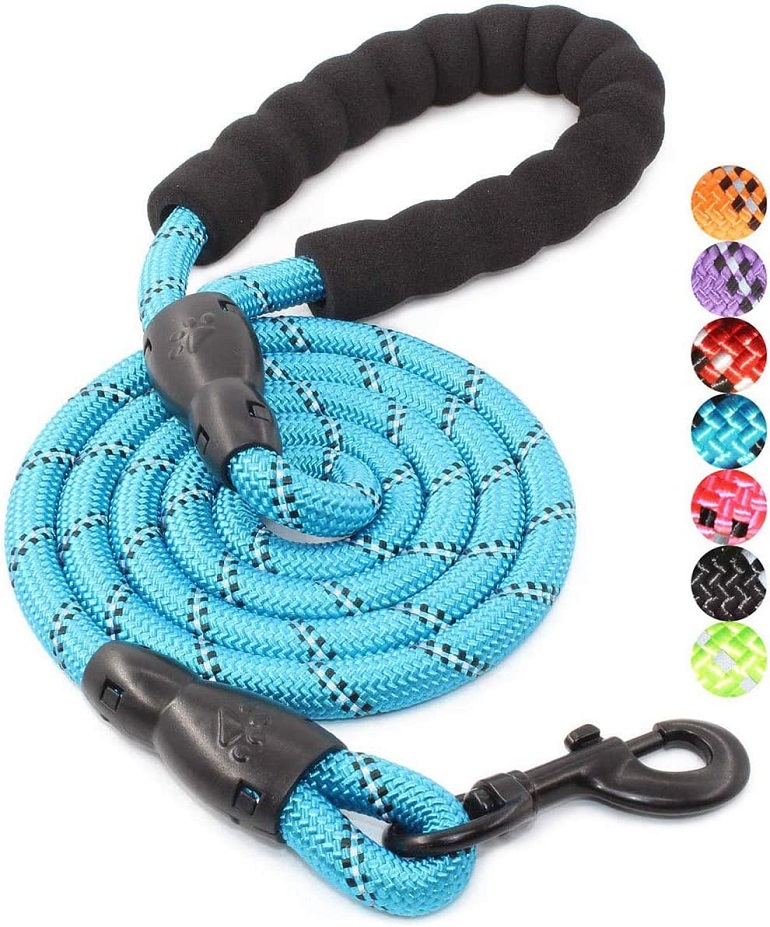 Though a relatively young brand, BAAPET is committed to giving your high-quality products at an affordable price. Their short leash comes in different sizes, from two feet to six feet, and has an impressive range of 12 colors to choose from.
Strong, durable, and comfortable to hold, this makes a great leash for hiking. Its unique design offers soft, padded handles for you to keep hold of your dog even when it tugs.
Made from the same type of rope used in rock climbing, the leash is up to ½ inch in diameter, making it long-lasting and durable – especially given its option for an extra thick rope.
BAAPET makes use of a professional sewing machine for double stitching, ensuring the seam won't break even if the rope does. However, this still doesn't make the leash completely chew-proof, and the plastic cover where the handle meets the leash often breaks.
Its clasp is made from a reliable zinc alloy and has a 360-degree free swivel to help you avoid tangles and give your dog more freedom. It keeps your dog safe and secure, as do the highly reflective threads to keep it visible in the dark.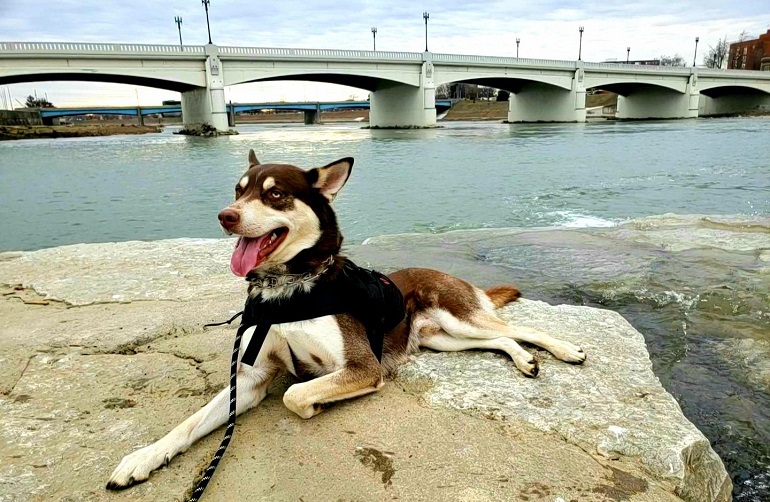 Pros
Wide range of colors
Affordable
Very durable
Soft, comfortable handle
Range of sizes and thicknesses available
Cons
Not chew-proof
Plastic cover often falls off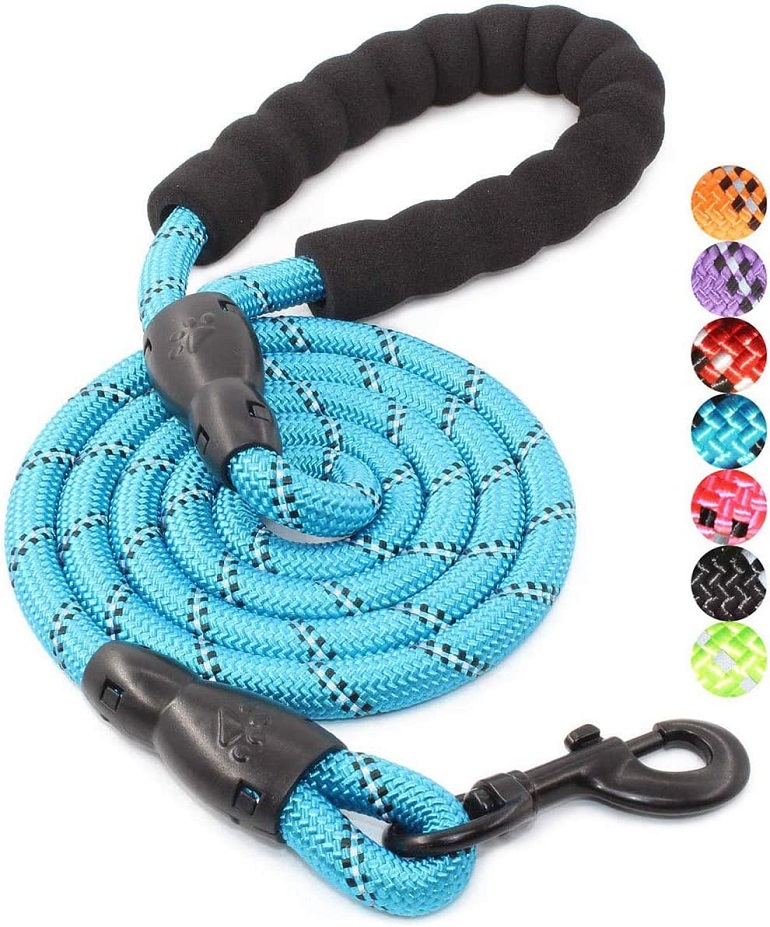 BAAPET Strong Dog Leash
The Price of "BAAPET Strong Dog Leash" varies, so check the latest price at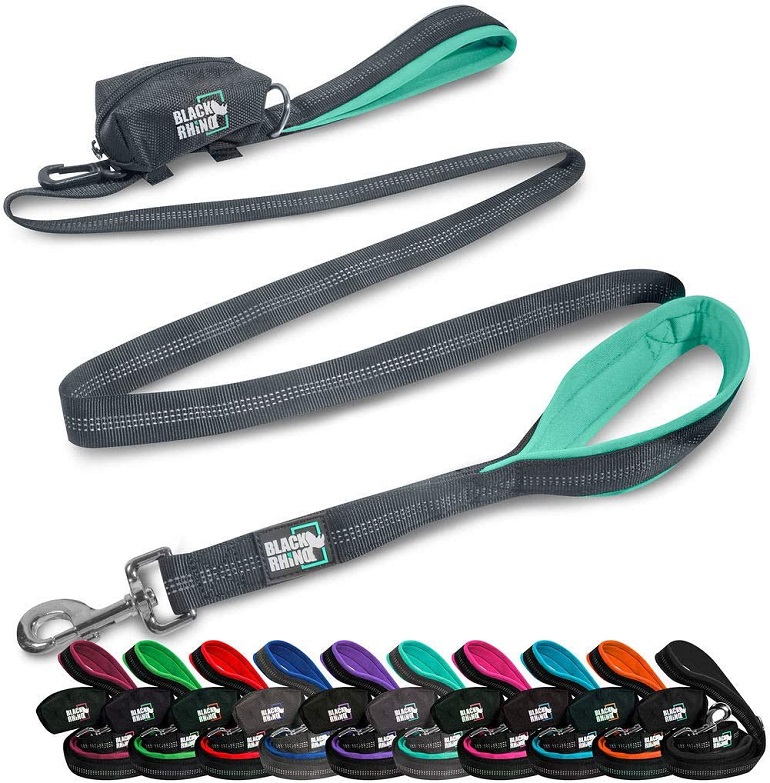 While the Black Rhino's design is predominantly black, there are still colored highlights with a range of ten colors for you to pick from.
With a length of six feet, this dog leash is made of heavy-duty nylon webbing. This makes it durable and weather-resistant, although not chew-proof and perhaps not the greatest pick for strong dogs who pull a lot.
Reflective stitching is woven into the body of the leash, helping improve its visibility for nighttime walks.
The handle is comfortable and padded with a high-tech grade A neoprene, making it easy to hold. It comes with a pouch for poop bags too, as well as a second handle one foot from the clasp to give you extra control over your dog when needed.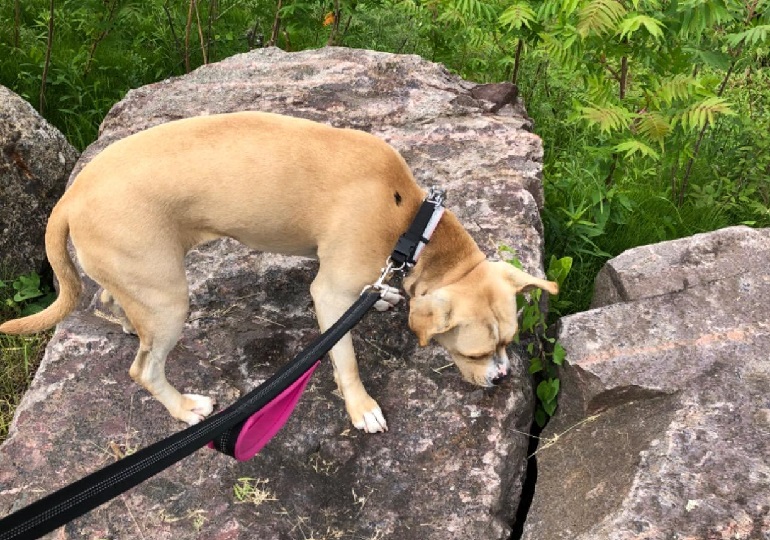 Pros
Range of colored highlights to choose
Durable nylon webbing
Padded neoprene handle
Reflective stitching for extra visibility
Comes with pouch for holding poop bags
Cons
Not resistant to chewing
Not suitable for strong dogs who pull frequently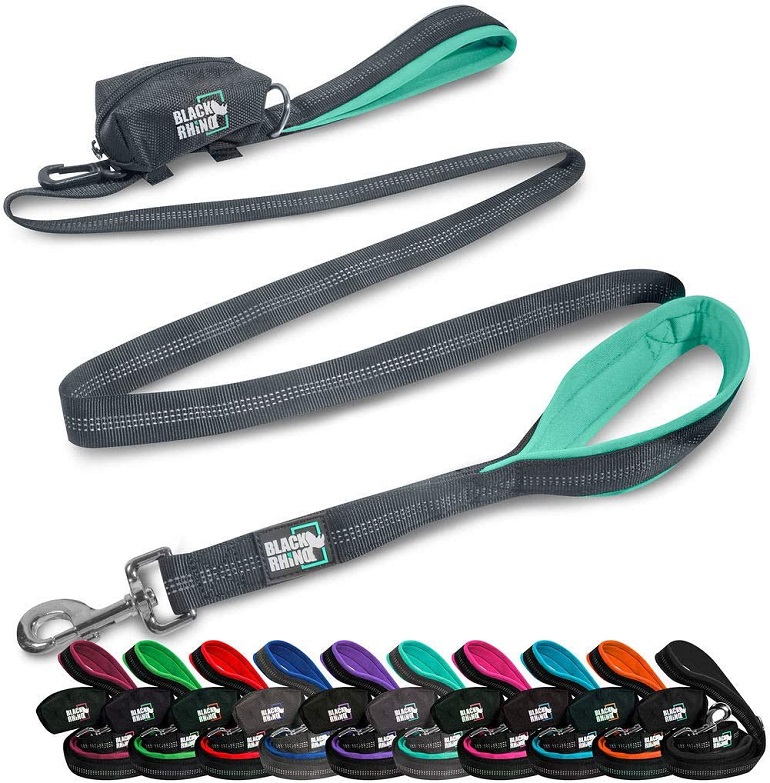 Black Rhino Dog Leash
The Price of " Black Rhino Dog Leash" varies, so check the latest price at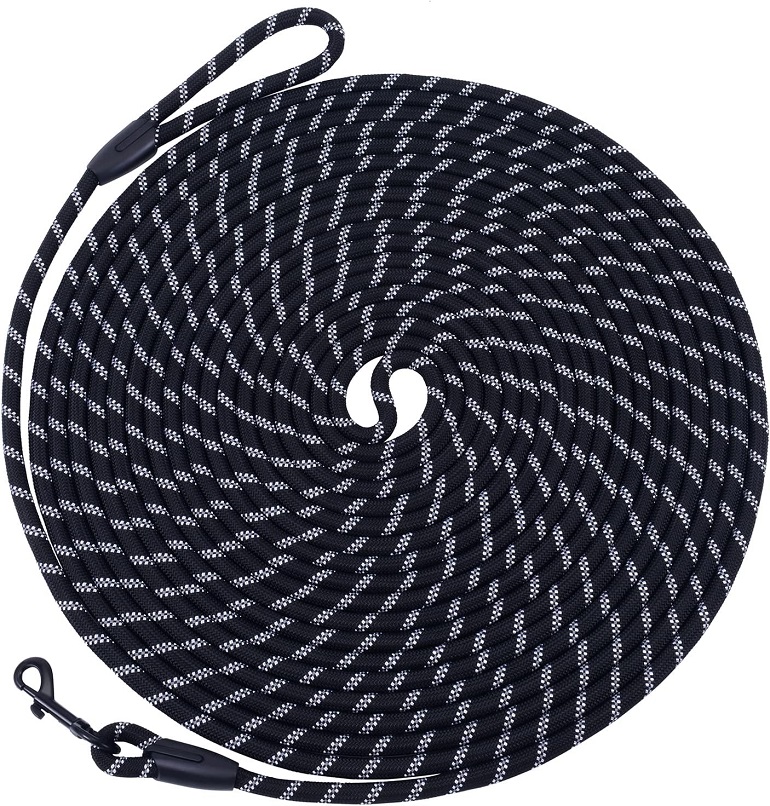 If you've got a dog who tends to run off whenever they have a moment, this might be the obedience training leash for you.
Specifically designed for recall leash training sessions, the Hi Kiss leash is particularly long, beginning at 15 feet and going up to 100 feet, with its width increasing along with the length.
Just be aware that with the long length comes the danger that your dog might view it as a toy and start biting it during recall training – and it's not a leash that can withstand chewing teeth for too long!
Still, it's a comparatively sturdy and durable leash, made from the same material as ropes used in rock climbing.
Coming in an extensive range of colors, the rope is easy to clean and includes reinforced stitching to add to its durability. The handle has no padding though, making it uncomfortable and difficult to hold onto.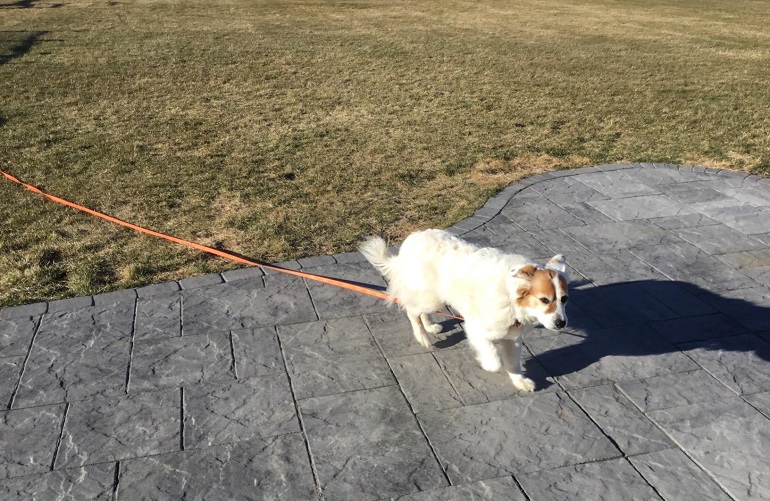 Pros
Durable
Secure attachment
Good length for recall training
Lightweight
Easy to clean
Cons
No padding on handle
Not suitable for dogs who like to play and chew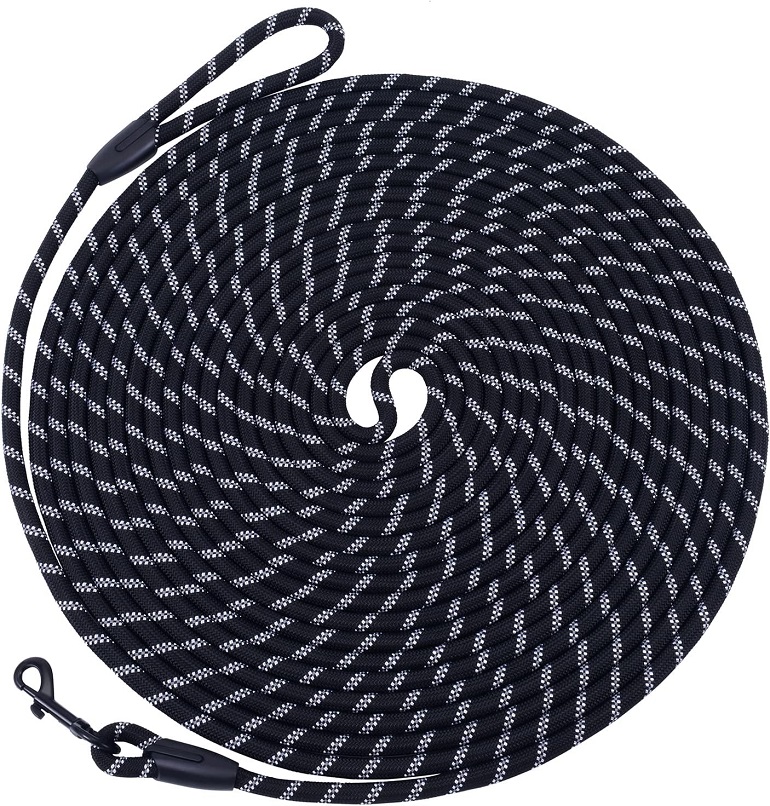 Hi Kiss Long Lead
The Price of "Hi Kiss Long Lead" varies, so check the latest price at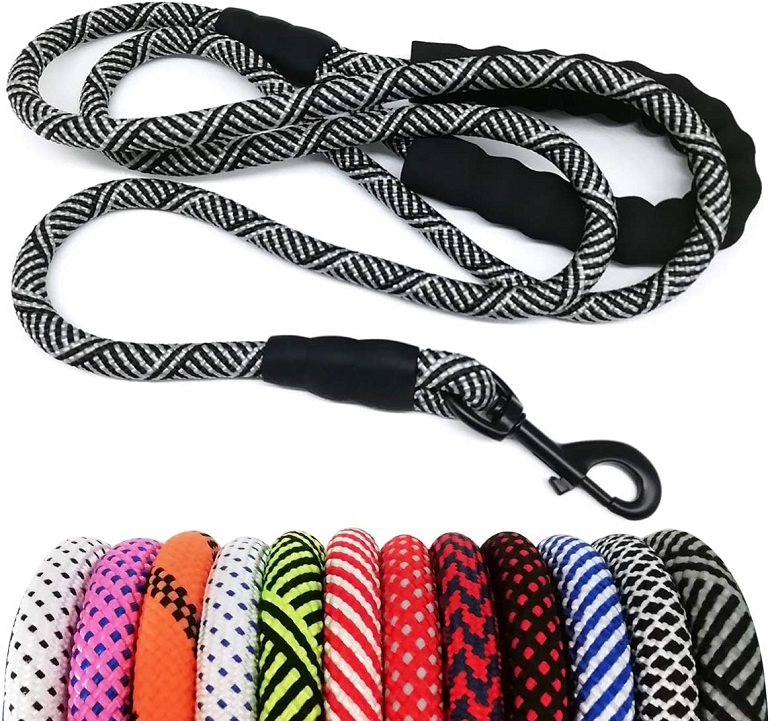 This affordable dog leash gives you a whole host of choices to choose from; there are ten sizes available, from 3 feet all the way up to 15 feet for recall training, and 25 different colors and patterns.
Made from nylon, the rope has a diameter of ½ inch, making it durable, but lightweight no matter how long it is used for loose leash walking.
The clip is made from heavy-duty metal too to add to its durability, with a 360-degree rotation to allow your dog as much freedom as possible.
Although durable, the dog leash does include a soft padded handle to make holding onto your dog easier and more pleasant.
However, it won't protect your hand too much against very heavy pullers and can wear off. It's worth holding onto the handle wherever possible since holding the nylon leash elsewhere risks giving you rope burn.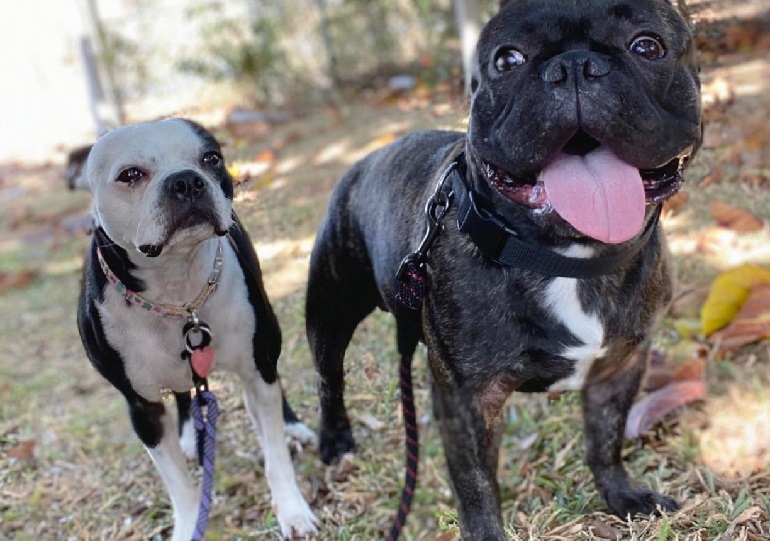 Pros
Affordable
Plenty of colors and patterns available
Choice of 10 different lengths
Heavy-duty nylon rope for durability
Lightweight
Cons
Holding the rope can give rope burn
Handle wear down and come apart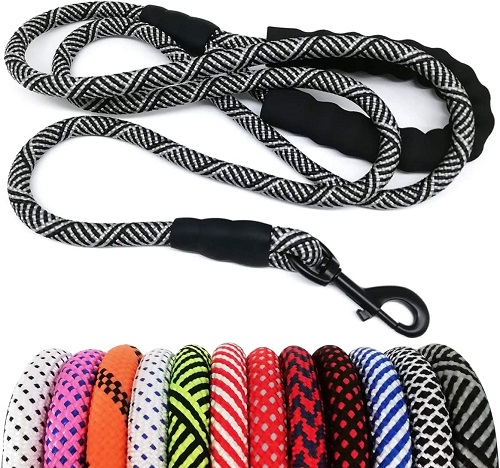 MayPaw Heavy Duty Rope Dog Leash
The Price of "MayPaw Heavy Duty Rope Dog Leash" varies, so check the latest price at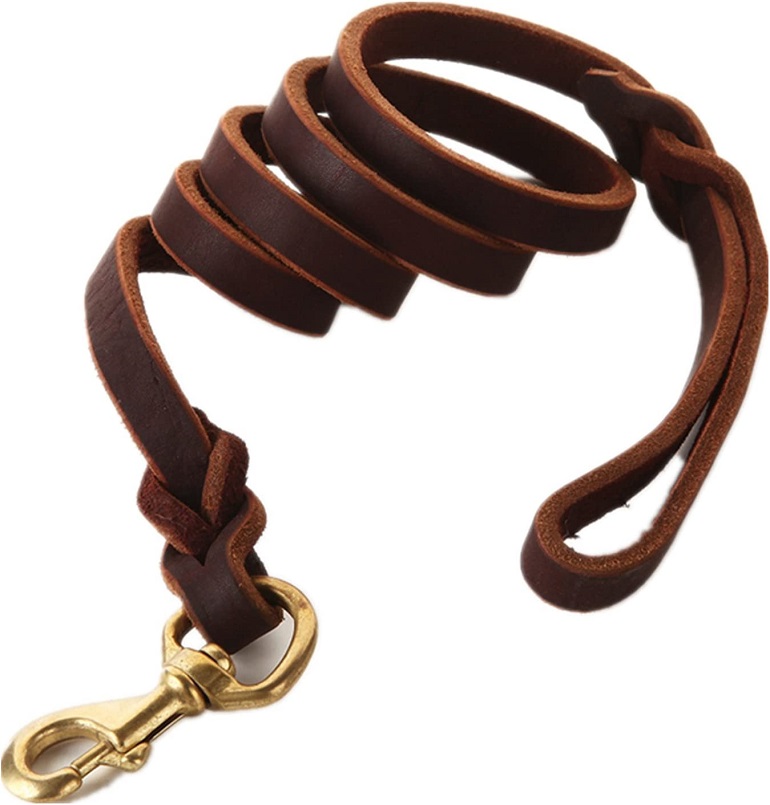 With thousands of 5-star ratings on Amazon, it's easy to see how this leather leash is a bestseller.
Coming in black or brown, the FAIRWIN dog leash is handmade from military-grade Italian leather.
And since it can withstand up to 500lbs of pulling force, supported by the heavy-duty copper clasp, this makes it an effective leash for large dogs, although some users aren't fond of how stretchy the leather can be.
Although 6 feet is the only length available, FAIRWIN selects the thickest leather possible for maximum durability.
The high-quality Italian leather does command a higher price, but it's worth it for its durability and comfort. The edged handle even feels good thanks to the oiling process making the leather smooth as silk.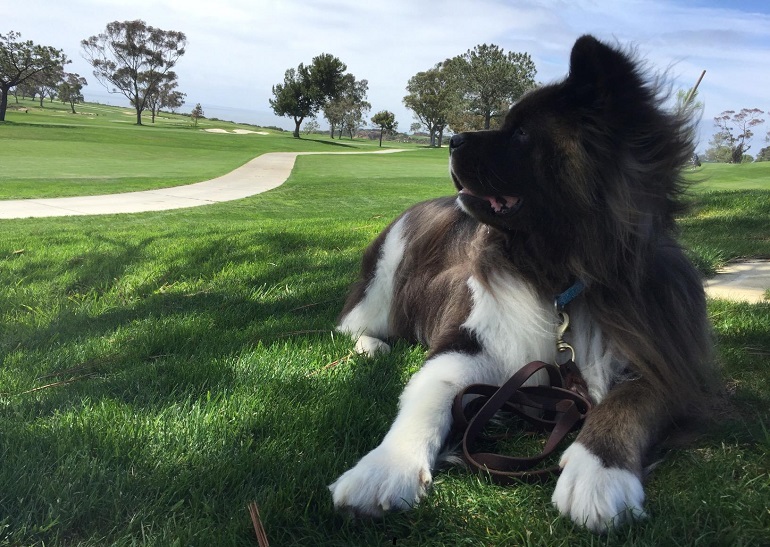 Pros
Hand-made from Italian leather
Durable, military-grade materials
Heavy-duty clasp for extra security
Looks good and impressive
Cons
More costly than others
Stretchy leather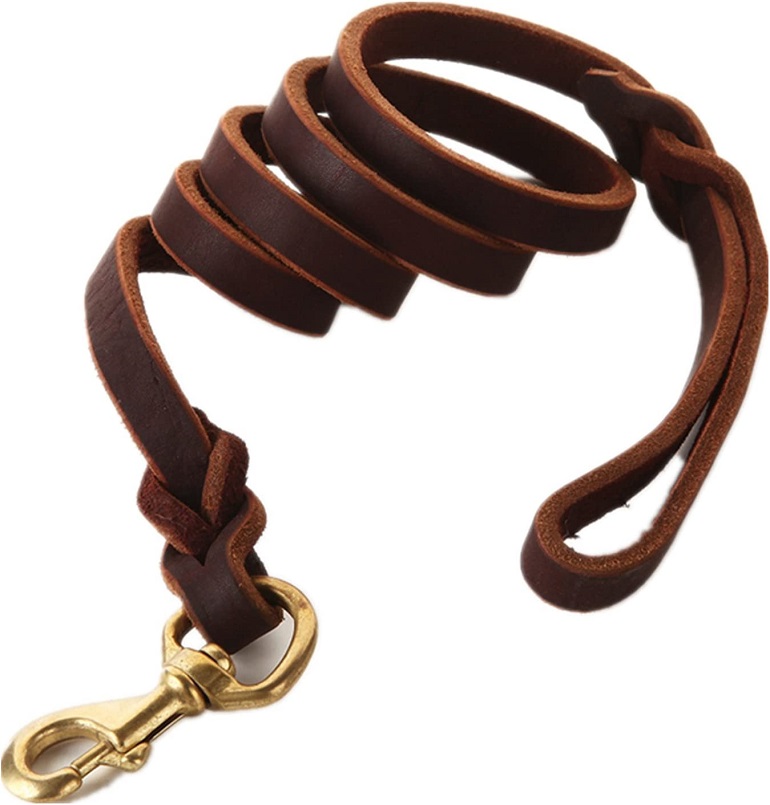 FAIRWIN Leather Dog Leash
The Price of "FAIRWIN Leather Dog Leash" varies, so check the latest price at
Things to Consider Before Purchasing a Dog Training Leash
Training leashes aren't all the same, and you'll need to take several things into consideration to make sure you're getting the best leash for your dog.
For example, you need to take into account the material, length, and design, as well as cost.
Material
No matter what the dog leash is for, you always need a leash as durable as possible to ensure the dog stays safe and secure. While it's unlikely you'll find a completely chew-proof model, it's worthwhile finding a dog leash as durable and chew-proof as you can.
Aside from durability, you should also think about comfort. While this doesn't have any effect on your dog, you'll want the leash to be comfortable and lightweight for you to make it easier to use.
Some typical examples of material are nylon webbing, leather, and biothane.
Nylon Webbing
Nylon is one of the most popular materials used for dog and puppies leashes and has the benefit of coming in a range of different colors and patterns. Nylon dog training leashes are easy to roll up and durable enough; however, they can fray over time and with consistent use.
Leather
Leather dog training leashes are particularly durable and much more resistant to ripping and chewing than other materials.
Although they might be a bit tough and inflexible at first, the more you use them, the more pliable they become. And like nylon, leather is easy to clean and wipe down.
Biothane
Biothane is more rubber-like than other materials, such as nylon. Biothane dog training leashes are particularly strong, can withstand all types of weather, and are easy to clean.
Length
Usually, the best length for a training leash is 6 feet; and that's why it's the standard length for a training leash. This allows you to keep your dog close while you're training them to walk on the leash and walk calmly down a street.
There are longer leashes available up to 30 feet or even 100 feet. These are primarily intended for the training process.
Design
There are different designs available depending on which type of leash training you need to do with your pup.
For example, extra short leashes give you full control over your dog, shock-absorber bungees help with aggressive pullers, and leashes with double handles give you better control when crossing the street or socializing with other dogs.
There are also hands-free leash that you can clip onto your belt for a relaxing long walk with your pal.
Cost
Training leashes come in a variety of prices, from very affordable to very expensive. On the whole, you get what you pay for, but a decent training leash doesn't necessarily have to break the bank.
Decent training leashes can cost between $10 to $20. However, if you want to splash some cash, you can pay up to $40 for the best leashes on the market.
Conclusion
There are lots of different types of equipment you can get for your dog, but with the best dog collar and leash available, you can make walks as enjoyable and stress-free as possible.
Just look out for the right material, length, and material that suit your dog and its needs, and don't pay more than you can afford.
Leash training doesn't have to be a challenge, and with one of these best dog training leashes, it can turn out to be a joy and an opportunity to bond with your pup.