The excitement of getting a puppy starts long before you welcome them into your home – it starts as soon as you know you're getting a puppy.
A smile creeps onto your face, your eyes sparkle… thoughts of sleepless nights and clearing up toilet accidents don't even occur to you.
Filled with excitement, you might rush to the pet store keen to get everything they'll need: toys they'll inevitably destroy, a bed they'll inevitably destroy, and food they'll inevitably devour.
You'll probably grab yourself a dog leash and puppy collar too. But since you still have to wait for vaccinations until you can take them outside, you might forget a dog harness – but don't!
You always need a collar; you need them to carry an ID tag and it's a convenient place to attach a leash. Some people use a dog harness instead, but it's ideal to use both – the collar for ID and the dog harness to attach a leash.
So, although dog harnesses might not be the first thing that comes to mind, it should be the first thing you strap onto your puppy when they venture out on its first walk.
Best Overall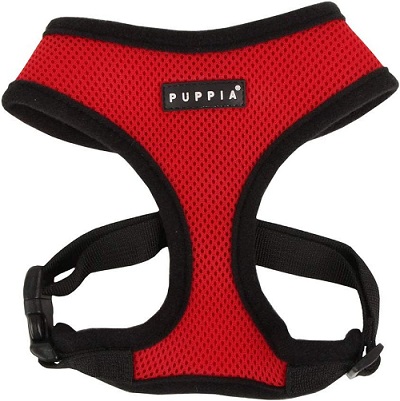 Puppia Soft Dog Harness
Size: Small
Material: Polyester

Best Budget-Friendly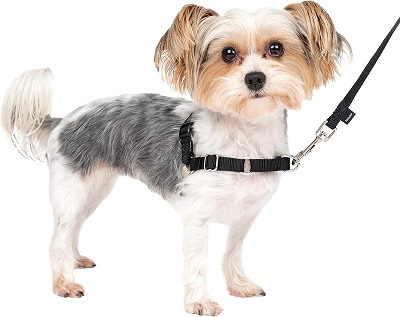 PetSafe Easy Walk Dog Harness
Size: Small
Material: Nylon
Best No-Pull Dog Harness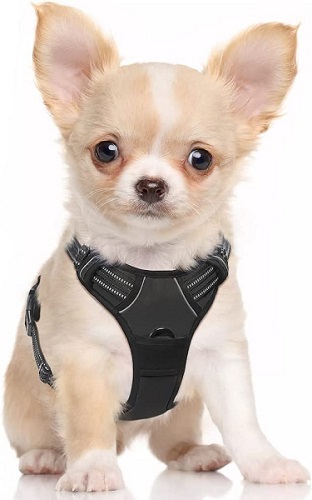 Rabbitgoo Dog Harness
Size: Small
Material: Polyester, Nylon
Best for Style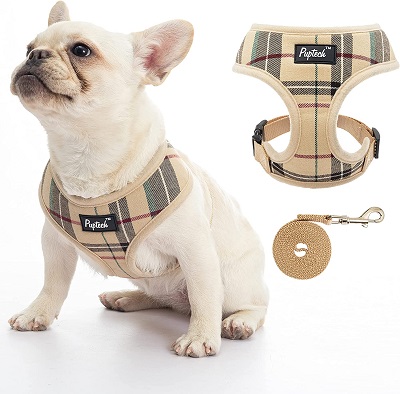 PUPTECK Soft Mesh Dog Harness
Size: SMALL
Material: Breathable Mesh
Best for Tiny Puppies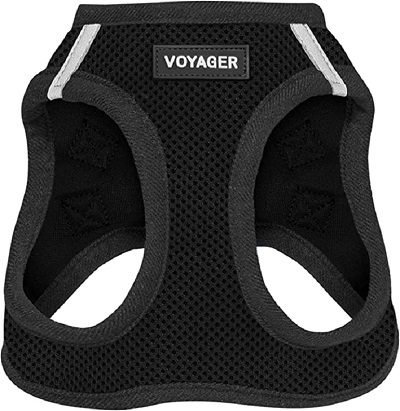 Voyager Mesh Dog Harness
Size: SMALL
Material: Breathable mesh fabric
Best for Durability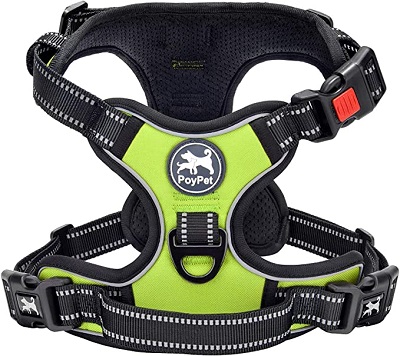 PoyPet No Pull Dog Harness
Size: SMALL
Material:  Breathable Air Mesh
Best for Adjusting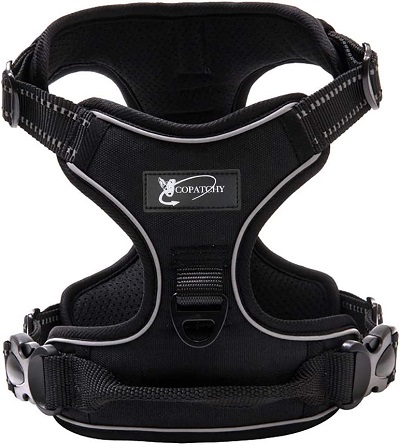 Copatchy Dog Harness
Size: SMALL
Material: Mesh
Best Dog Harnesses for Puppies – Top 7 Picks
As a key bit of equipment for your puppy to start walking and socializing, you want to make sure you get the best dog harness for your puppy.
To do this, here are some of our top recommendations, including specific features that your dog might benefit from.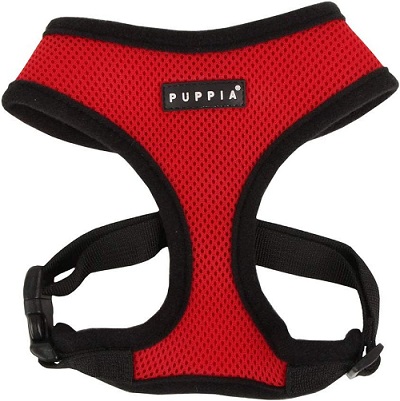 Simple and affordable, the Puppia dog harness pretty much does what it promises. There might not be any fancy extras, but it's guaranteed to keep your puppy comfy and secure when you're on a tight budget.
And since it's so small and simple, it's easy to tuck away and grab when needed.
The exterior is durable and lightweight, made of 100% polyester and making it ideal for typical everyday use. The interior, however, is still comfortable thanks to its triple layering of a soft and breathable air mesh, ensuring there's no risk of chafing on a walk.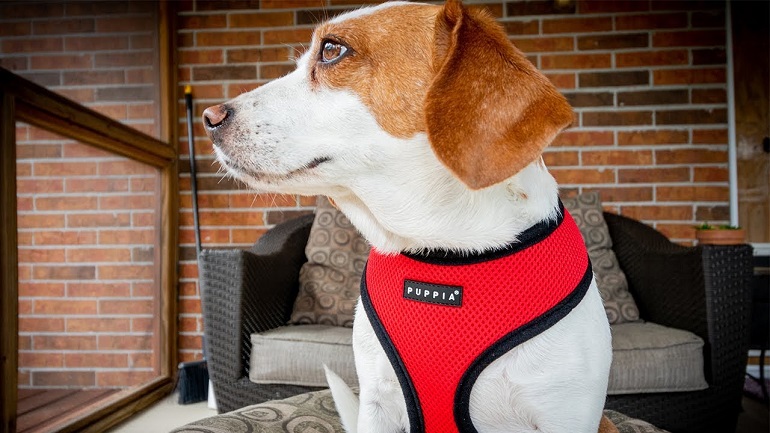 With a quick-release buckle, it's easy to put on and take off in an instant. And since it's machine washable, there's no reason to worry about it getting wet and muddy on their adventures.
With 14 colors available, there's a wide range to choose from, along with six size options, ranging from X-small to XX-large.
Pros
Lightweight and breathable
Comfy and adjustable
Easy to take on and off
Great value
Plenty of color options
Cons
No special extra features
Some sizes are too small
Neck strap not adjustable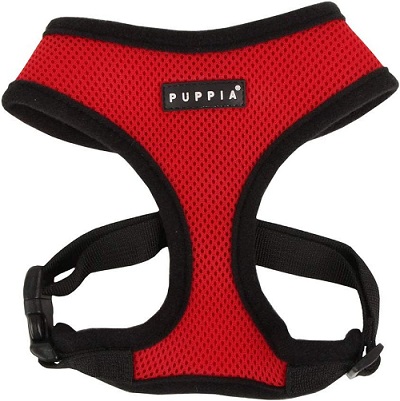 Puppia Soft Dog Harness
The Price of "Puppia Soft Dog Harness" varies, so check the latest price at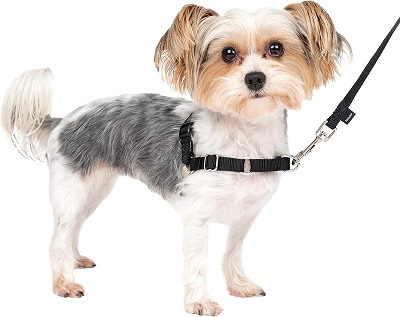 There's little argument that the PetSafe Easy Walk is the best dog harness for no pulling. Designed by a veterinary behaviorist specifically to stop pulling, it's a simple design consisting of a strap that goes across the chest and buckles at the torso.
When your puppy inevitably becomes excited and begins to pull and strain at the leash, you'll be grateful for a no-pull harness's design.
With a leash attachment point on your dog's chest, whenever they pull at the leash, they end up turning themselves around and facing you; eventually, they get the hint that pulling in a given direction doesn't get them there any sooner and makes training easier.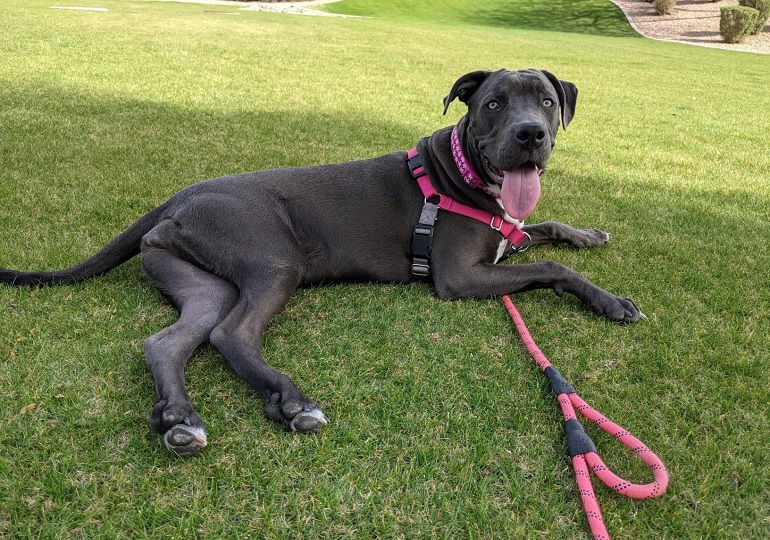 It's quick and easy to put on – at least, it is once you know what you're doing. While the design might be simple, it's so simplistic that it can take a while to work out when you first use it. Fortunately, it includes different colored straps to help you.
With eight sizes available and four adjustment areas, you'll certainly be able to find the perfect fit.
But since it's made of durable nylon and has no padding, it can end up chafing and digging into your dog's skin if you're not careful. Still, the nylon makes it durable, lightweight, and easy to clean!
Pros
Effective to reduce pulling
Easy to clean
Popular and well-reviewed
Highly adjustable with a wide range of sizes
Cons
Tricky to put on at first
No padding so less comfort for dog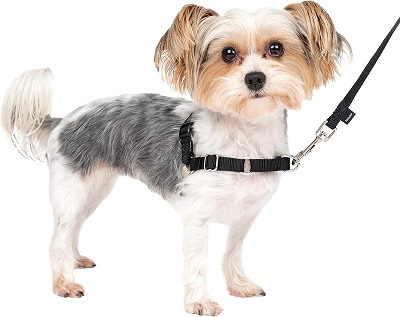 PetSafe Easy Walk Dog Harness
The Price of "PetSafe Easy Walk Dog Harness" varies, so check the latest price at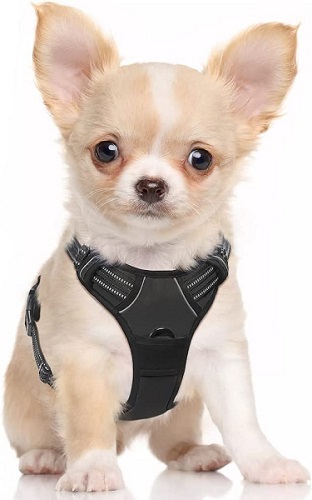 Versatile and of high quality, Rabbitgoo's dog harness is one of the best you can get, with a solid reputation amongst dog owners, thousands of 5-star ratings on Amazon, and all the features a dog owner could ask for.
With two leash attachment points on the front and back, it offers you the option of using it as a no-pull dog harness and includes a handle for extra control. It's quick and easy to put on and take off too and includes four adjustable straps to help you find the perfect fit.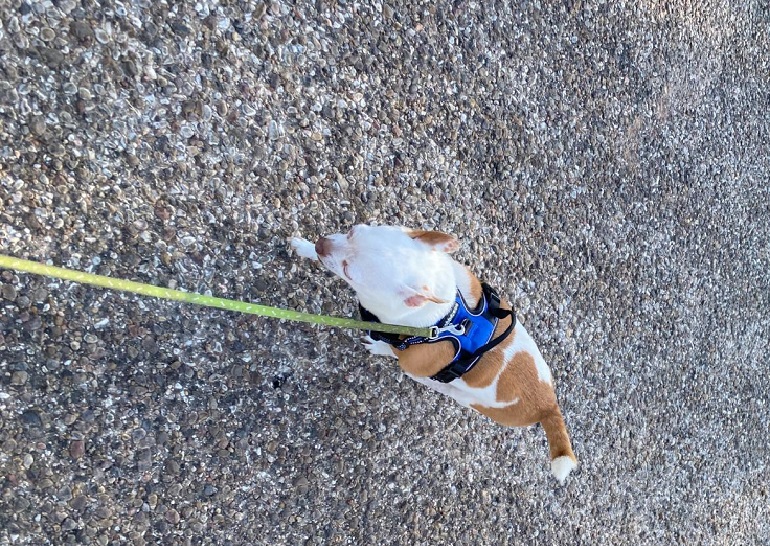 The interior is comfortable for your puppy thanks to its breathable mesh padding, while the exterior is durable and built to last with a nylon and polyester design.
It's reinforced with high-quality stitching and reflective strips, making your dog more visible at night or in low-light conditions. It'll even survive a spin in the washing machine too and is totally weatherproof!
There's a huge range of colors available, with everything from violet to black, as well as four sizes from small to X-large, meaning there's sure to be one that suits your puppy.
Pros
Durable with high-quality materials
Highly adjustable for snug fits
Two leash attachment options
Handle for extra control
Reflective stitching for added visibility
Wide range of color options
Cons
Sizes can be on the small side
Edges fray after continued use
Not recommended to withstand strong puppies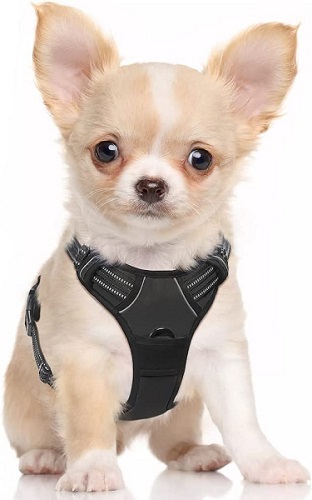 Rabbitgoo Dog Harness
The Price of " Rabbitgoo Dog Harness" varies, so check the latest price at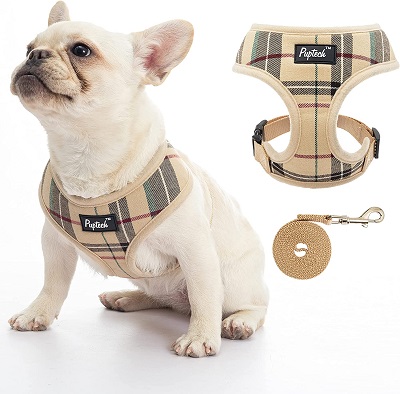 While it can be handy to have a tactical harness to help train your puppy, sometimes you just want them to look as cute as possible. After all, they're always cutest as a puppy!
That's where the PUPTECK harness comes in. This over-the-head dog harness doesn't include any fancy extras but instead prioritizes fashion and style. There's a huge range of vivid and colorful styles and patterns on offer to keep your dog looking the fanciest in the neighborhood.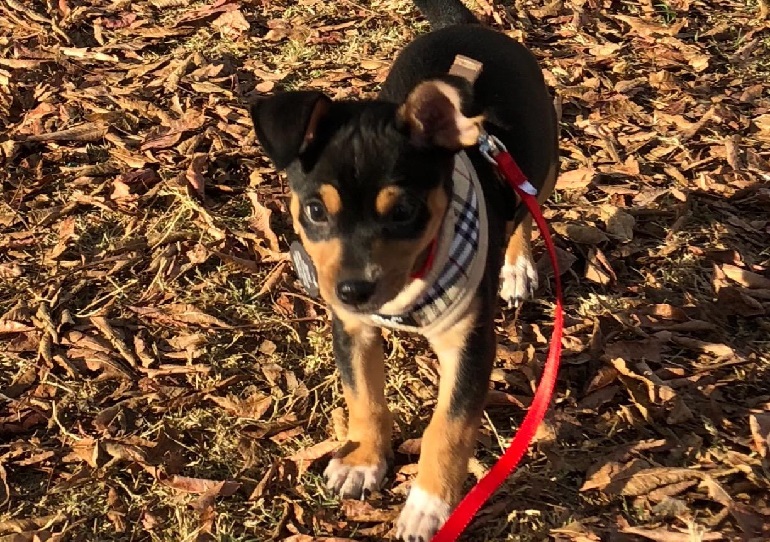 Still, style doesn't compromise the main function of a dog harness. It's lightweight and breathable with a comfortable air mesh to keep your puppy cool on walks.
It's an easy one to put on too, just requiring you to slip it over the dog's head and secure it with a quick-release buckle. However, although there's a back strap you can adjust, you can't adjust the neck size.
And to make you and your puppy stand out even more, it even comes with a free 4.9-foot leash as an added bonus
Pros
Fashionable and stylish
Variety of patterns and colors
Easy to put on with just one buckle
Comes with a free matching leash
Cons
Can't adjust the neck size
Doesn't discourage leash pulling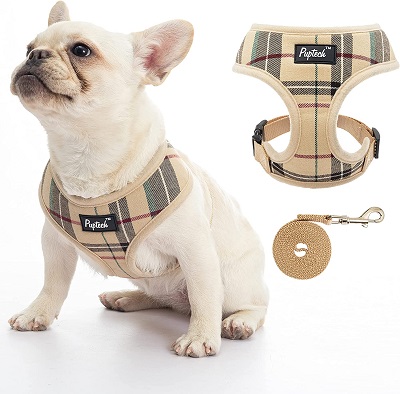 PUPTECK Soft Mesh Dog Harness
The Price of "PUPTECK Soft Mesh Dog Harness" varies, so check the latest price at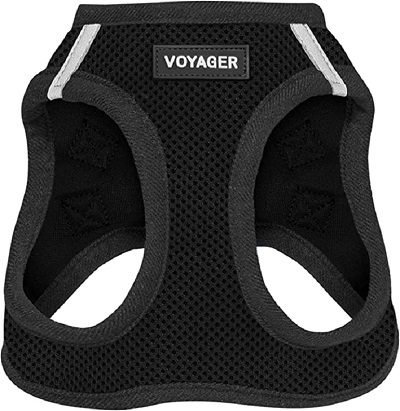 Similar to how PUPTECK is ideal if you want your puppy to look as adorable as possible, Voyager's step-in harness is a stand-out one for style.
There are plenty of colors to choose from, even giving you the option of ordering a leash with the same pattern to really show off. And Voyager has proven popular with dog owners, garnering thousands of 5-star ratings on Amazon.
But the best part of the Voyager dog harness is how suited it is to puppies, making it the perfect harness for small dogs as well. Sizes for this step-in harness go right down to XXX-small, fitting necks as small as 8".
Sizes don't necessarily match breeds though, so make sure to measure your puppy for the harness carefully.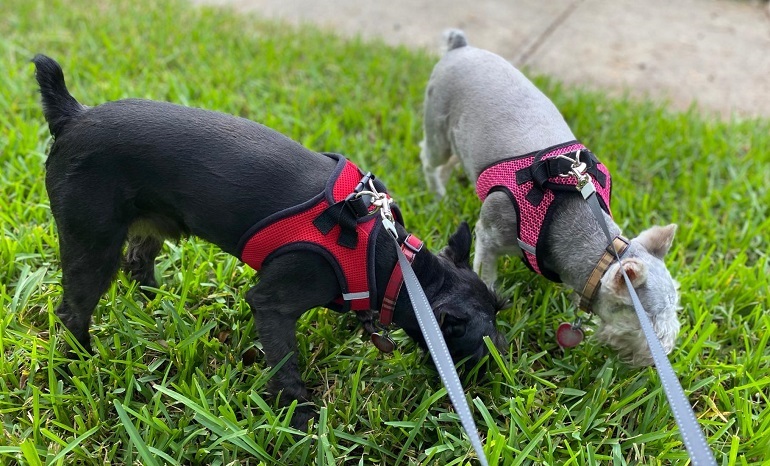 Adjusting this puppy harness is easy too since it makes use of Velcro to wrap around your dog; however, there's limited room for adjustment with the Velcro alone.
While this sounds potentially insecure, security is a priority here, including three safety features to keep your puppy safe: a hook and loop fastener, a buckle, and double D-rings.
Rest assured that the dog harness is also lightweight – perfect for a growing puppy. And its soft and breathable air mesh is durable enough to survive any weather you might encounter.
It even has reflective bands on the side so you can venture outside at night with your puppy and still keep an eye on them.
Pros
Trusted and reliable model
Fits small dogs particularly well
Security is a priority
Lightweight and reflective
Range of sizes and colors
Cons
Sizing doesn't match breeds, so measure carefully
Sits high up near your puppy's neck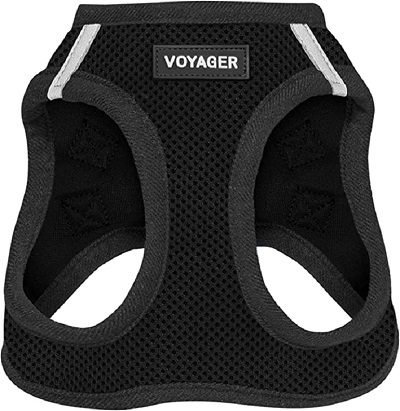 Voyager Mesh Dog Harness
The Price of "Voyager Mesh Dog Harness" varies, so check the latest price at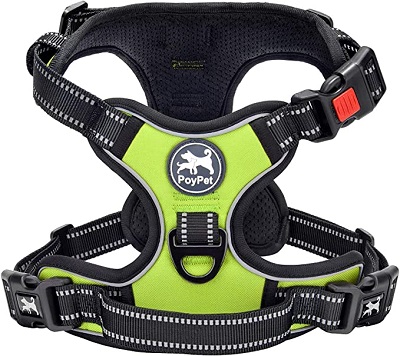 PoyPet is an all-around winner, with its security, durability, comfort, and style ticking every box a dog owner could ask for.
Like other no-pull harnesses, it has two metal D-rings on the chest and back, allowing you the option to discourage any pulling, and a top handle to give you extra control.
It boasts a very durable exterior, made from strong and scratch-resistant nylon and reflective strips for visibility in low-light conditions.
No dog harness is completely chew-proof, but this certainly comes close! Its interior, however, is comfortable with breathable mesh padding to keep your dog cool.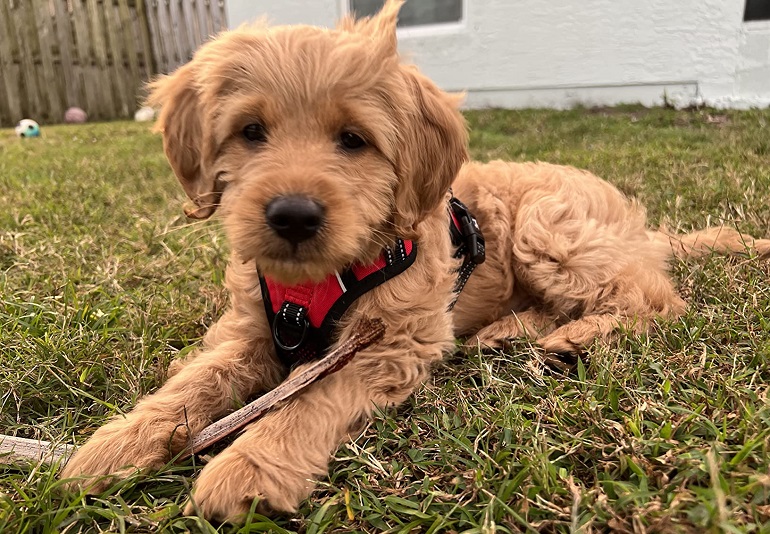 With four adjustable straps, it's a highly adjustable puppy harness, allowing you to find a snug fit for your puppy and letting you expand it as they grow. However, these straps can be fiddly when you first use them and can require regular tightening to ensure it still fits well.
The PoyPet is also perfect for dogs who don't like puppy harnesses that go over their heads. With three sturdy quick-release buckles, you just need to wrap it around their body – quick and easy, providing you've adjusted the straps to the perfect size.
Pros
Highly adjustable
Two leash attachment points to discourage pulling
Lightweight and comfy
Handle for extra control
Durable material
Cons
First-time adjustments can be fiddly
Adjustable straps require regular tightening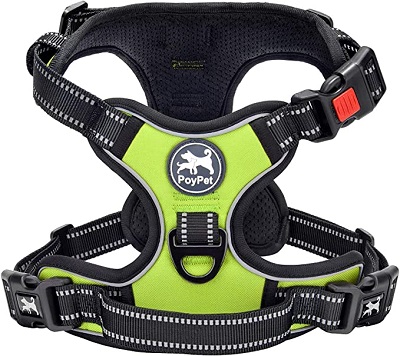 PoyPet No Pull Dog Harness
The Price of "PoyPet No Pull Dog Harness" varies, so check the latest price at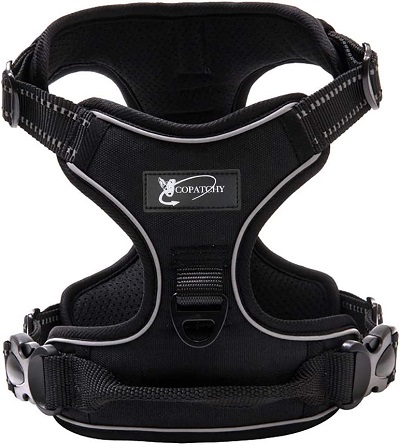 Copatchy is an over-the-head harness that excels in helping you find the perfect fit for your dog. With four adjustable straps, there is plenty of room for adjustment.
This makes it an ideal puppy harness since you can keep this one as they get older, occasionally widening the adjustable straps to accommodate them as they grow.
It even comes with two leash attachment rings on the back and front, making it a no-pull harness to train your puppy to walk calmly on the leash.
And its handle offers you extra control in case you need to refocus them when they get distracted or grab them quickly in an emergency.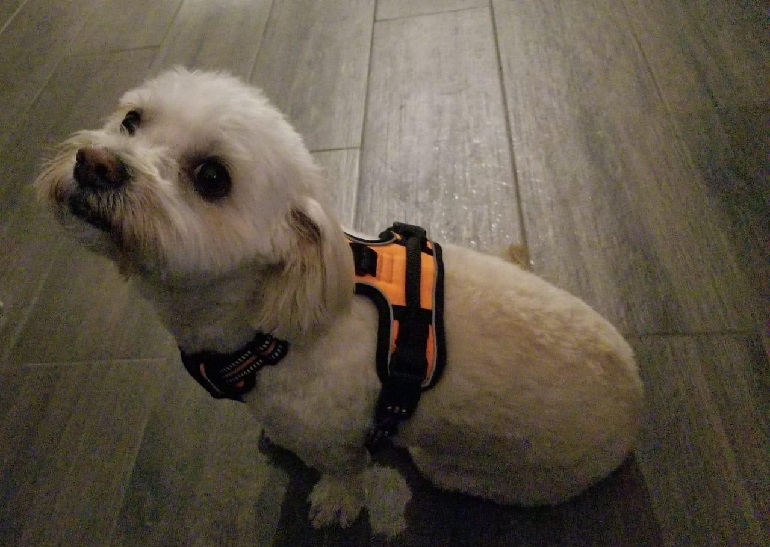 Though lightweight and with a cushioned mesh on the inside, the harness's exterior is still durable. Made of durable nylon Oxford, it withstands pulling from most breeds, and it even boasts reflective strips for extra visibility at night.
And if style is important to you, there are five colors to choose from to suit you and your puppy.
Pros
Highly adjustable
Two D-rings to discourage pulling
Handle for extra control
Highly adjustable
Lightweight but durable
Cons
Some dogs dislike over-the-head harnesses
Can rub dog's neck after long walks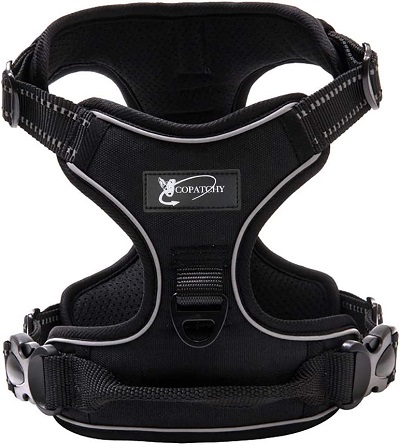 Copatchy Dog Harness
The Price of "Copatchy Dog Harness" varies, so check the latest price at
Buyer's Guide: Things to Consider Before Purchasing a Dog Harness for Puppies
Though you might not expect it, buying a puppy harness can be surprisingly difficult when you take into consideration all the features and specifications you need. And it's even harder for a puppy since they're still growing and learning to walk on a leash.
But don't worry – we're not leaving you to jump into the deep end without knowing what to look out for. Here are a few key features to look out for to make the search a lot easier.
Adjustable
Whether you buy a puppy harness online or in a store, it's unlikely going to be a 100% perfect fit when you first put on the dog harness. Just like how you usually have to adjust a dog collar, it's very likely that you'll need to adjust it to ensure it's a snug and comfy fit.
And being adjustable is a priority when it comes to puppy harnesses. Remember they're still growing – and they grow faster than you'd imagine! You'll need to adjust their puppy harness regularly as they get bigger, so make sure it's easy to adjust.
Ease of Use
You don't want a difficult and fiddly puppy harness – walks should be fun and exciting, not a time you dread getting ready for.
If you can, try and test out a puppy harness on your dog before buying it. It has to be easy to put on and secure, easy to adjust, and easy to hook a leash on and off.
Chew- Proof
Puppies chew – plain and simple. And these teething pups chew on everything they can get those pointy teeth into, even the well-behaved ones.
Although you can adjust a puppy harness so it fits perfectly, some puppies still find a way to gnaw on the front of the harness, and you want to find one that's durable to withstand the occasional chewing.
Comfort
Since you'll be popping on a harness every day, your puppy harness should be comfortable for everyday use. It needs to be durable enough with quality stitching and solid D-rings to avoid it ripping or breaking when your puppy pulls – and they'll pull a lot in the early days.
But as important as durability is, it still has to be comfortable for your dog. After all, they have to enjoy wearing it!
The first step is to accurately measure for a dog harness, just how you measure for a dog collar. Additionally, a puppy harness should have padding on its interior to reduce any friction and rubbing on your dog's body, neck, or legs.
Conclusion
Getting a new puppy is hugely exciting – but getting everything ready for them can seem a little overwhelming at times. Make sure you don't skip getting a puppy harness though.
A dog harness is an essential bit of equipment when it comes to puppies for two reasons.
It gives you more control: Dog harnesses make teaching your puppy to walk and socialize considerably easier.Your pup is guaranteed to lunge and pull at the lead as soon as they see another dog or squirrel. A dog harness gives you more control to stop this, making walks more pleasant and less tiring – especially when you have a no-pull dog harness!
It protects your puppy's neck and back: If you just use a collar, your puppy's neck and back are prone to injury when they pull. However, a dog's harness distributes this pressure across the body, instead of it concentrating it all on the neck. It even makes walks comfier for your dog.
Dog harnesses are crucial for teaching puppies to walk on a leash, making the difference between a stressful walk and an enjoyable one.
While there may well be plenty of puppy harnesses available, make sure the one you get is comfortable, durable, looks good, and fits well. So long as it ticks all these boxes, you'll have a harness to take your puppy out on plenty of adventures!