One of the best things about being a cat owner is that they tend to be pretty clean pets. Compared to other animals, it's a huge convenience for owners that they use a litter box. Conversely, owners still have to make the effort to clean out the cat's litter box daily.

When choosing the best litter box for messy cats, there are a few things to keep in mind. An open or closed design, front or top entry, and features like a textured surface or grooved portions to remove litter from paws all factor in. You also have to think about room area placement.

In the end, it's all about the litter boxes that are best for your cat. And what keeps them happy will translate into a cleaner space.
Best Self-cleaning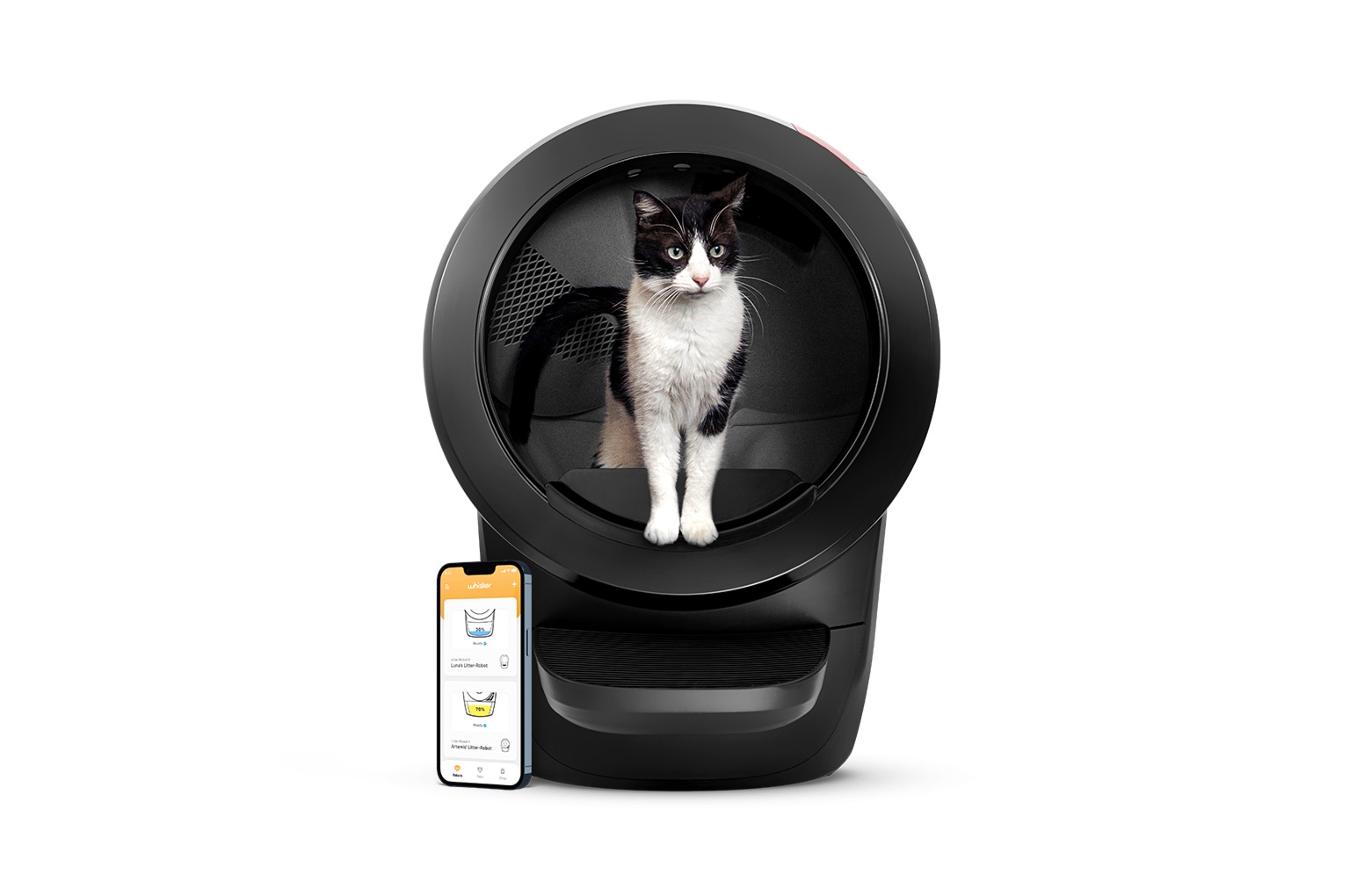 Litter Robot 4
Item Weight: 24 Pounds
Product Dimension: 15″H x 12.5″D x 13″W
Best Top-entry Design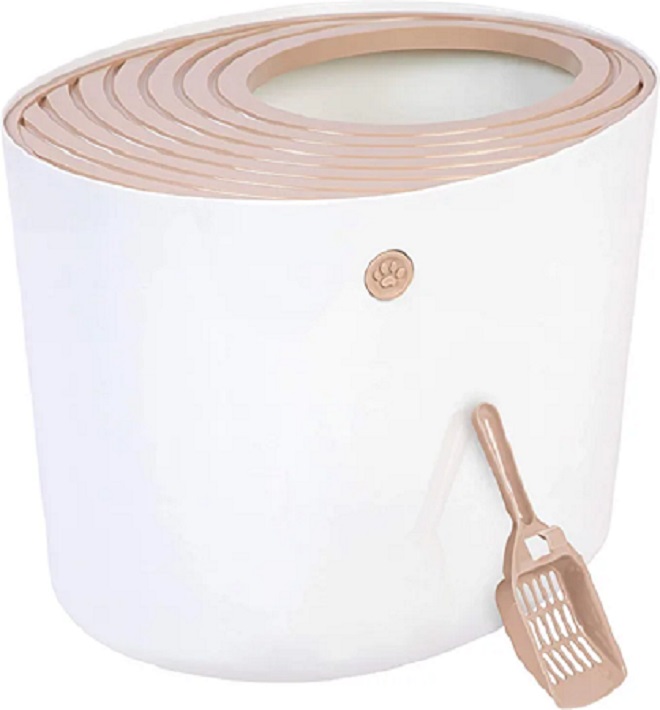 IRIS USA Cat Litter Box
Item Weight: 4.6 Pounds
Product Dimensions:
20″L x 17″W x 10″H

Best-hooded Lid Design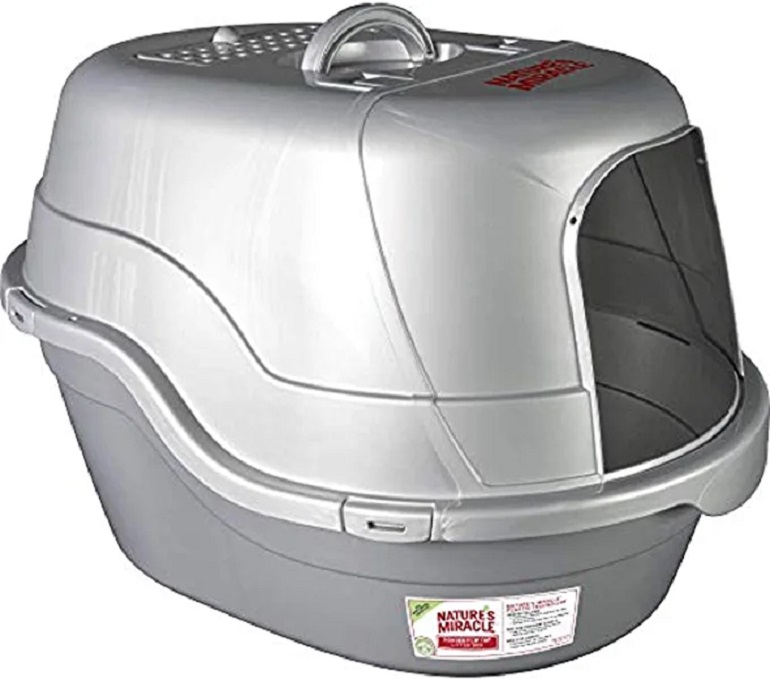 Nature's Miracle Hooded Flip Top Litter Box
Item Weight: 3.4 Pounds
Product Dimensions:
25″L x 19″W x 11″H
Best High-tech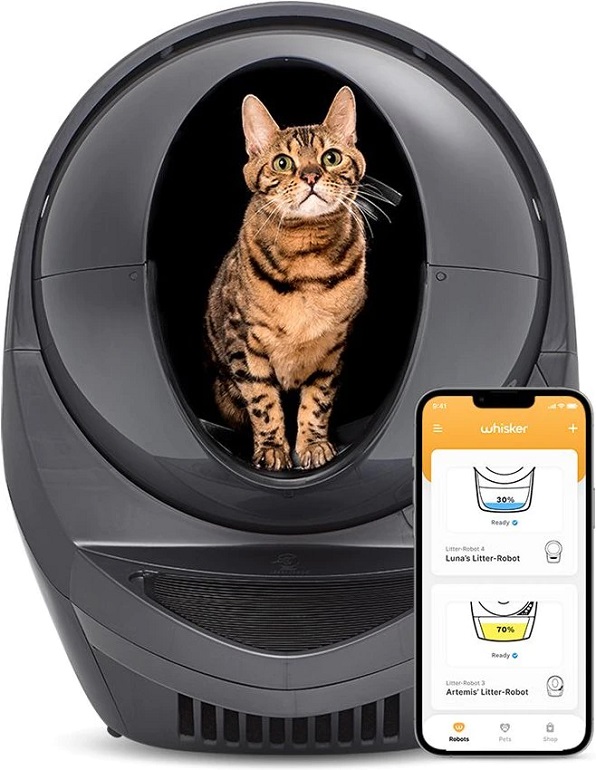 Whisker Litter-Robot WiFi Enabled
item weight: 28 Pounds
Product Dimensions:
24″L x 24″W x 34″H
Best Litter Pan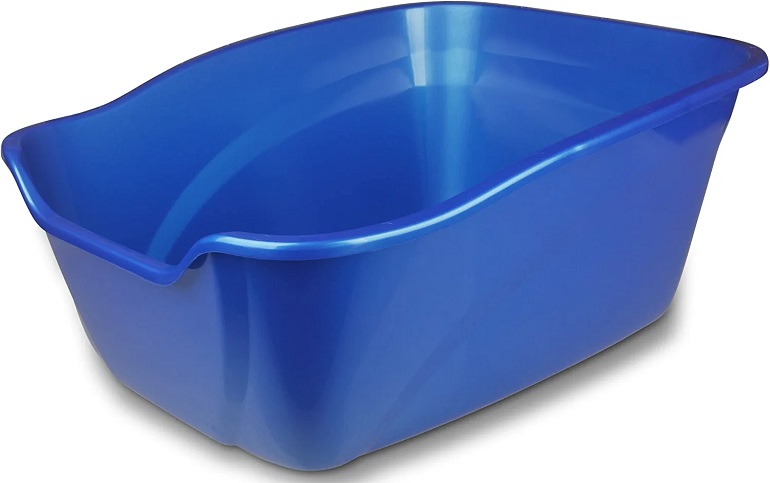 Van Ness Cat Litter Pan
item weight: 1 Pounds
Product Dimensions:
20″L x 17″W x 10″H
Best Dog-proof Design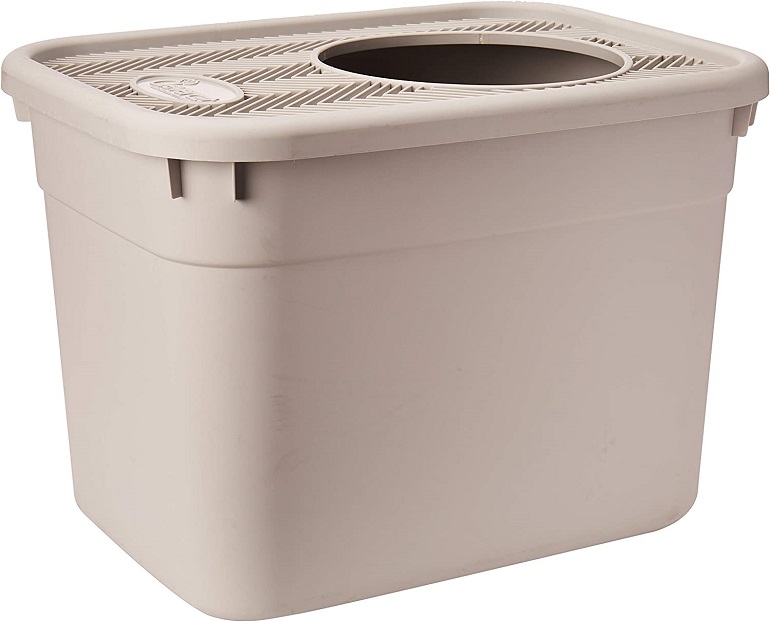 Clevercat Top-Entry Litter Box
item weight: 4 Pounds
Product Dimensions: 20″L x 15″W x 15″H
Best Flip Top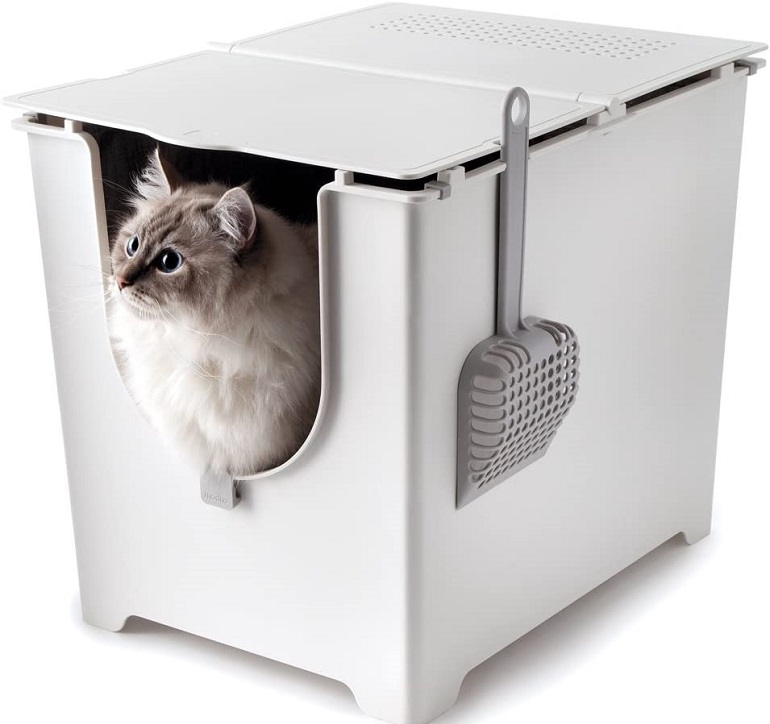 Modkat Flip Litter Box
item weight: 7.0 Pounds
Product Dimensions:
20″L x 16.75″W x 15″H
Best Swinging Door Design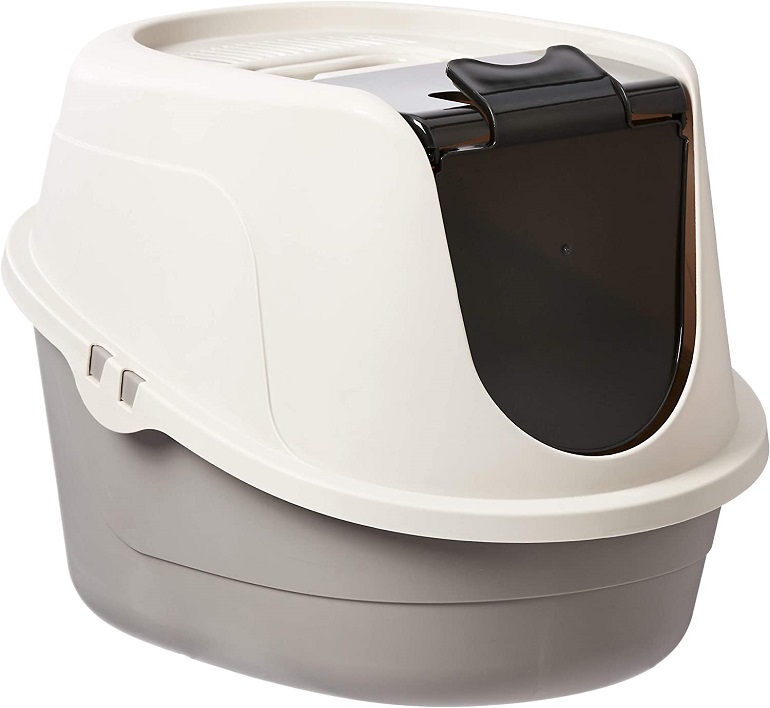 Amazon Basics No-Mess Hooded Cat Litter Box
item weight: 3.2 Pounds
Product Dimensions:
24″L x 18″W x 17″H
Easiest to Clean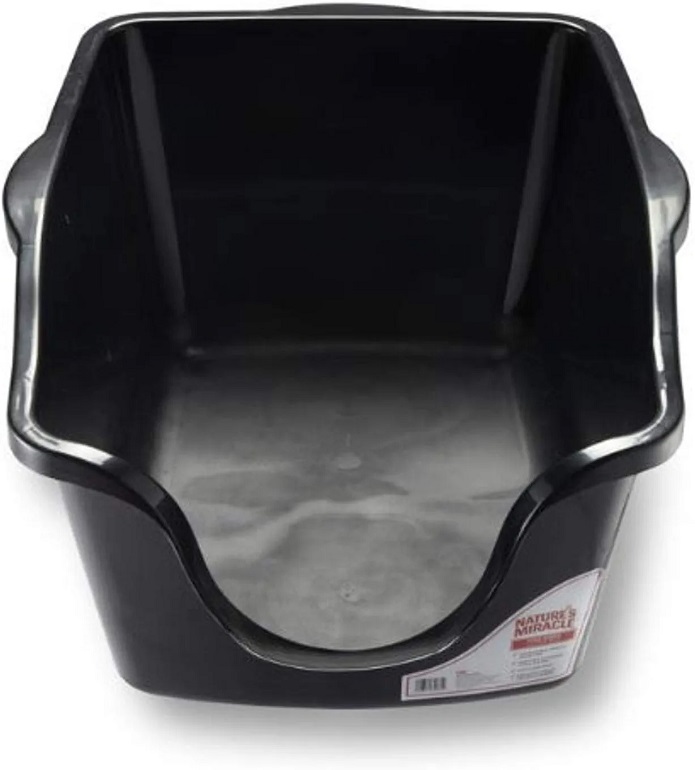 Nature's Miracle High Sided Litter Box
Item weight: 1.8 pounds
Product Dimensions:
23″L x 18.5″W x 11″H

Our Top Picks of the Best Litter Box for Messy Cats
Let's have a look at our well-curated selection of the best options available on the market right now!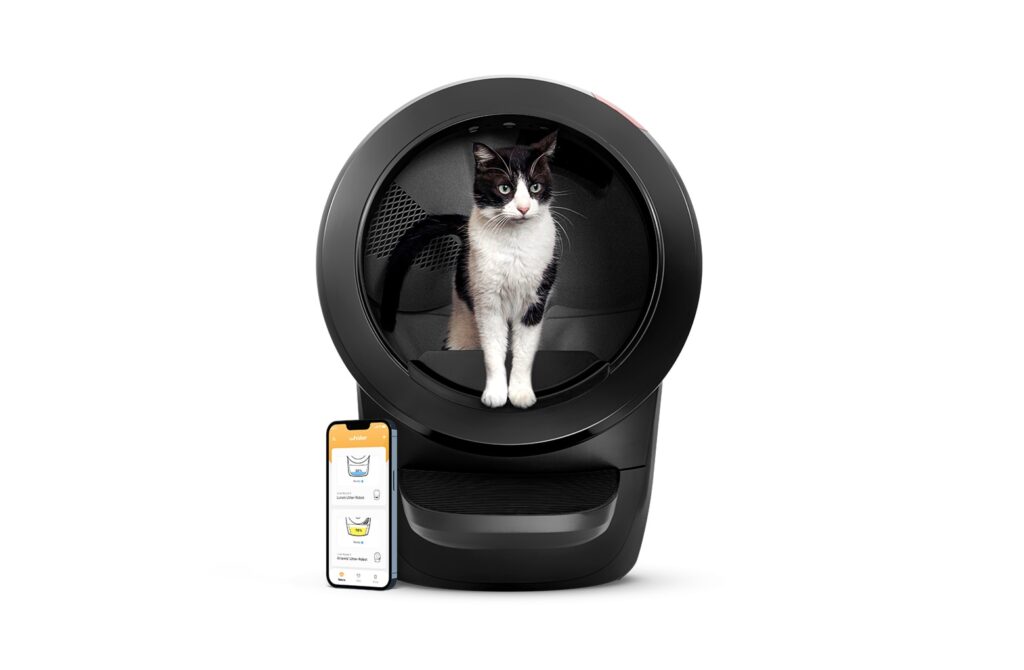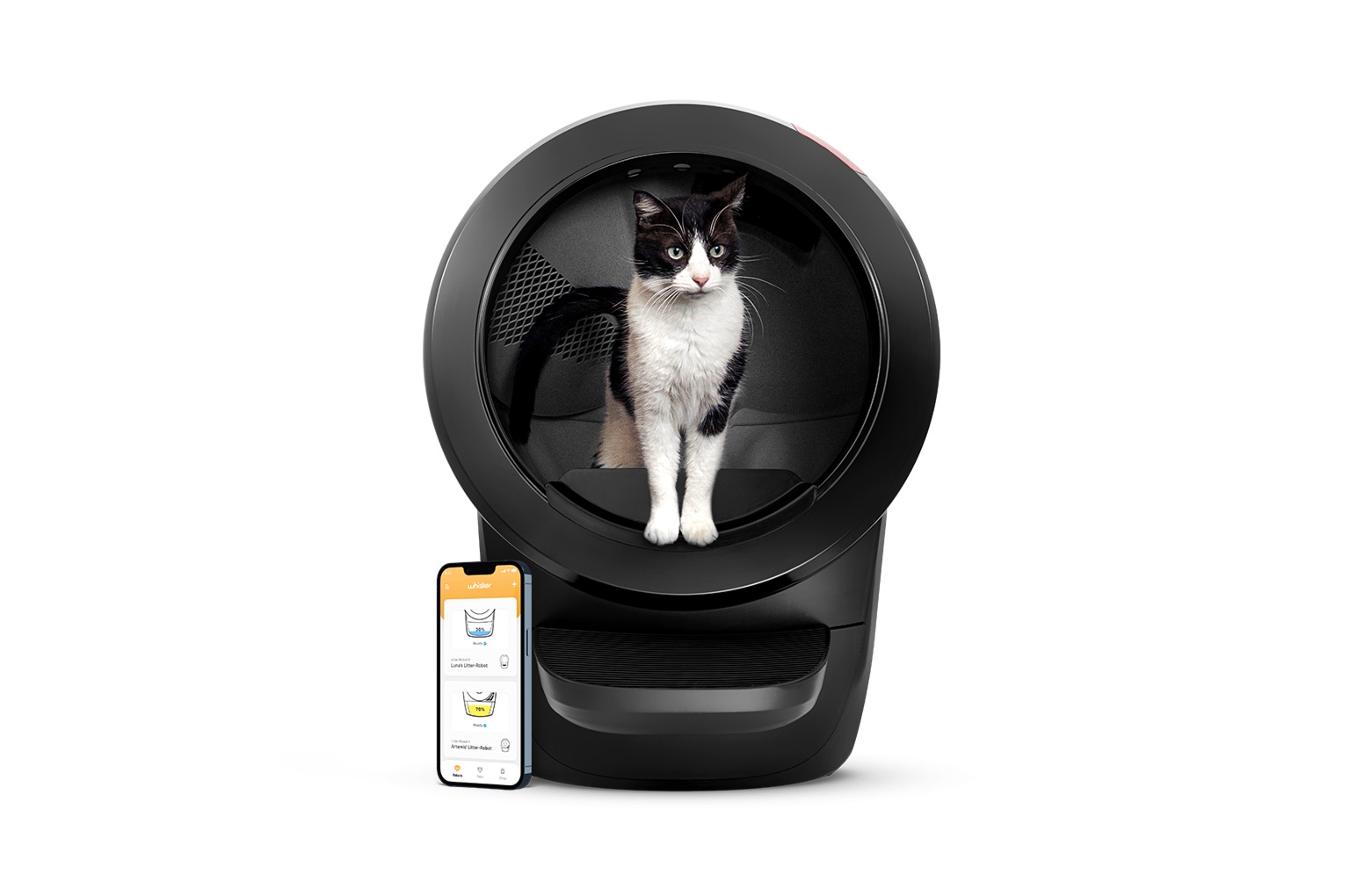 The litter box is already not a pleasant setting, and when it is made even dirtier by a messy or sloppy cat, the situation gets worsened. If you're also tired of litter strewn everywhere and looking for a litter box for messy cats, Litter Robot 4 is a perfect choice.
A great box for messy cats should be enclosed, automatic, and easy to clean, and Litter Robot checks all the boxes. A covered design contains all the mess, and with the self-cleaning feature, scooping is no more an issue.
This amazing device automatically sifts through litter and sorts dirty waste from clean litter. The clumps are then deposited in a carbon-filtered waste drawer, aiding in odor control. The box can be used with any type of clumping litter.
To further prevent tracking, you can also get a mesh litter mat or a heavy-duty litter trap mat compatible with Litter Robot. The model also comes with a fence that snaps on the entrance and keeps in any kicked-up messes.
Additionally, Litter Robot 4 is also WiFi-enabled, and you can use the app to track your cat's bathroom activities and get notifications for when the drawer is full and needs to be changed.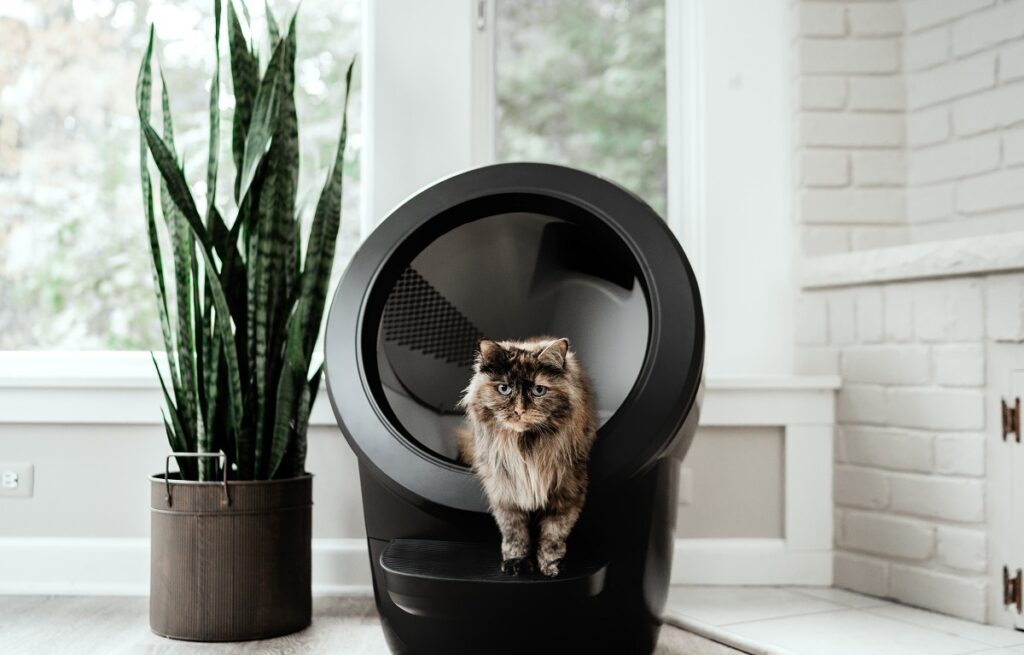 Pros
Covered design for privacy
Carbon-filtered waste drawer traps odors
The fence helps prevent tracking
WiFi-enabled making it easy to use
Cons
It is more expensive than other options
You need to purchase the litter mat separately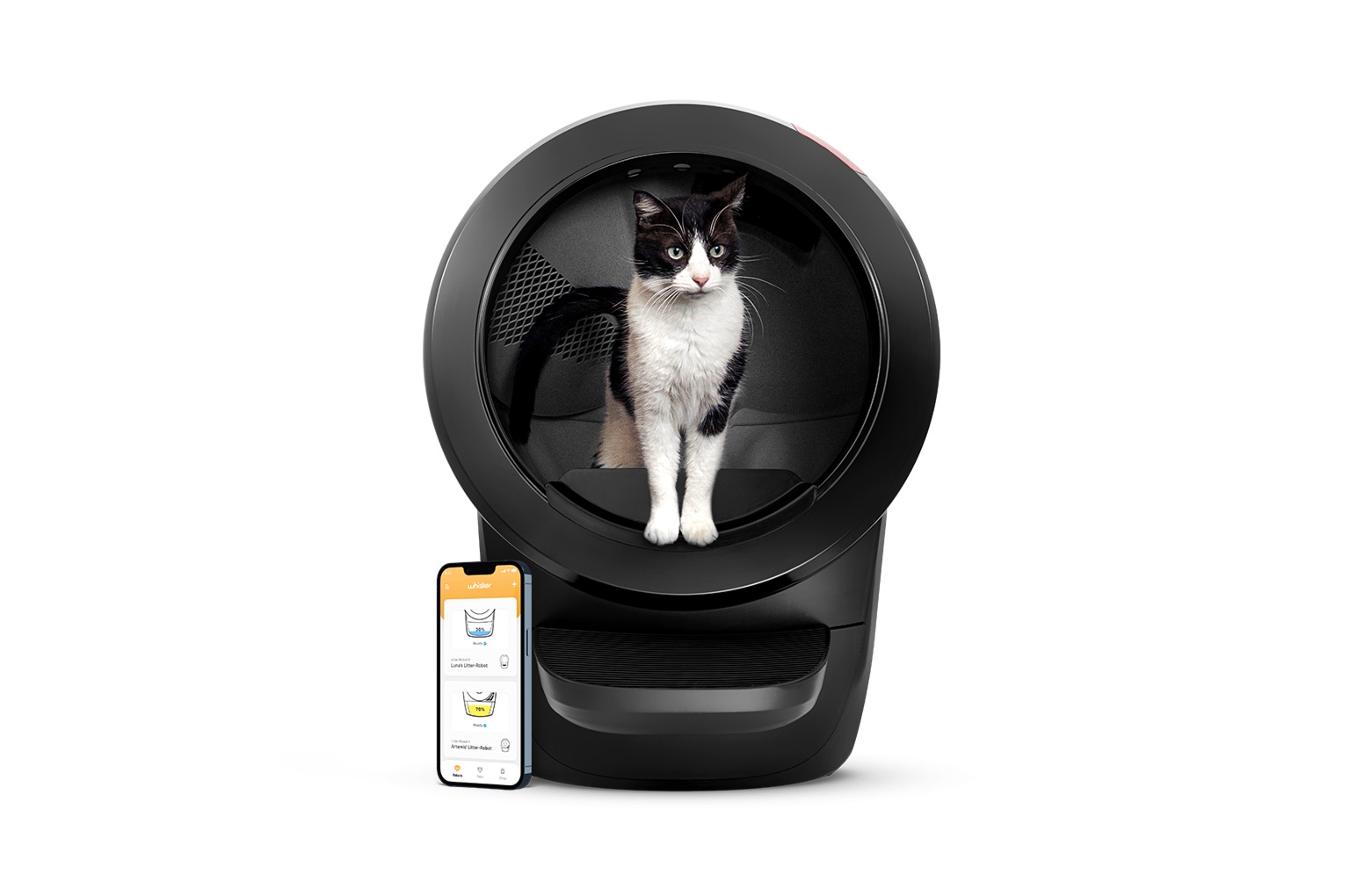 Litter Robot 4
The price of "Litter Robot 4" varies, so check the latest price at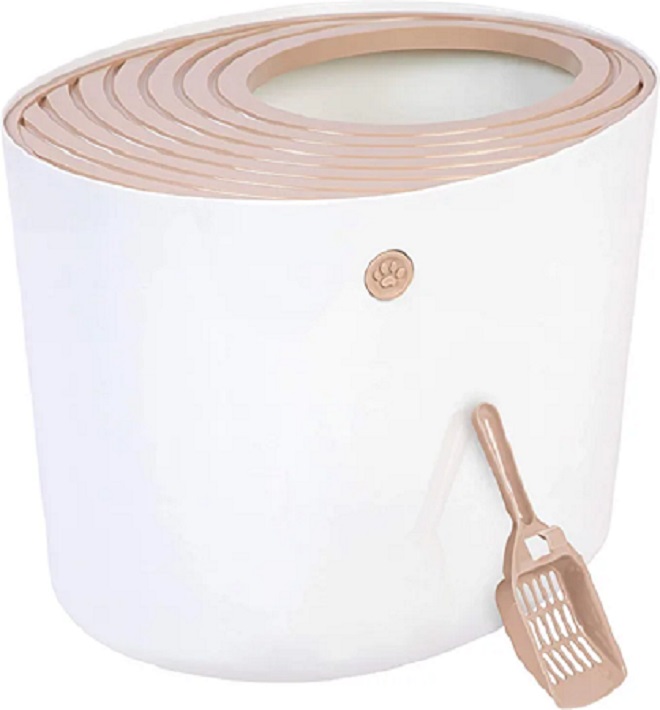 If there's one thing we all know cats love, it's privacy when using the litter box. And who doesn't want that when they're using the restroom? The round top entry litter box style is a sleek, modern design.
The intent is to reduce litter spills as much as possible. It also keeps everything out of sight, perfect if you have the cat litter box in a more public area of your home.

Gone are the days of the boring square or rectangular pan litter boxes. It's an innovative, top-entry style that invites your cat's curiosity.
But it's not just about looks. This design greatly reduces litter spills and provides all-important discrete space as they do their business. It also keeps their nosey roommates like dogs and other pets out.

Regardless of the cat litter box design, litter tracking is a concern. This is one of the biggest reasons small amounts of litter end up on the floor around the box.

It comes in large and medium sizes. The color selection is unique, with white, black, gray, and… orange! If you're one of those cat owners with a taste as picky as your cat, these options let you fit the color of the box into the design of the room.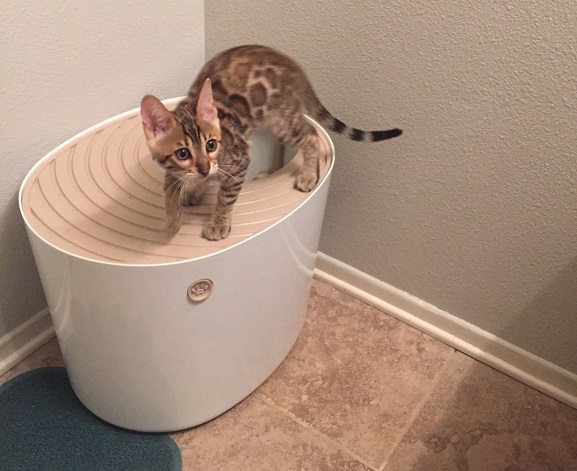 Everything about this round-top entry litter box is meant to be clean and streamlined. From the vertical design, a tidy grooved lid top to catch litter particles, to the litter scoop that neatly hangs on a hook on the side this is as modern a litter box as you'll likely find. And it's perfect for messy cats.

Not all cats will love it. Though it's only a foot and two inches in height, some cats are just lazy! If you have a senior cat, your furry friend has mobility issues, or they're just plain lazy they might not like the idea of having to jump up to use it.

But cats are as curious as pets come and this model from IRIS is one of the best litter boxes that provides a great combination of clean, modern, and sleek.
Pros
High lip reduces spill almost completely
Top entry design is perfect for messy cats
Keeps interior contents out of sight
Cons
Vertical design might not work for senior cats or cats with mobility issues
Cats might not want to share it due to a lack of space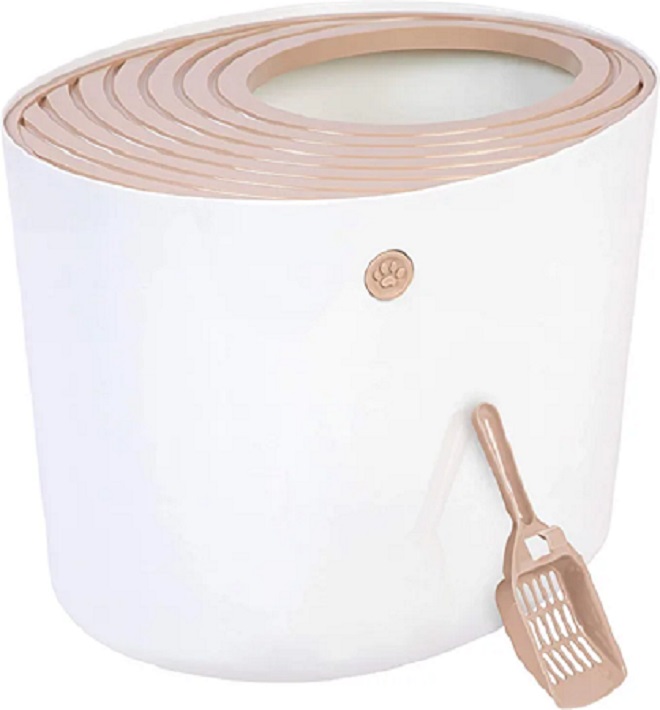 IRIS USA Cat Litter Box
The price of "IRIS USA Cat Litter Box" varies, so check the latest price at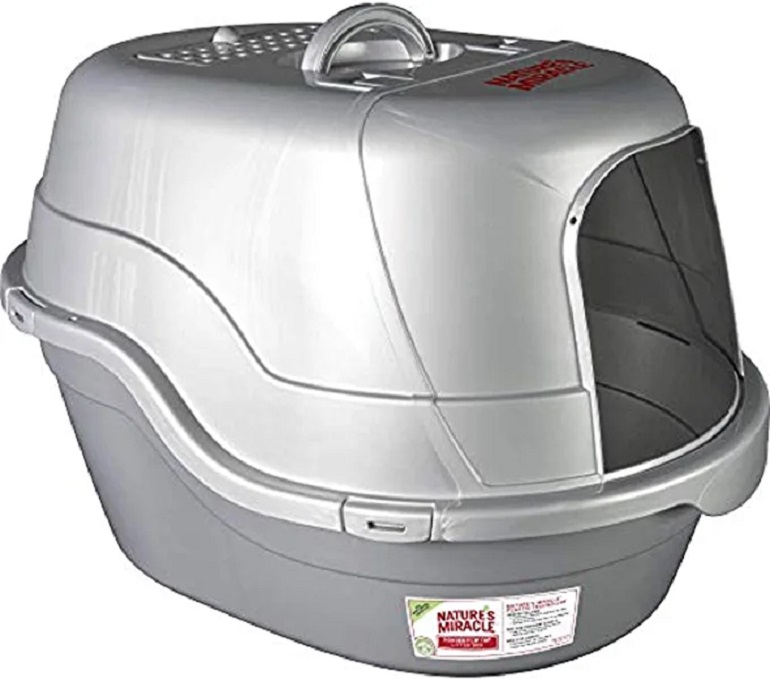 The hooded litter box has been around for what seems like forever. They're convenient to clean, provide an element of privacy for the animal, and keep the inside contents out of sight to an extent. This enclosed design helps to prevent litter scatter and any spray from the cat from reaching the floor.

But unlike a cheaper hooded cat litter box design, this model features a flip-top front open design. And if you need to remove the top altogether four easy-to-use latches snap it into place. A top handle makes moving it around the room easy, even if there's litter in it.

Odor control is always a concern with litter boxes. Nature's Miracle built-in charcoal filter odor neutralizers added to this model do a good job of containing them to leave things smelling fresh. They last for three months, so you'll only have to worry about changing them out a few times a year.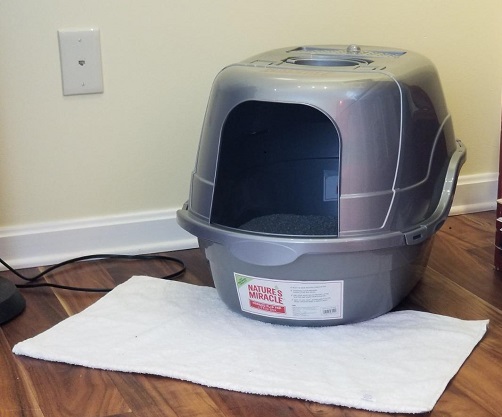 Additionally, the plastic provides a non-stick surface. This eliminates the accumulation of dirt and odor buildup and makes it easier to wipe down when it's time to clean it. It's a tried-and-true hooded box design with an opening wide and high enough to fit even the most well-fed cat.
Pros
Cleaning is a breeze with the flip-up front panel
Enclosed lid means cat owners don't have to worry about cat spray getting out
Charcoal odor neutralizers last up to three months
Fat cats fit comfortably through the large size opening
Cons
Large front opening won't reduce odor completely
Nothing to reduce residual litter on cat's paws
Not all cats like a covered box, especially large cats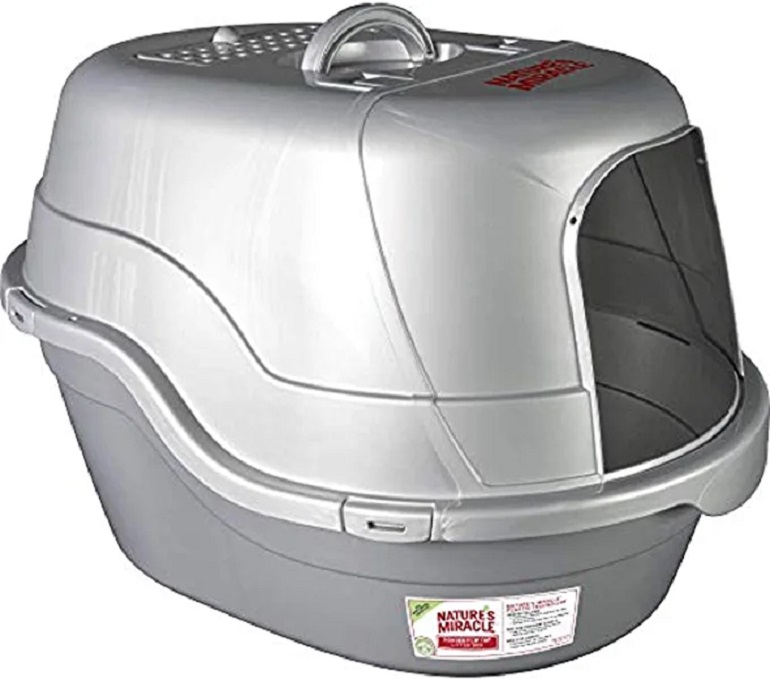 Nature's Miracle Hooded Flip Top Litter Box
The price of "Nature's Miracle Hooded Flip Top Litter Box" varies, so check the latest price at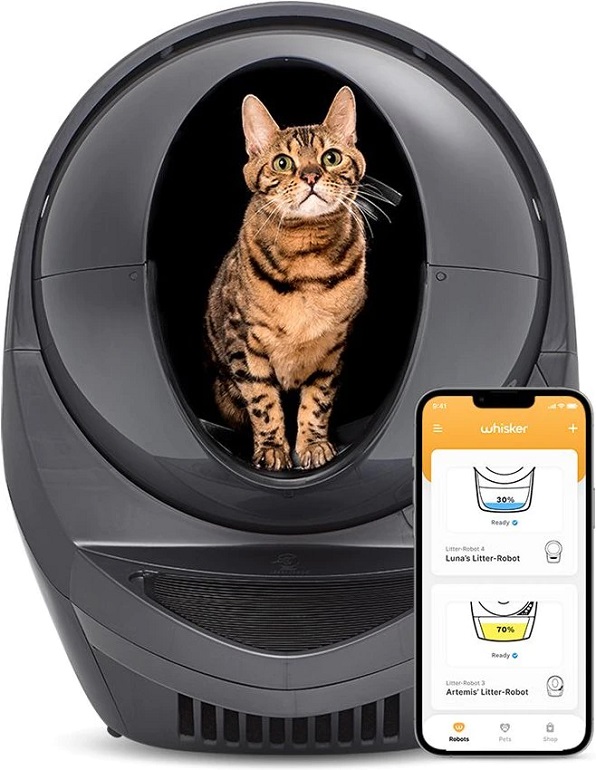 Now we're getting high-tech! With the rise of "smart home" devices, did you ever think a smart, automatic litter box system existed? That's exactly what the Litter-Robot 3 is, a wifi-enabled and self-cleaning litter box. The future is here, and this is one of the best litter boxes for messy cats.

Gone are the days of tediously cleaning out the presents your cat leaves you like with other litter boxes. All you do is connect it to WiFi and the product does the dirty work. Through a unique cleaning process, the Litter Robot sifts through your cat's waste the moment it steps out of the litter box.

It deposits everything into a waste drawer. Through a carbon filter, it reduces any unpleasant odors during and after your cat's time in it. This automatic cleaning process will save cat owners time scooping. You'll also save money on litter, as it uses up to 50% less.

Through the Connect app, you can monitor the unit in innovative ways. You get insights into how much it's used and the levels of waste. What's more, up to four cats can use it!

There are some considerations to take when choosing the Litter-Robot. A weight requirement of 5 pounds is required to safely use it in Automatic mode. It's not a corner design, and it can't be situated against any walls, so room placement is another factor.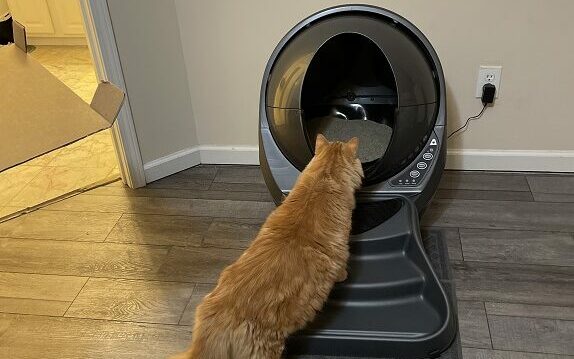 It only comes in one size, but since it can be used with up to four cats this isn't really a concern. With dimensions of 24.25" x 27" x 29.5" it's large enough for your cat(s) to be comfortable but not so big that it takes up too much room space.

This isn't your traditional litter box. At $550 it's definitely not super budget-friendly. But neither are its features. It's spacious enough inside for cats to be comfortable.
The most appealing feature for consumers is the time and money saved, though it's certainly an investment. It's not just one of the best litter boxes for messy cats, it's a contender for the best overall litter box period.
Pros
Owners save time on daily maintenance and money through the automatic cleaning process
Up to 50% less litter used is eco-friendly
Great for homes with multiple cats, up to four can use it
Stay aware of usage and maintenance through the Connect app
Cons
Expensive
Can't be situated in corners or against walls so room placement is a consideration
Automatic Mode requires a WiFi connection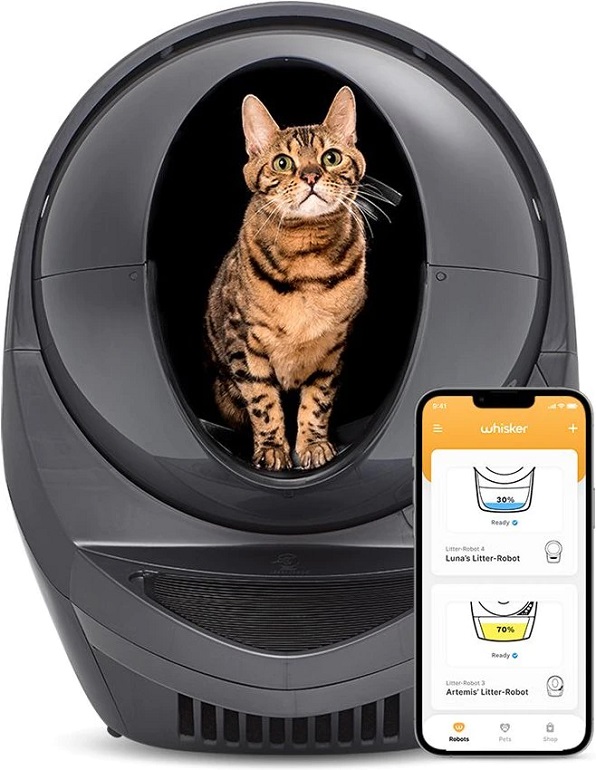 Whisker Litter-Robot WiFi Enabled
The price of "Whisker Litter-Robot WiFi Enabled" varies, so check the latest price at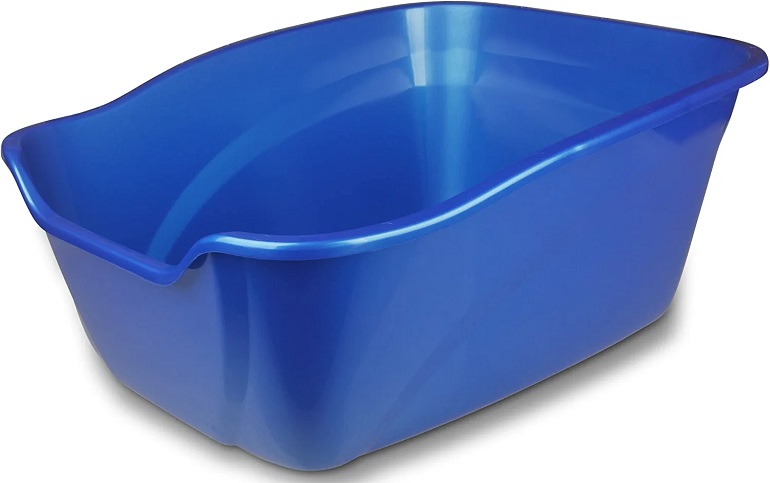 From the most high-tech option, we go to the most basic. But sometimes an open litter box is exactly what your cat wants!

The beauty of this cat litter box is in its simplicity. Sure, it requires all of the work of a standard litter box. At dimensions of 20.5" x 17" x 10" it's large enough to be used by multiple cats, so it's perfect for a household with more than one.
This can be difficult if you're struggling with how to make cats get along. It's also great for messy cats that like to dig as they do their business.

A high-polished durable plastic shell is easy to clean and resists odors as long as it's maintained on a regular basis. Staining is also a concern with your cat's litter box, but due to the polished plastic, this won't be an issue either.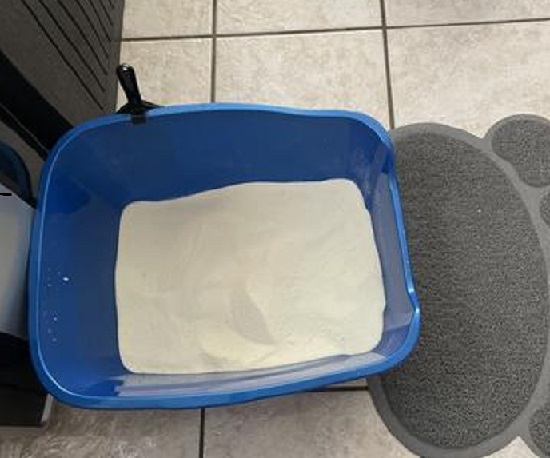 What makes this option from Van Ness appealing and sets it apart from similar products are the high sides. You don't normally find that in a litter pan in this price range. This helps to prevent spillover from being used or messy cats that spray.
It's budget-friendly at just over $10, so what do you have to lose?
Pros
High sides reduce chances of litter getting out
Perfect for households with multiple cats
High-polish plastic reduces your cleaning time
Low price point great for owners who need something simple
Cons
Odors can escape due to not having a cover
Litter spillover won't be completely eliminated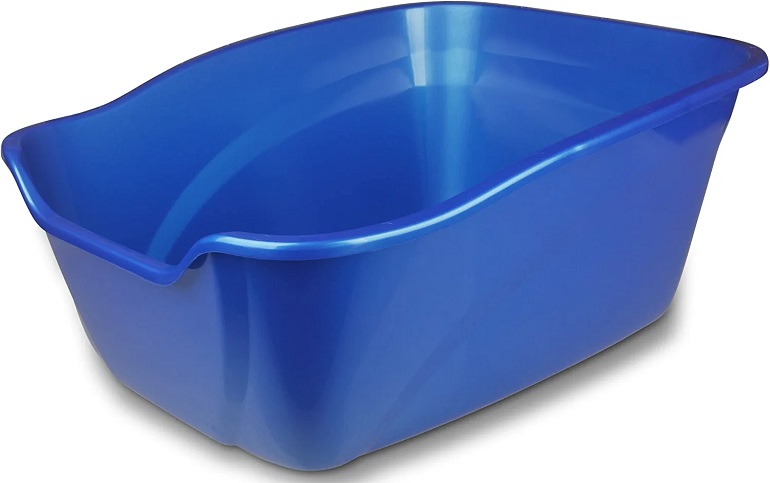 Van Ness Cat Litter Pan
The price of "Van Ness Cat Litter Pan" varies, so check the latest price at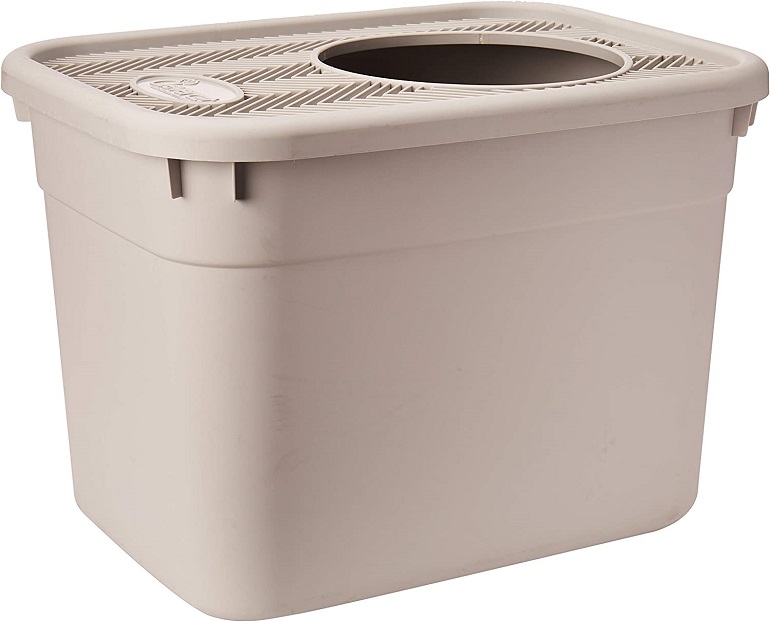 Cats are explorers, and using the litter box is no different. If you're looking to give your cat a sense of adventure and keep things as clean as possible at the same time, a top-entry litter box might be the best choice for you. Especially if you have a messy cat.
A top-entry, enclosed litter box design is great for cats that like to dig and kick litter scatter out of their box. They're also great at reducing spills over the edge and keeping the area around the litter box clean.
Is your dog nosy? Do they like to make a mess and get into things that your cat leaves behind? The isolated design is perfect to prevent this.
This great litter box itself is 20" x 15" x 15" with an entrance hole is 9". This size is perfect for allowing easy access and exit while keeping what needs to stay in the litter box exactly there. The top is grated to help remove any remaining litter stuck in their paws so they don't track it everywhere.
It can be used with or without a liner. Clevercat makes compatible, heavy-duty litter liners that make changing and easy cleaning of the unit even quicker, easier, and more sanitary.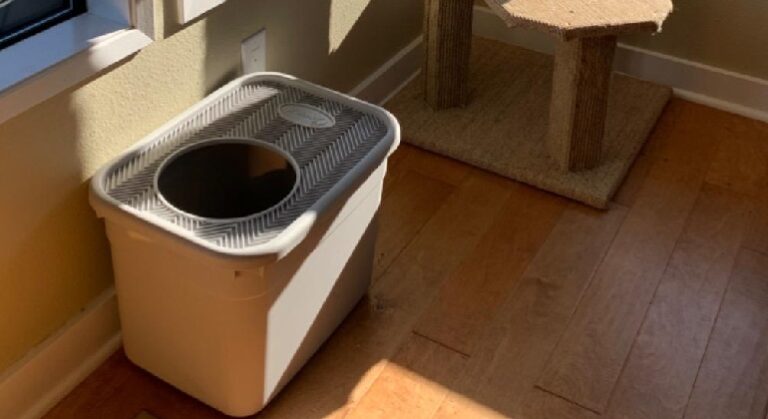 As great as top-entry litter boxes are, they do have some limitations. It's not for all cats, especially if they're large, disabled, or elderly. Some cats don't like the "closed in" feeling of them and prefer something more open.
The best thing to do is evaluate your cat's specific needs and preferences and make your litter box purchase decisions accordingly. This model is one of the best litter boxes if you have a dog in the house.
Pros
Keep your area clean and produce spillover with top-entry design
Grated top helps to reduce tracking and removes litter from paws
Most cats will fit comfortably through a 9" entrance
Cons
Elderly, disabled, and larger cats might have access issues
Might not be the best choice for cats that don't like confined spaces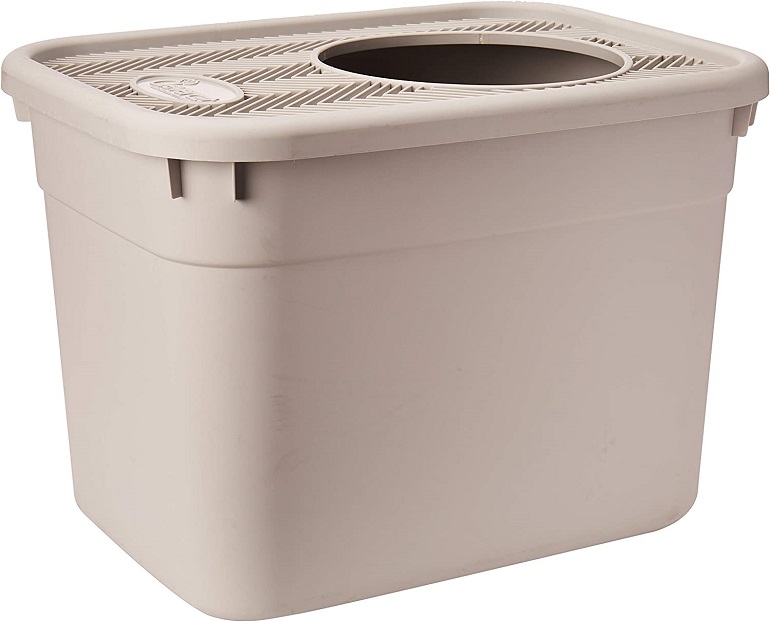 Clevercat Top-Entry Litter Box
The price of "Clevercat Top-Entry Litter Box" varies, so check the latest price at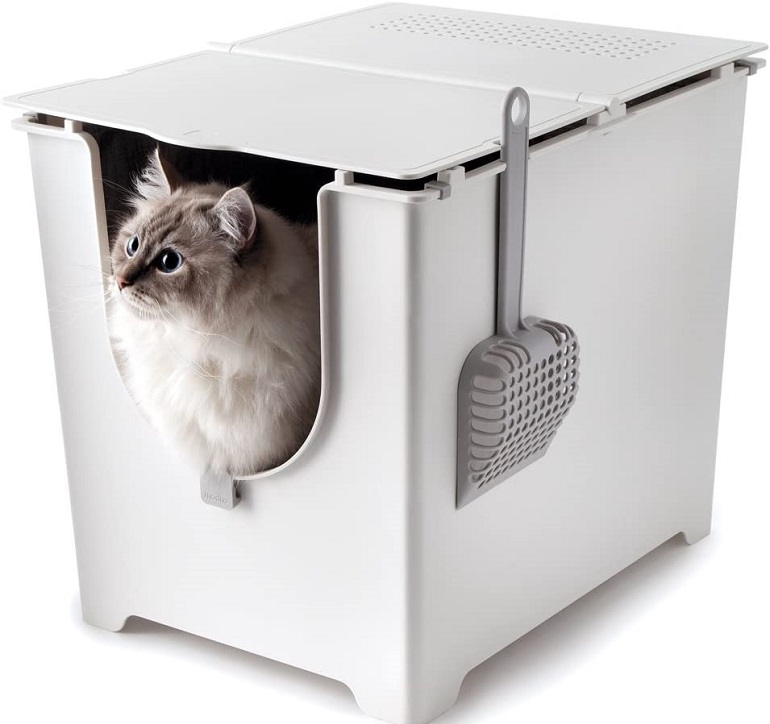 We all know that cats are unique creatures. They often make themselves at home in the oddest of spaces. And if you're looking for a new litter box that you want your cat to feel at home while using, this option from Modkat is perfect.
This is a litter "box" in the truest sense of the word. The design prevents leaks and litter scatter altogether. The flip-top lid has three positions that offer a great amount of privacy for your feline friend.
It can be fully closed, fully open, or half-open. This makes it perfect for accommodating any size of the cat at whatever level of privacy they prefer.
A reusable, slip-resistant liner is easy to clean and maintain. Modkat's proprietary hooking system keeps the liner in place, so you don't have to worry about a random mess when it comes time to clean it. And to make cleaning as easy as possible it comes with a scoop that attaches to the enclosure.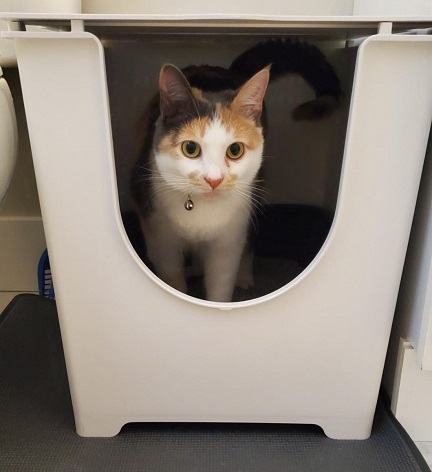 And to further prevent your cat from spreading litter from their paws throughout the house, the base is also a litter mat. You can leave it attached to the litter box if you want, or you can place it by the entrance to catch any remnants that might be on their paws.
The Flip Litter Box has a sleek, current look that fits perfectly into the modern home. It comes in gray and white, so you shouldn't have any trouble matching it to the room. In the best litter box category, this one is a serious contender.
Pros
3-position flip top accommodates your cat's preference
Reusable internal liner reduces cleaning time
Base liner reduces litter scatter from your cat's paws
Cons
Some cats might not like feeling closed in, even with lid open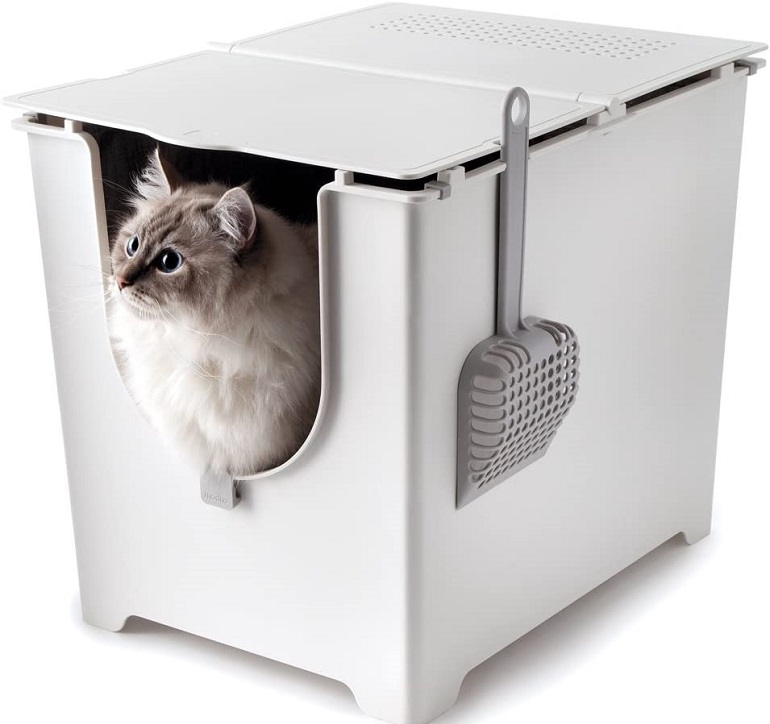 Modkat Flip Litter Box
The price of "Modkat Flip Litter Box" varies, so check the latest price at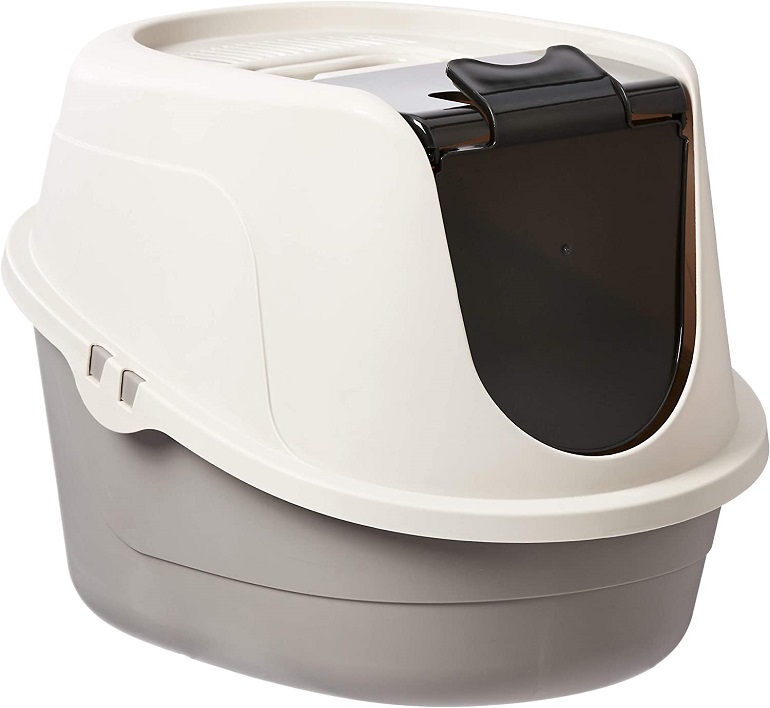 If you prefer a hooded litter box with a top that easily snaps on and off, Amazon Basics makes a good one. No mess is the name of the game here, and it provides a number of features to make sure that's the case.
To give your cat privacy and to prevent dirty litter and odor from escaping this enclosed litter box has a swinging door. This also gives your cat easy access to use it whenever they need it. The top snaps on either side and is easily removed when it's time to clean.
A handle on the top makes transporting it easy, and the snaps are strong enough to carry the hooded litter box even when it's full. The top is vented, so the odor doesn't get trapped after your cat uses it.
The entire unit is made of an odor and stain-resistant polypropylene plastic that's easy to wipe down. To further keep yucky odors to a minimum there is a replaceable carbon filter.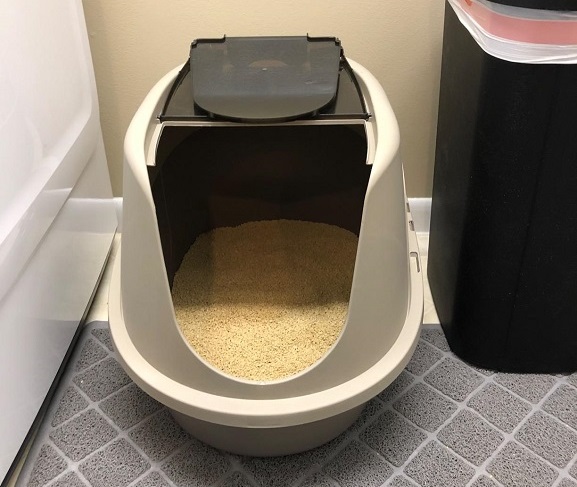 Three unique sizes let you select the perfect fit for your cat. The square hooded litter box design comes in standard and large versions. But there is a unique triangle size that makes for a perfect corner design. So no matter what room setup you're working with you can find the perfect one for you.
And should something go wrong, or you need a replacement it's backed by Amazon Basics' limited one-year warranty.
Pros
Swinging door gives your cat privacy while minimizing spills and odors inside
Find the perfect fit for your space with two different shapes
Ventilated top prevents odors from lingering inside
Cons
Might be a tight fit for larger cats
Swinging door cannot be removed
Some cats don't like an enclosed litter box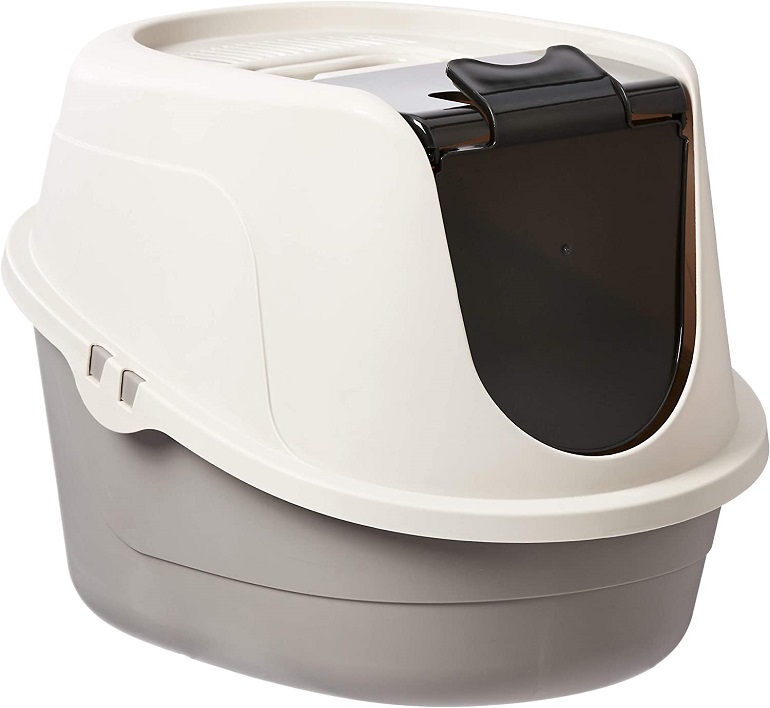 Amazon Basics No-Mess Hooded Cat Litter Box
The price of "Amazon Basics No-Mess Hooded Cat Litter Box" varies, so check the latest price at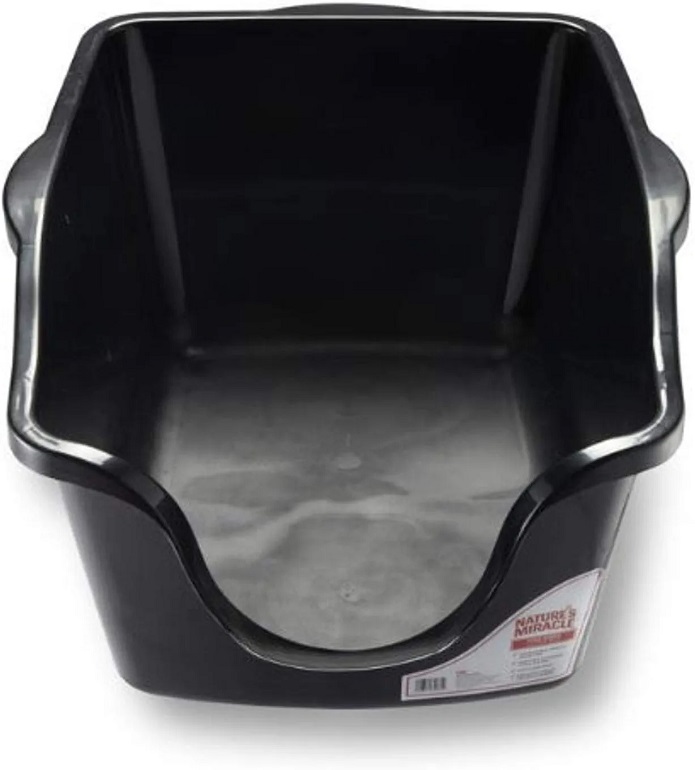 A cat litter box doesn't have to be complex to be the best choice for your pet. As cats get older (and sometimes larger!), they develop health problems that can inhibit their mobility. These agility issues can present themselves significantly when it comes to using the covered litter box.
That's what makes this litter box with high sides from Nature's Miracle so great. Not only does it help to prevent the contents from getting out. The low-entry lip is a little more exaggerated than other models so your cat won't have to work too hard to be able to get in and out.
The non-stick surface makes cleaning it a breeze. And at dimensions of 23." x 18.25" x 11" it's a large litter box, enough for any size cat to be comfortable. But not so big that it's obtrusive.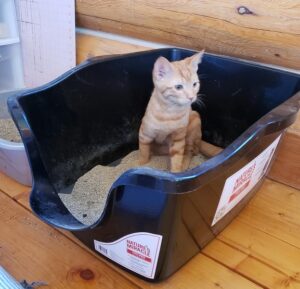 It's an open litter box. So if your messy cat likes to kick litter particles or likes to scatter their cat litter, some might get out. But the high sides should prevent this for the most part. With easy access and a large area, your cat will be clean and comfortable in this option from Nature's Miracle.
Pros
Low lip entrance and more space than other options
Great for older cats or bigger cats with mobility issues
Reduced cleaning time due to non-stick plastic material
Pan is large enough to accommodate any size of cat comfortably
Budget-friendly, great for owners who need something simple
Cons
Some cat litter may collect on paws and scatter with use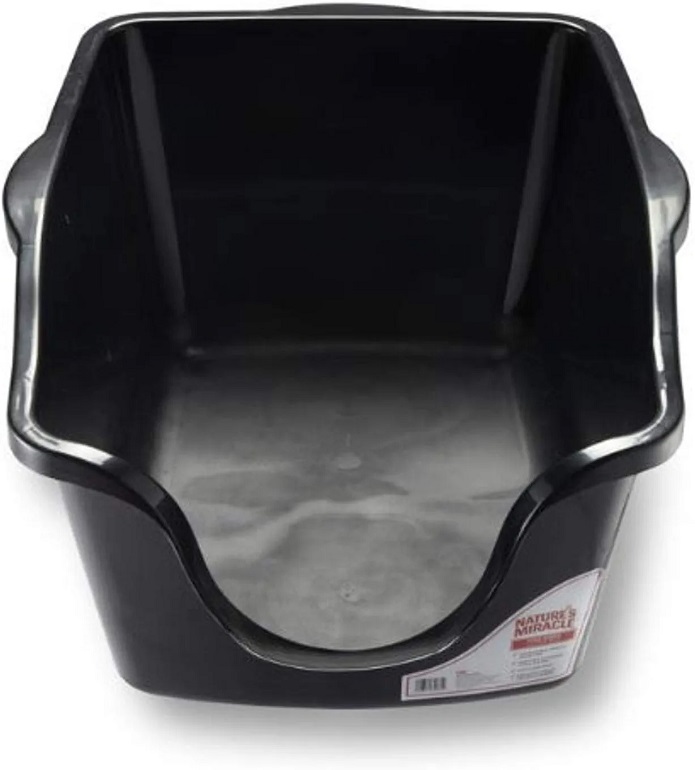 Nature's Miracle High Sided Litter Box
The price of "Nature's Miracle High Sided Litter Box" varies, so check the latest price at
Choosing the Best: What to Look for in a Litter Box
When it comes to buying something for your cute furballs, you always want the best for them. Getting litter boxes for messy cats would prove to be a good decision in the long run as it'll reduce spills, sprays, and other messes your pets make.
Let's look at the essential factors to consider while buying a new litter box for your kitties.
Design
Depending on how messy your cat is, the litter box design is key. You also have to factor in if they mind being in an enclosed box as these provide the most protection against your cat creating a mess.
Height
High sides are one of the best design elements that can help to contain the mess. They also provide your cat with privacy without necessarily making them feel "boxed in".
Cost
Cost is always a factor when it comes to purchasing decisions. Luckily if you're looking for a better litter box for your messy cat you'll have solid options at multiple price points to find the best option for you and your cat.
Size
Considering how particular cats can be, litter box size is one of the most important things to think about when buying a new one. You want your cat to be comfortable without making a mess.
Features
Some litter boxes designed for messy cats are simple, and some offer innovative features. These include WiFi compatibility, specific design principles, and considerations for certain types of cats like low lips and high sides.
FAQs
How Do I Stop My Cat from Getting Litter Everywhere?
If your cat is making a mess around the litter box there are a few things you can try. First, you can use a lower-track litter. This prevents it from spreading so much.
You can use a different type of litter box like a top entry box design, or one with high sides.
A litter mat can go a long way in preventing a mess. Place the litter mat under or around the litter box or by the entrance and it will help collect residual litter that collects on their paws while using it.
Do Cats Outgrow Their Litter Box?
If your cat is an adult they shouldn't outgrow it too much. Keep in mind, it's possible as cats get older they can develop illnesses like diabetes and be put on medications that cause them to gain weight.
The important thing is to right-size it from the beginning. An important consideration is a type of space your cat prefers when they're going to the bathroom (open vs. closed, etc.) and your specific space needs will help you choose the right litter box from the beginning.
Why Does My Cat Make Such a Mess with the Litter Box?
There could be a few reasons. If it's too small they'll kick cat litter around and the small size exaggerates the mess. Getting a bigger litter box or one with higher sides can help alleviate this issue.

Cats also like to "celebrate" after using the bathroom. This is especially true if they've just become an adult. They are showing their newfound, grown-up independence. You can consider a covered litter box or top-entry litter box to help keep things in their area clean and tidy.
Final Thought
Cats are very particular pets, there's no doubt about that. And when it comes to them doing their business they know exactly what they want and need.
When you're choosing a litter box think about what's best for your cat and you'll find them happy, healthy, and making much less of a mess.