Our kitties are special creatures and deserve the best of everything. Cats are discerning and care about cleanliness, so "be in the know" and learn about the best top-entry litter boxes available to you and Felix.
Almost nothing is worse than someone walking into your house and saying, "Oh. You have a cat." Of course, you want to be sure guests feel comfortable, so no one leaves your home saying, "They need to invest in some perfume."
From researching everything from quality to sturdiness to ease of cleaning, we've done the legwork for you. So here are the best top-entry litter boxes out there. You and your feline can thank us later!
Top Pick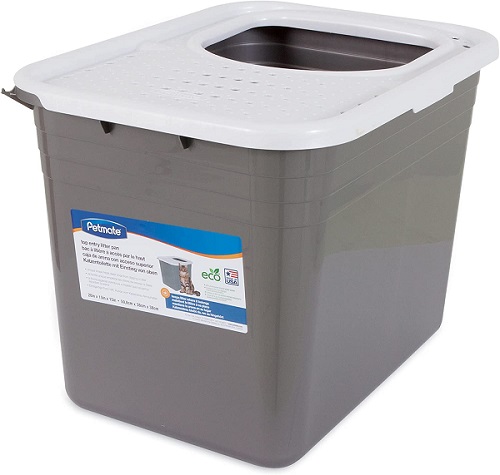 Petmate Litter Box
Size: Standard

Item Weight: 3.44 Pounds
Stylish Design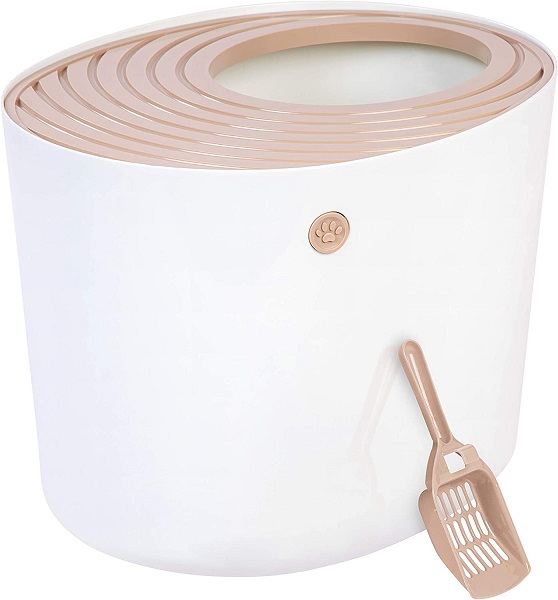 IRIS Top Entry Cat Litter Box
Size: Large

Item Weight: 4.6 Pounds
Premium Choice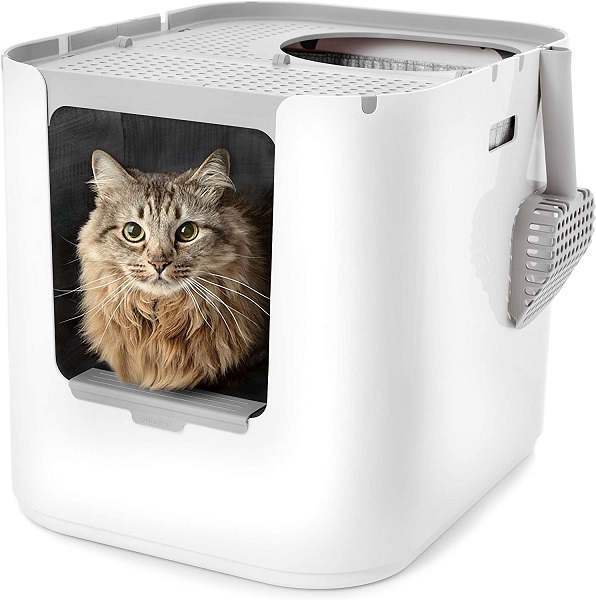 Modcat XL Litter Box, Top or Front-Entry
Size: X-Large

Item Weight: 4.3 Kilograms
Jack-of-all-trades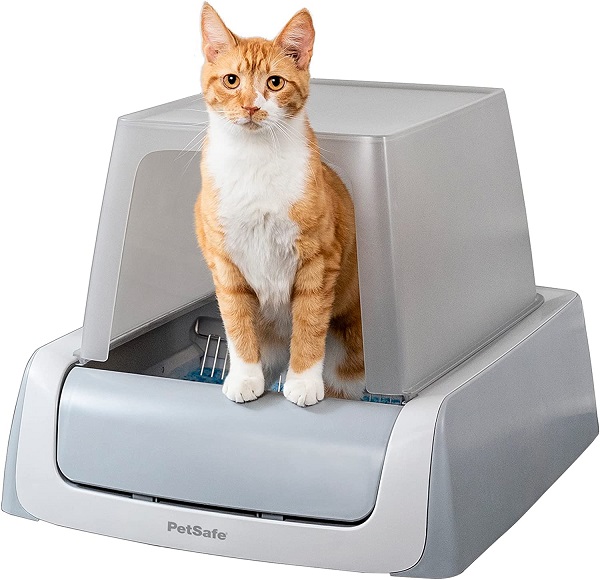 PetSafe ScoopFree Self-Cleaning Cat Litter Box
Size: One Size Fits All

Item Weight: 20.3 Pounds
Heavy-duty Opyion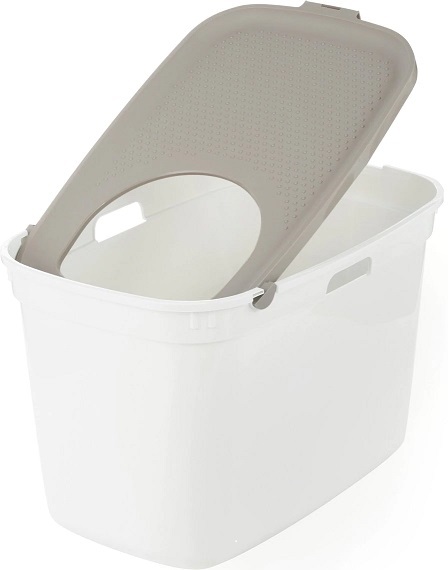 Frisco Top Entry Cat Litter Box
Size: for Adult cat

Item Weight: 4.12 pounds
Best Top-entry Litter Box
Do you want:
Your cat to have the healthiest environment to live in?
To clean his litter box with ease?
To save time and not have "Cleaning the litter box" turn into your second job?
If you said yes to any one of these questions, then you're an ideal candidate for a top-entry cat litter box for your feline friend.
Read on to find the best top-entry box for messy cats.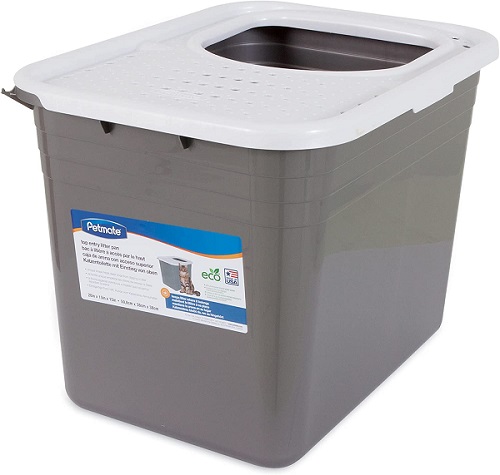 Petmate has been around for over fifty years, so you could say they know what they're doing.
Long and wide (20x15x15), this top-entry litter box gives cats the room they need to turn around instinctively. Also, the textured lid gently wipes off residue/litter as they jump down from it.
If you have a canine or other curious pets in your family, the top entry litter box helps to prevent them from getting inside. In addition, your cat will have all the privacy in the world as they do their, um, duty.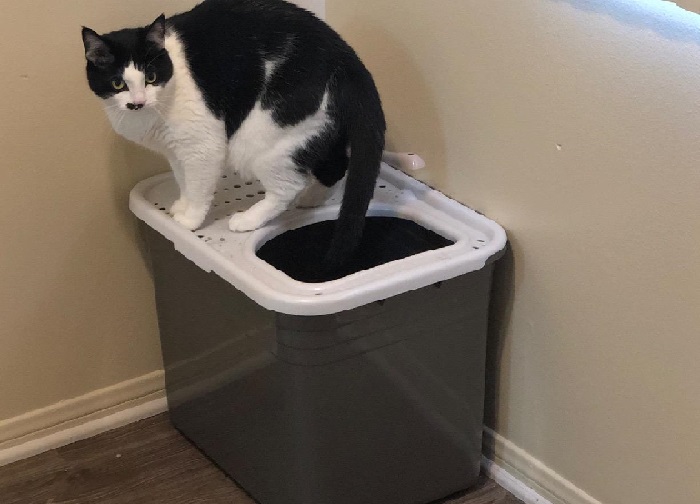 Pros
These top-entry litter boxes are environmentally-friendly.
They are made with extra tall walls, litter won't be strewn about.
These top-entry litter boxes are compatible with Petmate Top Entry Litter Pan Liners to create seamless cleaning.
They only weigh 3.44 lbs.
These top-entry boxes come with a small hook on one side to hold the litter scooper.
Cons
This litter box is not recommended for kittens or older cats.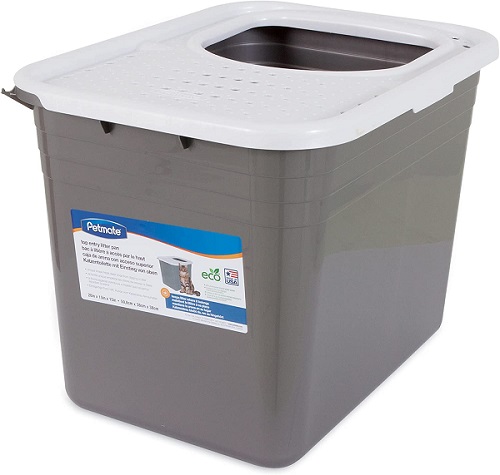 Petmate Litter Box
The price of "Petmate Litter Box" varies, so check the latest price at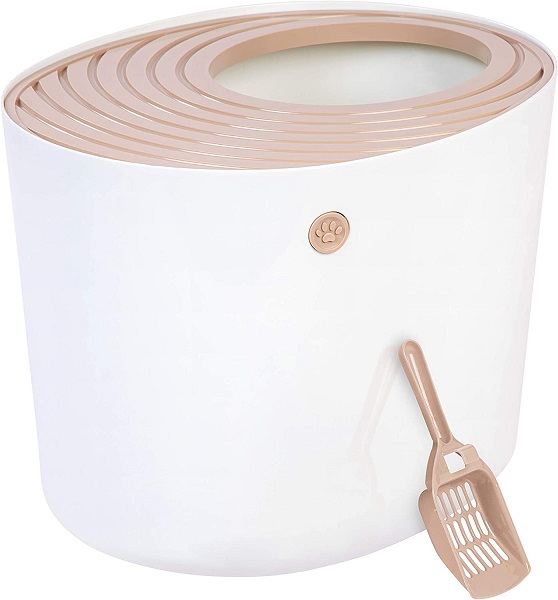 For the high-fashion kitty, this circular-designed Iris litter box looks sleek and polished. The stylish grooved lid enhances its beauty.
The entire look gives it the appearance of a designer top-entry cat litter box. Garfield would be impressed!
With non-skid rubber feet, the Iris litter box will stay stationary while cleaning. In addition, a 9" x 10.5" top opening is large enough for most cats while being small enough for kittens to have some alone time.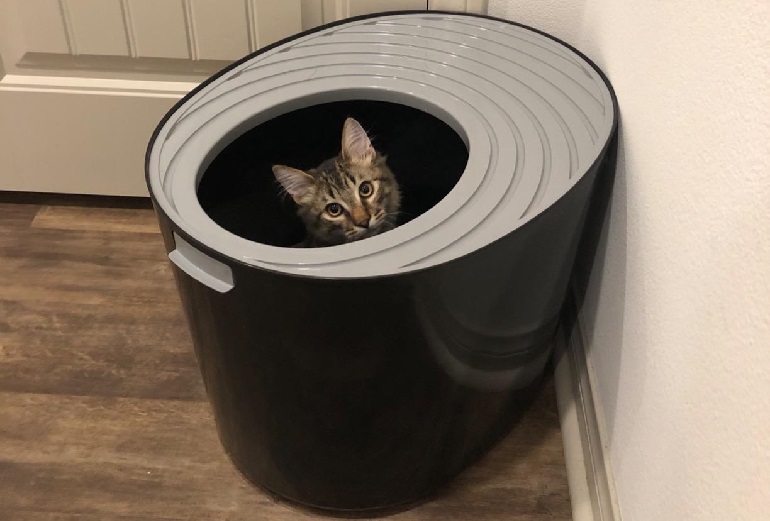 Pros
The included litter scoop of this cat litter box is quite convenient and can be hung anywhere around the lid.
Iris top-entry box comes in a variety of colors, including orange and white.
The walls are almost 15" high, so cat litter is contained well in these top-entry litter boxes.
The lid can be easily removed to tap litter back into the litter box.
It's an Amazon's Choice product.
Cons
Unlike the other options on this list of the top-entry litter box, Iris weighs 4.6 lbs.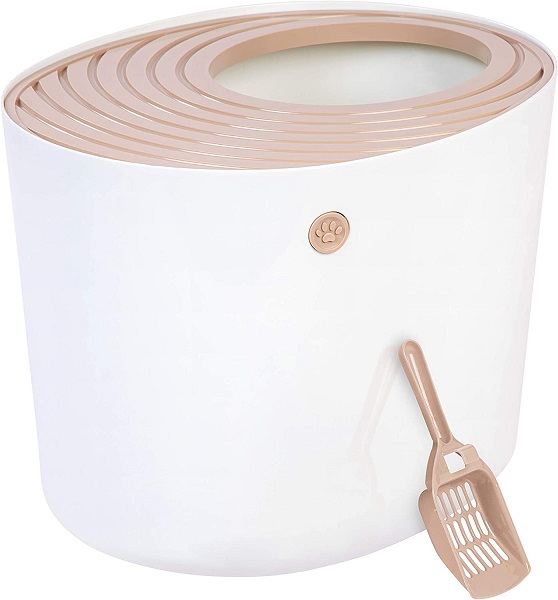 IRIS Top Entry Cat Litter Box
The price of "IRIS Top Entry Cat Litter Box" varies, so check the latest price at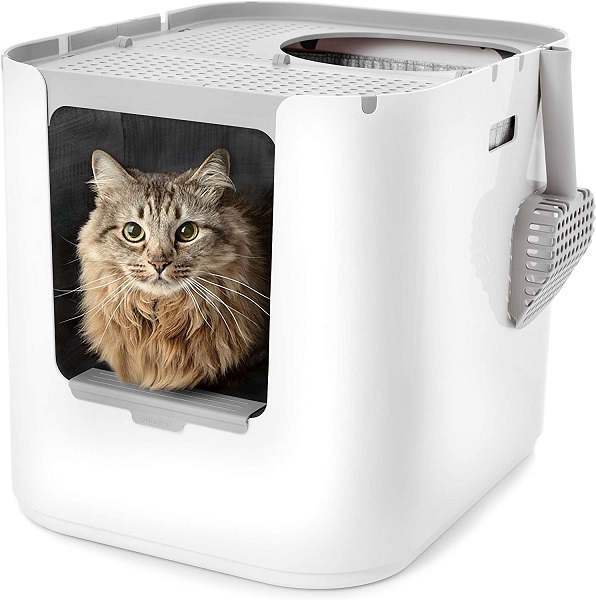 At 21"x16"x17", the Modkat litter box is the castle of litter boxes with a top and a front entry. There is a small platform at the lip of the front entry that catches excess litter, along with a walk-off litter mat beside the top lid used for the same reason.
The swivel lid on this sturdy top-entry box makes for easy cleaning. The Modkat Reusable Liners are made to be rip-resistant, fit snugly, and last for up to three months.
There's really nothing missing from this well-designed top-entry litter box. Well, maybe a butler.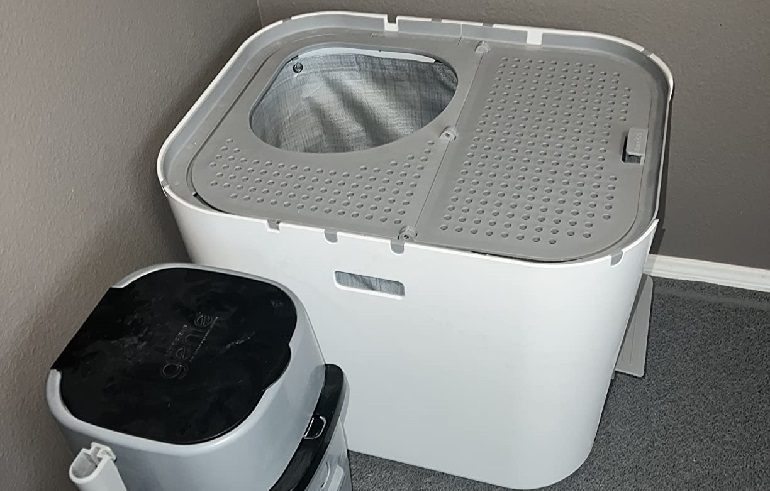 Pros
Modkat litter box comes with a large hanging litter scoop and a reusable liner.
With two possible entrances, it's perfect for large cats, kittens, seniors, and multi-cat families. If it purrs, it can use this top entry box.
Liners are made from durable tarpaulin and are scratch resistant and easy to clean.
The swivel lid of this litter box can be moved into three positions or taken off completely.
The XL Liners hang on hooks and are virtually impossible to slip down, which can be extremely messy.
All four corners are rounded, making it look less like a top-entry litter box.
Cons
This litter box is pricey if not seen as an investment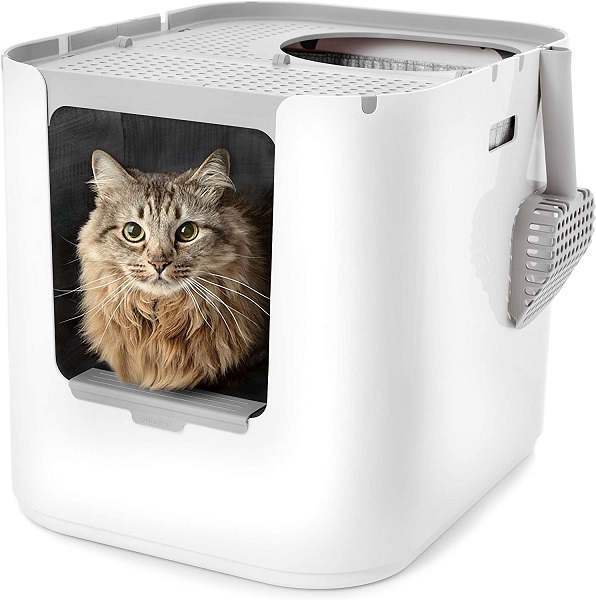 Modcat XL Litter Box, Top or Front-Entry
The price of "Modcat XL Litter Box, Top or Front-Entry" varies, so check the latest price at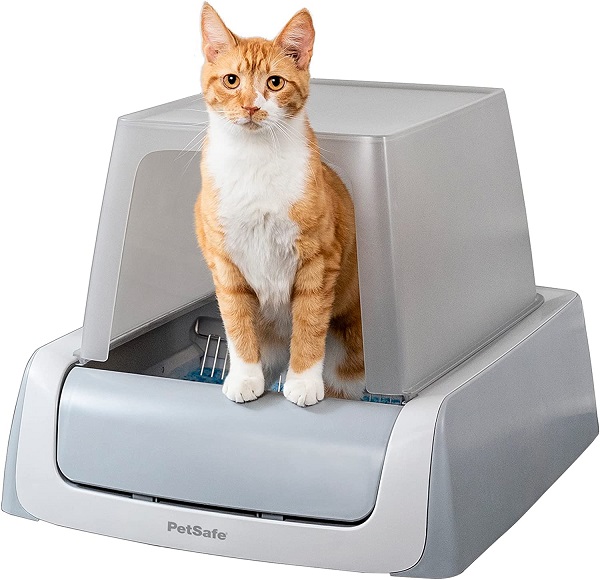 If you want no mess, no odor, and easy cleanup, (and who doesn't), this is the perfect top-entry litter box for you. Made with crystal cat litter that absorbs urine and dehydrates solid waste, this unique invention would satisfy George Jetson.
No scooping, cleaning, or refilling the cat litter box for weeks. The crystals are 99% dust free and aren't easily picked up by the cat's paws. It has a hooded cover with a disposable tray and plastic lining to protect against leaking.
Setup is quick, and the top entry litter box can then be left alone for weeks as it self-cleans until the waste is thrown out in the tray. This one's a no-brainer.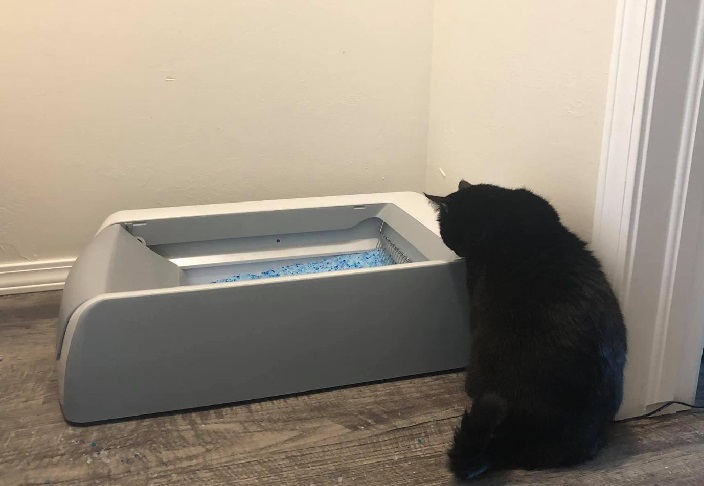 Pros
Includes one disposable ScoopFree litter tray with a lid, along with crystal litter.
This litter box has a covered waste trap so things that don't need to be seen can stay out of sight.
There is a health counter that keeps track of how many times your kitty uses the top-entry litter box. Great for health maintenance.
The mechanical rake included does the cleaning (a scooping cycle) and has a safety sensor to identify when a cat enters.
Provides 5 times better odor control than conventional litter boxes.
Cons
The weight of these top-entry cat litter boxes is 20 lbs. (which could also be a "Pro")
Since there is a motor involved, maintenance may be necessary.
These top entry boxes are available in gray color only.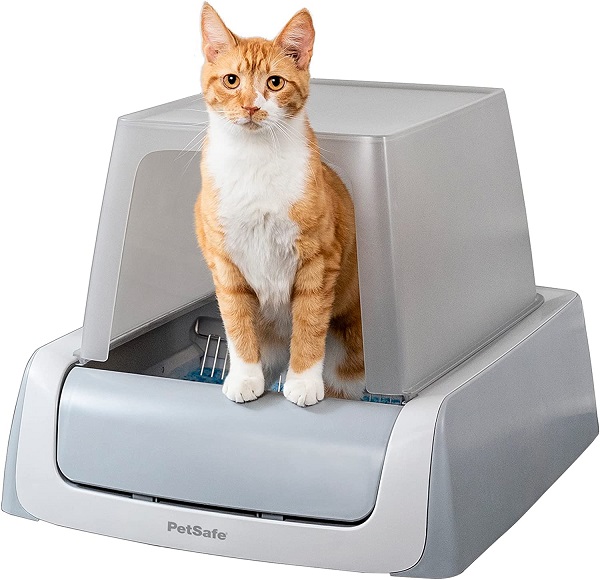 PetSafe ScoopFree Self-Cleaning Cat Litter Box
The price of "PetSafe ScoopFree Self-Cleaning Cat Litter Box " varies, so check the latest price at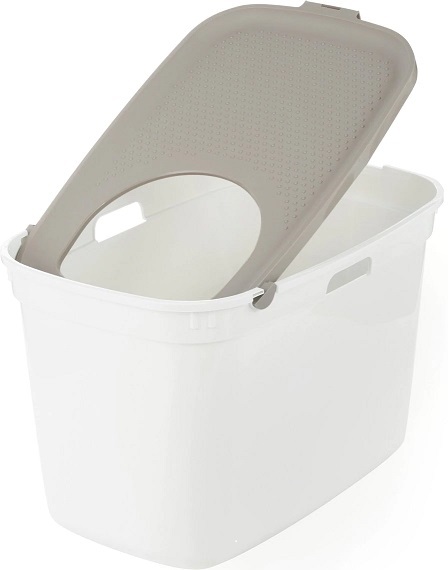 Frisco gives you a no-frills workhorse in their offering. There's no possible way for litter to escape the top-entry litter box except on the cat's paws. He'll be completely enclosed, so dogs won't get in.
If you have a cat who sprays, this is an ideal choice since the only opening is at the top. Additionally, the entire top (not only one area) is textured to keep litter contained, so no more litter tracking. Built-in, heavy-duty handles are located on the sides of the top entry litter boxes.
Its large size, 23x15x15, gives your sweet one some (rest) room.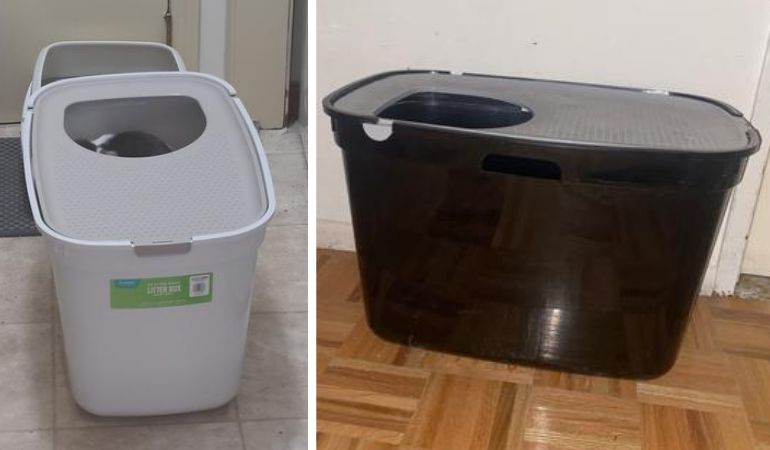 Pros
These top-entry boxes are BPA-free and durable.
This is easy on the pocket at almost $40.00.
This enclosed litter box is made from recyclable plastic.
Comes in gray and black colors only.
You can just lift the lid for easy cleanup.
Cons
Looks like a Rubbermaid.
The cat litter scoop is not included.
The enclosed box could have a tendency to be top-heavy.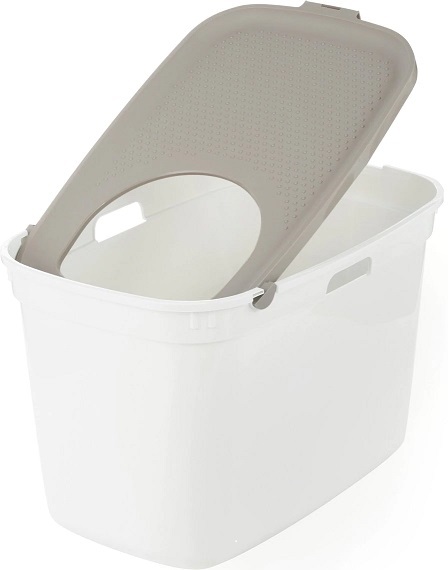 Frisco Top Entry Cat Litter Box
The price of "Frisco Top Entry Cat Litter Box" varies, so check the latest price at
Choosing the Best Top Entry Litter Boxes: What to Look For
Top-entry litter boxes tend to make cat maintenance very convenient and easy for cat owners. In addition, a litter box helps to keep your feline friends mentally and physically fit and it is a great way to conceal the mess too!
Thinking of getting a new litter box for your furry pal to give them privacy and a mess-free toilet, check out the following details to learn what you should be looking for in your top-entry litter box.
Adjusting
Two things to think about. How well your kitty will adjust to the top-entry box and how well/easy the box itself is to be adjusted when it's time to set up.
Think about your cat… Do you have a 13-year-old cat that has been using a front-entry box his entire life? A kitten? Or a 6-year-old that is accustomed to using a top-entry box?
All the answers will factor in when it's purchase time. A chat with your veterinarian would be a priceless resource for you to get facts and ideas. Also, representatives from various pet suppliers are often able to answer any in-depth questions about which is the easiest to physically adjust during setup.
Appearance
Will you be keeping the top-entry litter box beneath the bathroom sink? In a closet or mud room? The bedroom? You may not want to include a futuristic-styled box in an area where it can't be seen… Or have a no-bells-and-whistles box in your dining room.
There is a myriad of reasons that factor into what you want it to look like and where its home will be. Ultimately, it's your environment, your preference, and your choice.
Features
Be sure to think about yourself as well as your feline. Do you have back problems and need a top entry lid attached to the litter box so you can't drop it? Are you sensitive to cat waste odor and need one that's mostly covered with a smaller top entrance?
The features largely affect your cat, too. Be sure to recognize the top entry cat litter box and cat measurements so he will be comfortable.
Scooping
This one's pretty black-and-white. To scoop or not to scoop. That is the question. If you'd rather kiss your mother-in-law than scoop, you'll go one way. If you'd rather scoop than have something mechanical to deal with, there's your answer.
Finding a good cat litter scoop for getting the job done will also make your life easier and a lot cleaner too!
Old Cats, Large Cats, and Kittens
Not only should you think about how large the top- and/or front-entry opening is, but also the size of the entire top-entry litter box. Match the cat(s) to the area.
Note: Most of them can fit into small holes, so it's not likely necessary for the four "sides" of the circle to be touch-free to the animal.
Older felines may have a tougher time jumping and need a front entry to be able to enter safely. You also need to make sure and check the top entry litter box's instructions to see if it's accessible for kittens.
Safety
Does your little one have the jumping ability of a leopard and is constantly knocking things off counters? You may want to position the litter box surrounded by two walls, in the corner, to be safe.
On the other hand, if he has the grace of a ballet dancer and lands lightly where he jumps, it may be perfectly safe to just back it up against one wall.
Also, think about if your kitten can get trapped by a specific feature, such as a litter box that comes with self-cleaning capabilities.
Where Do I Put the Cat Litter Box?
The best place to put a top entry cat litter box is: Set it up someplace quiet and non-threatening in a low-traffic area.
Positioning it close to the dog's bed or laundry room isn't ideal since cats enjoy their privacy, and loud noises can startle them. Make sure the area is well-lit since cats would rather not "do it" in the dark.
Tip: Separate your cat food bowls from the litter box. Would you like a fridge in the bathroom?
FAQs
How Do You Train a Cat to Use a Top-entry Litter Box?
First, prepare to train.
C – Cleanliness
A – Area the box is in
T – Training consistency
CLEANLINESS: Let's talk about this well-known fact…Cats love a litter box. A clean one to be perfectly clear about it, but that may be TMI.
Anyway, suffice it to say that cleanliness is next to godliness for a cat, so that remains a constant responsibility. Change litter once per day and wash walls and parts once per week.
Sidebar: If your kitty has an accident in your home, use an enzymatic cleanser that neutralizes pet odors.
Use the same litter he's accustomed to. That way there won't be several changes all at once. You can eventually use half and half if there's a new type of litter, and then completely change it after a few weeks.
Make sure you learn how much litter to use in the litter box, usually litter should be only 1"-2" deep. Any deeper can cause a problem since they're not keen on it. Unscented litter is popular with cats since their sense of smell is so sensitive.
AREA: Try to keep the top-entry litter boxes in the same area as your old ones. (Do get rid of the old one.) If that's not possible, be sure to deep-clean the area where the old litter box was. Cats have a superb sense of smell and could be drawn to any lingering odors.
Keep it easily accessible. If a litter box is surrounded by clothes and things you may not know what to do with, kitties may not feel comfortable. Remember, they're discerning.
TRAINING CONSISTENCY: Training needs to happen daily so a cat won't get confused about any aspect of the process.
Begin training.
How? Simply introduce the litter box to your kitty. That's kind of it. We underestimate animals. If you'll sit them on top of the top entry litter box, they're curious enough to see the hole, and they smelled the litter the moment they entered the room. Especially if you're still using his regular kind.
The preparation takes longer than the actual training. Sure, there can be issues like he/she still has accidents elsewhere in the house or even right beside the litter box. But most cats, intellectually, will catch on fast that the litter box is well, the litter box.
Don't push a cat down through the hole which could create an aversion to it.
Don't use treats unless you really need to. It's a bathroom, not a restaurant.
Don't ever physically punish a cat, including rubbing his nose in waste materials, if he doesn't learn as quickly as you'd like.
What Is the Point of a Top-entry Litter Box?
To keep the litter and any other particles off the floor.
To give your cat more privacy.
To keep other animals out of the litter box.
To have an enclosed area for elimination.
Do Cats Prefer Open or Closed Litter Boxes?
There's a study for everything including this topic. You'll also find all kinds of conflicting answers on Quora and the like. Truth is, it depends on the cat. It would be like saying most humans enjoy the outdoors. We just can't know a definitive answer to such a question.
Even if a study consisted of testing 1,000 cats, that's not all the cats. Just like us, they're each unique. Some prefer open, some closed.
Are Top-entry Litter Boxes Good for Small Spaces?
Definitely! They use the vertical space rather than the horizontal room (front entry litter boxes) that humans normally utilize.
Top entry litter boxes are perfect for a small apartment or close living area.
And Finally
You've learned:
The best top-entry cat litter boxes
Why you should choose one
Cats' preferences on litter boxes
…And more.
So please take this information and act on it accordingly to provide your cat(s) with the best level of comfort while they're doing something so natural. The top-entry options, unlike other litter boxes, can catch extra litter to prevent litter scatter.
The enclosed design also provides easy access with a spacious interior for easy scooping. So you must weigh the pros and cons and make the best decision for your adorable friends!