We all know cats can be picky, especially when going to the bathroom. But anyone who's ever used a festival or public toilet knows how unpleasant bathrooms can be. Still, cats are even more pedantic and judgmental!
If you're not careful picking a litter tray, you can end up with cats who show their disdain by going to the bathroom anywhere, resulting in messy cleanups and uncontrollable odors.
Whether it's open, enclosed, self-cleaning, or a budget option, there's a range of cat litter boxes out there. So, make sure you pick the right one that suits both you and your cat's needs.
Best Top Rated
Litter-Robot 4
Item Weight: 24 Pounds

Material: Plastic
Best Self-Cleaning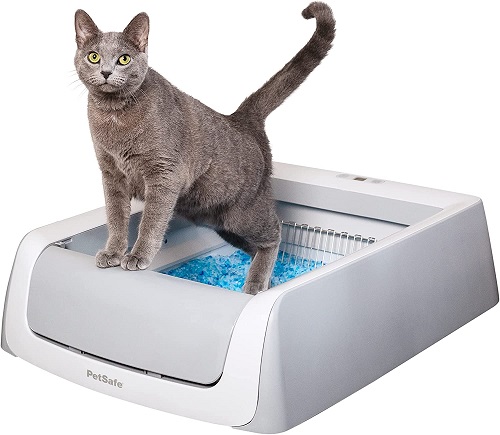 PetSafe Litter Box
Item Weight: 16 Pounds

Material: Plastic

Best-Looking Litter Box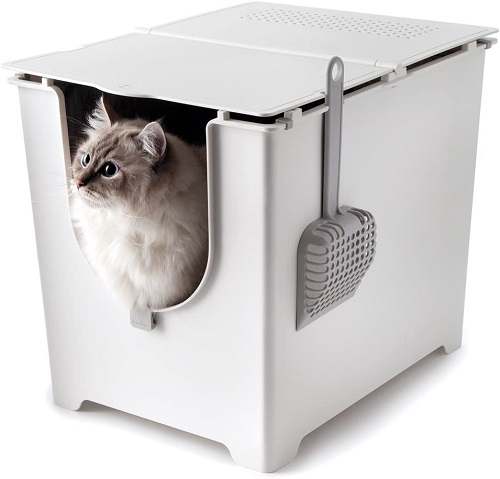 ModKat Flip Litter Box
Item Weight: 7.05 Pounds

Material: plastic
Best Enclosed Litter Box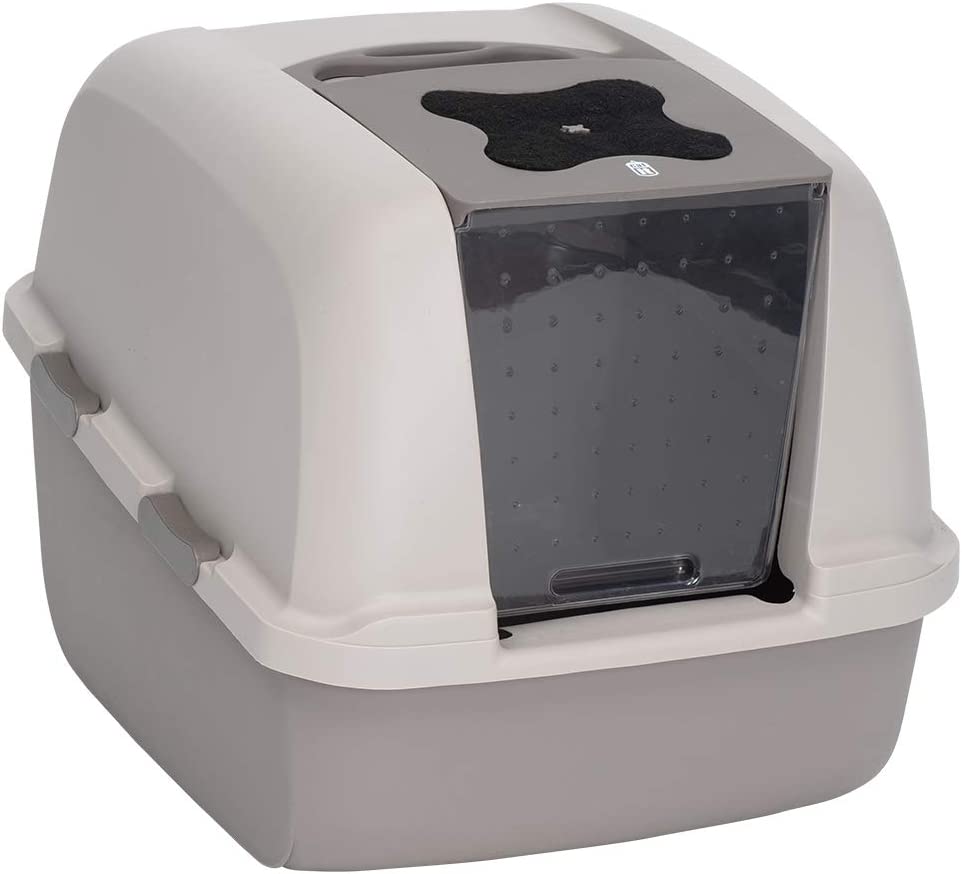 Catit Jumbo Hooded
ITEM WEIGHT: 7.05 Pounds
MATERIAL: Plastic
Best Budget-Friendly Litter Box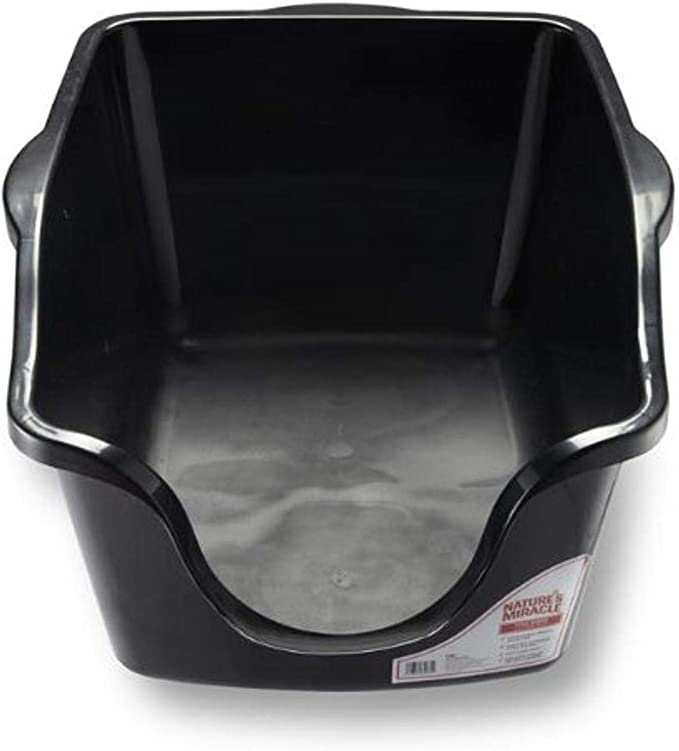 Nature's Miracle
ITEM WEIGHT: 1.85 Pounds
MATERIAL: Plastic
Best Design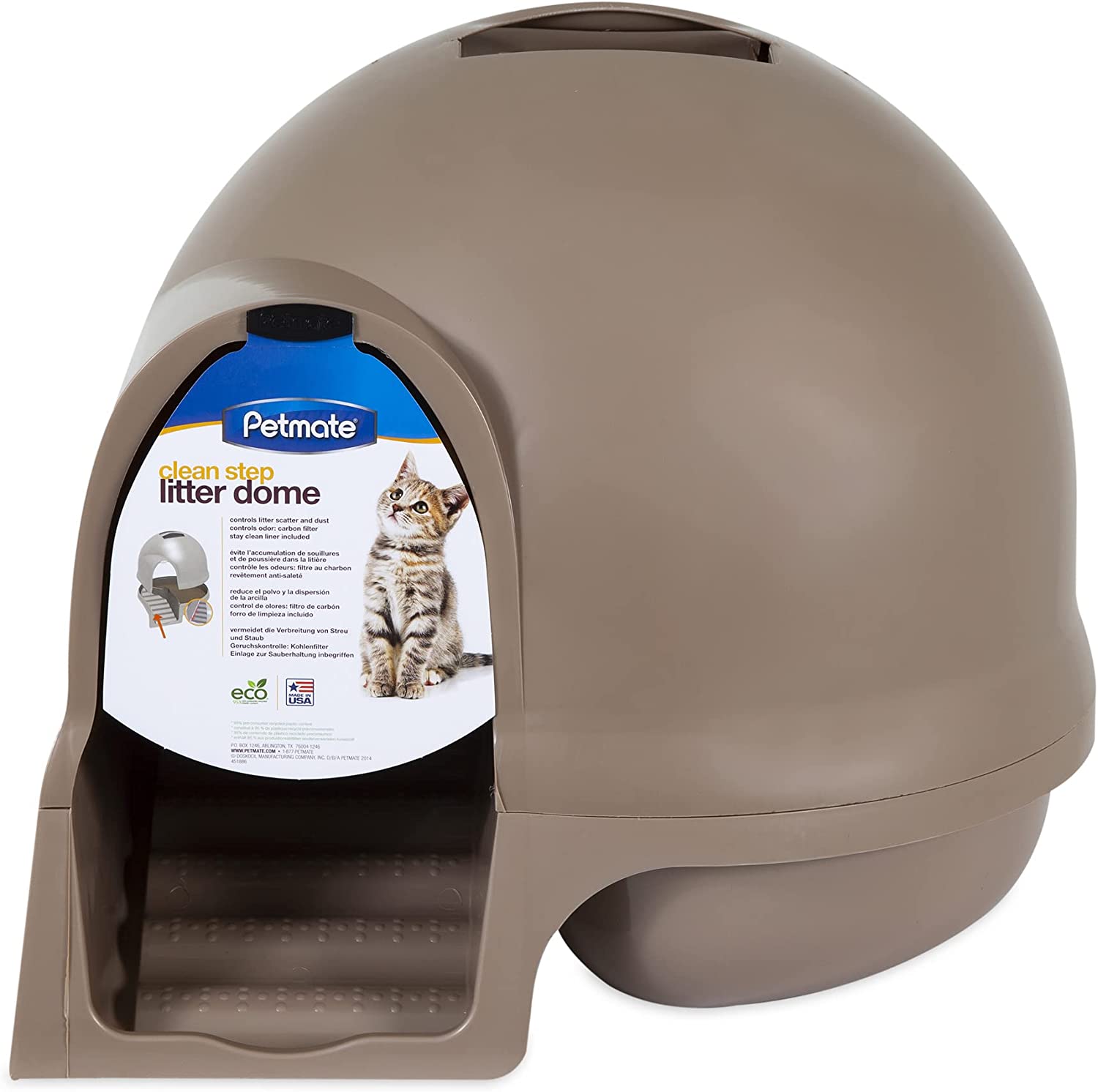 Petmate Booda Litter Box
ITEM WEIGHT: 1.45 Pounds
MATERIAL: Blend
Best for Odor Control
Purina Tidy Cats Litter Box
ITEM WEIGHT: 7.8 Pounds
MATERIAL: Plastic
Best for Large Cats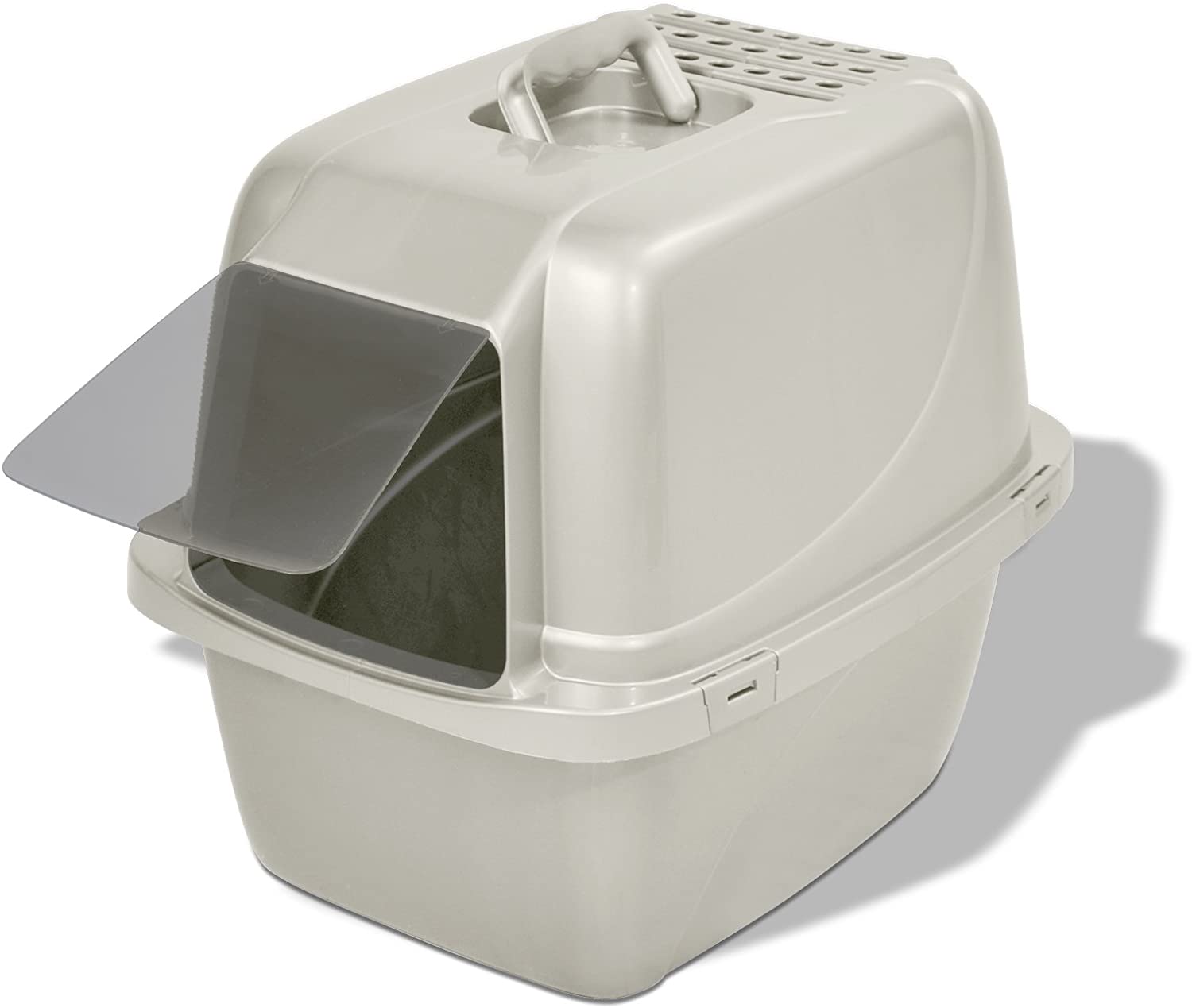 Van Ness Enclosed
ITEM WEIGHT: 2.75 Pounds
MATERIAL: Polypropylene
Best Cat Litter Boxes
So, as you begin to determine which litter box may be the best one for you, the variety of options may shock you. Everything from the most basic to the most complex digital-based litter boxes is available at a range of prices.
It can be overwhelming how many cat litter box options there are, so here are some of the best cat litter boxes for you and your kitty.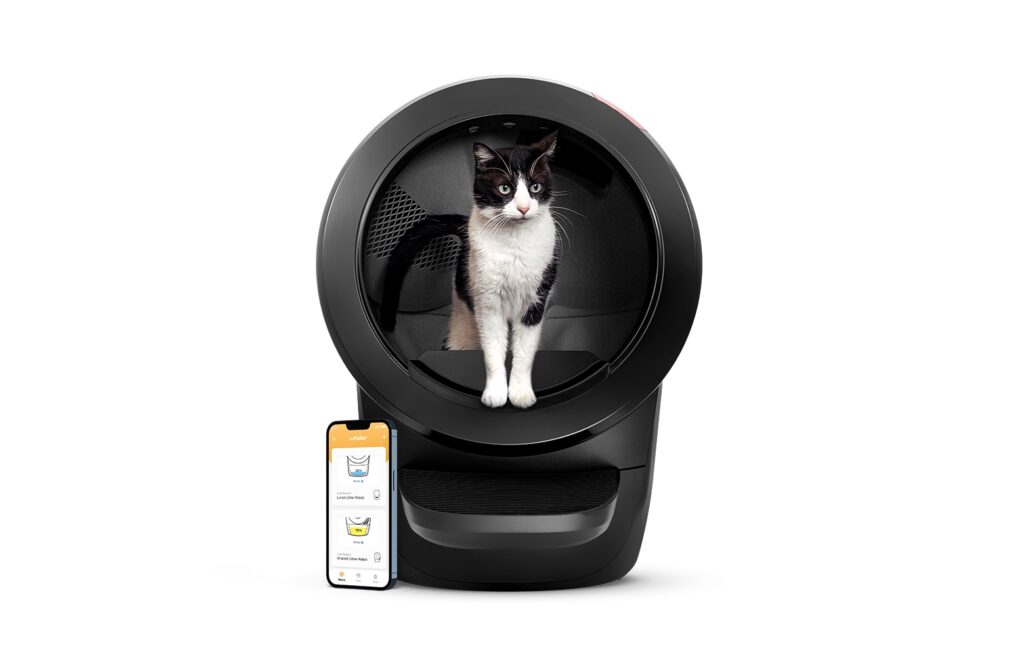 This new, upgraded model always comes top in any list of the best cat litter boxes. If you've ever looked online for the best litter boxes, you're sure to have come across Litter-Robot.
With 20 years of experience and customer feedback, they've released their revolutionary latest model, Litter-Robot 4, making the experience of owning a cat easier for 750,000 cat parents.
As a leading automatic self-cleaning litter box, Litter-Robot 4 has the same core features as its predecessor but with up-to-date technology. That means it has improved safety and odor control, as well as being easier to maintain with less cleaning necessary.
Litter-Robot 4's elegant design fits seamlessly into any décor style with two colors available (black or white). However, the only problem is that it's not small, so it won't be able to fit in just any room. Still, the advantage of a larger device means there's a larger litter bed, though it's still not as spacious as other litter trays.
The upgraded technology includes its SafeCat™ system. This detects cats over 3 lbs and won't start the cleaning cycle while they're there, and will only kick in when it's free.
But the best part of the technology is how it gets rid of waste automatically. It does that almost silently too, thanks to QuietSift™ technology, ensuring neither you nor your cat will be disturbed by the mechanism.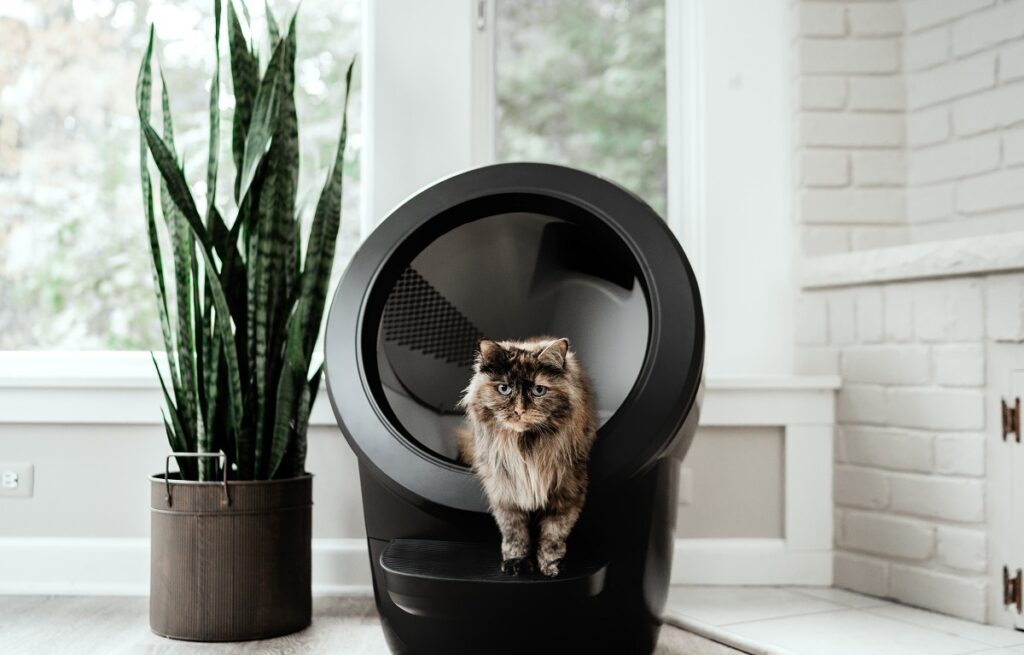 As soon as the cat leaves, the globe starts rotating, separating clean litter from dirty clumps and sweeping it away into a sealed waste drawer. This waste drawer includes an OdorTrap™ system to make sure that odors are trapped and don't have a chance to spread through the house.
The waste drawer is even bigger than previous models, and you can store more litter than others too, meaning it requires little maintenance.
Whenever you do have to address waste or litter levels, you'll receive a notification via the Whisker app on your phone. This app also gives health insights, monitoring your cat's weight and how often it uses the litter box.
Pros
Scoops away waste automatically
QuietSift™ makes cleaning cycle almost silent
Monitors cat's weight and bathroom habits
Excellent at controlling odors
Sends app notifications when need to refill litter or empty waste drawer
Two colors available
Low maintenance
One-year warranty
Cons
Expensive
Large size
Stops working when waste drawer is full
Litter bed not as large as traditional litter boxes
Litter-Robot 4
The price of "Litter-Robot 4 " varies, so check the latest price at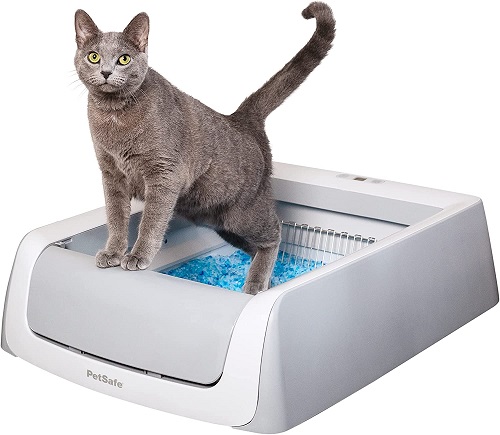 Like Litter-Robot, this is also a self-cleaning litter box, using an automatic rake system to clean the entire litter box. This doesn't kick into action immediately though; it gives your cat 20 minutes to leave the litter box to ensure it won't disturb them or get in the way while they're using it.
It even includes a safety sensor that detects if your cat goes back in, resetting the 20-minute timer.
Since the rake sweeps waste away into a sealed waste compartment, not only is it incredibly low maintenance, but it controls odors very effectively. But the odor is controlled even more by the special crystal litter itself.
Not only is it dust free, but it absorbs and eliminates odors five times more than regular litter by drying and dehydrating waste before it has a chance to release an odor.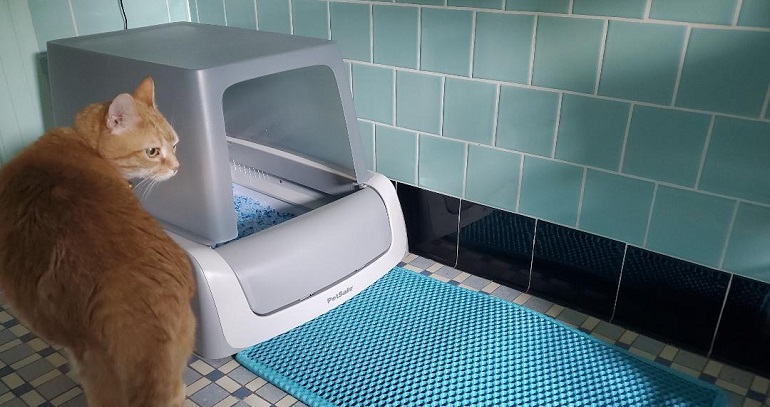 However, this litter isn't ideal for curious cats who might put it in their mouth. It also only comes as disposable trays. While they may be lined to stop urine from leaking, having to purchase additional ones means it comes with costly upkeep. Still, it's very efficient, and you'll actually use 5 to 10 times less than regular litter.
Pros
Dust-free litter absorbs odors well
Uses less litter than regular clumping litter
Sensors and delay cycle ensure cat's safety
Very low maintenance
Dehydrates waste for excellent odor control
Simple to dispose of trays
Cons
Litter is expensive
Need to ensure the cat doesn't eat litter
Small waste compartment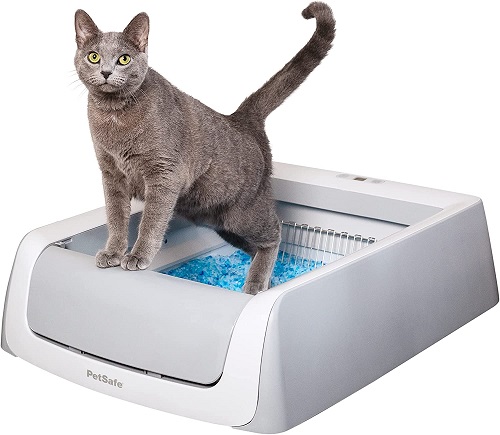 PetSafe ScoopFree Litter Box
The Price of "PetSafe ScoopFree Litter Box" varies, so check the latest price at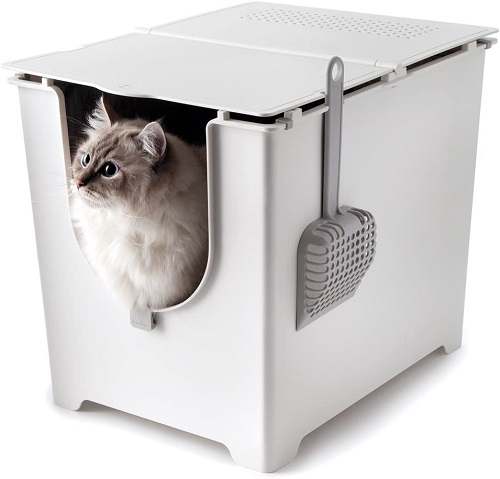 If you're a proud homeowner who doesn't have space to keep your cat's litter box out of the way, you might prefer a cat litter box with a good-looking design that hides the waste. But while you might enjoy that aspect, your cat will appreciate the spacious litter area that accommodates kitties of all sizes.
Its enclosed design comes with a lid, meaning there's no risk of leaking or litter scatter being tracked everywhere. It can even protect your house from cats who like to pee to the side – litter boxes with low walls certainly can't stop that!
Not all cats enjoy using enclosed litter boxes though, but ModKat has a customizable lid that can be fully open, half-open, or closed. It's simple to open it up, providing easy access for you to scoop and clean effortlessly.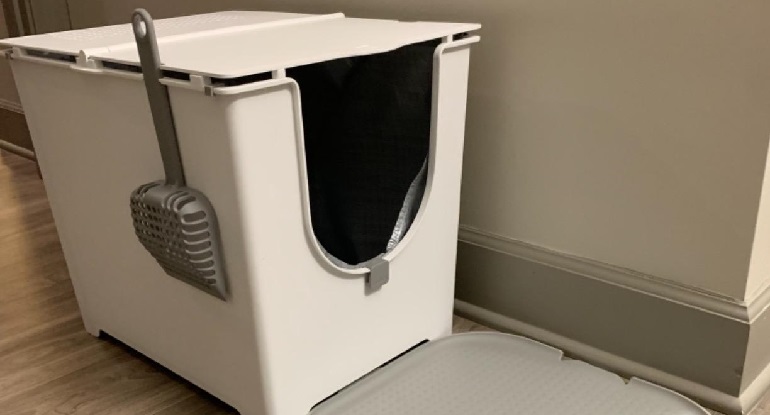 ModKat includes a reusable liner with four hooks and a front clip that keeps it securely in place. This makes it super easy to keep your cat's litter box clean and stop urine from collecting at the bottom and building up the odor.
It's easy to clean and both rip- and scratch-resistant; however, it does need replacing every three months, making it an added cost for upkeep.
Pros
Great-looking design
Works with any litter you want
Easy for your cat to access
Large litter area
Lid has three privacy positions
Liner eliminates the risk of leaks
Durable
Cons
High price considering it has no technology
Doesn't stop litter being tracked from paws
Liners need replacing after three months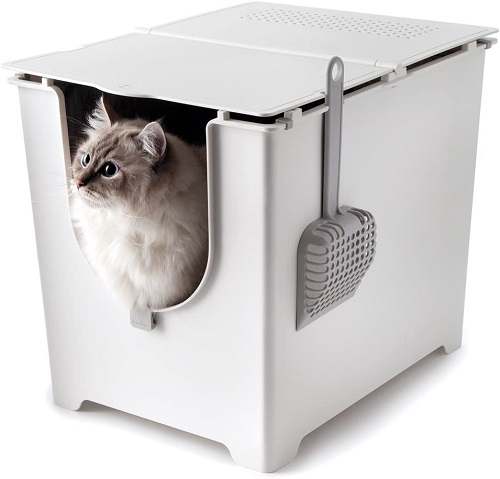 ModKat Flip Litter Box
The Price of "ModKat Flip Litter Box" varies, so check the latest price at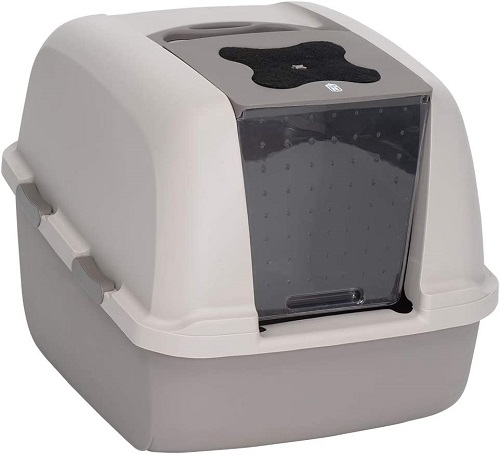 Maybe your cat's a bit fussy and prefers privacy, or perhaps you're the fussy one and prefer the sight of your cat's waste to be hidden away. If that's the case, then enclosed litter boxes are absolutely the way to go.
This one is an especially good option. Its simple but elegant design stands out, coming in warm gray or black and white color options.
If you're not sure about the hood, then you're not committed to it since you can take it on and off as you wish, using the slider locks for added security. But removing the hood also makes it easier to scoop waste away or add in more litter.
One of the main advantages of the hood is it reduces the need for all sorts of cleanup. While the overlap mechanism prevents urine leaks, the front door reduces litter tracking and blocks odors, something that's even more effective thanks to the replaceable carbon filter.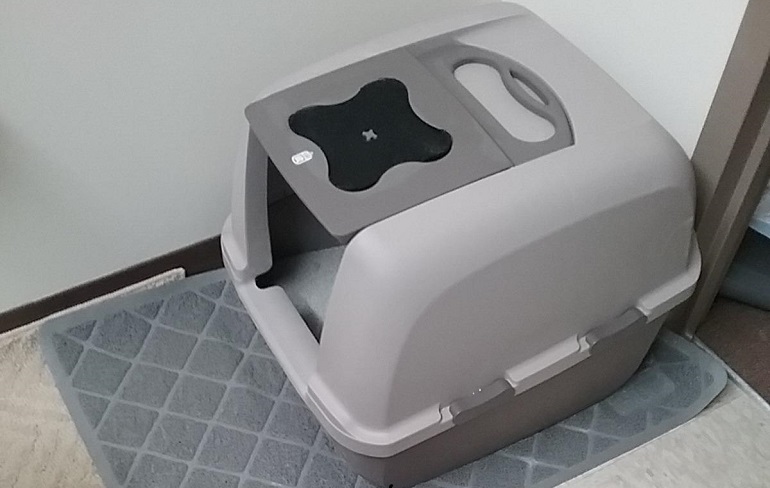 However, not all cats appreciate the flap, and some are put off because of it.
It's a great option for multi-cat households and cats of all sizes, especially larger cats, thanks to the large opening and ample height. However, this size does mean that it has to be in a room with enough space. Fortunately, it comes with a handle, making it easy to carry about if you ever change your mind.
Pros
Large enough for all sizes of cats
Suitable for multiple cats
Front door controls odors and reduces tracking
Replaceable carbon filter combats lingering odors
Optional hood cover
Available in two colors
Easy to disassemble and clean
Cons
Might be too big for some rooms
Thin BPA plastic not ideal for long-term use
Some cats dislike the flap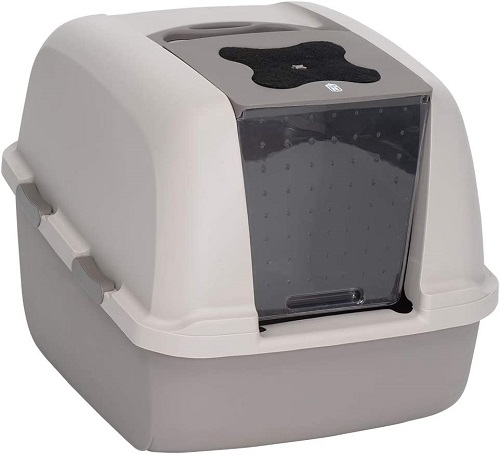 Catit Hooded Cat Litter Box
The Price of "Catit Hooded Cat Litter Box" varies, so check the latest price at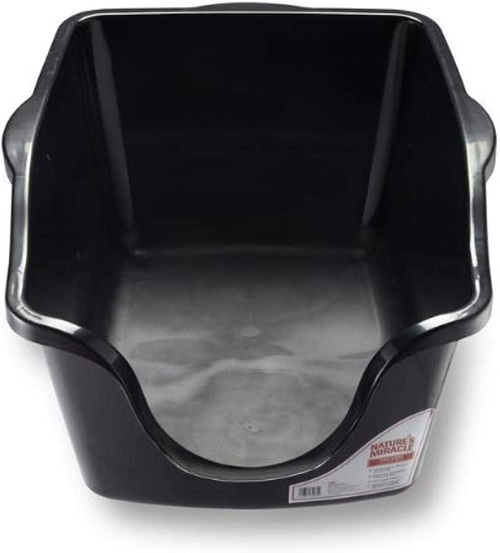 Litter boxes aren't the most glamorous things in the world – so do you really need to spend much money on them? If you're on a tight budget, there's no shame in getting a cheaper option.
Still, if you're looking for a low-cost cat litter box, this is a better option than many other run-of-the-mill litter boxes, thanks to its high walls.
This litter box doesn't have the prettiest design, there aren't any special high-tech features, and it can't control odors… But the high sides make it worth considering.
High walls give your cat privacy while still allowing them to keep a look out at their surroundings. But they also reduce the need for cleanup if your cat buries their waste or kicks litter about afterward.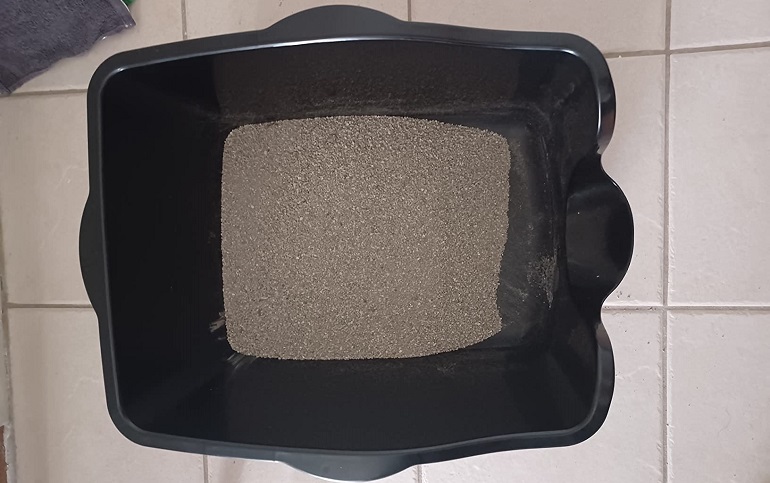 Despite having high walls, it still features a low entryway, making it perfect for all cats, including senior cats and less agile ones.
Although it's not a self-cleaning option, it's still an easy litter box to clean. There's plenty of access to scoop waste away, and the non-stick surface makes a proper deep clean simple. However, the bottom has a rough texture, making it a harder area to wipe down properly.
Pros
Affordable
High walls stop cat kicking litter
Low entry more accessible for aging cats
High walls reduce some odors from spreading
Provides an element of privacy
Non-stick surface makes cleaning sides easier
Cons
Bottom is hard to clean due to the rough texture
Not an aesthetic design
Lacks a range of features
Can't help control odors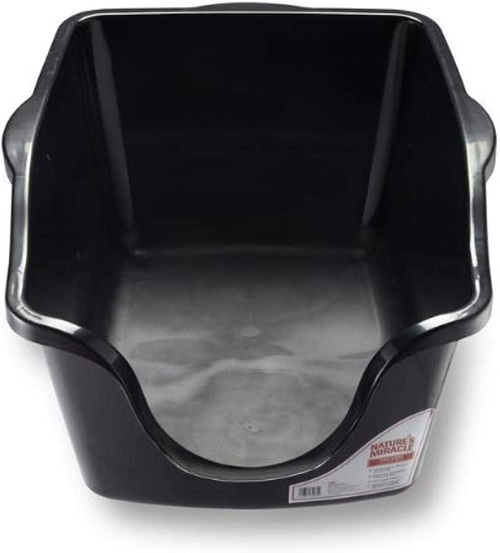 Nature's Miracle High-Sided Cat Litter Box
The Price of "Nature's Miracle High-Sided Cat Litter Box" varies, so check the latest price at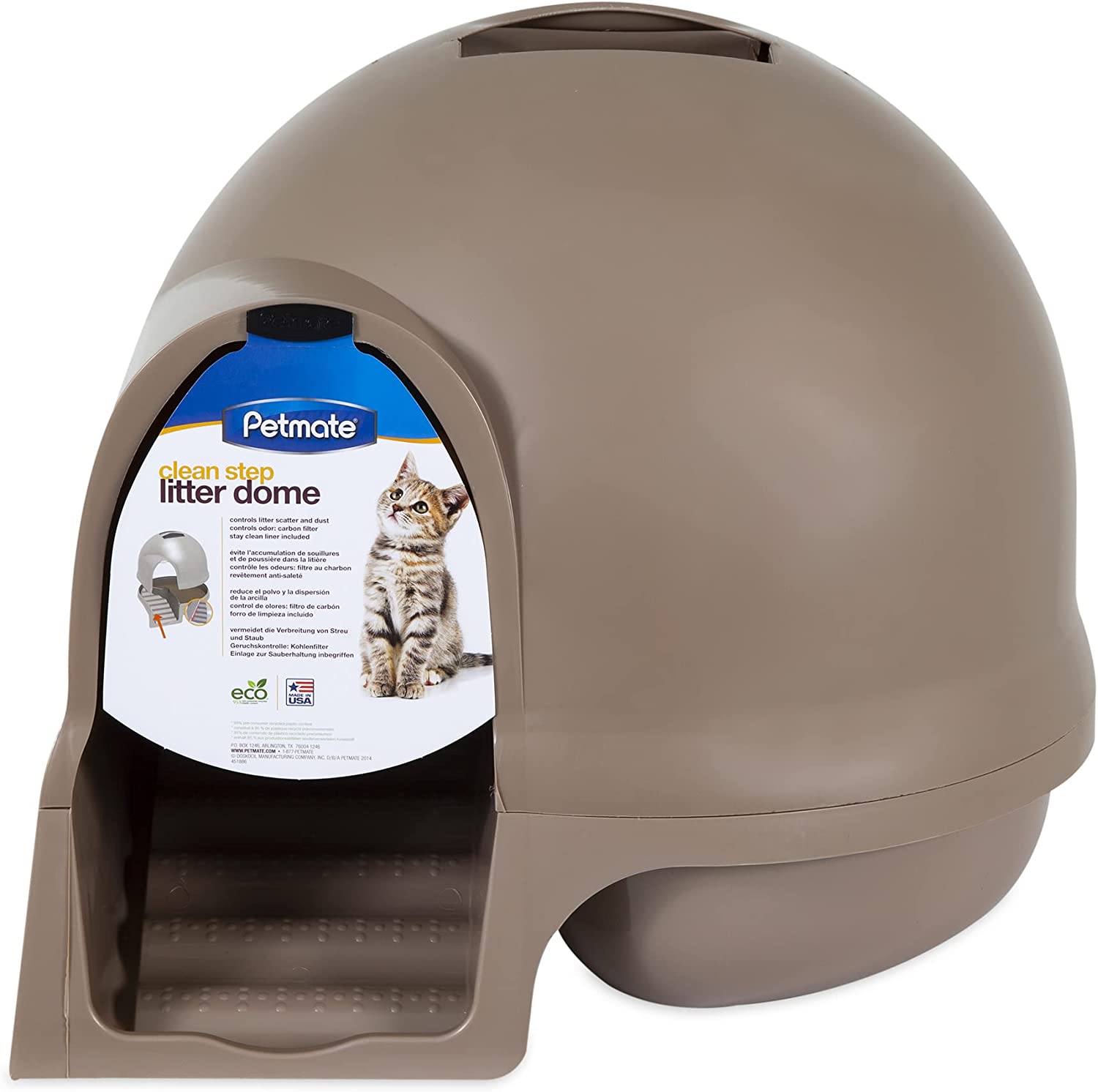 The best design is when fashion meets function – and this cat litter box demonstrates that perfectly. Coming in three color options (titanium, pearl white, and brushed nickel), the aesthetic design makes it look like a little igloo made specifically for your kitty.
The domed lid gives your cat the ultimate level of privacy and means you don't have to see what they leave behind.
The domed design also eliminates the risk of your cat kicking litter out and onto the floor. But more than that, the grooved steps leading up to the entrance reduce tracking by wiping litter from their paws as they exit.
The design is more than just aesthetic; it's practical too. The large opening works for all sizes of cats, from big to small. There's plenty of space inside as well, and even claims to have up to a 50% larger litter bed than the average cat litter box.
The dome also contains odors and stops them from spreading around the house, further strengthened by a charcoal filter that absorbs the odors. This is the best litter box for a busy room.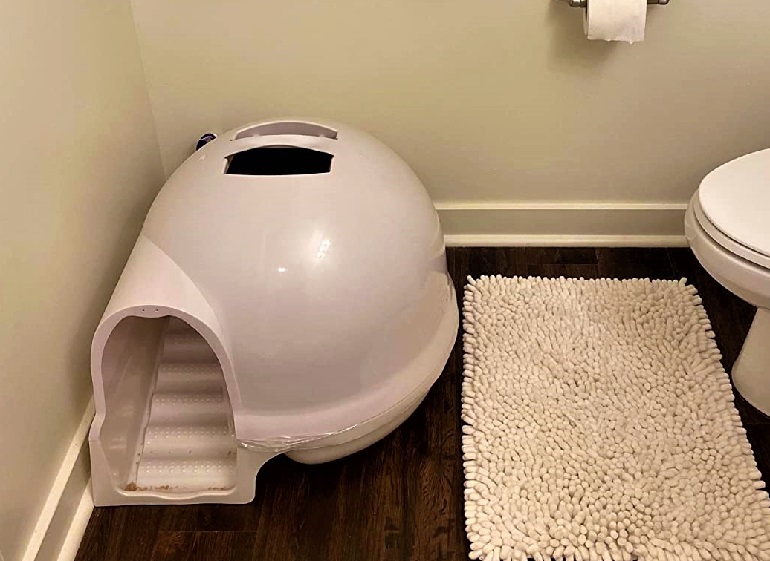 However, the nature of a circular design means that scooping out the waste with a square-shaped scooper can be fiddly. Additionally, users report difficulty in cleaning tracked litter from the grooved steps too.
It's also worth noting that the litter box is made of fairly thin and flimsy plastic. Although it's not constructed from the most durable material, it's still unlikely to be damaged if it's being used in the correct way.
Pros
Excellent aesthetic and practical design
Three colors available
Gives cat privacy
Eliminates tracking
Controls odors
Ideal for various cat sizes
Large litter bed
Cons
Not all cats like enclosed litter boxes
Difficult to scoop
Made of a thin plastic material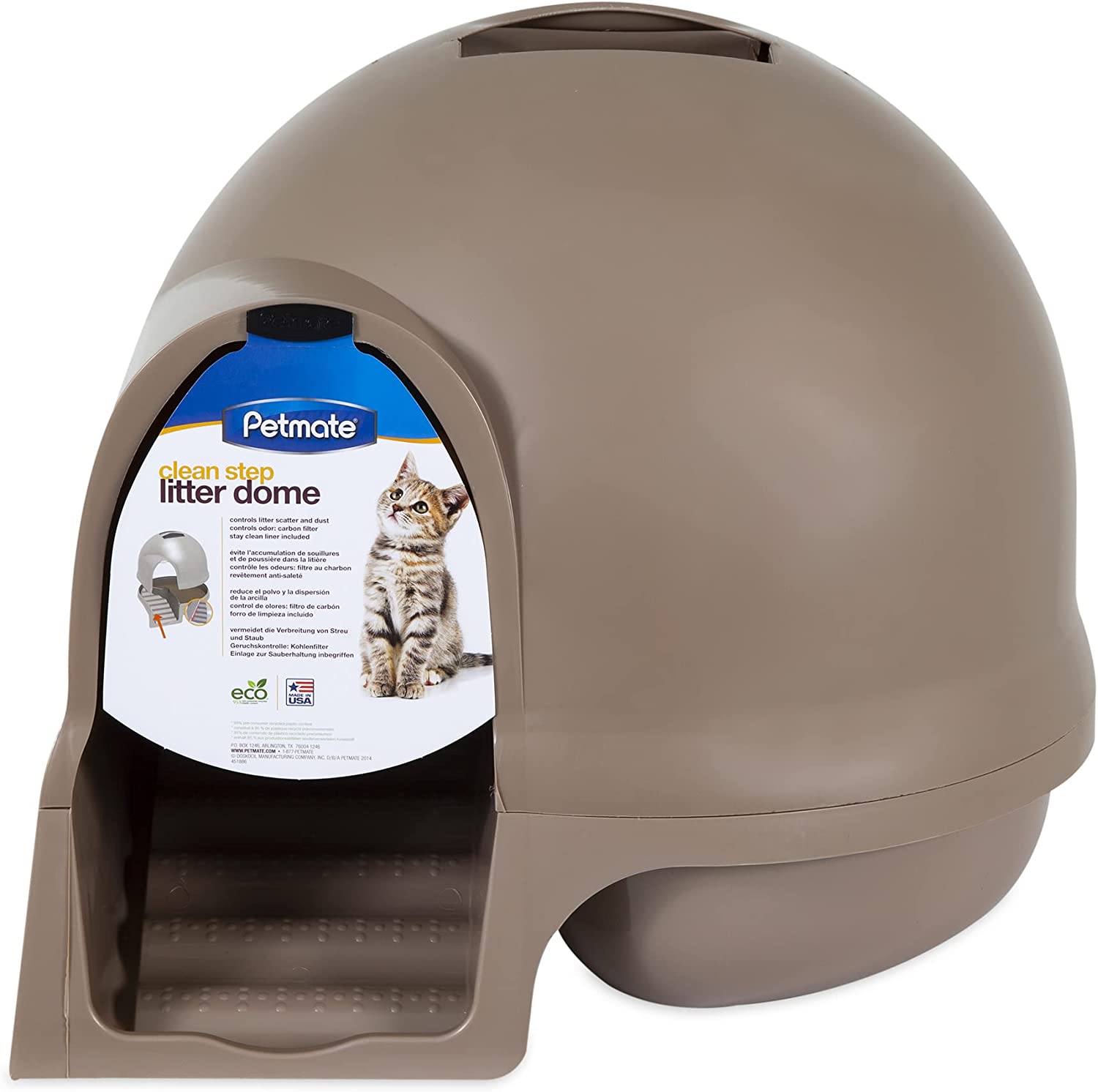 Petmate Booda
The price of "Petmate Booda " varies, so check the latest price at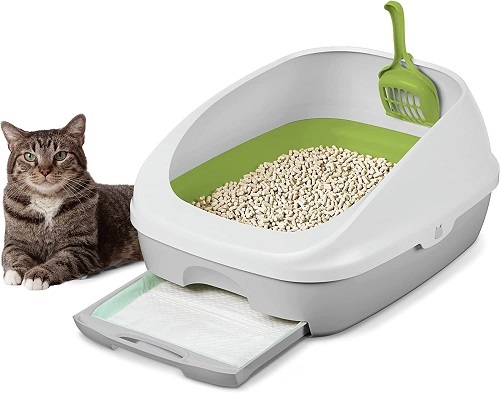 Let's face it – no one likes the smell a cat leaves behind in a litter box. Fortunately, any half-decent cat litter box will help reduce – or even entirely eliminate – the lingering smells. One example is this cat litter box system.
The system comes with a scoop, a 3.5 lb bag of pellets that need replacing each month, and four disposable pads, each one lasting just one week. However, each of these needs to be replaced regularly, meaning it's an expensive option to maintain.
On the other hand, all parts of the litter box system come together for less mess and more control over odors. The anti-tracking pellets are almost totally dust-free and cause much less mess than other types. However, this litter can stick to solid waste, meaning you might end up throwing away more than you would otherwise.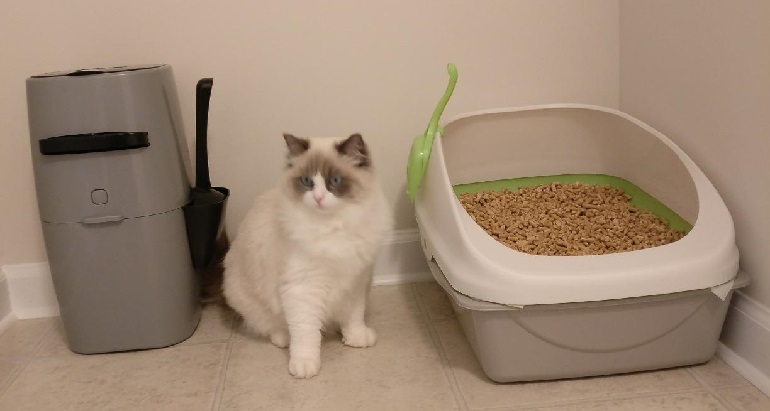 The pellets also repel moisture to send urine down to the absorbent pads that slot in the removable drawer at the bottom of the litter box. These pads lock away urine and can prevent ammonia odor for a whole week.
And avoiding the pellets means there's no clumped litter to throw away, making the litter last even longer. However, it's worth noting that the pads aren't environmentally friendly.
Pros
Absorbs ammonia smell effectively
Anti-tracking, dust-free litter leaves little mess
Easy to dispose of absorbent pads
Comes with a scoop
Cons
Not environmentally friendly
Costly upkeep
Litter can stick to solid waste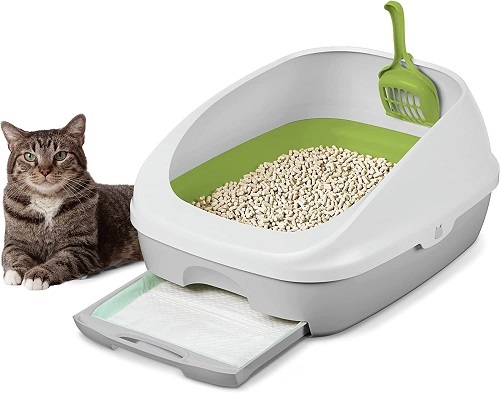 Purina Tidy Cats Litter Box
The Price of "Purina Tidy Cats Litter Box System" varies, so check the latest price at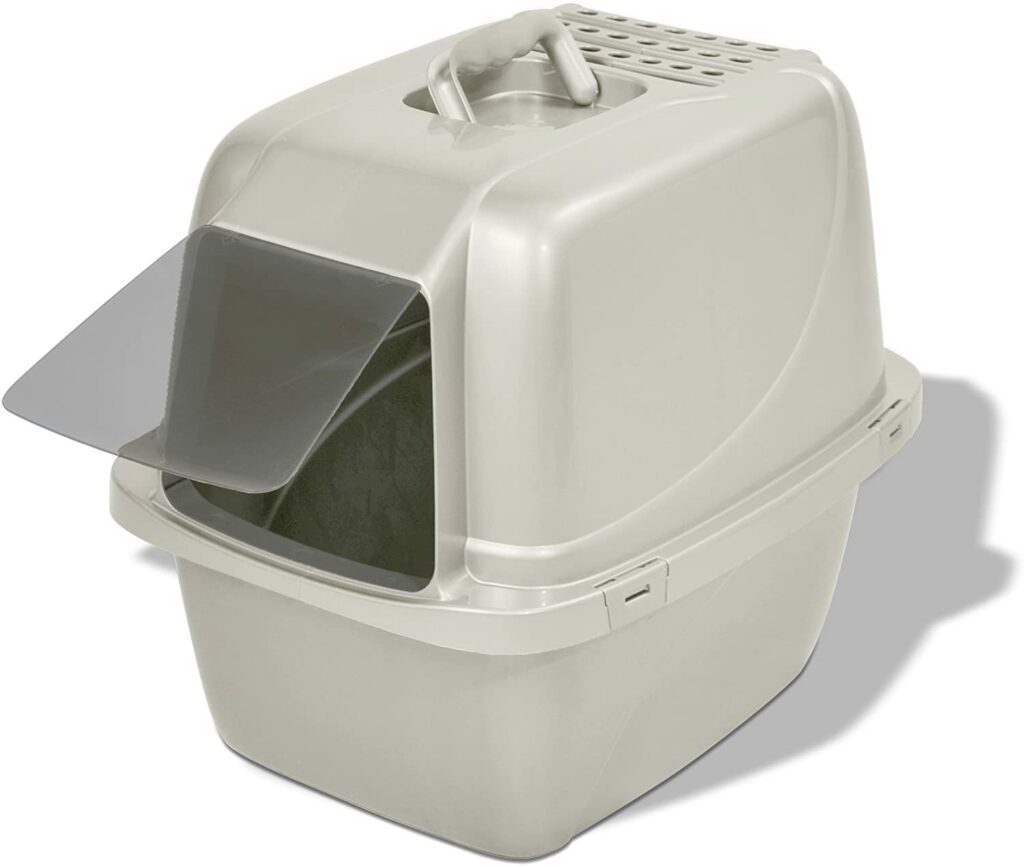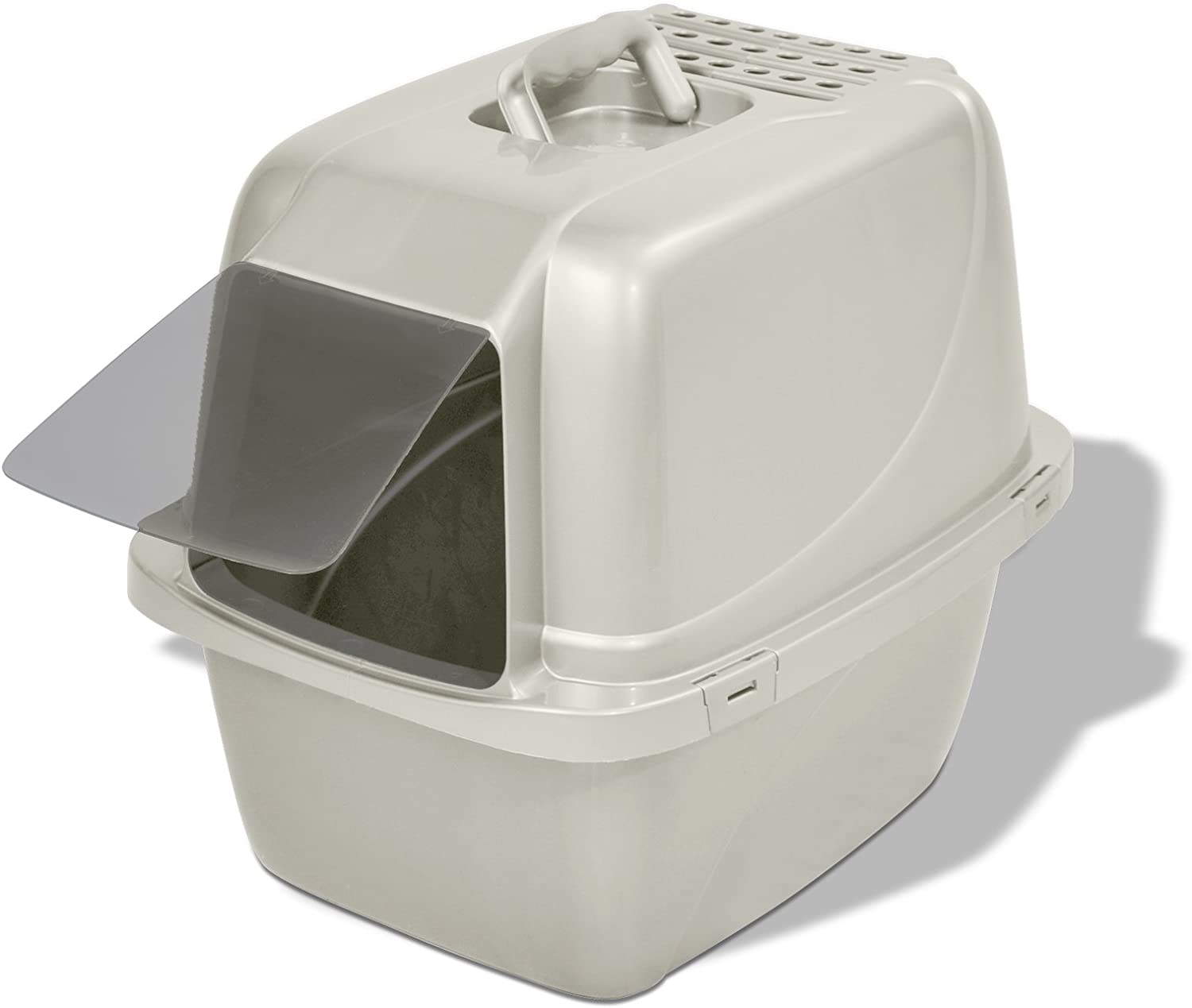 Kittens are tiny and cute… but they sure don't stay that way! It's amazing to see how some kittens grow up to be larger than you ever imagined they would be. If you have one of those large cats, you might need a hooded cat litter box like this one.
There are two options to go for: either the large litter box in white or the X-large litter box in blue. The latter option is perfect for all sizes of cats and households with multiple cats.
The polished finish makes the litter box resistant to odors and stains, meaning it's easy to clean and effective at controlling odors. But even better, the box is made from 20% recycled content, so it's a more environmentally friendly option to put eco-conscious cat owners at ease.
However, it's not as durable as others, so may not be suitable for large cats that are particularly rough.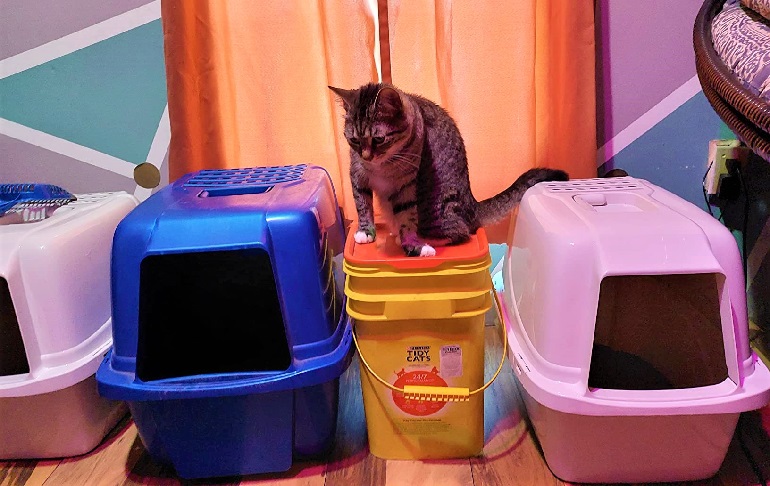 The odor control is enhanced by the integrated and replaceable zeolite air filter that absorbs odors to minimize the amount wafting about. And it's even easier to control odors thanks to the enclosed space. However, the flap to the hood isn't perfect since it can sometimes be stiff, making it difficult for the cat to enter and exit.
Still, if you're not committed to this, then you can change from an enclosed litter box to an open one by undoing the four latches around the pan. But since the hood eliminates any risk of your cat kicking litter out of the box, it might be best to keep it on to reduce extra cleanup.
Pros
Affordable
Effective at controlling odors
Ideal for larger cats
Made from recycled materials
Two size and color options
Hood can come on and off
Cons
Not all cats like enclosed litter boxes
Not the best-looking design
Not made from durable plastic
Door doesn't always work well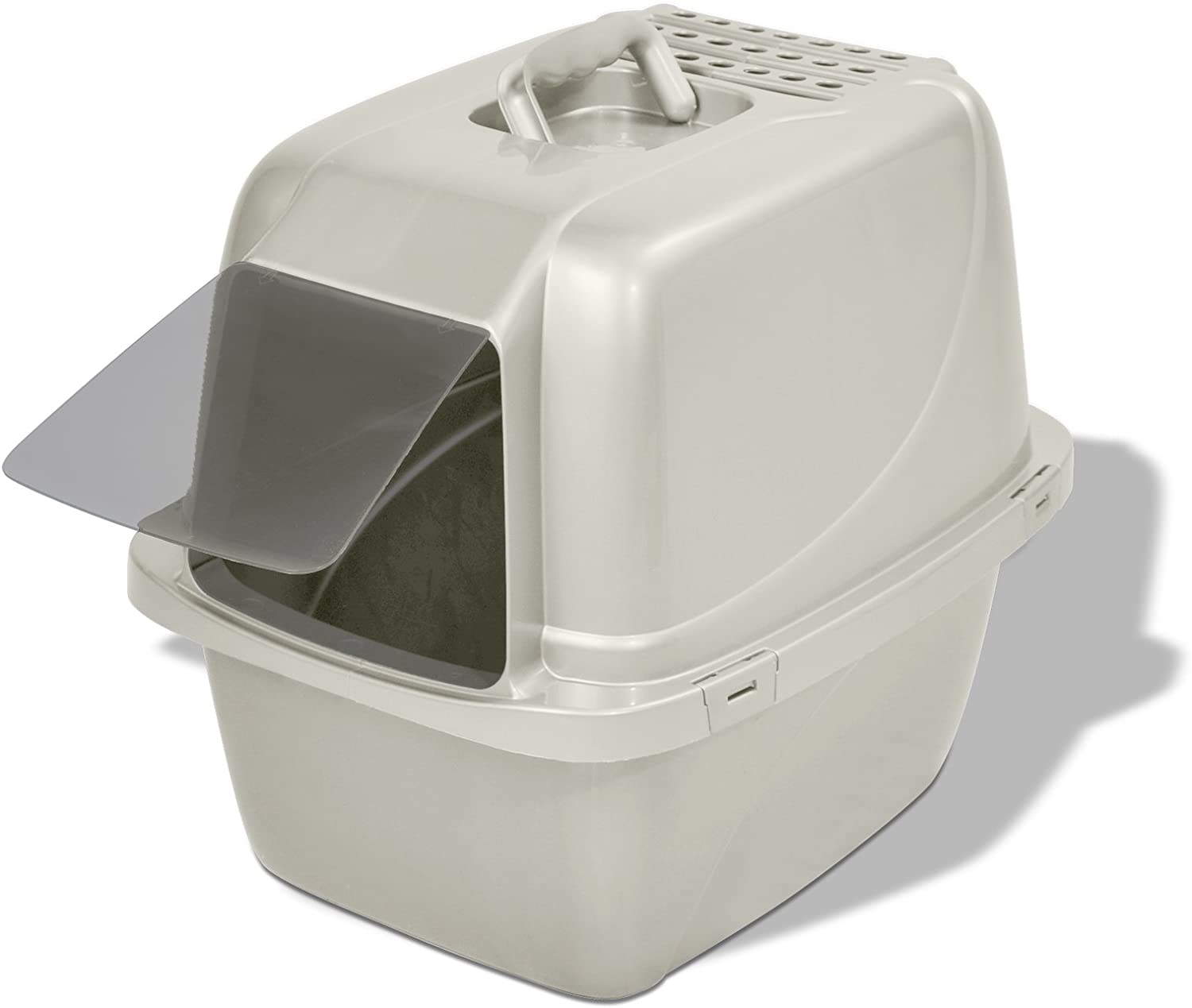 Van Ness Enclosed Cat Litter Pan
The price of "Van Ness Enclosed" varies, so check the latest price at
What to Consider When Buying the Best Litter Box
With so many different litter boxes out there, it's difficult to know precisely what's important to consider when narrowing down your options. So, here are the top few factors every cat owner should keep in mind.
Height
Just like the size of the cat litter box, you need to ensure it's the right height too. You need to ensure that covered litter boxes are tall enough for them to fit comfortably. If it's an open box, you're usually fine with walls between five to seven inches tall.
However, if your cat likes digging about in the litter bed and kicking it out, you might want to consider taller sides to wall it in.
Bear in mind that if you have a senior cat, you should pick one whose walls aren't too high and doesn't have a flap covering the entryway. Older cats aren't as agile as they once were, and you need to keep it as accessible as possible.
Material
Most litter boxes are made of plastic, but you'll want one that isn't made of thin, brittle plastic that's prone to breaking. After all, you don't want one to break easily since it will just be a waste of money, and you'll have to throw it away into a landfill.
It's worth ensuring that the material is easy to clean too, since if a litter box isn't properly cleaned, then odor can build up.
Style
Style isn't always important – especially if the litter box is kept somewhere out of the way. But if you own a small home or don't have much choice of where to put the box, think about how the style might fit in with your home décor – some boxes are ugly, while some look good. Some even conceal the waste your cat leaves altogether!
Open or Enclosed
Some cats like the privacy offered by a hooded litter box with a lid. And these are better for you since it reduces the spread of odor and hides the waste they leave behind.
However, most cats dislike enclosed litter boxes, which is why open ones are more common. This is because cats are vulnerable when going to the bathroom and like to adhere to their natural instinct of keeping an eye out for predators.
Easy to Scoop and Clean
No one likes cleaning a litter box, so make sure it's easy so you can get it done quickly.
If you have a large enough budget, consider an automatic one that does the work for you. That way, you just need to empty the waste drawer when it notified you that it's full.
Sustainability
You'll be hard-pressed to find a litter box that's not made of plastic these days. Although they're far from environmentally friendly, you can still reduce your carbon footprint by picking one that you'll use for a long time. So, think carefully before buying one.
On the other hand, you could always opt for a stainless steel option, but these are often much more expensive and smaller, so aren't really ideal.
FAQs
Do Cats Prefer Open or Closed Litter Boxes?
Cats are wary creatures at the best of times. Since they're never more vulnerable than when they go to the bathroom, they like to be able to look out and see if any danger is lurking around the corner.
That's why most cats prefer an open litter box. However, all cats are different, and if your cat prefers privacy or you're especially keen on controlling odors, a closed litter box can be a better option.
What Size Litter Box Does a Cat Need?
We would recommend always opting for a larger box. After all, a litter box can never be too big! Cats don't mind a large space, but they will object if a litter box is so small that they can't fit inside comfortably.
What Is the Most Hygienic Cat Litter Box?
A litter box is only ever going to be as hygienic as you want it to be. It's all down to how often you scoop away the waste and give the box a proper clean.
However, the most hygienic litter boxes scoop up waste effectively and promptly, so we would go with Litter-Robot 4.
How Often Should You Completely Clean the Litter Box?
Although it seems like a real effort, you don't have to give it a complete clean as often as you scoop out waste. While you should be scooping waste at least once or twice a day, you only need to give the box a proper clean and replace it with fresh litter once a week.
This should be a proper wash too, using warm water and soap. This isn't just for basic hygiene, but it helps prevent odor build-up – so it's in your interest to do a good job!
Final Thoughts
At the end of the day, the perfect cat litter box is one that keeps both you and your cat happy. So long as they're willing to use it and can do so comfortably and easily, you'll have no problem persuading them to do so.
But think about your situation too; consider where the litter box will go in the house, the style you might want, and the time and budget you have available for maintenance.
Still, no matter your needs and your cat's preferences, there's always a perfect litter box for the two of you somewhere out there – and the ideal litter box is very possibly on this list!