Deodorizing products for cat litter are available to assist in dealing with litter box odors. Cat litter deodorizers are additives that remove odors by absorbing moisture and neutralizing them. In addition, there are deodorizers for cat litter that also include perfumes to help cover up any lingering smells.
Litter box deodorizers might be helpful if you have many cats or your cat's litter box is in a high-traffic area. As a bonus, they might help those very sensitive to odors maintain a pleasant home environment.
Deodorizers for cat litter may cut down on unpleasant odors, but they are no substitute for frequent litter box cleaning and replacement. A routine is necessary for the upkeep of your cat's litter box.
Here are my top picks for litter box fresheners. The only options that really helped me are included here, along with their pros and disadvantages.
Let's dive right in!
Best Overall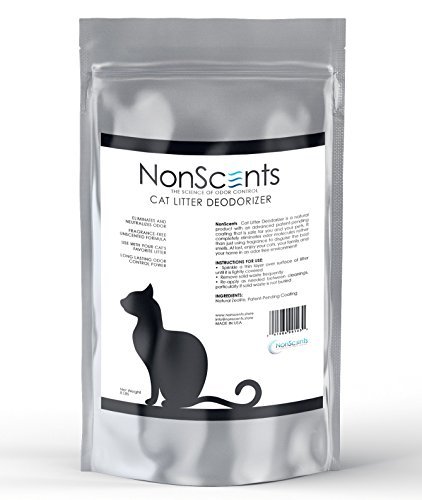 Nonscents Cat Deodorizer
Material: Other
Item Weight: 7.7 Pounds
Floral Scent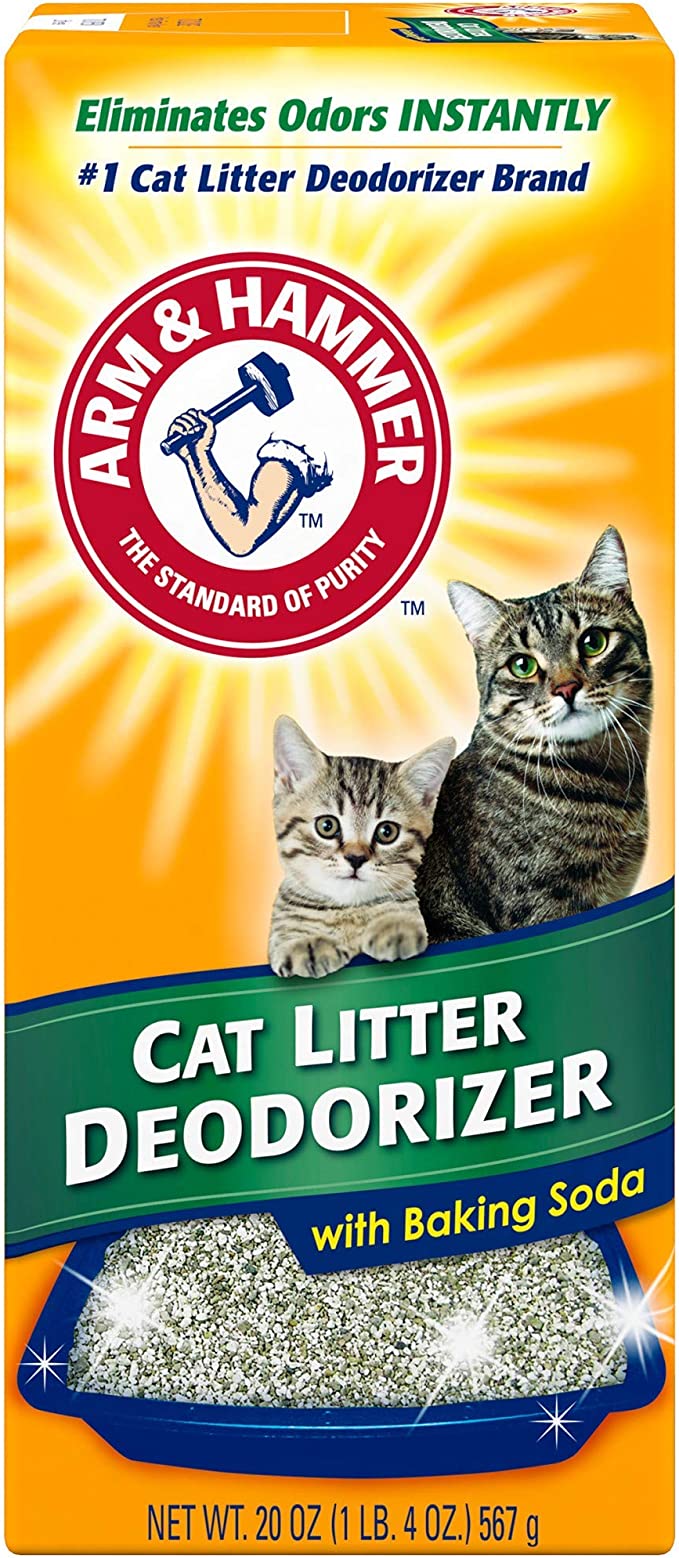 Arm & Hammer
Material: Powder
Item Weight: 1.25 Pounds
High Quality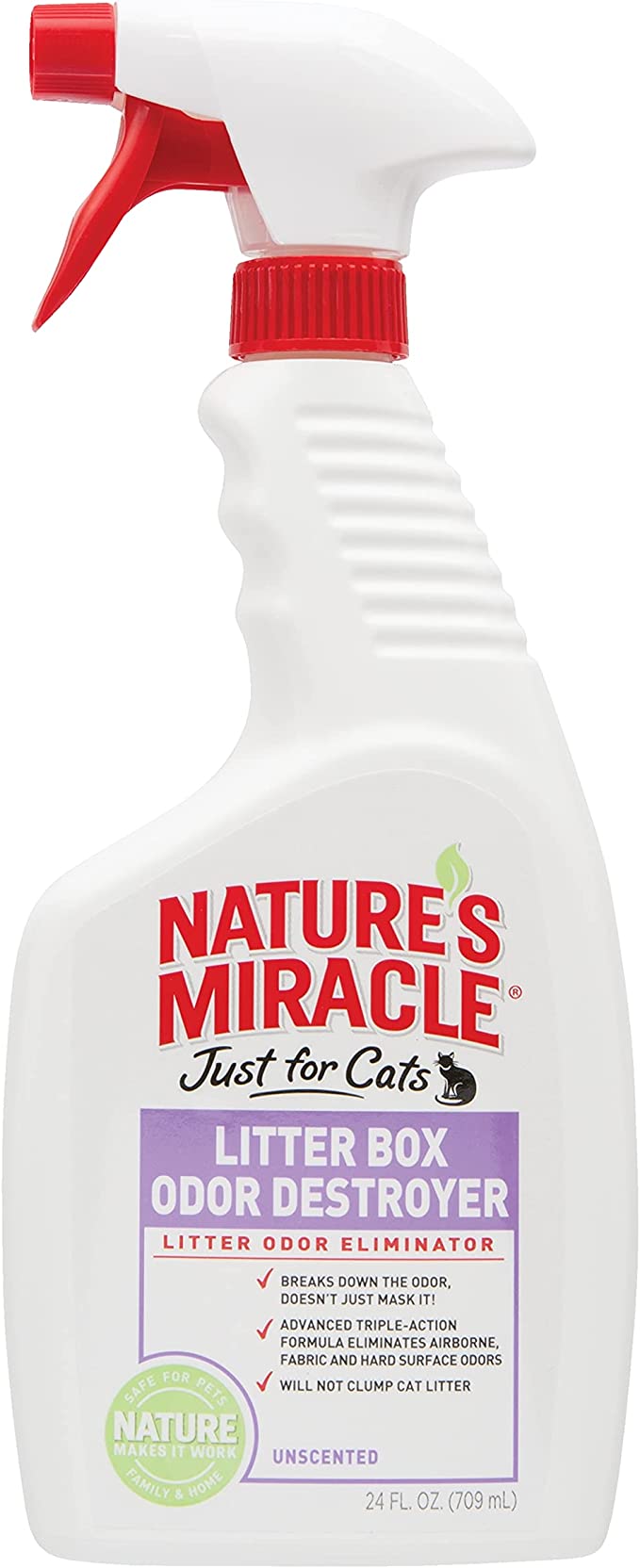 Nature's Miracle
Material: Plastic litter box,plastic liners
Item Weight: 0.55 Pounds
User-Friendly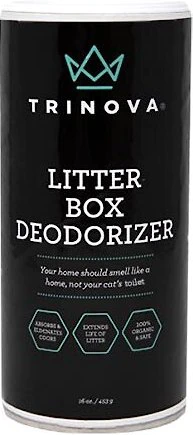 TriNova Cat Deodorizer
Material: natural clay
Item Weight: 3 Pounds
Most Effective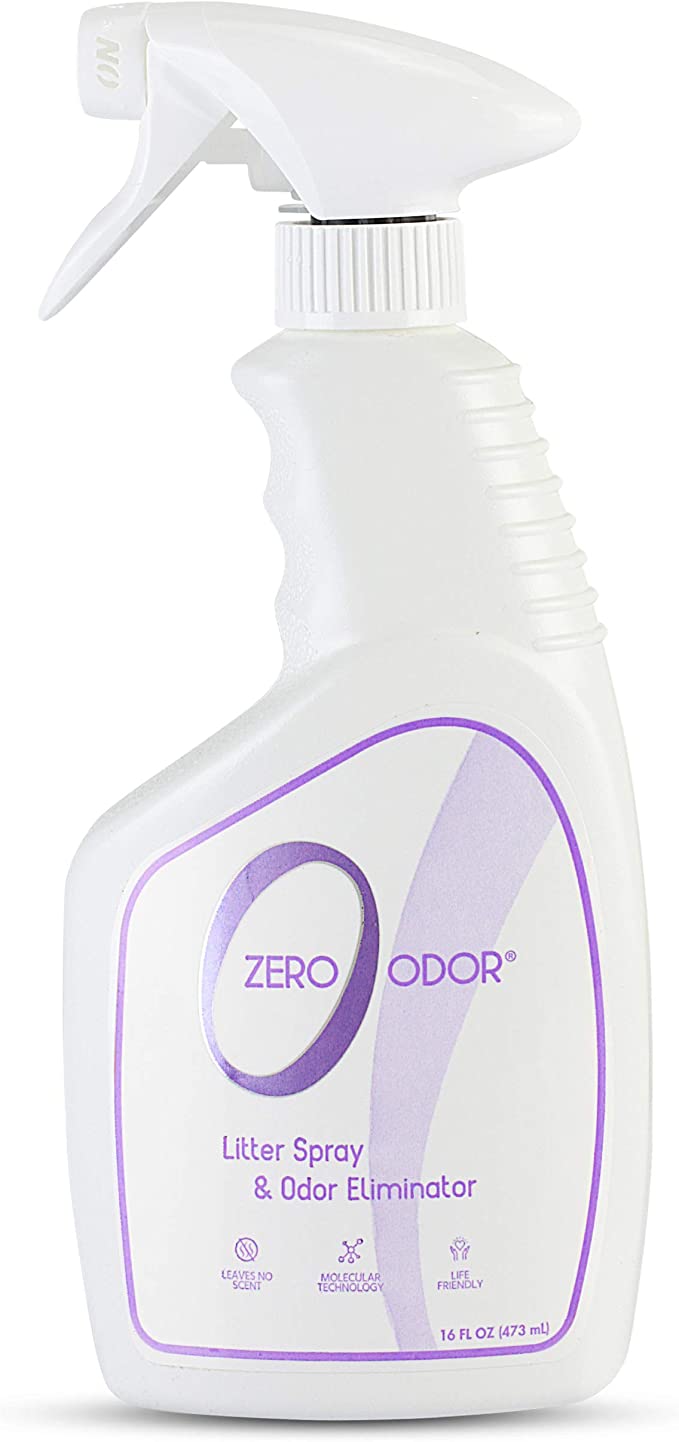 Zero Odor Deodorizer
Material: Biodegradable Warning
Item Weight: 10.4 Pounds
Budget Friendly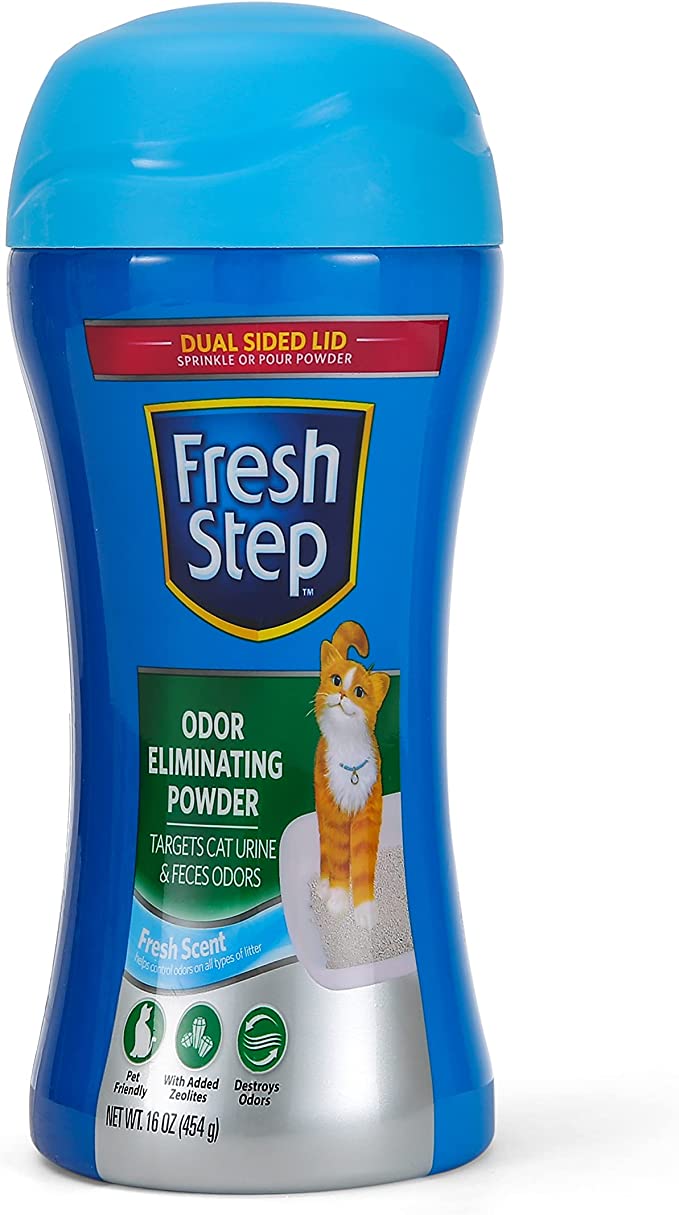 Fresh Step Cat Deodorizer
Material: Clumping Clay
Item Weight: 16.4 Pounds
Long-Lasting
Simple Solution Cat Deodorizer
Material: non-toxic vinyl rubber
Item Weight: 3 Pounds
Our Top 7 Picks For The Best Cat Litter Deodorizers
For a quick comparison, I have picked the best cat litter deodorizers for you.
Since it has received the most positive reviews overall, I would start with Nonscents Cat Litter Deodorizer. After applying this, even the most potent litter box odors will completely disappear.
The product's all-natural ingredients and lack of synthetic perfumes will appeal to those with a poor tolerance for scents. Additionally, it has zero negative effects on the natural world.
Natural enzymes in Nonscents Cat Litter Deodorizer kill 99.9% of bacteria in the cat litter. Once sprinkled over garbage, it starts working instantly. It may be used with either clumping or non-clumping litter.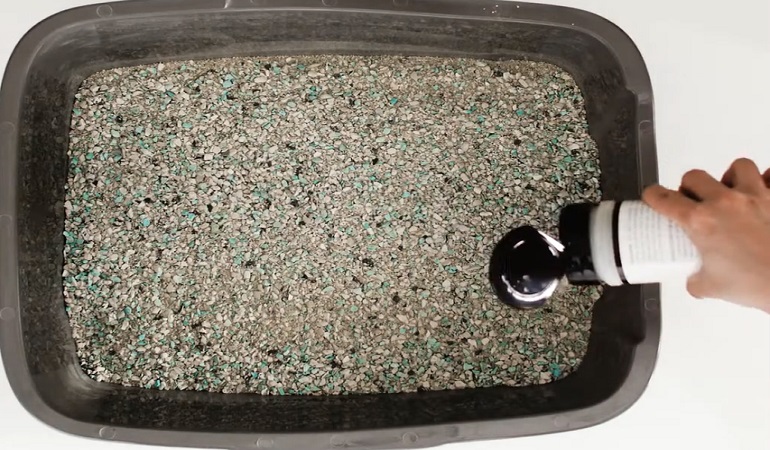 Having many cats in the house might be difficult, but this high-end litter box odor eliminator could help with the musty atmosphere. Nonscents cat litter deodorizer is fragrance-free, chemical-free, and simple to use. For the price, the product is excellent.
Pros
There is no odor left behind with Nonscents Cat Litter Deodorizer.
It eliminates any trace of stinky litter smell.
Plus, it's environmentally friendly and won't harm even the most delicate feline paws.
Cons
The price of Nonscents Cat Litter Deodorizer is more than the average of the other products we considered.
The product has a foul odor right after opening. However, its effects are temporary.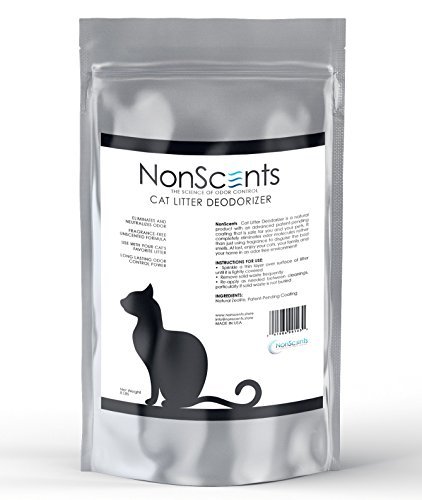 Nonscents Cat Litter Deodorizer
The Price of "Nonscents Cat Litter Deodorizer" varies, so check the latest price at

If you're tired of your house smelling like cat waste, then Arm & Hammer Cat Litter Deodorizer will brighten your day (except if it's currently nighttime, it will fight nasty smells that your house might be terrorized with). This odor destroyer is like a superhero for your nostrils and a supervillain for your cat's poop.
It's like someone waving a magic wand, and suddenly your house smells like a bouquet of flowers instead of a kitty toilet. Jokes aside – this thing rocks! I've been trying out all these different litter deodorizers for months now, and man, this one was a literal breath of fresh air.
But seriously, this stuff really does work. It's made with baking soda, known for its power to eliminate odor, so you can trust that the baking soda will get the job done. And it's super easy to use – sprinkle a little bit on top of your cat's litter, and boom, no more stinky smells.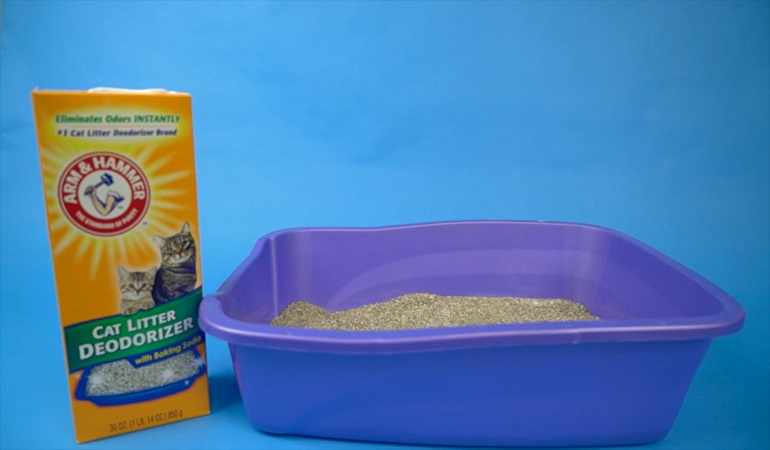 So if you want to say goodbye to litter box odor and hello to fresh, clean-smelling air, I suggest giving Arm & Hammer Cat Litter Deodorizer a try.
Pros
Great odor control for both cat poop and cat urine odors due to baking soda.
It is moisture-activated, which will refresh every time your cat uses the sandbox.
Can be used with any litter, so there is no need to go out of your way to buy some particular type of litter just for the product to work
Cons
The floral smell might be too much for some users. I think it is pretty nice, but I can see how it might dissuade some cat owners or cats from using it.
The effect wanes after about 2 days, at which point you need to reuse it to get the desired result.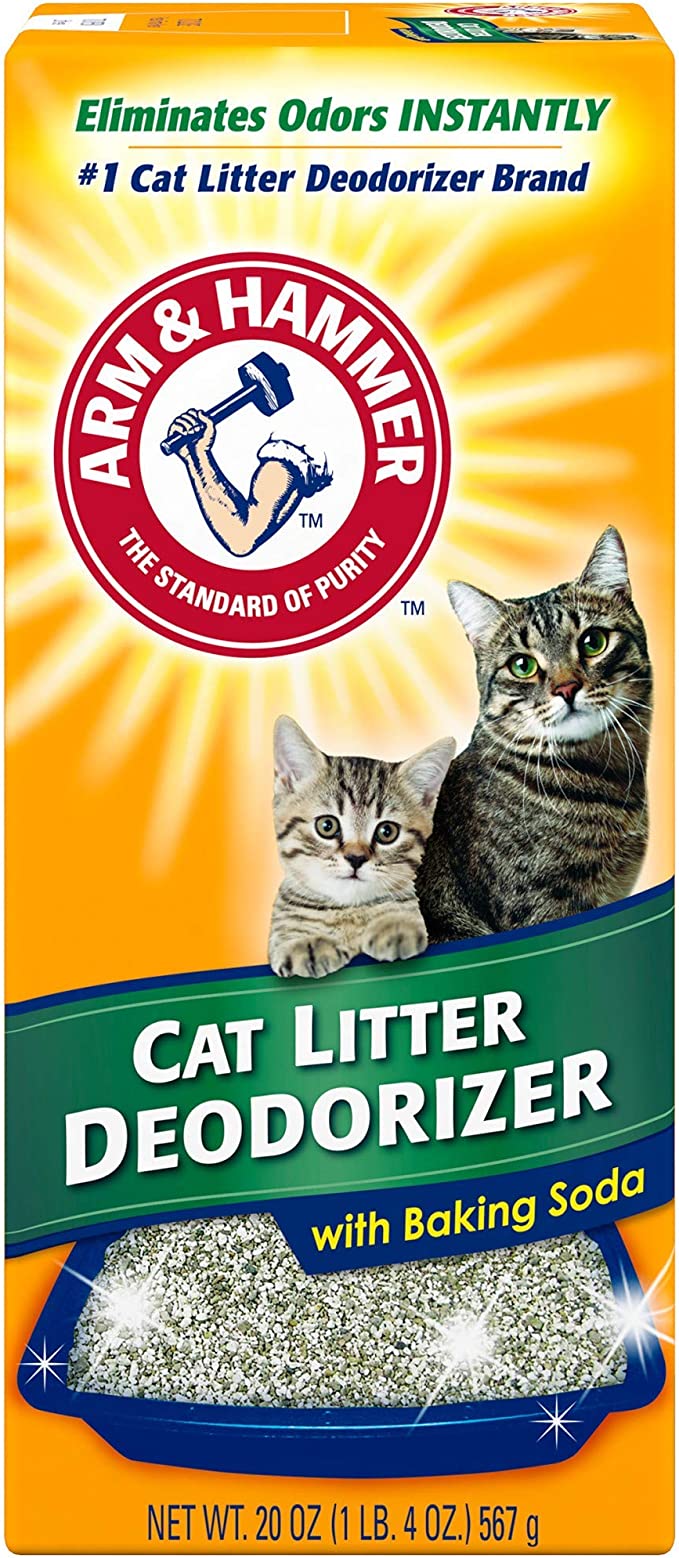 Arm & Hammer Cat Litter Deodorizer
The Price of "Arm & Hammer Cat Litter Deodorizer" varies, so check the latest price at

If you want to eliminate unpleasant litter box odors, I'd advise you to give Nature's Miracle Litter Odor Spray a go. Its combination of enzymes and microorganisms effectively neutralizes even the most pervasive odors associated with stinky litter.
The odors from the sandbox were successfully eliminated, even though I've left it (intentionally) for a few days. The spray's enzymes and bacteria supposedly decompose the organic matter that contributes to the litter box's odor. I'm not a scientist, but whatever and however it does its thing – it works. So you won't see me complaining about this.
Nature's Miracle makes an easy-to-use spray, so all you have to do is take the spray to the cat box and squeeze a few times – that's it. Before each use, shake the bottle and spray the contents onto the litter within the container. This technique may be utilized with either clumping or non-clumping litter.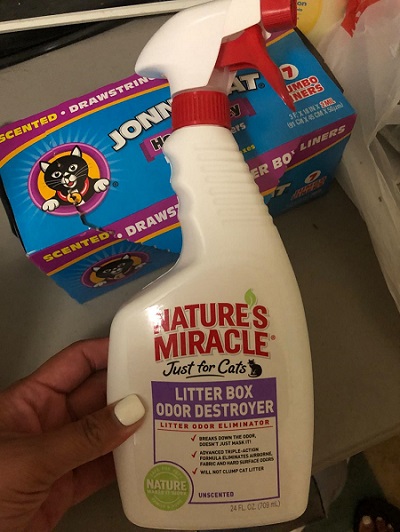 The litter box deodorizer spray from Nature's Miracle is excellent. Its special combination of enzymes and bacteria effectively eliminates odors, yet it couldn't be easier to use. It's great for giving your house a new scent.
Pros
Spraying it on instead of sifting powder speeds up the process and creates less of a mess, plus it can be used on any surface.
As a litter box odor eliminator, it may be used with any brand or style (clay, corn, corn cob, paper-based, and more).
Cons
The effect lasts less than the others on this list, so you may need to use it more often and for longer periods of time.
You may notice that the odor becomes stronger as you continue to spray the product. The unpleasant odor will be eliminated or much reduced when this product dries.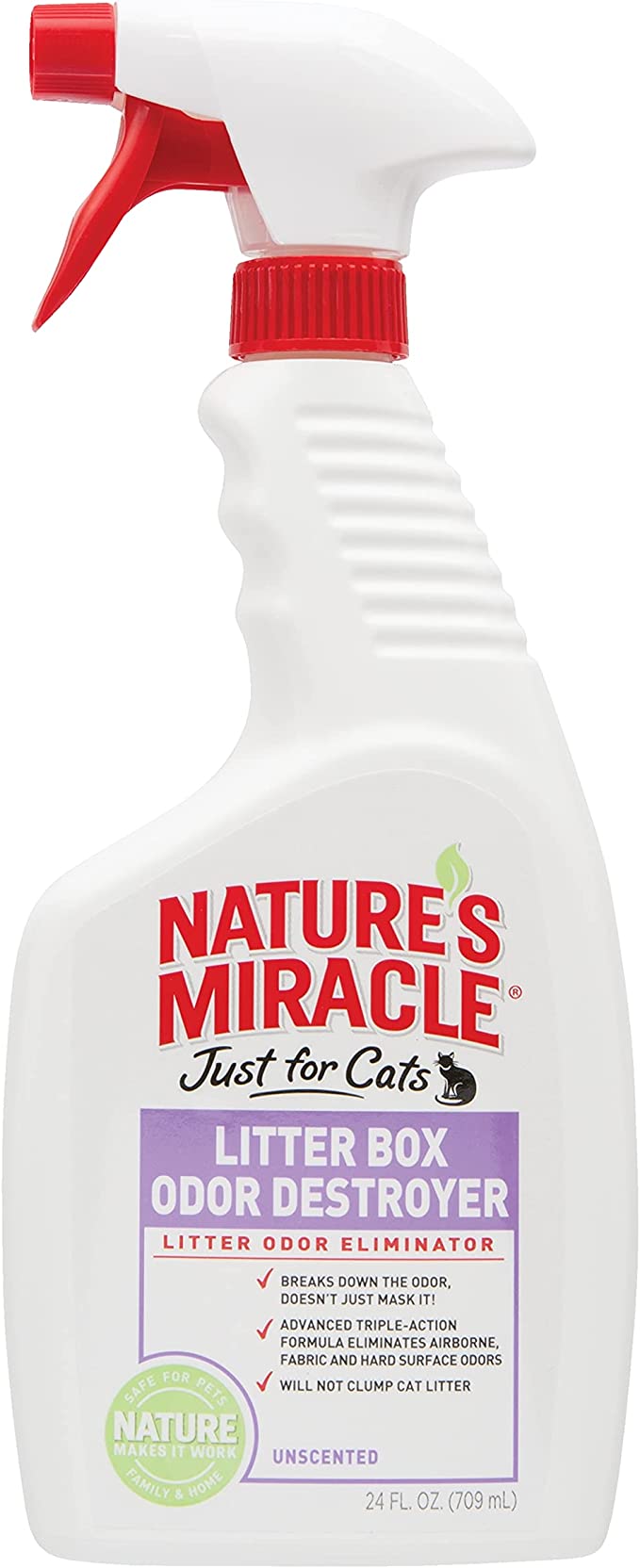 Nature's Miracle Litter Odor Spray
The Price of "Nature's Miracle Litter Odor Spray" varies, so check the latest price at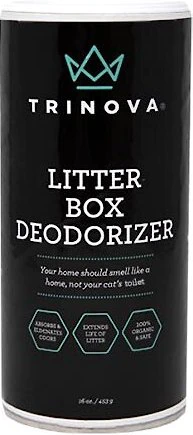 This wonder powder is like a nose party in a bottle, and you'll want to invite it to every gathering. Now, while that might sound a bit dodgy, bear with me for a minute.
What distinguishes TriNova Cat Litter Box Deodorizer is that it's made with natural, non-toxic odor-fighting components. No more litter box odors in your home. You may enjoy your house without holding your breath as you pass the cat's realm.
TriNova Cat Litter Box Deodorizer has several uses. It's quite user-friendly. Simply sprinkle some on your cat's litter for fresh, clean air. Magical! The greatest aspect is that your pet can't accidentally paw-dip.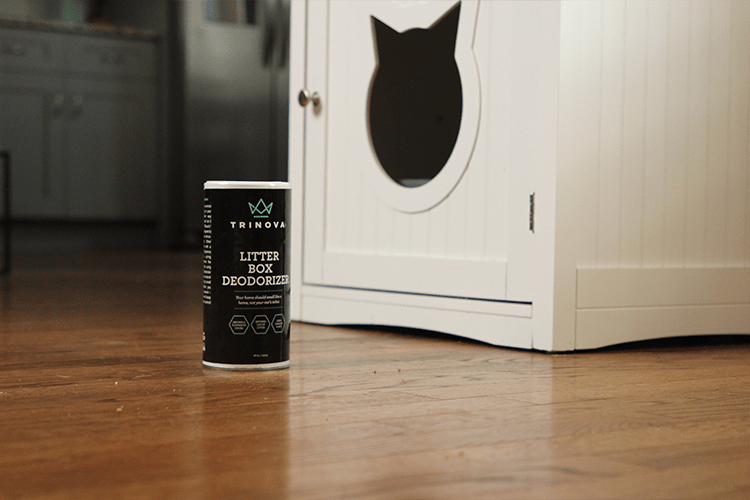 TriNova Cat Litter Box Deodorizer may eliminate any litter box odor. You'll please your nose and your cat's!
Pros
This deodorizer has no chlorine smell accompanying it, as many other options.
It is completely fragrance-free and will not hinder your cat while it does its thing in the sandbox.
A little goes a long way. You only need very small quantities of the product to get the desired effect.
Cons
This deodorizer is grey-colored, so consider your cat's color, as tracking might be an issue.
It takes a couple of minutes of waiting before the product starts working, so be patient for a little bit.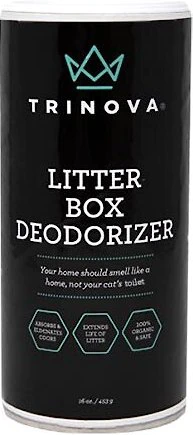 TriNova Cat Litter Box Deodorizer
The Price of "TriNova Cat Litter Box Deodorizer" varies, so check the latest price at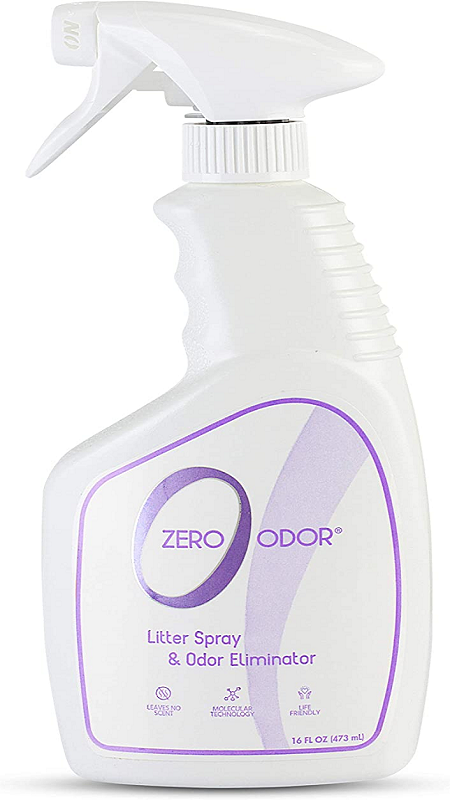 It is no secret that I like cats. But… The odor that they can produce is sometimes really overwhelming. How can something so small, fluffy, and cute produce something that nasty? HOW?! I know, it's a mystery.
This is one of the first deodorizers that I've ever tried. It actually got me into testing other deodorizers. Because it's so simple, and it works.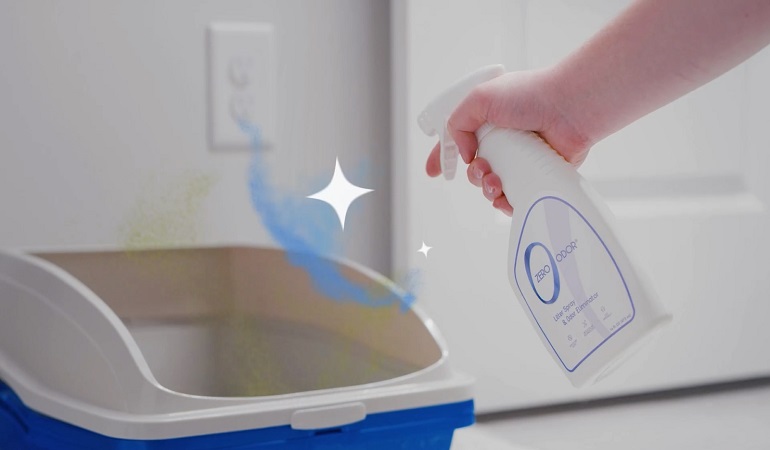 As a cat owner, I naturally searched for litter box odor control. Zero Odor Litter Odor Eliminator was the answer. It can trap odors, as advertised. It eliminated any litter box odors in minutes. I loved that it works with any litter, including clumping litter.
Pros
Just follow the directions, and it works quickly with little amount.
It may not completely neutralize strong scents, but it will battle them.
The value is great for the price.
Cons
Contains chemicals. If you're eco-friendly, avoid this one.
Due to its popularity, it is regularly sold out. It would rank higher if it were more accessible.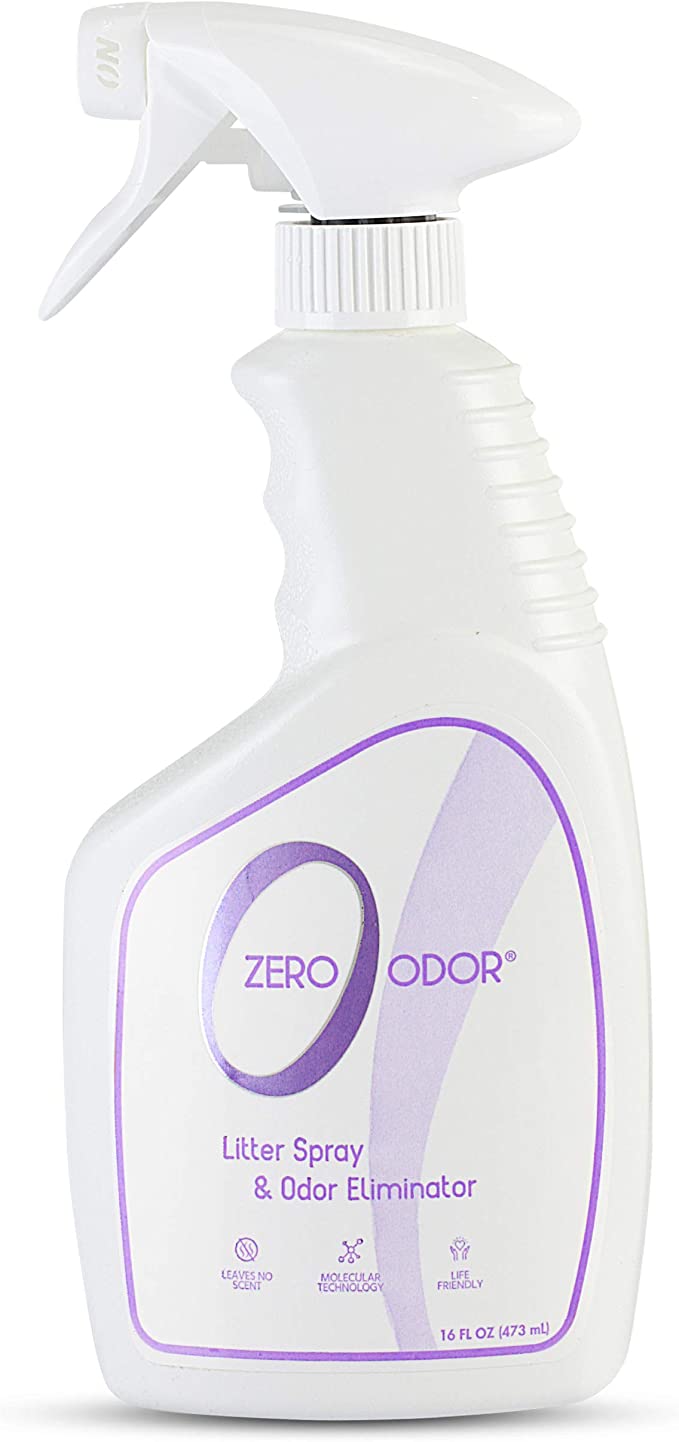 Zero Odor Litter Odor Eliminator
The Price of "Zero Odor Litter Odor Eliminator" varies, so check the latest price at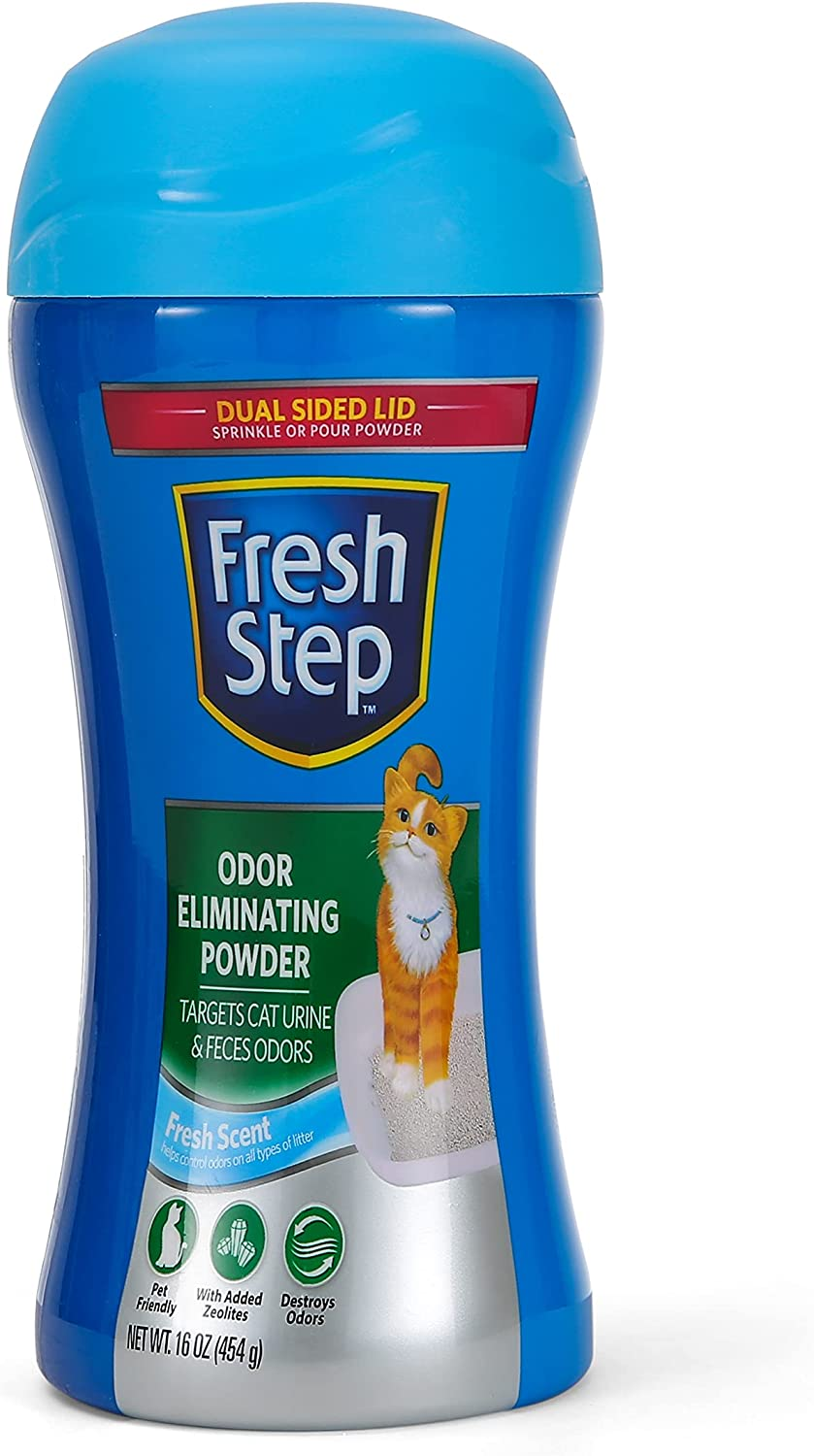 This powder deodorizer is like a magic potion for your nostrils – just one sprinkle, and boom, no more bad smells!
But don't just take my word for it – the folks at Fresh Step have a whole bunch of sciency stuff to back up their product. Consisting of natural zeolite, it is designed to fight odors and mask smells at the molecular level, which means that it removes all the stinky bits that make your house smell like a kitty toilet.
And the best part is that Fresh Step Cat Litter Deodorizer is safe for all types of litter, so you don't have to worry about accidental paw-dipping.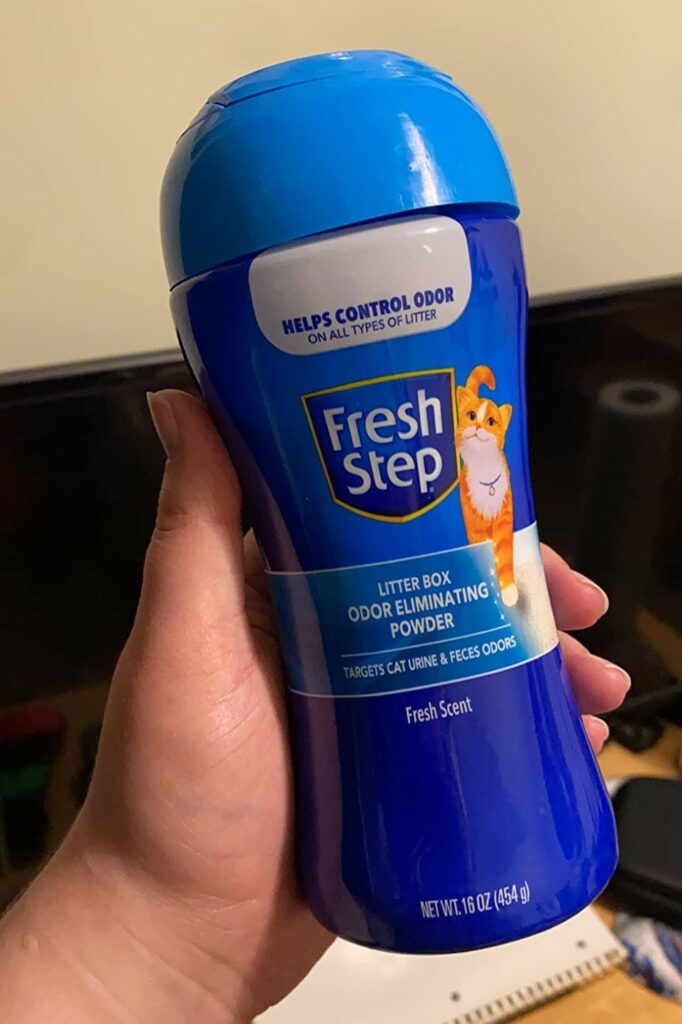 So if you want to turn your litter box into a paradise for your nose, give Fresh Step Cat Litter Deodorizing a try. Your nose (and your guests) will thank you.
Pros
Super cheap compared to others on this list!
This product both masks smells and sanitizes at the same time.
Cons
It is not smell-free and may deter cats. While it is pleasant, I know many people look for smell-free options – so I had to mention it.
It dissipates quickly.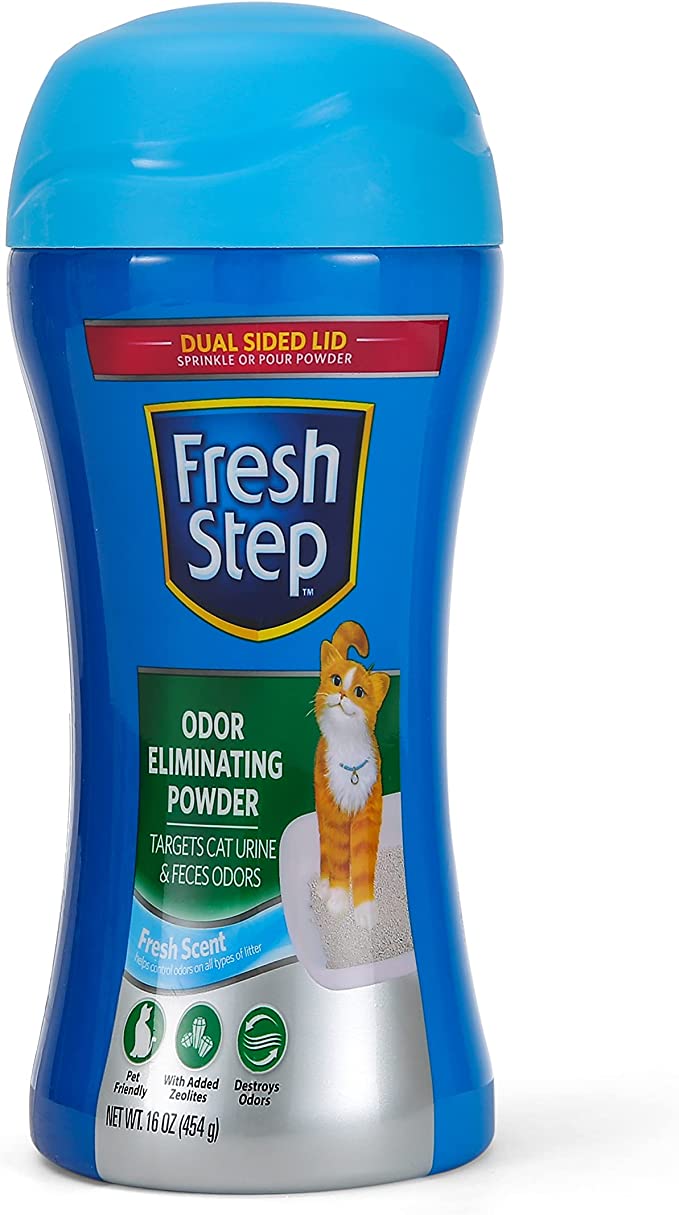 Fresh Step Cat Litter Box Odor Eliminating Powder
The Price of "Fresh Step Cat Litter Box Odor Eliminating Powder" varies, so check the latest price at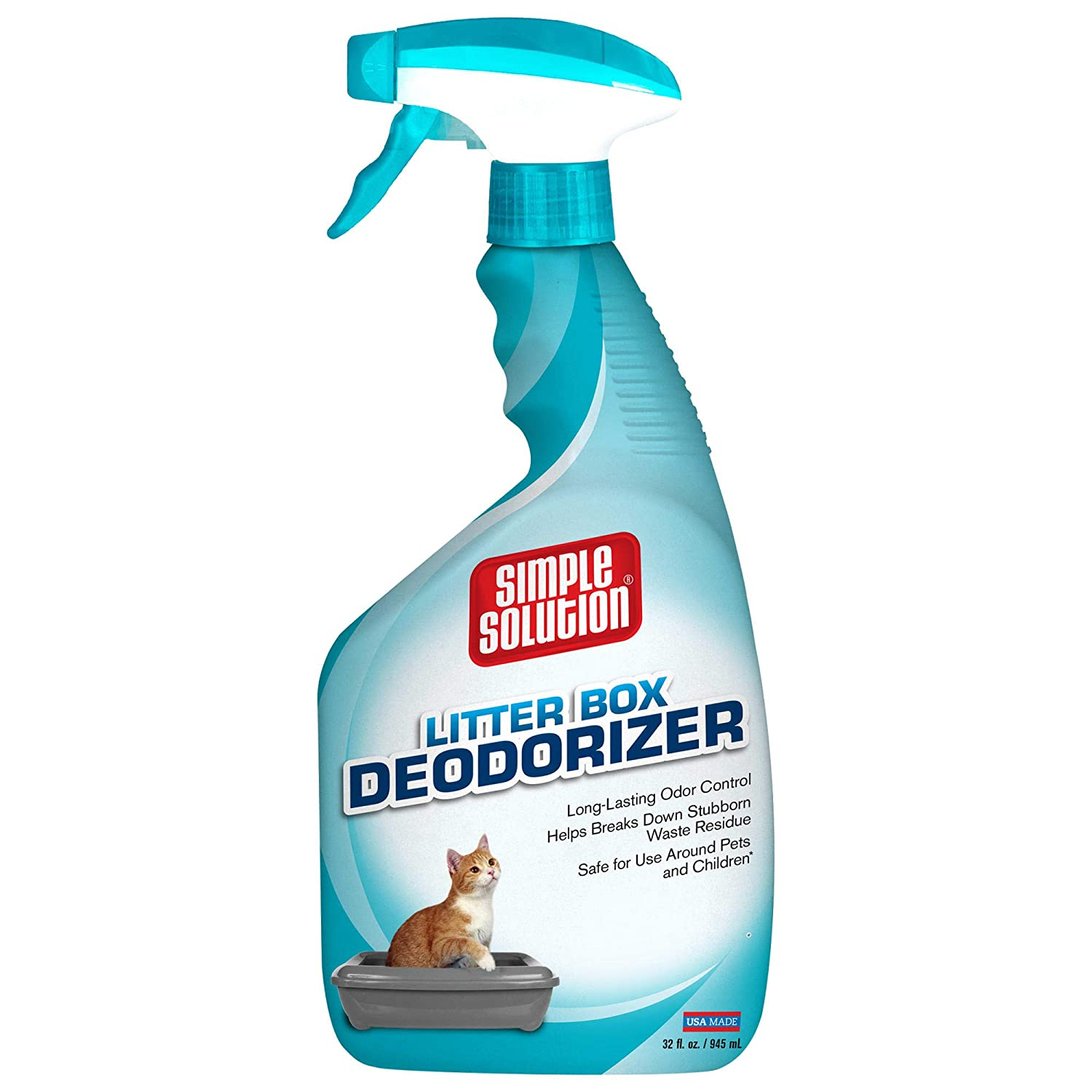 I was thoroughly impressed with the results of this product. It is specifically designed to control odors in the sandbox.
This litter box odor destroyer does so with a blend of enzymes and bacteria. These natural ingredients work to break down and eliminate the organic matter that can cause odors in the litter box, resulting in a fresher, cleaner-smelling environment for both you and your cat. In addition, it is free of toxic chemicals.
I really enjoyed Simple Solution Cat Litter Box Deodorizer's ease of use. It neutralized all nasty smells when I sprinkled it over kitty litter. It's also safe to be used for all types of litter.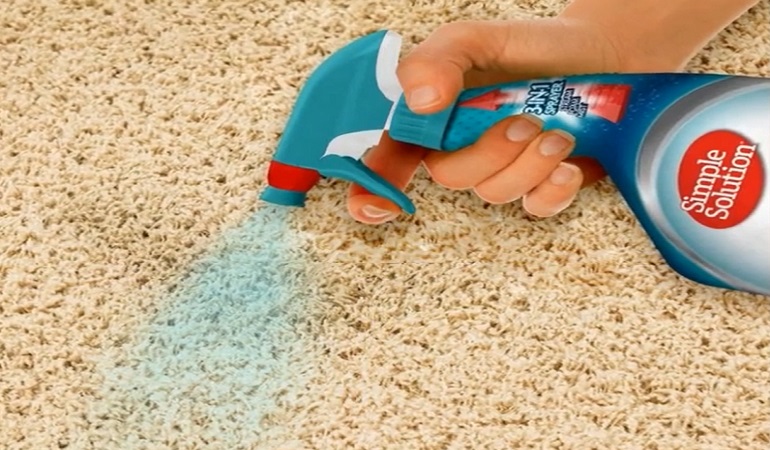 Pros
It works extremely fast and has a long-lasting litter life.
You won't have to use much of it so the whole shaker bottle will last you a long time.
The odor control is very effective.
Cons
Super expensive compared to others on this list. This is the only reason why this deodorizer is in the last spot. It if were any cheaper, it would be much closer to the number 1 spot.
Simple Solution Cat Litter Box Deodorizer
The Price of "Simple Solution Cat Litter Box Deodorizer" varies, so check the latest price at
Choosing the Best Deodorizer for the Cat's Litter Box: What to Look for?
When choosing the best litter deodorizer, there are a few things you may want to consider:
The Number of Cats in Your House
Choose the best litter deodorizer based on your cat count. Choose a stronger deodorizer for multi-cat households. This is because more cats may litter and smell worse.
However, your litter box size and litter type are also important. Clumping litter may manage multiple cats without the stink, but a smaller box and non-clumping litter may cause more odor.
Litter Box Location
Cat litter deodorizers depend on litter box placement. In a tiny, confined location like a bathroom or closet, the cat's sandbox may smell worse and be harder to clean. Choose a stronger deodorizer to eliminate any bad smell.
If the sandbox is in a bigger, open place, the scents may be less obvious, and a less potent deodorizer may work. Consider the litter tray room's ventilation. Ventilation reduces smells.
Type of Litter Box
Some litter boxes perform better with deodorizers. A motorized litter box may make odors worse. To eradicate odors, use a stronger deodorizer.
A milder deodorizer may help if you scoop the feces from a manual litter box. Cat litter box size and kind matter. A larger litter box with clumping litter can handle more cats without stinking, whereas a smaller box with non-clumping litter may stink even with fewer cats.
Sensitivity in Cats & Allergies
Consider allergies while buying a cat litter deodorizer. Some deodorizers have strong smells or allergens that might affect your cats' sensitive noses, so your cat reacts.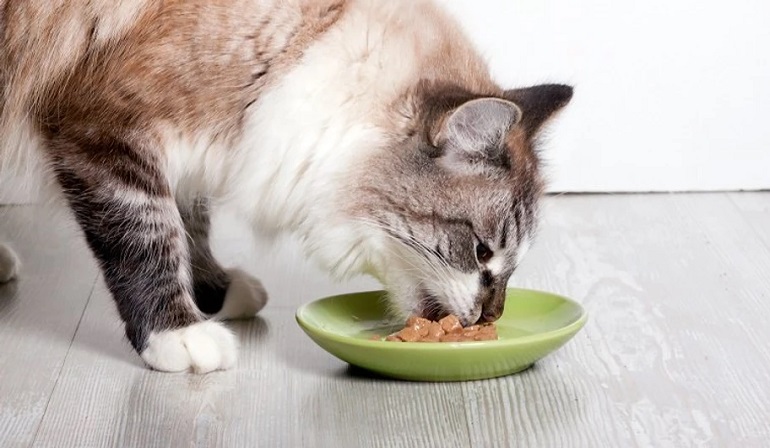 A Hypoallergenic or natural cat litter deodorizer avoids issues. These deodorizers are seldom irritating, so check the deodorizer's ingredients for allergens. Ask a doctor or vet about deodorizers if you're uncertain. They may suggest a reliable product.
Types of Litter Deodorizers
When deciding "How often you should change cat litter," consider the deodorant you want to use. Deodorizing products for cat litter come in several varieties. Here are some of the most typical:
Powder
Cat litter deodorizers can be as simple as sprinkling powdered material on top of the litter to mask odors. A common method of action is to absorb offensive smells and then release a pleasant aroma.
Spray
Cat litter deodorizers may be created using a liquid substance that is sprayed onto the litter itself. Cleansing and deodorizing the cat's litter box may be easier with its aid.
Crystals
Tiny, permeable crystals are the active ingredient in crystal-based kitty litter deodorizers. The product eliminates unpleasant scents and replaces them with a pleasant aroma.
Bags
Miniature bags or pouches are available for use with certain kitty litter deodorizers. These deodorizers often use herbs and other natural components as absorbents and neutralizers.
Liners
Deodorizing liners are available for several brands of cat litter boxes. This liner may help keep the litter box smelling fresh and make cleanup a breeze.
In order to be sure that the litter deodorizer you choose is safe for your cat, you should check the label and ingredients list. Some deodorizers may contain ingredients that could be harmful if ingested by your cat.
Final Thoughts on Cat Litter Deodorizers
Deodorizers for litter may be a helpful tool for maintaining a clean, odor-free environment surrounding the litter box. Powders, sprays, crystals, and liners are some of the many available forms that may either absorb and eliminate smells or disguise them with a pleasant aroma.
Consider the deodorizer's efficacy, safety, scent, convenience of use, pricing, and compatibility with your cat's litter before making your decision.
To protect your cat's health and your peace of mind, it's crucial to take the time to find and choose a good deodorizer for the litter box.
Due to its effectiveness and reasonable price, Nonscents Cat Litter Deodorizer is my top pick.
All the other goods on the list are top-notch as well; I'm certain you'll discover one that suits your needs and those of your pet cat.