I'm going to take a wild guess… you don't enjoy cleaning your cat's litter box.
It won't come as a surprise to you, but nobody likes cleaning a litter box. Some parents might assign walking the dog to children as a simple chore but cleaning a litter box is more than a simple chore – it's an unpleasant task.
So, why not make it easier with the best cat litter?
But you're not just buying cat litter for yourself to make things easier. Like all cats, I imagine yours is pretty fussy and has high standards. And if the best cat litter you choose isn't up to scratch, it might lead to a few accidents.
And more than that, it can control odors to keep the house smelling fresh. So let's think about the best kitty litter that will do the job well.
Best Overall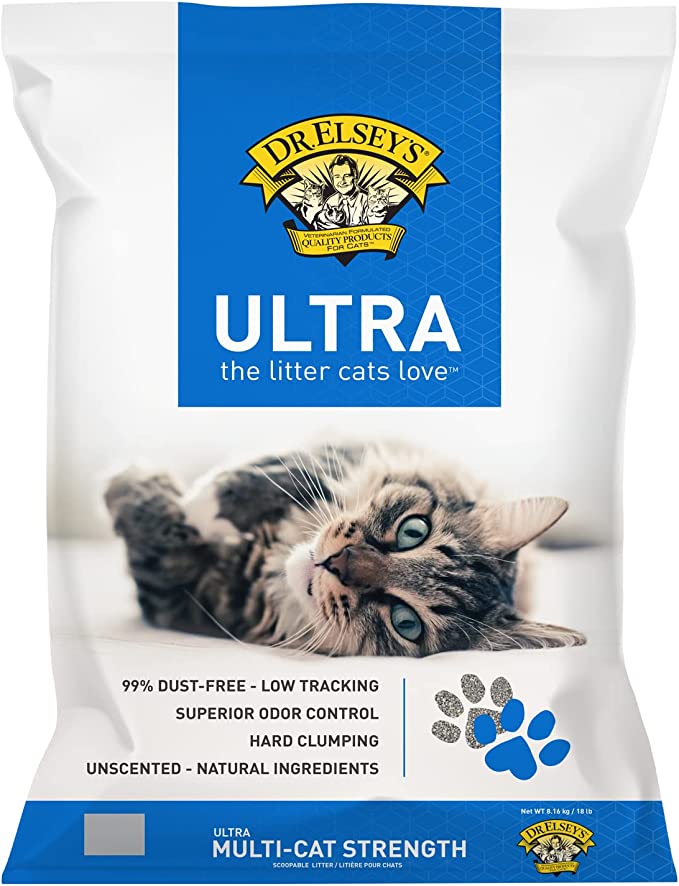 Dr. Elsey's Cat Litter
Brand: Dr. Elsey's
Material: Clay Litter
Best Eco-friendly Option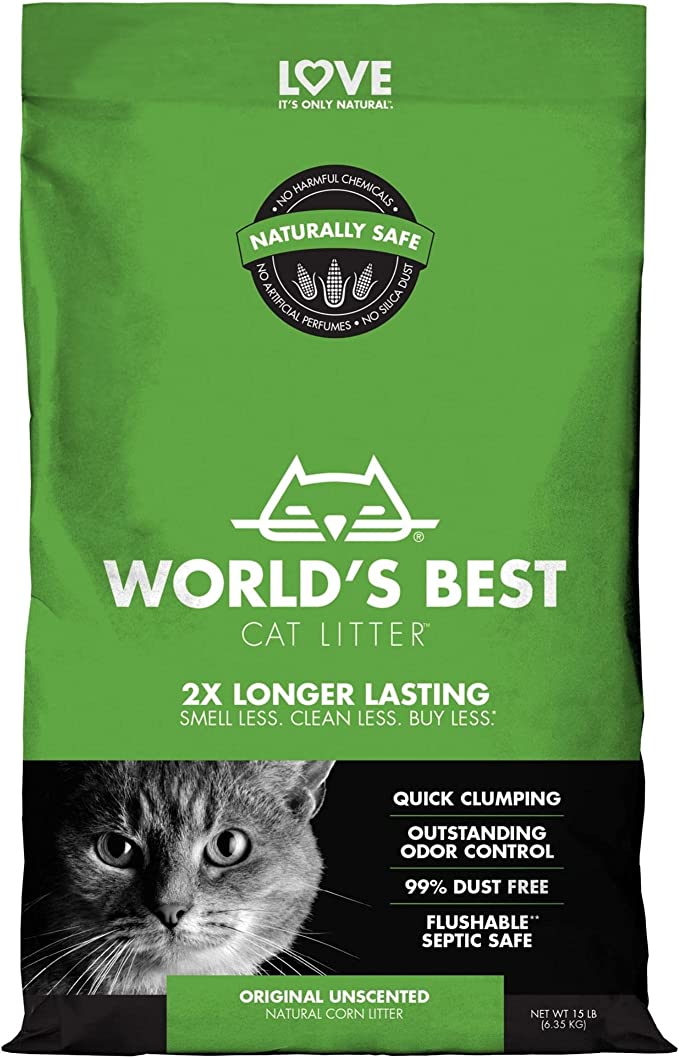 World's Best Cat Litter
Brand: World's Best Cat Litter
Material: Corn
Best Splurge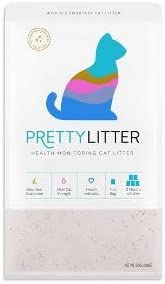 Pretty Litter Cat Pet Litter
Brand: PrettyLitter
Material: Ultra Fine Silica Gel Crystals
Premium Choice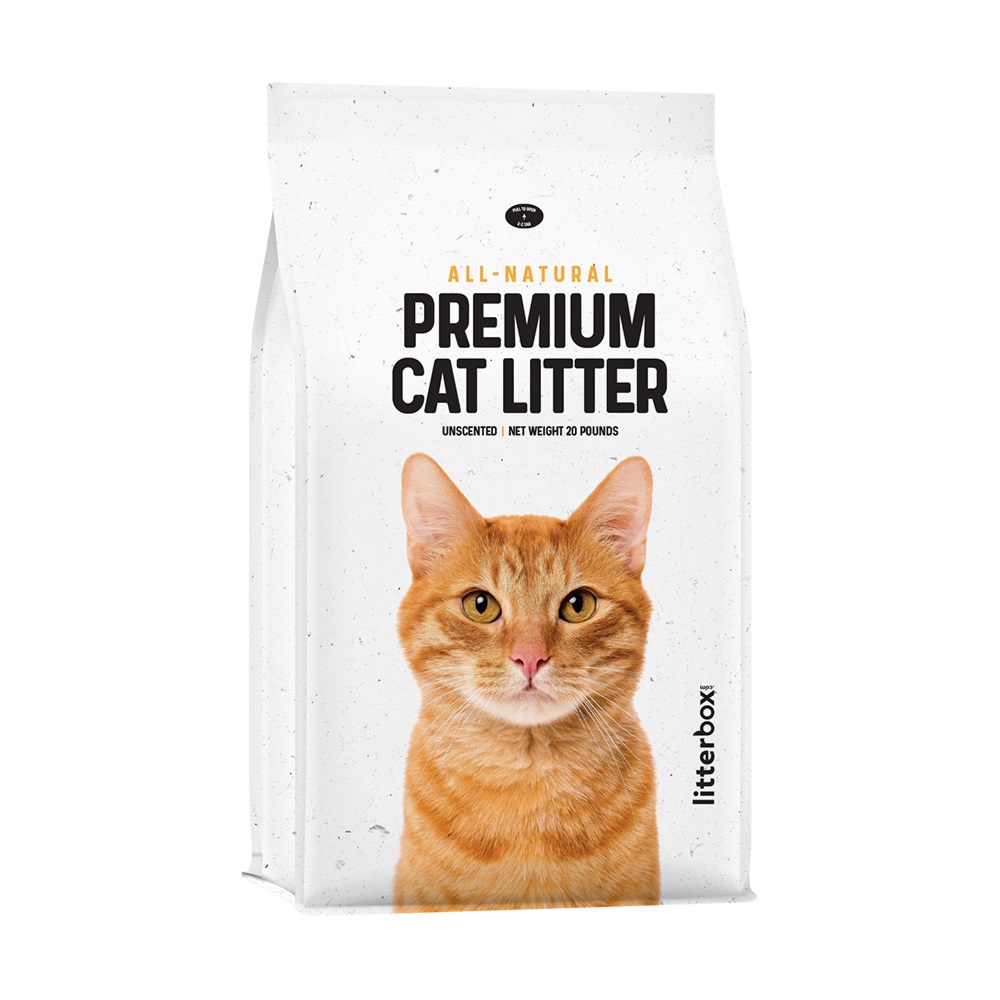 All-natural Clumping Cat Litter
Brand: Litter Box
Material: Clay
For Fussy Cats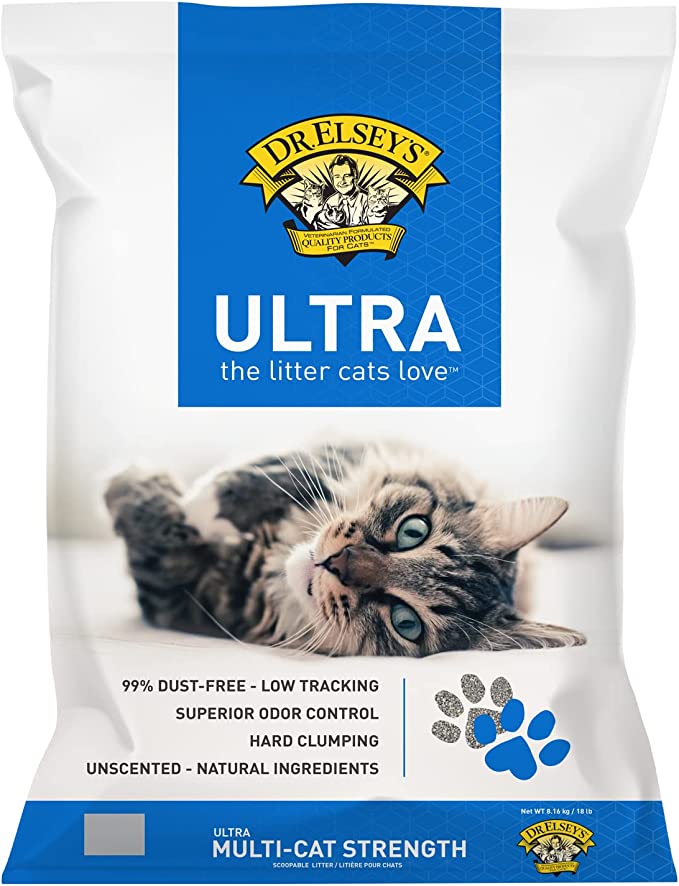 Dr. Elsey's Clumping Clay
Brand: Dr. Elsey
Material: Clay Litter
All-in-One System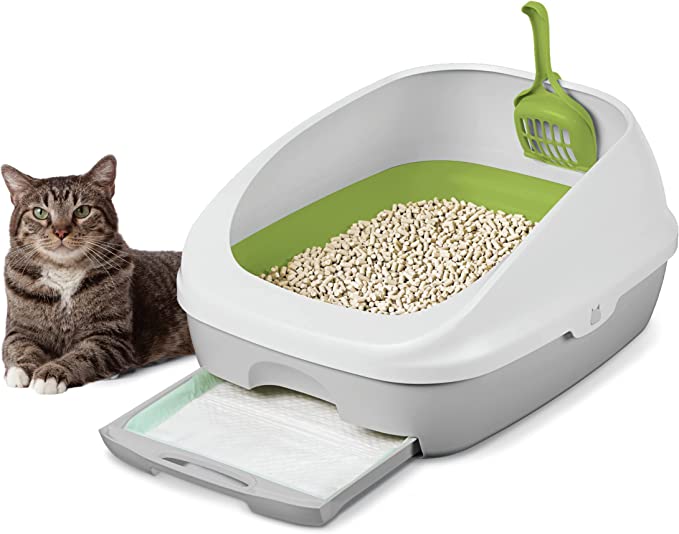 Tidy Cats Breeze Cat Litter-Box System
Brand: Purina Tidy Cats
Material: Neat Floors
For Sensitive Paws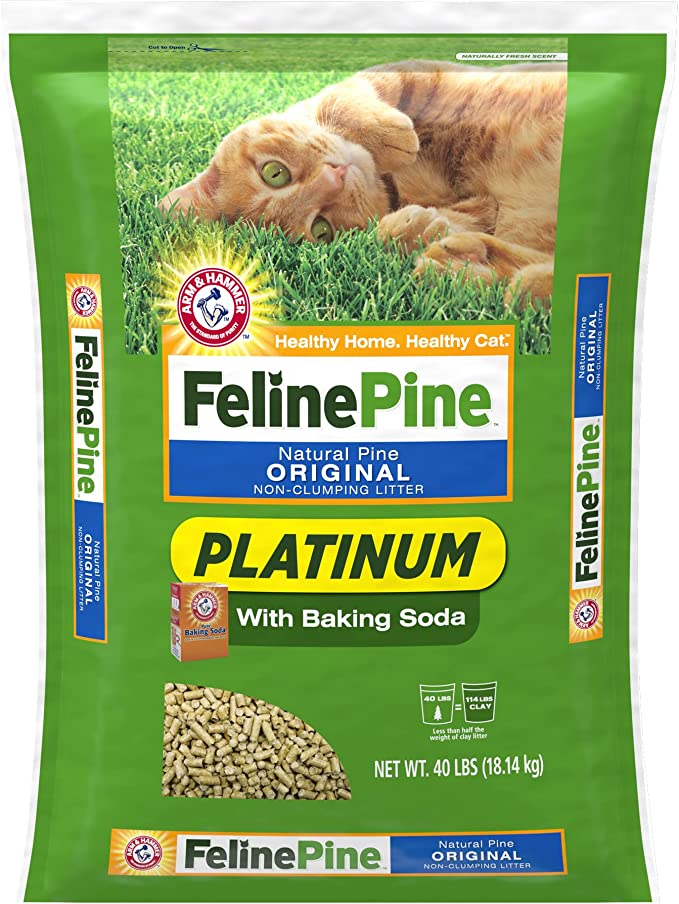 Arm & Hammer Feline Pine Platinum Cat Litter
Brand: Arm & Hammer
Material: Pine
Affordable Natural Option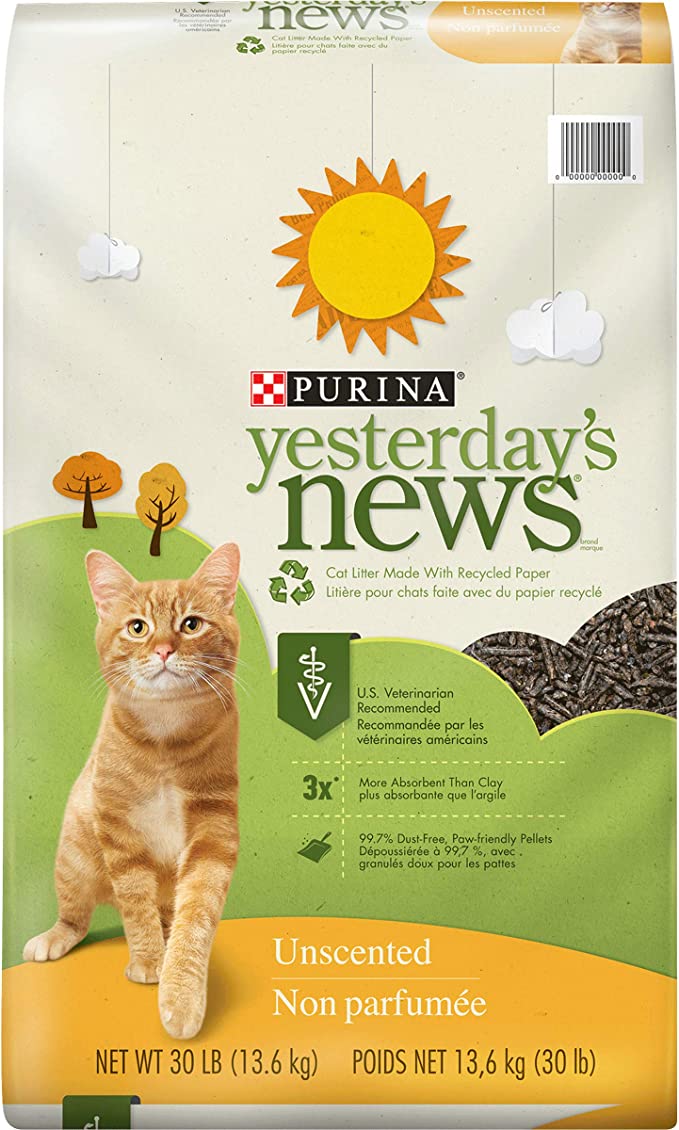 PURINA Yesterday's News
Brand: PURINA Yesterday's News
Material: Other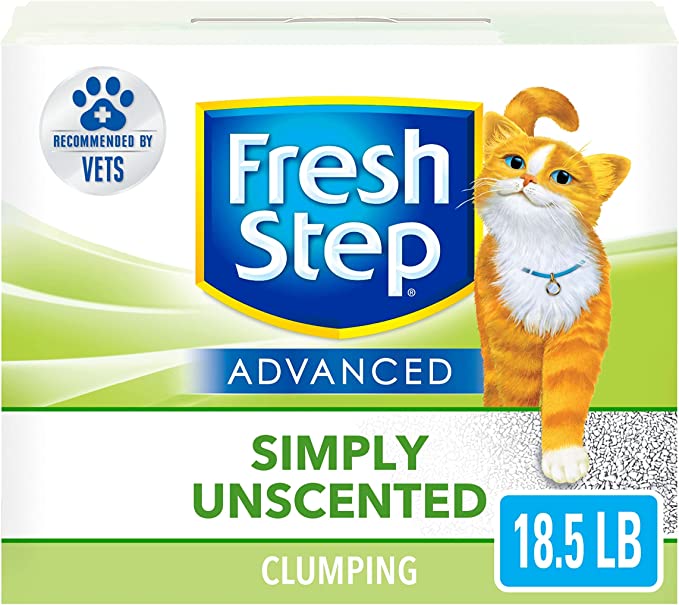 Fresh Step Cat Litter
Brand: Fresh stop
Material: Clay
Our Top Picks of the Best Cat Litter
The best cat litter has a few boxes it needs to tick to be an effective one. It needs to control odors well, be easy to clean, and not make a mess by sticking cat waste to your cat's paws or releasing clouds of dust.
Not all cat litter is created equal, so it's wise to have a look at the best kitty litters available and see which ones suit you and your kitty best.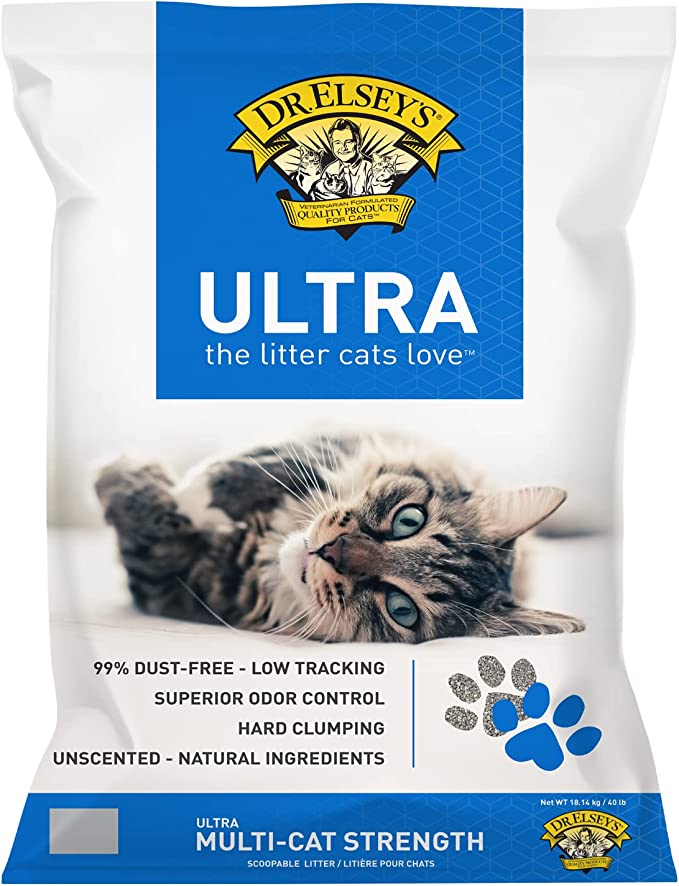 Dr. Elsey's cat litter aims to meet in the middle, hoping to please both cats and cat owners at the same time with their very own veterinarian-formulated solutions.
Since they use science to create great products, they often come at a premium price. However, they themselves admit that their priority is on pets, not profits – so it's very affordable for what it is!
This premium-quality cat litter is made from natural ingredients, specifically 100% bentonite clay. That's important since it ensures the litter clumps really well, stopping moisture from sinking to the bottom of the tray and making it easier to scoop and clean.
It's hypoallergenic and low-dust to keep your cat's health in tip-top shape too. Still, it's not completely free of dust.
Controlling the odor your cat might leave lingering around the house is the bedrock of any good cat litter, and this one's no exception. It helps eliminate any smells to keep your house smelling fresh whether you have one cat or more.
And the medium-grain clay helps reduce tracking so your cat won't leave little specks of litter all over the house, keeping it in the box where it belongs.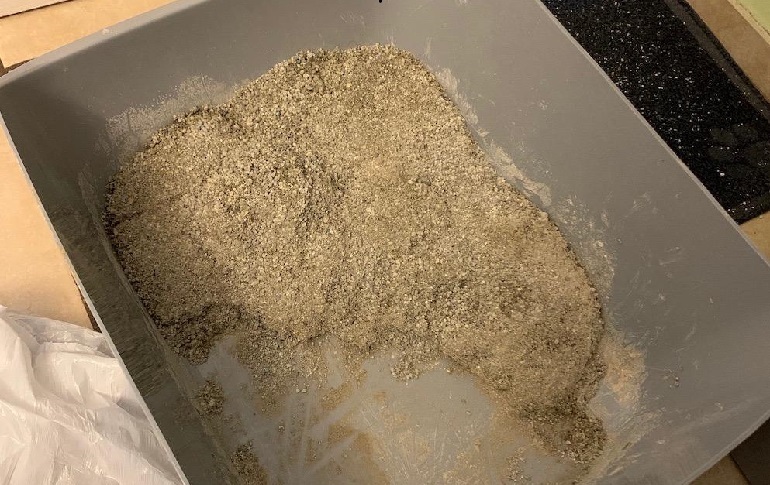 You only need to fill a box with 3–4 inches and scoop it out twice a day, replacing the whole litter box just once a month. Make sure you don't flush it away; instead, simply dispose of it in a trash bag.
You might need to get a heavy-duty bag though, since the litter can be quite heavy when all scooped up together.
Pros
Affordable
Large granules minimize tracking
Clumps well and is easy to scoop
Controls odors well
Minimal dust
Unscented makes it better for sensitive cats
Cons
Heavier than others when cleaning out bags
Not completely dust-free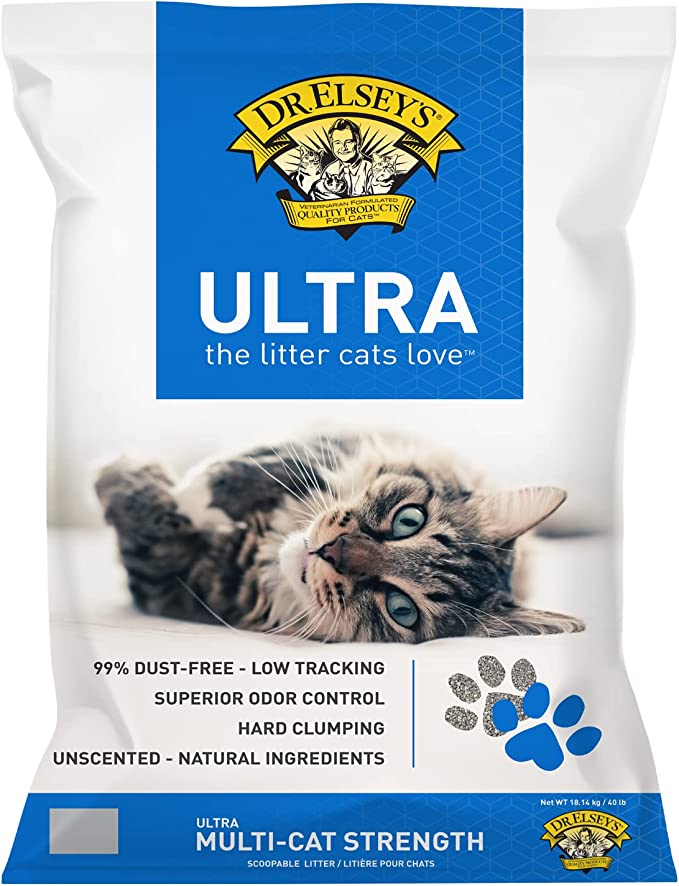 Dr. Elsey's Cat Litter
The price of "Dr. Elsey's Ultra Cat Litter" varies, so check the latest price at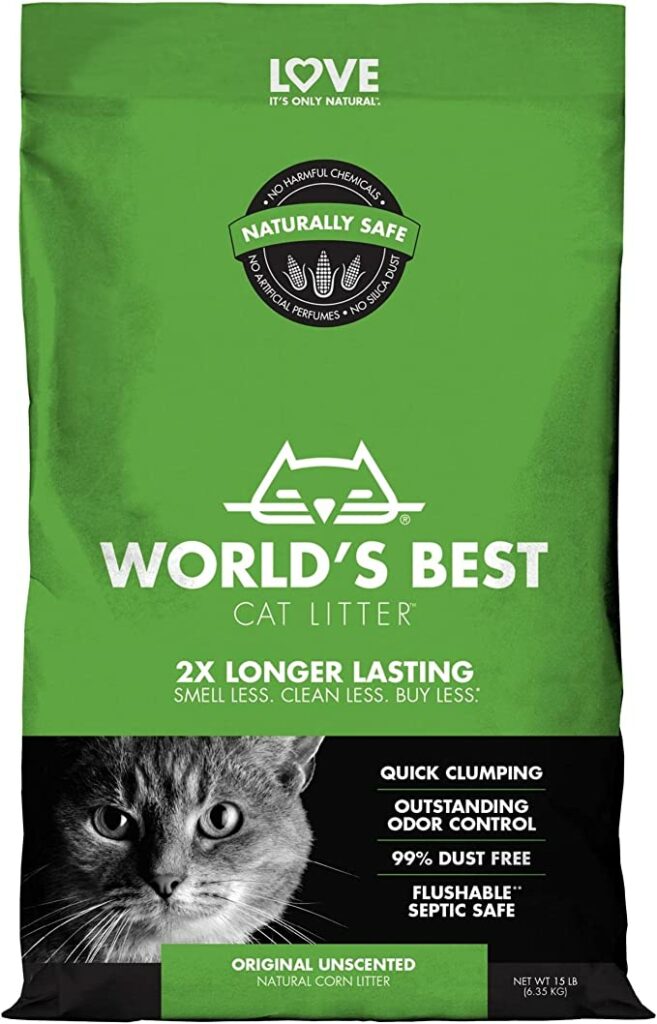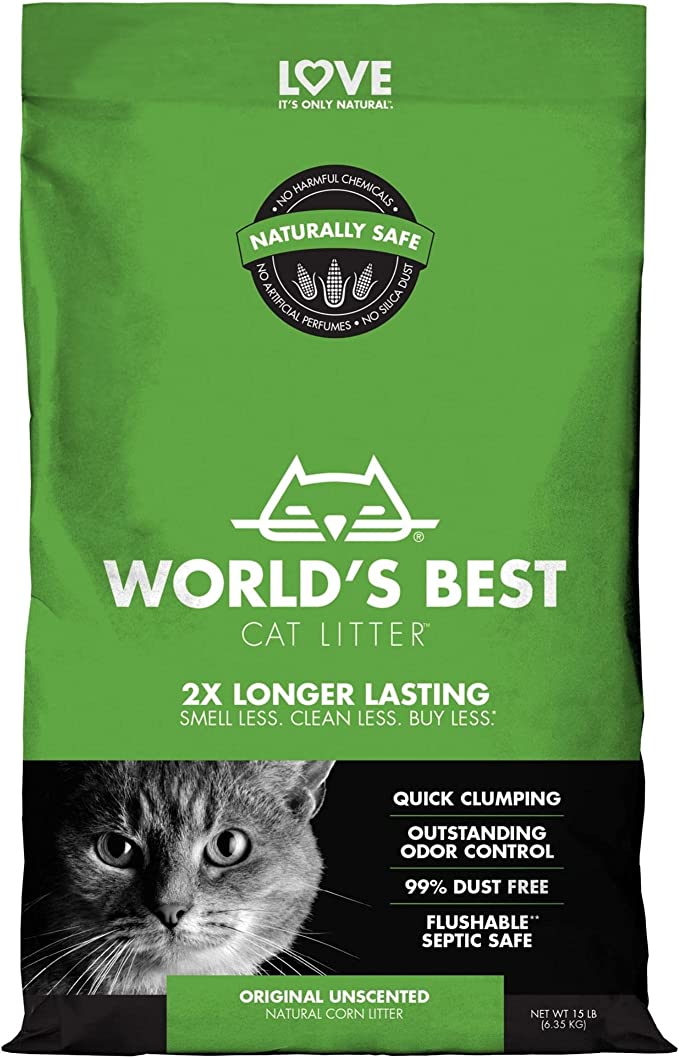 More than ever before, it's important for us all to think about the environment and do our bit. If that's one of your main priorities, an eco-friendly cat litter like this one might be perfect.
Even better, it lasts longer than a lot of other cat litter, making it more cost-effective. However, it's still a fairly expensive litter.
There are no pesky smells to annoy you or your cat. It's naturally effective at controlling odors for you, keeping your cat's litter box fresh, and eliminating smells they might leave.
And for your cat, it's a natural and unscented litter, meaning there's no extra fragrance to upset your cat's sensitive nose.
It's super simple to dispose of too – you can just flush it away down the toilet! It's completely flushable and septic-safe. It's tested and proven to be safe, so don't worry about it clogging.
Natural litters are not just safe for your drain either; they're safe for you and your cat too, thanks to being almost completely dust-free and containing no silica dust to inhale. Just remember, it's not completely dust-free.
It's really easy to clean though since it clumps well, allowing for quick and easy scoops with no scraping needed. It's lightweight too, causing less tracking and ensuring there's less mess around the house to clean up.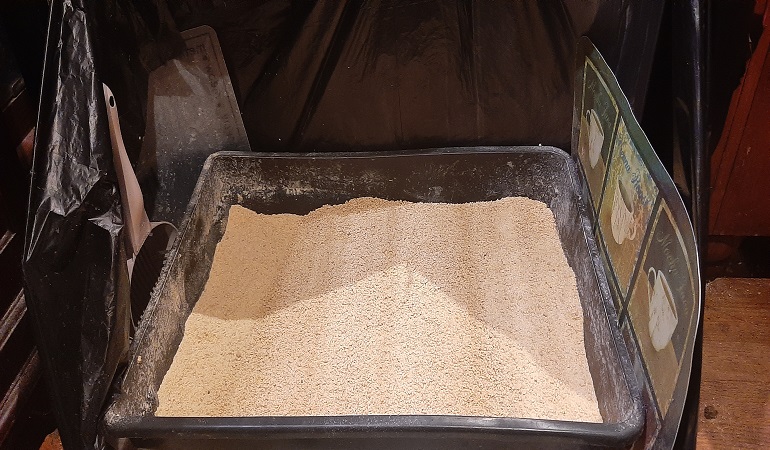 Pros
Environmentally friendly
Able to be flushed away
Effective at controlling odors
Clumping litters for easier scooping
Minimal dust
Lightweight
Cons
Expensive
Not completely dust-free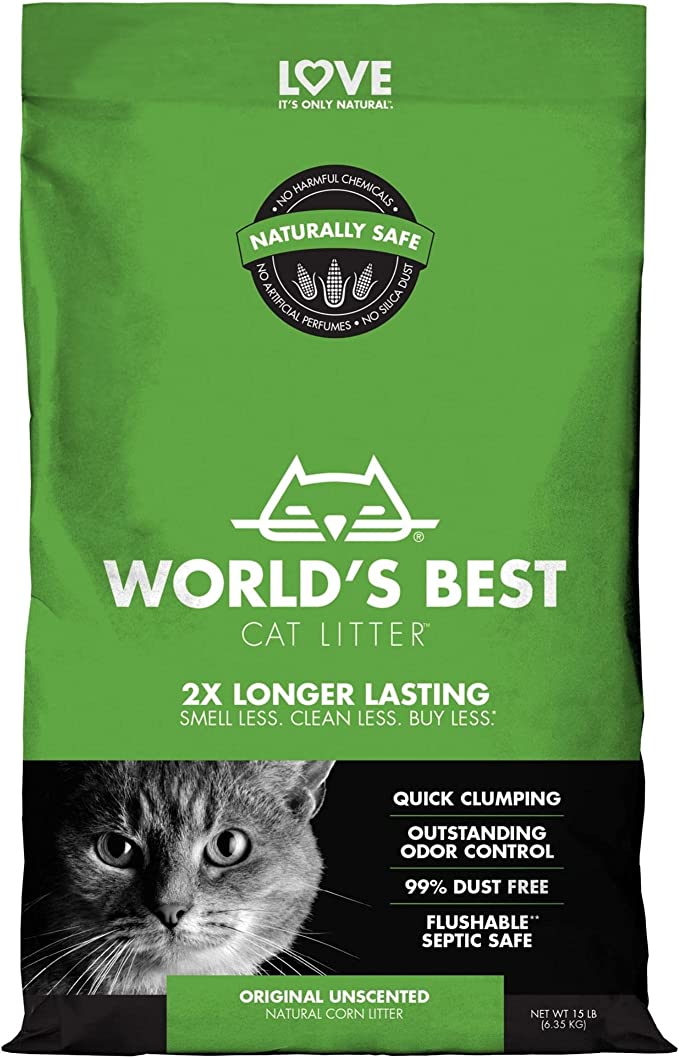 WORLD'S BEST CAT LITTER
The price of "WORLD'S BEST CAT LITTER" varies, so check the latest price at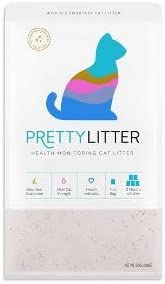 With plenty of 5-star reviews from users, PrettyLitter is certainly a well-liked cat litter.
And it's convenient too, with just one 8lb bag lasting you two months, so you don't need to worry about always replacing it. But the highlight is that this is the best cat litter to protect your cat's health.
Unlike other cat litter, PrettyLitter tells you all you need to know about your cat's health. Whenever they go to the bathroom, the litter changes color to tell you how they're doing.
Leaving the litter dark yellow or olive green, means everything's fine; blue means high alkaline levels, indicating urinary tract infections or an increased risk of stone formation; orange means high acid levels, indicating metabolic acidosis or kidney tubular acidosis; and red means bladder crystals, FLUTD, or kidney disease.
Understanding how your cat's health is based on the colored litter they leave means that you know immediately when things aren't normal and when they need a trip to the vet or need a different cat food.
Made from highly absorbent silica gel, its lightweight crystals dry out any solids your cat leaves in there and traps the liquid, controlling the odors effectively.
Each refill is good to go for 30 days, even in a multi-cat household, meaning you only need to refill this non-clumping cat litter once a month. But towards the end of its life, its odor control is less effective.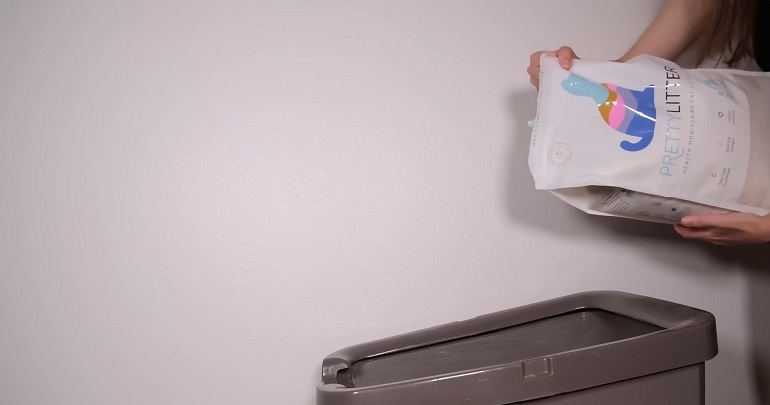 You ought to be aware that it doesn't clump though – but that's not necessarily a bad thing; that's just how this one works. Instead, it absorbs all liquids and nasty smells and dries out the solids. All you have to do is scoop out the colored parts and solid lumps.
However, you have to be diligent in scooping away the wet parts regularly, since damp litter sticks to your cat's paws easily, leaving tracks all over the house if you're not careful.
Pros
Color changes indicate cat's health
Absorbs liquids and dehydrates solids
Bag lasts up to two months
Only needs refilling once a month
Great at controlling odors
Soft texture for cat's paws
Cons
Expensive
Doesn't clump
Needs daily scooping
Odor control weakened when overly saturated
Silica gel litters can cause a mess in the house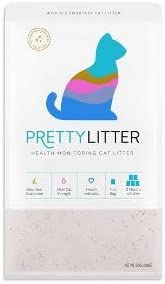 Pretty Litter Cat Pet Litter
The price of "Pretty Litter Cat Pet Litter " varies, so check the latest price at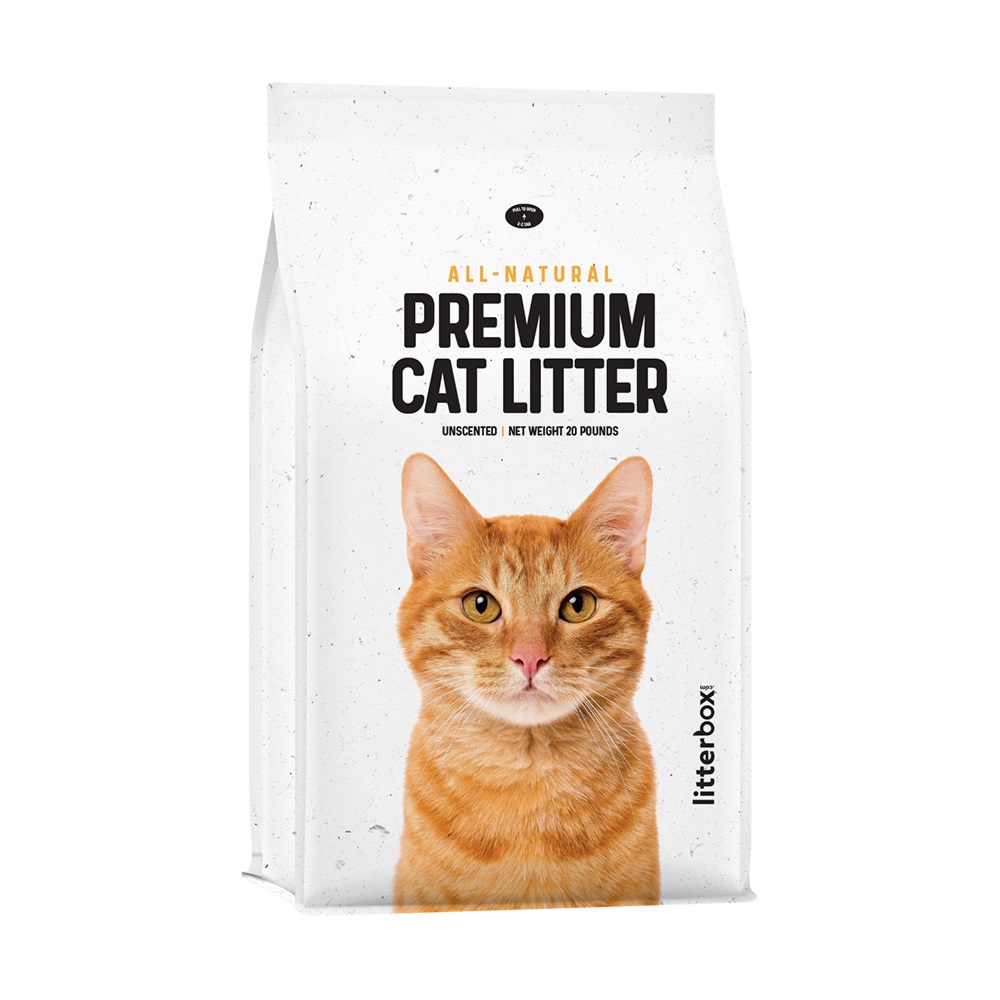 When it comes to the best cat litters, this premium, all-natural cat litter treats you like a premium customer by delivering straight to your front door. Just sign up for a subscription plan, customize it as much as you want, and get shipping for free!
This is the best natural cat litter, made from sun-dried sodium bentonite clay with nothing else hidden inside. This means that it has a soft texture that's gentle on your cat's paws, making it better than other litter.
It's also beneficial for your cat's nose since it's unscented with no added fragrance to irritate them. As for you, it's effective in trapping and eliminating any odors your cat leaves behind.
You won't have any issue with cleaning it up either. Although it's not completely dust-free, it's still fairly low-dust, reduces tracking, and clumps well to make it nice and easy to scoop up and clean.
Pros
Hard clumps that are easy to scoop
Compatible with most automatic litter boxes
Unscented litter better for sensitive cats
Can be delivered with a subscription
Controls odors well
Cons
Expensive
Not completely dust-free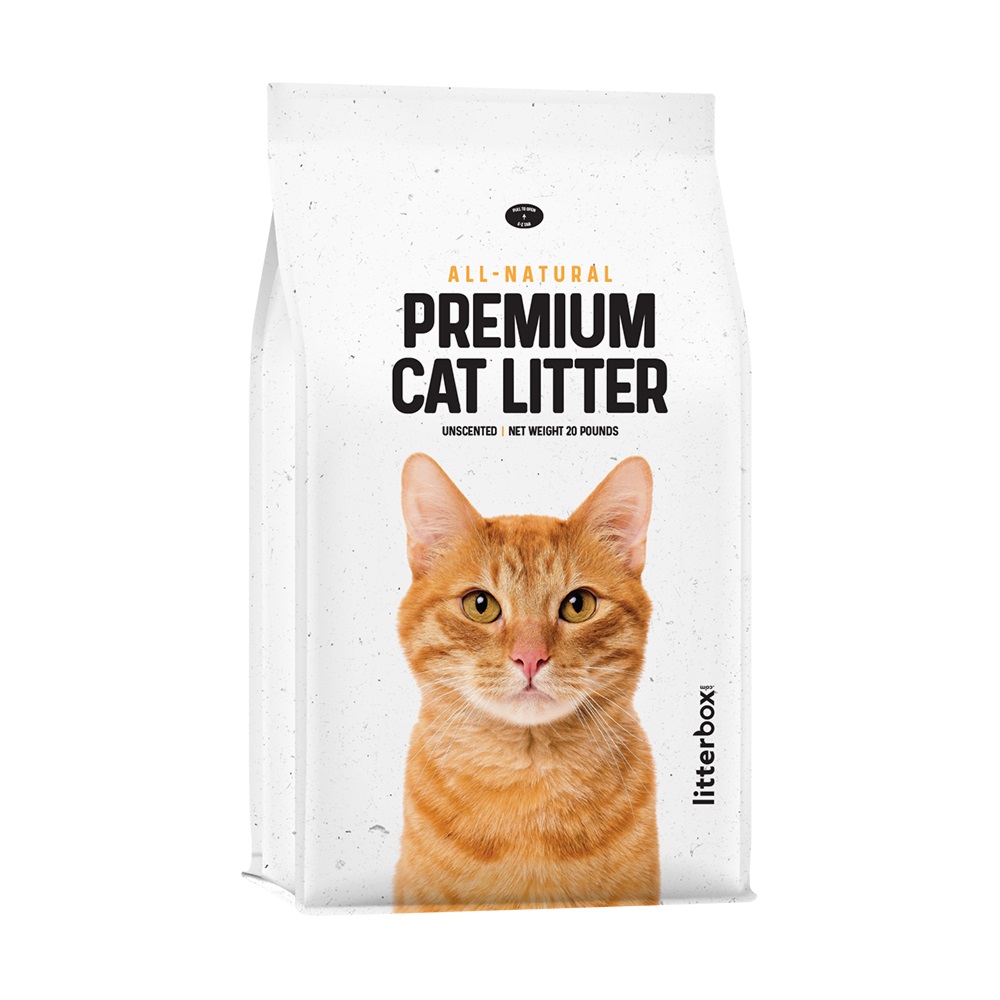 All-natural Clumping Cat Litter
The price of "All-natural Clumping Cat Litter " varies, so check the latest price at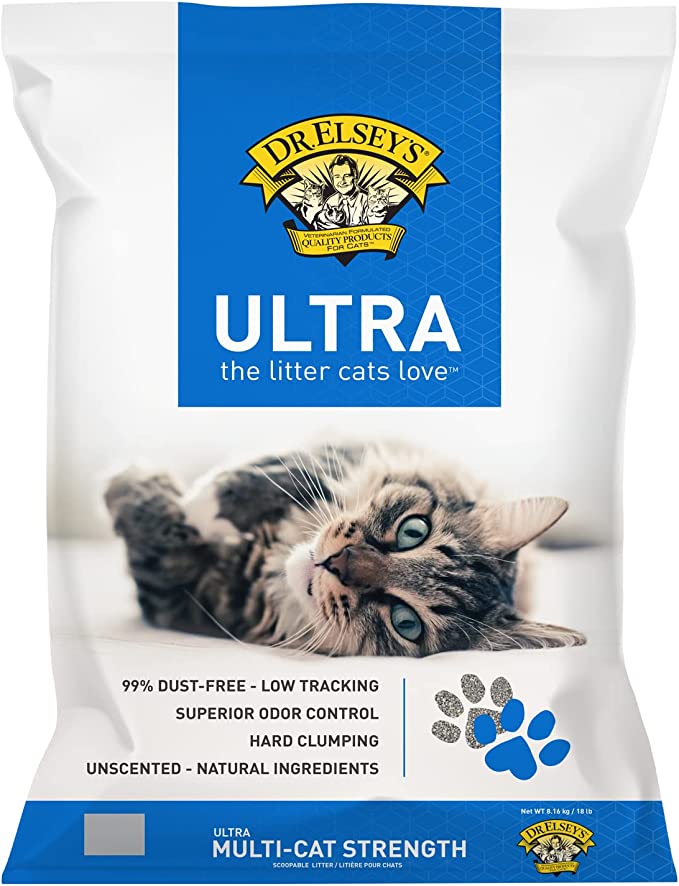 Have you got a kitten? Or is your cat a particularly stubborn one? If you're struggling to get your kitty to actually use its litter box, this might be the cat litter to go for.
Blended with a natural herbal scent, this one actively attracts most cats and encourages them to use the cat litter.
The clumping clay litter has a particle size and texture they like too to keep them in there. It's effective in getting your cat to use their litter box, but it comes at a price since this litter is more on the expensive side.
This litter makes life so much easier for you. Besides actually making your cat use their litter box, it's excellent at controlling odors and clumping. This makes it easier for cleaning and works well with automatic litter boxes as well.
It's not all perfect though, since it can leave quite a bit of dust and be heavy when disposing of it in a trash bag.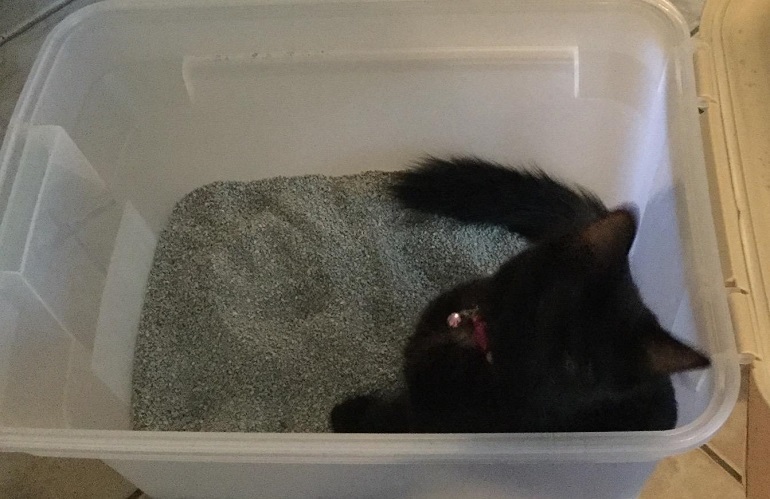 Pros
Herbal scent encourages cats to use the clumping litter
Particle size and texture that cat's like
Reduces lingering odors
Solid clumps are easy to scoop
Cons
More expensive
On the heavy side
Not completely dust-free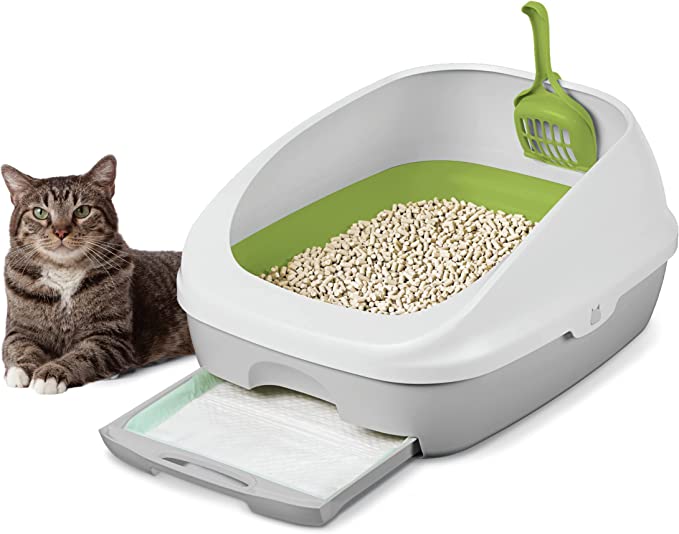 Purina Tidy Cats Breeze Cat Litter-Box is a whole all-in-one system that comes with its own scoop. More than that, it comes with the litter box itself as well as 3.5 lbs of litter pellets and pads.
These disposable pads set this one aside from the others. It works by absorbing liquids so the litter box remains dry and traps the ammonia odor for a fresh-smelling house. And it's convenient since you only need to replace the pad once a week.
The litter pellets repel the urine to let the pad absorb it all, meaning your cat doesn't leave any clumps to scoop up – just solids! And the pellets control the odor by dehydrating your cat's solids.
However, disposable pads aren't particularly environmentally-friendly. Nor is the system, since the whole thing needs to be replaced once the urine seeps into the box's plastic.
However, the pellets are specifically designed to create less mess. It's very low on dust and is anti-tracking, ensuring that the pellets are kept inside the litter box where they belong for clean floors and less cleaning. It's worth being aware that not all cats are keen on the pellets though!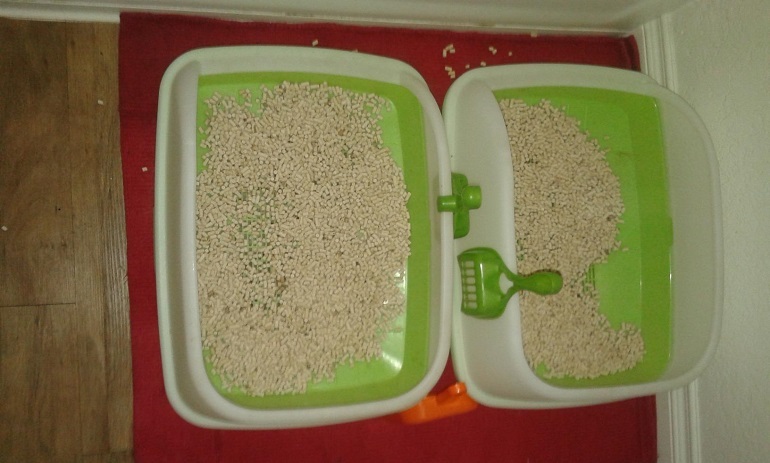 Pros
All-in-one system
Dehydrates solids to control odors
Absorbent pad on bottom for liquids
Low-dust and anti-tracking for less mess
Cons
More expensive
Costly upkeep
Pellets aren't liked by all cats
Not environmentally friendly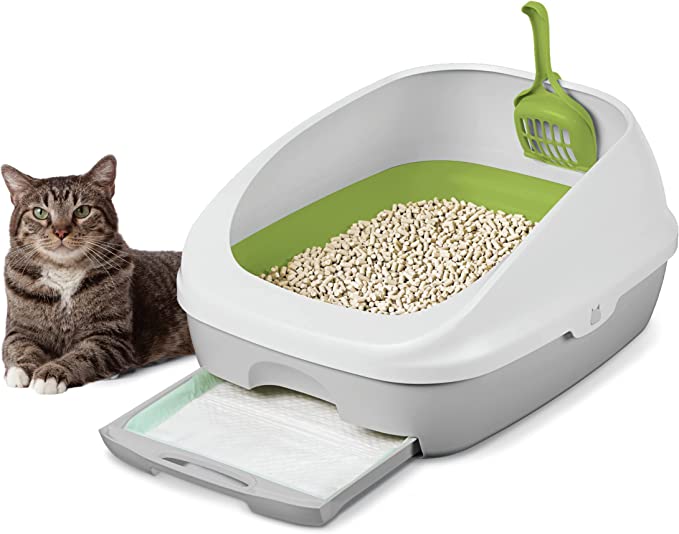 Tidy Cats Breeze Cat Litter-Box System
The price of "Purina Tidy Cats Breeze Litter System" varies, so check the latest price at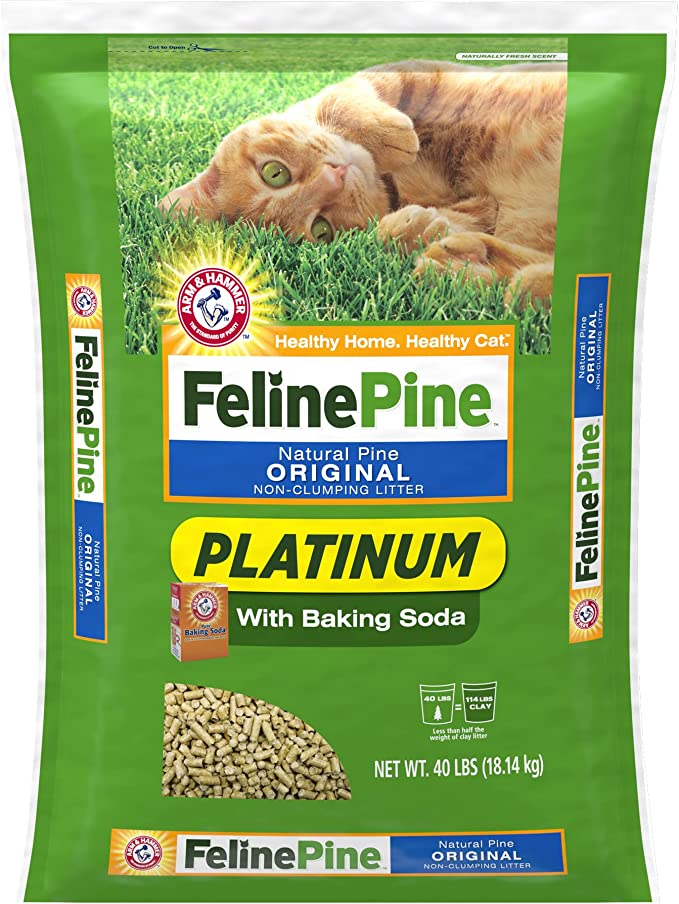 Arm & Hammer kitty litter is everything you'd hope for a cat litter: it's unscented, all-natural, and comes with less tracking and dust – and it's environmentally -friendly too!
Made from natural pine and baking soda, there are no extra chemicals or anything synthetic, making it perfectly pet-friendly.
It's sustainable too since the pine is sourced from kiln-dried shavings from lumber production, meaning no extra trees are cut down to make it.
The kitty litter is highly absorbent too, since the pine fibers are like sponges, soaking up the liquid while the baking soda traps in the ammonia odor and neutralizes the smell.
The only downside is that the pellets can get mushy and create a bit of a mess if you're not careful. It can also be difficult to separate the solids and scoop them out without taking lots of other litter too.
The sawdust shavings are velvet soft on your cat's paws though, resulting in much less tracking than ordinary clay litter. Still, if there is any, then it's very obvious and easy to clean up. It's a particularly lightweight litter too, making it even easier to dispose of in the trash.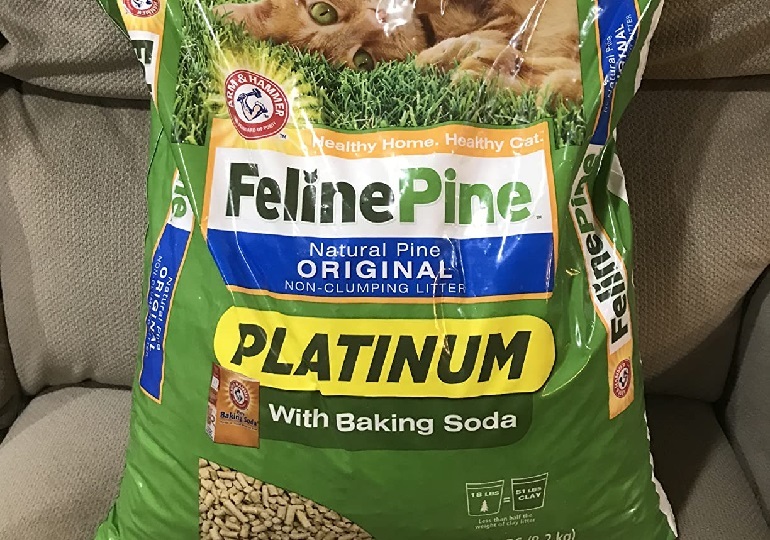 Pros
Sustainable and environmentally-friendly
Excellent at neutralizing odors
Soft texture for paws
Reduces tracking and low dust
Lightweight cat litter
Cons
Fiddly to scoop solids out
Wet litter can get mushy and make a mess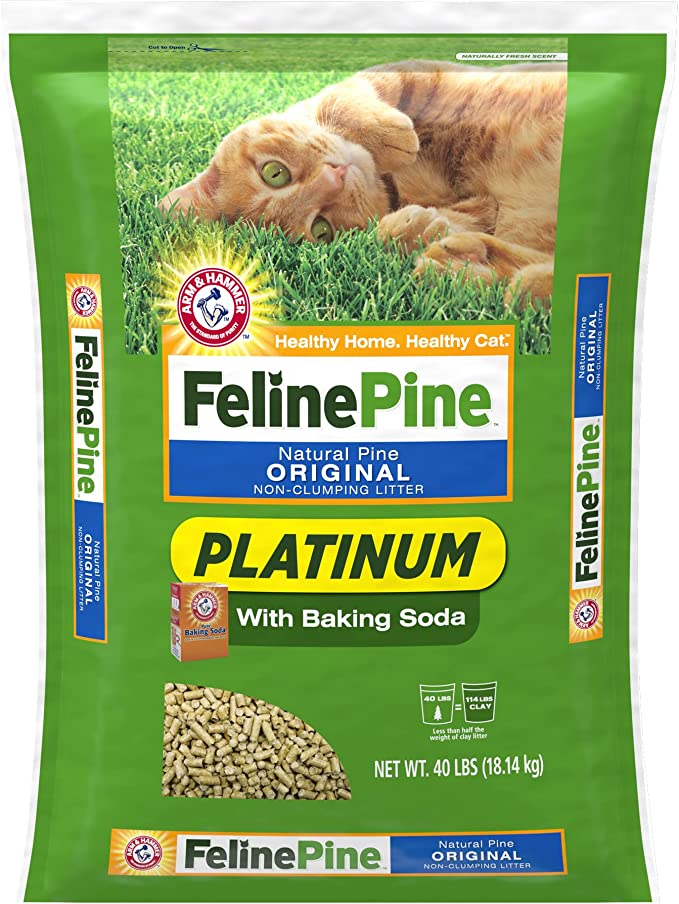 ARM & HAMMER Cat Litter
The price of "ARM & HAMMER Cat Litter" varies, so check the latest price at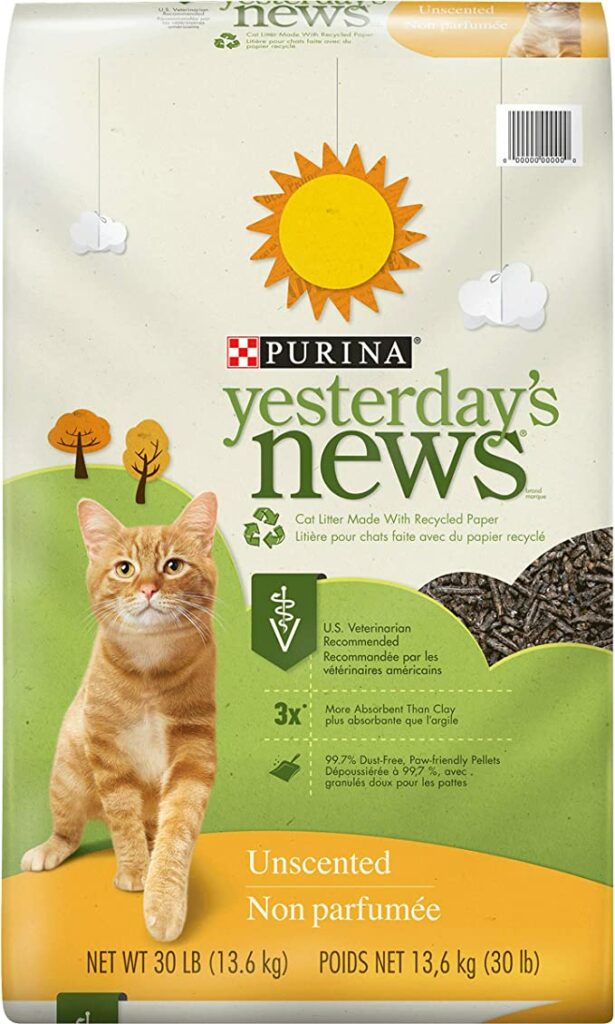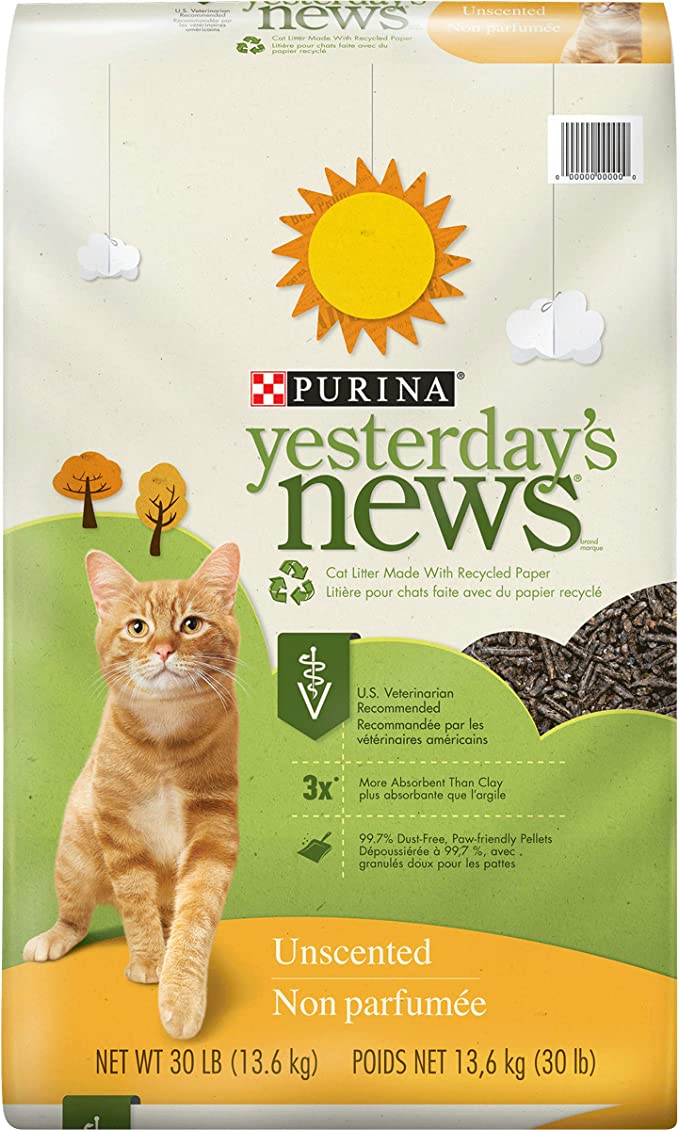 What happens when you throw a newspaper away? If you recycle them (which you should be doing anyway), they might end up in your cat's litter tray…
Purina's Yesterday's News is made from unscented paper pellets produced from recycled paper. It might sound simple, but it's effective and actually the number 1 veterinarian-recommended eco-friendly cat litter.
And that's no surprise since Purina has been a trusted brand since 1987. In fact, it's so environmentally friendly, it even comes in recyclable packaging too!
Though made from paper, the pellets work very well. They are three times more absorbent than clay and still clump for scooping.
However, these clumps are soft and can break easily, making them harder to scoop. Still, the pellets are effective at controlling odors, gentle on paws, reduce tracking, and are almost completely dust-free.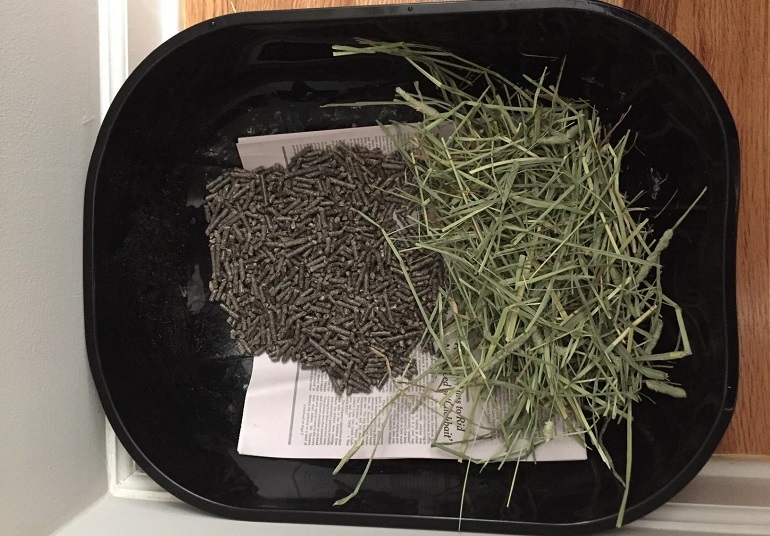 Pros
More affordable than some eco-friendly litter
Low-tracking and low dust leave little mess
Sustainable and environmentally friendly
Very absorbent
Pleasant texture for cats
Cons
Clumps break apart easily
You end up using more litter than others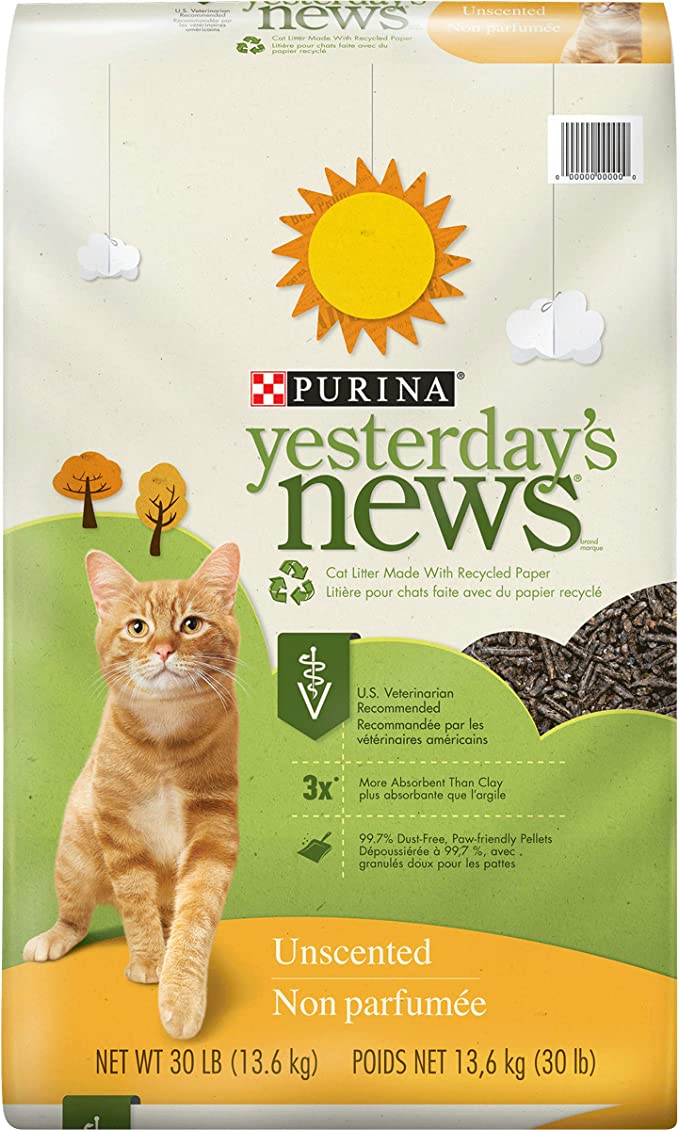 PURINA Yesterday's News
The price of "PURINA Yesterday's News" varies, so check the latest price at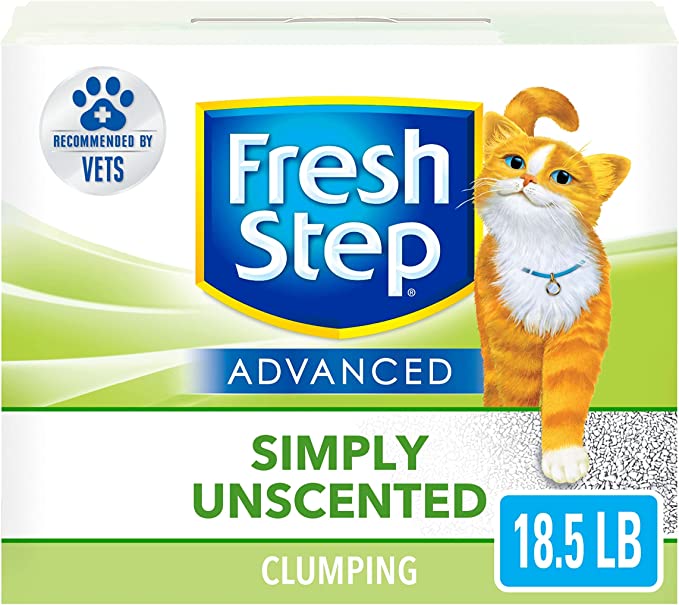 Fresh by name, fresh by nature. This clumping litter comes without any fragrances, meaning it's unscented for your cat's super-sensitive nose.
Still, some users have reported that it comes with some scent. Nevertheless, it still comes recommended by veterinarians.
Simply Unscented cat litter is effective for controlling odors for longer since it includes charcoal, meaning it's guaranteed to be able to eliminate odors for up to 10 days.
It's highly absorbent too, creating hard clumps for easy scooping and reducing tracking.
On one hand, Fresh Step claims to be almost totally dust-free. However, sadly there are numerous users who have reported experiencing a fair amount of dust, so take their claim with something of a pinch of salt.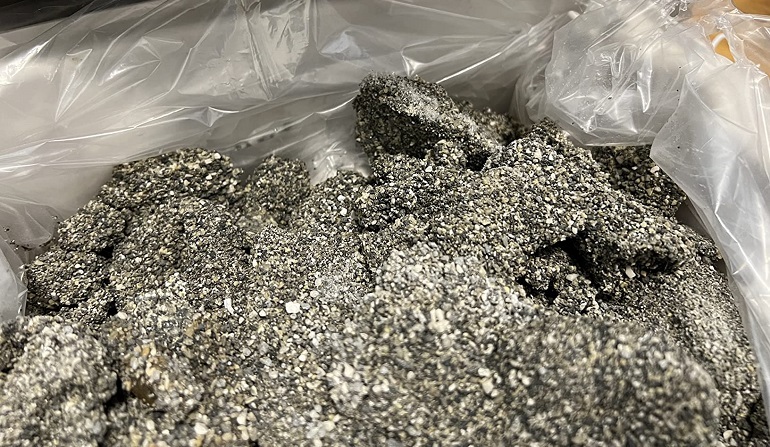 Pros
Affordable
Gentle texture for cats
Clumps well for easy scooping and less tracking
Very effective at controlling odors
Cons
Comes with a lot of dust
Vague scent reported by some users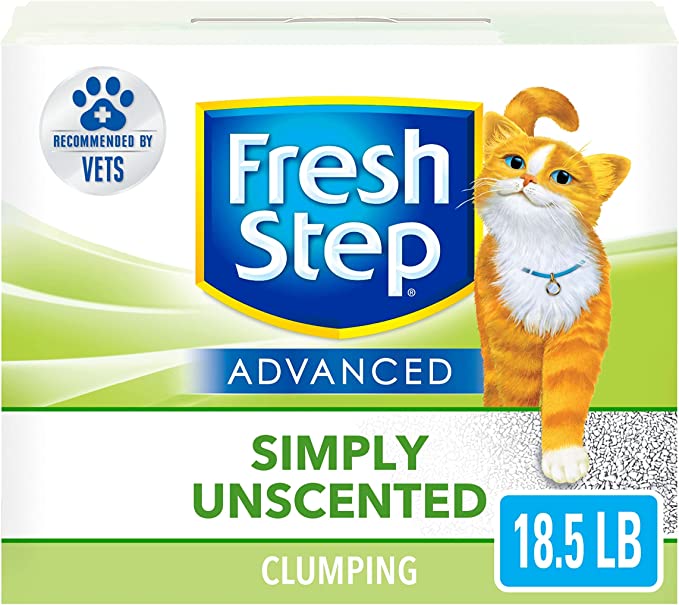 Fresh Step Cat Litter
The price of "Fresh Step Cat Litter" varies, so check the latest price at
Buying Guide: What We're Looking For
Fragrance, tracking, dust, clumping cat litter… there's so much to consider when buying litter to fill your cat's litter box. But what's most important and what do you need to keep in mind?
Here's a brief guide for what you should be looking for when buying the right cat litter.
Types of Cat Litter
It is our moral responsibility to know what is cat litter made of? Good news: there are lots of different types of cat litter available. Bad news: there are lots of different types of cat litter available… While there's a huge range to choose from, where do you start?
The choice ultimately comes down to what your cat prefers and your own priorities. Ideally, the best cat litter meets in the middle to keep both you and your cat happy. But the ideal litter will tend to be scent-free clumping cat litter.
Clay Cat Litter
If you've ever looked at cat litter available, most of it was probably clay cat litters – after all, it's the most common type, and for good reason.
There are plenty of advantages to clay litters. It's easy to find, affordable, controls odors and is able to absorb liquids to create clumps that are easy for cleaning. Additionally, it tends to be preferred by cats too.
On the other hand, clumping cat litter is heavy and can build up when you put it in a trash bag, making disposal a little trickier. Made from sodium bentonite clay from strip mining, it's non-biodegradable which is terrible for the environment.
It contains crystalline silica particles too making dusty litter dangerous to inhale. Although it's unlikely to cause any actual harm, prolonged exposure might cause some problems, so aim for dust-free or as low-dust as possible.
When buying clay cat litter, you'll find two types available: non-clumping clay litter and clumping litter.
Non-Clumping Clay Litter
Dating back to 1947, non-clumping litter was the first type released. But original isn't always better, since it's much harder to clean up when it doesn't create clumps.
Made up of absorbent clays, this litter is used for more than just cat litter boxes. They can even be used to clean up spills or dehydrate flowers.
Where possible, aim for clumping litter since it will make cleaning up considerably easier for you.
Clumping Clay Cat Litter
Clumping clay cat litter tends to be superior compared to non-clumping litter. It's made from a specific type of clay that expands over ten times its original size when wet. As it gets wet and bigger, the clumping clay cat litter solidifies into hard lumps that are easy for you to scoop away.
Just be aware that clumping clay cat litter does come with a risk. There's a slim possibility your cat could put it in their mouth and get it blocked somewhere inside them. This doesn't commonly happen, but it's worth keeping it in mind and avoiding clumping litter for kittens just in case.
Silica Gel Crystals
Silica gel crystals are made from silica gel. This is safe and natural, containing no nasty materials that might harm your cat. Silica gel crystals don't clump when wet but absorb liquids and dehydrate your cat's waste. With millions of tiny little pores in each crystal, it captures the moisture and keeps it inside.
Since it's so absorbent, it's great at trapping and odor control, but becomes less so over time. You just need to remove waste and stir it each day, until you dispose of it and refill it once a month.
Since silica gel crystals last a long time, it makes it a more convenient cat litter, but tends to be a more expensive option. And breathing in silica dust over a long period of time can cause breathing issues for your cat.
Natural and Biodegradable Cat Litter
If using clay litters makes you feel a bit guilty, natural and biodegradable cat litter is much better for the environment. Not only are they biodegradable, but they're absorbent and control odors. However, some cats aren't overly keen on their scent or texture.
Since they're environmentally friendly, many can even be flushed down a toilet. This makes them more convenient, but often don't come at a convenient price.
Natural litter can be made from various renewable resources; from grass, wood, and paper to things like coconut and even tofu! Common examples include:
Wood
Often made from cedar or pine, wood cat litter can be clumping or non-clumping. They're good at absorbing liquids and odor control.
Paper
Coming with no dust, paper cat litter is ideal for cats with breathing issues like asthma. They're often made into pellets from recycled paper. Although they're very absorbent and gentle on paws, they're usually non-clumping and don't control odors overly well.
Grass
Grass litter is excellent at clumping, as well as odor control. However, it does tend to make more of a mess.
Corn
Corn tends to be the most popular biodegradable cat litter. It's made from compressed corn and other bits to make sure it clumps and controls odors well. Although it's an eco-friendly option, it often comes with dust, makes a bit of a mess, and can get moldy, making it even more important to keep clean.
Wheat
Wheat cat litter naturally excels at odor control and clumping. However, the litter's clumps are often soft and tricky to scoop, and they frequently come with dust.
Easy to Clean
Clumping cat litter makes it much easier to keep your cat's litter box clean. However, not all clumping litter works well, so make sure you get one that clumps well.
When it doesn't clump well, it means the lumps are soft and fall apart when you try to scoop them up, meaning it's harder to clean the box and requires lots of scraping. Instead, aim for cat litter that creates hard clumps that are easy to scoop up.
Odor Control
It's impossible for cat litter to completely eliminate odors, but it's worth getting one that at least minimizes the smells. It's usually more effective if you use clumping litter that you clean regularly so waste doesn't hang around for long.
Some cat litters include features that are more effective at odor control, such as including carbon or baking soda. Some even include added fragrances to combat smells, however, these tend to irritate cats with sensitive noses.
Dust Levels
Dust is annoying. It can create a huge mess around the house and be harmful to you and your cat when breathed in, triggering some breathing issues. Fortunately, low-dust or dust-free litter eliminates any of those worries.
Most litters claim to be at least low-dust; however, this isn't always guaranteed. So, make sure you do a bit of research just to make sure. Customer reviews are often more trustworthy when it comes to understanding true dust levels.
Affordable
Prices can range from $50 to over $200 throughout the year – certainly more than what dog owners pay for poop bags! It doesn't seem fair really.
But it all depends on your own budget. Cheap doesn't necessarily mean bad – affordable cat litter can do the job perfectly well. However, if you want to splash out on a more expensive one, consider buying in bulk to get some savings.
Conclusion
There are hundreds of cat litters out there – it can be a nightmare knowing where to start! But any of these cat litters are excellent choices that might suit you and your cat's needs.
So long as the cat litter forms hard clumps that are easy to clean, is unscented, controls odors, is absorbent, and has low levels of dust, you ought to be on the right track to a happy cat and a litter box that's easier for you to deal with.