Seeing your dog's snout turning gray is quite painful. Akin to humans, gray hair in your pet friend's coat indicates that your pet is coming to an old age that is to be taken good care of. As old age comes with a slew of health difficulties. As a result, You might be curious to know, "what is the finest dog food for senior dogs?
The selection of food should manifest your love for your geezer. They are like fine wine; as they reach their golden age, their muscles could be feeble, their teeth may crack, their skin gets shabby, and their vision might deteriorate.
Moreover, when choosing food for your warhorse, look for high protein products and fewer carbs to cope with age-related issues. Your golden ager will feel jovial while adopting softfood over buttoned-downed kibbles.
Top Pick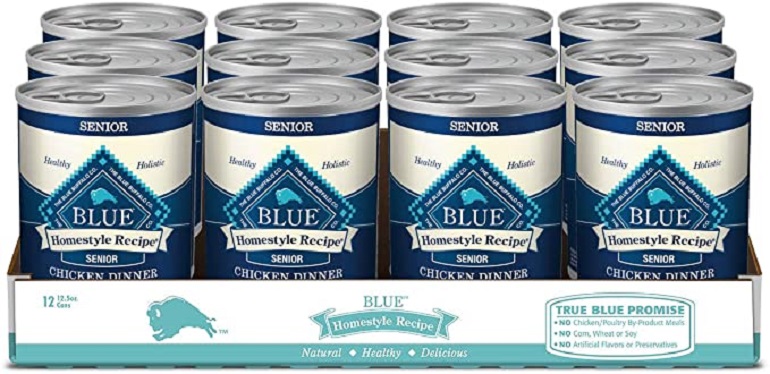 Blue Buffalo Homestyle Senior Wet Recipe
Flavor: Chicken

12.5 Ounce
Real Chicken Recipe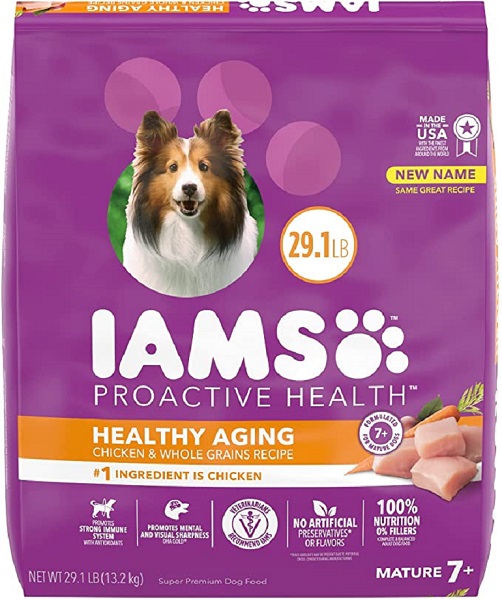 Iams Proactive Health Mature Adult Senior Dog Food
Strong Mind Builder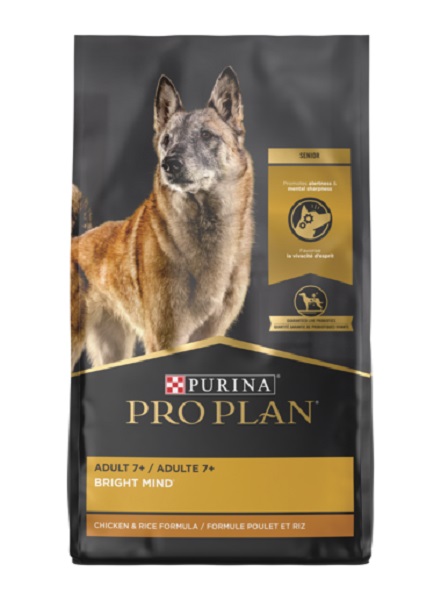 Pro Plan Bright Mind Adult 7+ Senior Chicken and Rice
Best Chicken Formula
Hill's Science Diet Adult 7+ Beef & Barley
Spiced Gravy Mix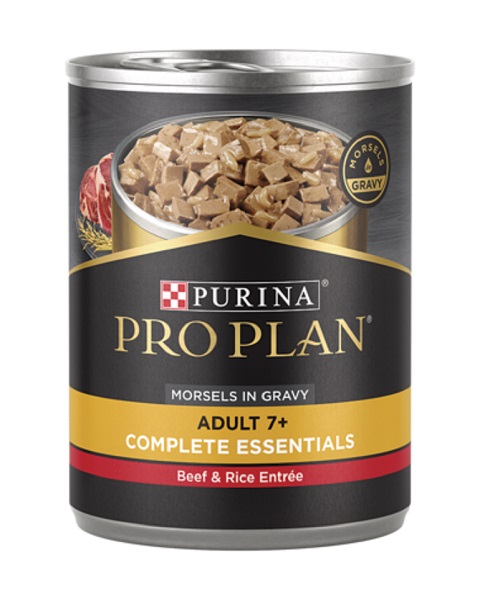 Purina Pro Plan Senior Beef & Rice Entree
Best Grain-Free Diet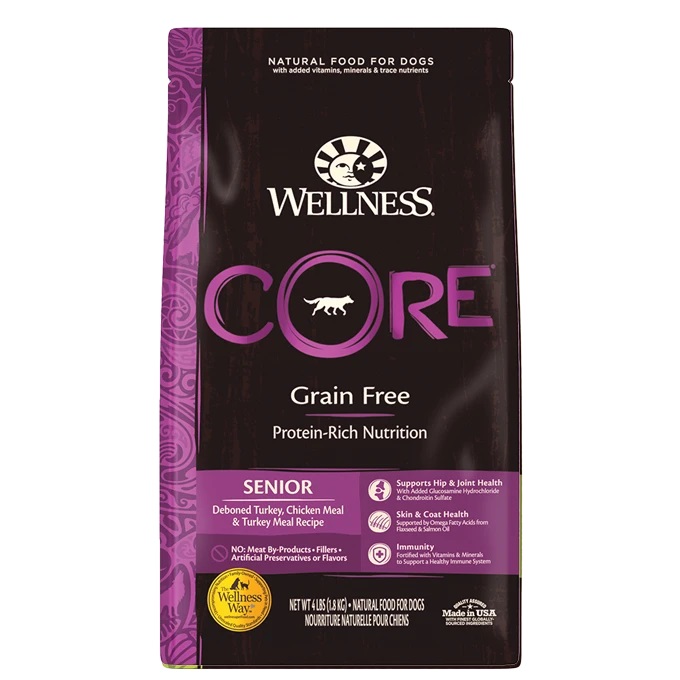 Wellness Core Senior Dog Food
Best Dry Mix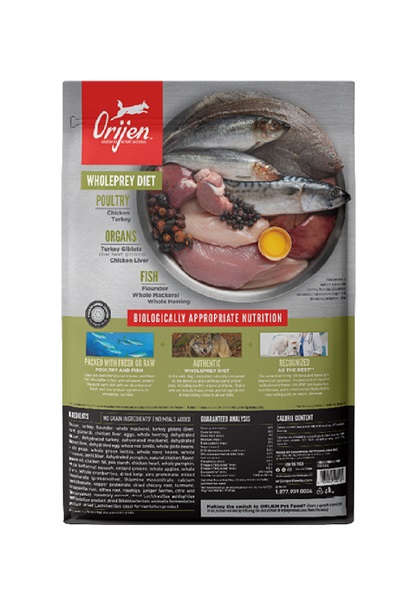 We are aware that the market is full of multitudinous options, and it is onerous for elder dog parents to pick the right one.
Hakuna Matata! We are here to pick the best taste for your friend.
Our Top 7 Picks for Senior Dogs
The selection of the best recipes for your senior dog food will support his new needs and play a role in maintaining overall health.
Just bear in mind to choose the brand manufactured according to the Association of American Feed Control Officials (AAFCO) standards.
There is a sundry collection of best senior dog foods available in the market that claims to be the best but pick one that is customized to your dog's ultimate need.
We have listed below the outstanding recipes to make you feel at ease while shopping for the best fit.
Let's take a look at the best soft adult dog foods for your senior friend!
This senior wet dog food is recommended for its high-quality protein, real chicken, chicken liver, chicken dinner, complex carbohydrates, glucosamine, fats, omega fatty acids, fish oil, and wholesome natural ingredients.
In addition, this crunchy kibble has no meat by-products or fillers, which makes sure the Blue Buffalo is a perfect nutritional need for your older amigo.
This formula is consist of some rich fruit nutrients such as carrots, peas, and sweet potatoes.
These vegetables and fruits are packed with essential vitamins and minerals that work as fuel for your dog's kidney health, muscles, and nerves.
Made from a range of sources omega fatty acids are essential for healthy skin, eyes, and coats.
Features
Crafted with chicken dinner, protein-rich chicken and garden vegetables
Free of artificial additives and fillers
No corn, soy, and wheat
Made in the United States of America (USA)
Pros
Because of its fine texture, many pet lovers prefer this wet formula because it allows their picky eaters to swallow it quickly. Furthermore, it is a popular choice among many dog keepers as it makes their dog's fur and coat gleam.
Unlike other canned wet foods, it does not stink due to a balanced blend of chicken with garden vegetables which makes it the preferred choice of many pet parents.
Cons
Some parents complained that their pocket feels burdensome.
Testers' Verdict
Our testers with adult dogs gave an excellent review of this senior wet dog food. It is in the factall-rounder mix.
This wet formula contains a high amount of protein, and fiber from vegetables and chicken, making this wet food the finest choice for poodle mixes.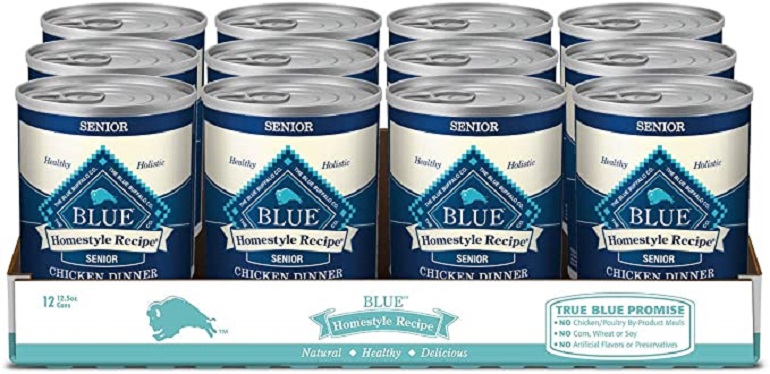 Blue Buffalo Homestyle Senior Wet Recipe
The price of "Blue Buffalo Homestyle Senior Wet Recipe" varies, so check the latest price at
This Iams Proactive Health is formulated to support your mature friend's nutritional and wellness needs. It is featured for older dogs with ingredients essential for proactively nourishing senior pups to help keep them at their best.
Furthermore, this recipe incorporates real nutrients, such as farm-raised chicken as the first ingredient, wholesome grains, and veggies, making it the best dry food recipe.
It is crafted with an antioxidant blend that contains vitamin E and beta carotene to help older dogs' immune systems.
Fuel your partners' bouncy development with this crunchy digestible kibble, which promotes strong muscle and bones and reduces plaque in your elder dogs.
The absence of artificial preservatives and 0% fillers ensures balanced nutrition.
Features
Real farm-raised chicken is the first ingredient
Free from artificial flavors
Made in the USA
Available in both dry and wet dog food formula
Pros
Many dog parents prefer Iams Proactive health to their older dogs because it contains DHA, high fat, and the farm-raised chicken formula that helps their dogs get strong muscles, bones, and immune systems.
Another great benefit of this canned dog food is its fast digestion rate. Even though it is dry kibble, many pet owners still love to buy it mixed with water or milk.
Apart from your older dog, it is also sound for your pocket because it is a very budget-friendly option
Cons
Some pet parents were unhappy because it comes only in one flavor.
Testers' Verdict
Our testers appreciated this real chicken dry diet because it is full of nutrients that help to strengthen bones, muscles, and the digestion of older dogs. Another factor that makes this canned food an ideal option for testers is that it is a budget-friendly option.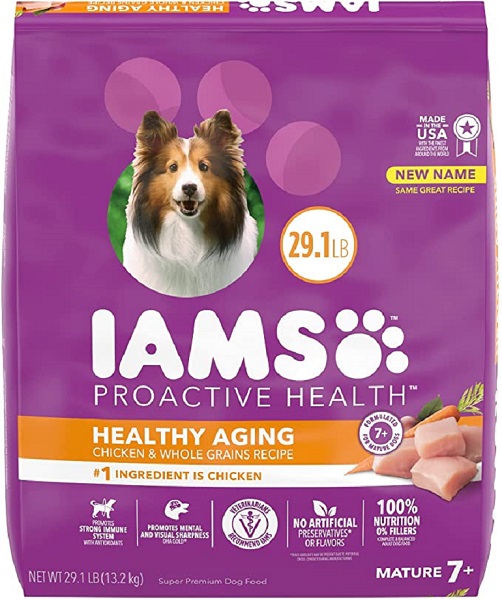 Iams Proactive Health Mature Adult Senior Dog Food
The price of "Iams Proactive Health Mature Adult Senior Dog Food" varies, so check the latest price at
As the name suggests, Pro Plan Bright Mind is specifically designed to boost your older dog's mental health. Senior dogs get benefit from this innovative dry formula to enhance alertness and mental sharpness.
It is formulated with brain-supporting nutrients for cognitive function, including a special blend of DHA, EPA, antioxidants, vitamin B, botanical oils, brown rice, fatty acids (omega-3 and omega-6), and chicken by-product meal.
Above mentioned ingredients help to ensure strong immune systems, digestion, the health of joints, and mobility.
Feel confident about feeding this formula to your adult dogs plowing on towards crock.
Features
Live probiotics, botanical oils, chicken,and vitamin B
No artificial flavors
Glucosamine, EPA, fatty acids (omega-3 and omega-6), and antioxidants
Made in the USA
No artificial fillers
Pros
Many owners share that their vet recommended this senior dog food for senior dogs suffering from cognitive problems. They also notice clear alertness and activeness such as the dog's expression who ate this mix.
Many parents adore this blend for their older dogs because it does not only improve mental acuity but also helps with other stomach problems such some oar as vomiting and diarrhea. It is not a tummy troubler.
Cons
A few parents shared their dissatisfaction with their picky eater's refusal to swallow this recipe.
Testers' Verdict
Our testers test this formula and suggested buying it for senior dogs facing the issue of mental illness.
As it is evident in the name, the use of this mix would make your senior pup sharp and genius. They also notice the enthusiastic participation of dogs in jumping, hunting, and playing.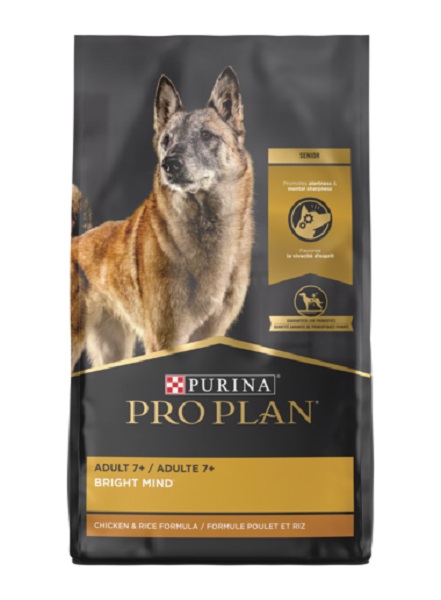 Pro Plan Bright Mind Adult 7+ Senior Chicken and Rice
The price of "Pro Plan Bright Mind Adult 7+ Senior Chicken and Rice" varies, so check the latest price at
Hill's science food is ultra-solution that spawned Health Renewal! This canned wet dog food has a wonderful mix of nutrients such as that you might not see anywhere else. For a lifetime of happiness and health for your dog, this mix promises to serve delicious nutrients.
Every kibble is a bite your dog will surely love, something that makes them irresistible to older dogs.
Rich in protein for lean muscle, clinically proven antioxidants, beef, beef barley, chicken liver, and omega 6 for a shiny coat and blowsy skin.
Featured with the best ingredients and unblemished by artificial flavors and natural probiotics.
Crafted with balance ingredients for the health of the heart and kidney. This wet food formula is the prime choice by veterinarians.
Features
Beef, beef barley, protein, chicken meal, and omega 6
Natural probiotics and global balance ingredients
No artificial fillers
Made in the USA
Pros
Older dog owners suggest its consumption because it works well for health issues such as heart and kidney issues. The use of globally balanced ingredients in this wet food helps to cop these problems.
Many dog parents shared their view that the quality of this canned food, softness and tenderness, and best blending mix makes it easily digestible. Complete and balanced nutrition among older dogs and their parents.
Cons
Few parents have grumbled about the high price chit.
Testers' Verdict
Our testers reviewed Hill's science as the easily digestible canned food. Our testers experimented with this product on dogs with heart problems and found that they improved after using it.
It is also highly recommended by vets and our tester team.
Hill's Science Diet Adult 7+ Beef & Barley
The price of "Hill's Science Diet Adult 7+ Beef & Barley" varies, so check the latest price at
Purina Pro Plan dry & wet dog food will look after your dog. Real beef and highly digestible brown rice are key ingredients of the formula. This wet food is the best choice for picky eaters because of the mix of flavorful dog food gravy and high protein, which helps maintain lean muscles.
Every ingredient in this senior dog food with extra vitamins, minerals, and nutrients was chosen for a specific nutritional or functional purpose.
Senior pets require 100% nutritionally dense nutrition. This wet food also nourishes skin and coat.
Make this Purina Pro Plan dog food formula a regular part of your dog's diet. This wet food is specifically designed to suit the nutritional needs of dogs aged 7 and up.
Features
Real beef meal, meat by-products, whole grain brown rice
Enriched with high-quality proteins, vitamins, and minerals
Available in dry and wet form
No artificial preservatives in this mix
Made in the USA
Pros
Many pet parents love this wet food for boosting the immune system and supporting healthy joints and mobility. They also mentioned that it ensures easy and active digestion and nourishes skin and coat.
This food is popular among pet parents since it comes in chunks and gravy, making it extremely digestible and easy to eat for senior dogs. The availability of this food in dry and wet forms also makes it pro-choice for pet lovers.
Cons
Although some parents complained the recipe was too thick due to the use of brown rice, still dogs love to eat it.
Testers' Verdict
Our testers suggested this wet food for its best protein formula and use of real beef.
It is a prime wet dog food choice because it aids old dogs who aren't able to chew the kibbles. Testers found it easy to digestible for them.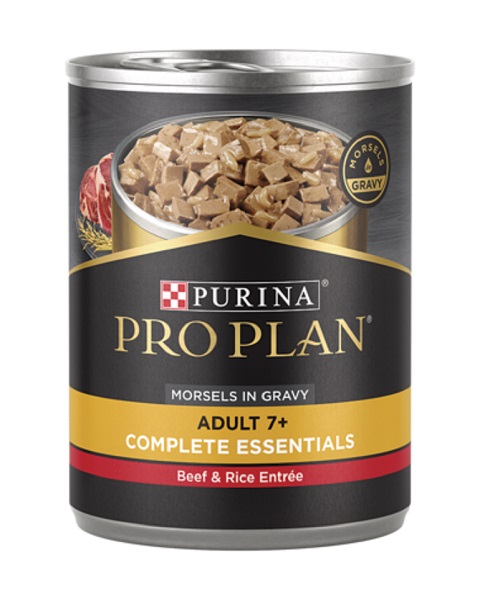 Purina Pro Plan Senior Beef & Rice Entree
The price of "Purina Pro Plan Senior Beef & Rice Entree" varies, so check the latest price at
As evident from the name, the Wellness Core senior dog food is supplemented with a sufficient amount of deboned turkey chicken meal & turkey meal recipes, prebiotics, and probiotics to strengthen the digestive system.
It has also additional specifications which work like fuel to fulfill the energy needs.
Such as Docosahexaenoic (DHA) to support brain development, glucosamine, and chondroitin to support bone and healthy joints.
Guaranteed levels of omega fatty acids from ingredients such as flaxseed and salmon oil to support flush skin and coat.
It is free from harmful preservatives. It is fortified with vitamins and minerals to take care of a strong immune system.
Features
Deboned turkey chicken meal & turkey meal recipe
Omega fatty acids from flaxseed and salmon oil
No artificial colors
Grain-free dry food
Made in the USA
Pros
Many pet owners love to choose this because it is a good option for dogs who have kidney issues or sore tummies. After using this recipe, they felt a visible change in their dog's condition.
Many reviews suggest that this is the best dog food that performs very well to support joint health. Like other most senior foods, it doesn't dull the skin and coat health of the older dog.
Cons
Some parents found that the recipe contains large kibbles that their dogs couldn't consume.
They also reported that the price was outrageous.
Testers' Verdict
Our team members have experienced a positive use of this food for senior dogs who are suffering from digestive issues and kidney problems.
Testers suggested feeding this formula to your buddy for improving the immune system, health of the joints, skin, and coat. However, it feels a little pricey to come owners' pocket.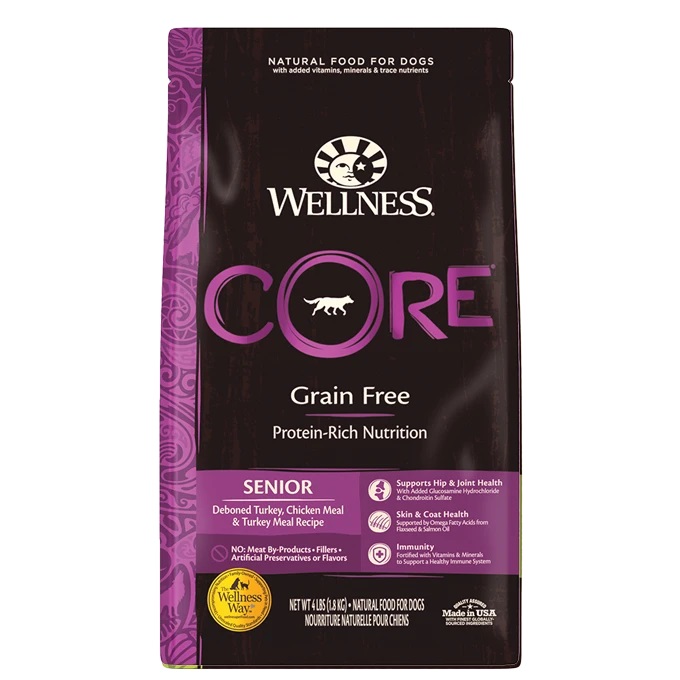 Wellness Core Senior Dog Food
The price of "Wellness Core Senior Dog Food" varies, so check the latest price at
Orijen Senior is formulated to meet the dietary needs of your adult dog in order to keep them stout. The cuisine is high in animal protein, with 85% whole animal ingredients from free-run chicken and turkey, wild-caught fish, and cage-free eggs.
Additionally, to maintain the diet nutrient-dense and pleasant, Orijen employs whole mackerels and chicken giblets.
It give high animal protein to help sustain muscle growth while being low in carbohydrates and fats to keep you from putting on weight.
Moreover, with exception of ordinary grain-free dog food, this dry dog food contains raw animal proteins, assuring that each mouthful is brimming with nutritional value and deliciousness.
The ultimate result is to show your dog happy, hardy, and blooming.
Features
85% whole animal ingredients from free-run chicken, turkey, and cage-free eggs
Wild-caught fish, and cage-free eggs,fish, poultry, and whole fish
No harmful colors and flavors
Made in the USA
Pros
Many dog owners praised this grain-free dry dog food for older pets, which has no unnecessary fillers such as corn and other grains allowing an older dog to consume all the essential ingredients their body needs. It is the perfect mix you can find ever.
Some parents mentioned that when their old dog was getting slow down and a little overweight, this food worked like magic for them and help them to be active and to keep their weight down.
Cons
Some parents showed discomfort due to the unpleasant fish odor which their pet experienced.
Testers' Verdict
Our testers shared their review, that the presence of low carbohydrates, helped them to put on a healthy weight.
As dogs are ancient carnivores, this mix is full of whole prey diet and raw animal sources which make it pets and their parent's preferred pick.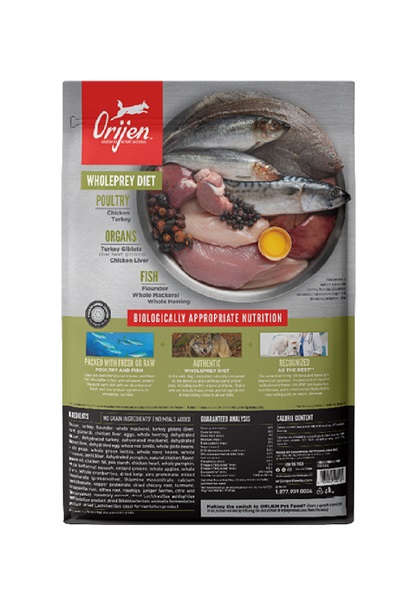 Orijen Senior Dog Food
The price of "Orijen Senior Dog Food" varies, so check the latest price at
What to Look for in Buying the Best Puppy Dog Food for Senior Dogs
When shopping for pet food, make sure you look for these specifications to get the best food for your dog. Some older dogs would need wet food and in other cases dry food.
Proteins
Protein is needed for dog growth, development, and maintenance. Calories can be burned by eating more protein.
Contrary to popular belief, senior dogs do not require a lower protein diet and may require more protein than younger dogs.
Some veterinarians say muscular elderly dogs should consume more protein than small breeds.
Muscle loss in older dogs can be caused by aging. Consult your veterinarian before purchasing any type of dog food from a local pet store.
Fiber
Fiber might be tricky for some older dogs to digest. Higher fiber levels in humans, as a result, several pet-food companies began to think like human dietitians and developed high-fiber dog diets.
However, high-fiber diets and dogs' shorter digestive tracts don't always get on.
High fiber might induce digestive issues in dogs and prevent normal nutrient absorption.
Dogs, unlike humans, are carnivores, meaning they prefer meat to plant-based foods to meet their nutritional demands.
Calories
A calorie-dense diet will undoubtedly aid your senior dog's growth, immune system, weight, and overall health.
Pet owners may purchase a portion of food that is high in calories but does not meet the needs of their dog.
Your dog's metabolism may be slowing, and they may no longer require as many calories as they did when they were younger.
So, before selecting any mix, it is always a good idea to prefer fewer calories and consult with your nutritionist.
Ingredients
Ingredients are key essential to keep an eye on while choosing the best senior dog food. Similarly wet food and dry dog food also have different ingredients.
Excessiveness of an ingredient can harm your dog's overall health. Similarly, the absence of a required ingredient may also cause other serious problems.
Such as joint issues, sensitive stomach, making dull mind sharpness, and developmental concerns.
So be wise when you are going to select a feed for your partner.
Fatty Acids
If a dog is not getting enough of these essential fatty acids, the classic signs of deficiency may appear.
When skin or coat problems occur, the pet parent is often advised to add a healthy supplement pet's daily regimen.
Both fatty acids help to maintain hearty skin, promote a healthy immune system, and play a role in cell growth. Omega-3 fatty acids can help treat arthritis and chronic kidney disease in dogs.
Have a conversation with your vet to decide the best brand for senior dogs.
FAQs
When Should You Start Feeding Your Dog Senior Food?
Giving the right food at right time is also an important part of your dog's diet. Your dog might not look or act like what you think him as a "senior" dog.
When they start around age 7, and earlier their nutritional needs will start to change. This is the best time to start thinking about switching to a senior dog diet.
How Much Food Should I Feed My Senior Dog?
In terms of senior dogs, you should start by feeding about 2% of their body weight, and adjust it to suit their needs and activity.
A 50lbs senior dog of moderate activity level would be eating roughly one pound of food per day. Two-meal-a-day schedule – ideally one meal in the morning and one in the evening.
Is High Protein Food Better for Older Dogs?
This is untrue. Dogs are like people, are omnivores. Excessive protein depletion is unnecessary for dogs.
With fewer calories, nutritionists may also recommend an increase in high-quality protein in food for older dogs.
Conclusion
The most amazing thing about finding the best senior foods is that it is the way to express your love and care for your senior beef. Your dog's health and life are a gift to you.
Always take care of him by giving him a very well-balanced diet.
We hope that this article has helped you find the best feed for your little furry cub. You are welcome to ask any questions you have in the comment box.
It would be a pleasure if you will share your reviews with us.Post navigat