Huskies are considered medium-breed dogs, and they can get really hungry!
Things can get a little confusing if you're a new owner and selecting which food to feed them. But with a little education, you'll come to understand what they need in their diet.
Let's review some of the best dog food for huskies and what makes each a good choice. We'll also run over specific nutrition aspects that huskies need to maintain a healthy lifestyle.
No matter your husky's age, you'll know exactly what they need in their diet to be as happy and well-fed as possible.
Best Overall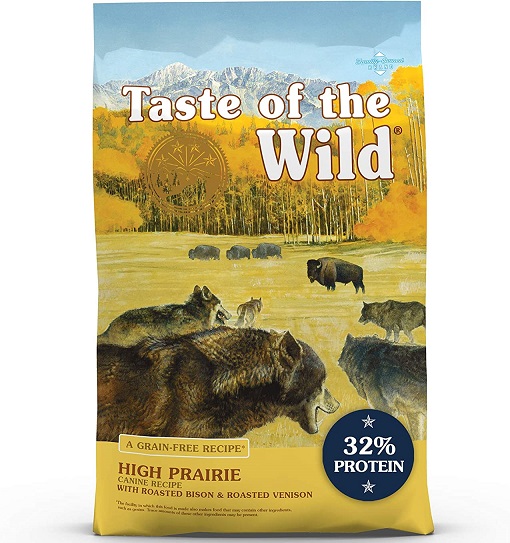 Taste of the Wild Dry Dog Food
Flavor: Grain Free Adult
Item Form: Kibble
Most Popular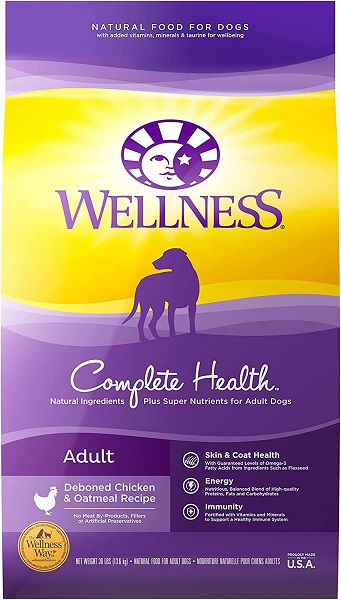 Wellness Complete Health Dog Food
Flavor: Chicken & Oatmeal

Item Form: Pellet

High Quality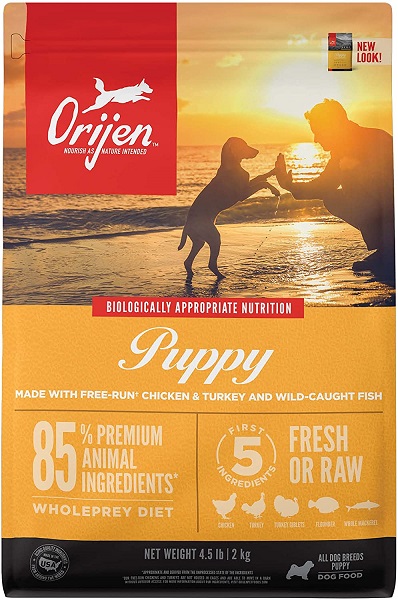 Orijen Puppy Recipe Dry Food
Flavor: Natural Chicken Flavor
Item Form: Kibble

Easily Digestible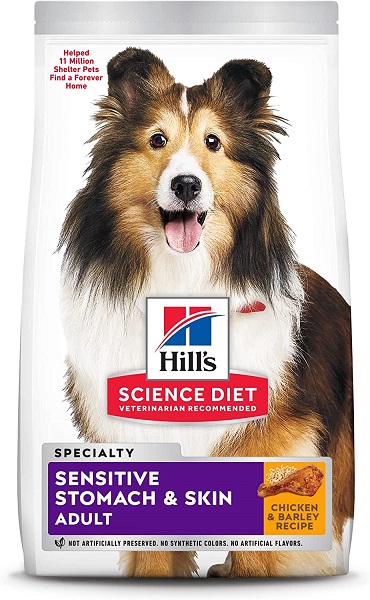 Hill's Science Diet Sensitive Stomach and Skin Chicken Recipe
Flavor: Chicken & Barley

Item Form: Pellet

Best Natural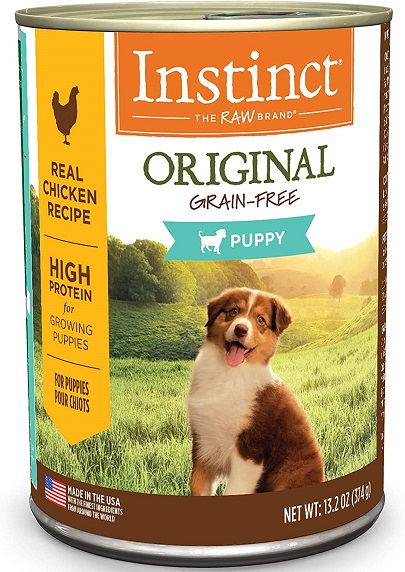 Instinct Puppy Grain-Free Chicken Canned Food
Flavor: Chicken

Item Form: Wet 

Best for Immunity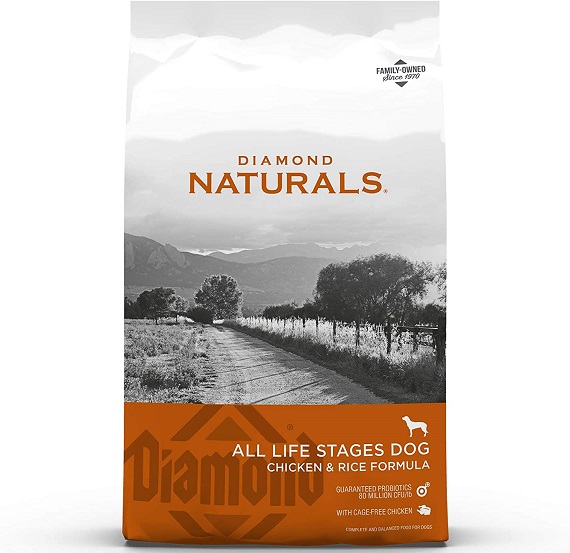 Diamond Naturals All Life Stages
Flavor: Chicken

Item Form: Pellet
Budget-friendly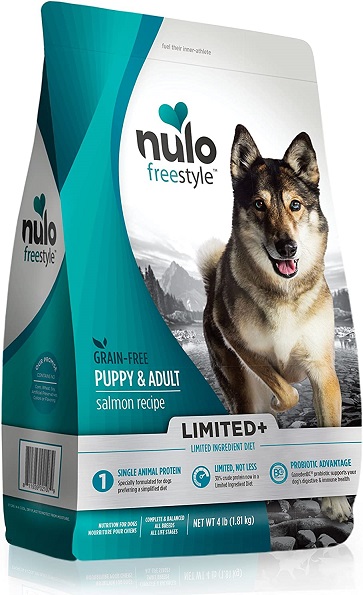 Nulo Freestyle Salmon Puppy & Adult Dry Food
Flavor: Salmon
Item Form: KIBBLE

Best for Weight Control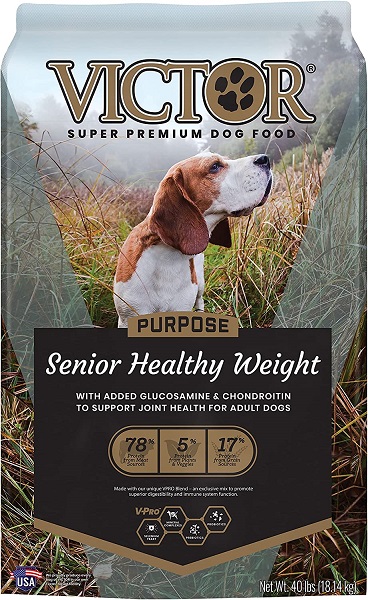 Victor Senior Healthy Weight
Flavor: Beef
Item Form: Dry kibble

Best Dog Food for Huskies for 2023
Below are some carefully chosen options for the best dog food for huskies.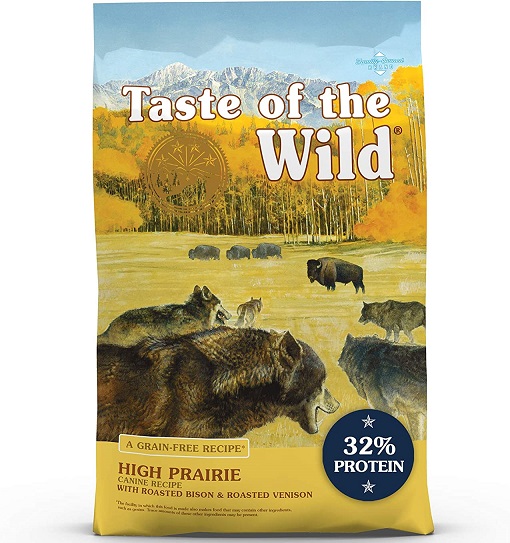 You might not have heard of Taste of the Wild, but they're not on the radar of a lot of dog owners. However, they're not just one of the best types of dog food for huskies; they're one of the best and most affordable brands of dog food, period.
The best part? Their products are insanely affordable. In addition, they offer a wide variety of flavors in dry dog food, from adult food to flavors that are great for husky puppies.
Their products are really nutritious, considering the price point. They offer multiple flavors of grain-free dry dog food, but some grains in the diet can be a good thing. Also, they don't use fillers.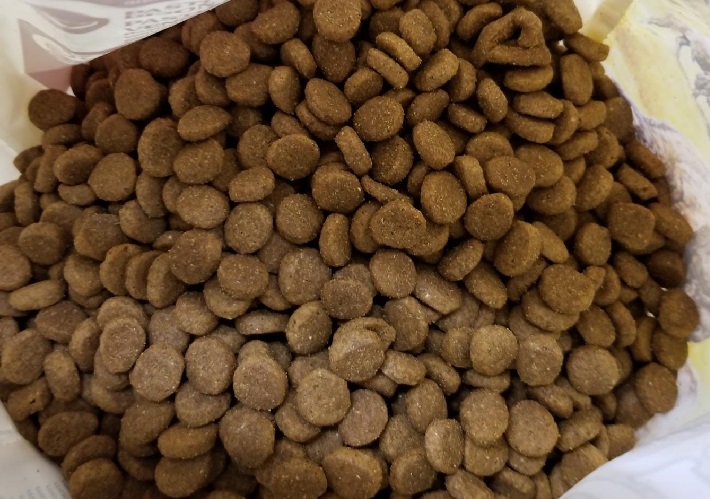 Depending on the flavor, they use healthy ingredients like a salmon meal, lamb meal, fish meal, and whole grain brown rice, just to name a few.
Taste of the Wild isn't the healthiest brand of dog food you can buy. But it's not unhealthy either. And if you're concerned about feeding your dog a healthy diet, you shouldn't be concerned with choosing them.
Pros
Affordable and healthy diet food for huskies
Uses real animal protein with little to no artificial additives
Offers whole grains and grain-free flavor options
Dry and canned food options
Good for a balanced dog's diet on a budget
Cons
Not the best food brand on the market
No raw food options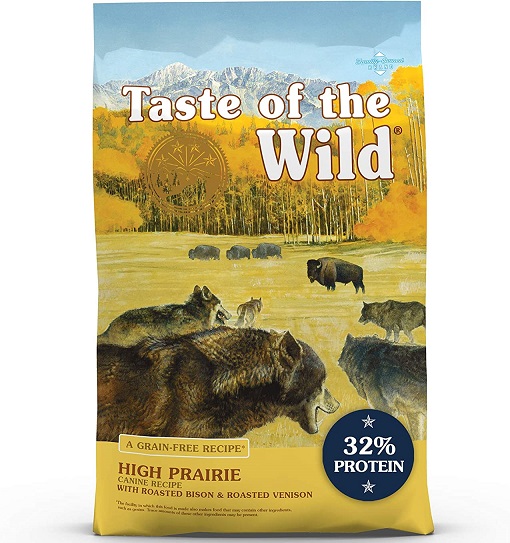 Taste of the Wild Dry Dog Food
The Price of "Taste of the Wild Dry Dog Food" varies, so check the latest price at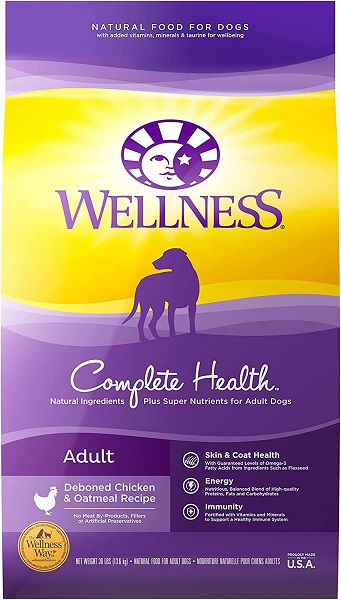 Wellness is one of the most popular dog foods. Their large breed adult food brand is especially great. And if huskies are anything, they're large.
It starts with the right combination of ingredients; deboned chicken, brown rice, and salmon meal. It's considered a special diet, so it doesn't include any corn, wheat, or soy, but it does have grains. So if your dog needs grain-free dry dog food, there are plenty of other options to choose from.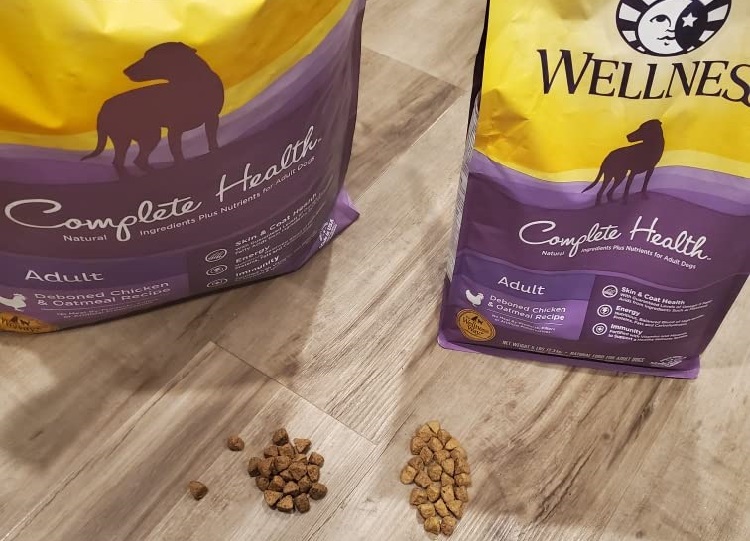 They offer many different types of dry and canned food for huskies at all life stages. So whether your concern for your dog is fewer calories, a healthy immune system, complete nutrition, healthy weight, joint health, or any other concerns, there is a type for your dog.
Pros
A well-balanced diet option
Good for all dog breeds
One of the most popular dog foods on the market
Cons
Some owners have reported it affecting their dog's digestive health
Nutritious dog food, but not the best at the price point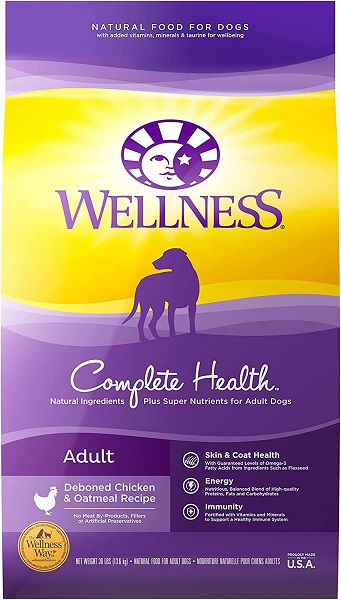 Wellness Complete Health Dog Food
The Price of "Wellness Complete Health Dog Food" varies, so check the latest price at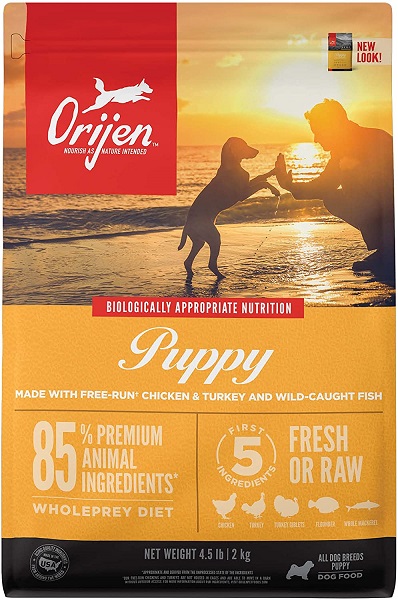 It's not an overstatement to say that Orijen is in the top three of the best dog food brands on the market and undoubtedly one of the best dog food for huskies. Their quality is almost peerless, they don't use any filler content, and dogs simply love it. The only downside? It is pricey.
But when it comes to food for huskies, they will scarf it down. Why? Because it's everything a dog could want in a meal. And it's everything an owner could want in food for huskies to keep them happy, healthy, and well.
Your husky puppy will thank you for feeding them food with 85% animal protein, including de-boned chicken, turkey, whole Atlantic mackerel, chicken fat, and omega fatty acids. Orijen has the finest quality control. That said, it's not cheap.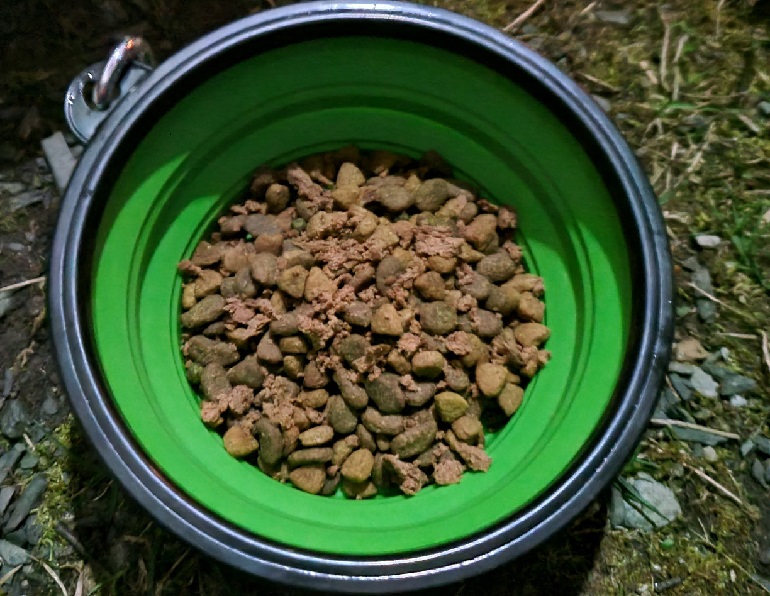 When it comes to dog foods for huskies, Orijen is a top choice. Other than some freeze-dried brands, it's one of the top types of kibble available.
It has healthy fats, is great for your husky's immune system, and provides a complete nutrition program that will help husky puppies grow up to be the best dogs they can be.
Pros
Orijen is one of the highest-quality brands of dog food on the market
Premium, wholesome ingredients make it one of the most nutritious types of dog food
Focus on protein and amino acids makes it an easy decision as a nutritious food for huskies
Cons
It's expensive, but you pay for quality
Quantities can be smaller than other brands of the same price point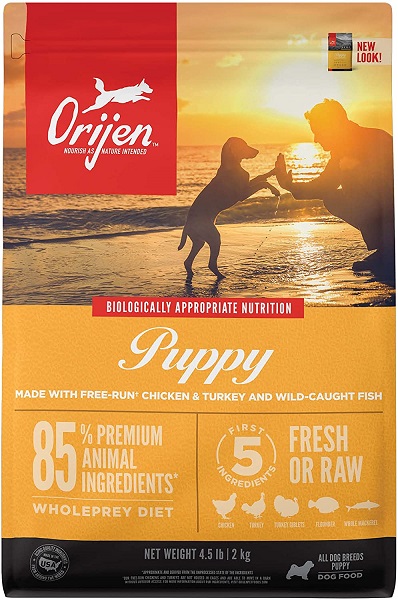 Orijen Puppy Recipe Dry Food
The Price of "Orijen Puppy Recipe Dry Food " varies, so check the latest price at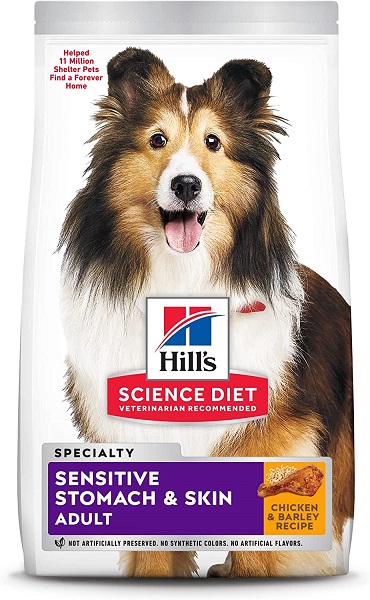 Digestive health is a concern for all pet parents. Some breeds are more predisposed to it; some develop issues over the course of their lifetime. Either way, it's a problem for the pet and owner.
This husky's food is made with a dried beet pulp base. It provides a nourishing prebiotic fiber that makes it easy to digest and promotes the ideal absorption of nutrients. In addition, it contains a vitamin E supplement and omega fatty acids that support healthy skin and gorgeous coat health.
To support digestive health, the ingredients of the best dog foods have to be nutritional. This dry dog food contains high-quality animal protein ingredients like a chicken meal and vegetables like green peas. It doesn't come as canned food and is not grain-free.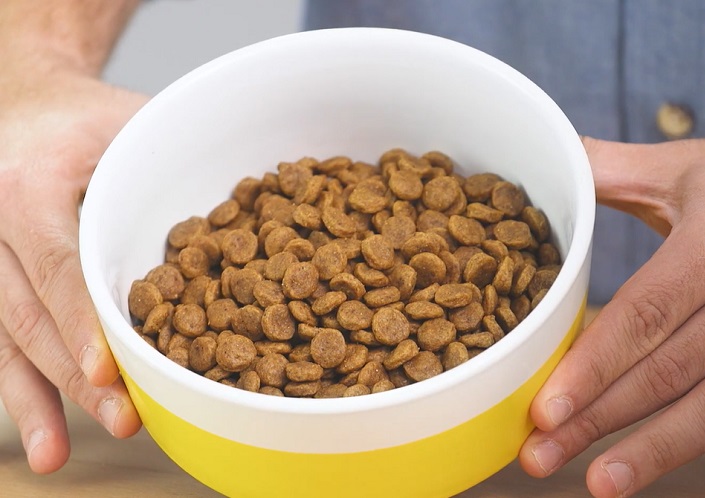 As dog foods for huskies go, it's a great mid-level choice. It's affordable enough to maintain an active lifestyle for dog breeds too. But most importantly, it packs in plenty of nutrition.
Pros
Affordable, nutritious dog food that is great for the digestive system
Great for all ages, even senior huskies
Includes healthy animal protein, vitamin E, and omega-6 fatty acids
Has natural ingredients and added vitamins
No artificial flavors
Cons
It's only a mid-level brand, so quality isn't as good as Orijen or Acana
Not all ingredients are ideal, though they're not really filler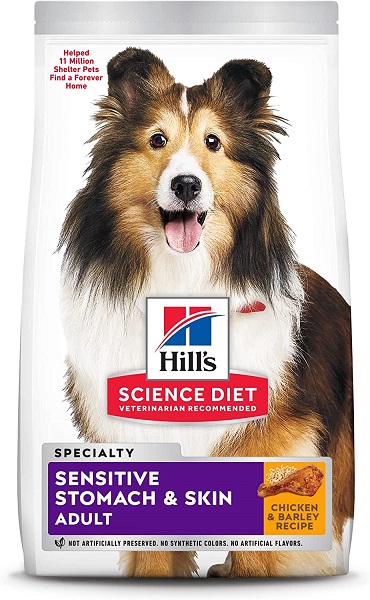 Hill's Science Diet Sensitive Stomach and Skin Chicken Recipe
The Price of "Hill's Science Diet Sensitive Stomach and Skin Chicken Recipe" varies, so check the latest price at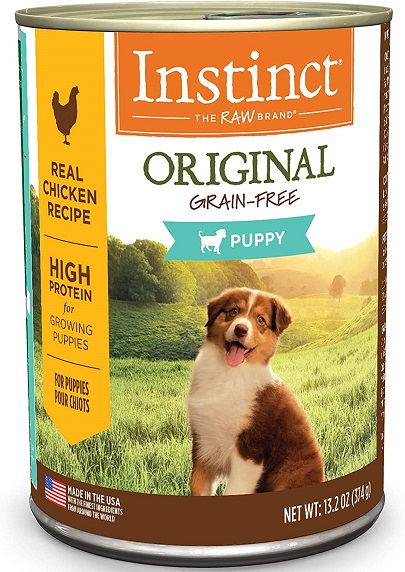 There's no doubt that Instinct is a high-quality dog food. Many foods can be harsh and cause digestive problems, which can worry dog parents, especially if they're new.
So if you're looking for a canned puppy food that can combat an upset stomach, the Original Puppy brand might just be it.
For starters, it's grain free and is made with real fresh chicken. To support a puppy's brain and eye development, it includes natural DHA. There's no shortage of natural ingredients like fruits and vegetables; yellow peas, cranberries, tomatoes, blueberries, and even artichoke!
But one of the key ingredients for digestive health is the pumpkin. So you won't have to add it from another can into their food bowl.
As far as the best dog food for huskies goes, you can't go wrong with Instinct. Yours will love the loafy patte texture. It's proudly made in the USA with no grains, soy, wheat, potato, or by-products, and certainly no artificial flavors or preservatives. That's the Instinct promise.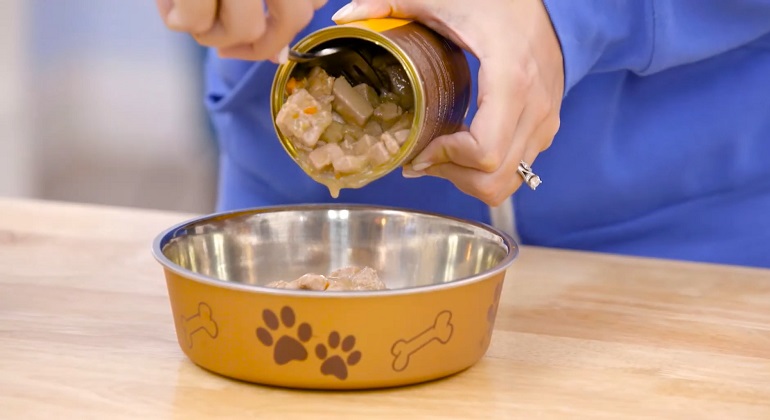 Instinct only uses the highest quality food ingredients. Their animal protein is peerless, and when it comes to pet nutrition, they're one of the best. Unless your dog is allergic to chicken, food allergies aren't a concern either.
Pros
Instinct is one of the best dog food brands on the market
It is grain-free
Comes in a case of six cans
No grains or artificial additives, or preservatives
Natural DHA supports your puppy's development of a healthy brain and eyes
Cons
Not incredibly expensive, but not inexpensive either
If your dog doesn't like the texture of patte, it might not be the best choice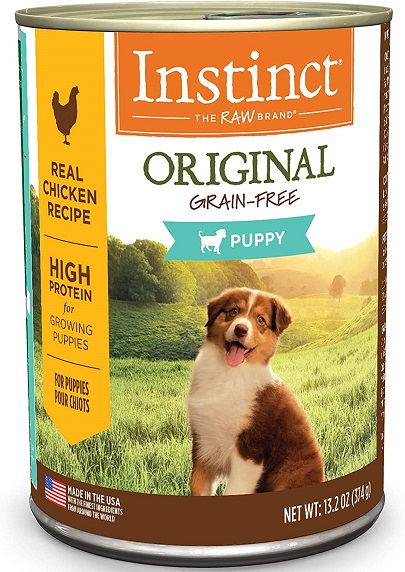 Instinct Puppy Grain-Free Chicken Canned Food
The Price of "Instinct Puppy Grain-Free Chicken Canned Food" varies, so check the latest price at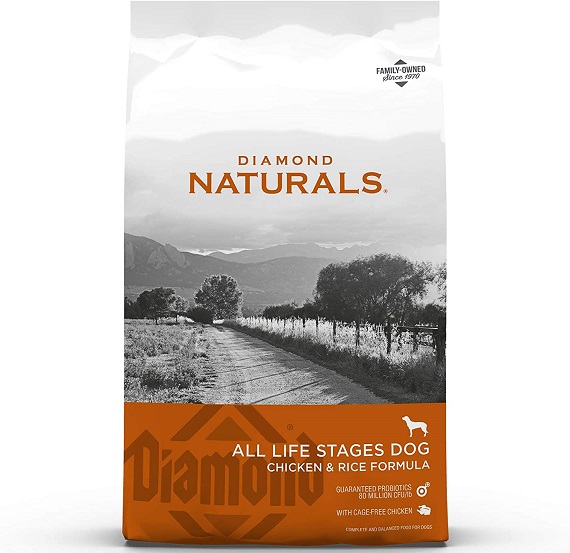 A lot of pet owners don't know about Diamond Naturals. That's a shame because their products are made in the USA and include quality ingredients sourced from reputable domestic and local sources.
Cage-free chicken is the number one ingredient. This specific protein aids joint health and keeps the muscles lean and the body strong. Overall the recipe is 26% protein and just 16% fat. It also contains omega fatty acids that help keep the skin healthy and support coat health.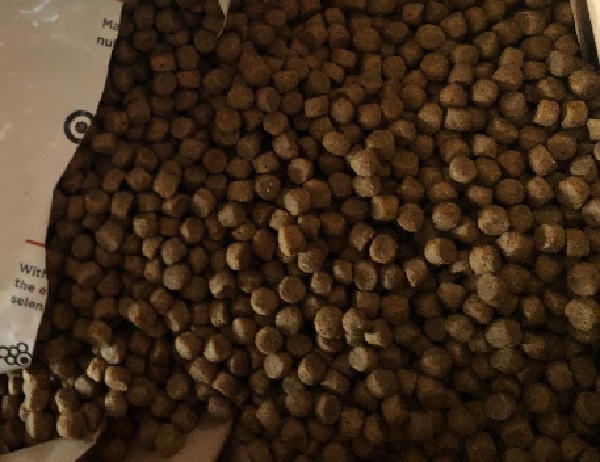 The minerals and vitamins come from oranges and blueberries. Every time you feed your dog, they get proprietary probiotics, prebiotics, and antioxidants. Altogether these work together to make the digestive and immune system healthy. As a result, your dog will feel better than ever.
It's made without any of the nasty filler content that a lot of brands use, like wheat, whole grain corn, and artificial colors and flavors.
Pros
Made by a family-owned company in the USA
Ingredients sourced from trusted domestic and global organizations
The number one ingredient is cage-free chicken
Ingredients support healthy husky's joints, bones, and muscles
Contains 26% protein and 16% fat
A mix of probiotics, prebiotics, antioxidants
Supports digestive and immune system health
No fillers like wheat, corn, or artificial colors and flavors
Cons
It's dry dog food, not the best choice if yours prefers wet food
Rated for all life stages, but the kibble is fairly large, so it's not the best for a husky puppy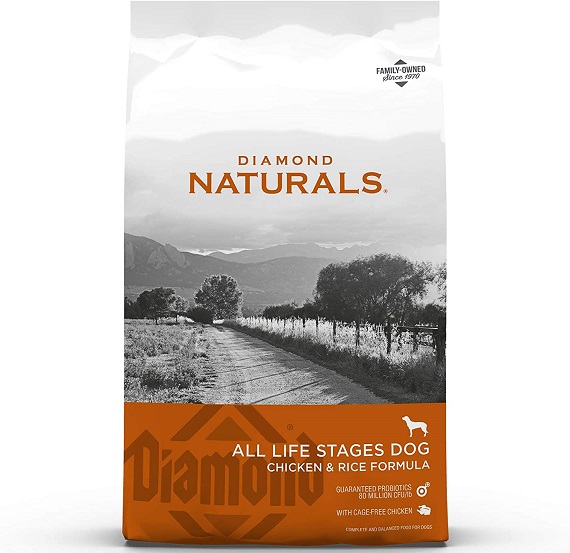 Diamond Naturals All Life Stages
The Price of "Diamond Naturals All Life Stages" varies, so check the latest price at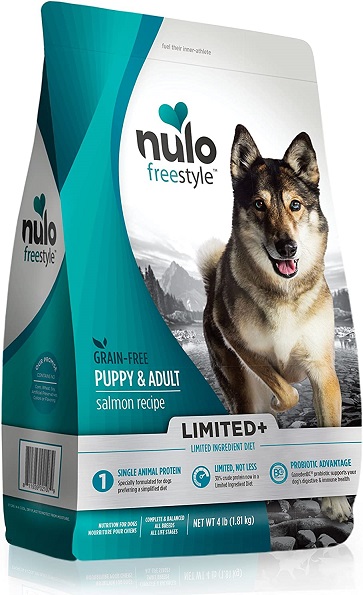 Nulo is one of the newer dog food brands on the market. Their products are a great mid-level choice for owners who want a great combination of nutrition and affordability.
This husky dog food option is rated for puppies and adults alike. It's a single animal protein recipe with the first ingredient being salmon. This helps to support lean muscle development, whether your dog is a puppy or a senior.
It has 30% crude protein and essential nutrients. This means that with this one food, your husky puppy, as well as adult huskies, can enjoy the most balanced diet. What makes it great for digestive health is the inclusion of GanedenBC30, a probiotic specially formulated to provide gut health.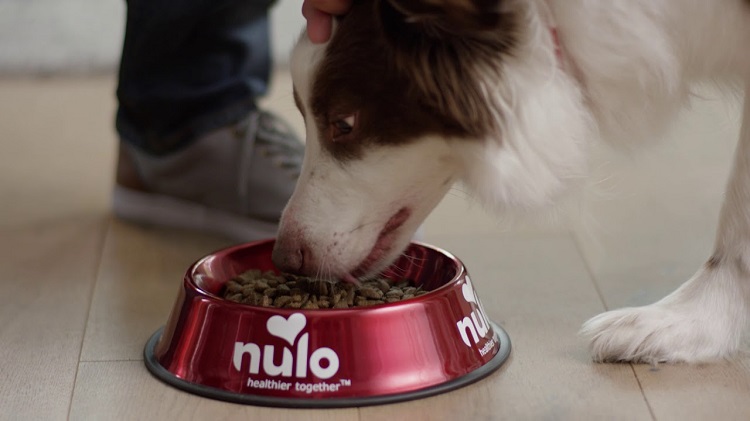 The lower-carb formulation doesn't include fillers like tapioca or potatoes. This makes it a top choice for dogs with allergies or food sensitivities. In addition, it's made in the USA, so there's no worry about quality.
It doesn't include anything like pea protein, soy, wheat, or artificial preservatives. But what it is made with is deboned salmon, chickpeas, and sweet potatoes.
Pros
30% single protein salmon formula to provide support for lean muscle
Balanced diet for adult huskies and husky puppies
Includes GanedenBC30 probiotics to support healthy digestion
Low in carbohydrates
Good choice for dogs with allergies and food sensitivity
Made in the USA
No fillers, artificial preservatives, or colors
Cons
Not a good choice if your dog doesn't like salmon
High in salmon protein, if your dog needs more fat, another type of protein is better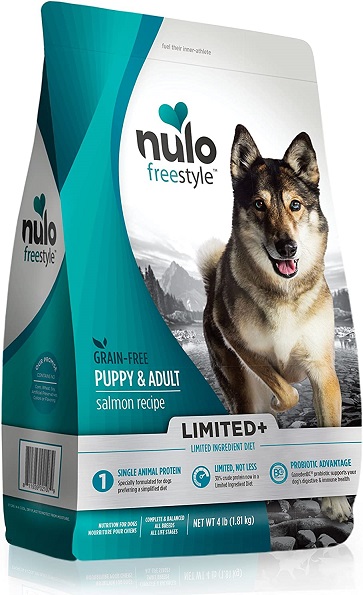 Nulo Freestyle Salmon Puppy & Adult Dry Food
The Price of "Nulo Freestyle Salmon Puppy & Adult Dry Food " varies, so check the latest price at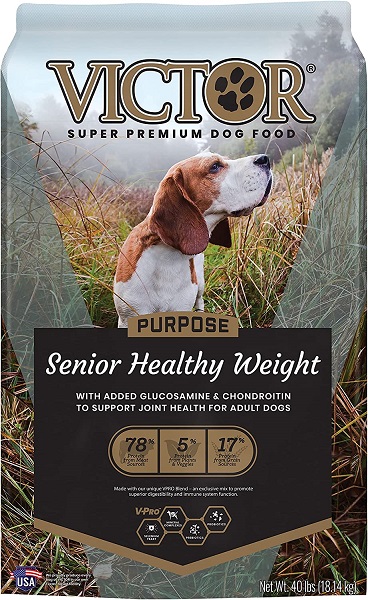 Weight control is a concern for all ages, especially senior huskies. Being overweight can make existing health problems worse or create new ones altogether. So you want a food that not only provides the nutrition they need but also helps keep their weight in check.
With ingredients sourced in the USA, this recipe is full of nutrients. The protein base is made of a combination of fresh chicken, fish meals, and premium-quality beef.
This will give senior huskies nutrition and energy in their older age. It also includes some ingredients not usually found in other brands of food, like menhaden fish meal and whole-grain brown rice.
It's not just the main ingredients; there are some specialty inclusions in the recipe that further aid in digestion. These include organic dried seaweed meal, brewers dried yeast, carrot powder, and dehydrated alfalfa meal.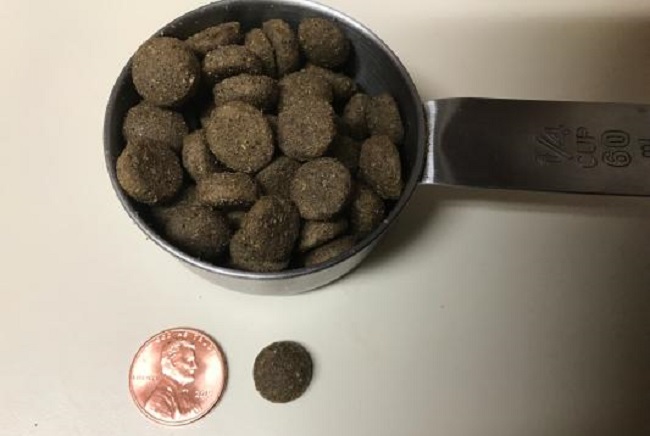 Glucosamine and chondroitin aid in long-term joint health. It's fortified with all kinds of essential fatty acids, amino acids, vitamins, minerals, and proteins. L-carnitine converts fat to energy to keep older dogs' muscles lean as they age.
It's not just physical issues that plague elderly dogs. Gut health, digestion, and the immune systems are also concerns. With Victor's signature VPRO Blend, you can help your dog fight the health concerns that come with aging as much as possible.
Pros
Premium-quality ingredients recipe made in the USA
The main ingredients are healthy proteins like fish, chicken, and beef meal to provide long-lasting energy
Includes glucosamine and chondroitin to aid in joints health
Victor's VPRO Blend helps with digestion and immune systems functionality
A great recipe to help keep your senior husky at a healthy weight
Cons
A large quantity might be too much to keep around if you have a small dog
Not the best choice if your senior husky doesn't have weight issues
The recipe is tailored for senior dogs only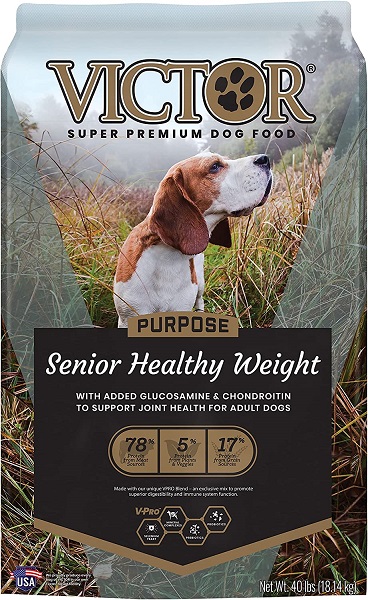 Victor Senior Healthy Weight
The Price of "Victor Senior Healthy Weight" varies, so check the latest price at
Choosing the Best: What to Look For
While looking for the best dog food to keep your husky healthy, the following are some key considerations.
Age
The age of your husky affects almost every decision you'll make for them, especially when it comes to nutrition. Some may think that age-specific dog food for huskies is purely marketing. This couldn't be further from the truth.
Older dogs need more protein in their diet than younger dogs do. This is because, just like in humans, muscle mass becomes less substantial as the years go by. A higher protein diet helps fight this.
There are other benefits too. Kidney health isn't something to be taken lightly. High-protein dog food reduces strain on the kidneys as your dog's food digests.
So, what ingredients should you look for in senior dog food? You'll want to select a food rich in antioxidants for their immune system and omega-3 fatty acids to help with inflammation.
Supplements like glucosamine and chondroitin are good for keeping your dog's joints healthy. Reduced sodium helps them absorb hydration better, and extra fiber helps to keep their bathroom needs regulated.
Weight
Weight control becomes more and more of a concern as your dog ages. It's not just the ingredients that play into it. It's how much you feed your dog and how frequently.
Certain breeds are more susceptible to certain health issues. And hypothyroidism is a serious concern when it comes to weight in huskies. This means that their thyroid gland isn't producing the normal thyroid hormone levels.
It keeps their metabolism in check, so if they develop this health problem, it can lead to them gaining weight, even if they're not overeating. However, this doesn't necessarily dictate they need a special diet.
But if your husky has started to gain weight more quickly than usual and you're feeding them nutritious food at the recommended amount, it might be best to take them to the vet to get tested.
If they do have it, finding out is the most important part, and you can adjust their lifestyle and feeding habits accordingly, so it doesn't affect them too much.
Diet
Diet is everything when it comes to proper dog nutrition. Every dog has their own dietary requirements. This doesn't just go for huskies.
The better the quality of the food you feed your dog, the easier it is for their body to digest and absorb the nutritional aspects of what they're eating.
Great pet owner fact – the longer the list of ingredients, the less healthy the recipe is. You want to look for things like good proteins, chicken fat, starches like sweet potatoes, and fish oil, just to name a few.
Some include ingredients like deboned turkey meal and ocean fish meal. These are great additions to other dog food ingredients at the front of the list.
A long list of ingredients is a general indication that the main items lack nutrients, as many of them have been lost during the creation process.
Natural Ingredients
Since huskies are a large breed, it goes without saying they get pretty hungry. So you want to be deliberate when picking food for them. You want something that's tasty and nutritious.
Including high-quality proteins is key. They should be the first ingredient. In fact, the first two ingredients should come from animal proteins.
Since ingredient lists show things in order of quantity in the recipe, having different types of proteins at the front indicates that it's a type of food worth considering feeding your husky.
You'll want a fat content that is moderate at most, one of the key aspects when it comes to the best dog food for huskies. Healthy sources of fat include things like fish oil and chicken fat.
Carbohydrate content is another consideration. Dogs are mammals, and just like in humans, dogs' bodies break carbs down into sugars. Recipes vary based on manufacturer and type, so you'll have to pay close attention to the ingredients list of any dog food you choose.
A lot of dog foods include artificial additives and preservatives. These can include elements like synthetic dyes, harmful preservatives, and artificial flavorings.
Breed-specific Nutrition for Huskies
Since they're a medium to a large dog breed, huskies need a diet based around proteins, and they need a lot of them. Meat sources like chicken, fish, turkey, and beef are sure to make your dog happy with their diet, but you have other options too.
A high-protein diet is critical for healthy muscles, coat and skin, and energy. Being such an active breed, it can also aid in repairing tissues as they exercise and play.
Raw food is a great choice too. It speaks to their primal nature, and although it's expensive, it's one of the healthiest types of food you can feed them.
FAQ's
How Can I Switch to a New Food Without Making My Husky Sick?
Switching dog food can lead to some temporary inconveniences for you and your husky. Luckily, there are some simple steps to make the process as easy as possible.
The most important thing is to taper them onto their new dog food and off of their old over the course of a week.
You'll want to give them about 3/4 of their old food the first two days and mix in 1/4 of the new. For the next two days, go 50/50. For the following two days, go with 75% of the new dog food and 25% of their old.
On the seventh day, you can move forward with filling their bowl with 100% of their new dog food.
What Makes the Best Dog Food for Huskies?
Unless your dog has specific health issues, any high-quality dog food rich in proteins, vegetables, fruits, legumes, and vitamins should be fine. Some prefer grain-free dry dog food for huskies, but this is really up to your dog's taste.
The most important thing is that you feed them the best dog foods that don't have fillers, like corn and soy.
How Much Food Should I Feed My Husky to Maintain an Ideal Weight?
It's important to follow the portion directions on the type of dog food you buy. Carefully measure it with a tool that lets you know the portion is correct.
Free feeding should also be avoided. You want your dog to be on regimented feeding schedules. Most owners feed their dogs twice daily – in the morning and at night. If they don't finish it all at once, don't leave the bowl sitting within their access.
If they don't scarf it down, it could mean they're not hungry enough to eat it all, or the quantity is too much. Free feeding can lead to overeating, which obviously leads to weight gain.
When Should I Switch My Husky Puppy to Adult Dog Food?
A question on a lot of dog owners' minds is when to switch from puppy food for huskies to adult food. This is obviously different for every breed, but for huskies, it's recommended to do it around the one-year mark.
If you want to wait until they're a little older, that's fine too. Remember, it's better to keep your husky on puppy food for too long than it is to switch to adult dog food too soon.
Final Thoughts
Huskies are a unique dog breed, and as such, they must be cared for in a unique way. Like humans, diet is critical to maintaining a healthy and happy dog regardless of age.
Finding the best dog food for huskies shouldn't be a challenge. There are so many great brands and recipes available these days, like the ones on this list.
You want to choose one that's full of protein and healthy ingredients like fruits, vegetables, legumes, and vitamins and minerals. As long as the dog food has high-quality ingredients, it just comes down to finding the flavor your dog likes.
The right food will keep them happy, healthy, and playful each day for their entire life.