If you are the proud parent of a husky, you will undoubtedly experience delight and pride every time this magnificent creature enters the room, turning every head and enchanting everyone with the beauty of their fur, coat and whole personality.
Huskies are a sight to behold, with their thick coats, fluffy tails, and distinctive black-and-white colors. These dogs are quite sociable, vibrant and amusing.
It's critical to keep this bright gem shining. Huskies require different kind of care and food than other dogs.
All this energy and intelligence, however, needs correct nourishment, and many dog meals just do not provide the support that huskies require. Discovering a food that will ultimately work for your sled dogs might be a difficult chore,
You might ask yourself what's best dog food for huskies?
Top Pick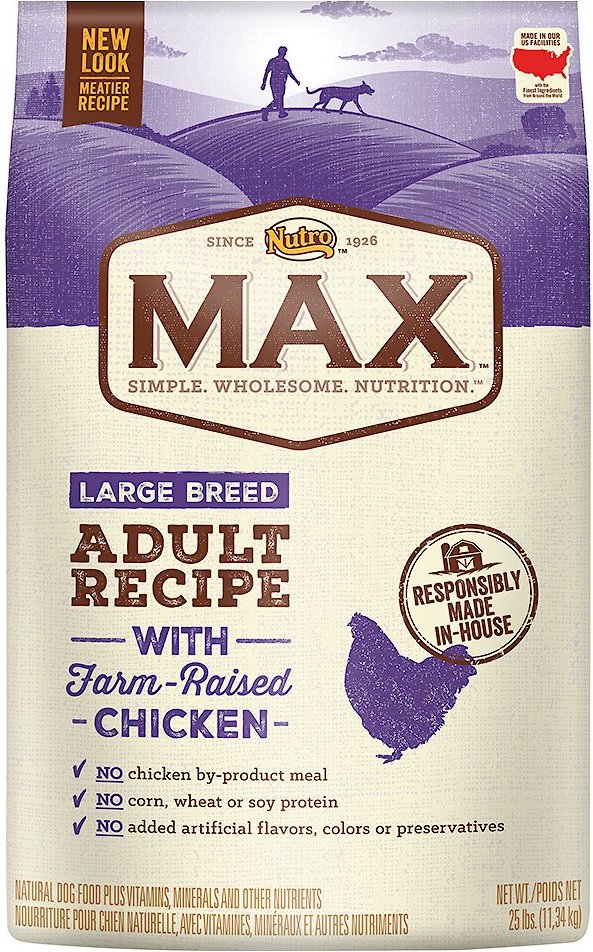 Nutro Max Natural Adult Dry Dog Food
Clinically Proven Formula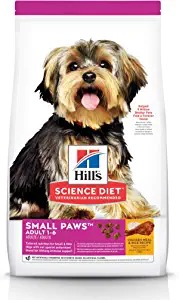 Hill's Science Diet Dry Dog Food
Chicken Meal & Rice

4.5 Pound 
Grain-Free Recipe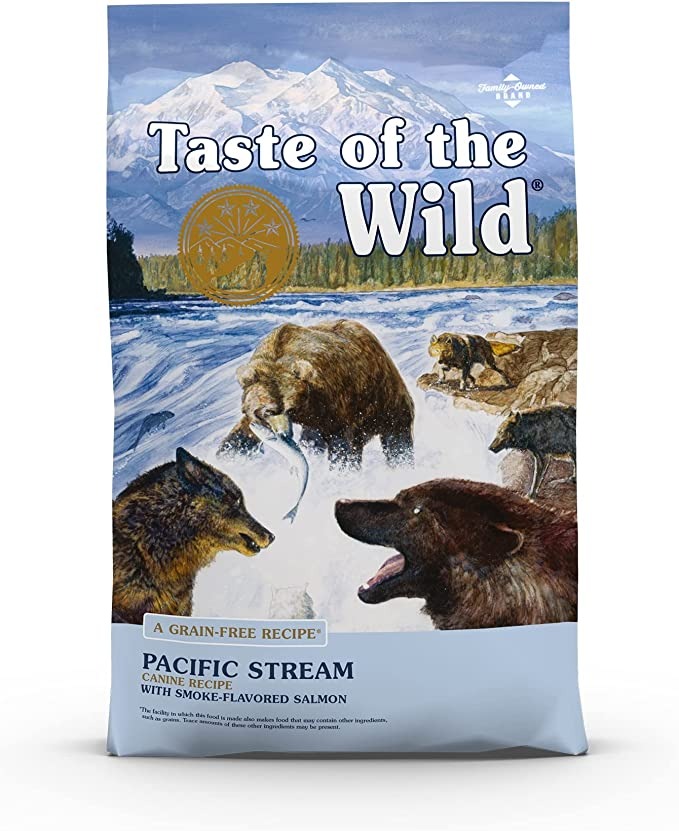 Taste of the Wild High Protein
Large Breed Puppy Formula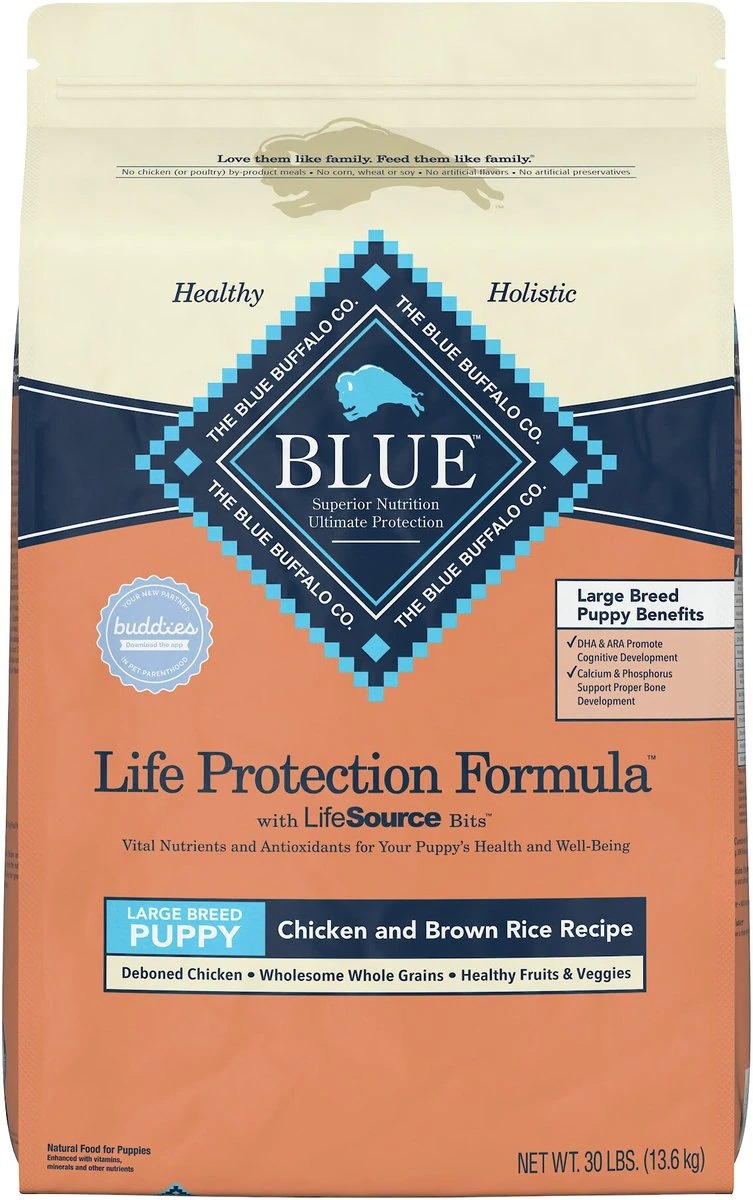 Blue Buffalo Life Protection Formula
Vet Recommended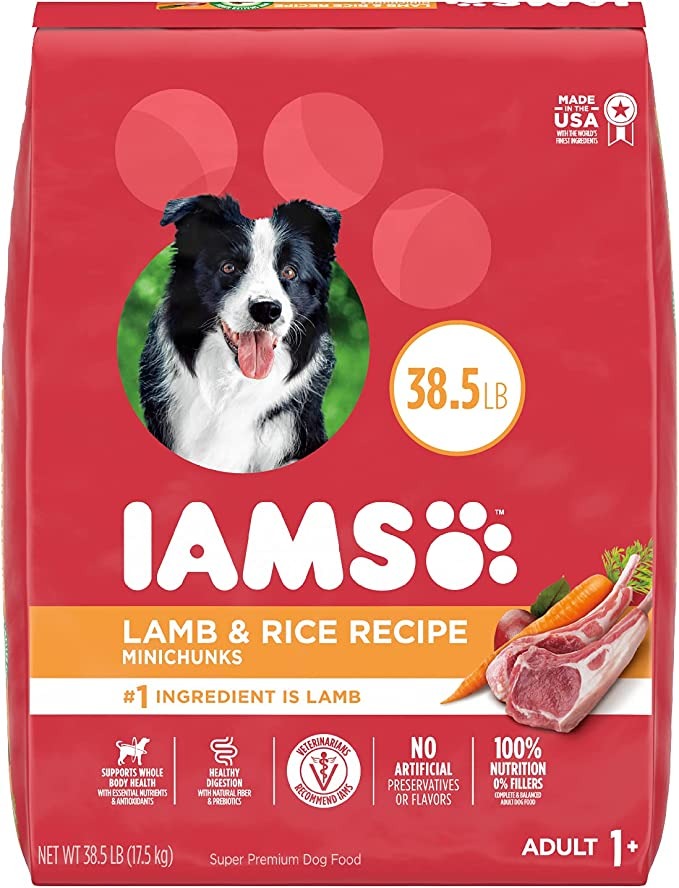 Iams Proactive Health Adult Dry Dog Food
Biologically Appropriate Nutrition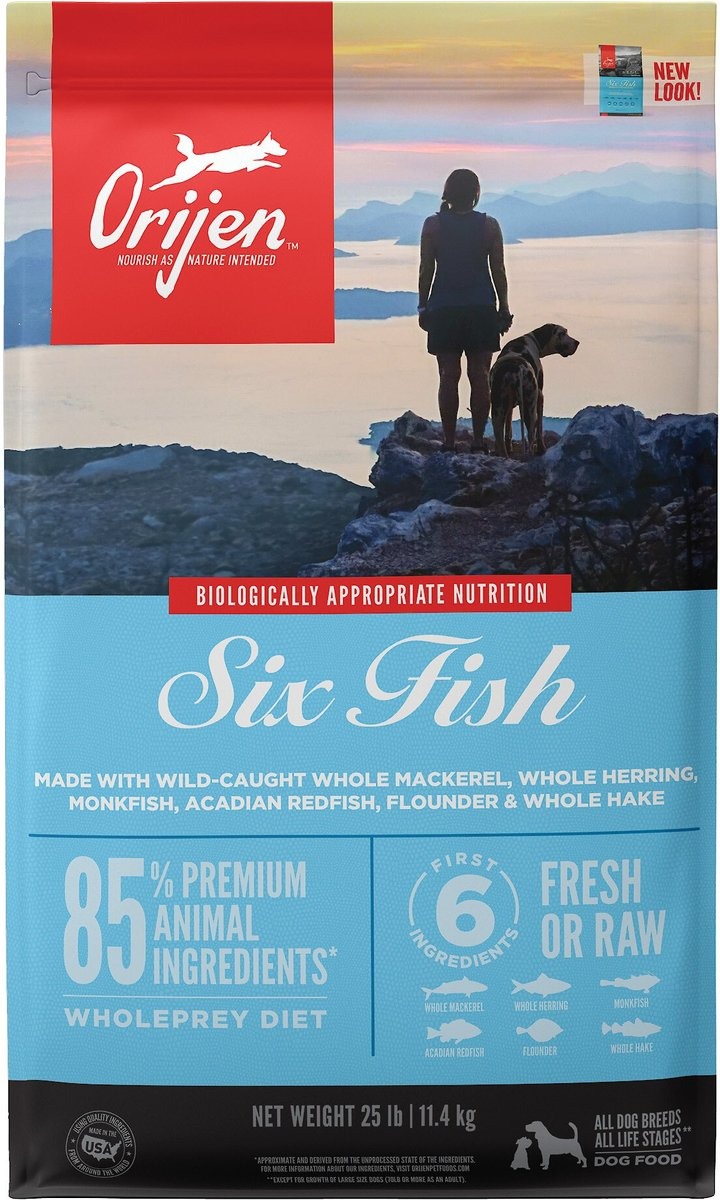 Protein-Rich Diet
Wellness CORE Grain-Free Dog Food
Chicken Meal

Weight: 26 pounds
Chicken and Rice Formula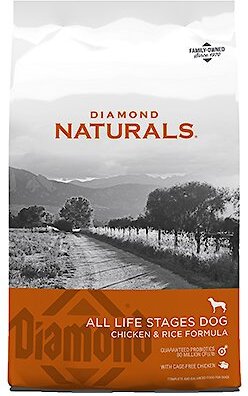 Diamond Naturals All Life Stages
Chicken & Rice Formula

40 Pound 
Natural Dry Food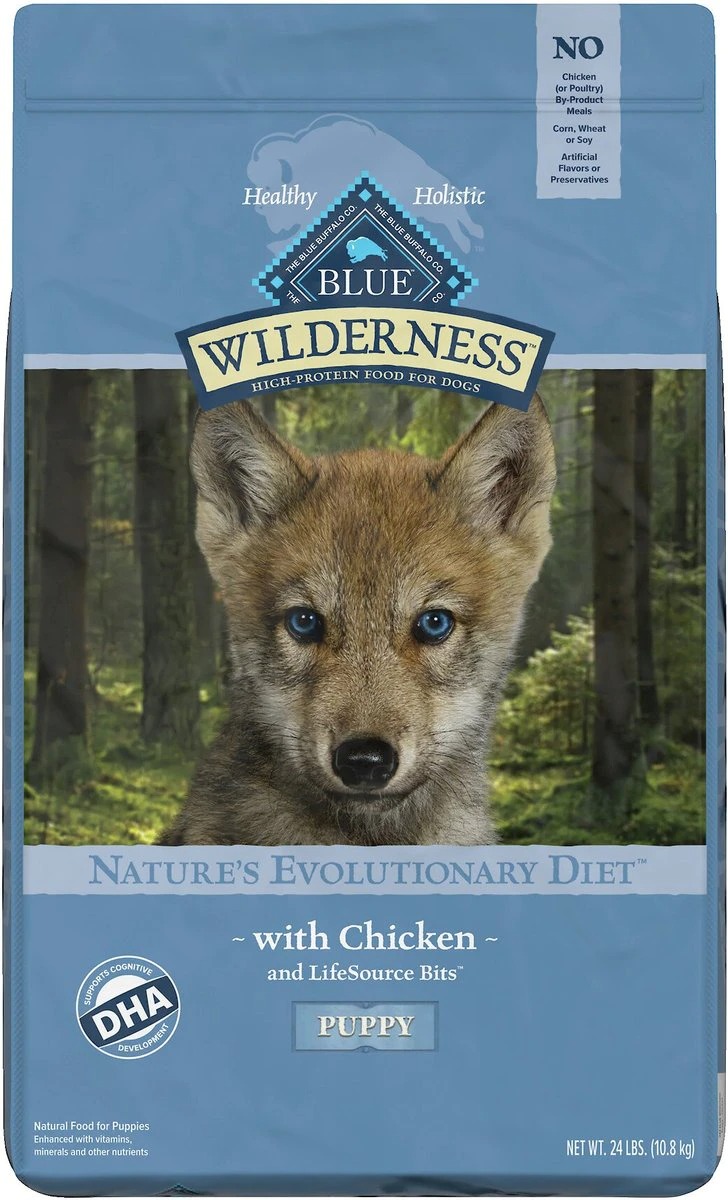 Blue Buffalo Wilderness Puppy Dog Food
This article is a complete solution for your every problem. You can invite other husky parents to read this article as well and to make them aware of best food for huskies.
Let's read our best 9 husky foods listed below!
Best Dog Food for Huskies
As we know huskies are most friendly, mischievous, playful and energetic creature. Their boundless energy, enthusiasm and intelligence require proper nutrition. All the available foods in market are not crafted according the specific diet huskies need. Therefore, we put together some best foods for huskies. In the reviews below you will learn about the best husky food, its ingredients, features, pros and cons.
Additionally, we have mentioned the suggestions of our testers as well. Their expertise will surely help you to choose the best possible option.
Let's have a deep look!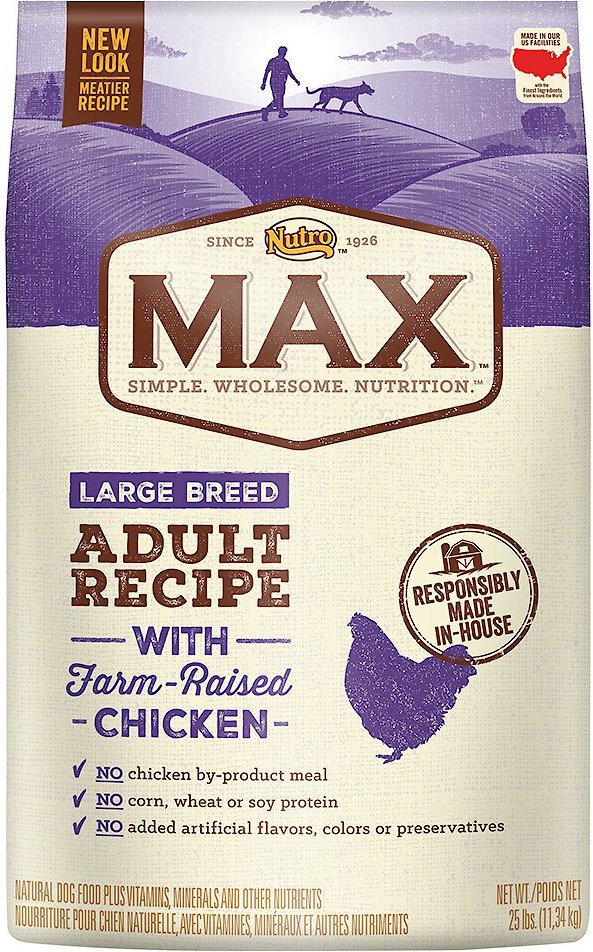 To satisfy the big appetite of your large dogs Nutro Max is the finest choice. The company is well known for its tested and finest ingredients that can be traced back to the source. This dry dog food for large breeds has formulated with sources rich in protein and amino acids to build healthy metabolism and strong muscles. It is fortified with vitamin A1 supplement, B6 and D3 to promote healthy brain, water regulation production of red blood cells.
Naturally sourced glucosamine and chondroitin, help to maintain healthy cartilage and strong joints. The right amount of fiber from whole ingredients promotes an ideal digestive system in the absorption of available nutrients. This high quality product contains surely no artificial flavors and fillers. This premium nutrient diet has formulated in the manufacturer's own facilities to deliver high quality and healthy diet.
Specifications
Dry dog recipe
Vitamin A1, B6 and D3 supplements
22.0 % crude protein and 13.0 % crude fat
No chicken by- products, corn, wheat or soy proteins
Farm raised chicken, chicken meal and chicken fat
No artificial flavors and preservatives
Pros
Most parents loved this food because it helped their dog to gain weight which lost after a surgery. They also shared it has standard kibble size which made it easy to chew.
Mostly parents were happy with its normal price. They shared in low price they got a quality food for their dog.
Cons
Some parents suggested to other buyers if their dogs are suffering from allergies and diarrhea don't use without consulting your vet.
Tester's Verdict
Our testers reviewed this dry dog food a best solution for its tested ingredients to ensure health of your dog. But parents who have dogs with sensitive stomachs are advised to use after consultation of their medico.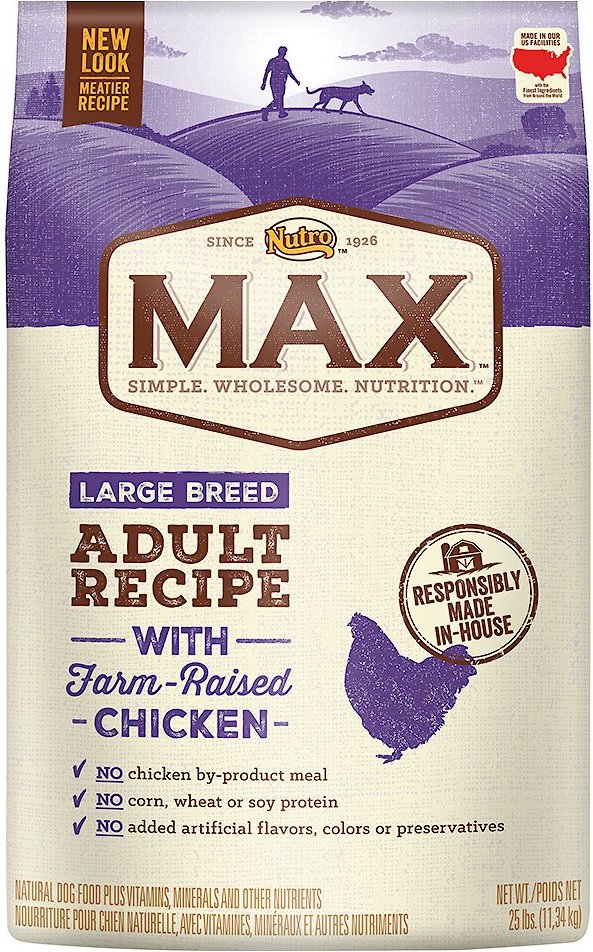 Nutro Max Natural Adult Dry Dog Food
The price of "Nutro Max Natural Adult Dry Dog Food" varies, so check the latest price at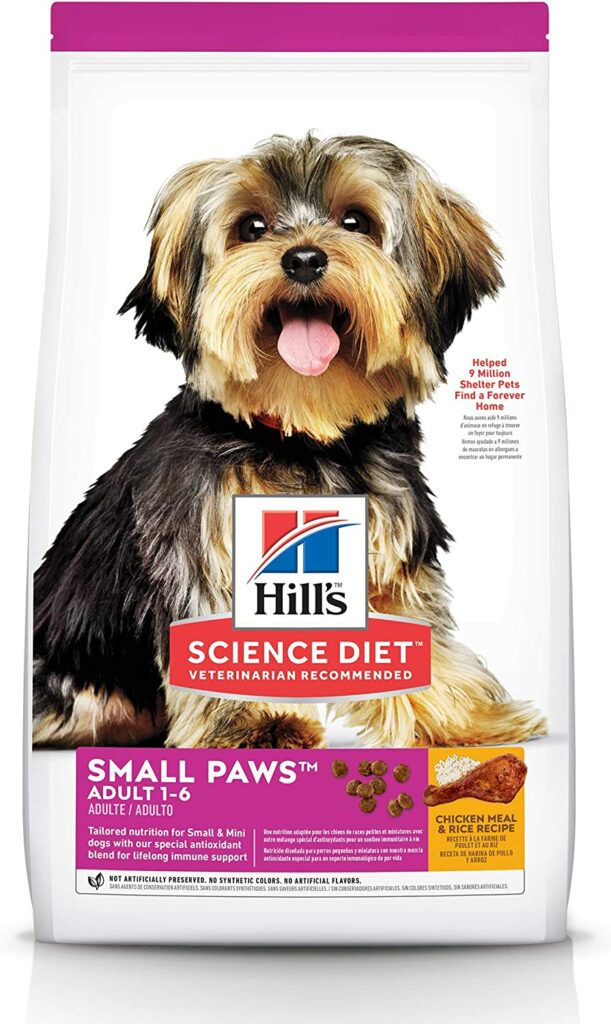 Hill's dry dog food has specifically created for sensitive stomachs and skin. This formula contains Chicken, brewers rice, chicken meal, yellow peas and cracked pearled barley. All these ingredients are a rich source of nutrients such as animal protein, fats and carbs to promote healthy digestive system. This dry dog recipe is for adult huskies.
Additionally, it is also fortified with vitamin E and omega-6 fatty acids to nourish healthy skin and coat. This adult dry dog food is also a source of prebiotic fiber to support a balanced gut microbiome in pups. This crunchy kibble is highly recommended by veterinarian for dogs suffering from digestive and skin issues. It is suggested to feed the amount of food according to vet's advice.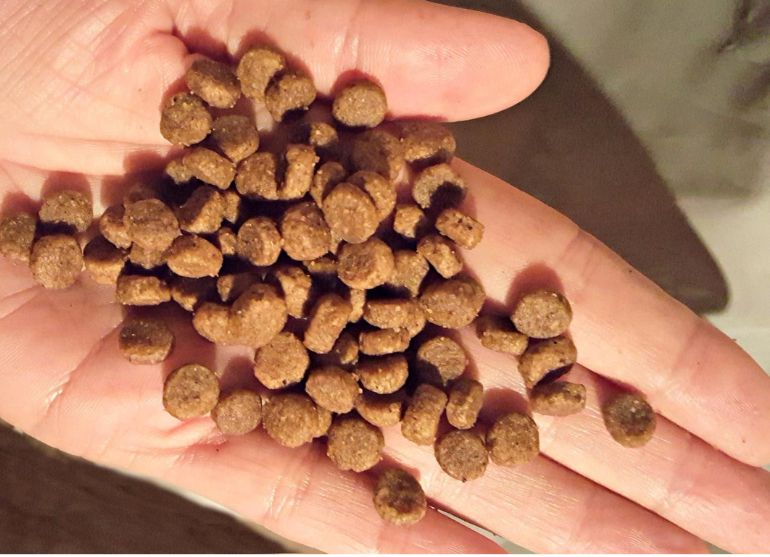 Specifications
Chicken as 1st ingredient
26% protein, 16% fat, 50% ,carbs and 61% protein
Vet recommended
Dried beat pulp
10mm + 3.5 mm small kibble
Pros
As compare to other foods parents showed more love for this brand. It helped their dogs, who were suffering from terrible digestive issues like loose stools. They mentioned they tested other brands as well but for their dogs this product worked like magic.
Many users appraised this formula because it assisted their dogs to get rid of dull and rough coat. It also worked to cure their pups' skin allergies as well.
Cons
Since the company introduced some new flavors and kibble sizes. Some users tried them without vet's words and they recorded negative feedback.
Testers' Verdict
Our testers reviewed this formula as best solution for the dogs suffering from skin and digestive issues. They tested this product on the dogs and found visible positive results. But, they advised to use according to the vet's recommendations.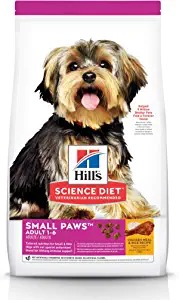 Hill's Science Diet Dry Dog Food
The price of "Hill's Science Diet Dry Dog Food" varies, so check the latest price at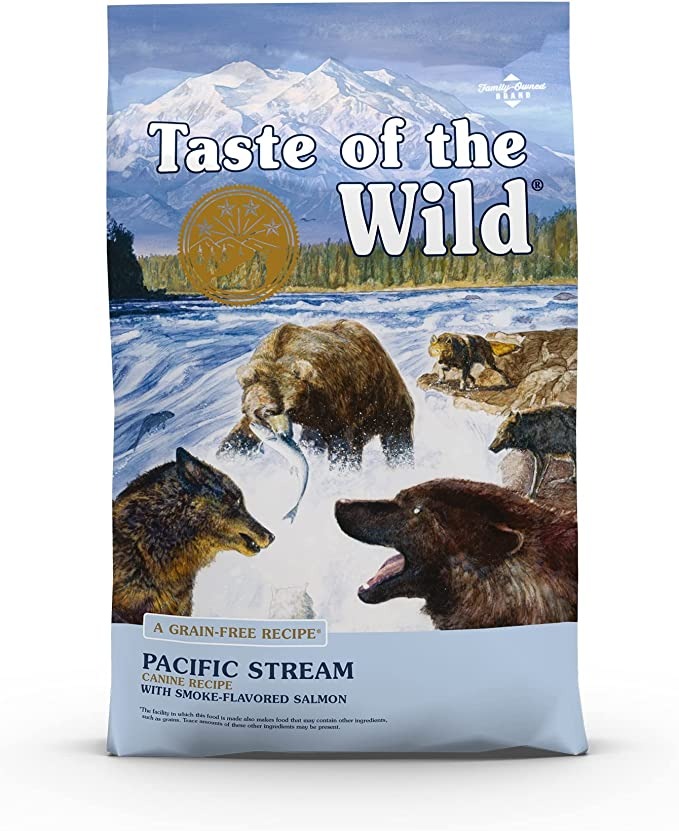 Taste of wild high protein dry dog food is undoubtedly a delicious meal to fill your husky's bowl. If your husky is a fish lover it is the best formula to appeal your wolf. It contains of nutrients to make you and your furry friend to fall in love with it. K9 Strain probiotics are developed specifically for dogs and added after the cooking process to ensure viability
Fish, Fruits, super foods, blue berries, sweet potatoes, and peas are key ingredients to provide all the nutrients to support healthy joints, bones, lean muscles, healthy digestion, and healthy skin and coat. This dry food is enriched with species-specific probiotics to support healthy digestive and immune systems. This recipe is specially designed to ensure the health of adult huskies.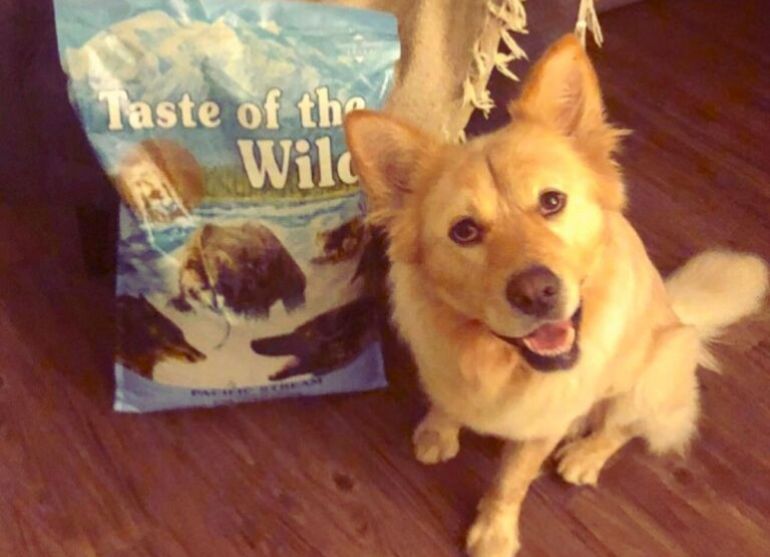 Specifications
Smoked salmon ass first ingredient
Egg free recipe
Dried chicory root
Antioxidants
80 million of CFU/LB of guaranteed probiotics
28 pound ( 1 pack)
Pros
Many users loved this food because their huskies loved its fish flavor. They happily shared fish oil supplements helped to cure skin allergies. Additionally they noticed the skin and coat became more soft and shiny.
Some parents shared their satisfaction with its ingredients such as K9 strain to resolve digestive issues. It helped the dogs suffering from vomiting and diarrhea.
Cons
Fewer users complained for the unpleasant smell of the food. And they also complained about high price.
Testers' Verdict
Testers reviewed the product and suggested to use for the dogs suffering from digestive and skin issues. They also gave a buying tip and asked users to buy the product with Amazon's subscription to get discounts in price.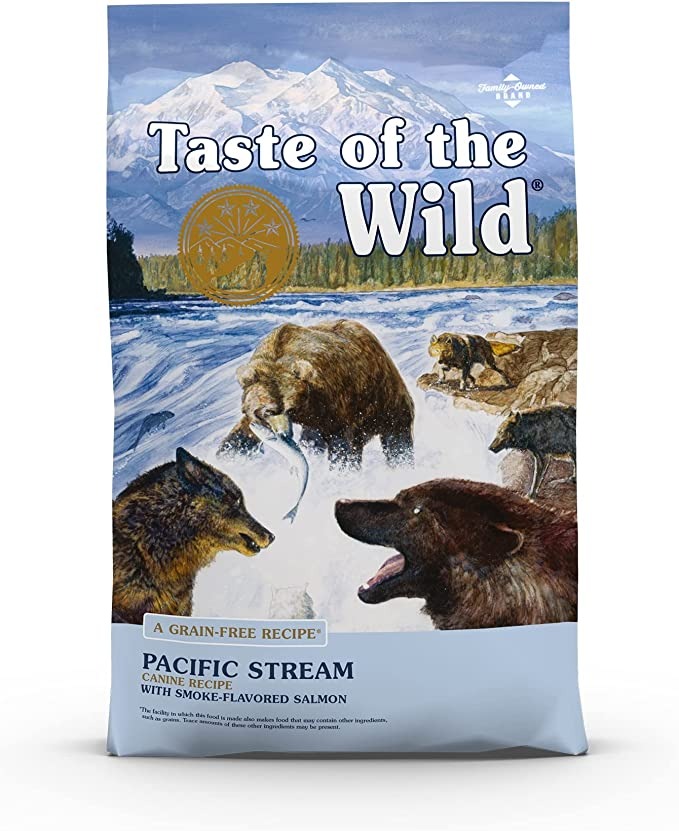 Taste of the Wild High Protein
The price of "Taste of the Wild High Protein" varies, so check the latest price at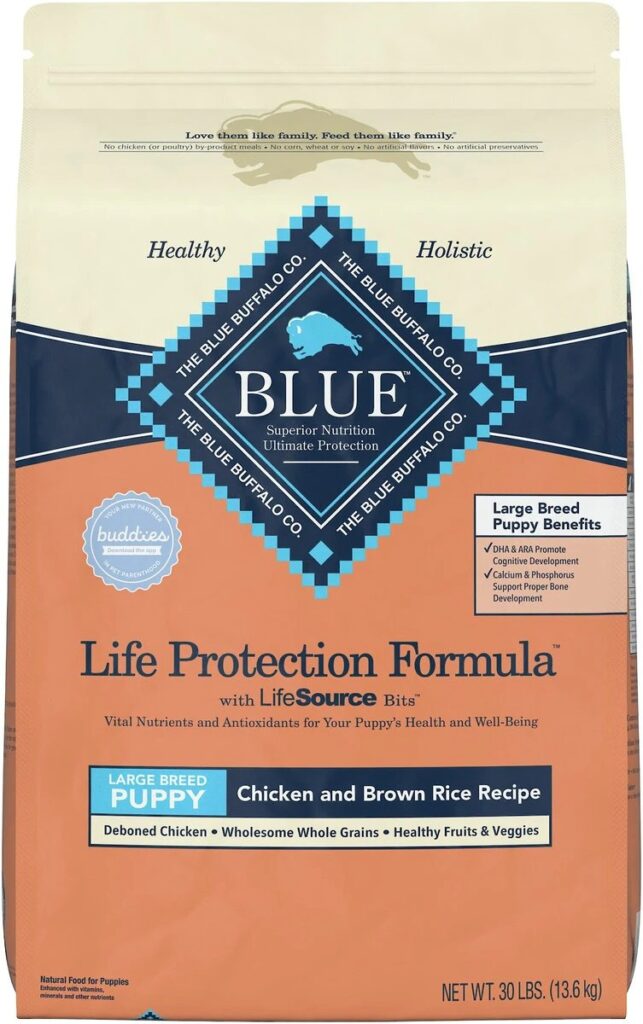 Puppyhood is an important stage in dog's life either they are huskies or other dogs. Puppies need a food rich in proteins and other nutrients to boost up their energy level and healthy growth. We appreciate the inclusion of such ingredients in this Blue buffalo's recipe, who promotes healthy growth, developmental process in large breed puppy huskies. This protection formula gives vital nutrients and fatty acids to support brain, dental, skin and coat health.
Deboned chicken, chicken meal, brown rice, oatmeal, barley, healthy fruits and vegetables and whole grains are the rich source of nutrients that make sure the puppies health. For example vitamins, minerals, precise blend of antioxidants help to get healthy immune system, healthy oxidative balance and to build strong muscles.
Specifications
Real chicken as first ingredient
Omega 3 & 6 fatty acids
DHA & ARA
Optimal blend of calcium and phosphorus
No artificial flavors and chicken by-products
Pros
Many users shared their positive feedback for the product as they noticed a visible change after usage. They shared that puppies who were suffering with limping and weight loosing are now jumping and playing actively. Puppies are now growing well according to the parents as well.
Another benefit of this BB formula is its standard kibble size which has now modified with a special feature. Parents highly appreciated this innovation in product. The standard kibble size helped the puppies to remove tartal with chewing it. It also helped their dental health.
Cons
Few parents complained about their dog's suffering from gas issue. They mentioned it might cause due to some ingredients which weren't healthy for sensitive stomachs.
Tester's Verdict
Testers suggested using the product with the advice of your vet if your puppy has a sensitive gas issue. Overall they rated this recipe as a descent food for the husky puppies with large breeds. It is fortified with ingredients and nutrients to support healthy coat and proper development of different organs.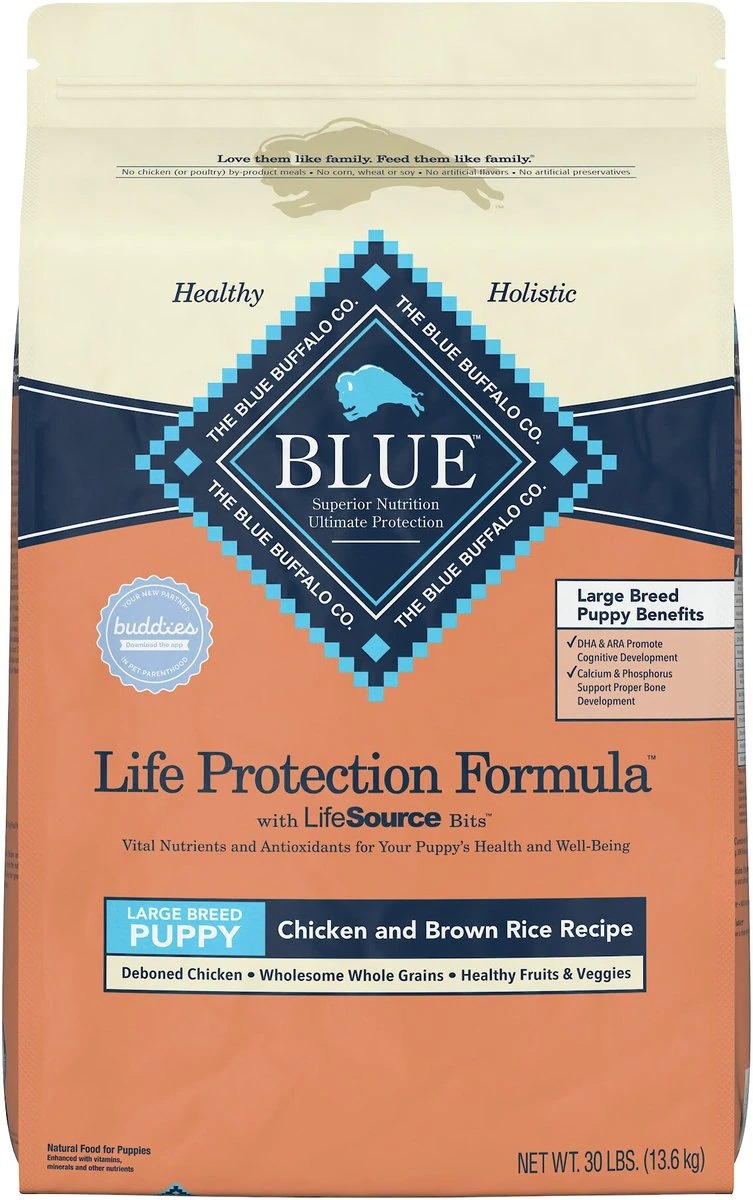 Blue Buffalo Life Protection Formula
The price of "Blue Buffalo Life Protection Formula" varies, so check the latest price at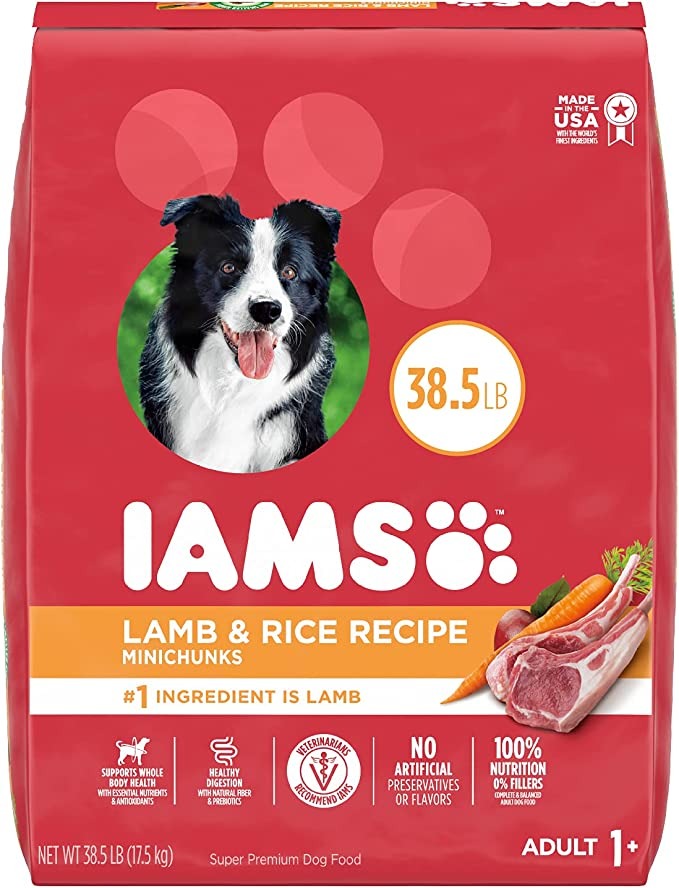 Iams proactive health formula is best for adult huskies. Adults have unique needs and this lamb and rice recipe works wonder for the adults. This adult food has fortified with real, premium lamb which promotes healthy digestion with a best blend of wholesome fibers and prebiotics. Dried plain beet pulp, crushed carrots, rice, and chicken fat helped to improve, the immune system, muscles, and teeth and boost up the energy level.
Inclusion of omega fatty acids promotes healthy skin and coat. Iams adult husky formula is rich with rice and barley. It limits the damage to your dog's gut, but delicate dispositions should avoid this kibble all the same. This recipe is very inexpensive considered as a pocket friendly option among users.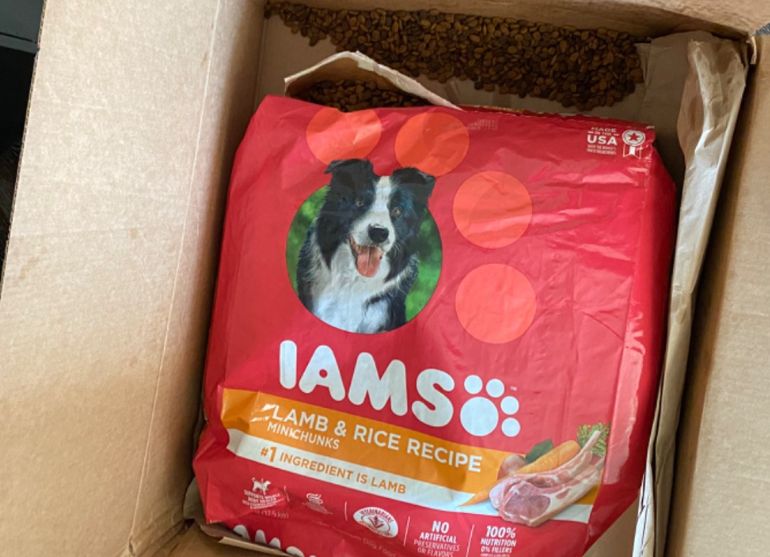 Specifications
Lamb is first ingredient
Crude protein 25.0 % and fat 14.0 %
No artificial flavors and preservatives
Vet recommended
38.5 pound( 1 pack)
Pros
People loved this food because lamb is used as first ingredient which is a rich source of nutrients to fulfill adult huskies developmental and energy needs. They also liked this food because it helped their huskies to get shiny coats.
People preferred to invest in this brand because they found it very less expensive as compared to other husky foods.
Cons
Some users showed their dissatisfaction because company has mentioned that ingredients are not recognized according the AAFCO dog food nutrient profile.
Testers' Verdict
Our team tested this product on adult huskies and they recommended it for huskies developmental and energy needs. Testers recommended this brand because it is less expensive as compared to other brands. They suggested this brand for the adults to promote healthy immune system and digestive system.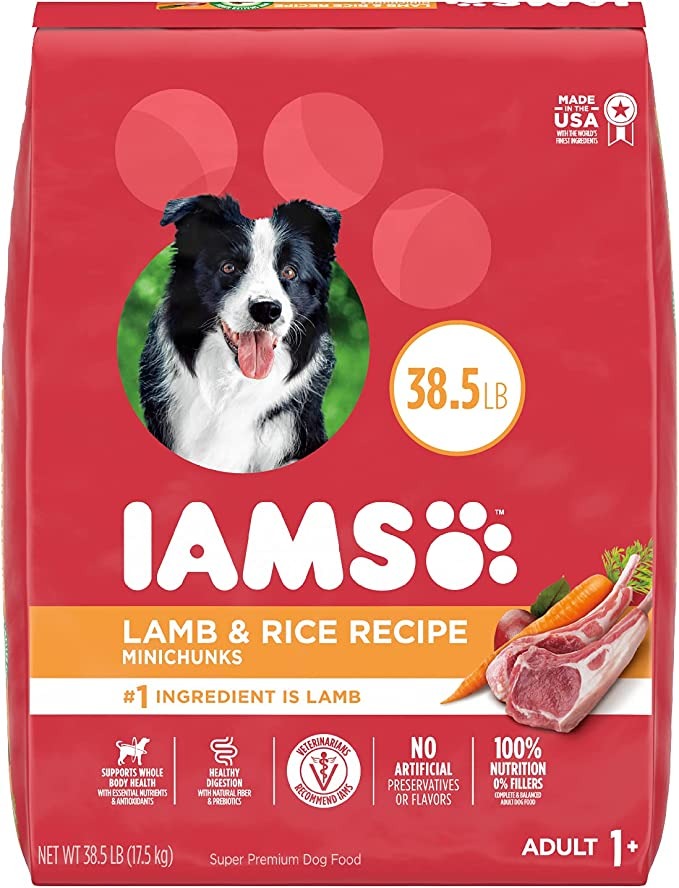 Iams Proactive Health Adult Dry Dog Food
The price of "Iams Proactive Health Adult Dry Dog Food" varies, so check the latest price at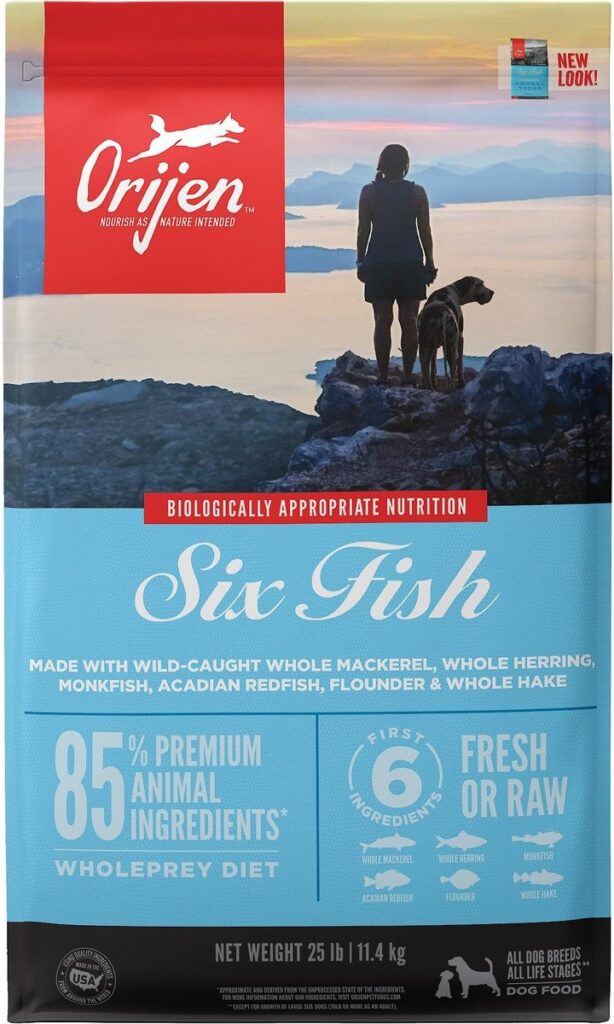 This dry dog food is highly loaded with whole fish ingredients from Atlantic mackerel, herring, monkfish, Acadian redfish, flounder, and silver hake. This 6 fish formula and fresh raw animal ingredients, such as meat, organs, cartilage, and bone are high source of rich protein. This 6 fish formula makes it delicious food for your huskies.
This recipe is biologically approved and crafted according their specific needs. Orijen's whole prey diet is made for all dog breeds and all life stages. This award winning recipe is a highly recommendation of veterinarians and nutritionists. It is free from grains and has made with wild caught fish which gives it an edge over others.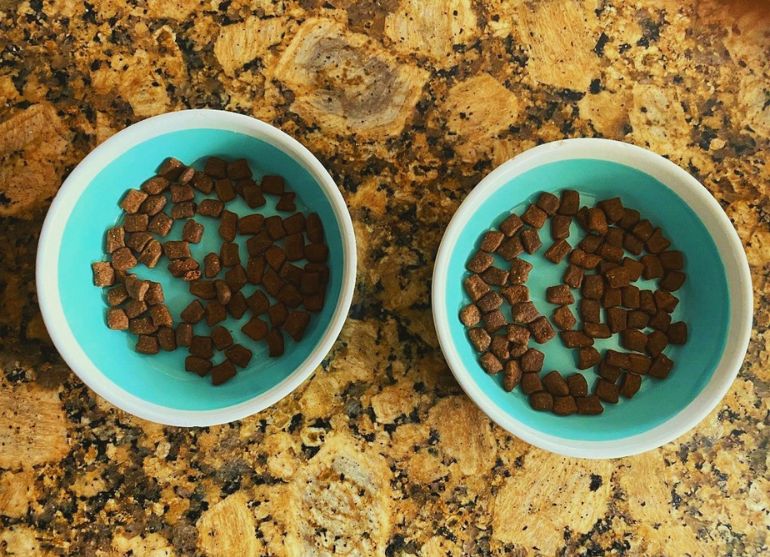 Specifications
85% premium animal ingredients
Whole prey diet
Grain free formula
Vet recommended
25 pound ( 1 pack)
Pros
Many parents preferred this food as compare to other foods because it is grain free and helped sensitive tummies. Parents are happy because they shared that huskies liked this whole prey diet.
Owners with peaky eater dogs also showed their satisfaction and suggested other buyers to invest in this brand.
Cons
Not a total con but some parents complained about its fish smell which their huskies didn't like at all.
Testers' Verdict
Testers recommended this high protein whole prey diet to the puppies, adults and senior huskies because it is rich in animal sourced protein. Every life stage of huskies needs protein for their different energy and dietary requirements.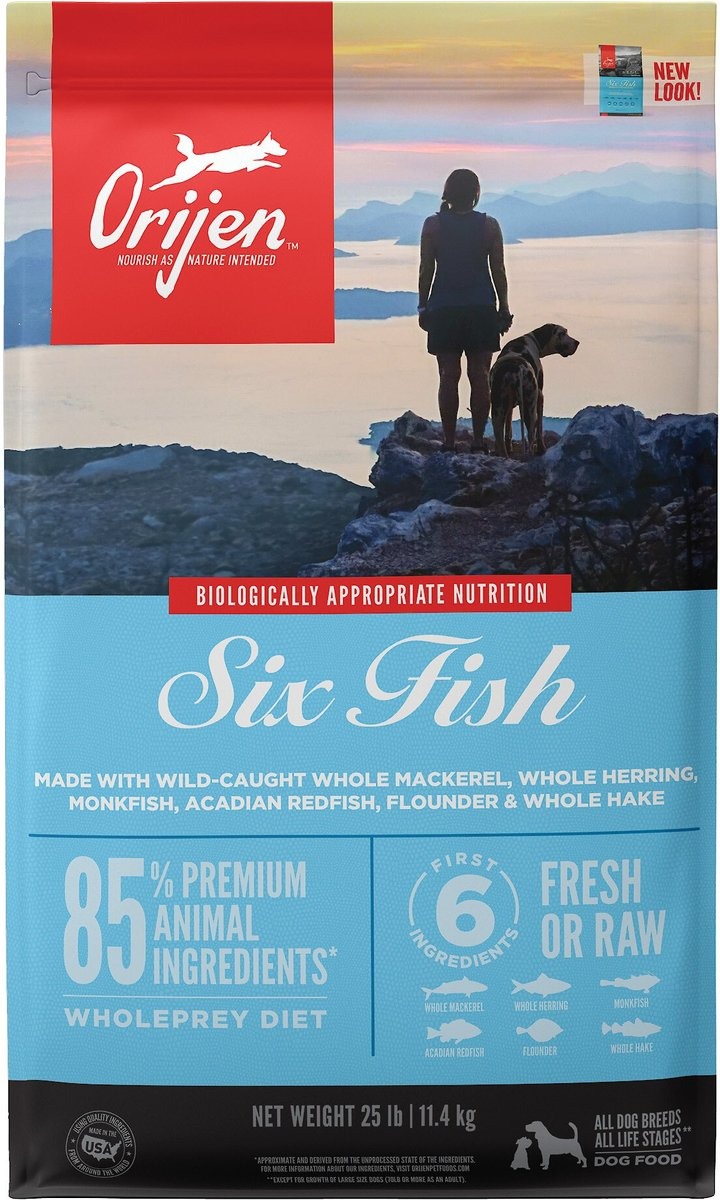 Orijen Dry Dog Food 
The price of "Orijen Dry Dog Food " varies, so check the latest price at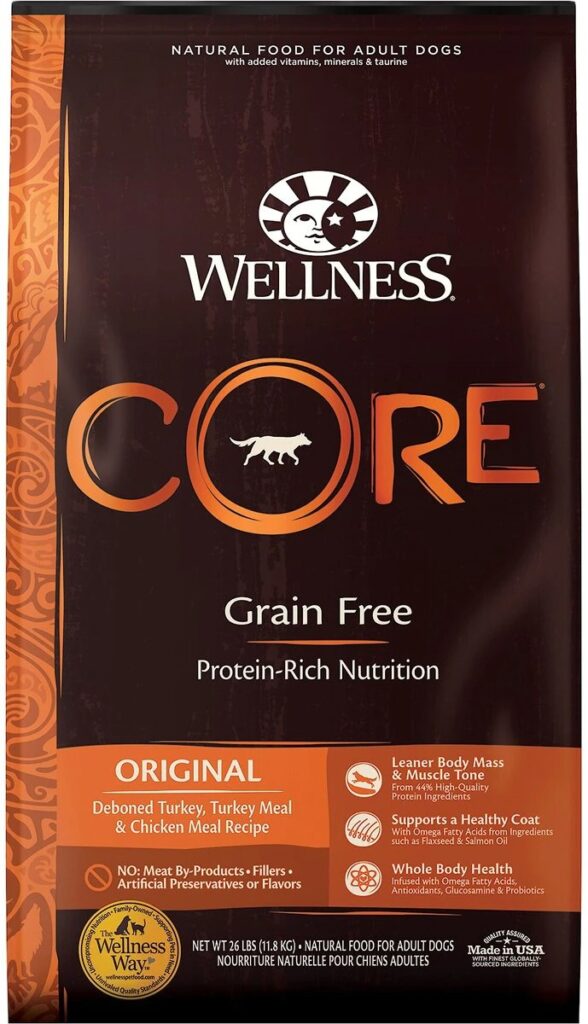 Wellness core grain free dog food for adult huskies is made of deboned turkey, turkey meal chicken meal, peas, dried ground potatoes, spinach, broccoli and carrots to support your husky's overall health and well-being. This grain free diet is also enriched with optimal level of proteins, fats and minerals. Fresh meat and rich protein promotes leaner body mass and muscle tone and also helpful in growth.
Prebiotics and probiotics helped to ensure the digestive health. Omega fatty acids work for healthy and shiny coat and skin. Taurine, antioxidants and glucosamine are key essentials for healthy heart. It is free from gluten, meat by- products and harmful flavors and fillers. Globally sourced ingredients are only used in its production.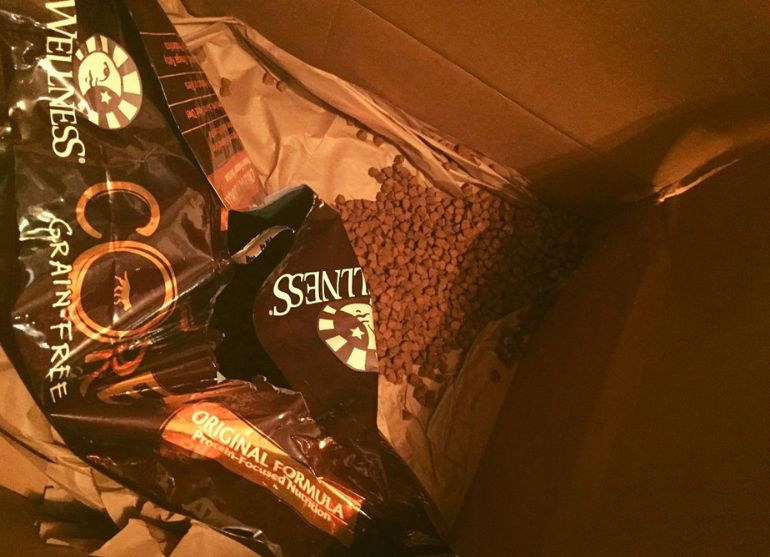 Specifications
Turkey ass first ingredient
44% high quality protein
No artificial fillers and flavors
Prebiotics and probiotics
Antioxidants and omega 6 & 3 fatty acids
26 pound (pack of 1)
For all breeds
Pros
Many users praised this food because it helped their huskies to cop up with gas issue, loose motions and weight loss. Its ingredients which are rich source of proteins and other nutrients worked for digestive issues.
Many users liked this product for its fresh ingredients such as vegetables and fruits which helped their huskies to to meet their dietary needs. Fatty acids helped huskies to get shiny coats.
Cons
Few people mentioned it a high price product but they aren't unhappy to pay because it is well worthy to invest for.
Testers' Verdict
Team of testers tested this recipe on the dogs suffering from loose stools and allergies. After usage of this kibble they examined a visible change in their wellness. It is highly recommended after guaranteed attestation.
Wellness CORE Grain-Free Dog Food
The price of "Wellness CORE Grain-Free Dog Food" varies, so check the latest price at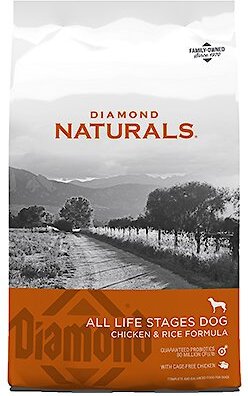 Diamond Naturals dry dog foods promote full, holistic nutrition for your wolf's general health and well-being. Super food ingredients are included in every bag or can, providing antioxidants and other critical nutrients, and all dry formulas include guaranteed probiotics for digestion and immunological well-being.
This meal is formulated for developing large breed puppies and contains DHA for optimal brain and vision development. The presence of proper protein and fatty acids make sure the growth and development of a large breed puppy. As well as, L-Carnitine aids in the conversion of protein and fat into energy for a balanced, healthy body. It is full of ingredients and nutrients which are perfect for all breeds.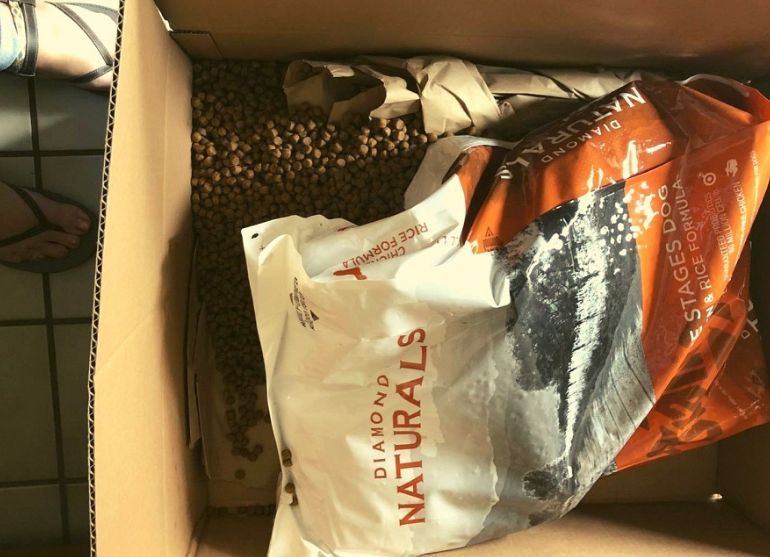 Specifications
Fresh chicken ass first ingredient
Cage free chicken
Guaranteed Probiotics
80 million CFU/lb
Omega 6 and 3 fatty acids
Super foods
Size 40 lb
Pros
Many users were happy with this food because it possessed all the natural ingredients. They shared that it helped their huskies in weight gaining.
Most owners loved this chicken and rice formula because they found their dogs happily eating this kibble. The huskies were chewing their paws and weren't fan of grain formulas so it helped the parents to tackle this problem with the help of this formula.
Cons
Some users complained the consistent increase in price. They liked the formula but increasing price was a hurdle in continuous usage of product.
Tester's Verdict
Our testers recommended this food for choosy huskies. Because it's delicious flavors will make your furry friend irresistible before food. It is also recommended to improve for dull coats because this formula is rich in fatty acids and antioxidants helped to improve digestive system.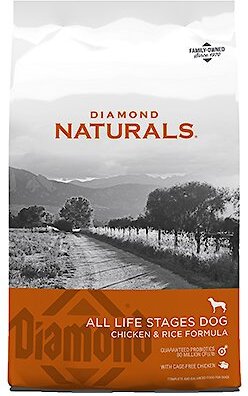 Diamond Naturals All Life Stages
The price of "Diamond Naturals All Life Stages" varies, so check the latest price at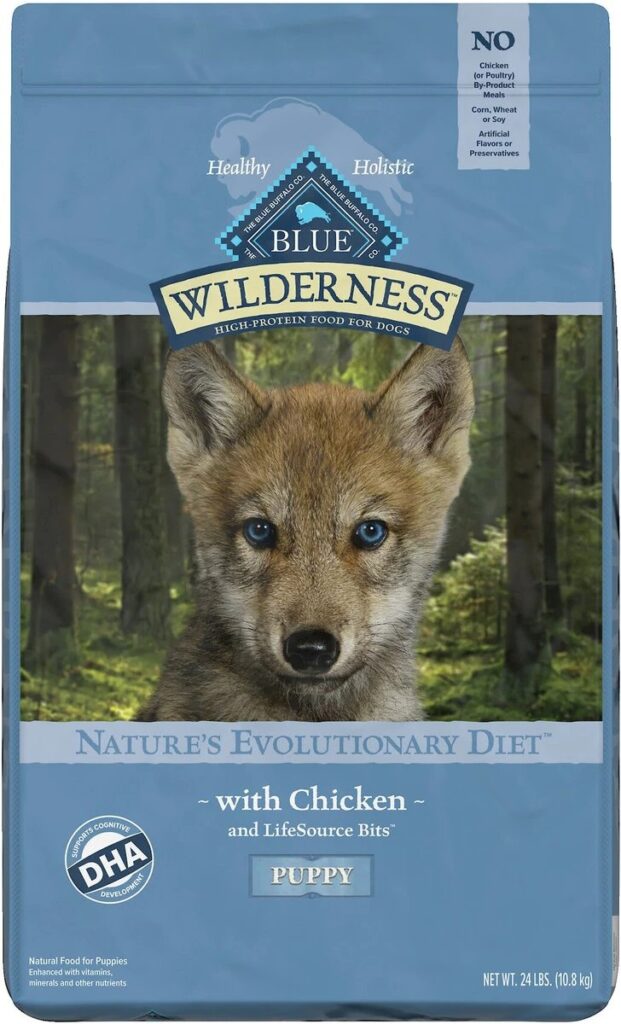 Puppies, especially husky puppies, require a lot of protein to keep up with their continual spurts of activity. The overall protein content is 36 percent, with deboned chicken, chicken meal, and fish meal providing the majority of the protein. Some of it comes from peas, which lack the amino acids found in animal sources, although that may be overlooked.
To improve antioxidant levels, the producers added flaxseed and fish oil, and instead of grains, this kibble contains complex carbs like the aforementioned peas and tapioca. Superfoods like blueberries, cranberries, and kelp are also premium additions. It is free of meat by-products and artificial fillers.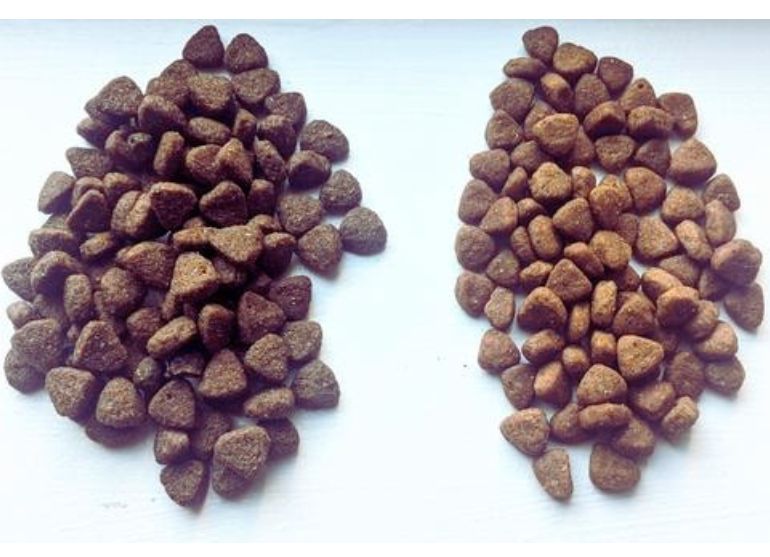 Specifications
Real turkey and chicken
Grain free product
No corn, wheat or soy
Amino Acids
DHA and ARA
No harmful flavors
For all breed size
Bundle | 24 lb + 12.5 oz (Pack of 12)
Pros
Many users praised this formula because it helped their huskies to get stronger immune system. The users also shared they noticed a positive change in the daily routine. Similarly they loved this food because it free of meat by- products which are harmful for dogs health.
It is available in dry and wet formulas. This factor helped many parents to make it more appealing for huskies to eat. They also shared that its natural ingredients made it more trustworthy unlike other brands.
Cons
Some users complained regarding kibble size and its color. They said their dog wasn't happy with the color and size of kibble. It was difficult for him to chew because it was very dry.
Testers' Verdict
Our team has suggested this natural puppy food for the muscle growth and to maintain the energy level of puppies. Additionally the price is not very high so it can easily affordable for every parent.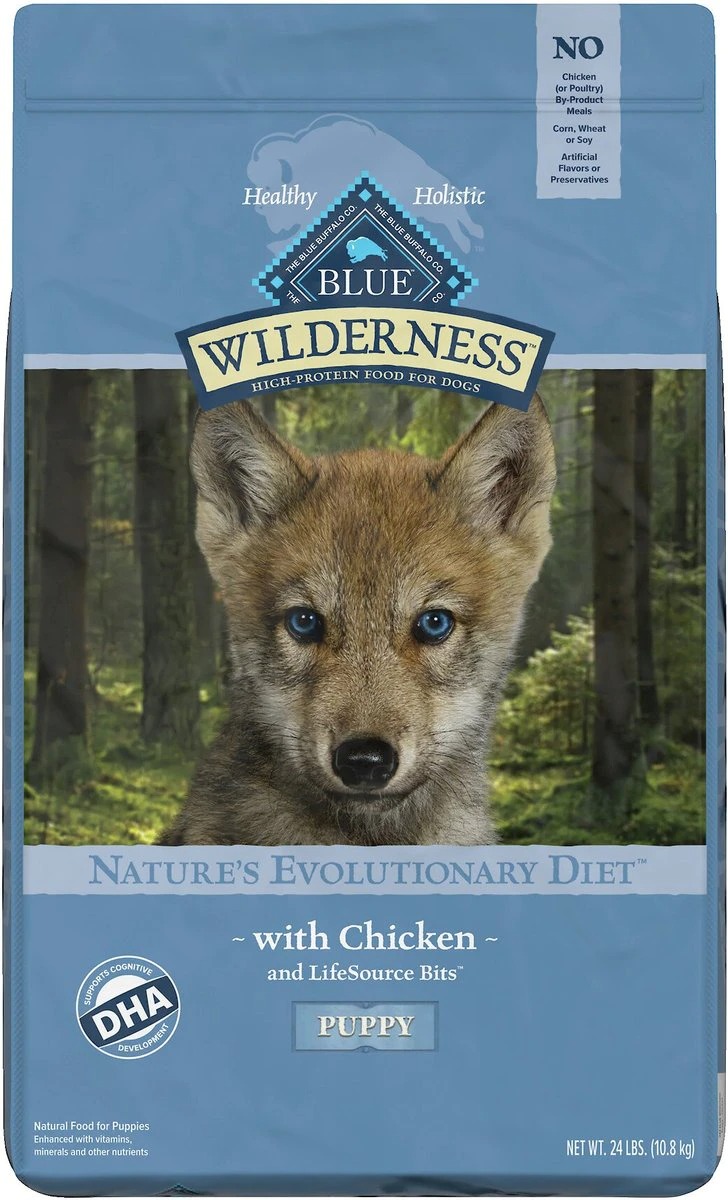 Blue Buffalo Wilderness Puppy Dog Food
The price of "Blue Buffalo Wilderness Puppy Dog Food" varies, so check the latest price at
Things to Consider When You Buy the Best Dog Food for Huskies
Age
The first thing to keep in your mind when you aim to purchase food for your husky is age. Husky puppies, adults, and seniors have different nutritional needs. You cannot feed them with the same nutrients and diet. For example, some studies showed if you feed husky puppies with a high amount of calcium the risk of permanent hip disease could increase in them.
Additionally, senior huskies need more protein and fewer calories as compared to adult huskies. Huskies are considered medium-breed dogs. For your convenience, we have mentioned a chart that will help you to buy food according to the age of your husky.
Weight
The selection of your food for your pet will affect either positively or negatively your dog's weight. As we have mentioned earlier huskies puppies, adults, and seniors have different trends of gaining and losing food. For other various reasons, food is considered a key factor that directly affects weight. There is a need for the right food for the right age group.
For example, High protein and fat foods are great to put on weight. Similarly, underweight huskies should be eating foods that are around 30% protein and 20% fat. If they're eating dry kibble, or 7% protein and 5% fat, or higher, if you're feeding a wet food. For the pets over weighting high in protein and low in carbs diets are great to help. An amino acid name L- carnitine, derivative found in meat, fish, and dairy products, helps to burn fat.
It is also good to consult your vet as well before buying the food for your dog.
Diet
A diet consists of high quality animal protein, moderate fats and low in carbohydrate is considered as the healthy diet for huskies. Huskies have special diet requirements as we know they are more playful and active. Their feeding schedules, interest in food and diet type are the factors should be in your consideration when you are buying a food.
There are 3 types of diets.
Raw food, such as vegetables, fruits and meat
Commercial food like, wet dry food and
Combination of two
Although feeding your, many husky parents have switched their dog's diet to include more nutritional and healthier raw foods like chicken, beef, lamb, fish, fruits (no grapes, prunes or raisins) and vegetables. If you choose to feed your husky both a processed and raw diet, do not feed him both at the same meal.
Huskies digest differently every diet and it may base on how sensitive the stomach they have. Feeding your husky with processed and raw food at the same time isn't a good idea. Commercial dry or wet food is less expensive, lasts longer and is easier to store. Many parents prefer to switch their dog's diet with raw foods like chicken, beef, lamb, fish and fruits to aid their die with healthy nutrients. It is recommended consulting your vet for scheduling a perfect diet for your dog.
FAQs
What Kind of Diet Is Best for a Husky?
As we have mentioned above diets have different types. A well balanced diet would be perfect to fulfill all the dietary needs of a husky. It is recommended to feed a husky a mixture of raw and commercial dog food. Because they need a diet high in protein and red meat with commercial food is considered a rich source of protein and other essentials.
How Much Food Do I Feed My Husky?
Meal frequencies for huskies are very much important. Huskies have different eating patterns unlike other dogs. A husky puppy should feed thrice a day. With the passage of time he will automatically shift on 2 meals per day. Similarly senior huskies become less active and their metabolism slows down as well. Unbalanced diet not only causes over weighting but also cause other issues such as degenerative issues, like hip dysplasia.
It is suggested to feed your senior huskies with commercial foods that are high in fiber, lower in calories and fats, vitamins and minerals. They are usually great for good digestive health.
How Many Calories Do Huskies Need in a Day?
An appropriate amount of calories can help huskies to enjoy the benefits of a well-balanced diet. While a mixture of dry food and meat is always a good option to feed huskies in proper manner. A normal dog might need 1,500 calories a day, huskies can easily consume up to 10,000 calories per day. It has shown in the table below for better understanding.
Husky Puppies = 850-1250 calories per day
Husky Adults = 1250-1750 calories per day
Husky Seniors = 1000 calories per day
Conclusion
Your great pet deserves excellent food. Feeding your friend with the best possible option is the best way to show your care and affection for him. Huskies are incredible dogs and their high energy level needs specific nutritional requirements. We hope the reviews above would help you to find the best food for your wolf pup. You are welcome to share your experience if this write-up helped you in getting the best option. For any query, you can contact us directly, or comment in the comment box below the post navigate