Bone broth has been all the rage in the health industry for a while now for humans, so why not let your furry friend get in on the benefits?
My cockapoo Mozzie has a lot of joint health issues and can be a picky eater. I'm always looking for delicious ways for him to get extra supplements that will help his hips and knees — common problems with senior dogs.
Bone broths available for dogs have some amazing health benefits for joint health and lots more! Plus, bone broth makes a super healthy treat for pet parents to give their pups.
However, you can't just go to the grocery store and grab any bone broth off the shelf to give to your dog.
Human bone broths often have onion and garlic in them – two ingredients your dog should not have. Plus, they contain a whole lot of sodium.
To make sure your dog doesn't get any unsafe ingredients and that they do get all of the best supplements specifically for them, it's best to go with a specially-created dog bone broth.
Best for Joint Health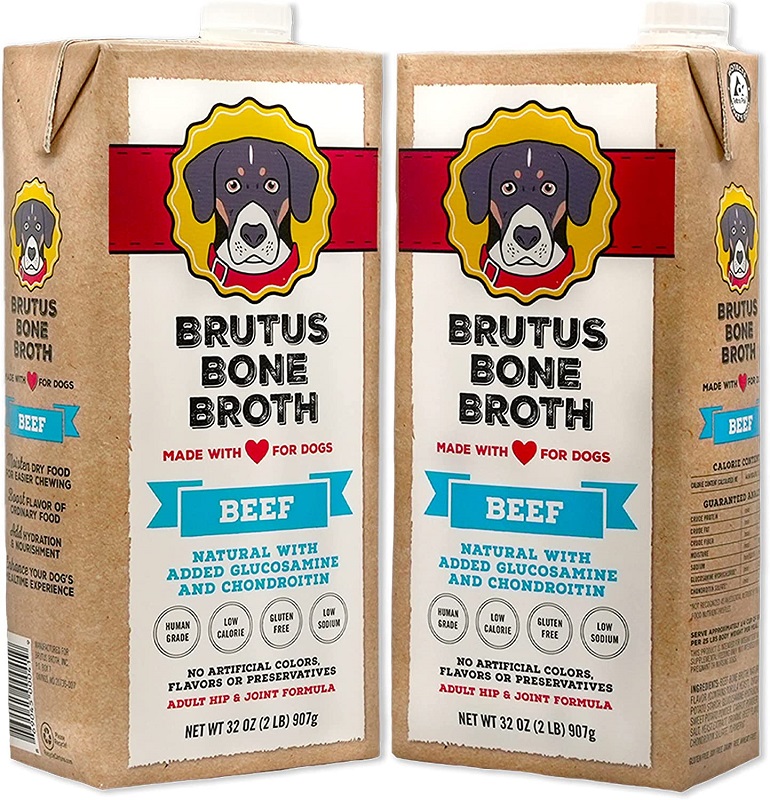 Brutus Bone Broth
Flavor:Beef
Item Form:Liquid
Best for Skin and Coat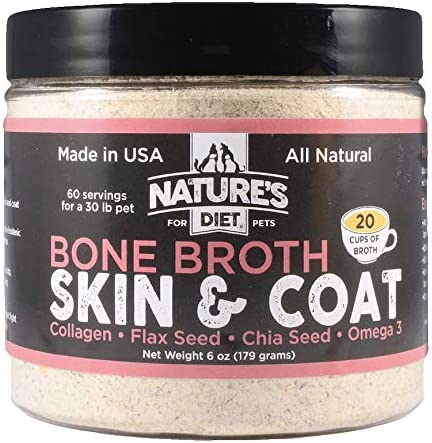 Nature's Diet Pet Bone Broth
Flavor:Skin & Coat
Item Form:Powder
Best Protein Boost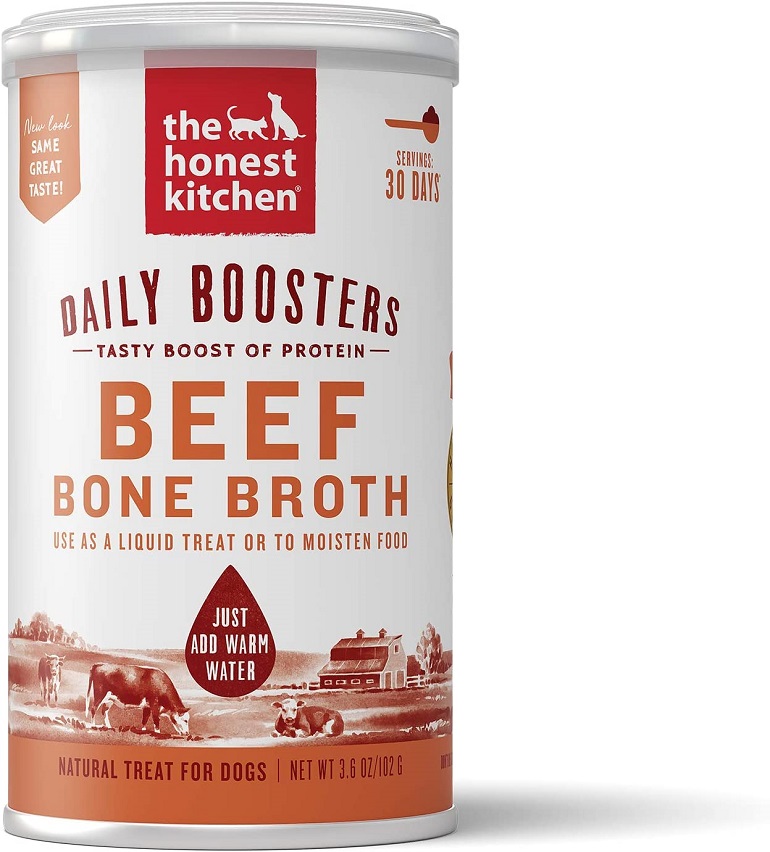 The Honest Kitchen Beef Broth
Flavor:Beef
Item Form:Treat
Best for Gut and Immunity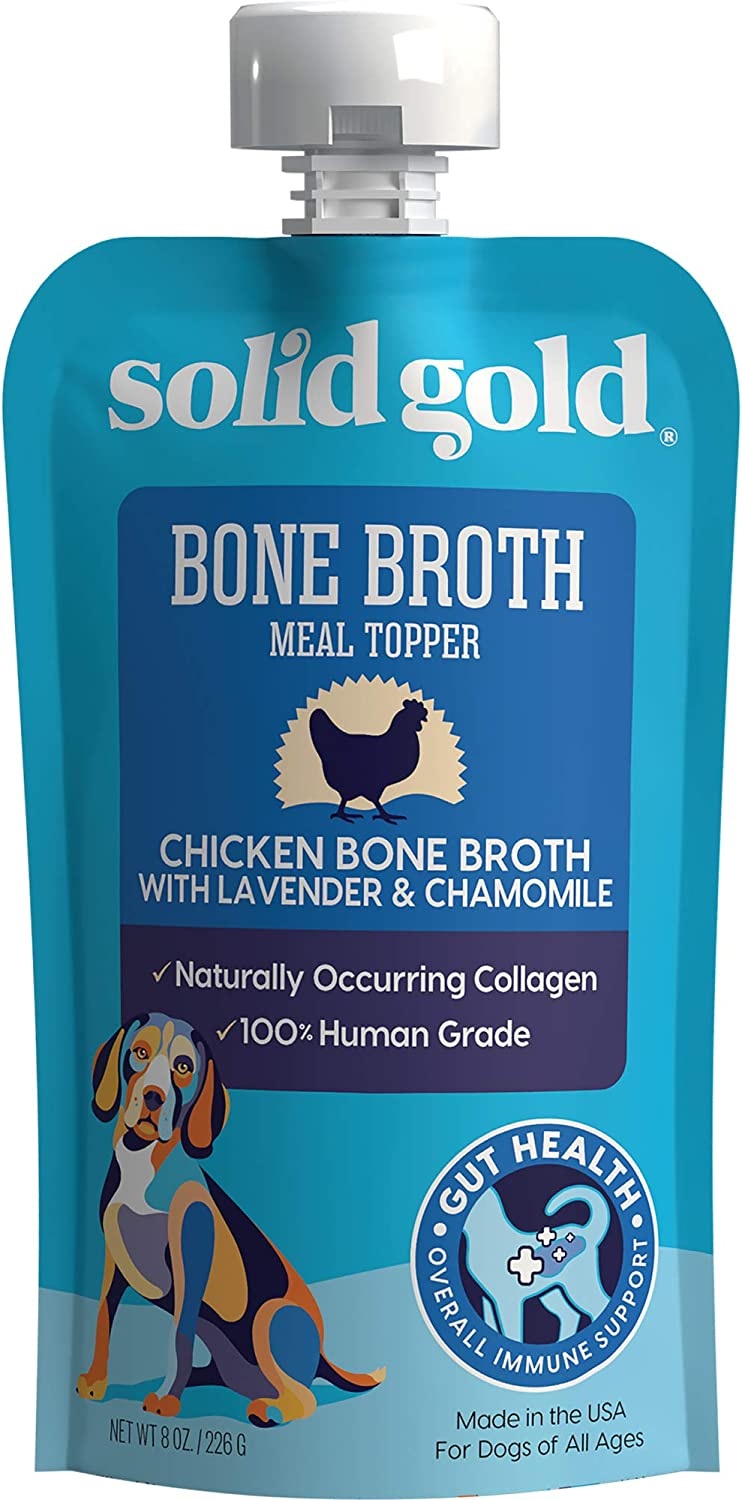 Solid Gold Chicken Broth
Flavor:Chicken
Item Form:Broth
Best Organic Bone Broth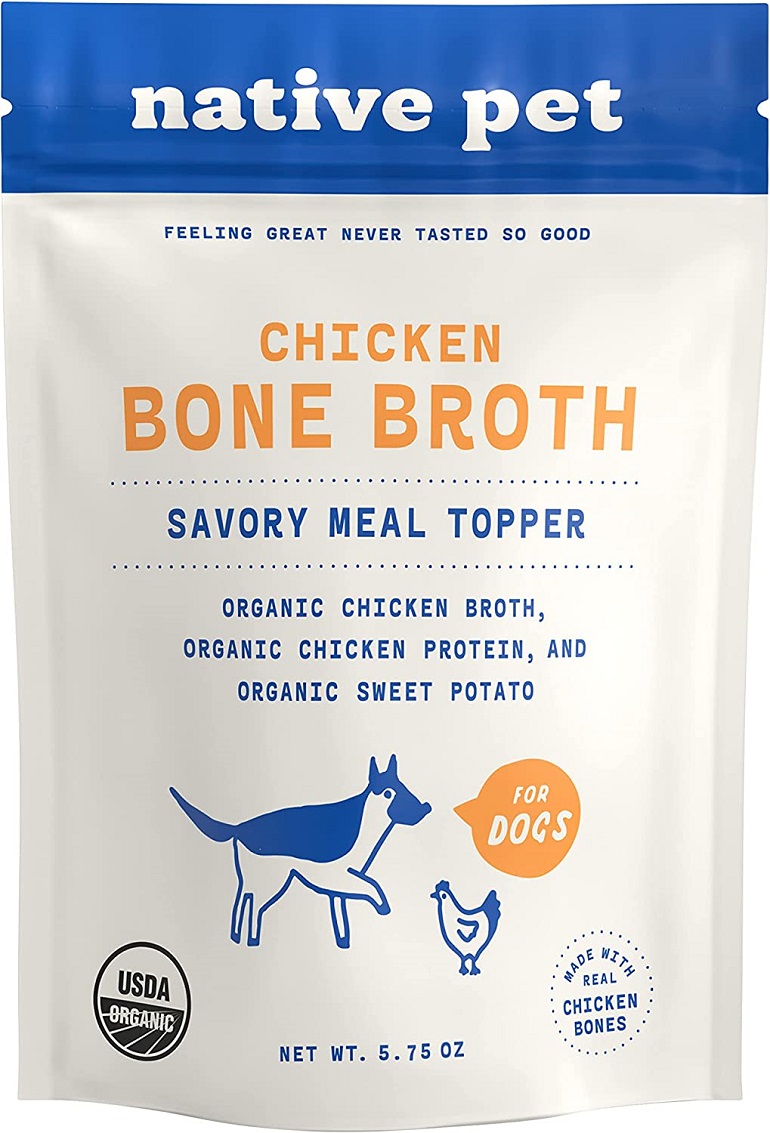 Native Pet's Bone Broth
Flavor:Chicken
Item Form:Powder
Responsibly-Sourced Ingredients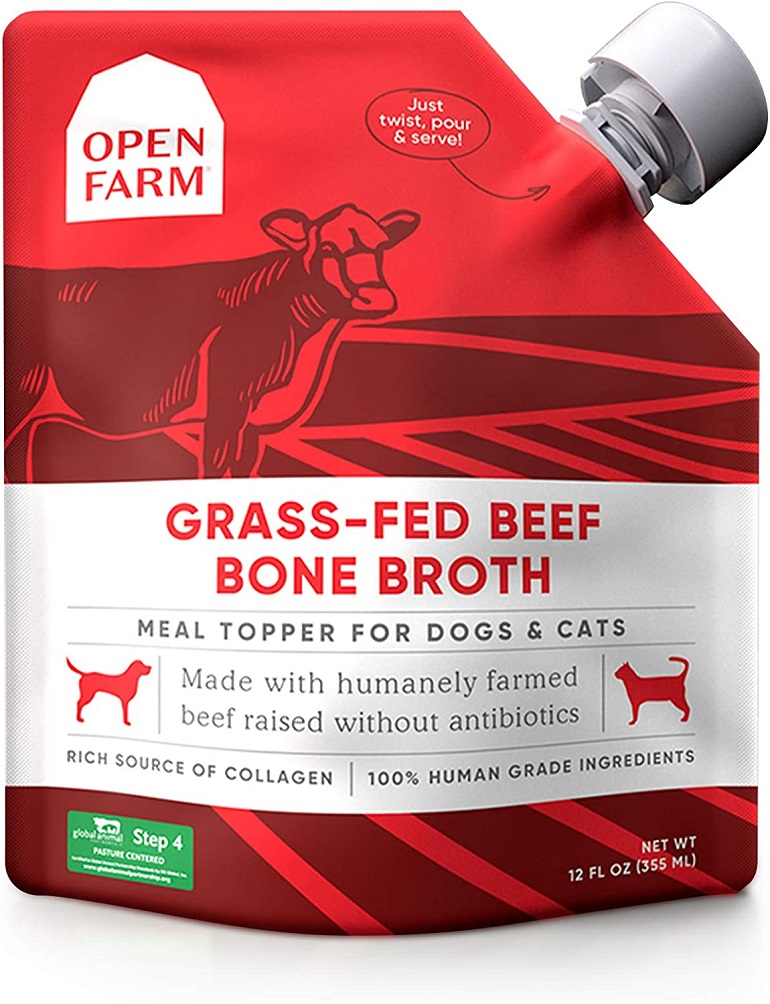 Open Farm Bone Broth
Flavor:Grass-Fed Beef
Item Form:Liquid
Budget-Friendly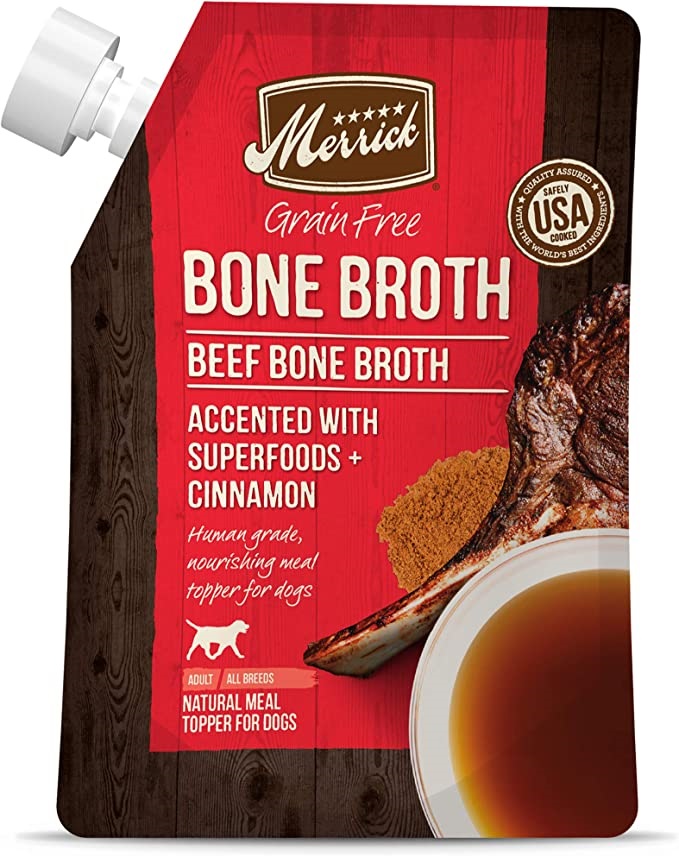 Merrick Bone Broth
Flavor:Beef
Item Form:Broth
Best Variety Pack
Nulo FreeStyle Bone Broth
Flavor:Variety Pack
Item Form:Liquid
Best for Gut and Joints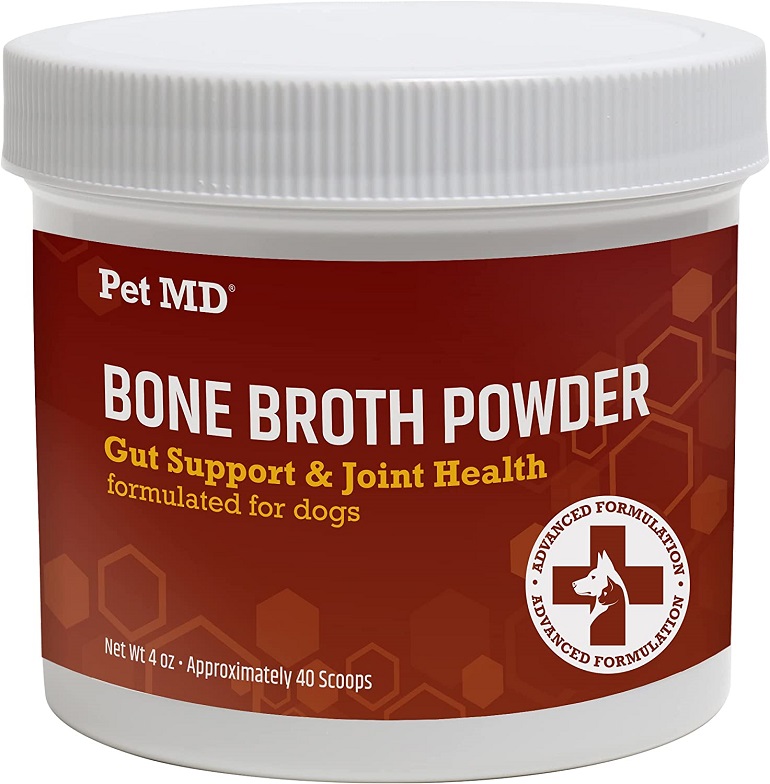 Pet MD Bone Broth
Flavor:Bacon
Item Form:Powder
Our Top Picks of the Best Bone Broth for Dogs
You might be surprised by how many dog bone broths there are on the market. They each have slightly different ingredients and purposes.
I'll break down some of the best bone broths out there so that you can take good care of your pup.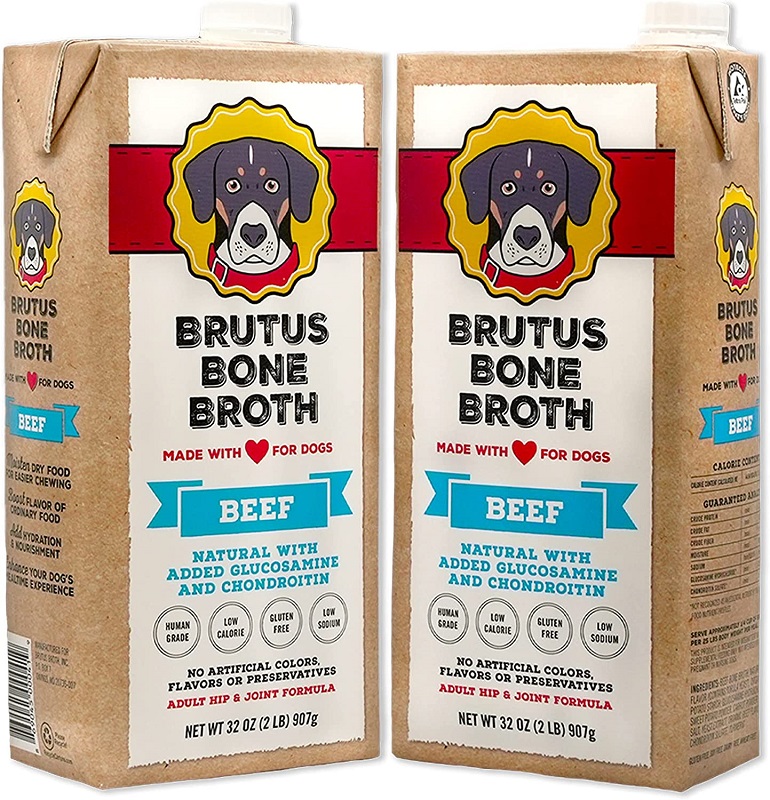 Brutus bone broth comes in liquid form (as you'll see, many bone broths come as powders). They have added glucosamine and chondroitin supplements that are good for your pup's joints.
I appreciate that they keep calories quite low. Anytime you make additions to your dog's diet, it's important to make sure that the added calories don't cause them to gain weight.
I also like that Brutus bone broth has a specific serving size chart. Some companies only include general serving sizes for a few dog weight ranges, but Brutus has serving recommendations for six different sizes.
It is made in the USA with human-grade ingredients.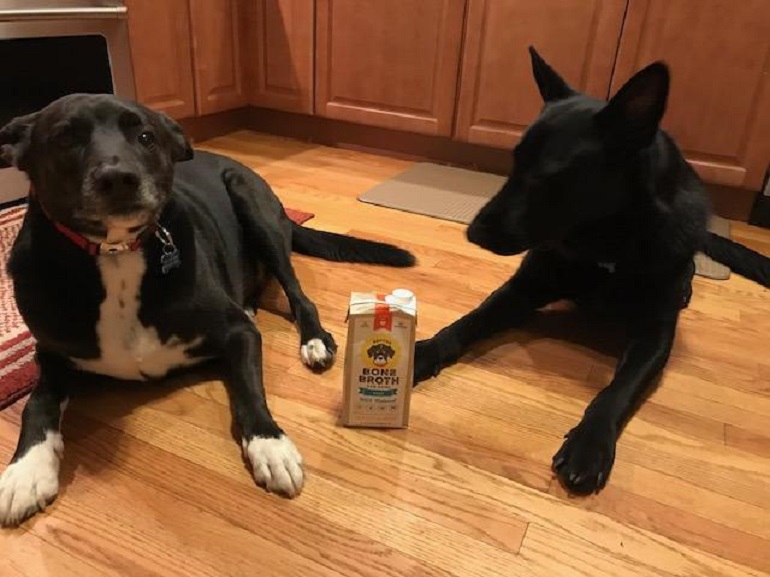 Pros
Gluten-free, soy-free, dairy-free, and wheat free.
There are no artificial colors, preservatives, or flavors.
Safe for any age of dog, from puppies to seniors.
Brutus donates a portion of their proceeds to help animals.
Cons
This bone broth does have added salt. This is likely there as a natural preservative. However, dogs don't need the extra sodium.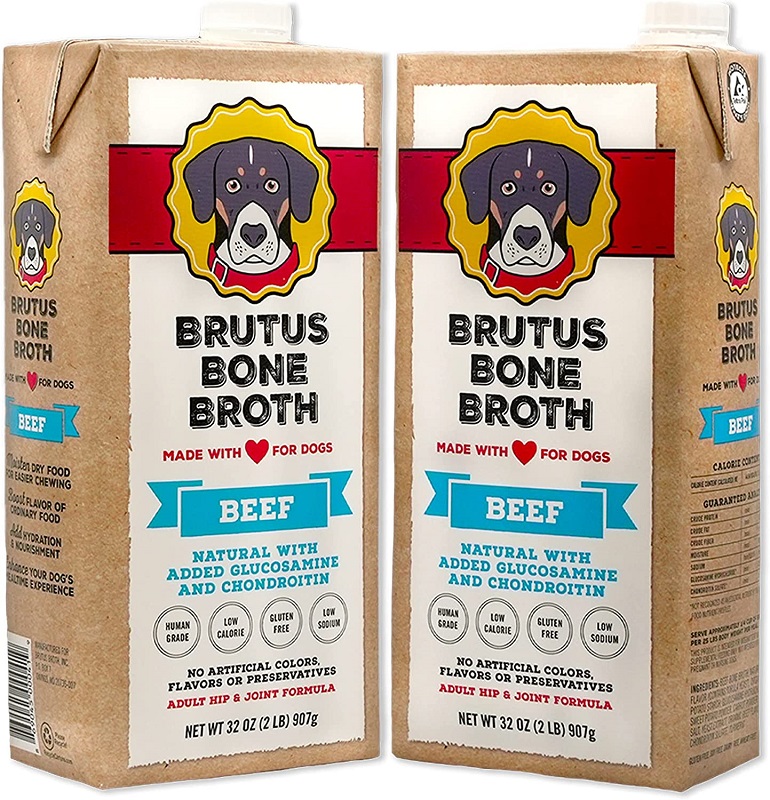 Brutus Bone Broth
The price of " Brutus Bone Broth " varies, so check the latest price at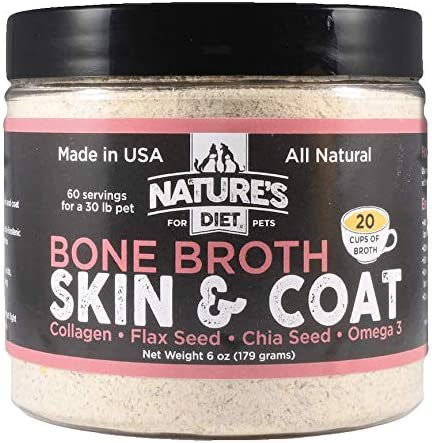 Bone broth can also come as a powder. To serve it to your dog, you can either dissolve it in warm water to turn it back into liquid broth or sprinkle a bit of the powder onto your dog's dry.
This Nature's Diet bone broth contains flax seed, chia seed, collagen, and omega fatty acids. These can help with dry and itchy skin. They can also make your dog's coat shinier and reduce inflammation.
They make this powdered bone broth with slow-simmered beef bones and then add human-grade supplements that help your dog's skin.
I really like that this has a super short ingredient list with ingredients I can pronounce and know what they are. There are also no preservatives.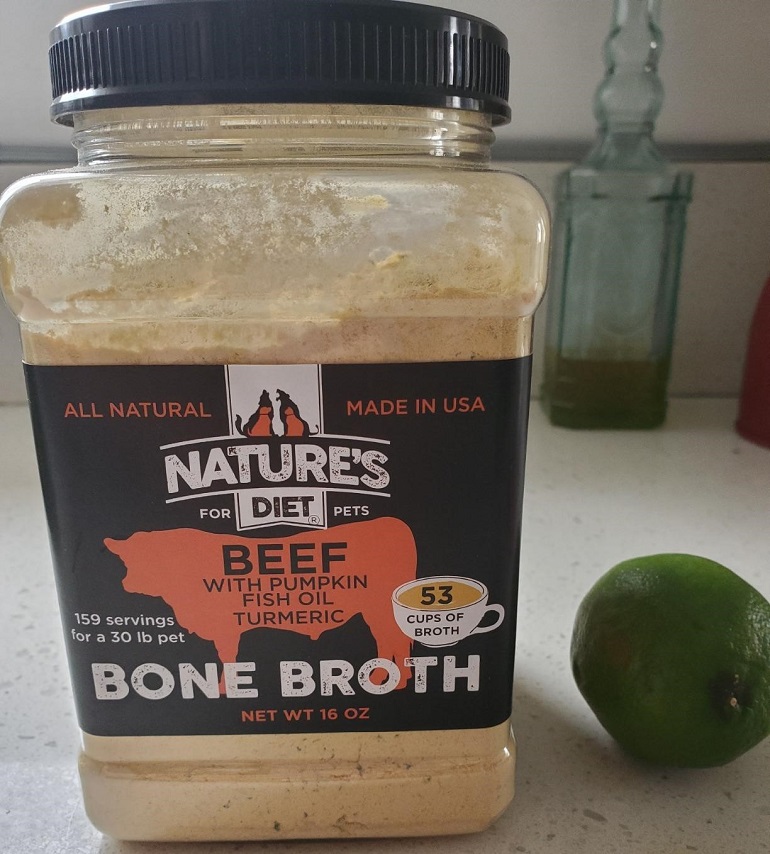 Pros
There is no sodium added to this bone broth.
You can get 60 servings out of this little container (for a 30-pound dog). That's a great value, and it doesn't take up much space in your cupboard.
Cons
Some reviewers stated that they had a hard time getting the powder to fully dissolve in water — though I don't think most dogs will mind.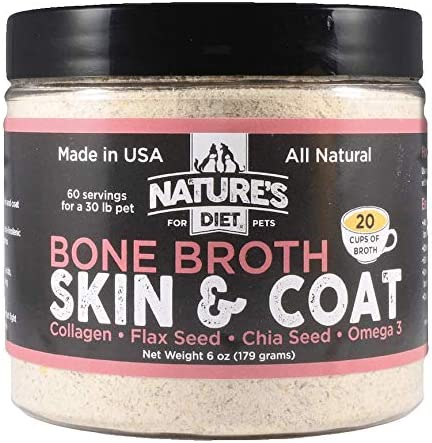 Nature's Diet Pet Original Bone Broth
The price of "Nature's Diet Pet Original Bone Broth" varies, so check the latest price at
If you want to give your dog an extra boost of protein or if you have picky eaters, this might be the bone broth for you.
The Honest Kitchen bone broth uses a simple bone broth recipe with only a few human-grade ingredients. The ingredients include pumpkin, parsley, and turmeric. It is then dehydrated into powder form.
I particularly like that this bone broth does not use any GMO ingredients or feed-grade ingredients.
With a picky eater, you can dissolve this bone broth powder in water and then pour a little over the top of dry food as a meal topper.
Many reviewers shared that this bone broth helped with their dog's digestion.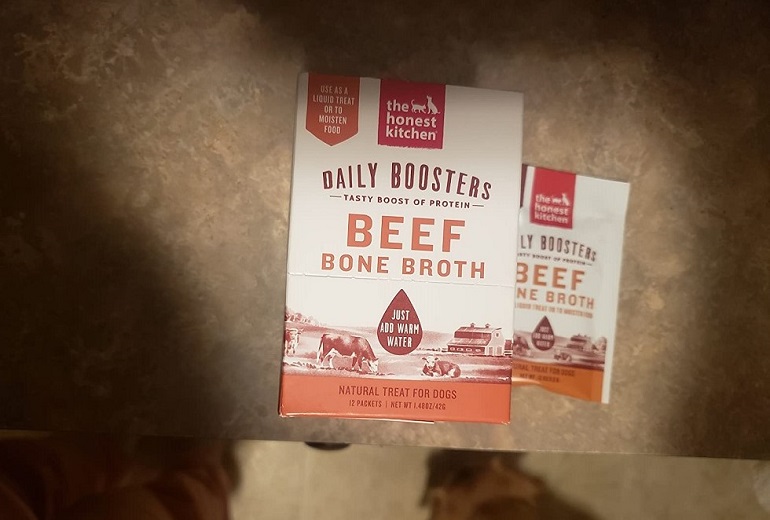 Pros
The Honest Kitchen says that their "preparation methods and facilities meet safety standards 7x those of feed-grade factories."
There are no fillers or preservatives in this bone broth.
Cons
This bone broth includes turmeric, which is great at reducing inflammation. However, some dogs (and people!) don't like the taste of it.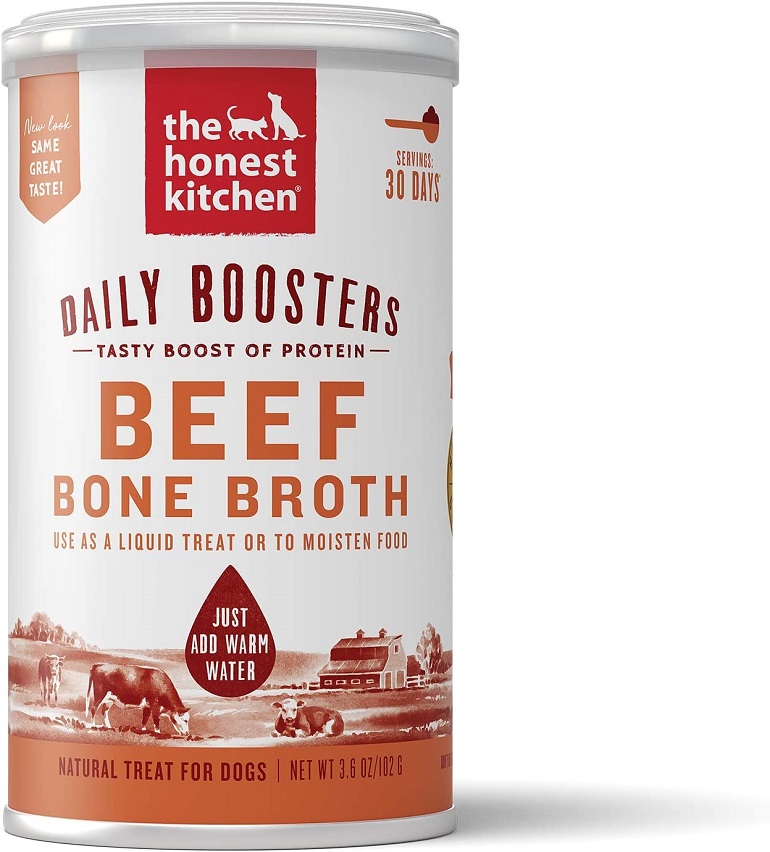 The Honest Kitchen Beef Bone Broth for Dogs
The price of "The Honest Kitchen Beef Bone Broth for Dogs" varies, so check the latest price at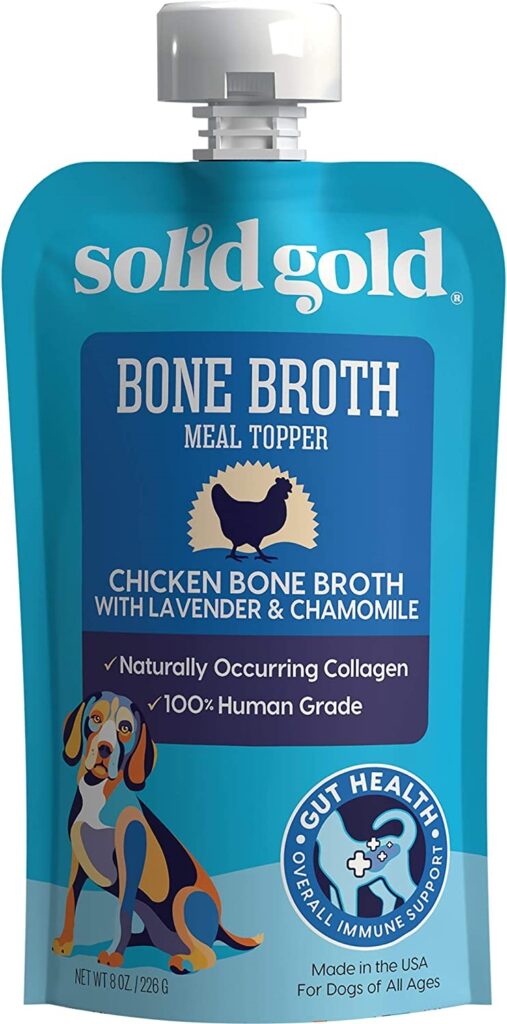 When it's meal time, my dogs want their food ASAP. If I need to add supplements or mix in medication, they get very impatient.
One of my favorite features of the Solid Gold Chicken Bone Broth for dogs is that it comes in a super easy-to-use squeeze pouch, so my dogs don't have to wait long.
Lavender, chamomile, and ginger may seem like odd ingredients, but they all help with calming upset stomachs. Carrots, sweet potatoes, pumpkin, and apples are included in the recipe as well.
This bone broth gets collagen naturally from the cooked chicken bones. Collagen is good for your dog's health in a few ways: skin, coat health, and joints. There are beef and turkey options for flavors as well.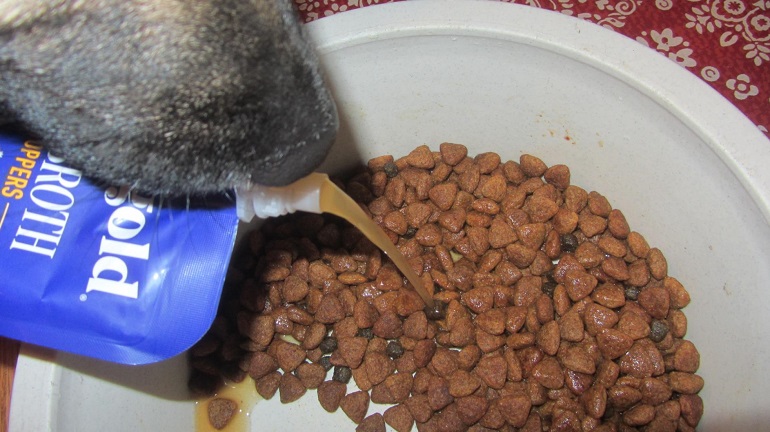 Pros
Your dog's immune system is influenced by their gut microbiomes. The natural ingredients in this bone broth are superfoods used for their gut health benefits.
Perfect for all stages of your dog's life.
It gets amino acids from the naturally occurring collagen in the bones.
Cons
This is a pricier option, though the 5-star reviews and high-quality ingredients just might be worth it for you and your doggo.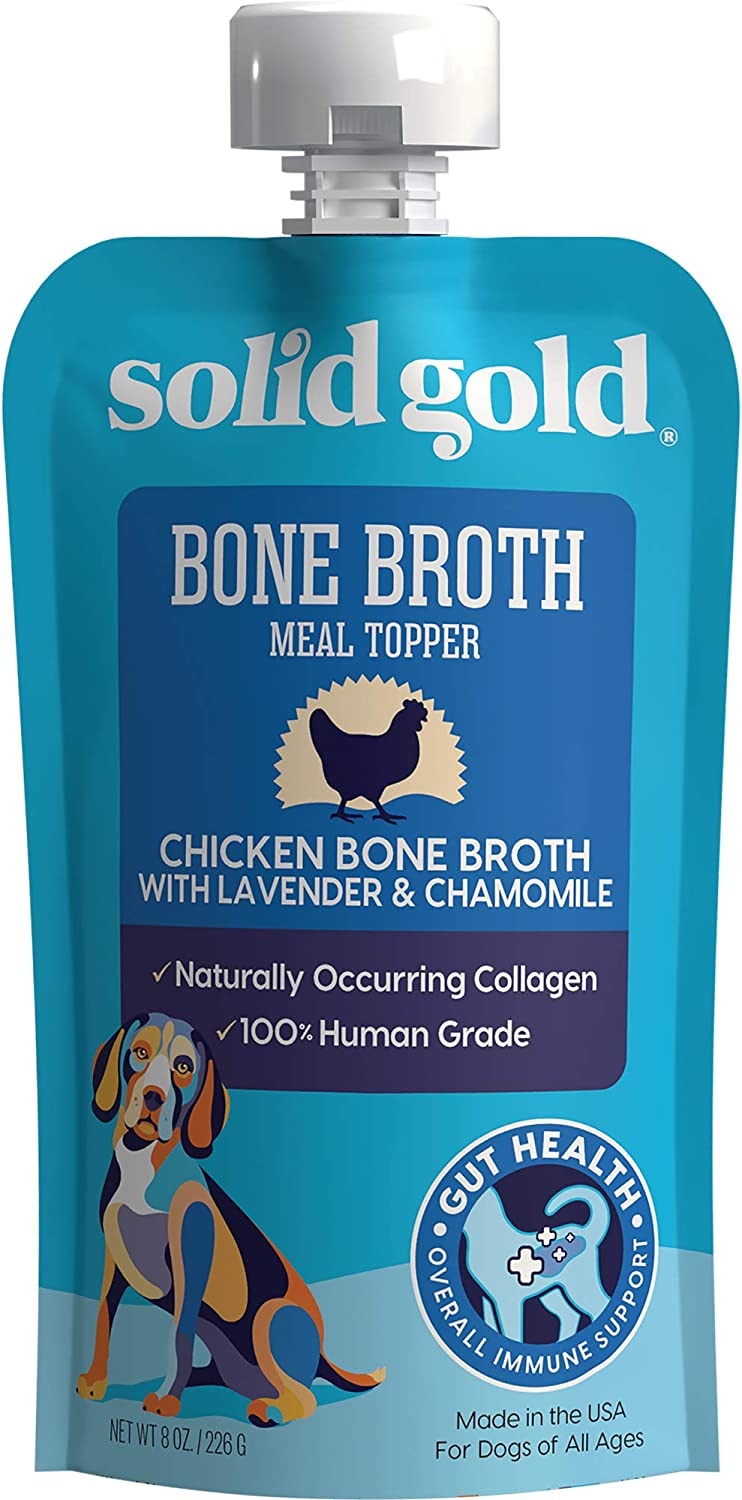 Solid Gold Chicken Broth Dog Food Topper
The price of "Solid Gold Chicken Broth Dog Food Topper " varies, so check the latest price at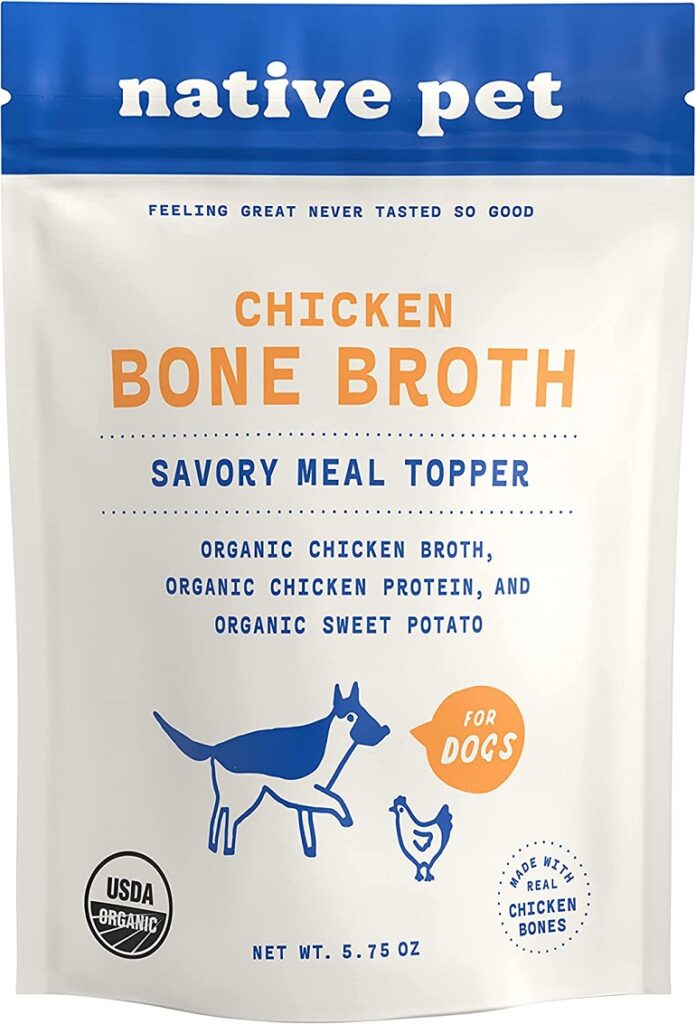 Native pet bone broth is made from just three organic ingredients. Yup, just three.
It's basically just chicken bone broth with sweet potato. These ingredients give your dog extra protein and are great for joints, skin, and digestive health.
Since it's dangerous to let your dog eat chicken marrow bones because they can splinter (so many dogs end up needing emergency surgeries each year after eating bones!), this is really the next best thing because they use cooked bones to make it.
This gets the collagen and other nutrients out so that your dog can enjoy the health benefits.
Honestly, with just three organic ingredients and no fillers or preservatives, or salt, there's nothing to worry about.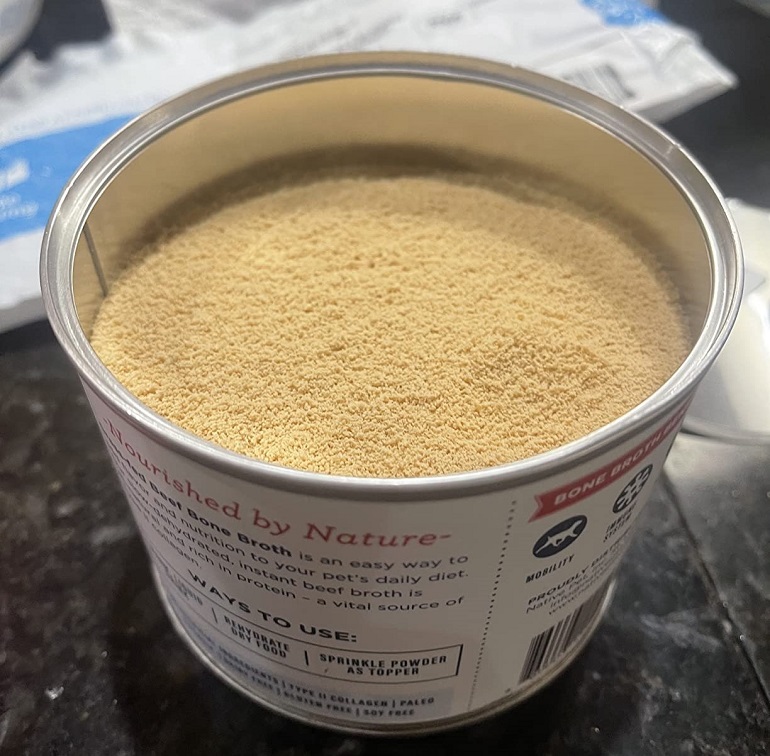 Pros
This bone broth is for dogs and cats, so if you have both, you can use the same meal topper for everyone.
Native Pet bone broth is a grain-free chicken broth.
They offer a money-back guarantee. If your dog doesn't like it, you can get a full refund. This is great for pet parents who have picky eaters.
Cons
The bone broth powder comes in a pouch with a zip top, which some reviewers said was a little fussy to use compared to the canister that it used to come in.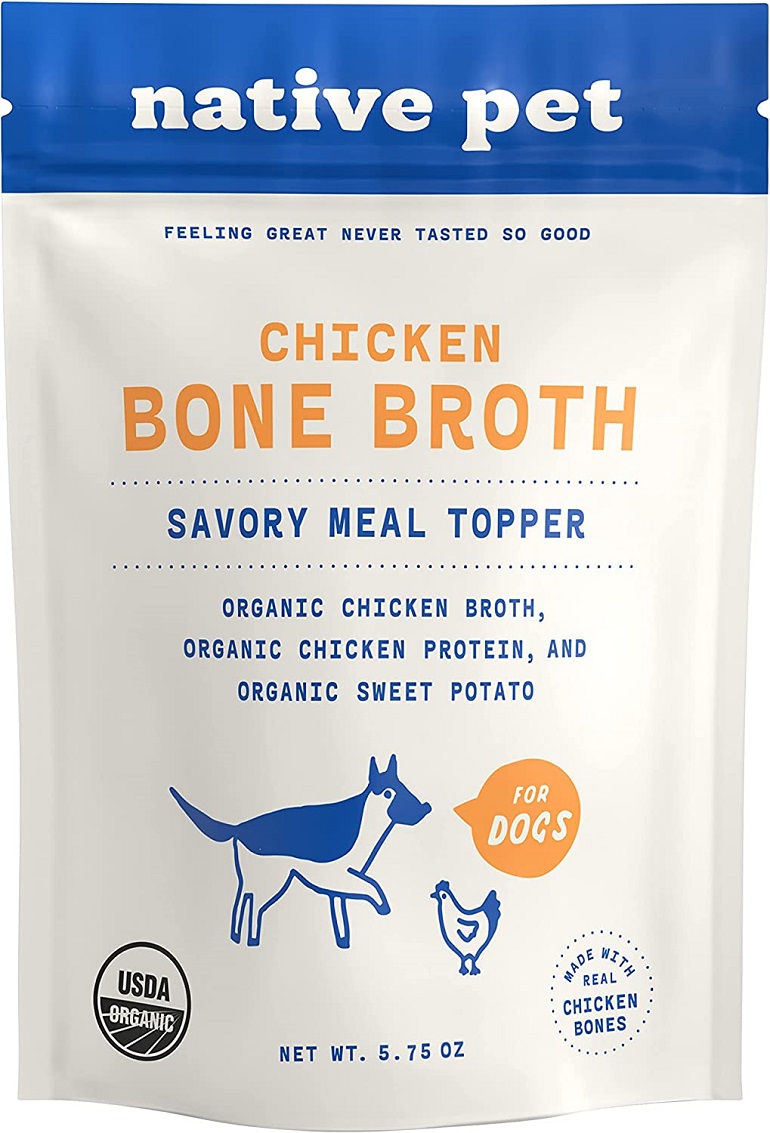 Native Pet's Bone Broth for Dogs
The price of "Native Pet's Bone Broth for Dogs " varies, so check the latest price at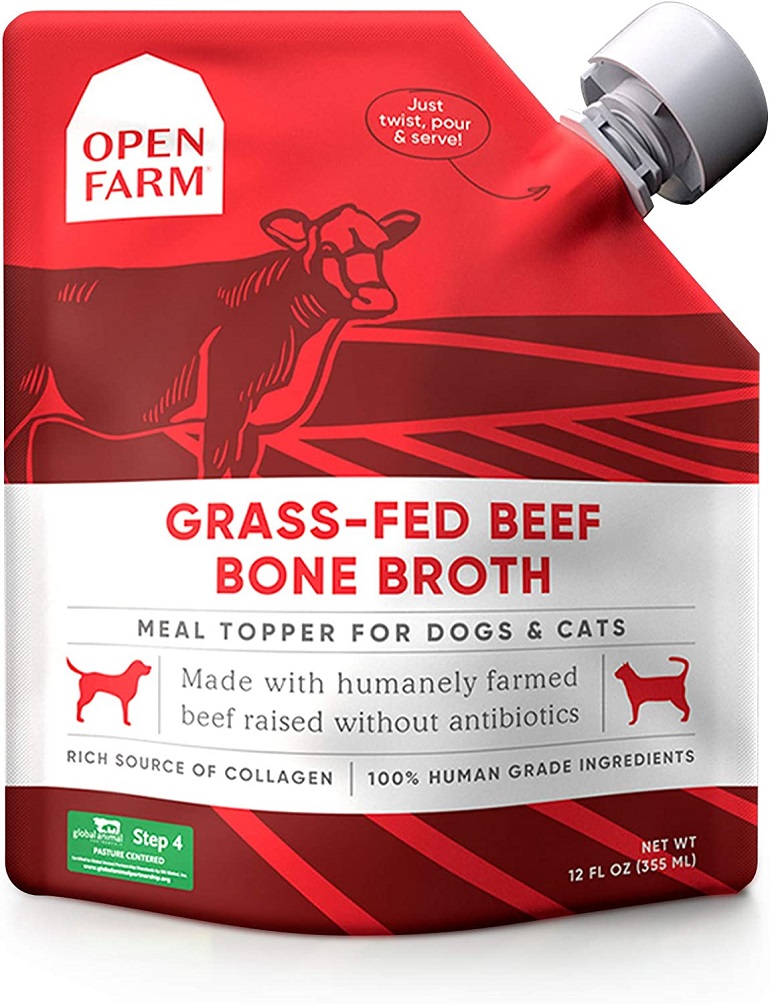 If you're looking for a beef bone broth for your furry friend that is made by a company that sources their meat from farms that take good care of their cows, the Open Farm bone broth for dogs is perfect.
This grass-fed beef bone broth gets beef from family farms that get audited for the welfare of their animals. That's a big deal for me.
The product uses simple, human-grade ingredients. It comes in a pouch with a super easy-to-use twist-open cap with a pour spout.
Along with the beef bone broth, they have included carrots, pumpkin, turmeric, parsley, and cinnamon. Many of those have great anti-inflammatory properties.
Using the lot number on the pouch, you can go online and see where every ingredient in your batch of dog bone broth came from. That's some impressive transparency that I haven't seen in any other company.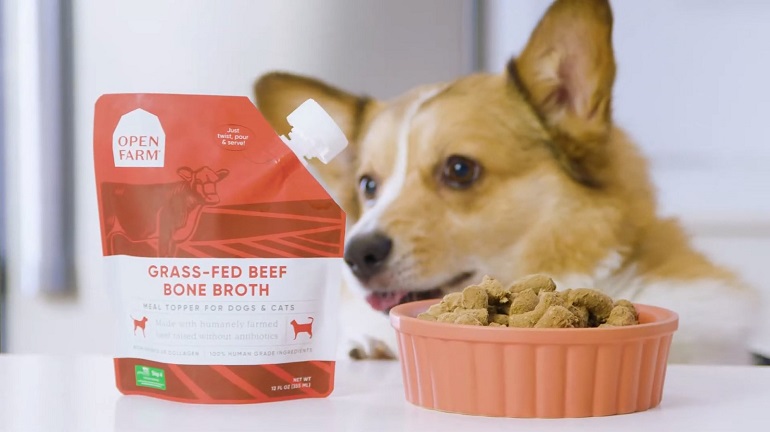 Pros
The beef is raised without antibiotics.
There are no grain, corn, wheat, soy, or GMO ingredients.
Both dogs and cats can enjoy this as an addition to their pet food.
Cons
It is recommended that you refrigerate and use it within 7 days of opening the pouch. Depending on the size of your dog, that could be tough.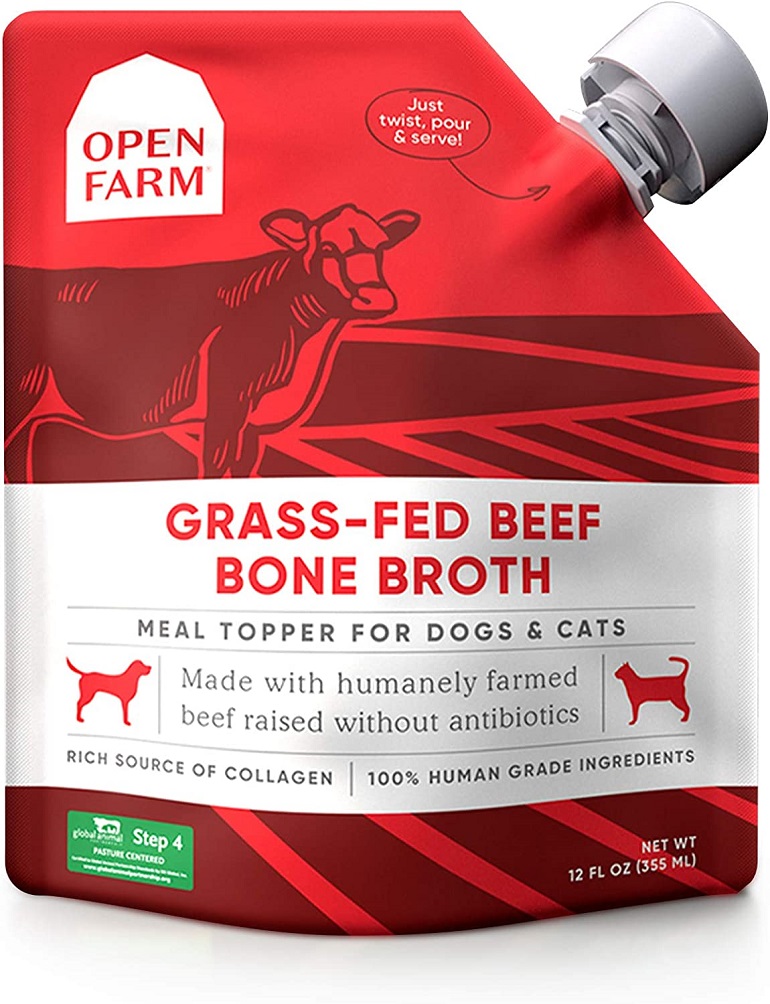 Open Farm Bone Broth
The price of "Open Farm Bone Broth " varies, so check the latest price at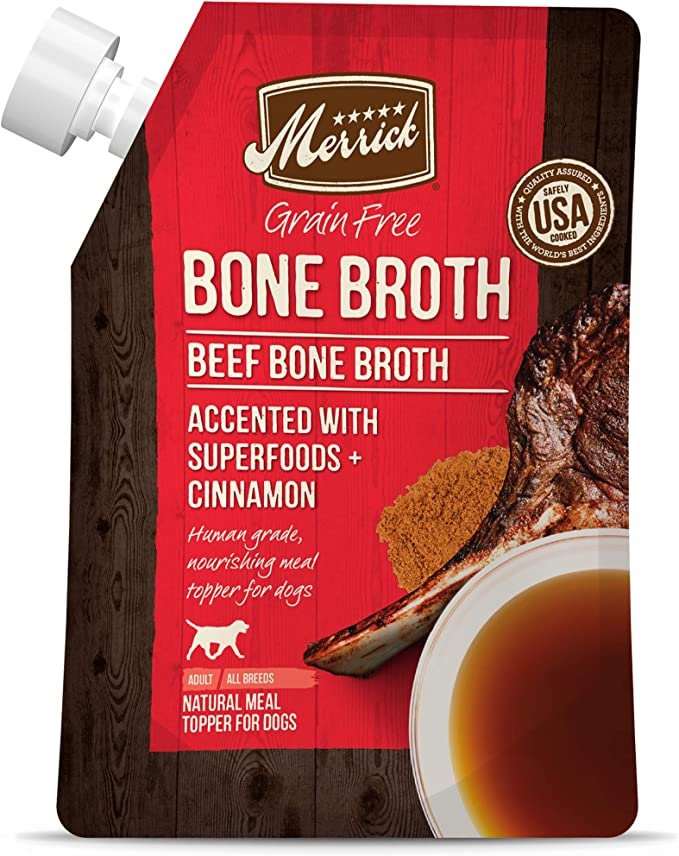 This beef broth has a few superfood ingredients that I haven't seen in other options, like blueberries and butternut squash.
It also has ginger, turmeric, and cinnamon which help reduce inflammation.
Reducing inflammation is important if your dog has joint issues, so this is a good bone broth ingredient combination.
Merrick uses human-grade fresh ingredients (though the pouch does say "not intended for human consumption"). The cooking process happens in the USA in FDA-approved facilities.
Pros
No artificial colors, flavors, or filler.
Natural source of healthy minerals and amino acids.
This bone broth is grain-free.
Cons
Some pet parents in the reviews stated that their picky eaters didn't like the taste of this beef bone broth.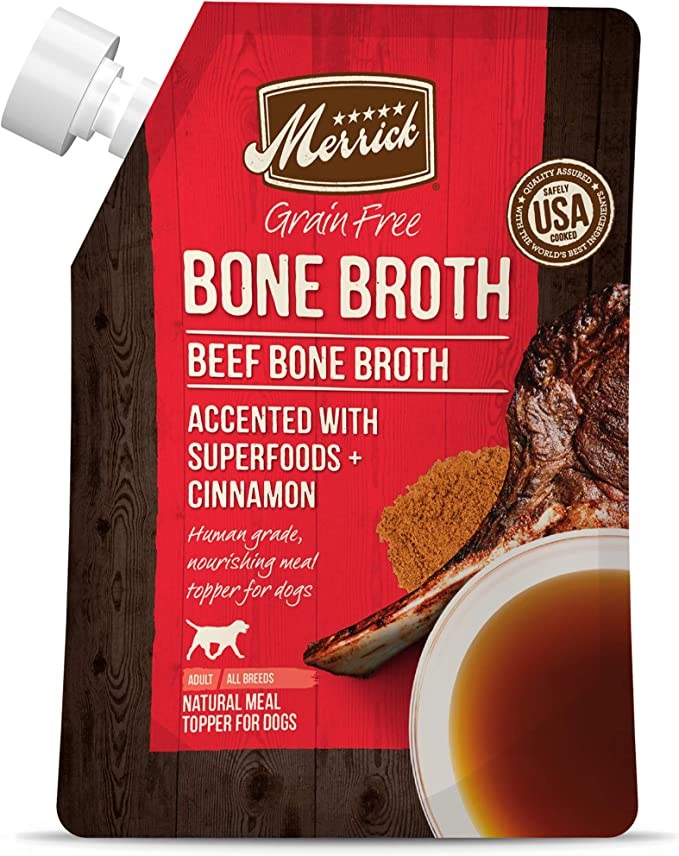 Merrick Bone Broth
The price of " Merrick Bone Broth" varies, so check the latest price at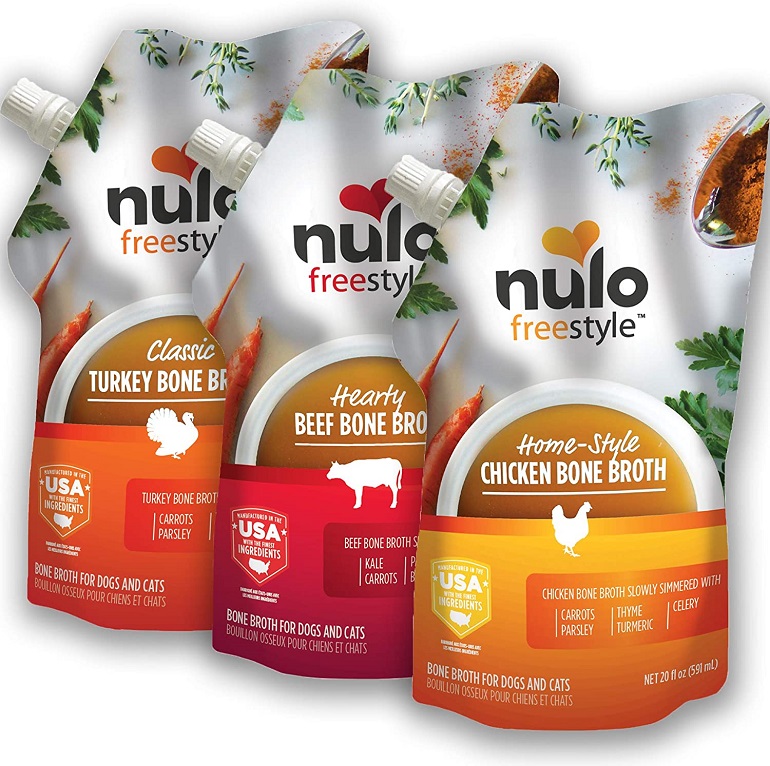 If you want to give your dog chicken, beef, and turkey options, how about a variety pack? You can see which flavor your pup likes best or just mix it up to keep them excited.
Nulo slow-cooks the animal bones to extract the protein and other nutrients. All three recipes have apple cider vinegar in them (my dog Mozzie is crazy for apple cider vinegar!).
This is basically human-grade bone broth because it is made with human-grade meats, veggies, and spices, and it is cooked in a human-food facility.
Pros
Natural source of collagen and chondroitin for skin and joint health benefits.
The company has confirmed that you can freeze small portions for up to a year. This is perfect if you can't use up the broth before it goes bad or if your dog likes frozen treats.
Cons
Nulo does not give very specific feeding guidelines, but they do provide the calories on the pouch so that pet parents can figure out how much to feed their canine companions based on body weight.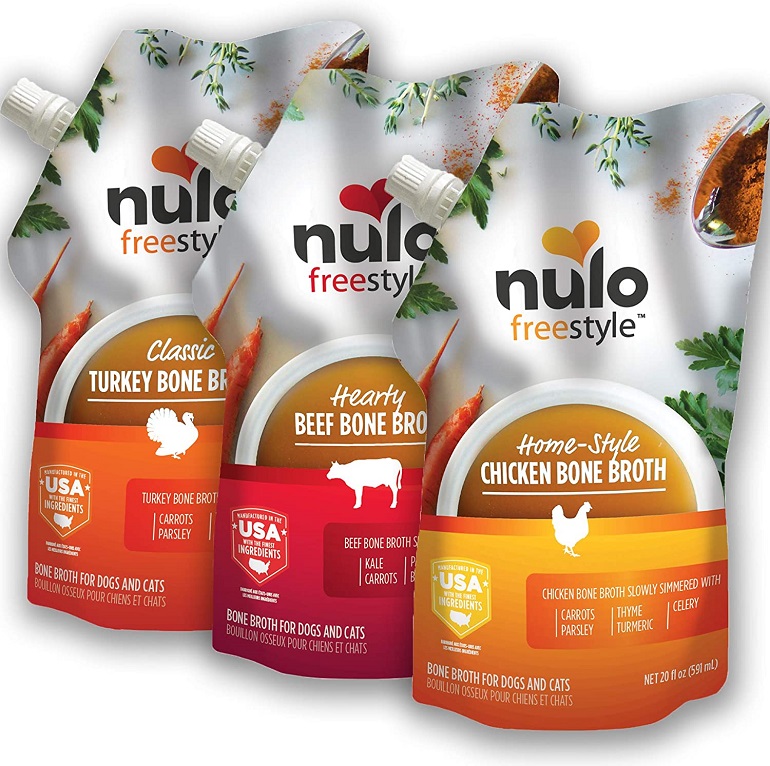 Nulo FreeStyle Bone Broth for Dogs
The price of "Nulo FreeStyle Bone Broth for Dogs" varies, so check the latest price at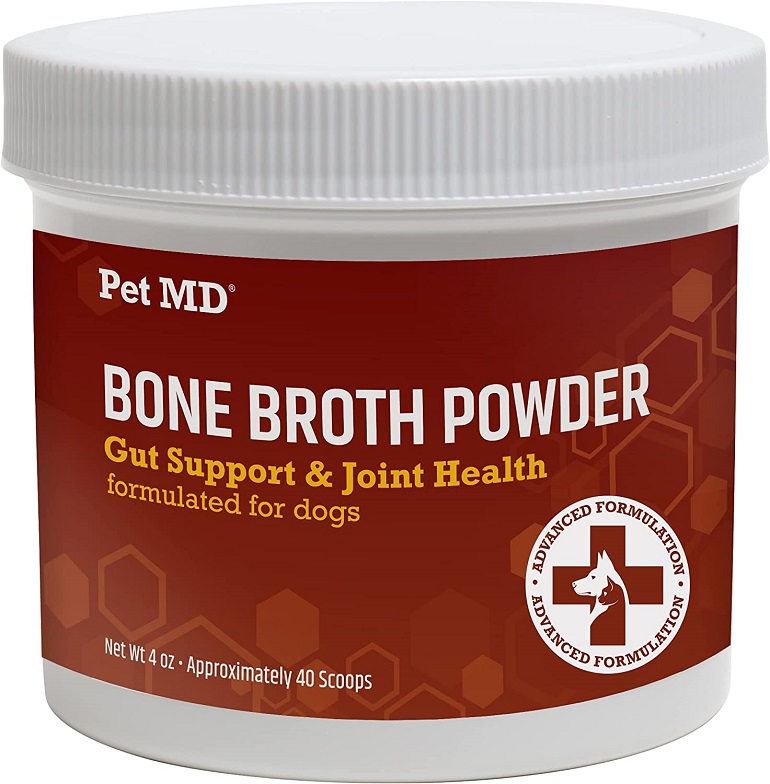 If you want to support your dog's gut and joints with lots of collagen, glucosamine, and chondroitin, this bone broth powder is made of two interesting natural ingredients: super finely-ground elk antlers and bone.
There are many other nutrients that come from these ingredients, such as zinc, calcium, magnesium, and more. It's a great pet nutrition boost for your canine companion.
The antlers are shed by elk naturally each year, so this is a cruelty-free ingredient. The bones come from free-range elk.
This product can also benefit dogs with food allergies or sensitivities.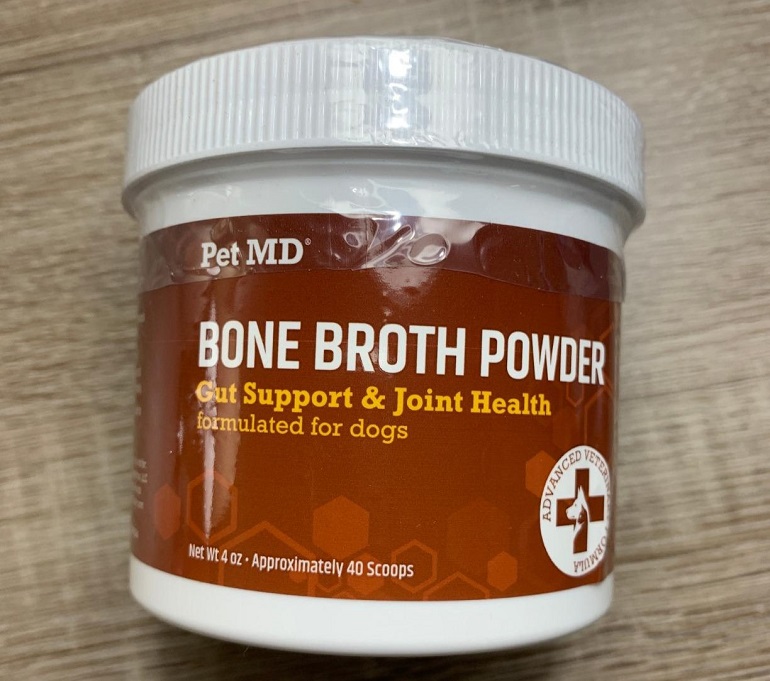 Pros
Reviewers have shared stories of this product noticeably helping with their dog's allergies, joints, and stomach issues.
You get about 40 scoops from one small container, so it's a good value for having such unique ingredients. I expected a higher price.
Cons
This is not a human-safe product, so you'll need to keep it out of reach of kids or other pets.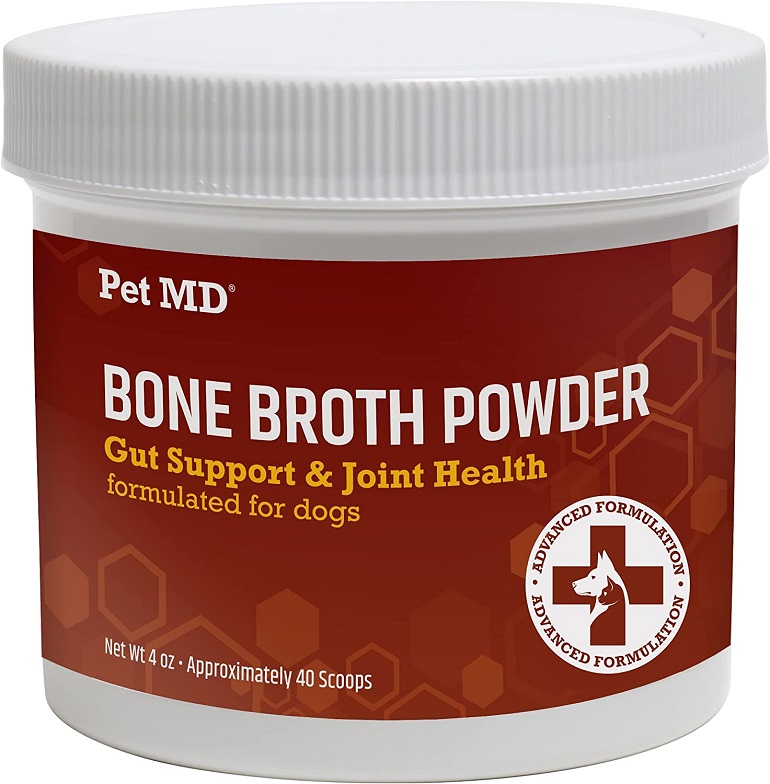 Pet MD Bone Broth for Dogs
The price of "Pet MD Bone Broth for Dogs" varies, so check the latest price at
What to Look For While Buying Bone Broth for Dogs?
Here is a list of factors worth considering while buying bone froth for your fur babies.
Ingredients
As you check the ingredients list, there is a difference between "bone broth" and "broth". The broth is generally just made with meat, while bone broth is made with meaty bones.
You want the bones because a lot of nutrients that support joints (like collagen) come from all the bones being cooked for a long period of time.
The best ingredients list is short and includes only foods that you have heard of and would eat yourself. Usually, these are fruits, veggies, and spices that you could find at the grocery store or supplements that you could buy.
Preservatives to Avoid
Dogs don't need any extra salt. Sometimes it is used as a preservative. You may want to avoid that or at least make sure that it is a small amount.
As a good rule of thumb, if you struggle to pronounce an ingredient or don't know why it's in the bone broth, avoid it.
Only one bone broth in this post contains a bit of salt. None of the other broths have any kind of preservative at all.
Packaging
The bone broth comes either as a liquid broth or in powdered bone broth form.
Liquid bone broth is ready to pour and use. It is usually shelf-stable until you open it. Once you open the package, it will need to be refrigerated.
Powdered bone broth comes in much smaller packages that don't need to be refrigerated. You can either sprinkle the powder directly onto your dog's regular meals or mix it with water first.
Bone Broth Benefits For Dogs
Bone broth is great for dogs because it is loaded with essential vitamins, nutrients, and proteins. To put it briefly, the benefits of bone broth for dogs can include:
Healthy gut
Improved hydration
Liver's detoxification of the body
Joint and bones health
Enhanced digestion
Healthy skin and coat
Increased appetite
FAQs
What Type of Bone Broth Is Best for Dogs?
The best type of bone broth depends on your dog's needs.
My dog has joint issues, so I look for ingredients that will support his hips and knees.
My mom's previous dog had extremely itchy skin, so she looked for ingredients that would help with that.
Consider your dog's health concerns as you pick out a bone broth for them. And then, of course, make sure that they love the taste!
If you have a Husky, you should make sure to find the best dog food for huskies to ensure all their essential requirements are met.
Is Store-bought Bone Broth Good for Dogs?
A store bone broth made for people is probably not good for your dog. It usually includes garlic and onions, which are not safe for dogs. It may also have fillers and preservatives that can be hard on your dog's stomach.
You don't need to make homemade bone broth though. The broths in this post are all formulated specifically for dogs.
How Much Bone Broth Can Dogs Eat Regularly?
Make sure you know your dog's body weight as you determine how much bone broth to put on their dog food.
Most bone broths will tell you how much to give them based on their body weight.
A basic rule of thumb is 1 ounce of bone broth for every 10 pounds of body weight, twice per day.
You will likely want to start with less than this and build your way up so that you don't give your dog an upset stomach by introducing too much of a new food too quickly.
You may need to decrease how much dog food you give them by a little bit so that you don't end up giving them more calories overall once you add the broth into their diet.
Conclusion
Bone broth can be a delicious and healthy addition to your pup's complete and balanced diet.
You can sprinkle it or pout it over their regular dog food at meal times. This is perfect for picky eaters and is almost like giving your dog a multivitamin because of all of the health benefits.
Since it is unsafe to give your dog raw bones to chew on, this is a great way to treat them to the same flavors that they love.
If your dog has allergies, itchy skin, or joint pain, you can find bone broths that have recipes specifically formulated to help.
You can also get special soft foods for senior dogs in case your dog is old. Try to make the best choice when it comes to your pup's health.
I hope this article has given you a great education on bone broth for dogs so that you can pick out the perfect one for your fur baby to try.