Taking your furry friend with you on international or national flights is no less than a fantasy. Big thanks to dog crates that make this imagination real.
The dog crates contain your pet and become a safe place for them to rest or sleep in a car or during a flight. But this blessing can turn into a nuisance in no time if you cannot handle it.
Dog crates can take up a lot of space if you're unable to collapse them. They are quite big and can create storage issues. Imagine reaching your destination, taking your dog out, and getting stuck with a full-size crate because you have no space to keep it.
We understand your inconvenience and how it can affect your holiday mood. Therefore, we recommend buying an easily collapsible dog crate to avoid problems.
However, sometimes, collapsing a plastic or metal dog crate can be an issue if you do not know how to operate it. If you are facing such confusion, do not worry because we are here to solve your problem.
In this article, we will guide you step by step on how to collapse a dog crate in a simple way. But there are some additional concerns to consider before collapsing a crate.
So please give us the honor of teaching you the tips you need to know about how to fold your dog crate.
How to Collapse a Dog Crate Step-by-Step
As we said earlier, just collapsing a dog crate is not all. It would be best if you take some necessary measures before folding. The first step is identifying the type of your crate.
Types of Crates
Different types of collapsible dog crates have different requirements. Therefore, it's a good idea to know the type of your dog crate first.
Plastic Dog Crates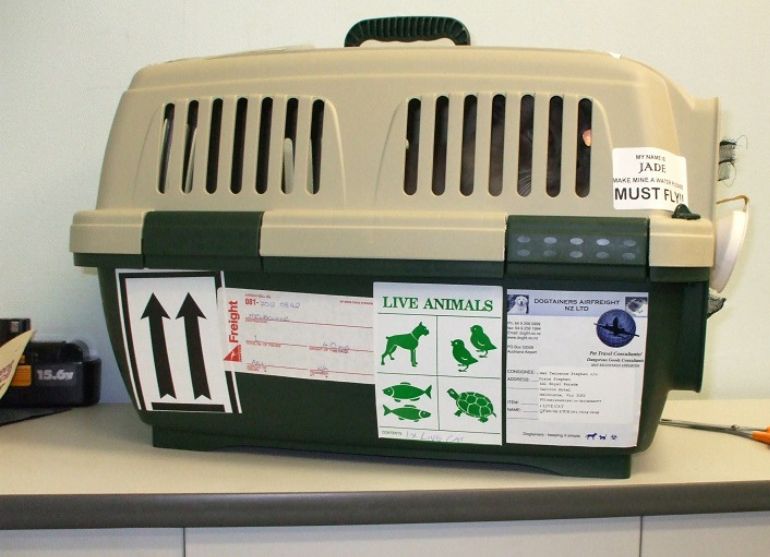 Plastic crates are suitable for smaller to medium dogs. They offer thick plastic with a good ventilation system. The cherry on the top is the carrying handle and swinging door on the front.
Also, a plastic crate provides a private, secure place for your dogs while air traveling because of its thick and enclosed body.
Folding (Metal) Wire Dog Crate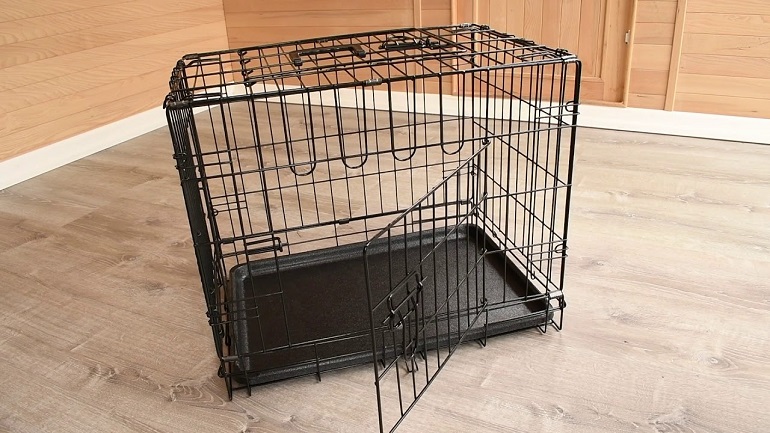 You can see a wire crate in almost every dog parent's house. These folding wire crates have a metal body, come in every size, and provide excellent ventilation.
Also, the wired dog crates provide an excellent view of your dog because of their practical design and body. You can also check out our guide on how to crate train your dog at night.
Heavy-Duty Dog Crates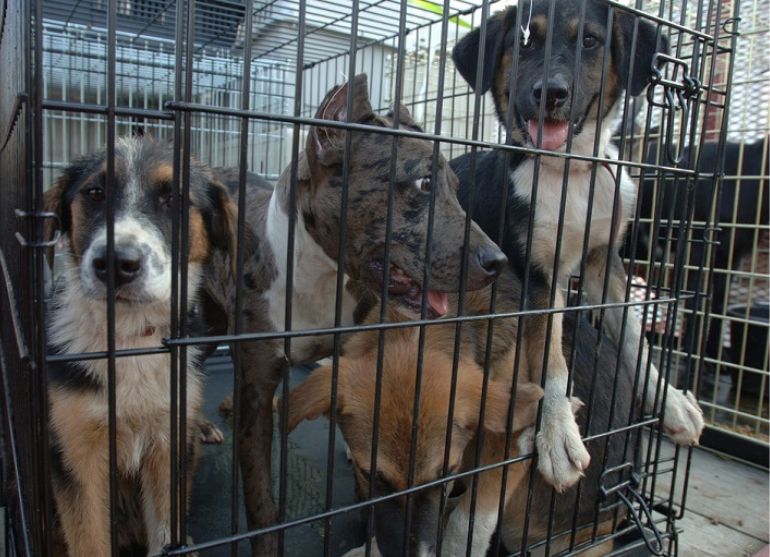 This crate is a one-time investment product because it is made of highly durable and secure material that does not get damaged. It can contain the heaviest and very large dogs.
In addition, these heavy-duty crates provide excellent ventilation and strength so that you do not have to worry about your dog, even on a long-haul flight.
Soft- sided Dog Crates
Calmer and crate trained dogs are easy to handle. Therefore, soft-sided crates are best for them. They are made of soft nylon or polyester fabric or mesh and are lightweight.
These soft crates can be collapsed easily and quickly. Smaller and medium-sized dog breeds fit best in these crates.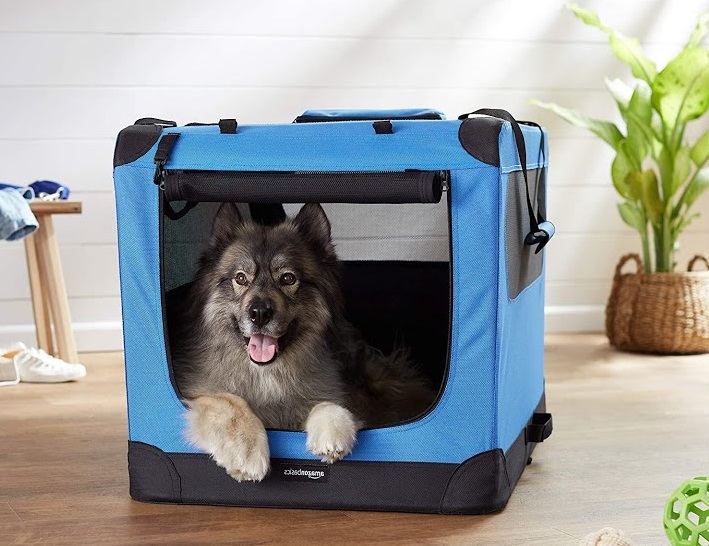 Furniture Dog Crates
Furniture dog crates are for those fashion addicts who want their dog crate to match their home's furniture.
They use wood in their construction and can often be used as a table, thus performing a dual function; crate and furniture. But, such a crate is not portable and cannot be collapsed.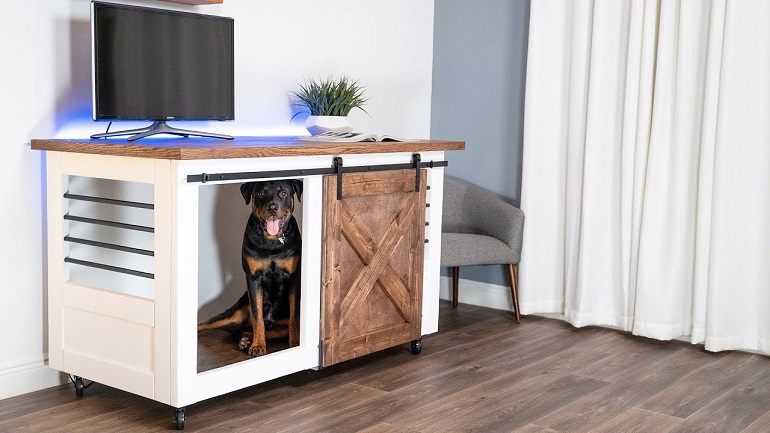 How to Clean the Dog Crates
Now you know the types of crates, so let's move toward the cleaning process and learn how to keep your crate clean.
Empty the Crate
It will be best to empty the crate before collapsing or cleaning it. Completely remove everything, including the bed, pillows, blankets, toys, meal bowls, and every other accessory placed inside the crate.
Also, please extract the bottom tray of the crate if it is removable and keep it aside for scrubbing.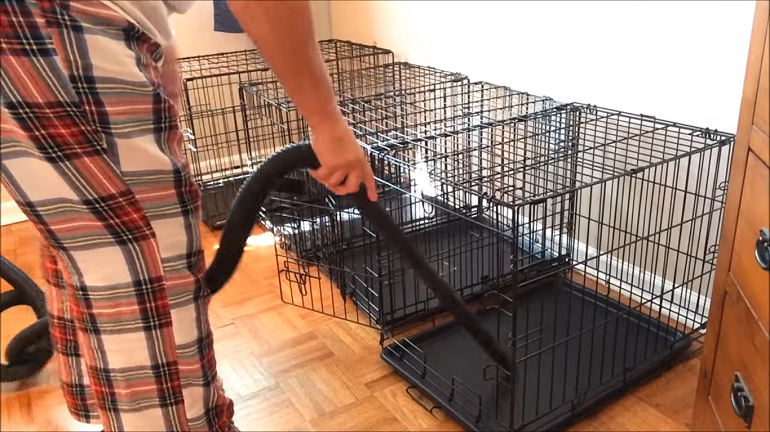 Wash the Items
Collapsing a crate can be the best time to wash all the items. But you should make sure to use a non-chemical cleaning solution to keep your pet secure. You can wash the soft furnishings, blankets, and bedding like normal clothes in the laundry.
The meal and water bowls are easily washable like regular dishes. The plastic toys can be scrubbed and rinsed with soap and water. If you have cloth toys, you can wash them with other clothing.
It's a good idea to line the bottom area of the crate with a thick absorbent mat to protect your crate's integrity from mishaps and accidents. It'll also make the cleaning process much easier.
How to Collapse a Dog Crate Properly
Now you are familiar with the different types of crates, it's time to learn how to collapse one correctly. Read the following steps to figure out how to collapse your dog crate safely.
Begin the Folding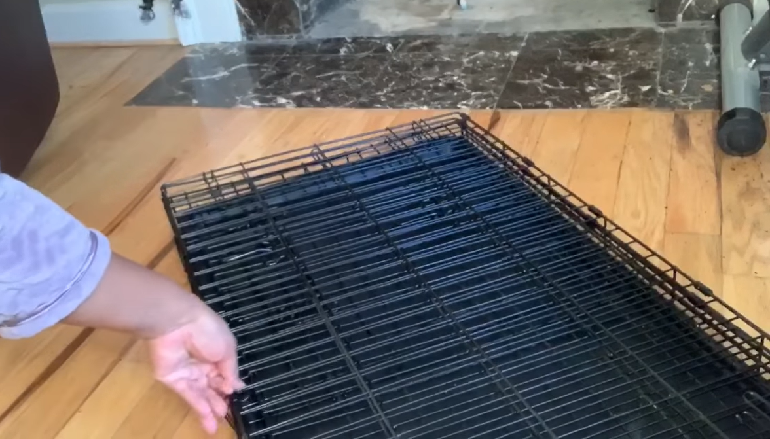 All the crates will usually collapse using these steps except soft-sided dog crates.
Read the Instructions
It goes without saying that you should read the manufacturer's instructions before collapsing your crate to know its model and if it has some specific collapsing mechanisms.
It is not a big issue if you have somehow lost the owner's manual or did not receive any. You can contact the manufacturer of the dog crate and ask for a recent manual.
Close the Crate Properly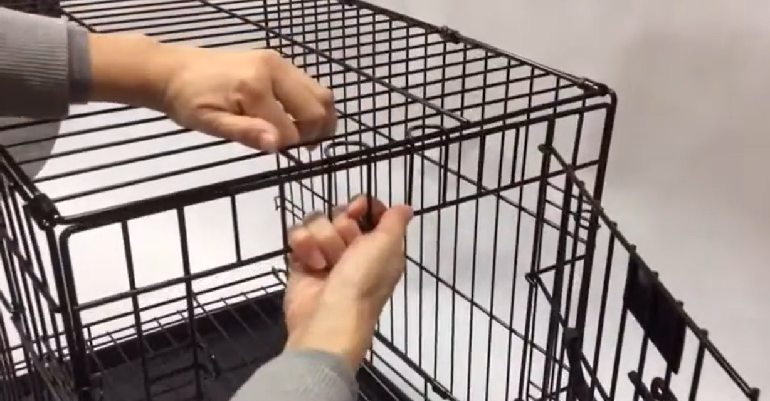 Once you have emptied the crate, close all the crate doors properly. Unlock the latches at the front or back doors, right and left sides, and top and bottom openings.
Some dog crates have an extra escape panel. If your crate has such a feature, you should check and close it.
If any door remains open or the latches are not secured, you will have difficulty collapsing the crate, so be careful. Moreover, a closed door would not damage or break while collapsing.
Folding Short Side Panels
Wire crates usually have shorter side panels. You should start by folding these short side panels towards the middle of the crate because it will make way for the longer panels.
Carefully unlock the hinge holding these panels and push these down toward the floor.
Latches of the Shorter Side Panels
There are some crates with latches, and plastic crates are one of them. In this step, you should detach the locks connecting the shorter door with the longer ones.
Release the latches, and push the shorter panel inside of the crate. Repeat the same process on the front and back sides.
Right and Left Sides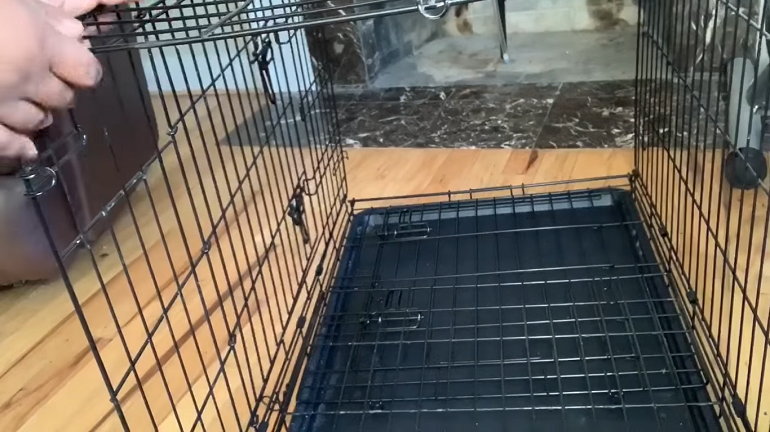 Now it's time to fold the right and left sides panels of the crate. You can fold these by unlocking the side latches and simply pushing the sides down. Then, place them over each other carefully on the floor.
You should be careful and keep your fingers safe in every step because they can get entangled or pinched in metal or wire, and you will badly hurt yourself.
Secure the Folded Crate
The dog crates come with a latch or hook to be used after collapsing. You should push pressing the two halves of the latch or hook together to fasten the crate.
It will help you in putting your crate safely without the fear of getting it opened, and you can easily lift it.
How to Collapse a Soft Crate?
A soft-sided crate has a different screw mechanism, but it is really easy to collapse. You just need to identify and push its collapsible points, and the crate sides will fold.
Next, you should press the entire side paneling and fold one side of the crate over the other side lying in the middle of the crate.
Once you are done folding your pup's house, fasten it with a strap that would be there with the crate.
Conclusion
The crates are home to our pets. Therefore, we should protect these as we safeguard our pets. But it becomes tough when a pet parent does not know how to fold them.
An unfolded crate becomes a nuisance when you face the difficulty of putting them somewhere. But on the other hand, a folded crate is convenient to be carried and manage. So, we prepared this guide to acknowledge the gravity of your concern.
We hope this article helps you manage your pup's home sweet home. We will be glad if you tell us about your experience of folding your dog's crate before and after reading this guide.