Thank goodness we live in an age when flying with a dog is allowed, legal, and safe. No need to worry about what we would do without our best friends at the next family reunion.
But there are rules to play by and details to learn before you board that bird with Scooby. We're here to set your mind at ease by covering all that is doggy travel, so all you'll need to do is ask for more peanuts.
Do all airlines allow dogs? Can it harm my sweetie? Can I fly with my Rottweiler? We've got you covered with those answers. So pack your bags, leave early, and buckle up… we're about to fly with a dog.
Flying with a Dog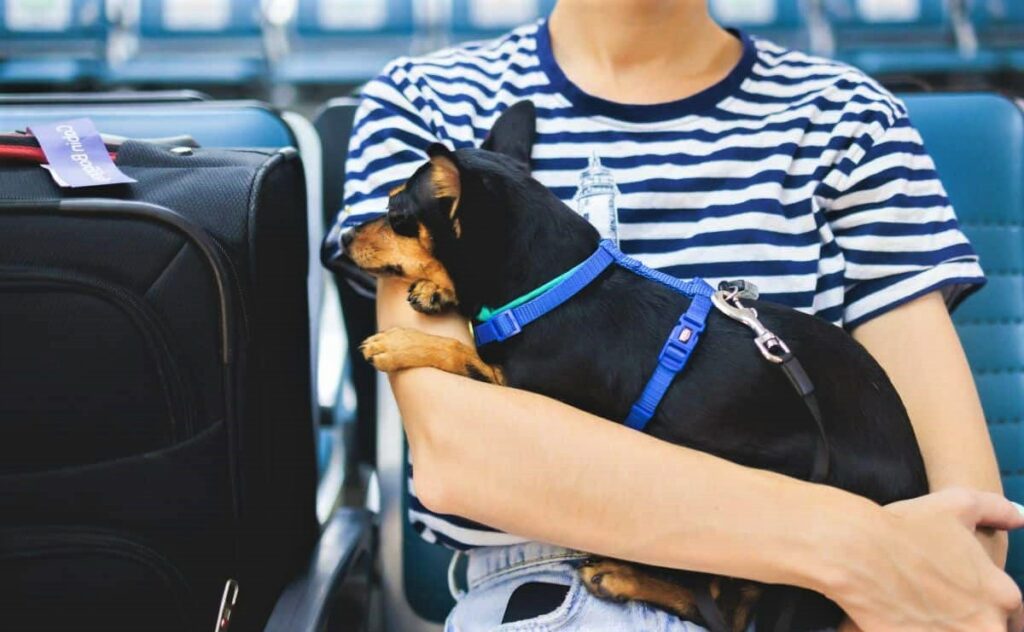 Most dog lovers would rather eat dirt than be away from their best friend. When flight companies recognized that, the gates opened for dogs to accompany their guardians on adventures.
In 1989, a TWA flight attendant named Gayle Martz saw the need for airlines to become more friendly to critters. She wanted to take her Shih Tzu with her on her travels and set about taking action to get the powers that be on board.
So she created the Sherpa Bag that transports pets and will fit under most cabin seats. She also petitioned airlines, and her efforts succeeded when most created regulations for animals to fly on planes. Guess we could call her the dog flying whisperer!
Preparation is the number one rule when you're flying with a dog. When details are solidified, your peace of mind will follow. There are people to contact, places to go, paperwork to be generated, and more when you and your dog fly the friendly skies.
Can You Take a Dog on a Plane?
Definitely! Several major airlines allow dogs to fly, which we'll cover below.
Flying with Small Dogs
Small dogs have an advantage when flying since they're generally able to fit in a dog kennel or carrier and be stowed under a seat. But if yours is a yapper, you might consider talking to your veterinarian about an "anxiety shirt" that can provide comfort for your furry one.
Important: Be wary of vets who recommend administering a sedative or tranquilizer before the flight, which can be counterproductive as there are health risks involved with sedation.
How to Fly with a Dog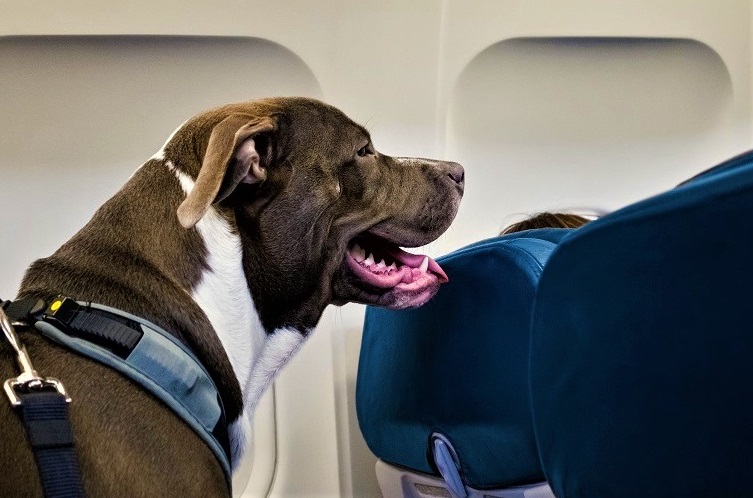 You'll learn about necessary documentation, where dogs are and aren't allowed to be, and so much more from this article. Let's take off together, check out the views, and land safely as we navigate the world of flying with your dog.
Need of a Plane-friendly Dog Carrier
It's essential to learn about the carry-on pet fee policies of major airlines to plan your pet's plane travel smartly. Each airline has different pet fees and carrier/kennel specifications and usually requires your dog to remain in it for the entire flight. This is to ensure the safety of your 4-legged loved one and the other passengers.
Vet Visit
Your vet is one of the main keys to handling almost everything you'll need (documentation, health check, important input) to be able to fly with your dog. The bottom line is you won't be able to take your fluffy bestie on a flight unless you see your veterinarian.
Rabies Vaccine
Different states and countries have their own policies about whether you need rabies documentation or not. Your vet, the airlines, and other officials will be able to inform you who needs what. We say, cover yourself!
Your dog should have the vaccination anyway, so take the proof with you on your trip. Be sure to check how many days before the flight date they need your dog to be vaccinated. For example, it could be 30 days or more or less.
General List for Flying with a Dog
Discuss all aspects of traveling with your dog with the travel agent or airlines.
In addition, scour the International Air Transport Association website just to compare notes while traveling abroad.
Don't forget to mention the breed. Pugs, Pekingese, Bulldogs, and many others can suffer from Brachycephalic difficulties or breathing problems and obstructed airways (from excessive breeding practices).
Many airlines won't accept pets if they've flown in the cabin (due to their difficulties with ventilation) because they couldn't fly in the hold or those that have flown in the hold either. This is largely due to their heat intolerance, and animal quarantines are sometimes necessary upon arrival (Example: Hawaii).
If you're flying into places that won't accept Brachycephalic dogs, being aware of the details is critical.
Also, if you have an overly anxious, timid, or fearful dog, consider leaving them in a sitter's care.
Many airlines require that you sit in specific areas with your pet, i.e., not in emergency rows, etc., so check with them first if that's a concern.
Take Frisky to the Vet
Get a clean bill of health for your carry-on pets.
Discuss your pet's age and medical history to cover the bases. Sometimes older dogs or those with previous health issues may have difficulty adjusting to so many stimuli and new situations.
Mention the length of the flight to get his or her input.
Discuss all scenarios regarding flight travel and what is best for your particular dog.
Obtain the required flying certifications, including proof of pet's vaccinations.
Purchase an Air Carrier for Your Dog That's:
New, since they'll have the current bells and whistles
Large enough for your dog – He can easily turn around in it.
Pet food and drink friendly
Expert Tips:
Don't forget to administer any regular medications your dog is taking before flying.
Pack their medications, treats, toys, an extra leash, and clothes (They want to be stylish on their getaways, too).
How to Fly with a Dog in Cabin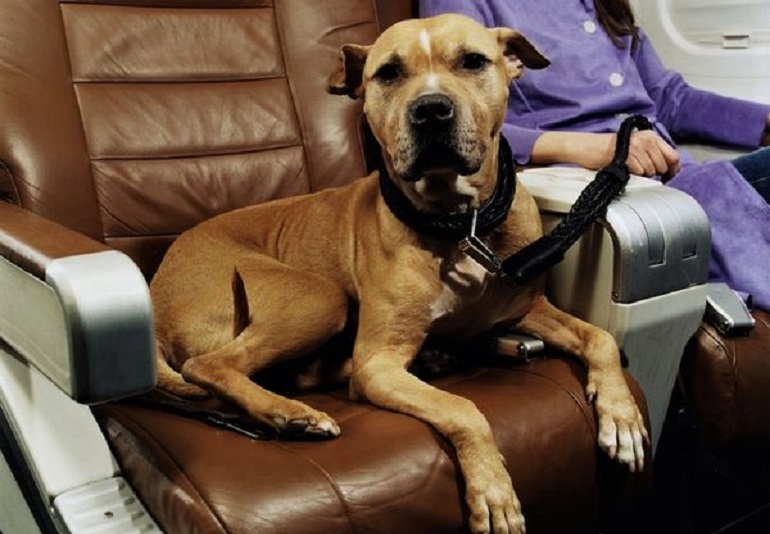 Once you're set with all the pre-flying issues you've already dealt with, it's time to board the aircraft with sweet Penelope.
Become fast friends with the attendants since they can make things easier on you and your dog. And it's just nice to be nice.
If your dog's in a carrier in the cabin, make sure to check on her regularly to make sure all is kosher. If you notice any concerning behaviors, notify the flight attendant immediately.
Is It Safe for Dogs to Fly in Cargo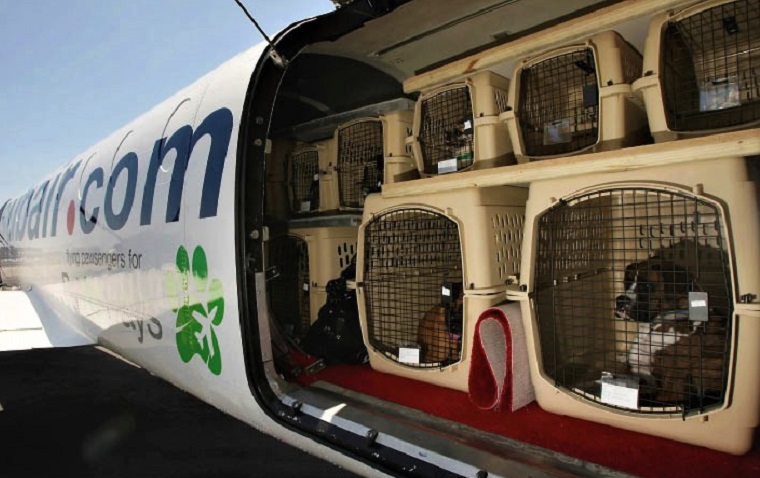 Choose Crate with the Right Dimensions
Check with the company you purchase the carrier from to inform them of your dog's size and to ensure proper dimensions. You can find the perfect crate size for your four-legged friend with our convenient dog crate size calculator.
Be Cautious about Temperature Fluctuations
Speak to airline management to get the lowdown on cargo temps normally and at their extremes.
Potential Health Risks Associated with Flying
Be aware of the health repercussions that could affect your particular dog's breed. Ask your vet and do the research. This way, you can make an informed decision when and if you fly with your dog.
Pet-Friendly Airlines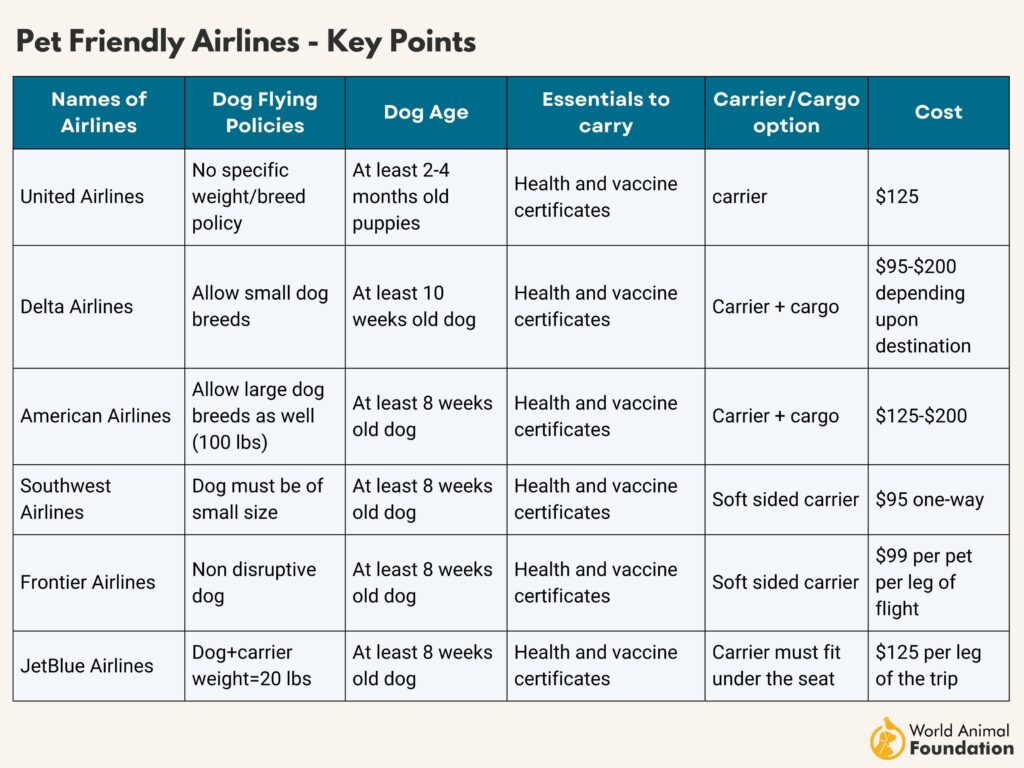 United Airlines Pet Policy
There are no weight or breed policies for dogs and cats as long as you can stow the hard or soft-sided pet carrier under your seat. (This makes little to no sense but is listed in their policies.) The only animal that can fly free of a pet carrier is a service animal.
Puppies must be at least two months old or four months old to comply with vaccination requirements on international flights.
If you're traveling internationally, you'll need to call 1-800-864-8331 to add a pet to your reservation. If you're traveling on multiple airlines, you'll also need to check with each one to see what their pet policy is.
NOTE: There are many states and countries that don't allow pets to fly to, from, or even through them.
The airlines will need rabies and international health certificate for dogs that are flying internationally.
If traveling nationwide in the US, make sure to have a certificate of health from your vet including: Your name, phone number, and address; your dog's breed, sex, age, color, and markings (I would add any special circumstances such as "A bit timid"); list of recent vaccines, including names, dates issued and expiration.
Don't forget to bring a collapsible water bowl, collar, leash, and poopy bags. Pet strollers need to be checked at the ticket counter.
Fee – $125 per pet for each leg of travel. Service animals, which have specific rules, may fly for free.
Delta Airlines Pet Policy
If your pet cannot fit in a carrier under the seat in front of you, you can use the airline's special shipping service, Delta Cargo.
NOTE: I have used special shipping services (can't remember which airline) to deliver a new puppy and was thrilled with the service.
Extensive kennel/carrier requirements (See website for details, plus learn more about measuring carriers).
Extensive seating requirements (See website for details.)
Your dog must remain in his carrier for the entire flight.
Pets are accepted on a first-come, first-served basis, so book early.
Fees – $95, $125, $200, or $75 depending on your destination per 1-way ticket
American Airlines Pet Policy
Traveling to the US with cats or dogs – The U.S. Centers for Disease Control and Prevention (CDC) has issued a temporary suspension of dogs (carry-on or checked), including fully trained service dogs, traveling to the U.S. from a country considered high-risk for dog rabies.
Depending on animal breed and size, they can travel as a carry-on or be transported through American Airlines Cargo.
You may bring one kennel as your carry-on bag, which would count as your carry-on luggage.
Fees – $200, $150, and $125 – AA Cargo fee varies and will be confirmed at the time of booking
Southwest Airlines Pet Policy
Animals must be small, vaccinated cats or dogs.
They must be able to be stowed under your seat in an appropriate pet carrier on domestic flights.
Although their flights are open seating, those traveling with pets may not sit in an exit row seat or a seat with no under-seat stowage in front of them.
Pets are not allowed to fly in cargo.
Pets must be at least 8 weeks old to travel.
Pets must be vaccinated, but no documentation proof is required.
A pet that shows disruptive behavior (barking, growling, etc.) may be denied boarding.
Fee – $95 one-way
Frontier Airlines Pet Policy
NOTE: They had pertinent detail that could be applied no matter which airline you choose. The United States Department of Agriculture (USDA) regulates the transport of pets within the U.S. While we do not require a health certificate for pets carried in the cabin traveling within the U.S., upon arrival, a certificate may be required by the specific state where you are landing. For clarification, please call your veterinarian or see the U.S. Department of Agriculture's Veterinary Services.
For pet carrier requirements, they recommend it should be soft-sided.
Your pet must be harmless, not disruptive, odorless, and require no attention during the flight.
They recommend pets have no food or water within four hours of departure.
Fee – $99 per pet per leg of flight.
Jetblue Airlines Pet Policy
Your pet and the carrier must fit under the seat in front of you.
They have restricted seating.
TrueBlue members earn at least 300 extra points when traveling with their pet.
Carry-on bags are not permitted, but you can bring a personal item in addition to the pet carrier.
Fee – $125 per leg of the trip
In general, with each airline listed:
Service animals can fly for free.
There are countries where no pets can fly to or from.
Animals must be stowed under a seat in the cabin.
First-class cabins have their own rules.
Some form(s) of documentation must be presented.
Pet relief areas are provided in major airports.
CAD amount will be charged to exit Canada, while the EUR amount will be charged to exit Europe.
The airline policies listed above are not exhaustive lists, so check with the agent and website to get thorough instructions.
Dog Breeds Not Allowed on Airlines
Brachycephalic dogs (called "snub-nosed") are not allowed to fly on some American airlines. Also, pit bulls, pit bull terriers, including staffies and American bully breeds, may not be welcome. If your dog is denied flying rights, revolt! Just kidding, you can contact ground transportation companies.
Important Tips to Follow When Flying with Dogs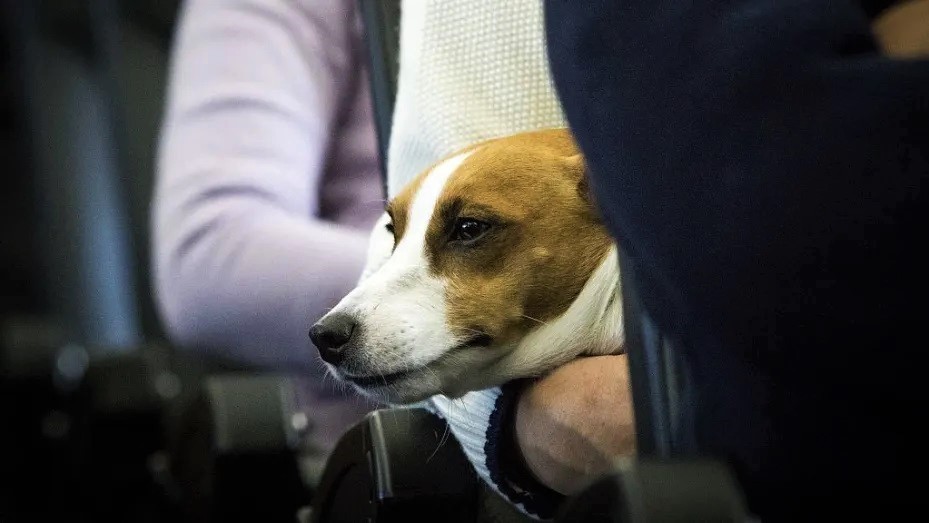 Check out the airline websites by Googling the name + "pet policy" to read specific instructions. Some states/countries will require a quarantine time when you arrive. You can never receive too much information when flying with your dog.
Always speak to your vet and whomever you booked a flight with to ensure you follow the airline rules.
You know your dog better than anyone so be on alert for behavioral changes throughout the flying process.
Think of others. Barking or misbehaving dogs (along with babies) aren't ideal for your flight to Jamaica, so don't be the one who brings a dog along who isn't well-trained.
It's best to travel on a plane with your dog during seasons with reasonable temperatures from the place you're departing to the place you're arriving.
Never punish your dog for poor behavior before, during, or after a flight. Stress can highly affect your dog, and we're the ones who carted them along anyway.
Additional Regulations to Fly With a Dog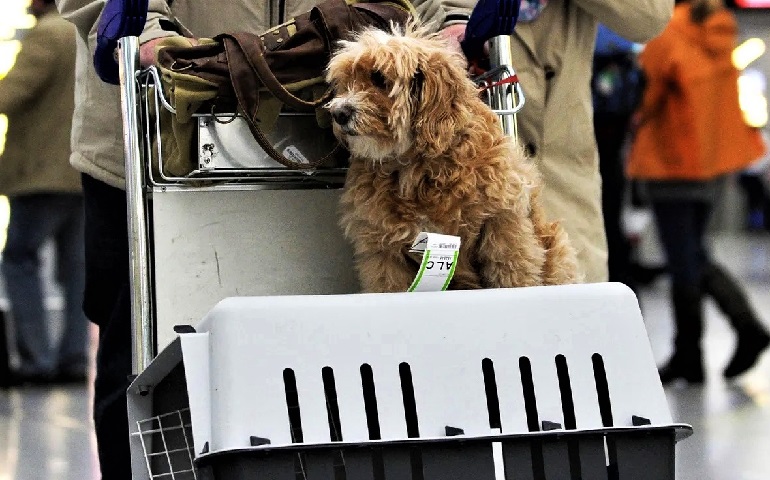 Microchip
Your dog should be microchipped whether he's flying or not. He's part of the family, and since we have a way to find them if they're lost via this process, we need to take advantage of it. Regarding flights, some international flights require microchips. Check with your airline.
ID Documentations
Identification documents are usually required by shipping companies to ensure the safety of your pet. They consist of your contact information and the specifics of your dog's weight, age, and health. You don't want to open the carrier to welcome your German Shepherd and find a Chihuahua standing there.
Health Certificate
These certificates are issued by vets who perform all the requirements your dog needs to fly. In some cases, depending on the country, your vet must be USDA-Accredited. NOTE: There is not one universal health certificate, so you must check with the airline to get further details.
Parasite Control
Some international destinations require proof of intestinal parasite treatments, which can be acquired from your vet.
Additional Vaccinations
You will need a Certificate of Veterinary Inspection to travel, and some airlines require an acclimation certificate. Both of these certificates can only be completed and signed by a federally accredited veterinarian. – American Veterinary Medical Association (AVMA)
Customs/import Permits
Dogs vaccinated in the United States by a US-licensed veterinarian may re-enter the United States from a high-risk country (rabies) without a CDC Dog Import Permit if the dog:
Has a current, valid US-issued rabies vaccination certificate
Has an ISO-compatible microchip
Is at least 6 months old
Is healthy upon arrival
Arrives at one of the 18 airports with a CDC quarantine station
Pet owners should visit the U.S. Department of Agriculture – Animal and Plant Inspection Service (USDA-APHIS) website to review country requirements for pet arrival.
Also, check with your airline for information on other countries' entry rules and necessary permits.
Government Endorsement
Authentication of the USDA certificate forms may be required by the country to which you are traveling with your pet. Check with the embassy before the flight's arrival.
The certificates are authenticated by the Department of State's Office of Authentications
600 19th Street, NW
Washington, DC 20006
Tel: 202-485-8000 or 1-800-333-4636 and then press 5
Fax: (202) 663-3636
NOTE: We suggest you research more to stay updated with the current rules and entry requirements.
FAQs
Can I Buy a Seat for My Dog?
Most airlines will NOT allow you to buy a seat for your dog that's able to be used by your dog. On some, you can purchase a seat but only for more room. Your dog must still remain in it throughout the flight.
Is Flying Stressful for Dogs?
Flying can be stressful for people who actually know what's happening, so you can imagine how it might affect dogs adversely. And because they can't knock back a couple of brewskies to calm their nerves, it's our job to know whether our dog is in danger of having too much stress or not.
Should I Give Sedatives to My Dog During the Flight?
No, you should not. Your dog probably isn't accustomed to taking sedatives or tranquilizers, and therefore the stress they can add to your dog's chemistry is largely unknown. Be safe and hold off on these or any anti-anxiety medication on a flight.
How Much Does It Cost to Fly with a Dog?
It depends on the airlines but can cost anywhere from $90-$200, depending on where you're traveling.
What Are Us Rabies Vaccinations and Travel Restrictions?
The CDC has extended its temporary suspension of dog importation from high-risk dog rabies countries until July 31, 2024. This suspension includes dogs arriving from countries without a high risk of rabies if the dogs have been in a high-risk country in the past 6 months.
How to Add a Pet to a Delta Flight?
Pets are accepted on a first-come, first-serve basis. If your pet meets all specific requirements, contact Delta Reservations in advance for more information. For flights operated by Delta air lines partners, check directly with the operating carrier for their policies regarding bringing animals into the cabin on international flights.
Be sure to have your kennel's maximum dimensions (length, width, and height) ready when contacting them.
How Can I Make My Dog Comfortable During Flight?
Whether your dog's in the cabin or otherwise traveling, be sure to put their favorite chew toy and blanket in the carrier. Even one of your pieces of clothing can be comforting.
How to Collect Your Dog after Reaching Your Destination?
It depends on the airlines, but dogs are generally not received at luggage carousels. There are designated areas you will be informed about where you can pick up your dog, and waiting times vary.
Final Thought
One of the important views we have on flying with a dog is that carrying them on board with you, if possible, is the safest way to travel with them. Cargo holds can be extremely loud, not temperature-regulated, and have lots of strange smells. This can lead to a confused and frightened dog, one that tries to escape carrier and cargo holds, and in the worst case scenario, can and has led to death.
This is not to scare you but to give you all the possibilities so you're armed with the facts.
Now you're all set to take Smoky to meet Aunt Bertha. Once you have all the required information and have handed it over to the authorities, it's time to enjoy your trip. And just think, you won't be coming home to a pouting pooch!