Exciting for your Fido's birthday? Thinking and wandering the streets to find the best gift for him?
Stop! No more need to wear out. Trust us we are going to suggest you the best ever present for your friend.
You can please your fury friend with a super kennel. Every kennel has its own specifications. In the following blog we have collected all the information about best kennels for your furry cub. Every kennel is mentioned with its features, pros and cons. You can select the right one according to your dog's size, preferences, age, sleeping schedules, your budget and specific need.
Top Pick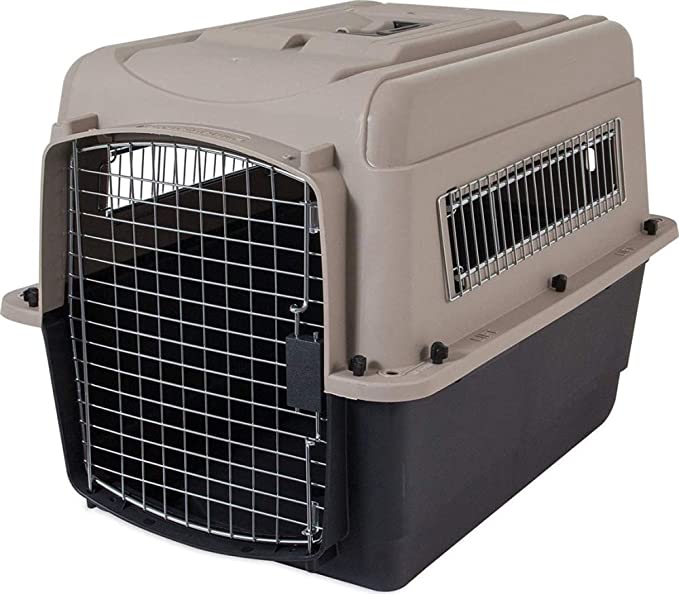 Petmate Ultra Vari Dog Kennel
Material: Plastic
Size: 28 lbs
Various Sizes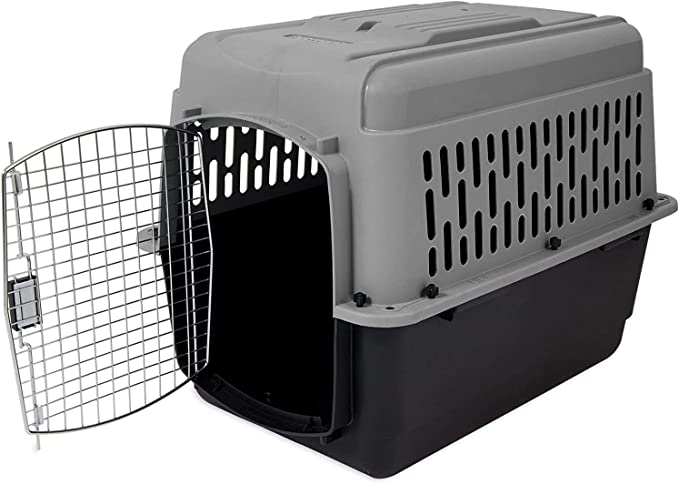 ASPEN PET Porter Dog Kennel
Material: Plastic
Size: 30-50 lbs
Premium Safety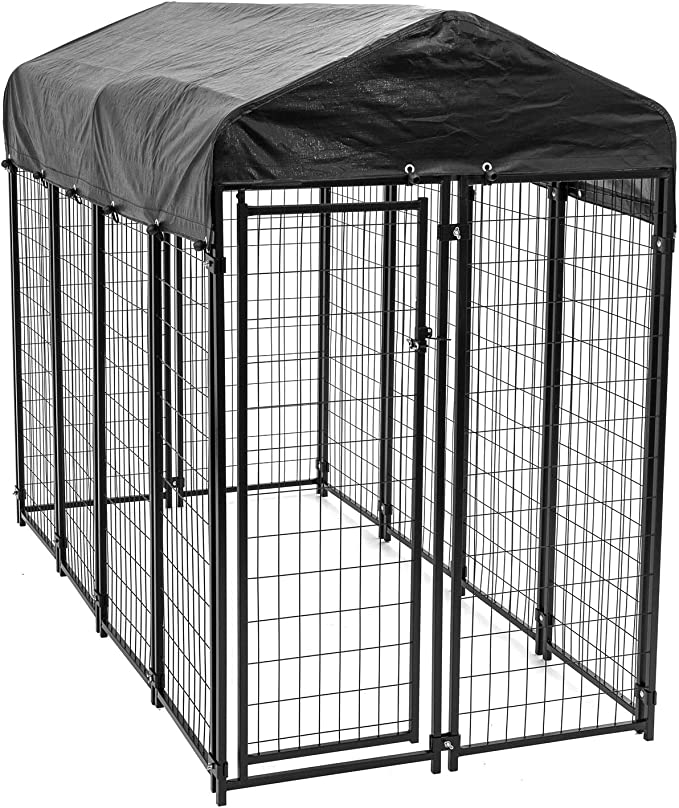 Lucky Dog Uptown Welded Wire Kennel
Material: Alloy Steel
Item Weight: 103 Pounds
Best Outdoor Dog Kennel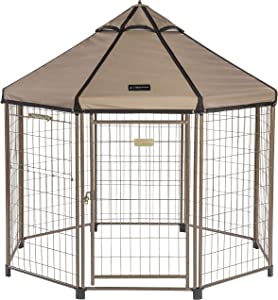 Advantek Gazebo Modular Outdoor Dog Kennel
Material: Alloy Steel
Item Weight: 55.5 Pounds
Ideal Choice

Yaheetech Tall Metal Playpen Kennel
Material: Electrophoresis Iron
Size: 24
Travel Friendly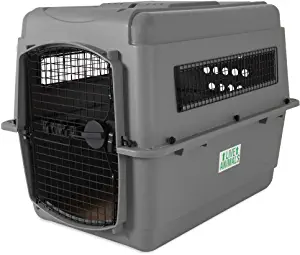 Petmate Sky Kennel Pet
Material: Blend
Size: 36 Inches
Unique Style Design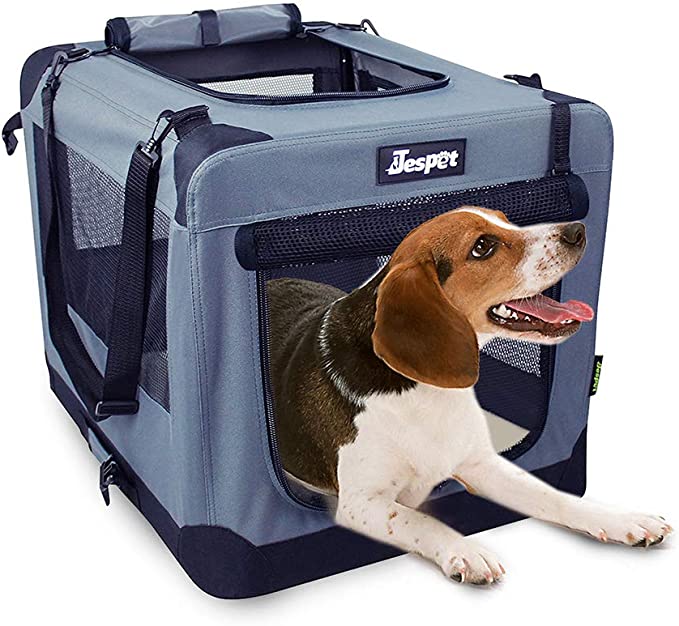 JESPET Soft Pet Crates
Material: Alloy Steel
Size: 20 Inches
Portable Dog Crate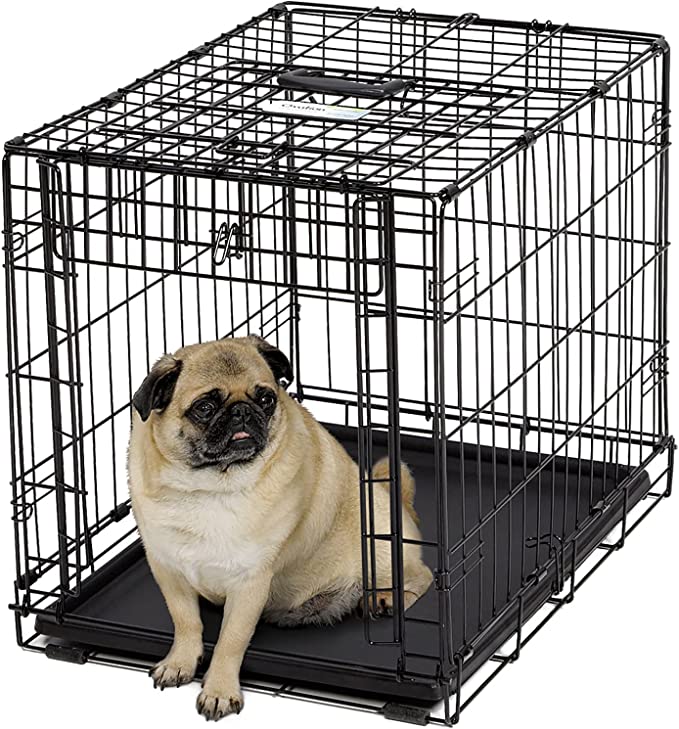 Midwest Homes for Pets Ovation Single Door
Material: Cotton
Size: 24 Inches
Best Lightweight Kennel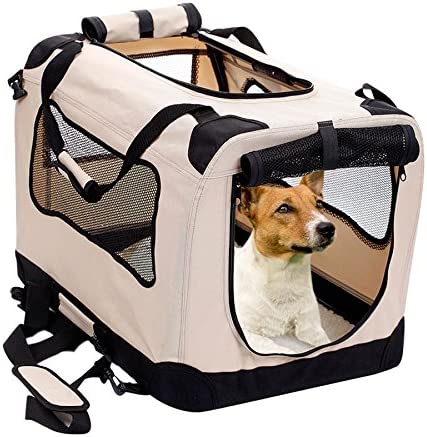 2PET Foldable Dog Crate
Material: Alloy Steel
Size: 24 Inches
Moreover, a kennel will help you to keep your dog well trained, secure and to keep it with you wherever you are traveling. There are multiple kennels for indoor and outdoor use. Some of them have designed the way you can get benefit of them of both indoor and outdoor feature. We have made it easy to select the best fitted option for your pooch.
Let's sparkle your dog's big day with a classical, flexible, innovative, durable and portable kennel!
Best Indoor Dog Kennels
As you know market is full of kennels which are different in size, colors, features and price. For your ease, we have gathered everything at one place. There are 9 best possible kennels have listed down. While your pooch is on mind let's explore this article to pick the best one for your friend.
Let's have a look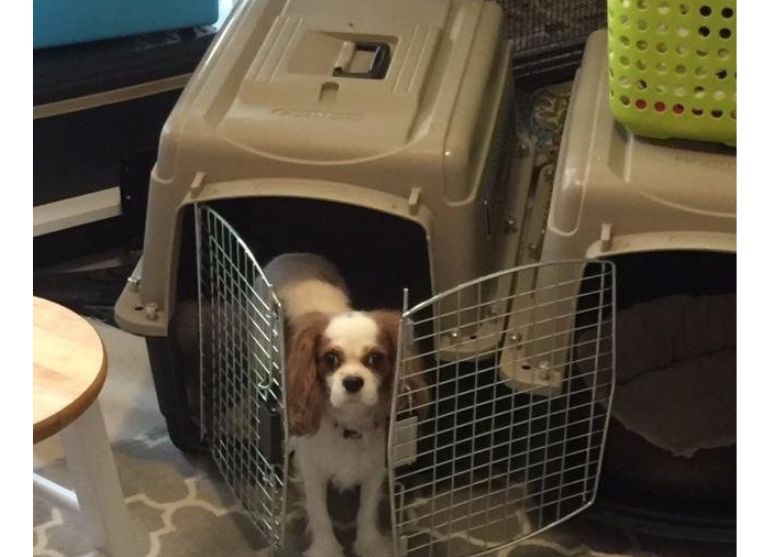 Keep your precious pooch safe and secure with this comfortable, durable and portable travel kennel. It offers 360-degree full upper surround ventilation. This kennel can be use both in the home, as well as a travel solution. It is easy-to-assemble with tie-down strap holes without need of any tools.
Additionally, a zip-tie installation adds extra security and an easy-to-open squeeze latch door. The Ultra Vari Kennel provides your canine with plenty of air while they're in the kennel. Ensure safety for your pet with its heavy-duty plastic shell. This environmental friendly kennel is easy to clean and swipe. The kennel is available in different sizes, ranging from 25-90 pounds, to shelter a wide range of pets. For airline travel, this kennel meets most air travel requirements.
Specifications
6 sizes (21" to 48")
Wire vents and raised interior and tie-down strap holes
Easy color coding according dog breed and size
Squeeze latch doors and handles
Resilient for car and airline
Durable plastic and metal screws
One year limited warranty
Budget friendly
Eco-friendly(made with 90% pre-consumer recycled plastic content)
Only sizes 21″ and 28″ include a handle. All other sizes do not come with a handle.
Pros
The buyers were so pleased to have the feature of easy assembling and easy latch system, which made it easy for dogs and for them to use.
This dog crate is travel friendly either you are on road or in air. This feature made it an apple to eye of many pet owners.
Cons
Some pet owners claimed that its handle didn't work the way they expected.
Testers Verdict
Our team tested this dog crate and reviewed it as sturdy, durable and comfortable. They named it a travel friendly crate. It was easy to assemble and carry which also a time saver when you are hurry to go.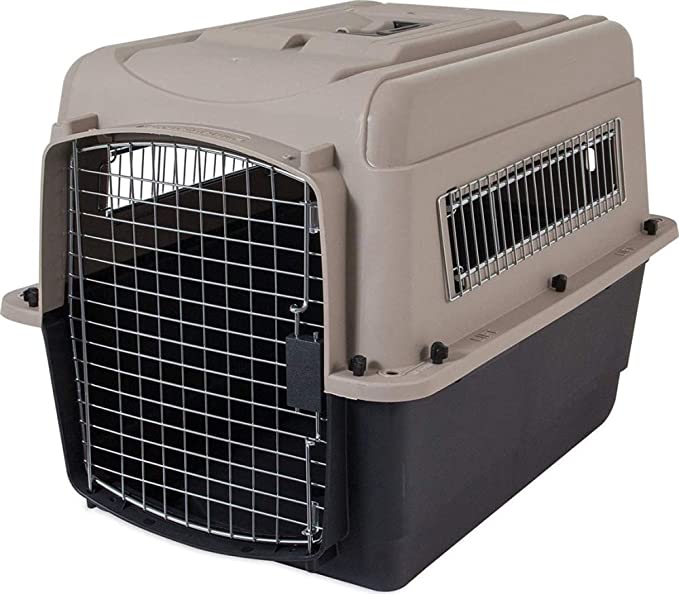 Petmate Ultra Vari Dog Kennel
The price of "Petmate Ultra Vari Dog Kennel" varies, so check the latest price at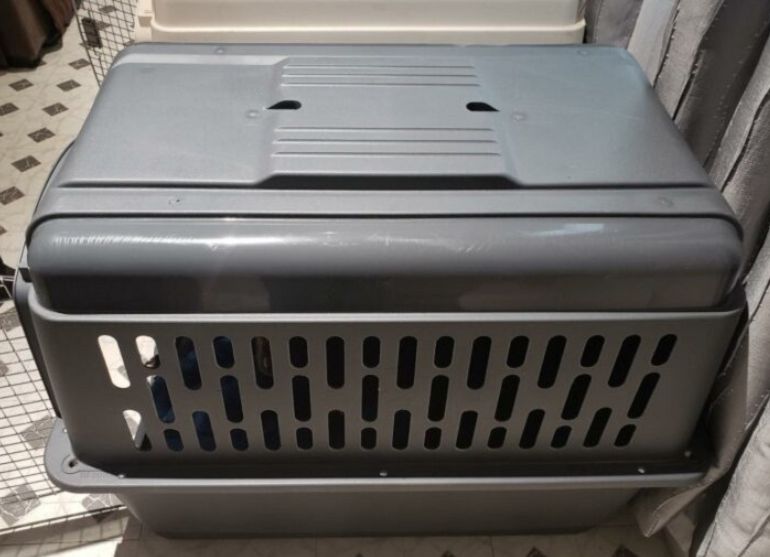 This dog kennel gives premium comfort to your dog with its flimsy durable plastic shell. It gives healthy air flow and ventilation with side vents and the easy-open squeeze latch door. Moreover this door helps the parents to open it conveniently with one hand.
It has an additional feature that gives pet parents a piece of mind, when they are looking for perfect kennel size. Aspenpet offers crates which are depending on size, featuring carrying handles, back vents, compartment covers, and side latches for the smaller sizes and secure, tie-down holes for the larger sizes.
Specifications
Best for large -sized dogs
Lightweight durable plastic construction
Plated steel door with easy open squeeze latch
3-side ventilation
Heavy duty plastic shell
Metal nuts and bolts
Pros
The buyers were happy to have a product not only best designed for large-sized dogs but also available in various sizes.
Many pet owners were glad to find an easily portable lightweight crate.
Cons
Some customers claimed regarding the screws and their non-fitted holes. They shared that although it was easy to assemble but they faced trouble while fixing the door in factory made holes.
Testers Verdict
Our testers tested this dog crate on large breeds, and the results were awesome. The crate was well ventilated and comfortable. It was lightweight so that the owners were able to carry it easily. However, testers suggested company to make a top handle for parent ease.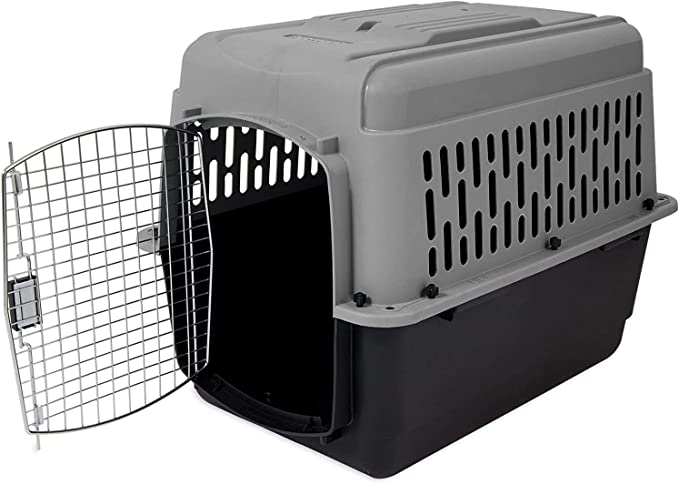 ASPEN PET Porter Dog Kennel
The price of "ASPEN PET Porter Dog Kennel" varies, so check the latest price at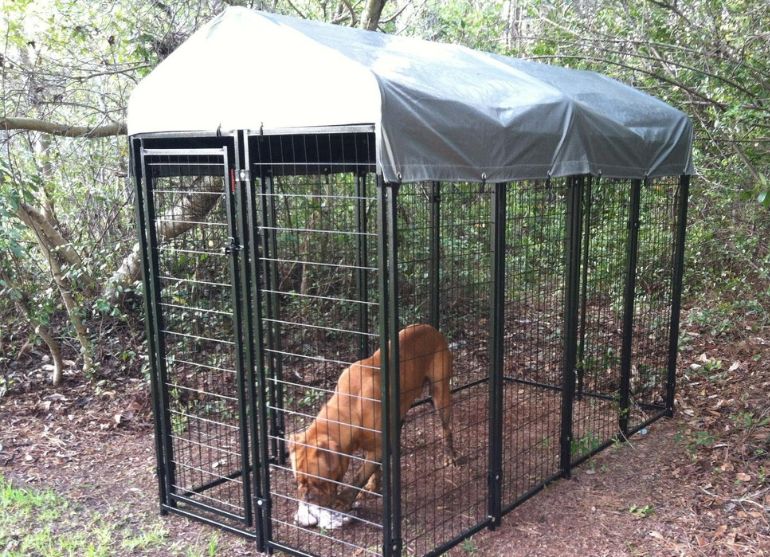 "Every home deserves a good dog and every dog deserves a good home". Lucky dog made all their products with this idea to keep in mind. This heavy duty steel dog kennel with welded wires, steel roof frame with double coated durable tiger Drylac finish made it a distinguish kennel unlike others.
Moreover, this finish also made it rust free. The boxed kennel kit comes with simple clamps for the corners, and the cover secures snugly with easy-to-use ball and loop bungees and grommets. This sturdy kennel keeps your dog safe while enjoying outdoors, plus its state of the art factory design give an impression to your backyard. Its water proof cover gives protection to your dog from rain, sun and snow.
Specifications
Rust resistant
100% premium commercial grade steel frame
double-coated with durable Tiger Drylac finish
Fully welded wire mesh frame
Waterproof cover
Easy to assembled and clean
Pros
Many parents loved this dog crate for its sturdiness and ability to fixed easily and firmly in the ground. It provides space to heighted dogs move freely.
Parents also praised the brand for free shipping they felt valuable as the part of Lucky Dog family.
Cons
Some users shared their disappointment as the cover wasn't long lasting. They asked the company for replacement covers.
Tester's Verdict
Our testers reviewed this product as more airy, best crate for larger dogs and crate with strong enclosure. They showed their satisfaction and recommendations for this cage because it is crafted with fully welded frame which protects your dog. They also shared that it is easy to clean.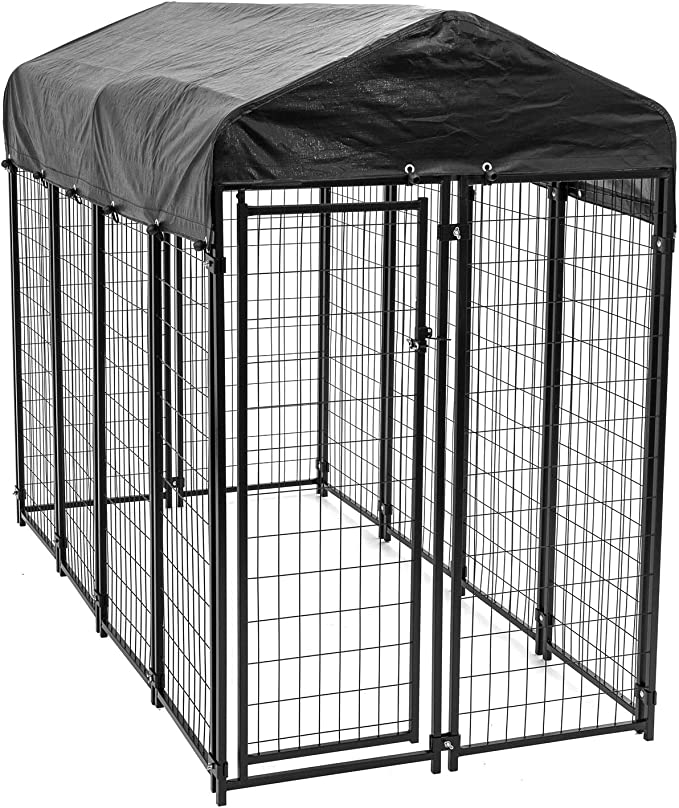 Lucky Dog Uptown Welded Wire Kennel
The price of "Lucky Dog Uptown Welded Wire Kennel" varies, so check the latest price at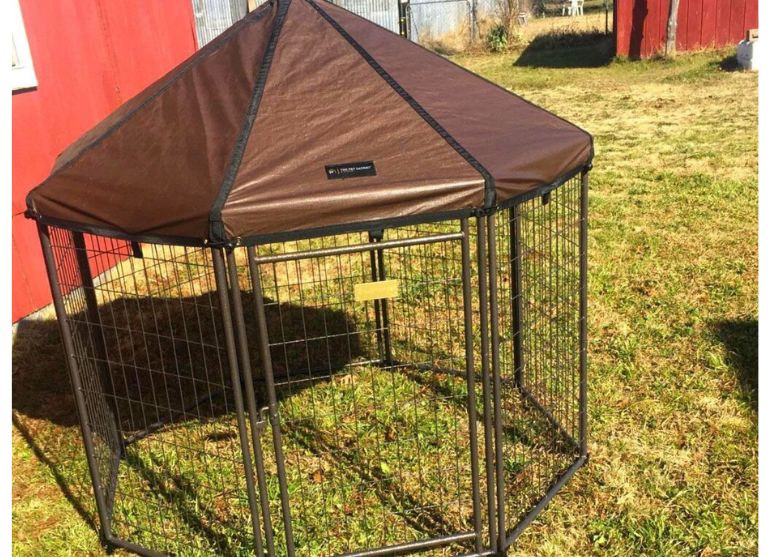 If you want to go on hunting, camping, fishing trips and vacations, simply this is the best kennel you can trust for your dog. Protect your friend with its 5' unique 60 inches x 60 inches x 60 inches octagonal design, sturdy steel frame, and durable finish.
It is very simple and easy to put up this kennel in under 10 minutes without using any tools. Its weather resistant cover is its additional feature to ensure your dog's security. It is available for small, medium and large dogs. With multiple gazebos you can connect them with each other to make your own craft according to your dog's comfort.
Specifications
Heavy duty metal
Weather resistant cover
Easy assembly without tools and set up in minutes
5 year warranty
Modular design and pet proof lock
Non-marring feet for any surface
Light and portable
8 foot dog kennel for pets up to 350 lbs
Budget friendly
Pros
The users liked this cage as compare to other carets because it is sturdy and economical.
Parents also loved to buy this product because they found it durable and well protective. Even they trusted it when they are out of home.
Cons
Some pet owners weren't satisfied because their over active dogs collapsed with fences, jumped and tore the canopy.
Testers' Verdict
Our testers tested it with both indoor and outdoor areas. They found it roomy, easy to clean, protective and durable. They also recommended it for parents because it is easily moveable and light weighted.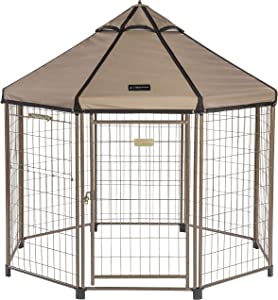 Advantek Gazebo Modular Outdoor Dog Kennel
The price of "Advantek Gazebo Modular Outdoor Dog Kennel" varies, so check the latest price at
If you want to save your expense of fencing around your backyard, then it would be wise to invest in Yaheetech playpen kennel. It provides a free space to play, jump, cuddle and run for your rolling mischief. . Portable dog fence can be used indoor or outdoor.
 It is available in 8 panels with 31.5″W by 39.4″ H heavy-duty panel frame, the 8-panel design allows multiple shape configurations like rectangle, square, round, etc. It provides 8/16/32 panels and 24/32/40-inch dog fences, with strict quality control and design standards to ensure the safety, security and comfort of your pet. This dog kennel fence works wonder for non-climbing small medium animals including rabbits, ducks, turtles & guinea pigs and so on.
Specifications
Metal frame with premium coating
Portable and foldable
16 panels
2 doors
Durable
Commercially warranted
Best for puppies
Pros
Many owners loved this budget friendly solution for the reason that it was wise to invest in fencing the whole yard, instead of that they prefer to buy Yaheetech playpen.
They also mentioned as compare to other crates it gives a lot of space puppies to play freely and also protected them.
Cons
Some users complained that he pins bend after disassembly and reassembly.
Tester's Verdict
After complains of a fewer users regarding bending pins and the frame got rust and dull after months. They found 2 solutions for these problems. Pins might bend due to clay hard dirt and non-planed ground. They should use long nails. For protection from rust users should paint the fence.

Yaheetech Tall Metal Playpen Kennel
The price of "Yaheetech Tall Metal Playpen Kennel" varies, so check the latest price at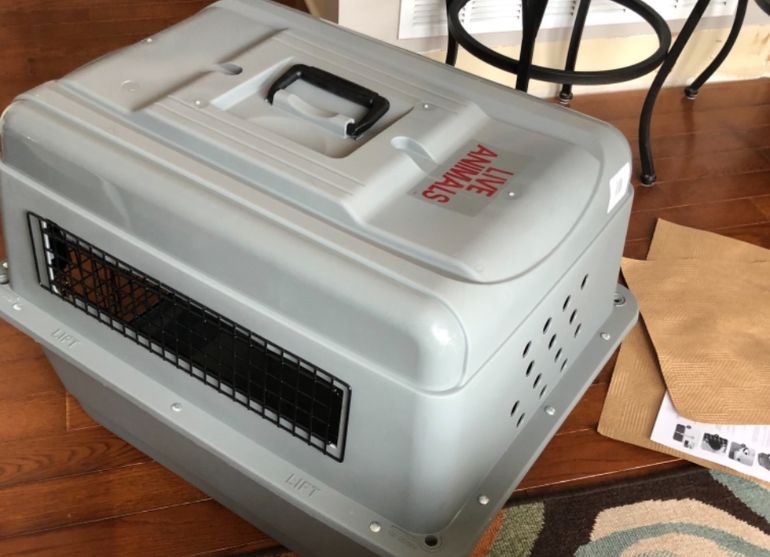 This heavy duty plastic shell with 360- degree wire ventilation, high-strength construction made from eco-friendly plastic, a durable wire door with an easy-squeeze latch system make sure the security and comfort of your pet. Its windows for plenty of healthy airflow, and plastic covered wing-nuts and bolts for durable assembly make it well ventilated for the pooch.
It is available in different sizes. The kennel comes in six sizes from 21″ to 48″ for all sizes of pets. The larger sizes offer a door with a horizontal wire for extra security, while smaller sizes have a carrying handle for convenient transport. Make your pet's travel and stay at home pleasant with this Petmate sky kennel.
Specifications
Suitable for all breeds
Eco-friendly
Heavy duty plastic shell
Wire door
non-corrodible wing-nuts, extra strong steel wire
The convenient dial latch system
4-way locking vault crate door
Bolts and wing nut
360-degree ventilation openings
Metallic side openings
Handle and tie-down strap
Additional items, water bowl, paper pad, and ID stickers
Pros
The pet parents were happy for this dog caret because they found it airline approved with screw modifications. And they mentioned their dog stayed comfortable in this travel crate.
The users praised this product because they found their dogs comfortable and more secure unlike other dog crates.
Cons
Many customers were unhappy because they found a gap between the size advertised and the actual one they got.
Testers Verdict
Our testers found this dog crate a best travel crate. It had ample space for all-sized dogs. It was easy to assemble and carry. Also, the door and food tray system made it easier for the flight staff to take care of your mate.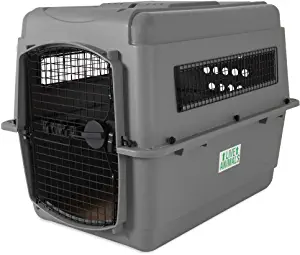 Petmate Sky Kennel Pet
The price of "Petmate Sky Kennel Pet" varies, so check the latest price at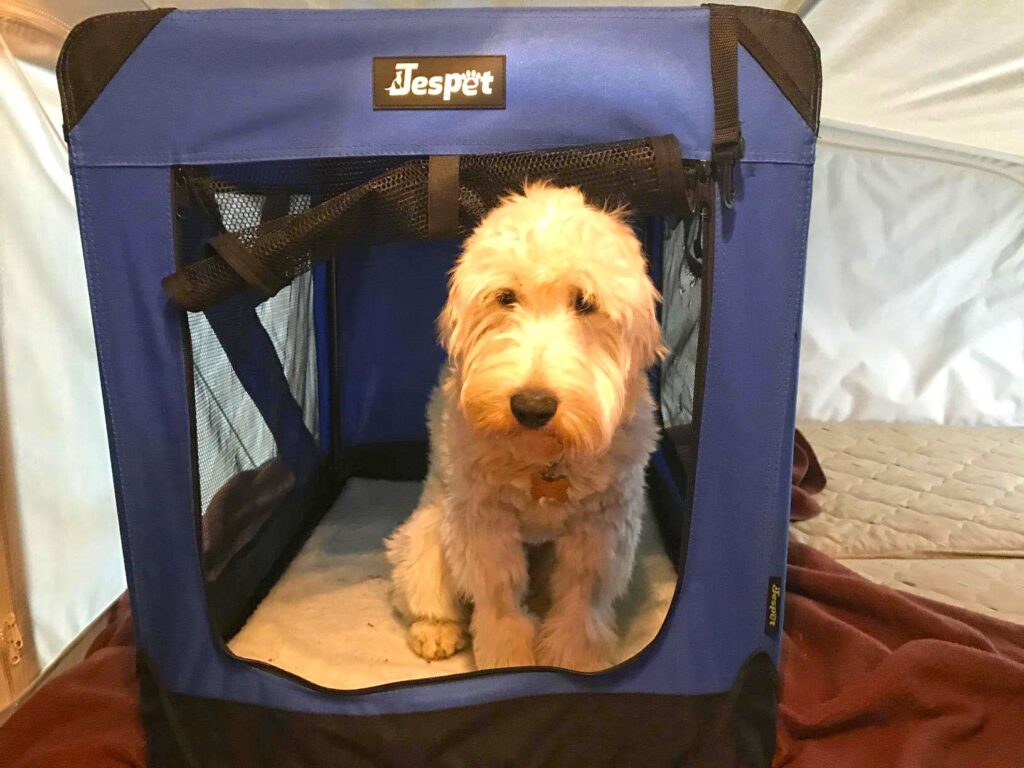 This soft pet carrier is light weighted and easy to carry around. The use of flexible fabrics such as nylon made its sides soft, safe and secure. Its durable coated frame, free deluxe mat and 600D coated mesh helps the dogs for clear visibility and great ventilation.
It is available in sizes 26″, 30″ & 36″, 3 doors soft side folding travel pet carrier with straps and fleece mat for dogs. It is also available in different colors such as grey, blue, black and beige. Company also offers money back guarantee. You can return a product for up to 14 days from the date you purchased it.
Specifications
Best for small and medium size dogs
Durable powder coated steel frame
Free deluxe mat
Three entrance door
Carry strap
A strong frame structure
600D fabric and coated mesh
Fleece bed and light weighted
Collapsible bars with retractable springs
Pros
Many users loved this dog crate for its easy to camping feature. They also mentioned it is super easy to put up and down. The multiple entrances make it easy to use in many different spaces.
Many users liked this cage for its strap which made it easy for them to carry. It also has a soft bed inside it which made it flexible to sit and sleep for dogs.
Cons
A few users complained it is expensive and it is difficult for everyone to buy.
Tester's Verdict
Our testers reviewed it happily recommended it to every pet parent, who want to travel, aim for camping or even stay at home. Tester's loved it because it is well ventilated and roomy home for your beloved.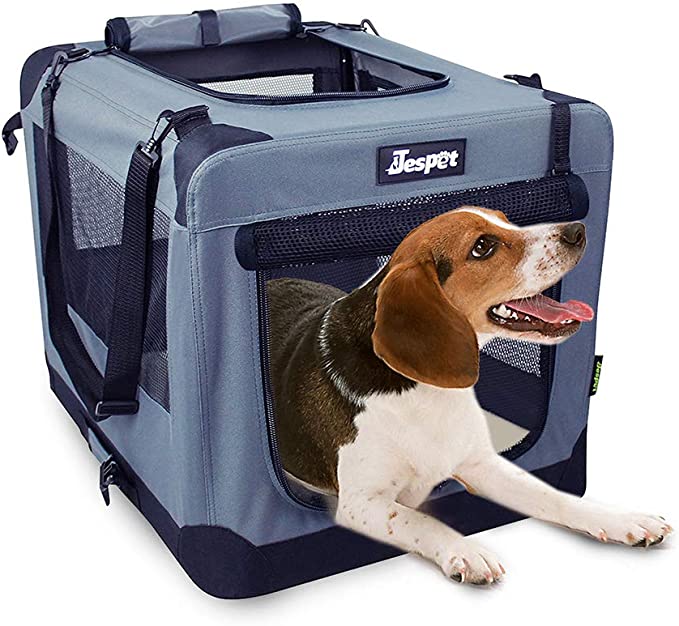 JESPET Soft Pet Crates
The price of "JESPET Soft Pet Crates" varies, so check the latest price at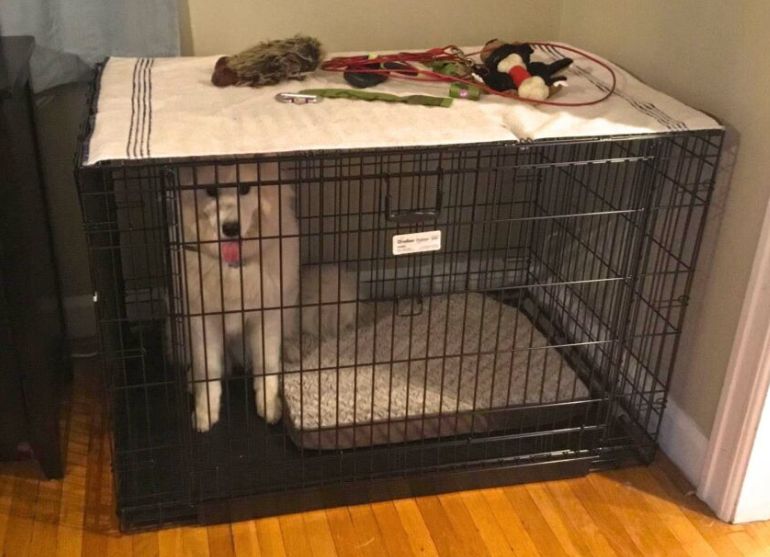 This unique dog crate features with innovative, patented Up & Away door. This sliding door makes it different among all other crates.To open the door simply grab the strong-grip handle and lift and lays the door on top of the crate. This ovation door minimizes the need for additional space and makes it secure and comfortable.
When you want to close, lift the door and lower into place while releasing the safety catch until the door reaches a closed position. It also offers pans and handles to move and folding the crate from one place to another easily. It's surface protective rubber fee and a free divider panel will change the crate into an adult-size home for your growing puppy.
Specifications
Sliding door
Secure channel rails
Safety latch
5 sizes
Folding Design, and space-saving overhead garage style door
ABS pan and water resistant and tough
Carrying handles
Sturdy Construction
Replacement Tray
Divider panel and floor protecting roller feet
Pros
Many users preferred this crate over other ones due its up and away feature. They fund it more convent to slide the door up and down rather than swinging in and out.
Pet parents found it easy to fold and carry. Also for your friend's comfort there are beds and pans which made it dog's favorite den.
Cons
The clients were unhappy because the crate did not have food and water trays.
Tester's Verdict
Our team tested this crate and they found the sliding door feature exciting. Comfortable bed inside the crate made it snuggly and comfortable for pets. However, testers were not happy because it lacked meal trays. In addition the ventilation and visibility were excellent.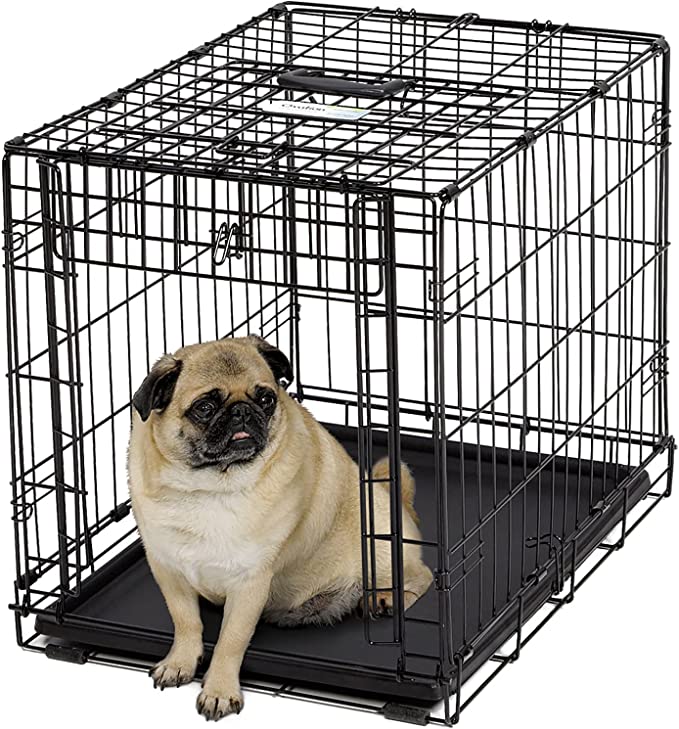 Midwest Homes for Pets Ovation Single Door
The price of "Midwest Homes for Pets Ovation Single Door" varies, so check the latest price at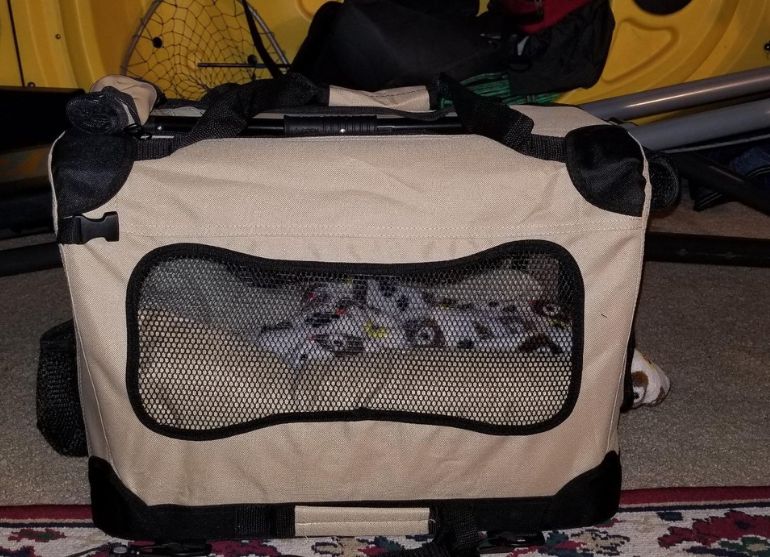 If you are looking for light weighted, portable, foldable and classical crate, it is simply the best choice. It's strong steel tubes and water resistant, soft oxford 600D fabric cover makes it safe and sound for dogs. As compare to other crates its innovative full frontal zipper design that makes it difficult for the dog to chew it down.
It is available in 4 sizes and 3 colors. It is also for pets up to 15 lbs. The most exciting feature is that it can easily clean up no maters wherever you are. For extensive cleansing just remove the steel frame and wash in washing machine without getting worry. With its strap on top you can carry the crate wherever you are going.
Specifications
2 doors
A carrying handle
Sturdy steel tube design
Light weight
Washable soft cover
Well ventilated
Food container and water bottle holder
4 sizes
Pros
Parents loved this brand because it contained bottle holder and food containers.
Many users mentioned that this is perfect because it has a strap but it's also comfortable for the pets and comes with a cushion. The sides and top have windows so it doesn't feel confining like a traditional carrier.
Cons
The only drawback which made parents disappointed was that pets scratched mesh doors and ate through it. They asked the company for a mesh which must be doggy safe and very durable
Testers' Verdict
Our testers tested this crate for dogs with medium and small size dogs. They reviews very positively because it worked grate for their comfort and protection. Moreover, they mentioned it has containers for food and water which made it more preferable unlike other craters.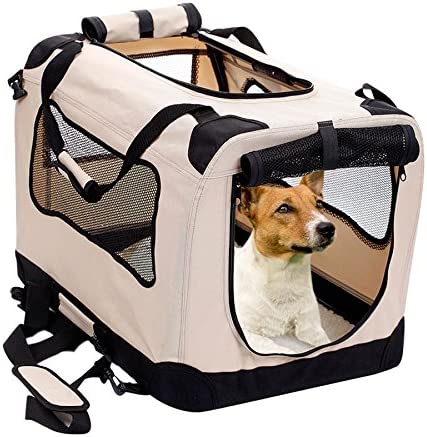 2PET Foldable Dog Crate
The price of "2PET Foldable Dog Crate" varies, so check the latest price at
What to Consider When Buying an Indoor Dog Kennel
Portability
A portable kennel will be your best buddy while you are traveling. It will keep the parent and the pet stress free. While you are on a business tour, working in gym, walking in park, travelling on road or flying, a portable crate will help you to keep your pooch with you. You can take care of your pup instead of getting worry and thinking about his loneliness when you are outside.
Ease of Cleaning
Dirt cannels not only stink but also they can cause of different diseases for your dogs. To keep clean your kennel is most important to make your friend a happy pouppy. While investing in a kennel, choose the one which is easy to swipe or wash. If you are choosing a portable cannel then buy one which is made of washable stuff. We have mentioned above a kennel which is soft and super easy to wash.
Durability
It is very important for parents to buy a kennel which is durable and long lasting. A durable crate will make sure the security of your dog as well. While buying a kennel either it is plastic made or steel make sure the durability. The less durable the more dogs can damage the crate and his own self too. They can chew the mesh and break the week frames.
Security
Security is the basic key factor to keep in mind while shopping a crate. A durable and portable kennel makes sure the security of your dog. There are researches available which shows dogs are stolen even when they are caged. So a sturdy kennel is needed when you are keeping them in backyard and the soft one while you are travelling.
FAQs
Are Wire or Plastic Dog Crates Better?
Both crates have their own specifications. Wire crates are more ventilated, secure, and helpful for dogs with longer coats than plastic crates. But wire crates have a draw back as the space between the wires could be too big or small for small breeds. Similarly plastic crates are durable, airline approved and provide a privacy to your dog than wire crates. Having a drawback of limited visibility, less ventilation might be making feel a curious dog isolated. It is better to consult your vet before buying.
What Should I Look for in a Dog Crate?
When you aim to invest in a kennel make sure it must be portable, secure, durable and easy to clean. If you have a dog which is always like to jump and play, go for a wire crate or a play pan. Some best picks have mentioned above. If you have a small puppy or you spend most of your time in travel, conscious about the care and feeding then you should go for a soft portable crate.
Can I Put My Dog's Crate in My Room?
Yes, it is pretty fine to keep your munchkin in your room when it is time to sleep. It will make you stress free and give a sense of security to your dog as well. It is the way to train them in a civilized manner as well. Both of you can enjoy company of each other and you can attend your friend when it is needed.
Conclusion
A dog is the only thing on earth that loves you more than you love yourself. So, in return it is your duty to take care and love your mate more than you received from him. The best way to express your love is to please him with a comfortable kennel. A kennel is just like a home for your dog. The more your canine feel comfortable, calm and happy, more you will feel yourself as his best buddy.
In above write up we have mentioned all the best possible picks to assist you while buying a kennel for your dog. We hope this effort will help you in choosing the suitable crate.
Feel free to ask any question in comments below and take care of yourself and your puppy too!