Every dog deserves their own space. Us humans have our bedrooms and man caves, our summer houses and playrooms. It's only fair that your dog also gets a place to call their own.
Dogs are not greedy; they don't want an entire room or a great sprawling area. A simple indoor dog kennel is perfect for your pooch.
I have owned dogs my whole life. My family are all dog owners, and the benefit of indoor dog kennels cannot be overstated. My current puppy loves having her own space. It gives her a safe haven she can retreat into when she wants a nap or just a little peace and quiet away from our toddler.
Top Pick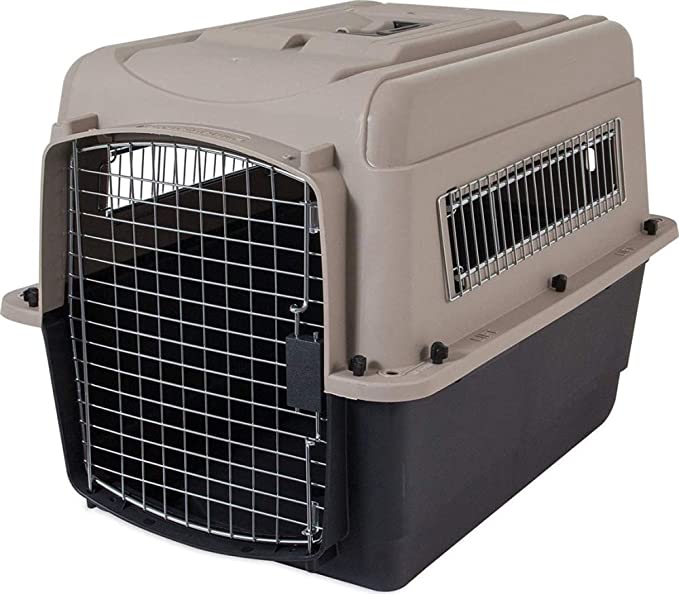 Petmate Ultra Vari Dog Kennel
MATERIAL: PLASTIC
SIZE: 28 LBS
Runner Up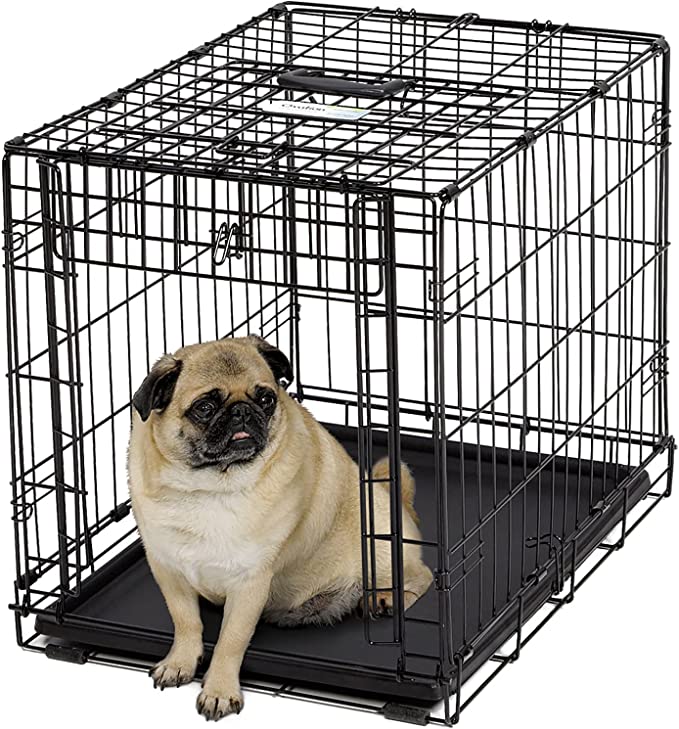 MidWest Ultima Pro Double Door Folding Dog Crate
Material: Metal
Size: 24 INCHE
User-Friendly Design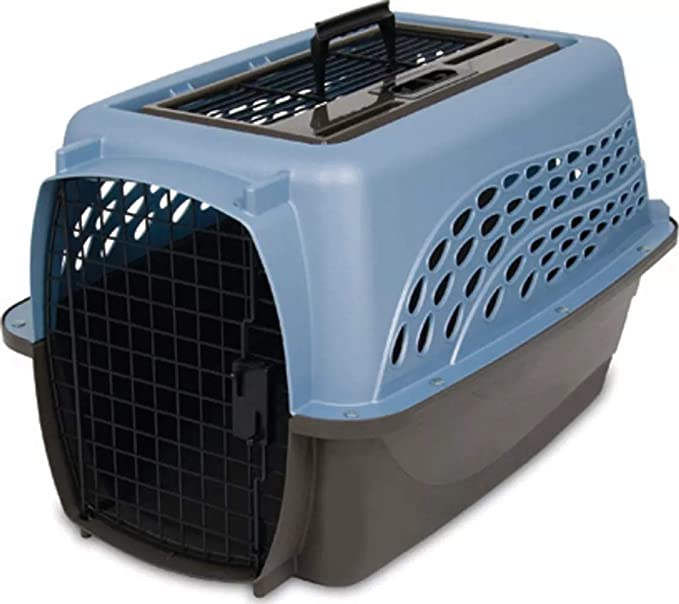 Petmate Two-Door Top-Load Pet Kennel
Material: Plastic
Size: 30-50 lbs
Comfy & Airy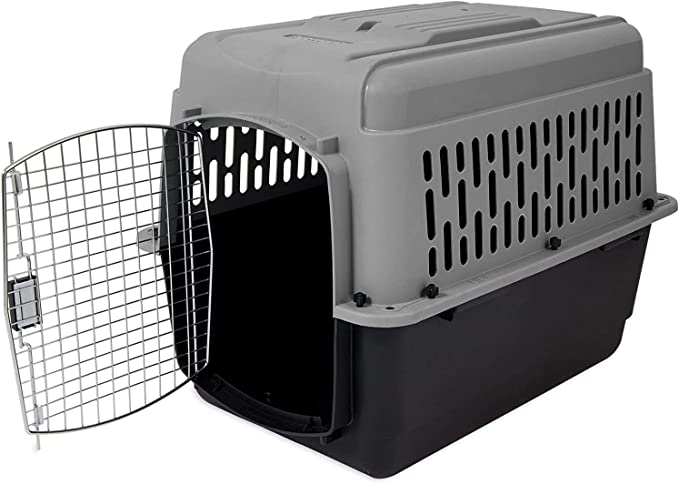 ASPEN PET Porter Dog Kennel
MATERIAL: PLASTIC
SIZE: 30-50 LBS
Sturdy Option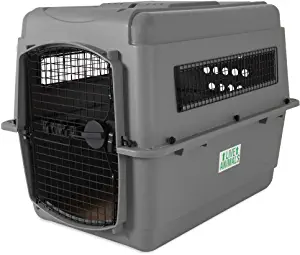 Petmate Sky Kennel Pet
Material: Blend
Size: 36 INCHE
Convenient to Use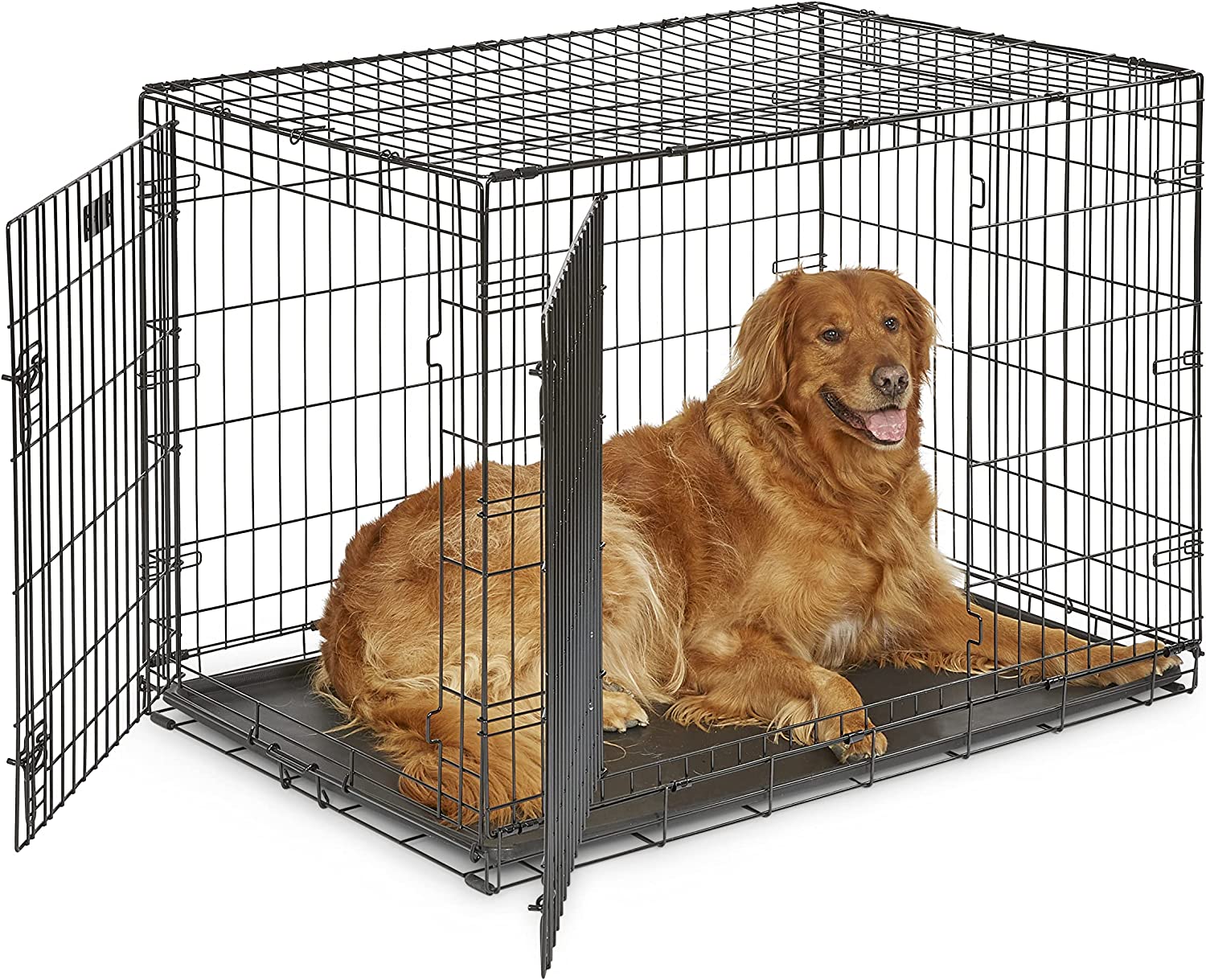 MidWest Homes for Pets iCrate
Material: metal
Size: 48 INCHE
Budget Friendly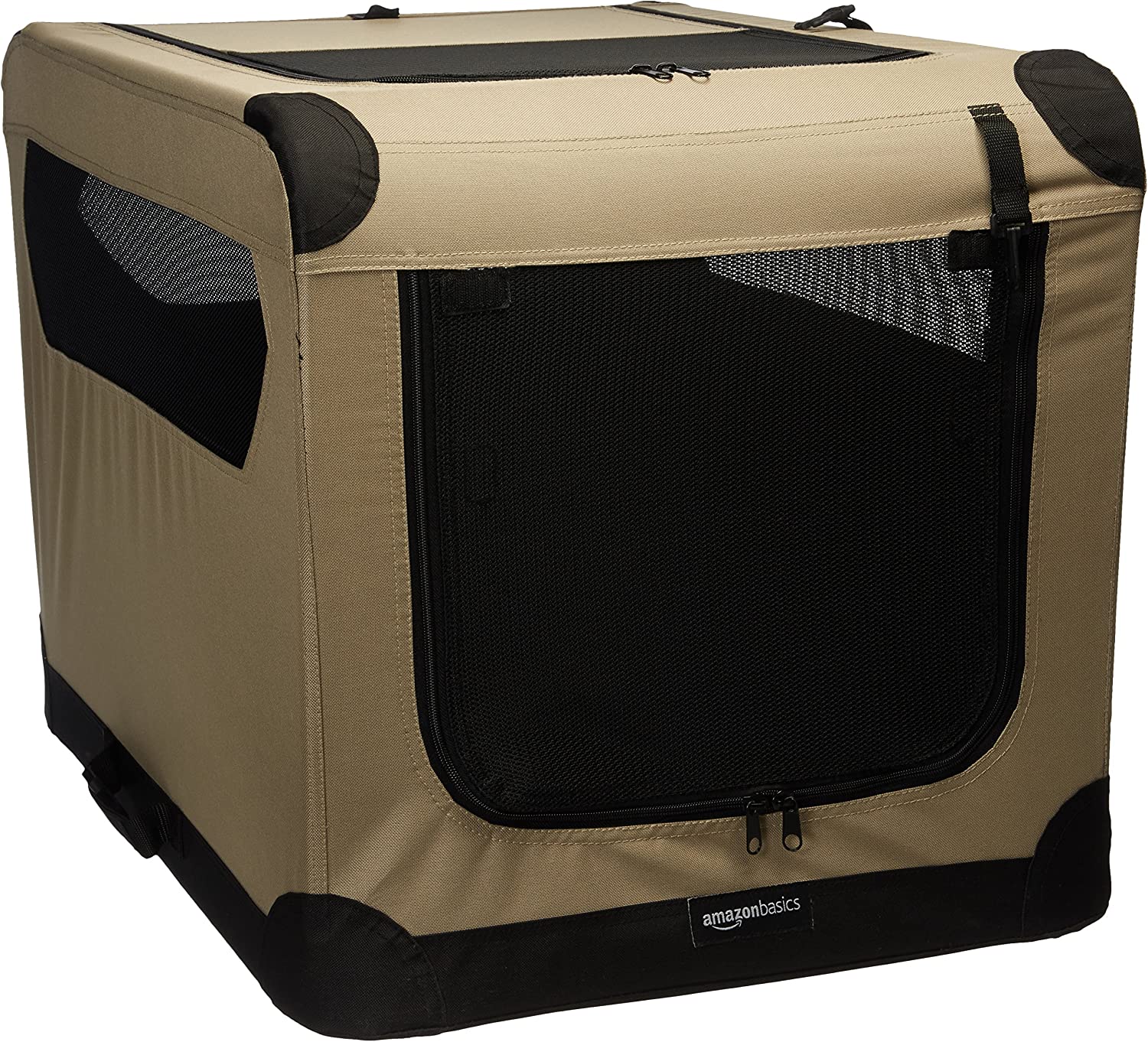 Amazon Basics Soft Dog Travel Crate
Material: polyster
Size: 30 INCHE
Great Value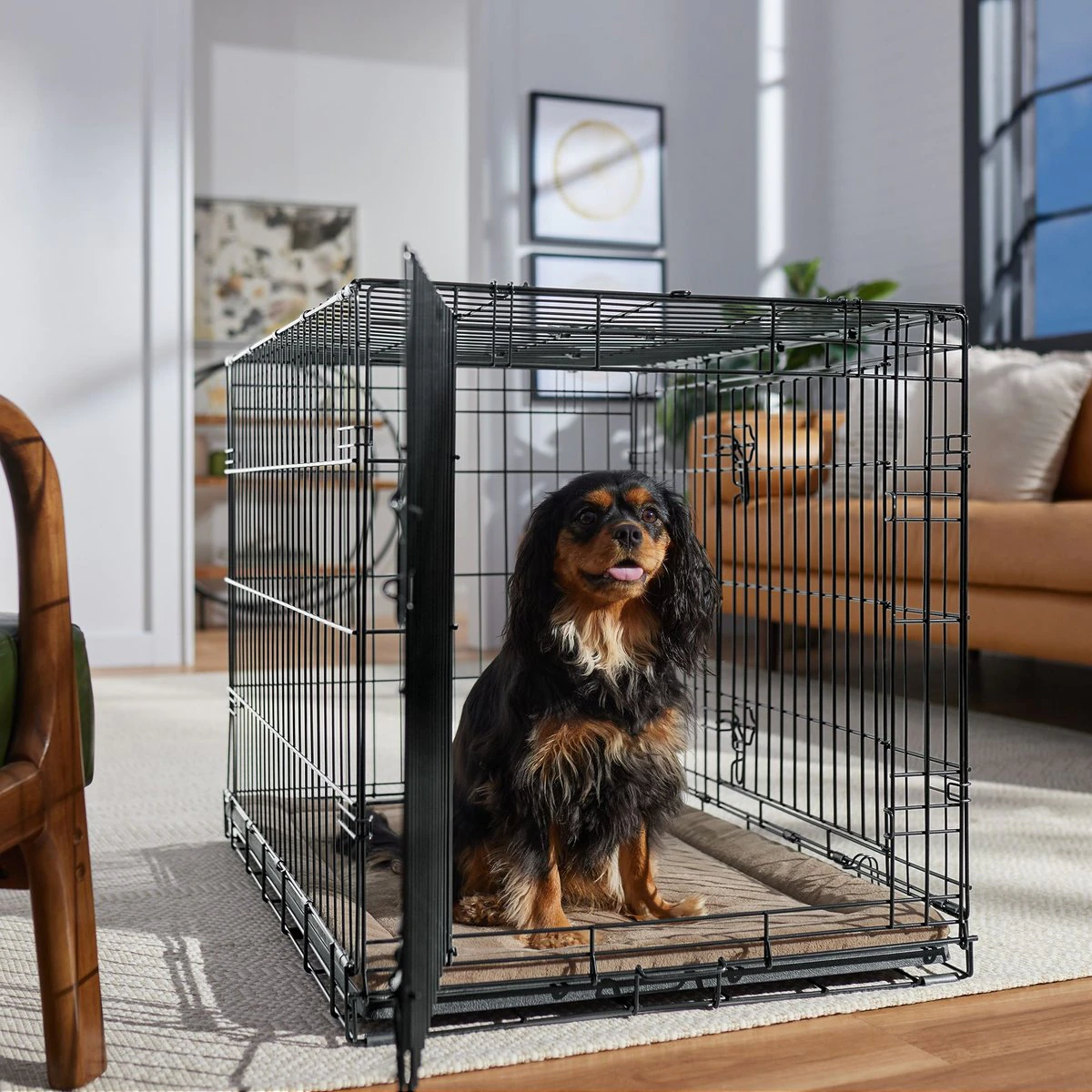 Frisco Heavy Duty Fold & Carry Double Door
Material: STEEL
Size: 30 INCHE
Heavy-Duty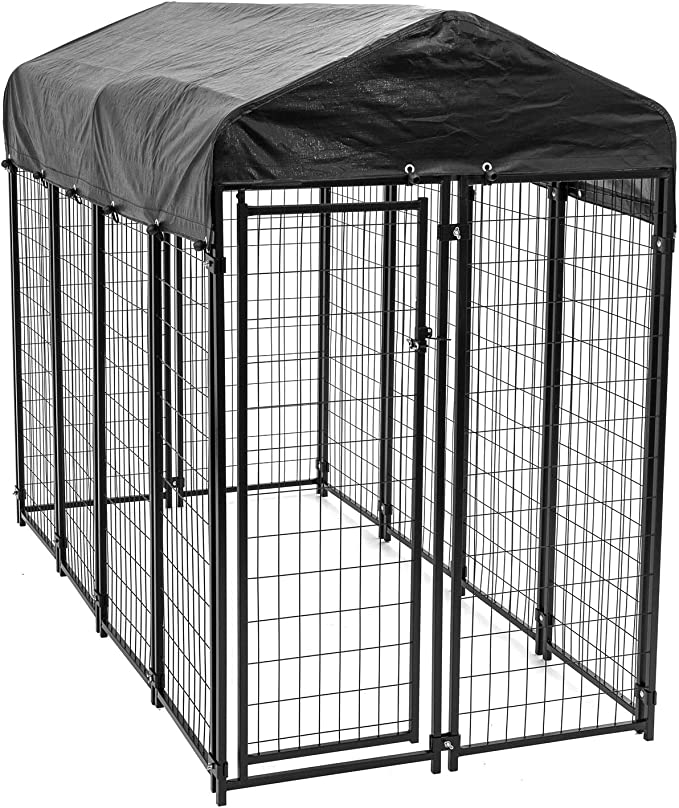 Lucky Dog Uptown Welded Wire Kennel
MATERIAL: ALLOY STEEL
SIZE: 92 Inche
If you're in the market for a new dog kennel for your pup, this article will help make the decision a little easier for you. We've gathered the best dog crates for all needs, types, and budgets.
Best Indoor Dog Kennel
The best indoor dog kennels offer your pooch everything they need, privacy, comfort, space, and safety. My dogs have always loved being in the crate and would often seek it out during the day.
Dogs are biologically inclined to find a den where they can rest in safety. While your home is undoubtedly a safe place, nature does what nature does, and offering your dog a den will keep them happier and healthier.
Below are 9 of the best dog crates on the market right now.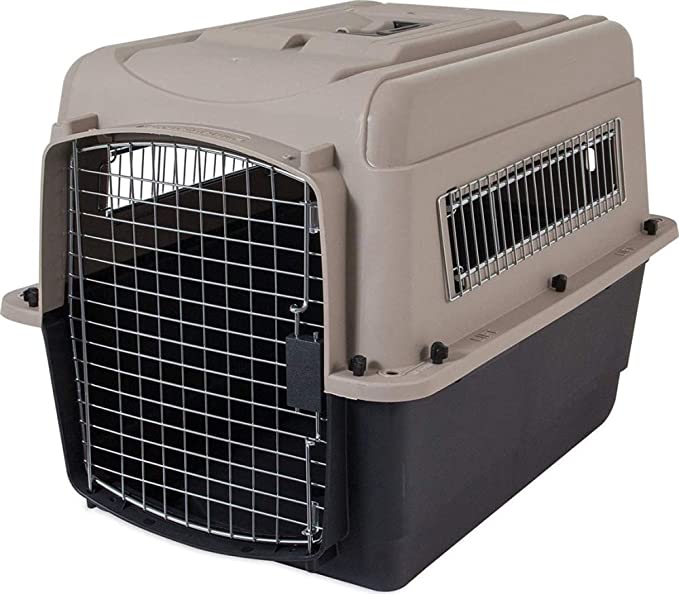 The Petmate Ultra Vari kennel is a durable dog crate that is purposefully designed for travel. This heavy-duty plastic and metal dog kennel offers everything a dog needs when traveling. In addition, this travel crate is also suitable for air travel.
The Petmate Ultra Vari kennel has wire mesh side and front sections, which ensure the crate offers sufficient ventilation. This is perfect for nervous dogs who may hyperventilate during travel.
The Ultra Vari kennel is available in various sizes to accommodate different breeds, and for those interested in the environment, the kennel is made from recycled materials.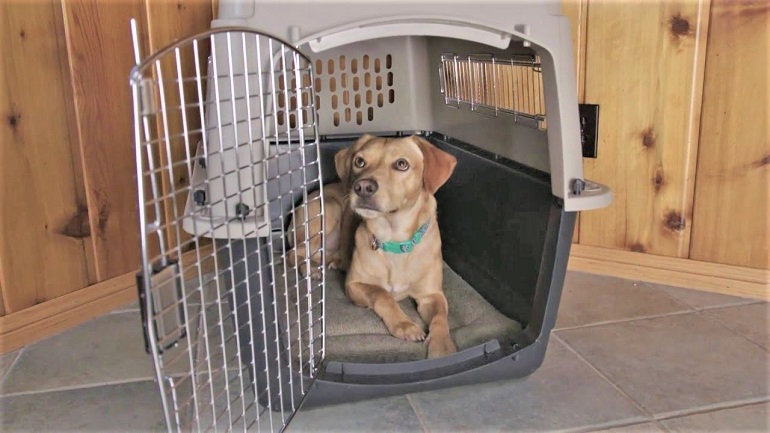 The plastic material is hard-wearing and durable, while the locking system is perfect for those Houdini dogs that love to escape their crate. This crate is not designed to be used indoors, it is the perfect way to keep your dog safe for any form of transportation, from long-distance to quick trips to the vet.
Pros
Made of recycled materials.
Well ventilated
Sturdy design keeps dogs safe
Cons
Determined large dogs can force open the locks.
Doors could be stronger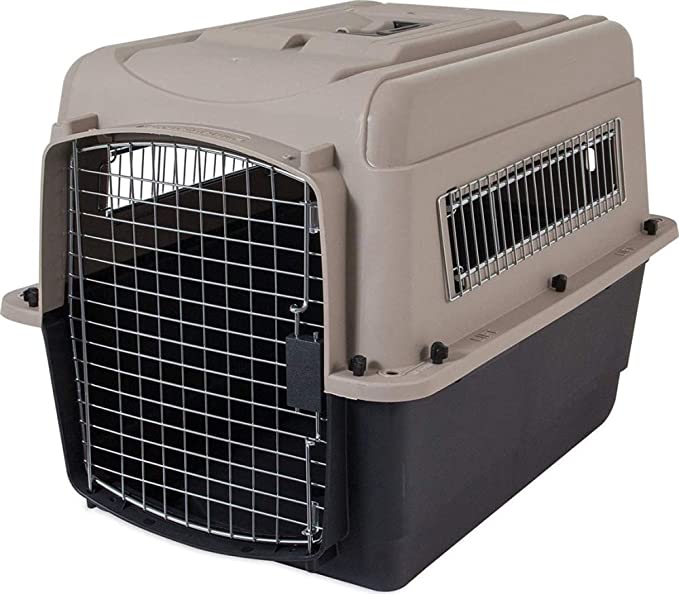 Petmate Ultra Vari Dog Kennel
The price of "Petmate Ultra Vari Dog Kennel" varies, so check the latest price at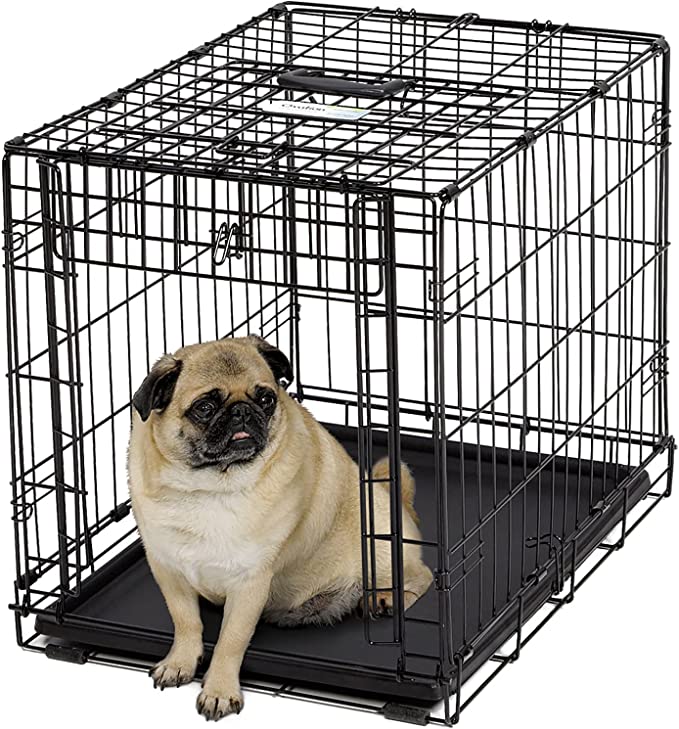 The MidWest Ultima Pro Double Door Folding Crate is a high-end indoor kennel with a simple and straightforward design that offers everything a dog owner could want. It is super easy to put together, and keeping it clean is no problem at all. In addition, it's available in five different sizes.
Don't let the simple design fool you. A wire crate is a great choice. The metal is hardwearing and affords your dog complete visibility and ventilation. If you have a dog that is more boisterous, especially when crated, then the Midwest Ultima is a fantastic choice.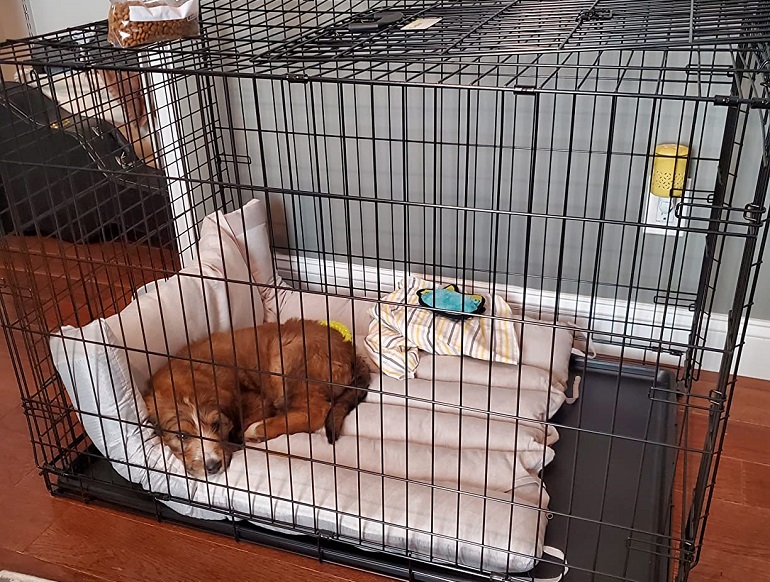 The MidWest Ultime double-door crate comes with a hard plastic tray that is perfect for a soft bed or blankets for extra comfort. The fact that it's a removable tray also makes cleaning a breeze.
One feature I find to be particularly useful is the divider. This allows you to adjust the crate size as your dog grows. This saves you money, too, as you can buy the crate you will need once your pup is fully grown.
Pros
Very solid when assembled
Divider to grow crate space with puppy
Hardwearing
Easy to collapse and store when not needed
Cons:
Not the easiest to assemble
Removable tray can crack with heavier dogs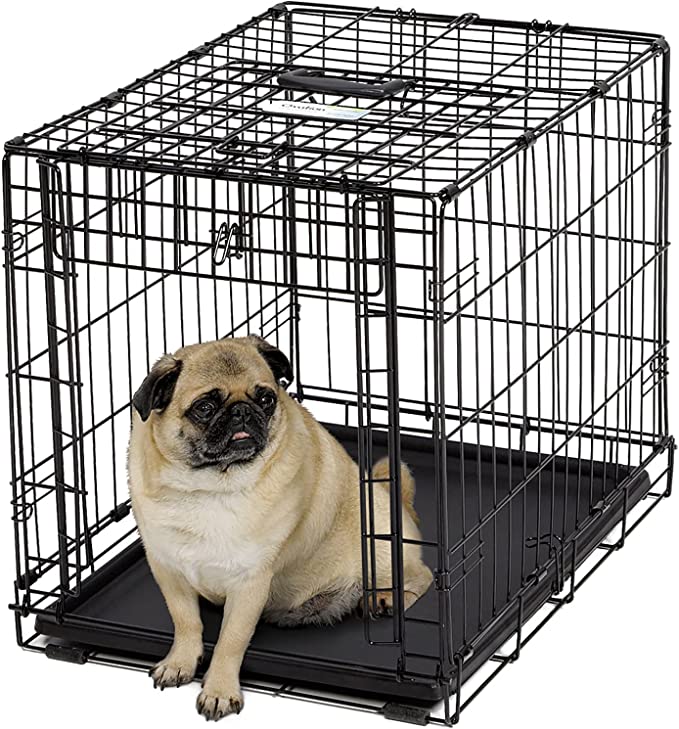 MidWest Ultima Pro Double Door Folding Dog Crate
The price of "MidWest Ultima Pro Double Door Folding Dog Crate" varies, so check the latest price at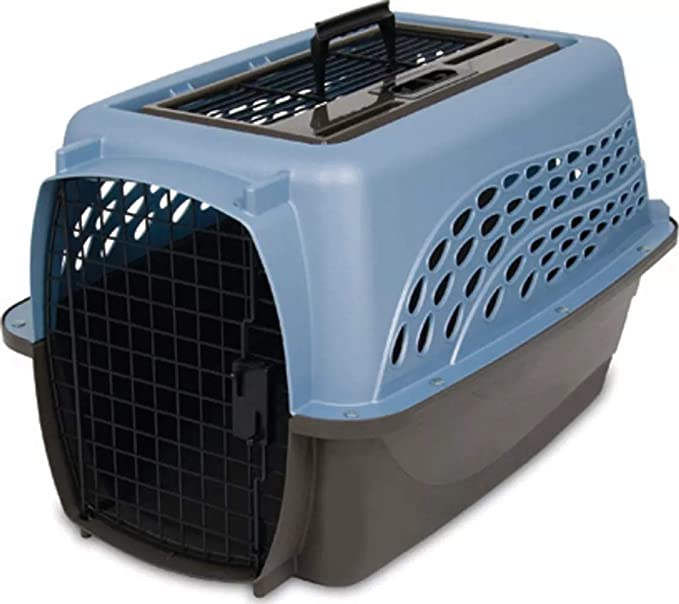 Petmate is a well-respected and highly recognized brand for dog kennels and pet carriers. Petmate's two-door top-load pet kennel is another great product in their current catalog. The two-door top-load kennel is lightweight and has a simple and user-friendly design. You would struggle to find a better crate for small dogs.
The top and front loading doors are ideal for animals who dislike being placed inside a carrier crate. The top-level door is very handy as it lets you lower your pup into the crate, which, in my experience, makes it less traumatic for them.
The two-door top-load system comes with two key advantages. Not only do they offer two access points, but they also provide better visibility and ventilation to help keep your pet calm and relaxed.
The fact that this carrier is only available in one size might be off-putting for some pet owners.
Pros
Highly portable crate
Two entry points
Budget-friendly
Sturdy design
Cons
Carrying handle can break with heavy use
Top entry flap does not open wide enough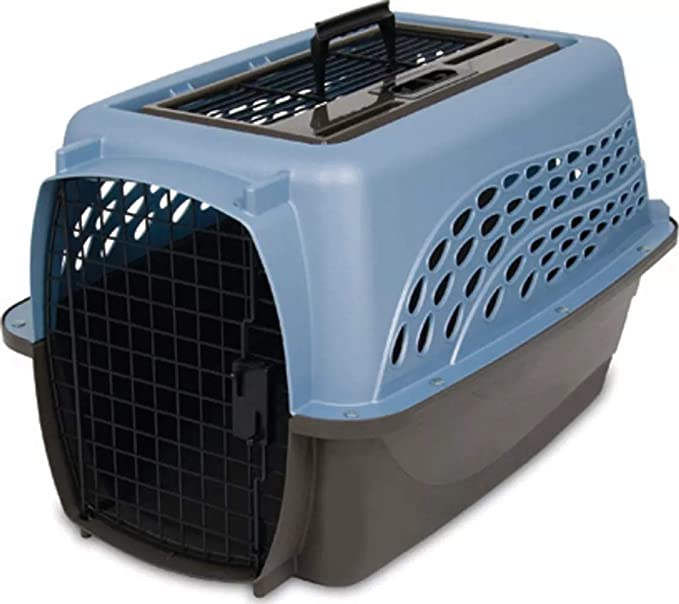 Petmate Two-Door Top-Load Pet Kennel
The price of "Petmate Two-Door Top-Load Pet Kennel" varies, so check the latest price at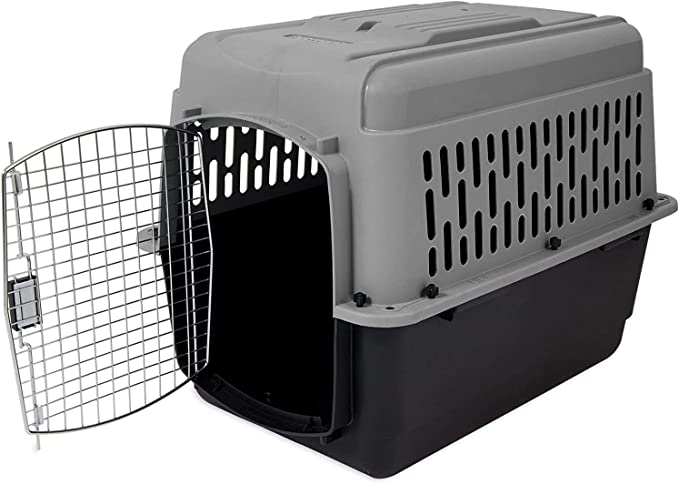 The ASPEN Pet Porter Dog Kennel is another portable plastic crate that affords pet owners peace of mind when traveling with their pets. This could be used as an indoor kennel as its ventilation design helps create a comfortable den-like atmosphere.
A cozy kennel, it is available in a range of sizes for different dog breeds. The plastic design is hardwearing but keeps the carry weight as low as possible.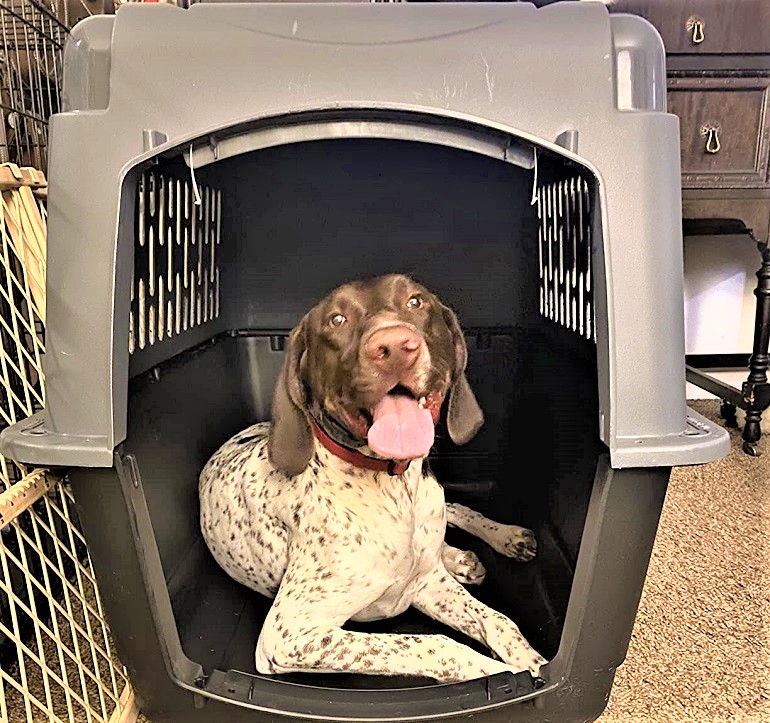 Ventilation grids on the long sides offer increased visibility to help keep dogs calm when in transit. While the front entry door has a simple top and bottom lock for quick and easy access, and the study design means this is a kennel built to last.
The single door makes the crate easy to use and means you don't have to worry about additional locks when transporting your dog.
Pros
Heavy-duty plastic crate
Easy to use
Simple design perfect for large dogs
Easy to assemble
Cons
Bolts used for assembly are a precise fit
Measurements given are external only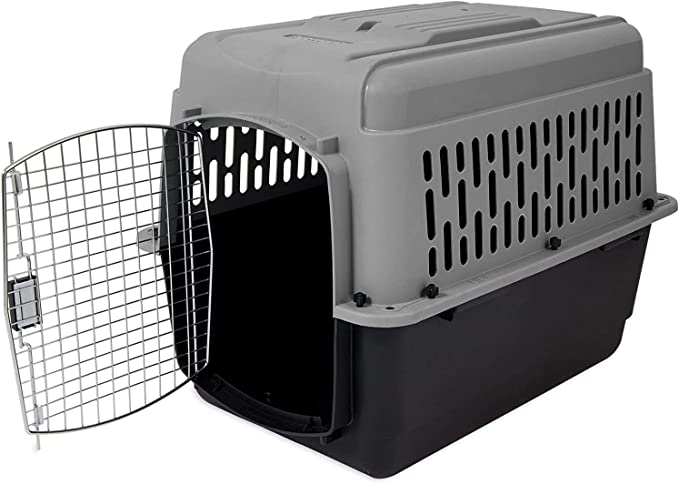 ASPEN PET Porter Dog Kennel
The price of "ASPEN PET Porter Dog Kennel" varies, so check the latest price at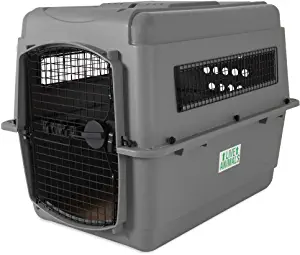 The Petmate Sky Kennel is one of the most robust crates you could buy for your dog. The solid plastic casing has a reinforced wire door, while the secure latch keeps dogs safe and secure inside.
The Petmate Sky Kennel offers 360-degree visibility making it the perfect choice for nervous pets or those traveling in warmer climates.
What I really like about this crate is possibly the simplest feature. It comes with two 'Live Animal' stickers which might seem insignificant; however, if you are traveling or handing your pets over for a period of time, it is an important message to deliver.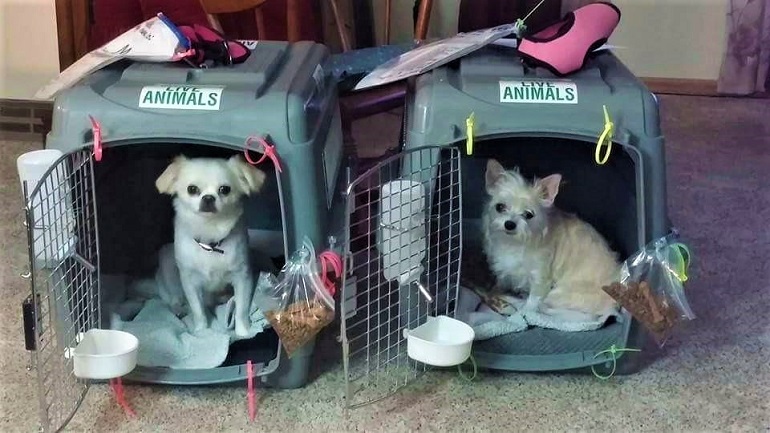 Petmate understands that some dog breeds are larger and some are smaller. That is why the Petmate Sky Kennel can be bought in several dimensions ranging from small to large.
Another cool thing about the Petmate Sky Kennel is that it is built to suit the majority of airline travel requirements. It is a great choice for those who like taking their pets on vacation with them.
It is always wise to double-check travel requirements with airlines before arriving at the airport, just in case.
Pros
Great visibility keeps nervous pets calm
Suitable for any dog breed
Air travel friendly
Well-ventilated for nervous travelers.
Cons
Sizing is based on external measurements
Plastic casing can crack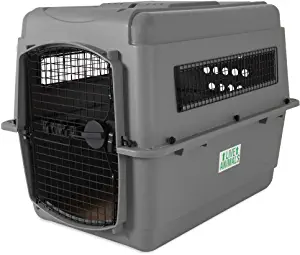 Petmate Sky Kennel Pet
The price of "Petmate Sky Kennel Pet" varies, so check the latest price at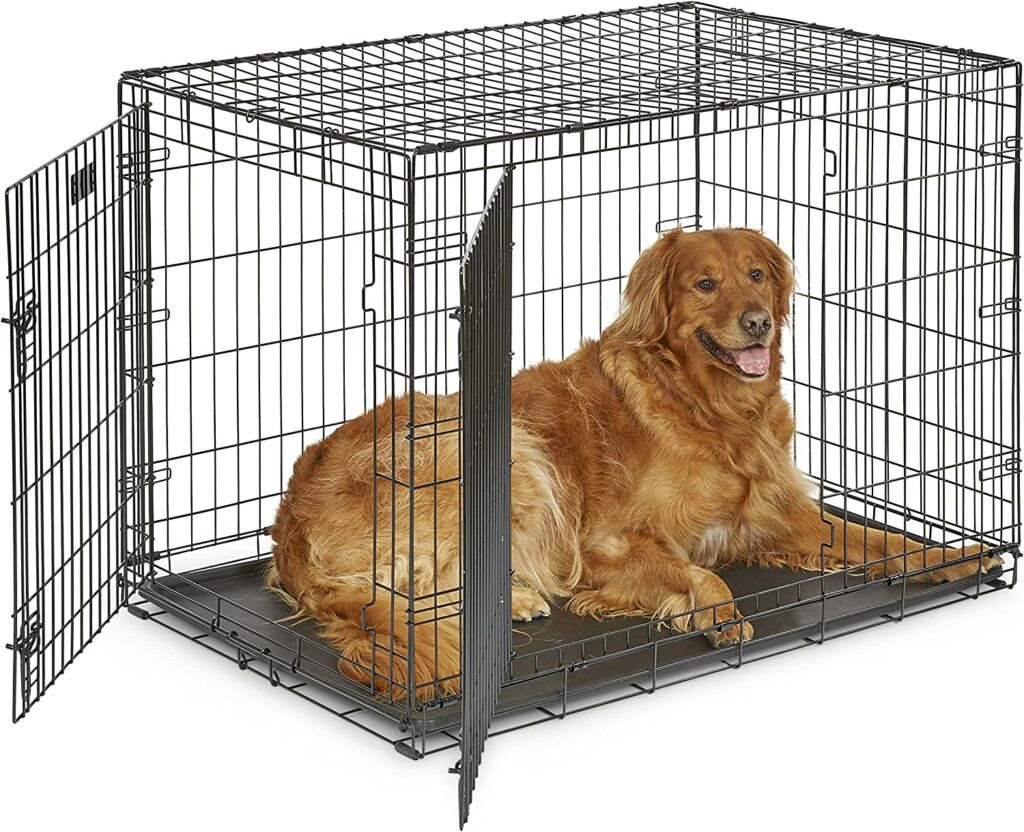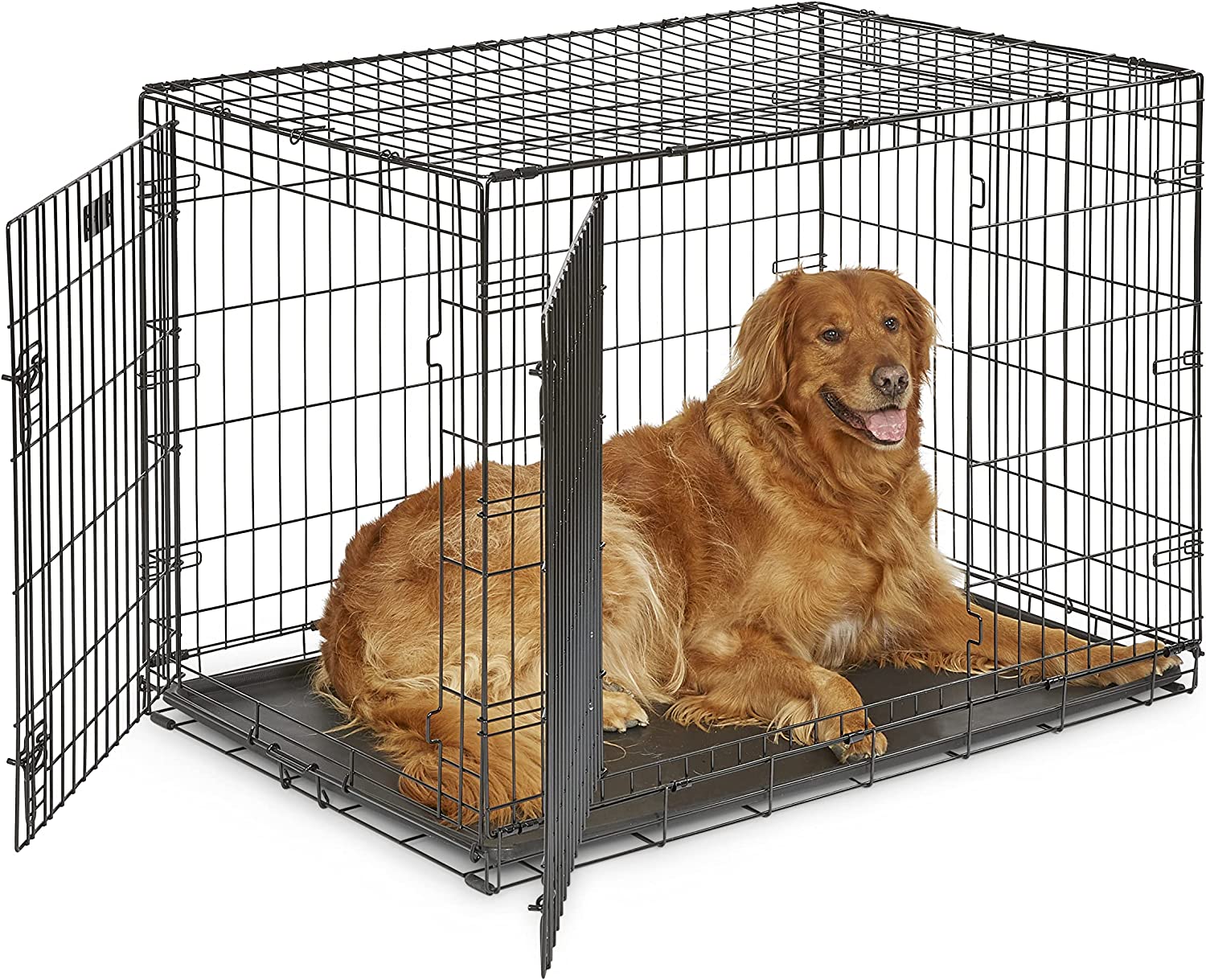 The MidWest Homes for Pets iCrate does not boast any hi-tech logic, as its name might suggest; however, it is a top-grade wire crate that is not only available in different sizes but also in colors.
While this wire crate may not have any fancy gadgets, it includes the MidWest patented Paw Block locking system. This extra security feature offers excellent peace of mind, as you know that once inside, your puppy is completely safe and secure.
Many may find wire dog crates too simple for their pet. However, dogs appreciate simplicity, and the solid plastic tray base can be quickly furnished with a nice dog bed or blanket. Additionally, the slide-out tray makes for an easy-to clean-indoor dog kennel.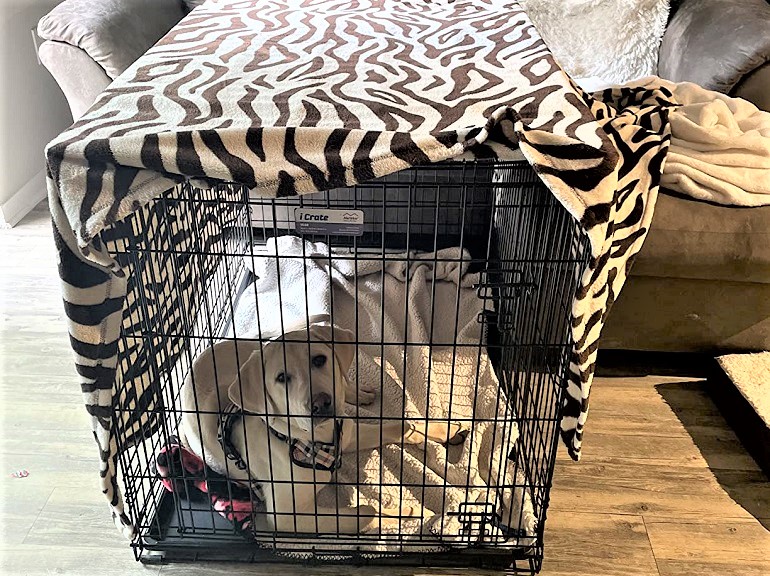 Regardless of the size of your dog, there is a Midwest Homes for Pets iCrate to suit your needs. The bonus is when it's not needed, the entire crate folds flat for quick and easy storage.
What makes the MidWest Homes for Pets iCrate one of the best dog crates is also the low threshold, which means puppies and dogs with reduced mobility can use it without issue.
Another often overlooked selling point for this crate is the rounded edges. There's nothing worse than catching yourself on the sharp corners of some indoor kennels.
Pros
Reliable lock keeps pets safe
Simple design
Easy to assemble and collapse
Rounded corners
Cons
Large or boisterous dogs could bend the wire
Some of the wire edges may be sharp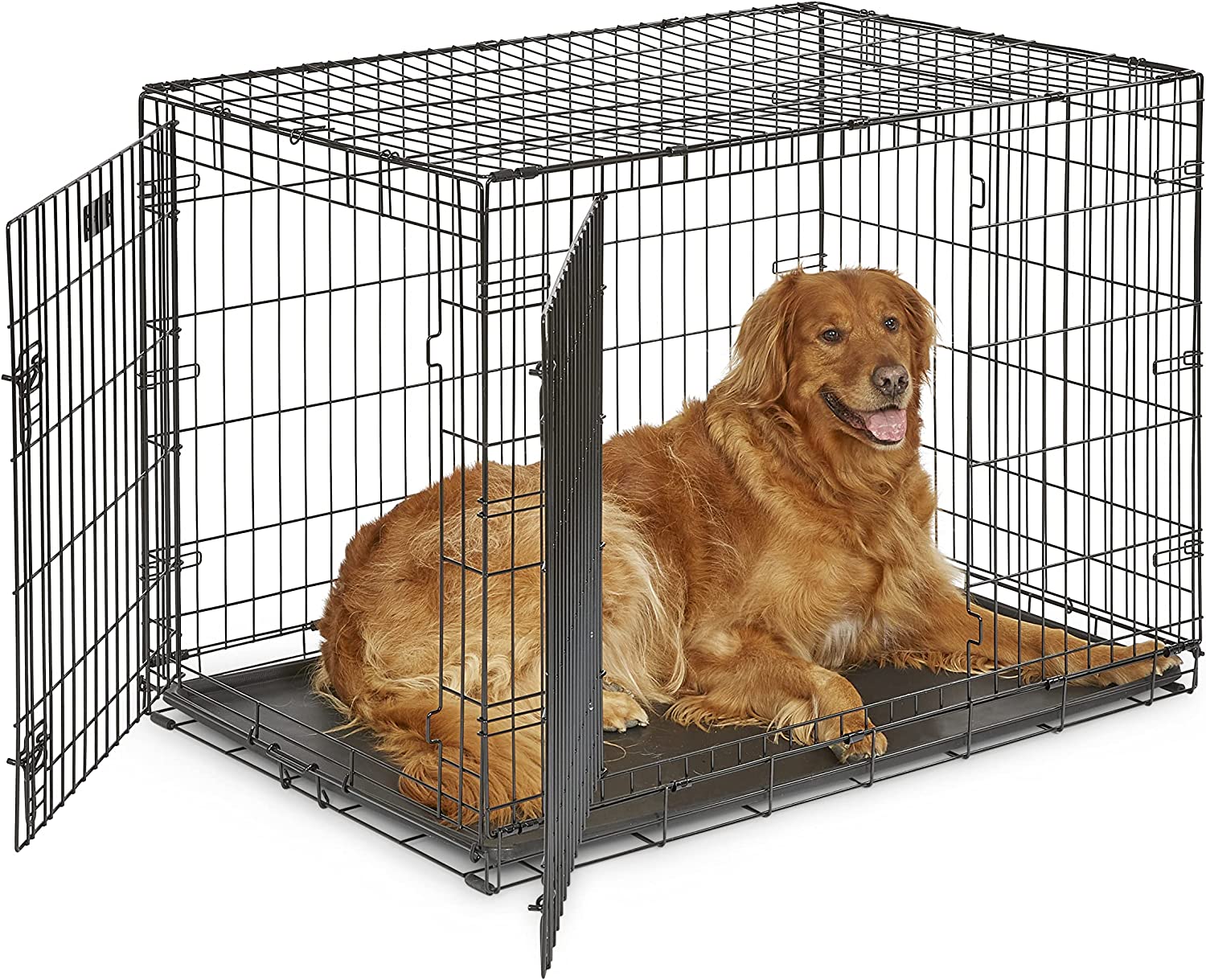 MidWest Homes for Pets iCrate
The price of "MidWest Homes for Pets iCrate" varies, so check the latest price at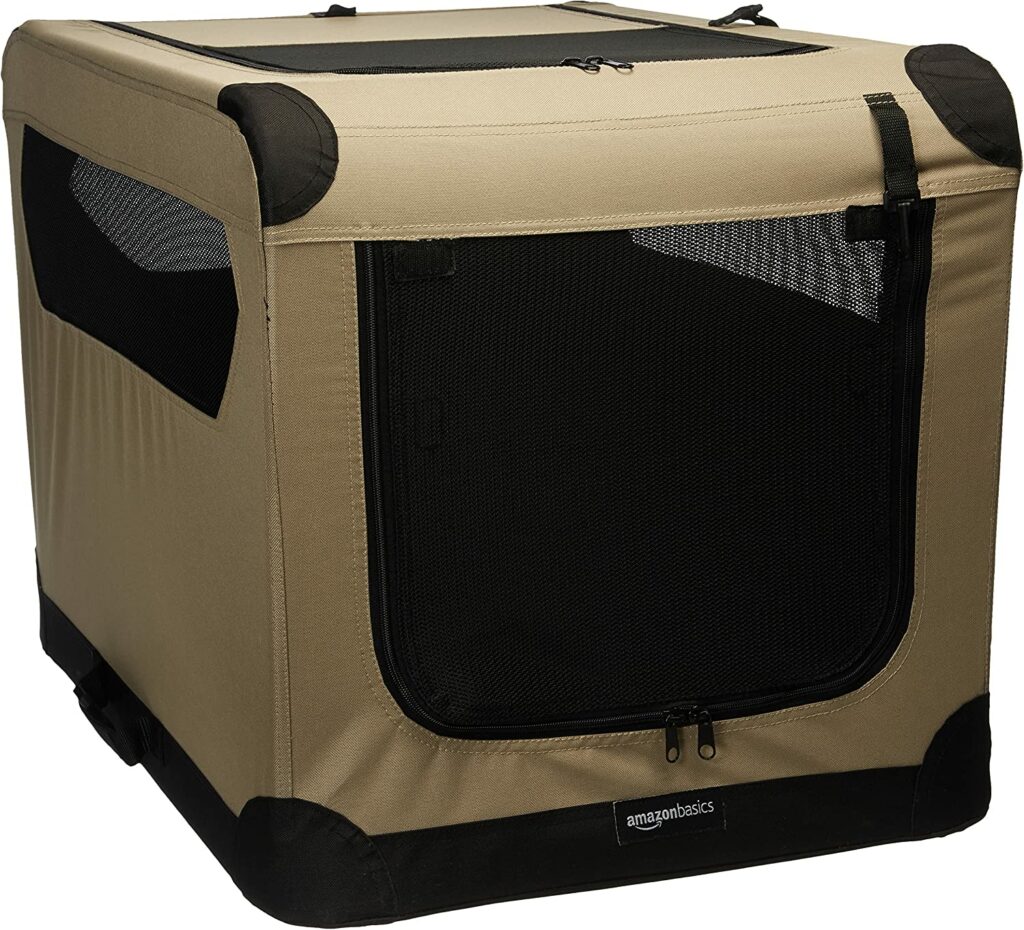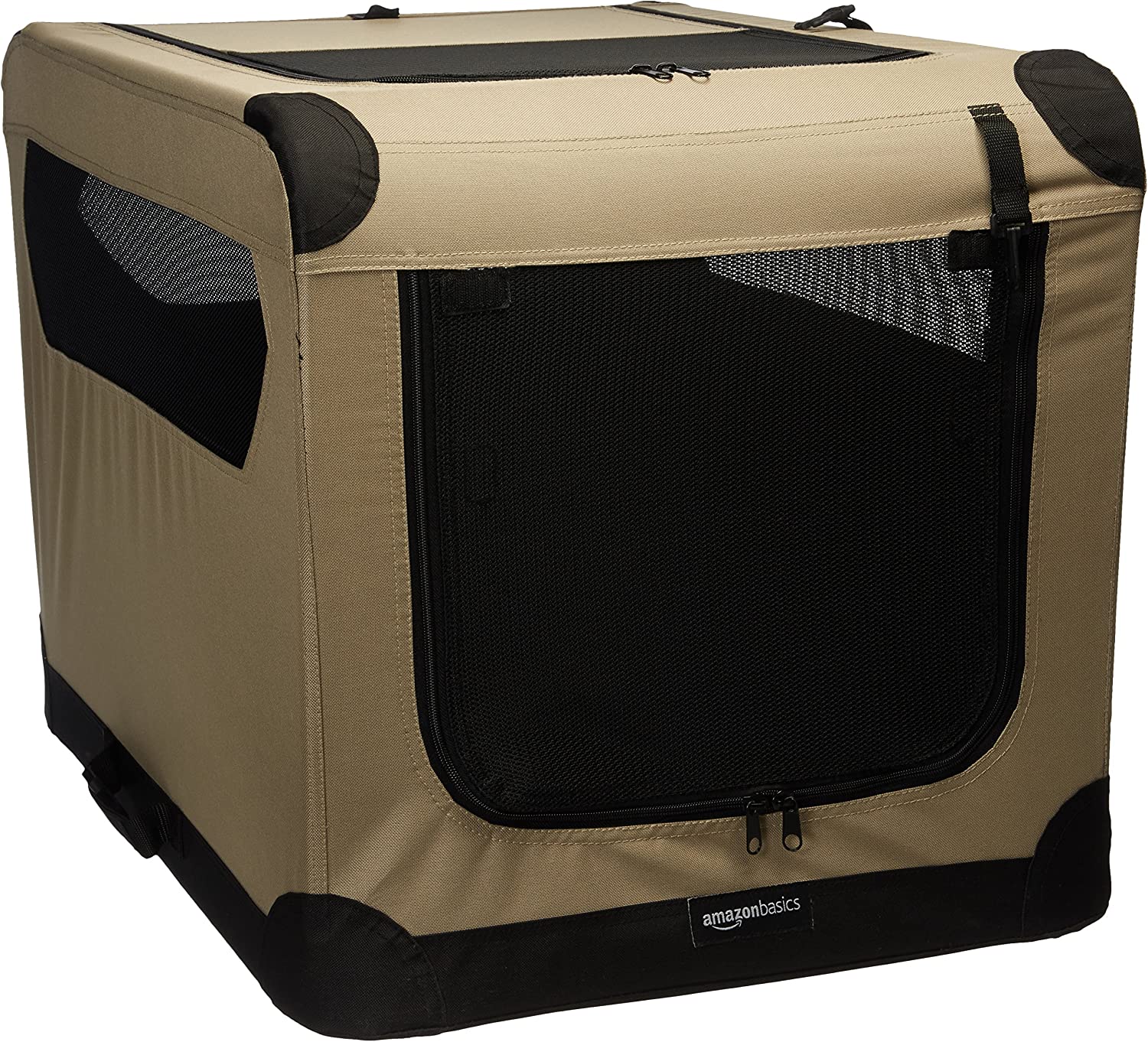 Amazon Basics Soft Dog Travel Crate is one of the leading soft-sided crates that you can buy. In addition to offering your pet extra security and comfort, the Amazon Basics range is a budget-friendly one, meaning this travel crate will not hurt your wallet.
The Soft dog travel crate has mesh panels on three sides and mesh doors in front and on top. For this reason alone, it has to be considered one of the best-ventilated dog crates around.
The crate comes in four sizes to accommodate a range of breeds and folds flat, so it is perfect for those, like me, who are always short of storage space in their home.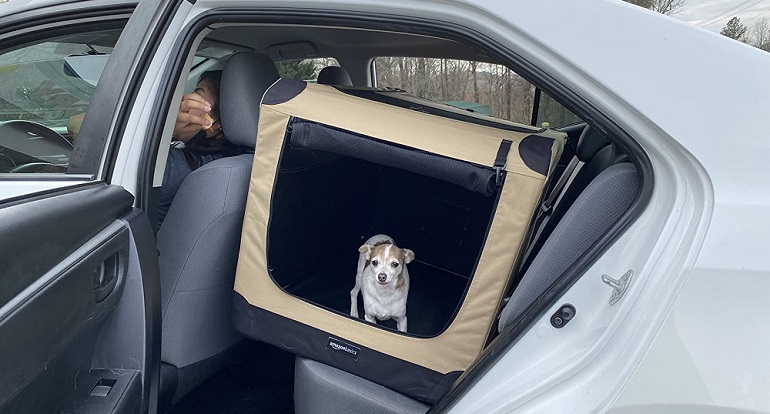 As this is a soft dog kennel, one thing to bear in mind is that if your dog is a chewer, then it might not be the most durable crate.
Soft dog crates offer your dog an extra level of comfort. However, it is important to keep in mind that they will get dirty and require more cleaning than a wire crate. The kennel is not machine washable due to the internal frame but comes up clean with a quick spray and wipes with a damp cloth.
Pros
Straightforward pop-up installation
Comfortable
Easy to collapse and store
Budget-friendly
Cons
Not suitable for teething puppies
Boisterous or large dogs can tear the mesh vents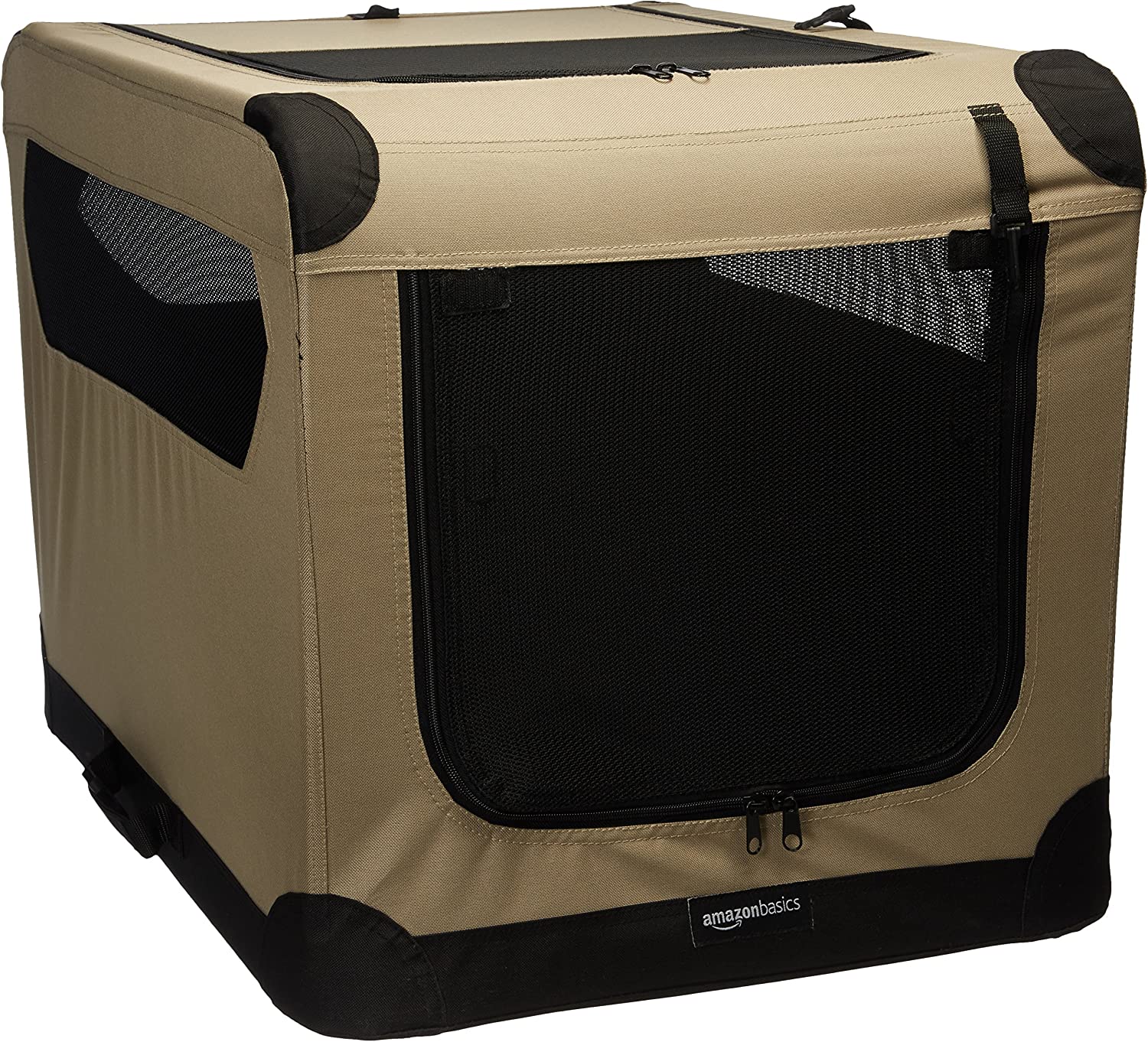 Amazon Basics Soft Dog Travel Crate
The price of "Amazon Basics Soft Dog Travel Crate" varies, so check the latest price at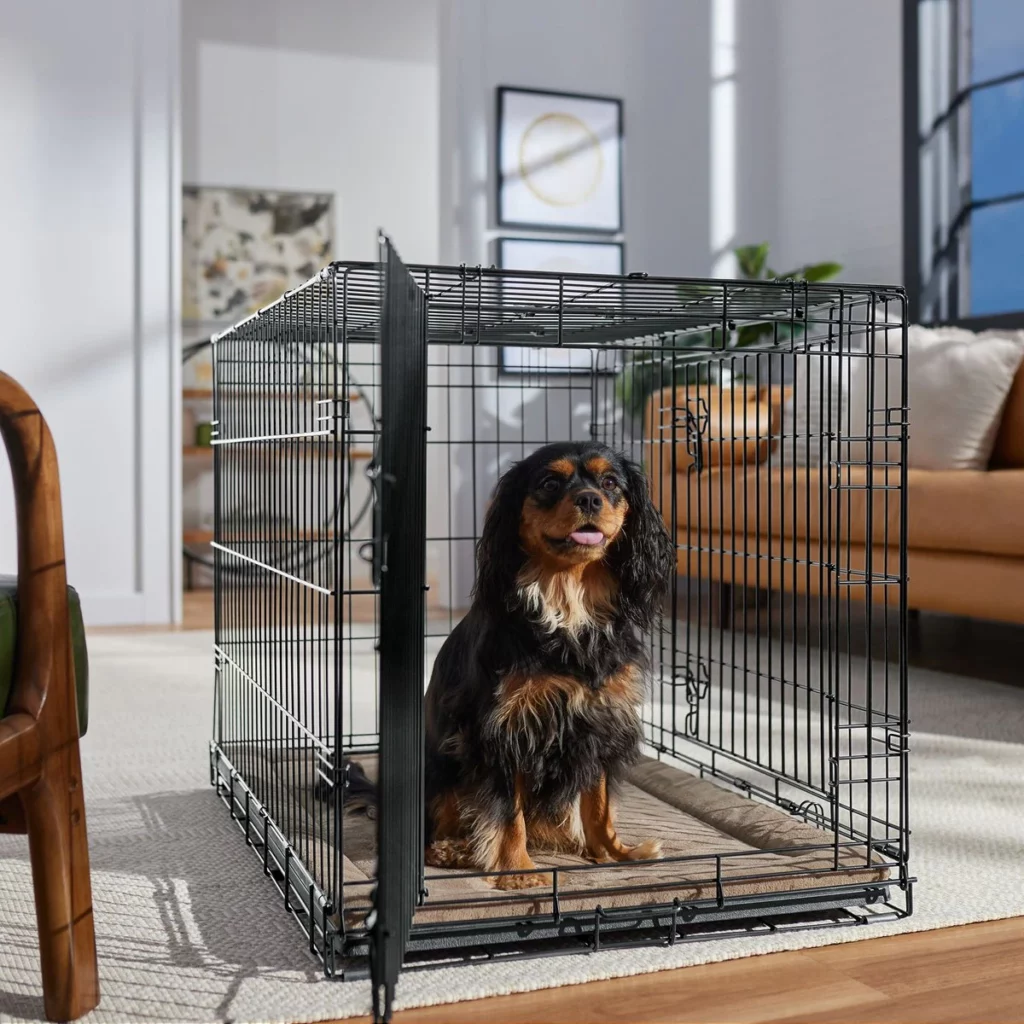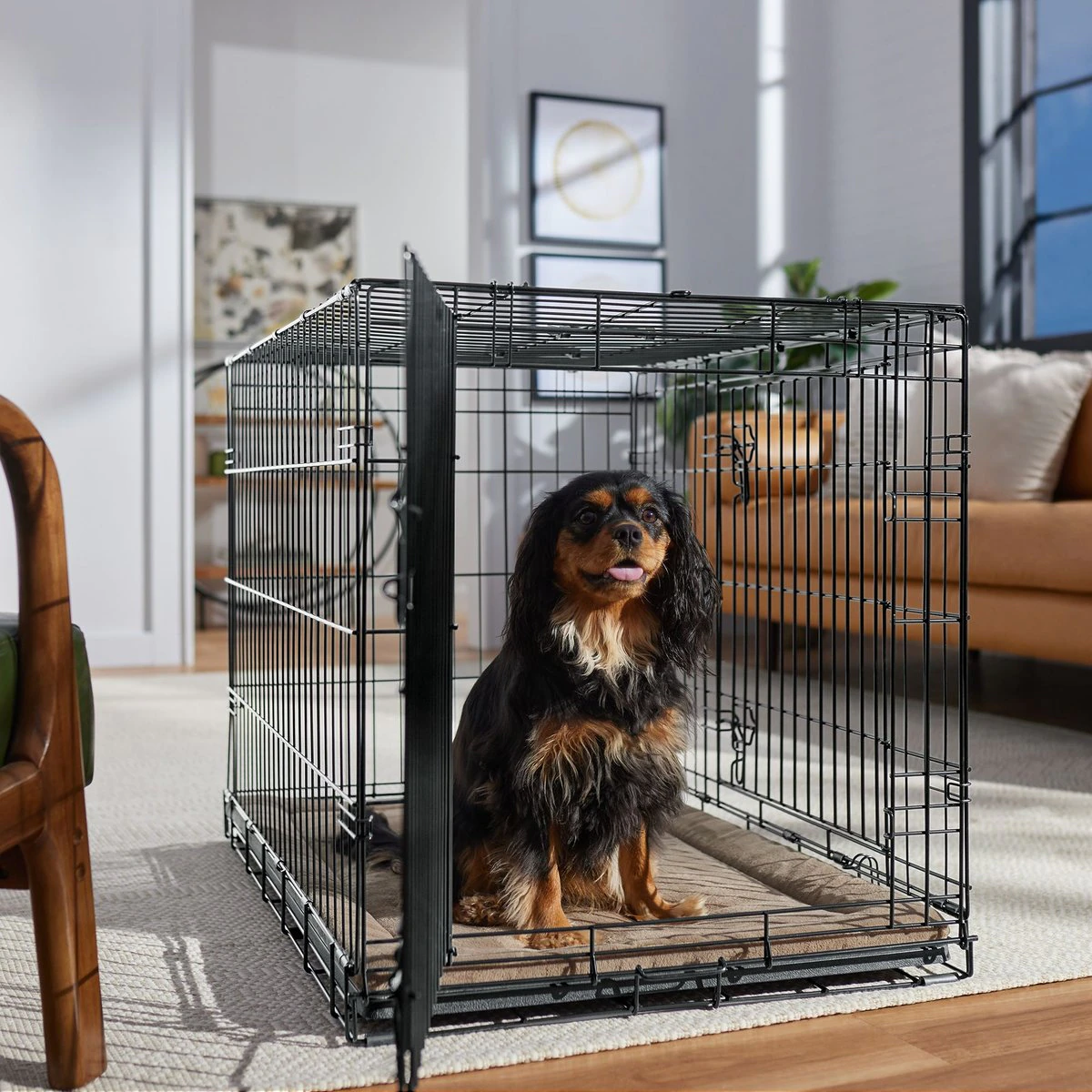 The Frisco Heavy Duty Fold & Carry Double Door dog kennel is a budget-friendly and straightforward design focusing on your dog's comfort, providing them everything they need to feel safe and secure.
Another one of the 100% wire crates, it is robust and guaranteed to keep your precious pooch safe indoors or out on the road.
While this is not necessarily an outdoor dog kennel, the removable tray base is solid plastic and could be placed outdoors on a spring day without issue. The benefit of wire crates is that you get maximum ventilation for your pup.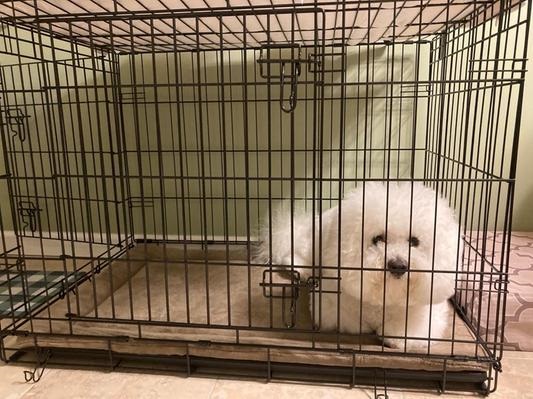 The Frisco Heavy Duty Fold crate is available in six sizes to accommodate all dog breeds.
The best wire dog crate should have a sturdy design and be easy to assemble, and the Frisco Heavy Duty does that perfectly. The inclusion of a divider is great if you have a puppy. It means you can buy the crate size for an adult and grow the crate with your doggo.
Pros
Handy divider to let crate grow with your puppy
Hard wearing
Value for money
Wireframe is reinforced for enhanced durability
Cons
Plastic handles are prone to breaking
Problematic assembly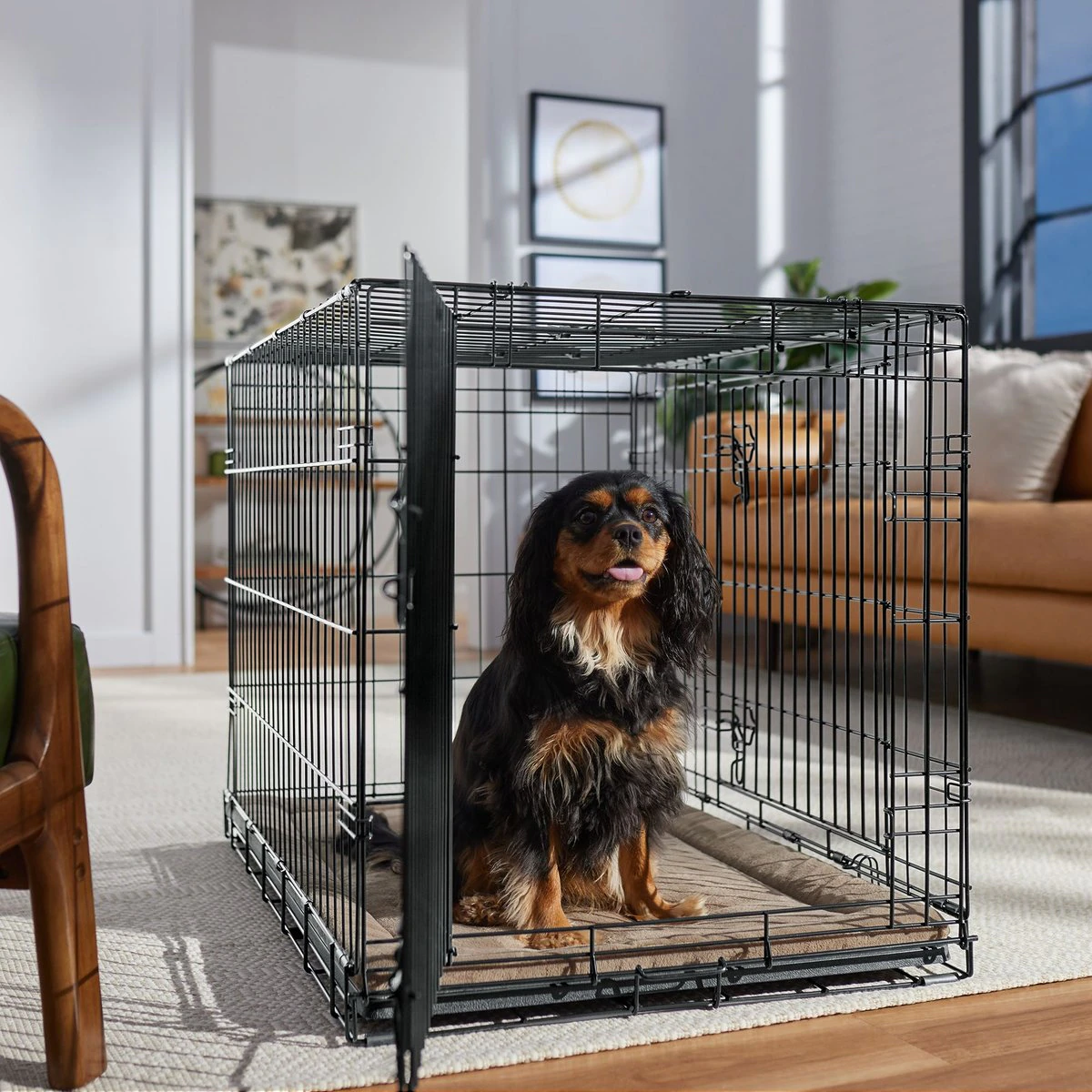 Frisco Heavy Duty Fold & Carry Double Door
The price of "Frisco Heavy Duty Fold & Carry Double Door" varies, so check the latest price at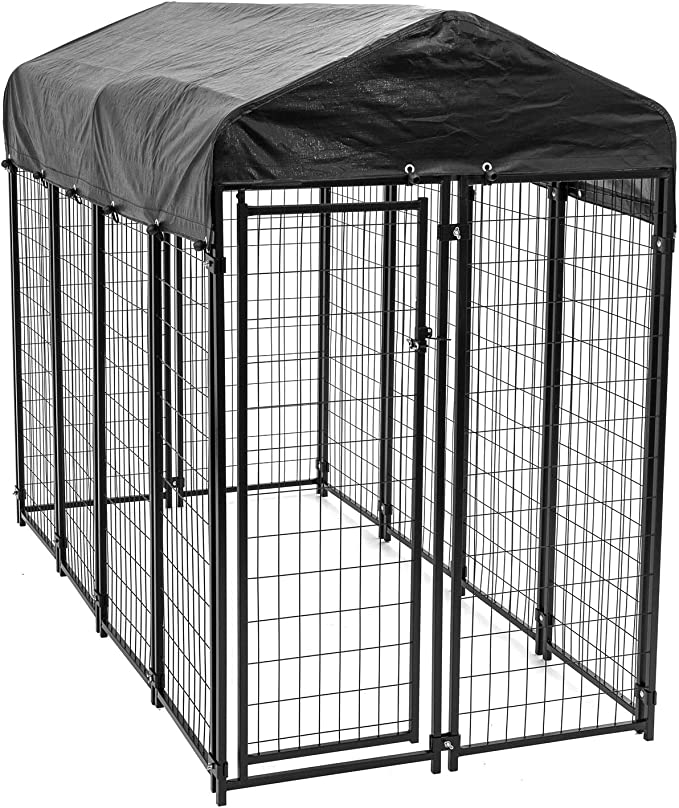 If you are looking for a large dog kennel, the Lucky Dog Uptown Welded Wire Kennel is a quality metal dog crate. Metal crates offer dogs enough space and freedom outside without the fear of them jumping the fence.
The large size of this single-door steel-frame kennel means it is perfect for two dogs or more. However, if space is a premium in your home, this kennel is not for you.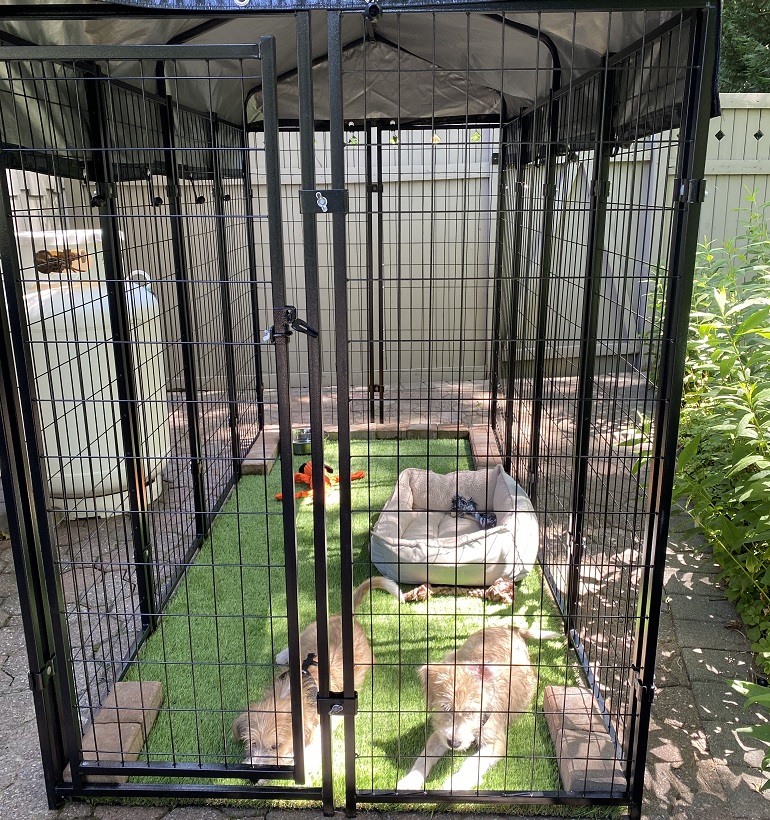 The Lucky Dog Uptown Welded Wire Kennel is only made in one size but comes complete with a water-resistant cover and is available in three colors.
This is an excellent choice if you like spending time outside with your pets. While it is certainly one of the larger models on this list, it is also the only one that you could really use out in the garden.
If we're being honest, this kennel is better suited to outdoor use than it is for internal.
Given that this dog enclosure is so tall, it is easy to sweep clean and ensures you have all the room you need for your growing puppy.
Pros
Great outdoor dog kennel
Perfect for two dogs or more
Water-resistant cover in case of emergencies
Easy to clean
Cons
Very large
Welding on the joints can be weak
Unstable if not on a flat surface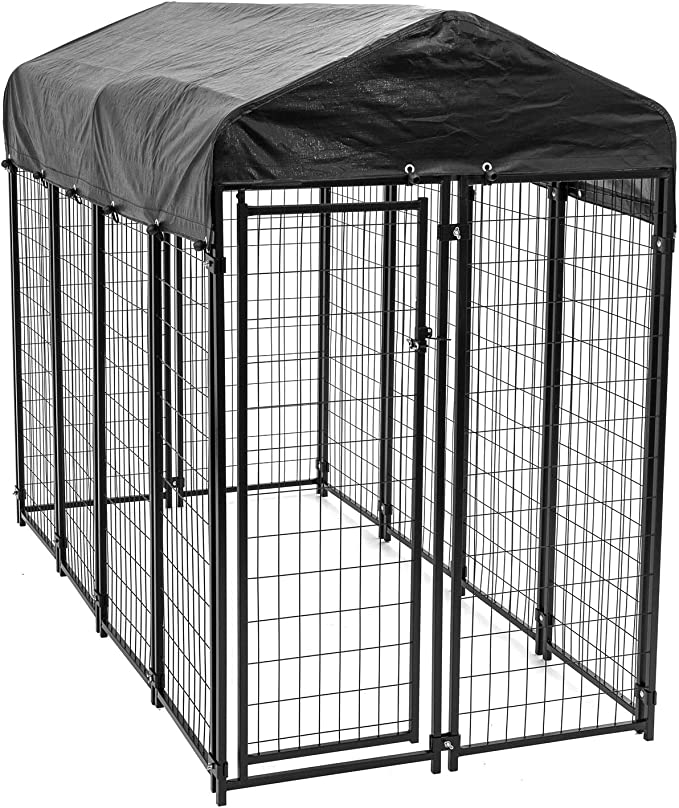 Lucky Dog Uptown Welded Wire Kennel
The price of "Lucky Dog Uptown Welded Wire Kennel" varies, so check the latest price at
What to Consider When Buying an Indoor Dog Kennel
Not all dog kennels are created equal. Some dogs will have a natural preference for certain indoor kennel types. Some may settle in a wire kennel, while others prefer plastic crates.
The most important consideration would be dog size. It is imperative you buy a dog kennel that is compatible with the size of your dog. Remember, too big is just as bad as too small when it comes to crates and kennels.
Additionally, there are five key considerations to bear in mind when shopping for dog crates.
Dog Size
Dog crates come in all shapes and sizes. Getting the right one for your breed is vital. The general rule of thumb when buying a dog crate is to measure your dog's height and length. Then add approximately four inches to these measurements.
This provides you with a kennel that allows your dog to move without being cramped but snug enough to offer the protection they desire.
One of the most common faults when buying dog crates is buying a crate far too big for its purpose. A dog kennel or crate designed for indoor use is not supposed to be a large or expansive area for your dog to live in.
The best dog crate should offer your pup enough room to stand and move around. However, the core purpose of their design is to provide dogs with a safe space where they can rest and relax.
A snug den-like space is exactly what dogs want. It is a biological thing that goes back to their wild days of sleeping in dens. Your puppy will feel more secure and rest better when they are in a dog crate that is the right size for them.
It is not advisable to house two dogs in the same crate. Dogs are territorial, and even if they have always been together, individual crates remain a must.
Portability
Do you need a dog crate that can be folded up and put in the car, or will your kennel be a permanent indoor fixture? The answer will help narrow down your list of options.
Some owners have one single dog crate that they use everywhere. They fold it up when it's not needed or take it in the car when they go away. Others prefer an indoor dog kennel to be a permanent fixture and maybe have a second for mobile crating.
Buying a portable crate is different from a permanent crate, and as such, your options will change. Portability is a key consideration to make early, as you don't want to make a purchase only to realize it's not what you need.
Ease of Cleaning
Complex kennels can take longer to clean, while more straightforward designs are less labor-intensive. While probably not a deal-breaker, the ease of cleaning is still an important consideration.
While you're unlikely to find a portable crate that is machine washable, there are some designs that are easier to clean than others.
Nobody likes housework, and we often all have more than enough to keep us busy. When buying an indoor dog crate, remember how much effort is required to clean it. While it's unlikely, accidents do happen, especially when potty training a dog.
The variation in cleaning efforts for dog crates is generally relatively consistent. So it would rarely be the case that it is a deal-breaking consideration. However, for people with disabilities, or joint problems, it should never be overlooked.
Durability
You want a crate that will last. Sometimes decisions come down to functionality versus durability. If you have a young dog that chews, a soft kennel would be an unwise investment.
Similarly, for boisterous dogs, or those that dislike being crated, a studier metal crate would be the best option.
Nobody wants to buy a dog crate every few months. Wear and tear happen, but you want to know you are purchasing a model that will stand the test of time, at least for an acceptable while.
Whenever you're looking to make a purchase consider the average lifespan of the product. If paying a little more added more to the product's lifecycle, it could be a worthwhile investment.
Similarly, if you are shopping on a tight budget, you must accept that, more often than not, a lower price means a reduced lifespan.
You can also use these crates or kennels for crate training your puppy and crate training your senior dog.
Security
Does your dog crate need to lock, or are you ok with it being a more relaxed structure? There are plenty of options for both, but this question will rule out specific models.
Some dogs hate being in a crate, especially for travel reasons. Intelligent dogs, or those savvy to their travel kennel, may know how to force the locks from the outside. Investing in a crate with a study locking system would be a great idea.
Most people want to buy a dog crate with lockable doors – whether it's because you are crate training or because you leave your dog to sleep in the kennel overnight and don't want them wandering around the house while you sleep.
Eager dogs can open some dog crate locks without too much effort on their part. However, if you have an oddly resourceful pooch, you need to invest in one that has a more secure locking system.
You can also crate train your puppy at night using these indoor kennels..
FAQS
Below are eight frequently asked questions about the best dog crates.
Are Wire or Plastic Dog Crates Better?
Wire crates are better if you want a dog crate that can be folded up and stored away when not needed. However, if you want a more permanent fixture, plastic or even a wooden crate would be the better option.
All dogs are different; some will not settle as easily in a wire dog crate. Instead, they prefer the security of a solid-walled crate.
Additionally, if you have the crate on display in your main living area, you might want to invest in a more stylish design, possibly wood or a combination of materials.
What Should I Look for in a Dog Crate?
The key things to look for in a dog crate are size and if you're not sure about the size of your dog crate, you can use our dog crate size calculator to find out the perfect size, material, security, durability, and portability. These criteria allow you to build a shortlist of dog crates that fit your means and your needs.
This shortlist offers you the ability to see a limited option set and allows you to make the choice that works best for you.
When buying a dog crate, it's easy to get stuck in decision paralysis mode, as there are a lot of options out there. By ensuring you focus on the key considerations, you streamline that list and have the freedom to choose the dog crate that ticks all of the boxes.
Can I Put My Dog's Crate in My Room?
Yes, in fact, pet owners are encouraged to place their dog's crates in their bedrooms. Dogs are family animals, they enjoy being close to others. Placing a dog crate in your bedroom offers your pooch an extra level of comfort as they know you are close by.
Additionally, when using a crate to train a new puppy, they will need to be able to tell you when they need to go out to do their 'business.' Having the dog's crate in your room means you are more likely to hear them and avoid unwanted accidents and speed up the house training process.
What Is the Benefit of a Dog Crate?
There are five key benefits to using a dog crate.
Crates provide your puppy a place to go when they are stressed, anxious, or in need of some quiet time.
A crate helps dogs make a transition to new environments.
A crate is an effective aid when toilet training a dog.
Crates offer a comforting place for your dog to be when they are left alone for any period of time.
Using a crate regularly at home makes traveling with a dog much easier as they are already accustomed to being in a crate.
What Is the Best Dog Crate for My Dog?
There are numerous different styles of dog crates made from a range of materials. The best overall pick is the crate that works best for you and your dog.
Dog kennels are available in a range of different materials and sizes. If you are looking for a crate to use in your living room, then maybe consider looking at furniture crates or a wooden kennel. These are designed to look less like a doggy den and more like part of your home.
For simplicity, a wire dog crate is a solid choice; they pack flat and are easy to store. However, if you are looking for a crate to transport your pooch, consider plastic crates, as these are hard-wearing and offer increased protection to your pet while out and about.
Can I Put a Cat in a Dog Crate?
Yes, there is no reason you cannot put a cat inside a dog crate if you are looking to travel. You just need to ensure that you do not exceed the recommended weight limit.
Using an indoor dog kennel for a cat den is possible. However, cats do not have the same need for a crate as dogs, and so it may be a waste of money.
Do I Need a Dog Crate?
No, you do not need to have a dog crate. However, they are an invaluable tool, especially if your dog is going to be on their own for periods of time. There are many different types of dog crates, but they all serve the same purpose.
Crates provide your dog with a safe place they can retreat to when they feel overwhelmed or anxious.
Many pet owners also use a crate when potty training their dogs. Crates are an effective tool in teaching a puppy to hold their bladder and forming a routine around doing their business outside.
Can I Keep Two Dogs in One Crate?
No, it is not recommended to keep multiple dogs in one crate. The only time it can be done is with young puppies under 8 weeks of age. Older puppies or dogs could fight if left together in one crate.
Conclusion
Crates are an invaluable tool for any canine pet owner. Whether you have a purely indoor dog or have acres of land for your pooch to roam on, a crate should be considered a mandatory item for responsible dog owners.
Crates offer dogs a safe haven, a place they can go to escape when stressed or anxious. It is important to remember that an indoor dog kennel is not designed to be a playpen but rather a den.
A simple design and just large enough for your fur baby to stand and move around to get comfortable are the key crate features.
The list of crates above has been curated to include something for everybody.
Have you had crates before? How was your experience crating your dog? Let us know in the comments.