We know that cat litter can be a massive pain, especially when those stray bits fall away from the cat's litter box. Trust us, cat owners, we know! So what is the best vacuum for cat litter?
There are so many different options to choose from, a cordless stick vacuum, robot vacuum, or canister vacuum, and these can effectively clean up your kitty litter – a godsend for pet owners.
There are also many factors to consider which we'll look into when we take a deeper look. It's vital to consider other things like durability, suction power, and portability!
Vacuums aren't just for removing pet hair! So, what are the best cat litter vacuums? That's why we're here so let's look at the best vacuums!
Top Pick

BISSELL Cleanview Bagless Vacuum Cleaner, 2486
Filter Type: Disk

Special Feature: Bagless
Affordable Option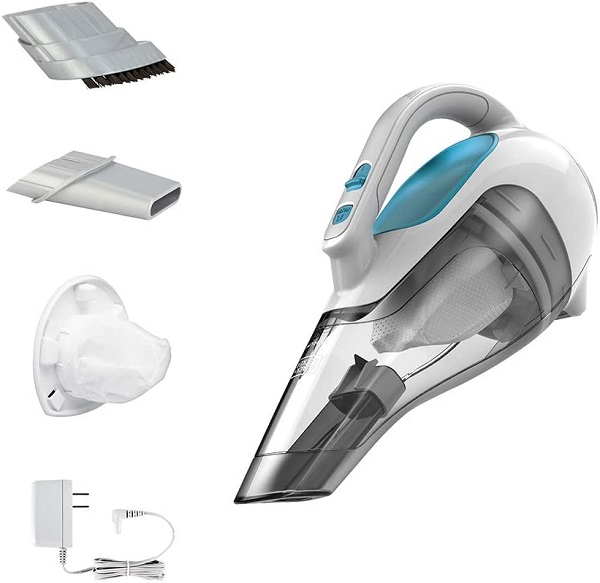 BLACK+DECKER dustbuster Cordless Handheld Vacuum
Filter Type: Cloth

Special Feature: Lightweight
Great Versatility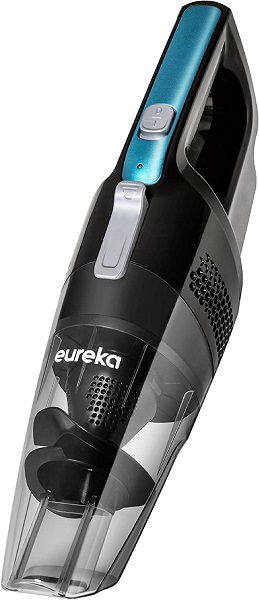 EUREKA NEH100
Filter Type: Cloth

Special Feature: Portable
Awesome Maneuverability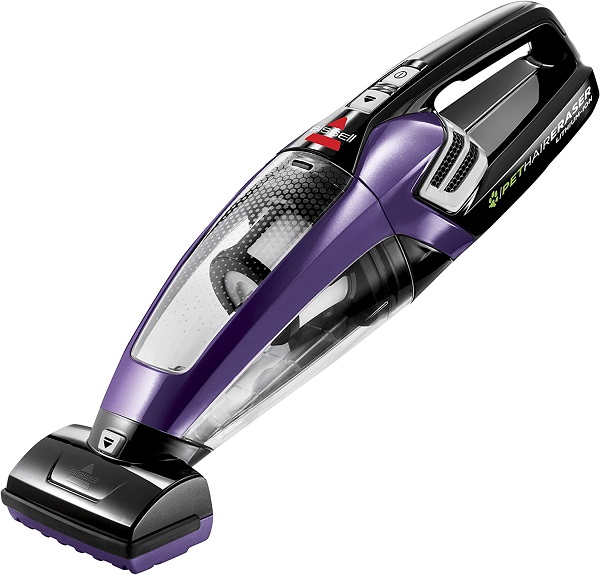 BISSELL Pet Hair Eraser Li-Ion Cordless Hand Vacuum
Filter Type: Cloth

Special Feature: Touch CONTROL METHOD

Multi-purpose Tool

Shark Rotator Lift-Away TruePet Upright Vacuum
Filter Type: HEPA

Special Feature: Corded
Premium Choice

Dyson Ball Animal Upright Vacuum
Filter Type: Disk

Special Feature: Corded Electric

Best Vacuum for Cat Litter
There are so many vacuum cleaners available for removing litter that has come away from even the best cat litter boxes.
So often, it's actually really hard to tell which is the best, but this is why we're here! Take a look at our reviews of each product to determine which is the best for you!

The BISSELL Cleanview Bagless Vacuum Cleaner Is a great option for cleaning cat litter. Their technology provides powerful suction power and a unique motorized brush design that'll clean up all the litter scattered through your house.
This vacuum is also a great option as it reduces scatter on any hard floors you may have in your home.
This new vacuum cleaner has all the kit attached to it, so your crevice tool, turbo brush tool, dusting brush, and extension wand are close together and aren't going anywhere as you clean!
The large dust and dirt tank allows for plenty of use between each time you empty it, meaning that scattered litter is all picked up and stored while you pick up the rest before emptying.
This truly is one of the best upright vacuums for litter pickup and will help that allergy sufferer because it'll pick up any hair too!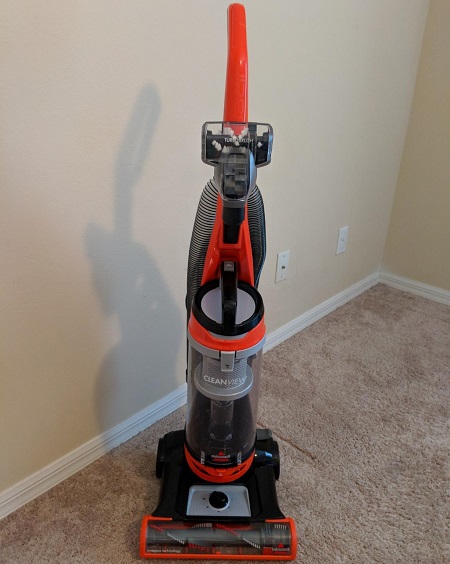 Pros
Lightweight
Good on hardwood floors
Brilliant suction power
Good for cleaning up hair
Cons
Some complaints that the 25′ cord isn't long enough
Short hose
The power cord is attached to the bottom of the vacuum
Corded vacuum

BISSELL Cleanview Bagless Vacuum Cleaner, 2486
The price of "BISSELL Cleanview Bagless Vacuum Cleaner, 2486" varies, so check the latest price at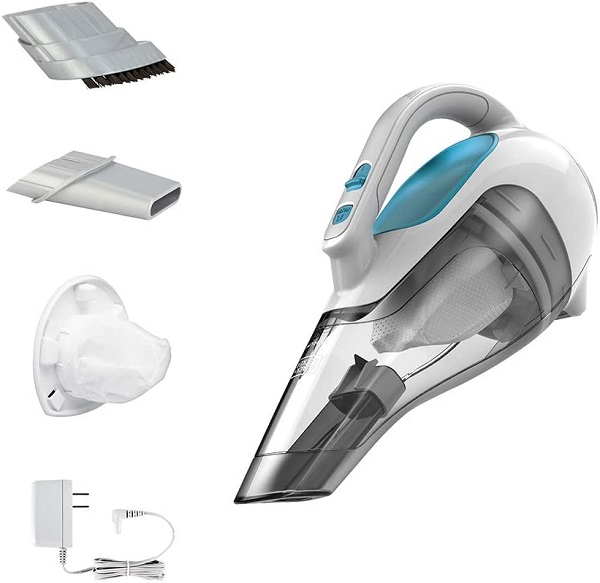 For a portable vacuum and a cordless vacuum, the Black+Decker dustbuster cordless handheld vacuum is at an affordable price and is a good option from the selection of cat vacuum cleaners.
This vacuum for cat litter doesn't just cover hard floors but is brilliant over different surfaces, carpets, and furniture. This handheld vacuum is also lightweight and portable, making it easier to clean your house.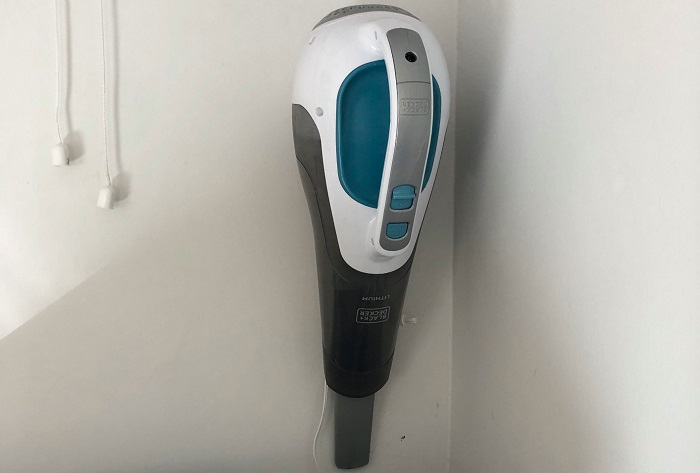 The translucent and large dirt canister is fantastic as it allows you to notice when you need to empty it, and the wide mouth will easily scoop up any scattered litter. It also comes with a crevice tool, making it easier to get those hard-to-reach areas in the corners of your house.
Pros
Portable and cordless
Affordable price
Multi-surface use
Portable and lightweight
Large dirt bin
Powerful suction
Cons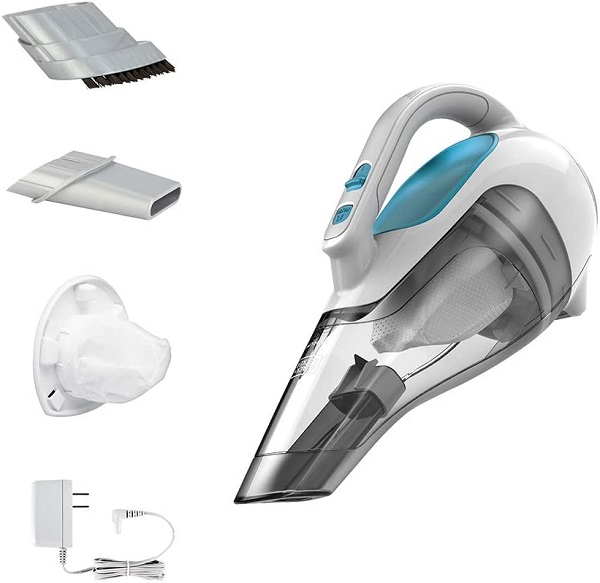 BLACK+DECKER dustbuster Cordless Handheld Vacuum
The price of "BLACK+DECKER dustbuster Cordless Handheld Vacuum" varies, so check the latest price at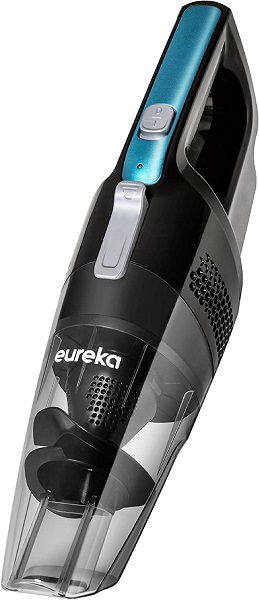 The Eureka NEH100 is another good vacuum for cat litter. It is sold at a great price which is good news to us all with the amount we tend to spend on our cats, and is one of the most popular litter vacuums out there.
This vacuum is extremely powerful and has pretty strong suction in comparison to your regular vacuum. It's a good vacuum to remove pet hair and litter from your litter box area because of the powerful suction.
This vacuum has many important features and comes with several attachments to clean up any debris from your cat litter box meaning you won't have to invest in various parts – they all come with it, crevice tools and all!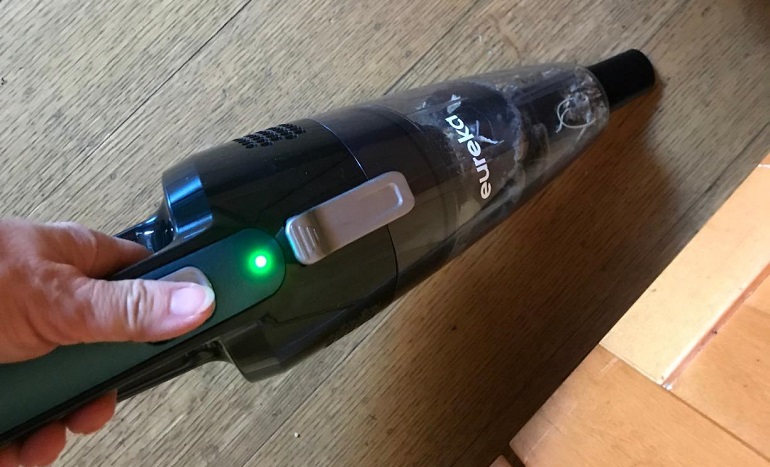 The design of this vacuum also makes maneuvering much easier and decreases your vacuuming time! The visor on it will make cleaning those stairs a lot easier and is fabulous as an upholstery tool.
This vacuum doesn't fade with time and will still continue to work well even after years! It's also not too loud and isn't a heavy vacuum making it perfectly portable and one of the best vacuum cleaners out of pet vacuums.
Pros
Very affordable price
Professional vacuum
Great suction power
Good for different floor types
Cons
Visor at the front does tend to collect dust, dirt, and debris.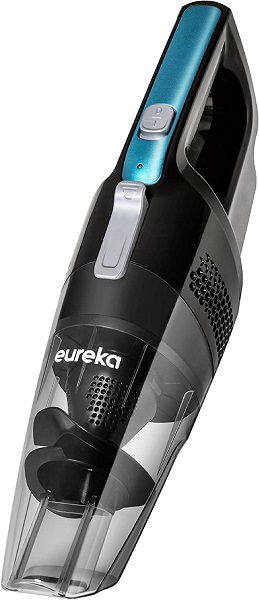 EUREKA NEH100
The price of "EUREKA NEH100" varies, so check the latest price at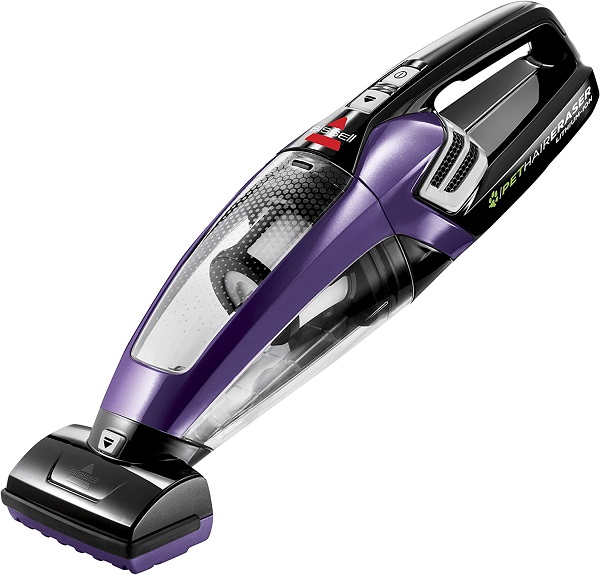 This is possibly the best handheld vacuum that can be used as a pet hair remover and cat litter vacuum as the product is full of brilliant technology.
The moisturized brush tool is brilliant at removing that really hard-to-reach dirt that might have been embedded thanks to your pet. No need to worry about wet litter anymore!
The crevice and upholstery tools mean cleaning tight spaces and furniture has never been easier
It also has incredible power due to the lithium battery and the large dirt cup that can hold up to 0.7 liters. So whether you just want to clean up the tracked litter left behind because of the litter dust on your cat's paws or if they've tipped the whole box, because they love to do that for some reason, then there's no need to worry!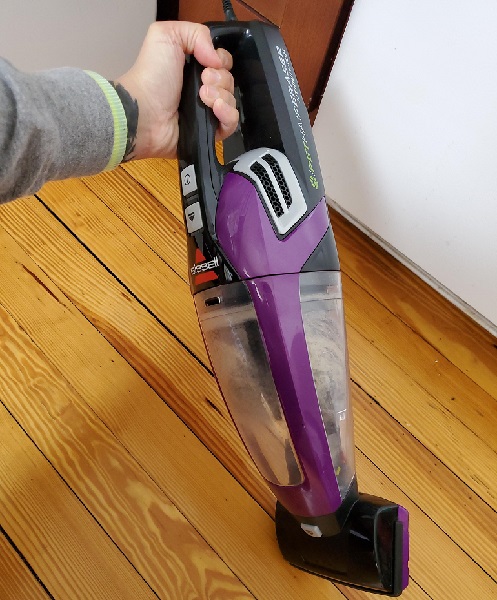 The big dirt bin is also a great help when it comes to this. It's super easy to empty which means you have to empty less frequently and spend less time trying to figure out how to get the top off and instead can just get on with the cleaning.
Not only do the lithium batteries offer great power and long battery life but the three-level filtration also massively increases the cleaning ability.
Not only does this product save your home from being taken over by cat litter spills but Bissell will also donate 5 dollars to animals that need it for every product sold!
Pros
Amazing battery life
Great at cleaning furniture
Small and easy to use
Cordless design
Easy to clean every tight corner
Cons
Overall battery life can be short
The product can take a while to charge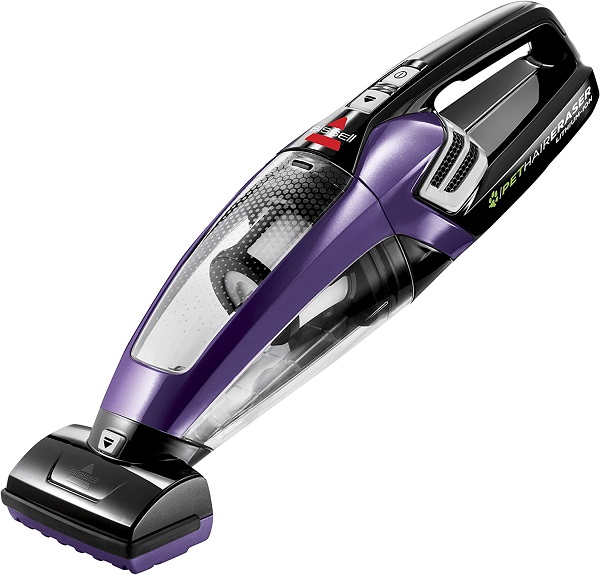 BISSELL Pet Hair Eraser Li-Ion Cordless Hand Vacuum
The price of "Petmate Litter Box" varies, so check the latest price at

Upright models are most definitely the way forward if you have any type of pet. Let's take a closer look at some of the specifications of this vacuum.
The 2 in 1 powered lift-away, with bagless design technology, means you can reach every tight space your litter-tracking kitty has managed to make a mess in. You won't lose any power and your brushes will continue to turn.
This upright vacuum also comes with swivel steering so that you can easily clean your entire house without worrying about not being able to reach the corners.
The Shark TruePet Vacuum is also compatible with a HEPA filter meaning you can trap 99.9% of pet dander inside. This will help lower the chance of a reaction if someone who does have a pet allergy happens to enter your home.
One advantage that an upright vacuum has over anything like a robot vacuum is that it can have much bigger dust cups. This is brilliant for cat owners who are trying to clean up litter or cat hair because it means you don't have to constantly empty it. This specific dust cup can hold up to 0.88 quarts.
Nothing is more frustrating than more mess appearing after you've finished cleaning, well Shark has this covered. The LED headlights ensure you can see small particles as you lift pet hair and litter.
You can also clean every surface, whether that be litter mats, carpet, or wood floor with the easy fingertip controlled multi-surface cleaning technology.
The crevice tool means you can leave the vacuum in an upright position whilst still being able to reach every area.
Pros
Upright vacuum
Compatible with HEPA
Bagless
Washable Filter
Many specialty tools such as upholstery tool
Able to control the power and settings from the handle
Lift away canister
Extremely long power cord
Cons

Shark Rotator Lift-Away TruePet Upright Vacuum
The price of "Shark Rotator Lift-Away TruePet Upright Vacuum" varies, so check the latest price at

This is another brilliant upright vacuum cleaner that not only picks up litter but pet hair as well.
Now, this is no regular vacuum cleaner, the radial root cyclone technology makes sure that no dirt, even microscopic, gets missed.
It also has the best suction across both hard and carpeted floors thanks to the cleaner head. This will adjust itself as needed, depending on what floor you're cleaning, in order to create the most suction which helps ensure no excess litter is left behind.
This special vacuum also steers using a ball rather than the usual flat base that we see on most cat vacuums. This once again helps you reach every spot in your house with a simple turn of your wrist.
A flexible hose also makes this a super easy vacuum to use.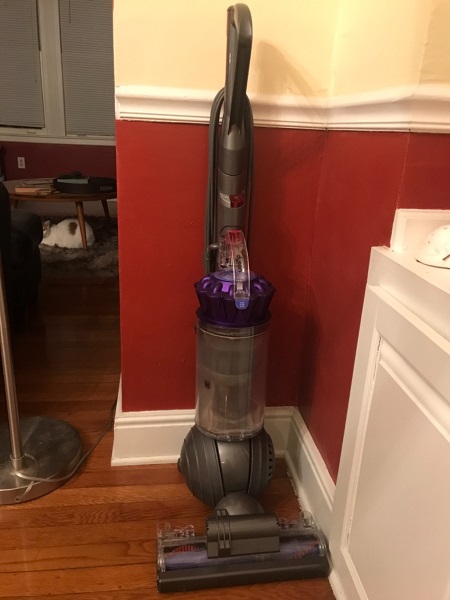 The Dyson Ball Animal Upright Vacuum also has HEPA filtration technology that traps allergens inside which stops them from being spread further around your house.
Now any cat owner who is sick and tired of cleaning up cat hair will be happy to know that this bagless vacuum is one of the best because of how long it lasts. It is tested to last up to 10 years or 12,800 hours of cleaning! Now I'm not sure what you think, but that's a lot of cleaning.
Pros
Upright vacuum means a bigger dust cup
Tangle free turbine tool makes cleaning up after pets easy
Brilliant suction
Quiet when compared to other vacuum cleaners
Cons
No foot pedal for unlocking the handle

Dyson Ball Animal Upright Vacuum
The price of "Dyson Ball Animal Upright Vacuum" varies, so check the latest price at
Choosing the Best Vacuums to Suck All the Cat Litter: What to Look For
As mentioned in the brief overview given at the start of this article, there are many things to consider and look for when choosing the best vacuum. Some of these consider suction power, portability, HEPA Filter, and many other things.
Let's take a look!
Suction Power
Suction power and cleaning power are common key considerations when buying a new vacuum for your feline's litter. It can certainly be a pain to pick up stray cat litter and so it's important that your suction power is powerful enough to cope.
Powerful suction will not only help with shedding itself but also the possible first, dust and mud that your pet could bring in from outside. These things can easily bring mess to your carpet so it's important to clean it up properly, especially when considering other people in your household!
Strong suction power will ensure that your floors are thoroughly cleaned and are left clean and of a high standard. Even the toughest rugs will be cleaned with strong suction power.
Handheld Vacuum or Upright Vacuum
Portability is also a very important factor to consider and is largely dependent on what you want as a pet owner. However, most people tend to prefer a more portable vacuum for their pet hair and cat litter as it allows you to easily get in those awkward corners!
Dragging a clunky vacuum around the house is never fun – especially with pets about the place and on a daily basis. Your job may not even be finished as you'll be too tired from hauling your big vacuum around!
So, it's really important to consider getting a more portable vacuum as it will be easier to use and move – a quick clean is less stressful for everyone and, you won't need a nap after it!
HEPA Filter
HEPA filters are also a really useful aspect of your new vacuum. You may spend more and invest more if your new vacuum will have HEPA filters however it's most certainly worth it.
HEPA filters are vital if someone in your home, even your cat is a sufferer of allergies and it is one hundred percent worth the investment if you get a vacuum with one of these.
It's true that a HEPA filter does capture more than 99.97% of airborne particles – that's a whole lot! So, HEPA filters are brilliant for those who suffer from allergies in your household or even for common visitors to your house!
This is definitely worth considering, as a standard filtration system may not completely do the trick.
Bypass Flow Motor
Something else to consider is a vacuum with Bypass Flow Motors. It does really sound fancy but what does it actually do?
Bypass Flow Motors are designed to ensure that any unfiltered or filthy air isn't put into the motor chamber of your vacuum. As you can tell, not only will having one of these be beneficial to you but will also be very hygienic for your home.
Having used cat litter particles blown back into the main chamber of your vacuum is not really the best and can be annoying.
Durability
Without a doubt, durability is something to most definitely consider – you don't want a cat litter vacuum dying on you within the first few uses, that won't be fun!
It's not always the most entertaining experience having to clean every day, especially when you have pets. Cat litter does truly get everywhere! So buying a new vacuum cleaner every 3 months is just not feasible in any way.
It's worth having a look into vacuums' various warranties to ensure that they're covered for a few years. A longer-lasting vacuum may cost you more but you'll end up saving in the long run as you won't be needing to constantly replace it.
So, these four things are what we'd recommend mostly as things to consider when buying a new vacuum to clean up the litter that has fallen away from your cat litter box.
FAQ's
Cat litter vacuums are great but naturally, there are many questions that you may find yourself asking. So, let's take a look at some of the frequently asked questions by cat owners.
Can Any Kind of Vacuum Be Used for Cat Litter?
In some ways, any type of vacuum could be considered to suck up cat litter without any massive problems. However, just because we've said this, doesn't mean that you can ideally use any vacuum for cat litter and it does come with a few hurdles.
It's best to shop for vacuums that are titled to be for "pet hair" in particular as they will most definitely work better for any cat litter that needs to be picked up.
In fact, most of these vacuums will be more portable, and durable and will have a HEPA filter too – all the things that we've told you to consider when buying a vacuum for cat litter.
Is It Safe to Use Robot Vacuums with Cats?
Robot vacuums are pretty cool and you've got to admit that you must have considered it at least once in your life! They definitely make the whole process of cleaning much easier and take the burden of hauling a vacuum away!
Robot vacuums are on the whole considered to be safe for houses with pets but it is mostly down to you as a pet owner as well as your pet itself. Does your cat's personality mean that a robot vacuum will be a good idea?
If you do decide to purchase a robot vacuum then it's most definitely worth keeping an eye on how your cat behaves around the vacuum, especially before putting the vacuum on a timer to go off throughout the week.
Slowly introducing the vacuum is a good way of doing this as it will lead to your cat becoming familiar with it!
Do They Make Handheld Vacuums for Pets?
Handheld vacuums are a truly fantastic invention and mean you're not hauling a clunky vacuum around your house which can be a massive pain. But do they make handheld vacuums for pets?
The simple answer is yes! Pet vacuums come in all shapes and sizes, handheld vacuums included and they're all efficient in removing cat hair and cat litter from your cat's litter box.
Vacuums for pets come in different styles including robot vacuums, stick vacuums, and traditional vacuums and they'll all remove litter. It's down to your personal preference really! Handheld vacuums are no exception!
Final Thought
So, if you're on the hunt for the best vacuum for your cat litter mess, we have you covered. There are plenty to choose from but much of it is down to personal preference.
Here are some questions you could ask yourself to come to the best conclusion.
What are you after as a pet owner?
Do you have the time to vacuum every day or is a robot vacuum a better option to do it for you?
Would you prefer a stick vacuum or a canister vacuum?
Corded vacuum or handheld?
Is triple action brush roll important to you?
As you can tell, there are many questions you can ask yourself to make sure that you buy the right vacuum for you!
In our view, the Shark Rotator Lift-Away TruePet Upright Vacuum is probably one of the best. The swivel steering allows easier cleaning of your house, as well as the HEPA filter that comes included in it – we all know how beneficial these are!
The bigger dust cups also mean more vacuum time and less empty time! This vacuum even includes LED lights so you can see exactly what you're doing and if there's any mess that you may not be able to see with your normal lights.
We hope this article has been helpful and has helped you determine what your new cat hair and litter remover vacuum will look like!