One of the most rewarding parts of being a cat owner is the ability to adopt or foster multiple cats in your home. On top of the rewarding feeling of giving them a home, they can play with each other and give one another company on a daily basis.
But as you bring more felines into your household, the type of litter box you choose becomes even more important. Luckily, you have no shortage of selection when picking the best litter box for multiple cats.
This article includes some of our favorites. It's a wide-ranging list, from the simplest large litter pan to innovative, modern models. They range in price, but most of them are very affordable.
Most Spacious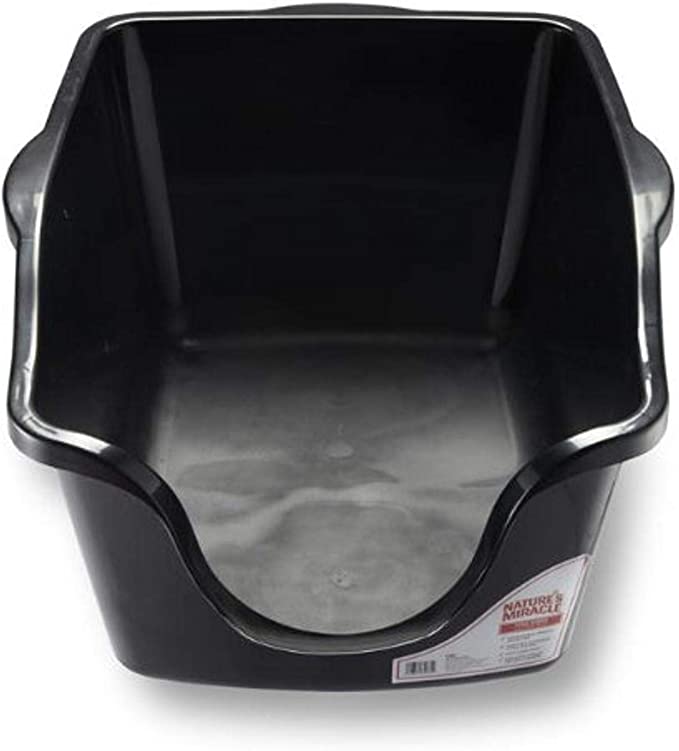 Nature's Miracle
Material: Plastic
Item Weight: 1.85 Pounds
Best Automatic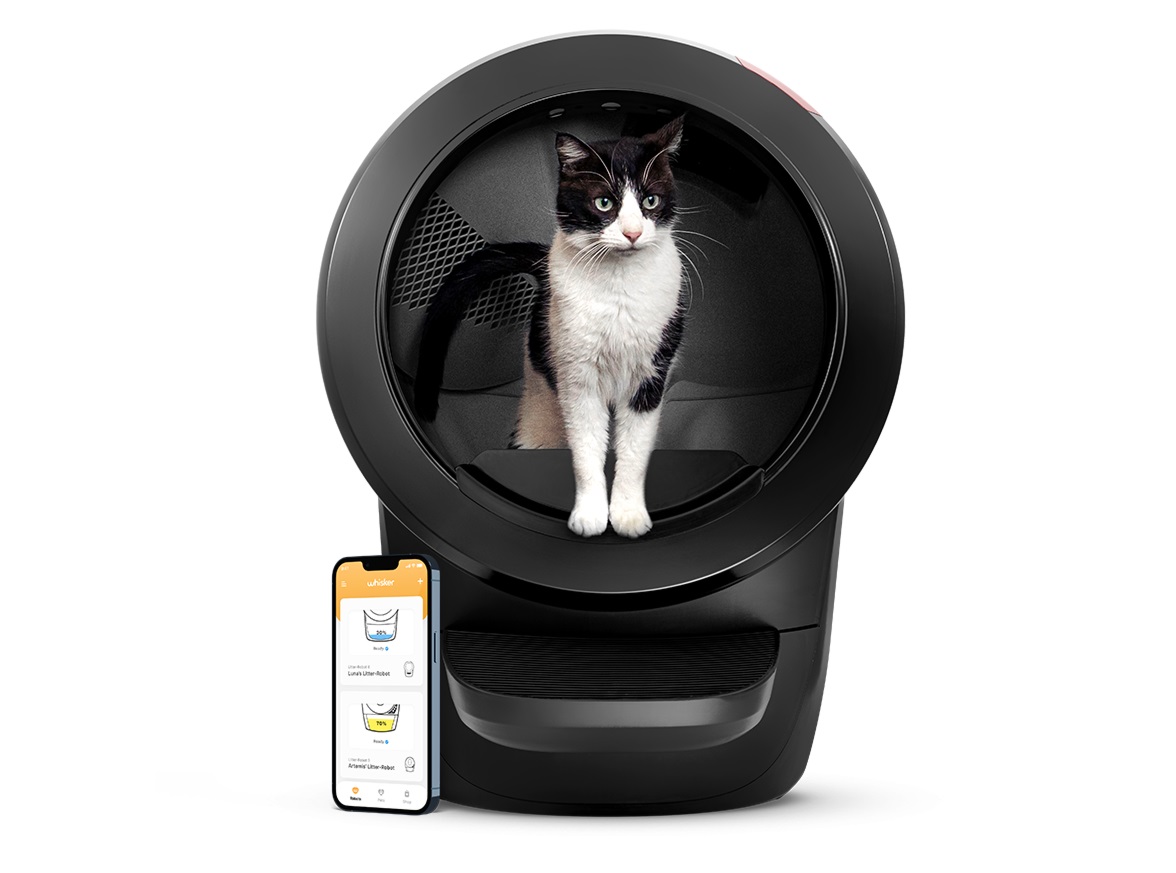 Litter-Robot 4
Material: Plastic
Item Weight: 3 Pounds
Easy to Use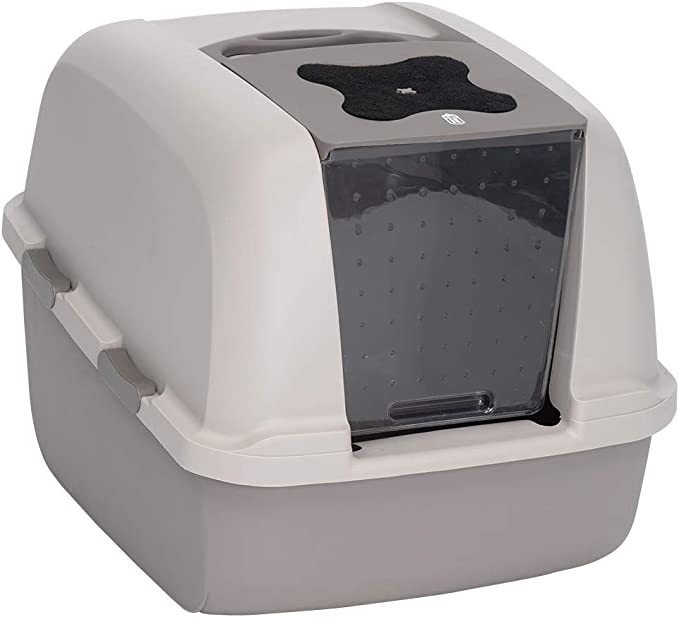 Catit Jumbo Hooded
Material: Plastic
Item Weight:1.67 Pounds
Easy to Clean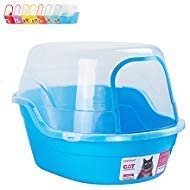 Petphabet Jumbo
Material: Plastic
Item Weight: 3.12 Pounds
Simple Design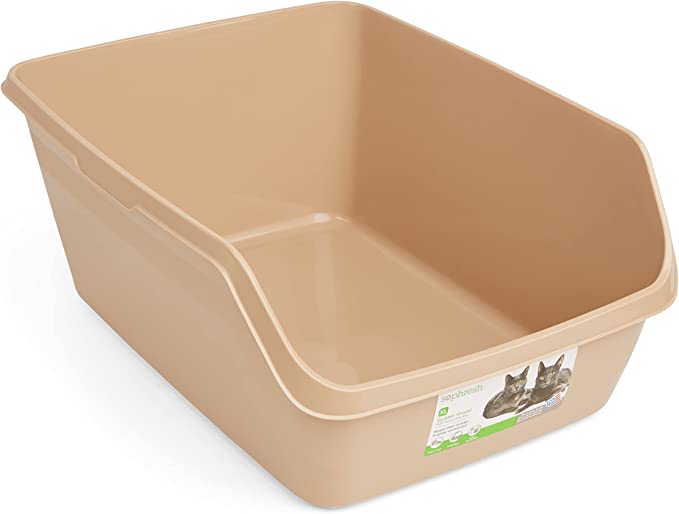 So Phresh Scatter
Material: Plastic
Item Weight: 16 Pounds
Most Versatile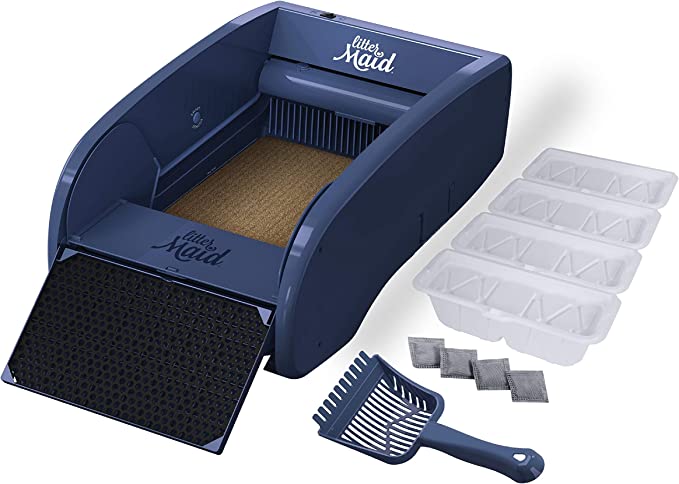 LitterMaid Multi-Cat
Material: Plastic
Item Weight: 13.7 Pounds
Best Litter Box for Multiple Cats
Mentioned below are our top picks for the best cat litter boxes for multi-cat households.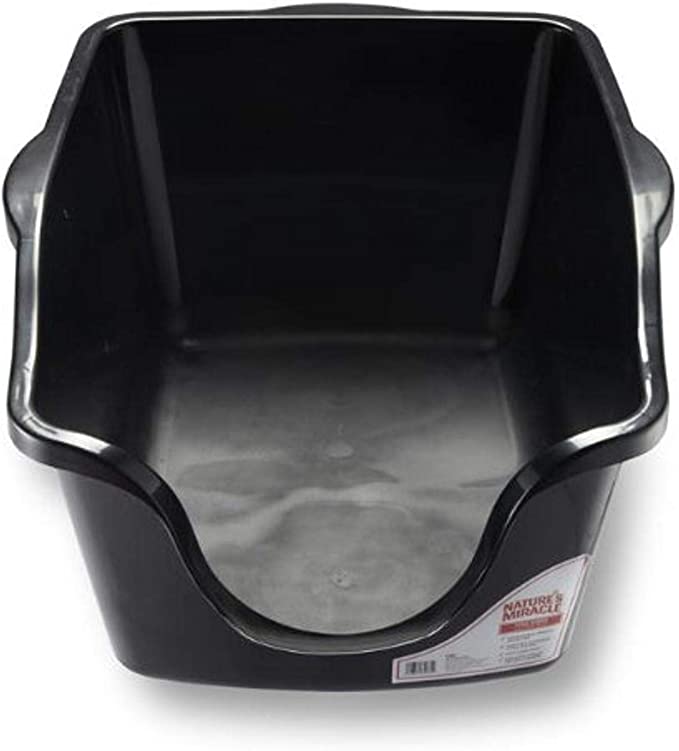 An open litter box is a great choice if your cat doesn't like confined spaces. This High-Sided model provides enough space for more than one cat. The low entry point is great if you have senior cats or those with health issues.
The biggest benefit to this model when multiple cats are using it is the high sides. At dimensions 23.4 x 18.25 x 11, it's highly unlikely any messes will make it out. This prevents litter scatter. Is your cat a sprayer? A high-sided model is perfect for your house.
It's got a non-stick surface that makes for easy cleaning. You also have multiple options for cleaning things up. It can be spot cleaned if it's a small area that needs it. If you need to do a total refresh, you can just wipe it down. And for keeping bacteria and general nastiness in check, it provides antimicrobial protection.
If you need large, open litter boxes and want to avoid any potential litter or waste getting out, a high-sided litter box is an ideal choice. It's not large enough for more than one cat at a time, but that's hardly a concern.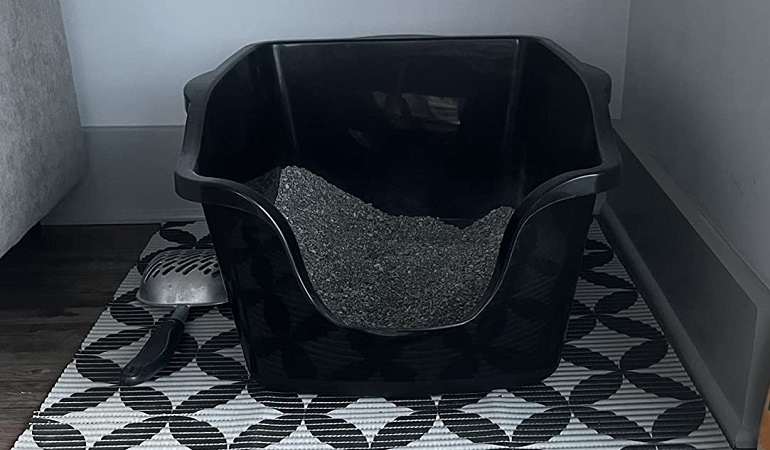 It's simple and easy to clean, and the antimicrobial protection adds a layer of safety to the dangerous elements you can't see. Some litter may collect on your cats' paws and be tracked out, but with a simple mat, that's not that big of a deal.
Pros
High sides prevent litter scatter and spray from getting out
Low lip entry provides easy access
Large enough for multiple cats
Great for older cats or cats that have mobility issues
Antimicrobial protection adds an additional layer of safety
Non-stick surface makes spot cleaning or a complete wipe-down easy
Affordable enough for you to purchase more than one if needed
Cons
Cats may collect litter on paws and track it out of the box
Not for cats that prefer the privacy of an enclosed design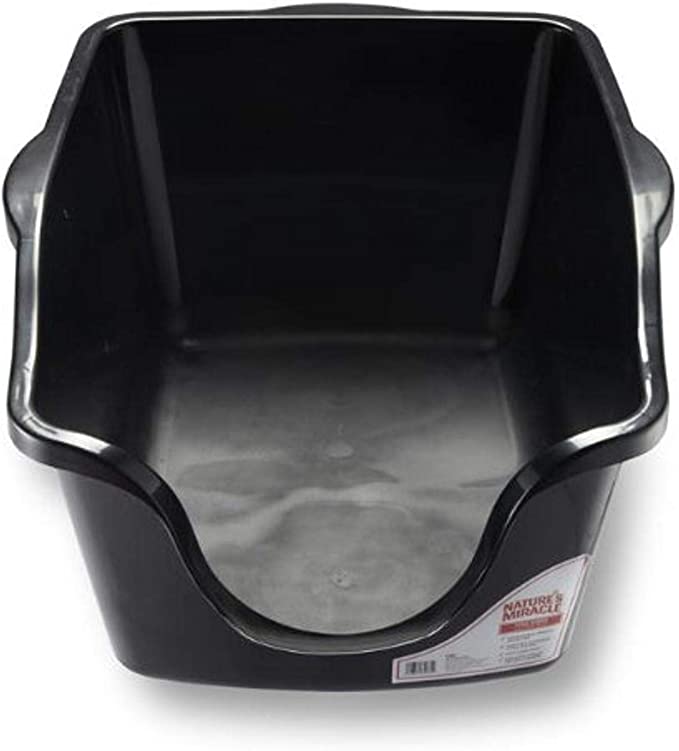 Nature's Miracle High-Sided Cat Litter Box
The Price of "Nature's Miracle High-Sided Cat Litter Box " varies, so check the latest price at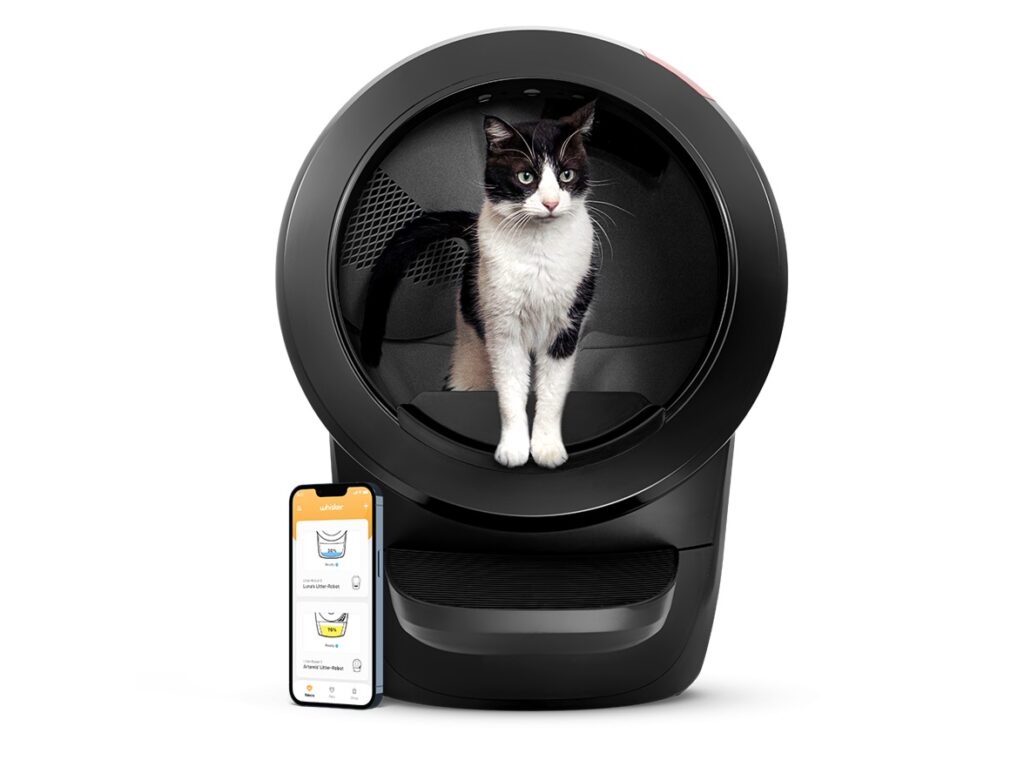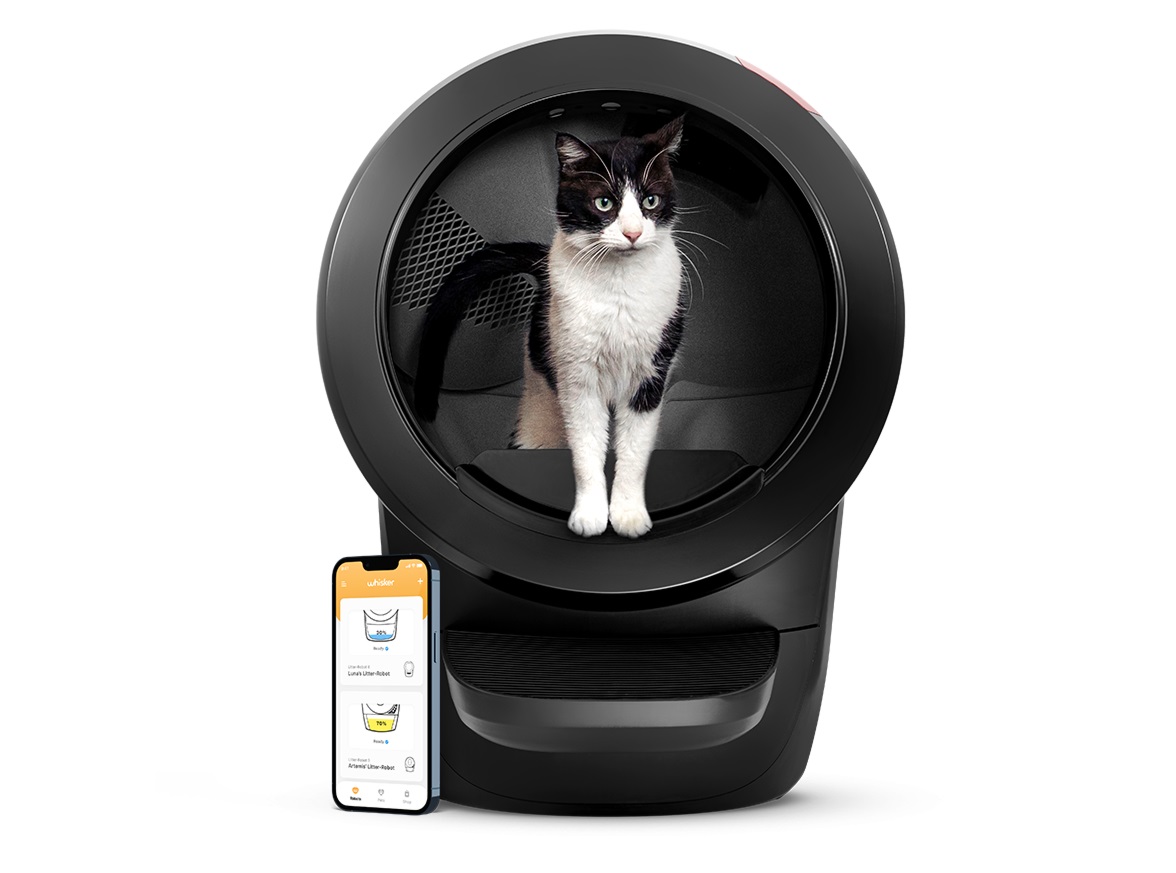 Litter boxes for multiple cats don't really get any more next-gen than the Litter-Robot 4.
There are several features that make the life of multiple-cat households so much easier than standard designs. It's an automatic litter box that sifts and cleans to remove waste. This makes cleaning and scooping an issue of the past.
Everything gets deposited into a sealed waste drawer with a tight seal to cut down on escaping odors. For even greater odor control, you can go with the optional OdorTrap system.
It gets even better! Through Litter-Robot's OmniSense detection, you can track your cat's use of the litter box, the levels of the litter, and how full the waste compartment is. All these stats can be viewed through the Whisker app, and it even sends you alerts that cat parents need to be aware of.
This is a large litter box with an inside area that is spacious and provides a combination of open and closed designs, making it suitable for multiple cats. It's rated for up to four cats, larger cats, and even cats of all sizes. Some automatic litter box models have a recommended weight limit, but this one comes with no such limitations.
Tracked litter is also less of a concern with this model. The automatic litter box function makes sure the box itself is as clean as possible at all times.
If your cat tends to kick litter, the included fence prevents it from spreading outside the box. So whether your cat has health or behavior issues that cause litter scatter, this is still one of the best options.
The Litter Robot is an amazing litter box model, especially if you have multiple cats. One litter box means less taken up space, less mess, and more efficiency. Even though it's designed to be used with multiple cats, it doesn't take up any more space than a traditional litter box.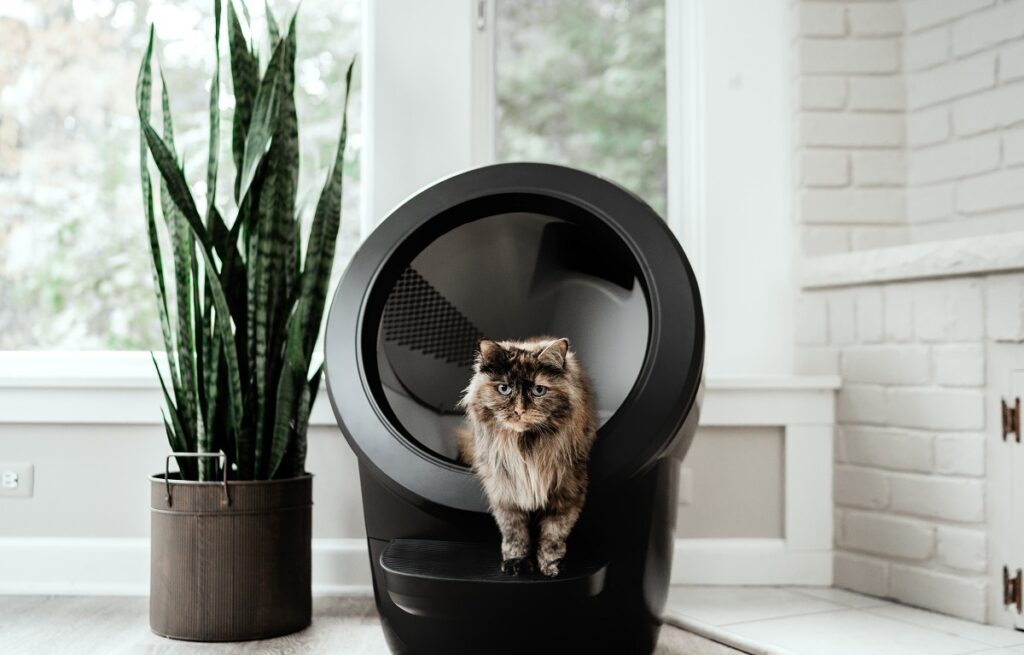 It's convenient to integrate into your cat's routine too. The manufacturer says that most cats get used to this innovative litter box within a week, and you can use it with any type of clumping litter. The company even offers custom accessories to improve your and your cat's experience.
Pros
Best automatic litter box option if your house has multiple cats
An innovative design box that uses multiple methods to neutralize odors
The app makes you aware of litter box status on demand
Automatic sifting and fence help to keep litter in the box and reduce spills
Cons
It might take some time for your cat to get used to using it
Some cats might be intimidated by an automatic litter box
Comes with a steep price tag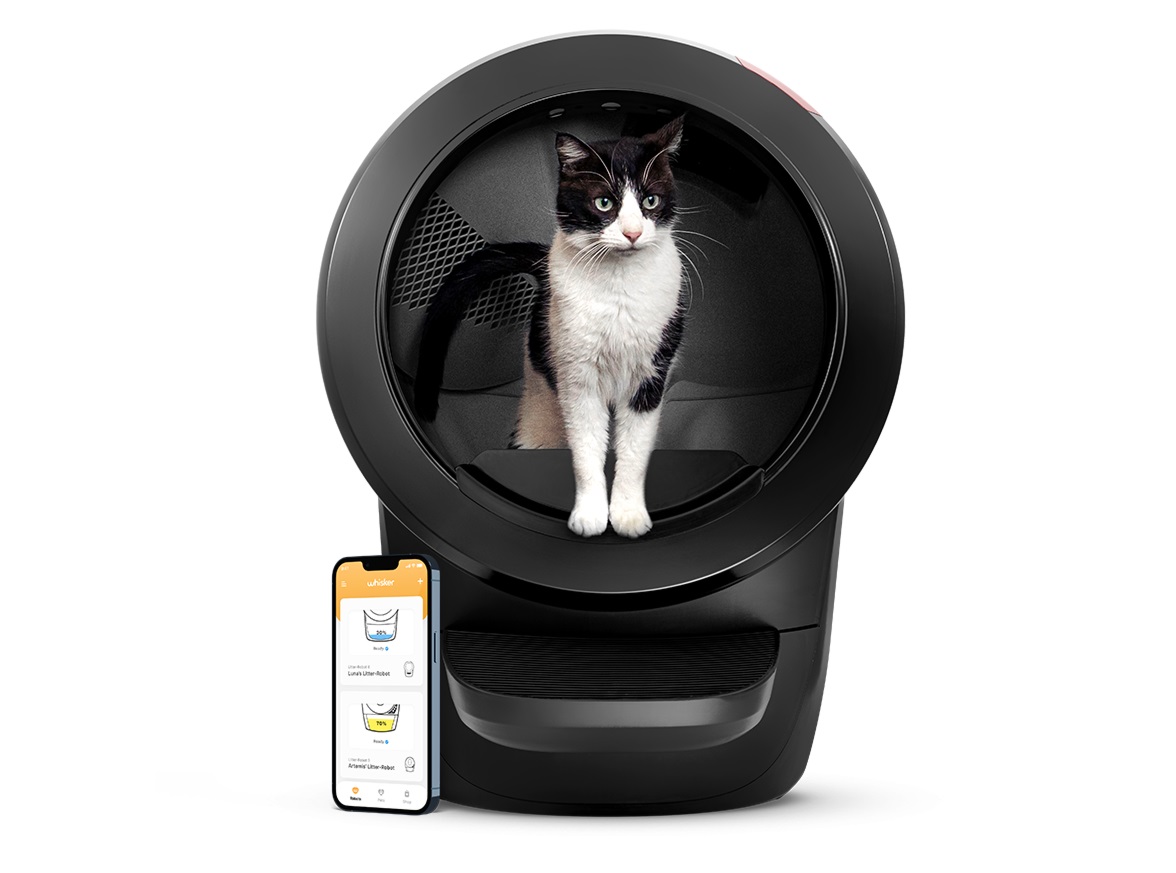 Litter-Robot 4 by Whisker
The Price of "Litter-Robot 4 by Whisker" varies, so check the latest price at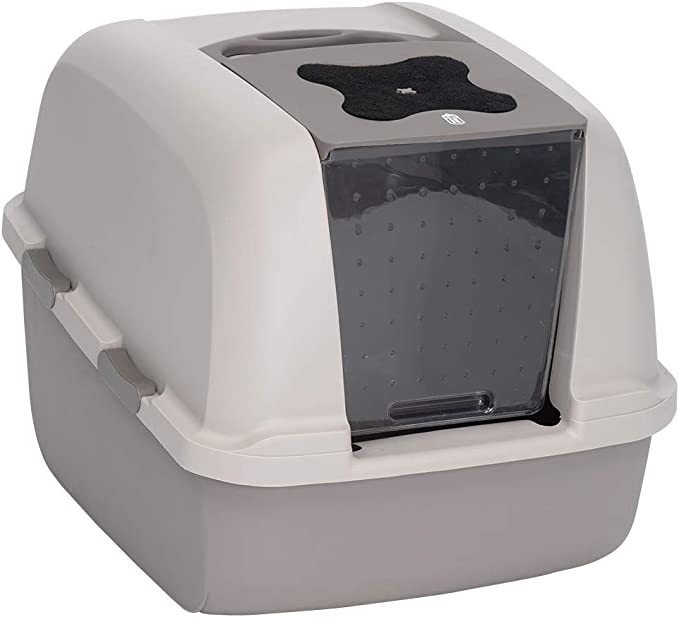 If you have multiple cats, that means twice as much mess, which means twice as many odors and things to clean up. A hooded litter box can be the perfect answer to concealing odors if you have multiple cats using the same litter box.
To further fight odors, there is a carbon filter that traps and removes them. An additional utility from Catit called the Ammonia Buster can be fitted to it. This device absorbs and retains up to 80 percent of hazardous ammonia gases.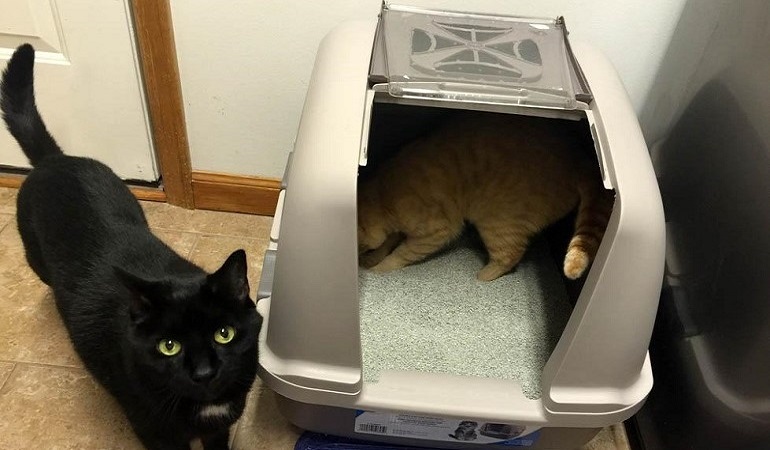 The large hood is easy to lift and gives you access to clean it out to refresh it. A built-in bag anchor keeps it open for hands-free scooping without the headache of having to reopen the bag if it folds in on itself. And a slider makes it easy to lock, so putting the hood back on is effortless.
Covered litter boxes provide a great amount of privacy and are a terrific choice if there are multiple cats in your house.
Pros
The covered design is great if multiple cats are using it
Anchor keeps bag open when cleaning
Carbon filter captures and keeps odors from escaping
Additional Ammonia Buster accessory absorbs ammonia gases
The locking slider makes putting the top back on after cleaning simple
Cons
Some cats don't like enclosed litter boxes
Sharing a single litter box can be difficult if cats are territorial with their space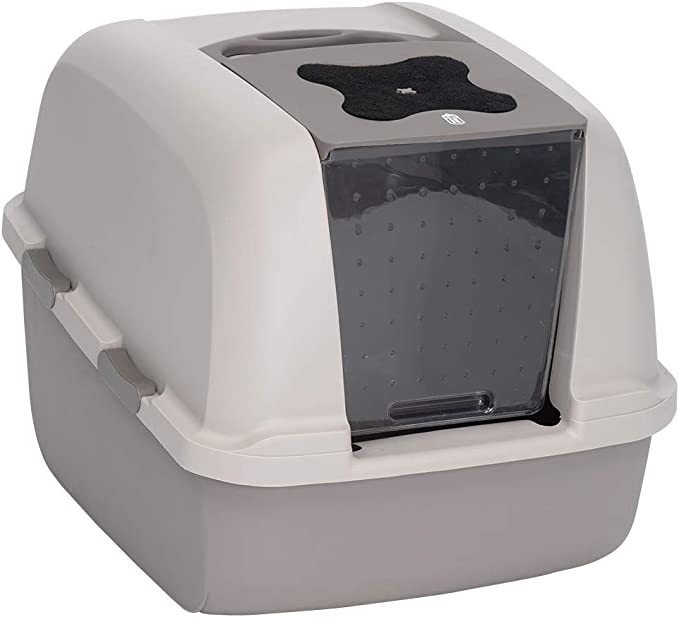 Catit Jumbo Hooded Cat Litter Pan
The Price of "Catit Jumbo Hooded Cat Litter Pan" varies, so check the latest price at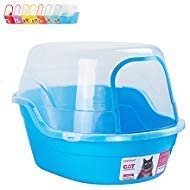 There are many reasons to look into an enclosed or hooded litter box if you intend to use it with multiple cats.
A removable, clear top gives you an easy view of what's happening inside, and the high back and front lip help reduce spill. And even though it's enclosed, your cat won't necessarily feel boxed in when using it.
Petphabet Jumbo is an easy-to-clean litter box made of long-lasting non-stick plastic that doesn't let stains and odors latch onto it. It comes in a variety of colors, so you shouldn't have any issues finding the right one for your space.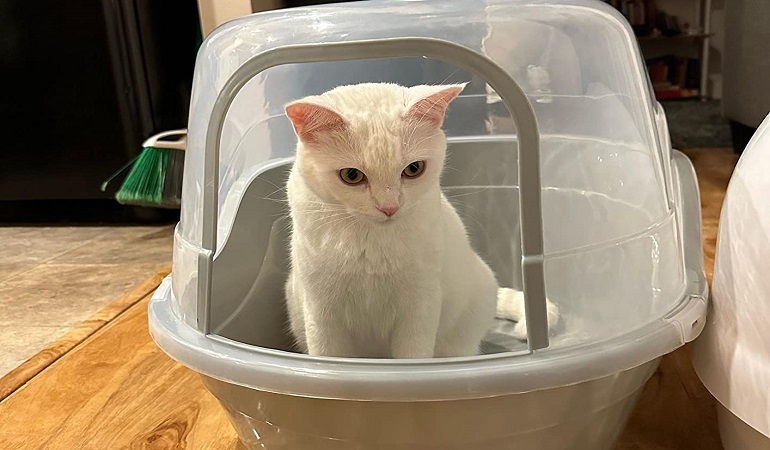 If you need one litter box and you have more than one cat, this is a solid choice. As far as covered litter boxes go, the transparent top makes it easy to tell when things need to be changed out.
Pros
Roomy enough and easy to use with multiple cats
A clear top makes the cleaning process a breeze
Non-stick plastic keeps stains and smells from building up
Cons
Some cats might have to adjust to using an enclosed litter box
Still requires pet parents to scoop solid waste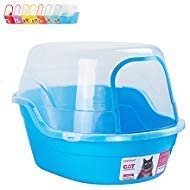 Petphabet Jumbo Hooded Cat Litter Box
The Price of "Petphabet Jumbo Hooded Cat Litter Box" varies, so check the latest price at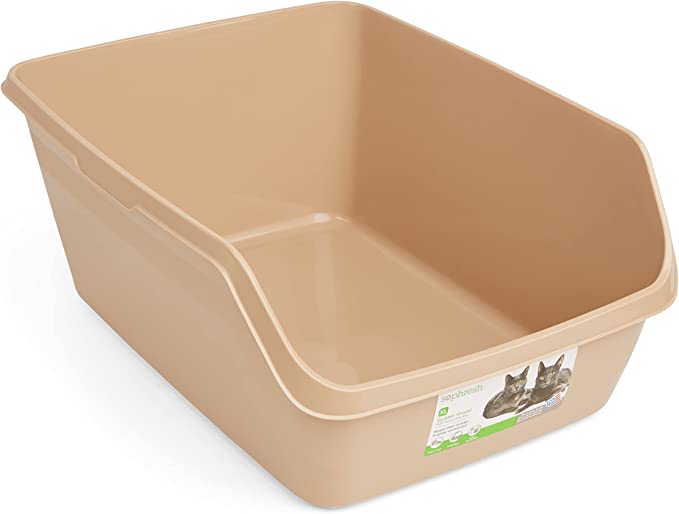 Some cat owners want something simple that's easy to clean while still providing some protection against litter scatter and messes in general from escaping the litter box.
This litter box option from So Phresh doesn't provide any fancy features. But what it's designed to do, it does well. The high back and side design help to keep everything in the litter box where it belongs. It's made of a strong and durable plastic that will last you for quite a number of years.
But perhaps the biggest selling point is that it's a large litter box to handle multiple cats or cats that are bigger in size. It's not fancy but effective and gets the job done.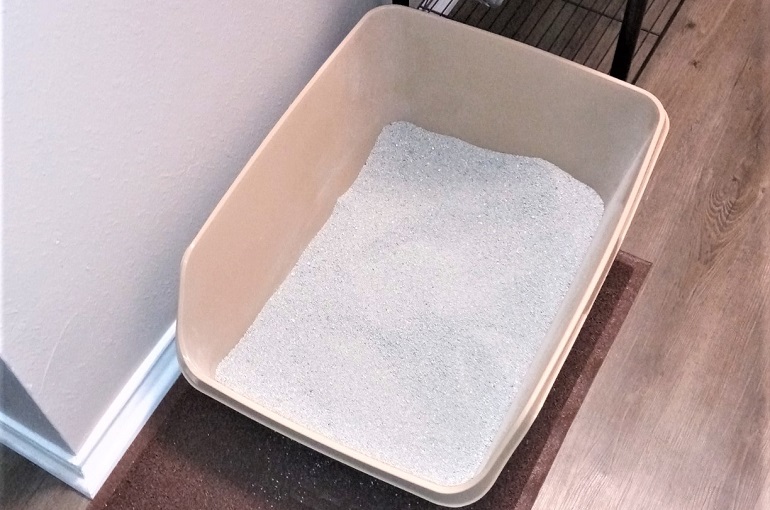 Pros
Simple design and is a great litter box for multiple cats
Easy to clean
Affordable
Cons
It's uncovered, so the chances of cat odors escaping are higher
Litter tracking could be a concern unless you get an additional mat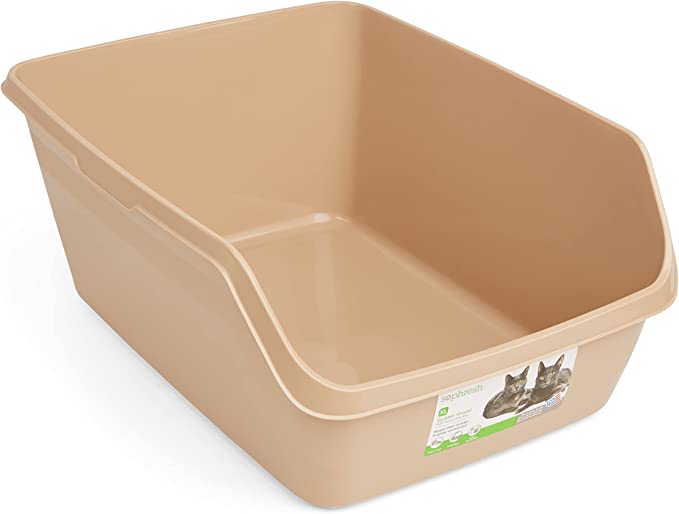 So Phresh Scatter Shield High-Back Litter Box
The Price of "So Phresh Scatter Shield High-Back Litter Box" varies, so check the latest price at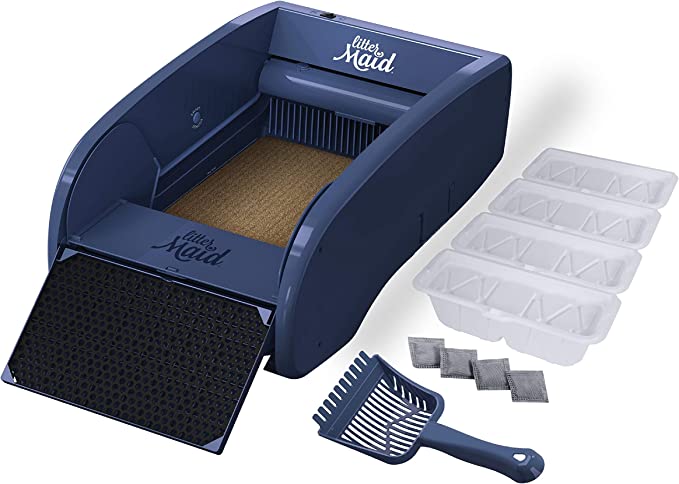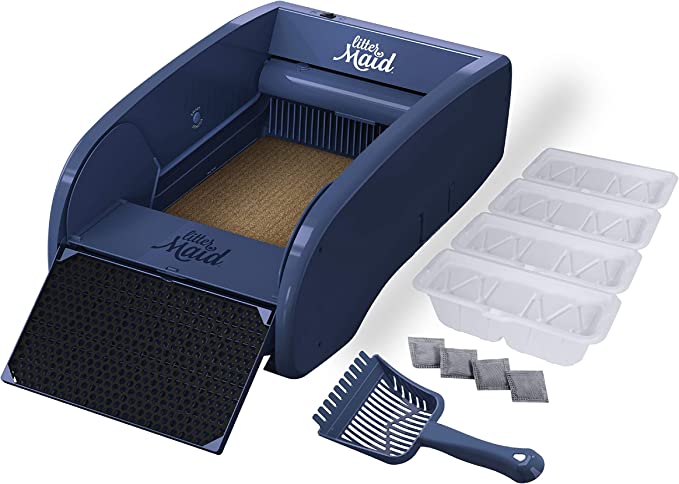 We saved one of the best options for last. Self-cleaning litter boxes have become more and more popular over recent years, and this model from LitterMaid offers a lot of reasons to consider it a buying option.
It's created with the intent of using it with multiple cats. Like other automatic litter boxes, it uses a motorized mechanism for removing waste and debris. This ensures that your cat has the freshest experience every time they step into it.
If you maintain it as directed, you can cut the daily scooping and sifting out of your life. It can even be left alone for up to seven days before needing attention. There are some obvious variables here, but that's a huge relief to every cat owner – especially those taking care of multiple cats!
It comes with a number of accessories too. Four waste receptacles with attached carbon filters keep odors to a minimum. There's also a litter scoop and rake cleaner. But perhaps the most useful accessory is the paw-cleaning ramp. This makes sure that dirty litter doesn't accumulate.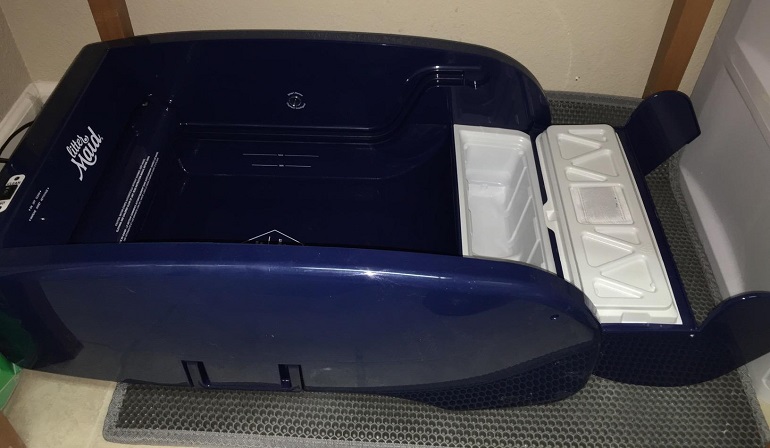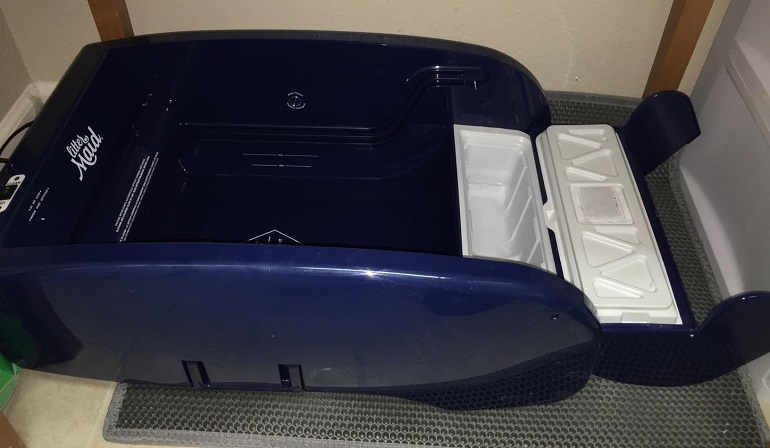 There are some things to think about before buying it, though. It's designed for cats that weigh over 15 pounds. So this means kittens and younger cats might be disqualified.
Pros
Automatic litter box makes regular cleaning easy
Paw-cleaning ramp reduces litter scatter
Great odor control
Cons
Has a weight limit and can't be used for smaller cats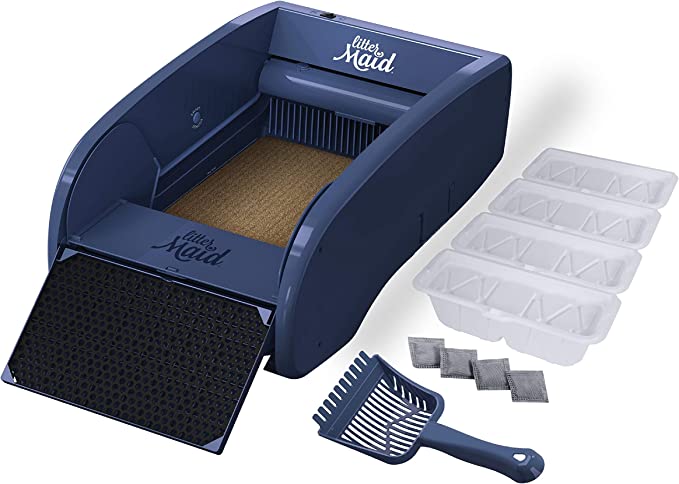 LitterMaid Multi-Cat Self-Cleaning Litter Box
The Price of "LitterMaid Multi-Cat Self-Cleaning Litter Box" varies, so check the latest price at
Choosing the Best Litter Boxes: What to Look For
When choosing litter boxes to accommodate multiple cats, below are some factors you should keep in mind.
Type
There's no shortage of options when selecting a litter box these days. There are familiar covered or uncovered designs, but nowadays, it's more about features. There are many models that make life easier for the owner.
Things like odor control all the way up to a fully self-cleaning litter box that cuts out the daily scooping and litter replacement.
Size
Size is one of the most important factors when you're selecting the right litter box for multiple cats. You want them to feel comfortable using it, even if they happen to be using it at the same time.
You might find that one of your cats prefers the privacy of a best covered litter box, while another likes the open feeling of an uncovered design. If you're only looking to be using a single box, it might take some trial and error.
But cats are very resilient animals, so even if you're using a type that one or both cats might not be used to, it shouldn't take them very long to get accustomed to that particular model.
Wall Height
Making sure everything stays where it should is a concern of every cat owner. It's enough of a chore to maintain it daily, but it's even more of a headache when you have to clean up messes in the surrounding area.
Wall height is also important if you keep the litter box in a more public area of the home where you don't want odors escaping.
Odor Control
Odor control is a big selling point. Covered litter boxes are great for this feature. But some take it further and offer things like filters to help keep your home smelling fresh at all times.
Litter Box Tips For Multiple Cats
You do have some things to think about when using a new litter box for more than one cat. The additional litter you'll need to buy, factoring in cleaning and maintenance time, where you place it in the house, and the kind your cats prefer to use.
But it's not hard to find the perfect one, and it's not that much additional expense in the long run.
FAQs
Below are some of the frequently asked questions.
Do You Need Multiple Litter Boxes for Two Cats?
Not necessarily. It really depends on your and your cat's preferences. But you can definitely find one box that multiple cats can use.
How Do You Set up a Litter Box for Multiple Cats?
Maintaining a litter box for multiple cats isn't really different than if a single cat is using it. Of course, you'll have to clean it more frequently, but that's really it.
Where Is the Best Place to Put a Cat Litter Box?
This depends on your home setup. Most people prefer a basement or an area with less traffic due to potential messes and odors. But there are many models that are designed to be put in any area of the house.
Final Thoughts
There's nothing better than the feeling of giving an animal a good home. It's even better when you can give multiple cats a loving environment to be themselves.
You do have to take additional things into consideration when housing multiple cats, but with the modern litter boxes on the market today, you have plenty of options to choose from to find the perfect one for your feline friends.