Tired of buying a new collar every new month? It's a common problem that almost all dog owners have to face when their dogs start wearing a collar.
Since dogs are not accustomed to wearing something around their neck, they feel quite uncomfortable and start biting and picking to get it off. So, what should you do in this case? Surrender to your dog's desire?
Well, leaving your dog without a collar is not a practical approach since it would not only make him look like a stray dog, but you also won't be able to correct your dog's behavior or control him during walks.
In this case, the best possible solution is to purchase a heavy-duty dog collar that not only sustains evasive biting but also looks good and feels smooth around your dog's neck. Wondering whether such an all-in-one dog collar exists? Yes, in the form of tactical collars!
Tactical dog collars are commonly known as military-rated collars since they were formerly used for police and military dogs. These collars can sustain the most abusive use, without showing any sign of wear and tear, and manage to look superb on your pet, years after years.
These tactical dog collars can be worn all day long and are not at all cruel, which means they are compatible with every pet; from a tiny puppy to huge working dogs. Just make sure you check for a few things before buying a tactical collar, such as your dog's neck size, temperament, closure system, etc.
Best Overall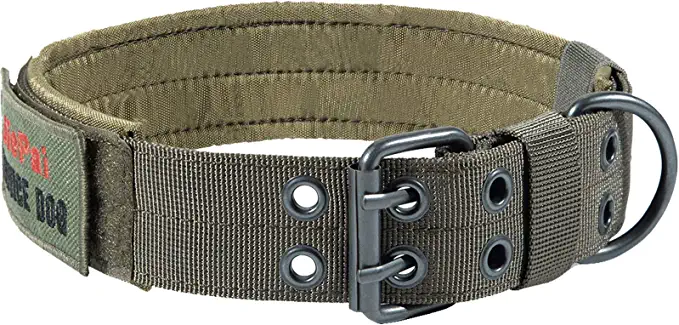 K9 Collar Military Dog Collar
Brand: JiePai
Color: Ranger Green

Material: Nylon
Best For Training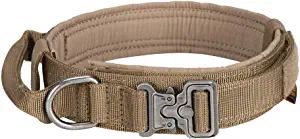 EXCELLENT ELITE SPANKER
Brand: Excellent Elite Spanker
Color: Coyote Brown

Material: Nylon
Best For Large Dogs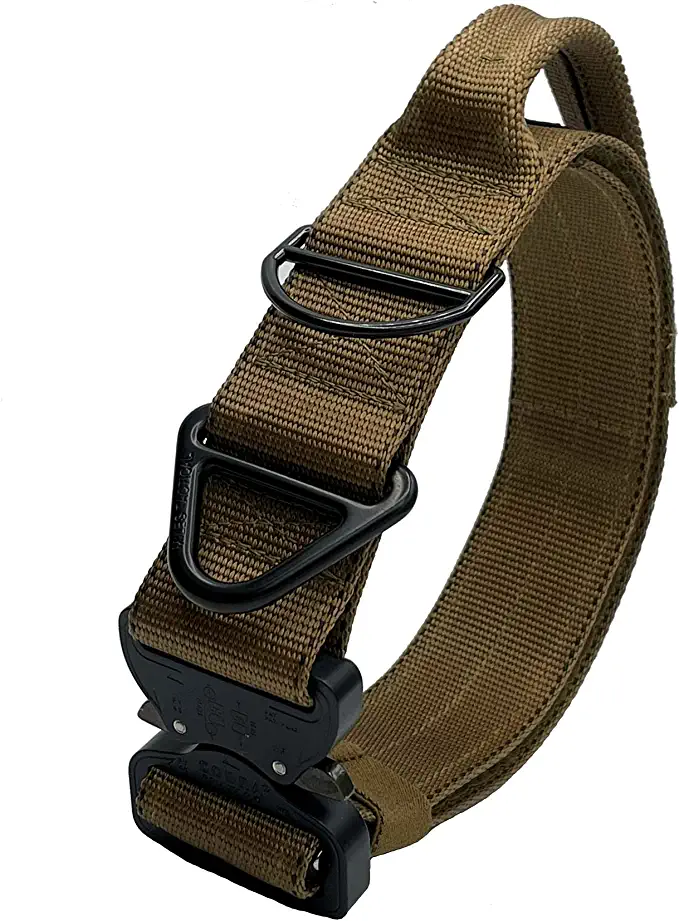 Miles Tactical Cobra Dog Collar
Brand: Miles Tactical
Color: Coyote Tan

Material: Nylon
Best For Regular Use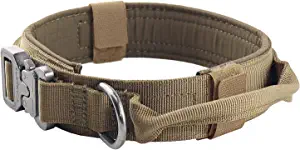 Yunlep Adjustable Tactical Dog Collar
Brand: Yunlep
Color: Coyote Brown

Material: Nylon
Most Comfortable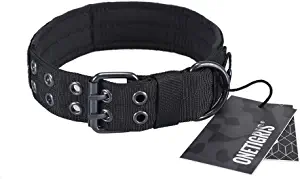 OneTigris Military Adjustable Dog Collar
Brand: OneTigris
Color: Black
Material: Nylon
Best Leather Tactical Collar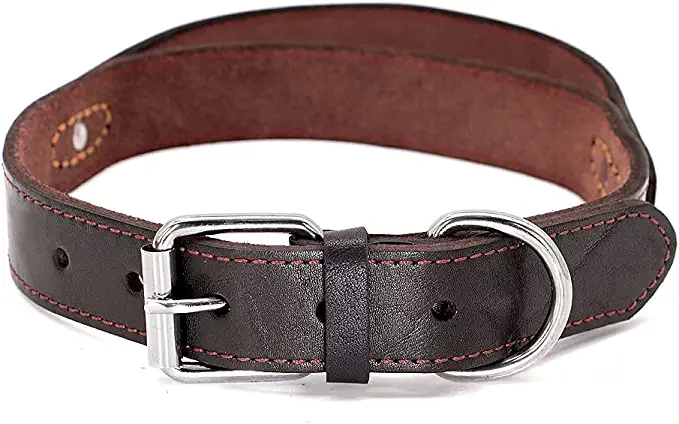 PET ARTIST Genuine Leather Dog Collar
Brand: Pet Artist

Color: Brown
Material:Leather
Best Martingale Dog Collar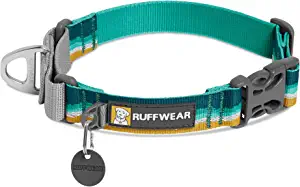 RUFFWEAR, Web Reaction Dog Collar
Brand: Ruffwear

Color: Seafoam
Material: Aluminum, Silicone
Below, we have enlisted the top seven best tactical dog collars, covering almost all kinds of canine owners, so you can easily find out what suits you and your furry friend best!
7 Best Tactical Dog Collars
Going into the market to purchase a tactical dog collar is no less than diving into a rabbit hole. With a lack of knowledge about how the best tactical dog collar looks, you might end up wasting your hard-earned money on a totally flop product.
Therefore, we, with the help of our expert crew, review the leading tactical collars. After testing the pros and cons of each product thoroughly, we picked our favorite ones to add to the list below. So just dive in and know about the dog collars that have successfully passed all of our quality tests elegantly.
The very first dog collar on our list is the one offering almost everything a dog owner wants. To start with, this tactical collar is made up of two-layer nylon fabric. Don't assume it as ordinary, average-grade nylon since it's the one having a durability rating of around 1000D, which means you'll get a collar that is not only heavy-duty but also quite ultra-flexible.
Moreover, to save your dog's sensitive skin from rubbing against a thick nylon strap, the manufacturer has added a soft padded inner lining. The collar features five adjustable points to adjust the length anywhere between 19.3 cm-26 cm. Given the length, this K9 collar is ideal for both medium and large dogs.
And don't worry if your giant canine friend is overfriendly or gets over-excited on taking out since the heavy-duty metal buckle and D ring ensure the securest and strongest grasp. Besides connecting the leash to the metal D ring, you can also use the same ring to hang the name tag or any other accessory to impart a more personal touch.
Specifications
Color: Ranger Green
Closure type: Buckle
Size: Small\Medium\Large
Material: Nylon
Pros
The collar is relatively wider, which ensures equal pressure around the entire neck region.
Inner soft padding acts like a shock absorber.
Cons
This collar doesn't come with customizable patches.
Testers Verdict
Besides an adjustable size for a comfortable fit, this tactical dog collar is also available in four different colors, so you won't have to compromise on your dog's looks! Also, the material used to make this collar is washable, which makes it a perfect option for all outdoor-loving dogs.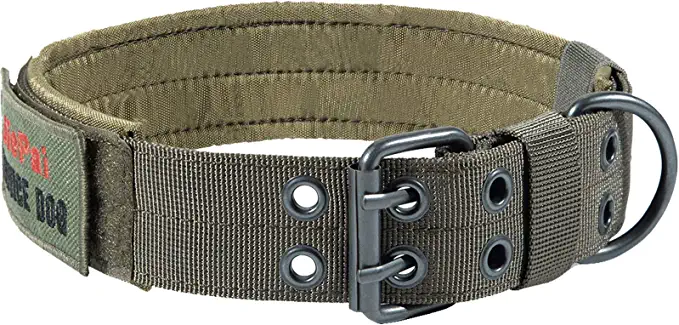 K9 Collar Military Dog Collar
The price of "K9 Collar Military Dog Collar" varies, so check the latest price at
Ever heard of a collar that features a built-in handle? If not, then you should have a look at this Excellent Elite Spanker collar! The heavy-duty handle is here to impart better control over your extra large and super jumpy dog during daily walks. Especially if your dog gets distracted easily, you can grab the handle to regain his attention to training.
Similarly, this collar features a double protection layer, consisting of a magic sticker and metal buckle to close the collar so your dog can't take or rip it off. The best part here is that the manufacturer has added a quick-release metal buckle so you can easily put it on and off your dog with no risk of sudden tearing.
Speaking of its built quality, it's made up of 1000D nylon material, having a sewn-in soft padded lining that prevents chafing or choking, keeping both your dog's skin and fur at ease.
Specifications
Closure type: Quick-release Buckle
Size: Three different sizes
Material: Nylon
Color: Coyote Brown
Pros
Reaching your dog's neck is easier with the control handle than with a harness.
Prong collars can also be put onto this tactical collar.
Cons
The collar is not available in small size, which means it can't be used to train pups.
Testers Verdict
We really appreciate that the additional emotional features like ID tags and sticker panels are also there for name & occupation labeling. Although this training collar is available in three different sizes, it's not much adjustable therefore, it's better to measure your dog's neck size accurately, using the two fingers formula.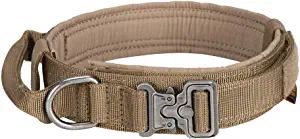 EXCELLENT ELITE SPANKER Tactical Dog Collar
The price of "EXCELLENT ELITE SPANKER Tactical Dog Collar" varies, so check the latest price at
This Miles Cobra collar is one of those heavy-duty dog collars which are specifically used by police officers and military crew to handle large & extra large dog breeds, including the german shepherd and pitbull. Its ultra-durable nylon webbing can sustain a massive pull force of around 6000 lbs without snapping or tearing.
Not only the fabric but its heavy-duty buckle also holds an incredible load-bearing capacity of around 4000 lbs to withstand the most abusive use. Besides, a 316 stainless steel V-ring is added to the design which is corrosion proof, so the collar can be used in all weather conditions.
In addition to V-ring, there's another weightless ring to hang dog tags. And if you want to add some moral or emotional note, then the loop material is also sewn in for additional patches. The collar is stitched quite neatly, with multiple block stitch patterns, with the anti-slip design, so the collar will stay exactly where it should be.
Specifications
Product dimension: 29 x 1.75 x 0.5 inches
Material: Nylon
Closure type: Austrialpin Cobra Buckle
Color: Coyote Tan
Pros
A quick-release closure system works great in emergencies.
The anti-slip design makes it a perfect option for dogs with large necks and small heads.
Cons
It's not a pocket-friendly option.
Testers Verdict
Just like the previous collar, this military-style collar also has an integrated control handle. Since the collar is 1.75 inches wide, it doesn't crush your canine's windpipe, even on the most powerful pull.
At the same time, it's not too thick to chafe behind your pet's ears – just don't forget to trim the edges of the magic sticker id panel. Considering all these points, we found it perfect for both the tough pieces of training and leisure walks.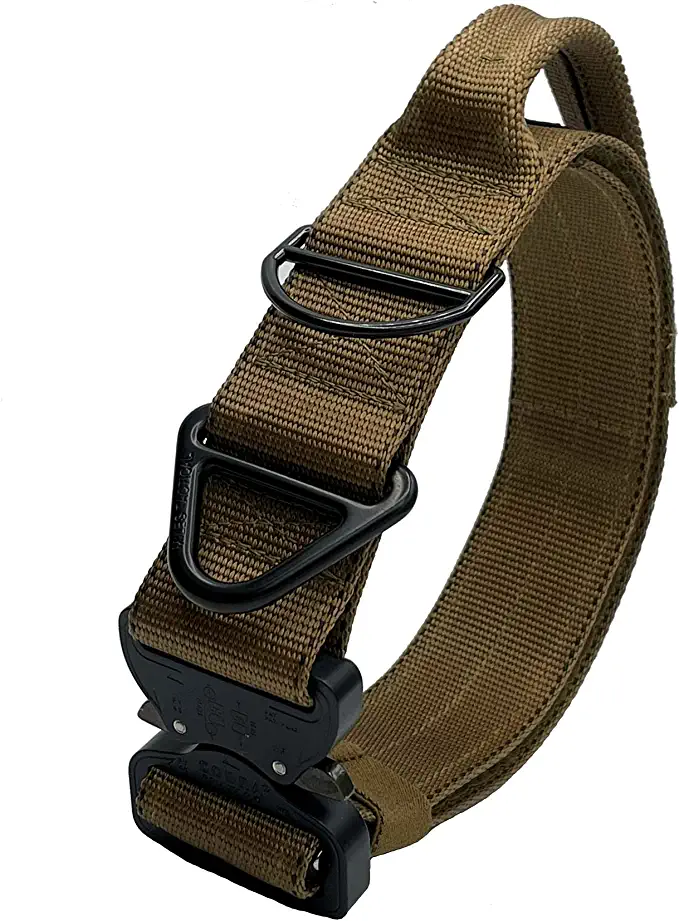 Miles Tactical Cobra Dog Collar
The price of "Miles Tactical Cobra Dog Collar" varies, so check the latest price at
Looking for an abrasion-resistant and durable dog collar for all kinds of indoor and outdoor activities? If so, then this Yunlep tactical collar might impress you. From military-grade buckle to 1000D nylon webbing to sewn-in handle, everything about this collar is fabulous.
Resultantly, you can use it for hiking, walking, running, patrolling, or training. This hard-wearing dog collar will look as fresh and durable as new on being dragged through dense bushes or muddy puddles.
The inner soft, hypoallergenic lining discards allergic reactions and skin irritation to keep your dog comfortable so he can wear this collar all day long as a regular collar. The main reason why we consider it one of the best tactical dog collars for regular use is that it's ultra-safe and featherlight, which means you don't need to supervise your dog all the time.
Specifications
Color: Coyote Brown
Material: Nylon
Closure type: Buckle
Size: Medium\Large\Extra large
Pros
The collar doesn't make any sound when the dog runs.
A wide velcro area is given on the outer side to attach the badge, ID tag, or other accessories.
Cons
Black powder coating may start wearing off the metal buckle over time.
Testers Verdict
The velcro corners are quite sharp, so we'd recommend you trim them off otherwise they might bite into your dog's skin. Besides this, it's a very reasonable collar, given the feature, durability, and price range.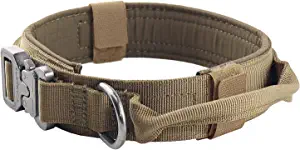 Yunlep Adjustable Tactical Dog Collar
The price of "Yunlep Adjustable Tactical Dog Collar" varies, so check the latest price at
The brand holds a remarkable reputation for manufacturing premium-grade tactical gear for humans like helmets, backpacks, clothing, masks, etc. However, the company has started to manufacture quality products for dogs as well, that cater perfectly to their needs, in all respects.
Speaking of OneTigris adjustable collar, its most highlighted aspect is its flawless design, where the manufacturer paid attention to the factors of comfort and durability equally.
To discard the issue of frayed collars, advanced stitching techniques are employed so no thread would be hanging out of the collar to irritate your canine friend. Although this collar is designed for enthusiastic dogs, it's miraculously lightweight.
A sturdy metal buckle is there to secure the collar at its position, whereas, with five adjustment points and two metal tongues, you can achieve the perfect fit. Also, the leash ring and buckle are thoroughly coated to make them 100% tarnish and rustproof – regardless of how challenging the weather conditions are.
Specifications
Color: Black
Size: Medium\Large
Material: Nylon
Closure type: Buckle
Pros
The collar doesn't absorb much water and also dries off quickly.
Cushioned lining stays cool on hot days.
Cons
Taking it on and off is not so effortless.
Testers Verdict
To tuck in the extra strap, two elastic loops are given, which hold the strap firmly in its place. With its 661 lbs pull force capacity and multiple secure adjustment points, it's the best choice for all the growing pooches out there.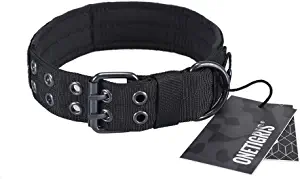 OneTigris Military Adjustable Dog Collar
The price of "OneTigris Military Adjustable Dog Collar" varies, so check the latest price at
Leather dog collars never fail to add a more boyish look to your dogs, and since most of these are hypoallergenic, they have always been one of the top choices of trainers and vets. This PET ARTIST leather dog collar is also one of those top picks which never failed to amaze the user community with its sleek and trendy look.
Unlike those typical belt collars, this one feature an integrated handle for extra control. However, the notable point here is that the handle is not sewn in but riveted into the collar strap, discarding the chances of ripping apart under high pressure.
Plus, the handle doesn't bite on human hands, minimizing the risks of friction burns. Since the leather used in construction is of premium quality, the collar radiates an insanely luxurious feeling. The zinc alloy buckles add further to the overall significance of this collar, making it a shoot worth a shot.
Specifications
Color: Brown
Size: Medium\Large
Material: Leather
Closure type: Buckle
Pros
It can partially resist moisture to prevent prickly heat rash.
Leather is quite soft and flexible. Putting new adjustment holes in it is not difficult.
Cons
The collar gives off an absurd, stinky smell.
Testers Verdict
This stylish collar also features five different adjustment points with one metal tongue. Likewise, It's for the medium to large-sized breeds like a labrador, rottweiler, pitbull, etc. To get the most out of your investment, make sure to put it off your dog before he could plunge into the pool.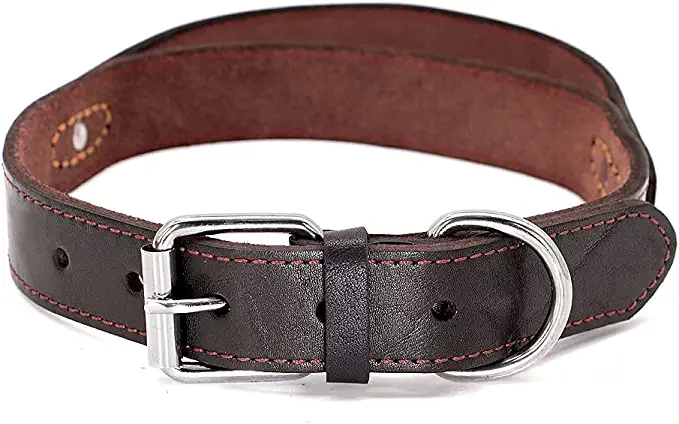 PET ARTIST Genuine Leather Dog Collar
The price of "PET ARTIST Genuine Leather Dog Collar" varies, so check the latest price at
The last product on our list is this Ruffwear Web Reaction collar made specifically for dogs having lunatic souls. It features a tubelok reflective webbing that shines brightly during low light conditions, keeping your dog safe from road accidents. On the other hand, the bright, eye-catching color of this collar makes it easy for you to spot your dog in a crowd.
The best part here is that the collar material is not only long-wearing but also colorfast, which ensures this dog wear would look as fresh as new, with no color bleed or fraying. Since the collar is designed as per martingale collars, it also can be used to leash train your dog, ensuring peaceful walks.
To hang dog tags, a quick ring is added so you can add and remove the labels instantly. Not only this but a silicone tag is also there that sits between the dog tag and ring, suppressing clattering sounds.
Specifications
Color: Seafoam
Material: Aluminum, Silicone
Size: 0.07 x 22.05 x 1 inches
Closure: Buckle
Pros
Martingale's action is super smooth and doesn't choke the dog.
It looks thin and soft but still holds your dog snugly.
Cons
Testers Verdict
Unlike other collars, this one features different attachment points for the leash and ID panel. The buckle is made of high-end plastic, whereas the V-ring is of aluminum which means you can use it in rain, snow, storm, and sun, without sacrificing its service life.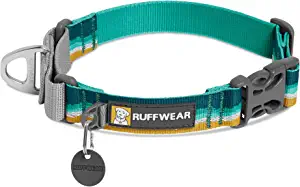 RUFFWEAR, Web Reaction Dog Collar
The price of "RUFFWEAR, Web Reaction Dog Collar" varies, so check the latest price at
What to Look for in a Tactical Dog Collar?
So by now, you have read about some of the best-performing tactical collars on the market, but since, almost all of them look perfect at first glance, picking one product out of seven may feel quite intimidating.
Remember that choosing any collar randomly would be equal to putting your dog's safety and comfort at risk. To prevent it from happening, here are a few points you should consider before finalizing a purchase!
Buckles
Two types of buckles are generally offered in tactical collars; quick-release buckles and metal tongue buckles. Quick-release buckles make it easy to put the collar on and off. On the other hand, the metal tongue buckles offer more room for size adjustment. Similarly, the buckles are also offered in plastic and metallic built.
Metal buckles are sturdier since they can endure stronger pulls however they are also heavy that's why suit better to large dogs. On the other hand, plastic buckles can also endure considerable pull but not as much as their metallic counterparts. Though, at the same time, they are quite lightweight, which makes them a perfect choice for small and medium dogs.
Materials
Mostly the tactical dog collars are made up of nylon since the fabric is lasting with excellent tensile strength. However, other options like leather and silicone collars are also there, having their own sets of perks. It's worth mentioning here that neither leather nor silicone offers strength and comfort comparable to that of nylon. So, if you are looking for a lifetime investment, nylon collars are the best.
Whatever the material you choose, make sure the collar must have a soft cushion lining so the collar won't bite or chafe around your dog's neck. Also, the padding should be washable and quick to dry so your dog won't have to wear a stinky, sweat-sogging collar next time. If you live in hot regions, you better get a collar with heatproof padding.
Size & Fit
Even the most durable materials and high-end buckles won't deliver any benefit to you and your furry friend if the collar is way too loose or too tight. Therefore, measure your canine's neck size accurately and order a 2 inches longer collar. Remember that the perfect fit collar is the one through which you can pass your two fingers when it's on your dog.
If your pet hasn't reached the maximum size yet, we'd recommend purchasing an adjustable dog collar so you won't have to buy a new collar, every new month, for your growing pooch. And if you're still worried about whether you've measured your pet's neck accurately or not, then get the collar, as per your rough estimate, with an elastic band.
FAQs
What Is so Special about Tactical Dog Collars?
Tactical gears are known for their high-end construction and superior durability, and that's the most special thing about tactical collars too. It doesn't matter how strong, aggressive, stubborn, or playful your dog is, he won't be able to rip the collar apart or escape it.
Similarly, these collars can sustain even the harshest weather conditions and most evasive outdoor activities. Just get a tactical dog leash and there would be no way for your dog not to behave like a good boy!
Is Using a Tactical Dog Collar Cruel?
No, not at all! Unlike prong or pinch collars, the tactical collars don't feature any harsh elements to torture your pet. Instead, they only work by putting equal but gentle pressure around his neck, as a response to his leash-pulling behavior, grabbing his focus back to training.
Conclusion
Tactical dog collars are extremely versatile and can be used for almost all purposes; to correct your dog's barking and leash pulling behavior, add a personal and emotional touch to your pet's wear, and keep him safe and visible during both the light and the dark hours. However, getting all these perks out of one investment is possible only if you think carefully about it and choose the ultimate best product.
We hope that the information, we provided here would have helped you find that ultimate best tactical collar. In case of any queries, feel free to contact us!