We all love our cats, but we all know the main downside of our fluffy companions – cleaning out their old litter boxes.
Thanks to modern technology, you no longer have to do the dirty work, you can get a robot to take care of it.
The Petree litter box is an interesting product in the automatic litter box market. These are fantastic tools for cat owners, making cleaning up after your cat easier, more hygienic, and less of a chore.
While these Petree devices are cool, I actually recommend the Litter Robot over the Petree.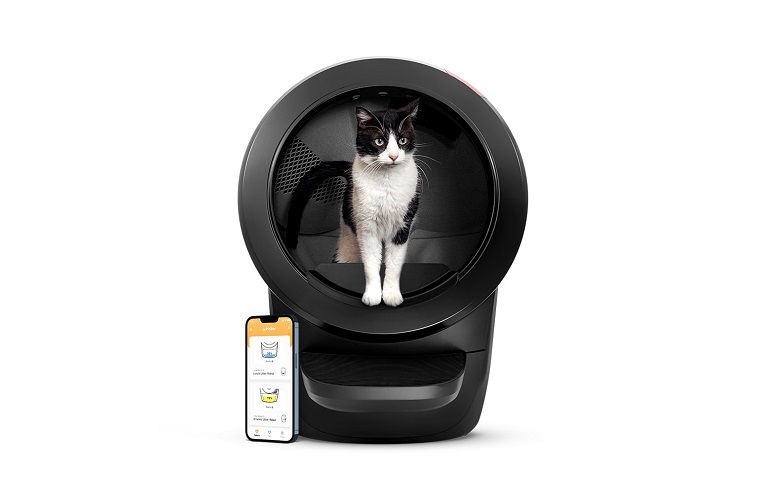 There are a few things about the Litter Robot that make it superior to the Petree, so if you are thinking of getting an automatic cat litter box, get the Litter Robot 4 instead.
The Litter Robot is bigger and has an app that shows your cat's habits and when to empty the shelf. It's more efficient with litter use and better at eliminating odors.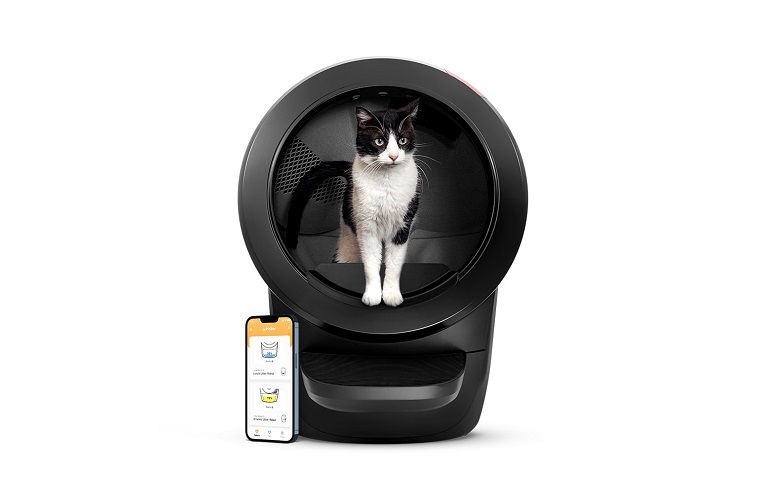 Litter Robot 4
The price of "Litter Robot 4" varies, so check the latest price at
With that said, here is my Petree Litter Box review.
Product Highlights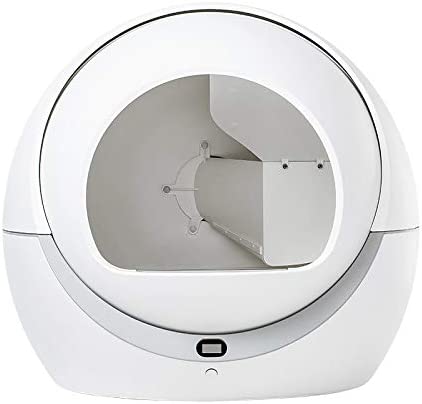 One of the most notable functions of the Litter Box is the automatic scooping feature. This means that whenever your cat has finished going to the toilet, the Litter Box automatically rotates to remove the waste while preserving clean litter.
This self-cleaning litter box removes any traces of waste and sifts it out into a separate self-contained tray – you won't have to scoop up after your kitten makes a mess.
The automatic sifting system separates the clumped litter, and the clean litter, so only the used litter is removed, thanks to the gaps inside. This leaves a clean layer of litter in the cat's section of the tray, so your cat has a clean toilet the next time it needs to go.
The tray is lined with a disposable waste bag which is easily replaced when full.
This makes it effortless to clean as you just have to empty out the bag in the tray once in a while – no more scooping!
The rotation process can be a little messy, and sometimes the litter grains do fall out of the spinnable globe onto the ground during the cleaning cycle.
Odor Management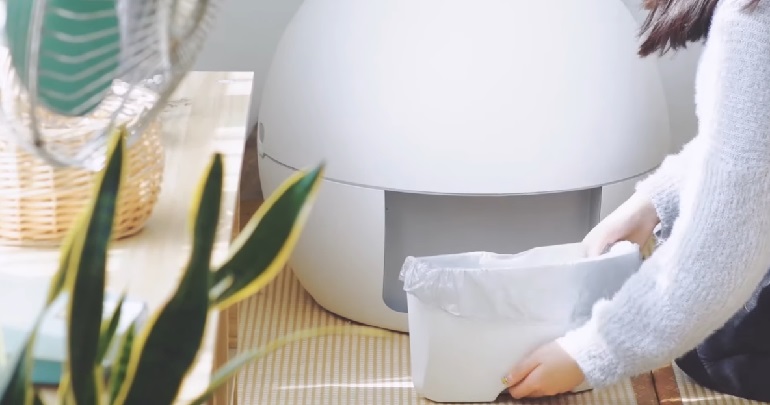 Another sweet benefit of this system is odor management. Because your cat's waste is removed from the bowl, you'll notice the nasty odors are also minimized. It all gets scooped into a self-contained tray, so it isn't sitting around in your living room stinking it out.
I will say, the Petree Litter Box isn't 100% odorless, and the odor control isn't as effective as the Litter Robot – although it is still better than a standard cat litter box.
Fullness Indicator
A cool feature is the fullness indicator. On the front of the box is a small display panel that shows you the amount of waste filled into the waste drawer. This easily lets you know whether the bag needs to be emptied with one quick glance.
This indicator panel is relatively basic compared to the details you get from other automatic litter boxes. For example, the Litter Robot includes a full mobile app (the Whisker App) that shows you a bunch of useful information – such as the fullness of your tray and your cat's litter behavior, and it can even sync with other smart devices.
The Litter Robot's app can also alert you if there are any irregularities with your cat's litter behavior. This can be a lifesaver if your cat starts to develop urinary or other scary problems. I would like to see a feature or app like this added to the Petree Litter box.
Low-Noise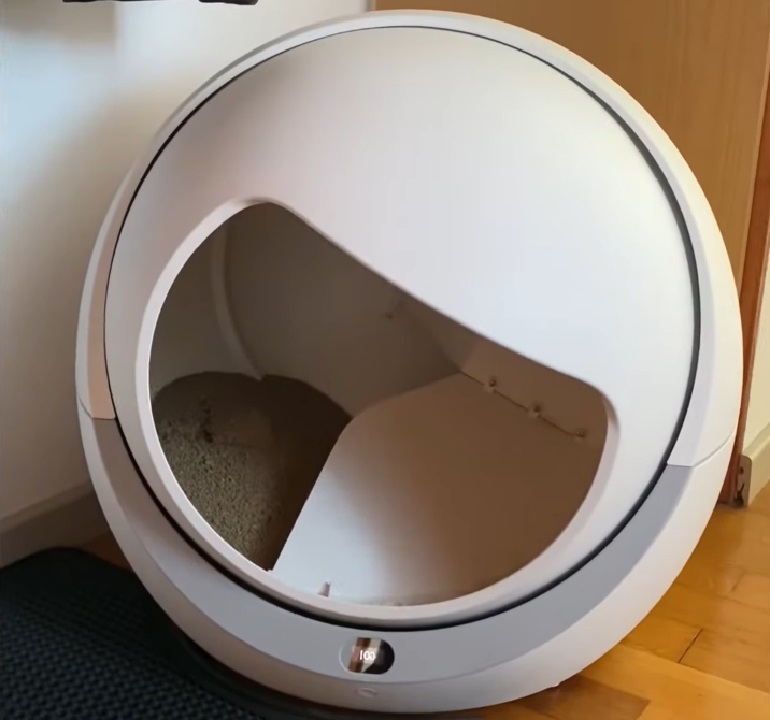 The whole process of this automatic litter box is fairly quiet. When the machine rotates, it makes a slight noise, but it won't disturb you if you are asleep or watching TV. There isn't anything to fault in terms of the noise of this self-cleaning litter box.
Sleep Mode
That said, it also comes with a sleep mode button, which lets you pause the automated cleaning until you reactivate it in the morning. This is perfect if you are a light sleeper, although the noise never really bothered me!
Safety
Of course, whenever you're buying a product like this, the first thing that comes to mind is safety. The last thing you want is for your cat to get hurt by a robotic cat litter tray. It's clear that the Petree Litter Box is designed with safety as a priority.
There are several features that make this self-cleaning litter box as safe as possible. A pressure detector automatically detects a cat's presence in the box and makes sure that the box doesn't spin when the cat is inside – no matter what.
Furthermore, if your cat jumps in the box while it's rotating, then it automatically shuts off and stops spinning. This makes it safe if your cat enters the box at any time.
We all know how much cats like to chew on wires – even earlier today, I had to stop one of my cats from eating my laptop charger. Thankfully the Petree Automatic Litter Box has an ultra-safe, braided wire, which removes any risk of your cat getting an electric shock if they manage to chew through the wire.
Setup
While this litter box looks like something from the year 3000, it's actually incredibly easy to use and set up. Assembly is straightforward, and you can get the device set up within 20 minutes. All you need to get it assembled or disassembled is a screwdriver.
Checking and removing the tray is also as simple as it gets, and can be done with very little effort.
Most of the functions are completely automatic. You can just get this device set up and stop worrying about having to constantly scoop out your cat's litter box. You'll just need to empty the tree once in a while, depending on how many cats you have using the box.
This device is also super durable and fairly scratch-proof. It also comes with a 30-day money-back guarantee, so you can test it out without the risk of losing money if you don't like it. You also get a 1-year warranty if goes wrong with the machine and you need to get it fixed.
Design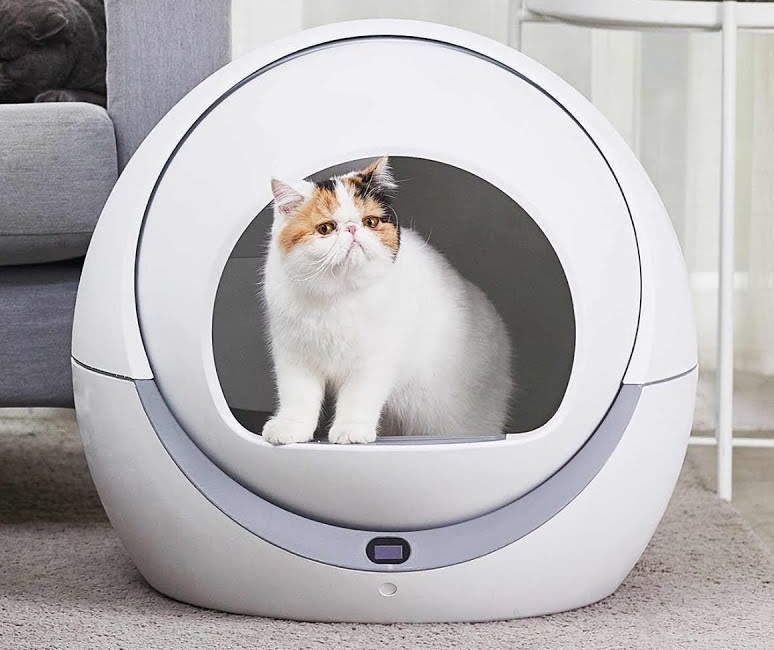 Automatic, self-cleaning feature.
A futuristic, globe-style design with a detachable top.
A wide, tall entrance makes access easy for large cats and medium-sized cats.
Plenty of space inside, making it comfortable to accommodate cats of any size.
A heavy, sturdy base.
Indicator for litter tray fullness.
Only use with cats over three months old.
Suitable for up to a maximum of 4 cats.
Features a 4-liter waste tray.
Works with standard clumping litter. Can also work with plant-based cat litter (although you will need to clean the drawer more often).
Don't use with non-clumping or loose-clumping litter, newspaper, crystal, or wood pellet litter.
Built-in carbon filter for odor management, although not perfect.
Safety Features

Gravity sensor that makes sure the machine never cleans or rotates while a cat is inside.
If a cat climbs into the box while it's moving, the machine will automatically instantly stop.
Protected from electric shocks with a pet-safe cable.
Ease of Cleaning
Cleaning the cat litter box is pretty easy. Emptying the main tray is really straightforward, all you have to do is click the button to detach it, pull the tray out the back, then remove the full bag and replace it with a new one.
You should also clean the other parts of the machine every so often. Because your cat will be using it as a toilet, other parts can get dirty – which eventually becomes unhygienic.
Cleaning the other parts of the machine is also easy, and there are no parts that are hard to reach. You can easily unclip all the important central parts and clean them in your sink or outside.
As for emptying the tray, it has a 4-liter capacity, which can store a fair amount of cat waste – even if you have multiple cats. You'll need to empty this tray out on a regular basis, depending on how many of your cats are using the machine.
One cat = Should be cleaned every week
Two cats = clean every 3-4 days
Three cats = clean every 1-2 days
You should also refill the litter box with clean litter at this time.
Material
The Petree Litter Box is mostly made from polypropene resin – essentially plastic. This material is completely safe for your kitty, durable, and light in weight. It's completely water (or pee) resistant, meaning you can easily wipe it down with water and soap when needed.
Size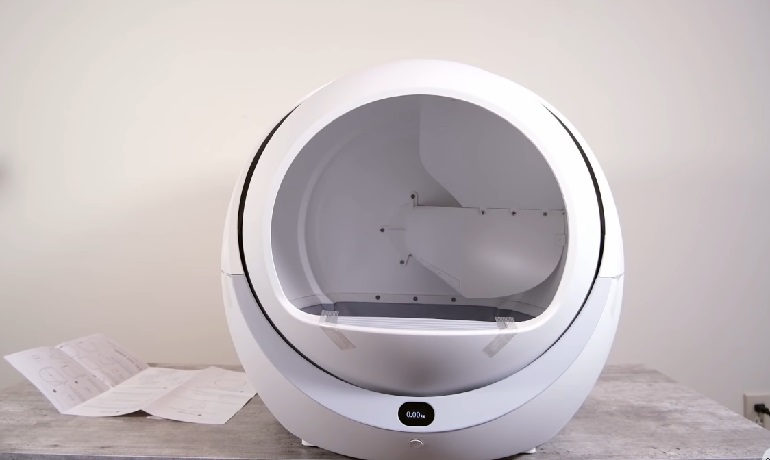 Depth = 25″ (63.5cm)
Width = 23″ (58cm)
Height = 21″ (53cm)
Entrance Height = 7″ (18cm)
Weight = 16 pounds (7.25 kg)
Waste Draw Capacity = 4L maximum
Smart Features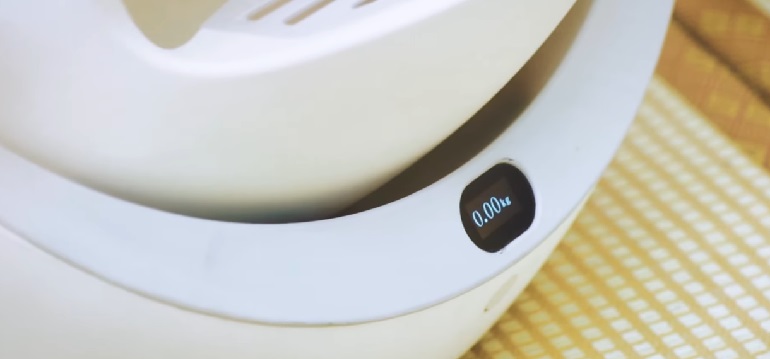 There are only a couple of smart features built into the Petree. The main ones revolve around the safety of your cat. For example, the machine is designed not to spin whenever a kitty is inside. It also shuts off movement if your cat jumps in while spinning.
Another automatic feature is the frontal display panel, which shows you how much room is left in the litter tray.
Other than these features, there aren't many other smart features. This is a bit of a shame because other products like the Litter Robot do offer a bunch of handy smart features that make your life even easier.
For example, the Litter Robot detects when the waste tray is full and sends you a convenient notification to your phone.
Price
The Petree 2023 Automatic Self-Cleaning Cat Litter Box sells for around $400.
You can also find plenty of accessories for customization on the manufacturers website. Some of my favorite accessories are the curtains, which give your cat some privacy when they're doing their business.
You can also buy an upgraded XL 7-liter litter tray, which gives the box more storage room for your cat's waste. Moreover, you can get replacement waste compartment bags too.
What Litter Types are Compatible with the Petree Automatic Cat Toilet?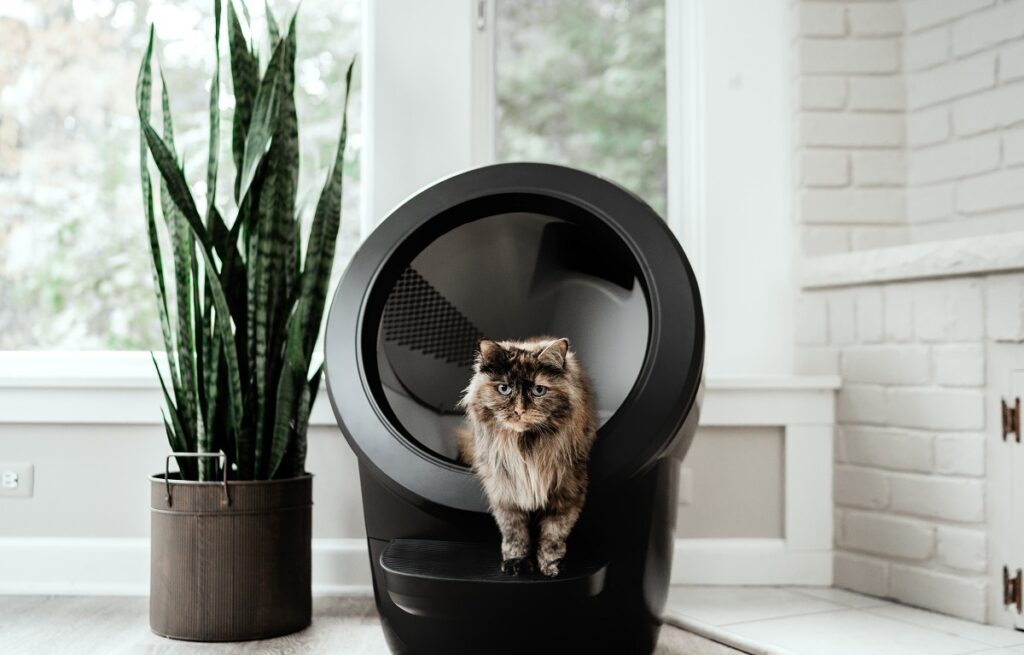 Unlike a traditional litter box, you can only use certain types of cat litter in the litter container of the Petree automatic self-cleaning litter boxes.
You can use:
Regular clumping litter
Plant-based litter
You can't use:
Crystal litter
Silica gel crystals litter
Pine litter
Is the Petree Litter Box Worth Buying?
As far as automatic litter boxes go, this is one of the better models out there, although it definitely isn't the best purchase on the market.
Because of the prices of these devices, it is quite a significant investment.
If you are considering spending this amount of money, I might suggest that you look at the Litter Robot instead.
The Petree is good, but the Litter Robot has so many extra features that make the small price increase totally worth it.
While I would say Petree automatic self-cleaning litter boxes are worth buying, the Litter Robot is an even better purchase.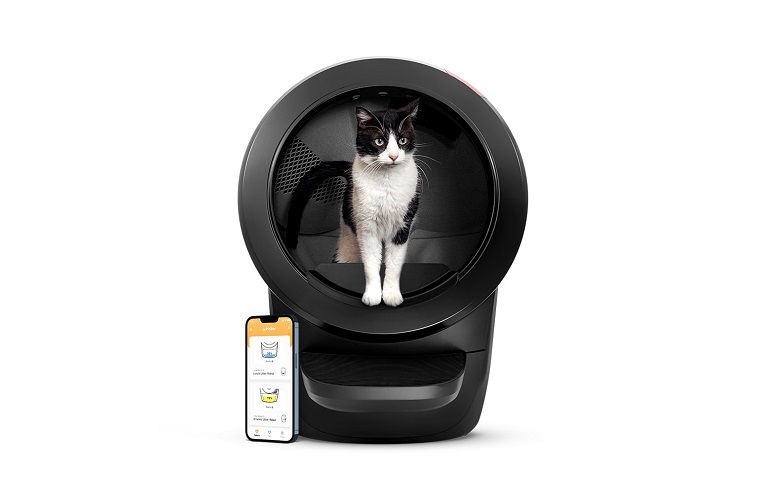 Litter Robot 4
The price of "Litter Robot 4" varies, so check the latest price at
Which Automatic Litter Box Should I Choose?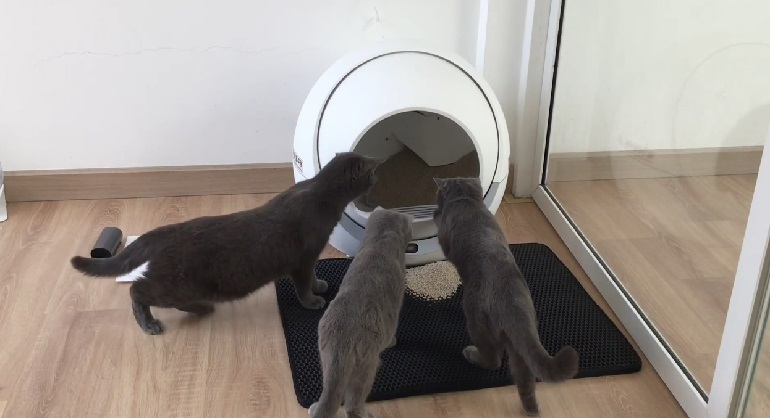 On average, the Litter Robot is only around 10% more expensive than the Petree. In my opinion, the features offered by the Litter Robot make this small extra investment really worth the money.
Unlike Petree, the Litter Robot has an app that makes it even more powerful and effective. For example, the app tells you exactly how full the waste tray is, sends you notifications when full, and tracks your cat's behavior. The Litter Robot also has an automatic night light.
Behavior tracking can literally save your cat's life, as it will make you aware of any irregularities in their litter habits, and observe any important changes in your cat's health.
FAQ's
Why Do Vets Not Recommend Closed Litter Boxes?
Vets don't recommend closed litter boxes because they interrupt the cat's natural senses when going to the toilet. While putting a cover on a litter box can minimize splashes and dirty litter from leaving your cat box, some cats may find them disturbing.
Cats go into high alert mode when going to the toilet, this is because they are on the lookout for any predators that might attack them.
This is why vets recommend having a litter box that lets the cats feel like they can see any threats, so they feel safe when using a litter box.
Is Litter-robot With Wifi worth It?
The Litter Robot with WIFI is definitely worth it. The WIFI version of this self-cleaning cat litter box brings a range of exciting and helpful features thanks to the powerful mobile application.
There are a bunch of different self-cleaning litter box models out there, and the Litter Robot is by far one of the best. The WIFI upgrade makes it even easier to use and means you can monitor your cat's behaviors when you are on holiday or out of the house.
If you are considering buying a new box, I recommend you read the full Petree litter box review above!
What Kind of Litter Does the Petree Litter Box Use?
The Petree Litter Box is only compatible with certain types of litter. The main recommendation is clumping clay cat litter, although it can work with plant-based litter too. All you need to do is fill the litter tray to the maximum fill line with the right kind of litter, and you're ready for an easier life!
Conclusion – Change Your Life With a New Automatic Litter Box!
As all cat owners know, one of the biggest annoyances of owning a cat is cleansing out their litter tray. It's stinky, gross, and just a pain. If you get yourself an automatic litter box, then these issues will be a thing of the past.
The Petree Automatic Litter Box is pretty decent and will be good enough for most cat owners. Although personally, I prefer the Litter Robot, because it has a bunch of extra features, is better designed, and only has a small price difference.
If you want an easier life, an automatic cat litter tray is a fantastic accessory that will complete any modern pet owner's home.