Nobody enjoys cleaning out the cat litter, I can say this with confidence. It is, however, a very necessary part of caring for a cat. As a cat owner, your goal is to find the best litter and the easiest way to clean it out…right?
The best crystal cat litters may vary from owner to owner, and cat to cat, but ultimately silica crystal cat litter proves to be dust-free, long-lasting, and neutralize odors extremely well.
This type of litter is soft on sensitive paws and can be used even in many automatic litter boxes.
If you're wondering how to choose the best silica crystal cat litter for your feline friend, know that crystal litter is super absorbent, has good odor control, and offers great value overall. Now, let's talk about my top picks for the best crystal cat litter brands to purchase.
Top Pick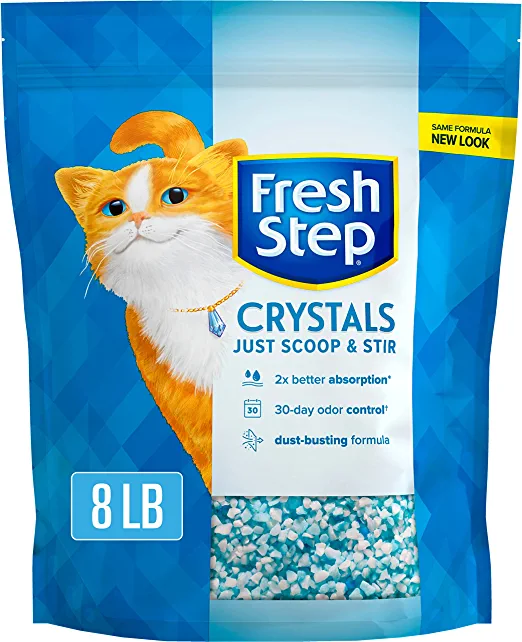 Fresh Step Crystals Cat Litter
Item Weight: 16 Pounds
Material: Crystal
Easy to Maintain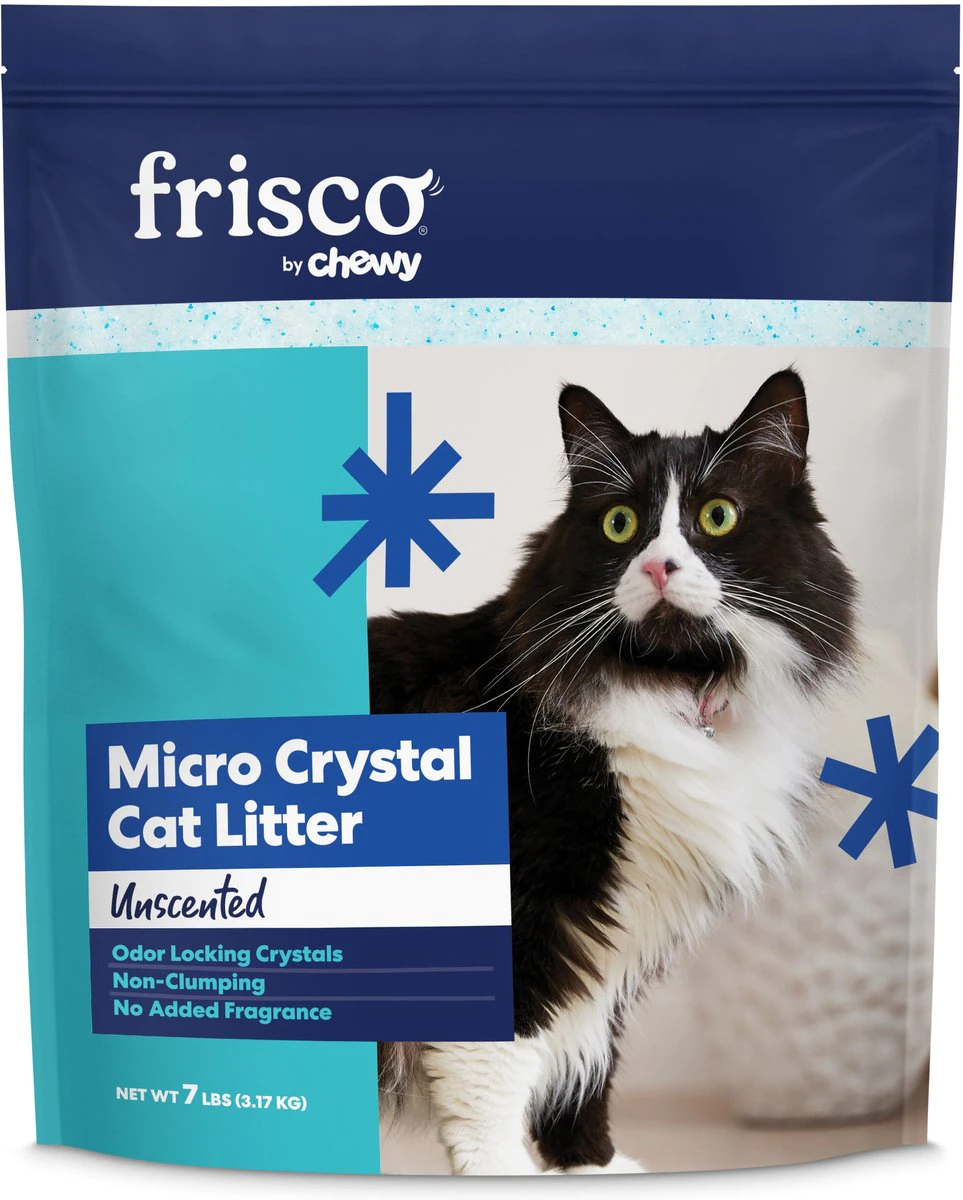 Frisco Micro Crystal Unscented
Item Weight: 7 pounds
Material: Crystal
Great Convenience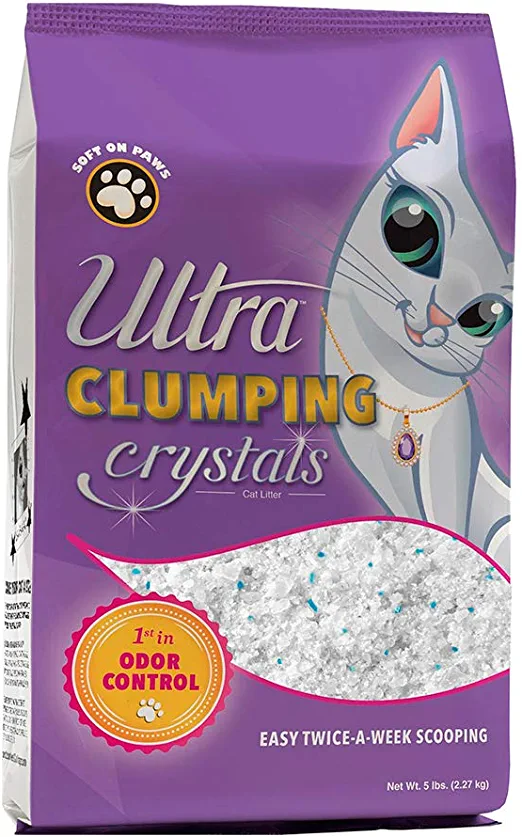 Ultra Pet Clumping Crystal Cat Litter
Item Weight: 5 Pounds
Material: Silica Gel
Cleaner & Hypo-allergenic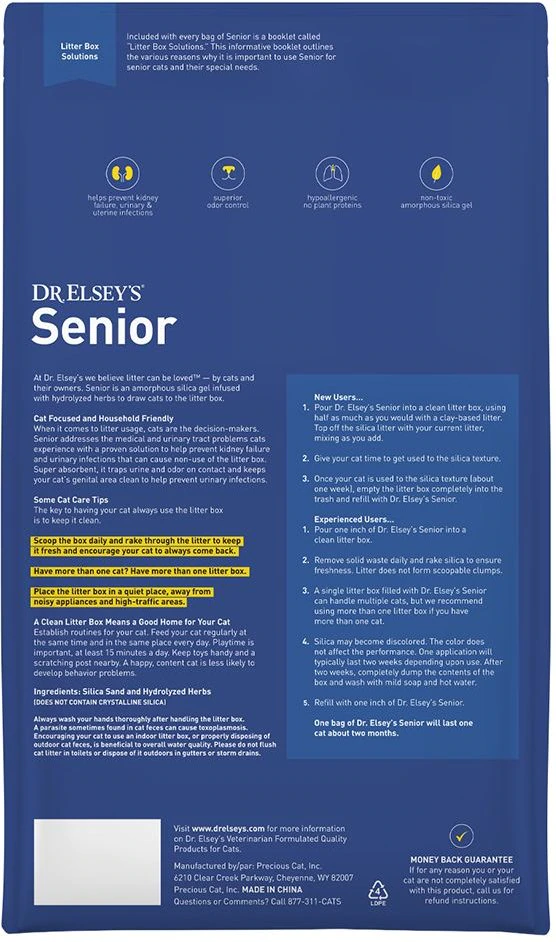 Dr. Elsey's Cat Litter
Item Weight: 40 pounds
Material: Crystal
Premium Choice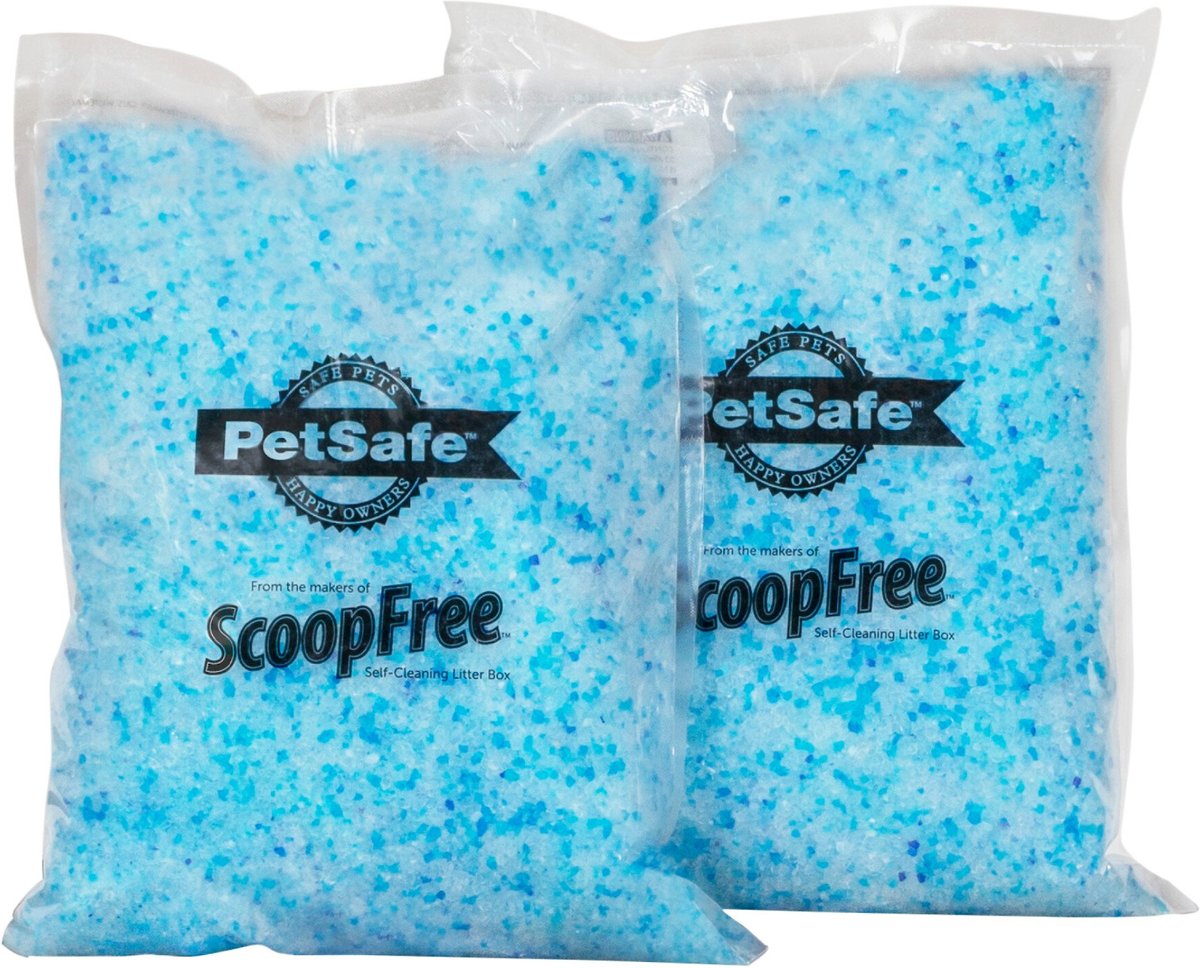 PetSafe ScoopFree
Item Weight: 5 Pounds
Material: Crystal
Safest Option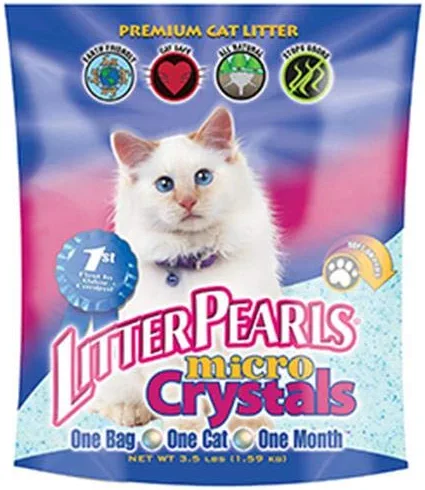 Litter Pearls Cat Litter
Item Weight: 4.5 pounds
Material: Silica Crystals
Our Top 6 Choices of the Best Crystal Cat Litter
To be most effective, your cat litter should check off a few boxes to be most effective. You want a litter that is safe, clean, easy to use, controls odors, and is gentle on your cat's paws.
Cat owners know that cats tend to track litter around when it sticks to cats, groom themselves after, and then repeat the process.
Certain crystal litters are made of amorphous silica, while others use crystalline silica. Amorphous silica and sand-based crystal litters are non-toxic, natural, and safe. Crystalline litter is more synthetic and should be monitored a bit more closely.
I'll talk about the top brands below and include the pros and cons of each so that you can compare how these brands check off the boxes.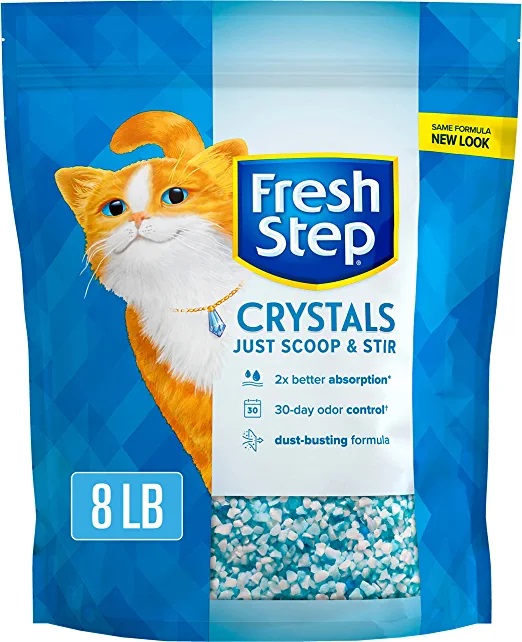 Fresh Step is a non-clumping crystal cat litter which means that it is long-lasting but still manages to control urine odor, all with less dust than other litters.
I know people who use up 30-pound bags of clay clumping litter in the same amount of time that you can use an 8-pound bag of Fresh Step crystals. When they say that it is ultra-absorbent, they really do mean it!
I like that this crystal litter is compatible with so many trays and litter boxes. You'd want to check your manual, of course, but I've also seen it used successfully with a few different automatic, or self-cleaning litter box options.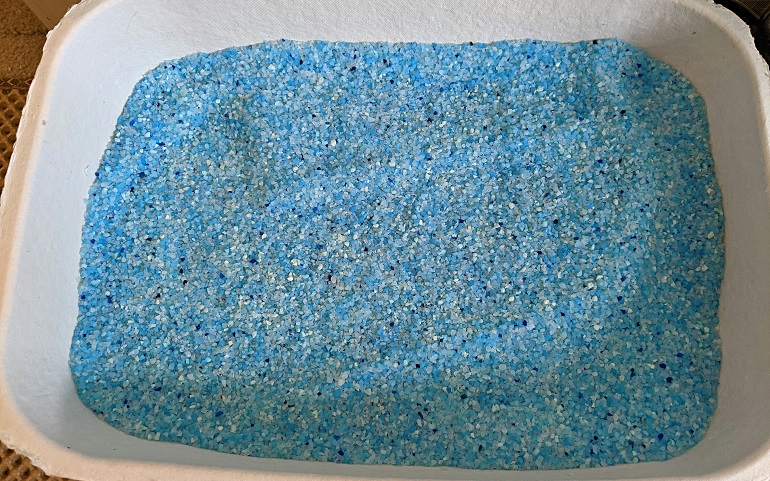 For cats with sensitive paws, Fresh Step crystal litter is still plenty soft, and it won't get stuck and tracked around. It's always a plus when a product is easy to use and helps you avoid messes!
Pros
Doesn't stick to cat's fur
Dust free
Great urine odor control
Light scent
Cons
Cat's urine gets built up if you don't stir crystals
Scents could irritate sensitive cats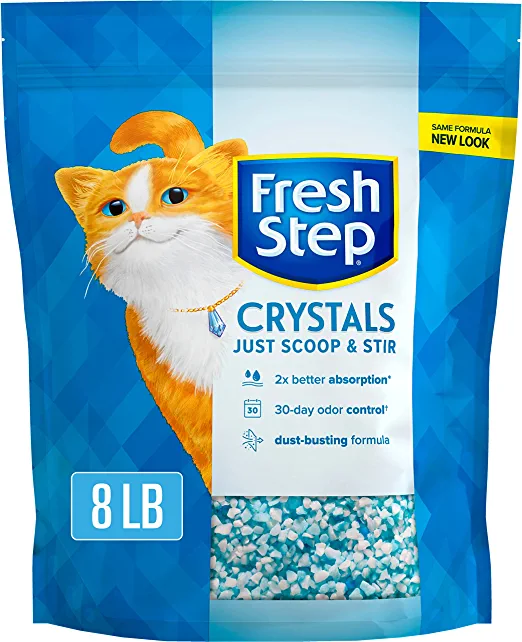 Fresh Step Crystals Cat Litter
The price of "Fresh Step Crystals Cat Litter" varies, so check the latest price at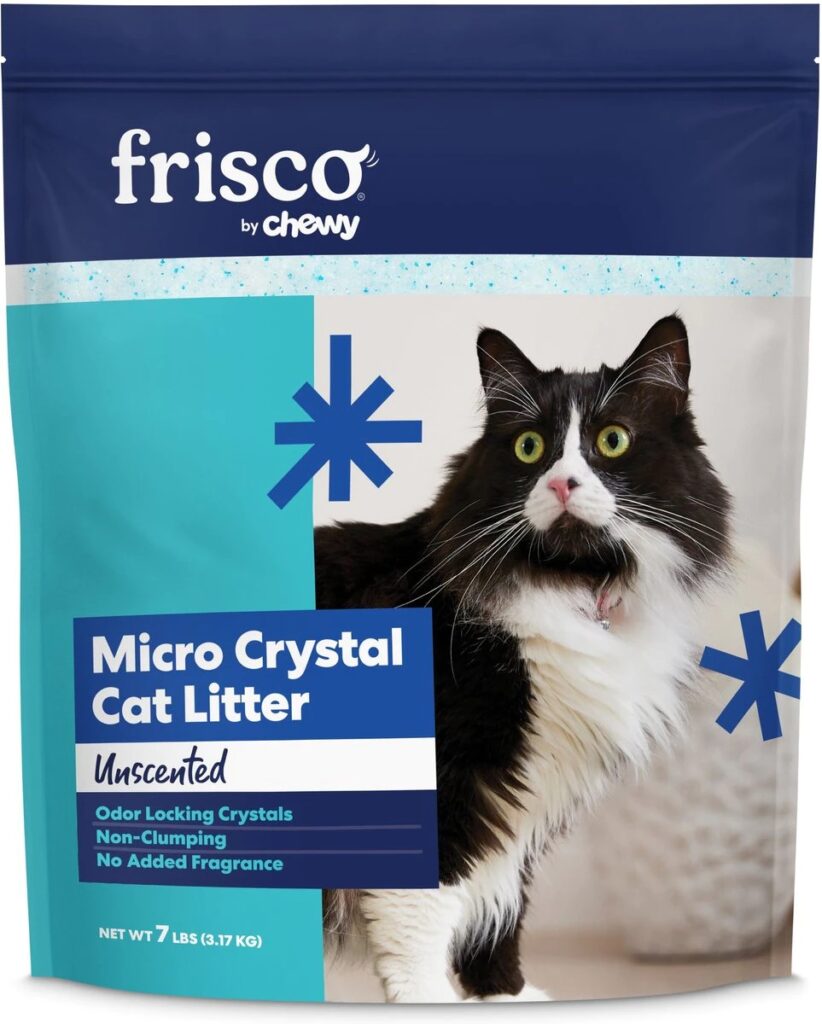 The Frisco Summer silica gel is easy to maintain. I would recommend their non-clumping formula over the clumping, though, because it is better at keeping any liquids from pooling. As long as you make sure to stir the sand-sized crystals after some use, they work very well.
The clumping litter could be a good transition if you've always used that kind or are transitioning your cat from a clay litter. Your end goal with this brand should be the non-clumping formula, because it tends to work better, from what I've seen.
One 7-pound bag of Frisco's crystal litter lasts up to a month, so you really don't have to shell out too much dough on your litter.
I also like that this litter is unscented but still wholly covers up any odors. It's great for any sensitive cats or households, without sacrificing the odor control that you need.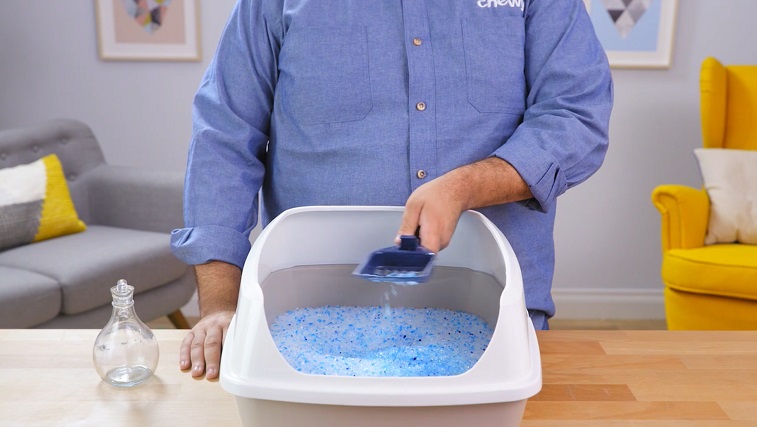 Pros
Doesn't stick to cat's paws
Unscented
Comes in clumping or non-clumping options
Cons
Clumping formula tends to stick
Not dust free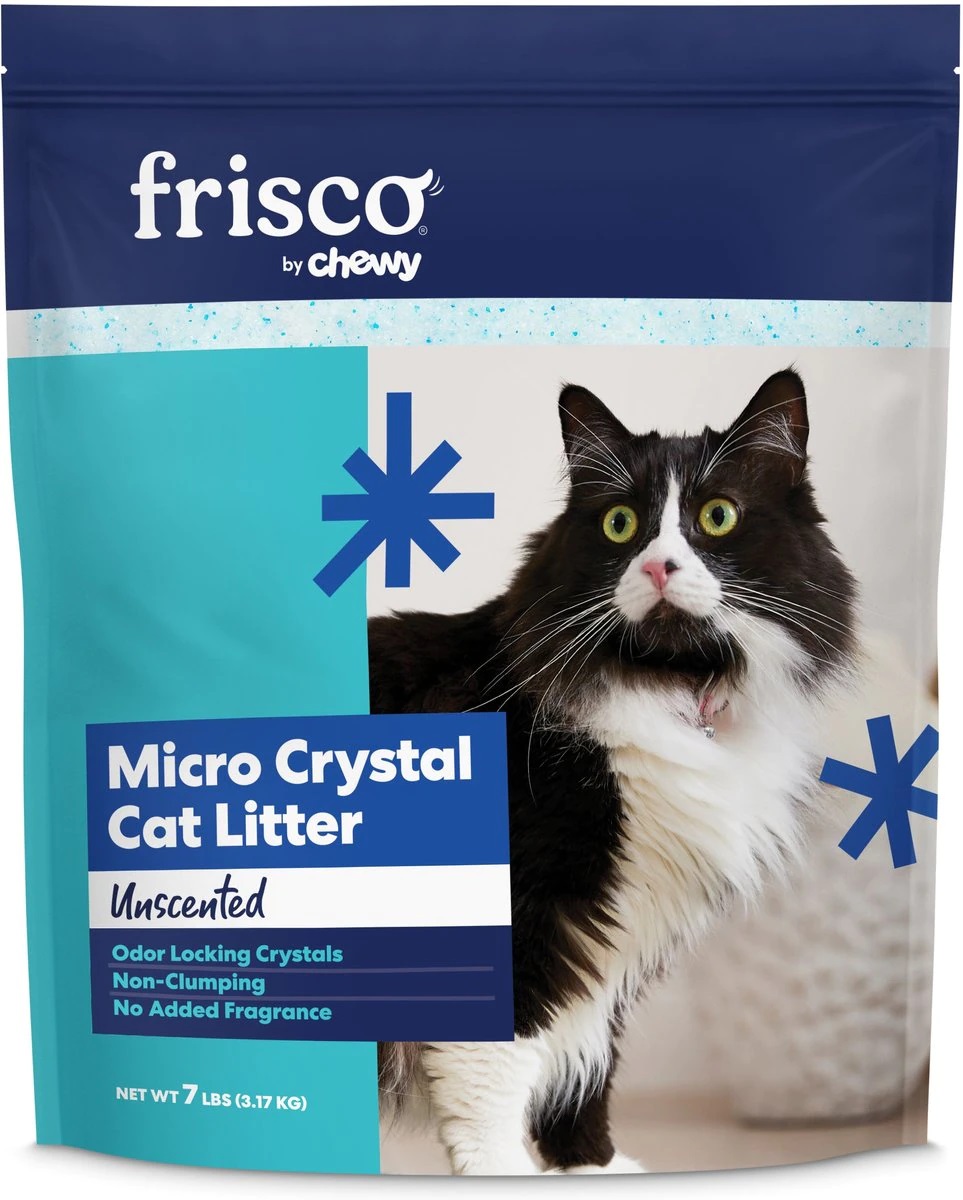 Frisco Non-Clumping Crystal Cat Litter
The price of "Frisco Cat Litter" varies, so check the latest price at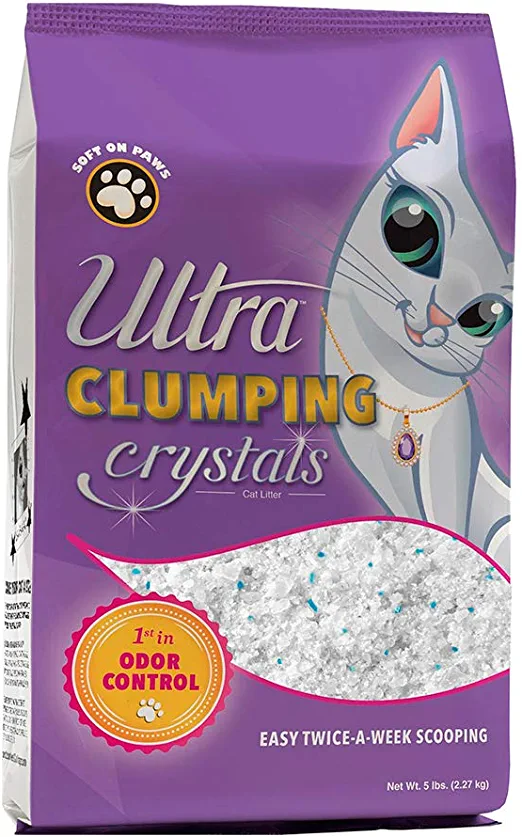 This cat litter is not 100% dust free, but it offers very low dust and less tracking, which says a lot for any kind of clumping cat litter.
You can clean the crystal litter easily because it clumps urine and dries out feces quickly and effectively. You can actually scoop it every few days and change out the litter once a month. It's nice to be able to leave things be for more than 12 hours before needing to do some sort of scooping or cleaning.
The litter is soft on paws and doesn't stick to the litter box or your cat, so you don't have to worry about any super deep cleaning other than changing the litter itself.
I've seen this used with a single cat and in multiple cats' households, with similar results. It's absorbent enough to handle a little extra, even though you should have separate litter boxes for individual cats.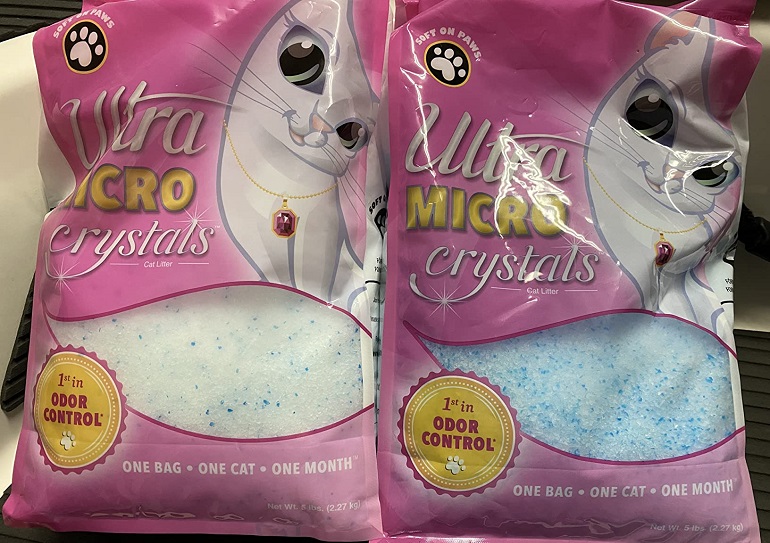 Pros
Unscented
Very low dust
Absorbent
Doesn't stick
Cons
May not clump as much as expected
Not 100% dust free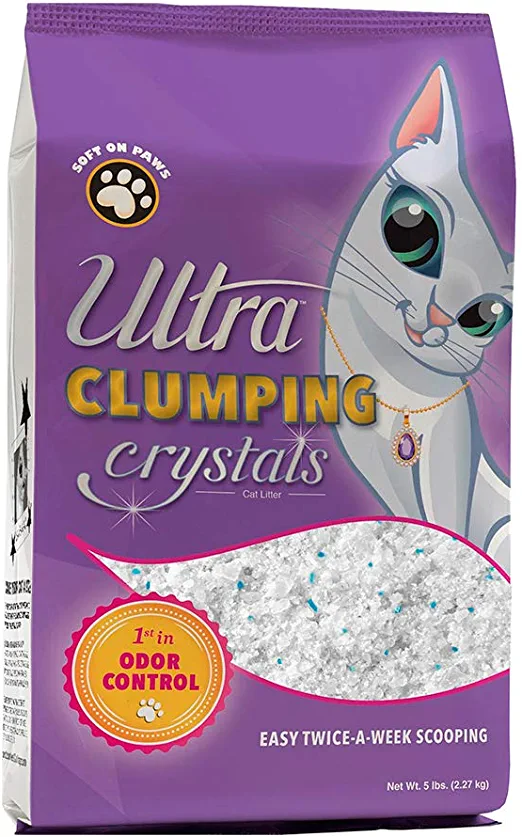 Ultra Pet Clumping Crystal Cat Litter
The price of "Ultra Pet Clumping Crystal Cat Litter " varies, so check the latest price at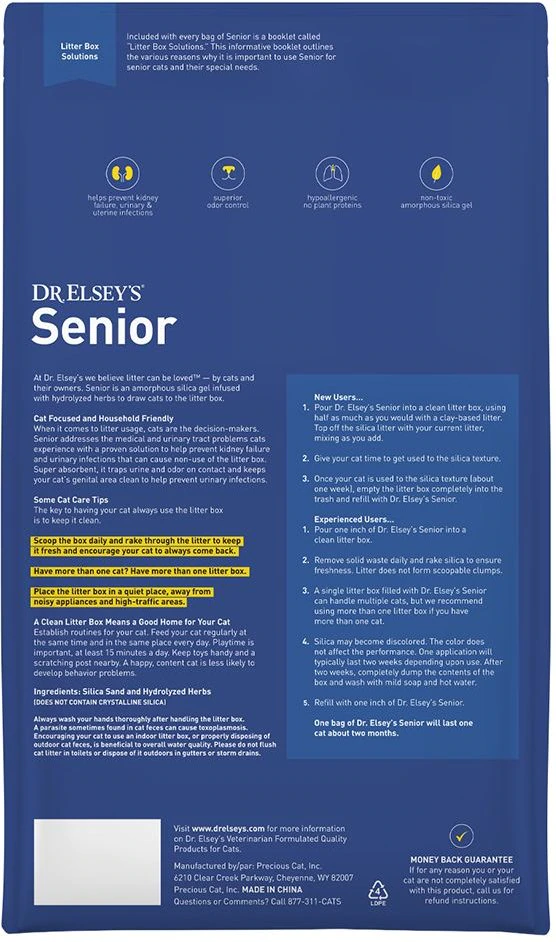 As far as safe products go, this is non-toxic, hypoallergenic, and is meant for cats that may not be in their prime. Cats that are older, pregnant, or overweight tend to be the demographic for Dr. Elsey's because of the softness of the finer granules of this cat litter.
The litter is super absorbent, and Dr. Elsey's as a brand is always great at prioritizing health, comfort, and odor control. It has been known to help prevent things like urinary tract infections, other infections, and even kidney failure in cats.
This is what I would recommend if your cat is having a harder time, but you should also be in contact with your vet if that is the case. It's always better to be safe than sorry.
You'll want to rake this litter around and remove any feces consistently, but don't need to change the litter itself until it begins to lose its absorbency.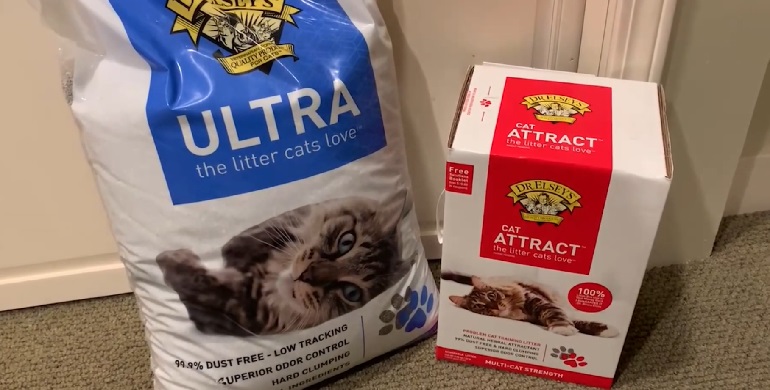 Pros
Unscented
Helps your cat's urinary system stay clean
Hypoallergenic and non-toxic
Does not stick
Cons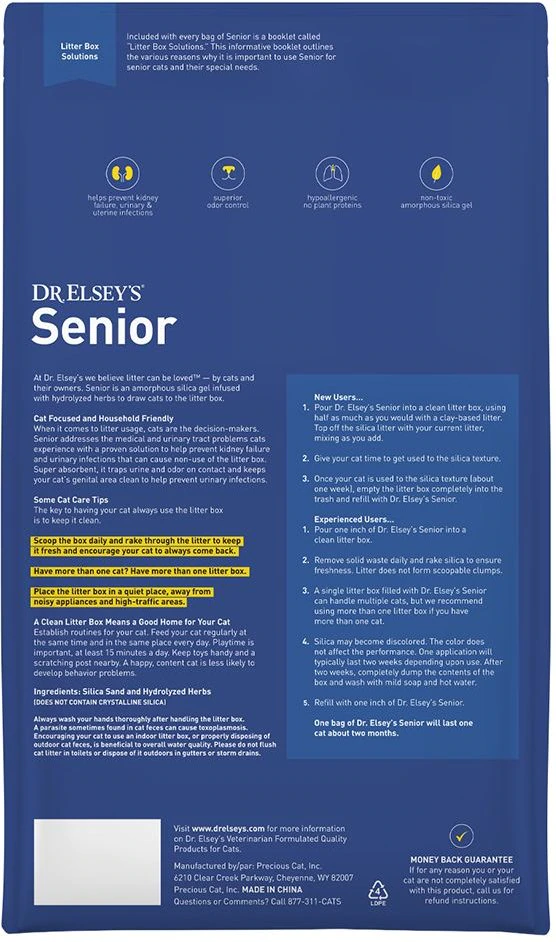 Dr. Elsey's Cat Litter
The price of "Dr. Elsey's Cat Litter" varies, so check the latest price at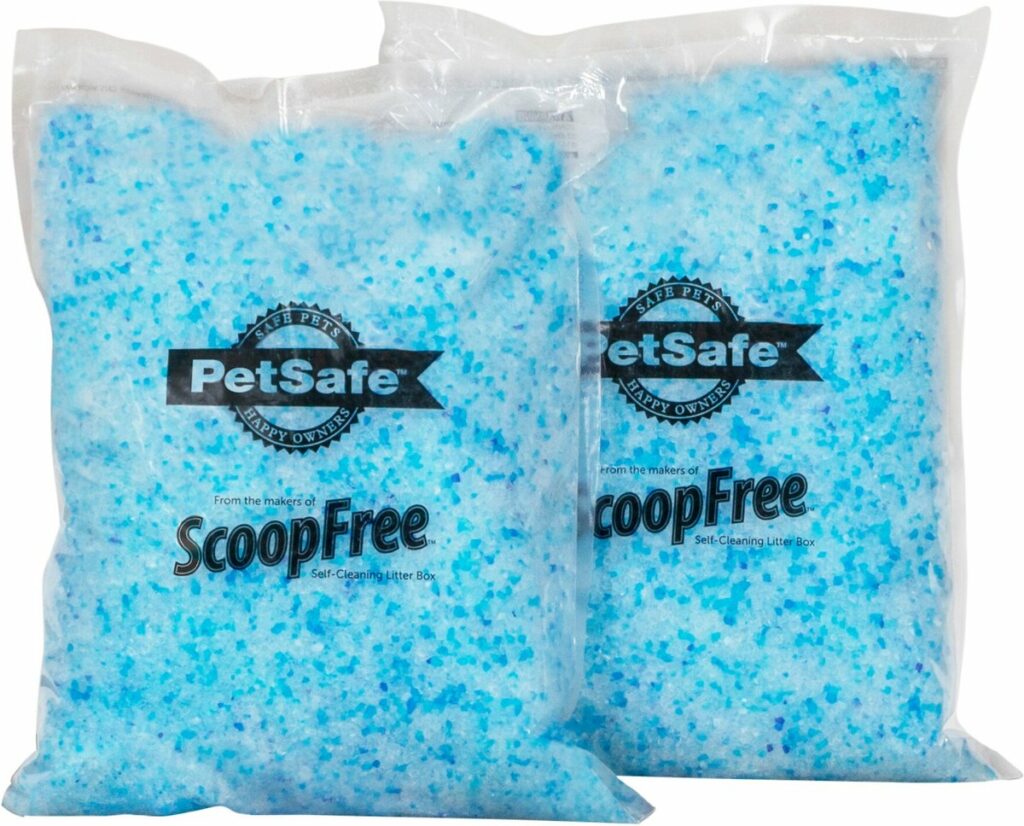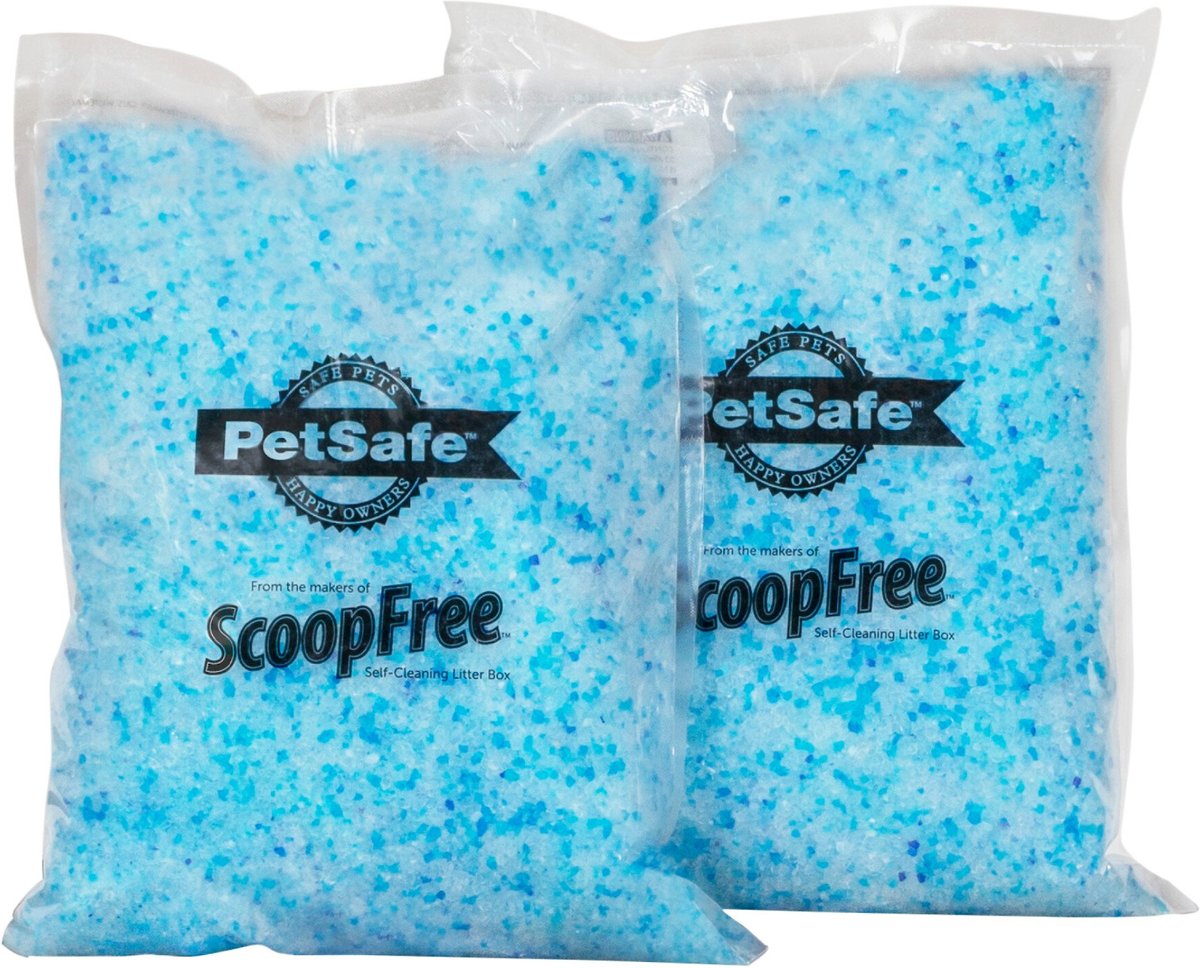 PetSafe is a great brand, and, like some of the others, its non-clumping litter lasts for up to a full month. It has a light fresh scent that is not overpowering, even for most people I know that are more sensitive to scents.
There are scented options if you really prefer those, too.
You should plan to remove any feces the same way that you would with any other litter, clumping or non-clumping, but you can rake the litter around and leave absorbed cat urine. Add more litter as needed to balance out the used litter, which is still perfectly safe for use.
An old coworker of mine could not recommend this litter enough. They had allergies that were causing some problems when it came to their cat, and the unscented PetSafe litter ended up doing the trick to help get things under control.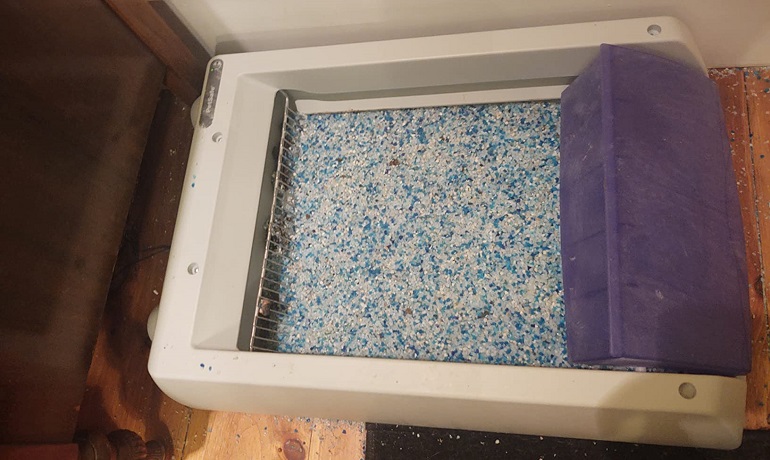 I can't say this will do exactly the same for you, but it might be worth a shot if you need a less traditional option.
The litter is extremely low tracking and leaves virtually no dust, which is a welcome change even from some crystal litters out there.
Pros
Comes scented or unscented
Low tracking
99% dust free
Made of amorphous silica, a natural product
Cons
Scents can be a bit harsh for sensitive noses
Awkward amount of litter in the bags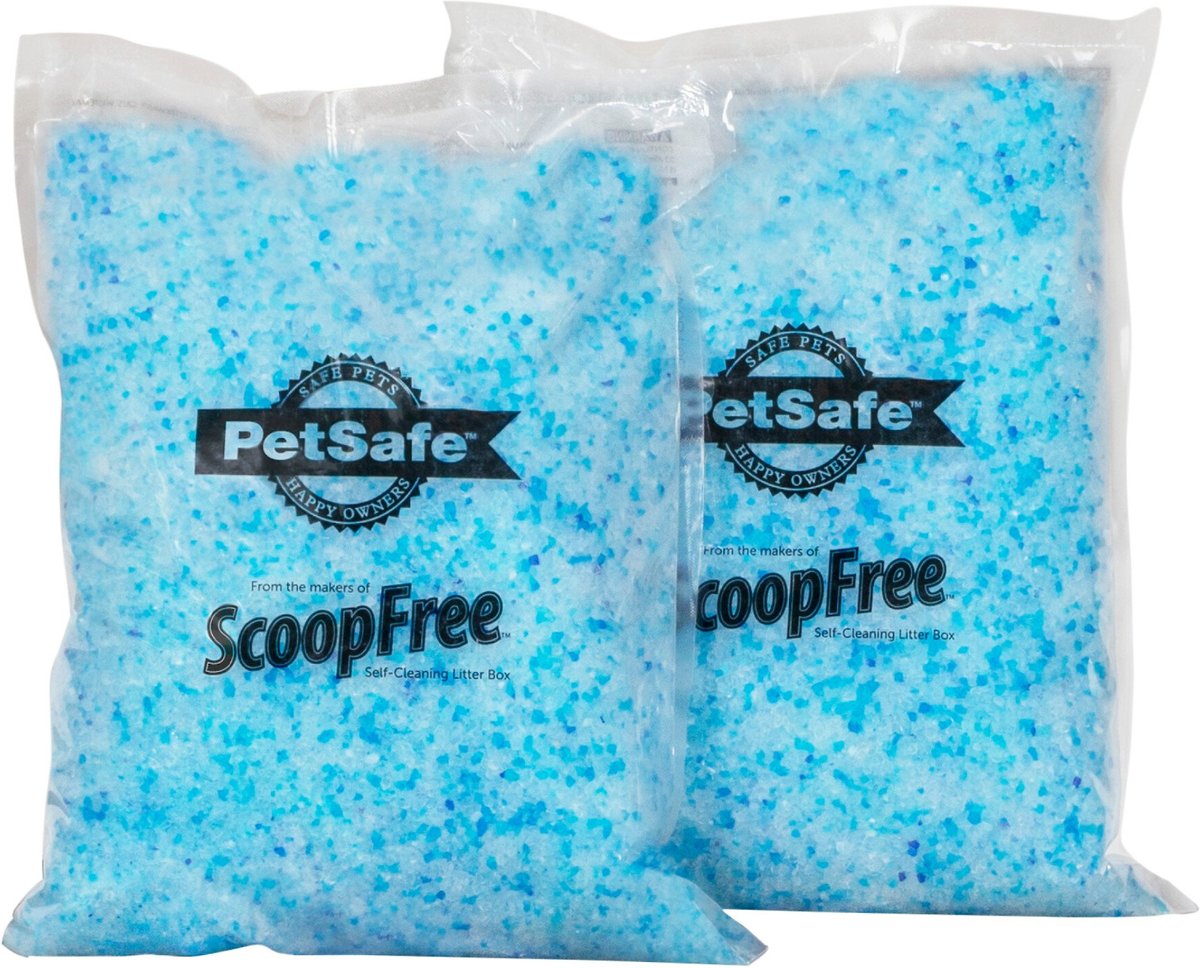 PetSafe ScoopFree Cat Litter
The price of "PetSafe ScoopFree Cat Litter" varies, so check the latest price at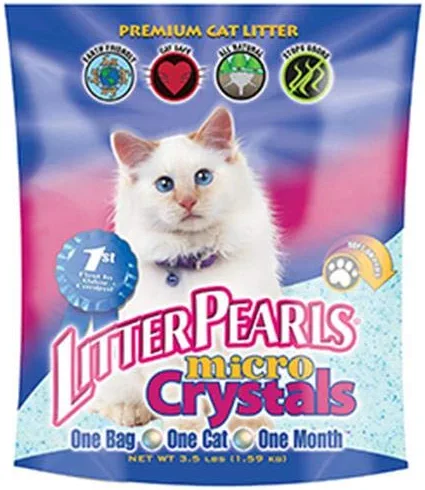 Similar to the clumping crystal cat litter from this same brand, Ultra Pet has micro pearls, as well. They're made of natural products that aren't as dangerous for cats to ingest, so you can rest easy knowing that your kitty is safe.
The silica gel used is incredibly absorbent and dries solid waste quickly and effectively so that scooping them doesn't take too long. It works in a similar way to more synthetic products but is much safer to use.
Since the crystals are so absorbent and can be used for two months, there is much less landfill waste created. This option is eco-friendly, but remember that these crystals should not be flushed because they are not biodegradable.
This one is also fragrance-free, which supports any sensitivities that cats and owners have. If your cat seems to like Ultra Pet but not the clumping crystals, the smaller size of these micro pearls might just be what they need to balance comfort and function.
Pros
Low tracking
Unscented
Eco-friendly
Can absorb moisture well
Cons
Not 100% dust free
Crystals are bigger than you'd expect a microcrystal to be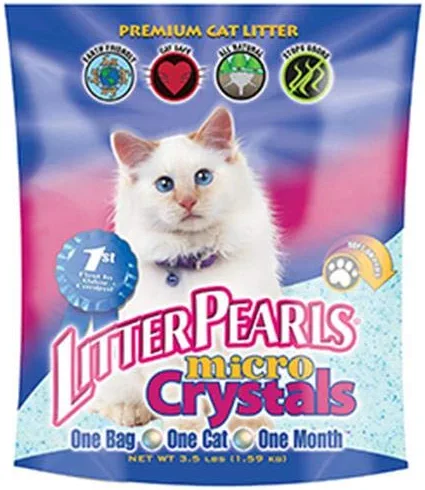 Litter Pearls Cat Litter
The price of "Litter Pearls Cat Litter" varies, so check the latest price at
Choosing the Best Crystal Cat Litters: What to Look For
There are a lot of considerations to make when purchasing the best crystal cat litters, here is a list of all those factors to make your work easier.
Scent
Scented crystal cat litter might be the option you are looking for, but any strongly scented litter is a bit risky. Why? Well, cats that are more sensitive might have issues with scented products, and certain smells could turn them off from using a litter.
You might also find that scents are not what you expected, and they could even cause you to be more sensitive to the smell of the litter.
Unscented crystal cat litter is always a safe bet for that reason. They still control odors but could save money, time, and noses.
Odor Control
Speaking of maximum odor control, silica litter is generally good at this because of its power of absorbency. You'll want to prioritize this, along with the safety and ease of cleaning, because the smell is going to be one of the most prominent considerations.
Nobody wants a home that smells like kitty litter, and bad odors tend to stick around. So, you want a product that will absorb moisture, keep moisture locked in, and is good at controlling odors.
Clumping
Most crystal cat litters do not clump, so you don't remove clumped bunches of cat urine from the litter box like you would with traditional clay litter or any other type of clumping litter.
Instead, you can add some new crystal cat litter in to mix with the older, absorbed bits, and will expect to change out the litter every 20 to 30 days, give or take. Basically, once the silica crystals stop absorbing liquids, it is time to get a whole new batch.
You should still expect to scoop out solids daily, though.
If you opt for a clumping-formulated crystal cat litter, it will function similarly to clay litters. You'll want to scoop often and add more crystals. The draw of this is that crystal cat litter is still more absorbent, and less likely to get mushy than clay, wood, corn, or other biodegradable litter.
Buy a Small Bag First
This one might be obvious but try the litter out yourself before committing fully. When it comes to buying crystal cat litter products, you might have to try a few brands.
Reviews are wonderful, but even my first-hand knowledge of these products might not fit exactly into the mold of what you and your cat need. Perhaps a texture or scent might irritate your cat in a way that I haven't seen, or you'll realize that you don't like the way that you clean out this litter.
Regardless of what you may or may not appreciate, you should try out a small bag of any litter before buying the bulk size. It might cost more money right now to purchase a small bag, but it will save you money in the long run if you decide you want to try a different brand.
Final Thoughts
Because crystal litter is often made of amorphous and crystalline silica, you can rest assured that you'll avoid the issue of dust that many other litters come with. Even those that claim to be dust free always have a little dust, but this is less common with crystal cat litters!
Overall, crystal cat litter is more absorbent, creates less of a mess, and lasts for longer. It may be a bit more expensive, but the duration of use offsets the cost.
Remember to check your cats' paws occasionally, just to make sure litter doesn't get stuck anywhere. The silica gel litter can be harmful to ingest too much of, and it is always better to be safe than sorry.
Happy shopping!