Originally published on February 7, 2023, this article has been updated on October 24, 2023 to reflect the latest research and statistics. Our editorial team has ensured you're viewing the most current data on this topic. Need help or have a question? Email us.
What would we do without our best friends… Not the humankind, the furry kind. It will be crystal clear how much we love them when you read these pet industry statistics.
We spare no expense on our animals! Well, some of us do, but if our pet wants it, we'll darn sure try to get those Scooby snacks. Leashes and collars and bowls, oh my! We'd rather go hungry than have our kitty go without the latest catnip mistletoe.
Pets are family members, and the numbers show it. We'll be looking at everything from pet food to the grooming industry to uncover the facts. Do you know how much people are spending on pet-sitting services? Or that giving your pet CBD oil is a thing?
Keep reading to find fascinating facts about pet industry statistics. Just make sure to keep it on the sly so your furry, finned, feathered, or scaly friend doesn't get a big head.
Top 10 Most Surprising Stats
Pet Owners Numbers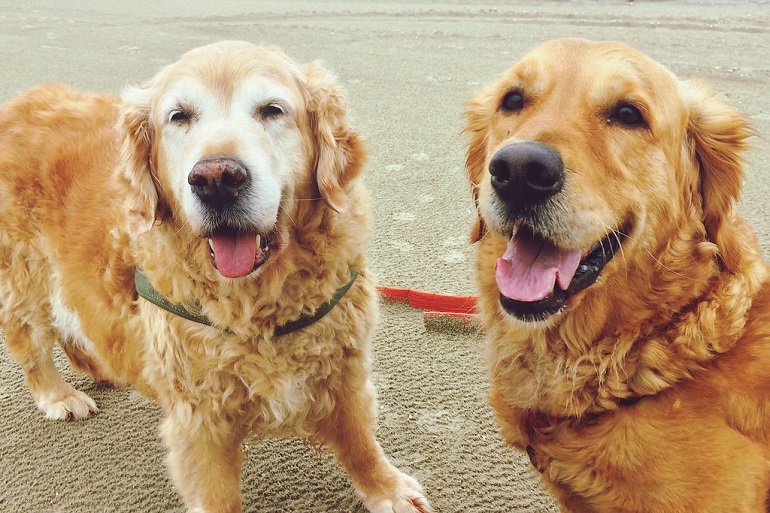 If I need some new shoes or clothes, I may wait until the next paycheck to buy them. But when my dog is out of treats, he gets them. Pronto. People want to make sure their pets are comfortable, and spending money on them is one way to do it.
And our popular pets don't only consist of cats and dogs. Here is a breakdown of animals and the number of people who own them in the US. (2022-2023)
(In millions)
Bird 6.1
Cat 46.5
Dog 65.1
Horse 2.2
Freshwater fish 11.1
Saltwater fish 2.2
Reptile 6.0
Small animal 6.7
TOTAL U.S. households that own a pet: 86.9 million
There are only 332+ million people in the country, and these are only the pets that were reported.
Now let's get down to the nitty-gritty and explore the numbers of and more about the pet industry.
Statistics About Pet Market Size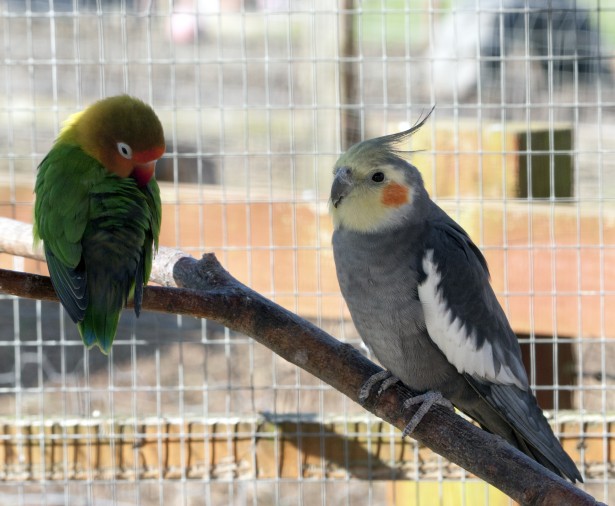 The Global Pet Market Industry Valued at $235.32 Billion in 2022 and is Expected to Cross $246.66 Billion (Fortune Business Insights)
According to Global Industry Analysts, in 2022, the global pet market was valued at $261 billion. Moreover, GIA asserted that "The global pet industry is considered one of the fastest-growing market segments."
Even in times of poor economies, the pet industry trends don't seem to notice. It is expected that global pet industry statistics will reach $366.88 billion by 2023. Many homeless people will make sure their pet has food before they do. Those with better financial situations also keep this market continuously growing.
In 2022, the US Pet Industry Reached $136.8 Billion. (APPA)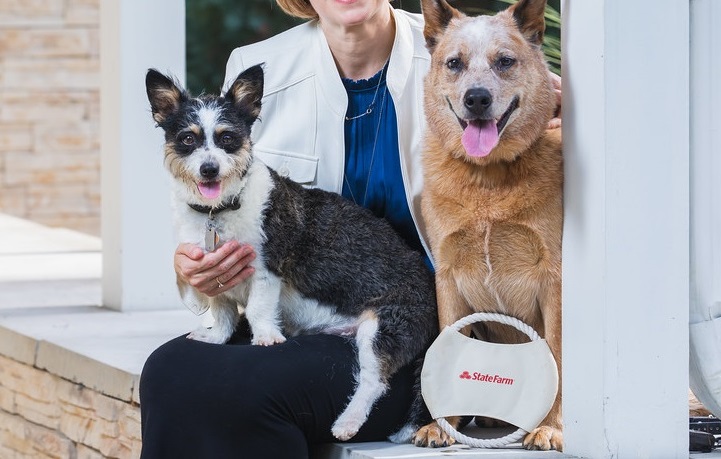 I remember researching this pet industry statistic in 2022, when it reached over $136.8 billion, and thinking, 'This can't be right. I need to dig deeper.' I dug, and it is correct.
It's Anticipated by the Year 2027, the Global Pet Care Industry Will Cross $358.62 Billion. (Globe Newswire)
Worldwide, North America holds more than 40% of the market share.
The growth of the global pet care industry is due to increasing pet adoption and pet humanization, e-commerce, advances in veterinary care, and pet technology. The industry is expected to grow rapidly in the coming years due to rising demand for pet care.
61% of US Pet Owners Are Inclined to Purchase Nutritious Food for Their Pets. (Mintel, Kerry Group)
Pet owners worry about what their pets eat. We want them to live long, healthy lives, so buying healthy food for them is usually a priority.
The Global Pet-sitting Market Size in 2023 is expected to be $2.67 Billion. (Global Newswire)
People would rather leave their pets with a sitter rather than a boarder or even a daycare. It's that personal touch with no other animals around that gives owners peace of mind.
In 2020, Vet Care Product Sales Generated $30.2 Billion in Revenue. (Sec.gov)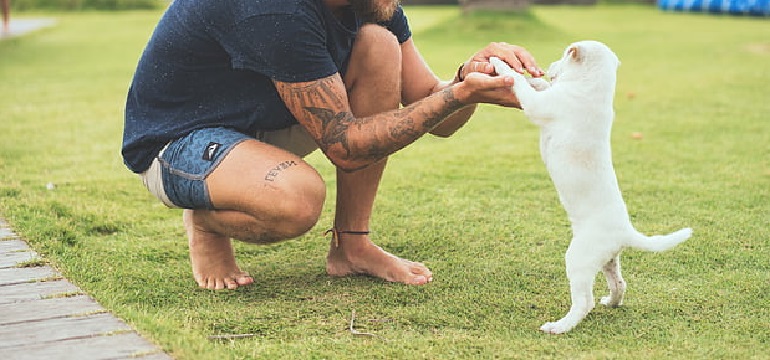 The year 2020 may have had a slight decline in pet adoptions due to various reasons, but owners still bought necessities and other items for their little ones, as $30.2 billion was spent just on veterinary care.
This growth can be attributed to the increasing demand for high-quality and specialized veterinary care services, including preventive care, diagnostics, and treatments for a wide range of pet health conditions.
80% (3.885 Million) of Dogs and 20% (0.964 Million) of Cats Are Insured in the US. (NAPHIA)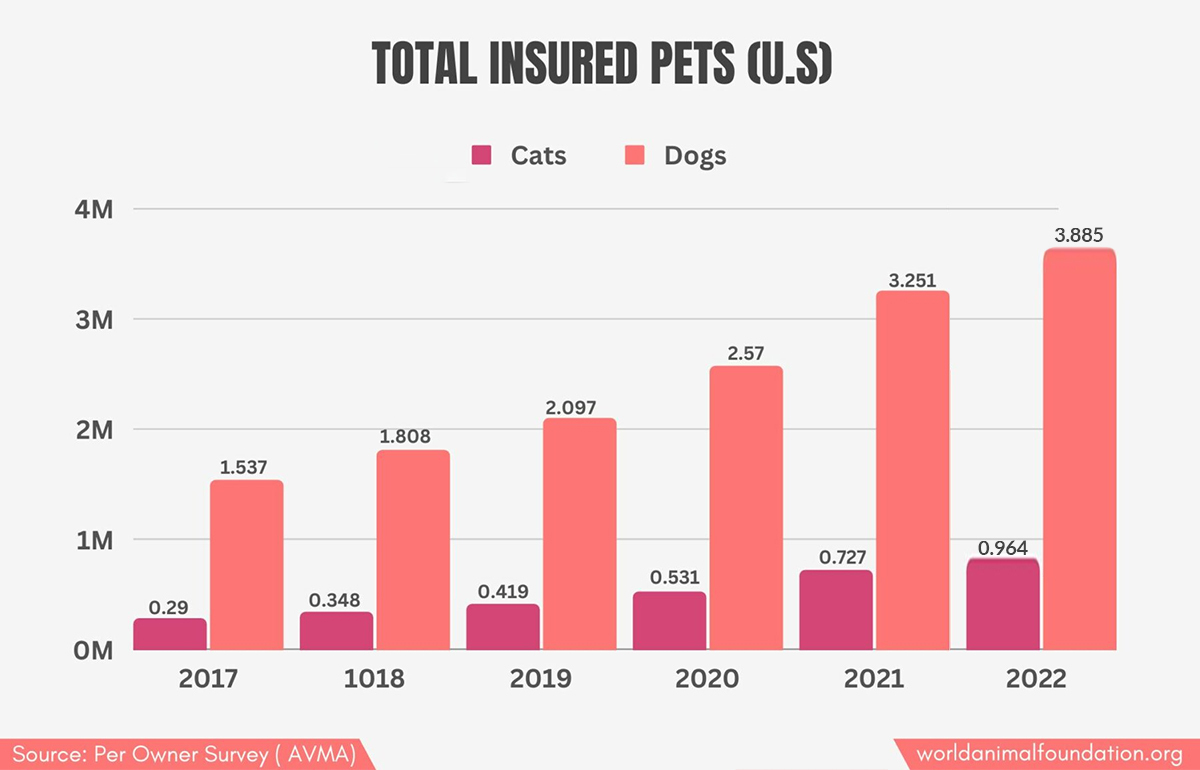 In 2022, 3.885 million dogs and 0.964 million cats were insured in the US. Cat owners don't love their kitties any less than dog owners; they just think differently about a cat. 'Cats can take care of themselves and are less likely to be hurt' are some thoughts people have about their felines.
The Pet Insurance Industry Has Reached $4.08 Billion, According to the Global Pet Insurance Report of 2023. (Market Data Forecast)
And it's increasing as it is expected to reach $7.5 billion in 2028. In this day and age, if your pet goes to the vet with a splinter, it could cost a chunk of change. Many pet owners have gone into debt due to vet bills. Having pet insurance provides a safety net and will only increase pet industry statistics.
During COVID-19, 21% of Pet Owners Spent More Money on Their Pets. (Petfood Industry)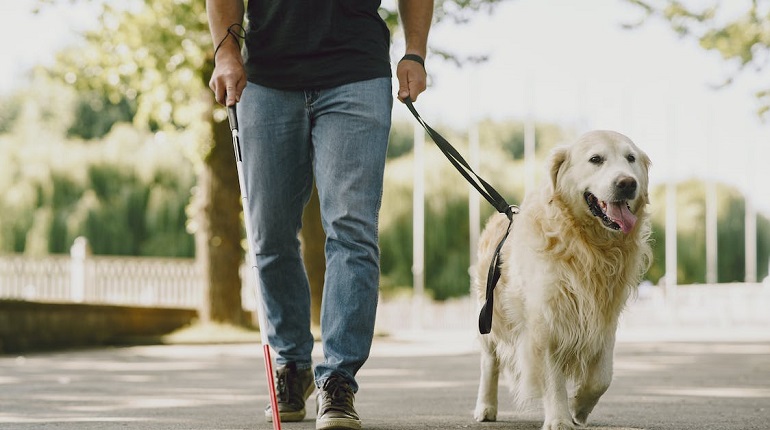 Stats show pet owners have spent either 21% or more on their pets in 2020. Most of us were at home trying to stay safe. We had more time with our pets and could see what they needed.
It is Expected That Market for Pets Other Than Cats and Dogs Will Reach $3.6 Billion in 2023. (Packaged Facts, Freedonia Group)
Previously, exotic pet products were estimated to be around $3 billion, which in 2023 will cross $3.6 billion. If you want a snake, chinchilla, or another wild animal, you're going to need to spend a significant amount of money. Most require special habitats and lighting, heating/cooling instruments, supplements, dietary needs, and usually a specialty vet.
There Was a Decrease of 20% in Pet Adoption from Shelters in 2020. (AVMA, dvm 360)
This may seem confusing, but it's due to several factors, largely because of the pandemic:
Animal control management was down.
Fewer pets were being relinquished to animal shelters.
More people wanted to adopt, so there were fewer pets available.
The number of animals placed into foster care from shelters more than doubled from the previous year (from 22% to 46%). (source)
Pet Industry Inclination
More than 66% of US Owners Have at Least One Pet. (APPA)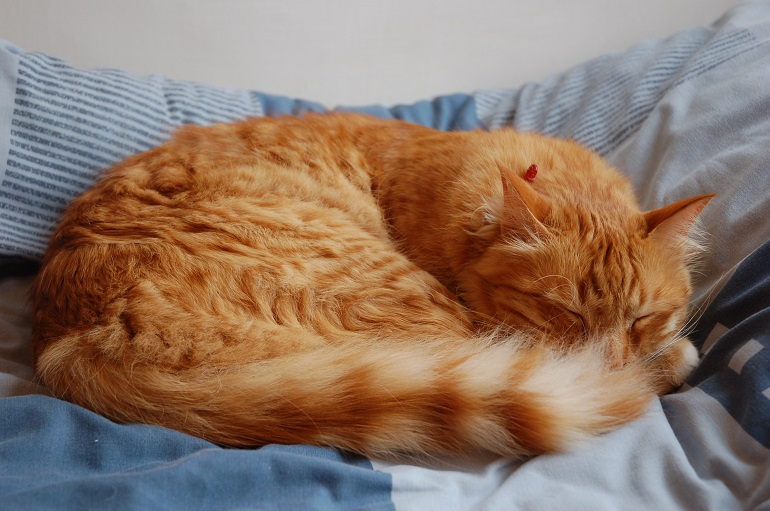 As per stats of 2023, 66% of US owners have at least one pet. A pet's love, loyalty, and devotion can't be denied, and people recognize it. They can actually lower our blood pressure and lessen anxiety and depression. Americans don't want to be without their pets.
During Covid-19, 8% of Adults Adopted Pets. (Pet Food Processing)
This statistic shows that several other age groups were responsible for pet adoption in 2020.
In 2023, a Total of $143.6 Billion in Sales is Projected in the U.S. (APPA)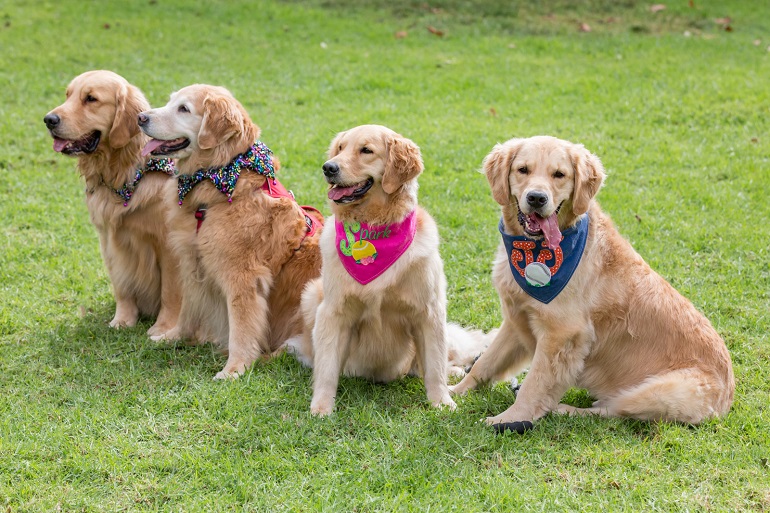 And the number continues to increase rapidly. A majority of pet owners see pets as family members and are treated as such.
During the pandemic, people adopted pets to cope with isolation and loneliness, which increased the demand for pet-related products and services. Additionally, advancements in technology and healthcare have also increased the cost of pet care, leading to increased spending by pet owners.
In the sphere of technological advancements, products like invisible fences have risen to prominence, providing pet owners with smart solutions for pet containment and management.
You can delve deeper into these innovative gadgets by exploring our thorough Halo collar reviews and SpotOn fence reviews, where we shed light on how such state-of-the-art devices are reshaping the way we care, manage, and ensure the safety of our furry family members in today's tech-savvy world.
69% of Millennials Are Interested in Buying Organic Foods for Their Pets. (SPINS)
Just as the millennial generation seems to be extremely concerned about issues like the environment, they also want their pets to be provided with untreated foods.
Pet Accessories Market Statistics
Statistics Show by the Year 2025, the Pet Accessories Market Will Grow by $9.2 Billion. (Technavio, PR Newswire)
Pet owners are increasingly spending more on accessories such as toys, beds, collars, leashes, and clothing to provide their pets with comfort and style.
Tinkerbell must have her tutus and Brutus his studded collar. The market is expected to grow at a compound annual growth rate of over 6% from 2021 to 2025.
More Than Half (51%) of Millennials Buy Gifts for Their Pets Once a Month or More (Forbes)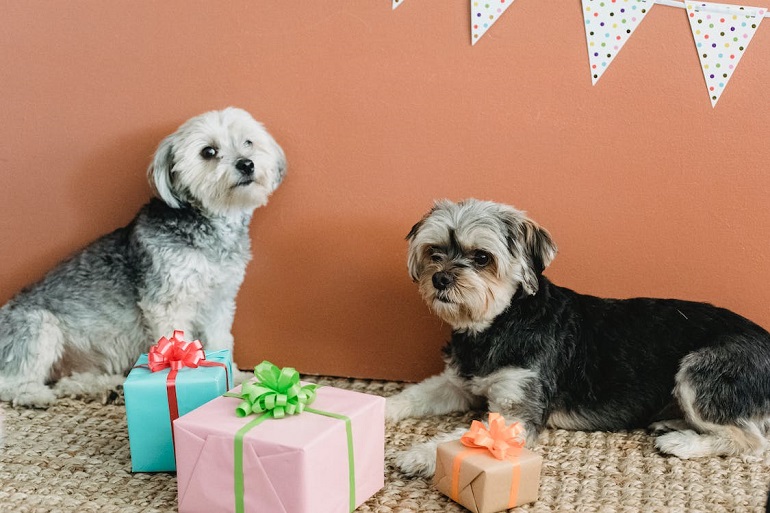 Millennials buy the most gifts for their pets and spend the most per gift. This generation loves their "children." (source)
The Value of Pet Tech Market in 2022 Was $5 Billion and is Expected to Increase by 15% CAGR from 2023 to 2032. (Global Market Insights)
As we watch it grow exponentially, there appears to be no ceiling for the pet industry. The expected value in 2032 will cross $35 Billion.
Americans Buy Halloween Costumes worth $490 Million for Their Pets Annually. (NRF)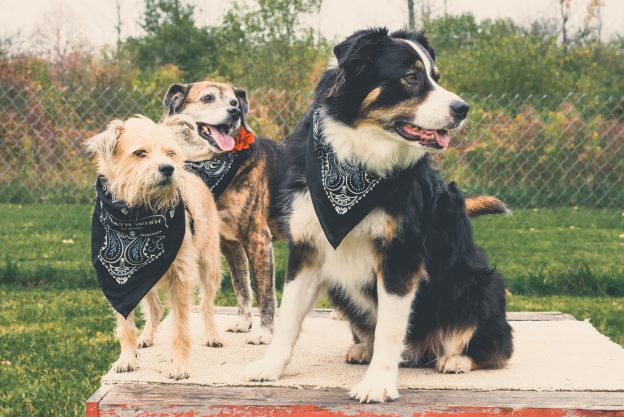 Just take a peek at Facebook and Instagram, and this statistic will really make sense. The pet accessory market is booming. Annually, Americans are spending around half a billion on Halloween costumes for their pets. I think I'll go dressed as a Cat Lady next year.
Pet Food Industry Statistics
According to Stats for 2023, the Pet Food Market (Including Treats) Valued at $62.7 Billion. (APPA)
According to stats of 2021, the global organic pet food market valued at $22.8 Billion. There's a deep desire for pet owners to make sure they're feeding their pets healthy food. This statistic is proof it's happening.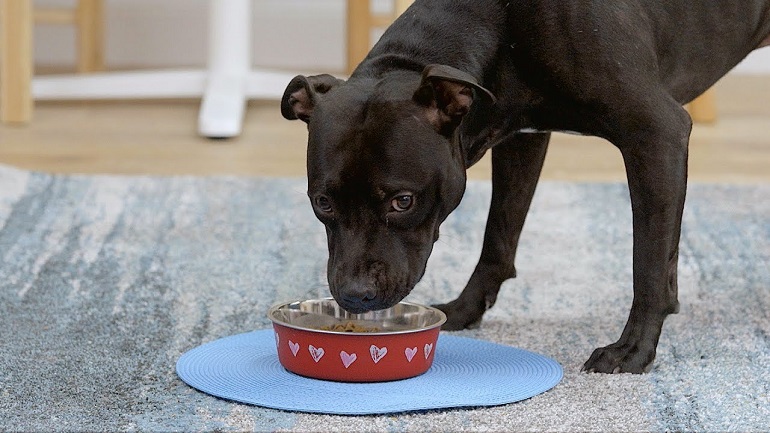 There Are More than 630 Pet Food Brands (Pet Food Processing)
One trend is companies look to focus more on food products for different types of pets and the specific needs they have (overweight, age, illnesses, etc.).
There are several other reasons for the unprecedented growth of pet food varieties, including increasing demand, competitive market, innovation, and global expansion.
In 2020, There Was an Increase in Pet Food Sales in the US by 18%. (Pet Food Industry)
There may not have been an increase in adoptions in 2020, but owners certainly continued to make sure the pets they had and those they added were fed.
According to Pet Food Industry Analysis, Both Cat and Dog Owners Spend Around $300 Annually on Food and Treats. (APPA)
This number fluctuates depending on the pet's particular diet (organic, store-bought, raw, etc.), but this is the average.
43% of Dog Owners and 41% of Cat Owners Buy Premium Foods for Their Pets. (PR Newswire)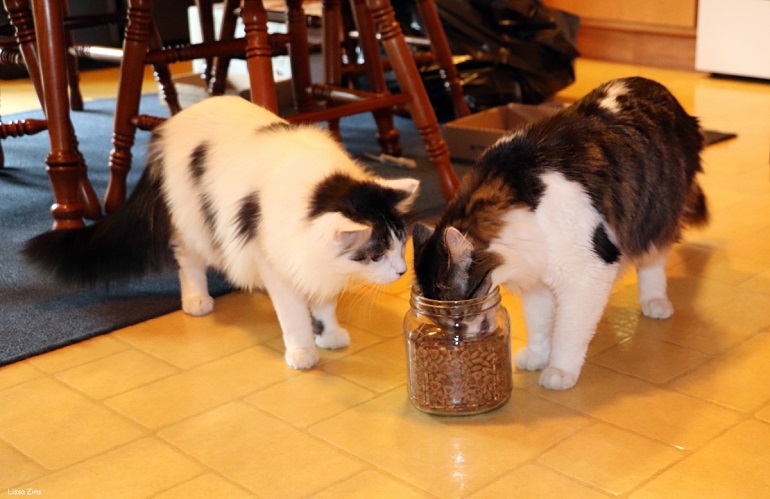 Pet owners are inclined to buy premium foods for their pets. Almost half of America wants to know if their pet is eating the best there is to buy.
The Trend to Buy Raw Dog Food Has Increased by 147% in the past 5 years. (Exploding Topics)
A true raw food diet does not completely consist of giving your pet some of your leftover meat. There are extremely important specifics in choosing this type of diet for your pet, and it should involve coming up with a game plan with your veterinarian.
Almost 40% of Pet Owners Buy Food and Treats for Their Pets Online. (Pet Food Processing)
In 2020, there was a boom in buying pet supplies online. Pet food manufacturers made products more accessible, and consumers responded. The statistic is forecasted to increase. (source)
Pet Grooming Industry Statistics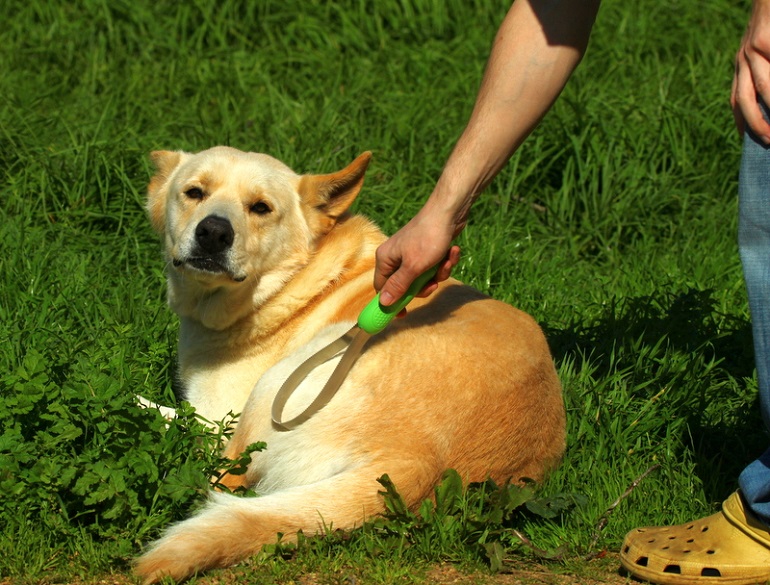 In 2022, 53% of Pet Owners Gave Their Pets CBD in the Form of Pet Edibles (Leafreport)
Although the safety of giving your pets CBD oil is still questionable, with some vets and scientists on different sides of the fence, consumers are certainly willing to take the risk anyway. (source)
An Average of $50 to $600 Is Spent Yearly by Dog Owners for Dog Grooming. (USA Today)
A significant portion of people choose to groom their pets themselves. They buy brushes, OTC ear medication, shampoo, and the like to do the job.
The Trend to Buy Pet Supplements Has Increased to 116% from 2019-2020. (Kerry)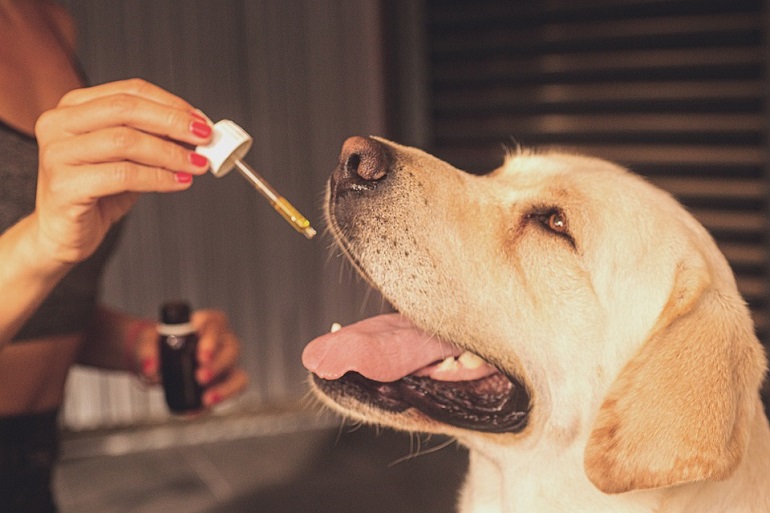 It's obvious we want to do everything we can for our pets to live as long as possible. (source)
It Is Expected That the Pet Grooming Industry Will Reach $14.5 Billion by the Year 2025. (Grand View Research)
Pet owners are becoming more aware of the importance of maintaining their pets' hygiene and grooming to ensure their health and well-being.
Pet grooming in America has previously only been a service provided for the wealthy but has become more commonplace.
The availability of pet grooming services and products online and through mobile applications has also made it easier.
Each Dog Grooming Session Costs $60-$90. (Thumbtack)
The cost reflects the dedication and skill required to maintain the dog's cleanliness, health, and overall appearance. My best friend's dog was just groomed. The cost? Exactly $73.00.
Millennial's Pet Ownership Statistics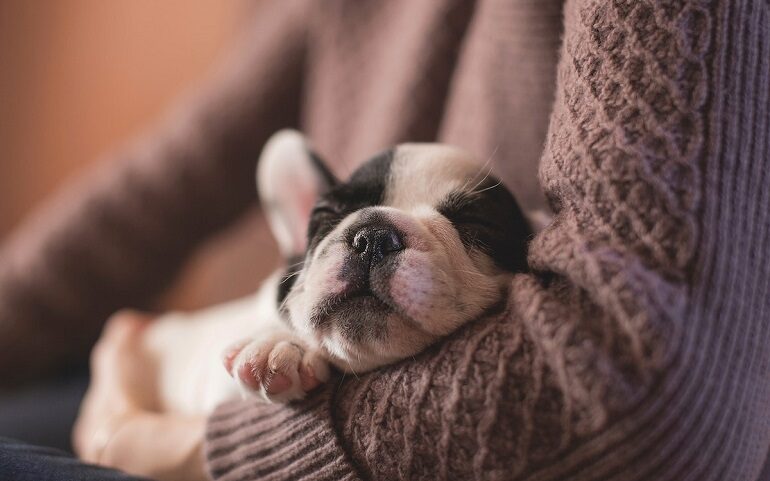 By Generation, Millennials have the Highest Percentage of Pet Ownership. (APPA)
Millennials have the highest pet ownership rate compared to other generations. This can be attributed to their delayed marriage and parenthood, higher disposable income, and tendency to view pets as family members.
The children of pet parents (Gen X and Baby Boomers) cranked it up and are at the top of many pet ownership statistics.
33% of the People Born from 1981-1996 Are Pet Parents (APPA)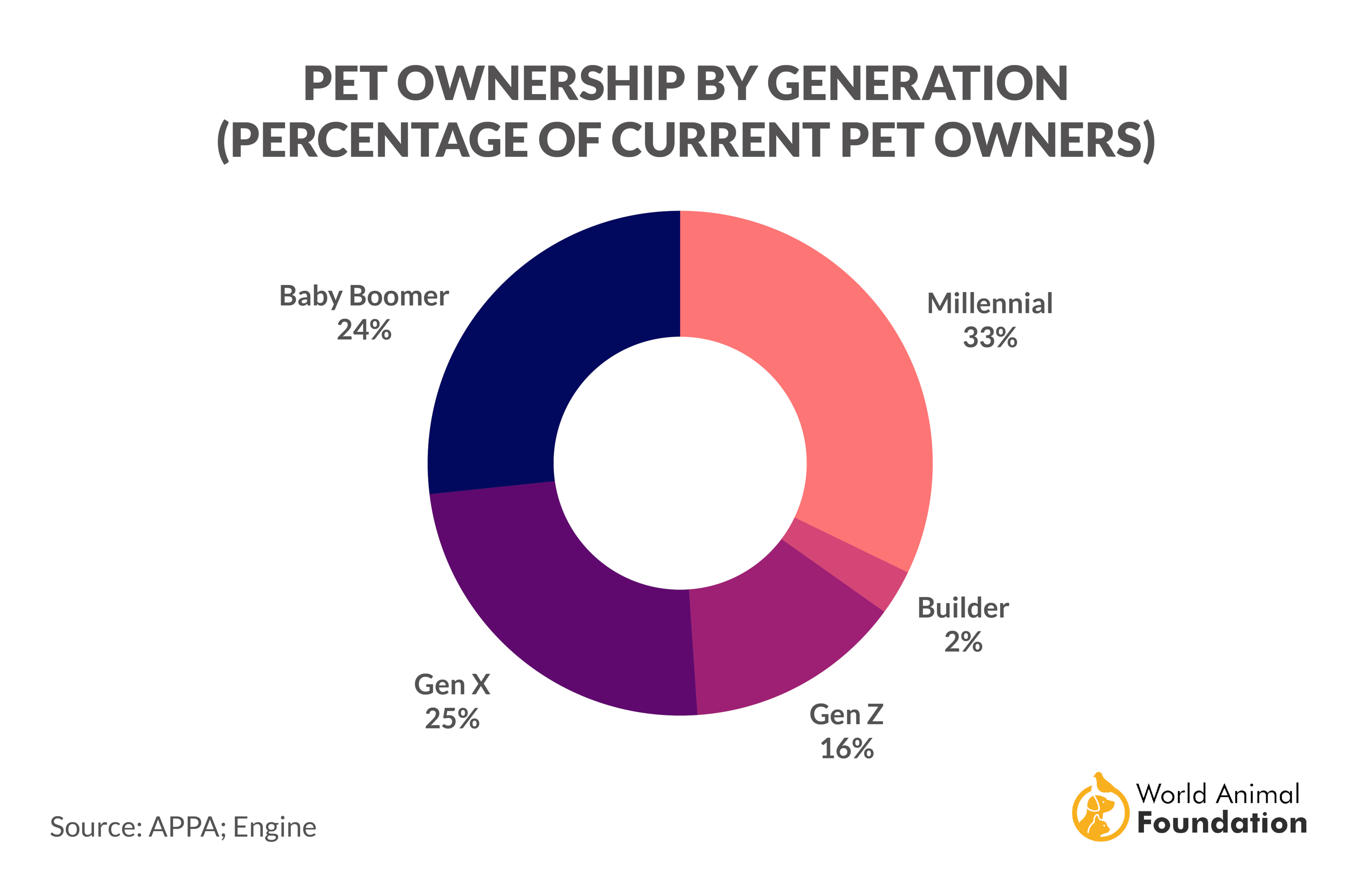 This generates big opportunities for marketers and brands. Take a close look at the pet commercials and pet product graphics you see. They're likely aimed at millennials.
It Is Predicted by Investment Banking Companies That Millennials Will Increase Pet Ownership to 14% by the Year 2030. (Morgan Stanley)
Sixty-five (65) percent of 18-34-year-olds plan to get another pet in the next five years. There's nowhere to go but up for the pet industry.
In the Last 6 Months, 51% of the Millennials Have Bought a Toy for Their Pet. (The Washington Post)
What's more fun than playing with your pet? Apparently, not a lot for half of all millennials. (source)
9% of Millennials Have Bought a Pet Subscription Box in the Last 6 Months. (Ypulse)
BarkBox, Bullymake, PupBox, Cat Person, and Goody Box Kitten Toys are just five of the many pet subscription boxes available.
Interesting Facts About the Pet Industry
Did you know millennials are the most likely generation to throw a party for their pets? They also take them to the vet most often. What about a dog vs. cat question… How much does a vet visit cost for each species? It's about $60 more ($242) to take your dog to the vet for a routine visit than it is for your cat ($178).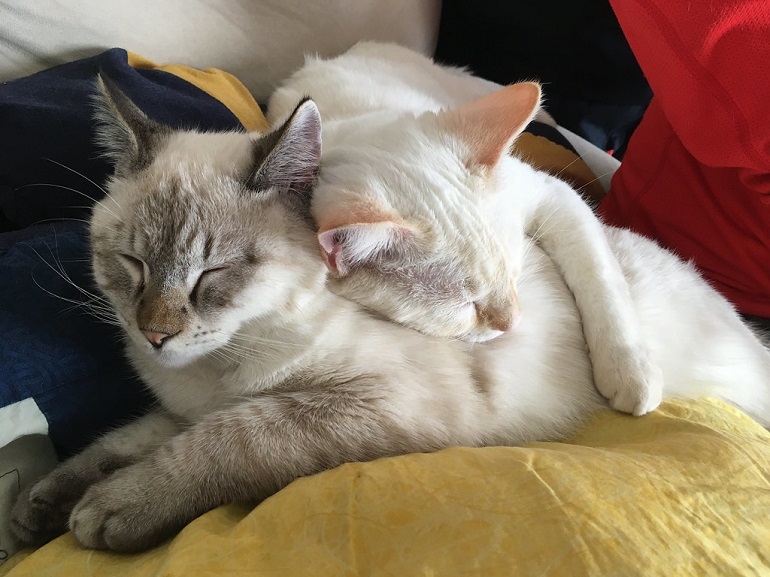 We couldn't provide for our pets without those who make the wheels turn for Felix to have laser pointers and Clifford to have primo food.
Here are some more interesting facts about pet industry statistics in the US:
24% of Gen Xers — born between 1965 and 1981 — own pets.
5.7 million households own a reptile.
In 2018, pet industry expenditures totaled 90.5 million annually, derived from a Morgan Stanley Research report.
Consumer spending is expected to reach 275 billion by 2030.
53.5% of Riverside, CA residents have pets.
37% of pet owners would take on debt for a pet's medical costs.
One trend expected to continue moving upward is the humanization of pets. (source)
Now, let's move on to discuss more about what makes pet industry statistics tick.
FAQ's
How Many People in the US Own a Pet?
Percent of households owning:
66% of U.S. households (86.9 million homes) owned a pet as of 2023.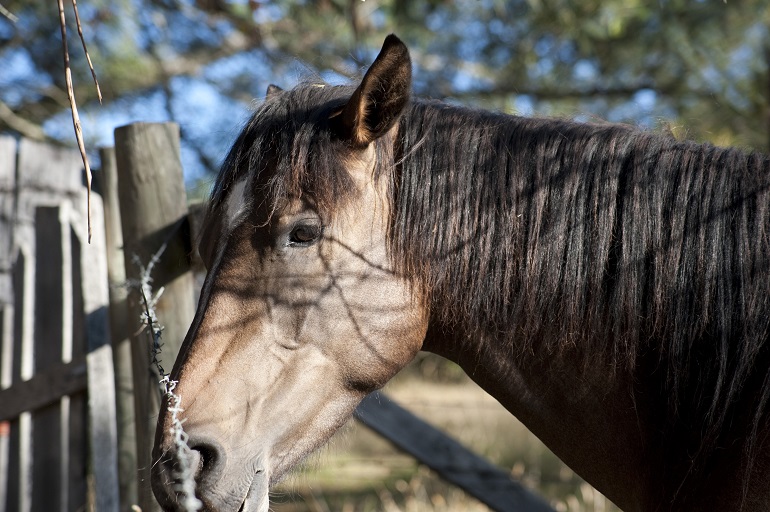 What Are the Most Profit-earning Ideas in the Pet Industry?
You could practically open a pet service entitled "Come see my dog!" and be profitable. But here are nine real-world ideas for you:
A. Mobile grooming
B. Pet sitting, boarding, and daycare
C. Dog and other animal training
D. Dog walker
E. Pet bakery
F. Sell boutique pet toys and supplies
G. Pet adoption service
H. Pet photographer
I. Online pet consulting
How Many People Work in the Pet Industry?
IBIS World reports 136,378 people are working in the Pet Stores industry in the US in 2023. This is one small group. There are many more hundreds of thousands of people who work in different vocations in the pet industry.
Which Generation Buys the Most Gifts for Their Pets?
It's the millennials who reign when it comes to buying their pets all the bells and whistles they need to have fun, look fabulous, and feel great.
Is the Pet Industry Growing?
"By leaps and bounds" isn't very scientific, but you've seen the mind-boggling numbers in this article. Each generation is seeing a tremendous boost of growth in pet industry statistics.
"With pet humanization on an exponential spree, the global pet care market to keep the cash registers ringing in the forecast period," says an analyst from Future Market Insights.
Which Product Do Pet Owners Spend Most of Their Money On?
It's pet food, by far, and here is the entire list:
Pet Food and Treats $62.7 billion
Supplies, Live Animals & OTC Medicine $32.1 billion
Vet Care & Product Sales $37 billion
Other Services $11.8 billion
(Other Services include boarding, grooming, insurance, training, pet sitting and walking, and all services outside of veterinary care.) The American Pet Products Association
In conclusion
We'd be sick as a dog with hairballs if we didn't have our pets. Every US generation has them, adores them, and will continue to spend as much as it takes to keep them happy.
You're not alone as you buy that next dog toy or that new cat food that's everything. You're in fine company. And only pet lovers will understand… they're so worth it. Pets give us laughter, loyalty, and love and will never be undervalued. The pet industry experts agree.
And if you can figure out what catnip mistletoe is, let me know!